Week beginning 18.05.2020
For our last week of this half term, the children have worked hard and really impressed once again with the fantastic work being completed at home.
A big focus for us this week was on writing. The children were asked to rewrite either one of two Shakespeare plays - Romeo and Juliet or Macbeth. We had some really pleasing pieces and were also happy to hear from lots of the children that they really enjoyed reading these stories! For this task, some children chose to type up their stories, some wrote alternative endings or adapted the story slightly to a more modern-day version! All in all, we have seen a great mix of stories and thoroughly enjoyed reading them - well done Year 6!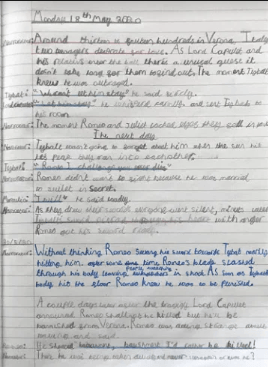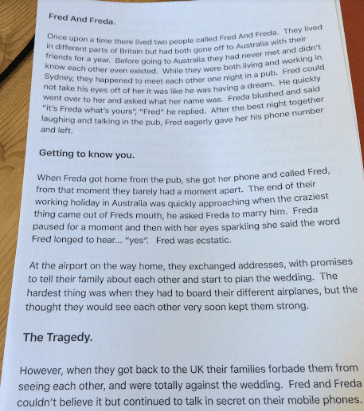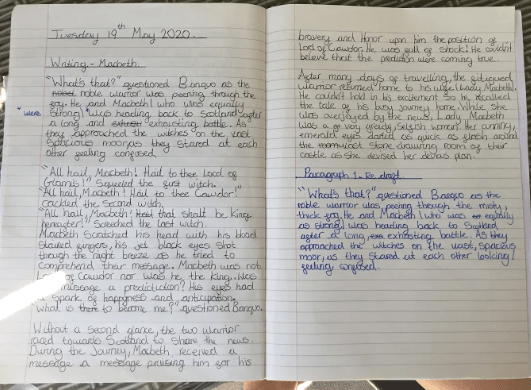 Also this week, the children learnt more about E-Safety and in particular online adverts and the dangers of "pop-ups". The children demonstrated their understanding by creating posters aimed at informing young children of this.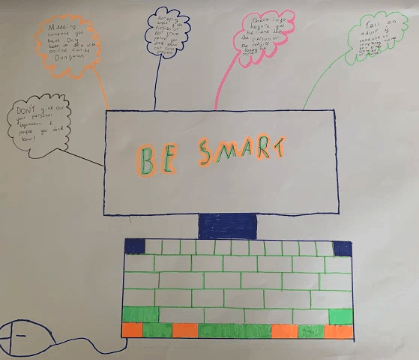 Week beginning 11.05.2020
This week, Year 6 have been continuing with our topic of Shakespeare and focusing on one of his most famous tragedies 'Romeo and Juliet'. We have used this text to revise all our reading comprehension skills including inference, sequencing and word meaning.
Additionally, we have looked at the similarities and differences between the beliefs and worshipping of Catholics and Protestants during Shakespeare's time.
We have also started our science topic looking at light, how it travels and how we can see objects.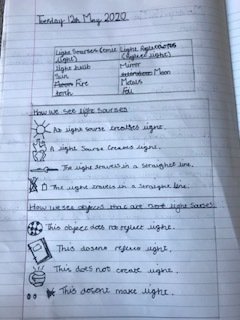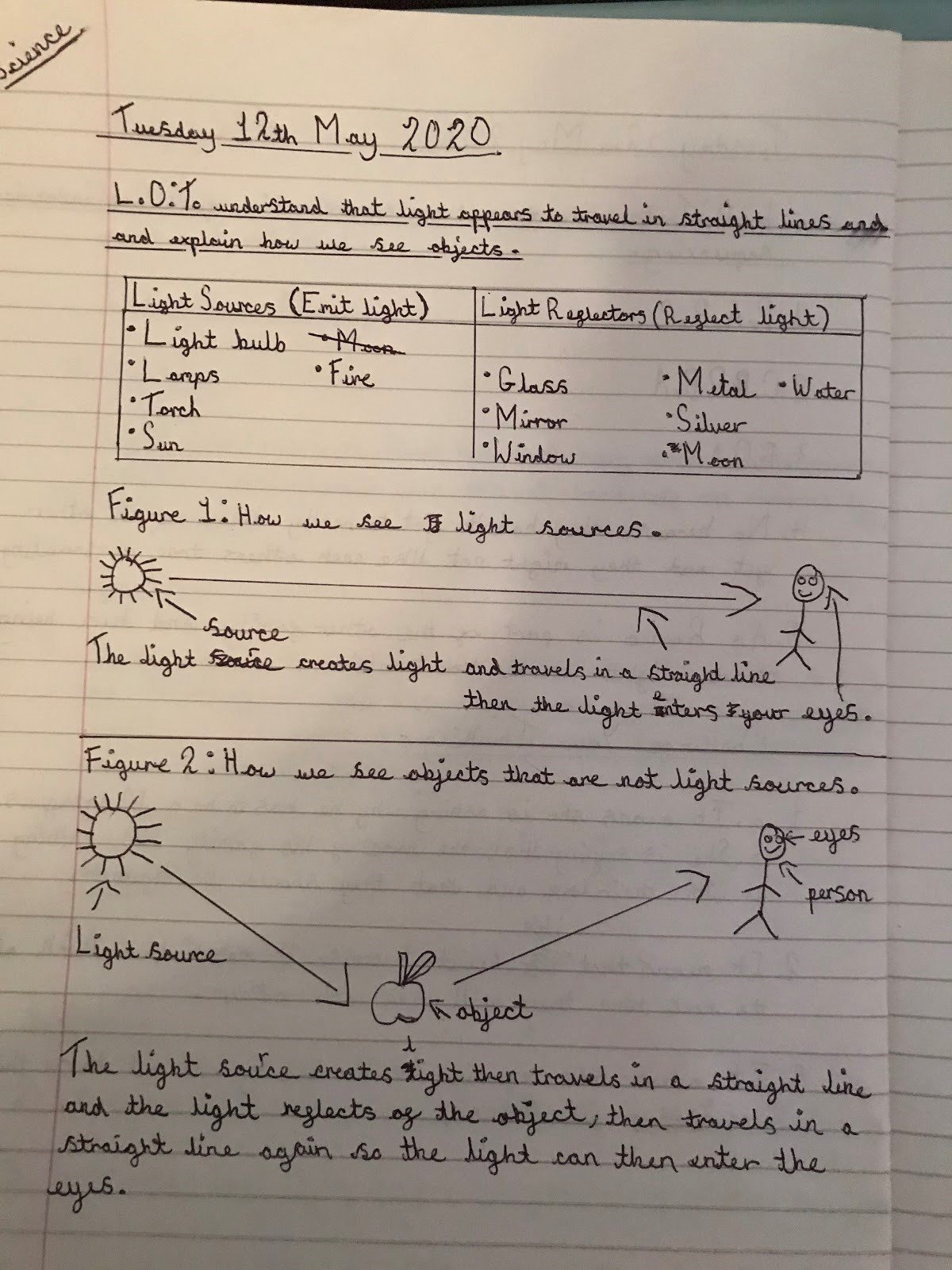 Week beginning 04.05.2020
This week, Year 6 continue to be working from home in an outstanding fashion, staying in close contact with their teachers with lots of questions and clarifications and sending in examples of their work. There is a fantastic sense of growing independence and dedication but also a great home-school communication becoming a well-established routine. We held our first face-to-face video assemblies and it was wonderful to see each other again visually and hear one another's voices.
As well as some challenging maths work, Year 6 got to grips with Macbeth, one of the most mysterious and exciting example of Shakespeare's plays. We had some great feedback from the children on the story, with one saying, "I love the text!"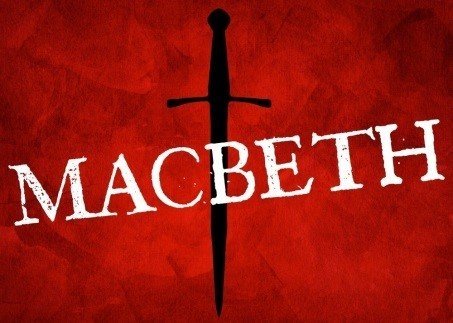 The children were able to show their growing sense of citizenship and social awareness while working on a challenging PSHE lesson on how young people can be pressured and exploited into behaviour that they know is wrong. They were able to identify turning points and danger points in the story and suggest ways to prevent the outcome for the main character.
Finally, Year 6 began to explore a vital part of bringing any play to life, whether in the 16th Century or now – costumes! We had two lessons focused on researching costuming and beginning to design one for a key character.
We will also be marking 75 years since VE Day at the end of this week, so look out for a whole school blog post on this event: https://www.kentshilljuniorschool.co.uk/our-school/school-curriculum/whole-school-blog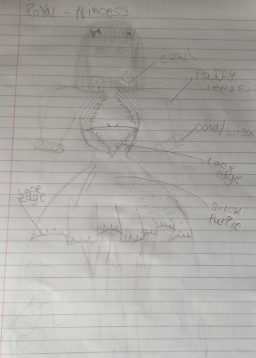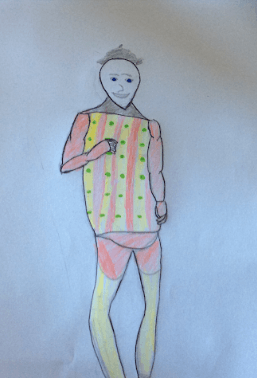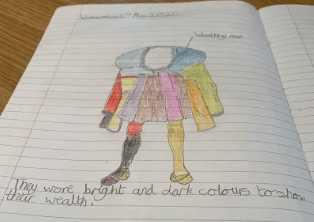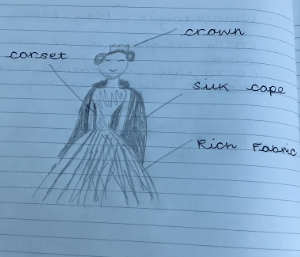 Week beginning 27.04.2020
This week, Year 6 have continued to learn more and more about the life and times of William Shakespeare.
One day this week was dedicated purely to finding out "All About Shakespeare".
Many of the children carried out further internet research about this very well-known play wright, in addition to the information they were given. The children then used this to write their own biography! From what we have read, these biographies are full of interesting information, "Did you know" facts and even some surprising findings about this fascinating famous figure.
Some children chose to type their biographies, others were hand written so we have had a good variety to read through!
We also learnt more about the beliefs, religion and superstitions of those who lived in the Elizabethan era. The children showed their creative side by making storyboards to show this learning.
We have continued to be really impressed by some of the work shared with us and the effort we can see going into the work is great!
Please do keep sharing your work through Google Classroom where you can - it is so lovely to see what is being produced but we also enjoy seeing how you are all keeping yourself busy and being creative!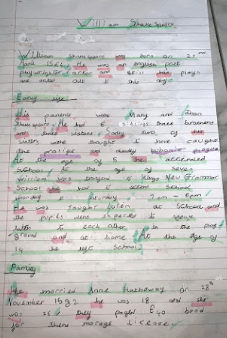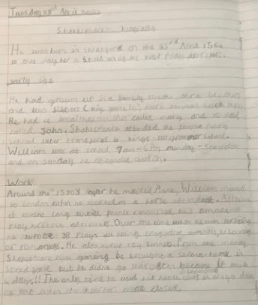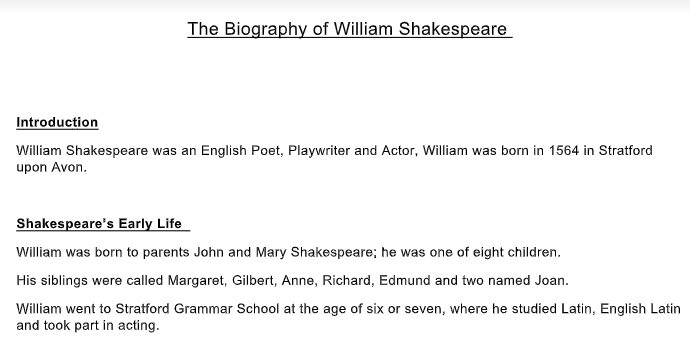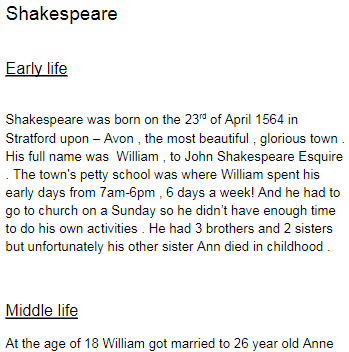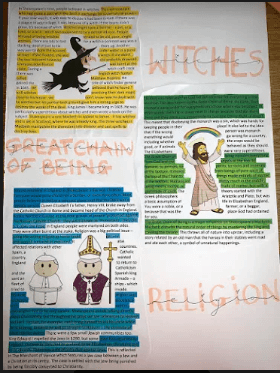 Week beginning 20.04.2020
This week, Year 6 have begun our new topic of Shakespeare.
The question we will be considering and answering at the end of the term is:
Will our literature stand the test of time?
We have had a strange hook day this term, since we are not at school together, sharing ideas and thoughts with each other, we've been as artistic as possible in the comfort of our own homes.
Some of the tasks that we have completed include: a quiz, interactive games and a piece of drama which I hope lots of you have performed to your families so they can see what talented actors and actresses we have in the year group.
Additionally, we have created our own Tudor roses which some members of the year group have been incredibly artistic with as you can see from the photos.
Please keep sharing your work through Google Classroom where you can. We're missing you all lots and being able to see your work and share your successes makes it a little bit easier.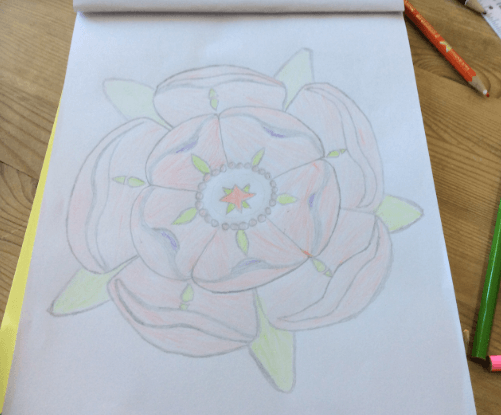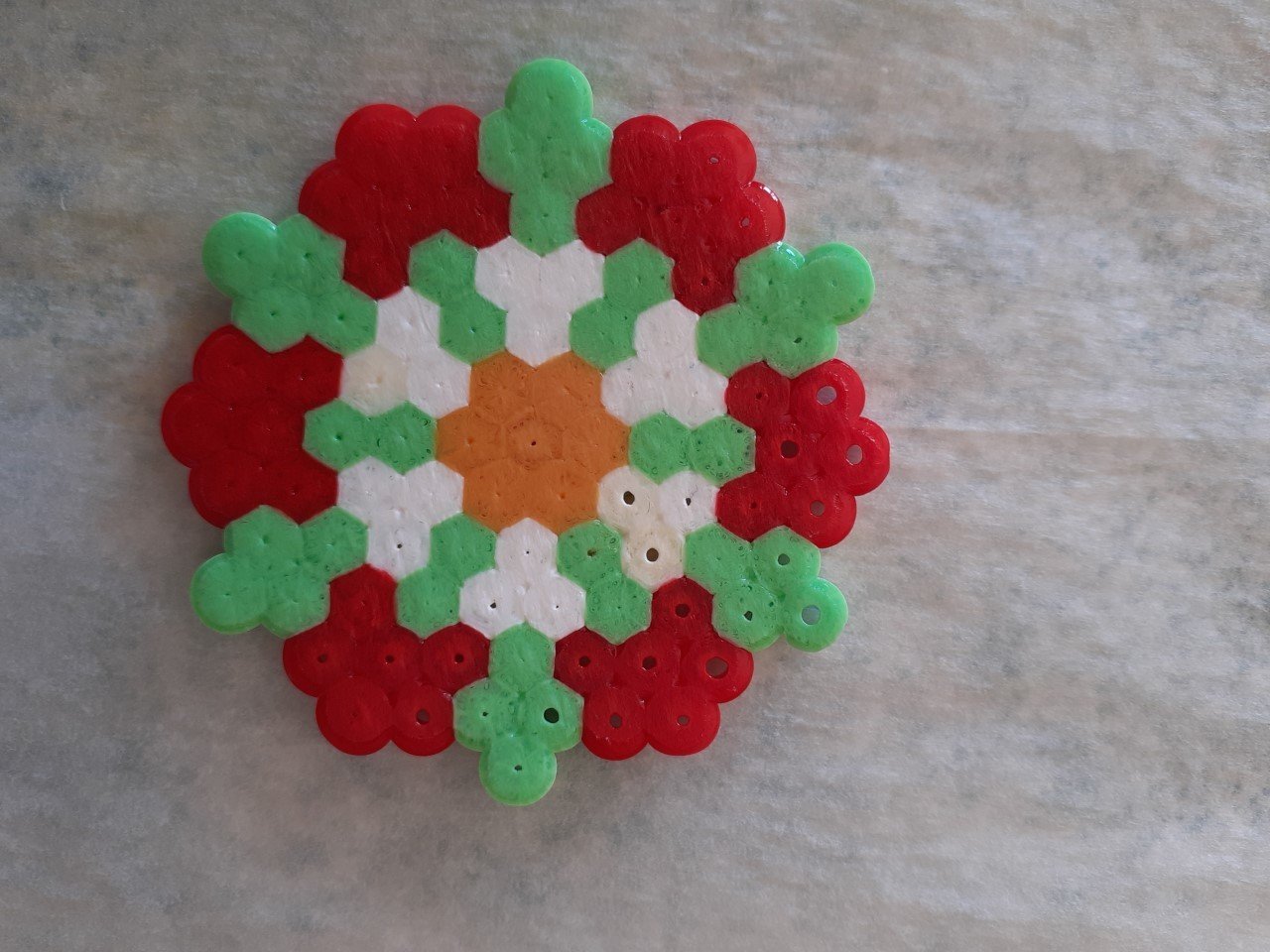 Week beginning 30.03.2020
This week, Year 6 have once again proven that whether they work from home or at school they still engage fully with their lessons and produce fantastic outcomes. Once again the Year 6 staff have been blown away by the positivity and thoughtful natures of our children as they engage with us on their work either showing remarkable independence or a wonderful way of collaborating directly with their teachers using modern technology.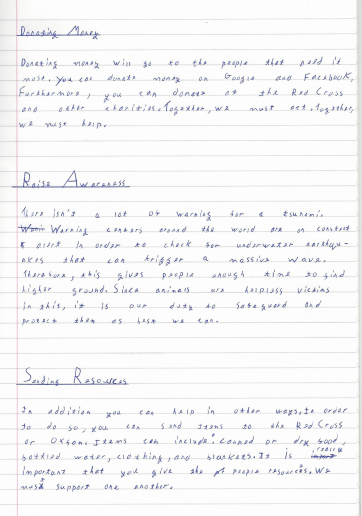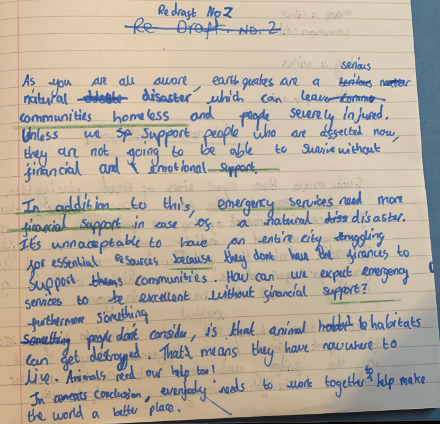 An important part of this week was when the children were set a writing day as we sometimes do in school. We each looked at how natural disasters such as the earthquakes, tsunamis and volcanoes of Japan can devastate a community and how people can support those left after the event. Many ideas were explored about what the worst elements of damage and disruption were and many solutions were suggested for how other people – even from other countries – can help the community to get back on its feet.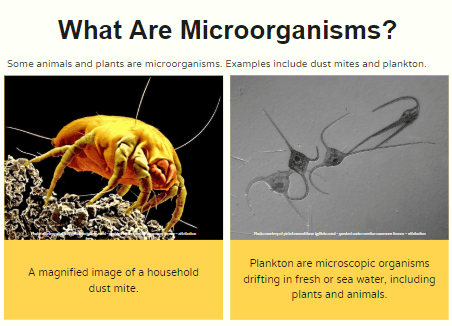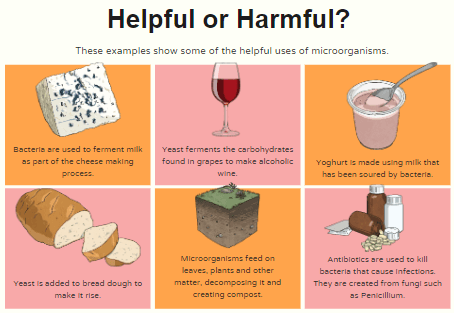 The children also explored micro-organisms – how tiny communities can grow and exist even on a landscape as simple as a slice of bread. French games were played, and children even explored how to create an existing computer game in their own design thanks to Scratch coding. Throw in some living-room-based PE and it feels as though Year 6 have been every bit as active and challenged at home as they might have been in school.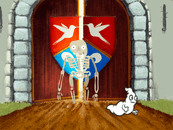 A modified (remixed) Scratch game!
Week beginning 23.03.2020
First of all, we would like to thank and congratulate all of our children who have adapted so well to the slightly different way of learning this week! The teachers have been so impressed by how the children have responded to this. Daily communication between the teachers and children online has been really productive and very pleasing to witness - a big well done to you all!
Next, a little look into some of our learning this week - "A look back to the past":
Through our RE and history lessons we have been looking back at the past and reflecting on how people might have been affected by different situations and how religion has helped many people to overcome such situations.
Our history learning has been mainly based on Japan and how British troops were involved in the battles of World War 2. We considered how both sides might have felt during and after certain situations throughout this challenging and traumatic experience.
In science, we have also taken a look back to the past in how scientists and taxonomists have developed ways to classify and group different animals. The platypus (which was first discovered in 1797) we found out was a bit of an anomaly, and surprisingly taxonomists struggled to classify this particular animal! Can you guess why?!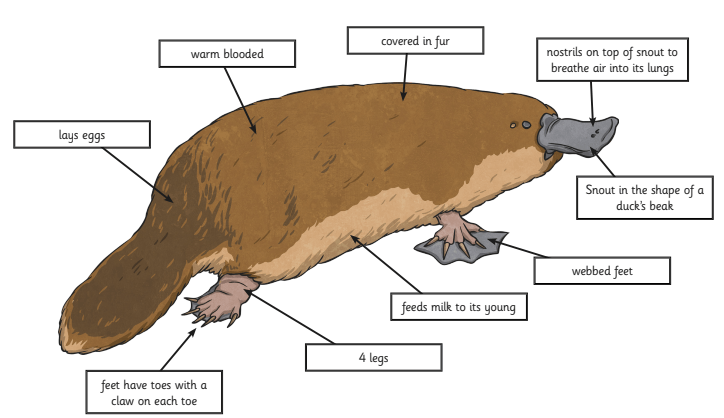 Week beginning 16.03.2020
This week, Year 6 have finished reading Kensuke's Kingdom. We discovered that Kensuke has lived a tough life. He was a doctor in the Japanese Navy and was shipwrecked on the island. He was the only person on board to survive when the ship was bombed. Whilst on the ship and with radio contact, he heard about the atomic bomb that hit his home town of Nagasaki and presumed his wife and young son must have died.
In the final chapter, some men come and shoot some of the gibbons on the island while Kensuke and Michael hide all of the orangutans in Kensuke's cave. A ship finally appears after these men have left and it turns out to be the Peggy Sue with Mum and Dad on board. Michael is ecstatic but so upset when he realises that Kensuke has decided not to leave with him. He needs to stay and take care of the orangutans.
When Michael returns home and writes his book many years later, he gets a letter from Kensuke's son who had survived the atomic bomb along with his mother and they always wondered what had happened to Kensuke.
We used the ending of this story to create a discussion text as to whether Kensuke should have stayed on the island or whether he should have left with Michael.
We focused on a range of grammatical skills alongside this including: brackets, dashes and commas for parenthesis, semi-colons, discussion style openers and modal verbs.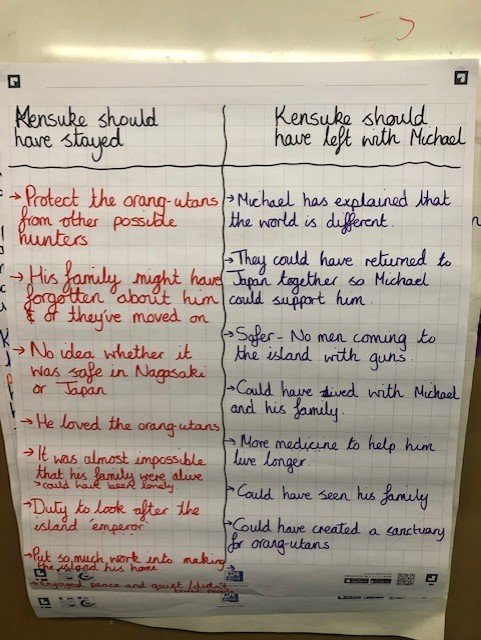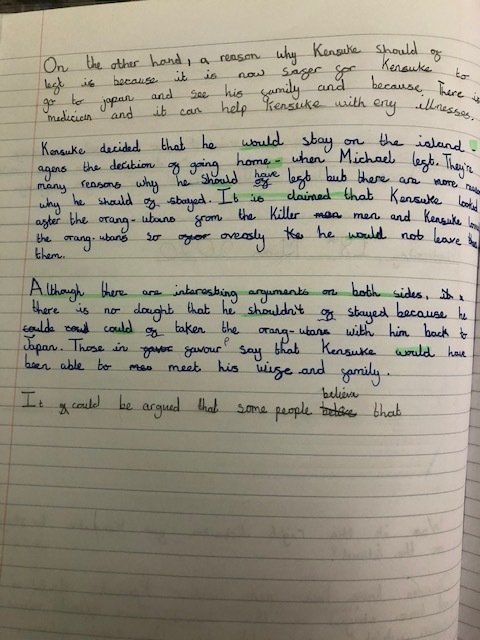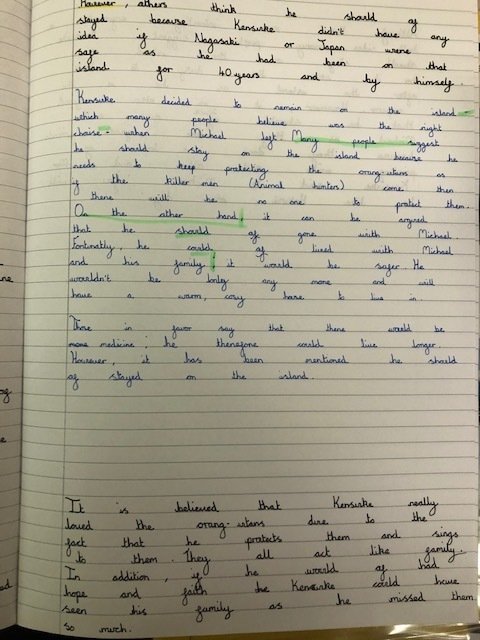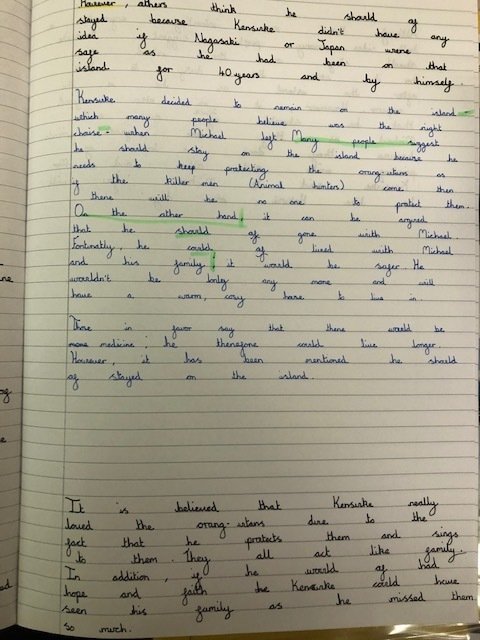 Week beginning 09.03.2020
This week is British Science Week, so a fantastic opportunity for all children in our school to engage with the most exciting scientific opportunities possible. In Year 6 we were lucky enough to be given the challenge of investigating the melting points of sweets! We had nine different packs of sweets to investigate, and all agreed that the best way to discover the boiling points was to observe the effect of two minutes worth of heating on each one.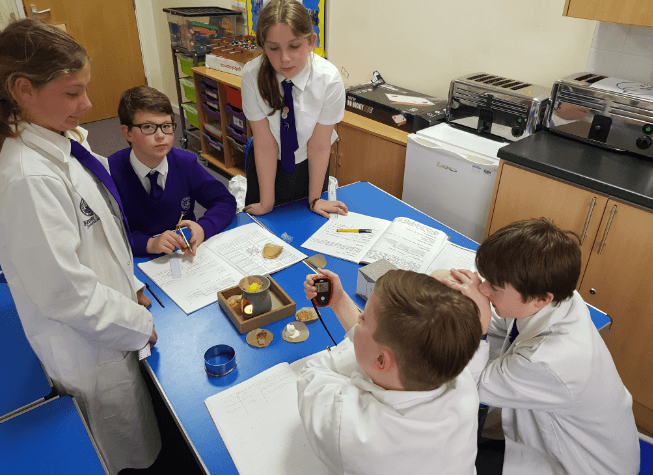 With adults lighting the candles, we melted the sweet samples on a piece of baking paper (for safety and easy cleaning) on top of an oil burner. Each one was carefully timed for two minutes and observations were carefully logged.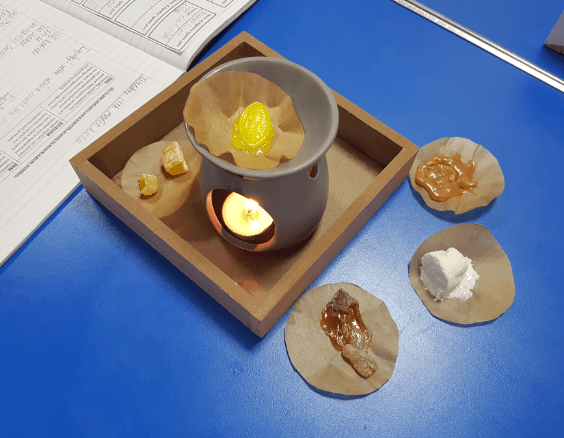 Look at those melted sweets! Would you believe, jelly babies and jelly beans didn't melt, but basically dried out and crumbled? The children were incredibly sensible and mature, and fully enjoyed the science that was taking place as it was such fun.
Back in class, we explored the results and agreed that the melting points of the sweets must be different. As many deep thinkers explained, if they were the same, the same thing would have happened to each sweet in the two minutes. We finished with a recap on the states of matter – that solids can melt into liquids, which can be reversed in some materials, and that liquids can evaporate into gases, with again can be reversible.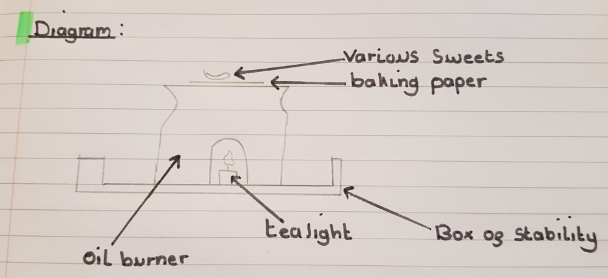 Week beginning 02.03.2020
Year 6 have been working hard in music this week in the lead up to creating their own songs!
In groups, the children have been set the task of putting together a song in support of people/areas which have been affected by a natural disaster, like in Japan. We began by listening to some well known charity singles and taking inspiration from their lyrics before starting to write our own.
In addition, we have been learning about musical notations and how to follow these to create a tune using the recorders.
The children have thoroughly enjoyed learning to play the recorder and will put this knowledge towards their song which will be developed over the coming weeks.
We can't wait to hear the finished songs!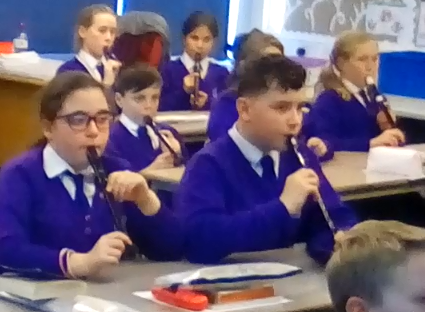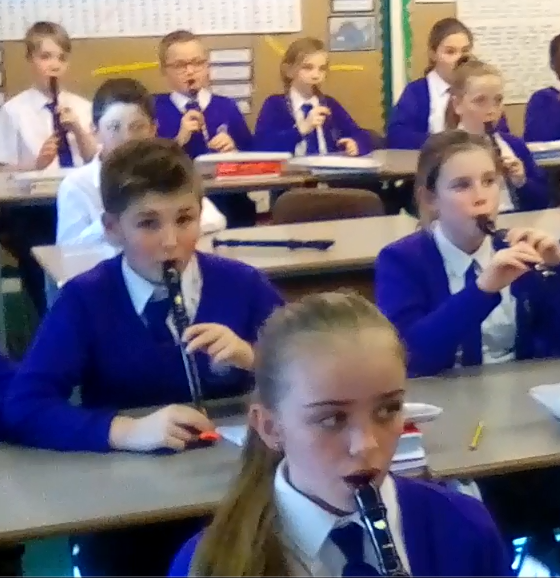 Week beginning 24.02.2020
This week, Year 6 have been using our text 'Kensuke's Kingdom' to inspire our writing. Whilst on their trip around the world, Michael wrote about some of the sea creatures he observed. We researched a creature that he might have found in the ocean and then used it to create a non-chronological report.
Additionally, we began our new science topic 'living things and their habitats'. In our first lesson we recapped some key scientific vocabulary such as vertebrates, invertebrates and mammals, and used these terms to classify a wide range of animals.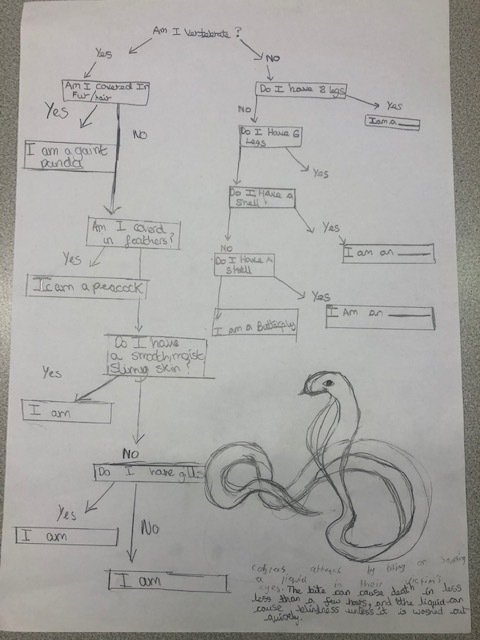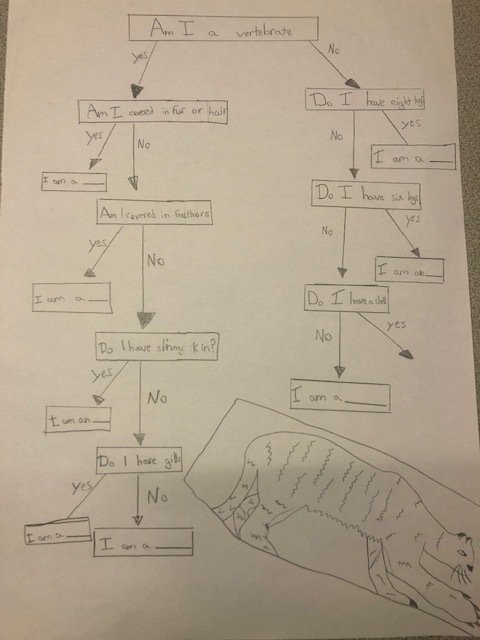 Week beginning 10.02.20
This week, Year 6 have invested a good amount of time finding out about the natural disasters that Japan has to face on a regular basis. Then, we carefully planned out a page of non-fiction information and used organisational features to create these thought-provoking outcomes. Year 6's ability to convey relevant information, create eye-catching but clear diagrams and lay out a page in a mature way is really clear to see from these amazing examples.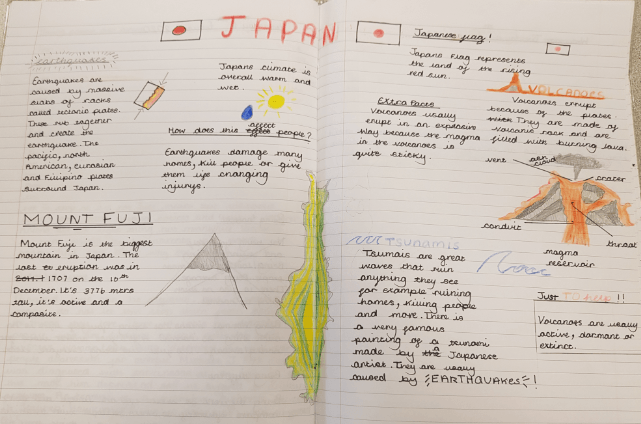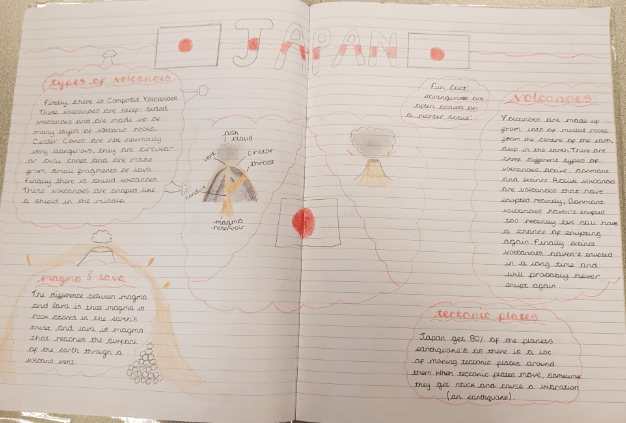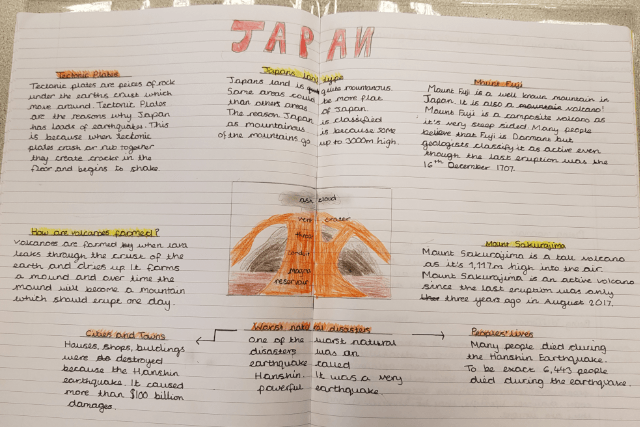 Also this week, the children have reflected on their learning experiences in PSHE about celebrating difference. We have discussion the traditional idea of being 'normal' and agreed that this doesn't really mean much to us in the modern world. We have empathised with people who still feel different for whatever reason, and we were able to think of many examples of such people. We have looked at how the law in the UK gives us all equality and protection, keeping certain areas such as gender, sexuality, religion or age as protected characteristics. We have also explored how many disabled people live wonderful lives and considered the causes of bullying behaviour.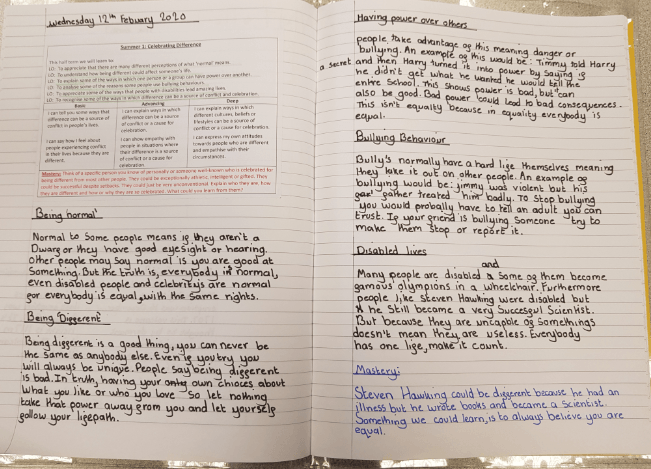 Week beginning 03.02.20
This week, Year 6 have been applying all that they have learnt to our practice SATs assessments.
Throughout the week, the children have worked exceptionally hard and continued to prepare themselves for the actual SATs which are fast approaching!
We would like to say a huge well done to all of the children for their hard work, keep it up!
In the afternoons, the classes have enjoyed learning more about musical notes and how to play the recorder! We have some impressive musicians among the year group. We hope to get even better as we go further into the term.
If any of our children play instruments outside of school, we would love to hear from them and their music so please let us know!
Week beginning 27.01.20
This week, Year 6 have continued our topic of Japan by creating some Haiku in our Free Write. A Haiku is a short poem traditionally from Japan which consists of 3 lines. It's important to remember and ensure that each line contains the correct amount of syllables.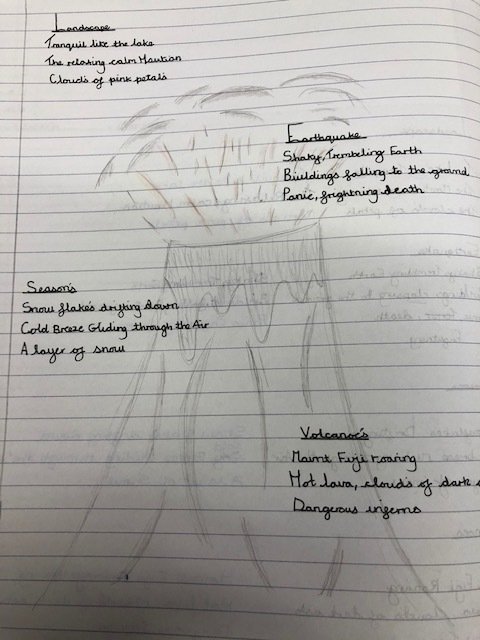 We have also created some collage artwork based on 'The Great Wave of Kanagawa' by Japanese artist Hokusai.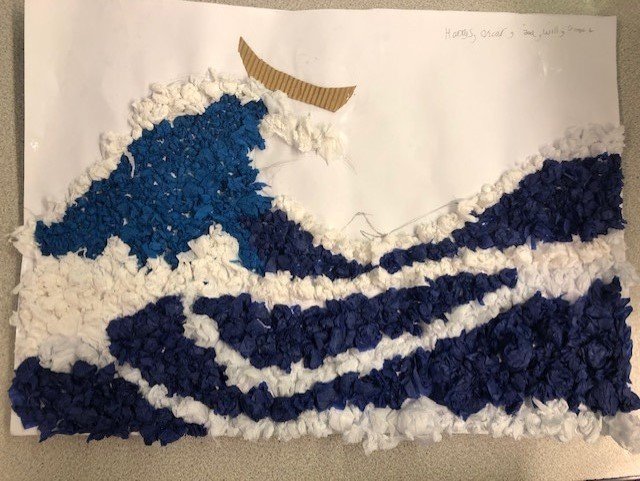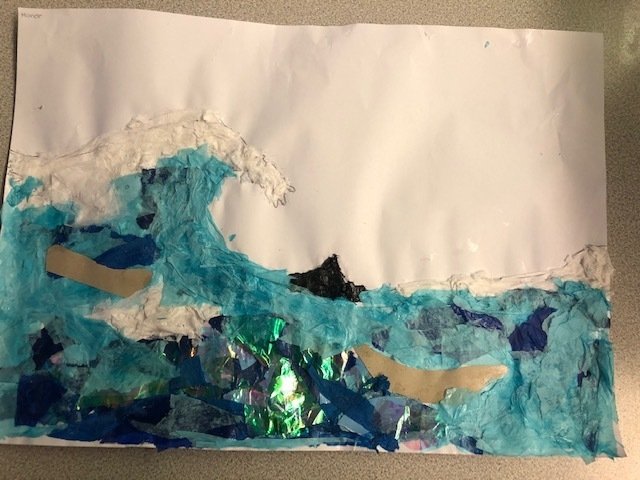 Finally, Year 6 have continued our science topic of animals including humans by carefully and accurately measuring our heart/pulse rates while resting and after exercise to determine our recovery rates and draw conclusions from our findings.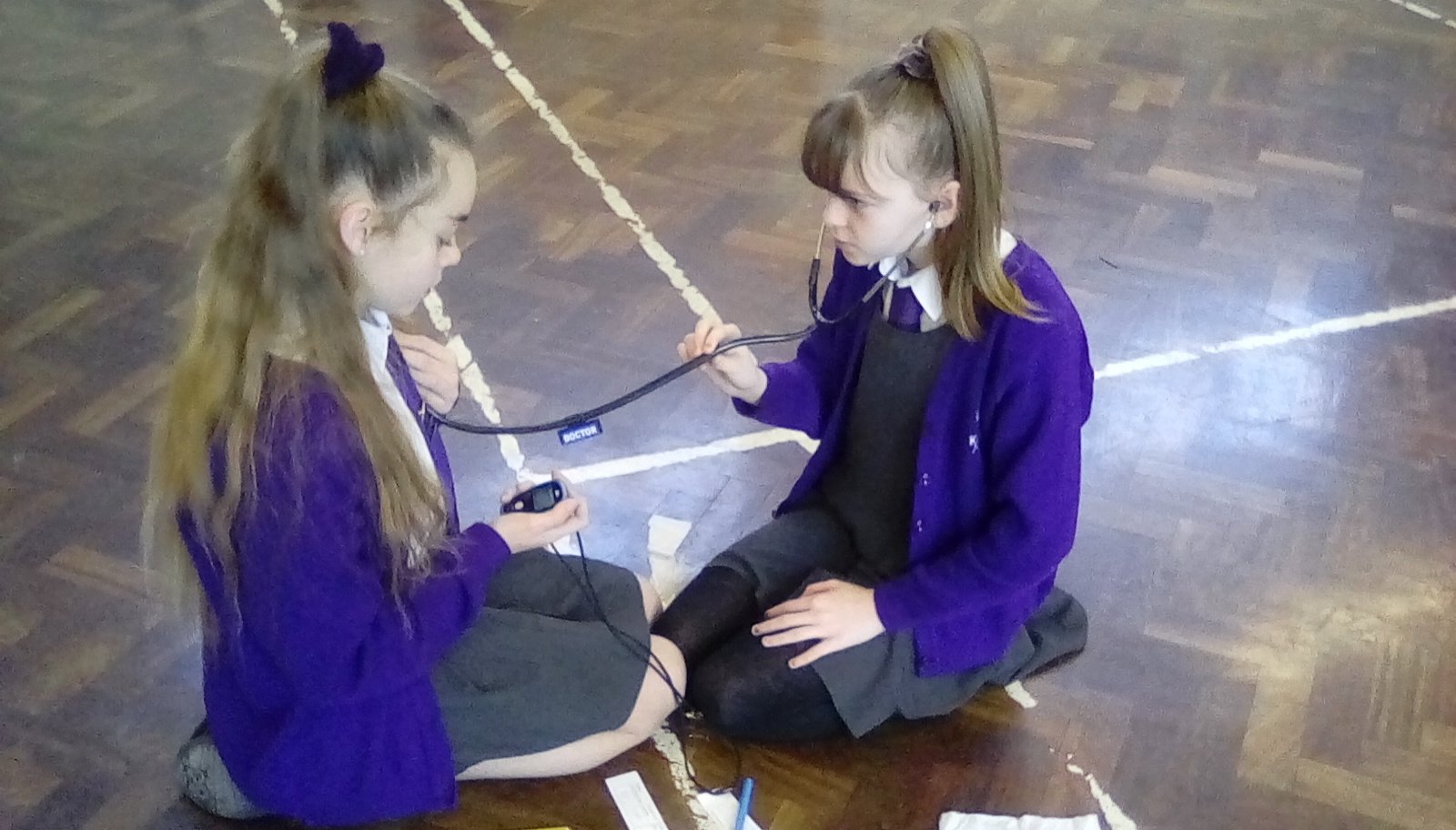 Week beginning 20.01.20
This week, Year 6 have loved getting into our new class text "Kensuke's Kingdom". We spent some time predicting what the story might be about just by looking at the front cover, the blurb and using our prior knowledge of the author, Michael Morpurgo.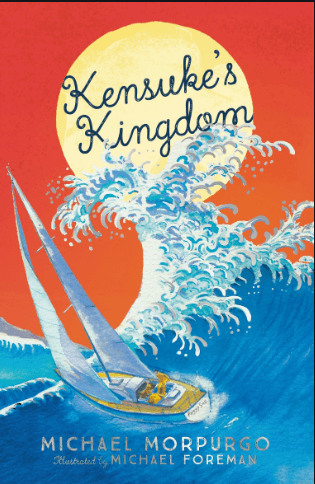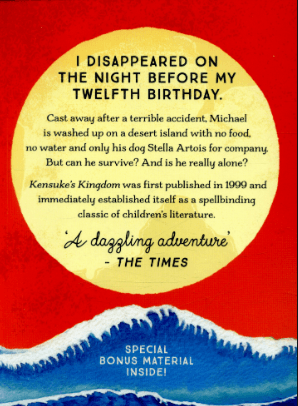 So far, what we know is that a family of 3 - a Mother, Father, son (and a dog) have left behind everything they know to sail around the world together. They had a successful few months sailing until one night, Michael falls overboard whilst trying to rescue his dog, Stella. Now the two of them are in danger, stranded at sea, all alone, in the middle of a stormy night - what will happen to them?!
We will find out next week, the children can't wait to pick it up again!
Year 6 were also lucky enough to team up with Year 4 this week for some drama related activities! The two year groups teamed up to find out about the class texts we have been reading, Year 6 were really keen to share Kensuke's Kingdom with Year 4.
Together, in mixed teams, the children put together a series of freeze frames to demonstrate different scenes from the story. Some very brave children shared their performances with a big audience and there were lots of "Teamwork Dojos" awarded!
Well done to Year 4 and Year 6 for a very impressive morning.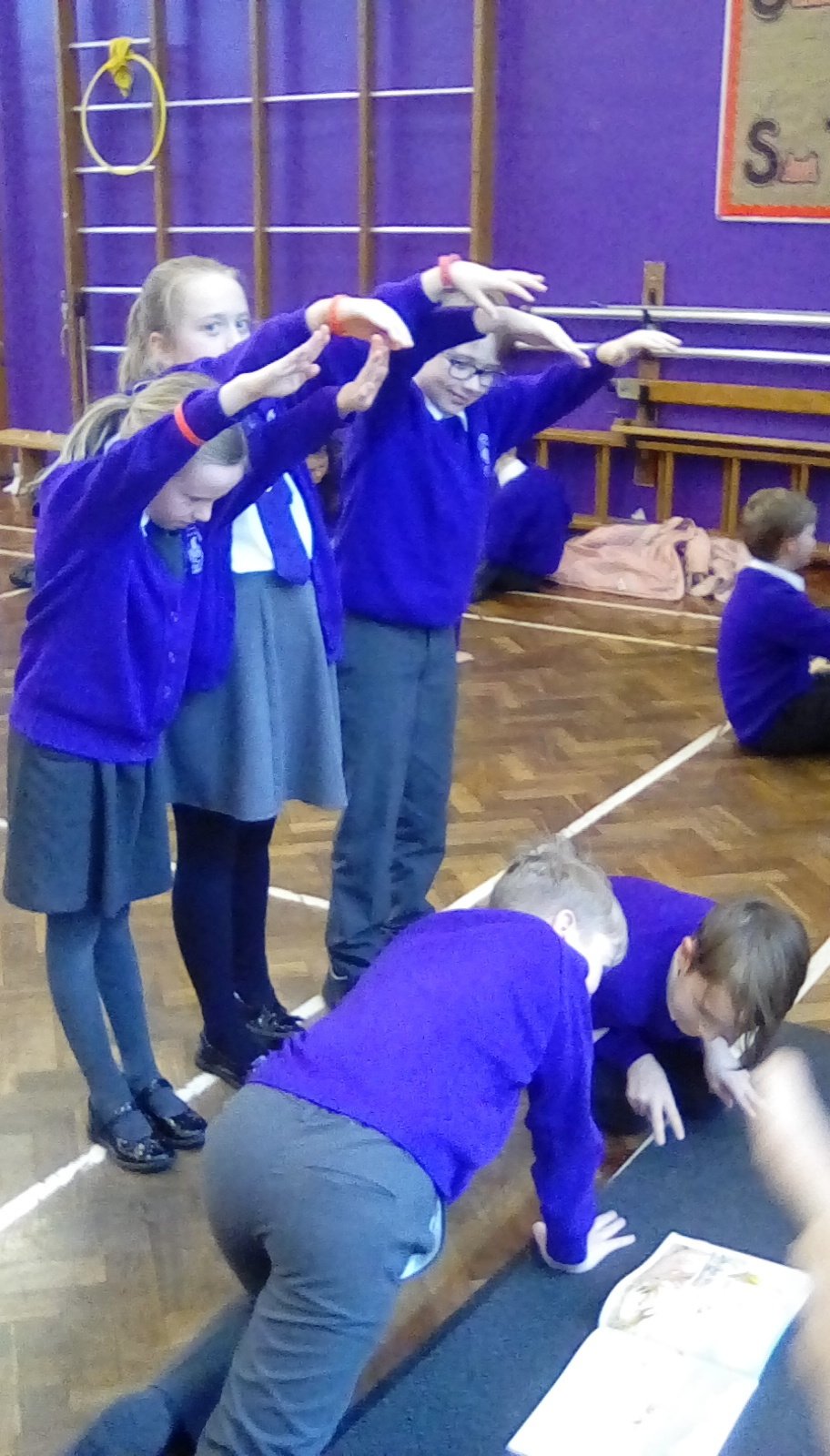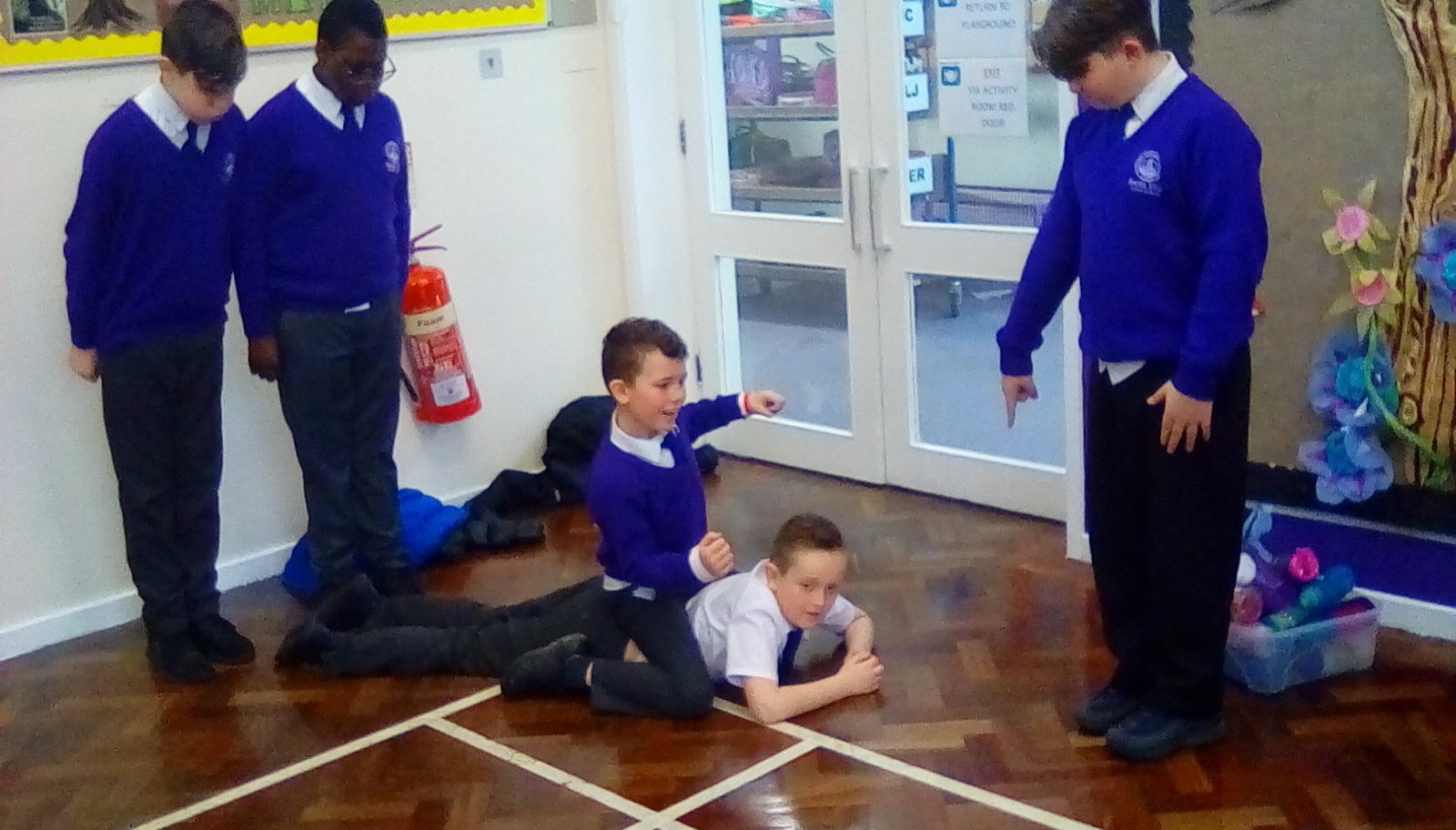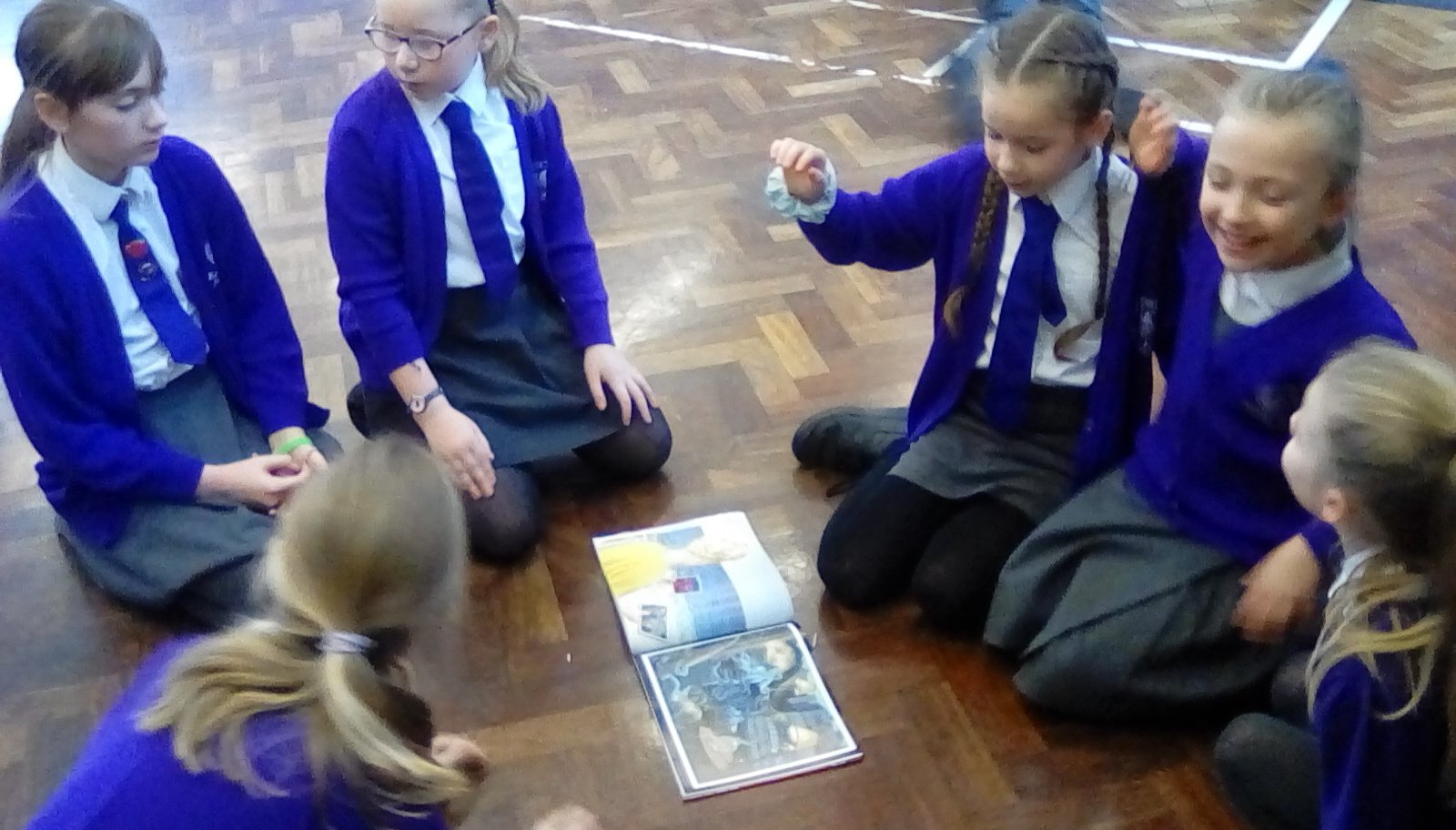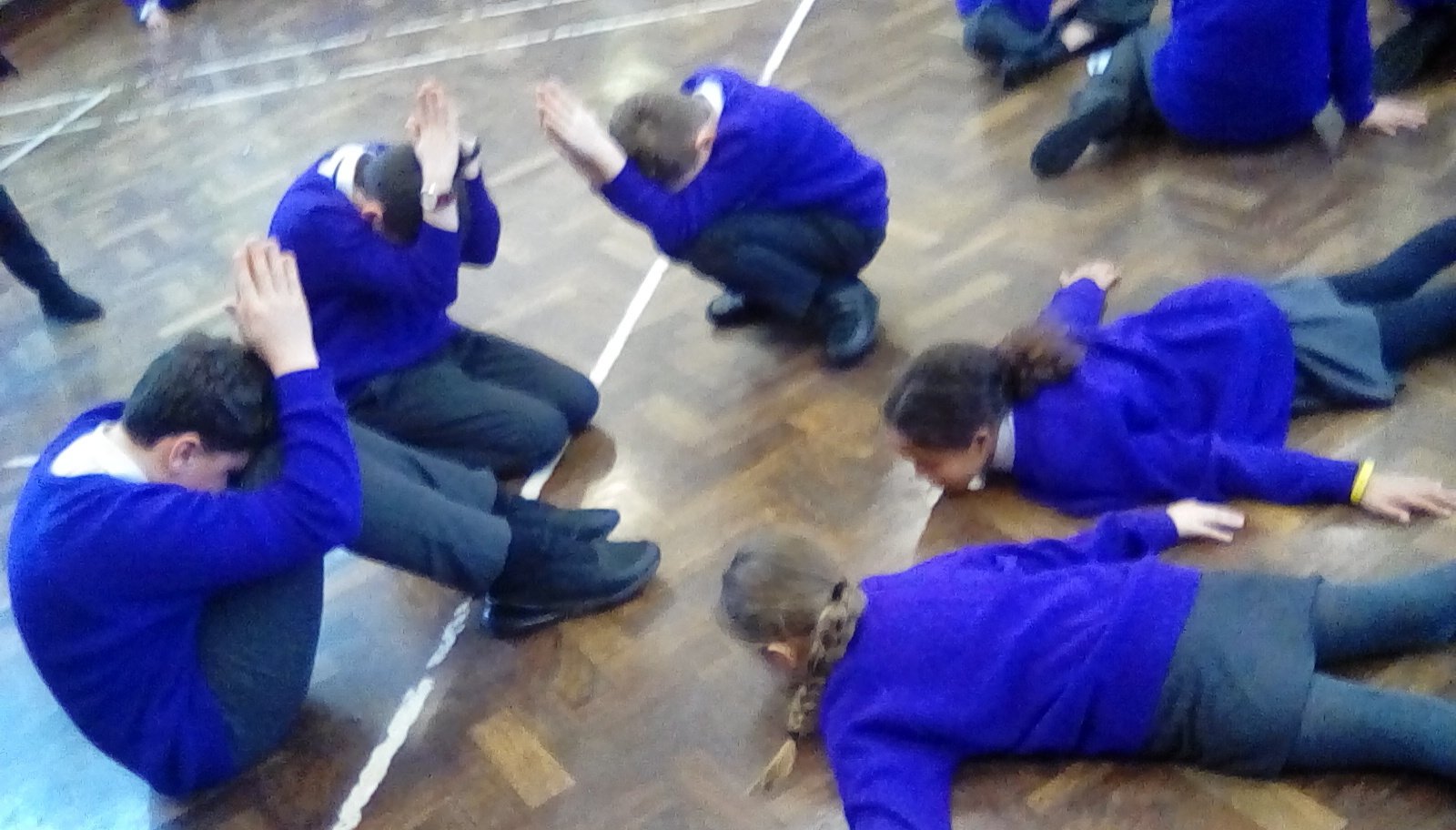 Week beginning 13.01.20
This week, Year 6 have been enjoying writing a disaster story! We studied an overview of earthquakes, including learning that 80% of all of the planet's earthquakes happen on the rim of the Pacific Ocean near Japan. We were encouraged to imagine the extremely unlikely event of an earthquake happening here, or putting ourselves in the shoes of the Japanese.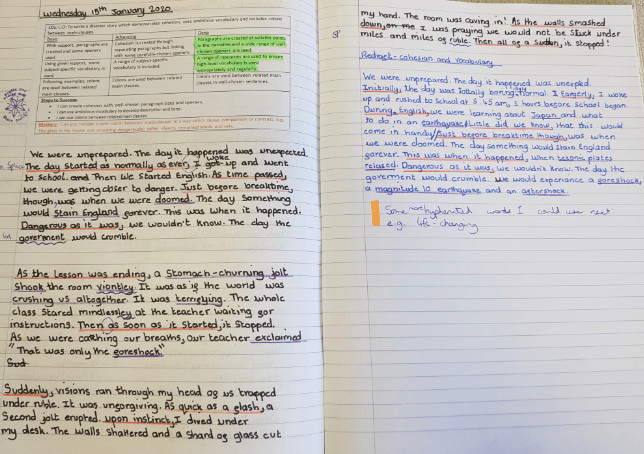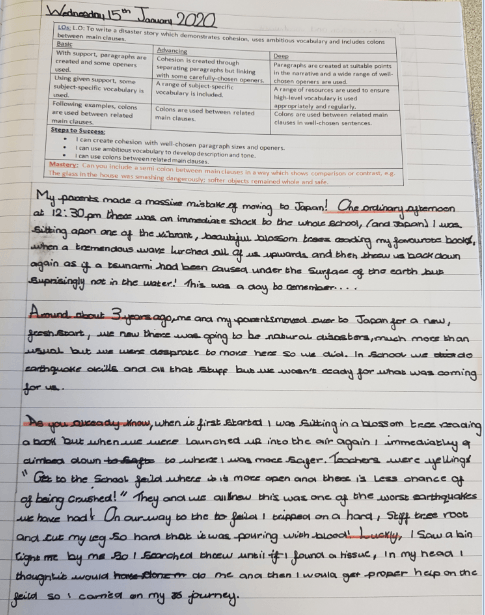 In Science, the Year 6 children have begun to learn about their hearts and lungs and the overall circulatory system. Once again as we focus on the human body, we have had dozens of excellent questions! Below are some beautifully drawn or traced diagrams with precise labels and descriptions.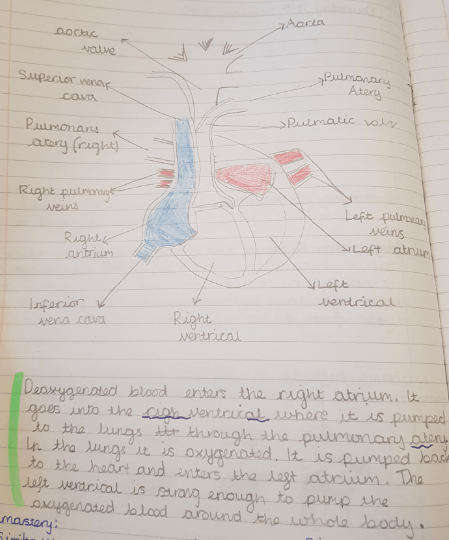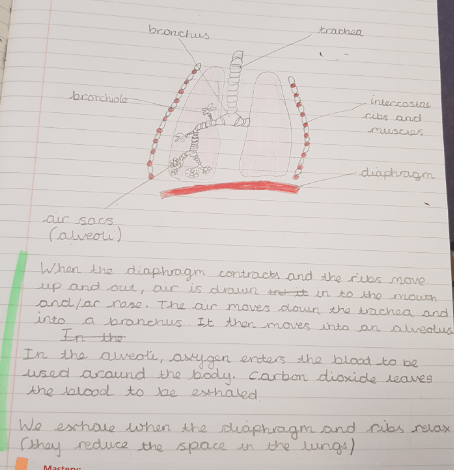 In Computing, we returned to coding using Scratch, which remember is available online if you want to practise. We focused on the sequence of an algorithm, which means that the instructions must be given in the precise orders if you want to experience success! In order to guide the bug around the maze, we had to put precisely the correct sequence of blocks. With the wrong sequence, it will go to the incorrect squares.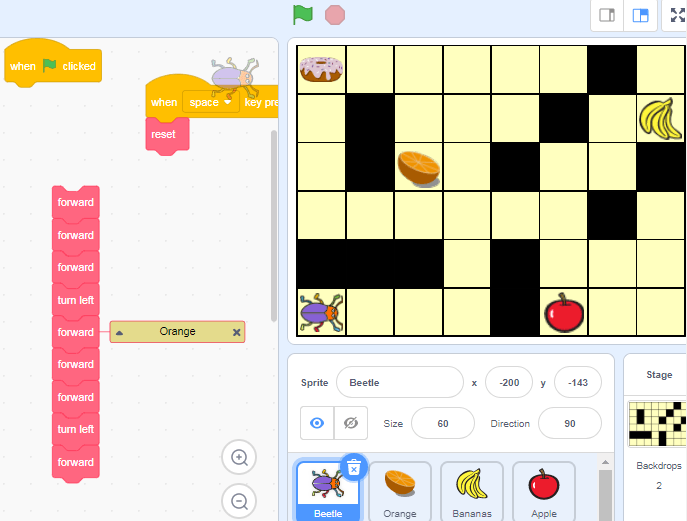 Week beginning 08.01.20
Do natural disasters create adversity?
During the spring term, this is the question that Year 6 will be exploring and discussing in detail. To begin our topic, we spent the day on Wednesday enjoying lots of activities linked to Japan such as: making sushi, origami - the art of paper folding, trying our hand at karate and sketching koi fish.
On Thursday and Friday, we have started reading our new text 'Kensuke's Kingdom' and making predictions about this as well as using our geographical skills to locate several countries and continents in an atlas, including Japan. We have also understood lines of latitude and longitude and how they are used for navigation.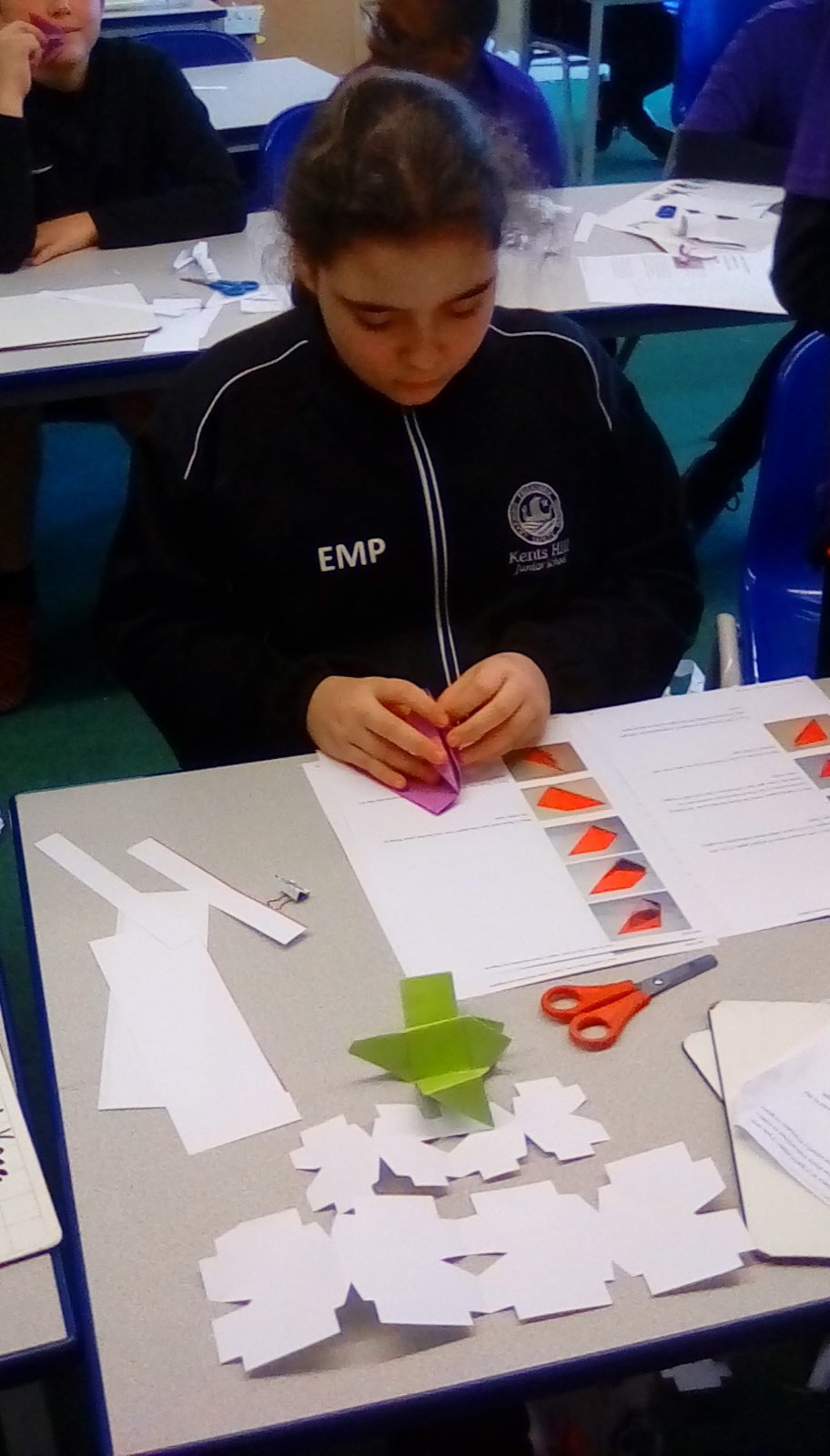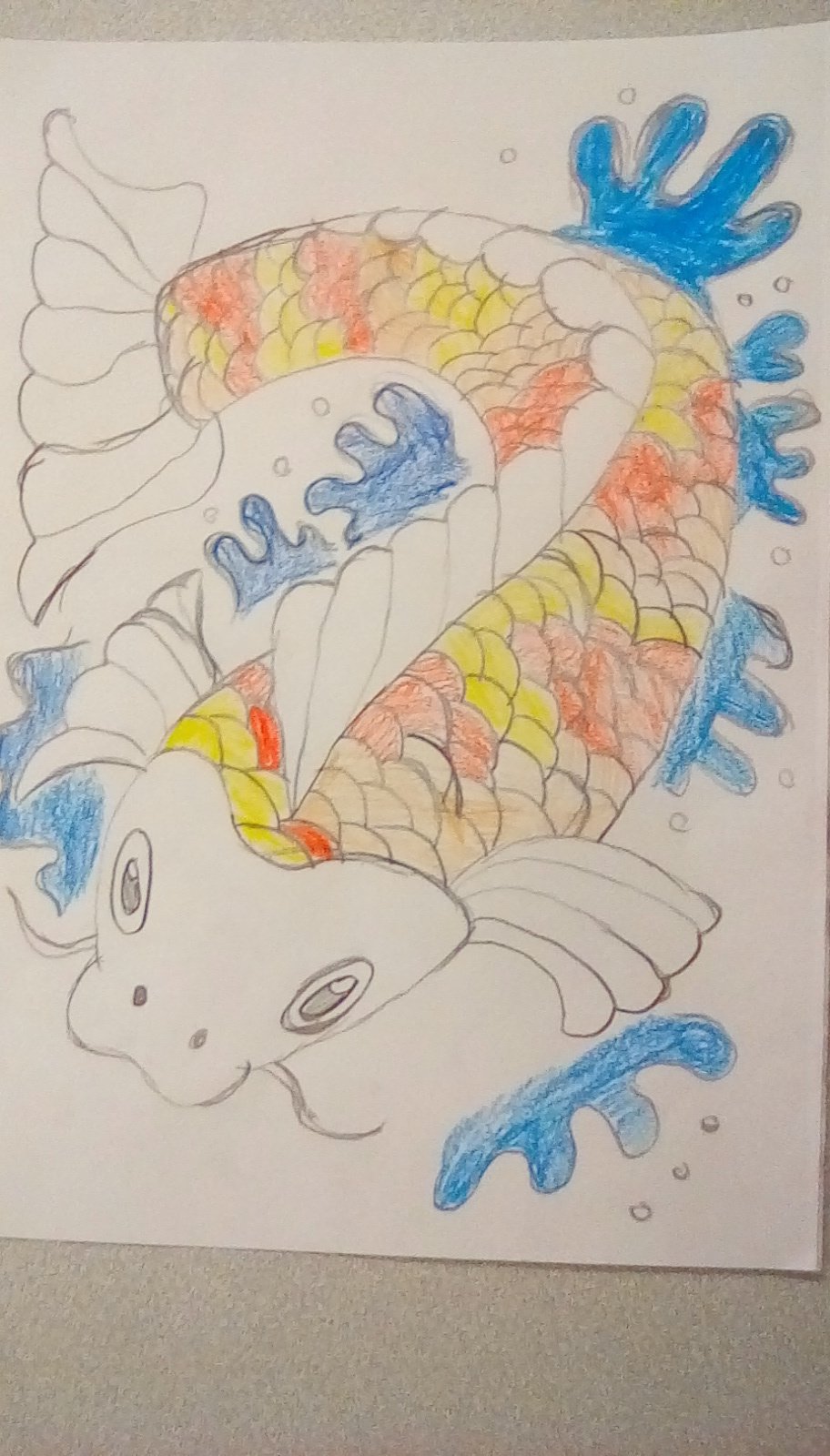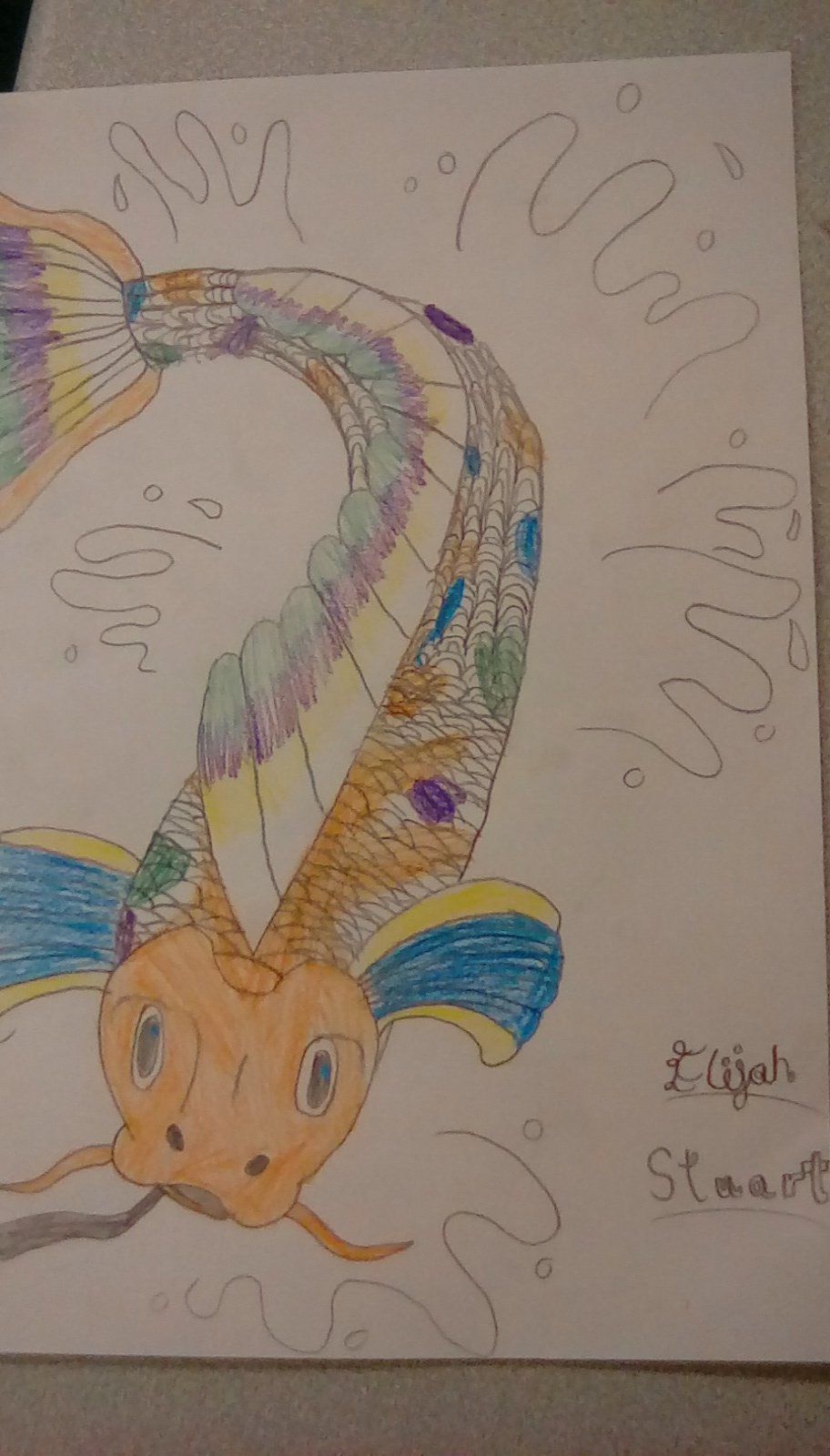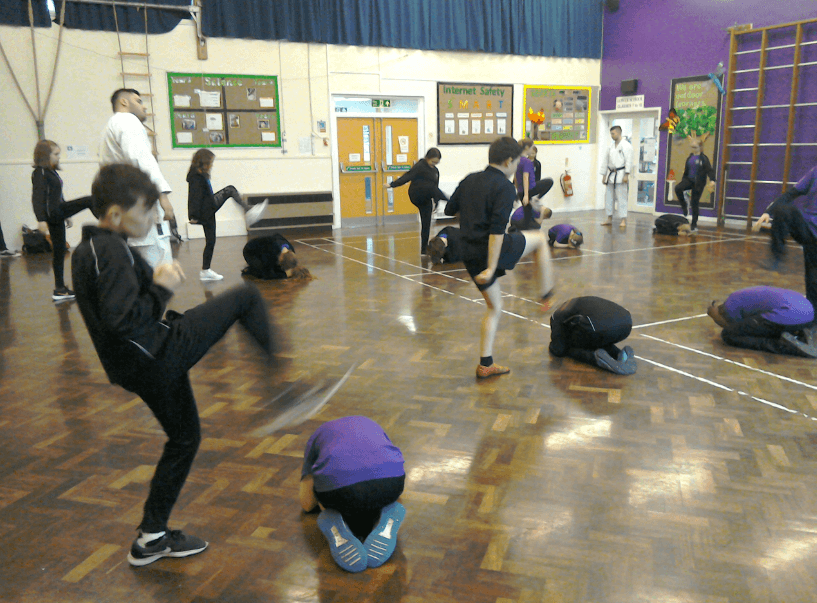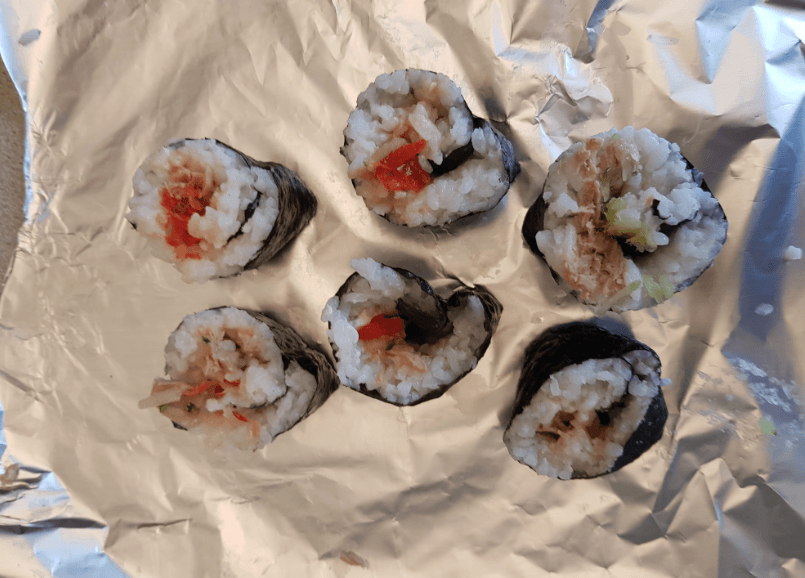 Week beginning 16.12.19
During our last week of term, the children have really enjoyed getting involved in our festive activities including: baking gingerbread men, singing Christmas songs and making Christmas crafts. We were really pleased to see so many visitors on Tuesday afternoon who shared this all with us.
Well done to 6NH for winning the singing competition!
We have also celebrated some fabulous topic homework! Thank you and well done to all of the children who clearly put a lot of effort into creating theirs - we saw some very creative work including posters, Powerpoint presentations, a news report and singing!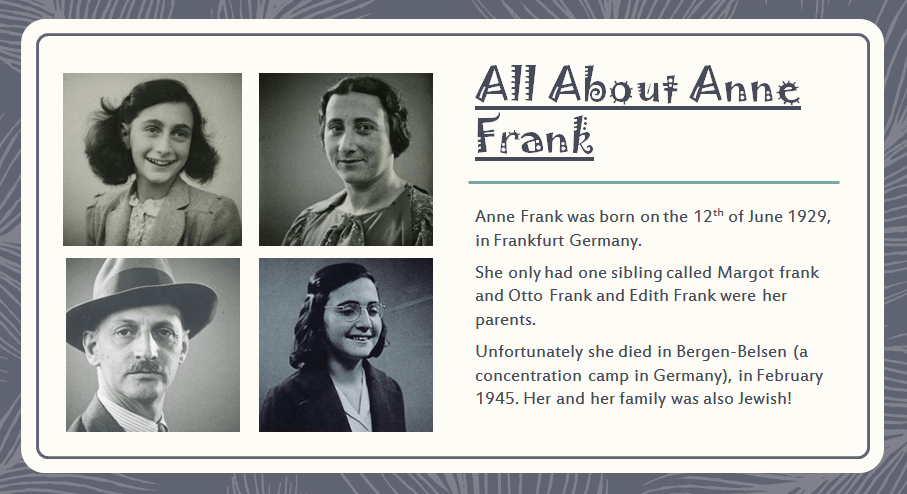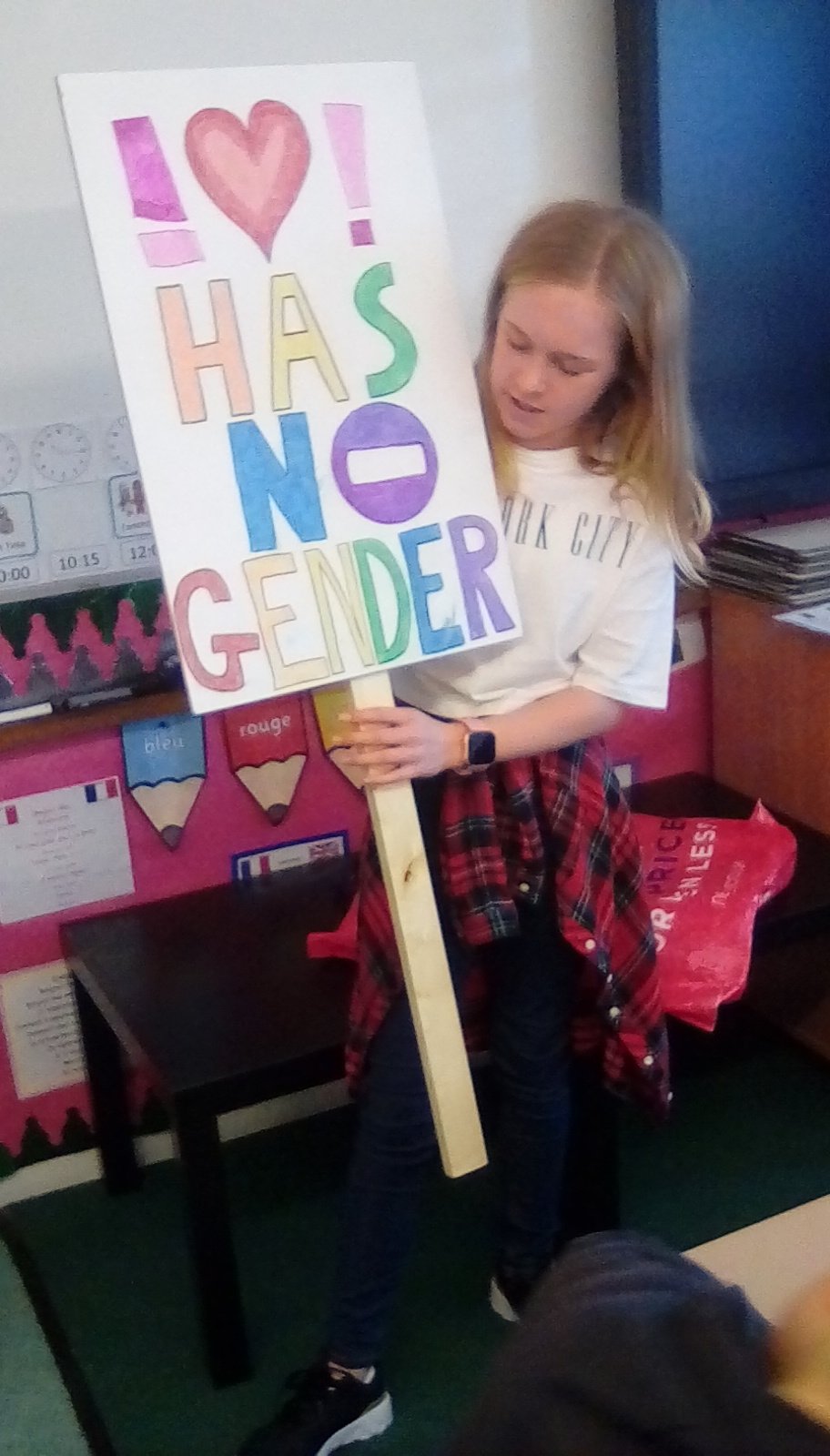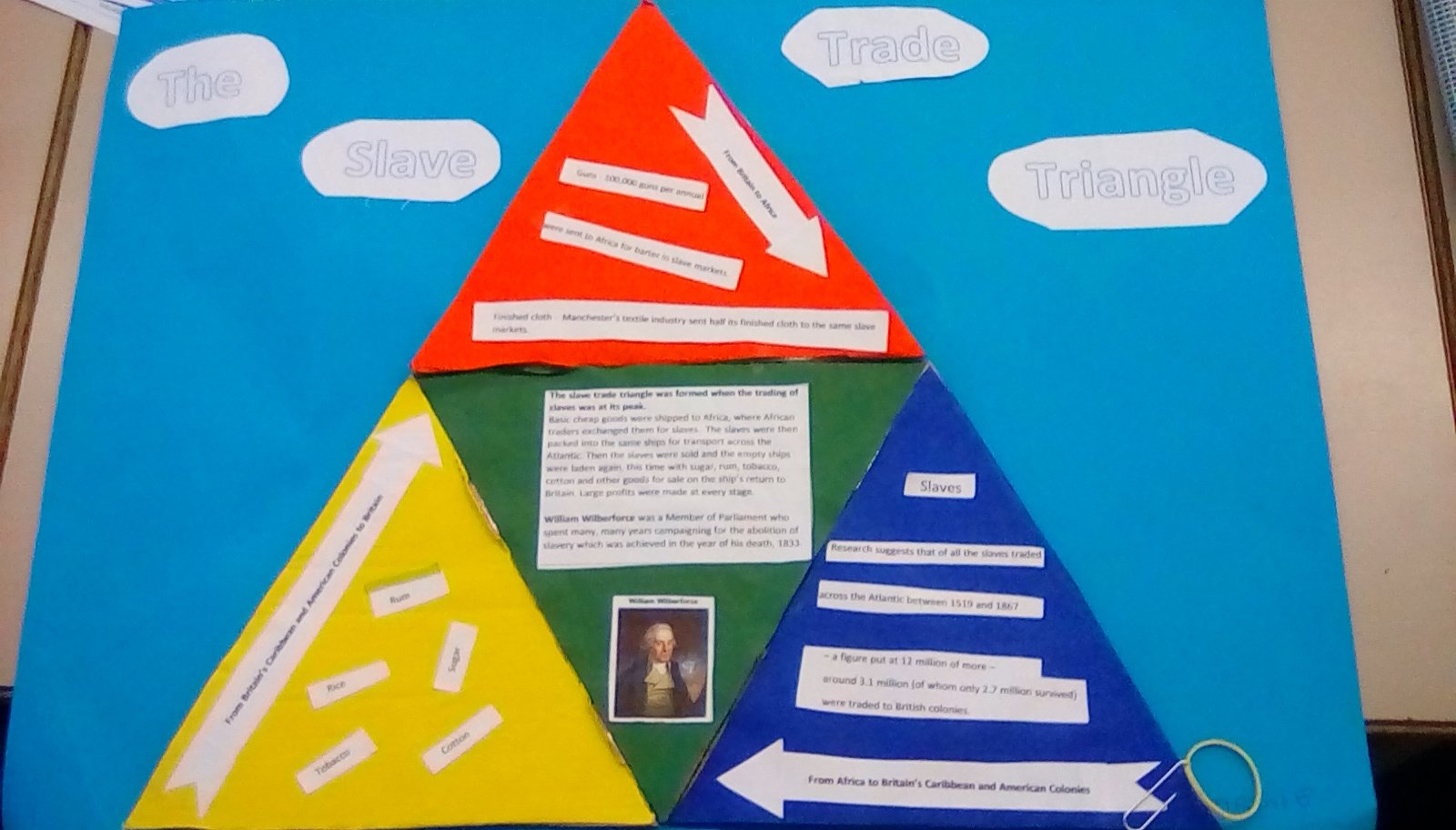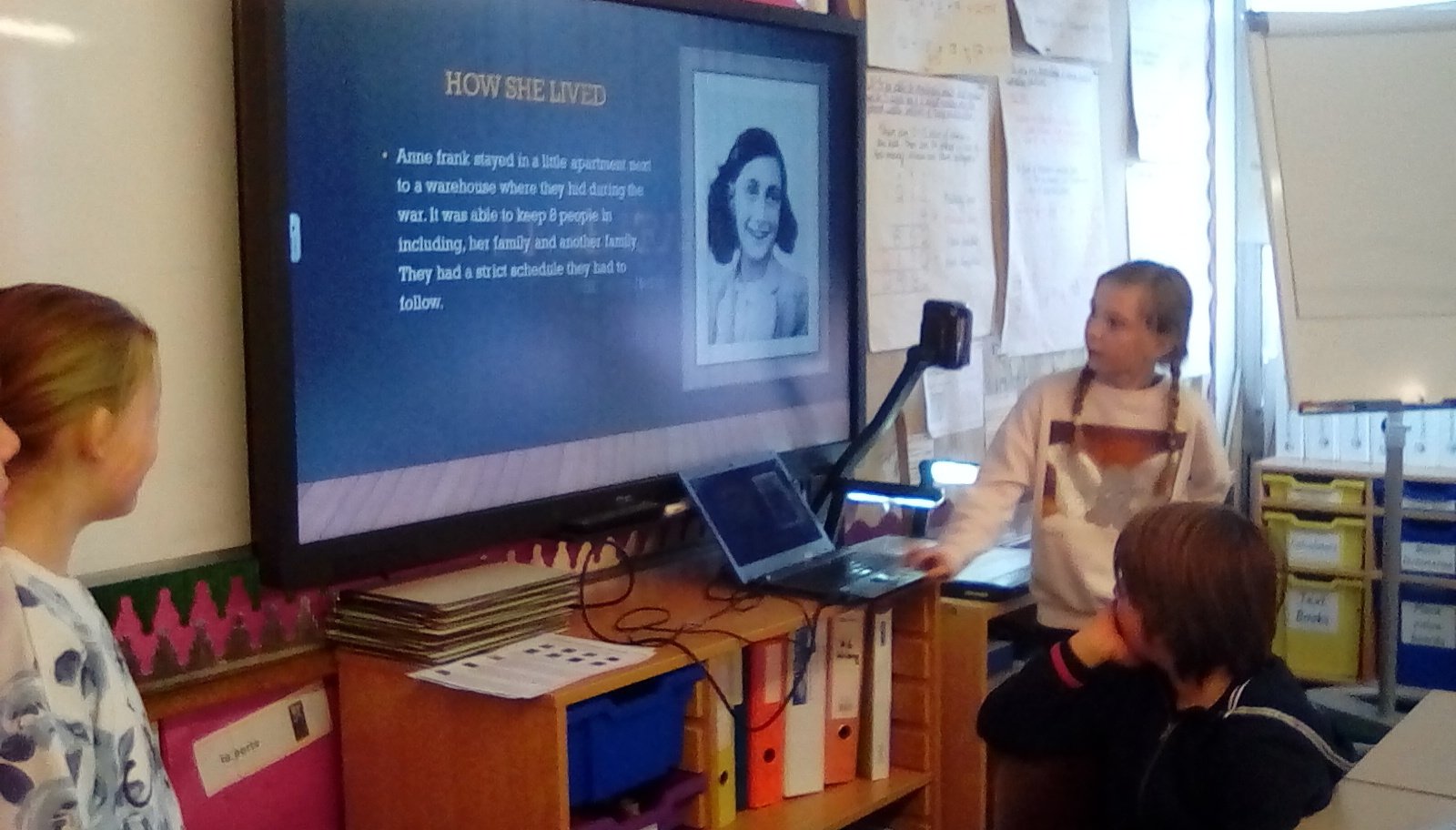 All in Year 6 would like to wish everybody a very Merry Christmas and a Happy New Year!
Week beginning 09.12.19
Year 6 have spent our final full week of the term reflecting on our autumn topic of The Price of Freedom. We looked back at our original question: What is the price of equality - is it worth it?
As a small group, we have worked collaboratively to choose a specific area of our topic to create a discussion considering the different view points of individuals over time. Within our group, we researched this specific area and created a board showing the opposing views. On Friday, we presented our discussion to the class with the most informative discussions being shared with the whole year group.
On Tuesday of this week, 14 members of the choir went to Stafford Hall Care Home to brighten the day of some of the residents there by singing some Christmas songs. The children really enjoyed their visit and it really made us smile to see some of the residents and carers dancing to our songs.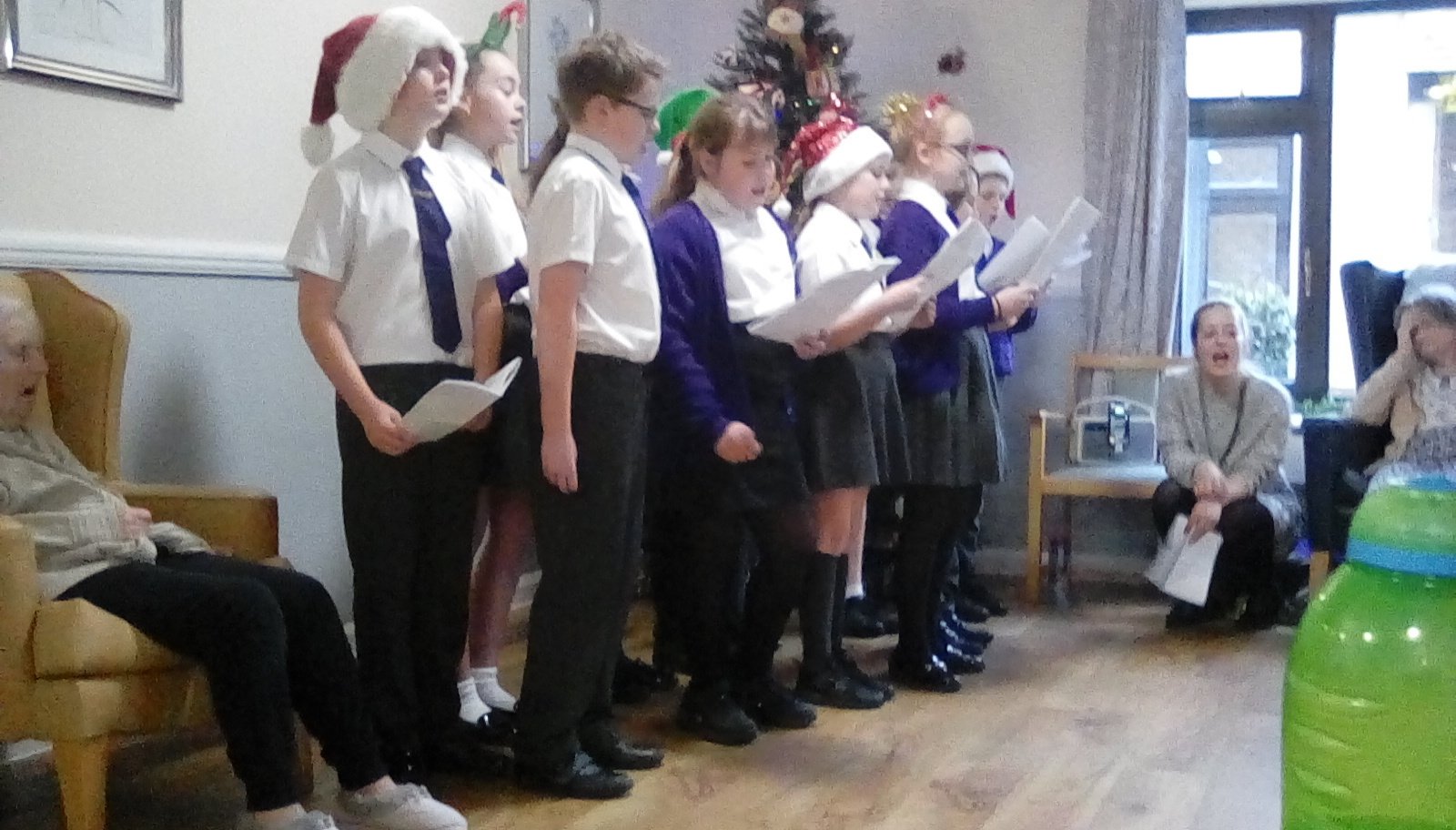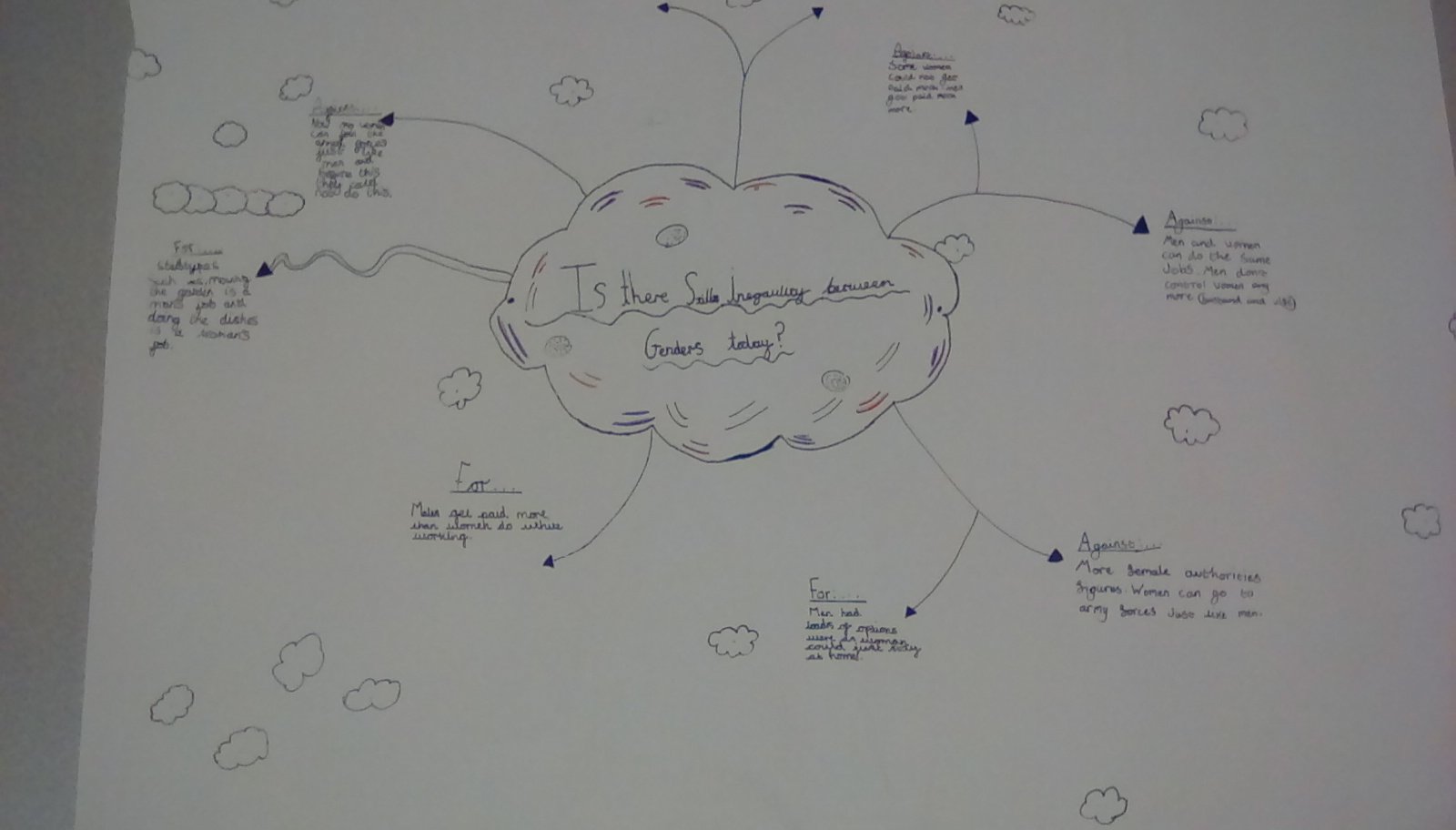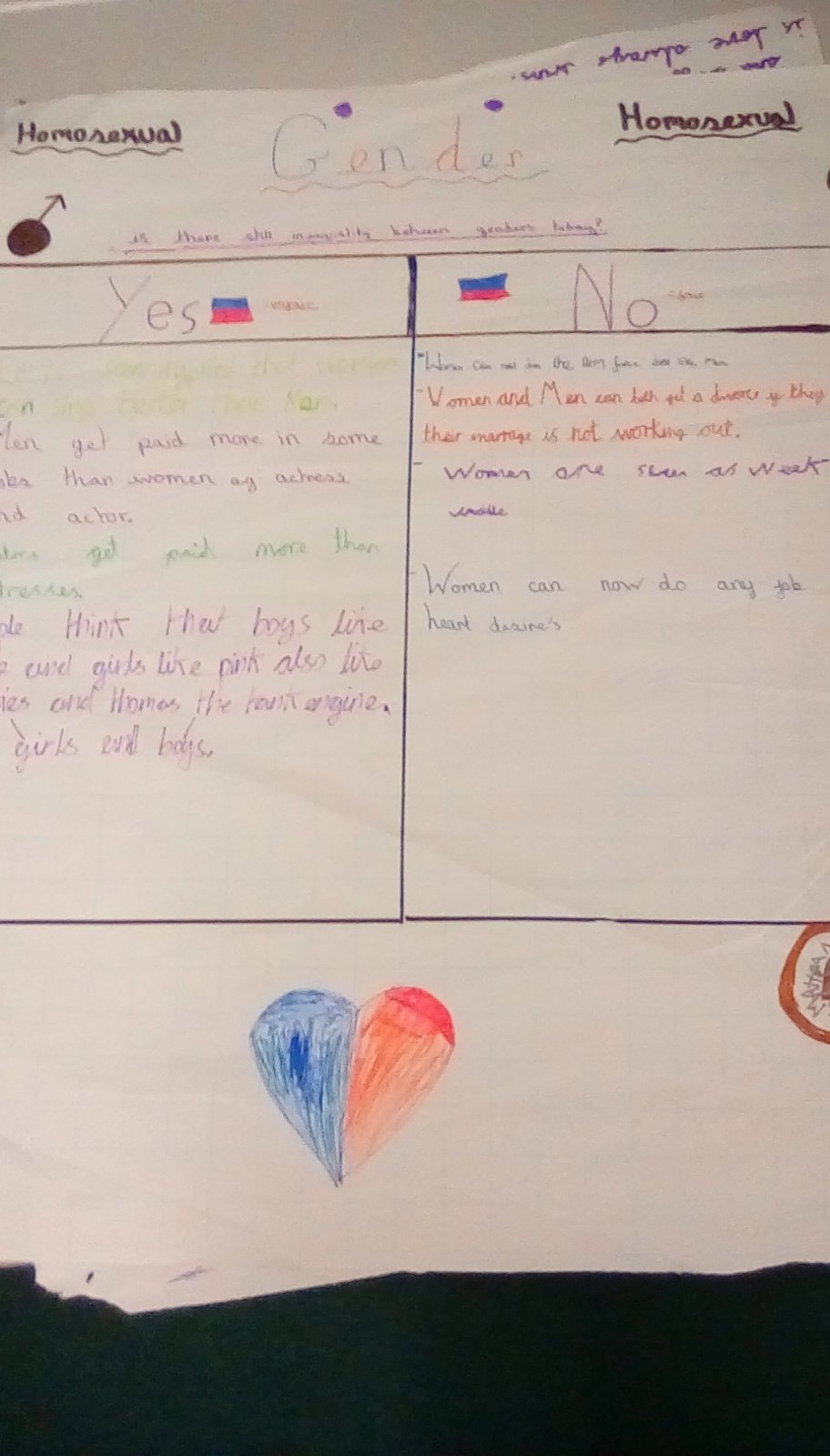 Week beginning 18.11.19
This week, Year 6 have been finishing studying Titanic and looking at the segregation of the classes on the ship. We have created our own lifeboats to meet a specific design brief which was to ensure the passengers safely and quickly were escorted to land.
We modified our boats several times looking at issues with weight distribution and the surface area of the ship.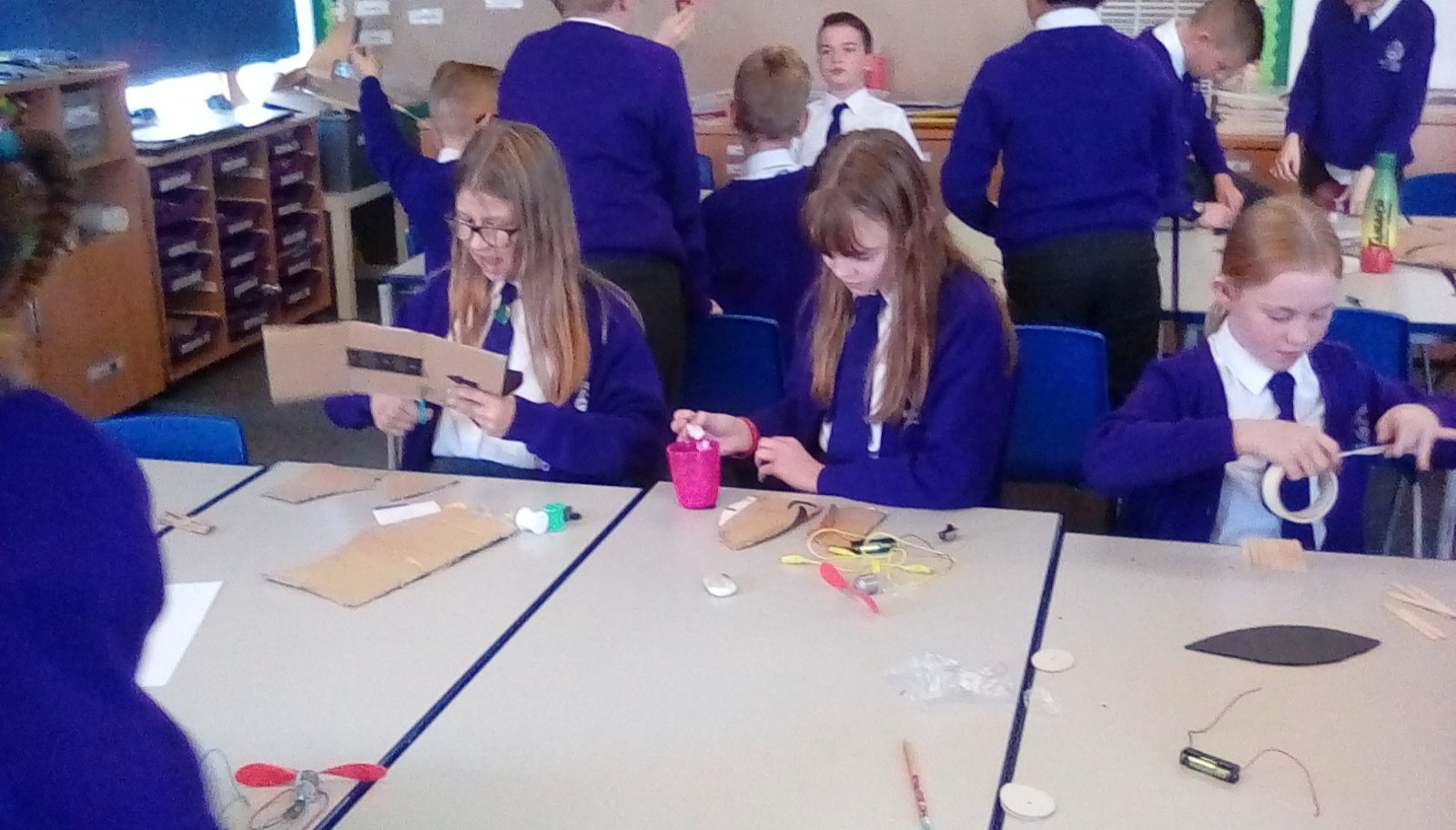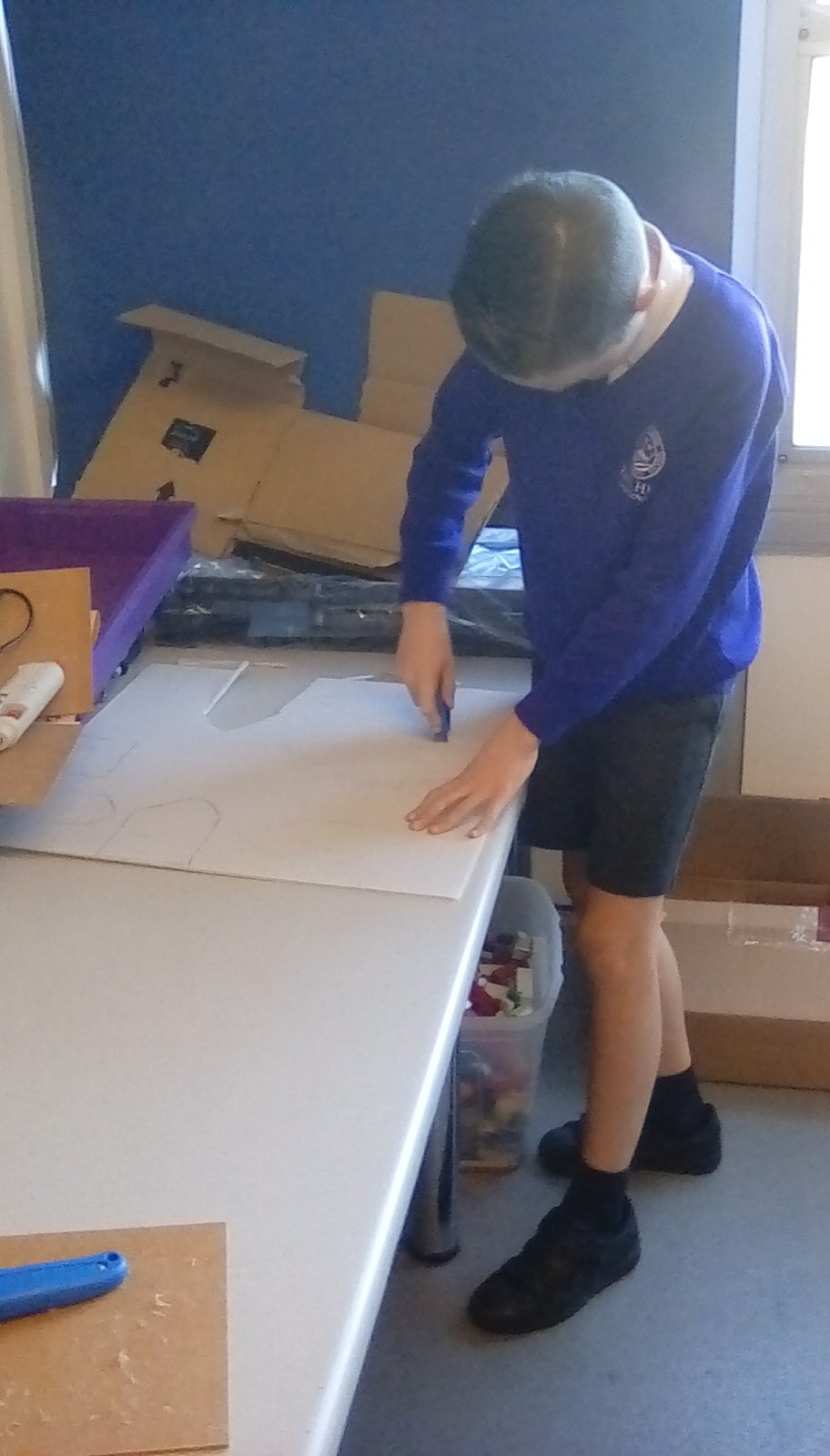 We then moved on to looking at the suffragettes, another group in society who were discriminated against. We learned about Emily Davison who was killed by a horse at the Derby when she stepped out onto the race course. We created a piece of writing discussing whether she intentionally meant to kill herself or whether this was a tragic accident.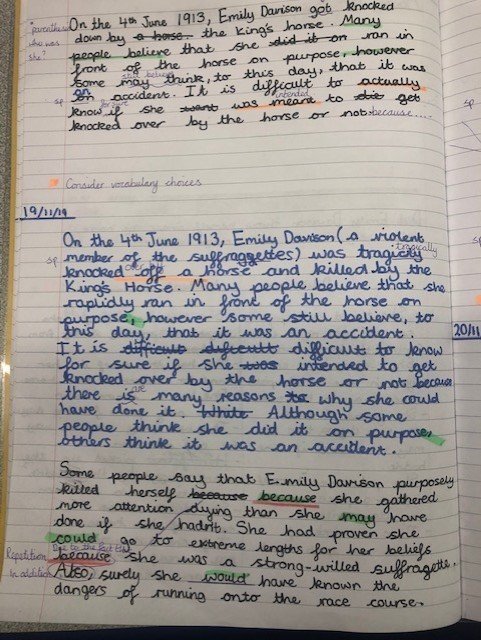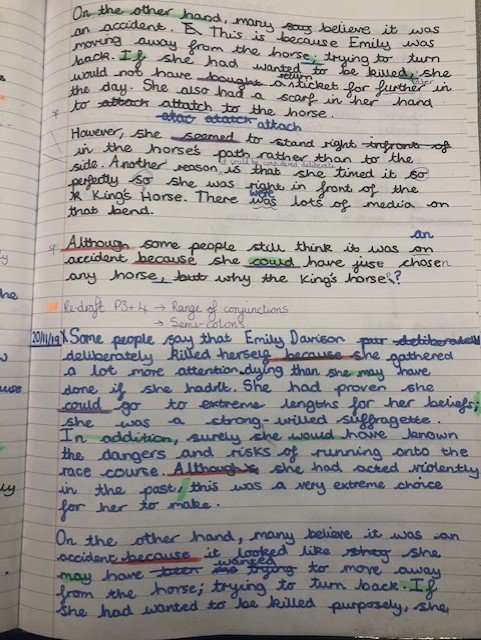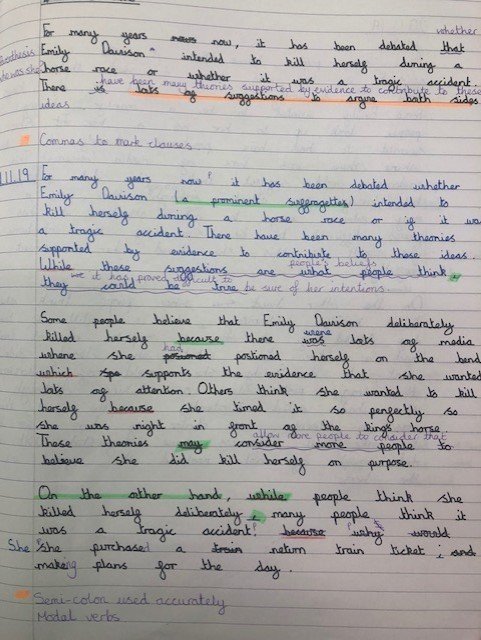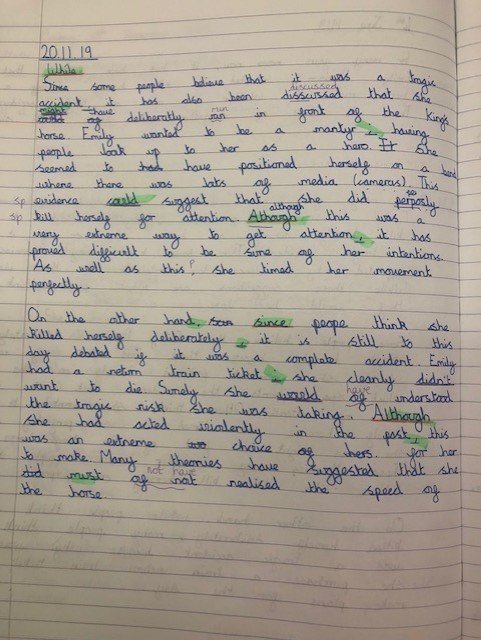 Week beginning 11.11.19
Our week began with Remembrance day which we commemorated through the use of drama. We used role play and freeze frames to act out different people involved in the war and focused on showing different perspectives throughout various stages of the war.
We also reflected on why this day is so important and took part in a 2 minute silence to show our respects.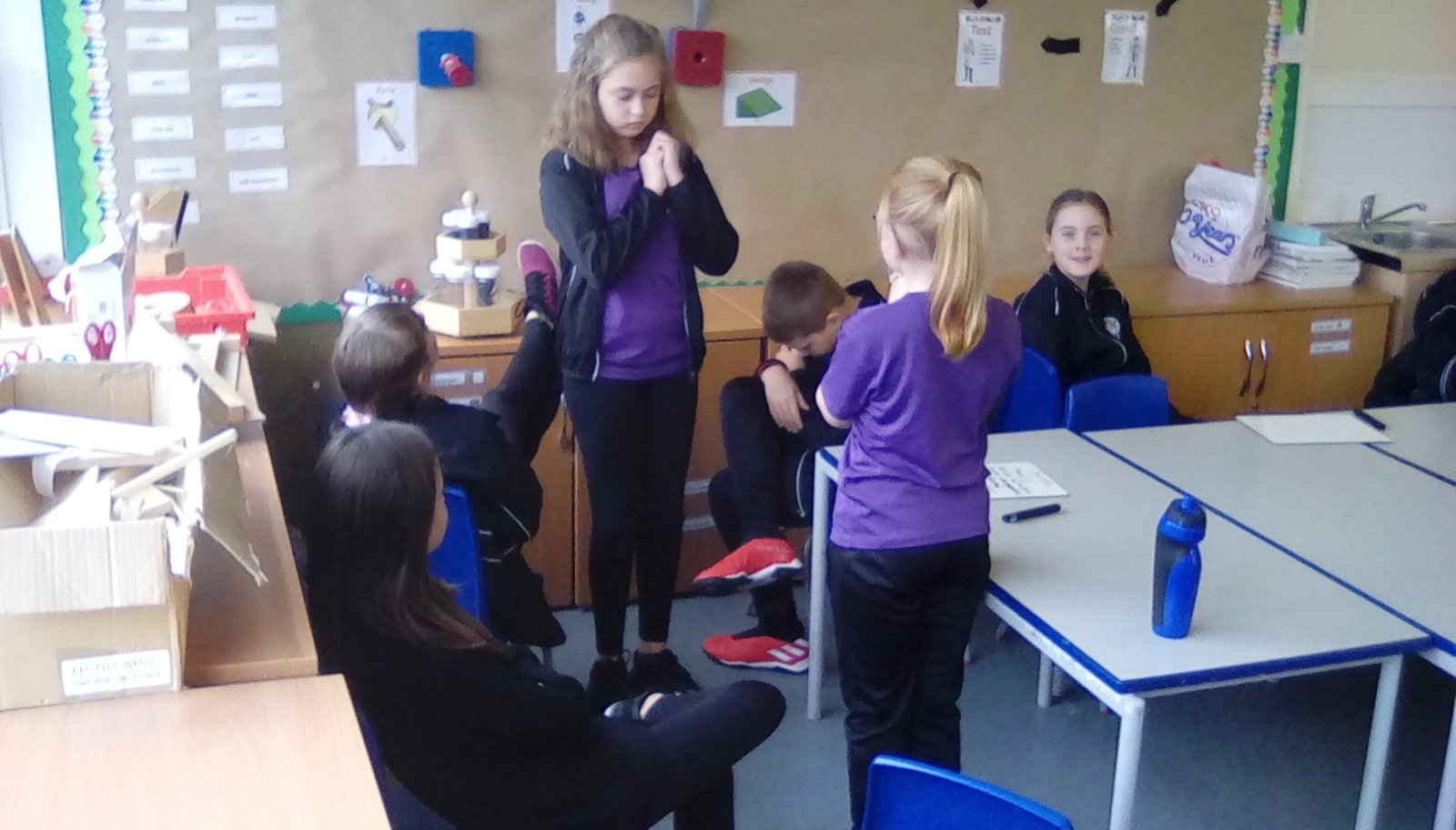 We continued to extend our knowledge of what life was like on board the Titanic and how we know so much about what happened and the experiences of the people involved in the tragedy. The children applied their maths knowledge of area to complete a "Titanic" task involving the design of different rooms on board the ship.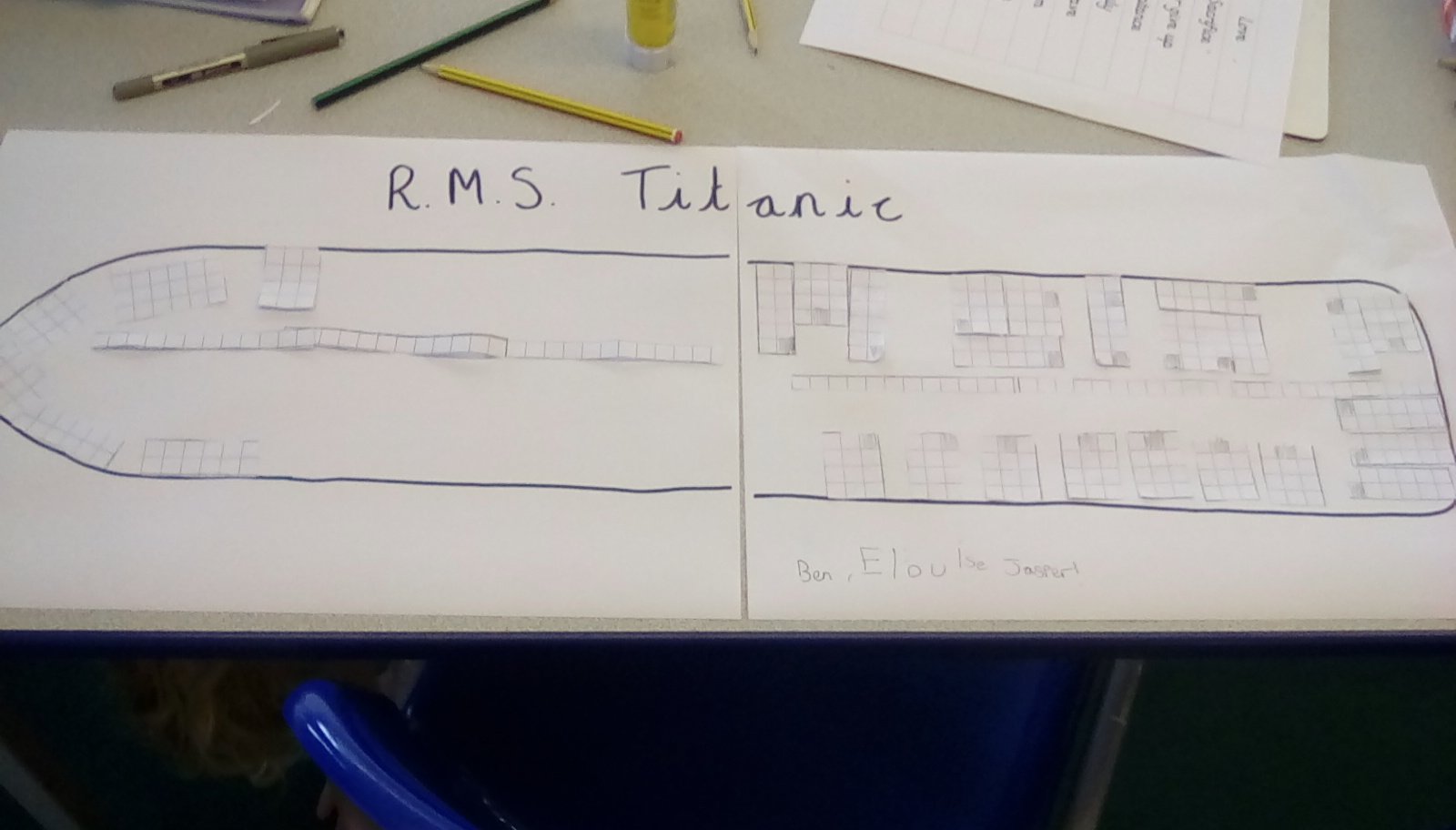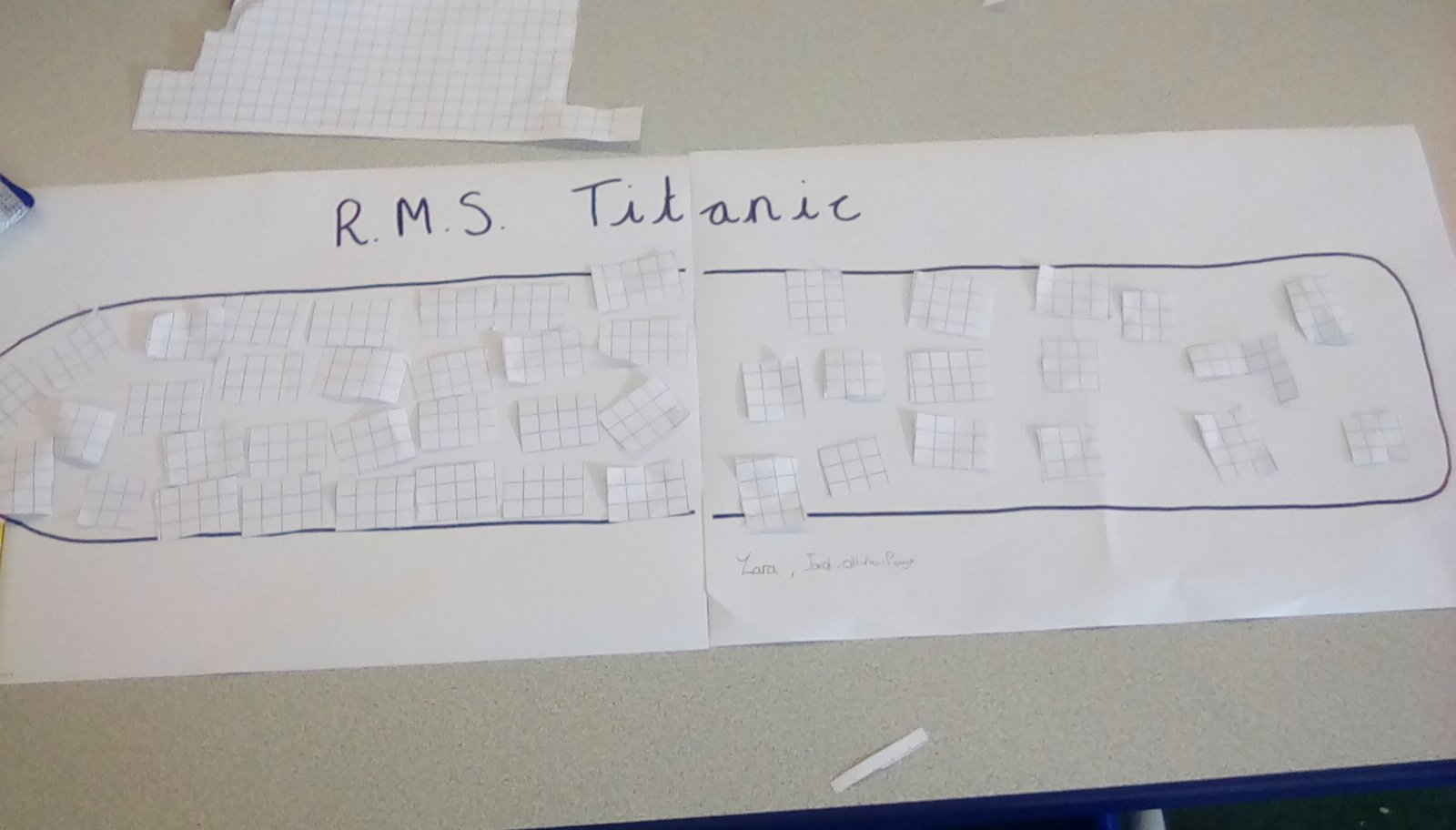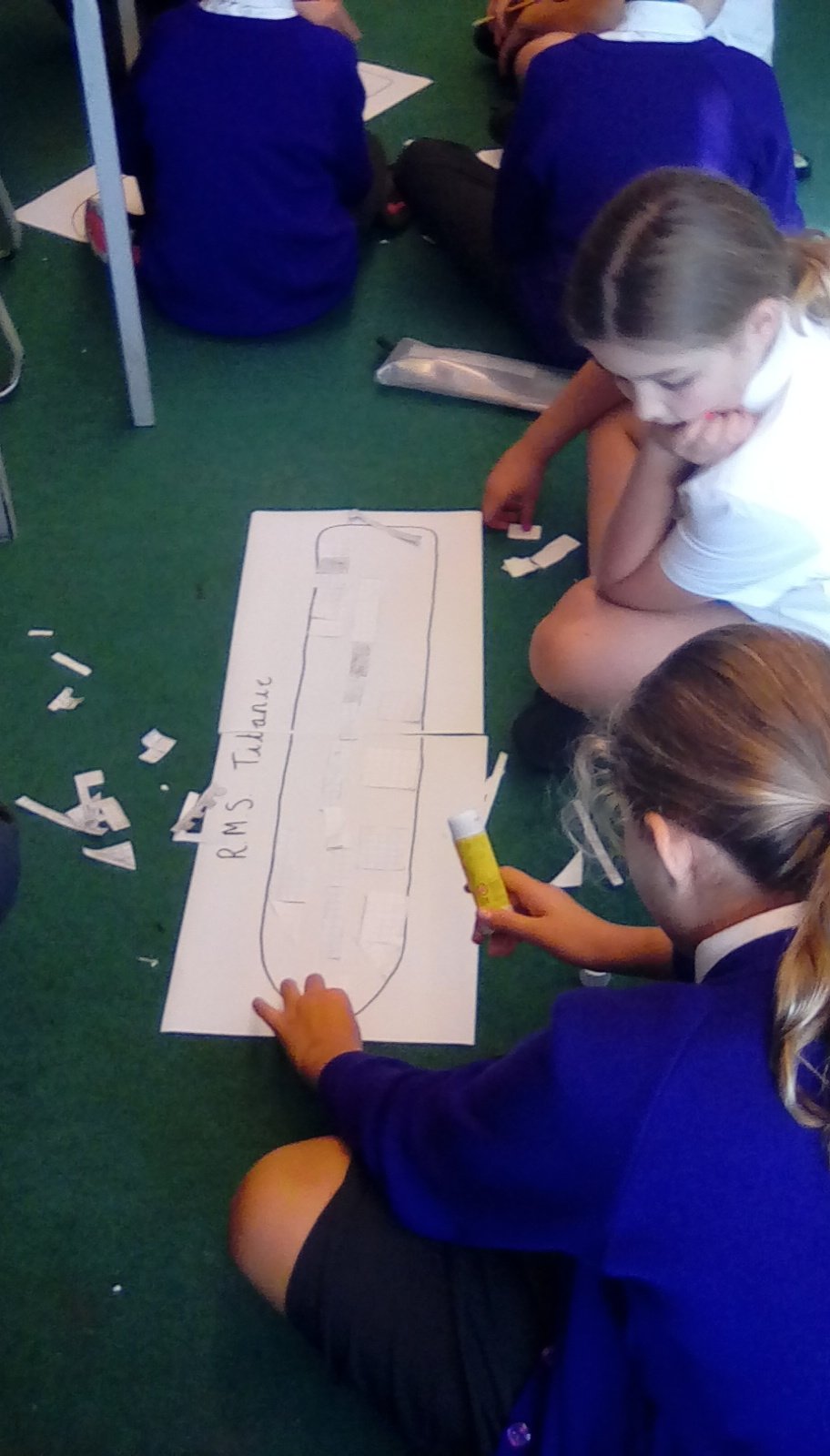 The children also contributed to a number of discussions around bullying as part of out "Anti-bullying Week".
Thank you to the Pupil Leadership Team for putting together resources for all the school to use.
We enjoyed using our "Now Press Play" equipment to learn about bullying and as a basis for our discussion.
Week beginning: 04.11.19
Returning from Half Term, the children of Year 6 began their work on sex and relationships education. We found out about body changes inside and out, how a baby grows and develops, how our body image can be affected by portrayals in the media and we also discussed different kinds of relationships and communication.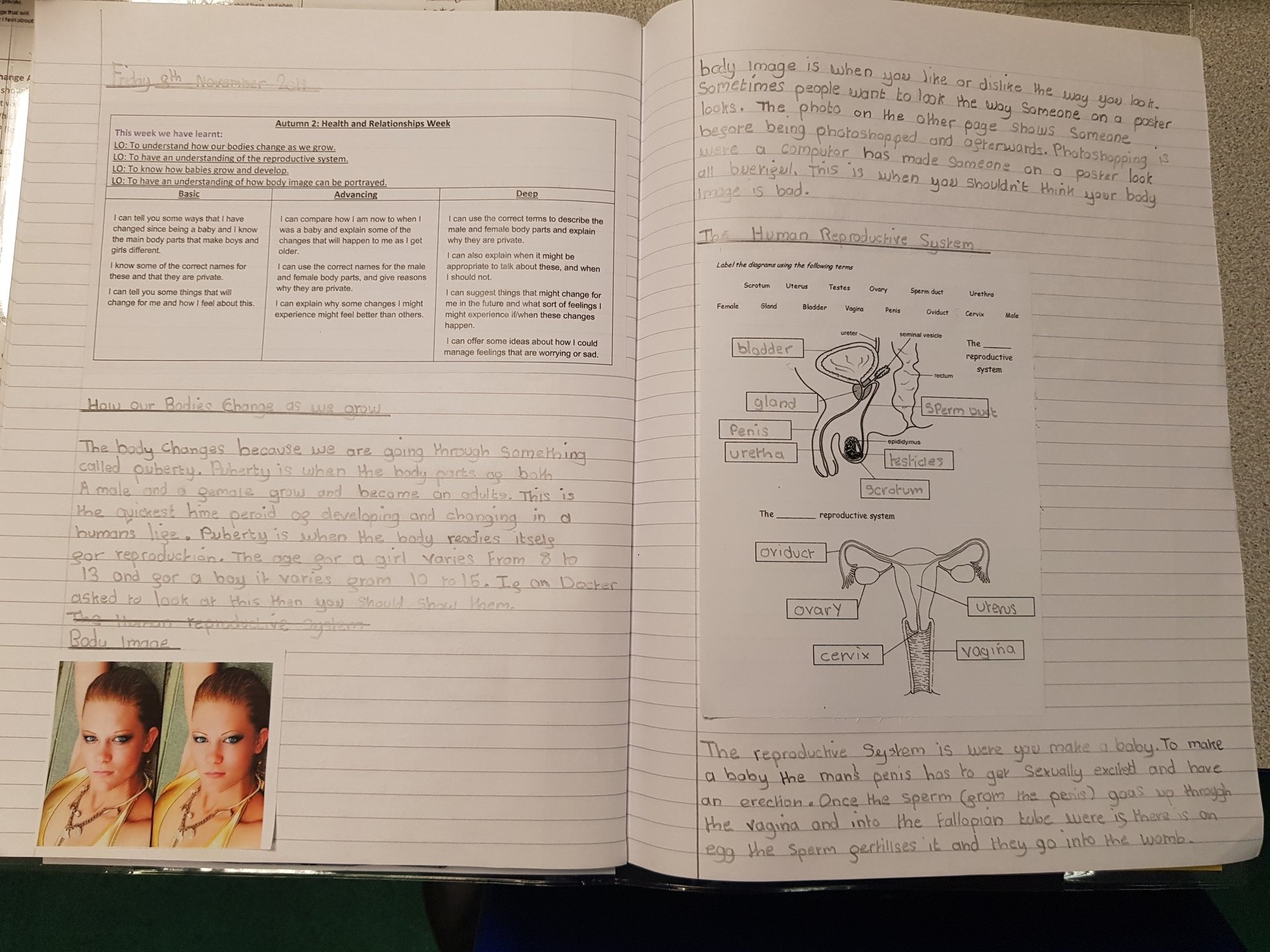 On Tuesday, our whole day was focused on Roots To Food with our visiting chef Darren. He hosted a healthy cooking competition between our four school houses with children and a staff member from each house working as a team to create the best tasting and most attractive dish. Our Year 6 House Captains proudly led each team.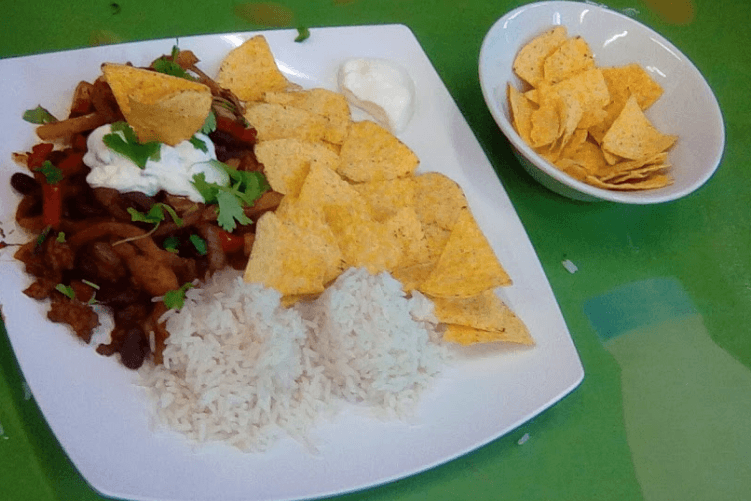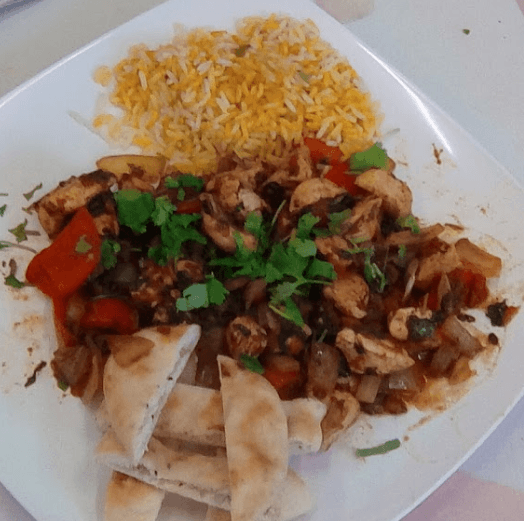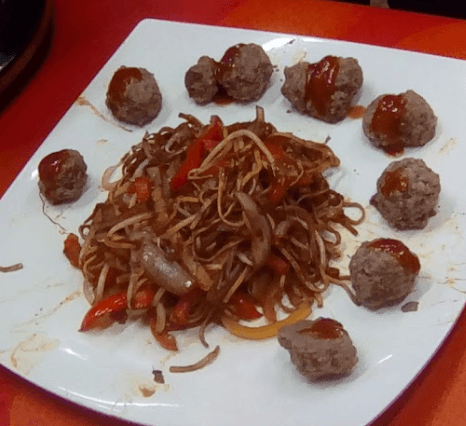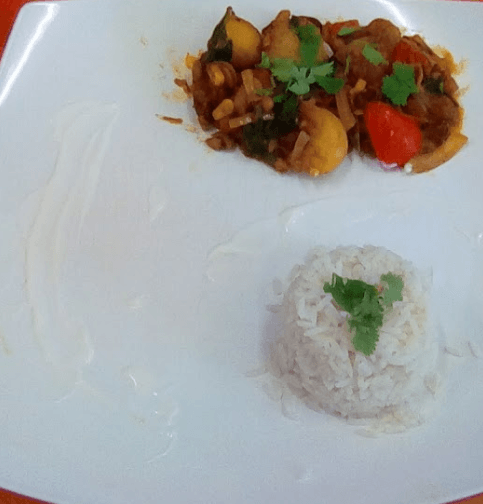 Week beginning: 21.10.19
This week began with a free write linked to our work on Titanic. Year 6 chose to write descriptively to inform or entertain either using the boarding or sinking of the Titanic as their inspiration.
We have completed our PSHE topic of 'Being Me in My World' and reflected on all we had learned.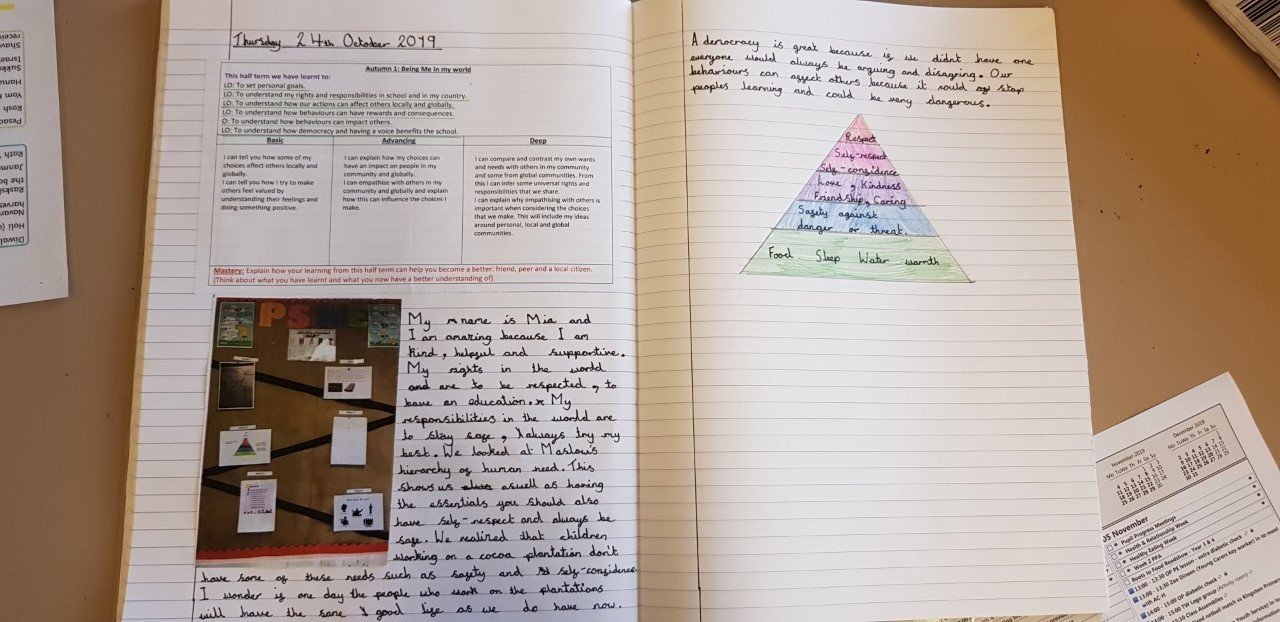 Additionally, we began to complete our music unit whereby we have created our song linked to our topic of Equality and Freedom. We wrote lyrics, used musical notation to compose and performed our song as a group.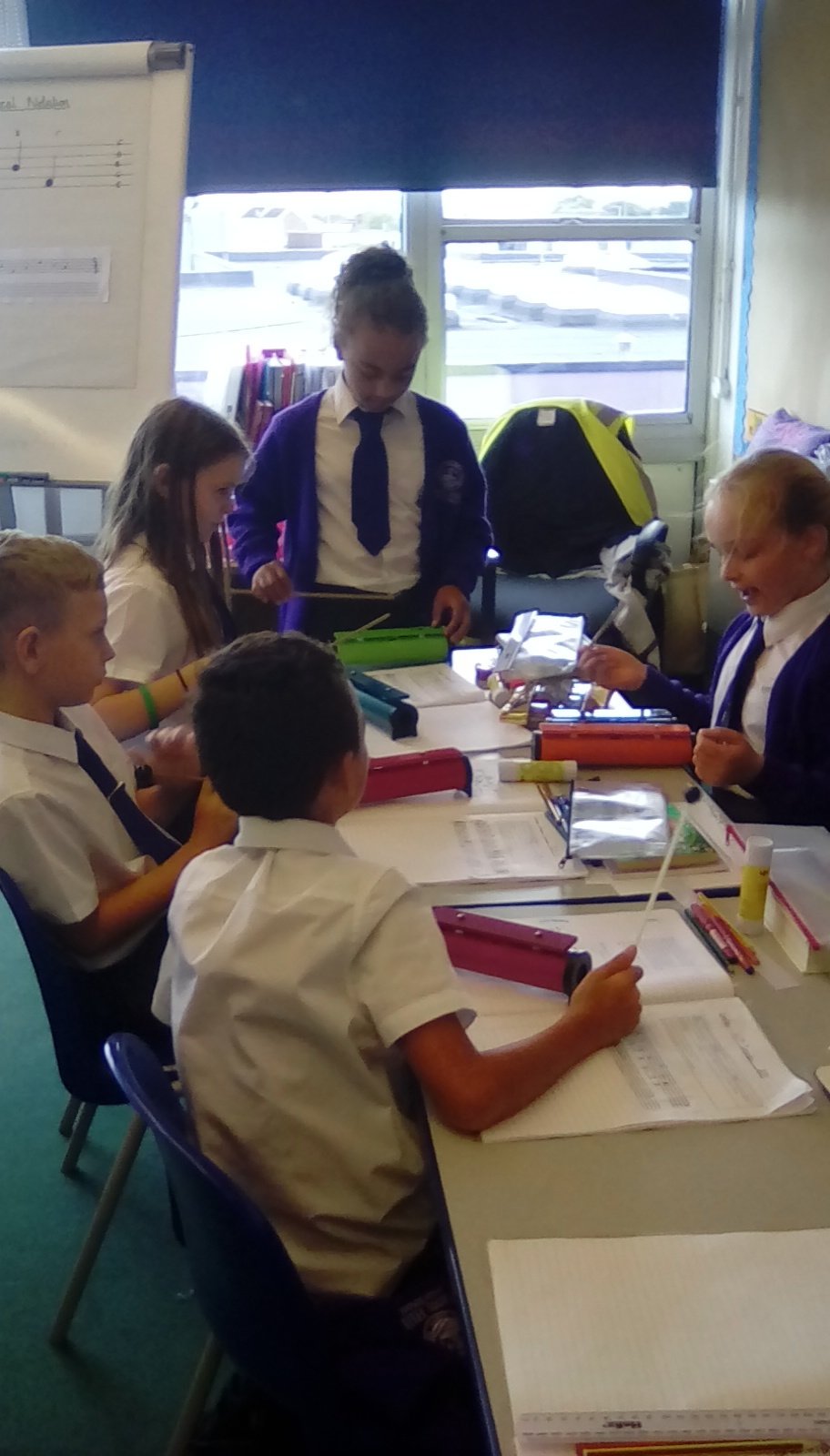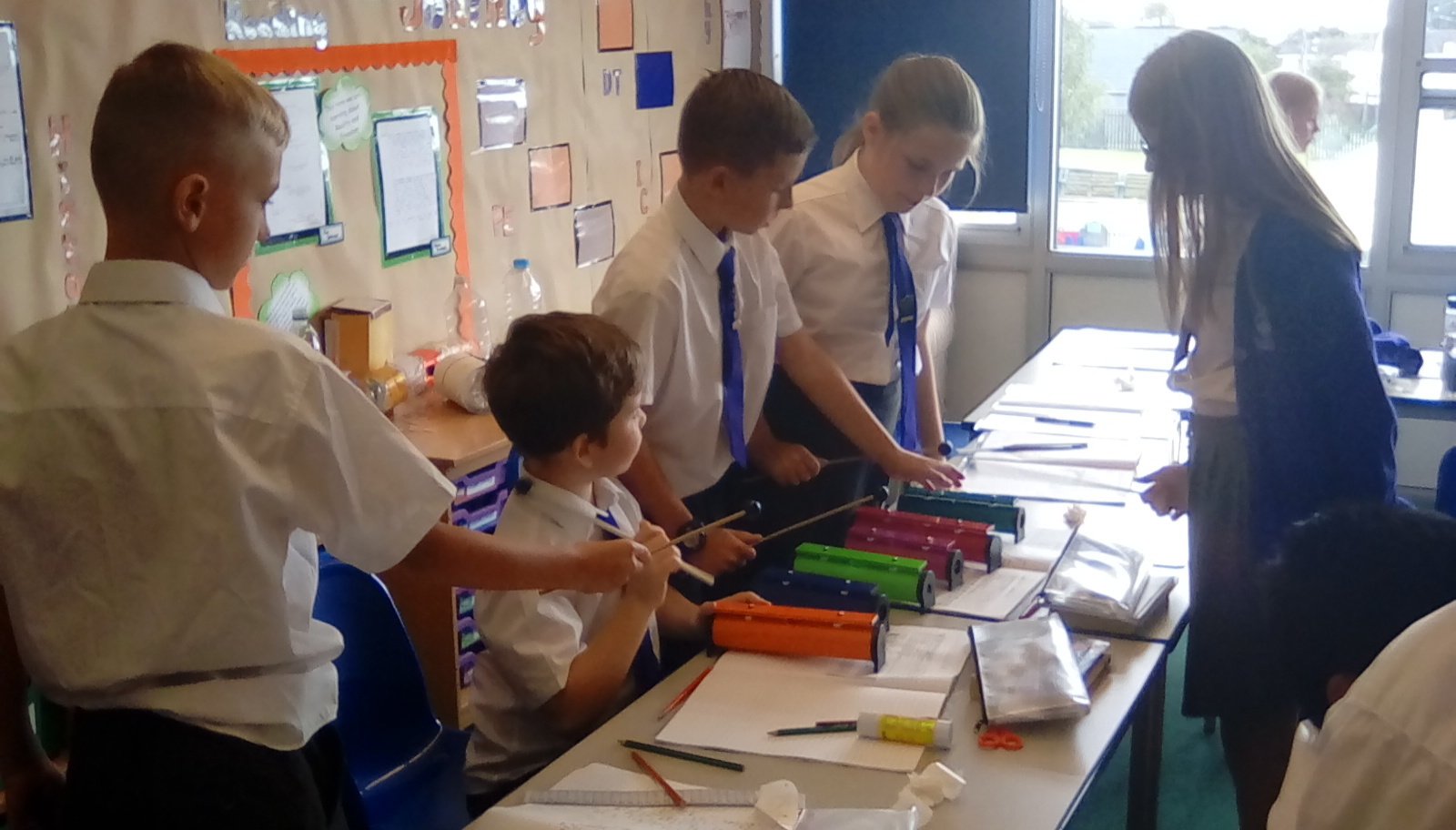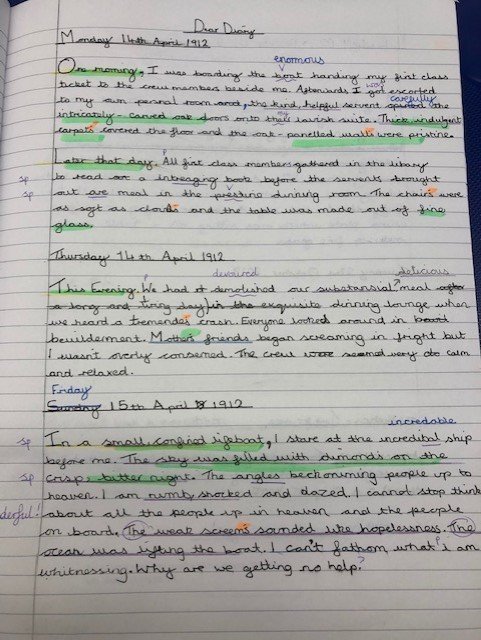 Week beginning: 14.10.19
This week, Year 6 had their first assessment week of the Year. We have been really impressed with the perseverance and dedication of all pupils during the week and we are confident that they will continue to progress towards SATs week in May.
As well as our assessments, this week has been Online Safety Week. We have had many fantastic discussions covering various aspects of Online Safety including SMART. During the week, we used the Now Press Play equipment to live the life of a school pupil who was involved in some issues online and understood how best to deal with these issues.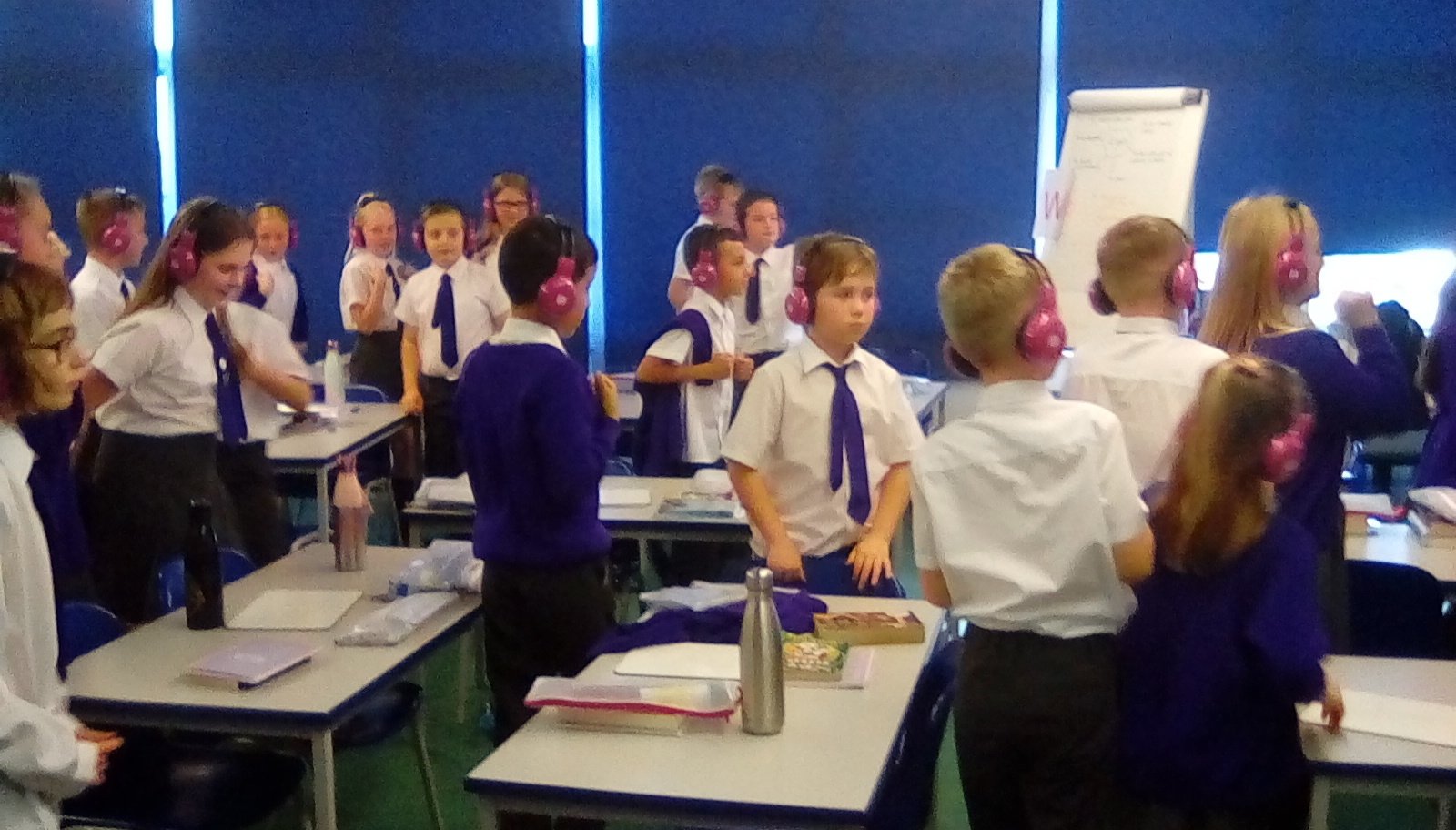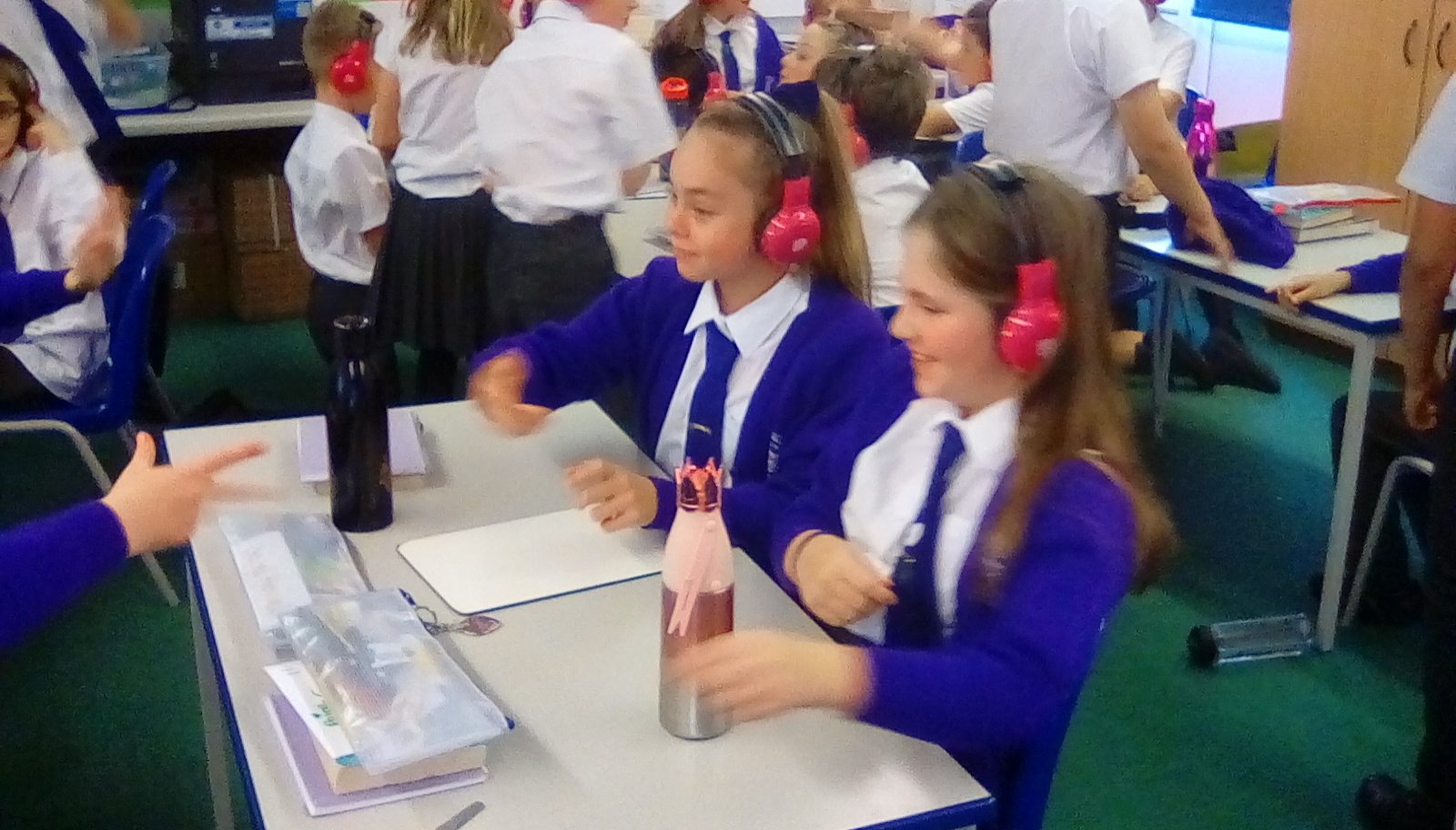 Week beginning: 07.10.19
Year 6 have thoroughly enjoyed sketching portraits of the famous Oscar Wilde this week! We have learnt that it is okay to have to make a second, third or even fourth attempt in our art work! What is important, is how we improve each time.
The children worked hard to apply a range of sketching techniques to make their portraits as realistic as possible, they used a range of different pencil grades to get the effect they wanted.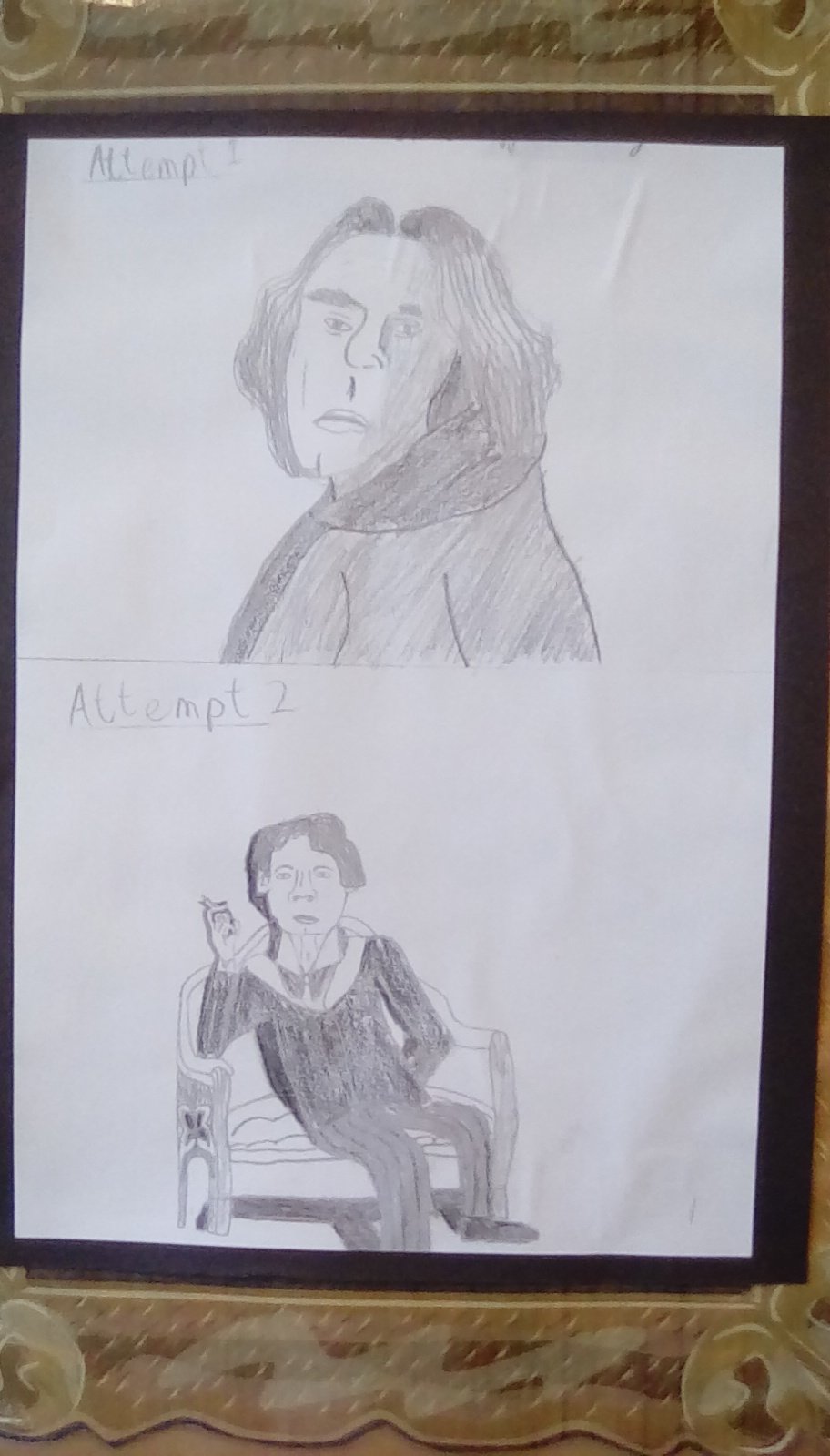 In PSHE this week, we thought about our rights and responsibilities. As a class, we agreed on what all of these should be to ensure that we are part of a positive learning environment. We also considered what our rewards and consequences might be.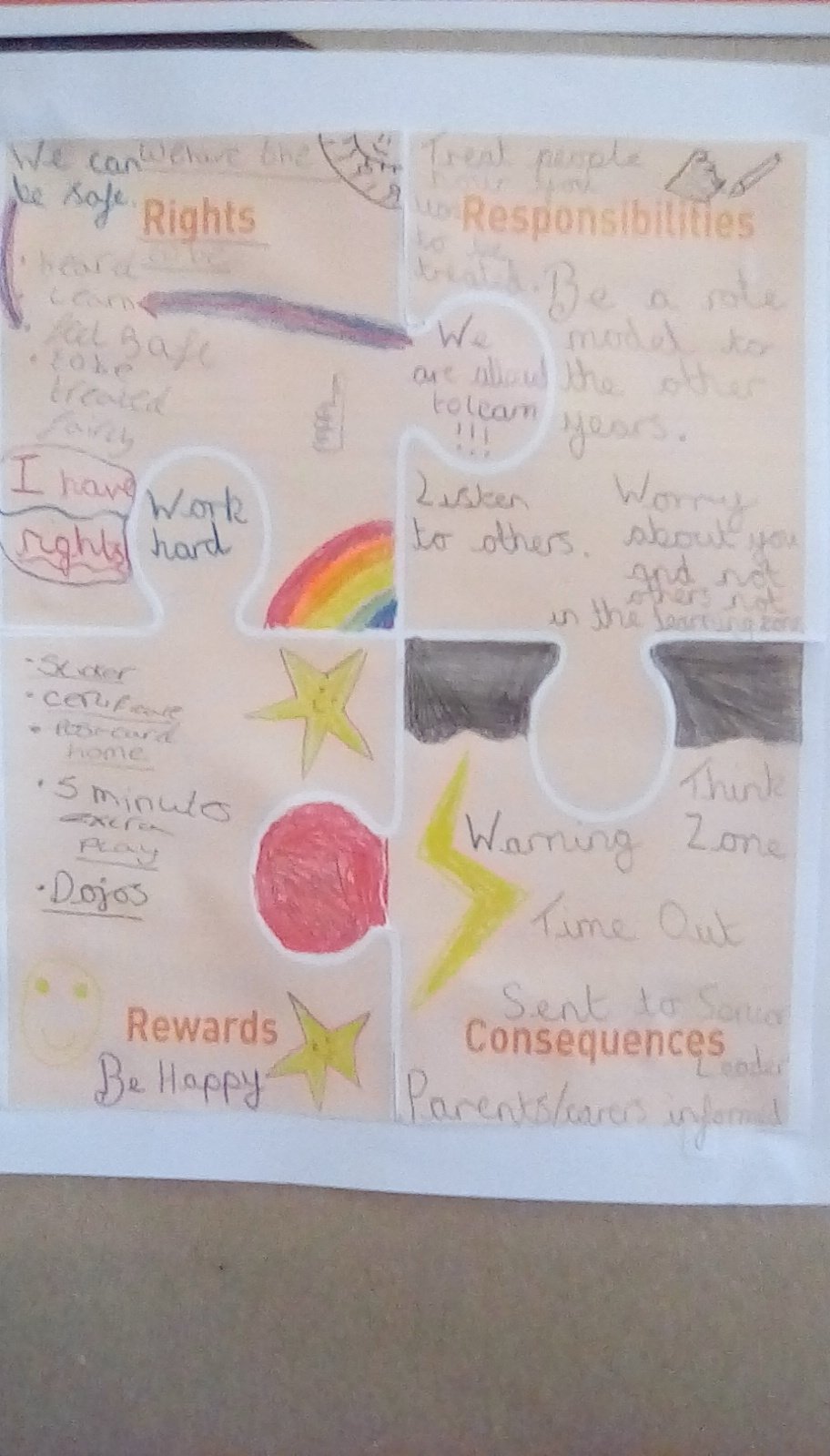 Week beginning 30.09.19
This week, Year 6 have continued our topic of Freedom and Equality by looking at Oscar Wilde and how he was discriminated against due to his sexuality. In our reading comprehension lessons, we have read The Happy Prince and used this as inspiration to write our own versions of the story. During this process, we have really focused on redrafting each section in order to make it sound amazing.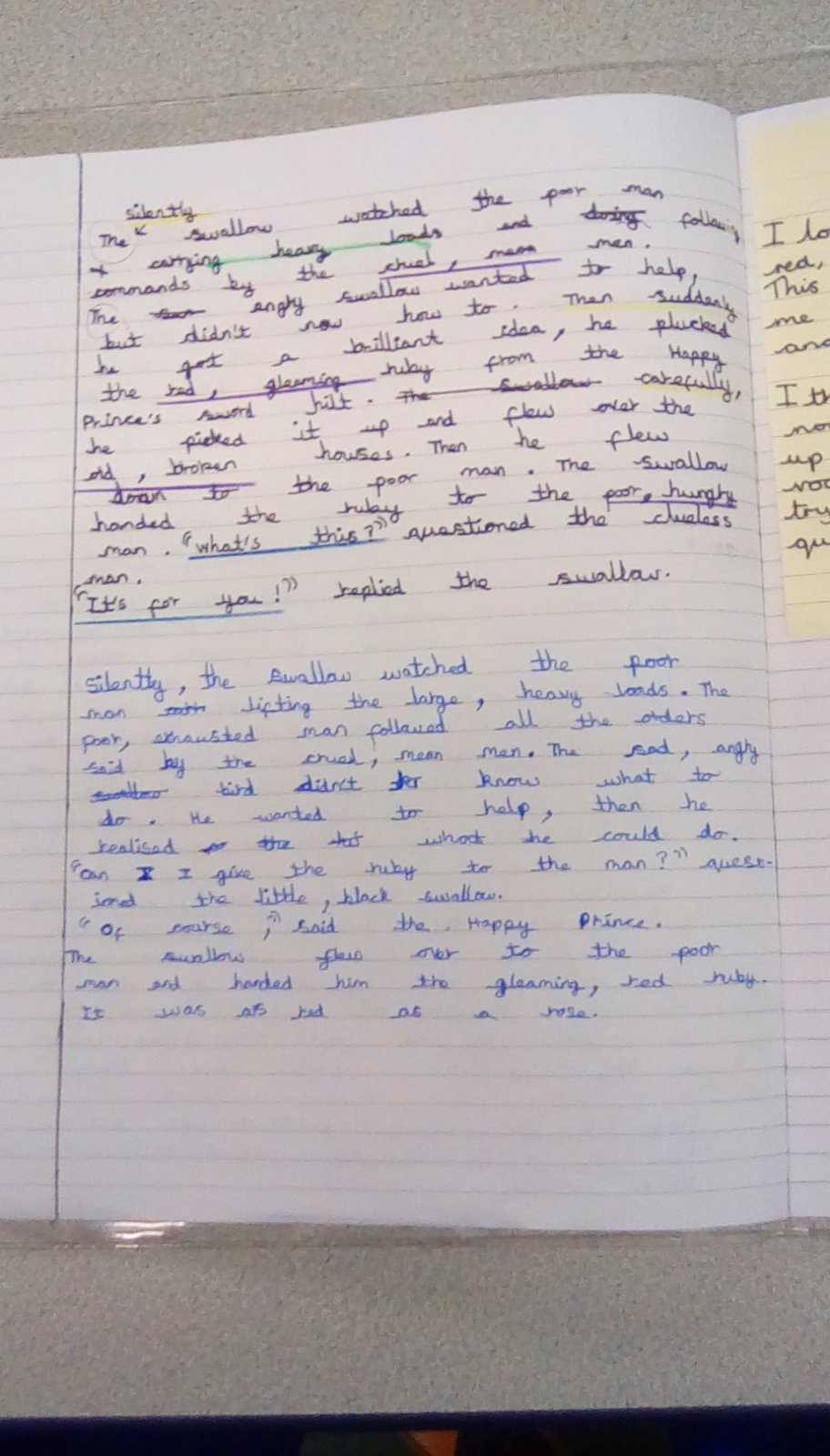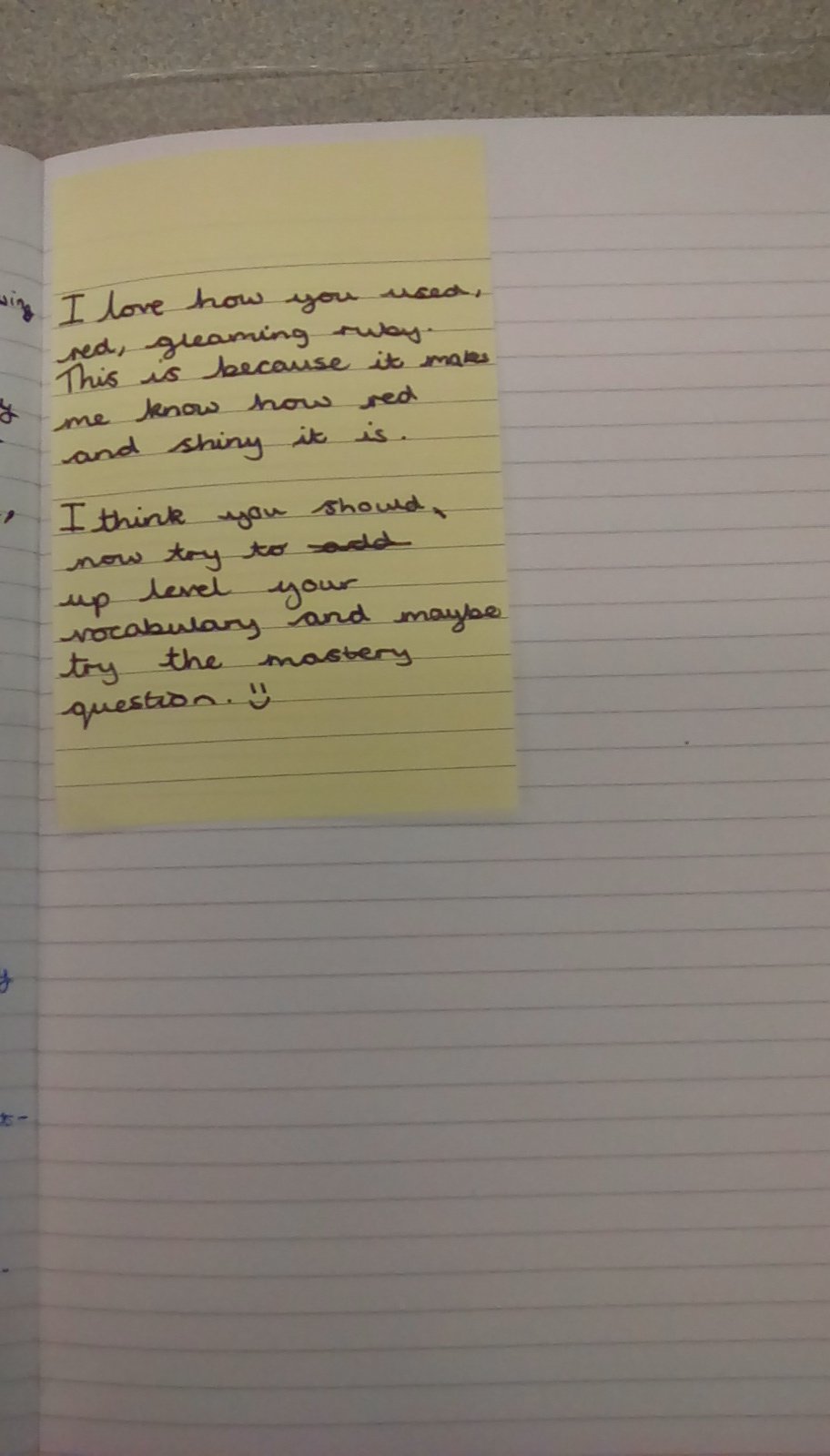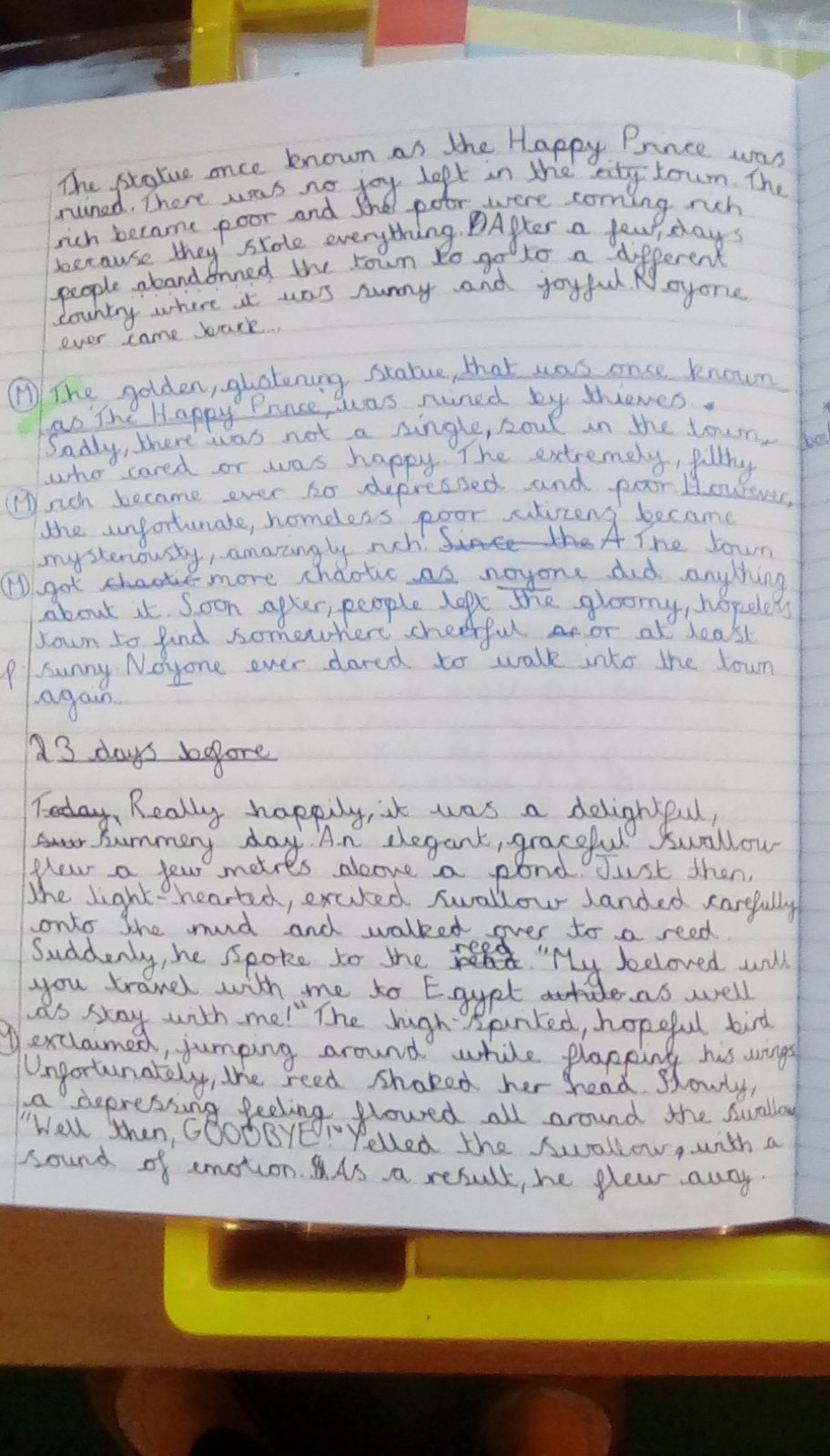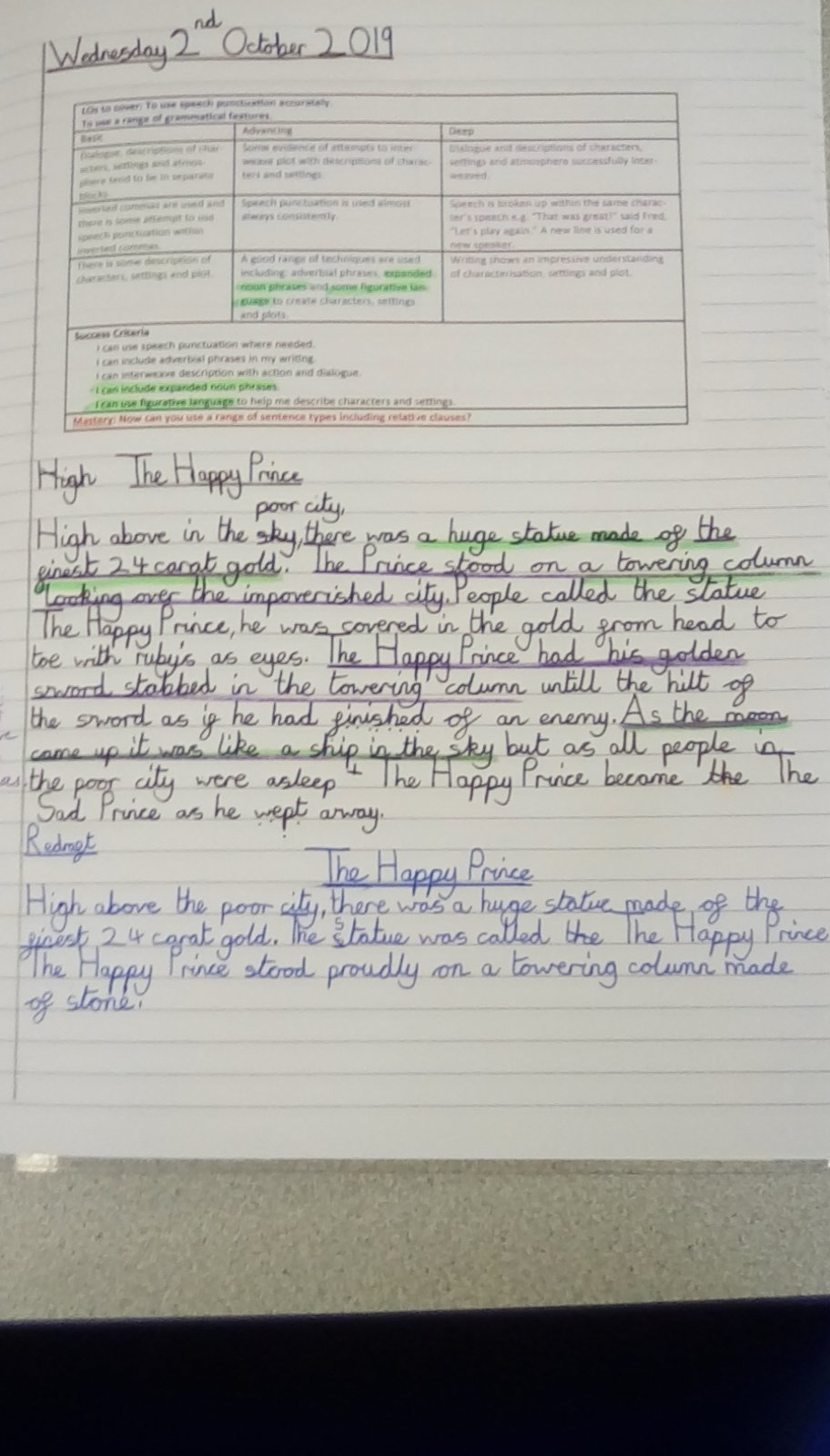 Year 6 have also been learning the song 'I'll be there' in music and we are just starting to create our own song using this as our inspiration. We are creating lyrics that link to our topic of Freedom and Equality and have learned different musical notation to play notes alongside these.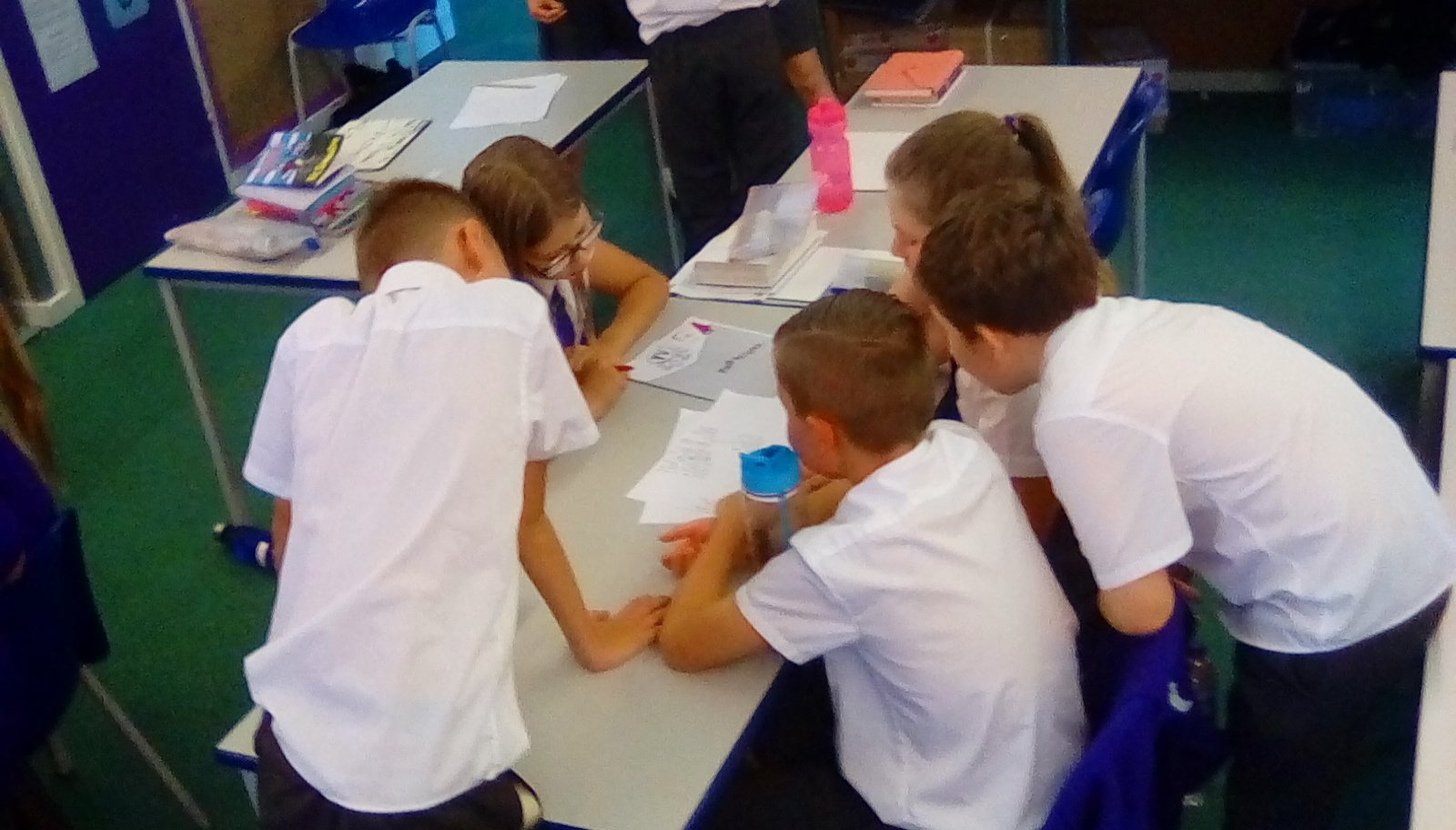 Week beginning 23.09.19
This week started off with a great opportunity for us in our second ever free write. We were able to write any sort of story we wanted about the opening of a mysterious, unknown door. Our imaginations were running wild as we considered different possibilities, and some Year 6 children even linked their writing to our work on slavery. Particularly impressive was the level of vocabulary that the children came up with during their 'word blasts' to gather adjectives and adverbs related to this unsettling story opener.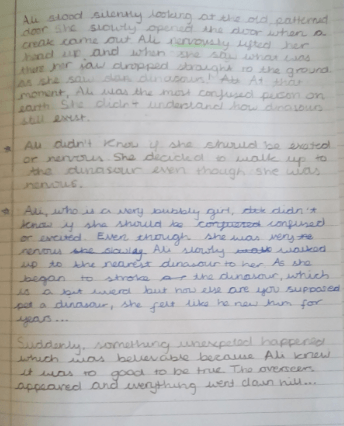 We were extremely lucky to each work with Laura Samuel, the British track and field athlete known for winning a silver medal for our country at The Commonwealth Games. We were able to listen to and watch her in action during a full-length assembly and each class completed a set of fitness activities under her tuition. It was an amazing opportunity with a true inspiration in sport in our country.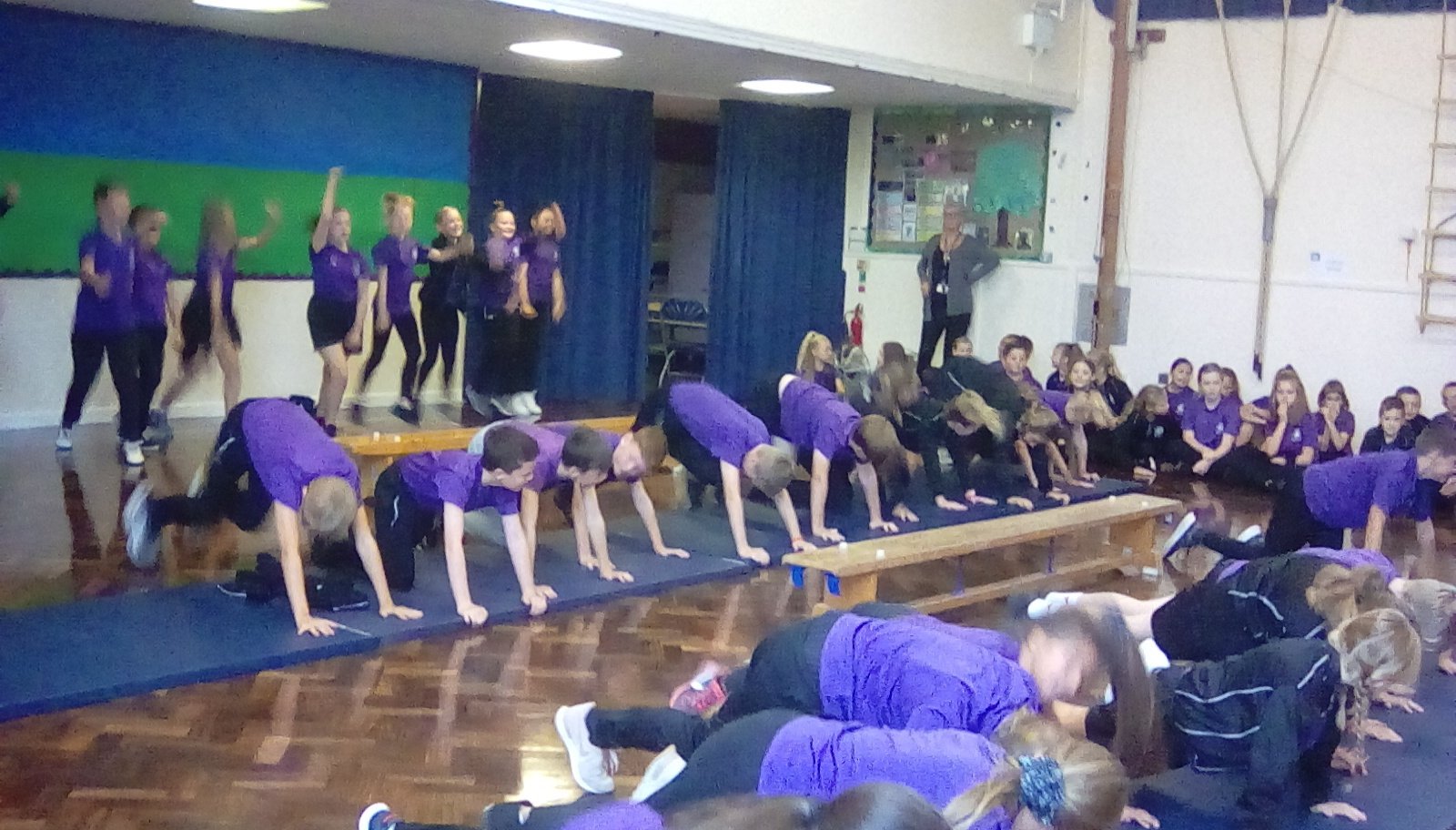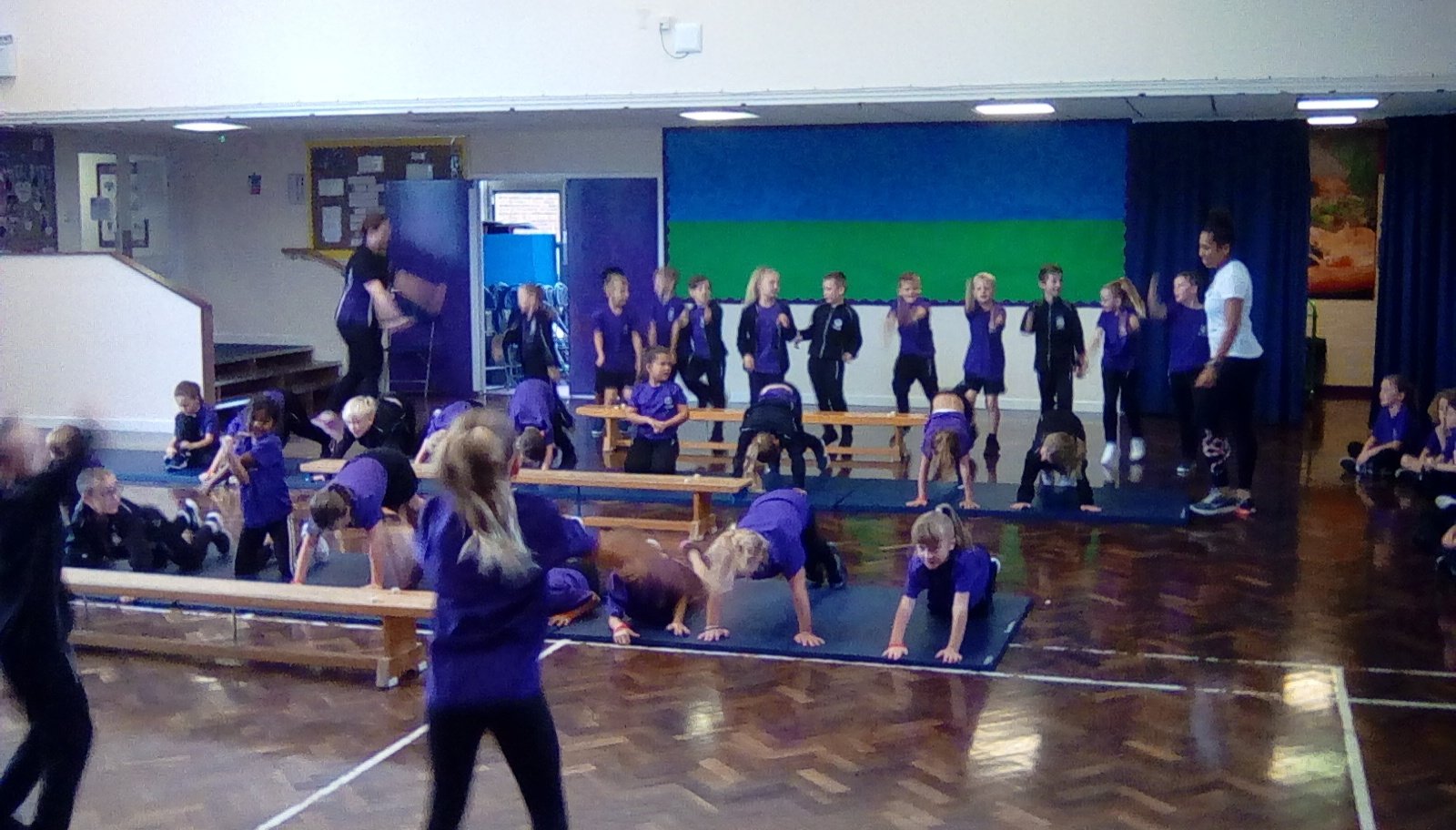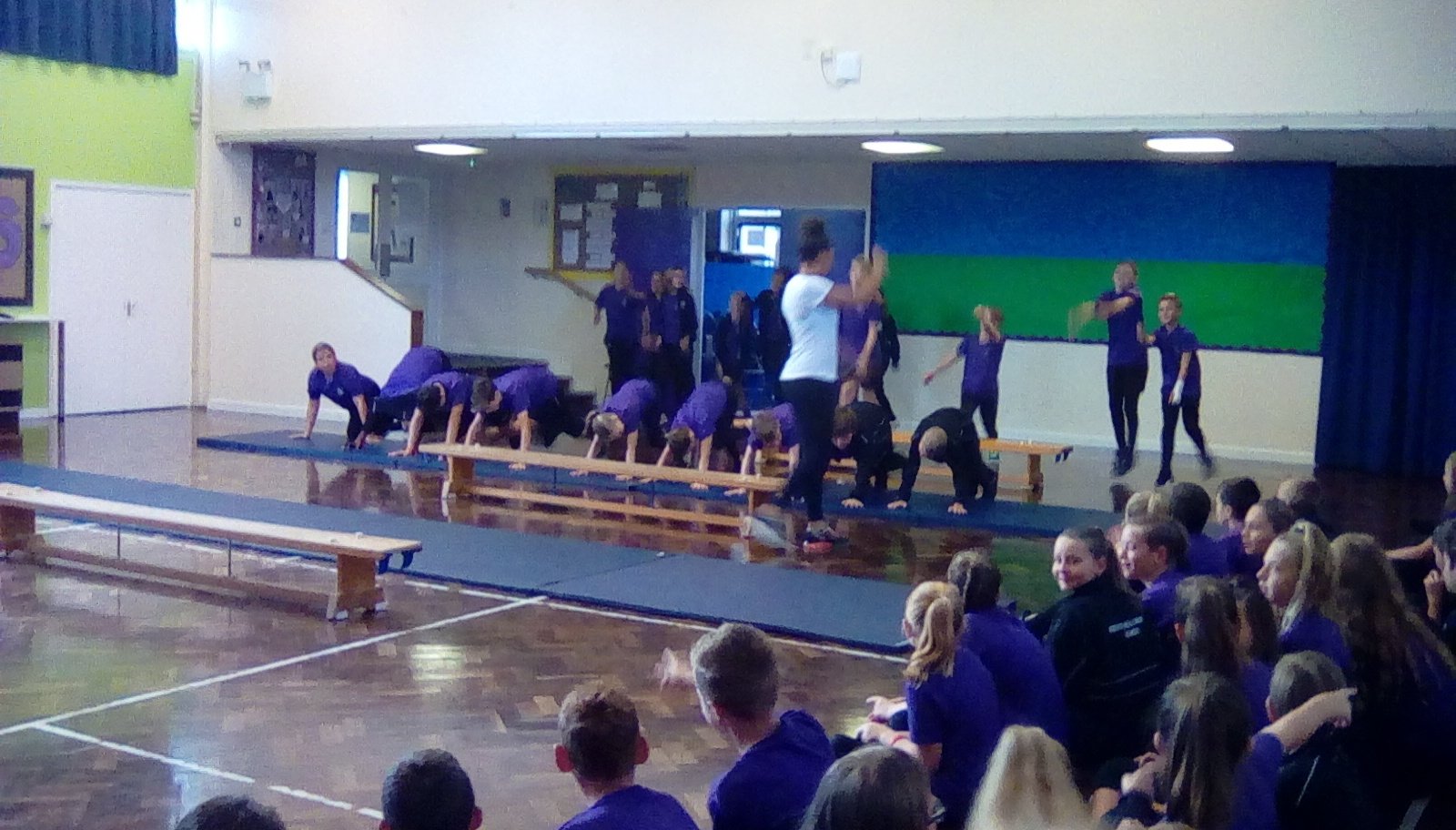 In our topic, The Price Of Freedom, we are just beginning to move away from learning about slavery and beginning to look at how gay people have suffered in the past. This is well illustrated by the life and career of Oscar Wilde, and we will be reading The Happy Prince. To learn about his background in Victorian London, children were divided into groups to each use our Chromebooks to learn about one aspect of life in this era. We worked collaboratively to create a topic display and then prepared, rehearsed and delivered a presentation in front of our class.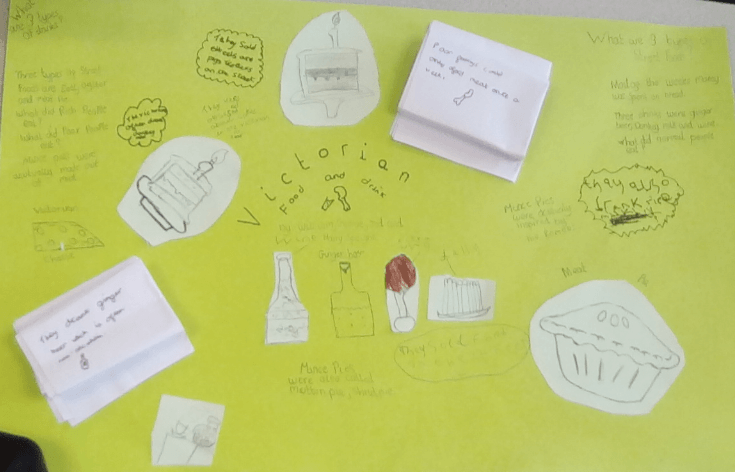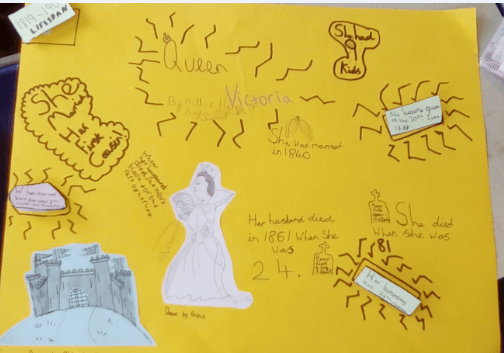 Week beginning 16.09.19
This week Year 6 have continued to learn more about the slavery which began in the 16th century.
We learnt specifically about the triangular slave trade and exactly how this worked. The children were so keen to discuss the impact that this must have had on the many people forced into slavery, showing great compassion and understanding.
Each child presented their understanding of the triangular slave trade in a different way, some chose to use diagrams, some chose written reports and some even wrote poetry!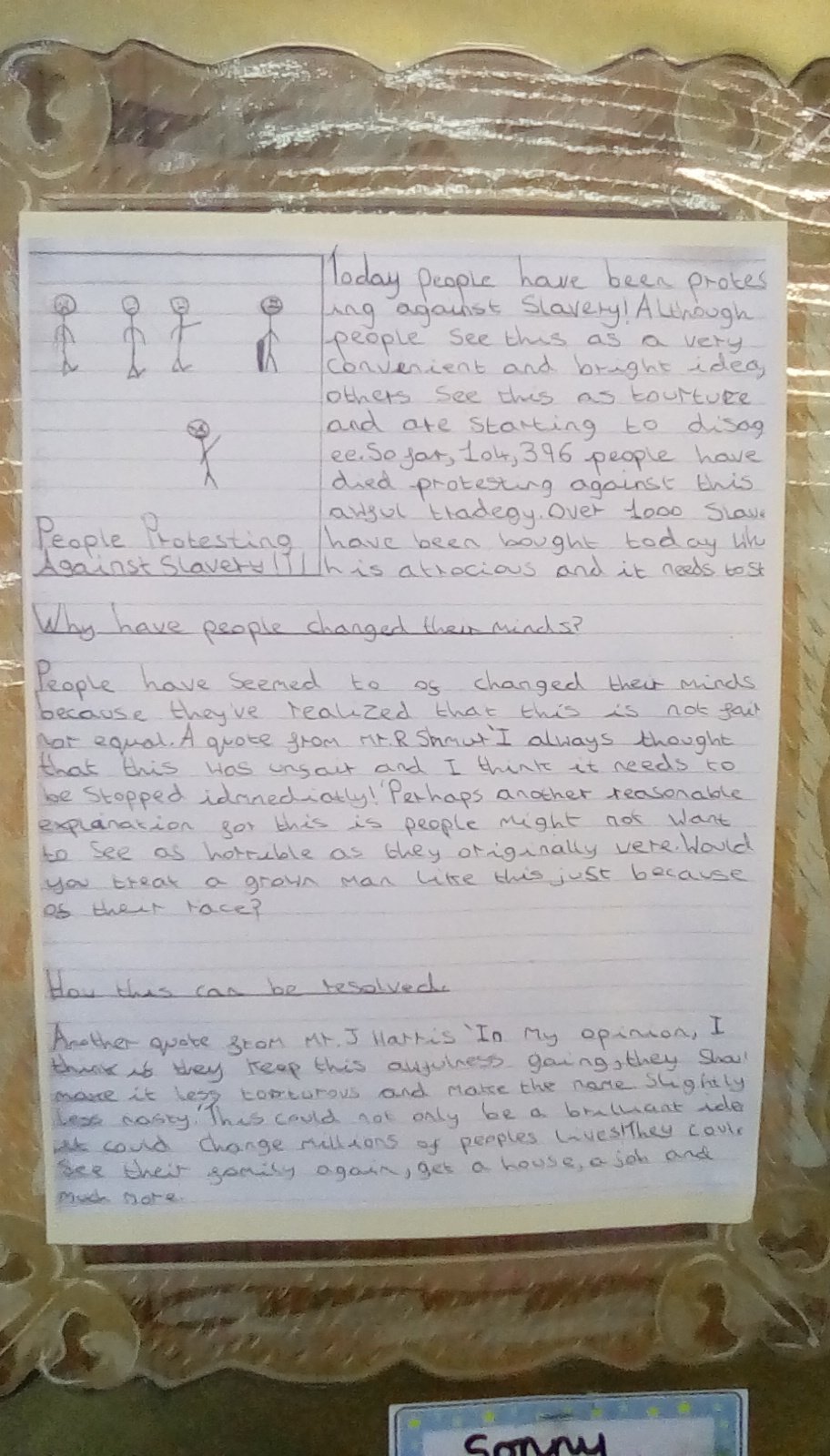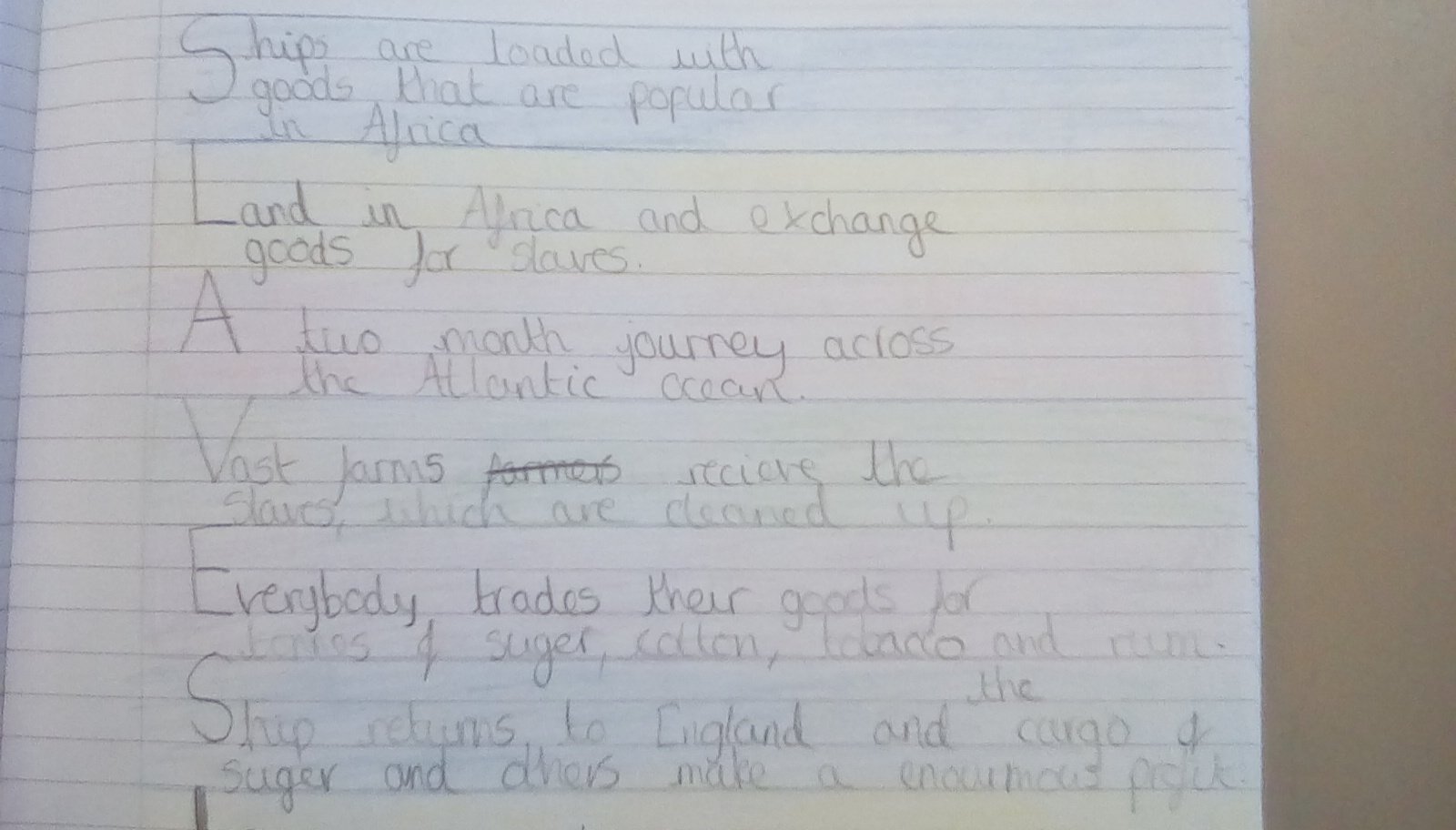 In science this week, we applied our knowledge of electrical circuits and our design technology skills to create our own lighthouses! We learnt how lighthouses have been used for many many years to help guide ships. The children thought carefully about how to use the range of resources available to make the best lighthouse - some excellent team work!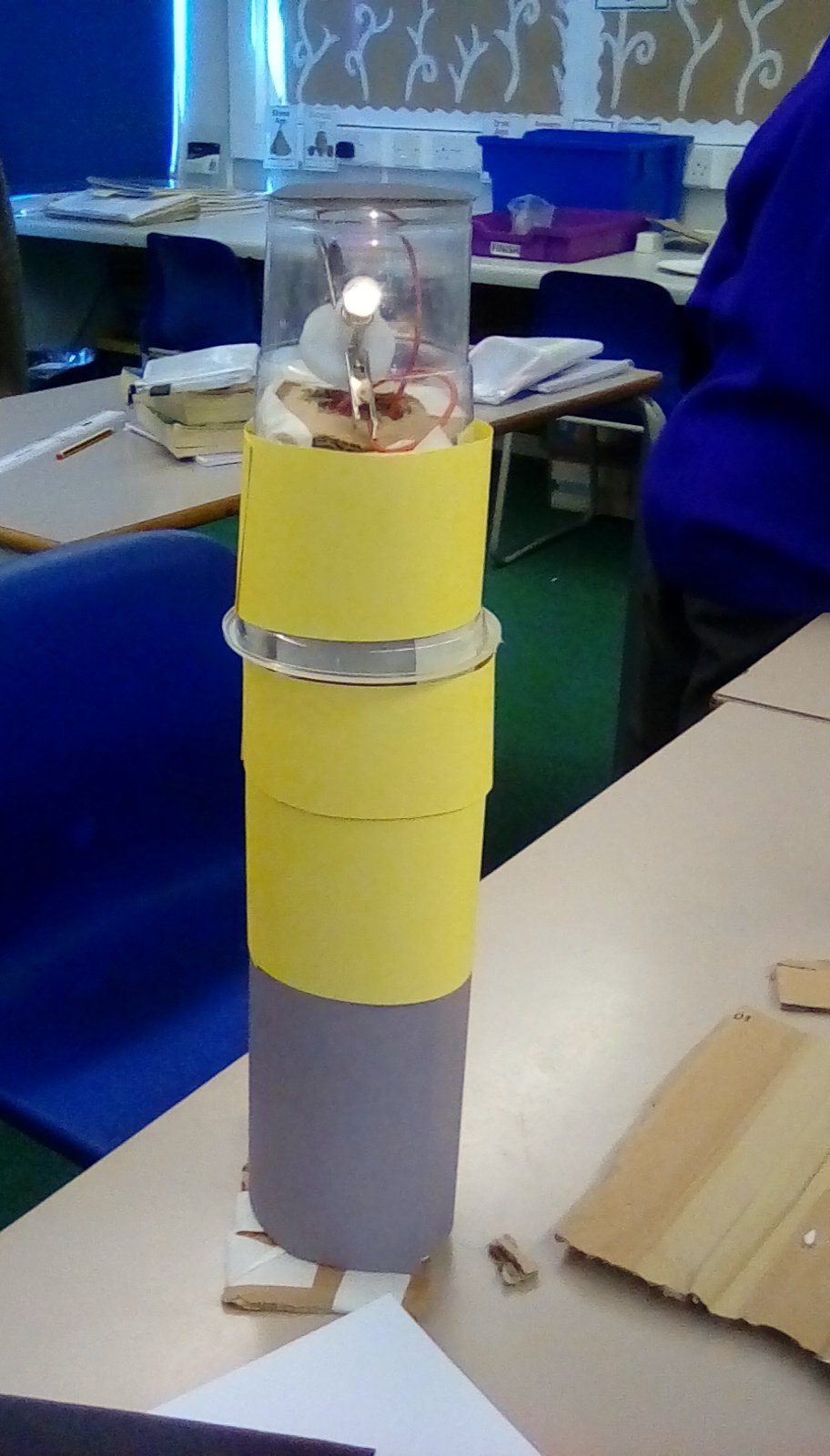 Week beginning 09.09.19
This week, Year 6 began our topic of Reality of Freedom. We started the week with a Free Write enabling us to write any genre that we desired using a picture as a stimulus for our ideas.
Following this, we learned about slavery and looked at some of the reasons why people believed that slavery was acceptable between the 16th and 19th centuries. In reading, we continued with the theme of slavery and identified some unfamiliar vocabulary such as 'inhumanely', 'unethical', 'segregation' and 'exploitation' which we will try and use in our writing this week.
We are very excited to announce our new Head Boy and Head Girl as well as our House Captains in assembly today! Good Luck to everyone who applied!
Week beginning 04.09.19
This week Year 6 have started their final and most important Year of Kents Hill Junior School.
On Thursday, we decided on the job roles we wanted in Year 6 and wrote speeches to persuade our audience that we were the best person for the job. Everyone then bravely read their speeches aloud in front of an audience. Good luck to everyone!
On Friday, we had our hook day. We were given the name of a real life person who sailed on Titanic's maiden voyage. We had to research them and find out their age, where they were born, what social class they were and whether they died or survived. We then looked at the percentage of people in each class that survived and questioned why many more of the third class passengers died.
In the afternoon, we used a picture of Titanic and our team work skills to all take a section of the ship and sketch it, making sure that we shade areas of light and shade effectively.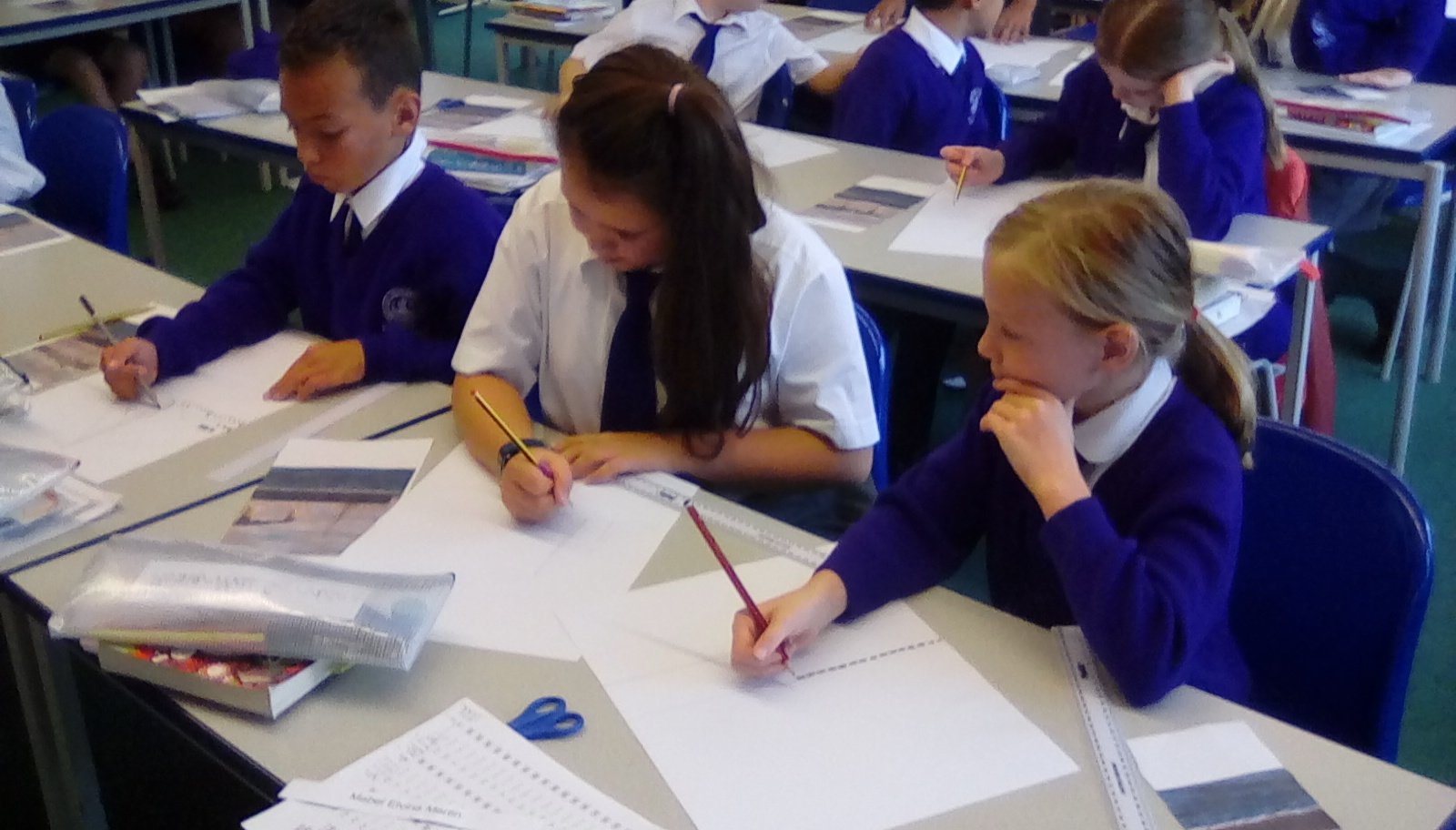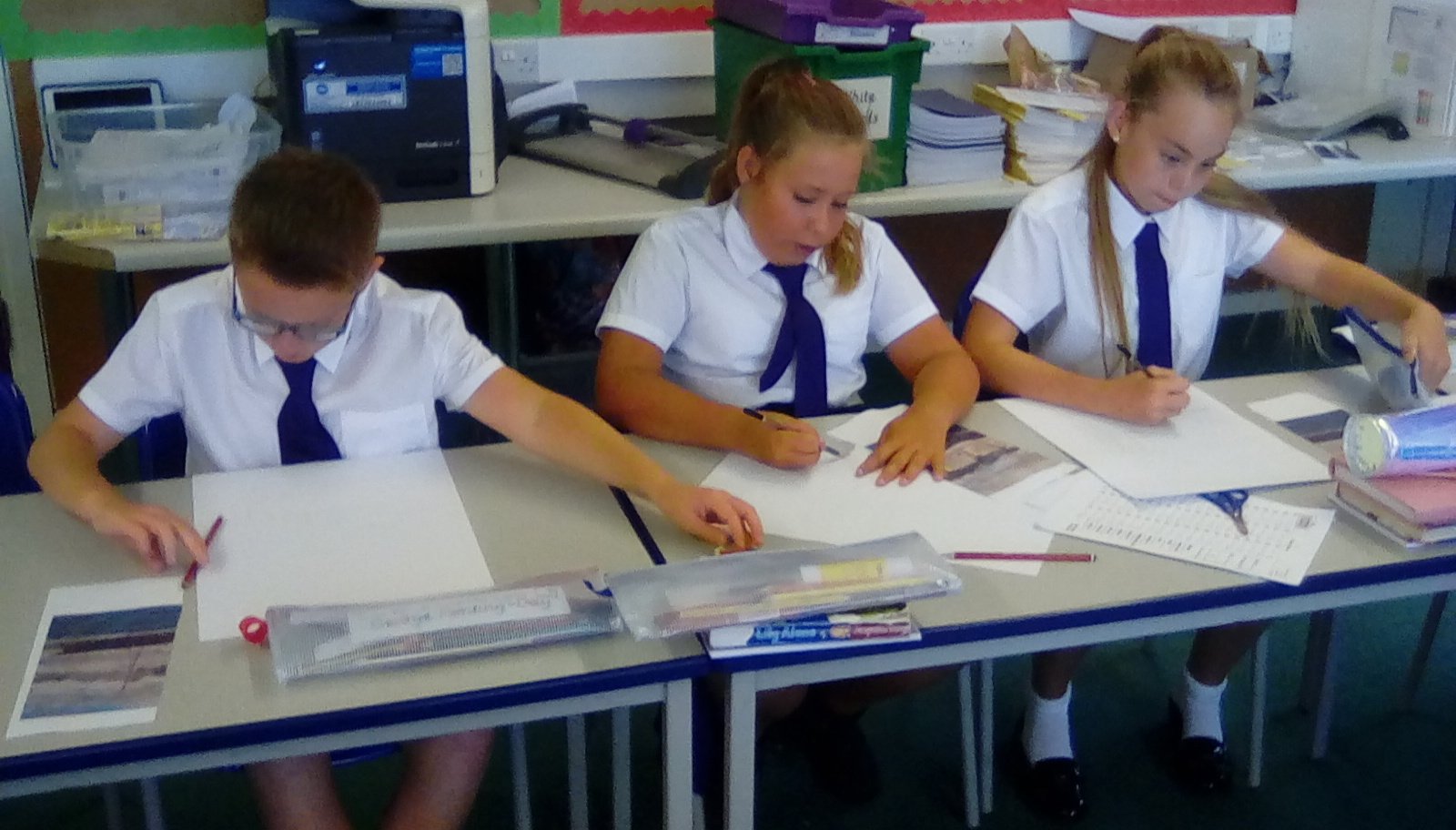 If you have any questions or queries at any point, please don't hesitate to contact one of us via the home/school diary or the school office. We will also be present at the end of the school day on the gate.
We are looking forward to our first exciting topic: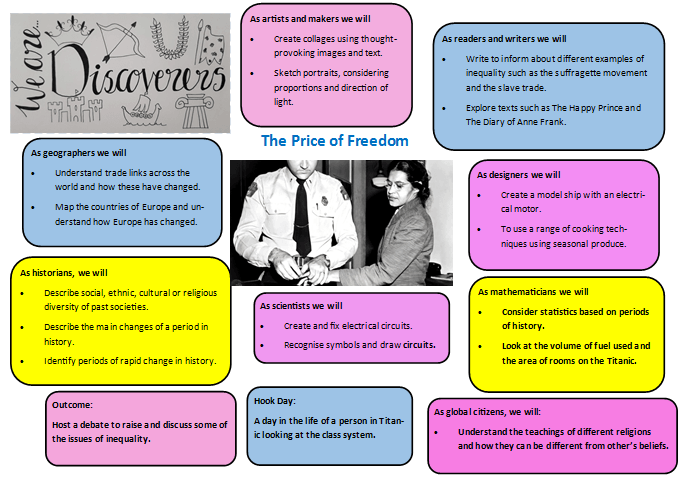 Please check back each week to see what we have been learning about!

Week beginning: 15.07.19
This week in Year 5 we have continued to develop our mathematical skills by carrying out an investigation which involved interpreting tables in order to solve problems. We also wrote to entertain. By using language features such as alliteration, similes, metaphors and personification we created vivid images.
We enhanced our scientific and teamwork skills when learning about friction. In our groups, before carrying out our experiment, we made a prediction and hypothesis. We carried out an experiment to test how moving objects move at different rates on a range of surfaces. We wrote a table of our findings and compared our results with our predictions when writing a conclusion.
During our music lesson we continued to practice our song Livin' on a Prayer. We learnt about the different note values and how to draw these musical notations.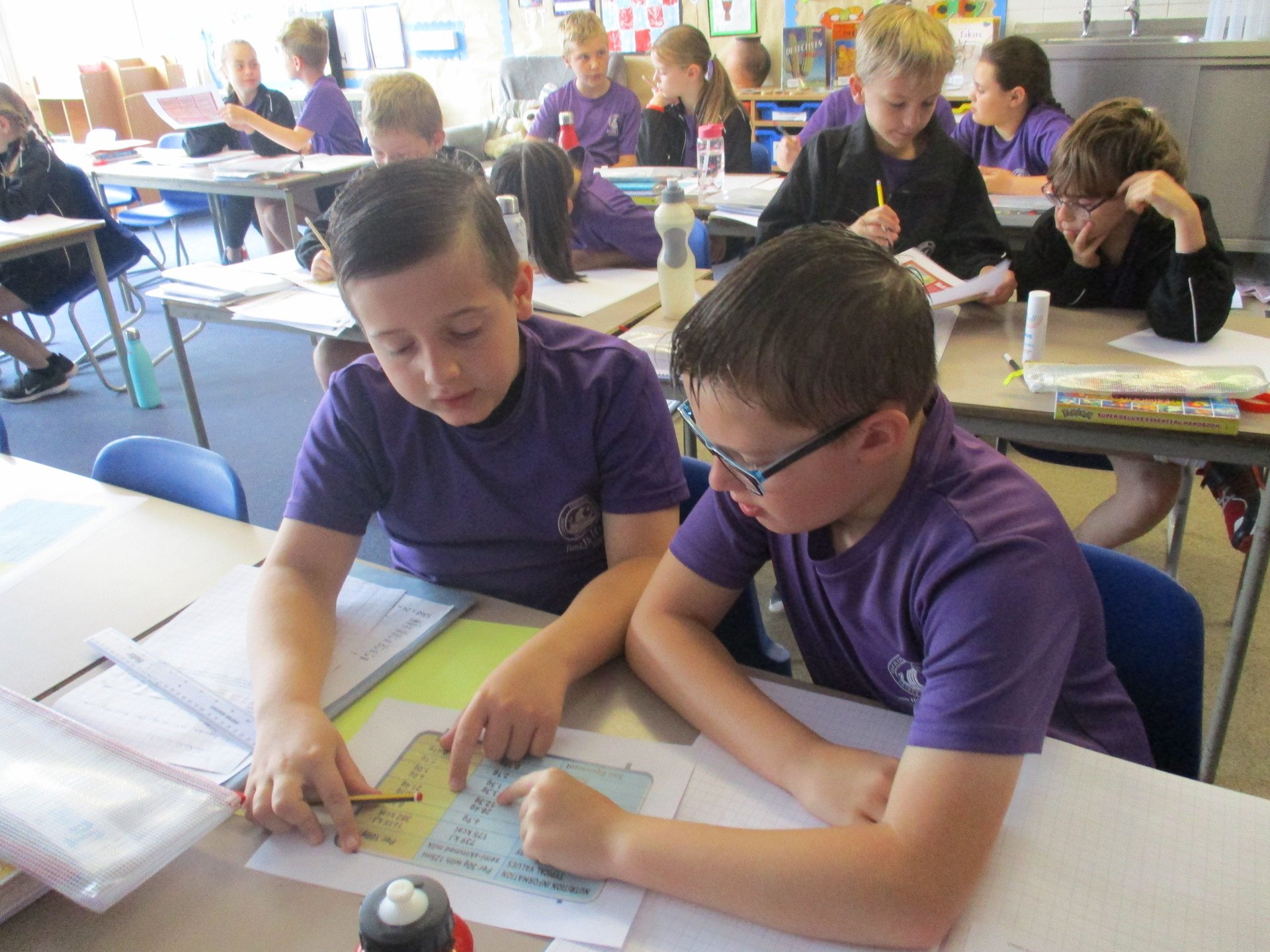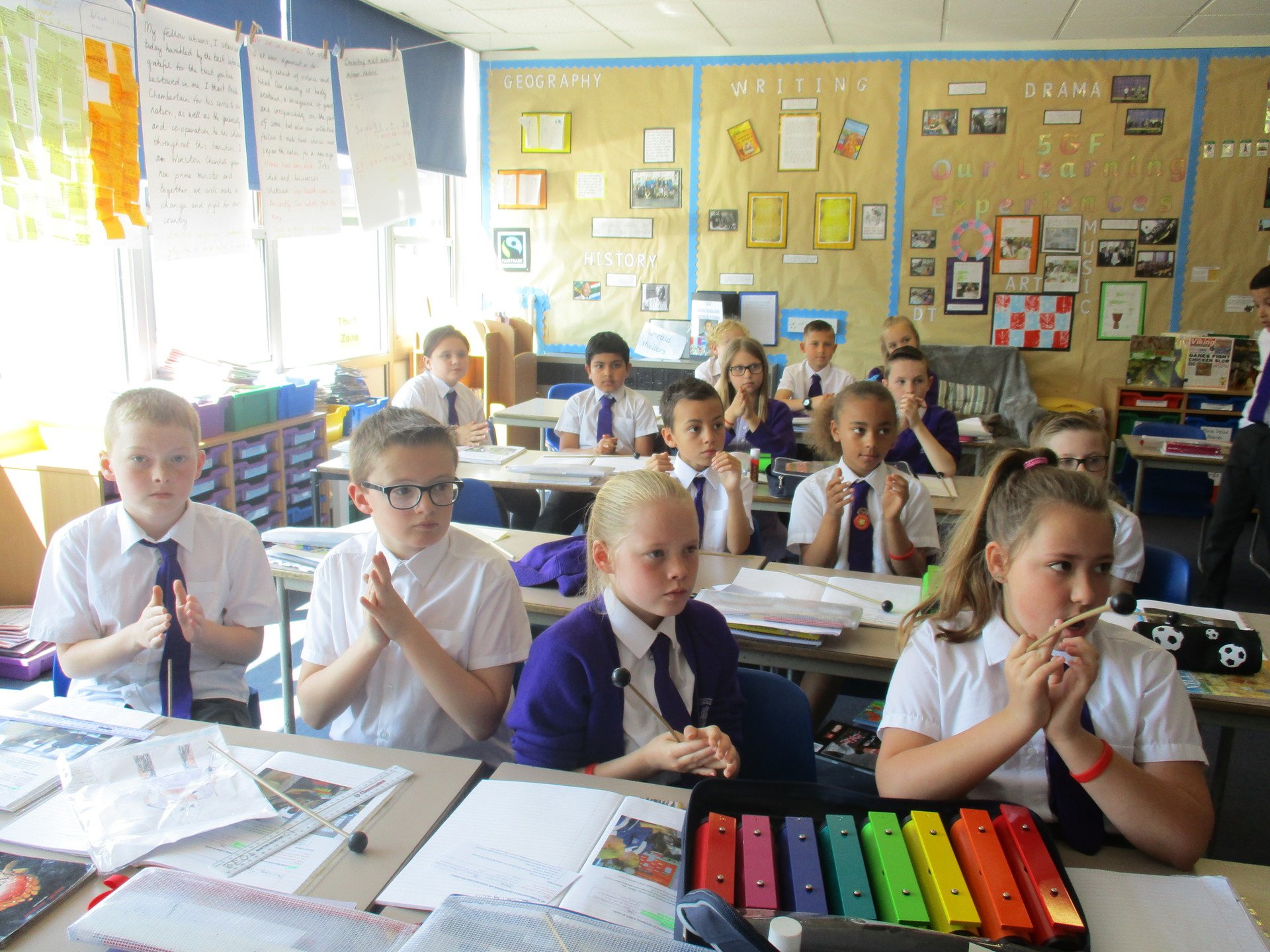 Week beginning: 08.07.19
This week in Year 5, we continued our preparations for moving into Year 6, as well as then onto Secondary school. Luckily, staff and pupils from Appleton School visited to provide us with a 'Get ready for secondary school' session, where we participated in a range of fun activities, building upon our teamwork skills too. We even directed our peers who were using blindfolds!
Alongside our learning in maths and geography, in which we have focused on co-ordinates to reflect shapes as well as interpreting longitude and longitude, we have we also furthered our understanding of forces in science. After learning about gravity, in addition to discussing scientific terminology such as gravitational pull and air resistance, we conducted our own investigations. In groups, we tested whether mass affects the speed at which an item falls to the ground, taking inspiration from Sir Isaac Newton, Aristotle, as well as Galileo. Plus, we enjoyed the mess that the tomatoes made as they hit the ground!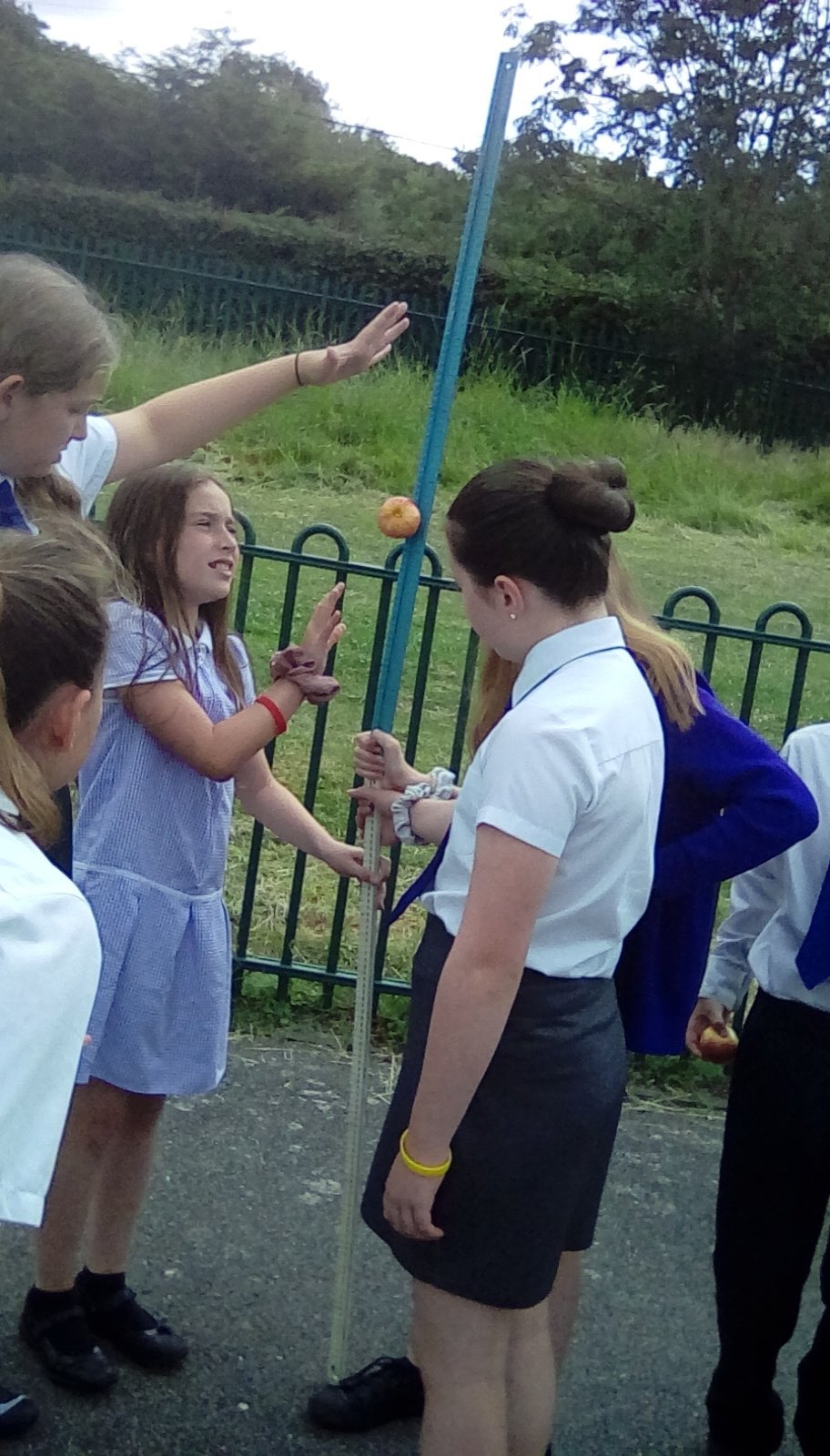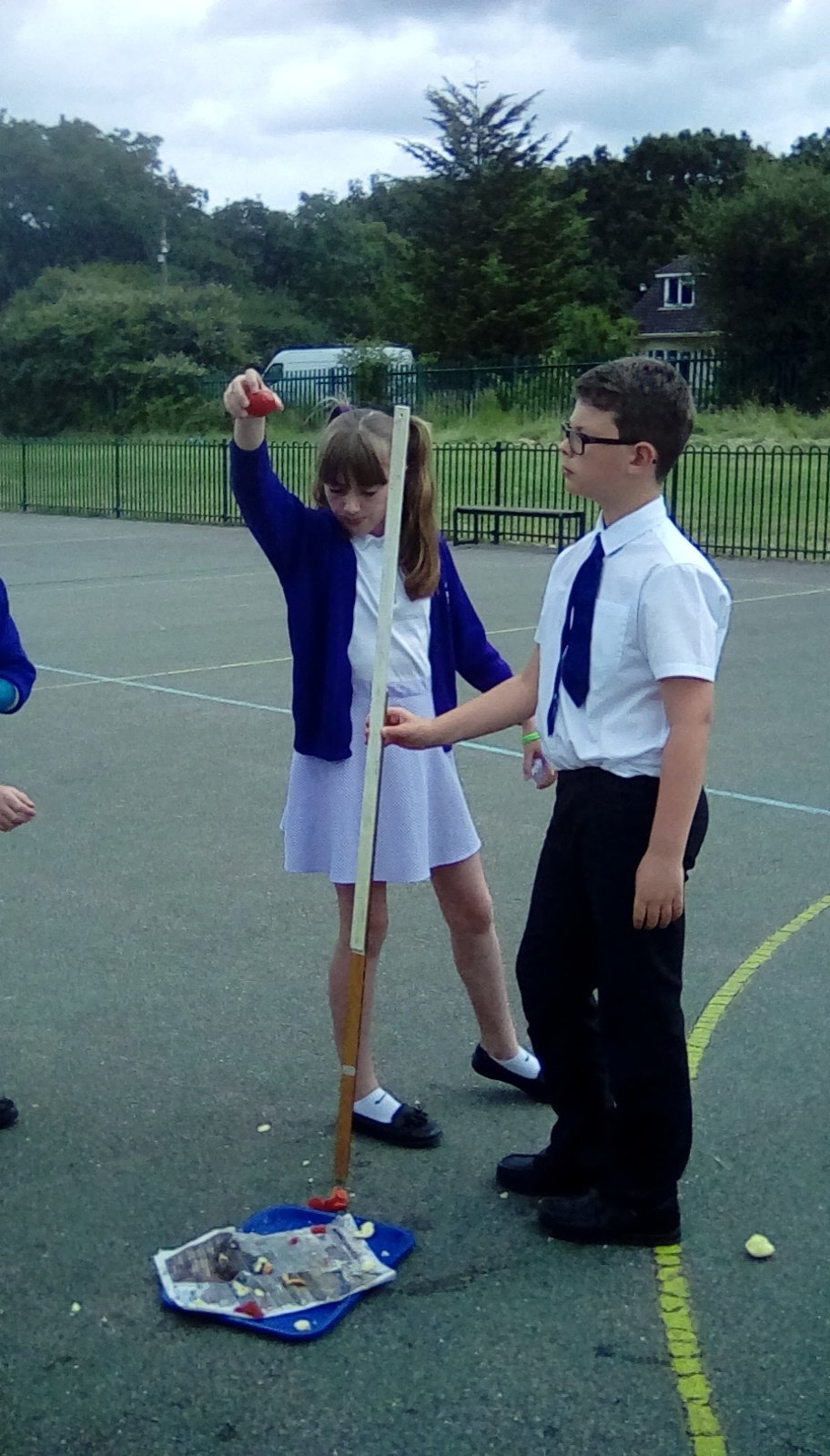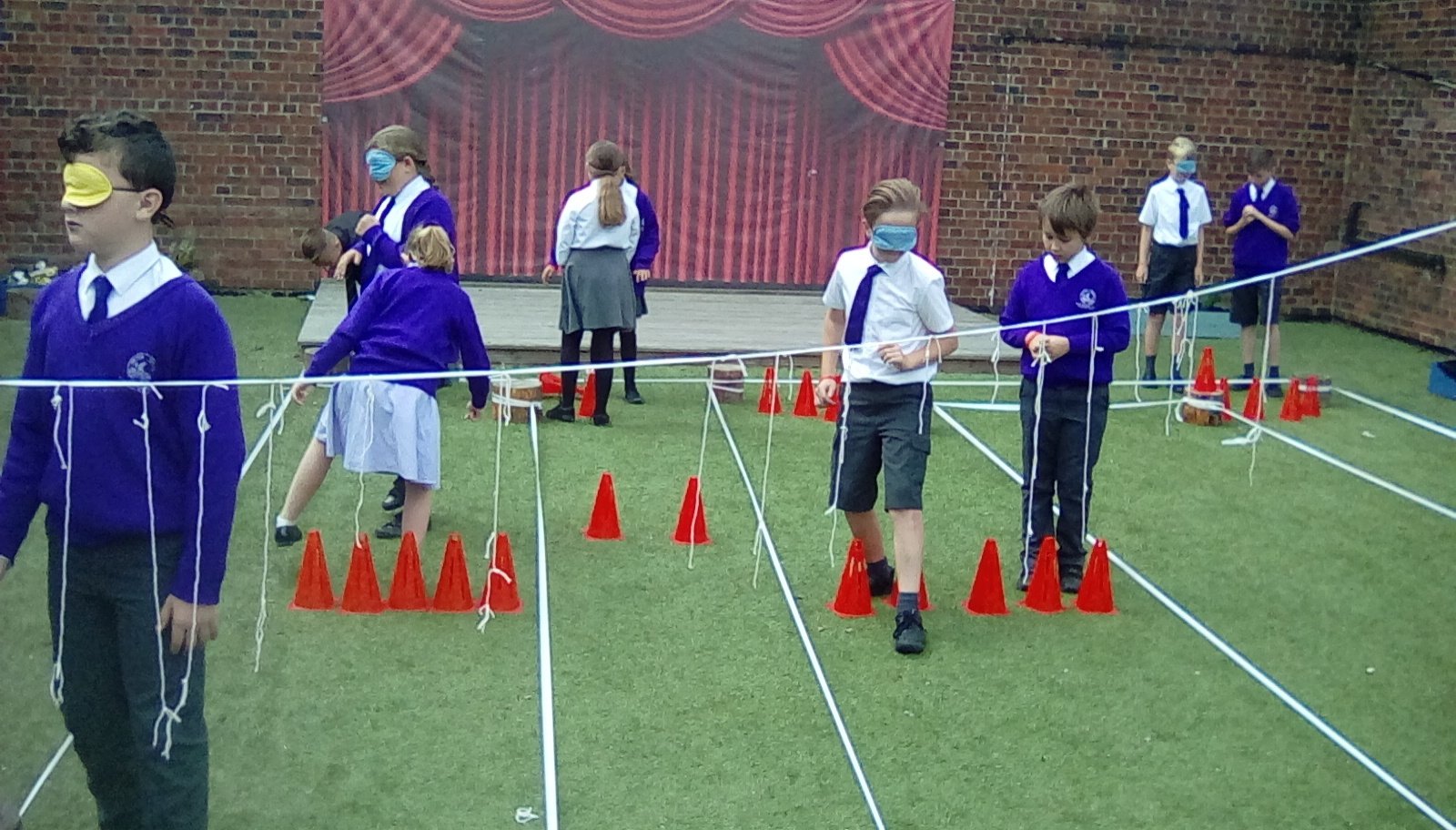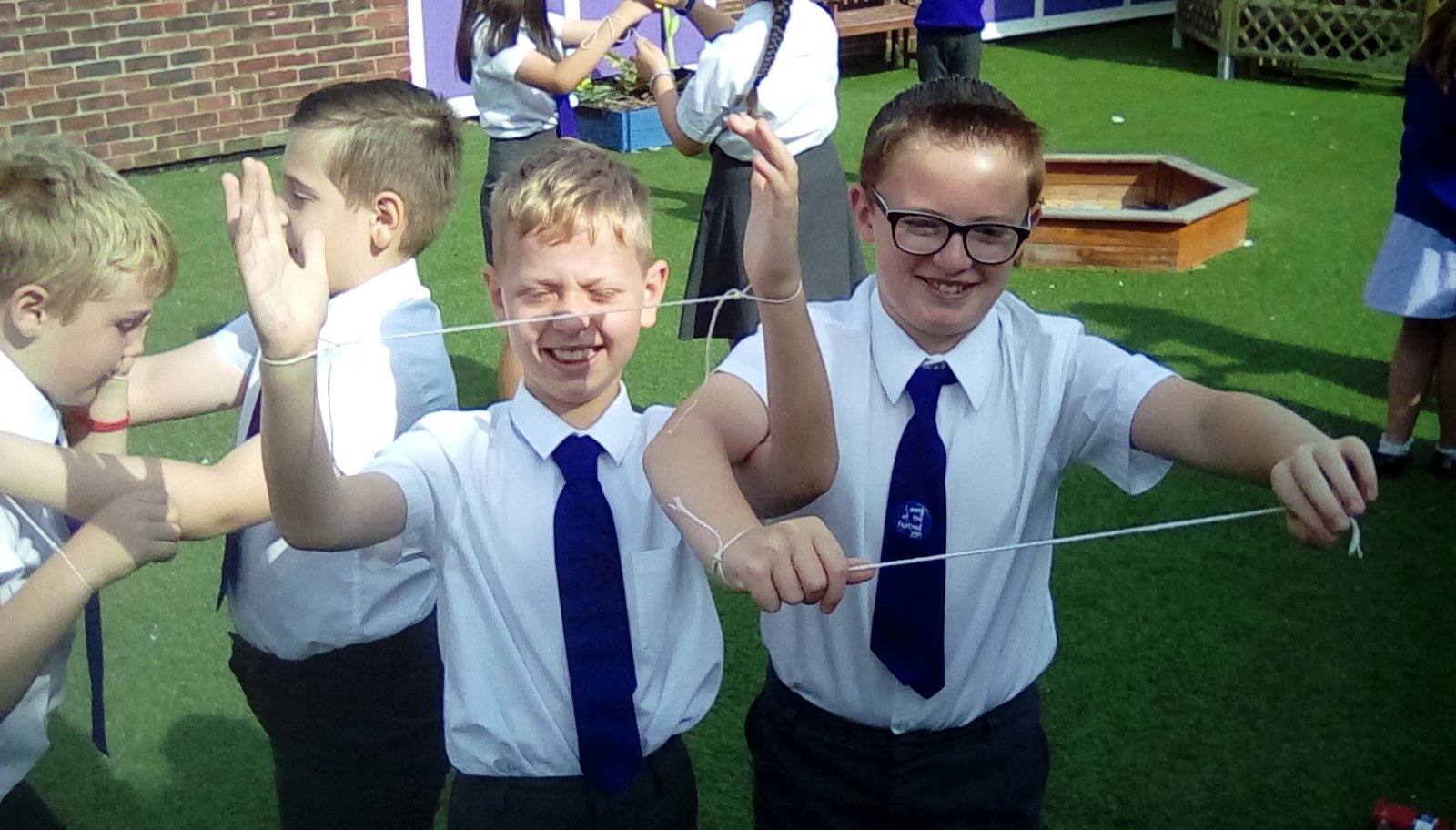 Week beginning: 01.07.19
This week year 5 have been learning in detail about several countries in America. We had the choice to pick a country to research in detail to create a persuasive holiday brochure. In this piece of writing we included rhetorical questions and emotive language to persuade our reader to visit some of the fantastic countries in America.
Year 5 also took part in sports day, where we persevered and showed great teamwork across the afternoon competing in our houses. Some of the races consisted of obstacles, sprint and the traditional egg and spoon race.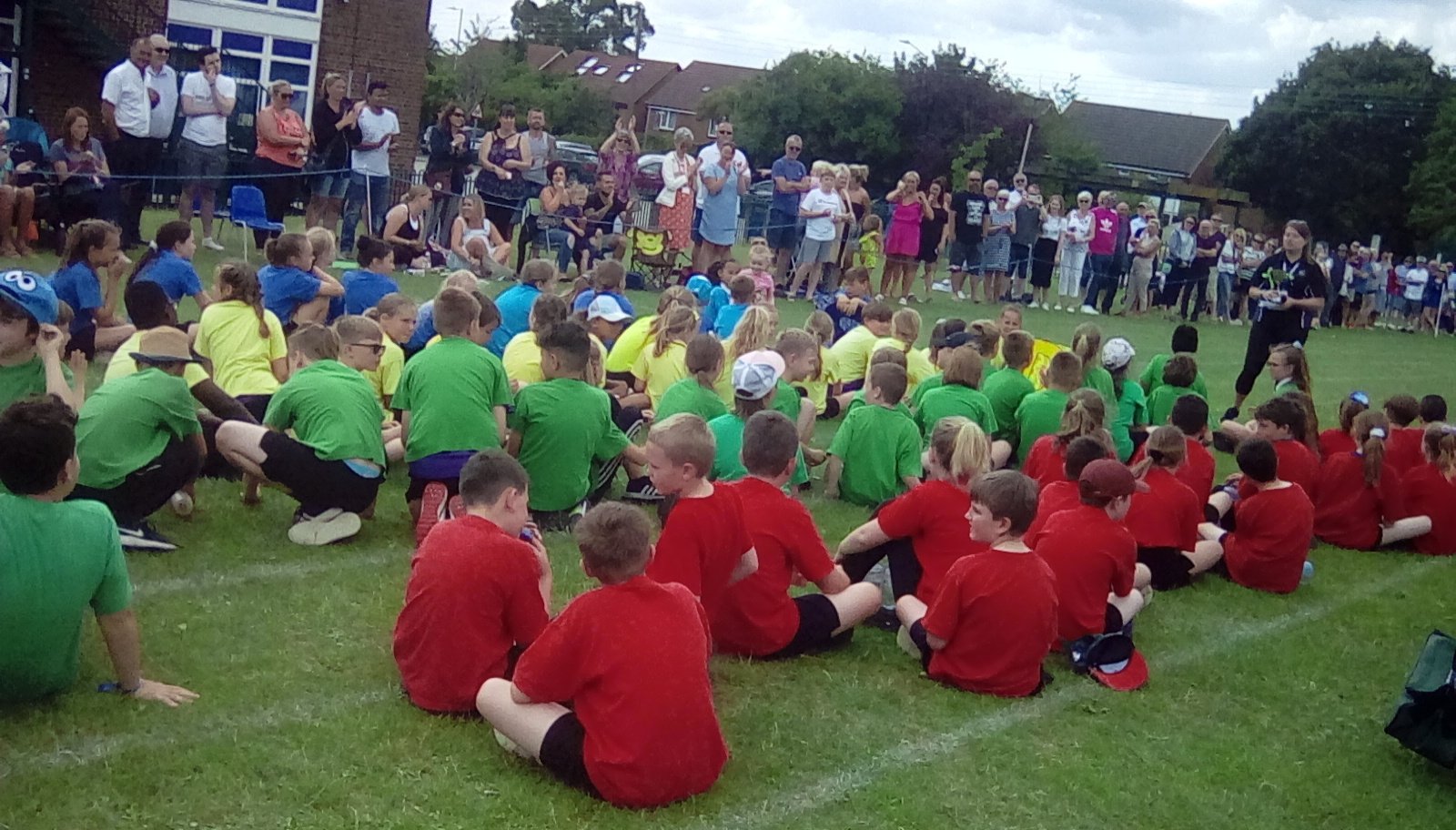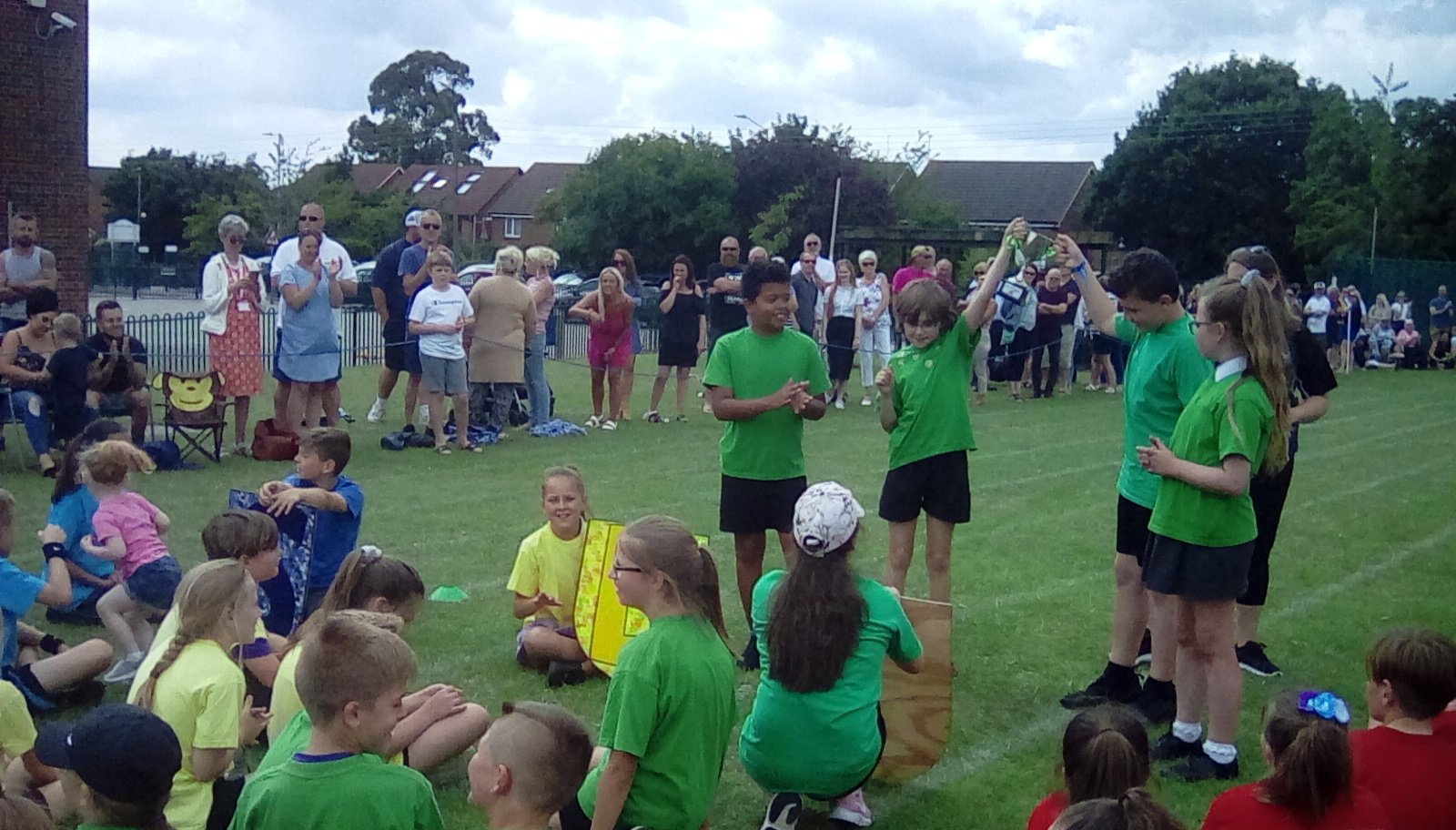 Week beginning 24.06.2019
This week Year 5 have worked extremely hard in their assessment week demonstrating the school's core values of independence and perseverance. Alongside this, the children have been continuing with their topic Amazing Americas. They have enhanced their geographical skills by using atlases and conducting research, using the chrome books, to identify human features in North and South America. The children have also been learning about the style of Surrealism and Salvador Dali.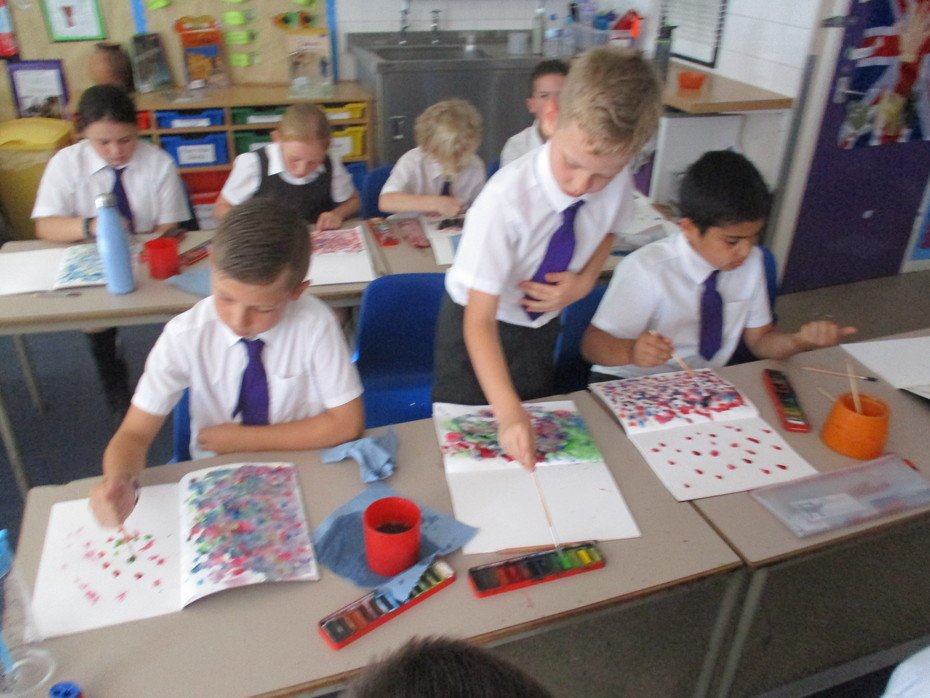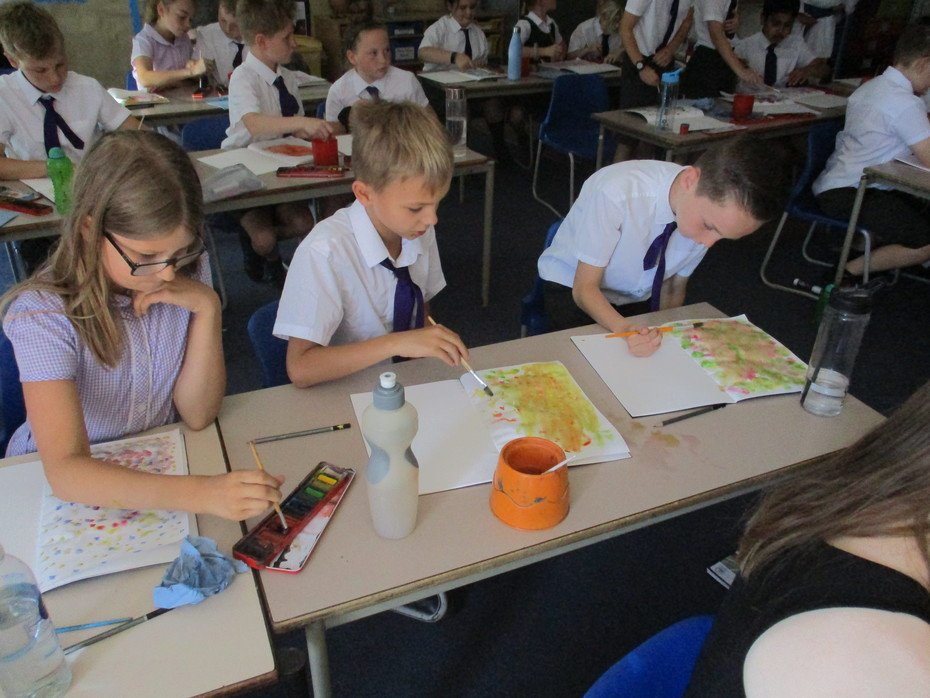 Week beginning 17.06.2019
This week in Year 5, we have enriched our geographical knowledge through a range of contexts. During our lessons, we have learned about physical geographical features, and discovered landmarks specific to the amazing Americas (our topic), such as Grand Canyon, Niagara Falls and volcanoes in Hawaii. We have explored time zones and figured the best route to travel North and South America in our maths investigations, reading maps to identify cities and states also.
This week in Year 5, we have enriched our geographical knowledge through a range of contexts. During our lessons, we have learned about physical geographical features, and discovered landmarks specific to the amazing Americas (our topic), such as Grand Canyon, Niagara Falls and volcanoes in Hawaii. We have explored time zones and figured the best route to travel North and South America in our maths investigations, reading maps to identify cities and states also.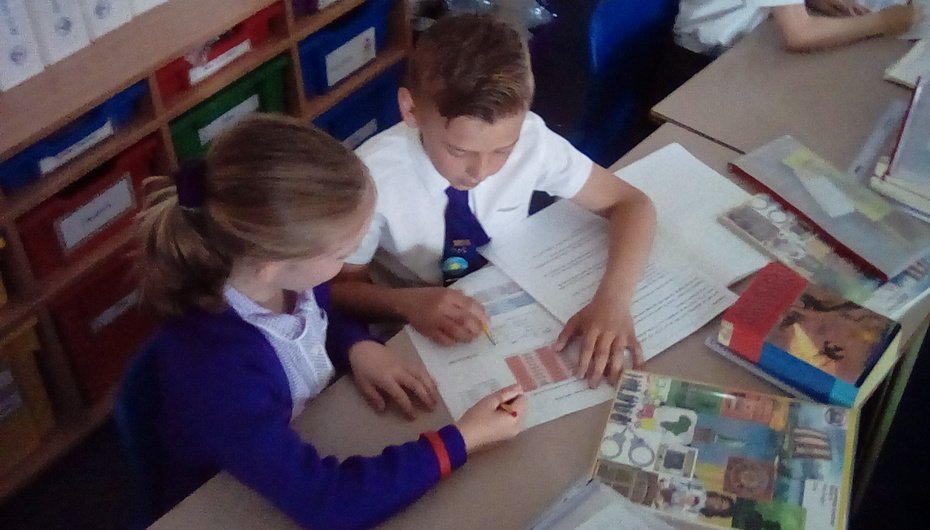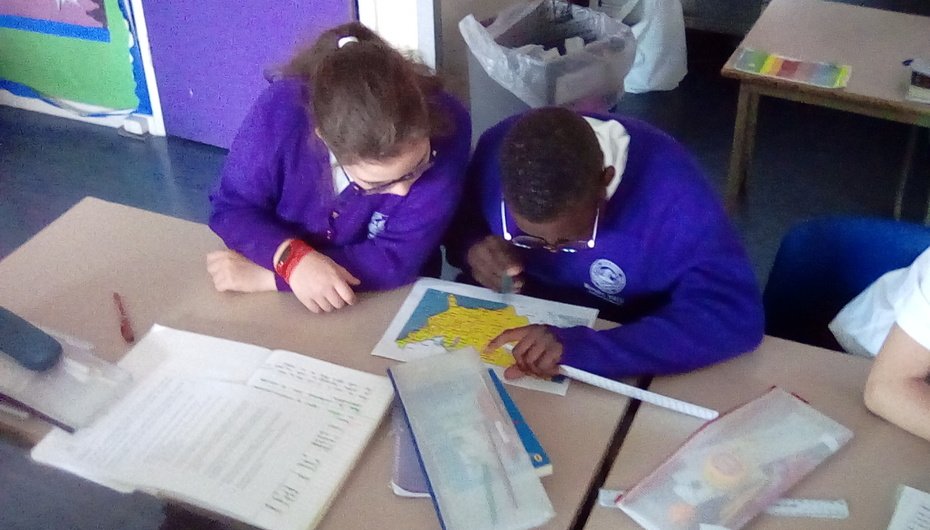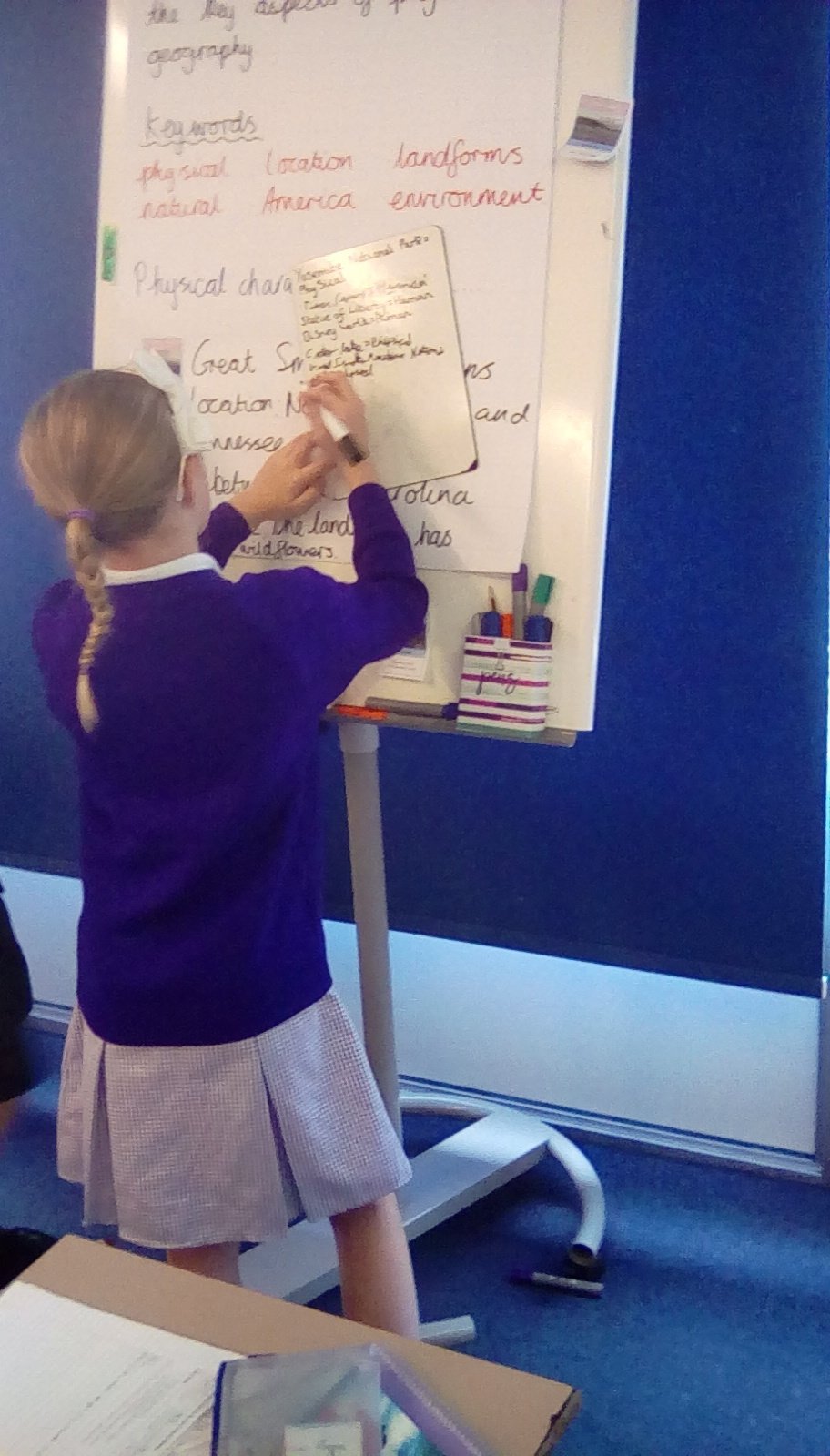 Week beginning 10.06.2019
This week year 5 have been learning about Thomas Edison. He was a famous inventor and one of his inventions was the electric light bulb. At the start of the week we read an information text about his life and then we answered fact retrieval questions around the text. Later in the week we used all our factual knowledge to write a biography about him. We used parenthesis to ensure that we were adding extra detail about his life, whilst using sub headings to set out our writing clearly.
Here is an extract of our writing.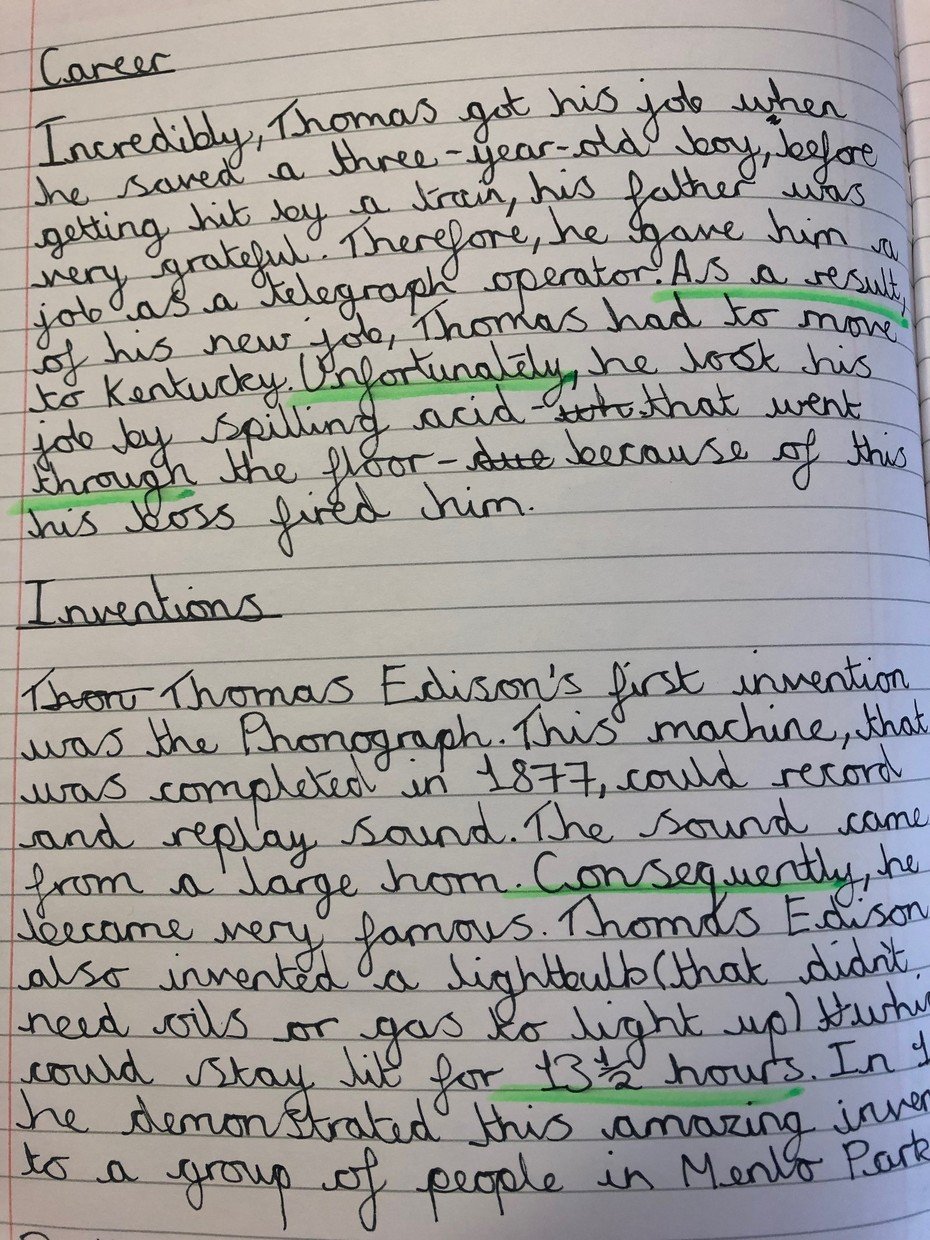 Week beginning 03.06.2019
This week Year 5 had an exciting hook day for their new topic Amazing Americas. The children gained an understanding of Brazilian culture and the traditions of the carnival in Rio de Janiero . They enhanced their musical skills by performing the Samba playing a variety of musical instruments. The children also used their creative skills to make decorative, colourful masks.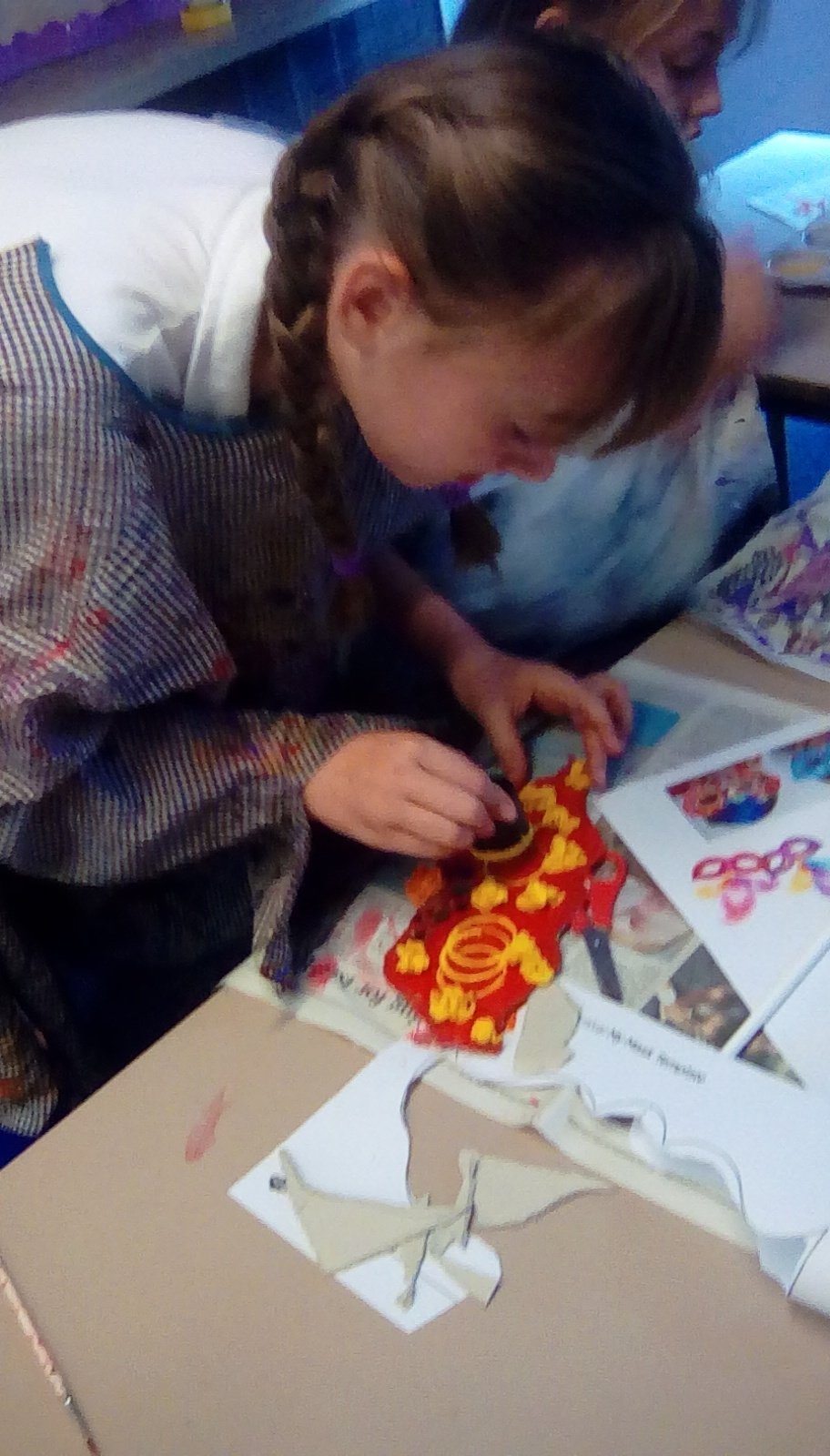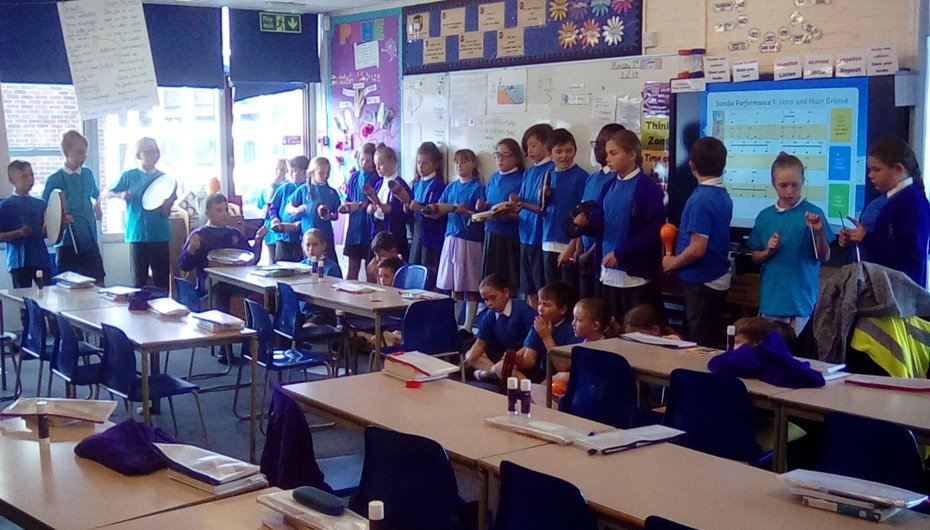 Danbury blog – 23/24th May 2019
Year 5 embarked on an exciting residential in Danbury, arriving on the 23rd May and staying in accommodation on site till the 24th May. The residential involved a range of exciting outdoor activities which involved children building their confidence resilience and independence.
Day one
On a morning arrival the children were separated into groups with an adult and started their first adventurous activity with a trained member. Below are some of the activities that children took part in across the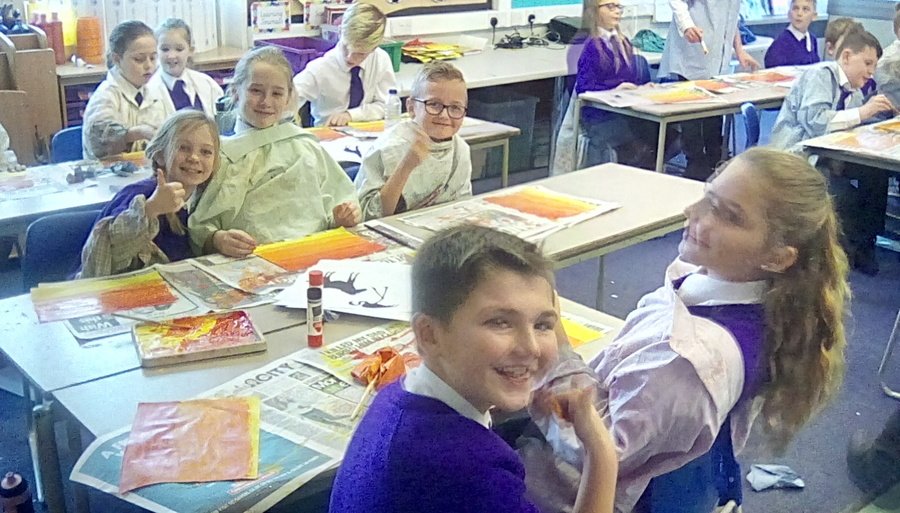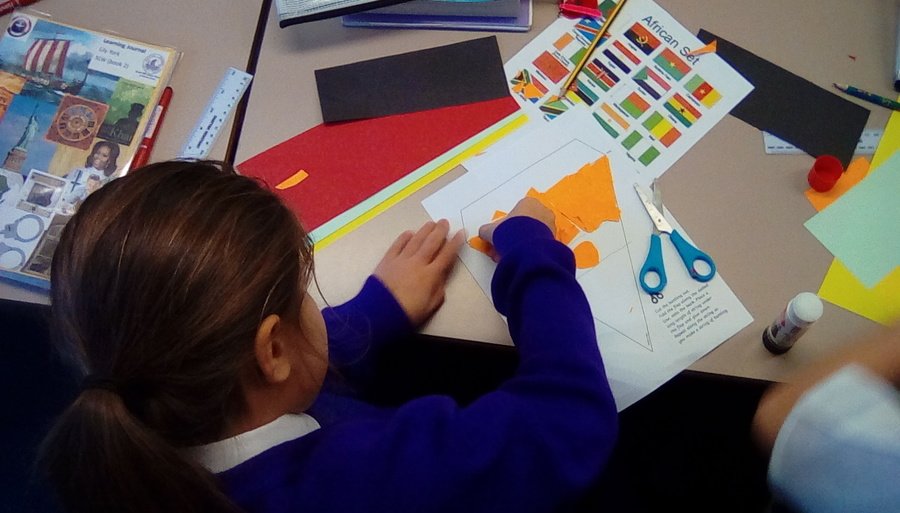 Week beginning 10.12.18
This week Year 5 have been producing their own Horrible Histories videos about Guy Fawkes and the Gunpowder Plot, Banksy and Tudor Crime and Punishment. Working in groups the children created storyboards to explain the characters, settings and plots.
They discussed what makes a good performance and how using a range of intonation, different volumes for effect and varying pace when speaking impacts on the audience. Finally the children performed and evaluated their Horrible Histories clips. Well done Year 5 on some very dramatic performances!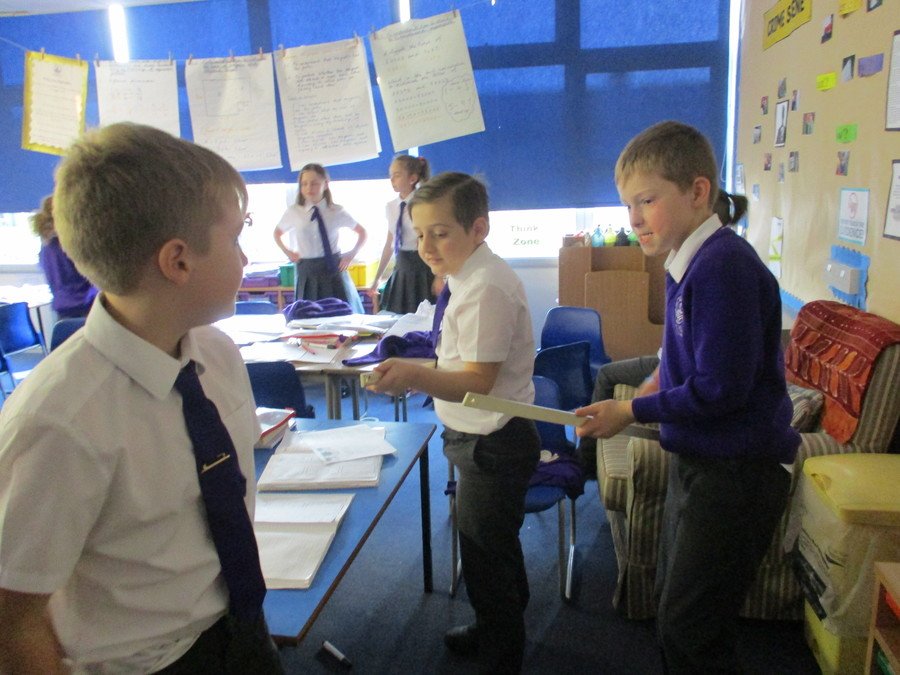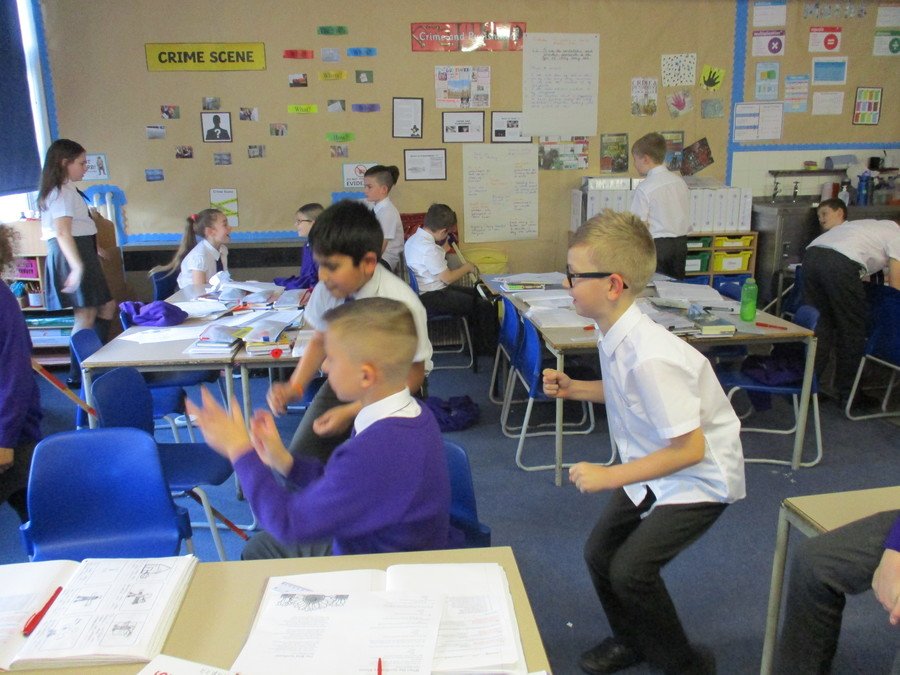 Week beginning 03.12.18
This week, Year 5 have been developing our knowledge of the Tudors and linking this to our topic of Crime and Punishment.
The children have been investigating the types of harsh punishments used, such as the rack and the ducking stool. The children have shared some fantastic ideas and worked hard on planning and writing their discussion texts. Well done Year 5!
Week beginning. 26.11.18
This week year 5 have had assessment week, we have worked very hard towards our targets!
Science
This week we have explored our new science topic which is forces. We have learnt a range of forces such as friction, air resistance, water resistance and gravity. In year 5 we conducted an experiment using plastic bags and a paper clip to test if the size of the parachute would affect the air resistance.
Below are some pictures of year 5 experimenting with magnets - we can in detail explain magnets and why they attract and repel objects.
At the end of the week, we produced posters and presented our findings of the different forces we had learnt over the week.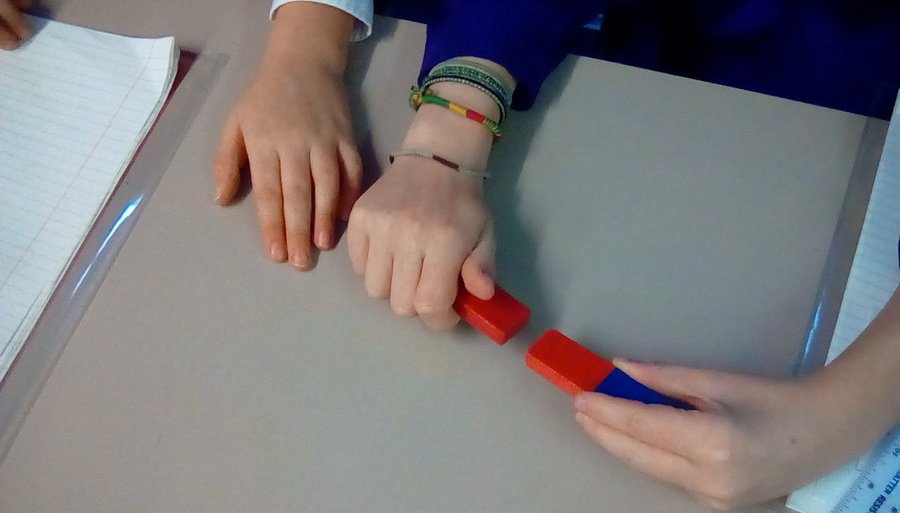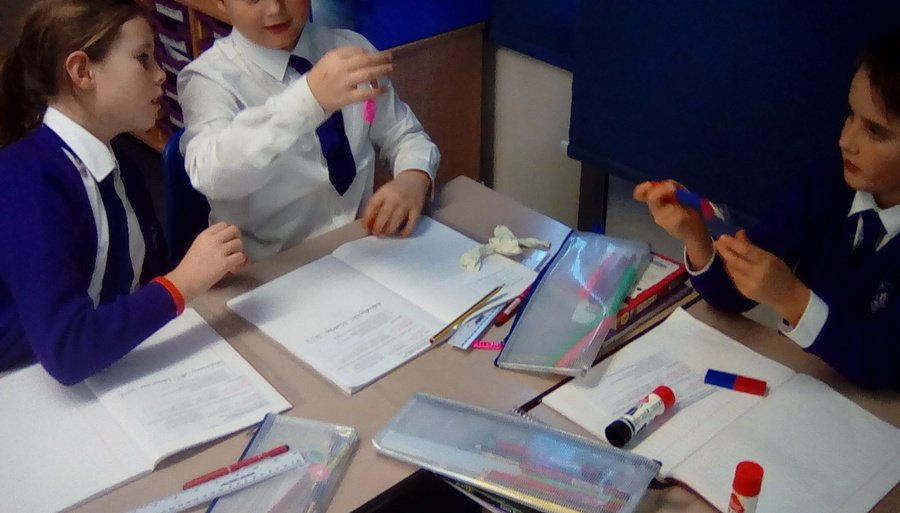 Week beginning 19.11.18
This week Year 5 have been learning about concentration camps and the Holocaust and why it is such a major event in world history. To introduce the children to this topic they studied the book Rose Blanche. The story is told through the eyes of a young German girl who is a witness to immense changes occurring in Nazi Germany. Using this text the children identified examples of figurative language such as similes, metaphors and personification and discussed why these particular examples have been used and how they made them feel as a reader. Following on from this, the children created their own examples of figurative language and wrote their own stories set in World War 2.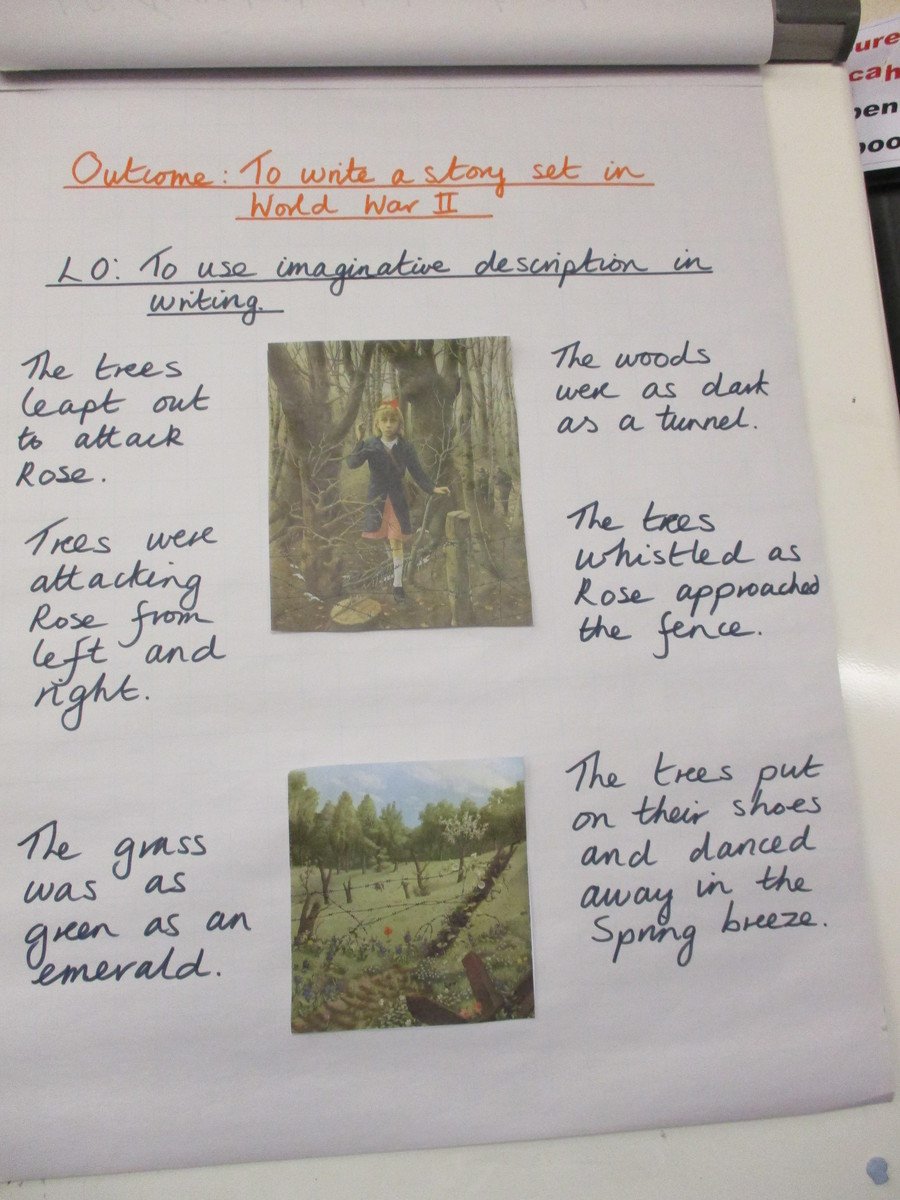 Week beginning 12.11.18
This week, Year 5 has been learning about Banksy and his unique artistic style. To introduce the children to the topic of crime and punishment, the children discovered a crime scene at the start of the half term, which unmasked some mysterious graffiti. Following on from this, the children are developing their learning through reading and discussion, as well having designed and created their own Banksy inspired art work using stencilling and painting.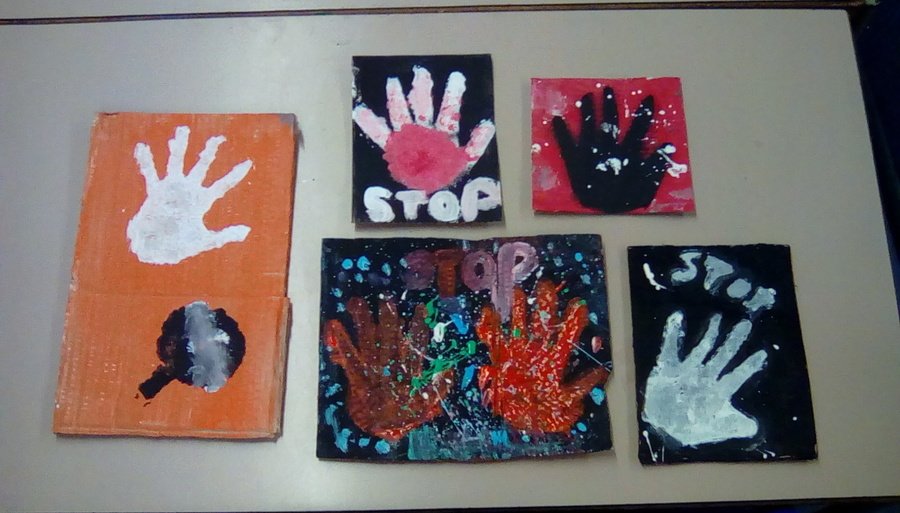 Week beginning 05.11.18
This week, Year 5 have been learning about Guy Fawkes and his plan to commit treason.
We learnt the plot of Guy Fawkes which involves attempting to set fire to Parliament. We looked into how the historical act of treason relates to Bonfire night and have understood the differences between Catholics and Protestants, whilst linking this with Guy Fawkes beliefs. Towards the end of the week Year 5 produced a persuasive letter to try and stop Guy Fawkes from committing treason whilst using the correct features such as, modal verbs and rhetorical questions.
Memorial Day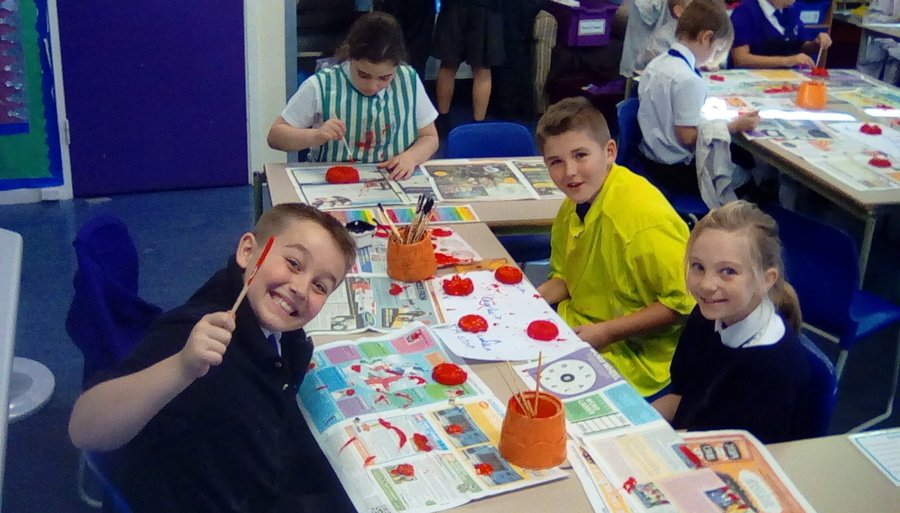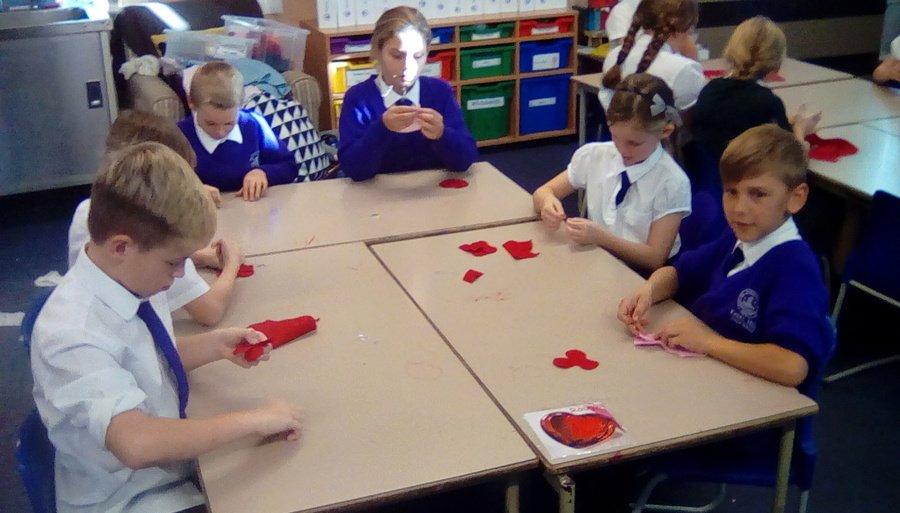 As a whole school we celebrated Memorial Day on Wednesday and created poppies out of the bottom of plastic bottles. Year 5 contributed to Memorial Day by using our sewing skills and creating a blanket stitch on felt poppies. We finished these off with a black button in the middle.
week beginning 29.10.18
Year 5 Topic 'Crime and Punishment'
Well done to Year 5 for producing some excellent mystery stories during half term. This week Year 5 started their new topic 'Crime and Punishment'. They have been improving their teamwork skills, when being detectives, investigating a crime scene in the reading garden in small groups. Later in the week, Year 5 have been journalists by using the evidence they found to write their newspaper reports.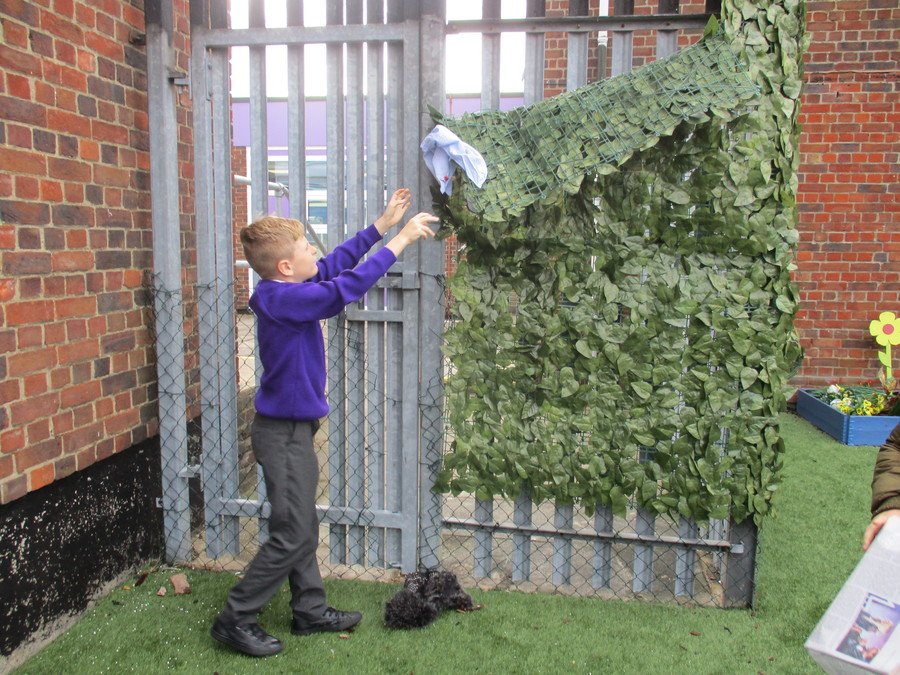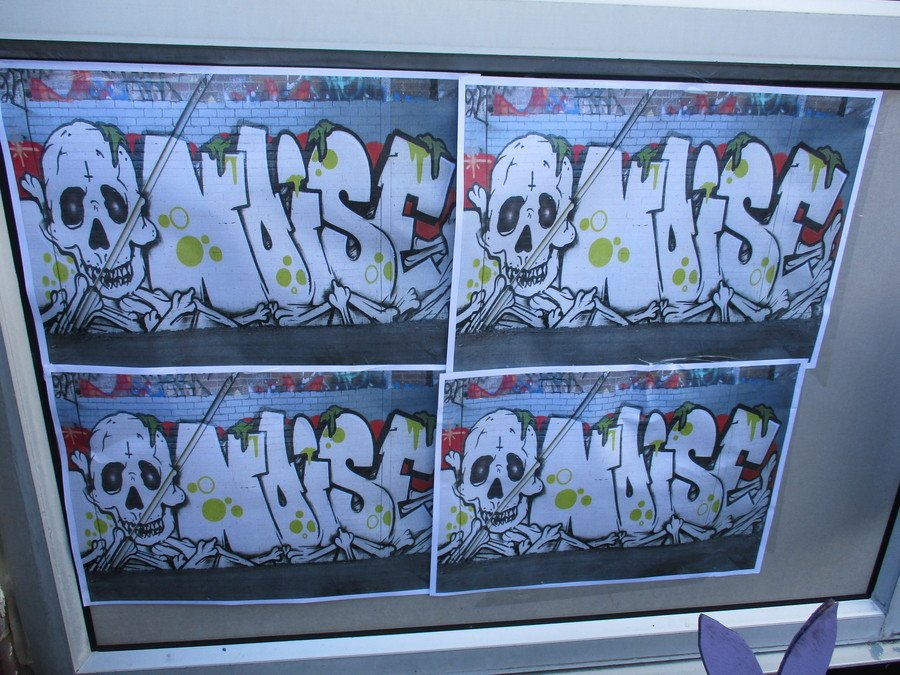 Autumn 1
Year 5 have settled well into Upper Key Stage 2 and are developing their independence and team work. This half term, Year 5 have been working on a business and enterprise topic aimed to develop their leadership and organisation skills and aspirations for the future.
We were really impressed by the quality of some of the homework completed over the summer holidays: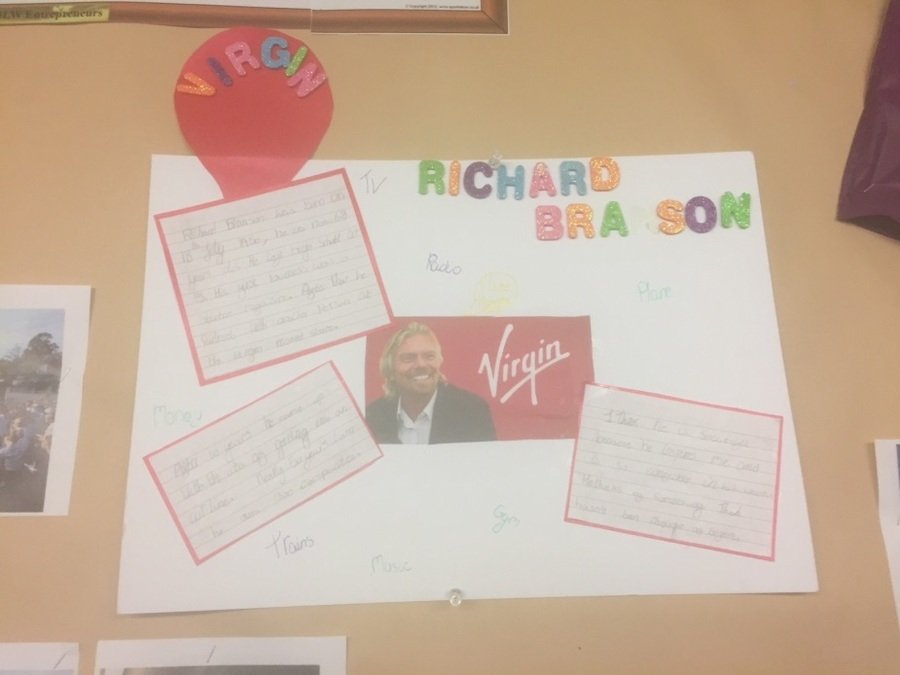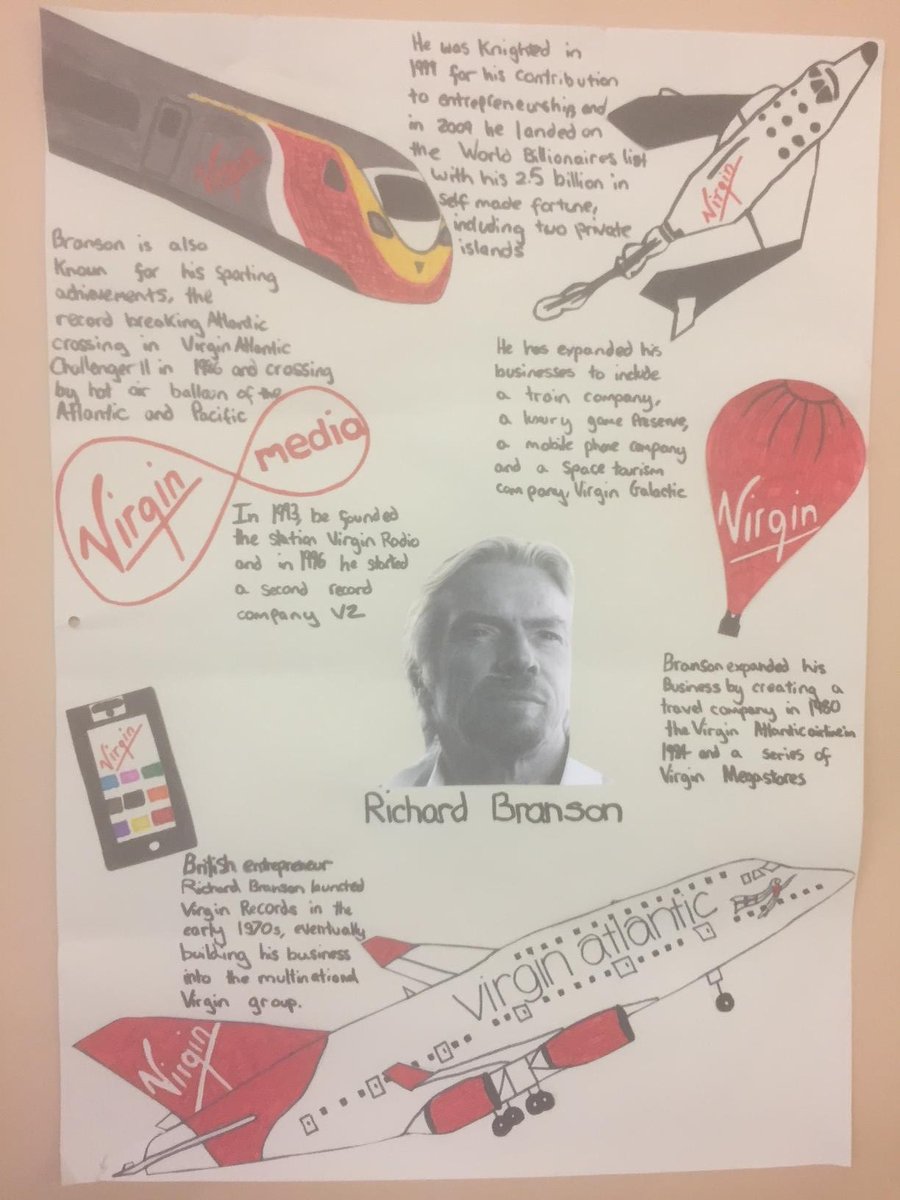 In order to develop their aspirations children were visited by professionals ranging from fire fighters to a recruitment consultant in pharmaceuticals and biotechnology.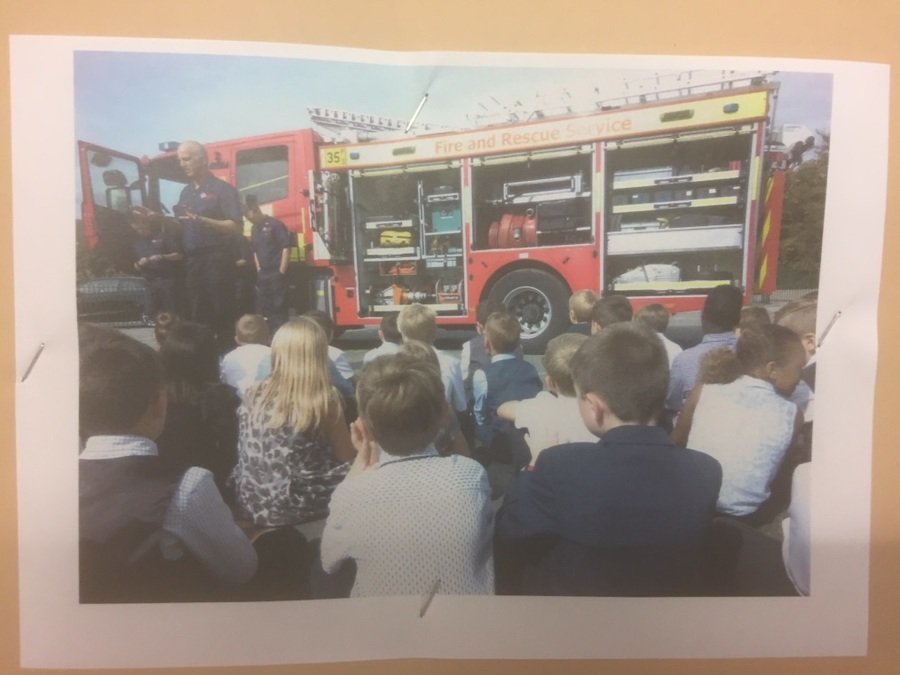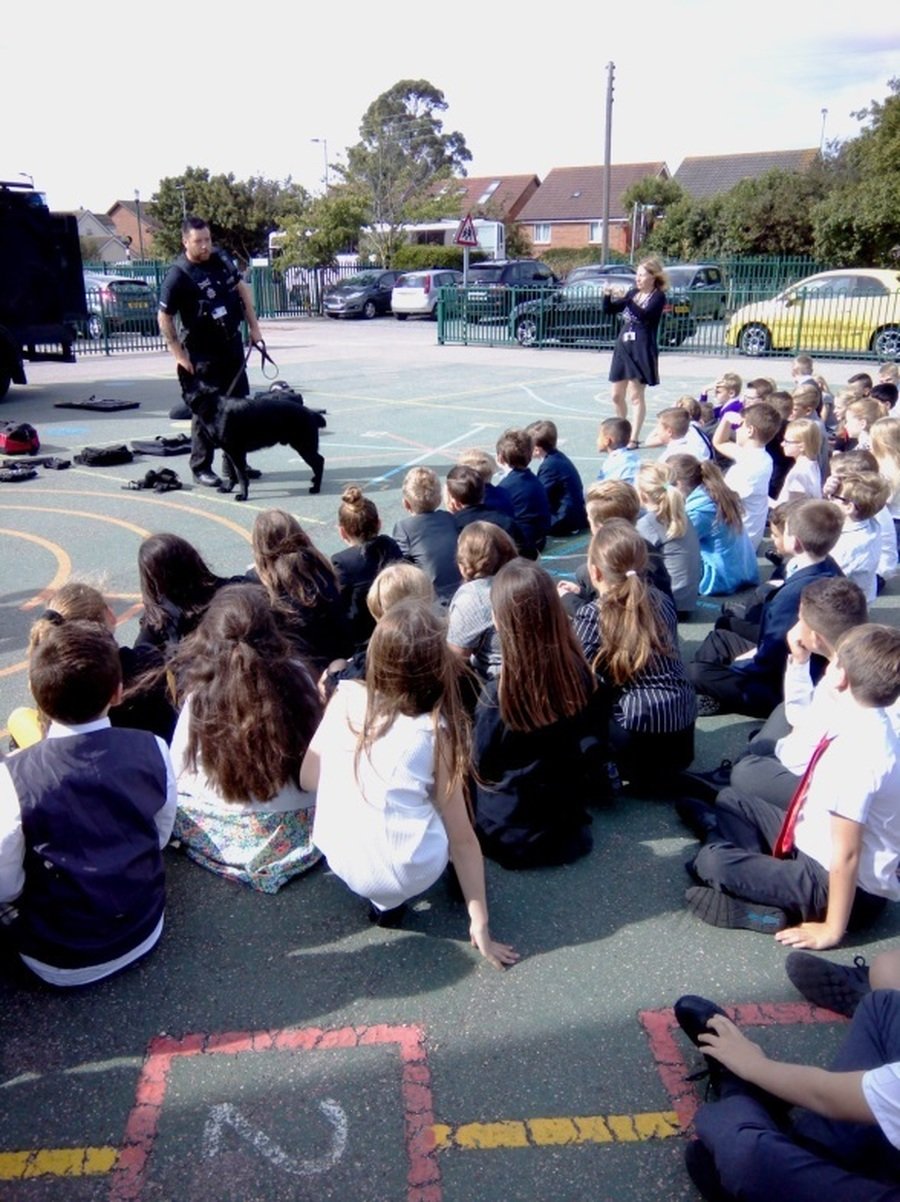 Pupils developed their ability to work with others in a variety of roles while developing their own business plans. Each business was then presented to parents.