Year 6 Blog 2020-2021
Week beginning: 03.05.2021
Although it has been a short week in school, we have crammed lots of learning in. We have read our second of Shakespeare's plays - this time the comedy 'A Midsummer Night's Dream'. We have considered the themes within this play as well as exploring the characters.
We also started our art project this week. Having previously evaluated some sketching pieces, we began attempting some facial features and then beginning to sketch William Shakespeare using a range of techniques.
Year 6 have also continued our difficult R.E topic of 'Life after Death', exploring the beliefs of different religions when someone passes away. As usual, Year 6 have dealt with this topic with great maturity and it has led to some fantastic and thought-provoking discussions.
Week beginning: 26.04.2021
Year 6 this week have been continuing their topic with a focus on the Tudors.
In history we have been discovering more about the Tudor reign using historical sources to make our own inferences.
We have been developing our sketching skills, leading to sketching a portrait of William Shakespeare.
In science, our focus is the human body. We have been learning more about the circulatory system and in doing do have learnt about how the heart works. We have acted out how the blood moves around the heart and also demonstrated this in a labelled drawing.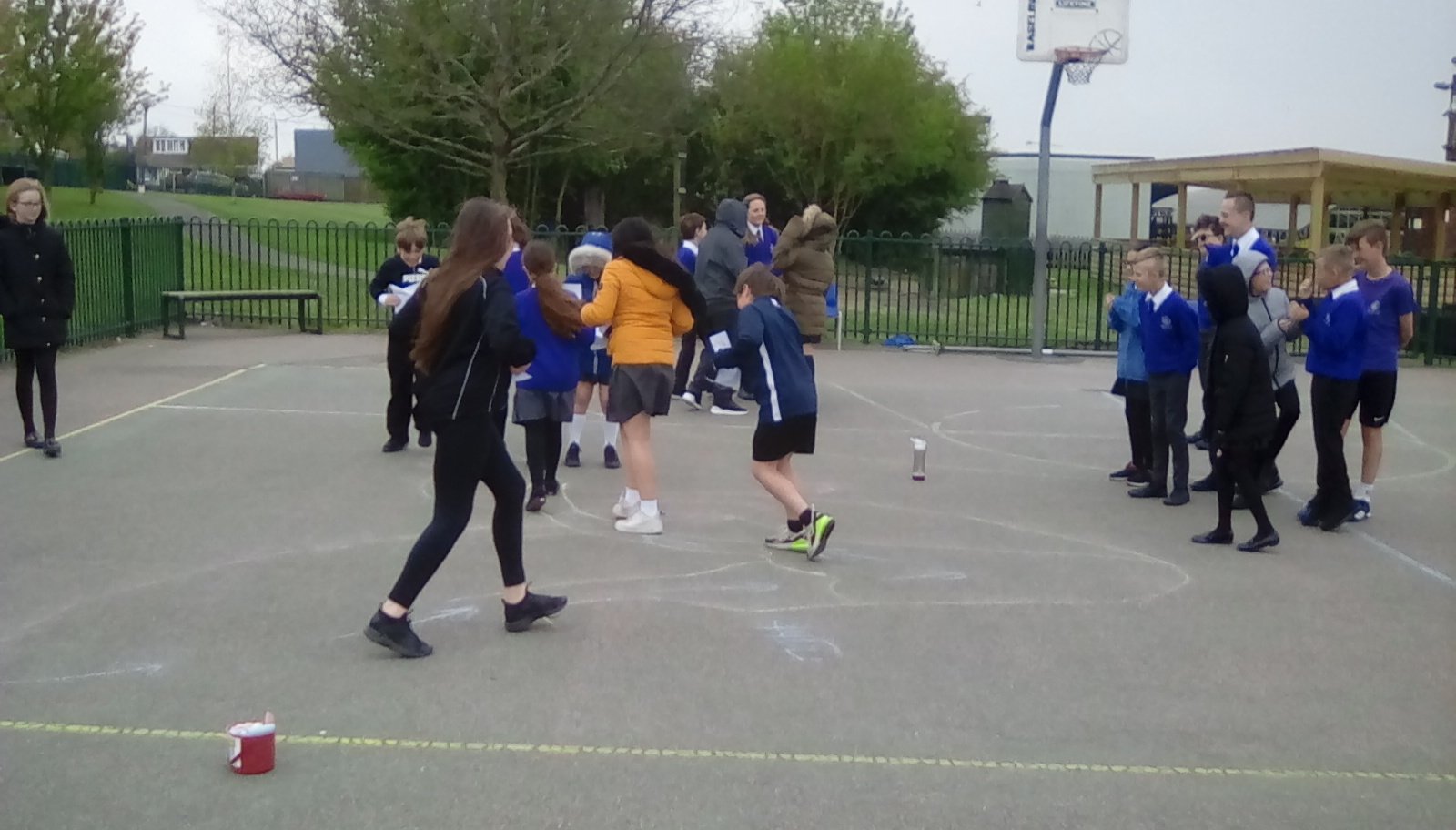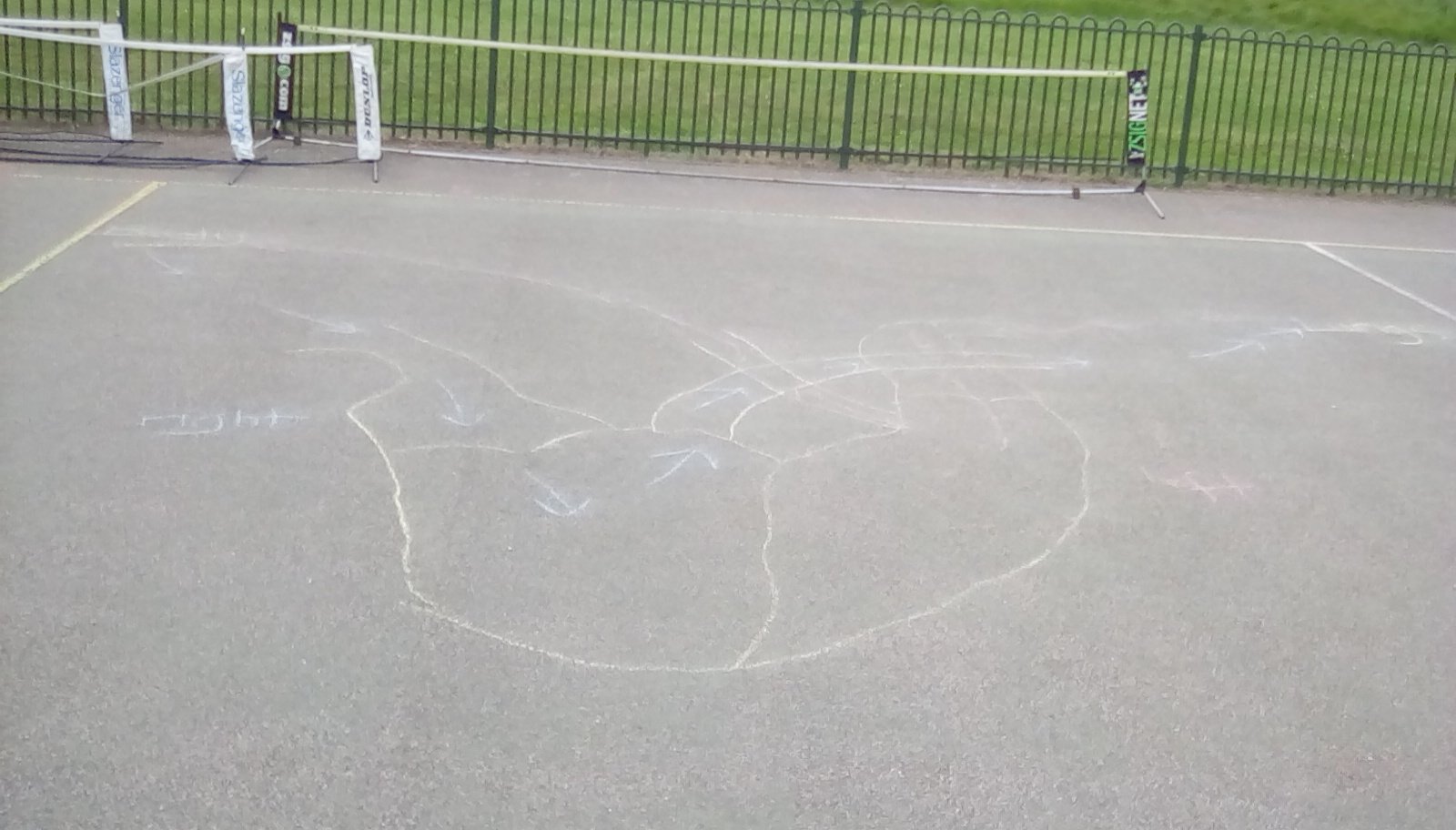 Week beginning: 19.04.2021
This week in Year 6, we have been focussing on our writing. We have been discussing the question: should Romeo and Juliet have been kept apart from their families? We have had so much fun arguing our points and demonstrating our understanding of Shakespeare's infamous love story between the two star-crossed lovers, Romeo and Juliet. Take a look at some of our brilliant examples below.

In PSHE, we have been talking about transitioning. Going to secondary school can be a scary thought, so in Year 6, we have been discussing what we have been excited about, what makes us nervous, and any questions we have. We wrote anonymous notes, which was then read out to the class. It was reassuring that most of our thoughts and feelings were the same and that we are all going through the same experiences.
Week beginning: 12.04.2021
This week, Year 6 have started our new topic of Shakespeare. During this term, we will be discussing the question: Will my literature survive the test of time?
During our hook day, we learnt about the Tudor Rose and created our own version linked to our family. We spent some time researching Shakespeare, working collaboratively with our partner to create some fantastic information posters.
We have also read Romeo and Juliet as well as Macbeth and created a piece of drama, learning lines from the play and reading stage directions in order to bring a scene to life.
Finally, we have used our knowledge of time and timetables to identify the duration and start and finish times of a number of Shakespeare's plays being performed in the theatre.
Week beginning: 22.03.2021
In year 6 this week we have been ending our Japan topic by developing our understanding of earthquakes and volcanoes. Using imperative and modal verbs, we have written a persuasive letter for aid to be sent to support cities and towns devastated by an earthquake. Our key question is "Do natural disasters create adversity?" and to reflect on this we created our own websites to show what we had learnt over the last term.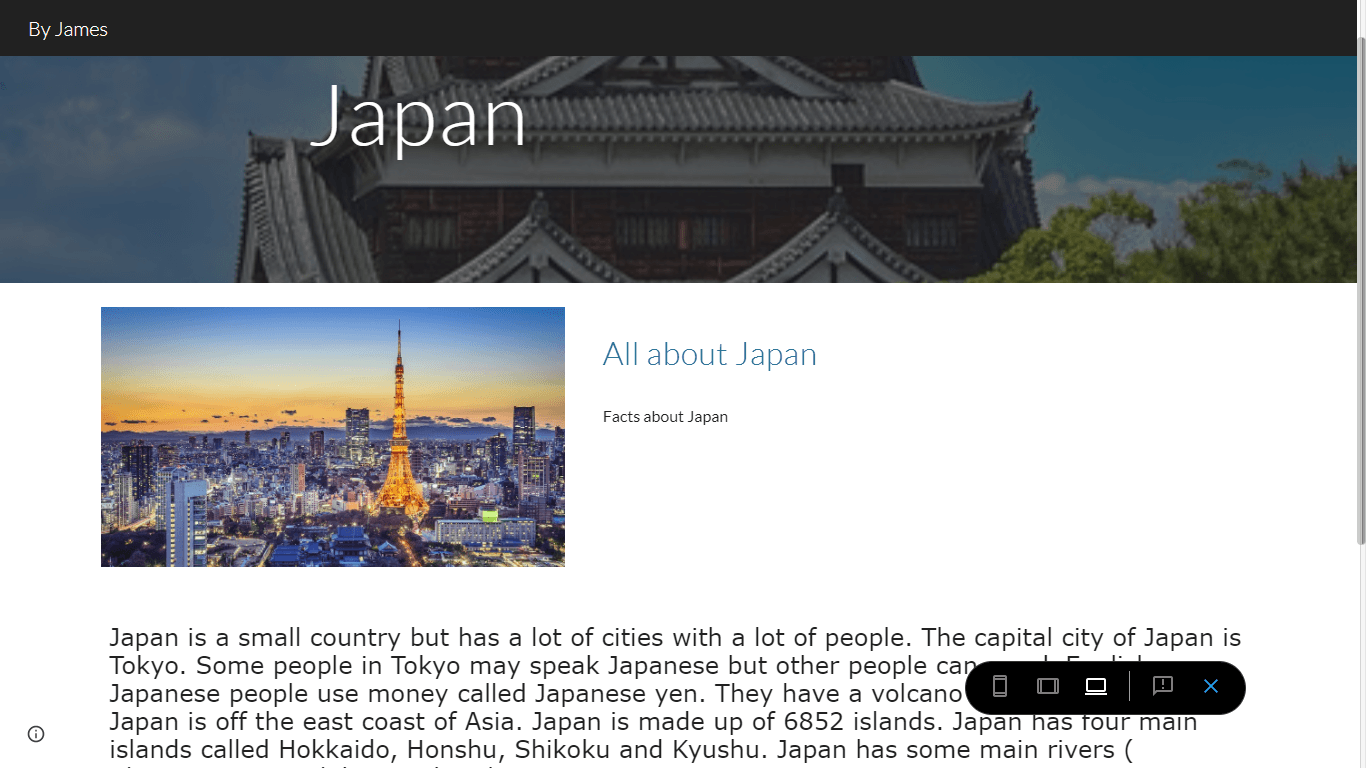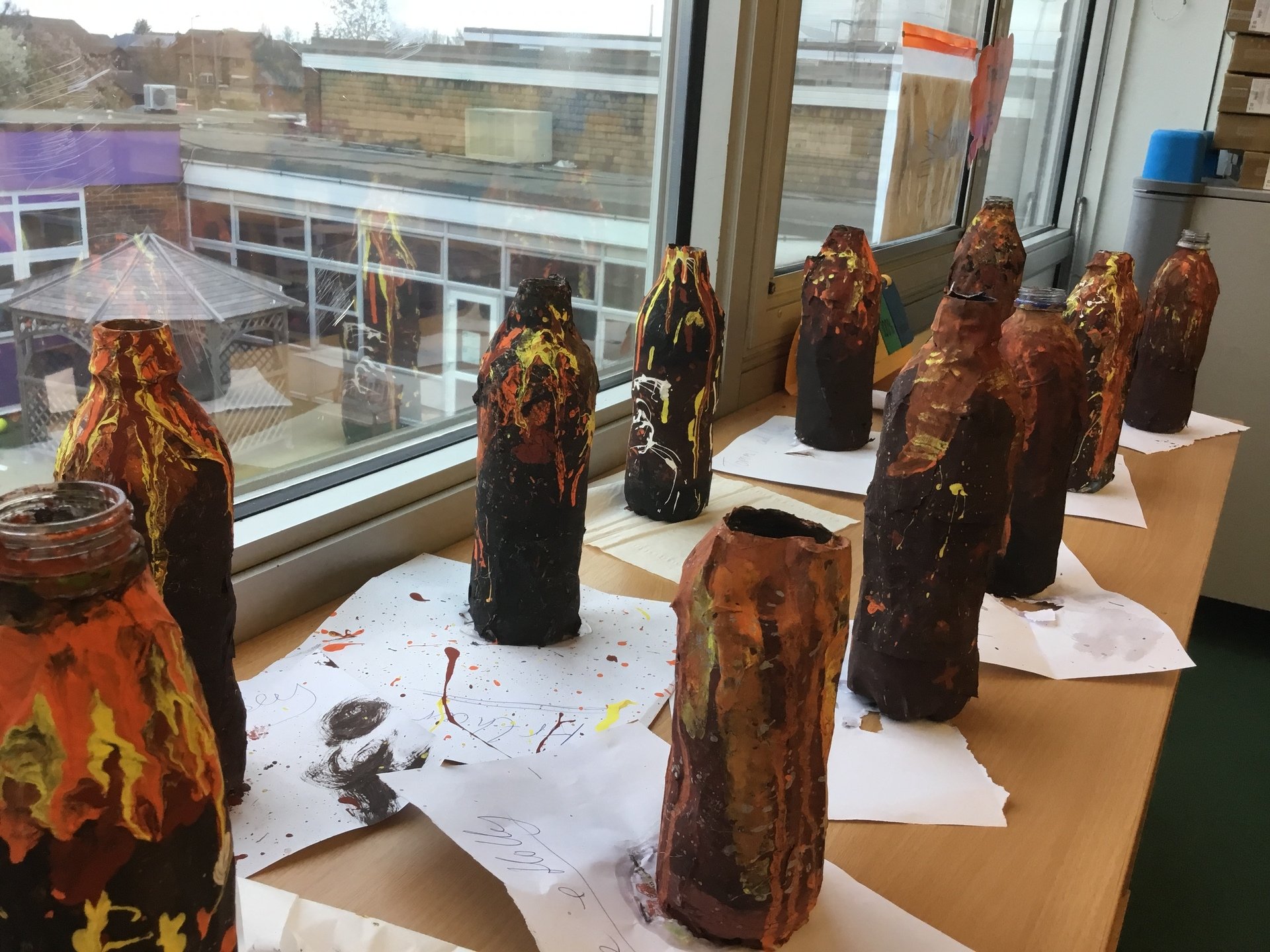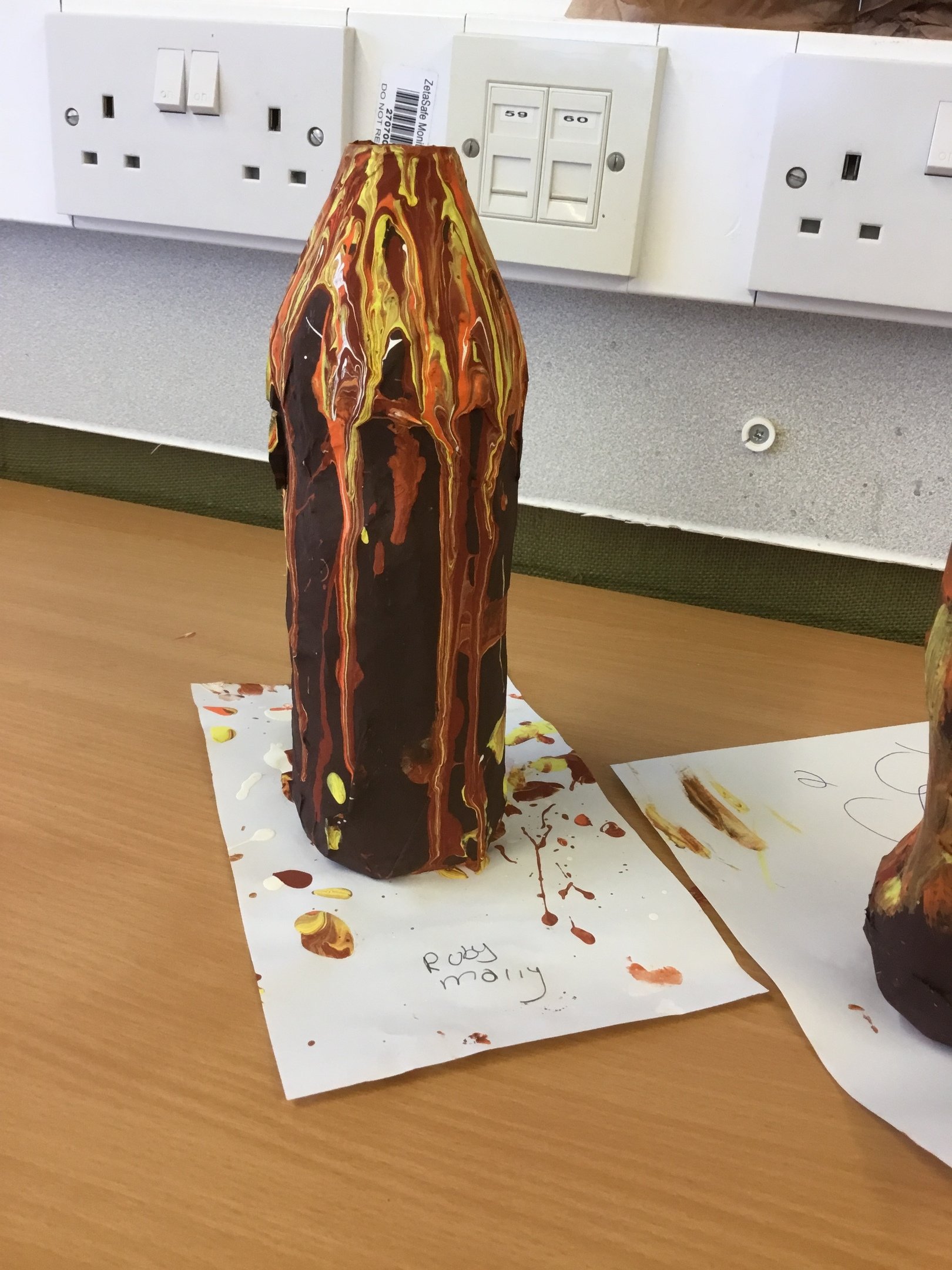 Week beginning: 15.03.2021
This week in year 6, we have been learning about natural disasters. We looked at how volcanoes are formed and what creates earthquakes. Once we had conducted some further research, we created a double page spread on all our findings. We included: worst natural disasters, tectonic plates, land types and climate in Japan, Mount Fuji, Mount Sakurajima, and finally, how volcanoes are formed.
In writing, we have been creating persuasive pieces, encouraging people to provide support for a place after a natural disaster. We could choose from a volcanic eruption, an earthquake, a tsunami, a hurricane, or a floor.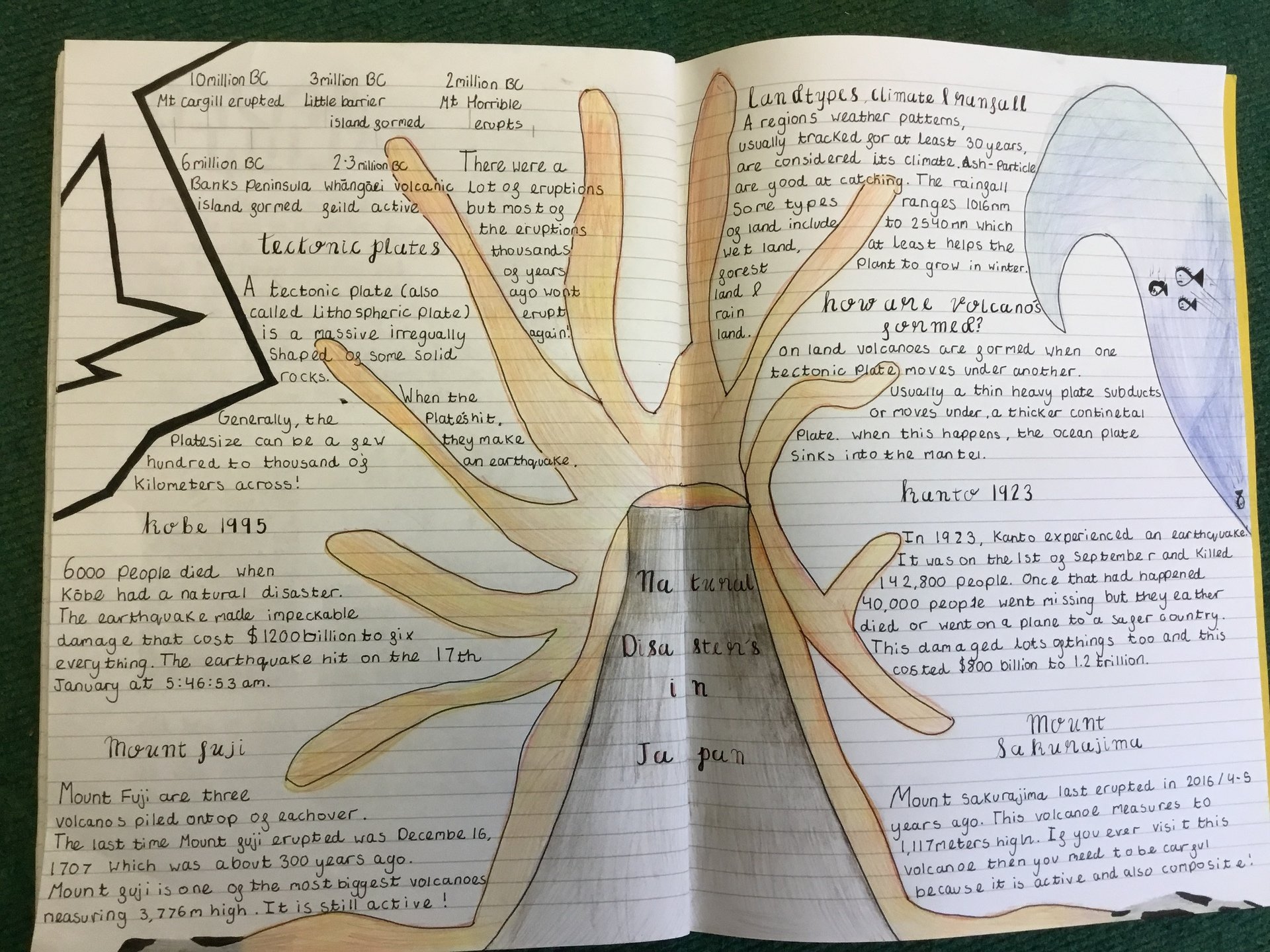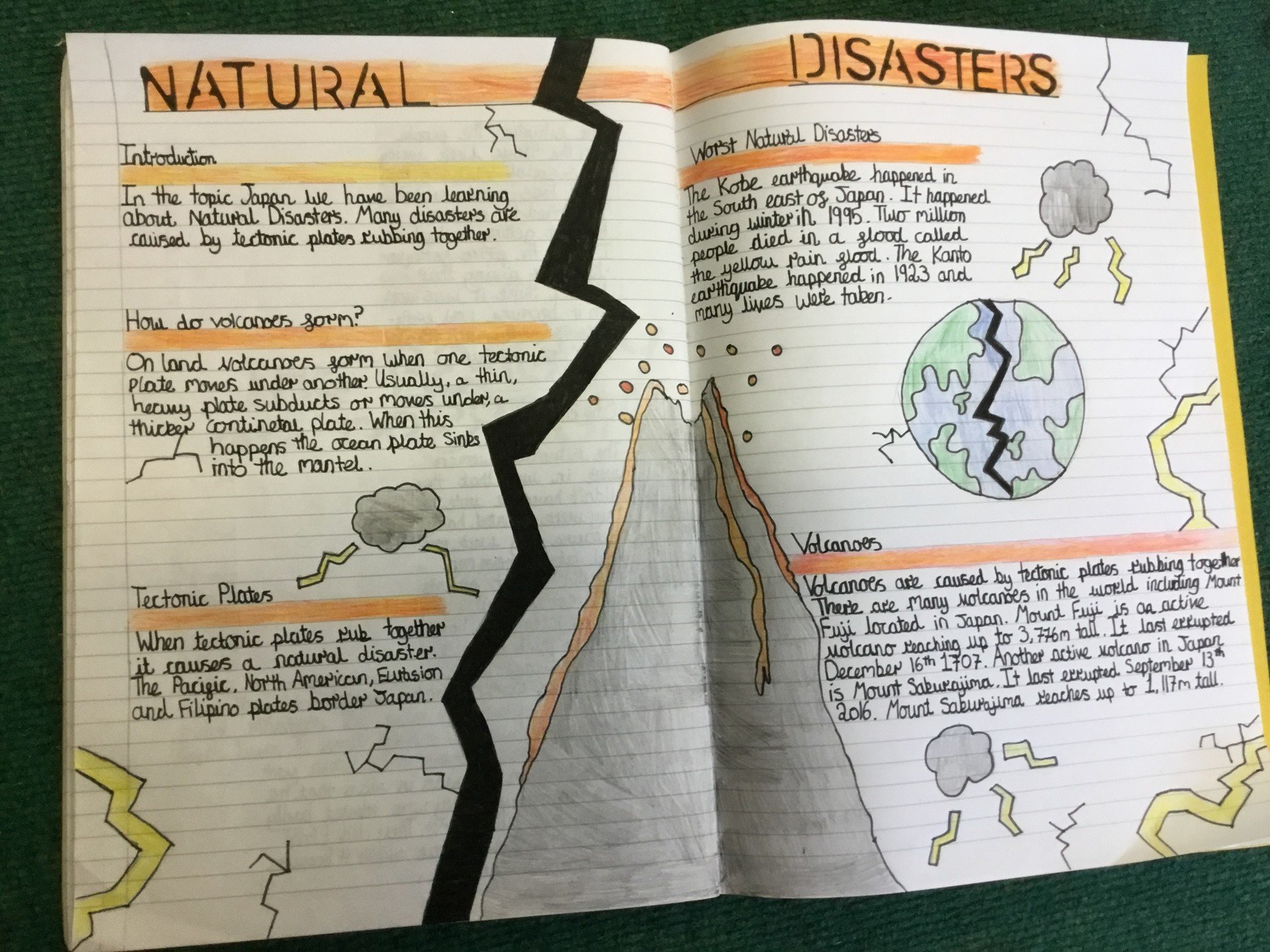 Week beginning: 08.03.2021
Miss Hovey, Miss Greenslade and Miss Wilson were extremely excited this week to welcome Year 6 (and everyone) back to school. We are all so happy to see everyone's faces again.
We started the week by reading The Boy, The Mole, The Fox And The Horse. It is filled with such wonderful quotes such as 'asking for help isn't giving up. It's refusing to give up' and 'most of the old moles I know wish they had listened less to their fears and more to their dreams'. We then created some artwork with some positive quotes which have been displayed around the school to inspire us.
We have also learned about Hokusai (a Japanese artist) and his most famous piece of artwork 'The Great Wave'. We recreated this piece of artwork using collage techniques.
This week has also been British Science Week. We have learned about selective breeding and whether it is beneficial to society or whether it should not be used. We have also learned about Ada Lovelace and her work on a mechanical general-purpose computer.
Week beginning: 01.03.2021
World Book day has been amazing! There has been some fantastic dressing up going on and we have been learning about how famous writers and illustrators find inspiration for their stories and the techniques they use for them. We have used these skills in writing our own pieces.
As well as all of the World Book Day fun we have been having, this week in year 6, we have continued learning about World War Two. In French we have been learning the countries involved, in History we have been exploring the propaganda on both sides of the war and the affect this had on the public. We have also been reading texts that are set during the war and discussing the feelings of the characters in the story and how the war has affected them.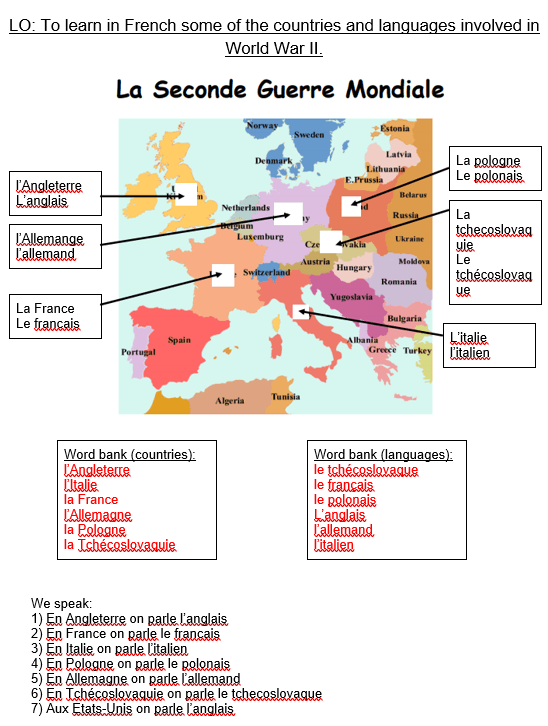 We also continued with our Offline Wednesday afternoon, this is what we have been up to:
Week beginning: 22.02.2021
This week in Year 6, we have been continuing with our spring topic: Japan. We have learned about World War 2 and the discrimination against the Jewish community, in preparation to learn about Japan's part in the war. We created a timeline of laws developed by those in power in Germany against the Jewish people, and we were shocked!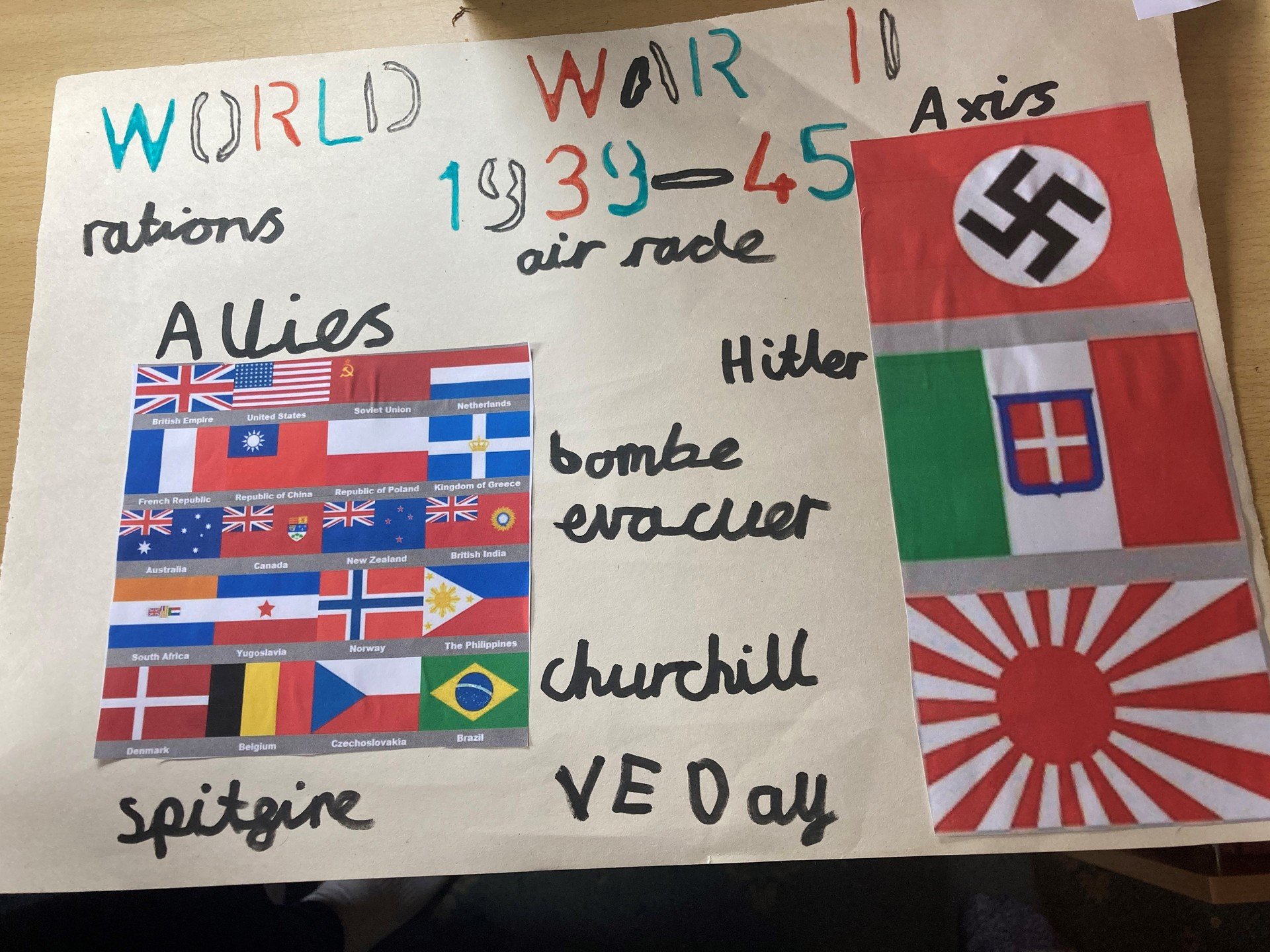 In French, we have been learning about France's participation in the war and the key countries and languages involved. This was a chance to translate these countries and languages in French and create a presentation like a poster or Google slides.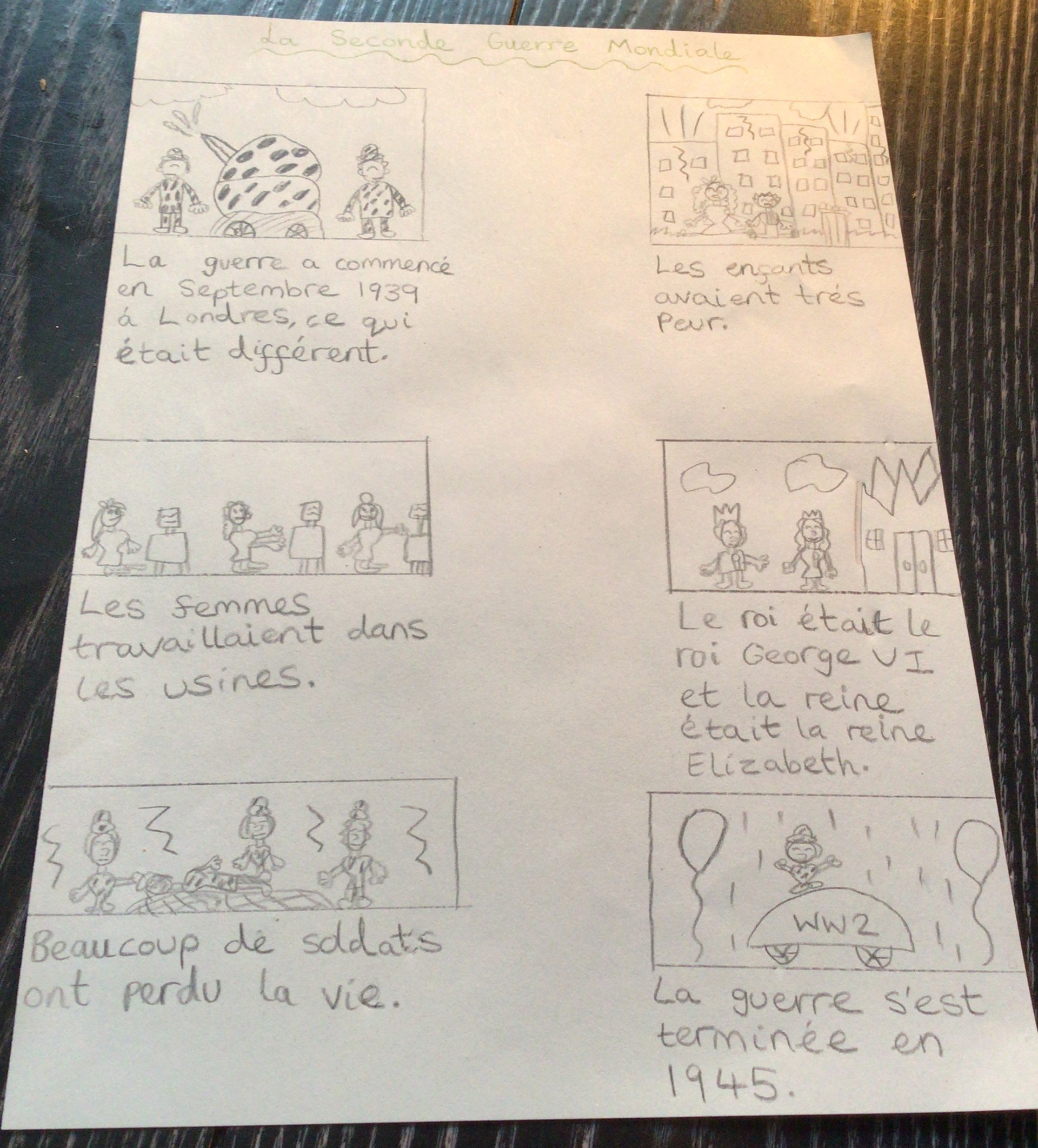 In reading, we have continued our current topic text, Kenzuki's Kingdom. We were all devastated to learn about the journey that Kenzuki had to go through during his fight in the war. We discussed the atomic bomb descending on his hometown (Nagasaki) and how war causes devastation for all.
This week, we have also been continuing with our charity singles in music. We have created the lyrics for our verse and added notes to it using a tuned instrument.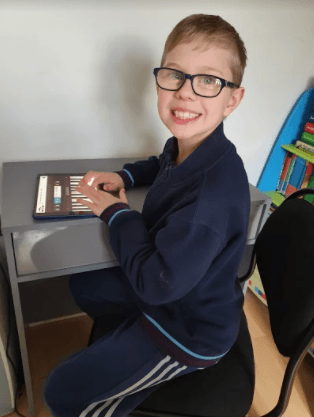 Well done to all of Year 6 for completing activities on your passports on Wednesday afternoons. A special congratulations to those who have completed one of their bronze awards and received their certificate:
Being imaginative
Zoe W
Health and Self-Care
Casey L
Jake S
Zoe W
Ava D
Megan S
Ryley C
Listening and Learning
Zoe W
Jake S
Skye P
Laurence G
Heidi F
World Skills
Zoe W
Week beginning: 08.02.2021
During this week, Year 6 have been trying to understand Kensuke a little better from out text Kensuke's Kingdom. Reading the story from Michael's point of view, we have understood Kensuke to be this cold, isolated man who doesn't care about Michael. However, as we finished chapter 6 and realised that Kensuke's anger and frustration towards Michael may actually be protecting him, our perceptions are beginning to change and we have had some great discussions about the type of character Kensuke is.
This week, our main focus has been creating a new narrative from the point of view of Kensuke, considering the events that have transpired so far and how Kensuke may have perceived them. In order to do this, we had to think about who Kensuke was, how he came to be on the island and why he was so against Michael lighting a fire to try and escape.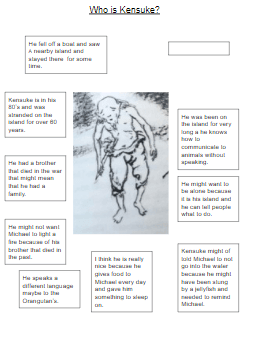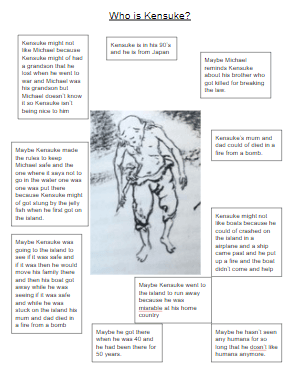 Once we had considered these aspects of Kensuke's life, we drafted our narratives and had a focus on the redrafting process, ensuring that we took each sentence and decided whether it was great as it was or whether it could be improved further with fronted adverbials, figurative language and correct punctuation.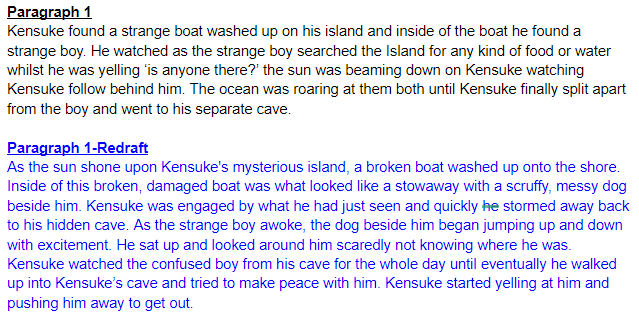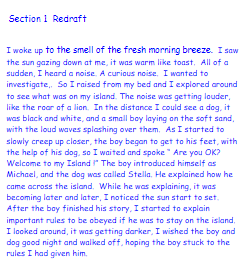 In our writing, some of us worked collaboratively sharing ideas and sentences to create a high-quality paragraph as a group. There was also some collaboration with our art project this week. Some of us chose to continue our learning outside of lesson time and use computer games to create their own versions of Kensuke's Island. There were lots of fantastic and varied pieces of artwork produced including this cake version of Kensuke's Kingdom!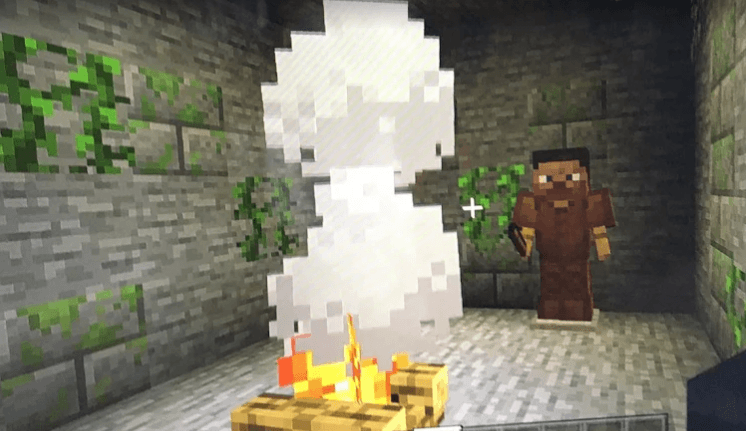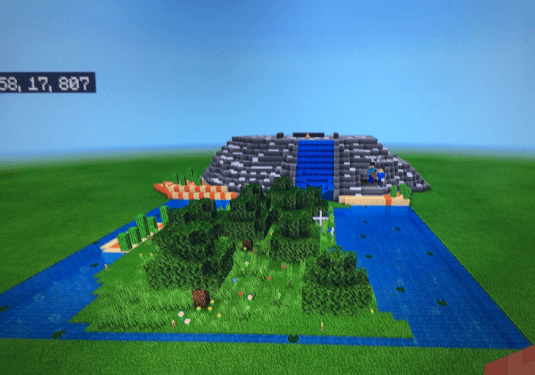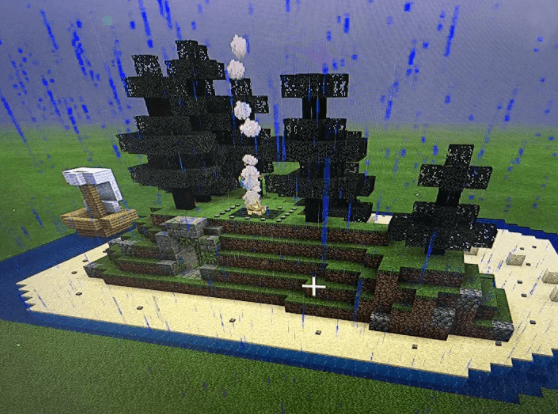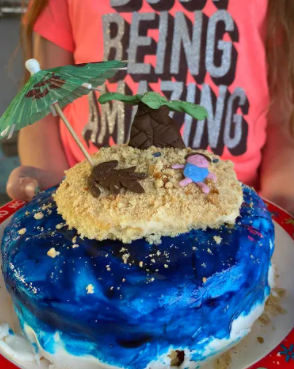 Finally, this week has seen 'Safer Internet Day' on Tuesday where we spoke about the importance of internet safety and what is trustworthy when it comes to adverts, messages and games online. We also learnt about Chinese New Year and the different zodiac animals that represent the year of our birth.
We had an absolutely fantastic turnout for our virtual spelling bee today and we are so proud of every single person that took part.
The Semi-finalists for each house were:
Danes: Zoe W, Zak F and Hannah R
Normans: Hollie T, Laurence G and Mia M
Saxons: Frankie R and Ava D
Vikings: Cayden B, Amelie L and Owen K
The Finalists for each house were:
Danes: Zoe W
Normans: Hollie T
Saxons: Ava D
Vikings: Owen K
The winning house was: The Vikings!
Well done again to all those that took part!
Also, please take a look at what Year 6 have been up to this week, during our Offline Wednesday afternoon:
We've all been enjoying the snow this week, on site we have been enjoying playing outside and have had a snowball fight and a snowman building competition!
Happy half term Year 6, we have all been so proud of your dedication to your learning this half term and can't wait to see you again next Monday!
Week beginning: 01.02.2021
This week in year 6 we have been developing our artistic sides by creating different art pieces linked to our current text, Kensuke's Kingdom by Michael Morpurgo. This has also worked towards supporting our mental health during Children's Mental Health Week this week, where we have also discussed different strategies of how to improve our mental health.
We have been creating our art using a variety of materials and you can see some of our masterpieces below.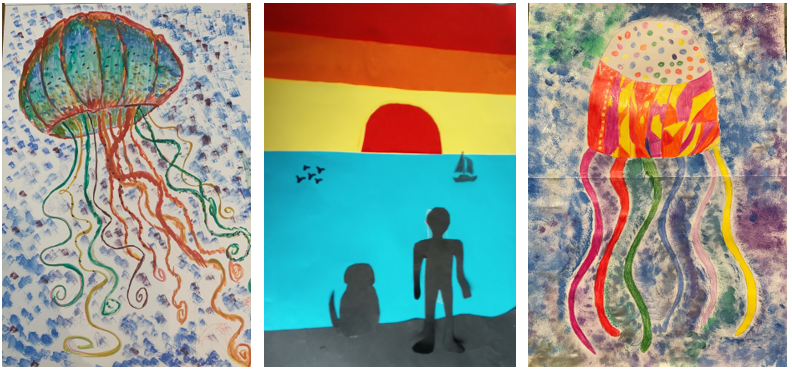 As well as this we have been discussing the importance of internet safety and have continued with our composition of a charity single in music.
On Wednesday, we continued with our offline Wednesday afternoons, where we took part in many life skills across the four different categories. We had a great time learning new skills, exploring the outdoors and being creative.
Week beginning: 25.01.2021
In Year 6, we have had an exciting week publishing our writing, conducting research and finding our inner creativity. At the beginning of the week, we used our top copies of our ship log to create an online blog using Google Sites. We had to include images and titles, format headers and footers, and even add additional page links. Not only are the sites functional, they look pretty great too!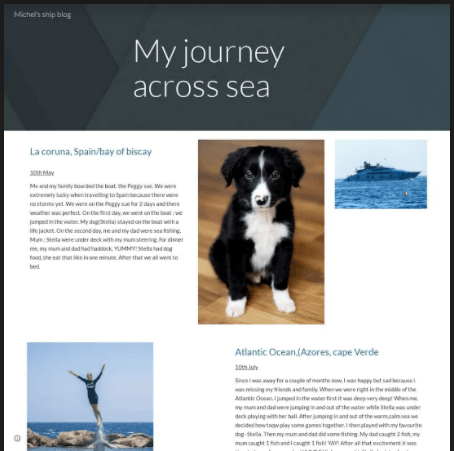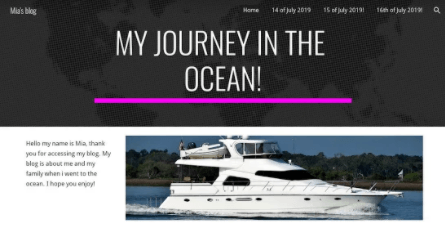 On Wednesday, we had our very first offline Wednesday afternoon where we took part in many life skills across four different categories. We absolutely loved going for walks, spending time with family and building on our life skills.
Week beginning: 18.01.2021
Year 6 have been continuing our focus of Japan and reading Kensuke's Kingdom. We have recently read Michael's ship's log on board the Peggy Sue and this week, we wrote our own versions of his travels.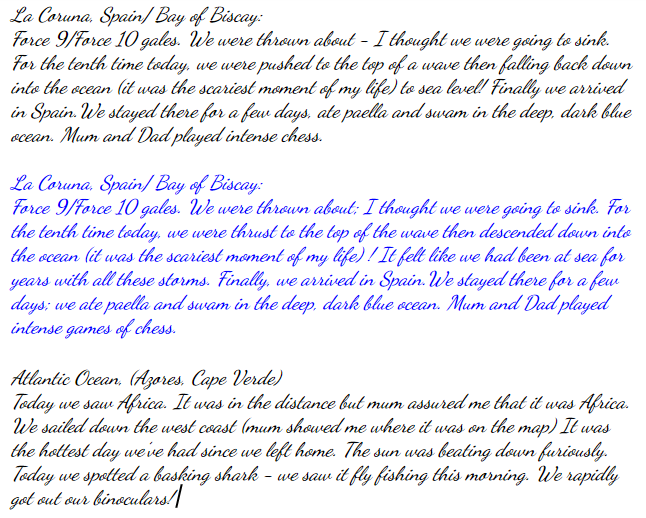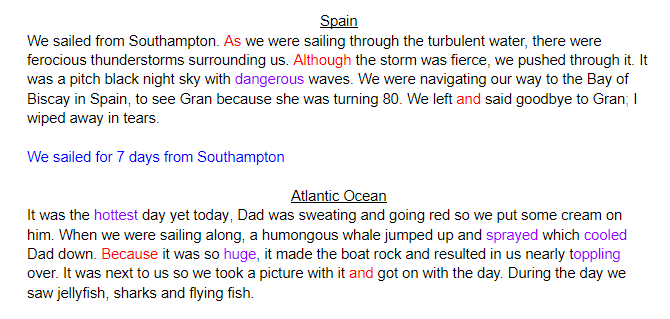 In addition to this, we have been studying 'Living Things and their Habitats in science lessons. This week, we were looking at invertebrates and classifying these into groups. We then created our own new species of invertebrate and explained which group it would belong to.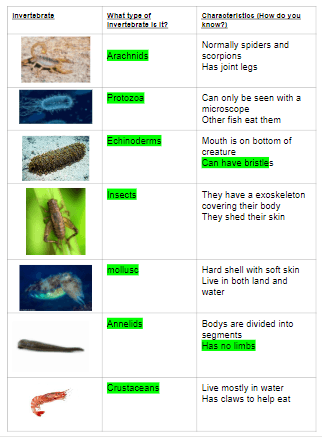 In music this week, we are in the process of creating a charity single to support those who may have been affected by a natural disaster. We wrote the lyrics to our chorus this week and played around with notes on a keyboard to decide which notes would be most suitable to match our lyrics.
Week beginning: 11.01.2021
In year 6 this week, as well as learning about living things in science, we learnt about the traditional Japanese art of haikus as part of our topic. Some of the children focused on using the theme of nature and some expanded on this by writing a haiku about a natural disaster, linking to our thought provoking question for the term, Do natural disasters create adversity?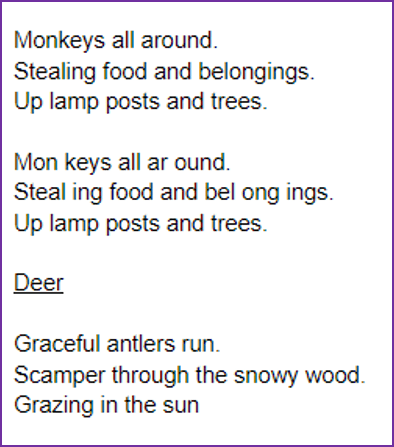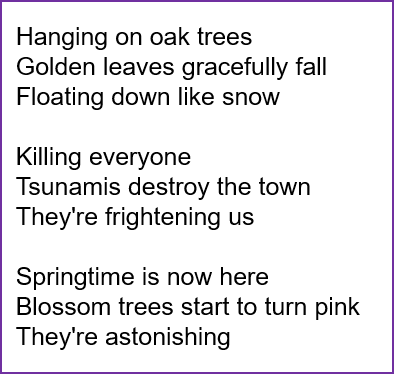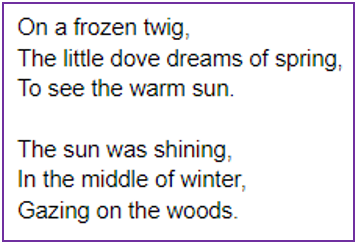 Week beginning: 04.01.2021
Welcome back!
We have been so impressed with the maturity and determination that Year 6 have brought to their remote learning this week and we are so proud of them all - well done Year 6.
This week in Year 6, we have been completing fun activities influenced by our new topic: Japan. We have been following tutorials to draw our own Koi fish – some of us even added colour and paint! For a challenge, we created our own origami butterflies and birds. We took time in constructing them, ensuring we were able to make the wings move.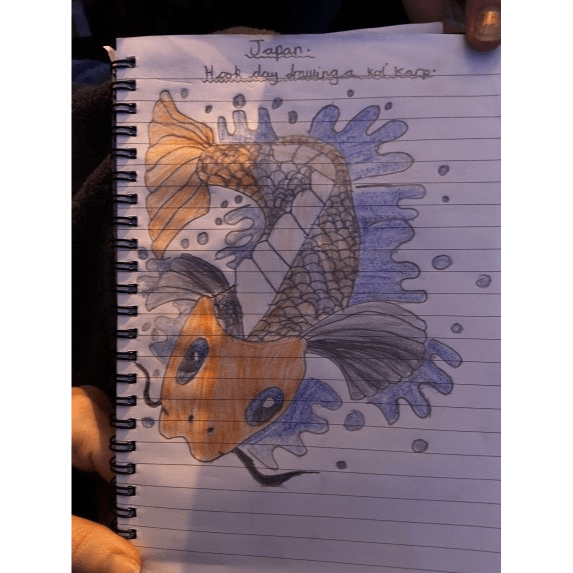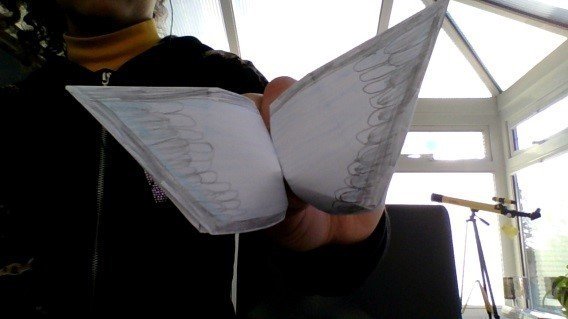 We have also been focussing on our new topic question: Do natural disasters create adversity? Is it our problem anyway?
This was exciting as we discovered we were going to learn all about natural disasters.
Did you know that Japan lies on the ring of fire in the Pacific Ocean and has over 108 active volcanos?
Week beginning: 14.12.2020
This term in year 6, our topic question this was 'What is the price of freedom? Is it worth it?'.
Over the term, we learnt about various types of discrimination and how these was overcome. This week we have been debating on whether the price of freedom was worth the suffering to achieve it. Following this, we wrote our reflection showing what we had learnt and our opinion on whether it was worth it.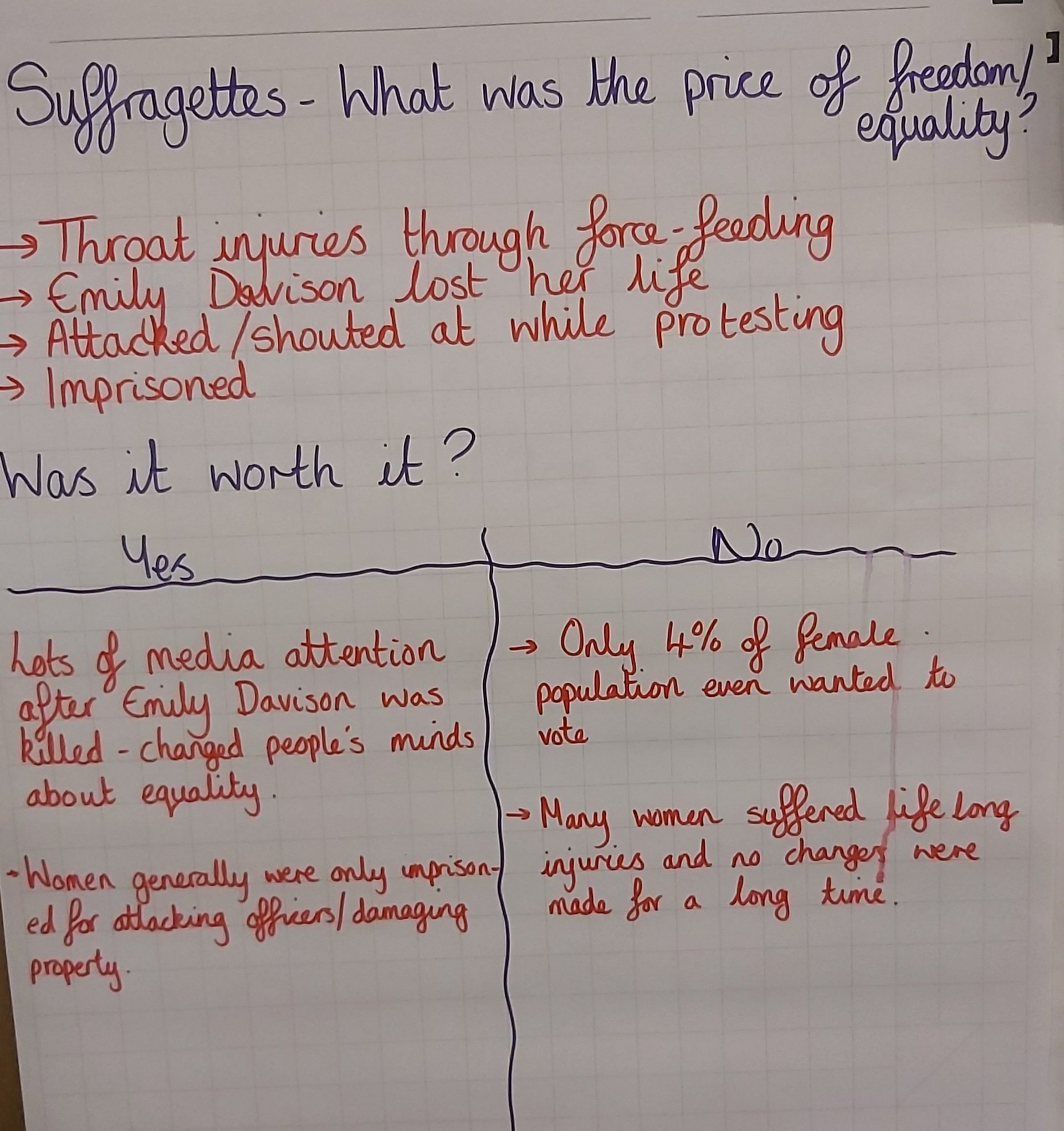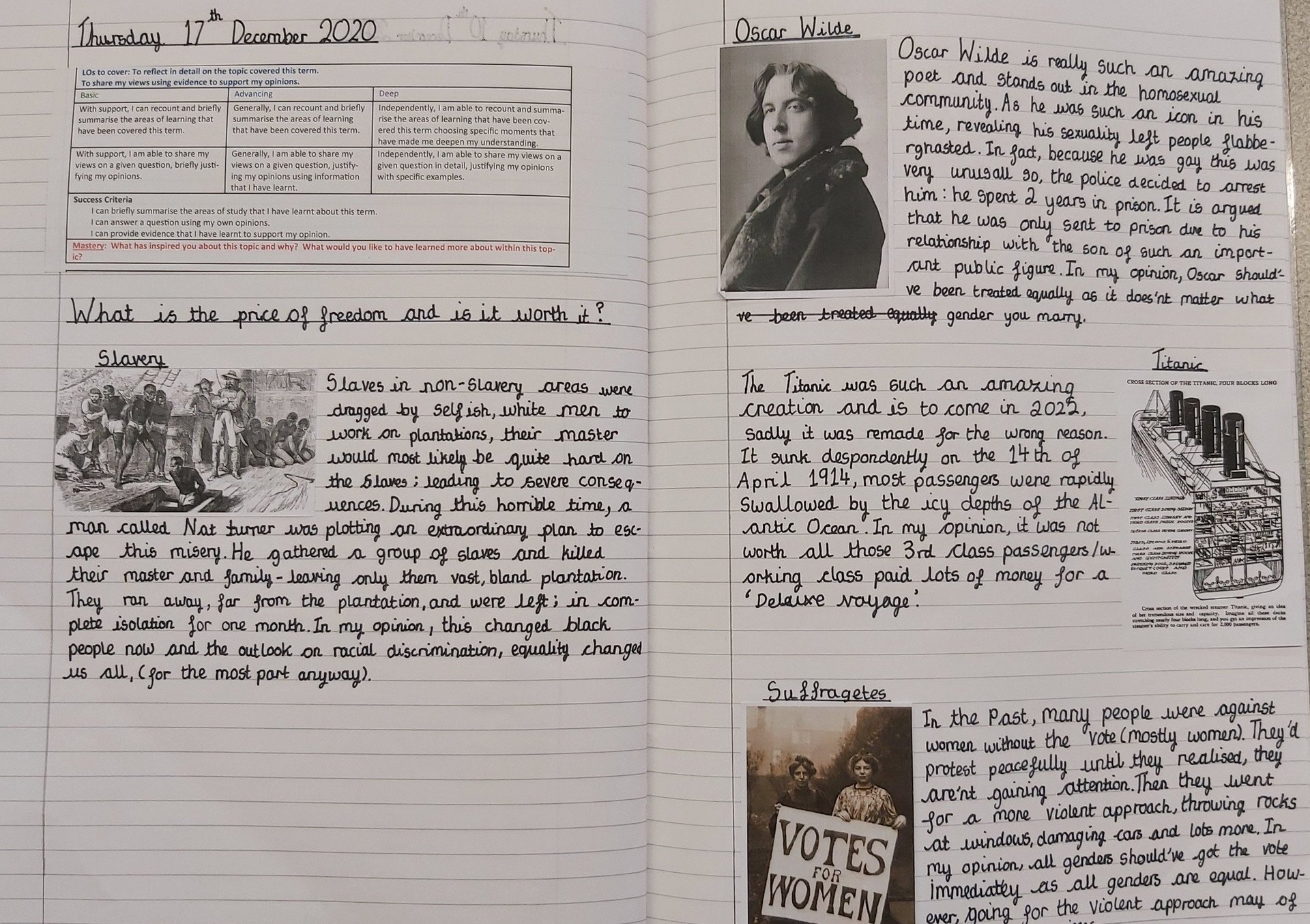 Week beginning: 07.12.2020
In year 6 this week, we have been writing newspaper articles about the Titanic. We carried out our own research and then created drafts on our chrome books. When presenting work in our books, we followed the structure of a newspaper, including images and headings.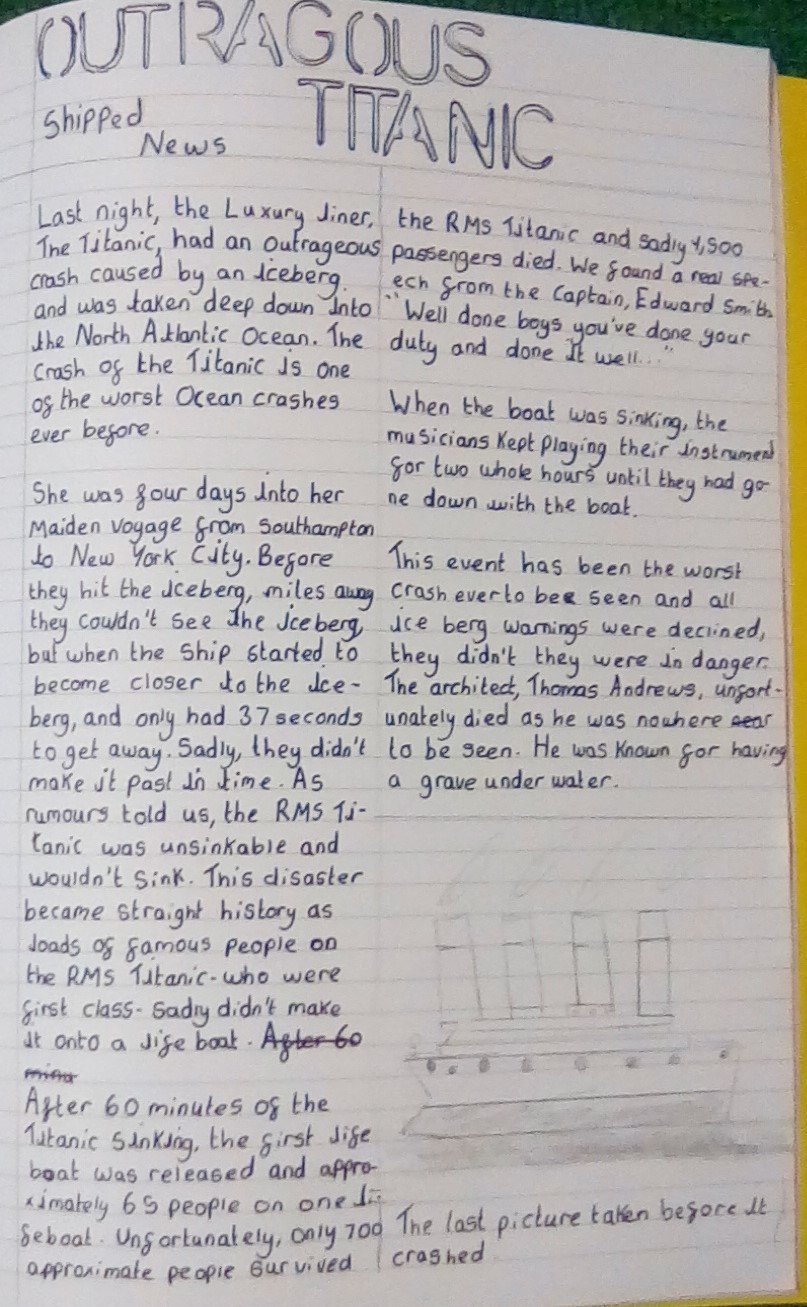 Year 6 have also been getting into the Christmas spirit! We had our Christmas dinner in year groups and had a good dance in the hall! We have enjoyed wearing our festive jumpers and creating decorations for the school tree.
Week beginning: 30.11.2020
This week, Year 6 have been looking at Titanic and how social classes differed in the experience they had aboard Titanic.
We used Scratch (a computer program) to design our own life boat journey avoiding any barriers and icebergs along the way. We had to create computer code in order for the games to work.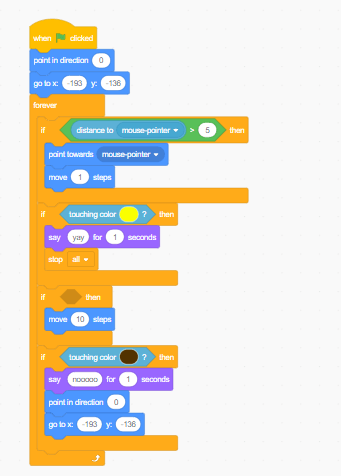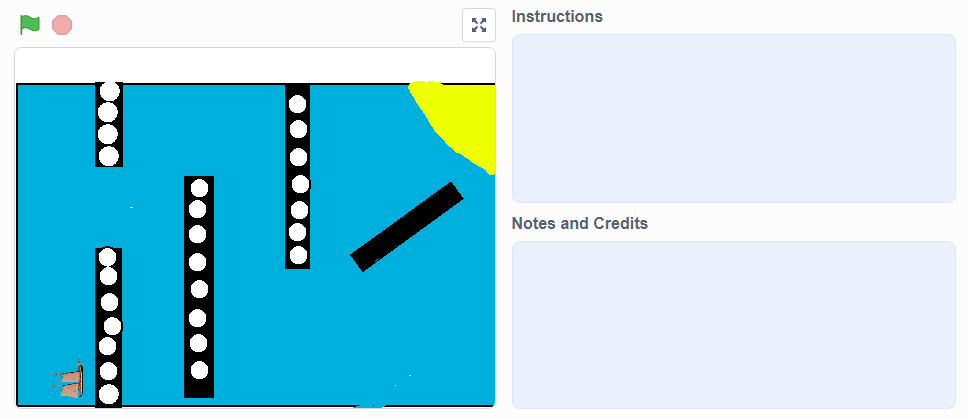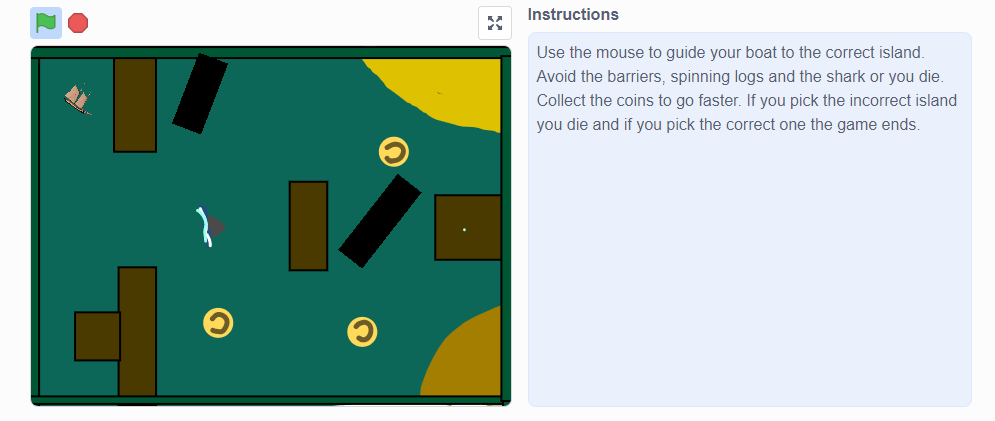 We have also started our DT project creating a lifeboat for the survivors. Our design brief was to safely escort as many passengers as possible to shore.
We considered our design and included a propeller using our knowledge of electrical circuits to make the boats go quicker. Once we had created our design, we then needed to test them and modify them to improve them further.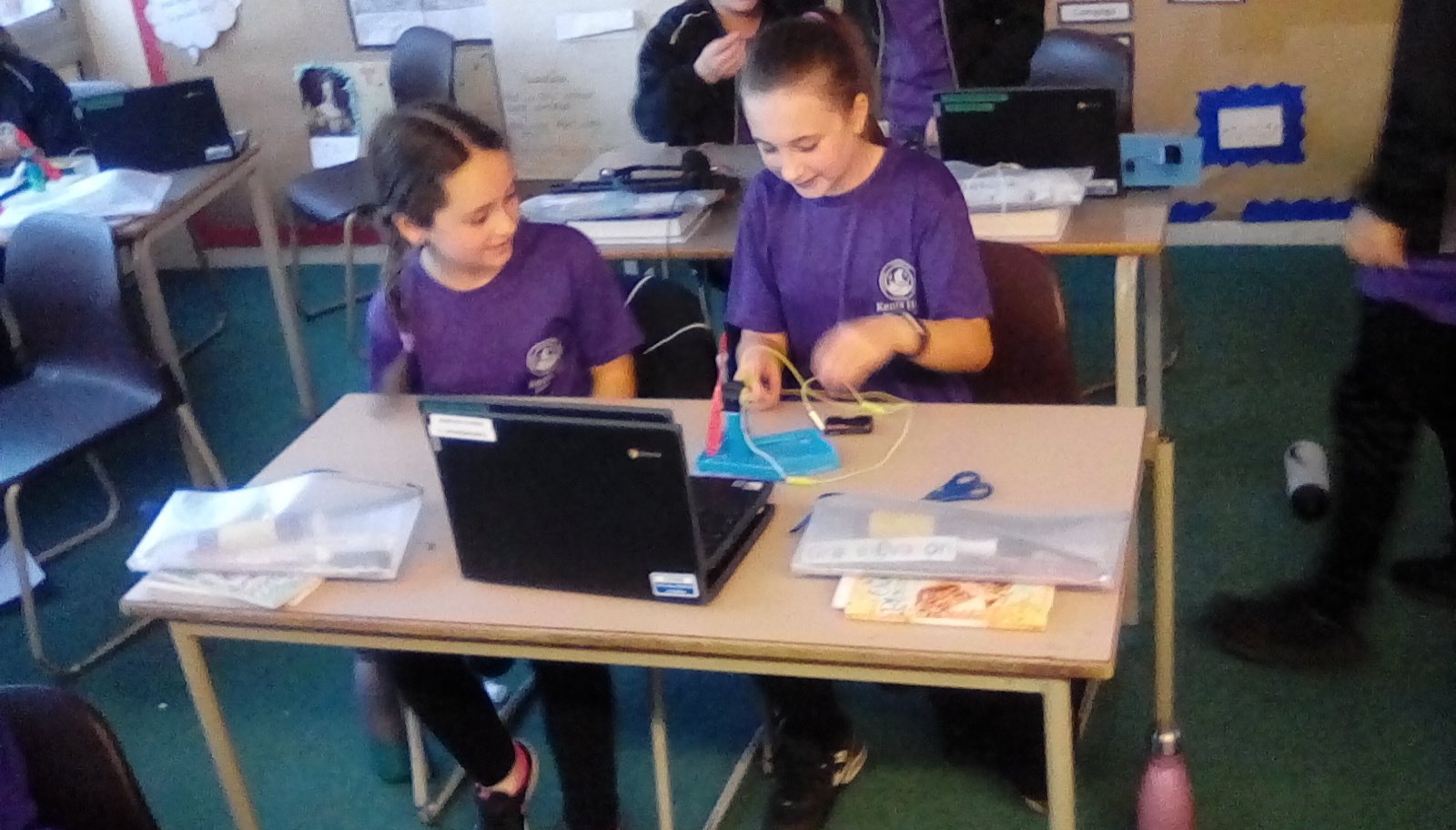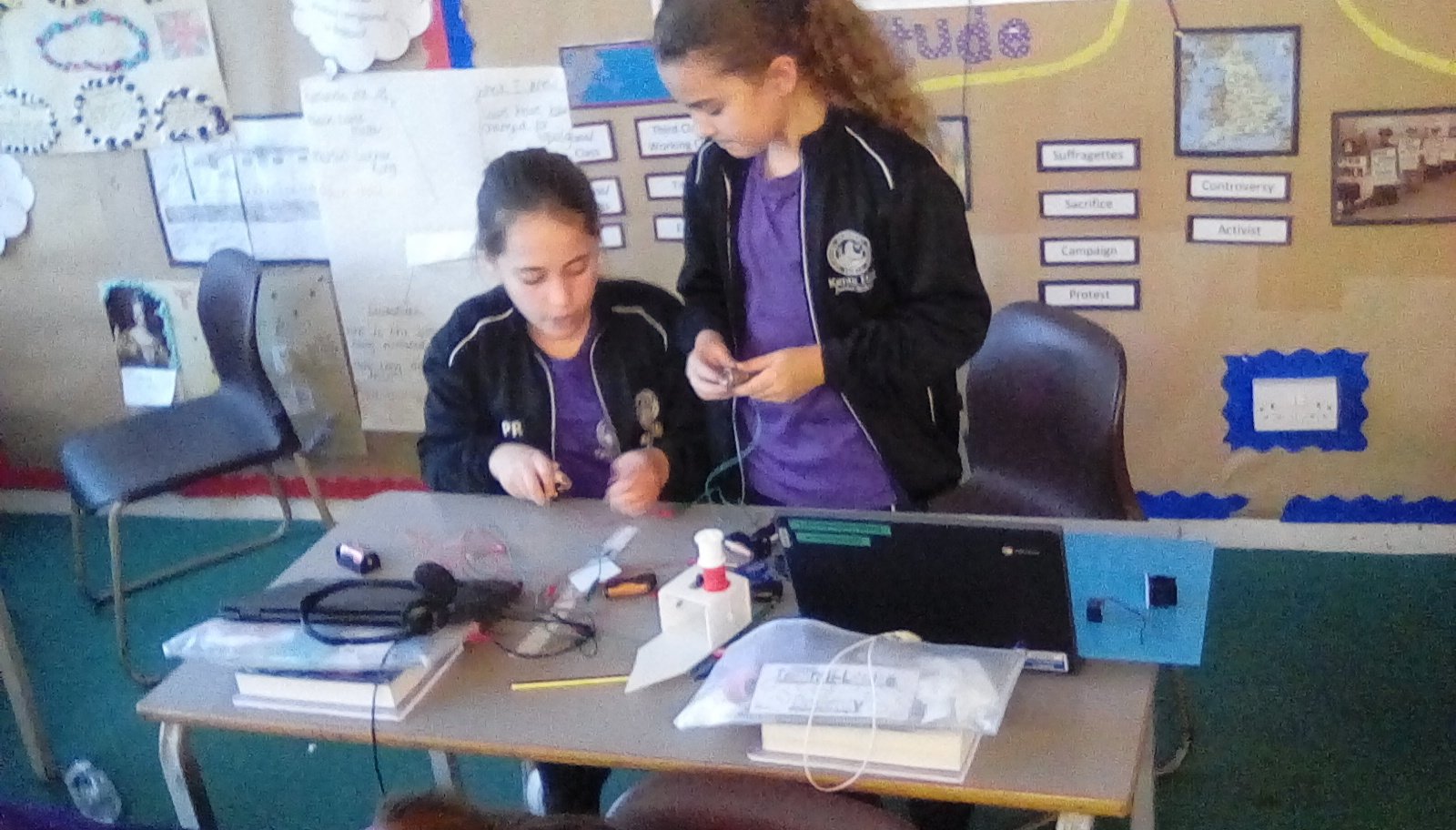 Week beginning: 23.11.2020
This week in year 6, we have been learning about the titanic and creating a rescue mission! We have learned how to design, modify, and create titanic inspired maze games on Scratch. We also began planning our design and technology project, which is to make our own working prototype of a titanic lifeboat with electrical propellers. Finally, we learned about the geography behind icebergs, how they are formed, and how they could tear through a ship.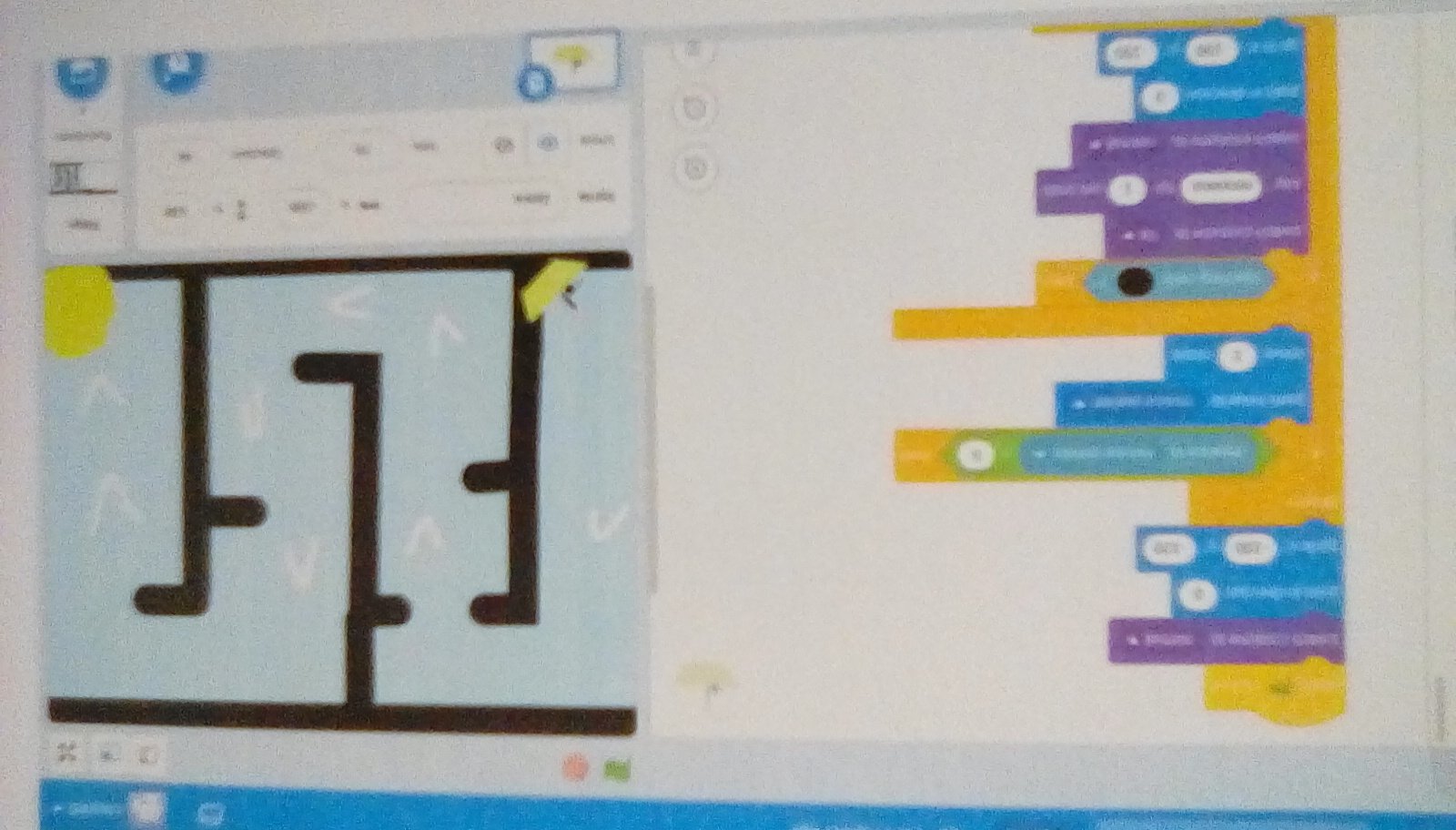 Week beginning: 16.11.2020
In Year 6 this week, we have been writing a narrative about a suffragette and their experiences such as being caught in a protest or being locked away in prison. Our inspiration came from a video clip of Mrs Banks from Mary Poppins along with our class text 'Girls for the Vote'.
We focused on grammatical skills such as subordinating conjunctions and fronted adverbials as well as expanded noun phrases to bring our stories to life.
In maths this week, we have been focusing on multiplication and division skills such as factors, multiples, square and cube numbers and prime numbers.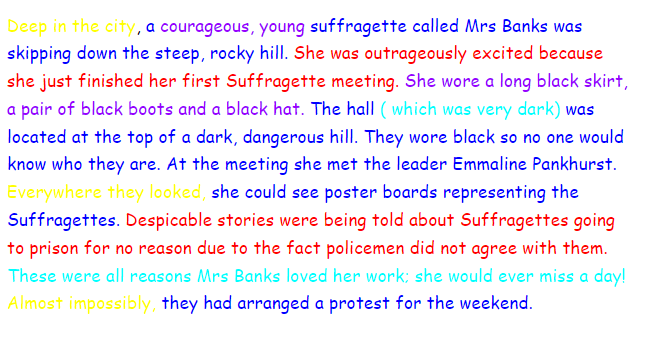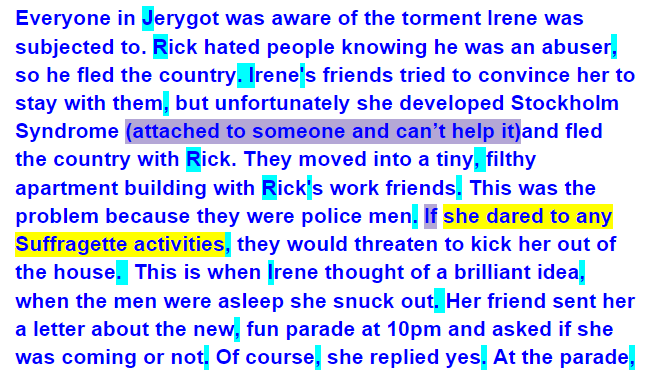 Week beginning: 09.11.2020
Year 6 have been perfecting their poetry writing skills this week whilst also paying respect to the victims of war. During our Armistice Day activities, the year group considered any similarities and difference between life in Wartime Britain and the recent corona-virus pandemic. We looked at the famous poem "In Flanders Field" by John McCrea as inspiration for our own war-inspired poem. Many of the children took an anti-war stance in their poems and they put in a lot of hard work to make sure they included poetic features like rhyming, alliteration and figurative language. Their poems are a lovely mark of respect to those who lost their lives fighting.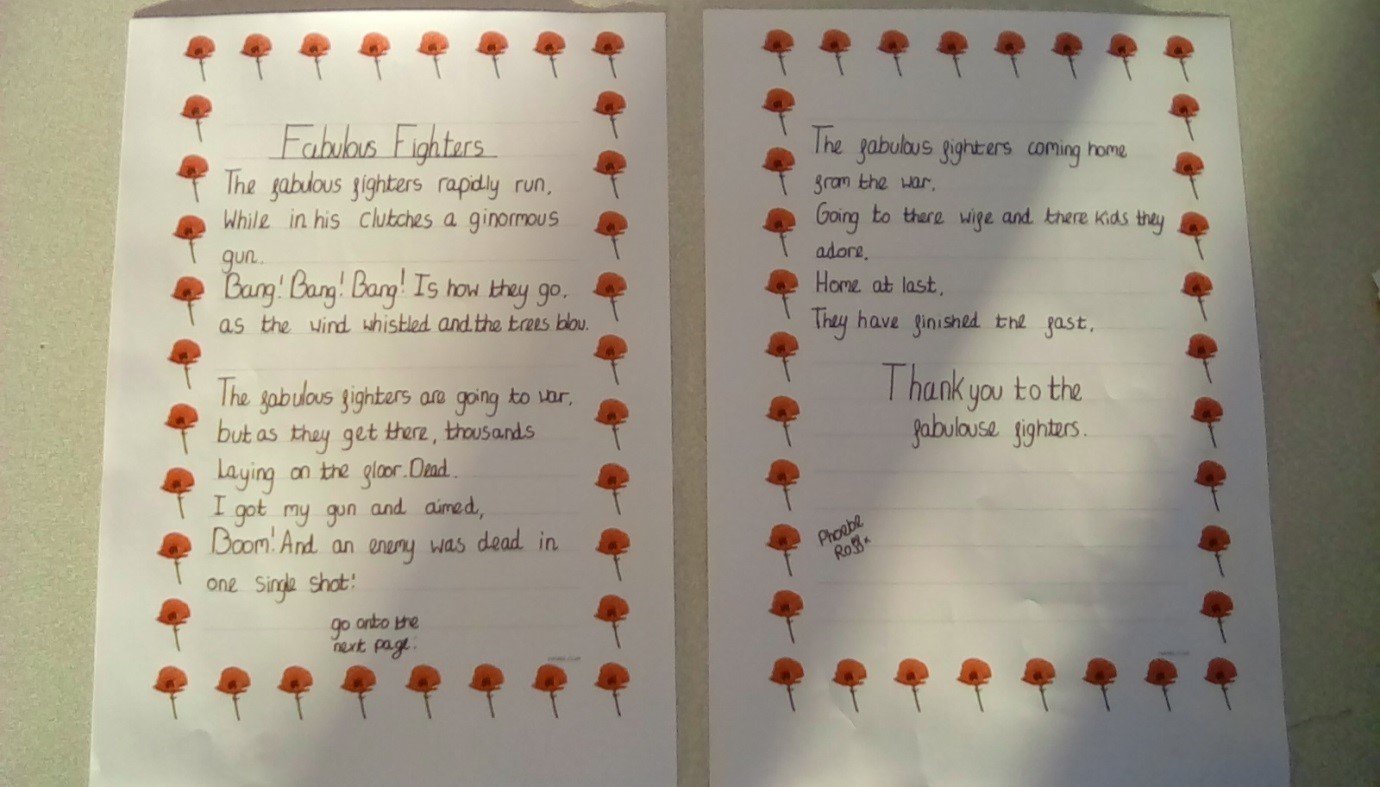 Week beginning: 02.11.2020
Year 6 have returned to school after half term feeling refreshed and ready to continue our learning based on our current topic 'The Price of Freedom'. With a focus on gender inequality, we have been learning about the suffragettes and particularly Emily Davison who sadly was killed at a race track. We have been creating a discussion piece of writing to debate whether she intended to take her life when she stepped in front of King George's horse or whether it was a tragic accident.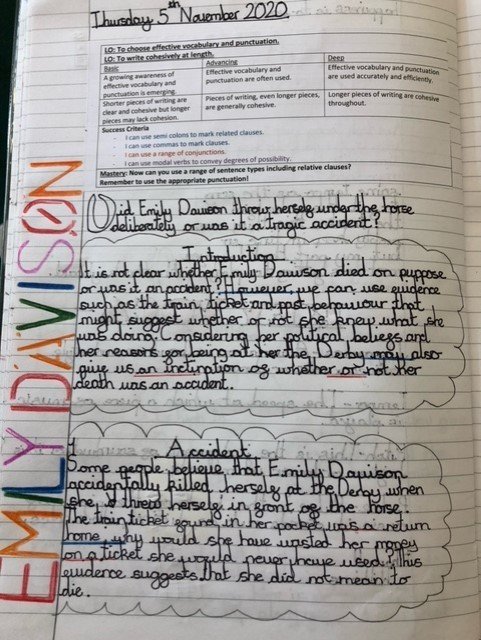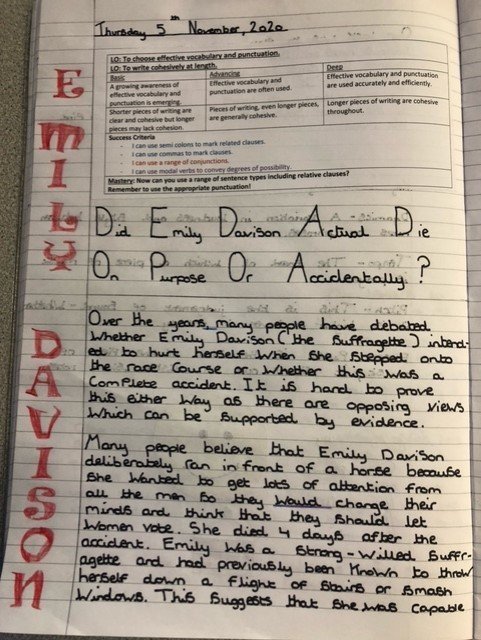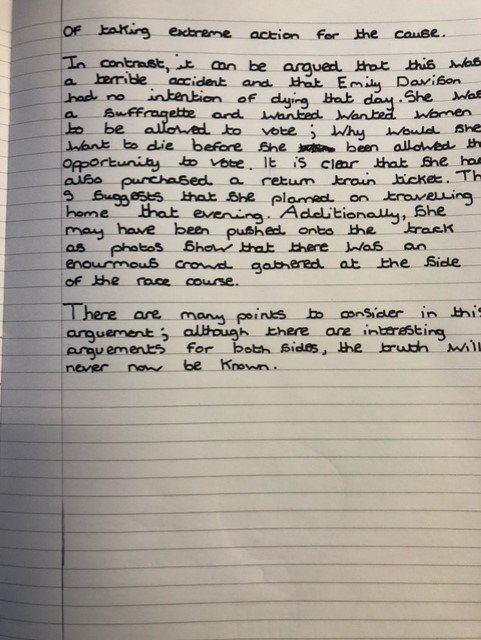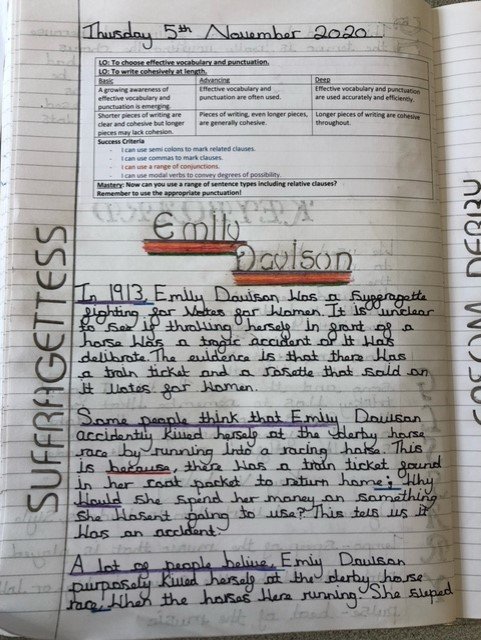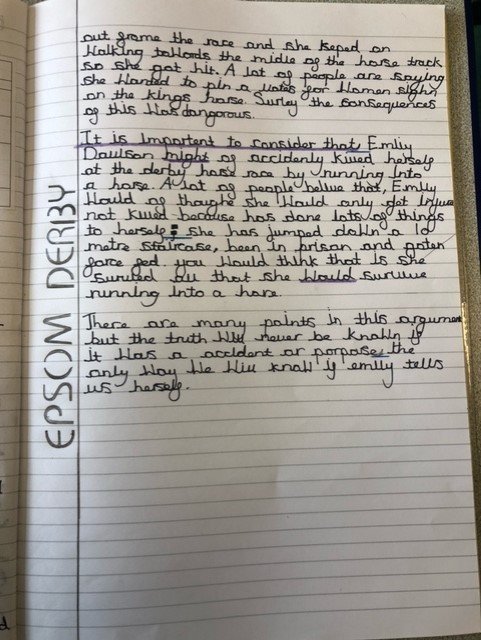 Additionally, we have been persevering this week in maths when learning how to use a formal method for long division. Some of us are now feeling quite confident with this method whilst others still find this a bit tricky however, we are so pleased with the resilience that has been shown by all with this challenging skill.
Week beginning: 19.10.2020
This week in year 6, we have been reflecting on all of the work this half term. We have been recording PSHE, analysing data in science and even displaying all of our musical knowledge. We also decided to finish the week by writing a discussion piece about Emily Davison as part of our Suffragette topic section. Was her death deliberate or a tragic accident?
Finally, we had some fun playing on the keyboards, testing out our knowledge of notes, tempo and rhythm.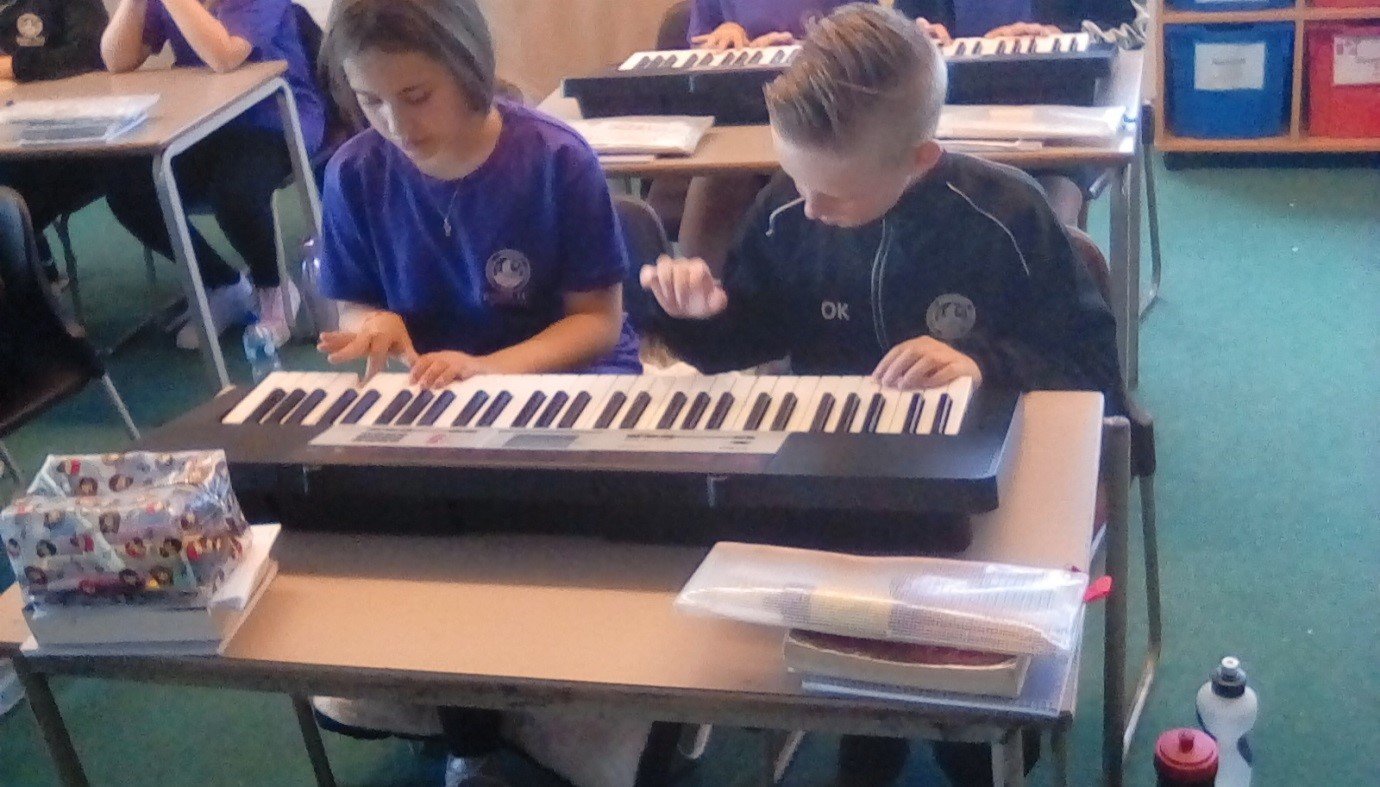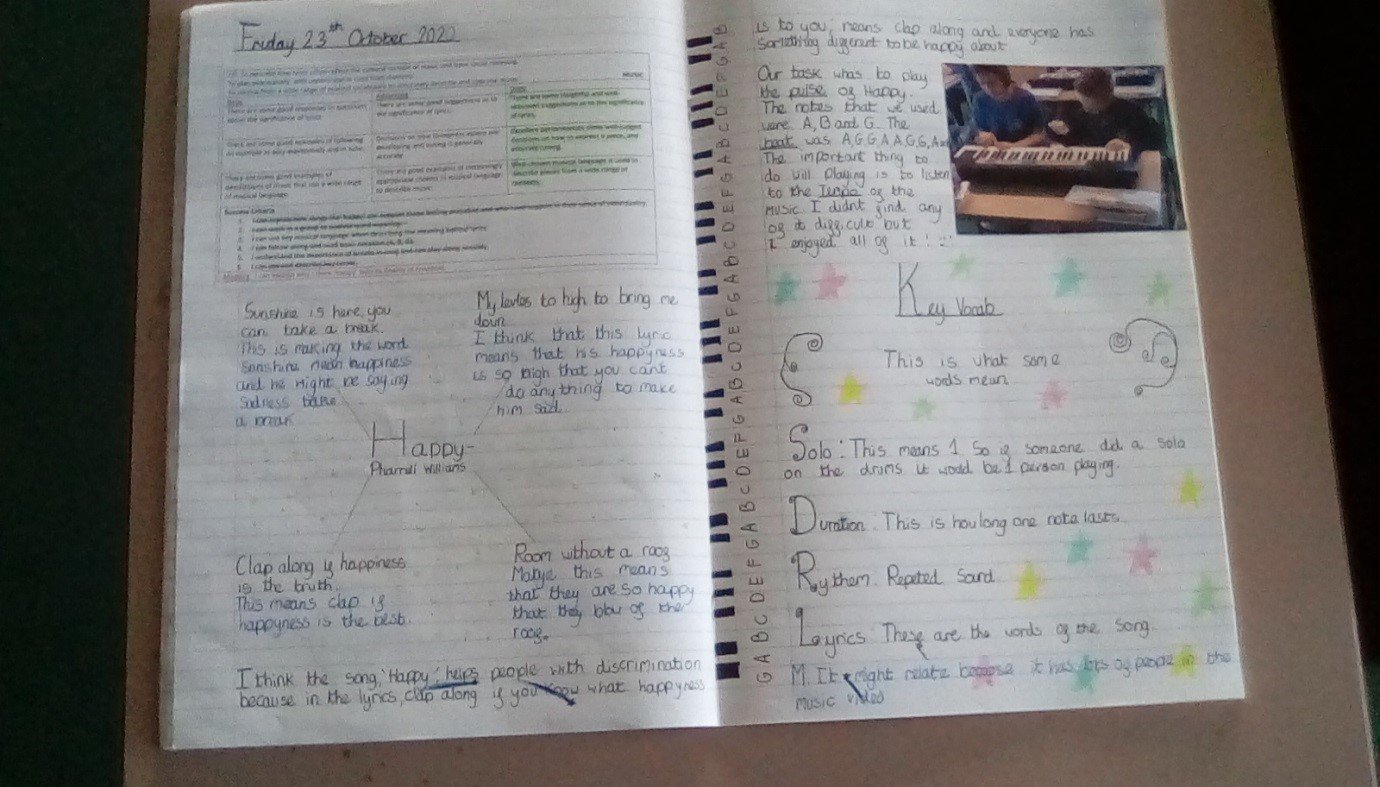 Week beginning: 12.10.2020
This week in Year 6, we have all taken time to ensure our work is of the highest quality and standard that we can achieve.
Class 6NH have spent time revisiting their learning on the Industrial Revolution and presenting a beautiful double page on all of their information including: significant changes, the rights of children, and the timeline in history.
Meanwhile, class 6LG have been focussing on improving their writing. After using the chrome books on Monday to edit their work, they have been spending some time top-copying into their learning journals.
Finally, 6LM have been reflecting on previous learning. They have been creating evaluations on our PSHE topic, 'Being Me in My Own World', and showing appreciation for their place in the world. As a class, they have talked about how their behaviour affects others, how they fit into the world, and children's rights.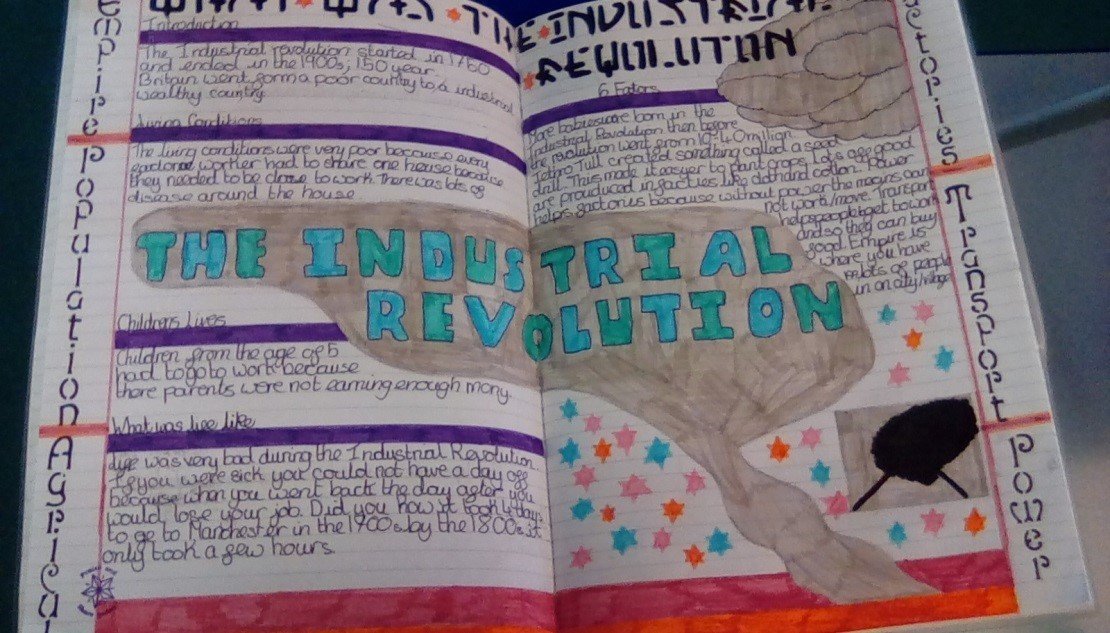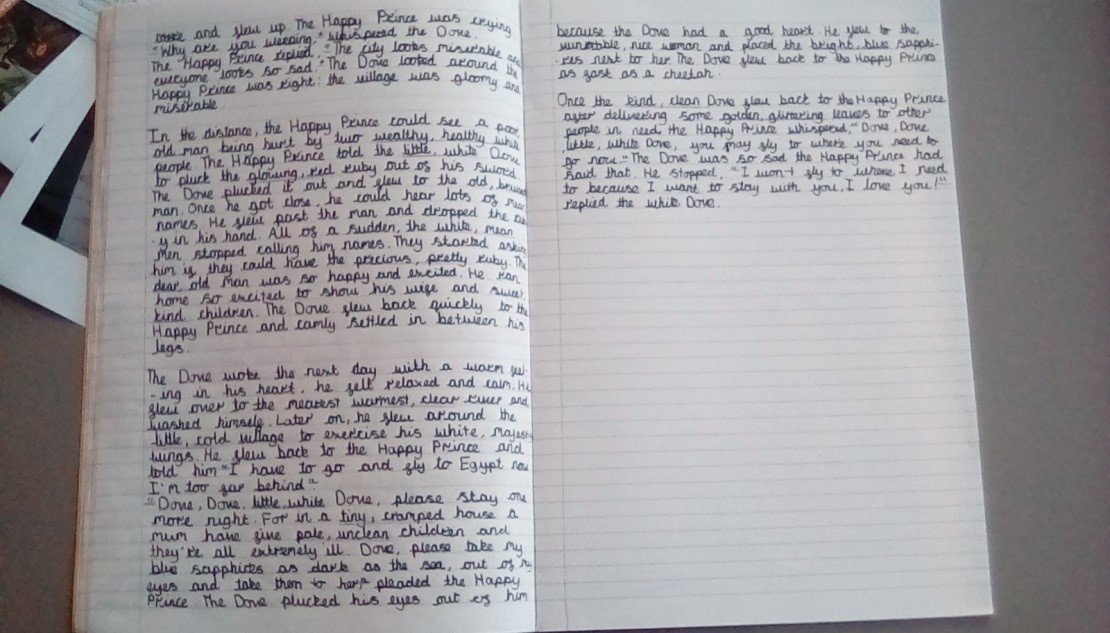 Week beginning: 05.10.2020
This week in Year 6, we have been learning about the Industrial Revolution and the world in which Oscar Wilde grew up in. We used our online learning skills to conduct research on what caused the industrial revolution, living conditions, children during this time period, and timelines.
In science, we have been testing our 'fabulous fliers' – we have been working scientifically to create fliers, measure accurately, and observe the drop over time. Next week, we will be using Excel to transfer our data to a line graph.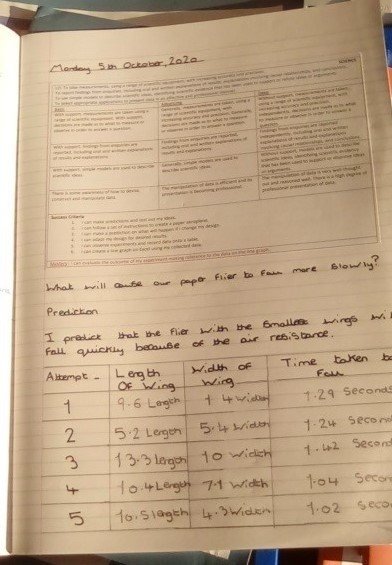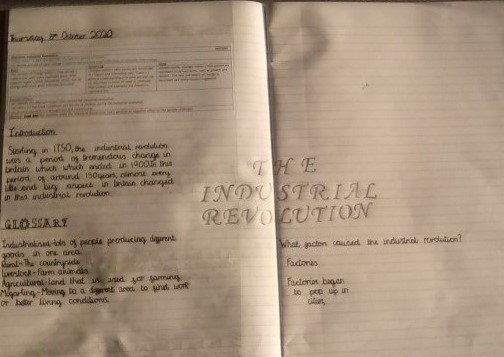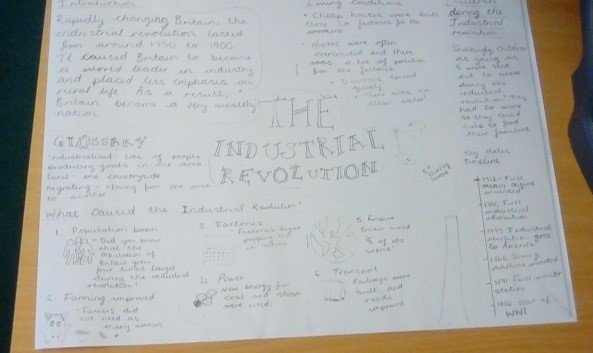 Week beginning: 28.09.2020
This week, the children have been using their creative skills to sketch portraits and work collaboratively on presentations. We have been continuing to explore Oscar Wilde, looking into the Victorian Era, the time period in which he grew up. The children used their computing skills to conduct research about the type of food, jobs, social class and crime of the Victorian Era. After, they presented them on large pieces of sugar paper to present to the class.
Year 6 started the Happy Prince this week which is a story about a generous, happy Prince who gives away jewels to cure suffering of the city. The children used their skills of prediction and fact retrieval to delve into the deeper metaphors of the book.
In line with our topic, the children also began sketching portraits of Oscar Wilde himself; using sketching skills they have previously learned. We looked at proportion, shading and attention to detail.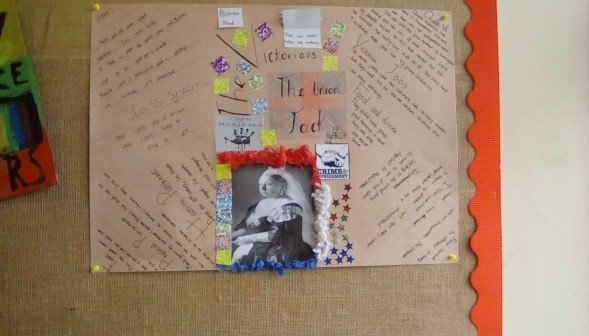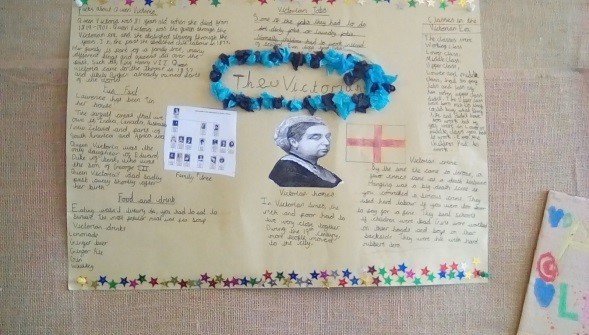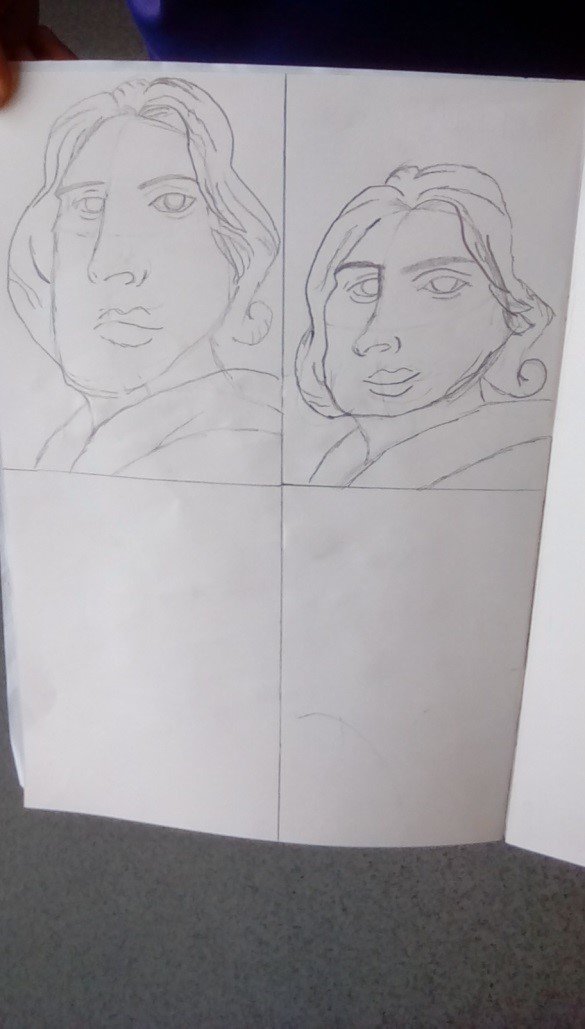 Week beginning: 21.09.2020
This week, Year 6 have been exploring the famous author and poet, Oscar Wilde. We learned all about his life and how he was imprisoned for having relations with Lord Alfred Douglas. As a class, we had a debate about whether or not we thought he was wrongfully imprisoned and how we think that law has changed today. We used our researching skills to identify modern law and the current LGBT community. This fits in with our 'Price of Freedom' topic perfectly as we were able to discuss the prejudice views of others.
In science, we worked scientifically to plan and conduct our own experiments. We called our experiment 'Brilliant Boats'. It was the children's job to predict the outcome of their work and create boats that should float on water. Next week, we will analyse data so see if we were accurate with our predictions!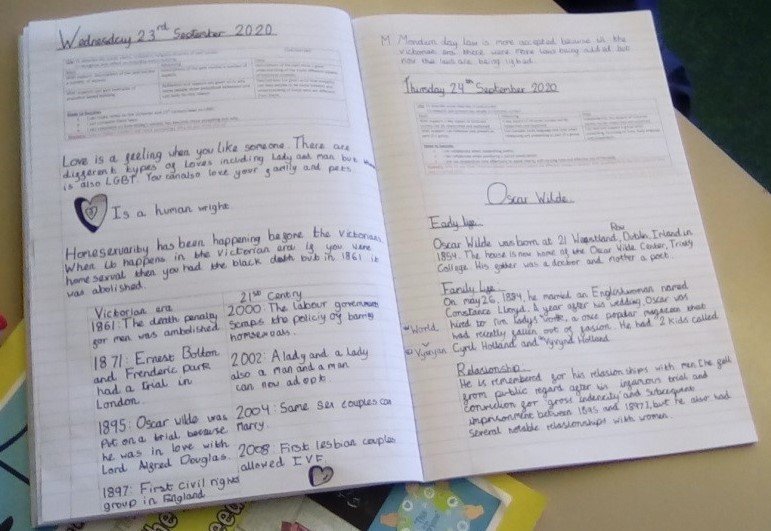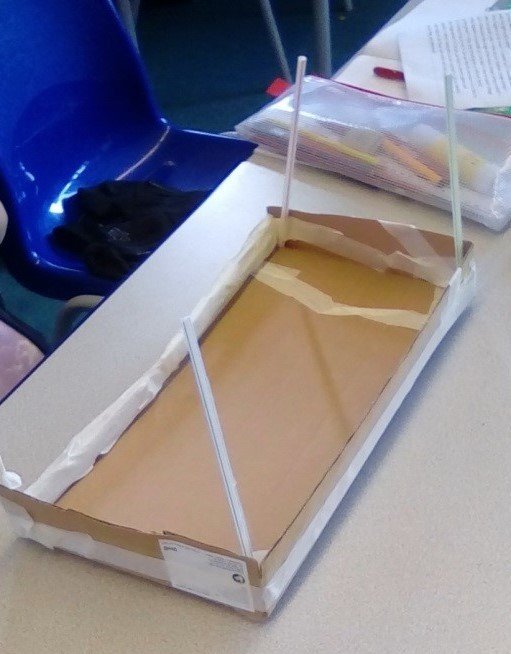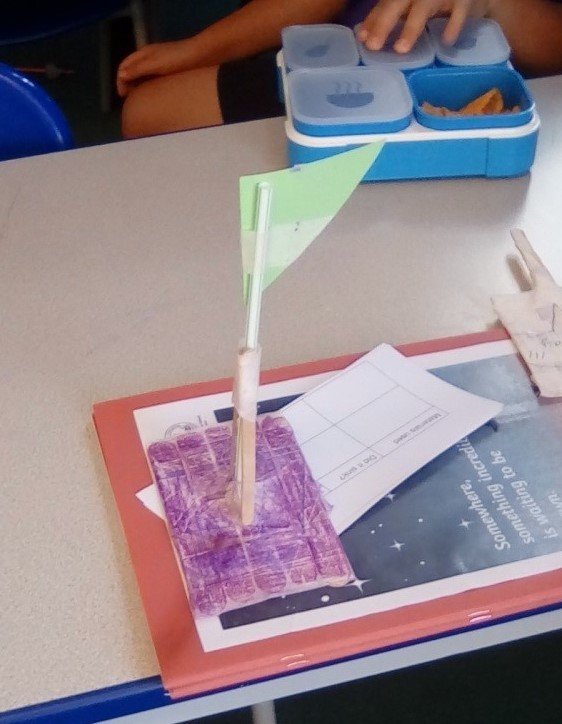 Week beginning: 14.09.2020
This week, the children have continued with their topic: The Reality of Freedom. We have been learning specifically about slavery this week and the Triangular Trade. The children's outcome has been to try to empathise with a slave and imagine how terrible it must have been to live in such a discriminating time. As a result, the children completed some fantastic diary entries in the voice of a slave in the 16th – 17th century.
Not only have the children had an exciting week of history and writing, we have been listening to speeches for our pupil leadership team. Each of the candidates have presented their fantastic speeches to the rest of the class, in hopes of becoming either Head Boy or Head Girl. All of the speeches presented were very well spoken and clearly thought out. The Year 6 team now have a very tricky decision on their hands! How exciting!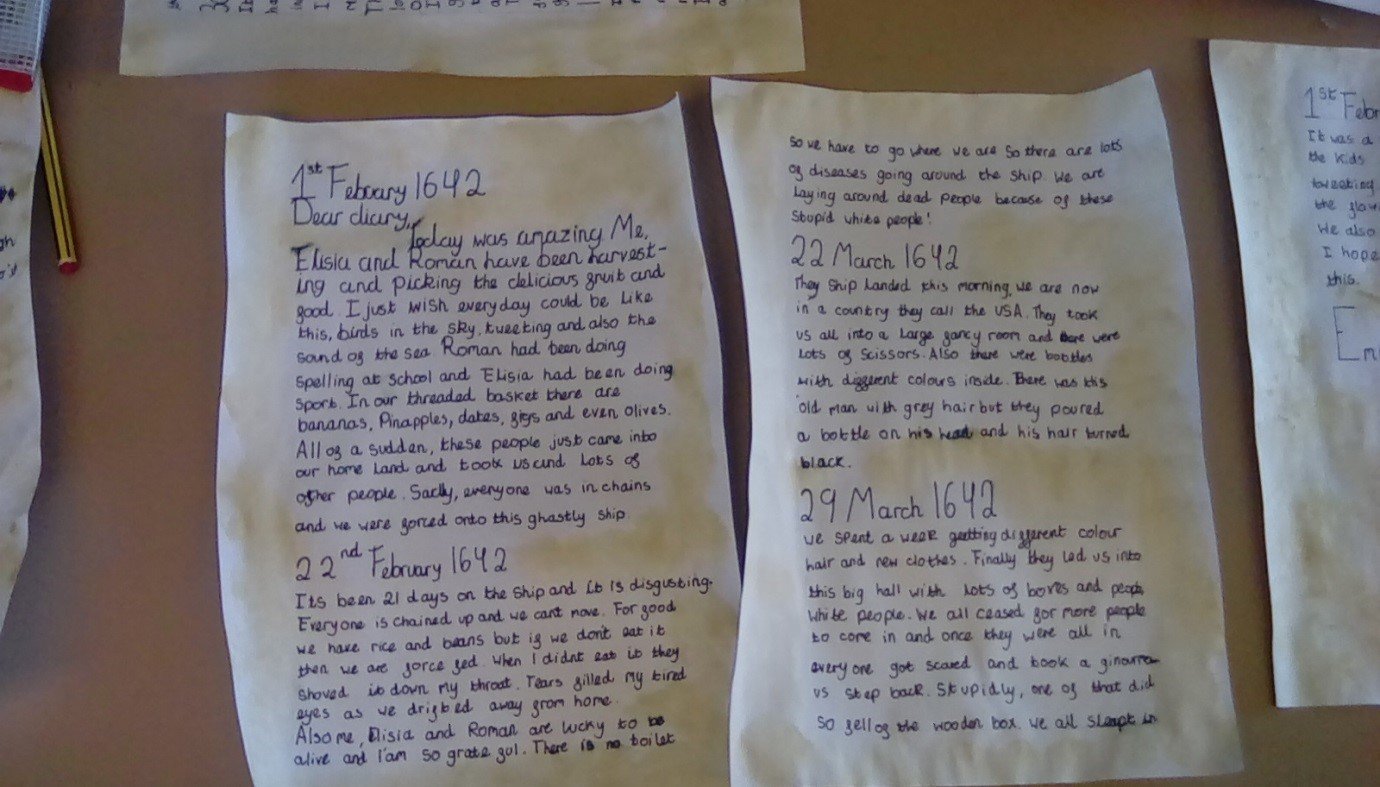 Week beginning: 07.09.2020
What a fantastic full week back! The year 6 team are so happy to see the children so settled into their new timetables and changes in the school.
On Monday, we continued our hook day by exploring the titanic and looking into the different social classes and how they are different from today. The children worked as a team to create fantastic landscapes of the titanic – but there was a catch. They each had one section to draw.
For the rest of the week, we have been discovering the fascinating ancient civilisation, the Shang Dynasty. We have learned about their culture and religion, interesting dates in time, hierarchy, and all about their gods and sacrifices. The children created a beautiful double page spread to display their learning and present all of the key facts that they have found most interesting.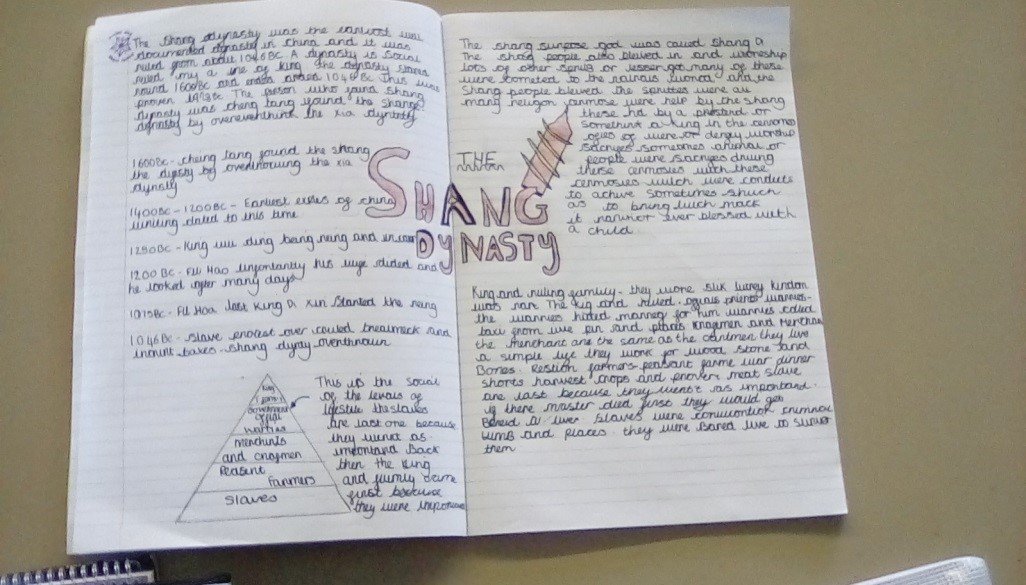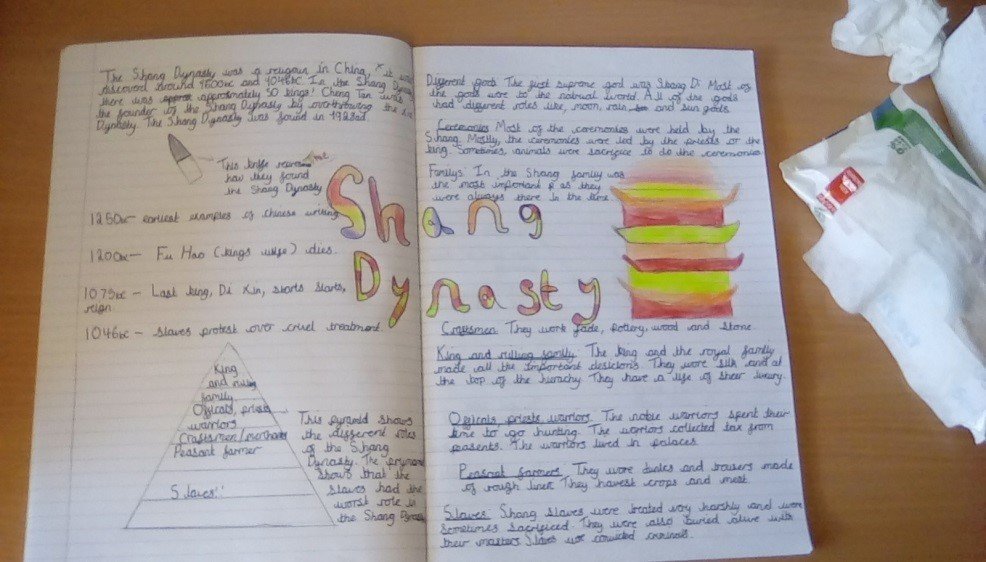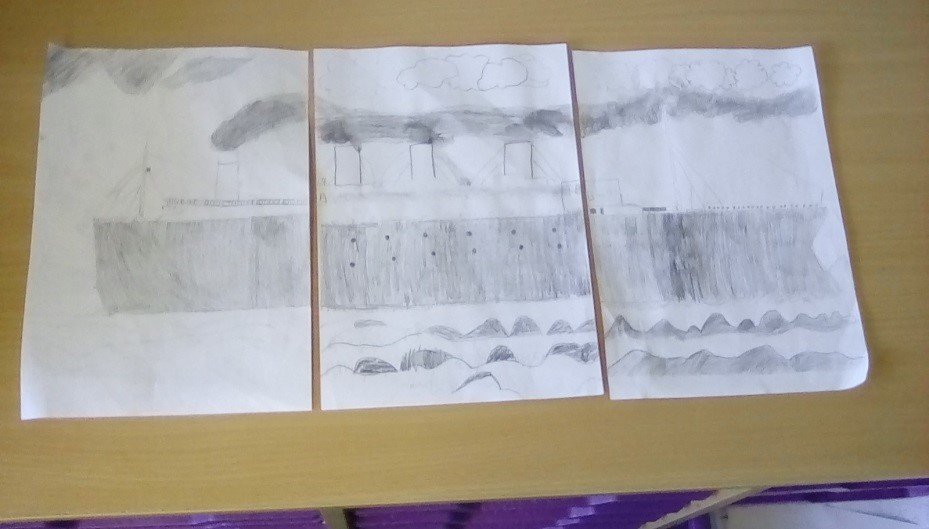 Welcome to the Year 6 team 2020-2021.
We look forward to welcoming you all back on to school site and in to Year 6!
If you have any questions at all, please email or call the school office.

Week beginning 03.09.20
The Year 6 teachers have been so excited to welcome Year 6 back to school. It's been so lovely to see everyone's faces again!
This week, we have adapted well to our new timetable and have played some teamwork games to improve our communication skills further. We played a game where someone ad a picture and had to describe it to a teammate, that teammate then ran the width of the playground to the other member of their group who had to redraw the picture from their description. It was very funny to compare the pictures at the end even though the communication was brilliant!
We also started our autumn term topic by beginning our hook day. We discussed some of the inequalities in the world now and in the past and created some protest boards for a cause we felt strongly about.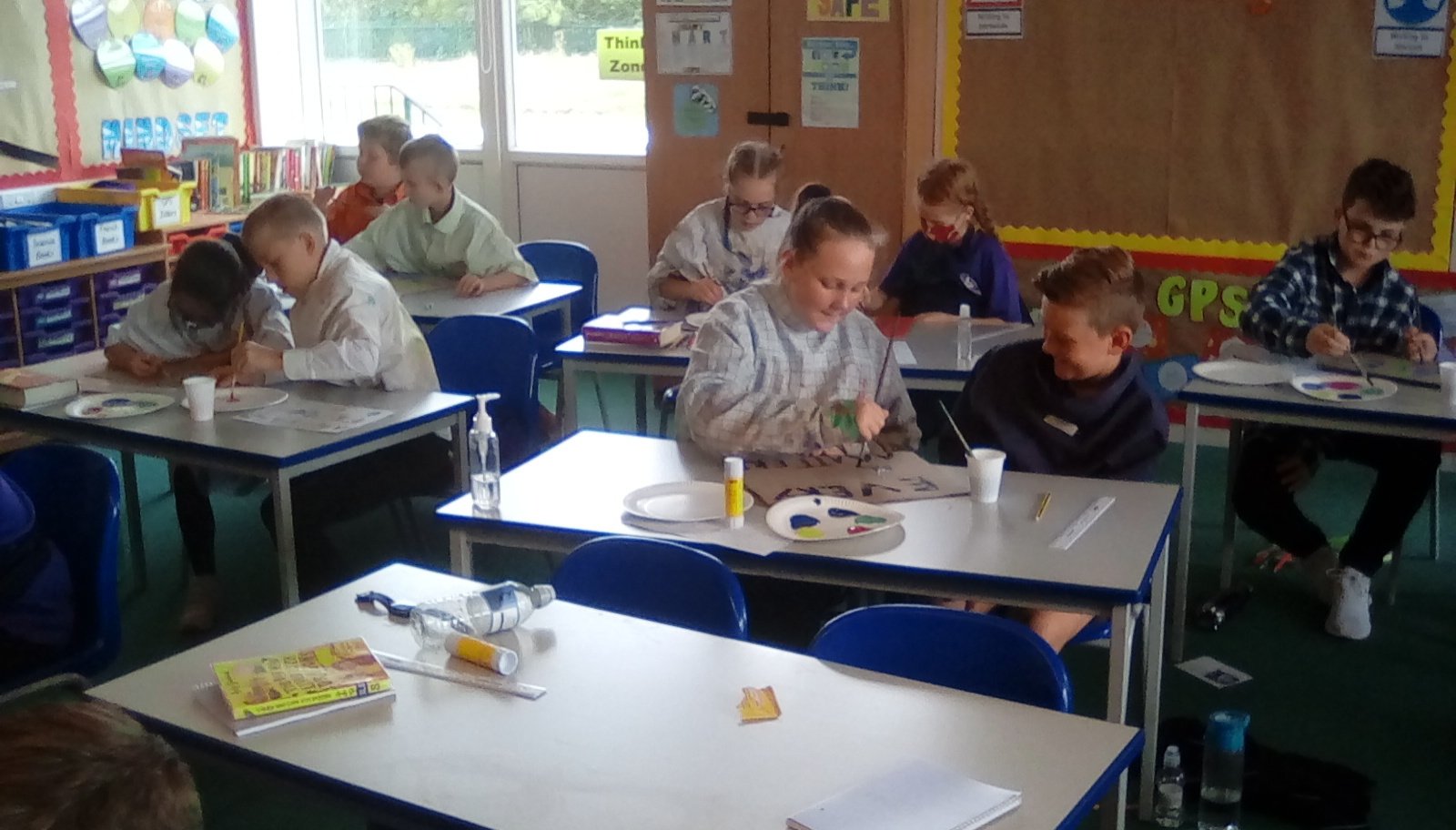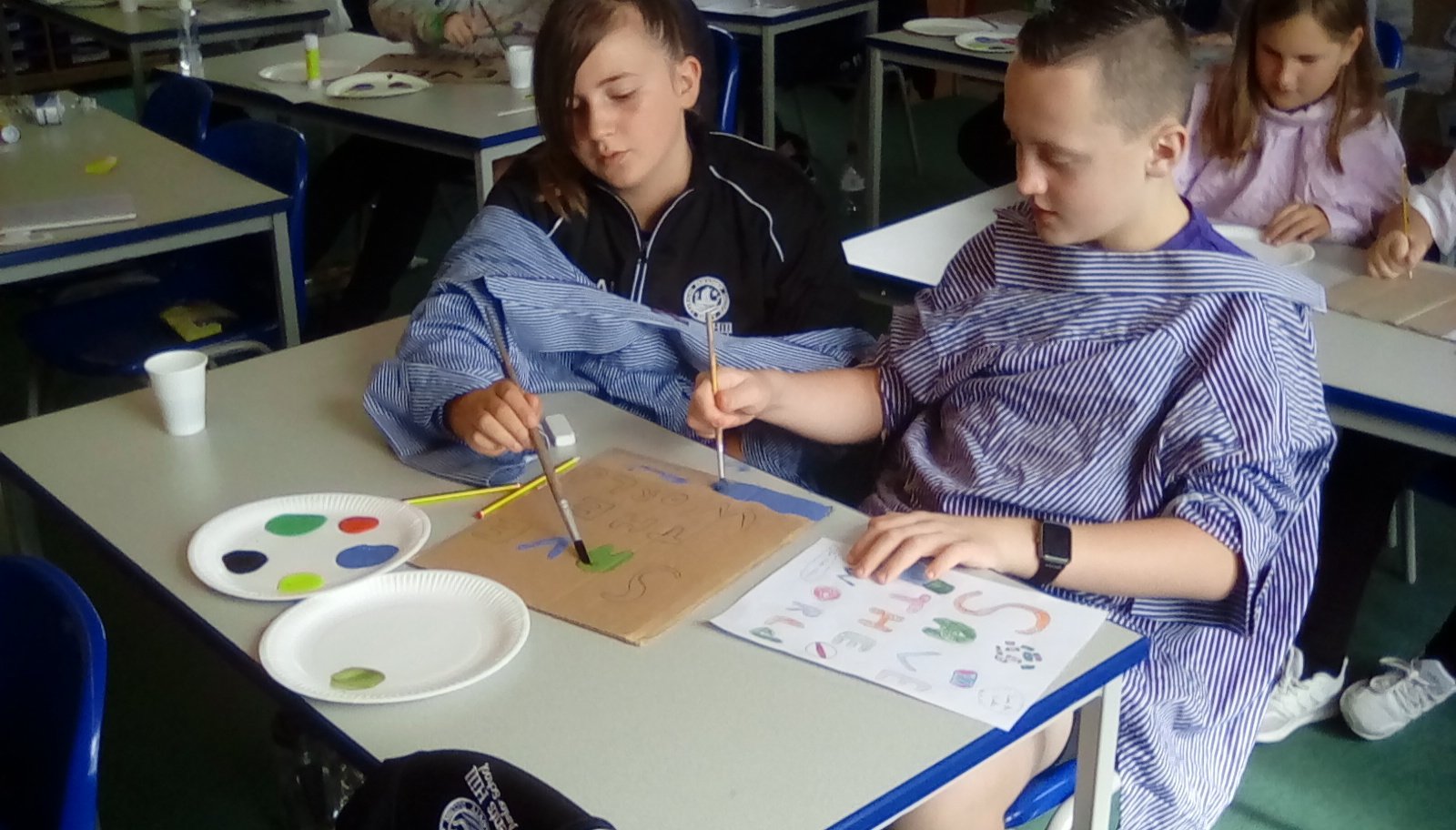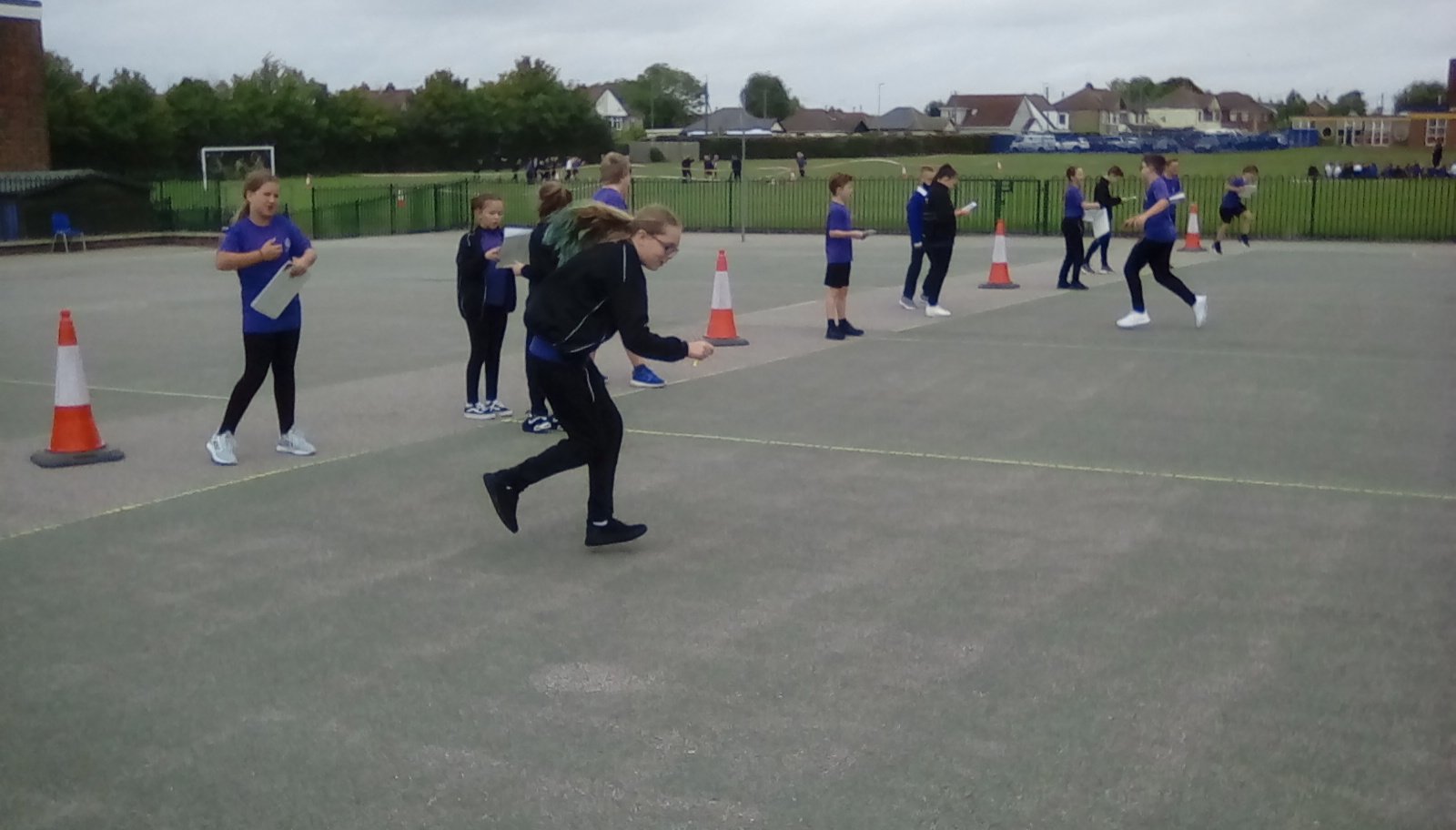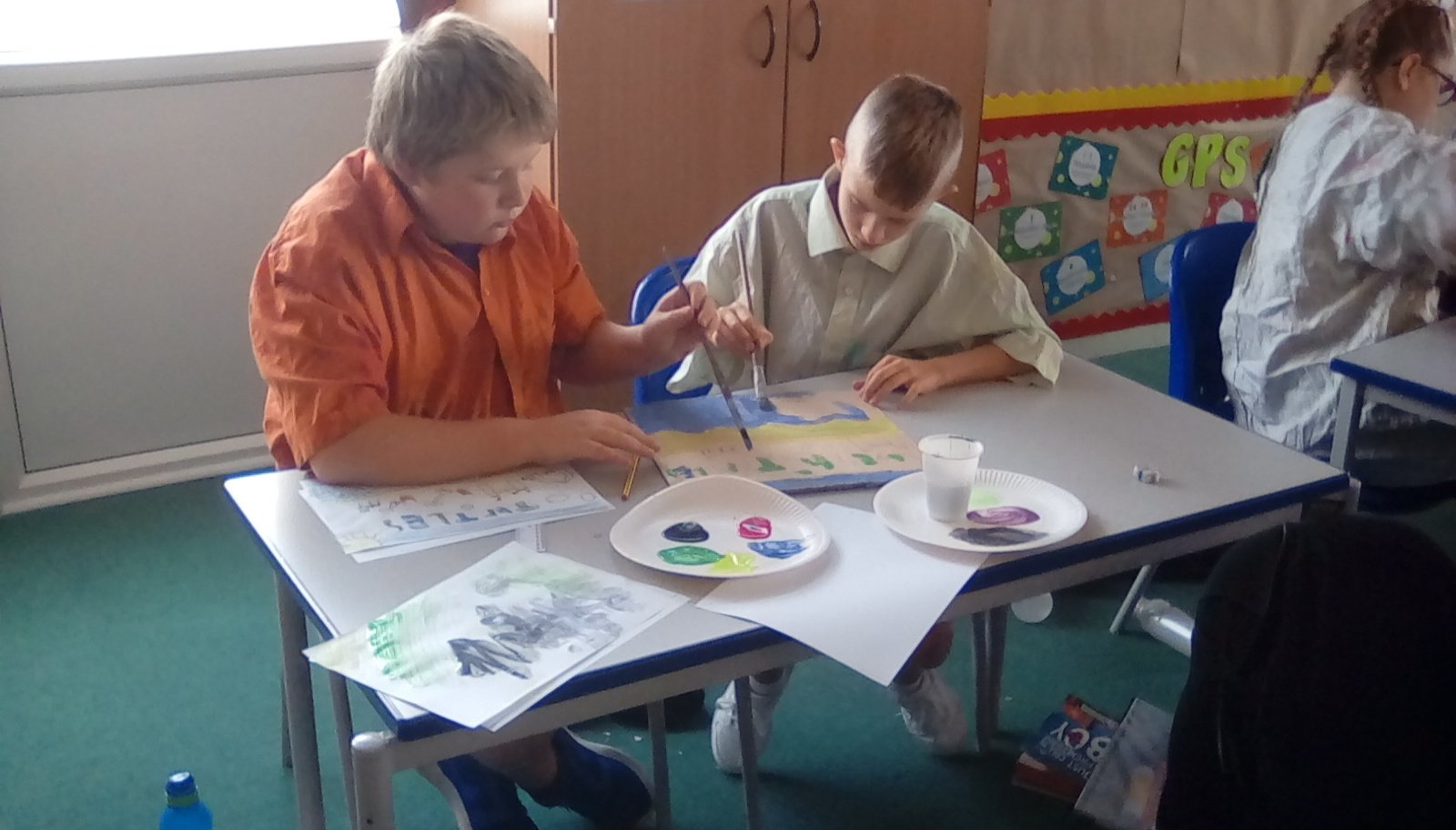 Year 5 Blog 2019-2020
Week beginning 13.07.2020
In the final week of Year 5, the children have shown commitment to their learning as usual. To round off our learning about Africa they researched an area in Africa which could be a tourist destination and combined persuasive techniques from English to create a tourist information leaflet in geography. Following this, the considered the question 'should Africa be portrayed as disadvantaged?' in English. They reflected on all of their learning across the term to develop a balanced argument and conclusion. Over the term they have studied an array of history including: Ancient Egypt, the Kingdom of Benin, apartheid and Nelson Mandela. On top of this, the children learnt about why the Ancient Egyptians settled by the River Nile and a study of human geography of the countries in Africa, as well as map reading and sustainability in geography. They've also studied the genres of Hip-Hop and Motown in music, performing and creating their own lyrics, as well as developing their understanding of religions. In addition, the children have creatively produced a range of art work including: Tinga Tinga art, window box art inspired by Africa animals, Ndebele art and their own Zentangle art focusing on patterns. In the final day of Year 5, they created their own unique pieces to 'celebrate Africa', including fantastic art work, and shared these on our final live session with the year group.
The Year 5 teachers have loved teaching the year group and wish the children the best for their adventures in Year 6! The children have adapted incredibly well to home learning and have shown enthusiasm and determination, and a special well done to the children in school as part of the key worker provision, who have demonstrated compassion and maturity whilst adapting to a new way of school.
Have a wonderful school holidays and enjoy getting to know your new teacher at the start of next week!
Thank you to Year 5 for being so wonderful and good luck in Year 6!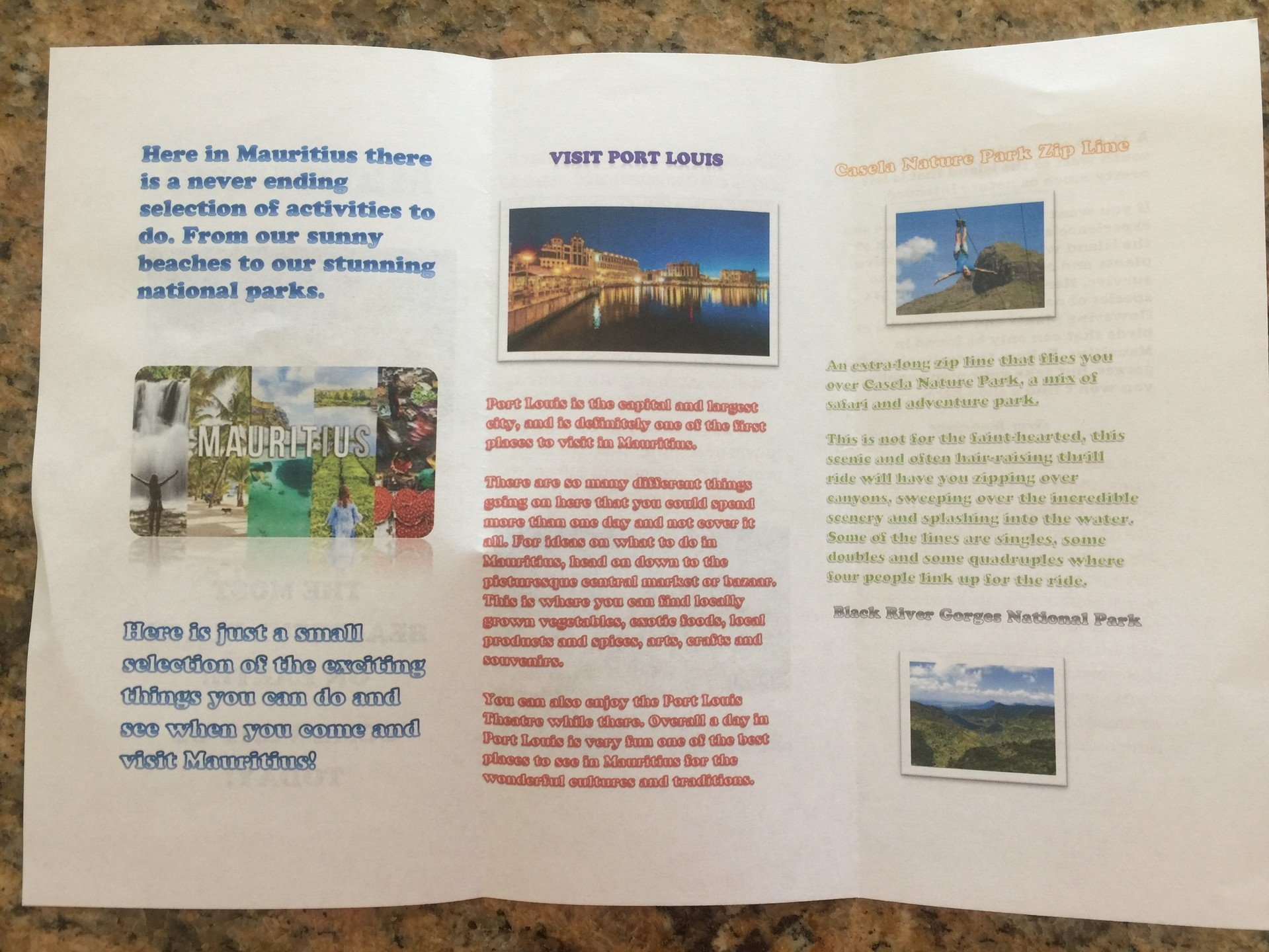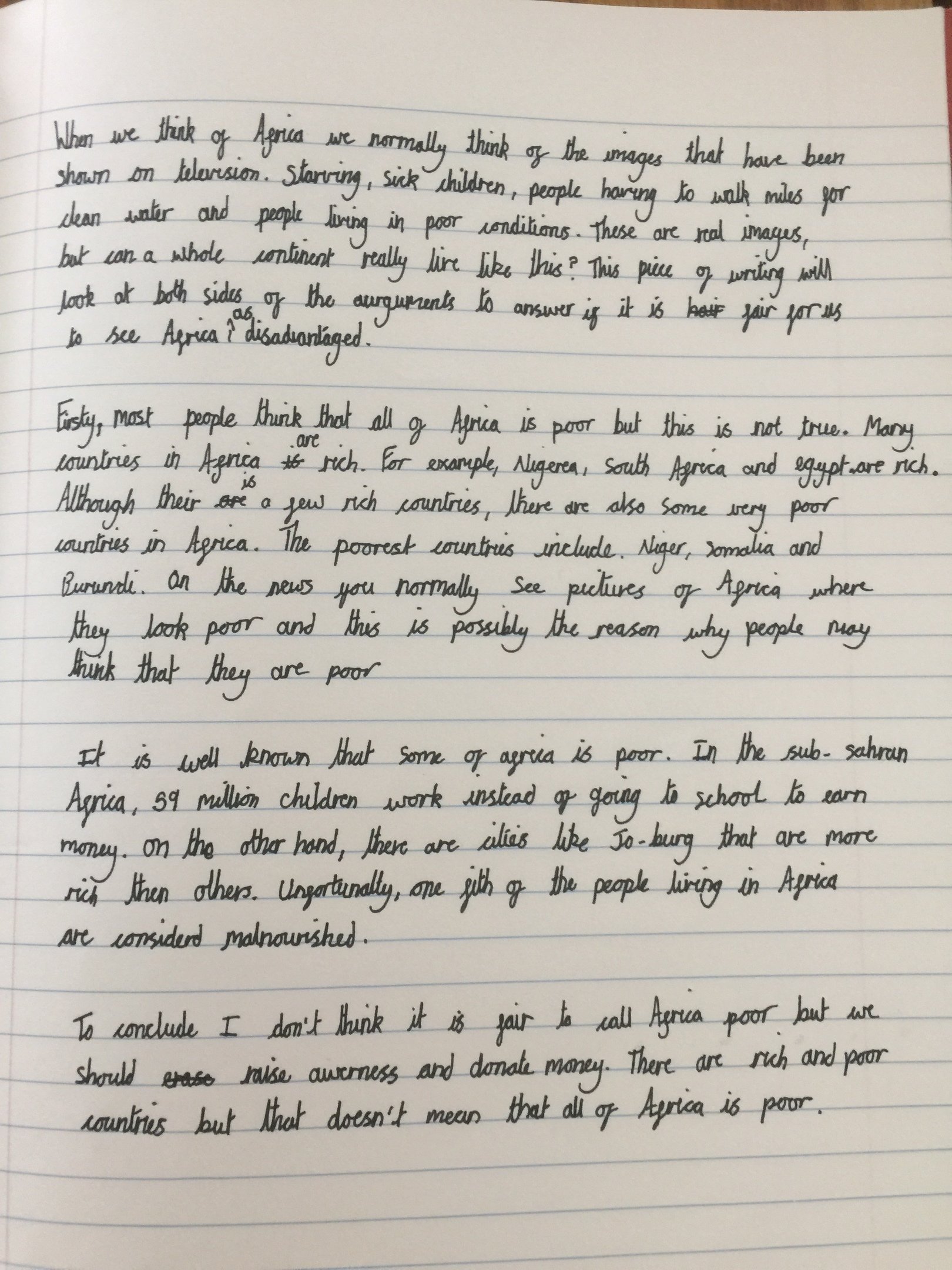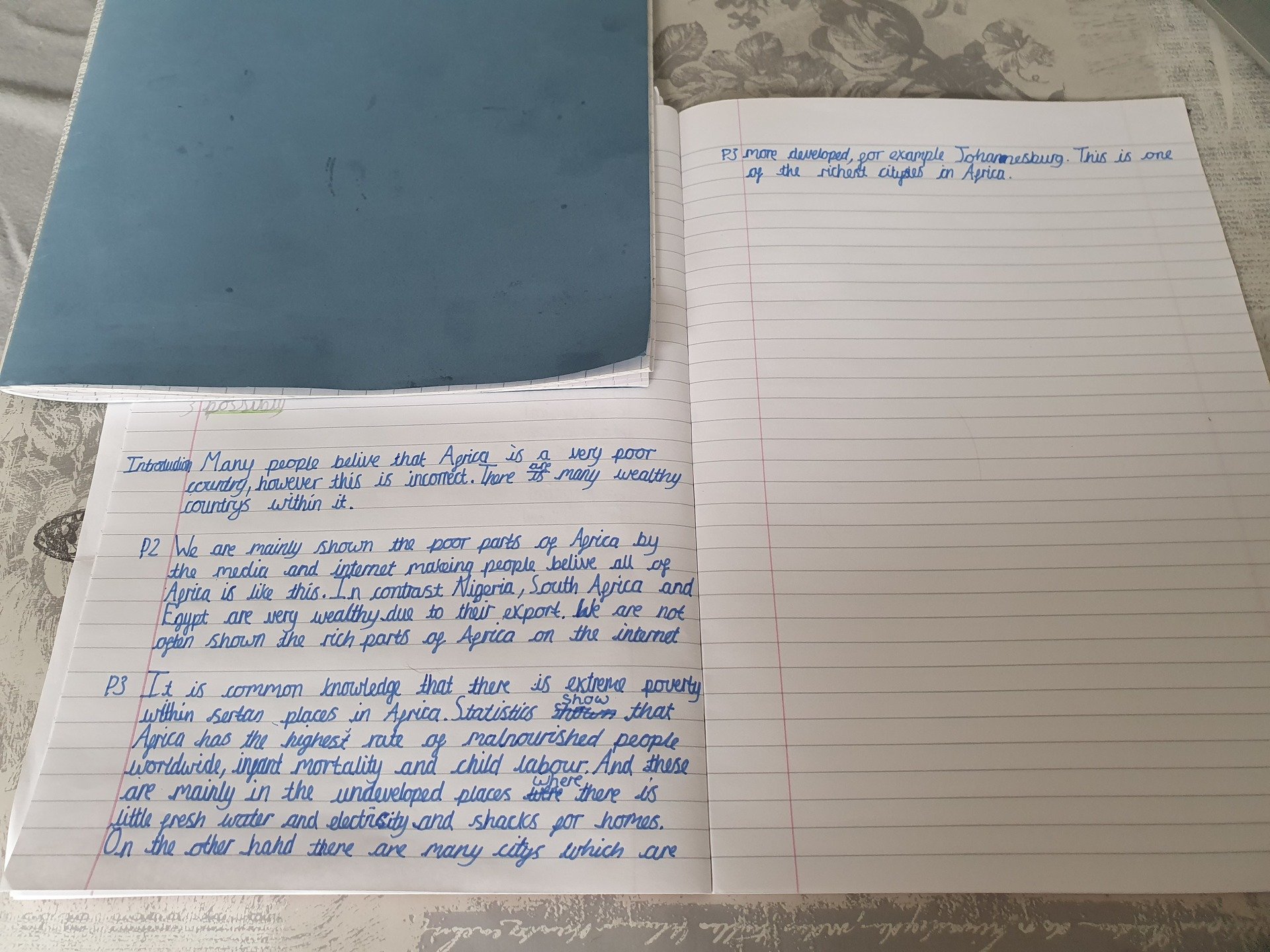 Week beginning 06.07.2020
This week in Year 5, the children have been very creative. In art, they created Zentangle patterns, creating intricate designs after previously learning about Ndebele art (traditionally African). Proudly, many children joined the live lesson at the end of the day where they were able to show case their art work. The teachers were particularly impressed with how respectful and supportive the Year 5 children were of their peers, along with the hard work gone into creating their patterns.
On top of this, this week highlighted the lyrical geniuses amongst us both in music and English. In music, the children have been studying the genre of Motown, specifically Martha and the Vandellas hit 'Dancing in the street'. After considering the beat as well as techniques used within the lyrics, the children wrote their own lyrics for the song as well as some super performances which were videoed. In English, they created their own Dinka poems, which link to our topic of Africa, after analysing poems in reading comprehension and GPS lessons. The poems included 2 stanzas and the use of similes, as well as from the perspective of an animal and the 2nd stanza from another perspective. There were fantastic poems about lions and meerkats alongside many other animals including African birds.
In addition, in geography they have considered sustainability including renewable energy sources and thinking about the impact this would have on Nigeria's economy (which makes money through exporting oil), as well as using OS symbols to understand and create maps. Whilst in PSHE, reflecting upon how much screen time they use and thinking about how to reduce screen time so that their health isn't impacted – which is important in a technology focused world.
Week beginning 22.06.2020
This week, Year 5 have tried hard across the curriculum. In reading, the children finished the topic book Journey to Jo'burg, in which Naledi, Tiro, Dineo and Mma's story ended. In writing, they followed on from this and had the opportunity to write their own creative sequence to the story, with many examples of what the next chapter could be. A range of techniques were used such as expanded noun phrases and parenthesis to add detail as well as including figurative language to add description including personification, similes and metaphors.
In addition, they discovered other aspects of Africa in geography, which enlightened their understanding of what some countries in Africa are like. In this lesson the children considered diversity and were able to change their view point to understand that some parts of Africa are well developed, as well as tourist attractions. During the live lesson, the children were really engaged in the lesson, and then researched other aspects of diversity within the continent independently.
Furthermore, they have continued to work hard in maths whilst moving onto converting time and using timetables, which are skills that are applicable to real life and really useful to be able to do! Likewise, in science they studied the changes that happen in old age and were able to suggest ways to delay/reduce some of them by keeping fit through exercise and having a balanced diet. In music, they developed their technical knowledge of notes by learning how to use a staff, which is important for reading and writing music.
Impressively, the children worked hard on Thursday in DT whilst designing an African house. Some children even made them! The Year 5's thought hard about which materials to use and considered shape, so that the prototype adhered to the purpose of protecting from rainfall as well as mosquitos and other insects. The design process included continual evaluation and planning, as well as application of knowledge from science (properties of materials), maths (shape) and art (sketching). Some children even applied understanding of traditional African art (Ndebele art) and used on the walls of their houses. Look below to see some of their fantastic work!
0B3519C2-72CE-4BBE-A75B-D282BA56A753.MOV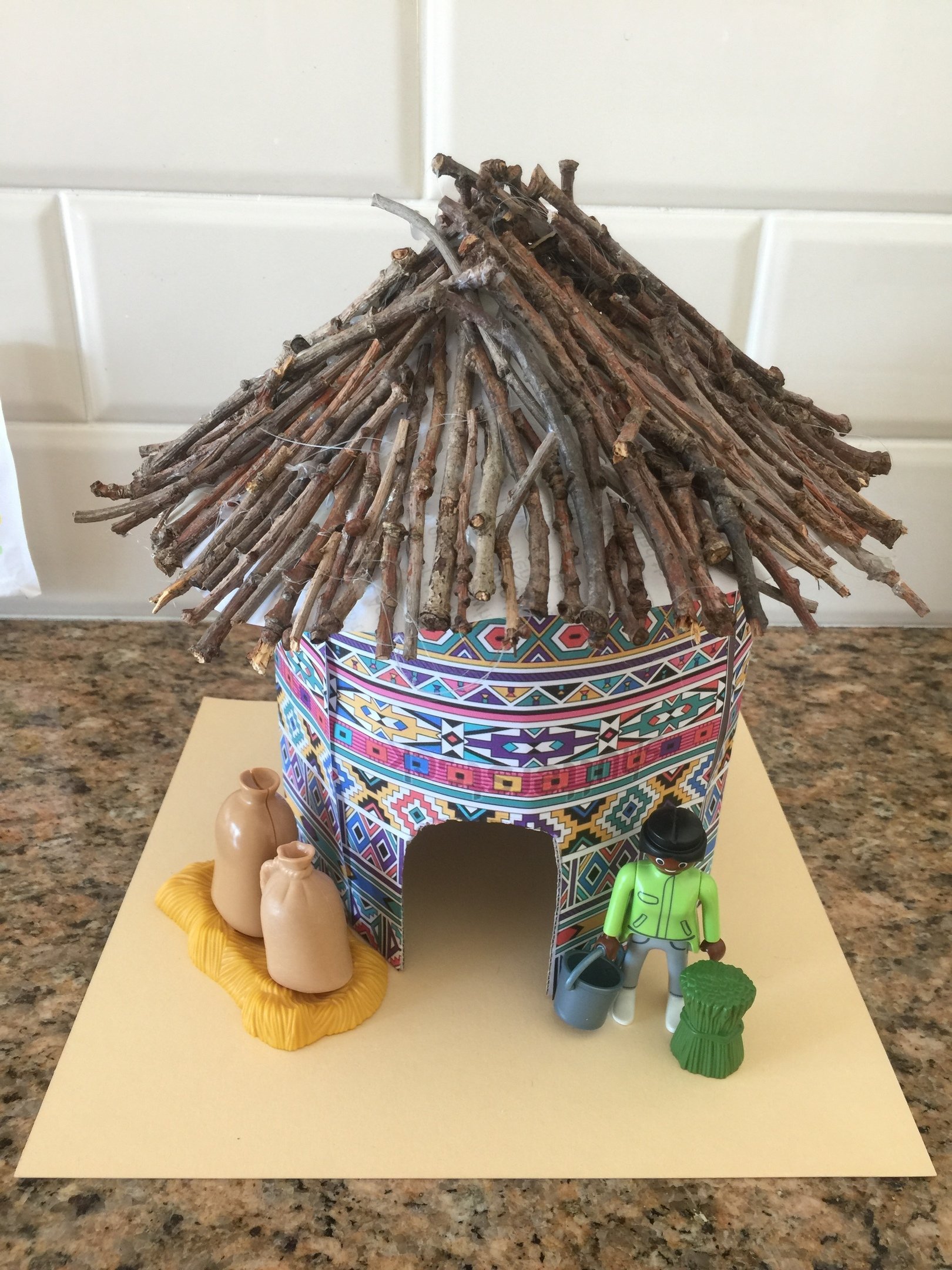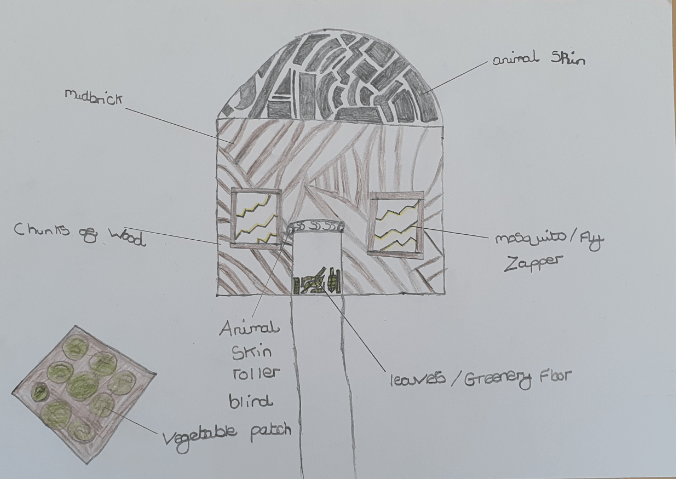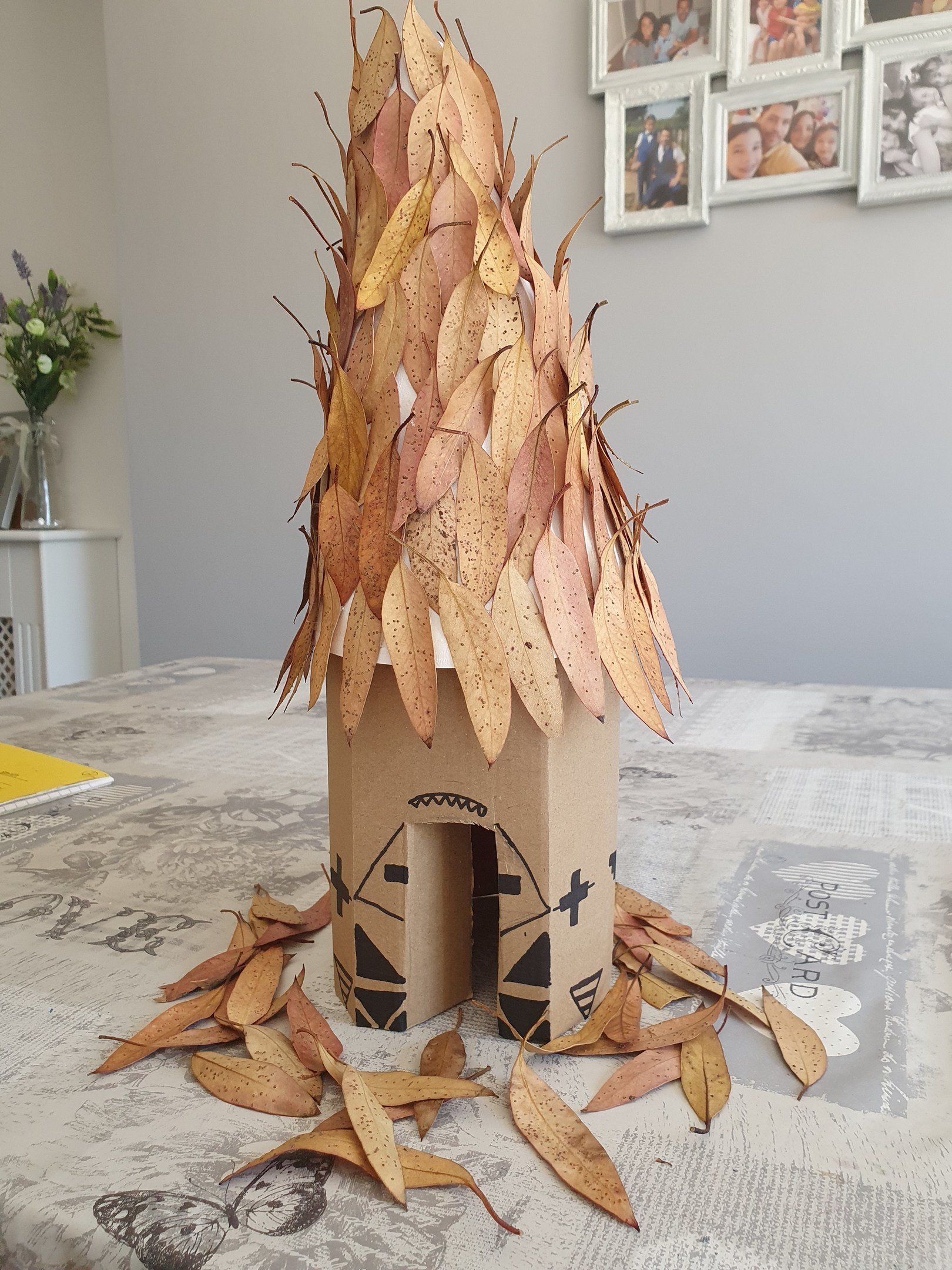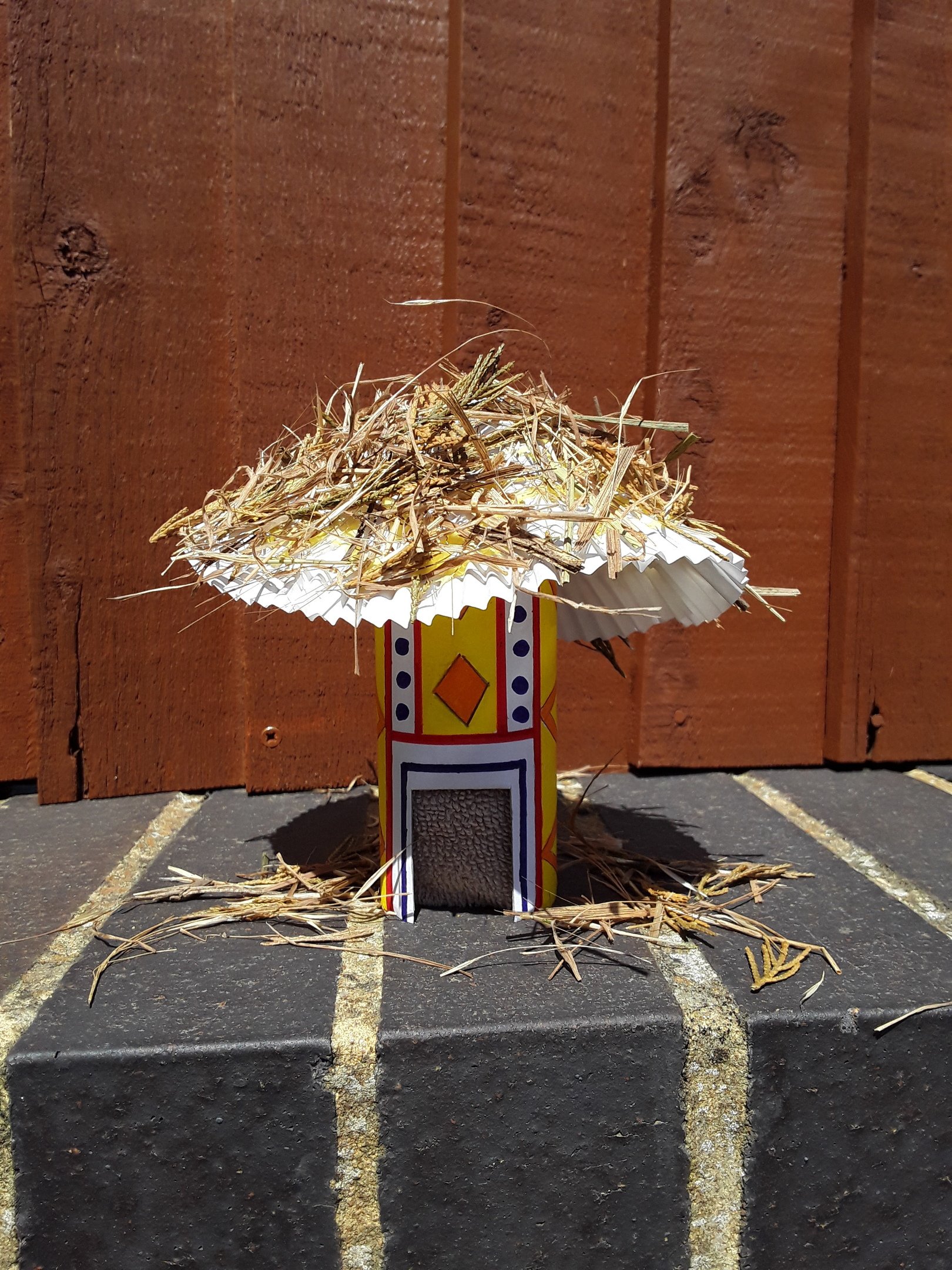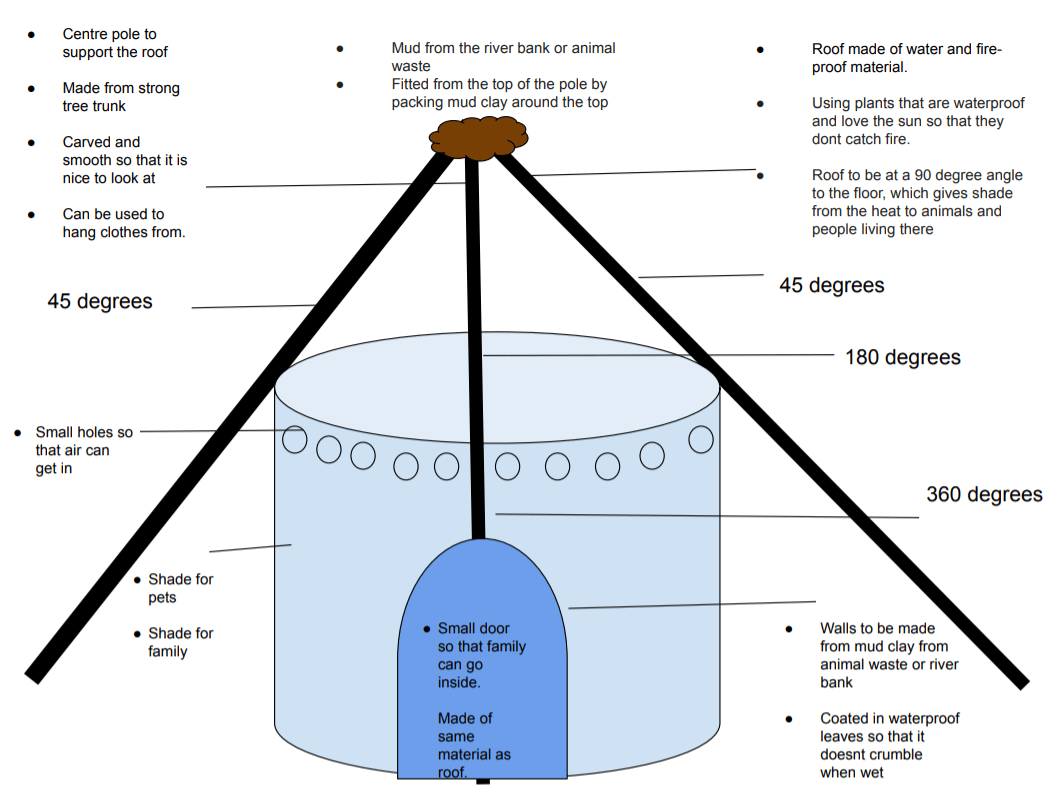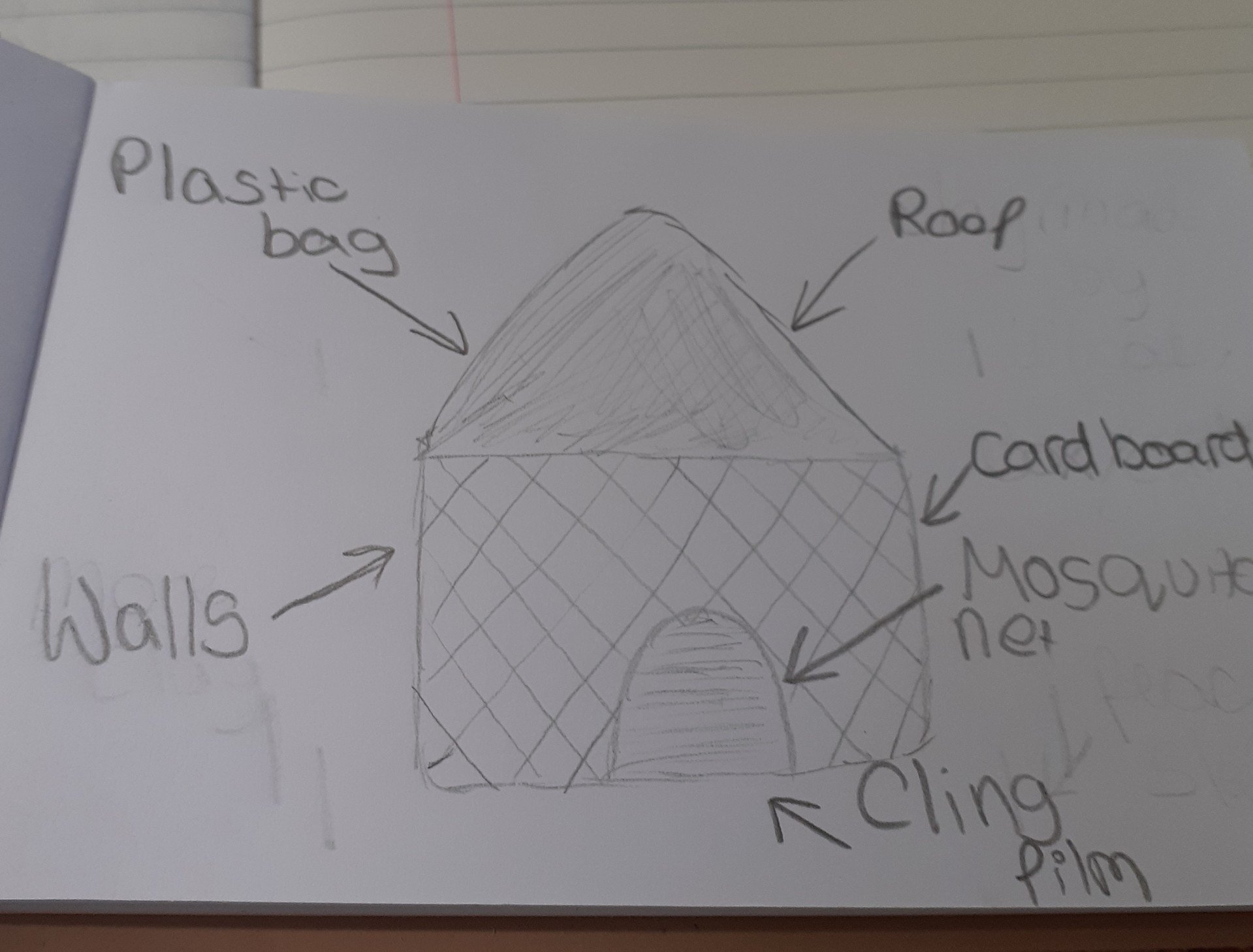 Week beginning 15.06.2020
This week, Year 5 have studied Nelson Mandela and his impact on South Africa's history. The children have worked really hard in English, creating speeches to persuade the public that Nelson Mandela should not have been imprisoned for 27 years. As part of this, they took part in a live lesson for writing in which fantastic suggestions and planning. There have been wonderful examples of hard work, applying features such as rhetorical questions, emotive language and modal verbs, as well as facts to provide information.
Also, they partook in a live lesson for reading comprehension as well as maths this week, on top of the class assemblies. The Year 5 teachers have been really impressed with the children's efforts and it is great to see so many of you being active in your learning.
Importantly, they have learnt about online safety and reflected upon their relationship with the internet in PSHE. During this lesson, they also considered whether they would do something that isn't acceptable for their age, because they believed it was 'cool', which encouraged the children to really consider their actions and the relative dangers. These are important life lessons and will benefit the Year 5's as they move through their life. Likewise, they considered the changes that occur through puberty in science and presented this in statistical formats as well as learning that other species also go through puberty.
It has been another super week of learning and the children have impressed us, once again.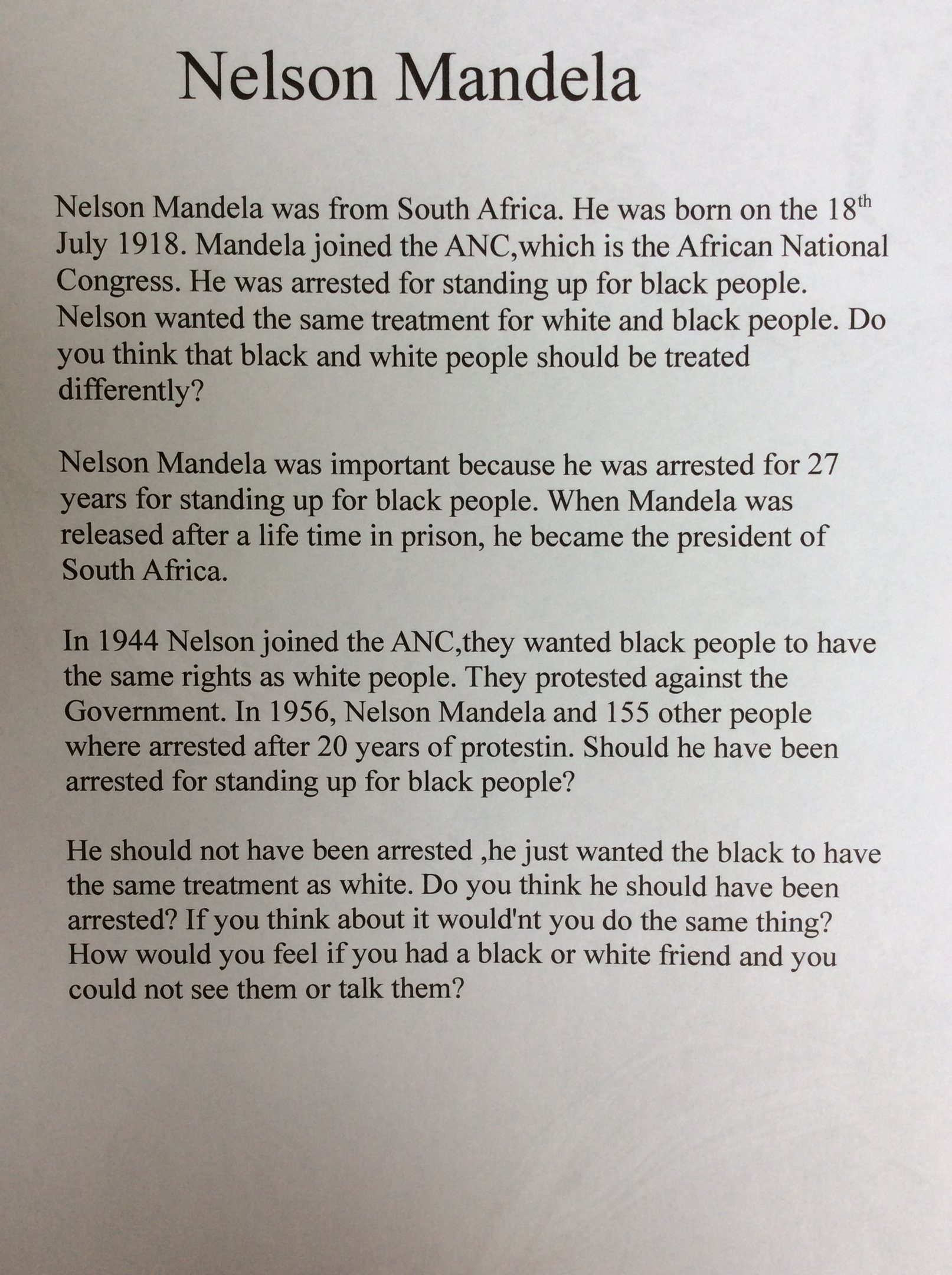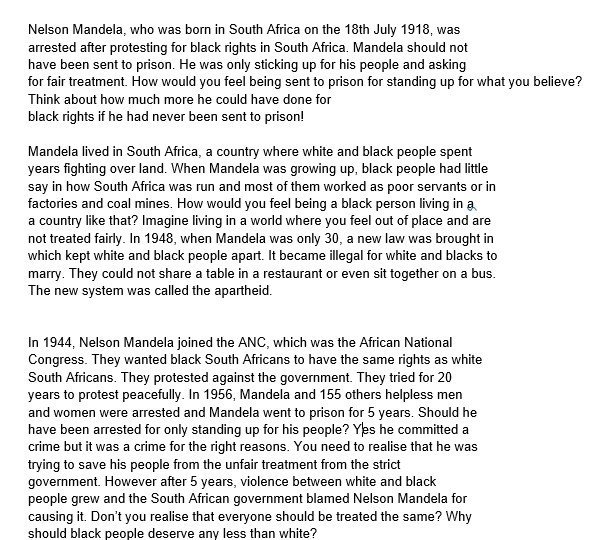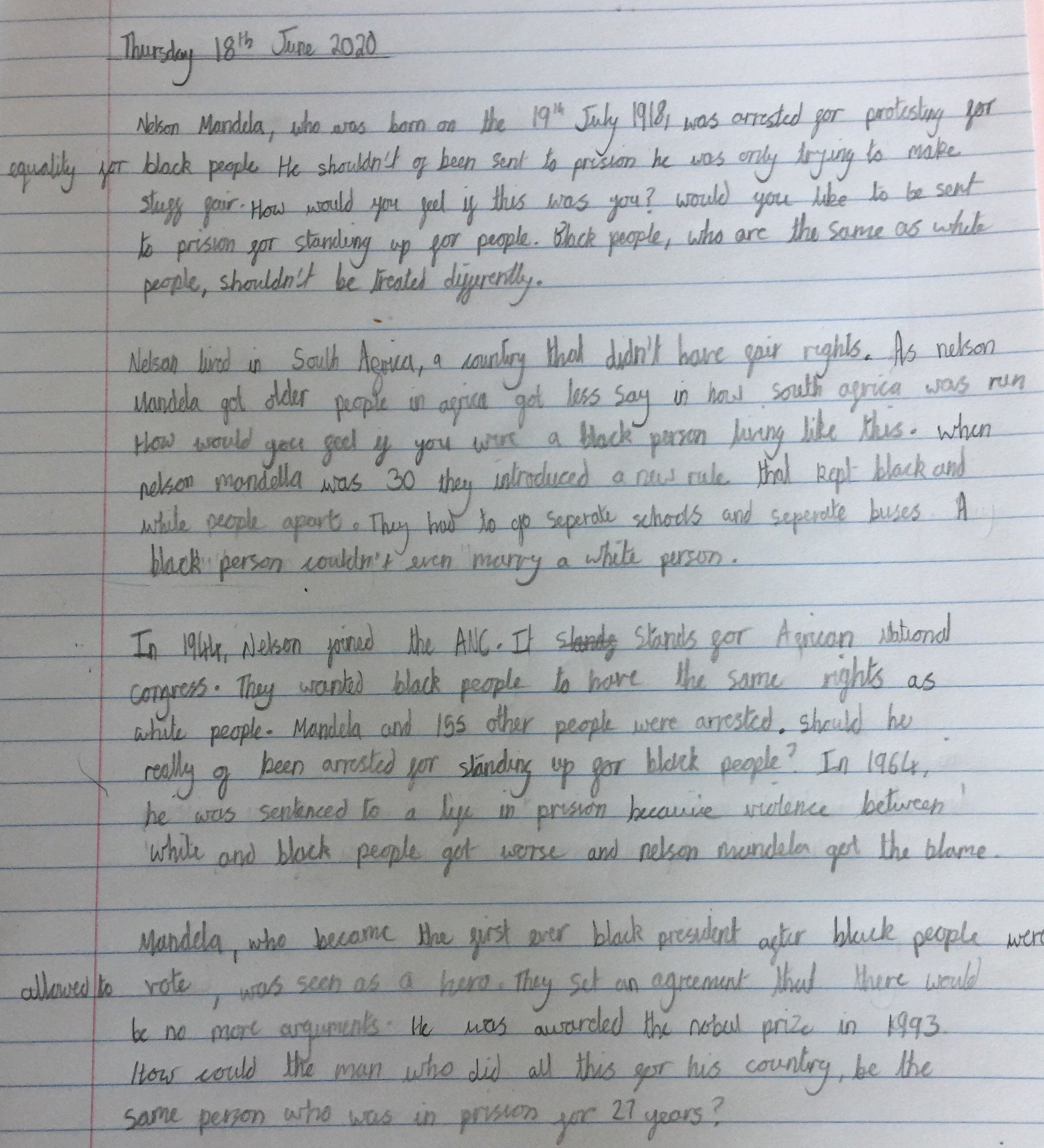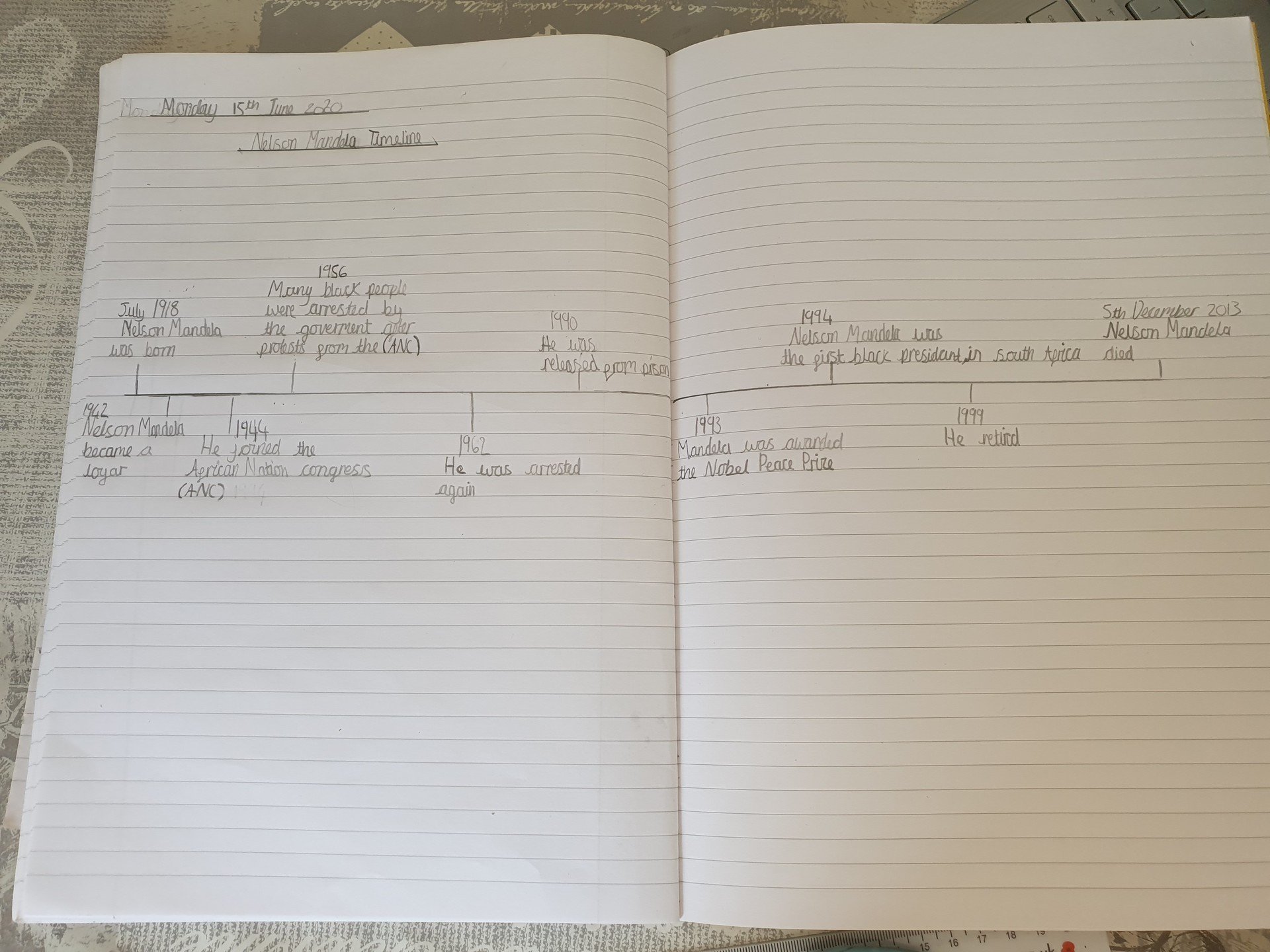 Heidi F - 18.06.20 - Writing to Persuade .pptx
19.06.20 - Writing to Persuade (19 Jun 2020 at 11 00).MOV
Week beginning 07.06.2020
This week, Year 5 have come to the end of learning about Ancient Egypt (by understanding the legacy of hieroglyphics) and moved on to studying the Kingdom of Benin as they have continued to explore Africa. In history, they have learnt about the history of Benin, discovering the 'Benin Bronzes' as well as other legacies left by the people of Benin.
On top of this, they learnt how the British invaded and colonised Benin, to become part of the British Empire, considering whether the British army had the right to do this. Following on from this, they have importantly thought about the issues brought to light by recent Black Lives Matter movements, enhancing their British Values as well as building on previous 'celebrating differences' units. The children also experienced a live lesson using Google Meet for the PSHE lesson which was focused on body image, which is really important to be aware of. In addition, Year 5 studied the growth babies, plotting the data on bar and line graphs and interpreting the change that humans experience. The learning in science and PSHE helped the children understand how change can occur, building on previous learning about the human life cycle - as well as linking to how 'change is gonna come' in our additional PSHE lesson too.
In addition to this, the children moved onto using different units of measurement in maths, using conversions in the sums (which are important for applying to real life contexts). They also looked into the genre of Motown in music, listening to and appraising a range of songs including 'Dancin' in the street' whilst noting stylistic indicators of the specific genre. In computing, they researched a range of African animals and presented the information using a range of features whilst remembering the SMART message of online safety.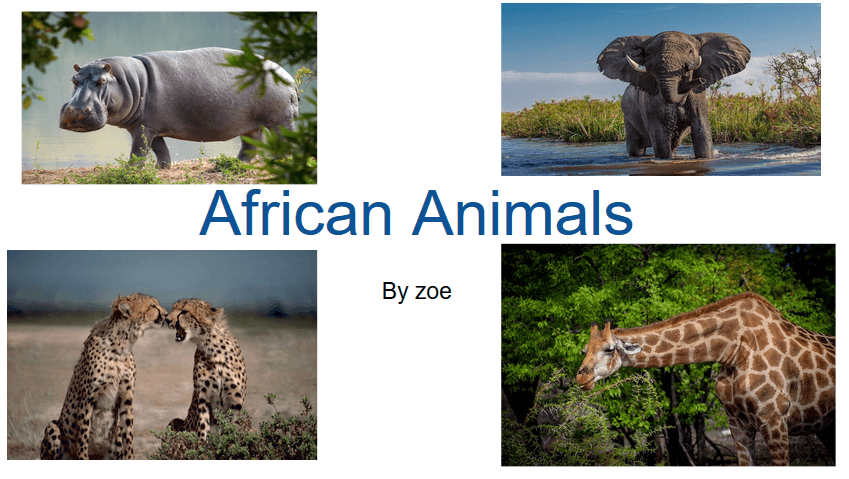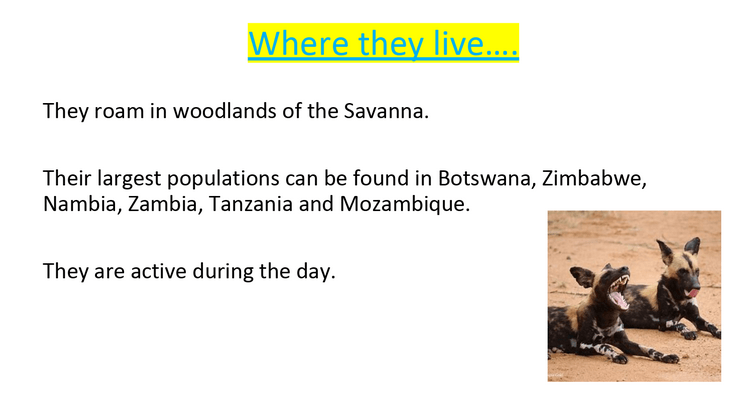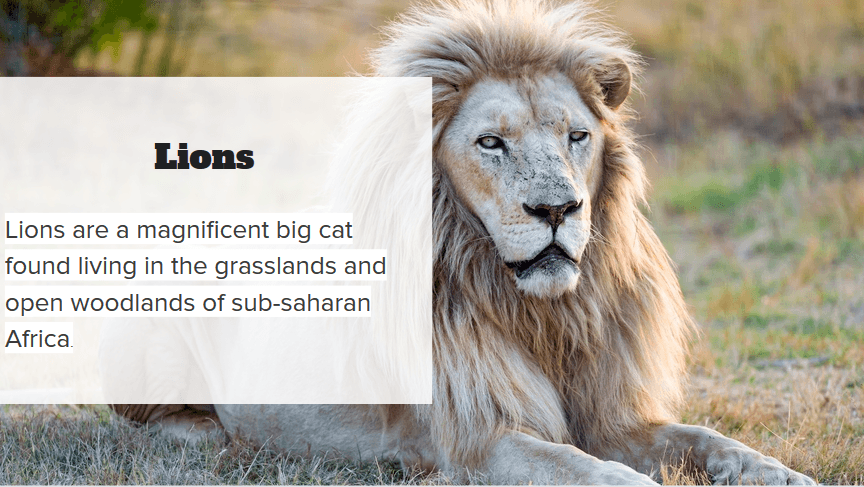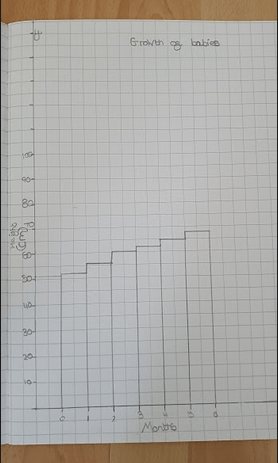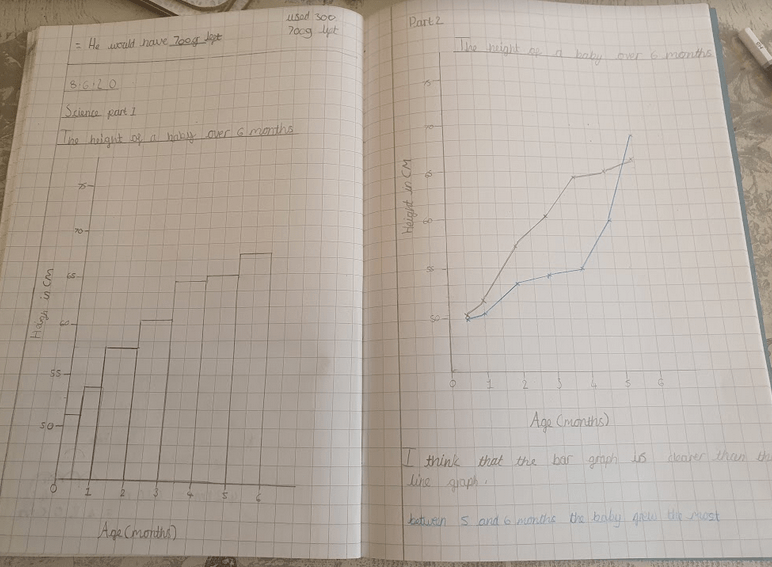 Week beginning 01.06.2020
This week the Year 5 children returned from half term to our online learning, with maturity and enthusiasm, as usual. The week began with the children continuing to read Beverley Naidoo's Journey to Jo'burg in which Naledi and Tiro continued their journey across South Africa and shared their experiences with the Police, a topical scenario of recent news. Alongside, this they have built upon their understanding of decimals and problem solving with maths, as well as applied chronology in Science whilst learning about the human life cycle, including pre-natal stages. Importantly, they recognised the changes that come with age, as they progress on their journey from childhood to adolescence.
In maths, the children moved onto shape and position within geometry, cleverly reflected shapes in the mirror line and considered properties of shapes, both symmetrical and asymmetrical. This was then applied artistically to create patterns after learning that the famous artist, William Morris, used symmetry and shapes in pattern as well as in Ndebele art which originates from Africa. The learning was applied to art, by developing their own creative patterns – some children even made bookmarks with the patterns on which will be handy. In art, sketching techniques were developed in their unique original art works inspired by African animals. A variety of animals, artistic styles and sketching/drawing styles were used in this work to create many fantastic pieces of work which took perseverance and determination. Please see below for some examples of the children's wonderful window box artwork which focuses on different parts of African animals.
On top of all of this, Year 5 continued to learn about online safety which is incredibly important and developed another life skill in geography whilst learning how to read grid references on a map – important for future exploring!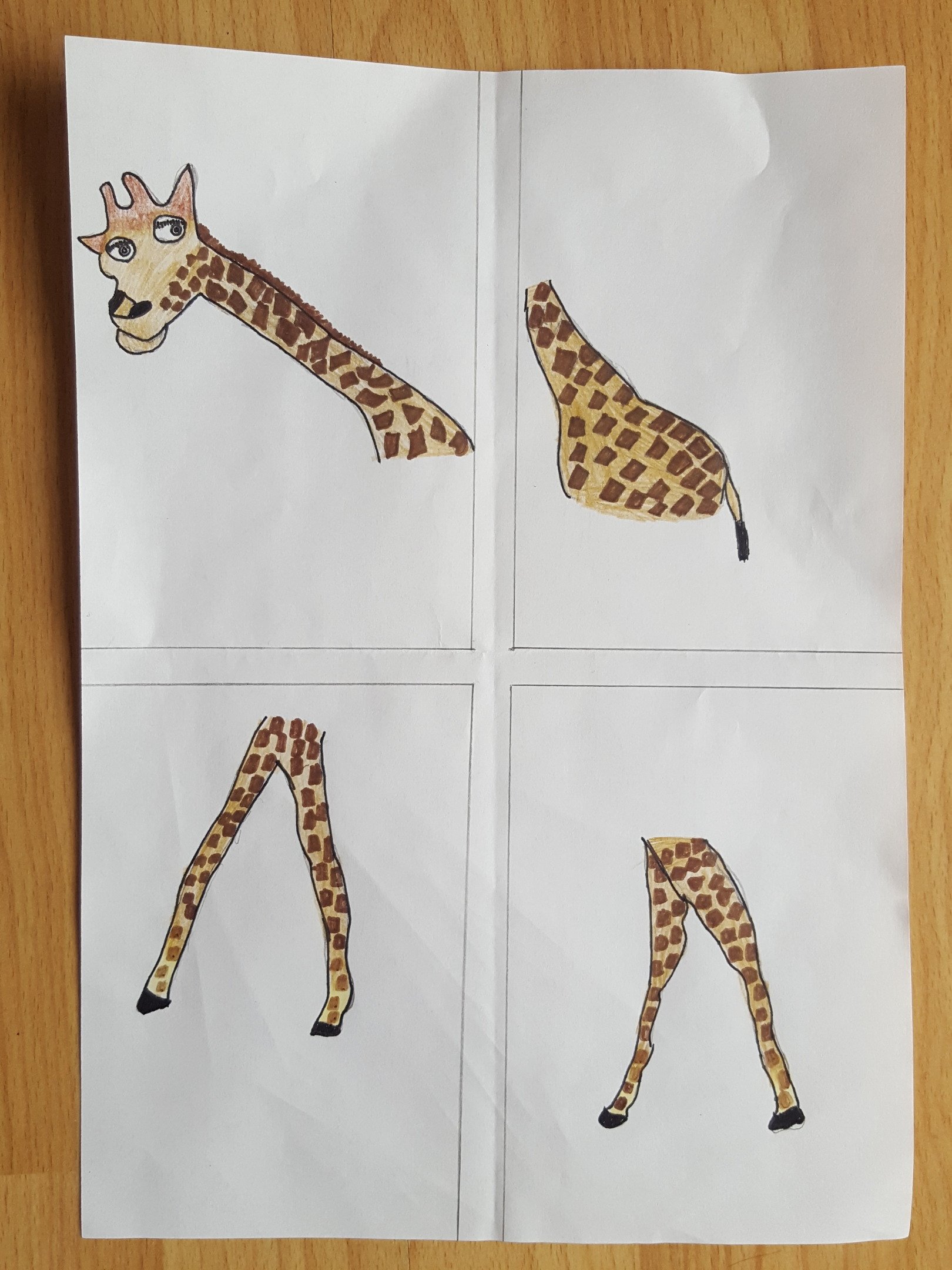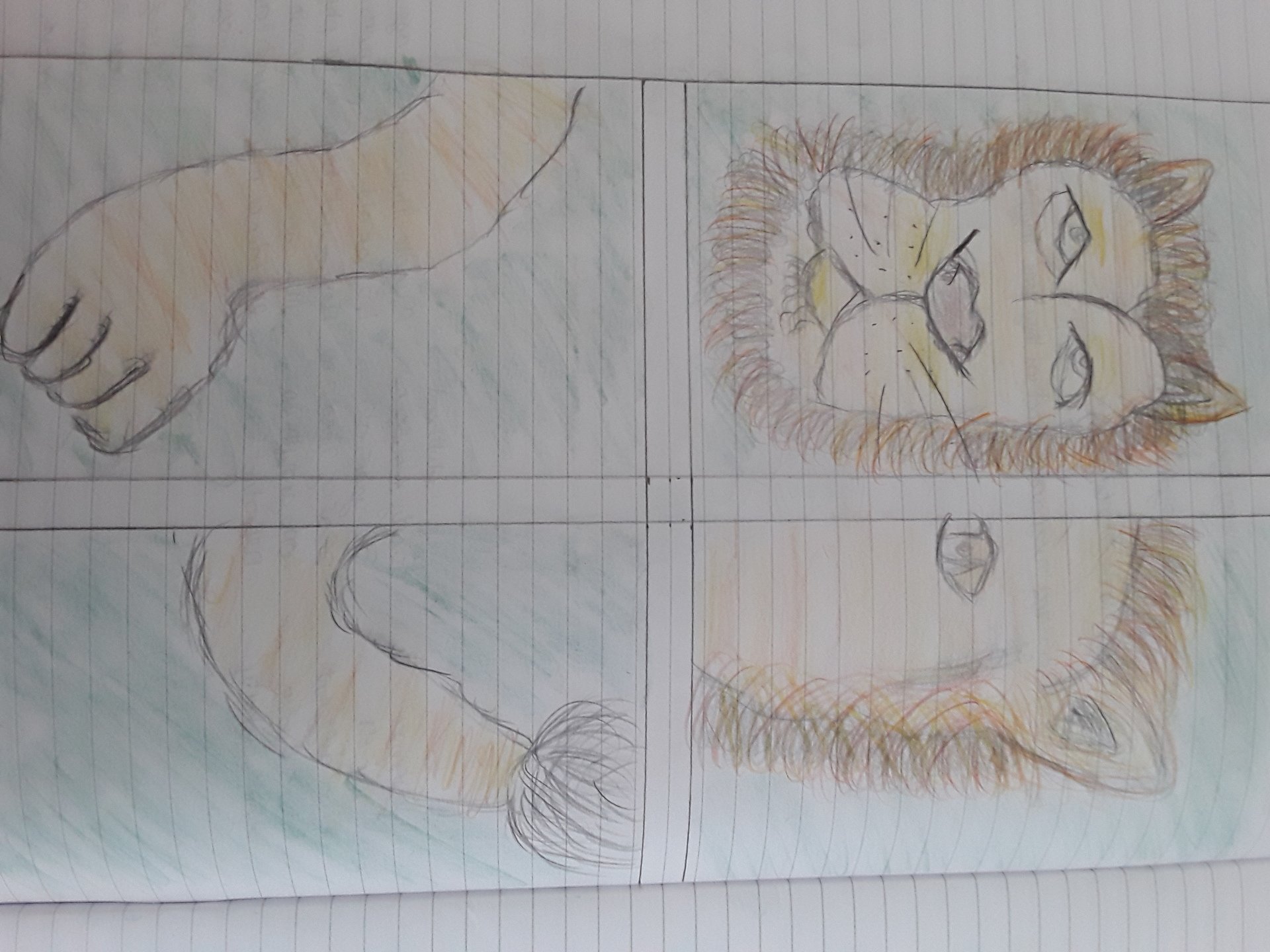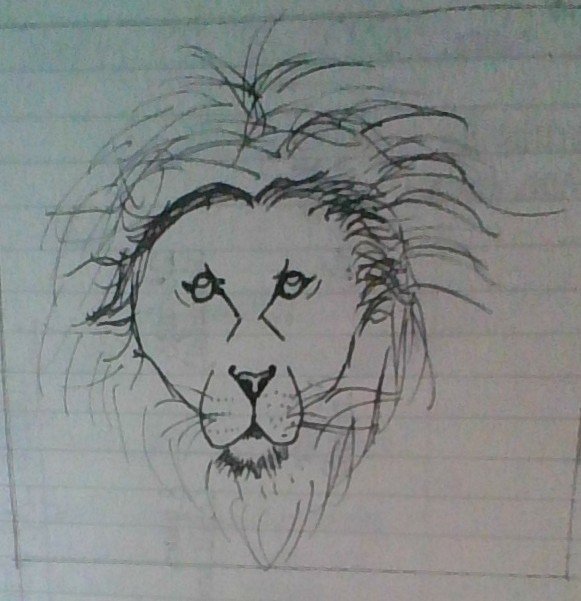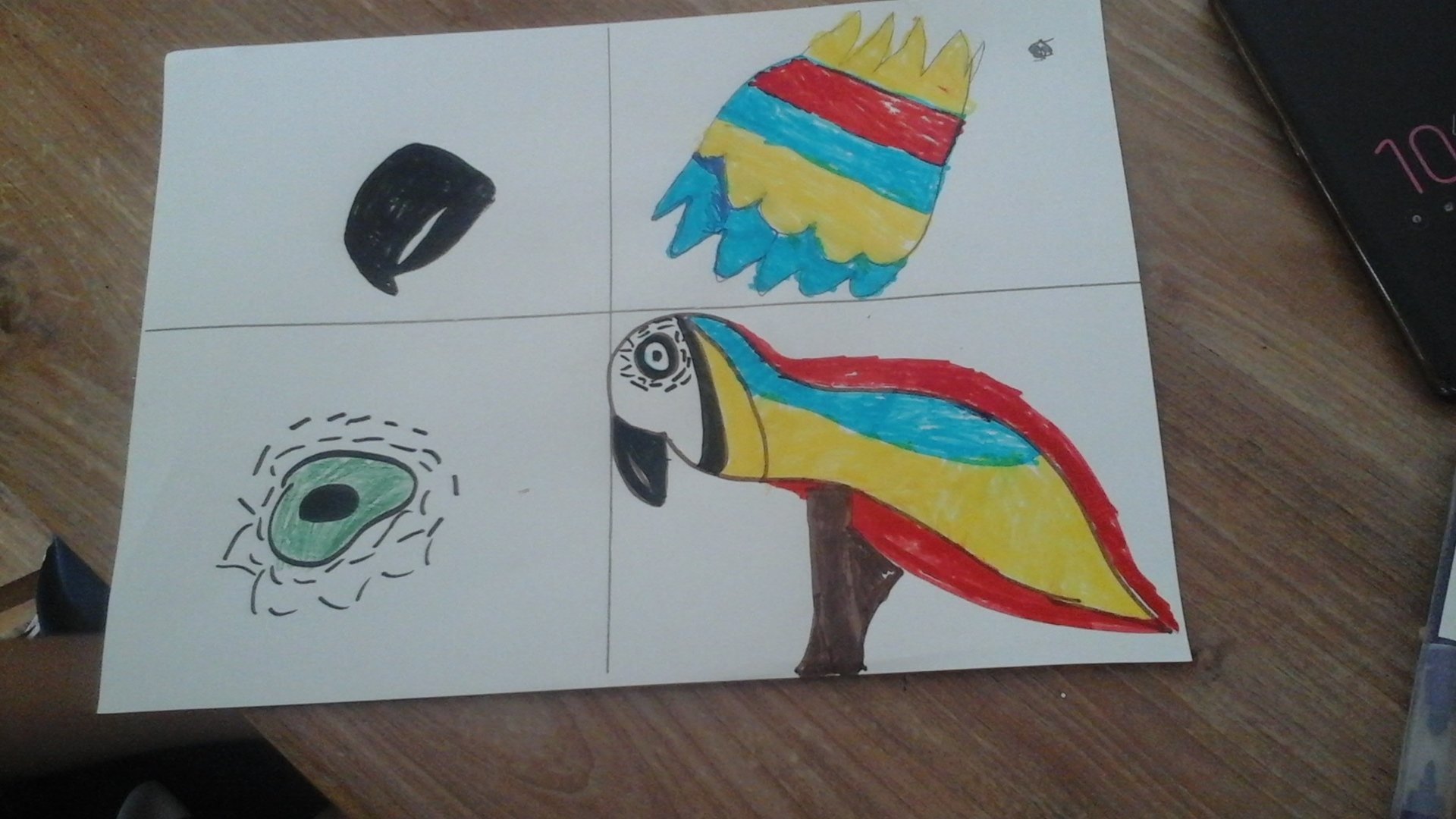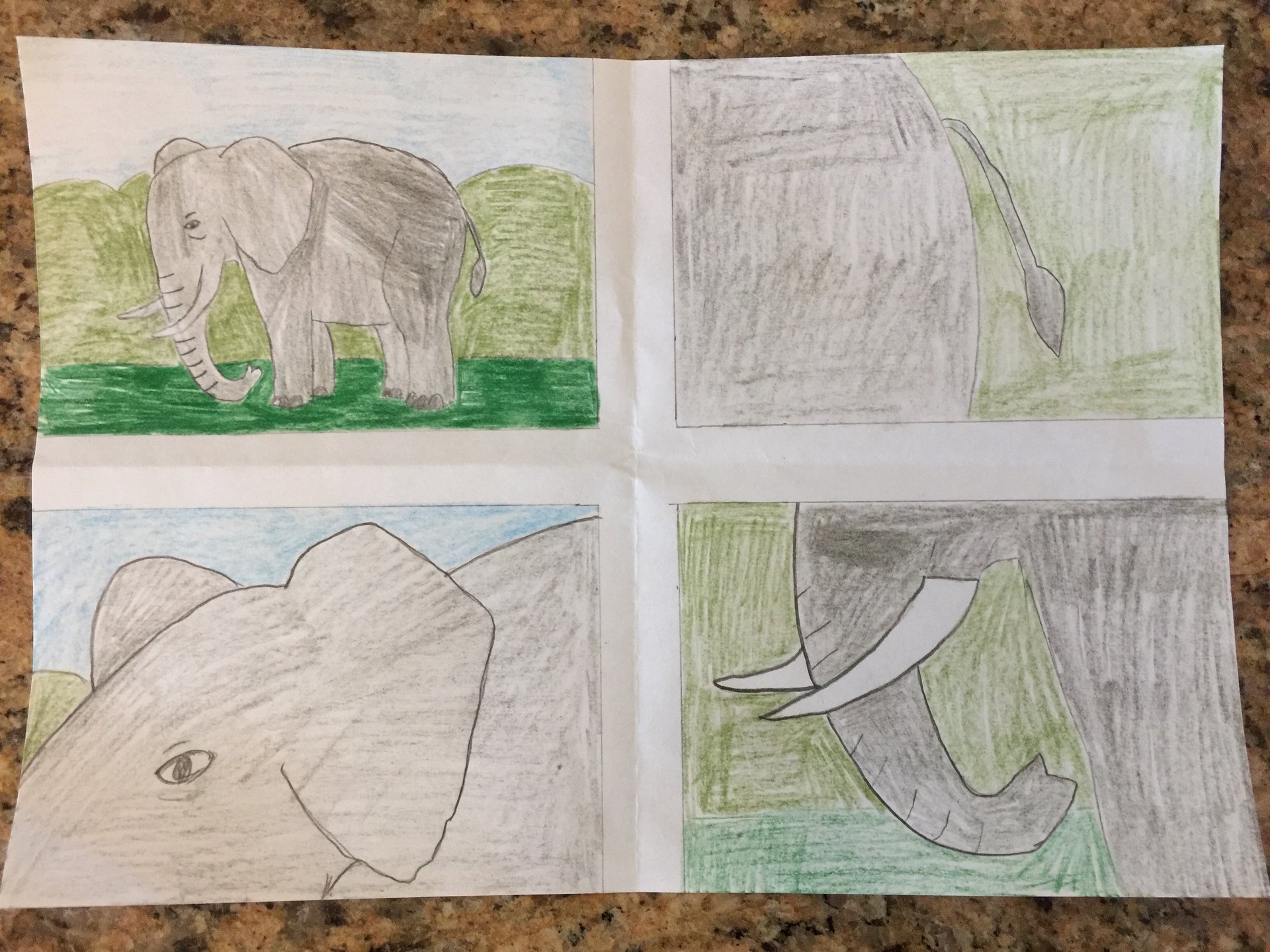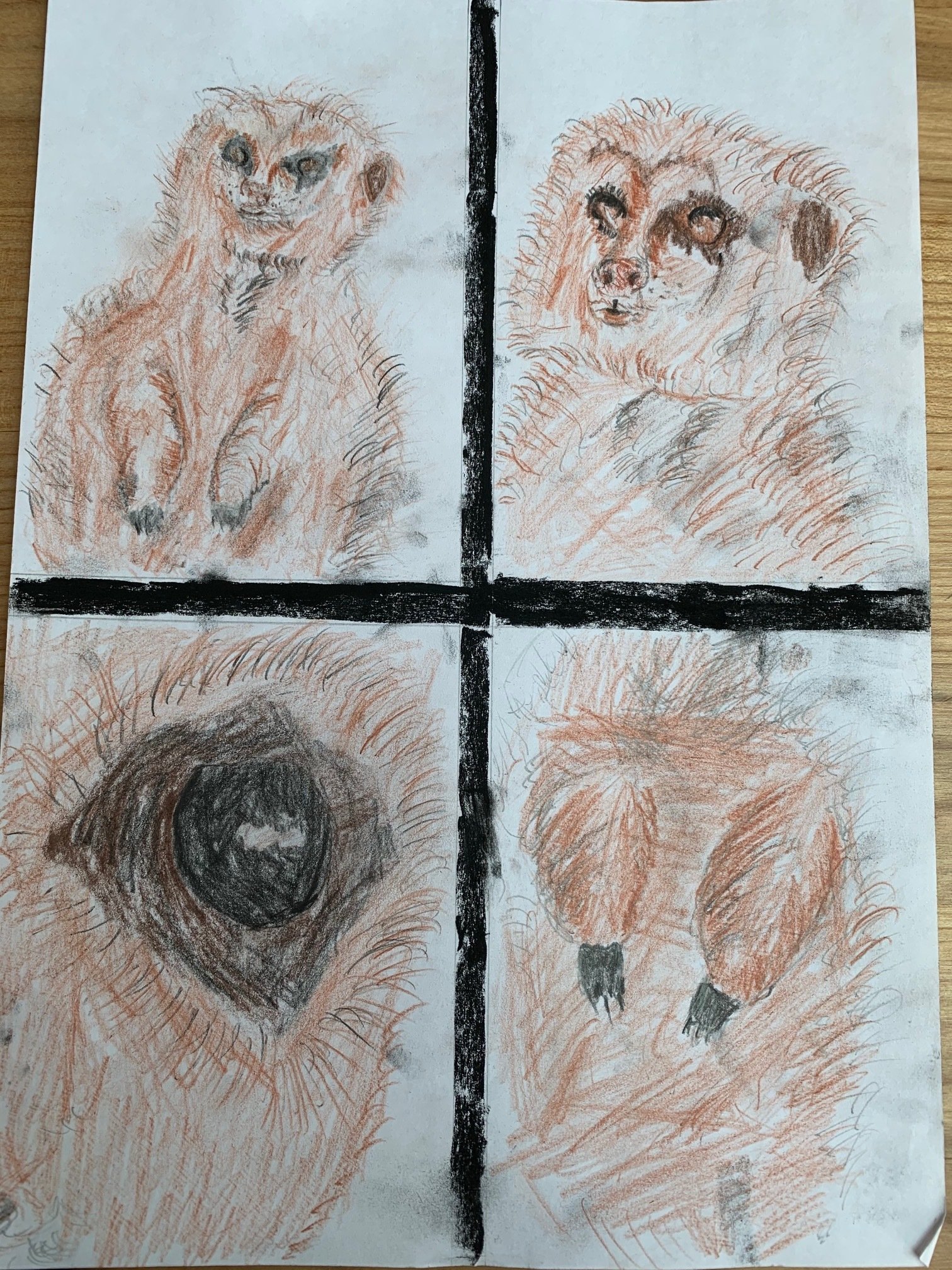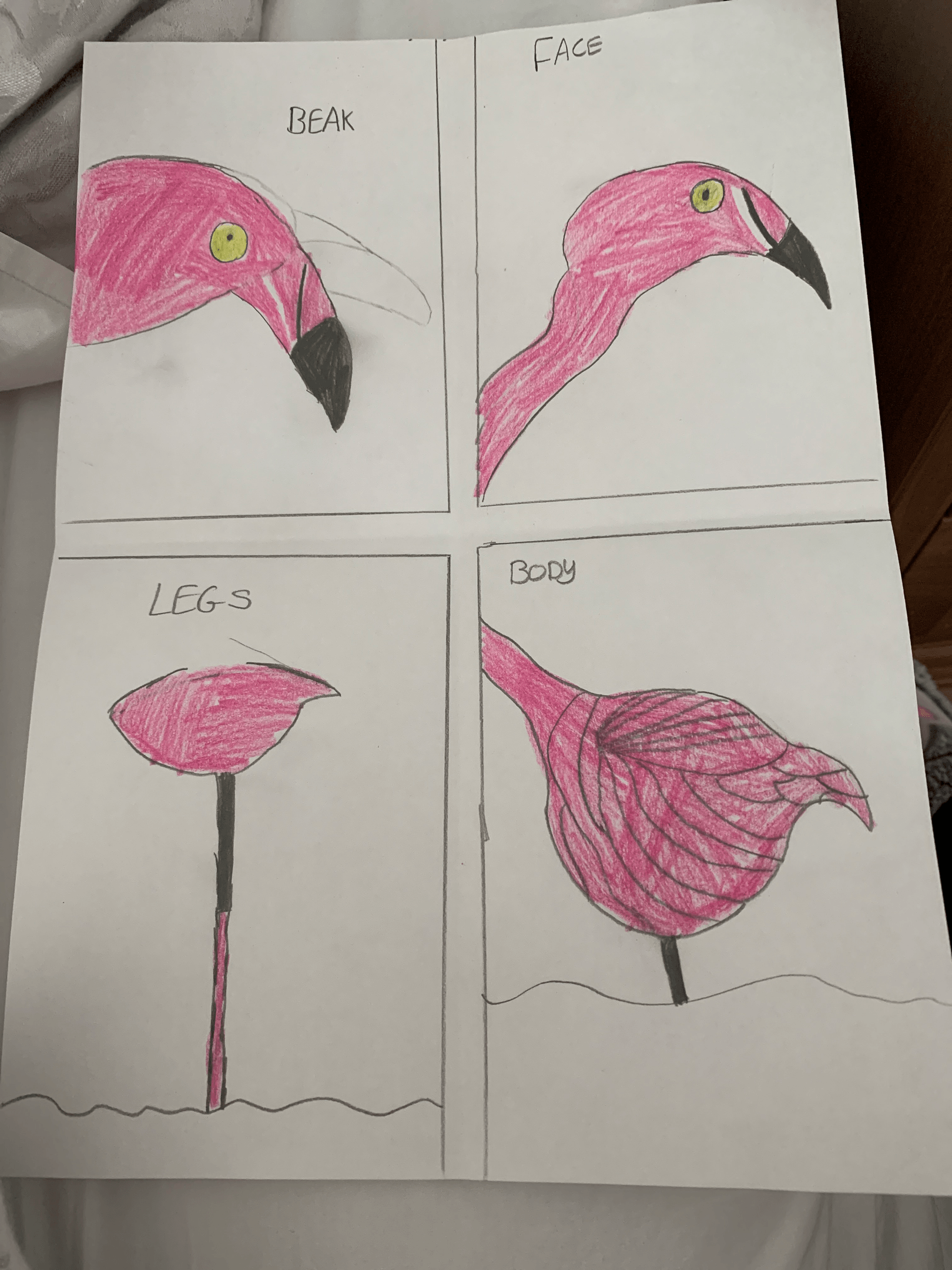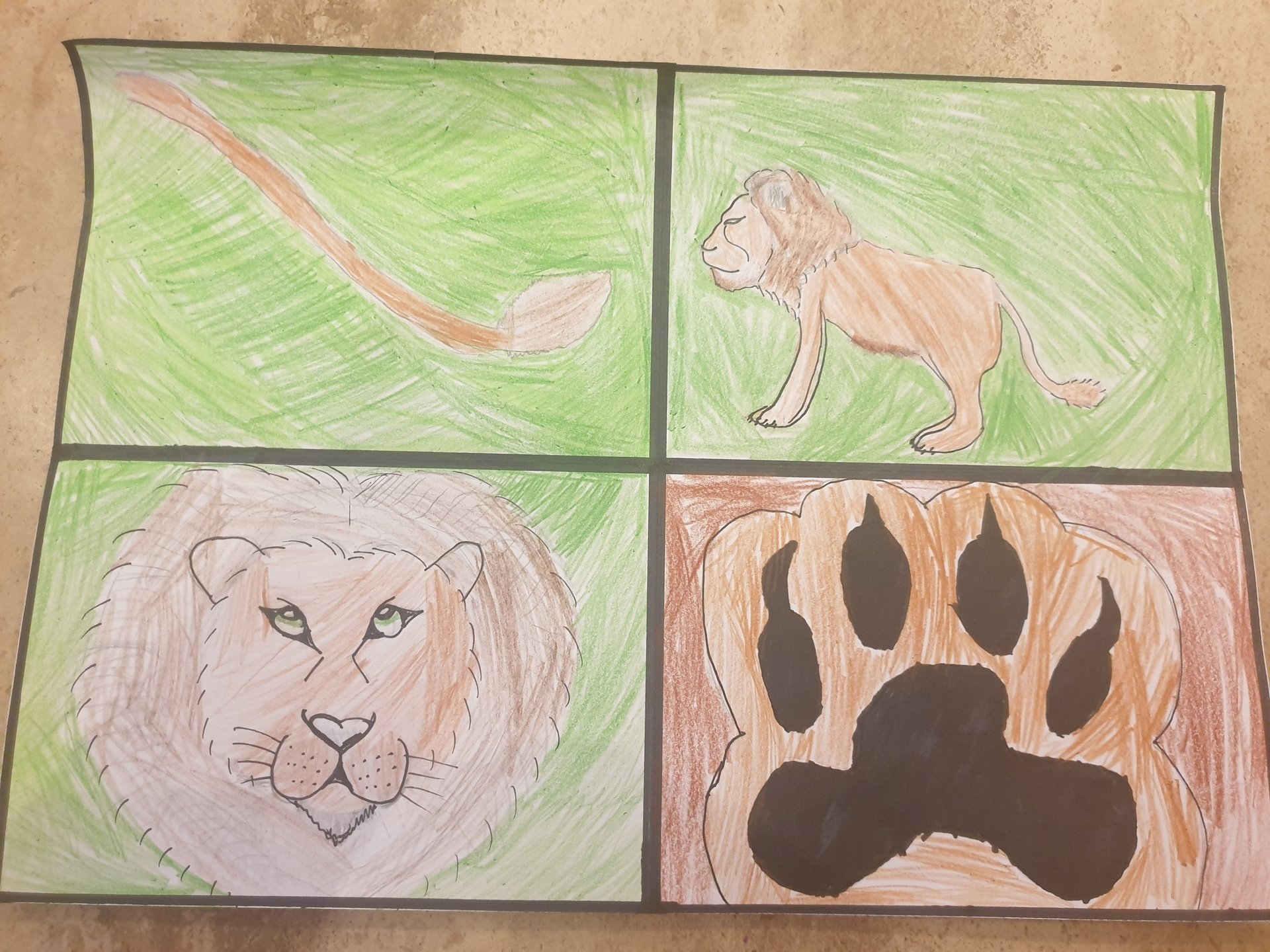 Week beginning 18.05.2020
This week Year 5 have continued their learning about Ancient Egypt, alongside discovering Africa through reading Journey to Jo'burg in reading comprehension. They have continued to study the ways of the Ancient Egyptians, such as learning about the after life and mummies.
In history, the children discovered the mummification process as well as learning why the Ancient Egyptians thought it was necessary to mummify Pharaohs. Along with previous learning about pyramids, the Pharaohs, Tutankhamun and Gods and Goddesses, as well as an interactive Ancient Egypt Now Press Play experience. With determination, Year 5 have produced news reports which unveiled the discovery of the tombs. They worked very hard to include key features of news reports, creating headlines, using facts and including a witness account using speech.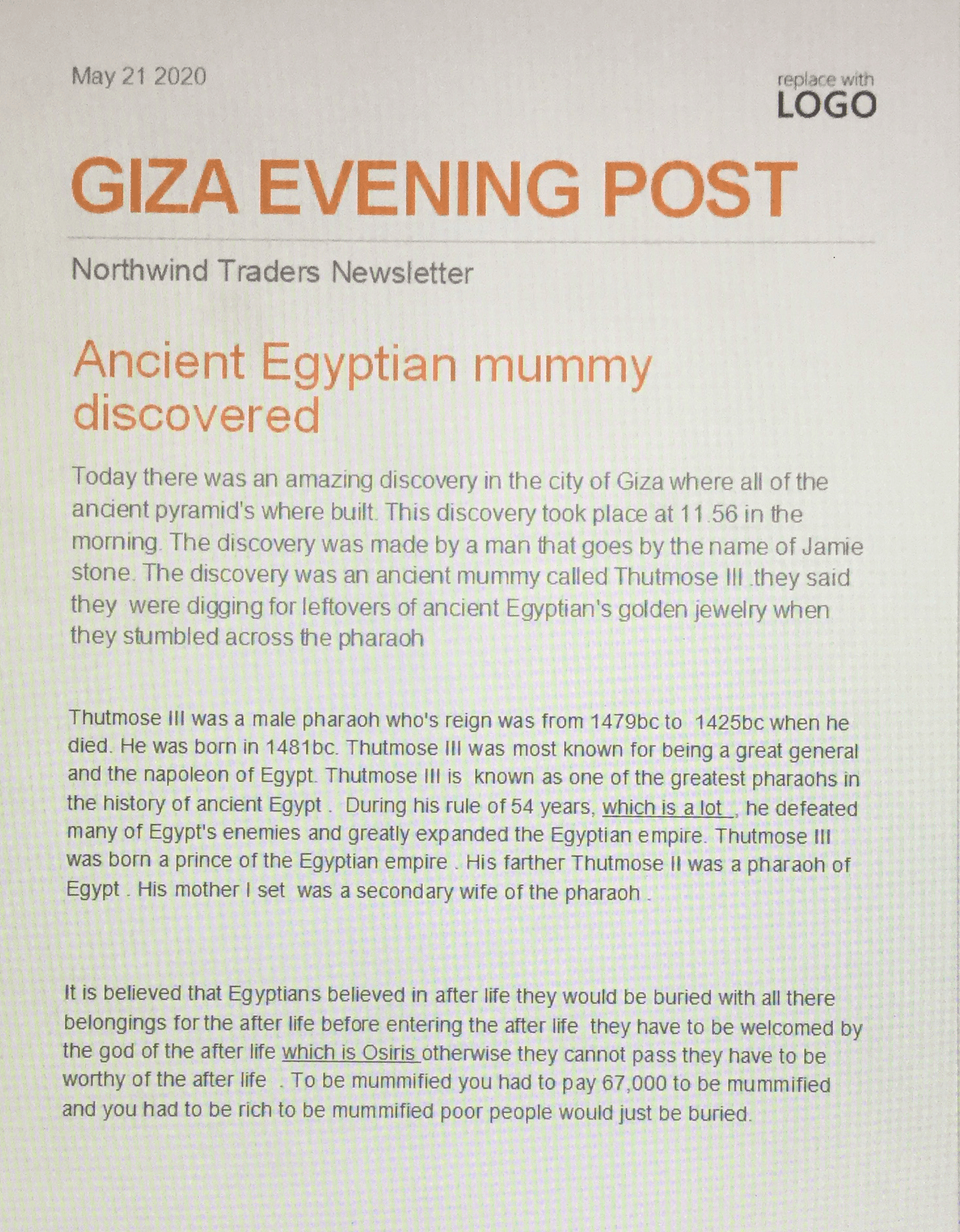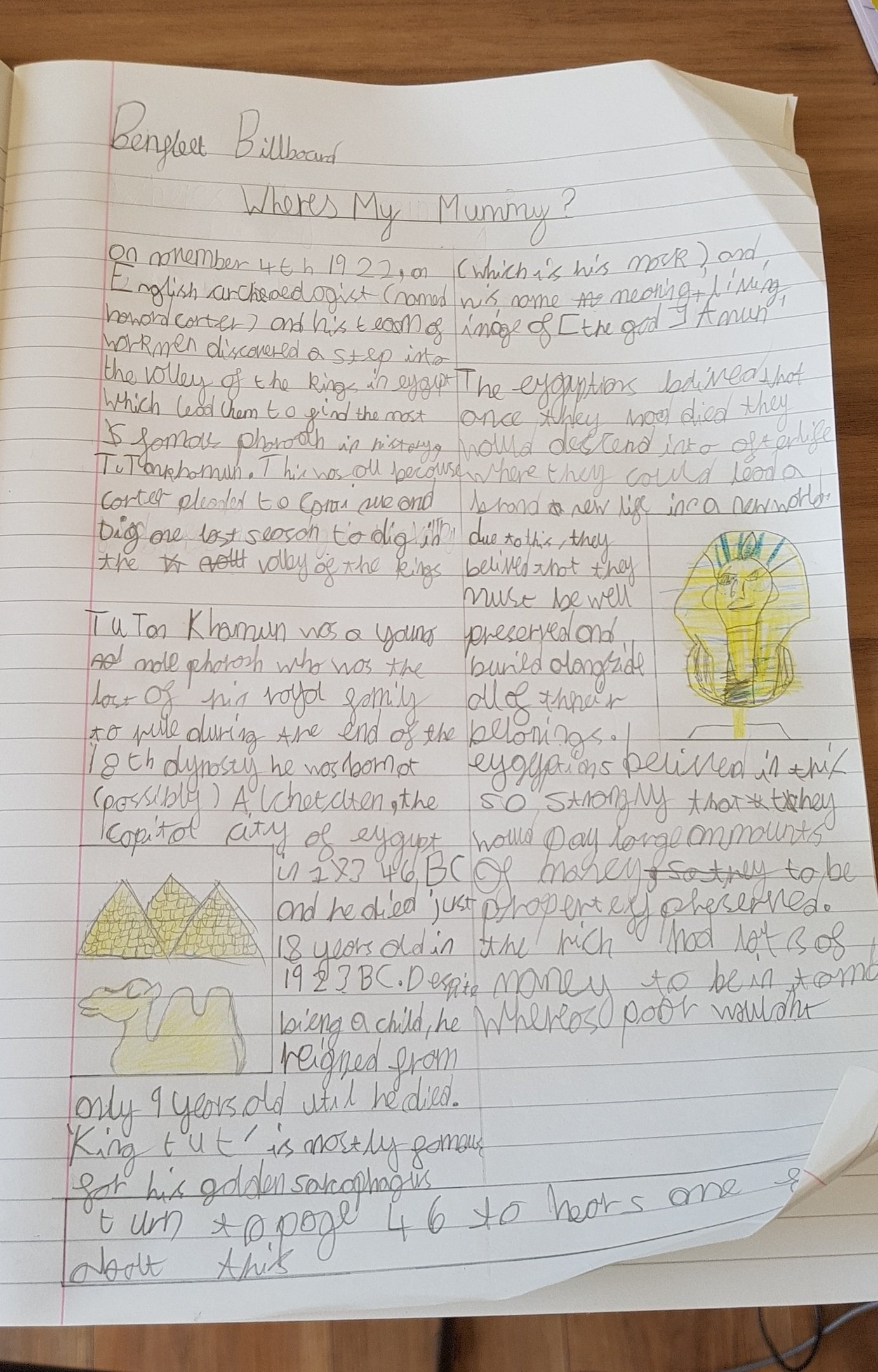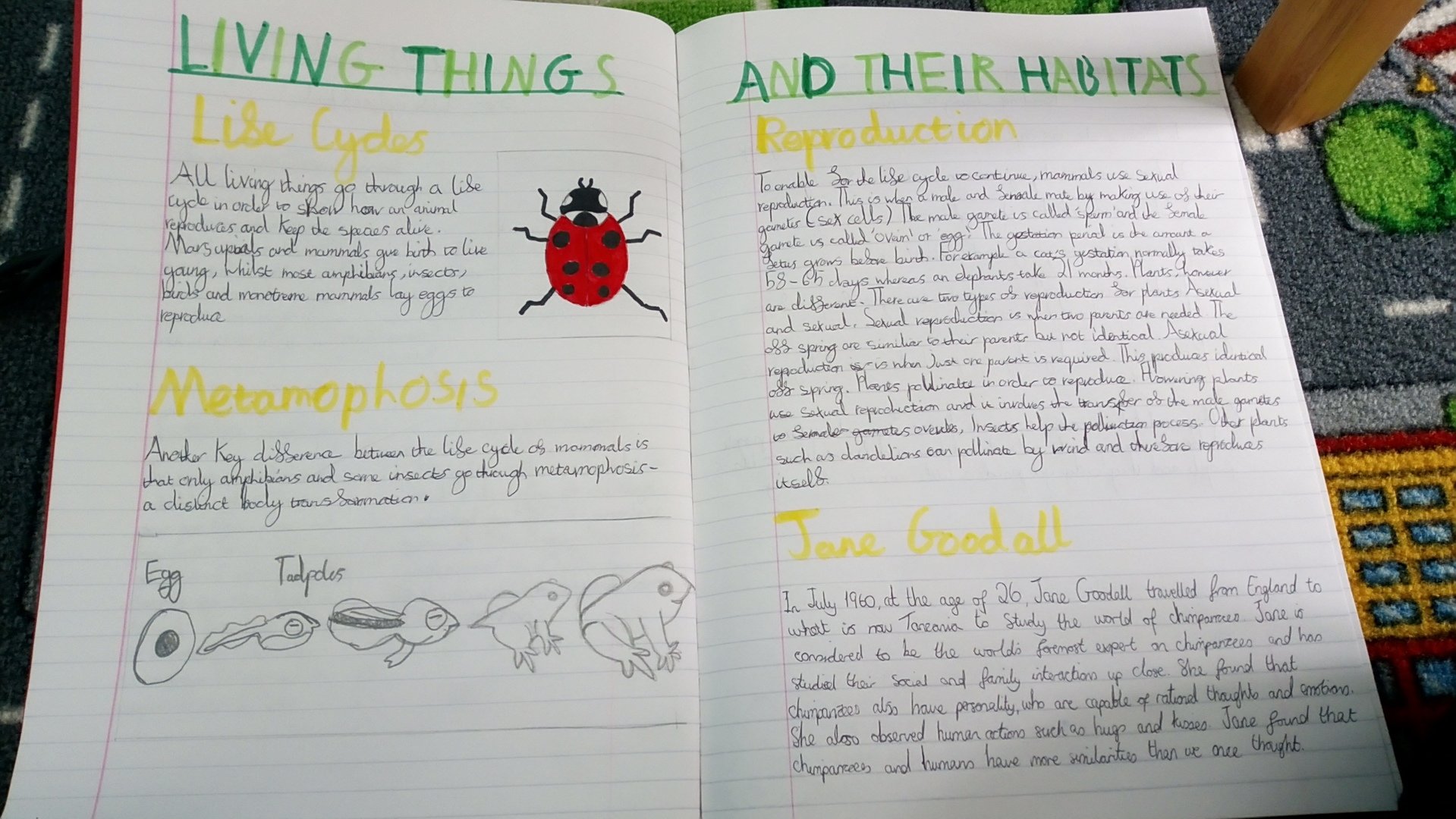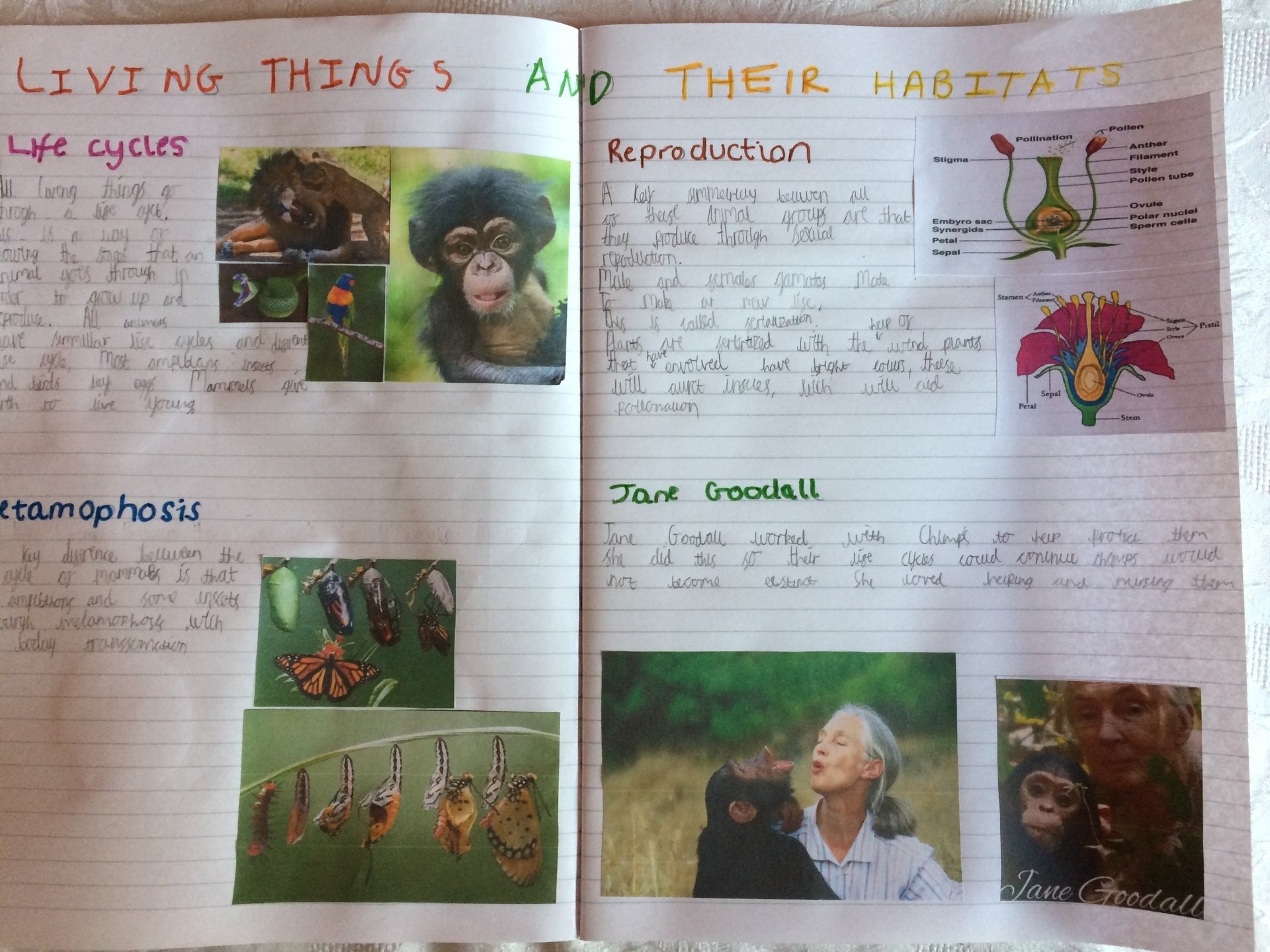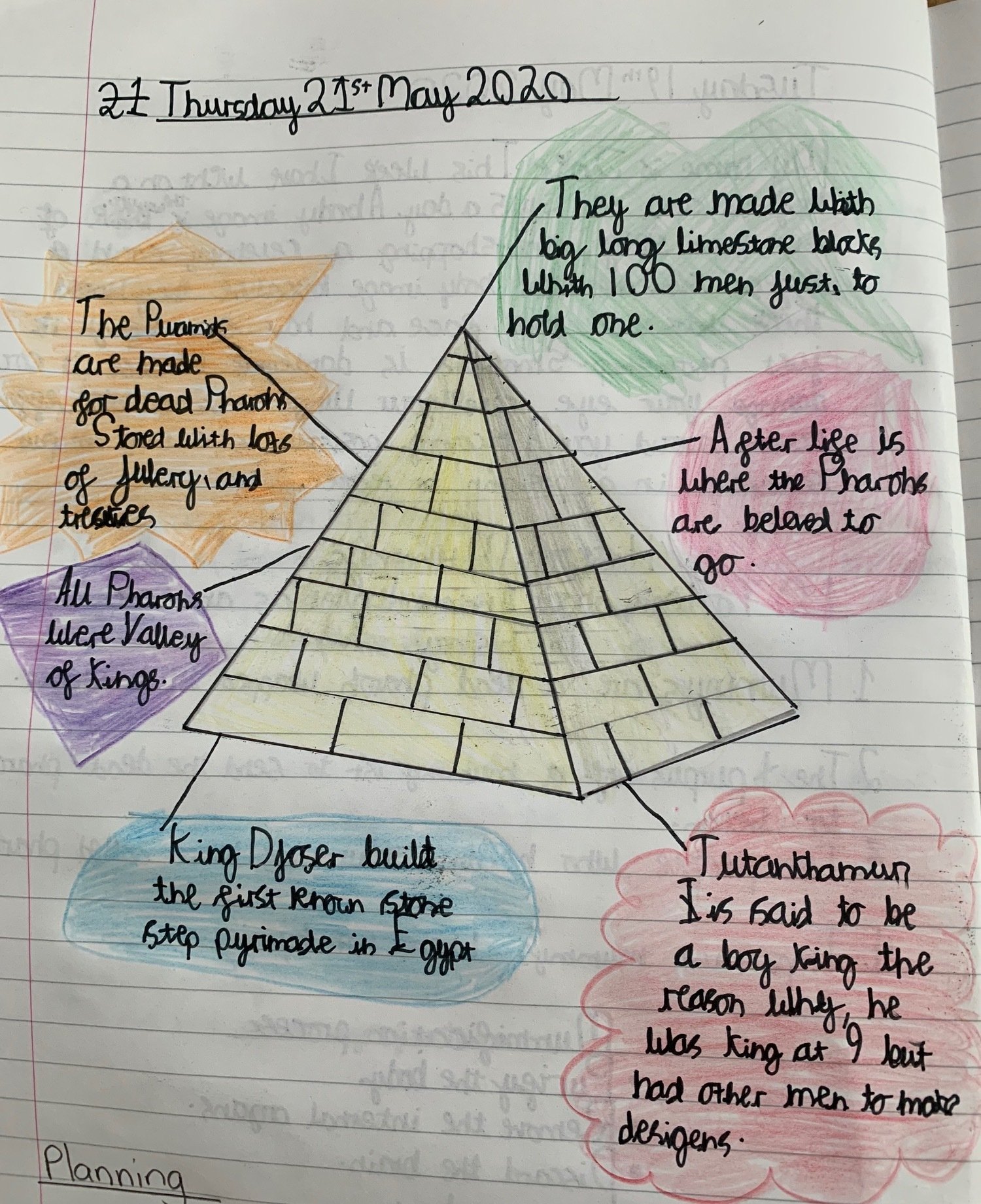 On top of this, the children have continued to study decimals in maths, applying this to real life skills such as dealing with money as well as problem solving tasks. In science, they consolidated all of their learning and compared life cycles of a range of living things, as well as reflecting on Jane Goodall's work. Also, they reflected upon their learning in PSHE incorporating important aspects such as knowing how to act in an emergency including the recovery position and understanding that the media doesn't always show what people truly look like, and not to compare themselves to images in the media.
It has been another week of fantastic efforts from the children and the Year 5 team continue to be proud of their efforts during home learning.
Week beginning 11.05.2020
Year 5 have continued to explore Africa and in particular Ancient Egypt. They have learnt about Pharaohs and the history of the rulers of Ancient Egypt. Some fantastic creative 3D timelines were created to show understanding of chronology in an interesting way, as well as practise art skills. Following on from their exploration of Ancient Egypt, they delved further into the history of pyramids and Pharaohs by learning about Tutankhamun and conducted research to create informative fact files. In Geography, the children learned about rivers and why the Egyptians settled by the River Nile many thousands of years ago. They were able to explain why the Egyptians may have chosen to settle near the floodplains of the River Nile and used this to survive, in a country that has a lot of desert. After all of the above learning about Egyptians, it only seemed right to learn how to 'walk like an Egyptian' in PE. There was lots of laughter and fun had in learning these routines, requiring focus and rhythm.
On top of all this, Year 5 also created artistic masterpieces inspired by Tanzanian artist, Edward Tinga Tinga. Tinga Tinga style has a unique approach to art and allowed the children to consider how different mediums can achieve artistic effect. In cross-curricular maths, their knowledge of the world expanded beyond Africa when merging scientific understanding of Space and maths, to learn and solve problems about time zones.
It has been a brilliant week along with our second successful class assemblies and we look forward to exploring Africa again next week.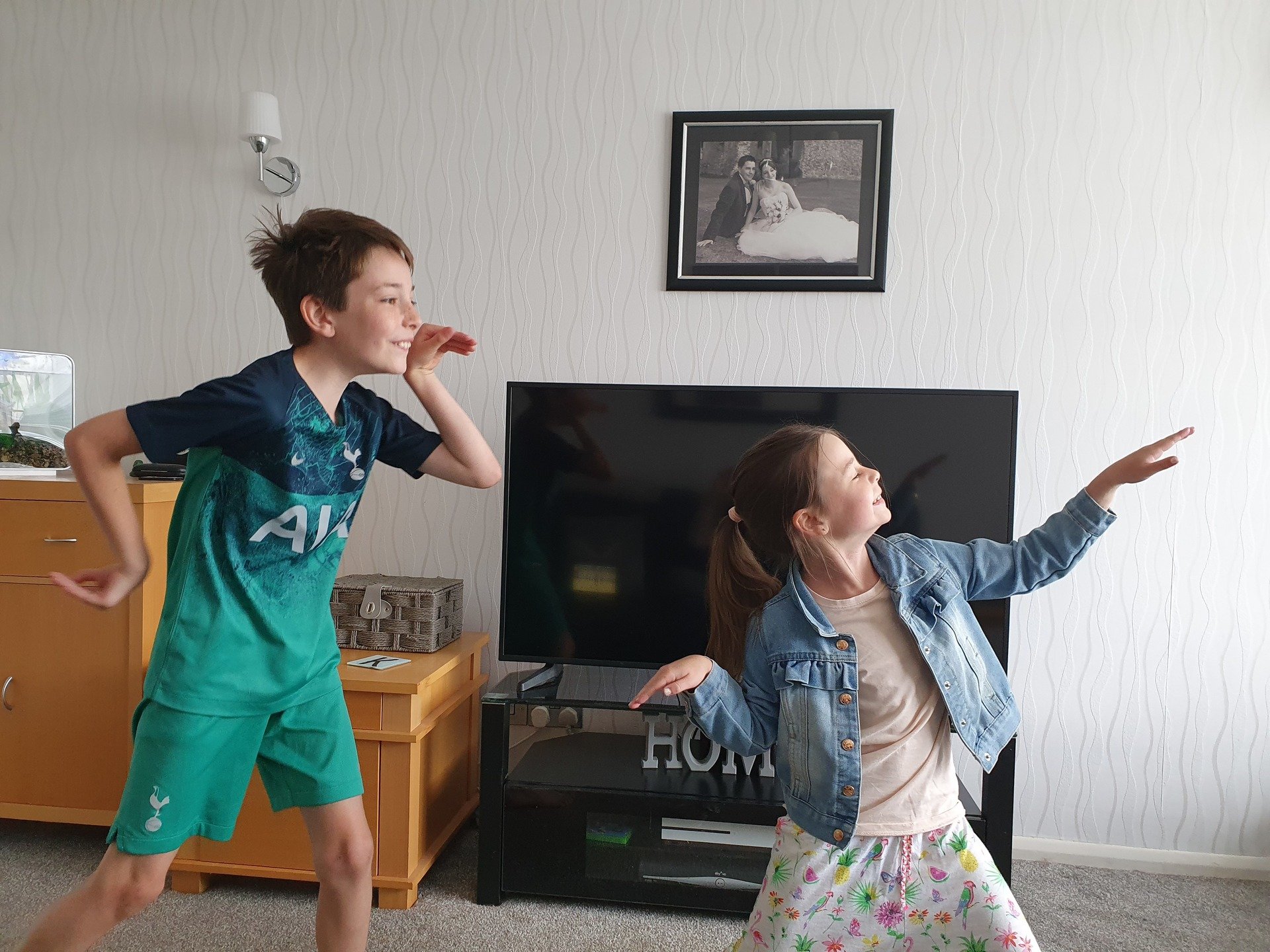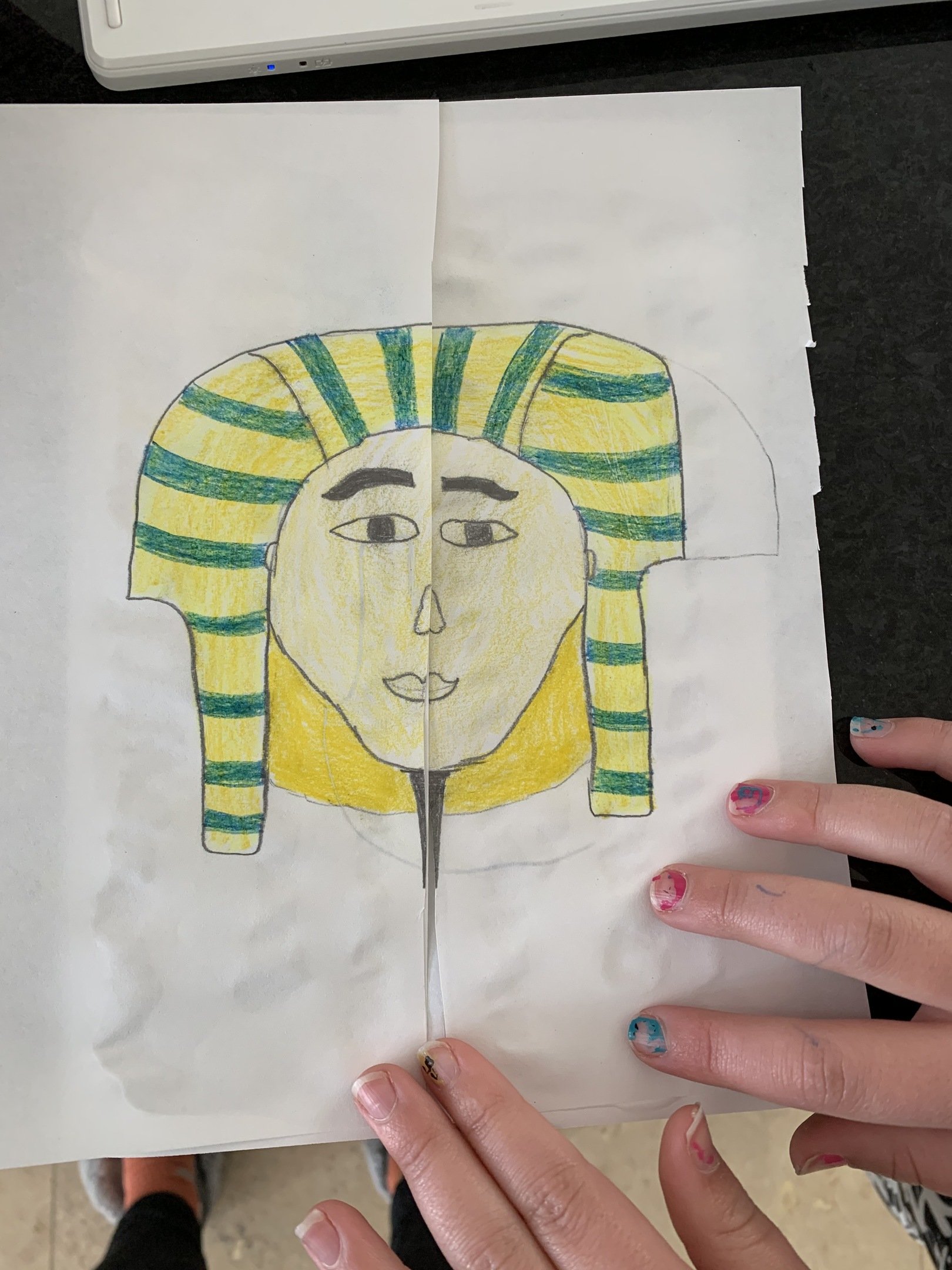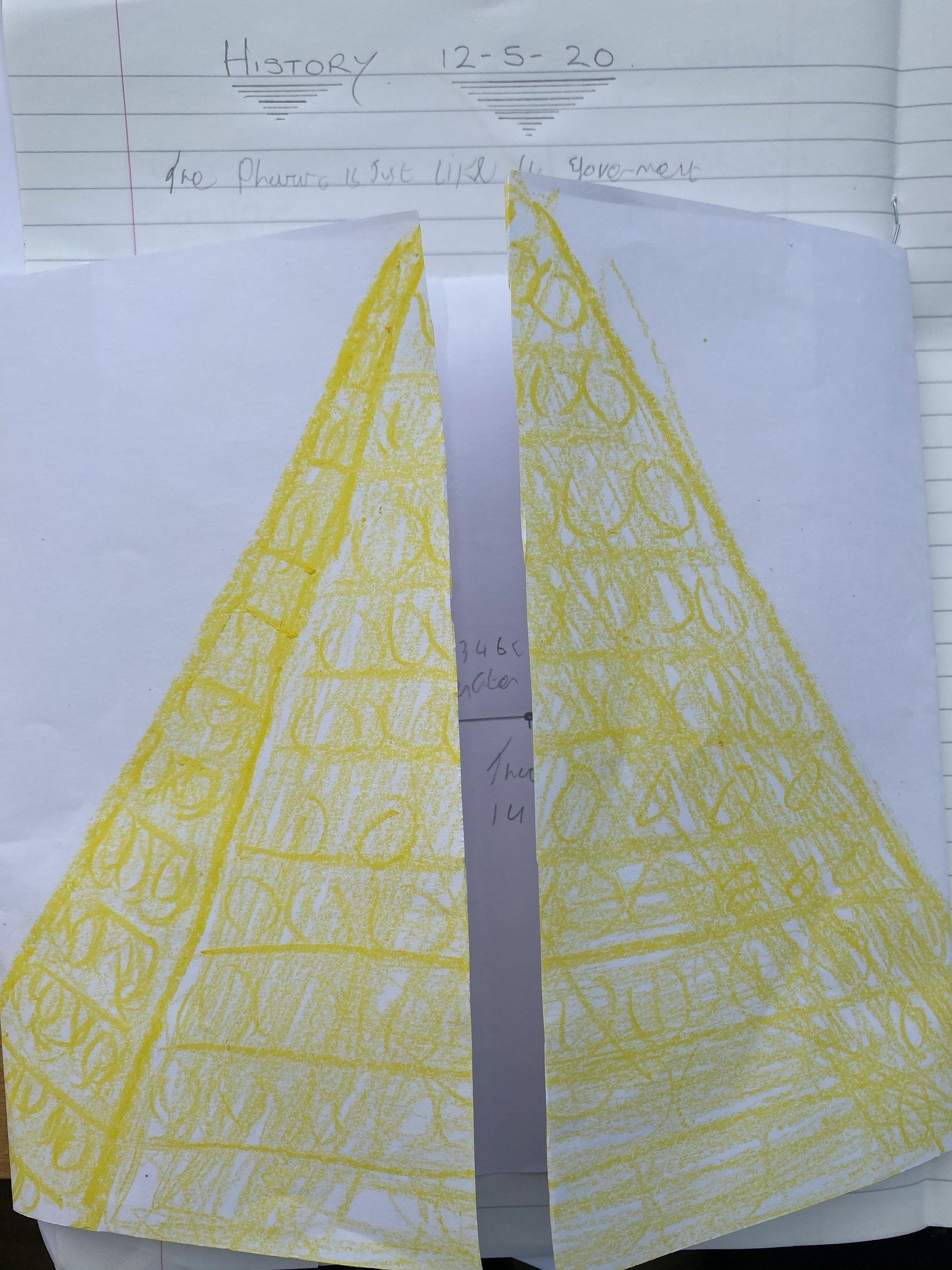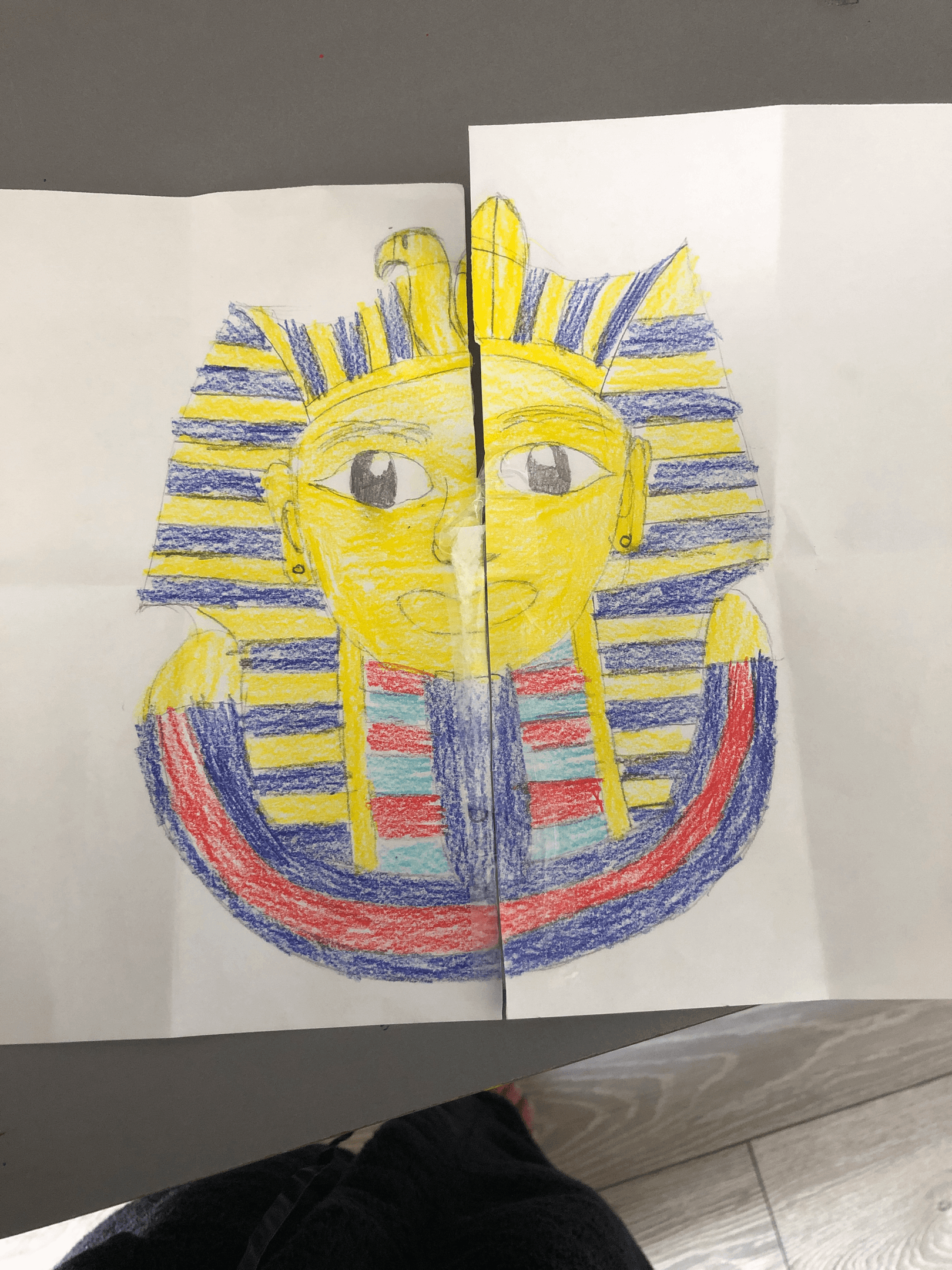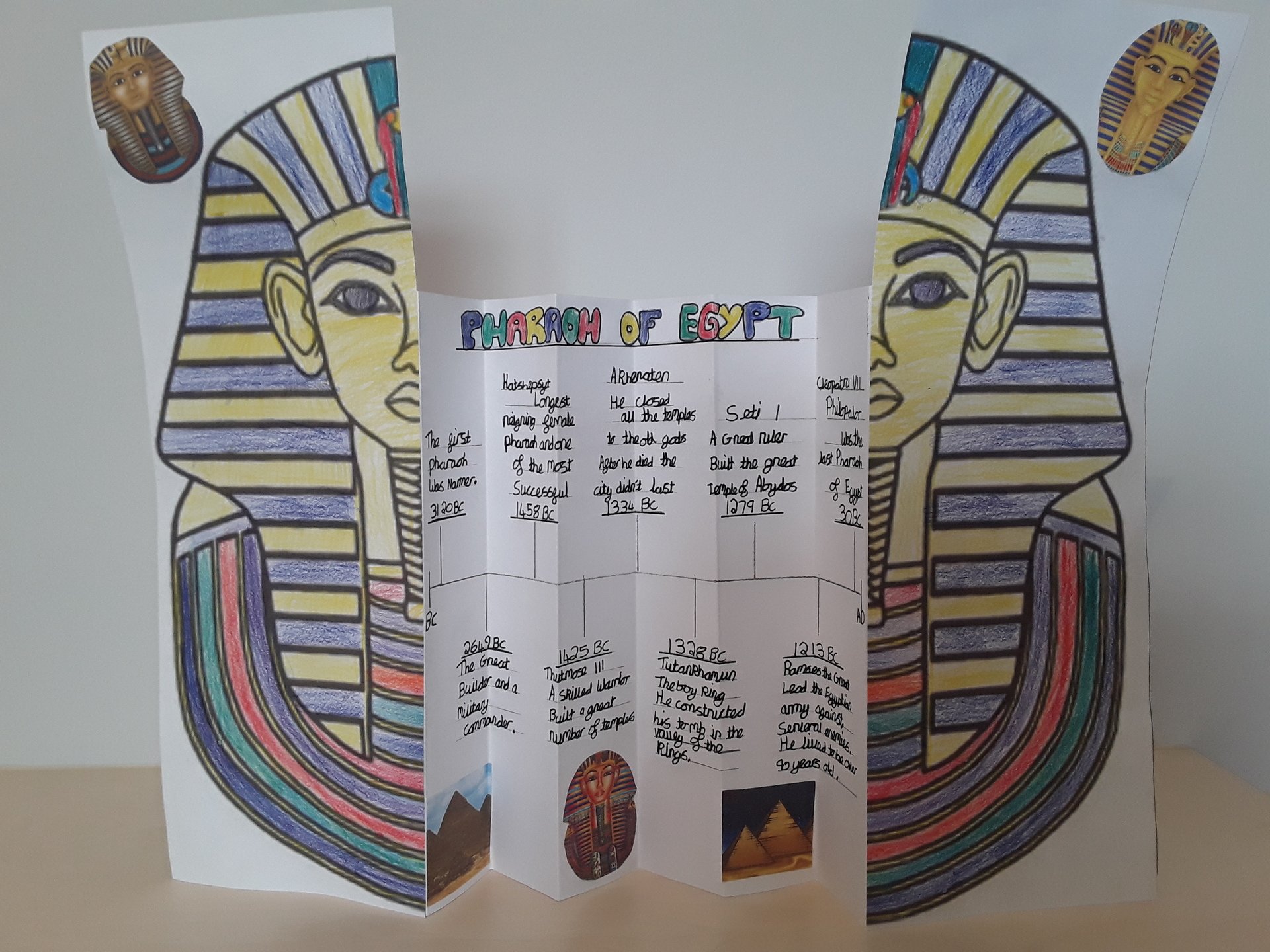 Week beginning 04.05.2020
This week Year 5 have continued to explore Africa. In geography, the children have learnt about the different types of biomes around the globe. This knowledge was aided by their understanding of climate, and how physical geography is a part of a biome too. They learned that the different types of biomes include: forest, desert, grassland, rainforest, aquatic and tundra. Afterwards, the children explored the world using an interactive map and discovered which biomes covered which countries, finding out that Africa is made up of a number of different biomes – including rainforest.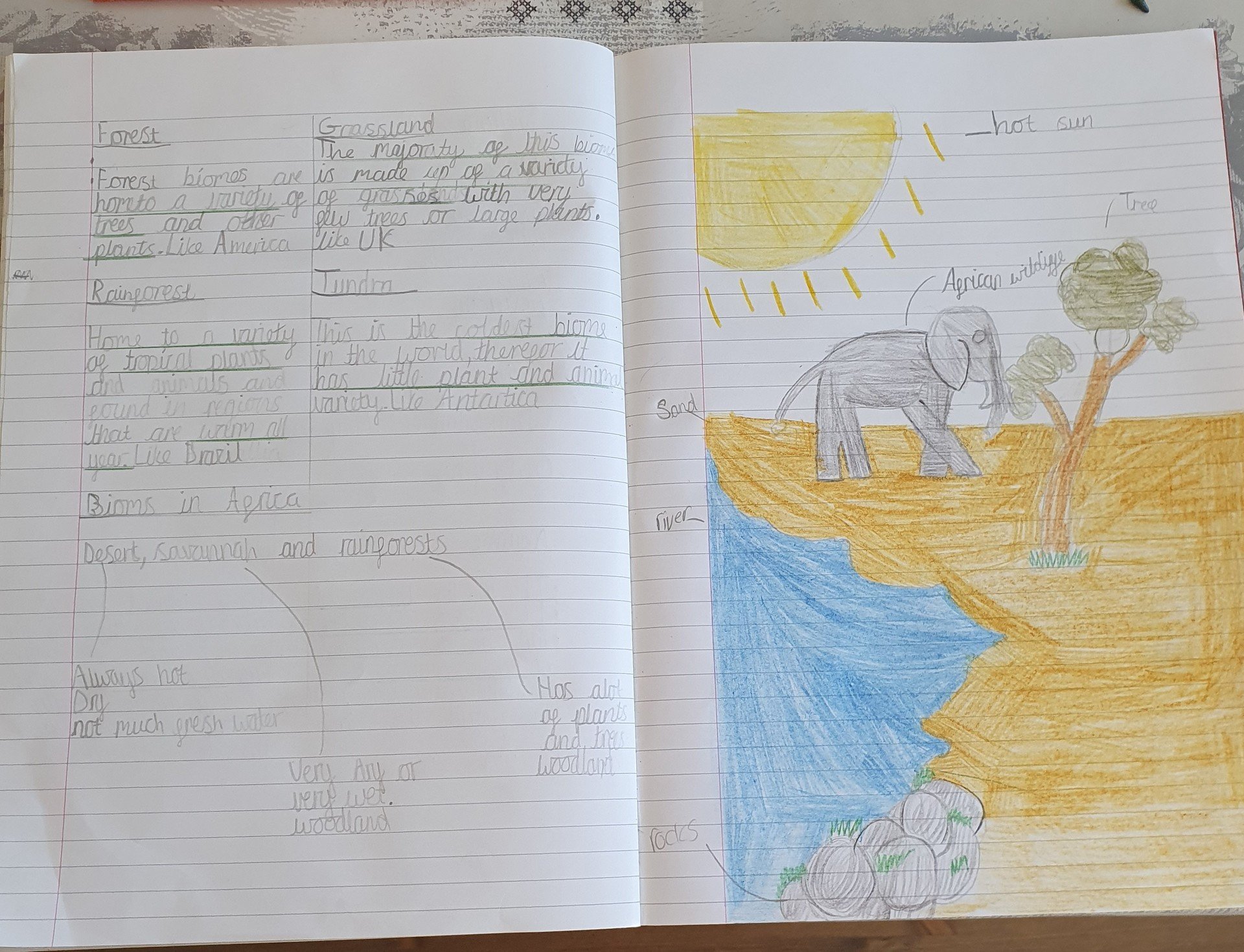 In addition, they begun to explore the history of Ancient Egypt in history, developing their understanding of chronology B.C on a timeline depicting key points in Egyptian history.
As well as this, Year 5 continued exploring South Africa through Journey to Jo'burg, as well as learning important skills such as the recovery position and how to respond to emergencies in PSHE and understanding percentages in maths (a skill often used in sale shopping!).
The school also hosted its first online assemblies, which the Year 5 teachers really enjoyed. It was great to see so many faces and the count down to the next one is on!
Lastly and very importantly, the children also learnt about VE day, an important celebration of British history, which is celebrated on our whole school blog. Please take a look!
https://www.kentshilljuniorschool.co.uk/our-school/school-curriculum/whole-school-blog
Week beginning 27.04.2020
This week Year 5 have furthered their learning about Africa whilst studying a range of the curriculum. A really interesting part of their learning was appreciating amazing African art. The children learnt about different artists and their styles such as: Ndebele, Ongere and Tinga Tinga. Following their appraisal of the artists' work, they created their own presentational pieces, depicting lots of information about African art, as well as creating their own pieces. Some photos of wonderful creations showing artistic flare were sent into us and we were so pleased with the children's work. In addition to this, Year 5 have continued to read 'Journey to Jo'burg' and used this to inspire their writing. In their writing to entertain pieces, the children descriptively wrote narratives, telling the story of Naledi and Tiro. Alongside this, the children have worked really hard in maths, applying knowledge of rounding and ordering to decimals, as well as learning about living things, such as plants, in science. Some children even planted new plants using cuttings from other living things! On top of all of this, the children furthered their contextual knowledge of the story of Passover (studied in RE) by plotting the journey across Egypt, which involved using geographical skills including learning physical and human features. As always, it has been a joy to teach the children such a range of interesting lessons and the Year 5 team are really enjoying seeing photos of work, so please continue to send them in.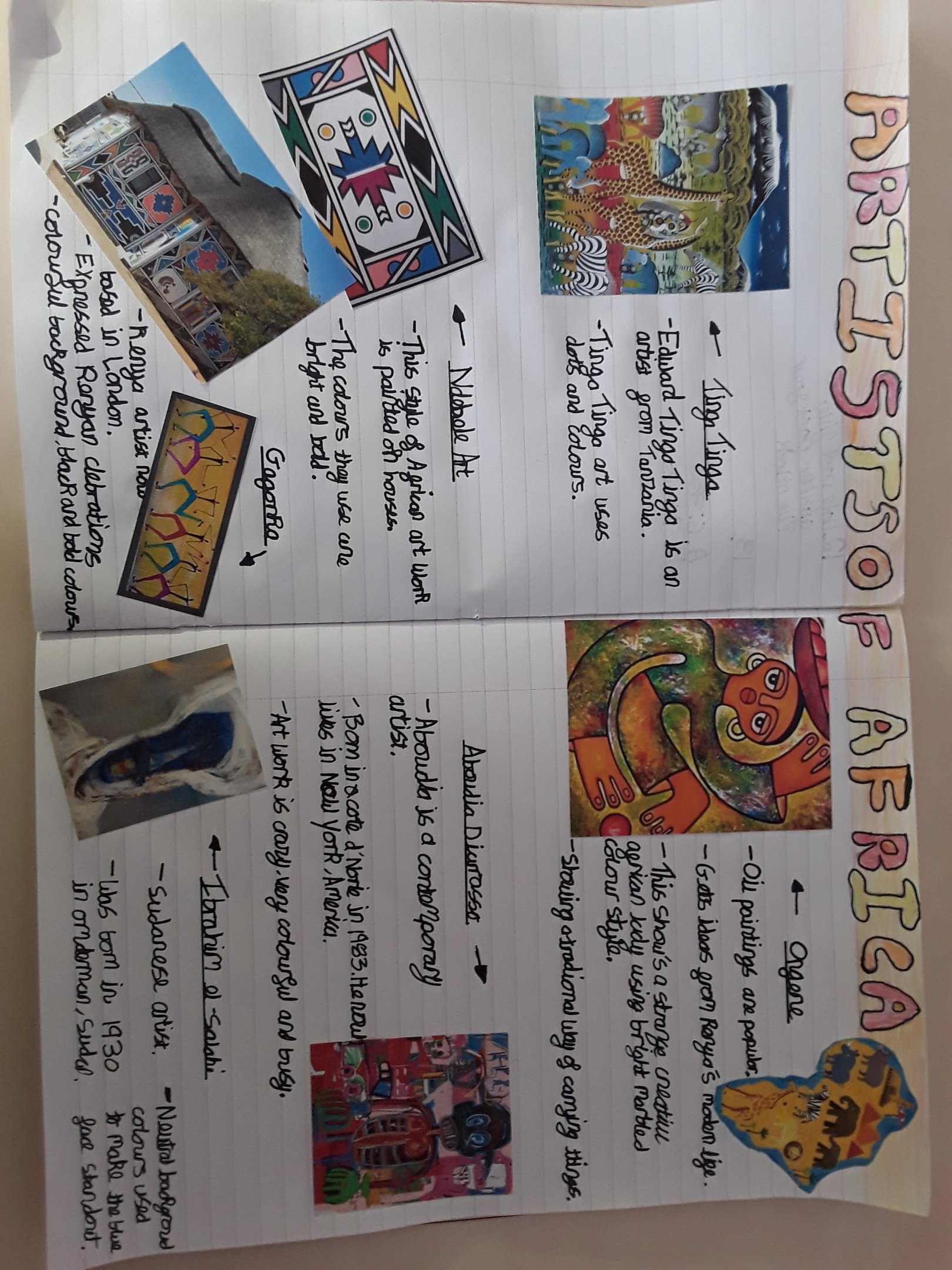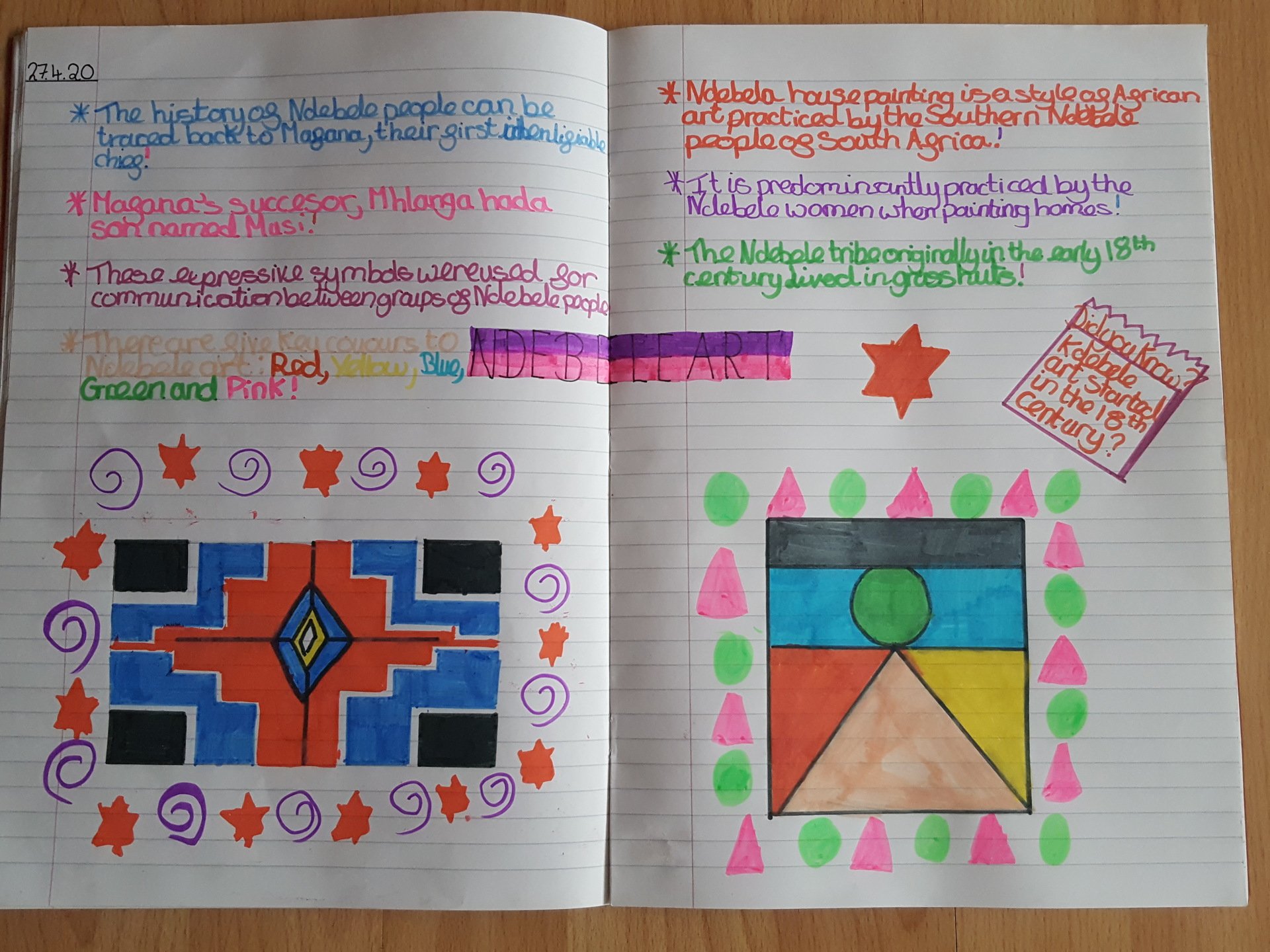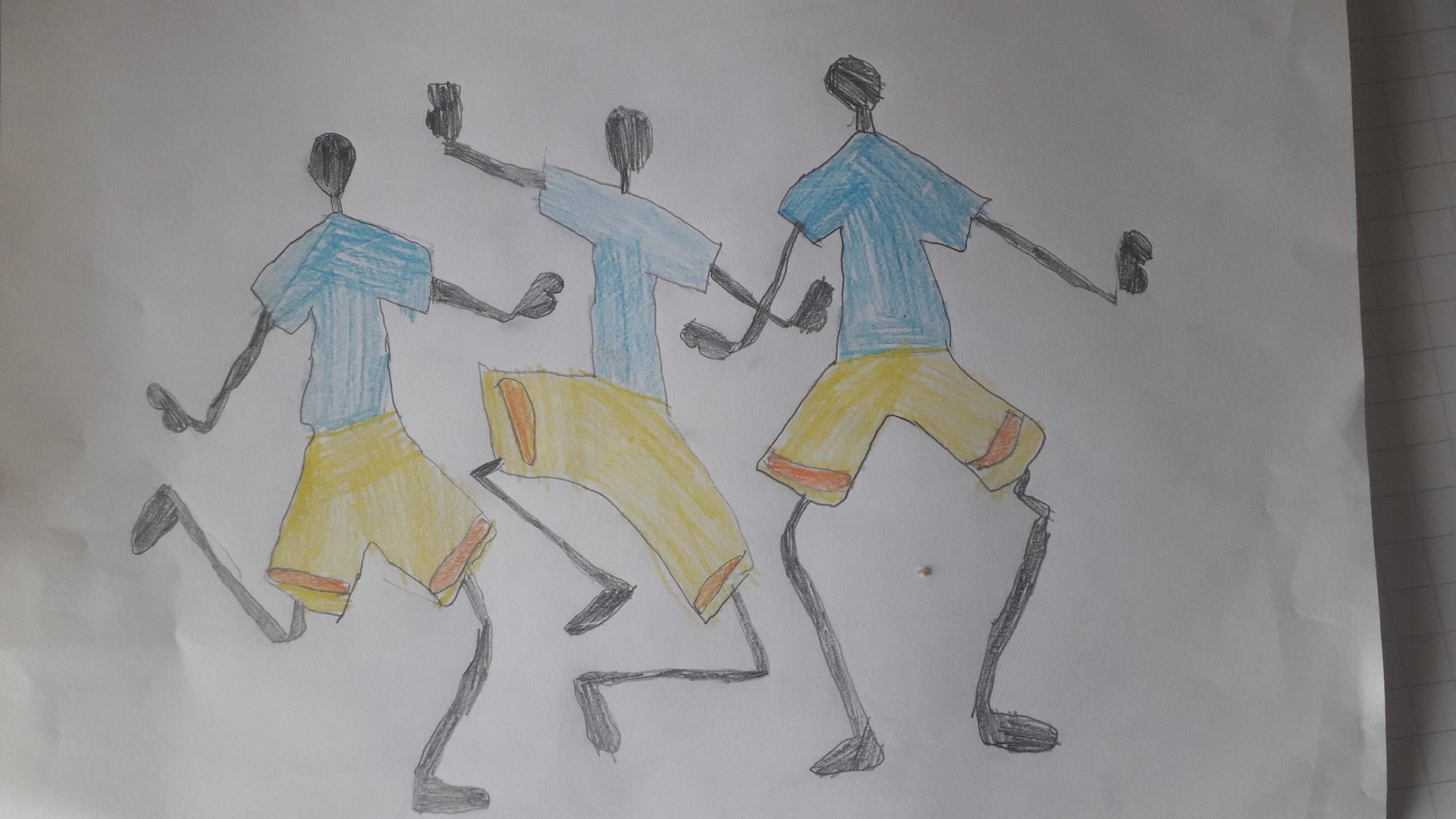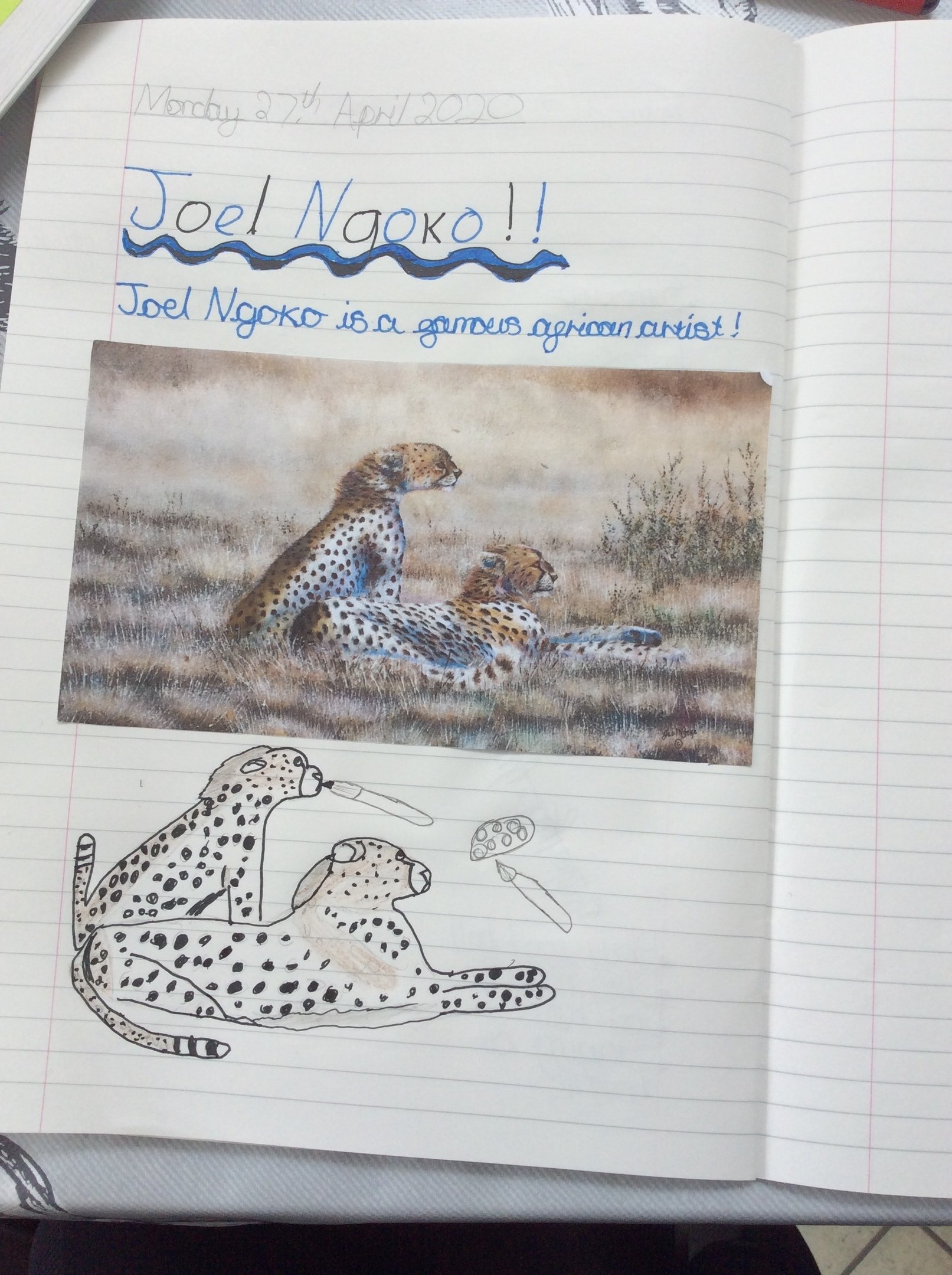 Week beginning 20.04.2020
During the first week back of home learning, Year 5 have stepped into Africa, as their topic for the summer term. On Monday, the children had their hook day (as they would usually) where they began to explore Africa. This involved a range of activities such as: creating fabulous mind maps encouraging them to share what they know already and what questions they have about Africa, a quiz, studying traditional music of Africa and learned the lyrics to Jambo (a greeting in Swahili), African dances and improvised their own African drumming! Following on from this, they've continued to explore Africa in topic lessons through geography, which involved researching physical features such as the majestic Victoria Falls, the humongous River Nile and the vast Sahara Desert. In addition, they have begun exploring South Africa through reading Beverley Naidoo's 'Journey to Jo'burg', which links to apartheid. They've even explored some African animals in a maths lesson based on a trip to the zoo where they solved problems involving time and timetables. It has been a great week and start to the summer term!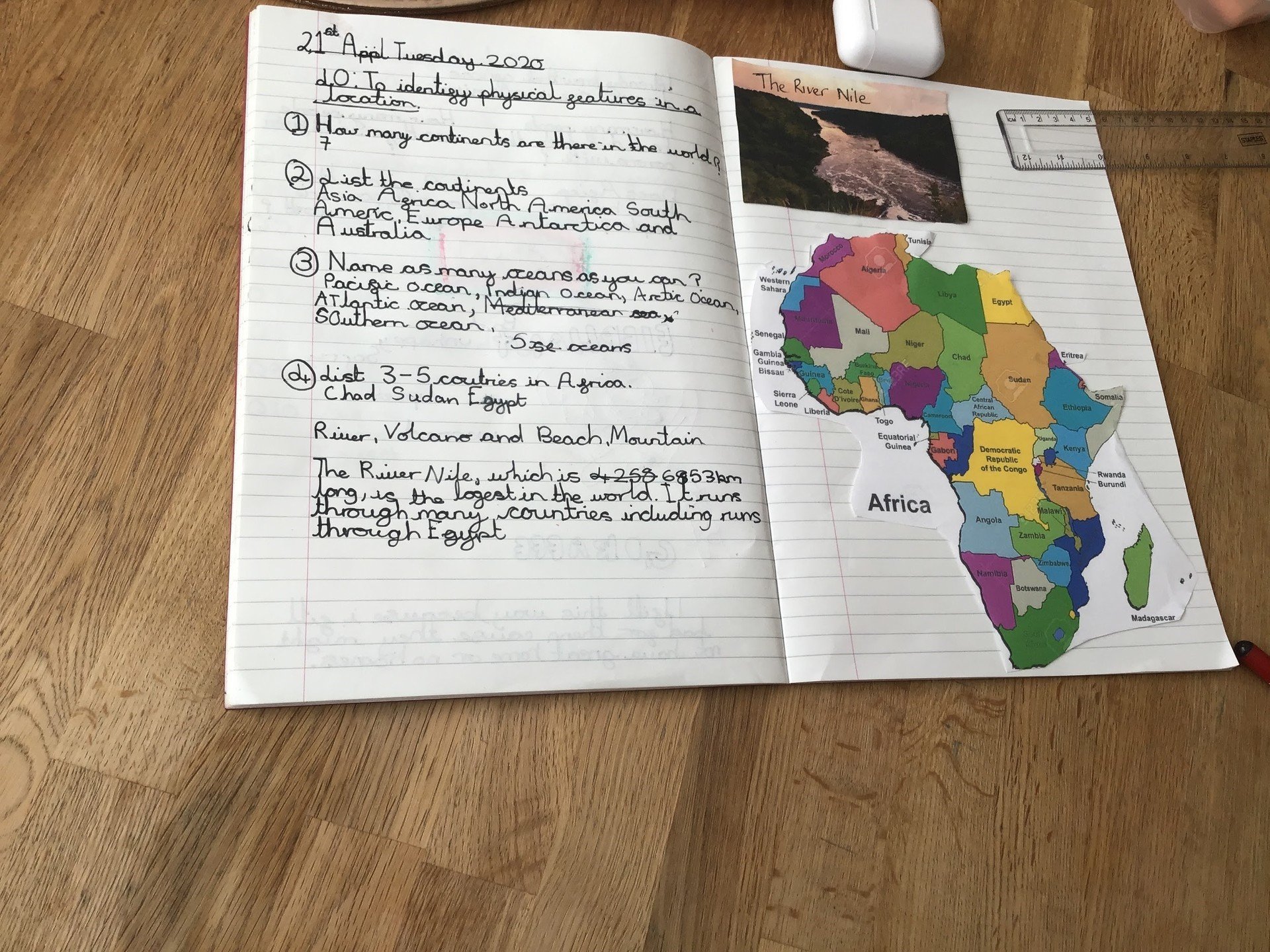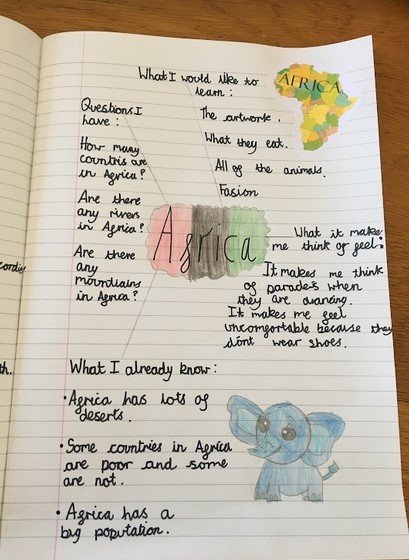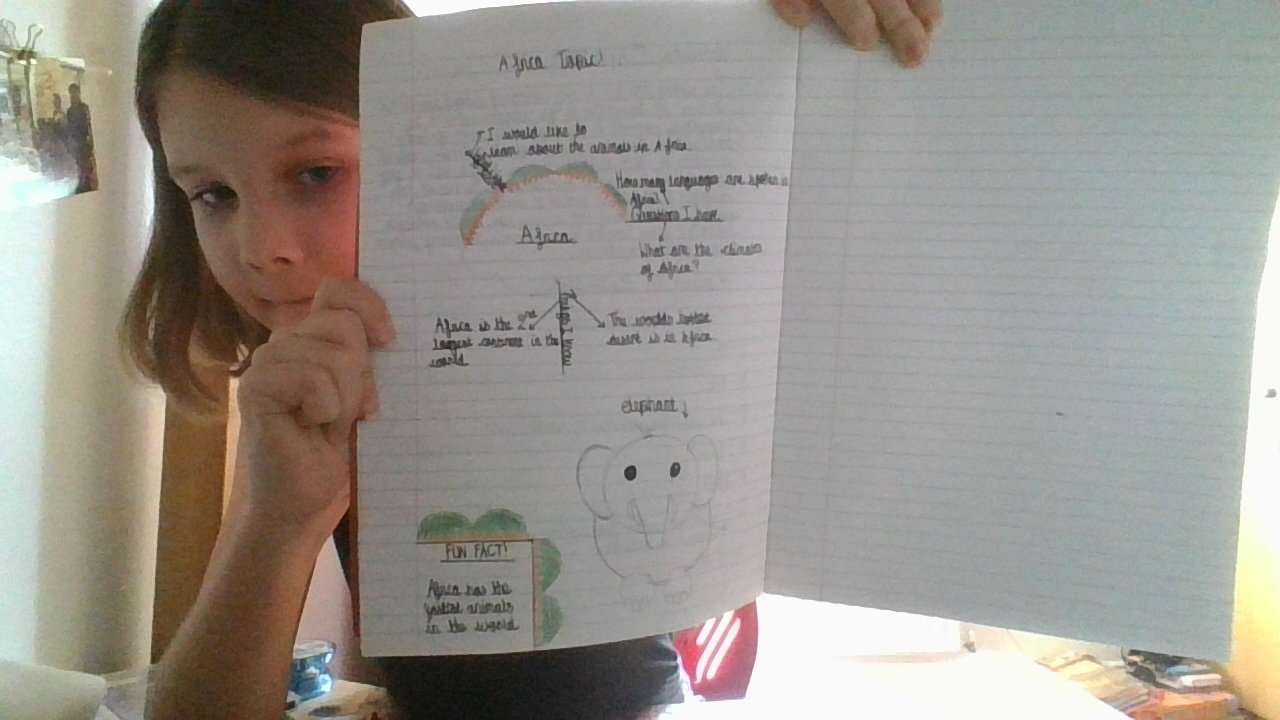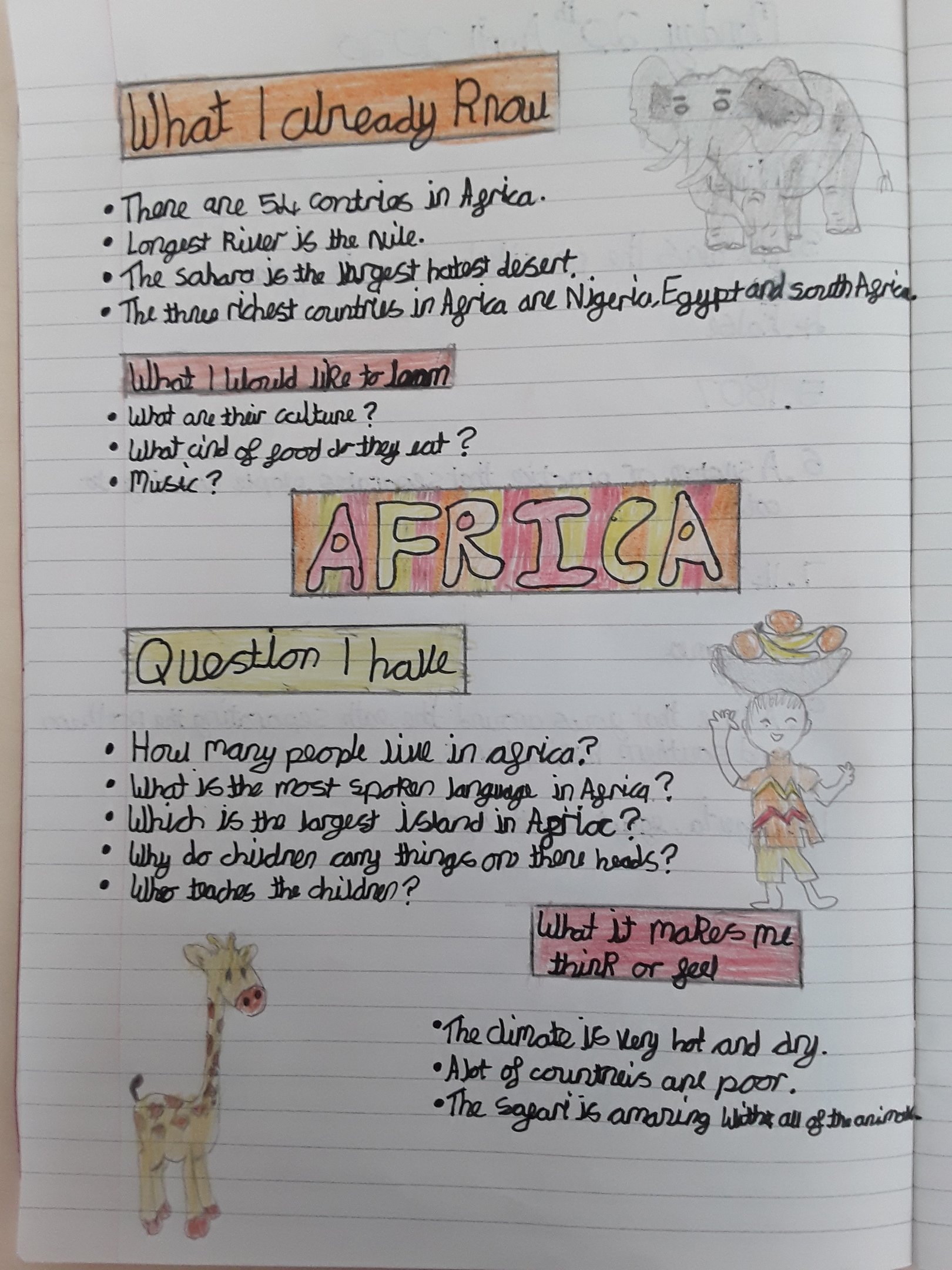 Week beginning 30.03.2020
Year 5 have now come to the end of Business and Enterprise and leave the spring term with a more worldly knowledge of business in addition to many transferrable skills too. Over the term, they have learned about; a range of jobs and careers due to visits from professionals as well as research opportunities (linking to the PSHE unit of Dreams and Goals), designed and produced their own logos and decorated cakes based on their designs across art and food technology in DT, appraised music and discussed how a catchy beat can sell and make money, as well as using programming to create their own jingles in music and computing.
On top of this, other purposeful skills/learning include; learning about trade and how supporting the Fair Trade Foundation can have a positive impact on many people around the world, how to convert currencies and solve maths problems in order for a business to operate overseas which was then applied to familiar entrepreneurs such as the author David Walliams (who they also wrote a biography about), using atlases to locate countries that use child labour as well as countries which are part of the Fair Trade movement today, consequently developing their geographic understanding of the world. Alongside this, they produced wonderful replicas of Van Gogh's 'A Starry Night', compared their lives to children of Victorian times who were used as child labourers whilst reading Oliver Twist, produced CV's which can be used in the future, and learnt about properties of materials through conducting experiments in science.
This week, Year 5 completed their second week of home learning with determination and independence. They moved from fractions onto decimals in maths, applying all learning to a range of questions, reviewed the genre of Old School Hip Hop and had the opportunity to learn the 'Fresh Prince of Bel Air' in music, as well as developing programming skills on Scratch (which are celebrated in the pictures).
Enjoy the break from school and have a restful couple of weeks, until we can greet you with 'Jambo!' in our next topic.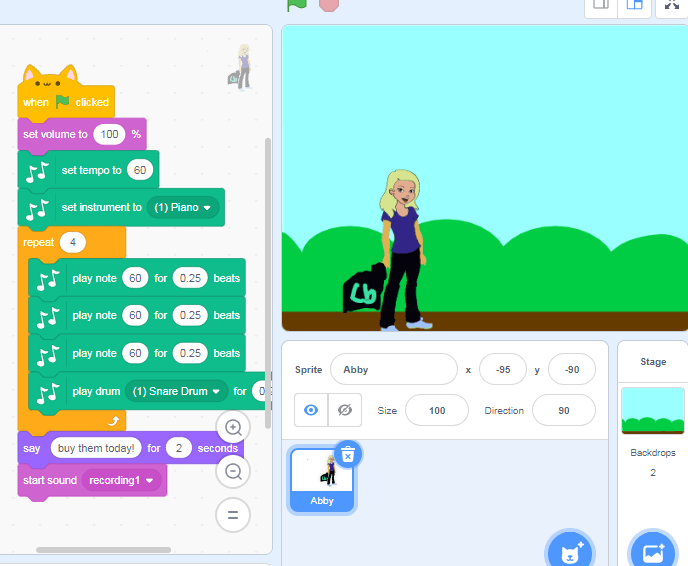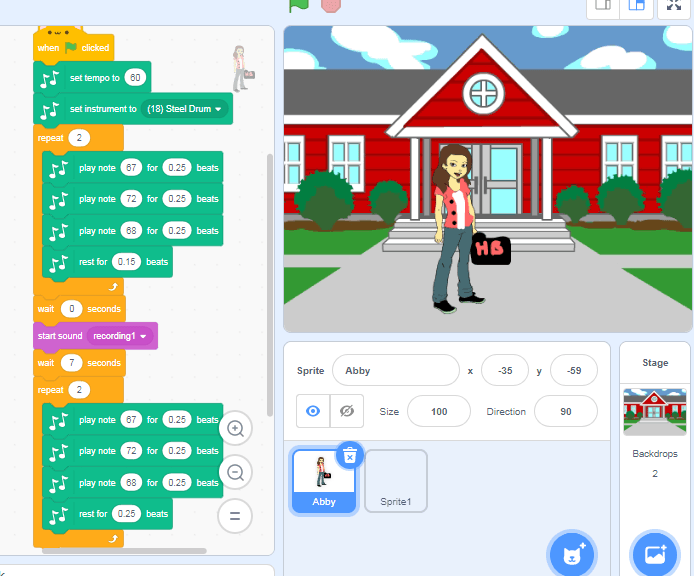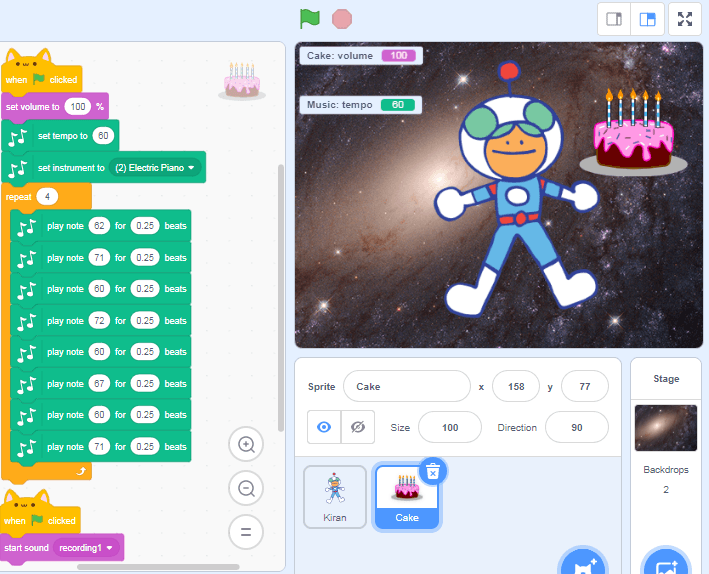 Week beginning 23.03.2020
This week has entailed a completely new way of learning, and with that some new experiences. The Year 5 teachers are proud of all of the children at Kents Hill Junior School that are continuing to work hard from home, but especially of Year 5. Some fantastic displays of independence and perseverance have been shown across many different lessons.
The children were set tasks such as: becoming global citizens by exploring the celebration 'Passover' whilst learning about Judaism in RE, finding fractions of amounts in maths and then applying this to a game of Deal or No Deal, becoming spies based in Paris and learning greetings in French, as well as persuading readers to buy an item using persuasive features such as rhetorical questions and emotive language in writing.
However, this week the Year 5 teachers would like to celebrate our kind, thoughtful children who made rainbows, in an attempt to spread happiness and smiles. Somewhere over the rainbow…is an abundance of happy, caring Year 5's willing to make the world a better place.
Thank you and well done this week Year 5!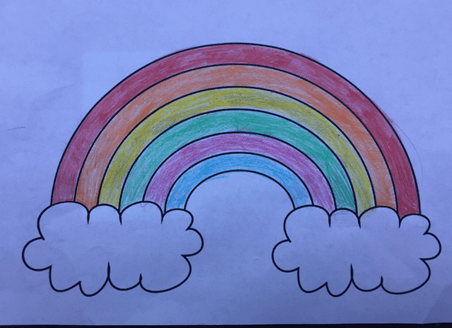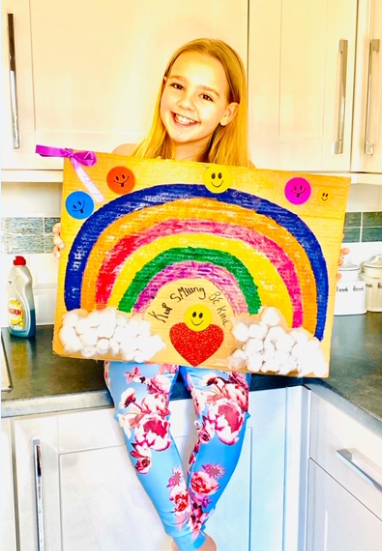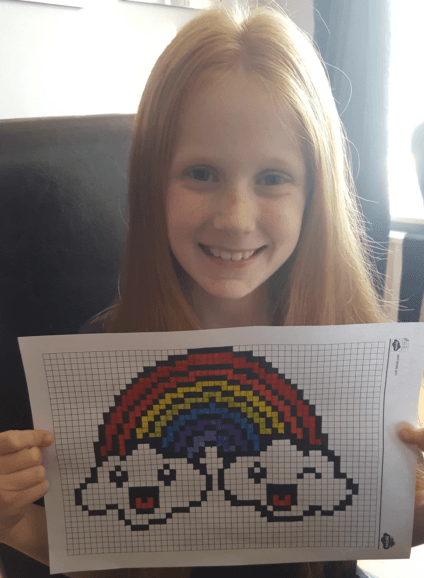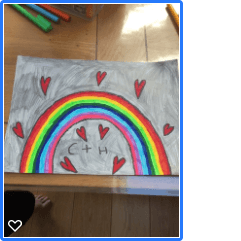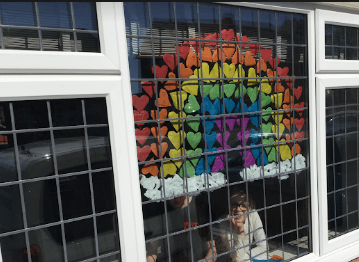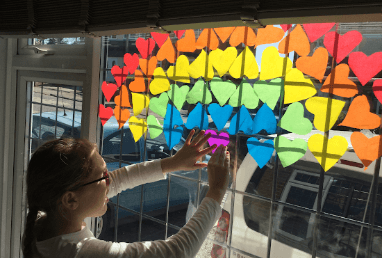 Week beginning 16.03.2020
This week, Year 5 learned about share and stocks as well as science! As part of the topic business and enterprise, the children have learnt about what shares and stocks are which they can apply to their future lives. After learning about how stocks and shares operate, the children then invested in a range of companies. Values of shares then fluctuated based on factors such as lack of stock i.e. less cocoa being grown which affected Cadbury, or the increase in the amount of people using a specific app. This helped children understand how real life factors can affect economics, which they demonstrated in cross-curricular maths whilst using operations to total the value of their shares, as well as negative numbers. In science, the children consolidated their understanding of properties of materials whilst experimenting with separating mixtures using sieving and filtering, as well as learning about using evaporation and using magnets to separate mixtures.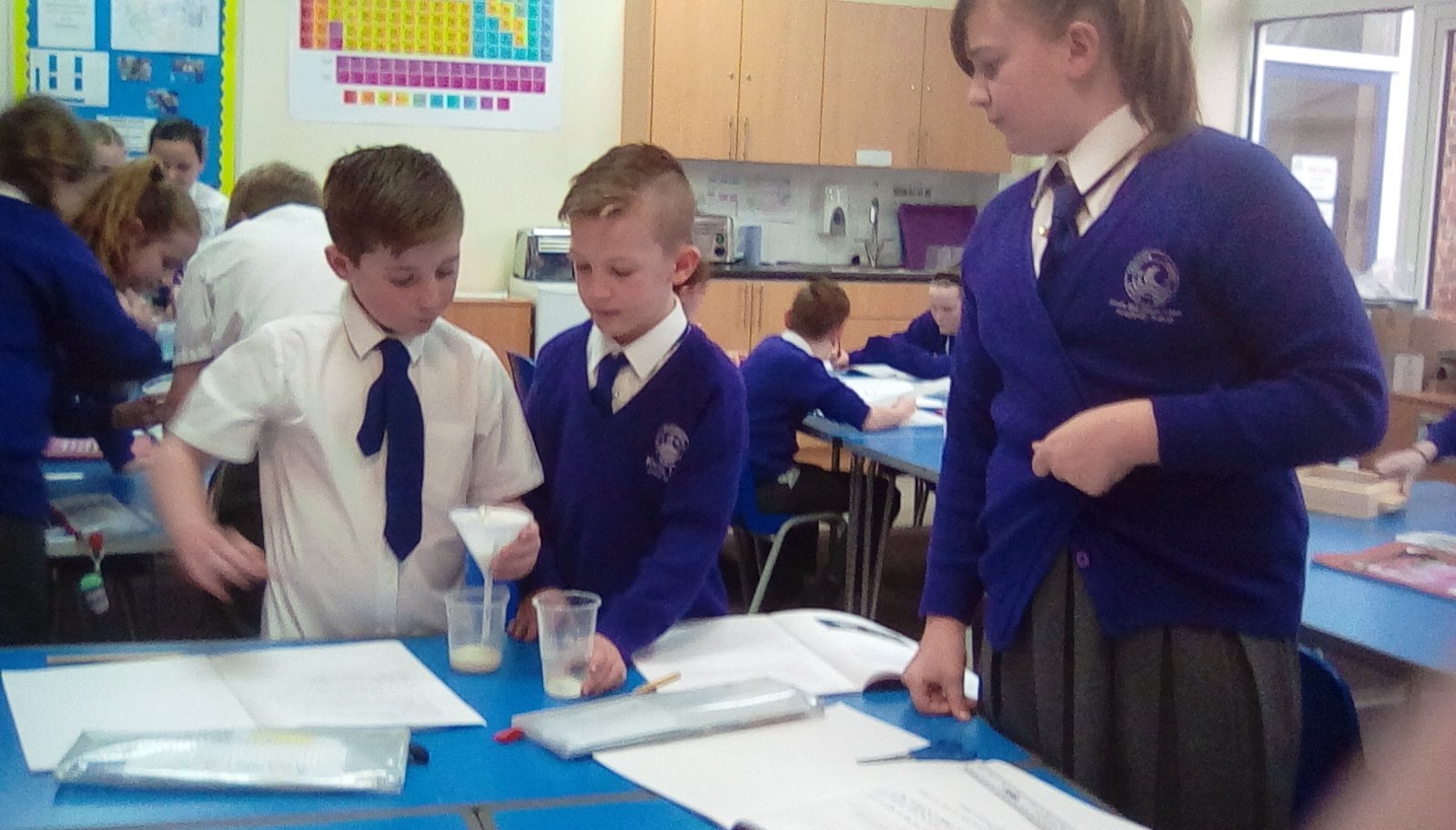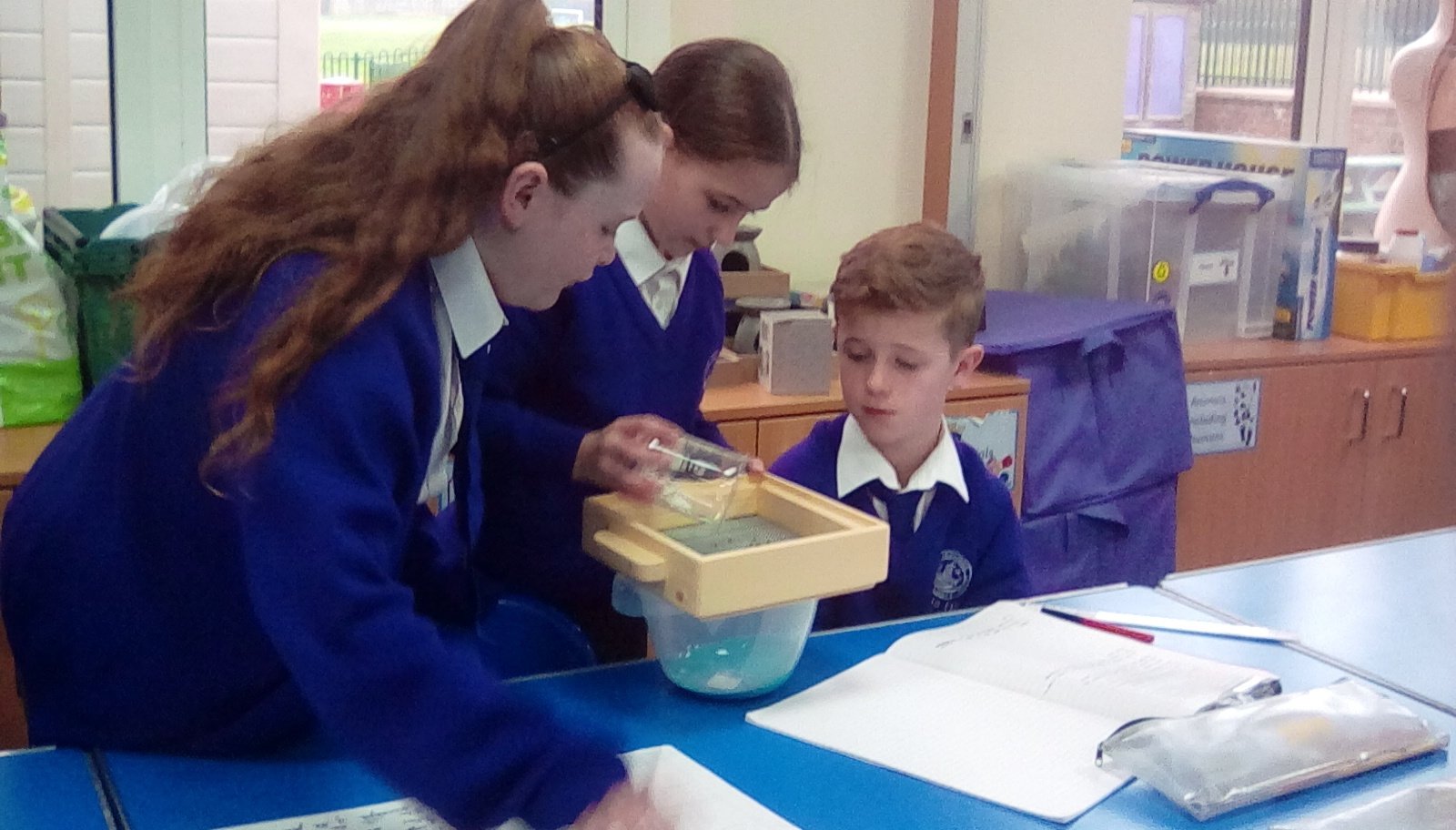 Week beginning 09.03.2020
This week, Year 5 continued their journey to becoming entrepreneurs whilst studying our topic. They created their own jingles using the program Scratch, developing their editing skills as part of computing. A fantastic display of imagination was shown in creating their short, catchy slogans as part of the jingle. In addition, they applied their knowledge of David Walliams, an entrepreneur that they are familiar with, from their reading lessons to writing to inform. Using subheadings, relative clauses to add information and enhancing cohesion through the use of fronted adverbials, the children produced fantastic biographies about David Walliams. Well done!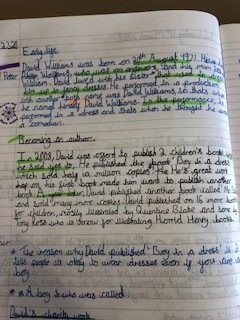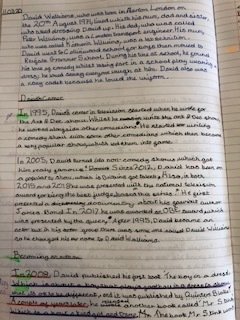 Week beginning 24.02.2020
During the first week of Spring 2, Year 5 built on their understanding of business and enterprise, learning about revenue, costs and profit. They applied cross curricular statistical skills whilst interpreting a company's success showing profit made each year, which was then plotted on a line graph. Confidently, the children were able to explain that if a company made profit, it was successful whilst also understood that costs could sometimes outweigh revenue, resulting in potential loss. As a continuation of their journey to becoming Entrepreneurs, they sold cakes, personalised with their logos. Following the design process of the decoration of the cakes, the children produced cross-sectional diagrams and developed piping skills within D and T. As a result, the children will be able to calculate profit, using their understanding of revenue and costs. Some fantastic displays of imagination and lots of business sense have been showcased – great job Year 5!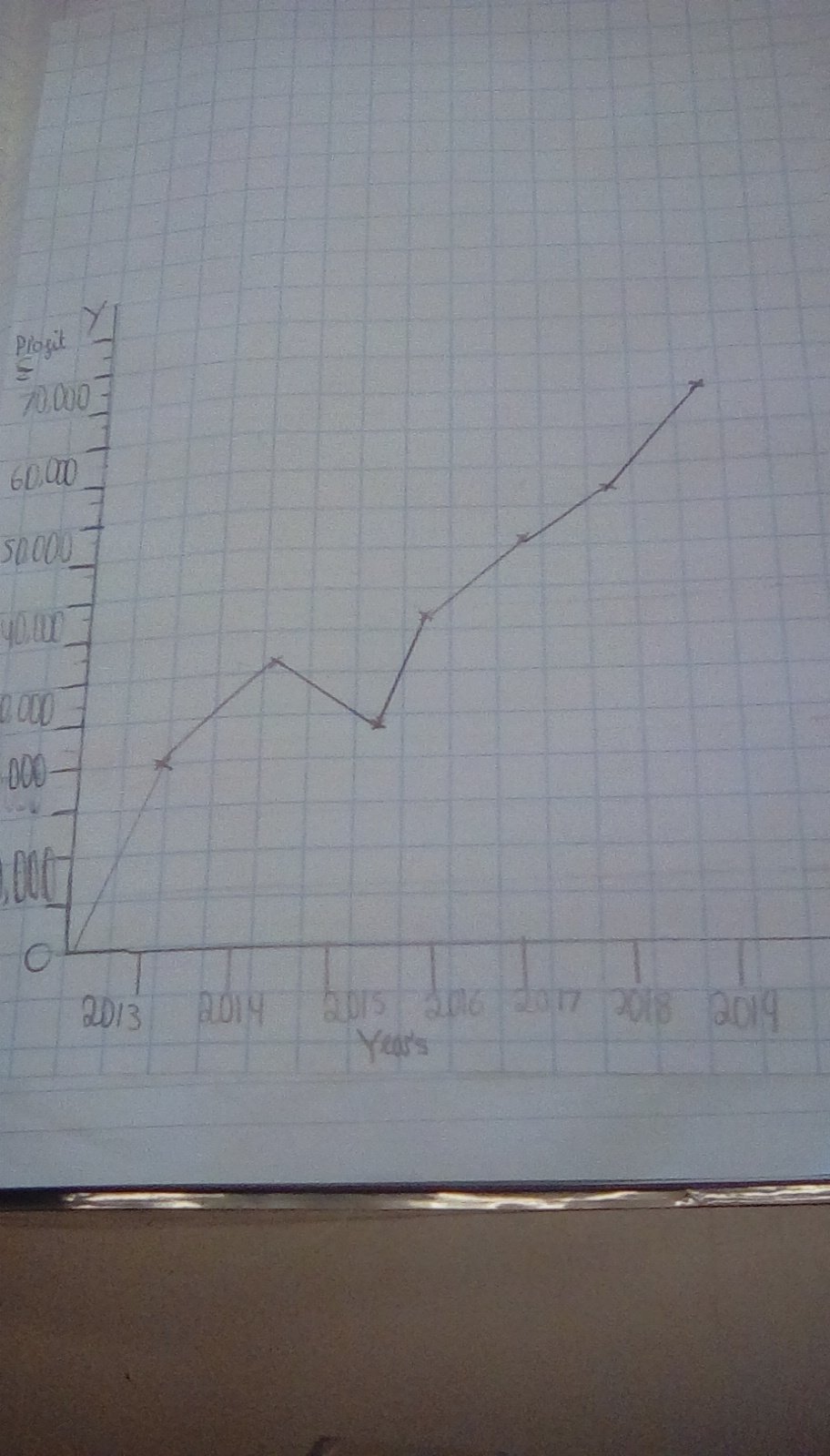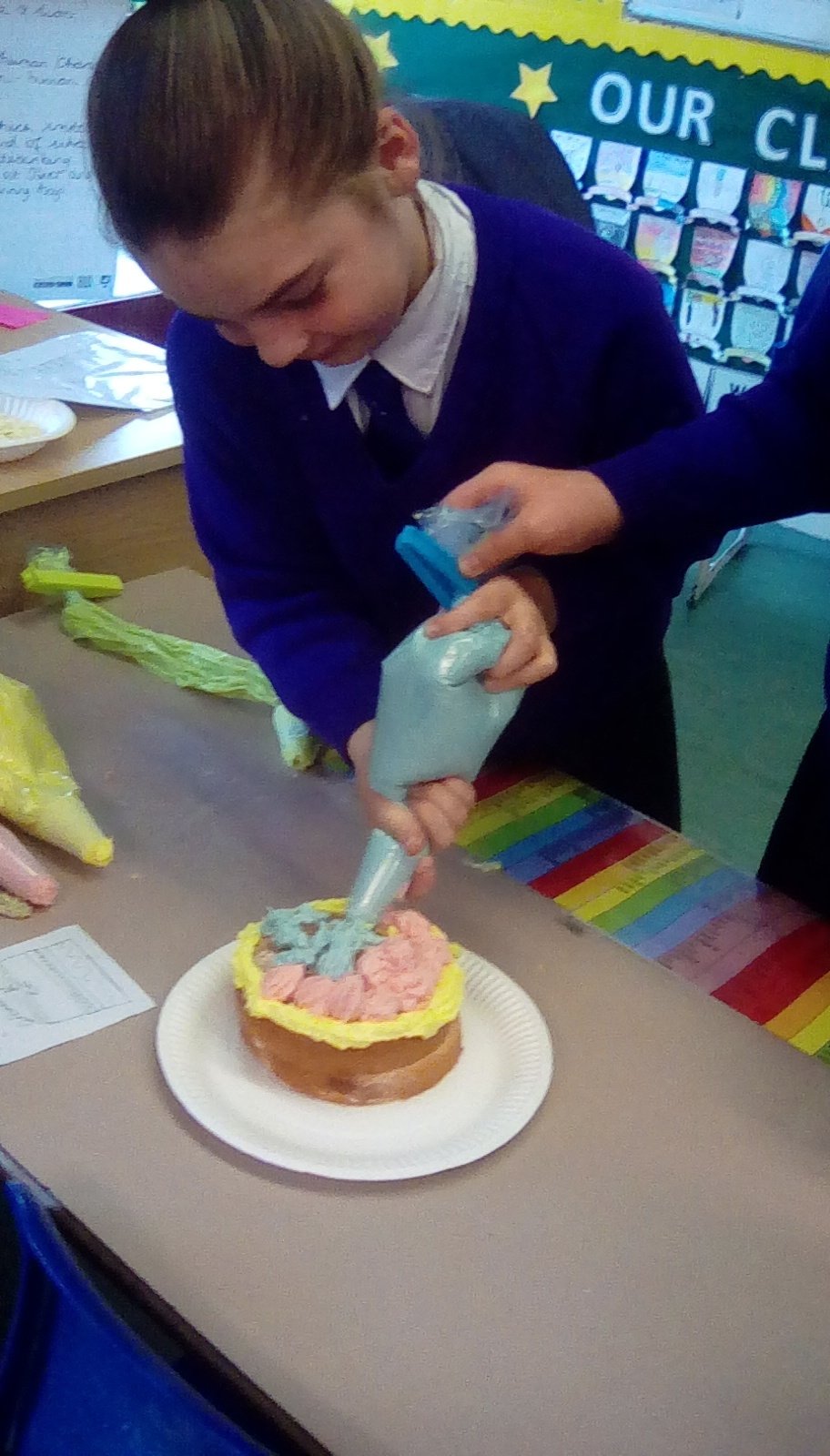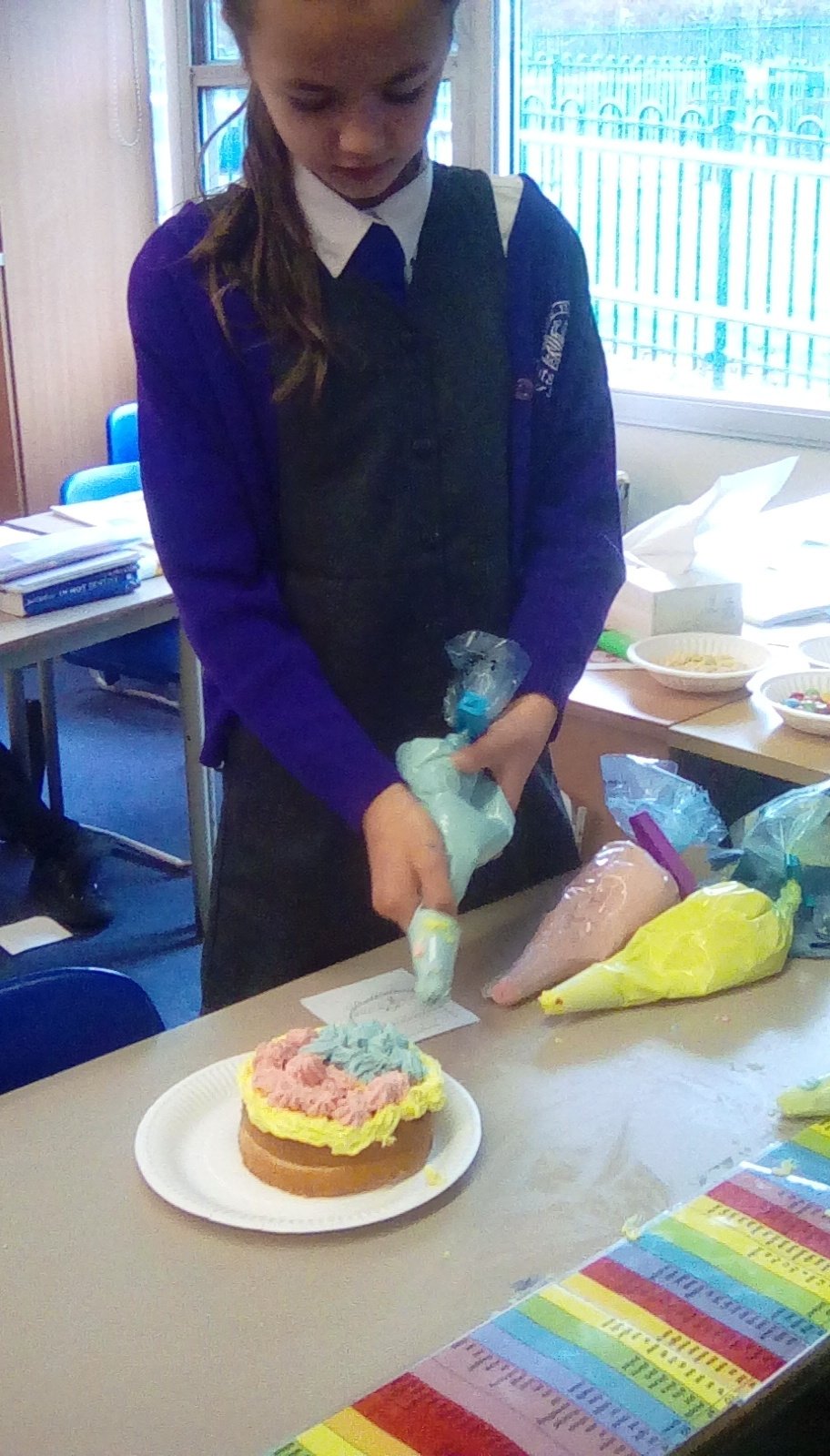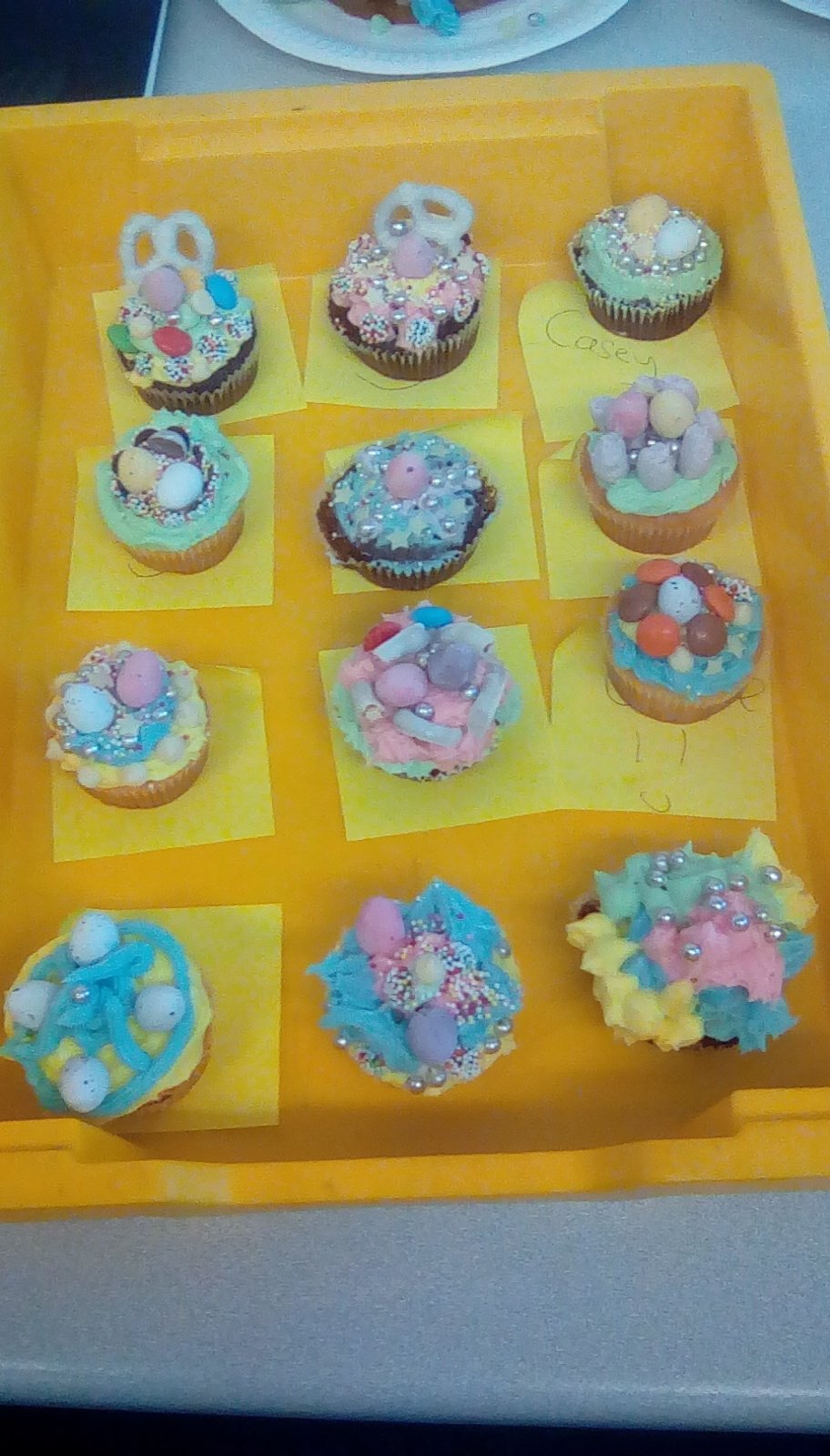 Week beginning 10.02.2020
This week in Year 5, the children have written to entertain during our writing sessions. The book Oliver Twist was used to inspire a narrative, including fronted adverbials and figurative language such as personification and similes, to create detailed settings. This led on from our learning about child labour, which Oliver Twist links too. In addition, they became artists whilst producing their own versions of Van Gogh's 'Starry night'. Application of skills such as mixing colours to create different tones, as well as sketching and evaluating, added to some wonderful pieces of art work. Some real artistic flair has been demonstrated! Lastly, we competed in houses, using our knowledge of spellings to battle against each other in the Spelling Bee!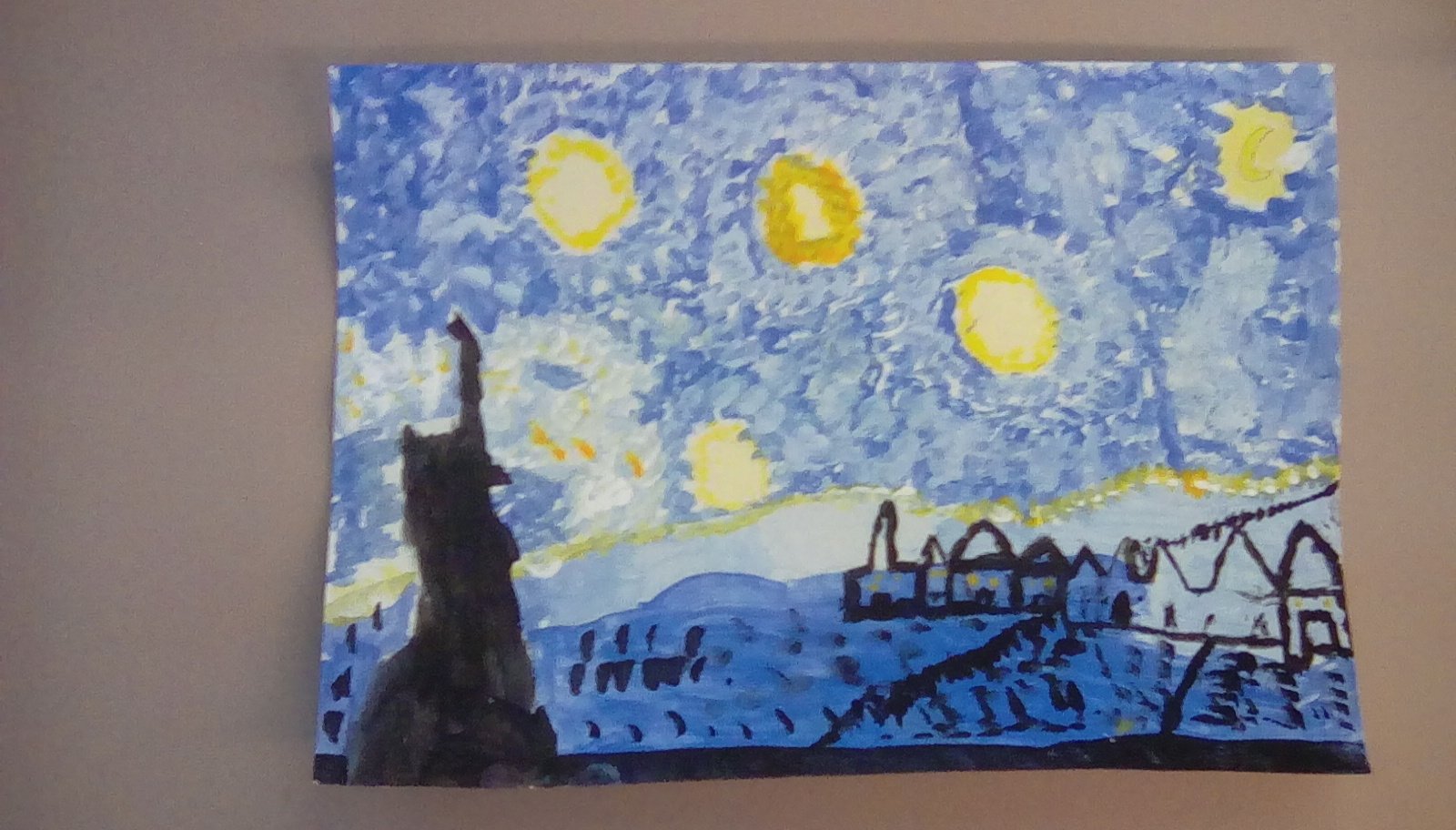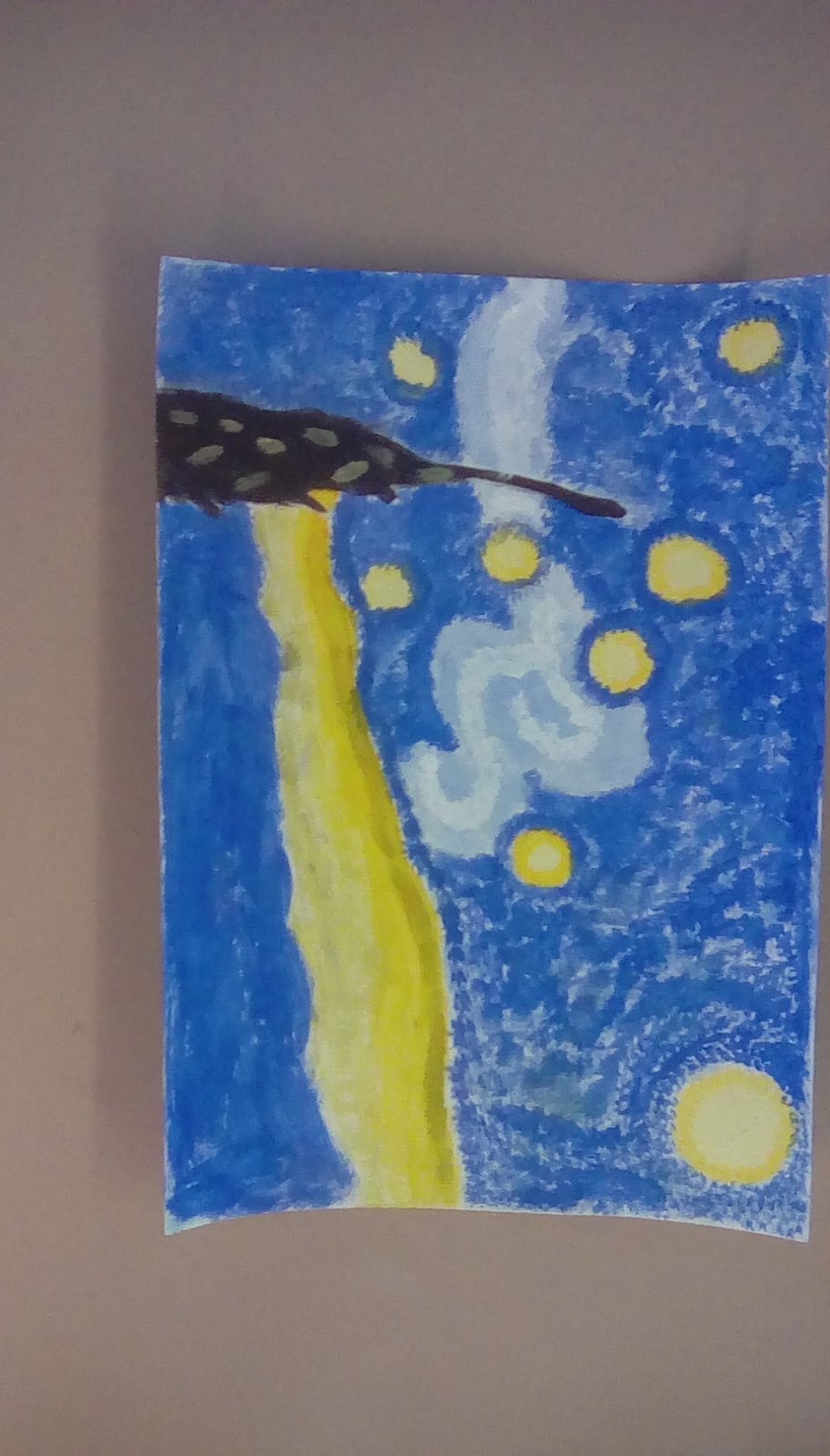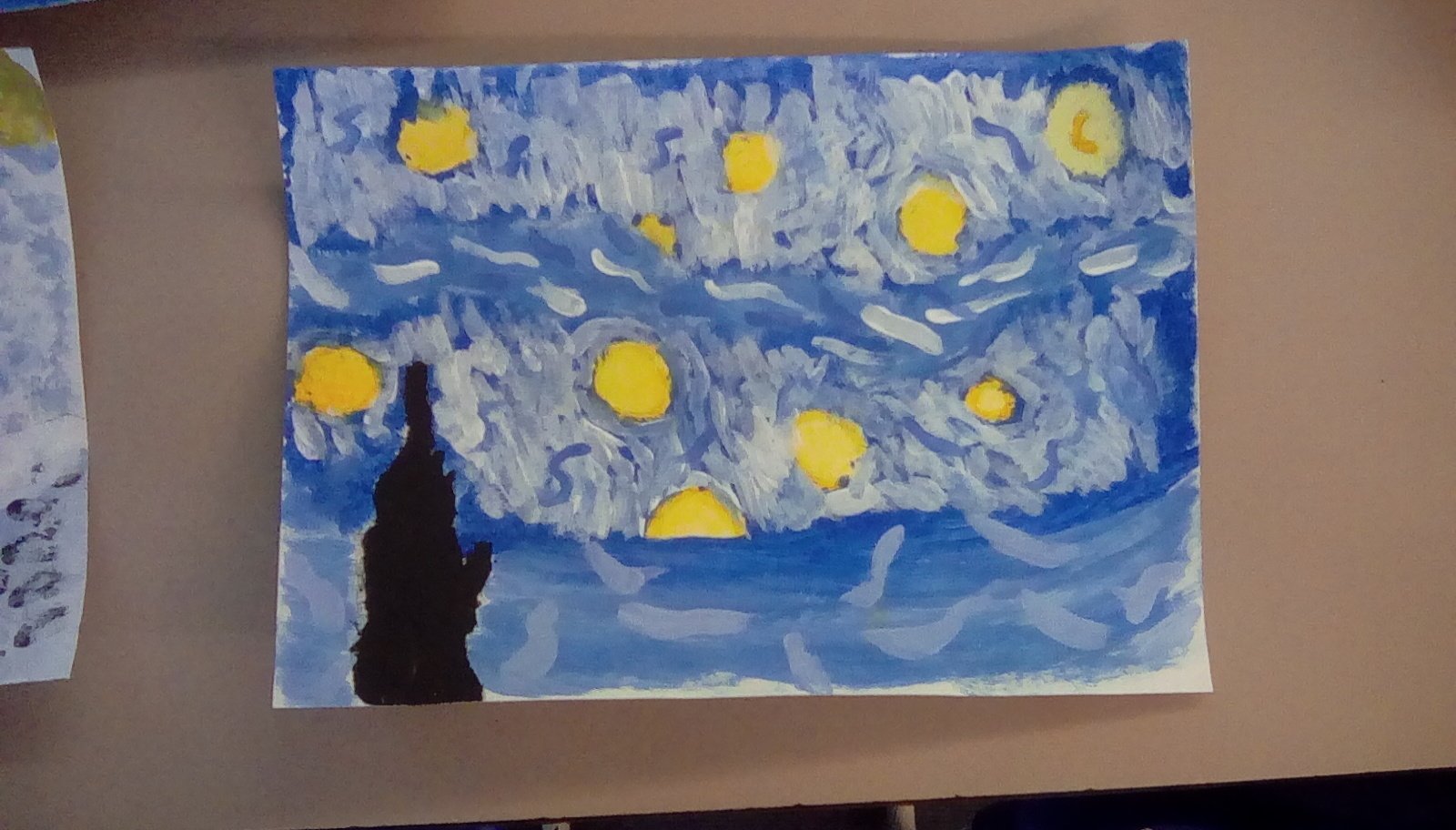 Week beginning 03.02.2020
This week in Year 5, the children have developed their enquiry skills within Science. Following the previous lesson in which they experimented testing the solubility of materials, they then developed their own lines of enquiry. Some of these included 'does temperature affect the rate at which a material dissolves?', 'Does volume of the solvent affect solubility?' as well as testing different materials and using a range of equipment selected by themselves. They have really enjoyed regularly using the science lab, especially wearing the lab coats! In addition, they developed their understanding of shape and nets of 3D shapes during our cross-curricular maths. A great deal of perseverance was shown in creating complex shapes from a variety of nets, which could be used to package products (linking to the topic of Business and Enterprise). As well as that, they wrote to inform in the Free Write, demonstrating skills such as fronted adverbials for cohesion, as well as expanded noun phrase for detail, in their diary entries/newspaper reports about Oliver Twist. Well done Year 5!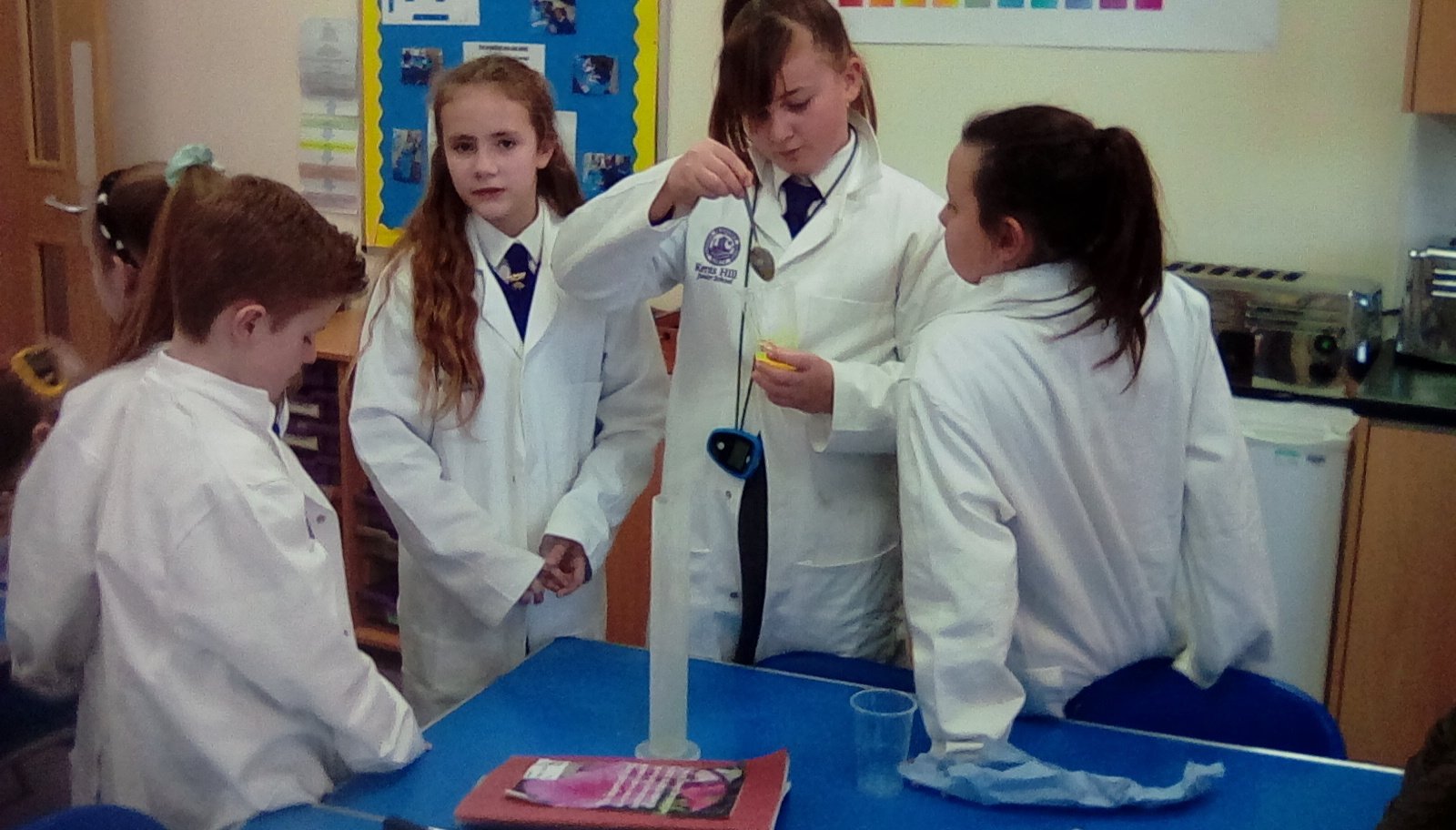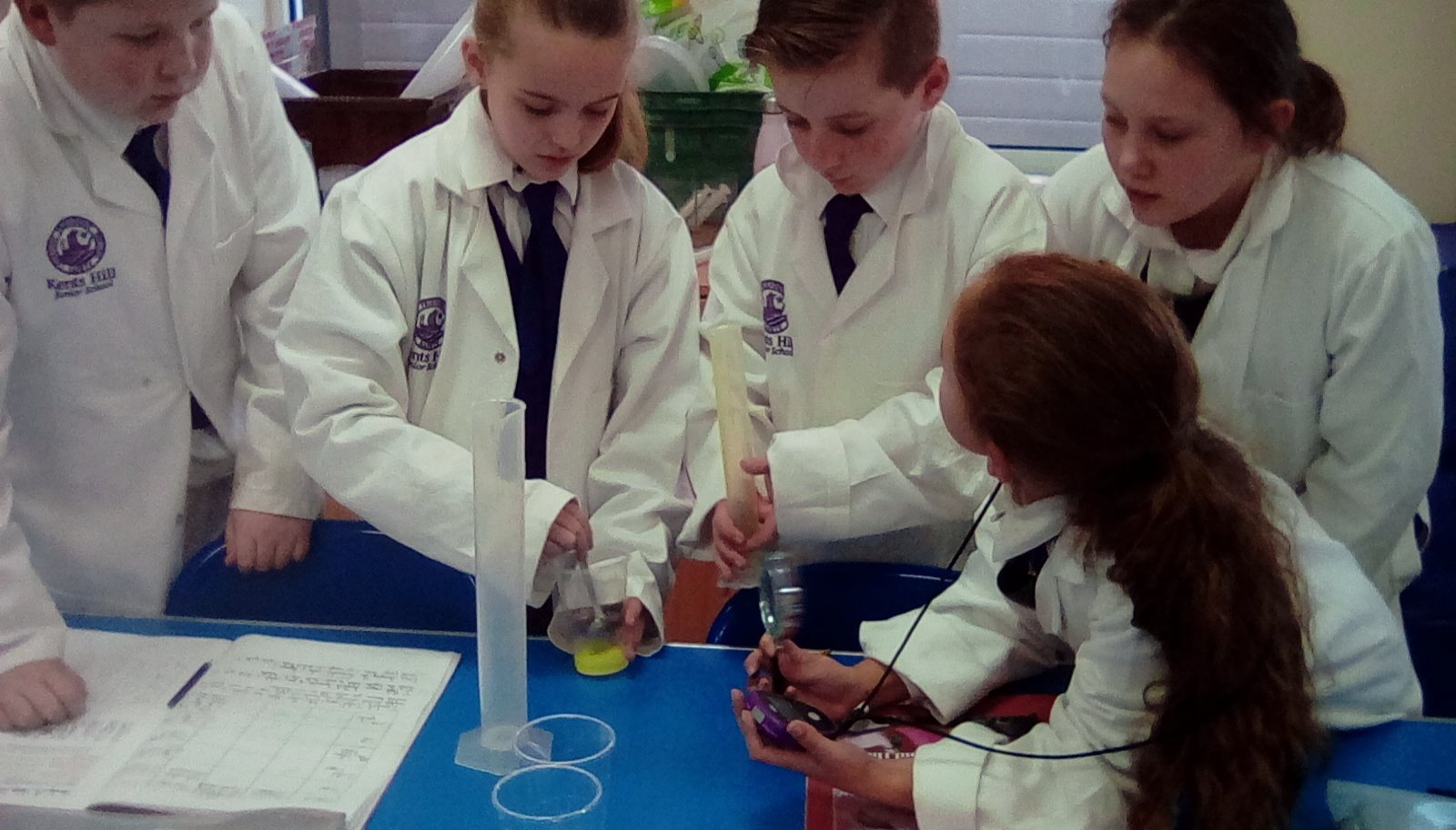 Week beginning 27.01.2020
This week in Year 5, the children have developed their understanding of advertising, learning about technicalities of the World Wide Web as part of the computing curriculum, as well as how the World Wide Web can be used to help build a business. Following this, they developed their own logos to personalise products of their own in art. A fantastic display of artistic excellence, demonstrating evaluative skill as well as imagination!
Excitingly, they were able to use Now>Press>Play as part of PSHE. As usual, the children immersed themselves in the experience, relating to characters such as Danny, who had a disability, as well as learning about Young Carers. After this, they reflected on the experiences that Danny had at secondary school, considering the impact on his wellbeing and school experience. Collectively, the children shared the view that differences should be celebrated and emphasised the notion that everyone is unique.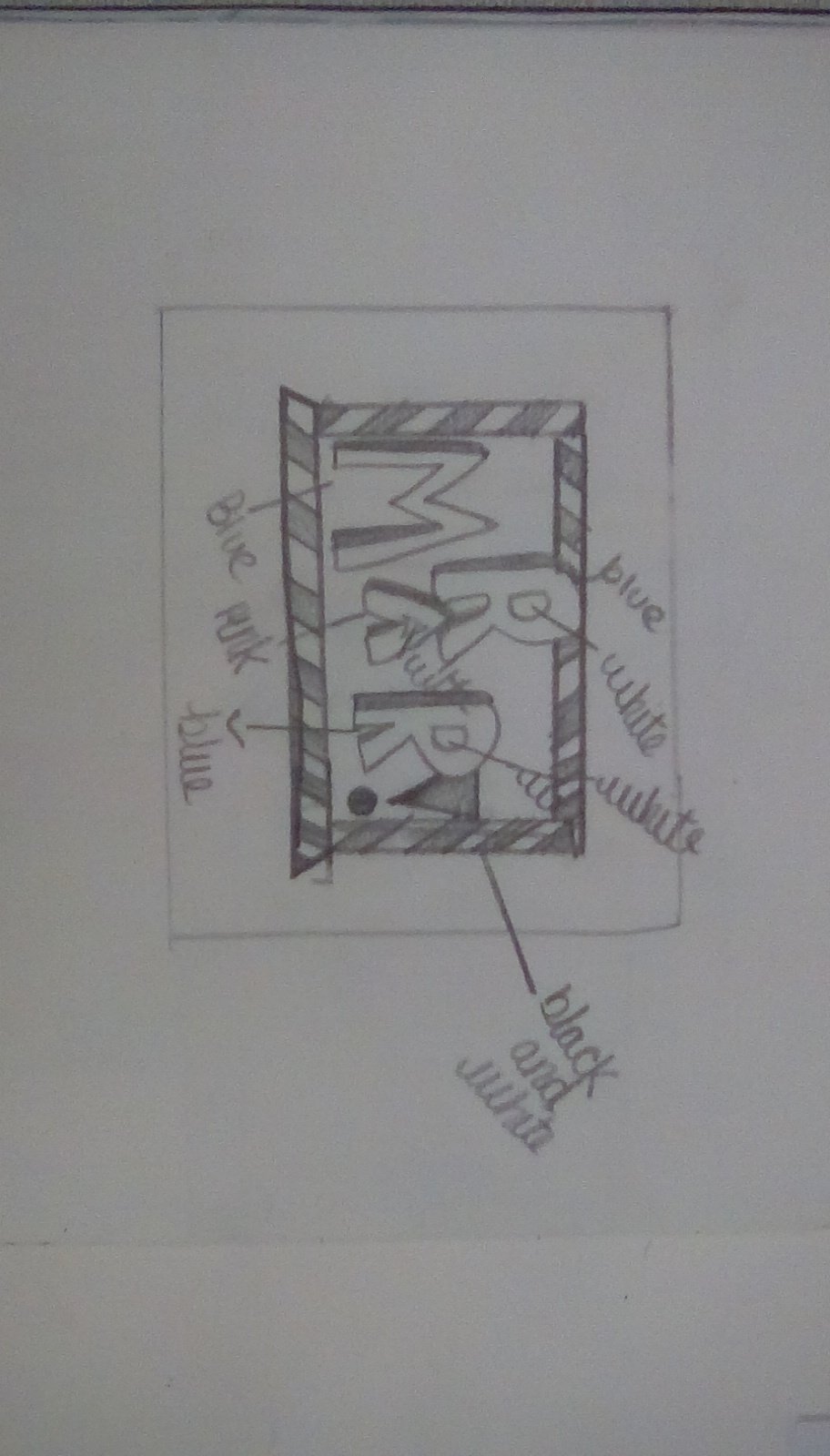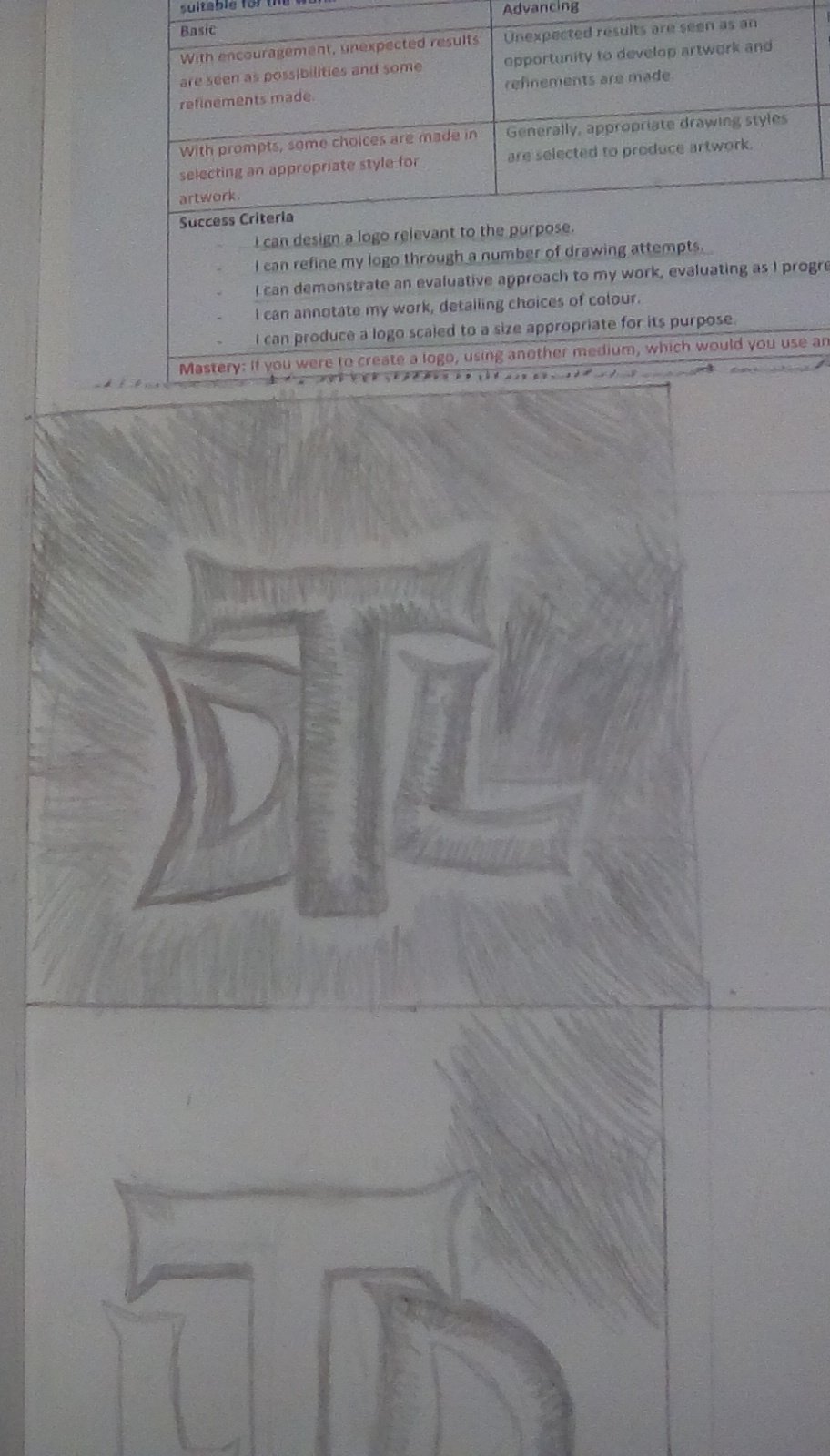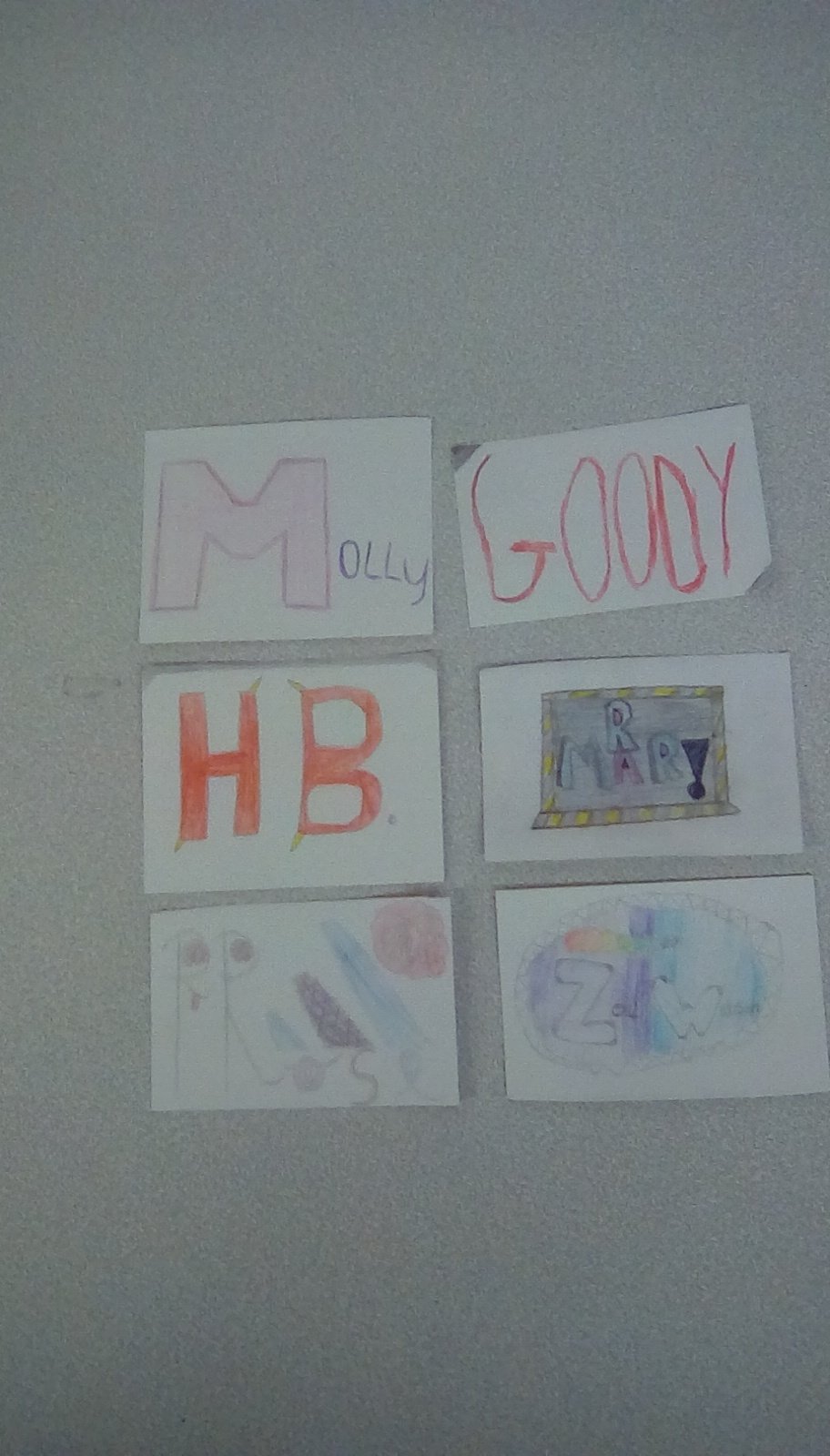 Week beginning 20.01.2020
In Year 5 this week, the children have begun learning about child labour in the context of business and enterprise. So far, they have read a few chapters of our topic book, Oliver Twist, and were able to understand that initially, poor Oliver lived and worked in a workhouse. They have continued to further their learning about Victorian Britain, in which children as young as 5 worked in coal mines and children their age sometimes worked from 5.30am until 8pm in terrible conditions. Following this, they expanded their knowledge of the world in geography, using atlases to locate countries to depict on their maps, which countries still use child labour today. Applying all of this fantastic learning, the produced a write 'to discuss' about whether they think child labour is right or not. A mature, empathetic attitude has been shown by many children, who now appreciate their school day in comparison to a working day in Victorian times or in some countries around the globe today!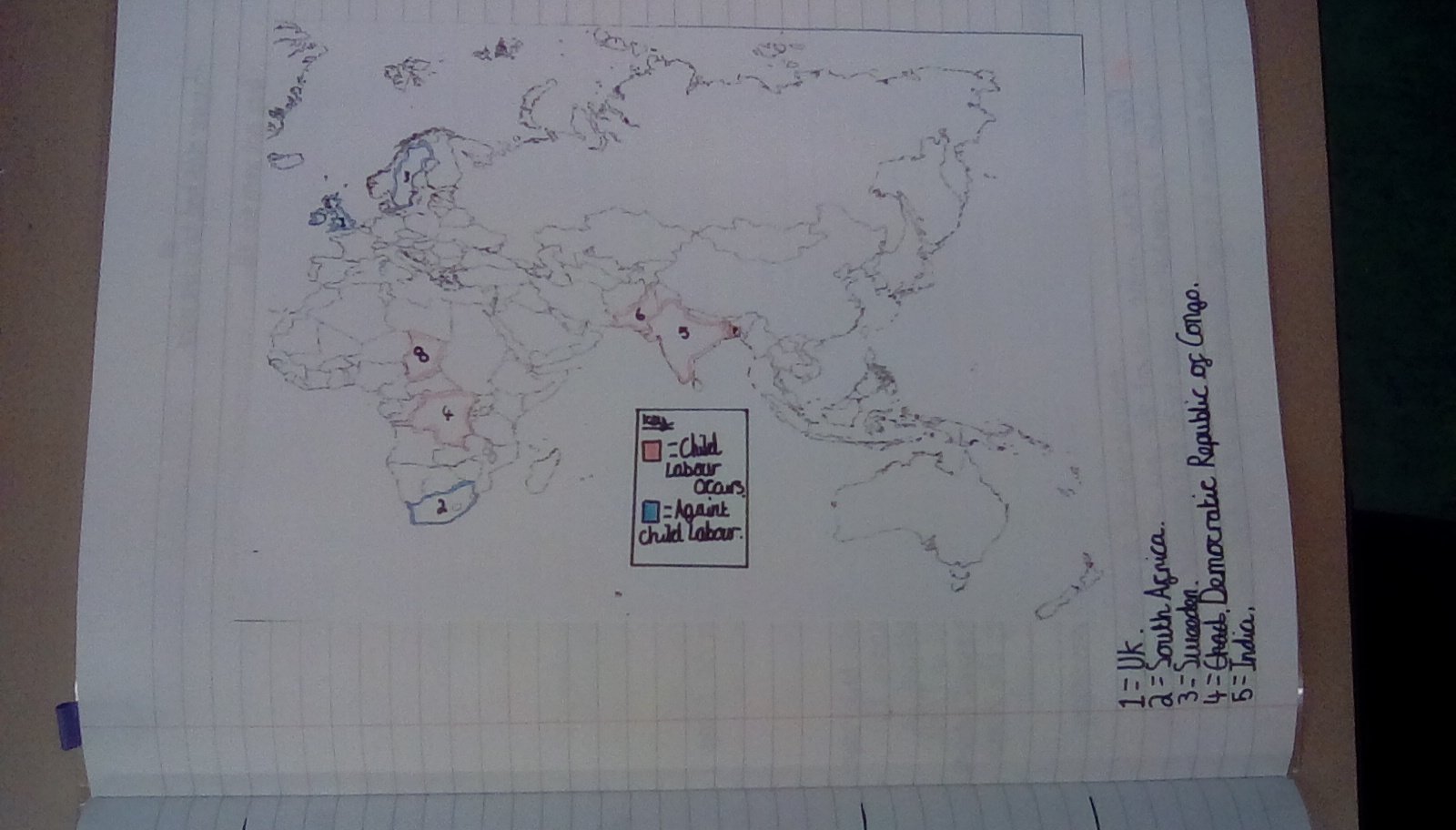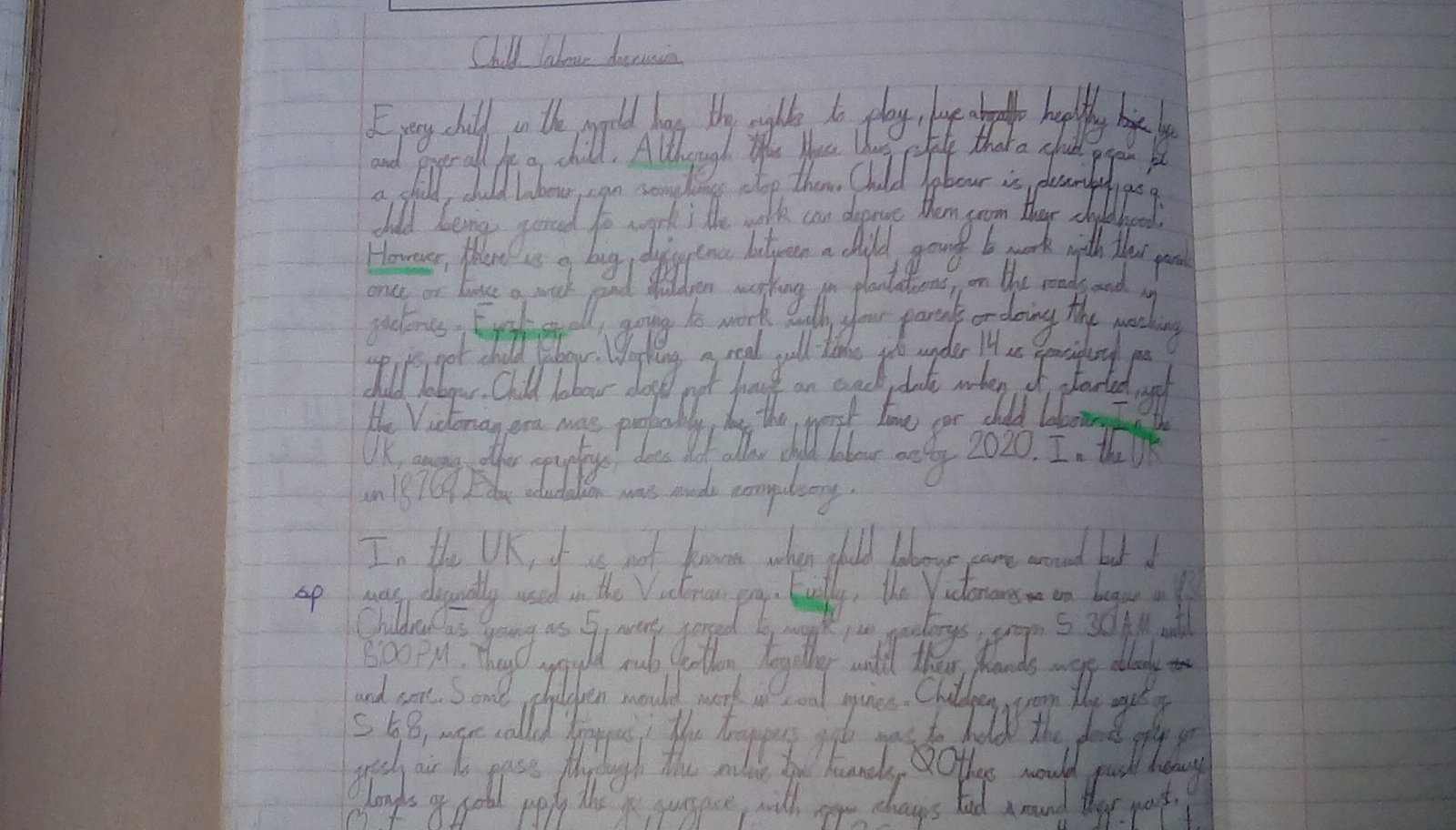 Week beginning 13.01.2020
This week in Year 5, the children have begun to apply their knowledge gathered on our business and enterprise day, to their work in class. They are able to explain what an Entrepreneur is, along with the understanding that anyone can create their own business, no matter neither which country they are from, nor their background. The children learnt about famous entrepreneurs such as Walt Disney, CoCo Chanel, David Walliams and Richard Branson. Using knowledge of multiplication and division, they were able to convert currencies so that to solve problems regarding goods being sold in Europe and the USA by David Walliams. On top of our cross curricular lessons, Year 5 began learning about properties of materials in science, and some lucky classes even used the newly created Science room.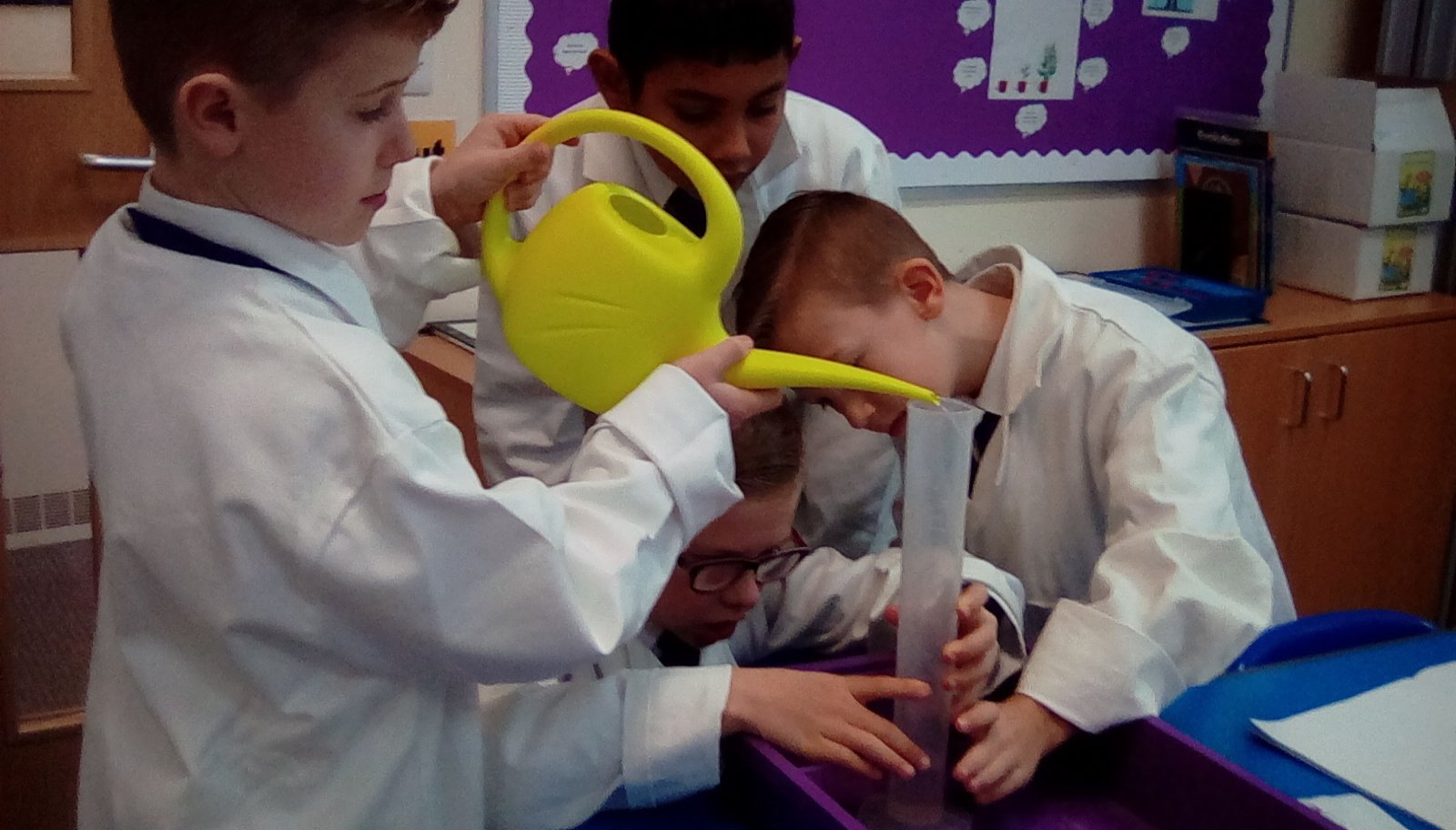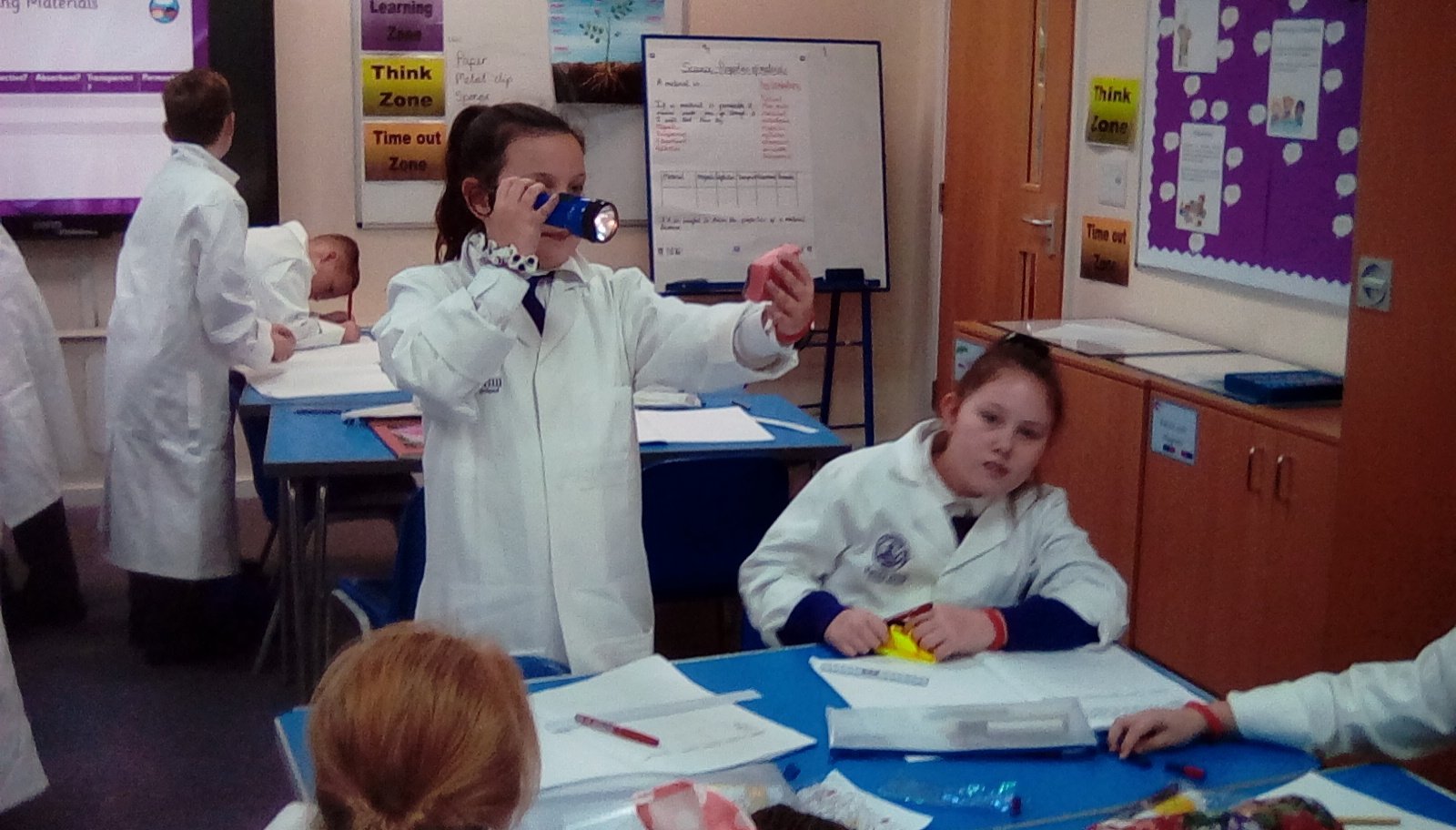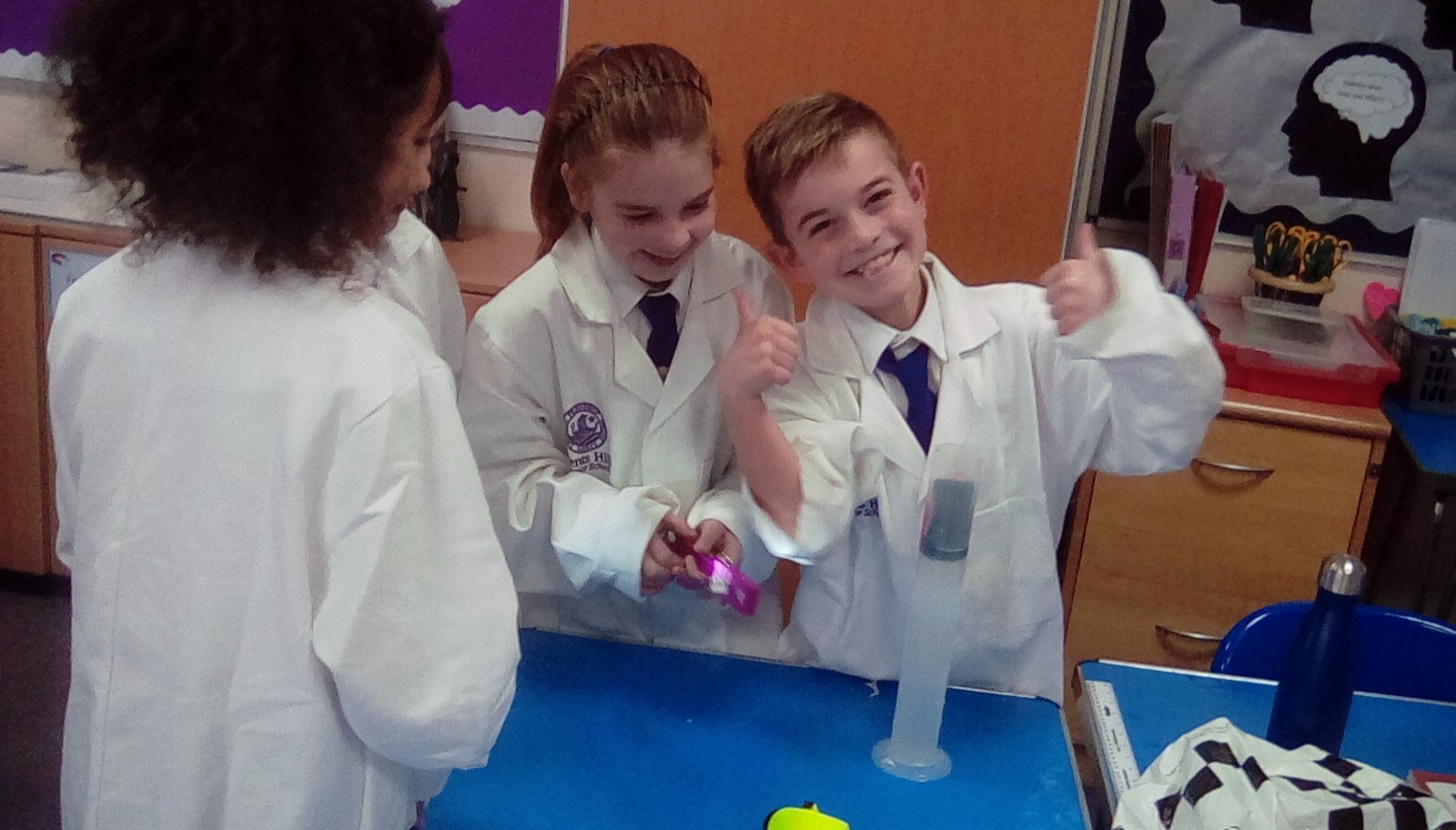 Week beginning 08.01.2020
This week upon the children's return to school, they have begun to learn about their new topic – Business and Enterprise. To hook them into their new topic, the children have had the opportunity to meet a range of professionals in different careers! It has been fantastic to see the children thriving whilst researching and learning about a range of jobs, helping them to consider what they may like to do when they're older. Impressively, the Year 5's showed critical thinking skills as well as a genuine interest in the questions they asked the professionals. Excitingly, the children got to meet officers from the Police Firearms Unit, as well as a Scientist, training expert in the computing industry, publicist in the music industry and a homeless officer as well other interesting roles. A huge thank you again to the parents who volunteered that they were able to help educate our young people. A super week to start off our Spring term – well done Year 5.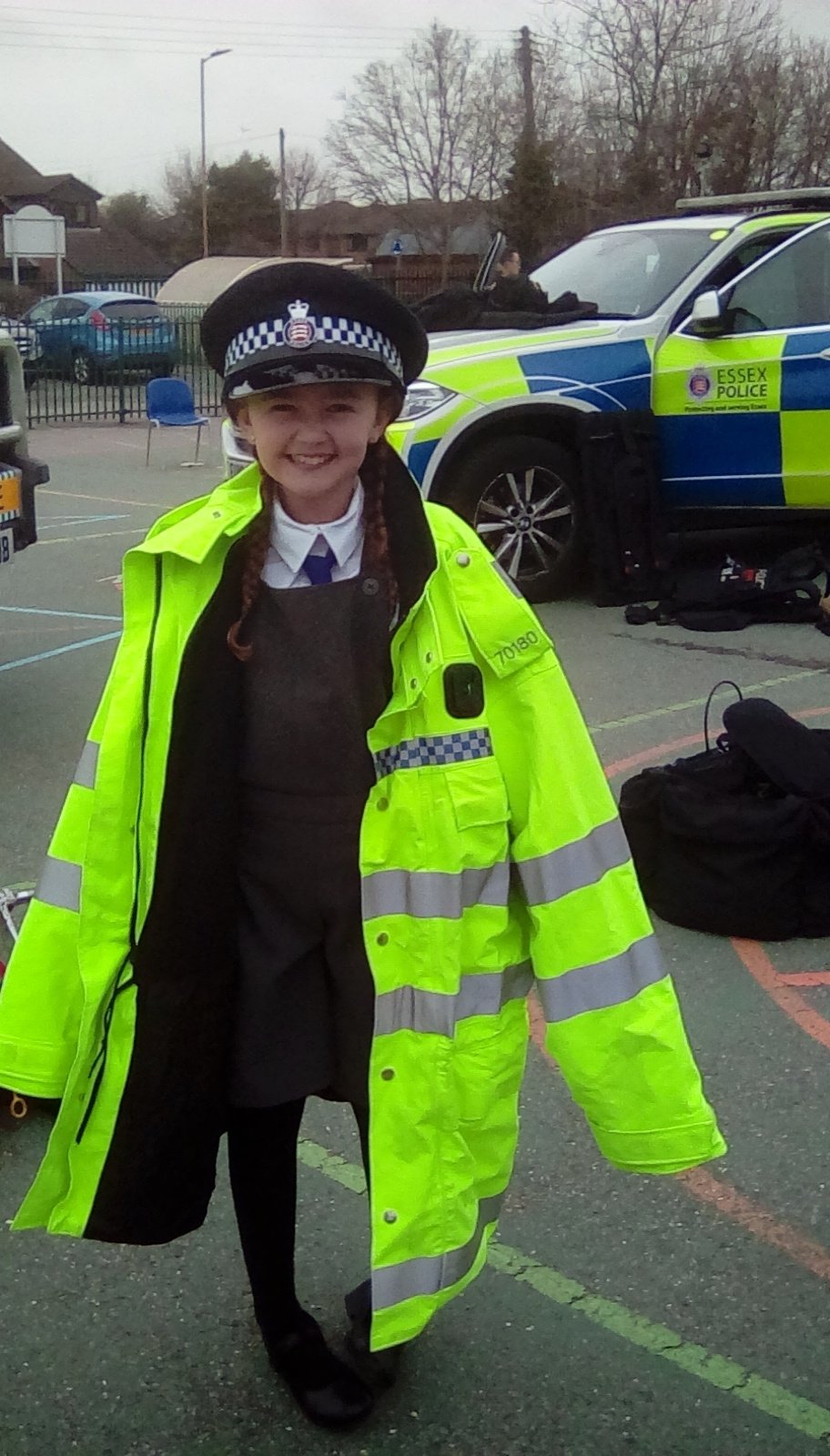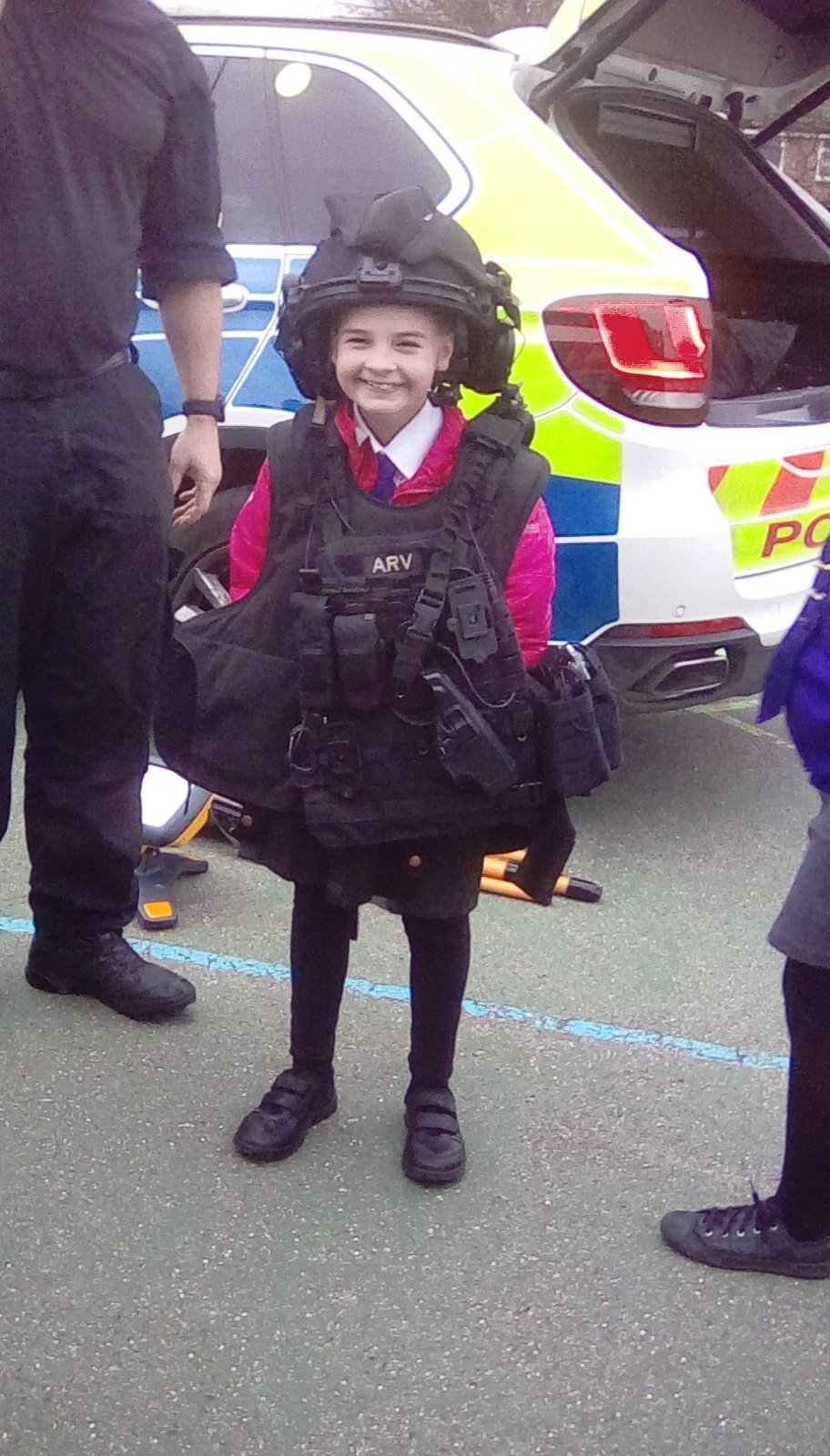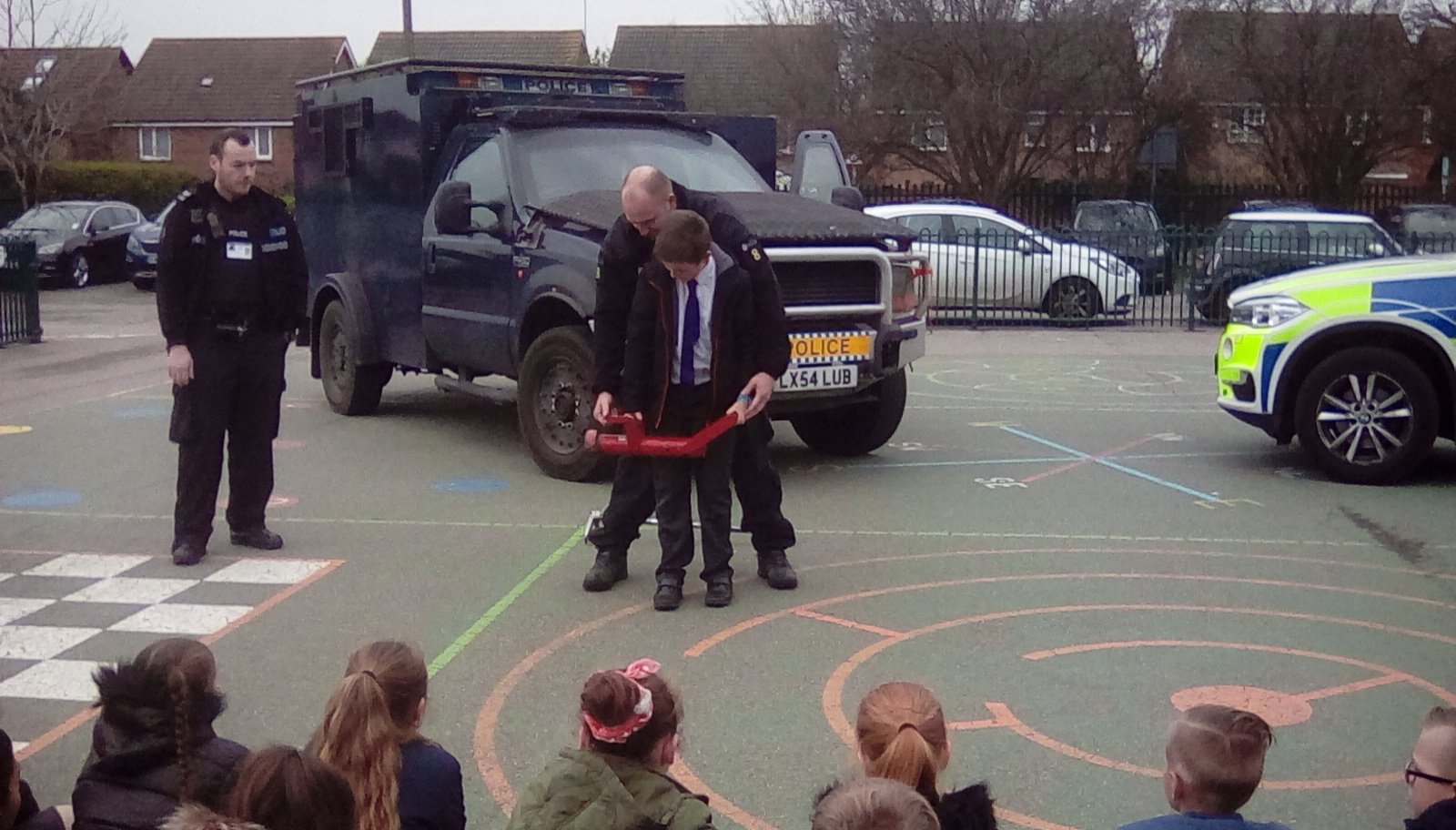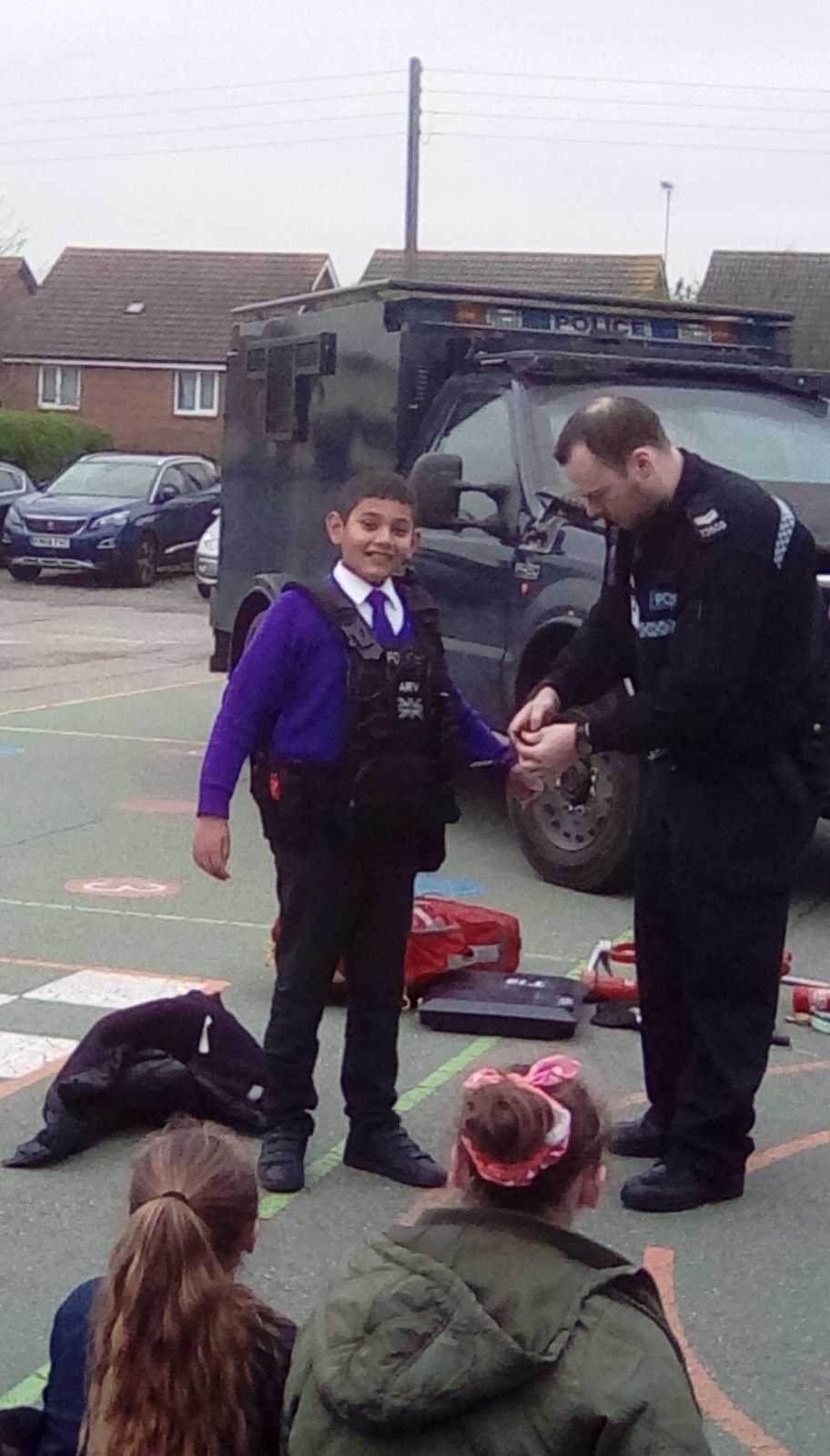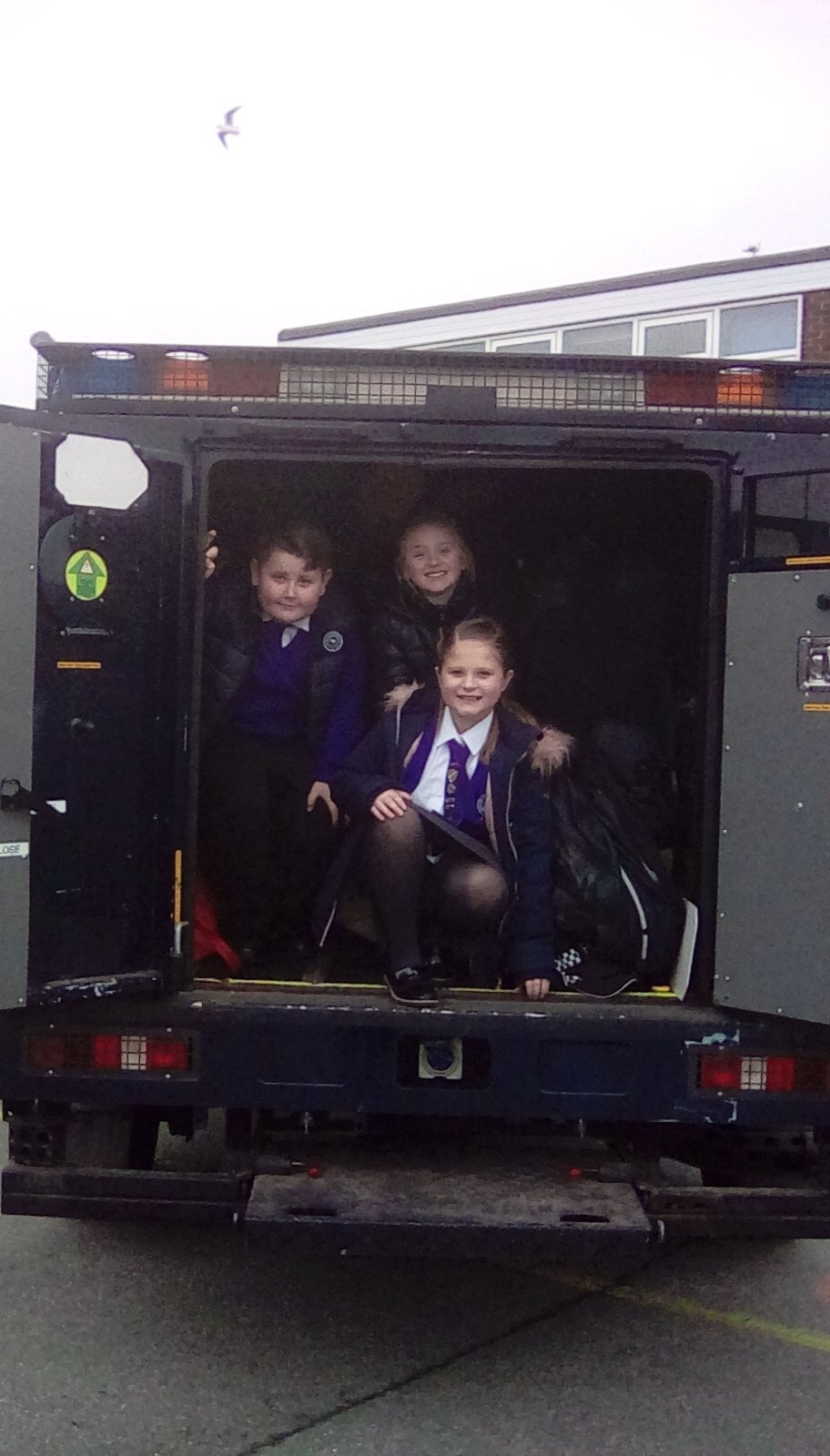 Week beginning 16.12.19
This week, Year 5 had the opportunity to create Christmas baubles during their Christmas crafts session, followed by superb performances including classics such as Last Christmas and Rudolph the rednose reindeer, to Feliz Navidad! A brilliant demonstration of teamwork by all three classes.
During the week, the class also had the opportunity to show their fantastic topic homework projects linked to crime and punishment. Wonderful examples of the children's learning and imagination was shared and celebrated, with lots of wow dojos received.
Well done to Year 5! A wonderful way to end the Autumn Term.
Have a lovely Christmas break!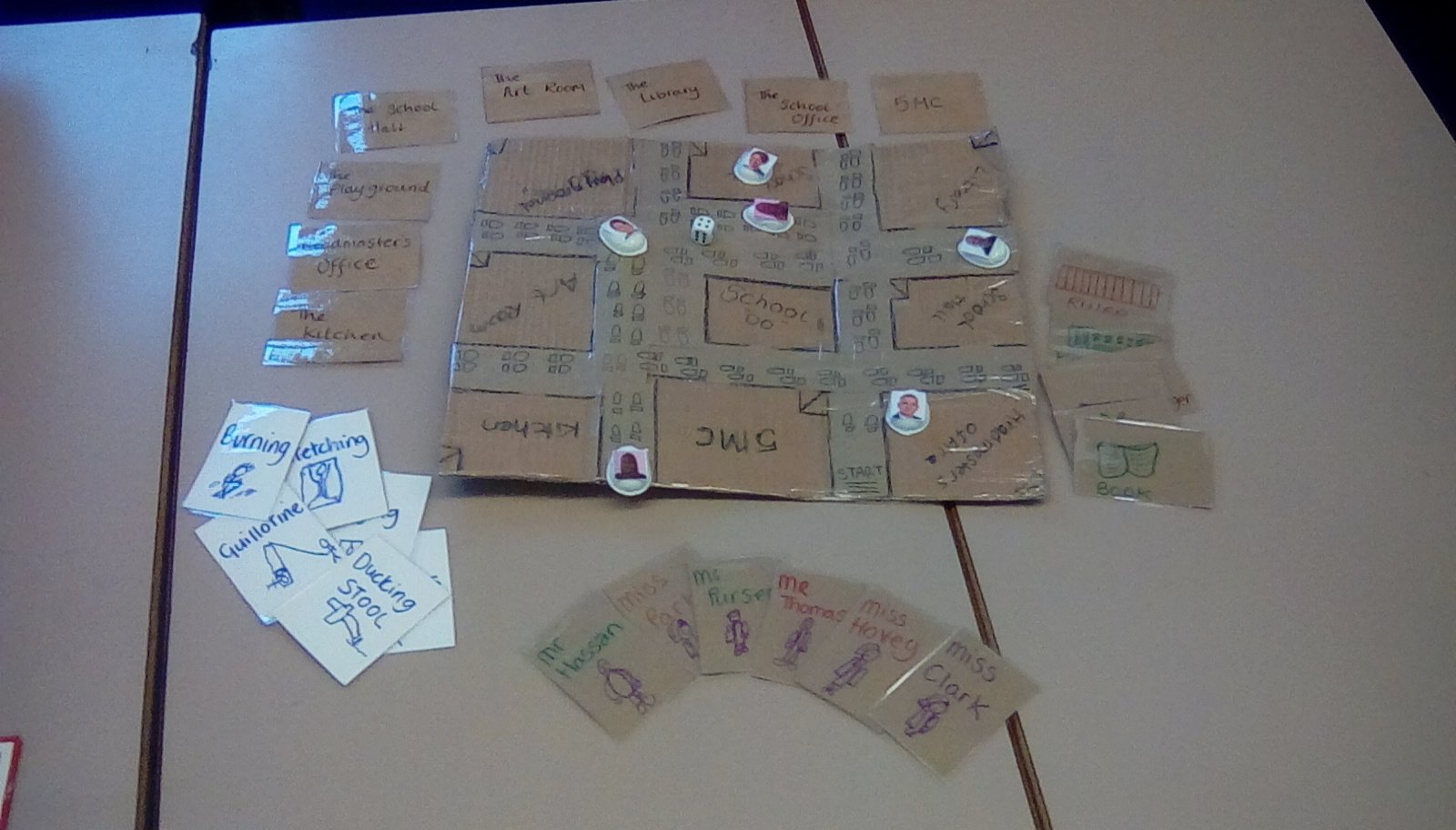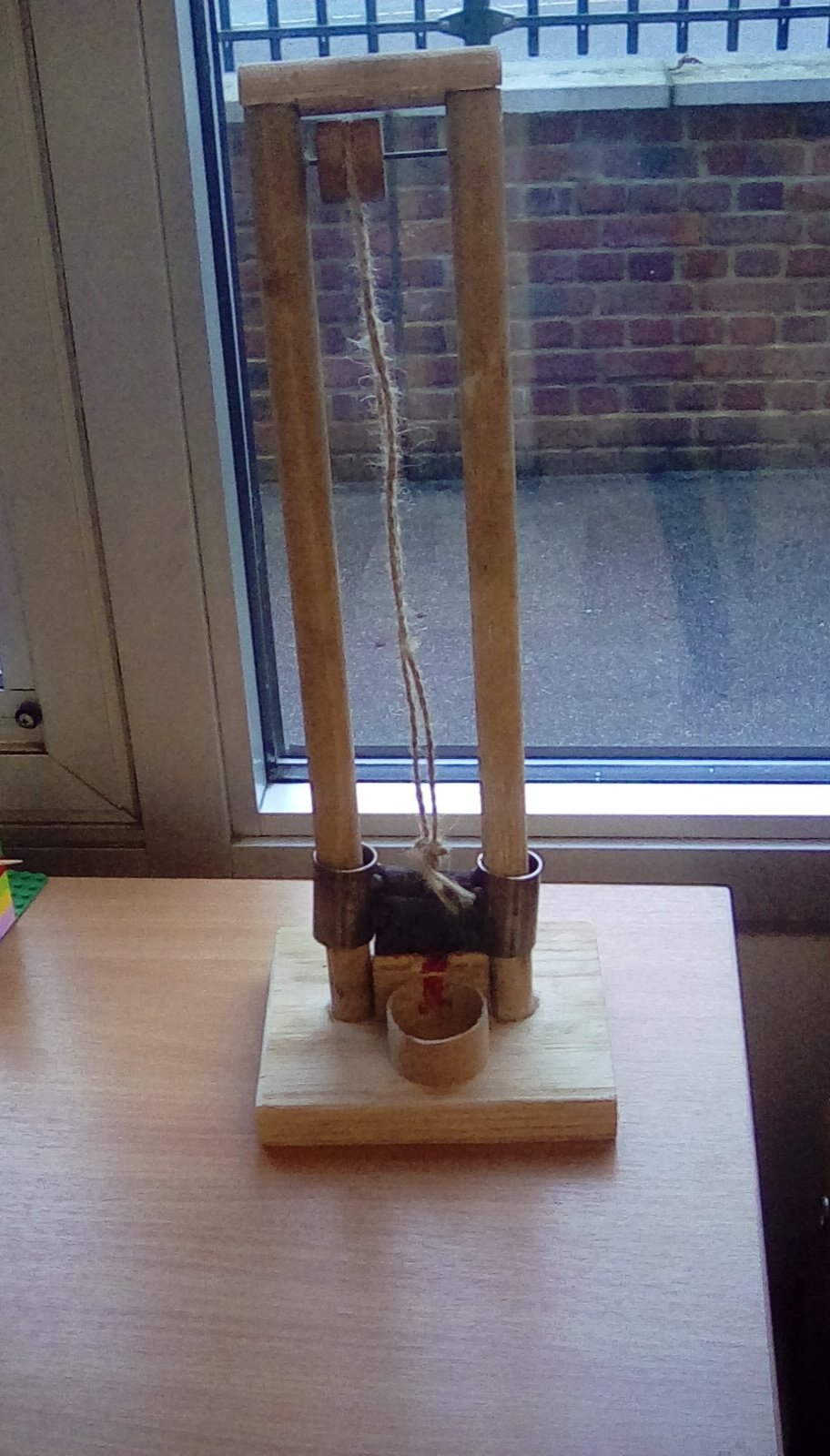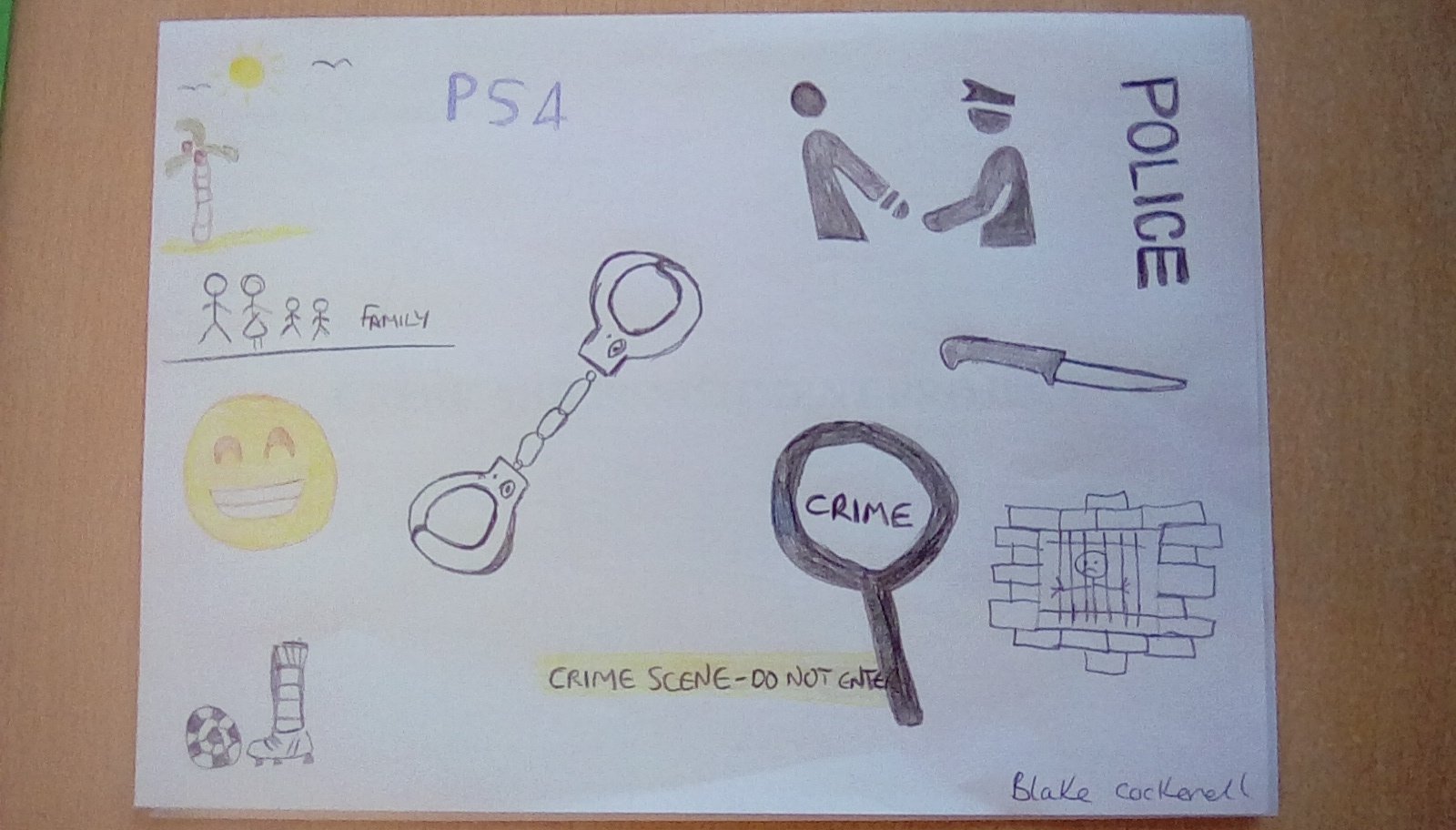 Week beginning 09.12.19
This week, the children have had lots of fun and enjoyed getting in the festive spirit which included the Christmas Pantomime and Christmas Dinner, as well as a chance to make biscuits for their Christmas crafts afternoon as part of DT. In addition to these, they have learned about the criminal justice system, learning the role of the Judge, Jury, Witnesses, Defendant, and both the defence and prosecution Barristers. On top of this, the children used their knowledge to re-enact a courtroom scenario, using their knowledge of crime and punishment across the ages. They worked together to get justice and for the Jury and Judge to decide if the Defendant was found guilty or not guilty.
Week beginning 02.12.19
This week in Year 5, the children showed bundles of enthusiasm of ahead of our French Day on Tuesday. They continued to develop their understanding of food and drink as part of the 'Au Café' topic. Excitingly, the children experienced ordering French cuisine with the help of students and teachers from King John. On top of this, they learnt about French traditions at Christmas time, the artist Paul Cezanne, as well as the words to 'Vive le Vent' (Jingle bells). In addition to French Day, Year 5 have been considering crime and punishment across the ages and produced superb write to discuss in response to the question 'is punishment beneficial to mankind?'. Well done Year 5!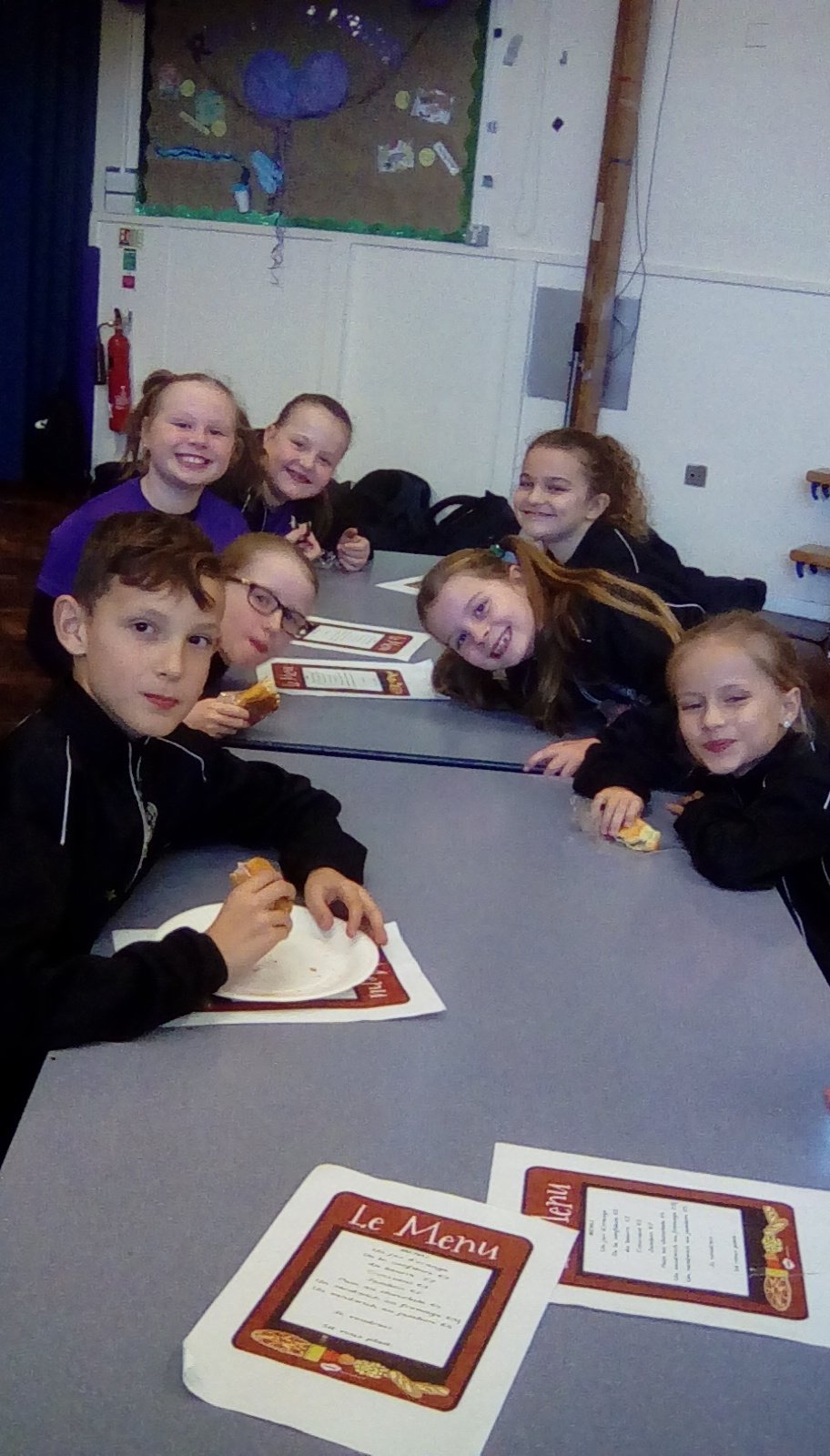 Week beginning 25.11.19
This week in Year 5, the children have demonstrated the core values of independence and perseverance throughout our assessment week. They continued to show the ability to persevere whilst creating their own algorithms on Scratch. Linking to the crime and punishment topic, the children created their own hero and villain scenarios, using coding to develop their algorithm. Lots of enthusiasm, and expertise in coding, was shown in their fantastic efforts.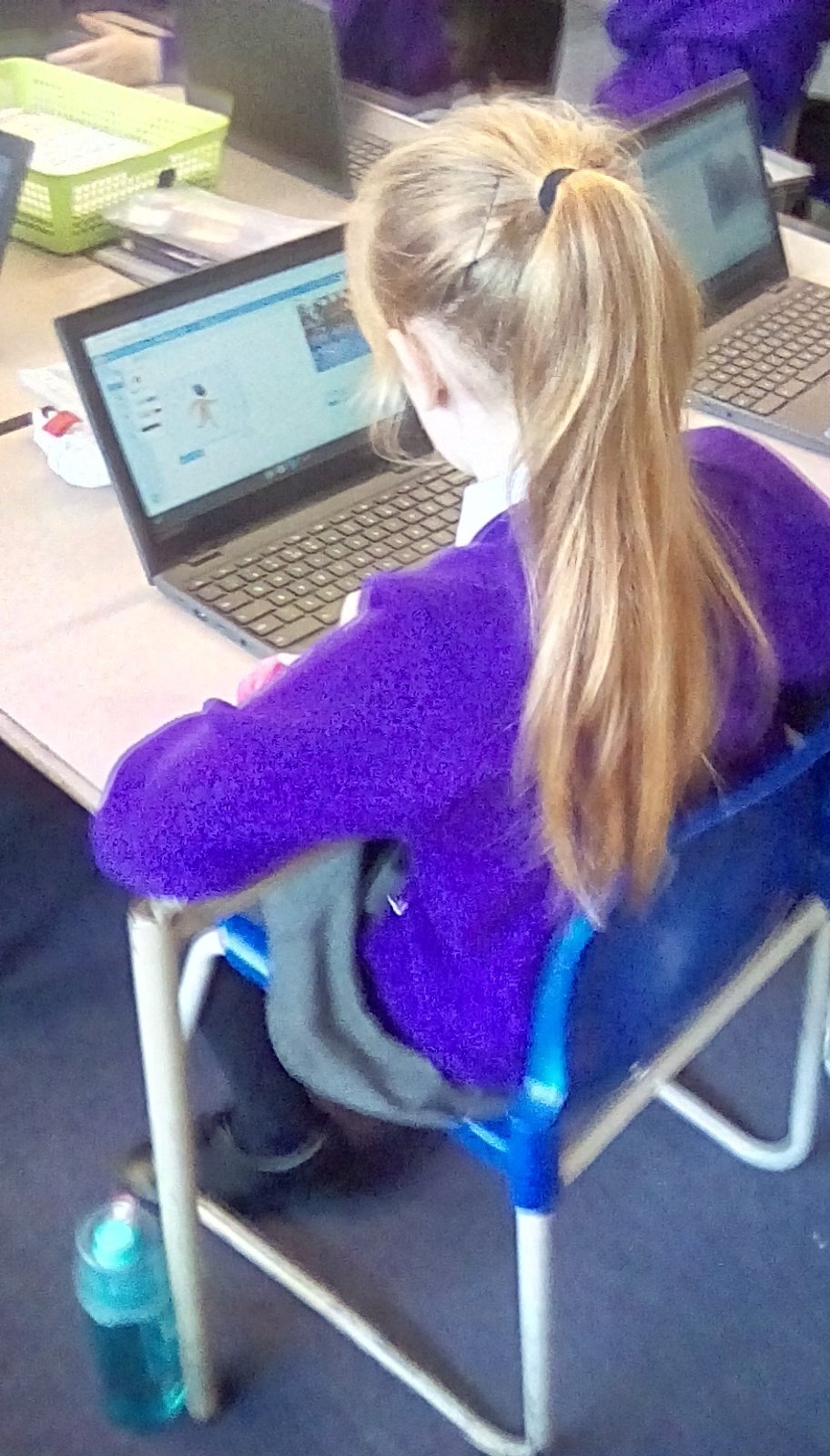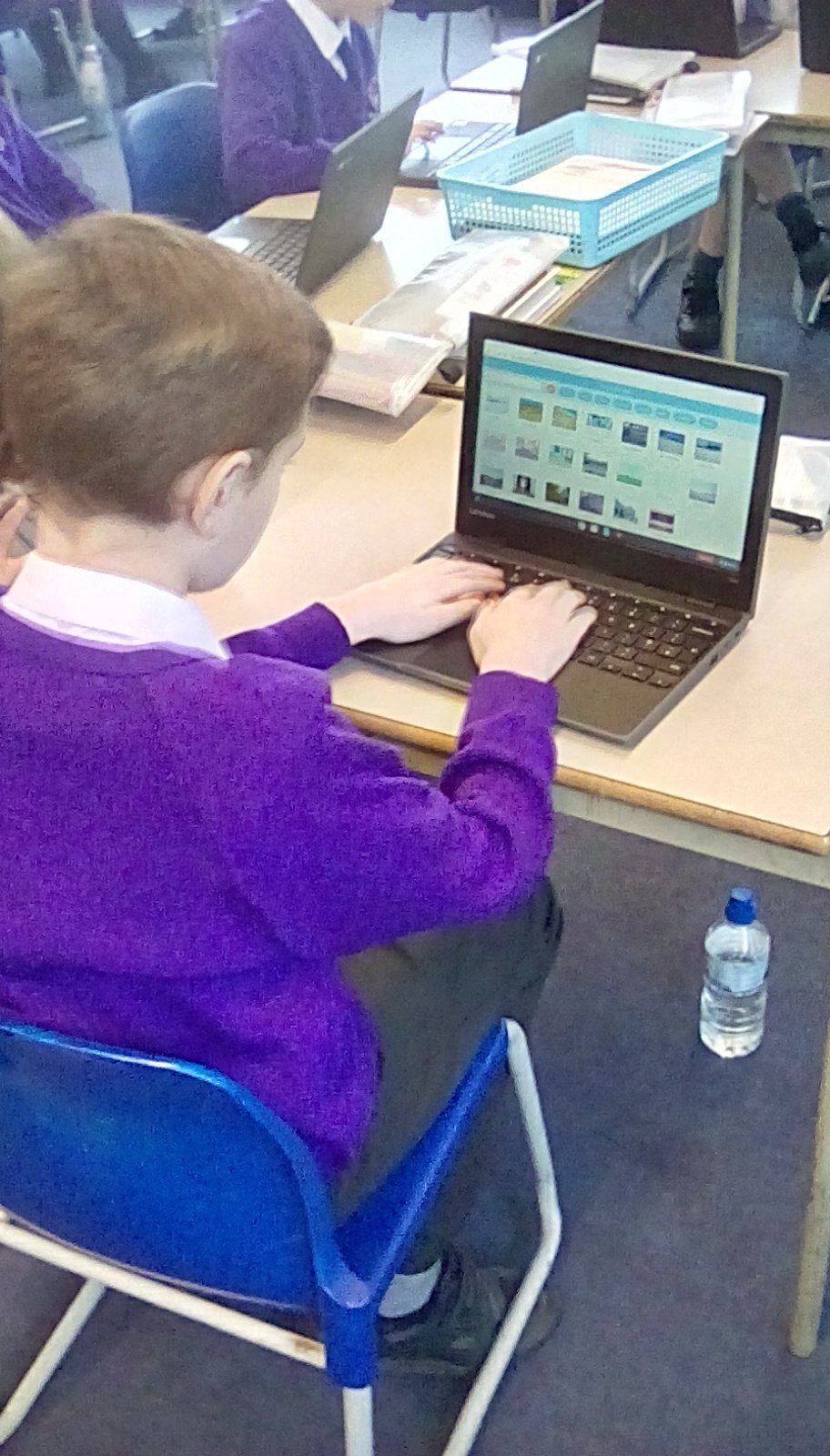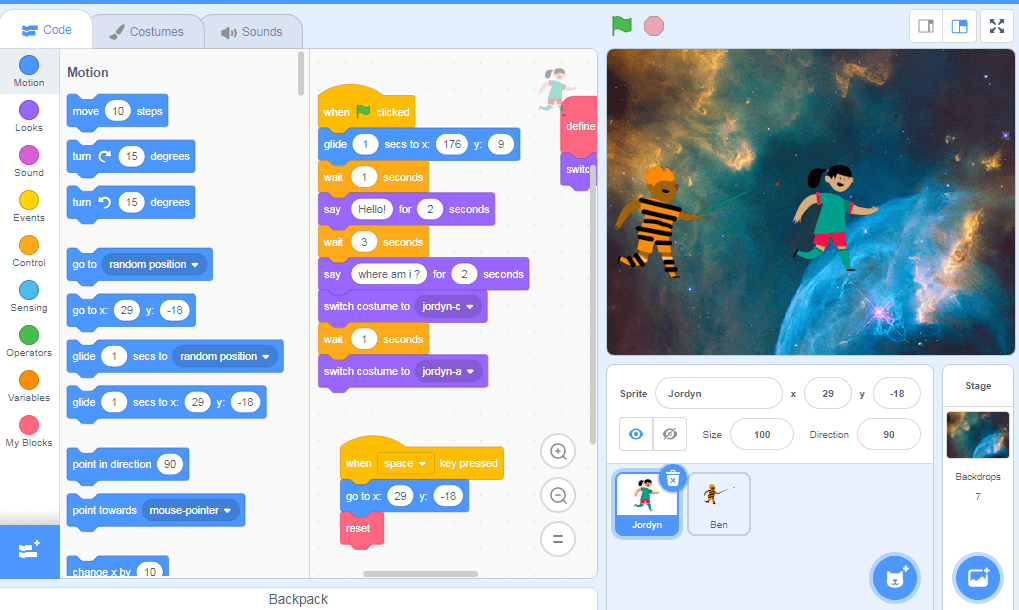 Week beginning 18.11.19
This week in Year 5, the children have been learning about crime and punishment in the modern day. They learnt about street art and graffiti, in particular the mystery that is Banksy. Inquisitively, they investigated the meaning behind his work and thought about whether he is a political artist or a criminal. Using Banksy's stencilling technique as inspiration; they designed their own stencil linked to anti-bullying. Their unique and thoughtful designs were then painted on to create their own Bansky inspired masterpieces. A fantastic effort from all of the children!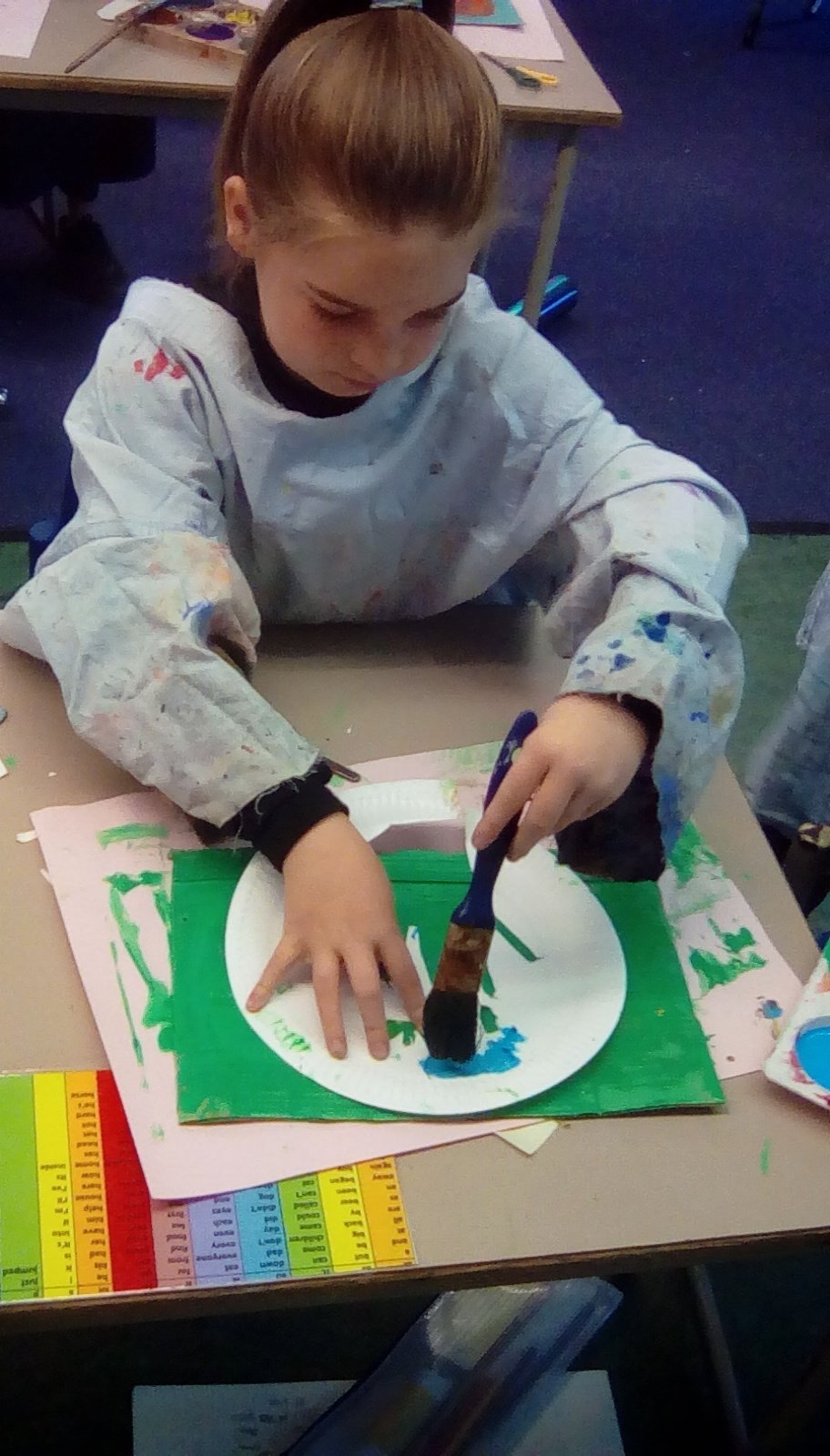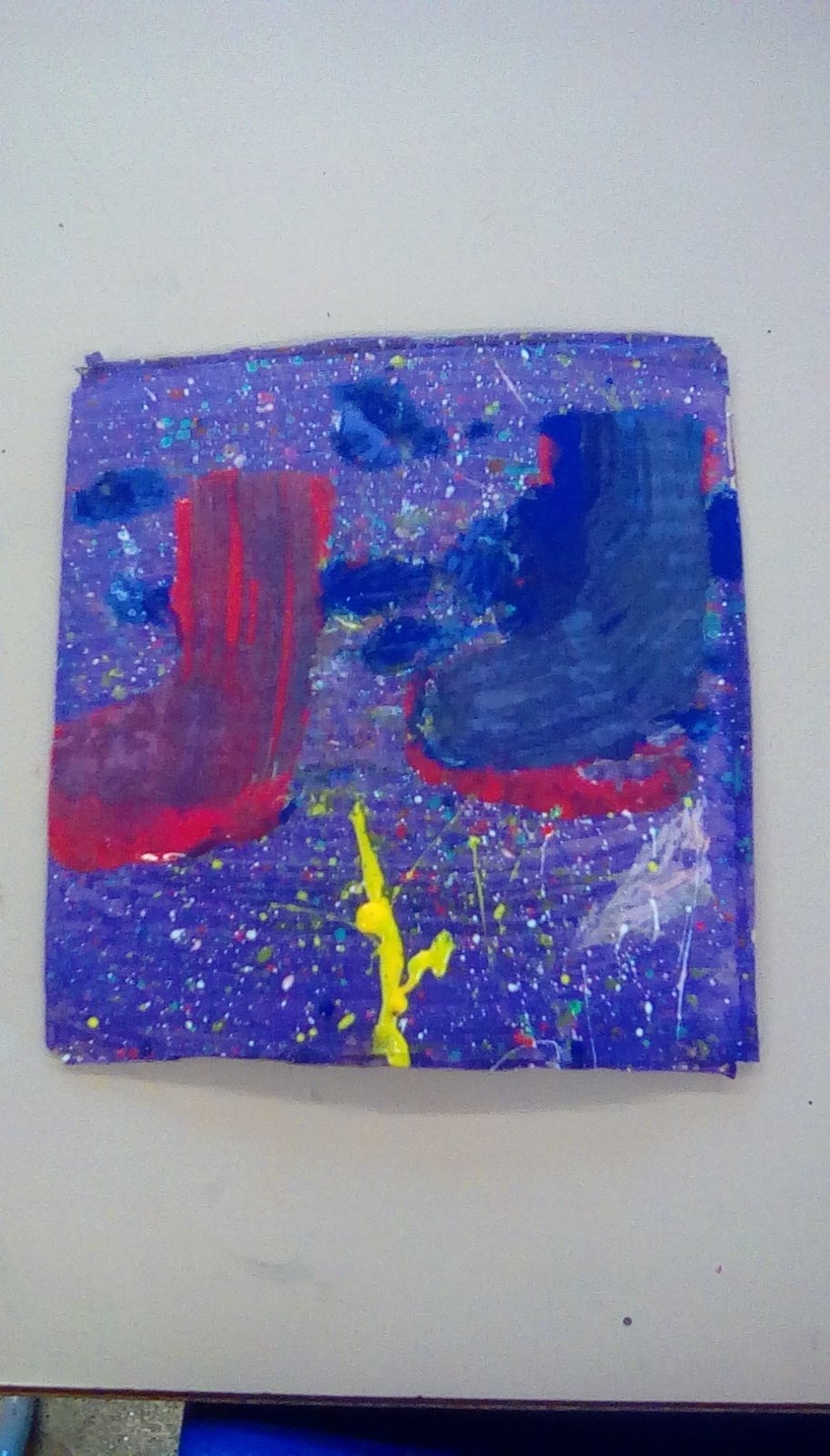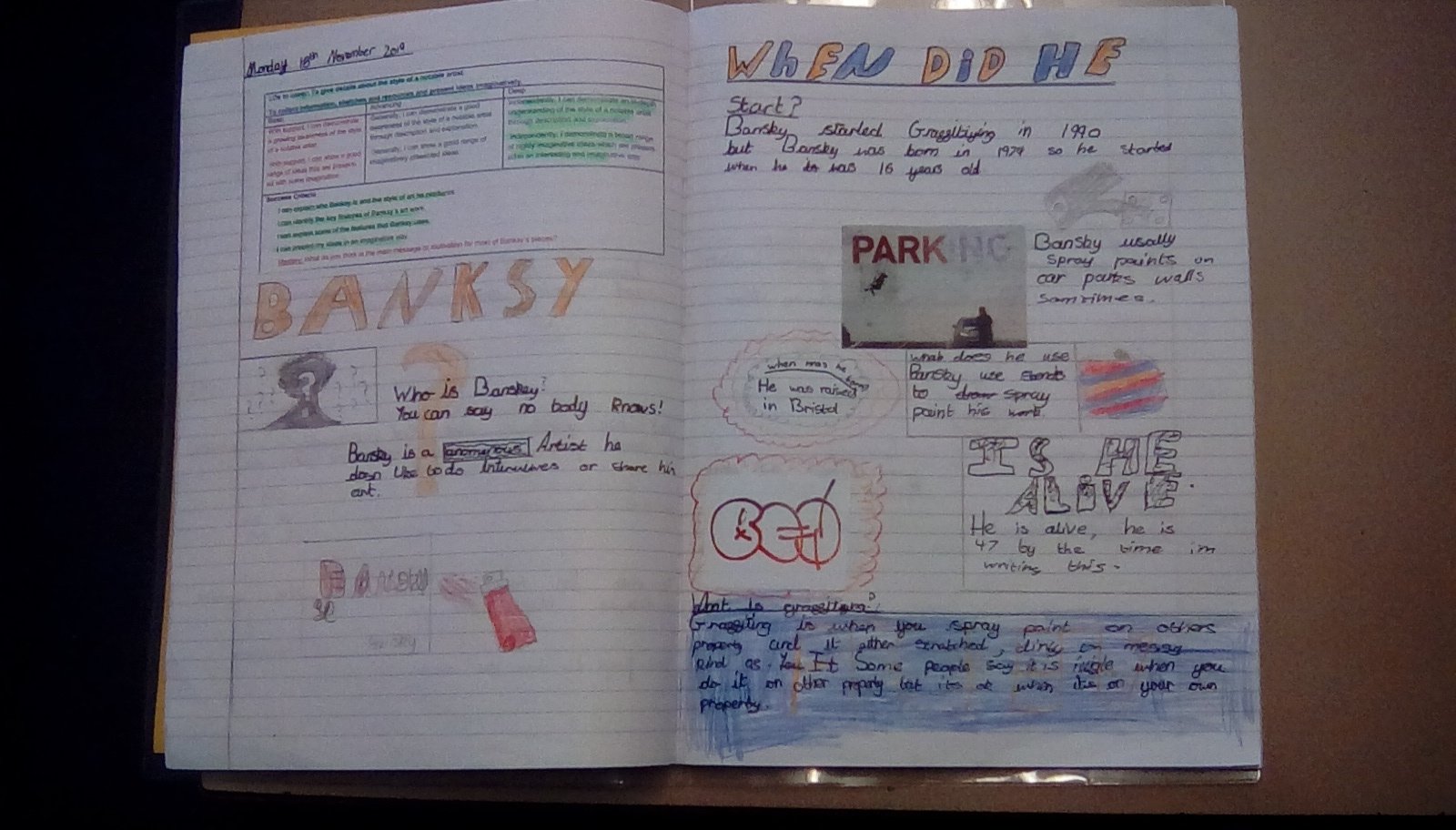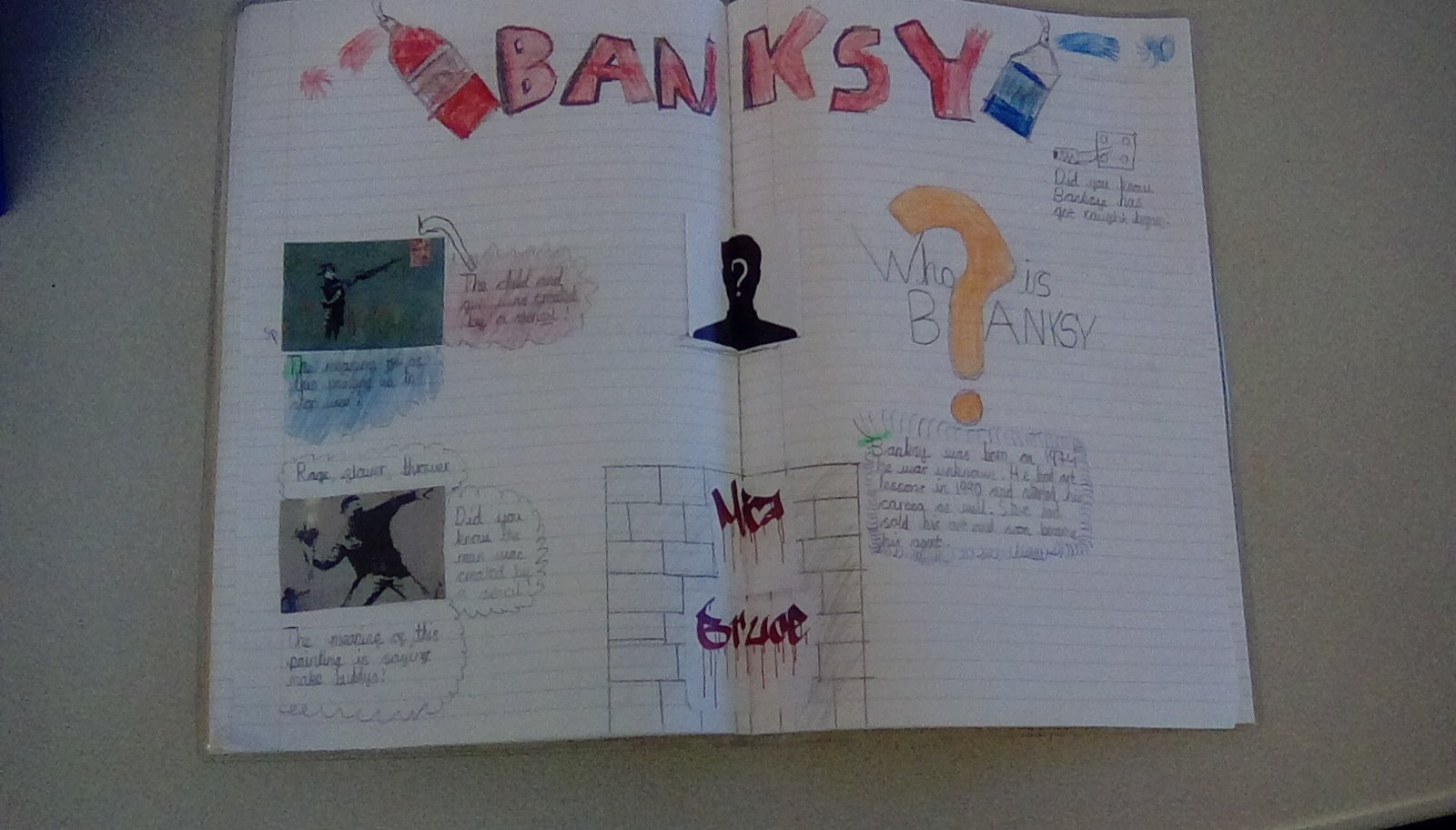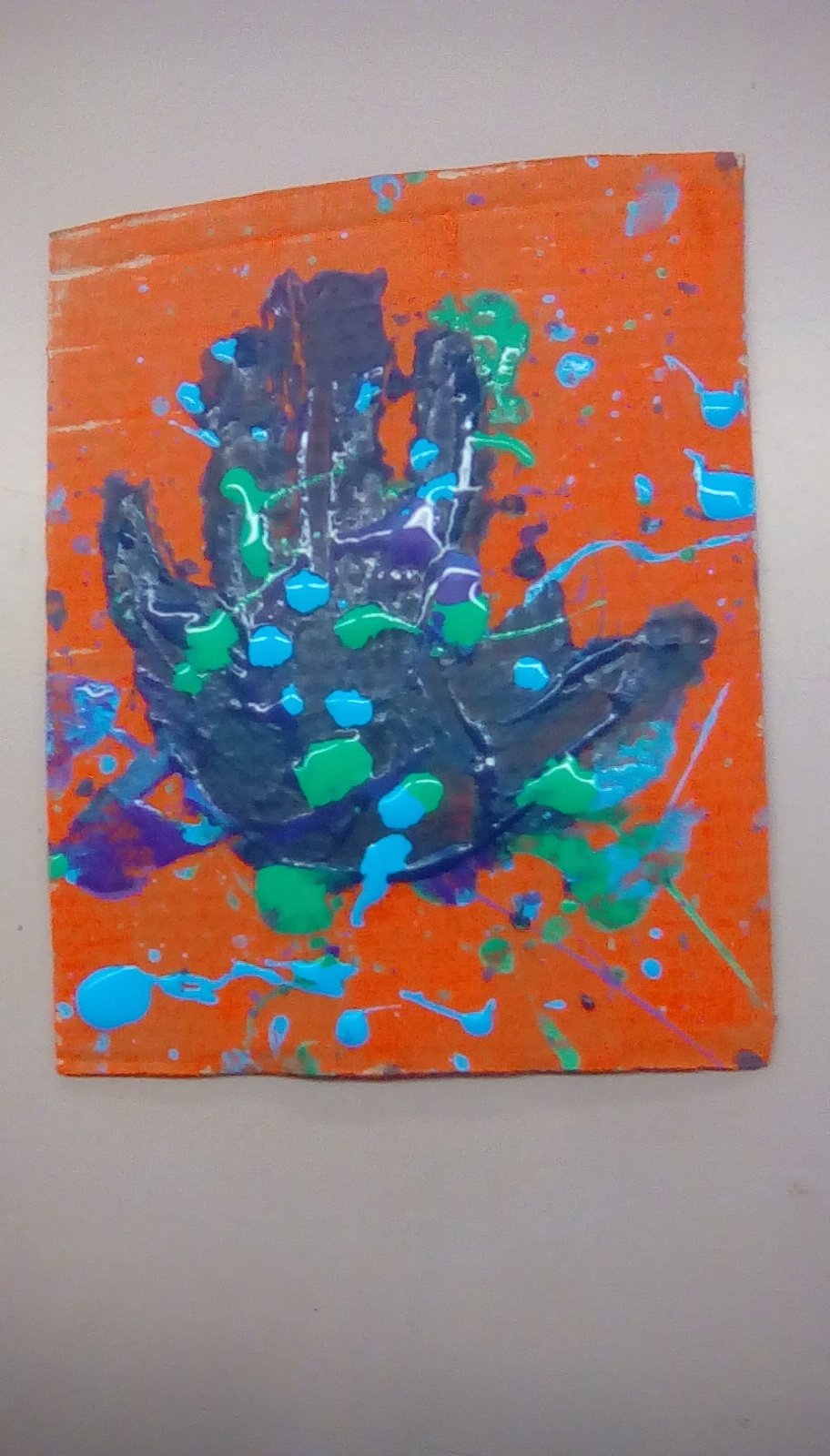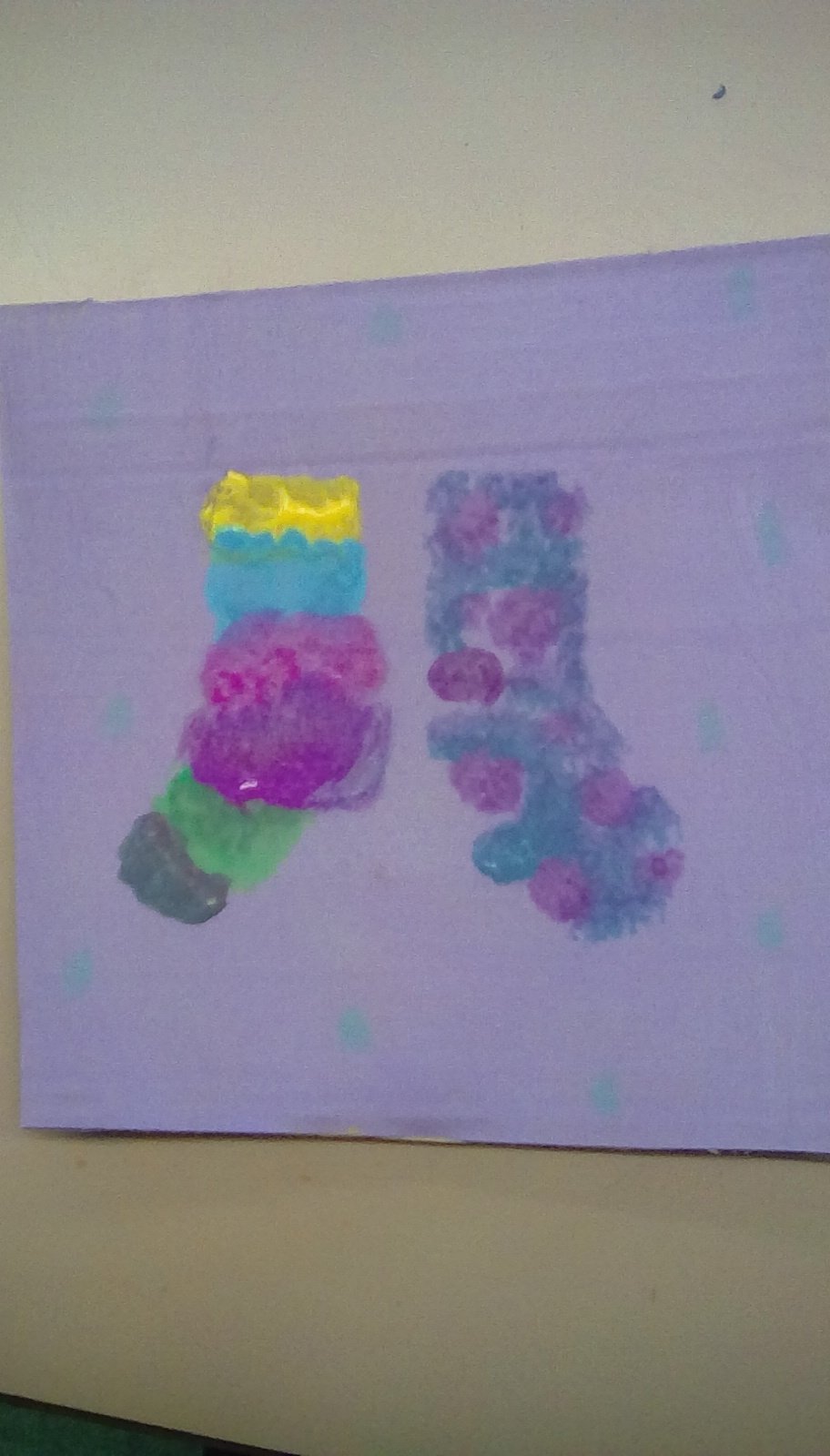 Week beginning 11.11.19
This week in Year 5, the children have worked on their writing to persuade pieces. Focusing on emotive language, modal verbs and short sentences, as well as rhetorical questions, they composed a letter addressed to Guy Fawkes. As a friend of Guy Fawkes, they wrote to him explaining why he should consider abandoning the gunpowder plot. After this, they designed and sketched wonderful Guy Fawkes inspired published writes, ranging from burning bonfires to stunning skylines. A fantastic effort and wonderful display of talent from Year 5!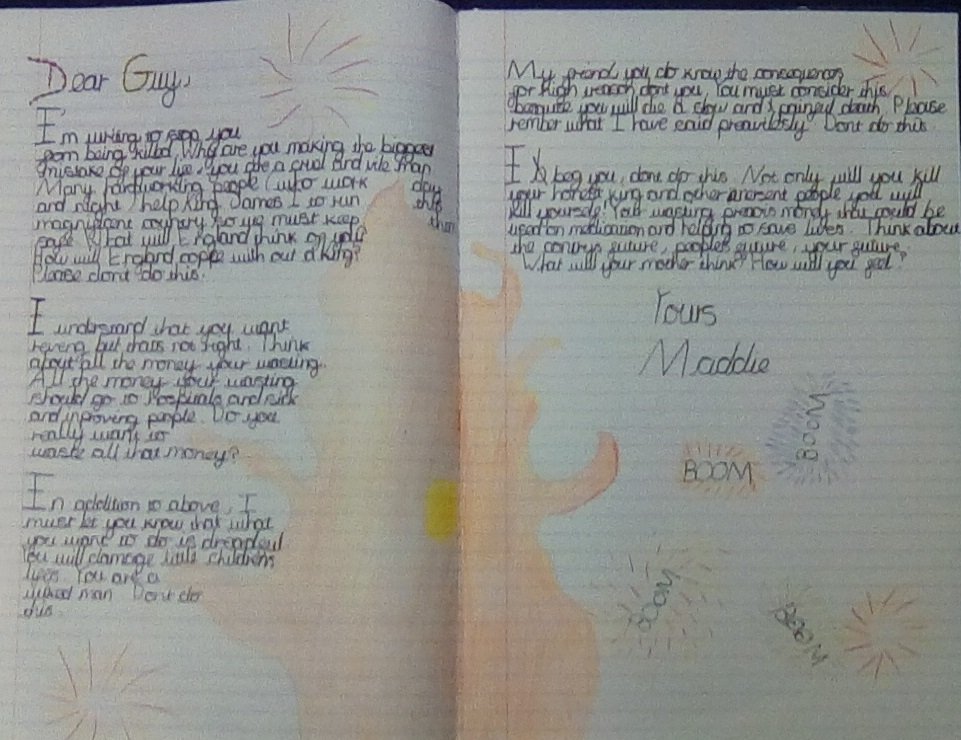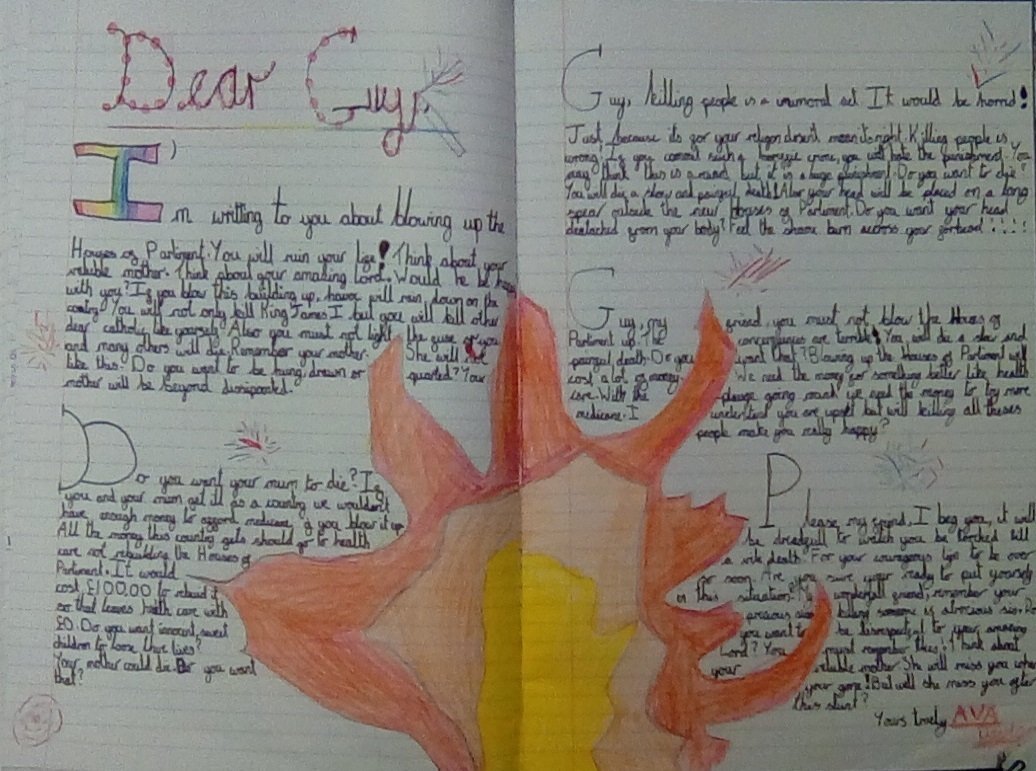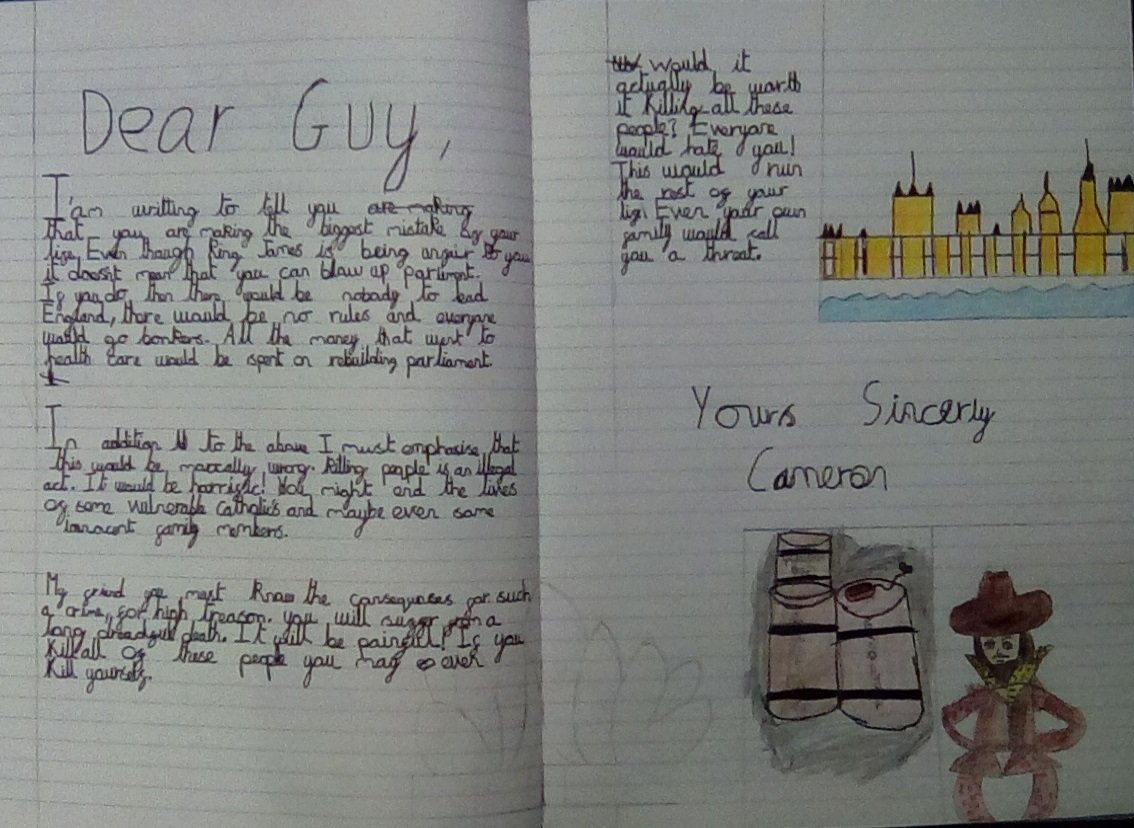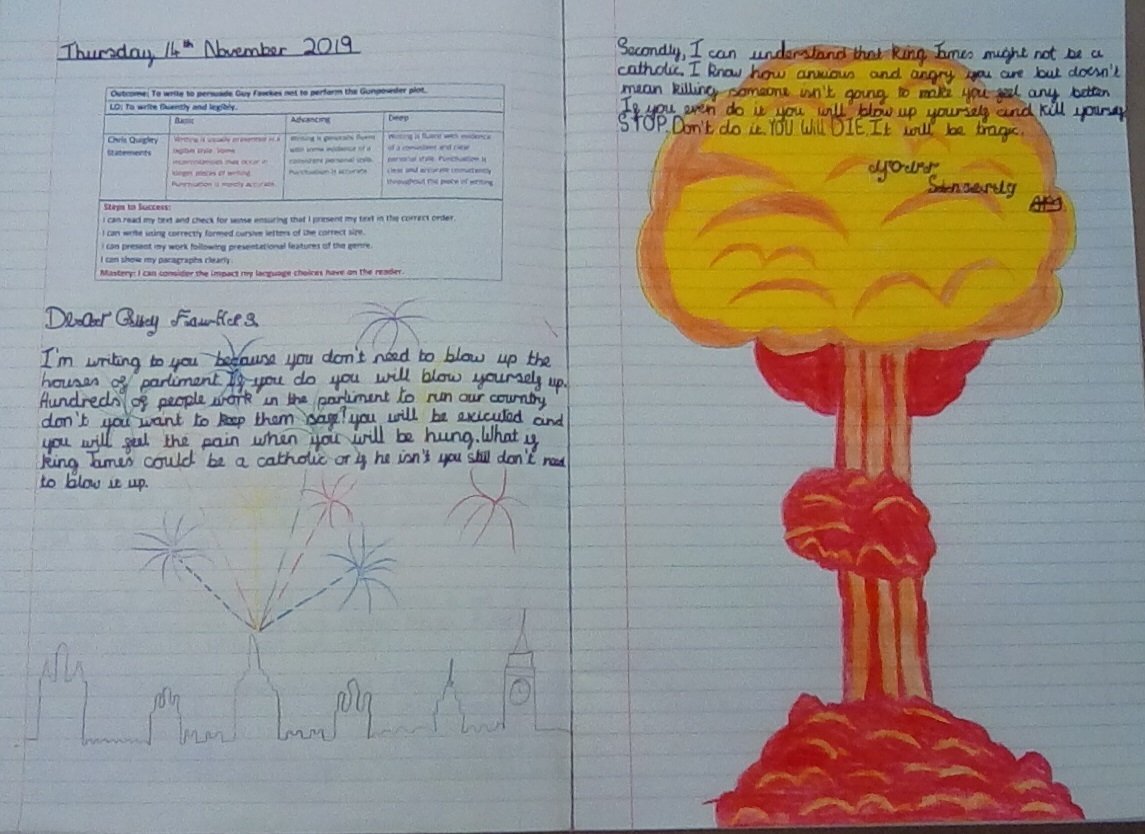 Week beginning 04.11.19
This week, the Year 5 students have demonstrated respect and a mature attitude during our Health and Relationships lessons. The children have shown curiosity when learning about our 'Changing Me' unit of PSHE. Importantly, they have discussed and learnt about changes to their bodies as they go through puberty, for both males and females. Sensibly, they have learned how the reproductive system works, in turn producing new lives.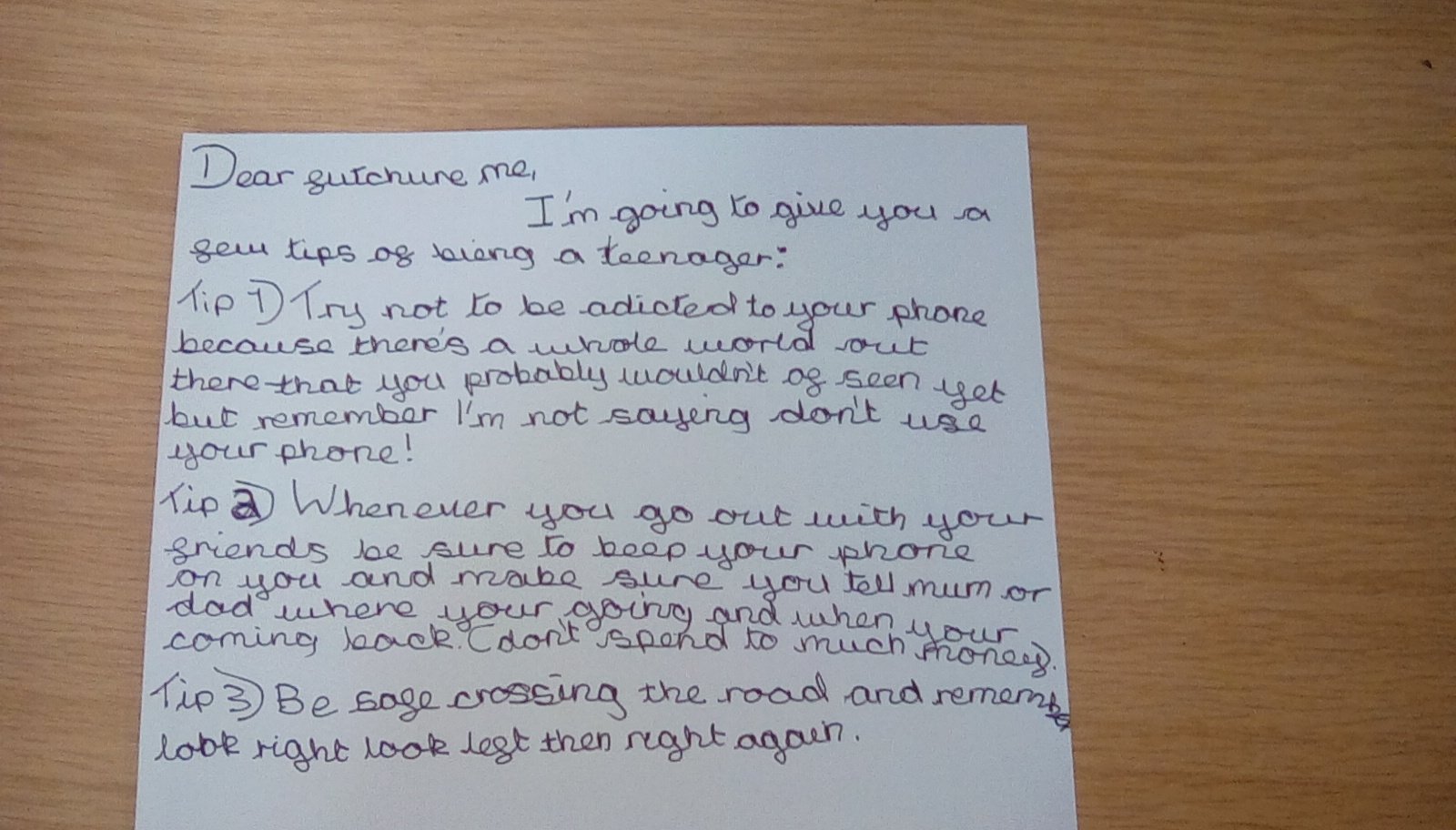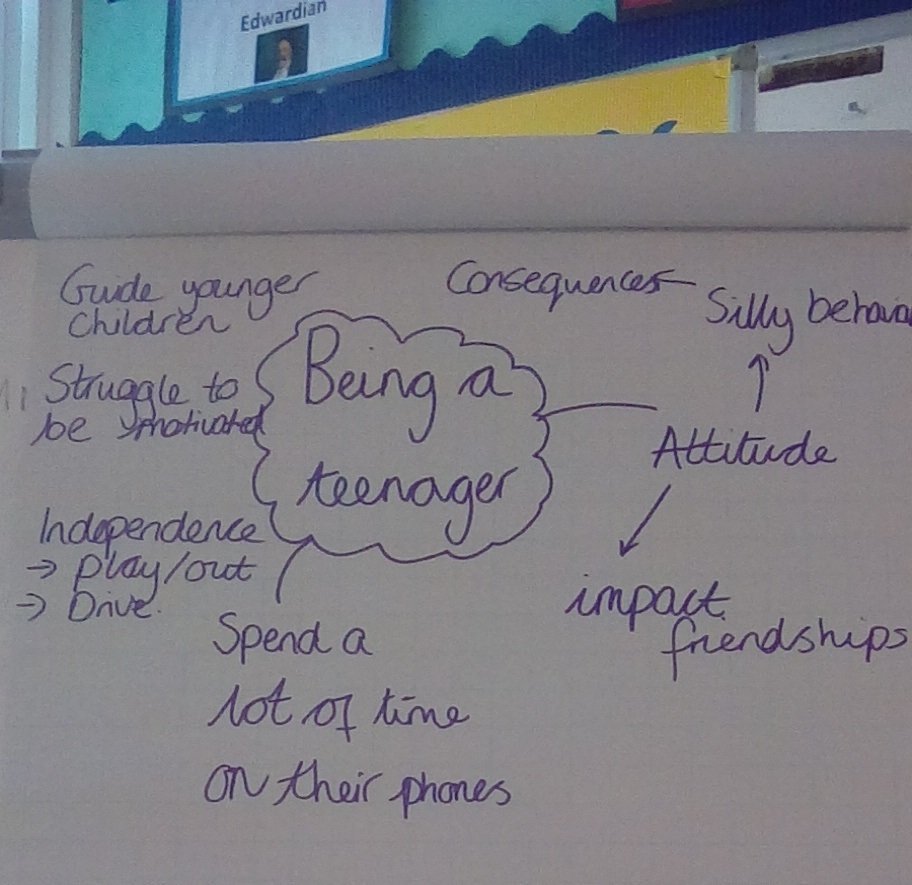 Week beginning 21.10.19
This week in Year 5, we have continued to develop our understanding of Forces by conducting an investigation into friction. Using toy cars, the children tested whether the speed of the moving car was affect by the material of the surface it was travelling on. They then used their findings and understanding of fair testing and accuracy to suggest how they could improve the accuracy of their findings. In addition, the Year 5 children sensibly learnt about Road Safety this week. Importantly, they learnt about the impact of crossing the road safely, as well as stopping distances and the importance of being aware of surroundings. Well done Year 5 – an important lesson well learnt.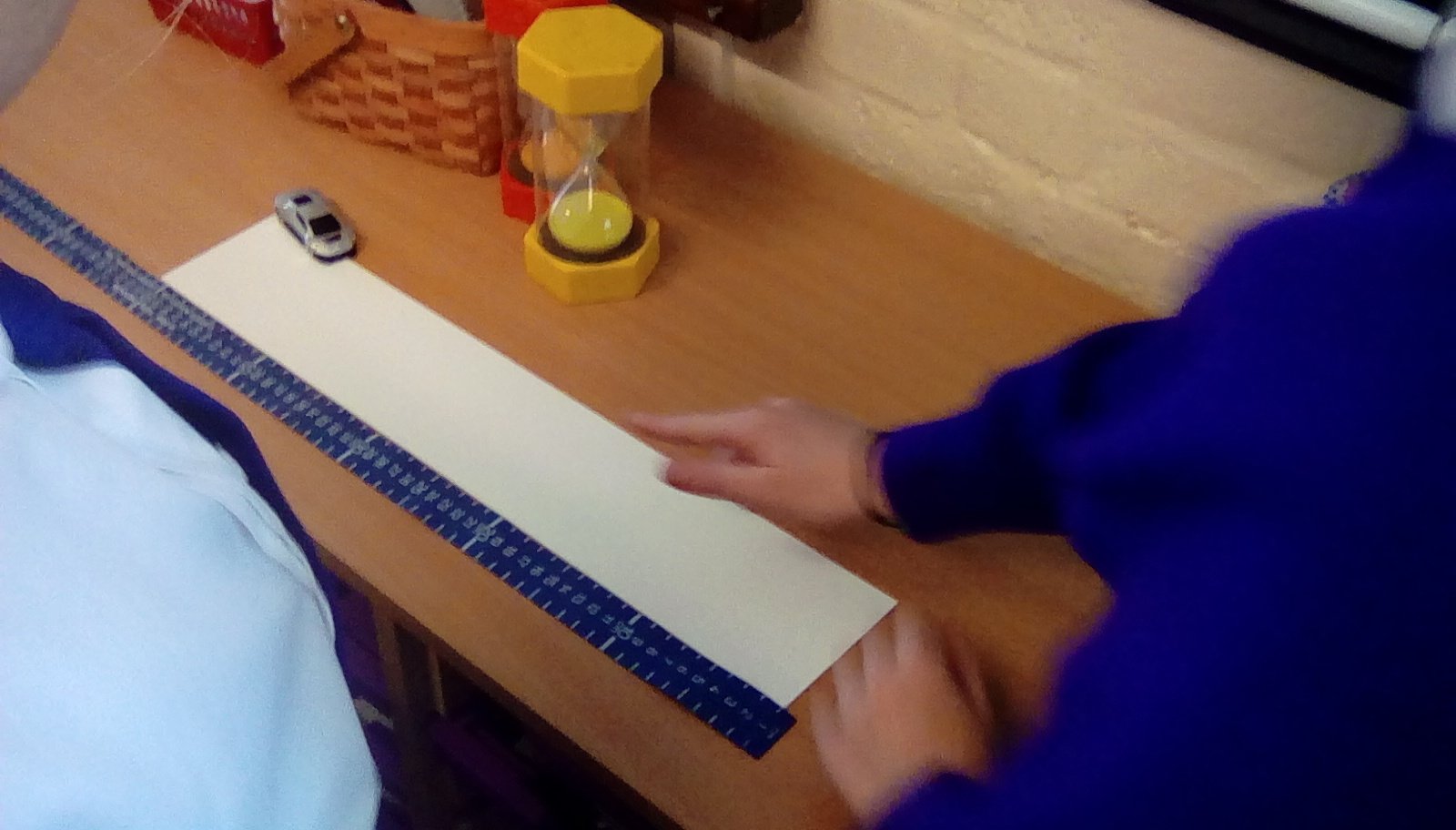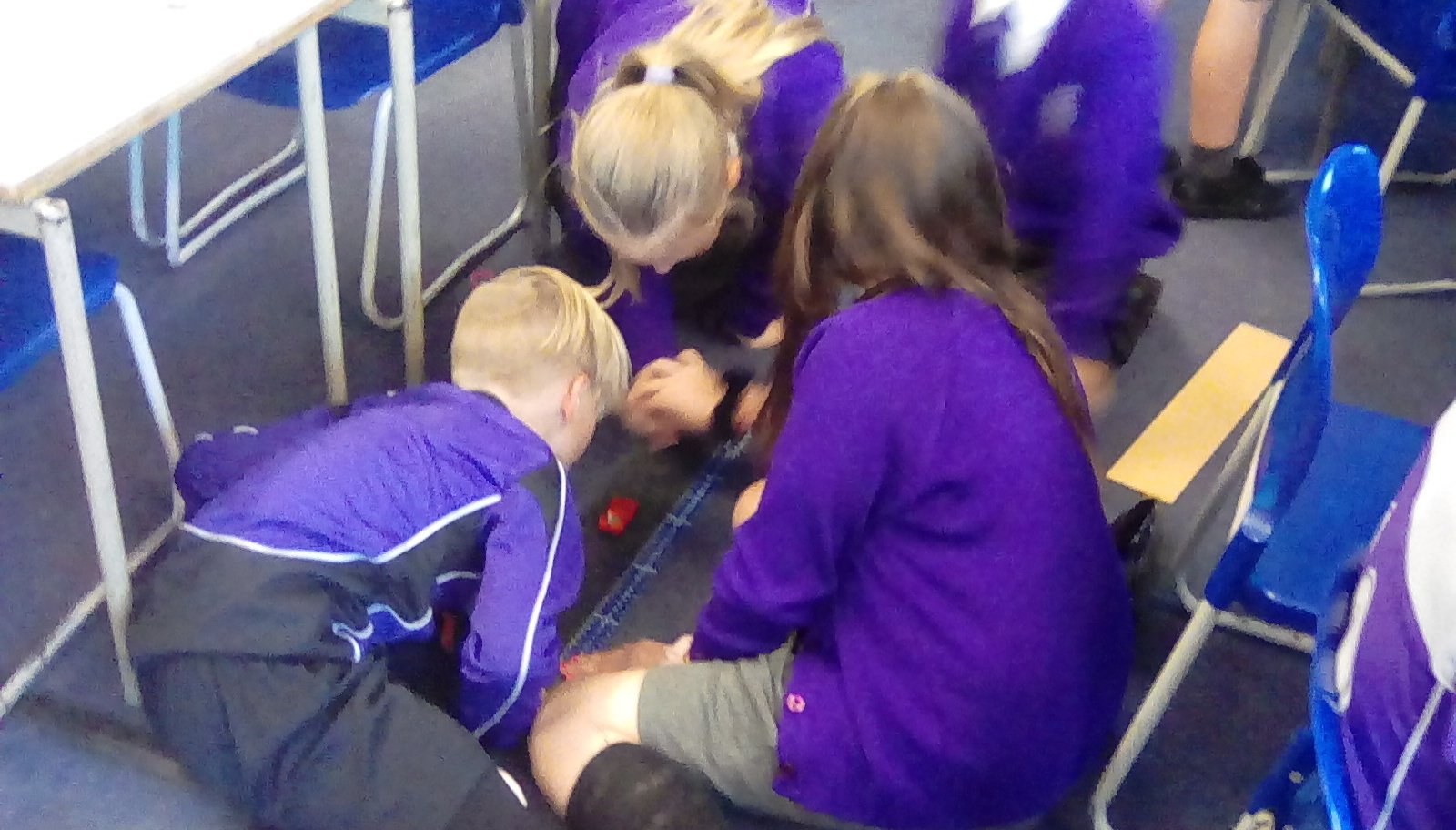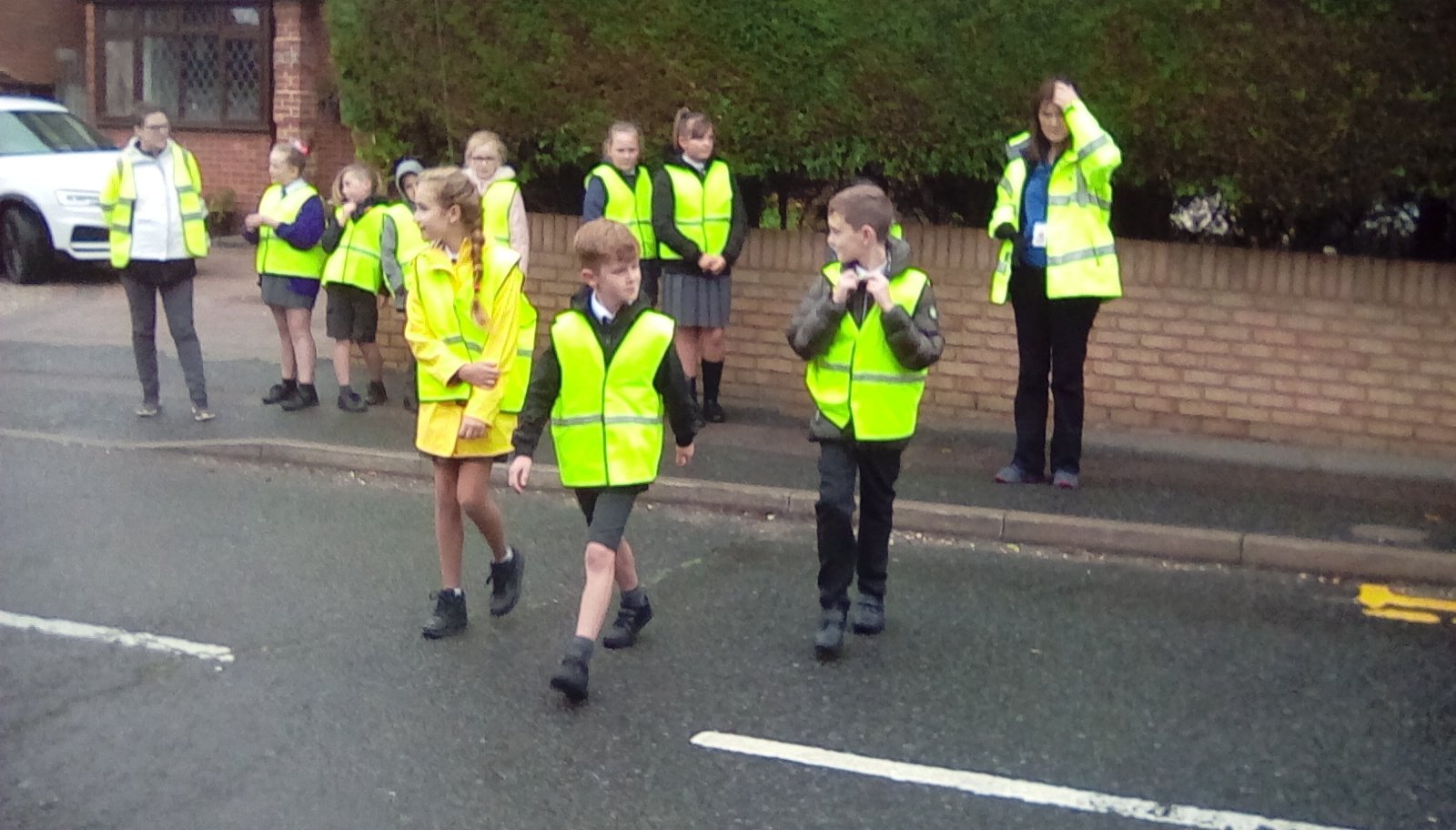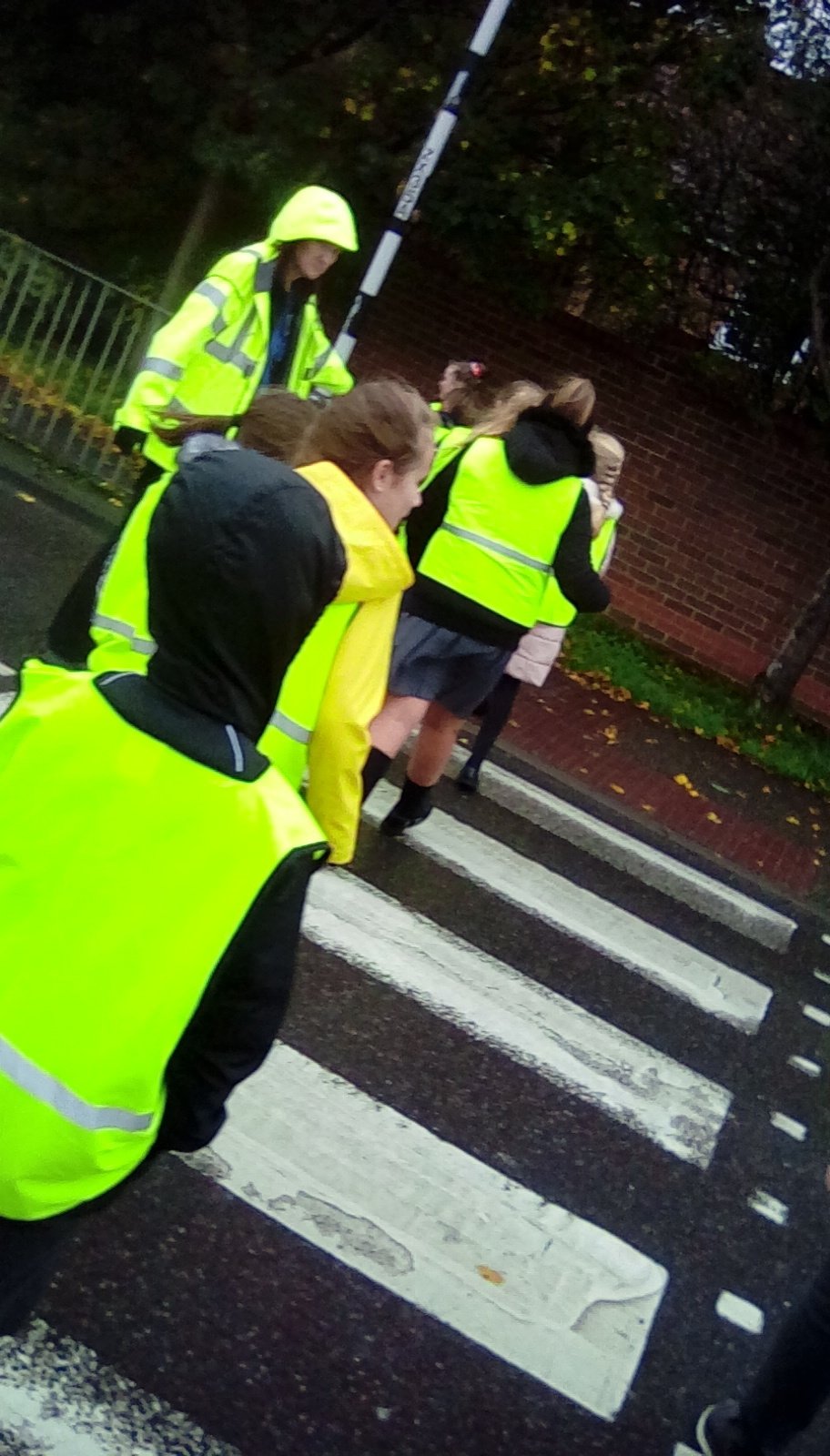 Week beginning 14.10.19
This week in Year, the children have designed, created and improved their own prototypes in Design Technology. Applying their understanding of gears, levers and pulleys within science, they have produced guillotines designed to behead a plasticine man, as would have punishment for crimes in the past. They have applied their understanding of punishment in the Tudor era, as well as other key time periods, to create effective designs, as well as choose materials and resources to construct their own guillotines. Impressively, many children were able to improve their prototypes after evaluating whether their structure served its purpose, in addition to displaying fantastic team work.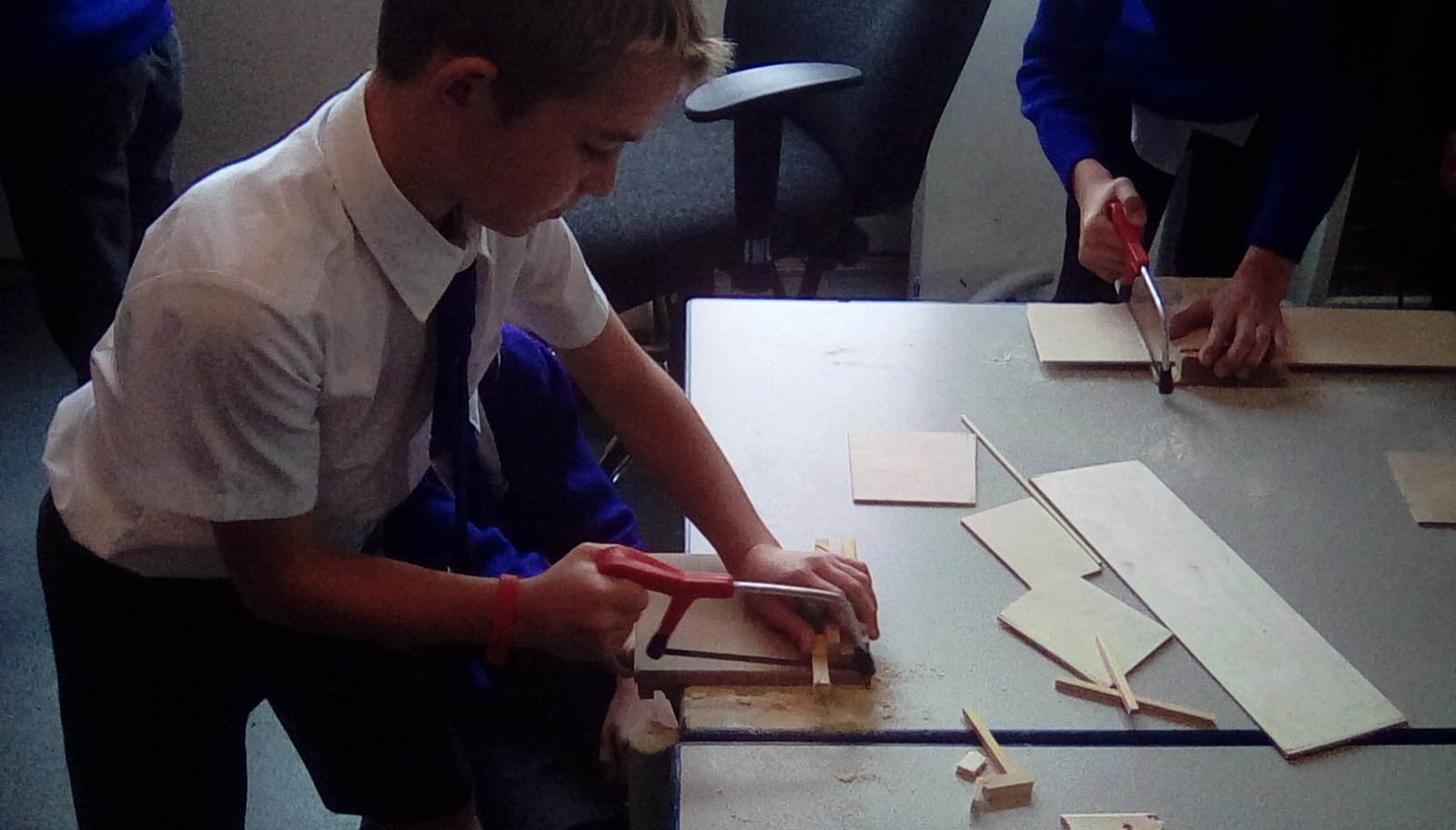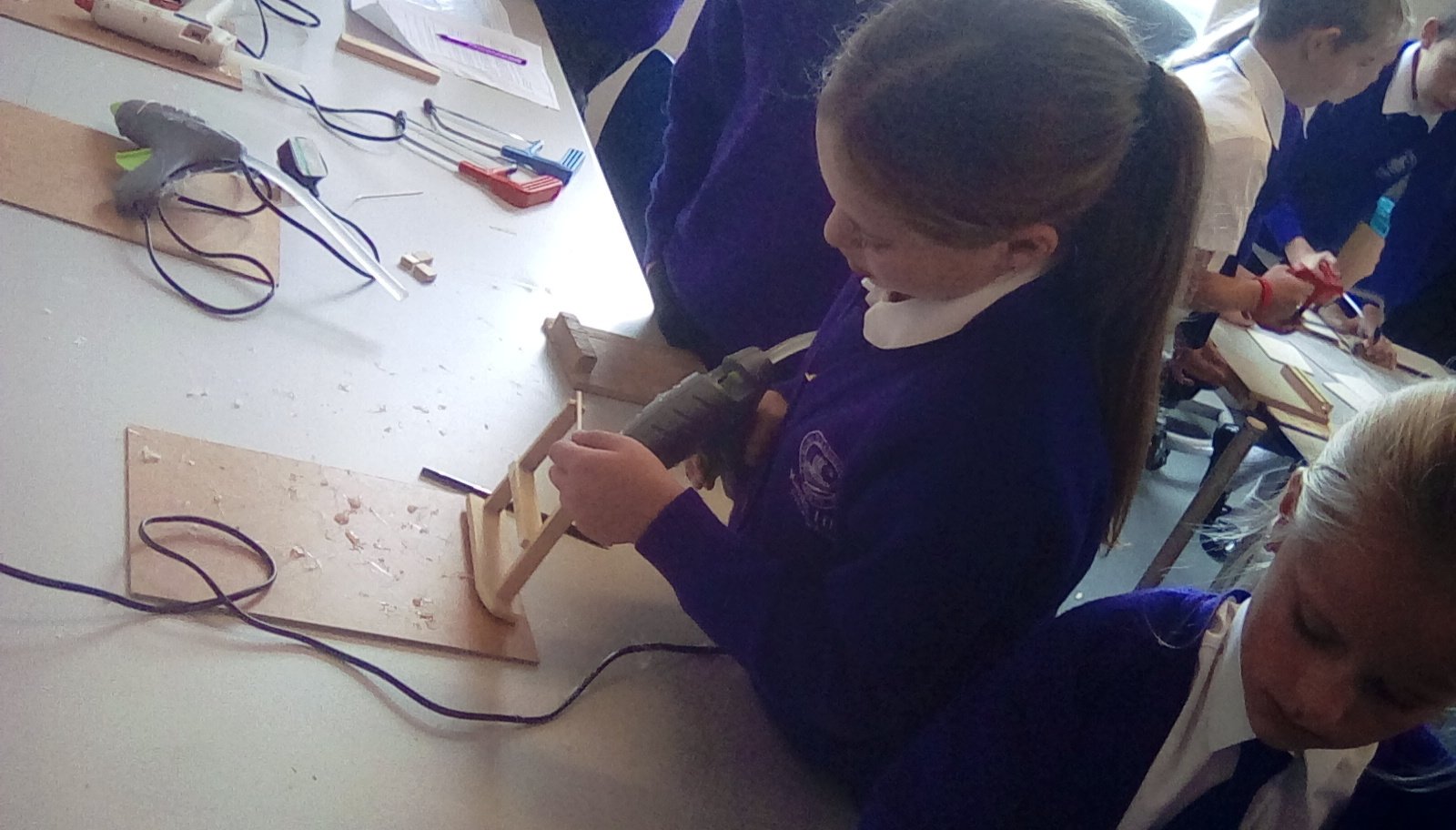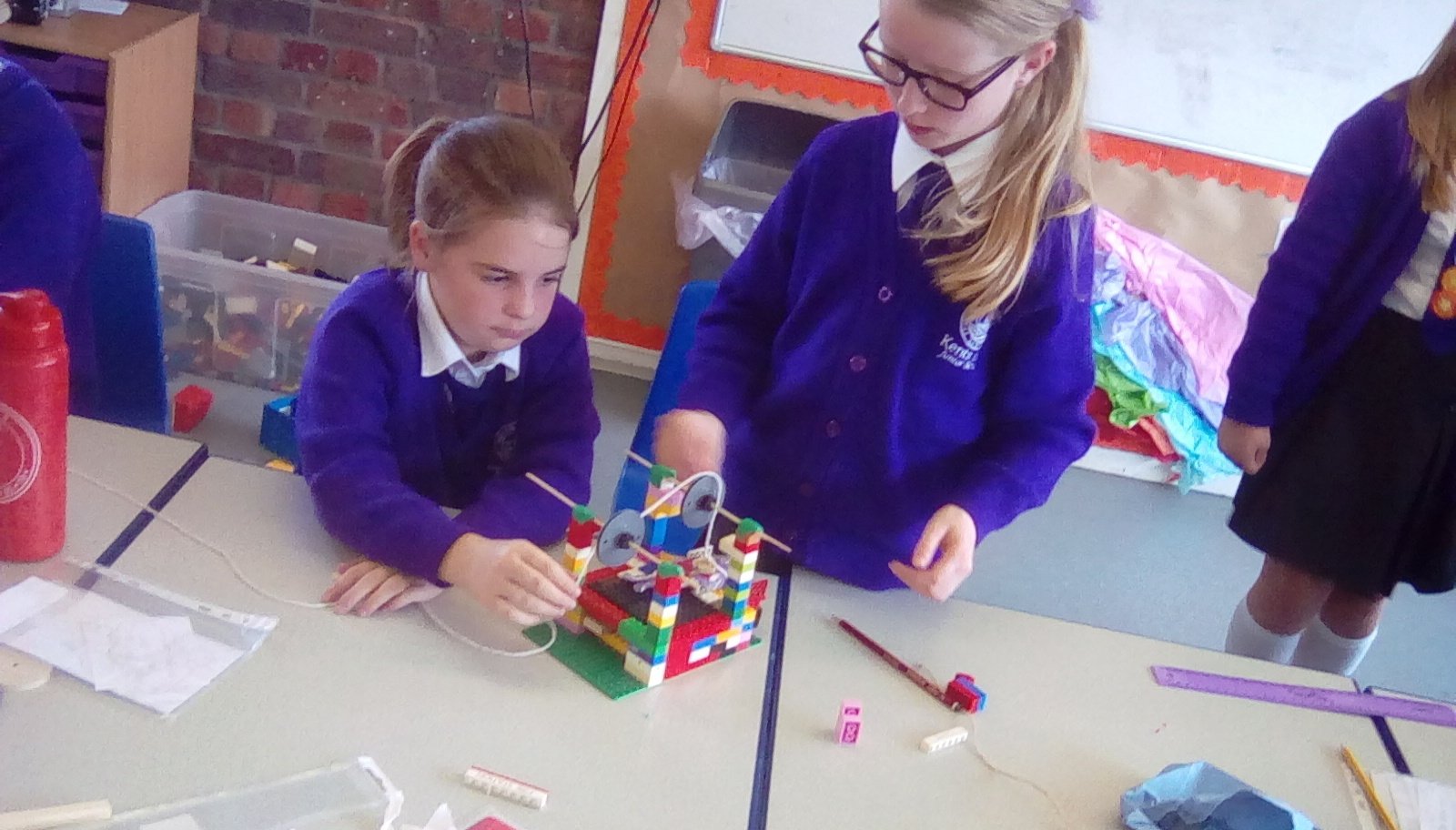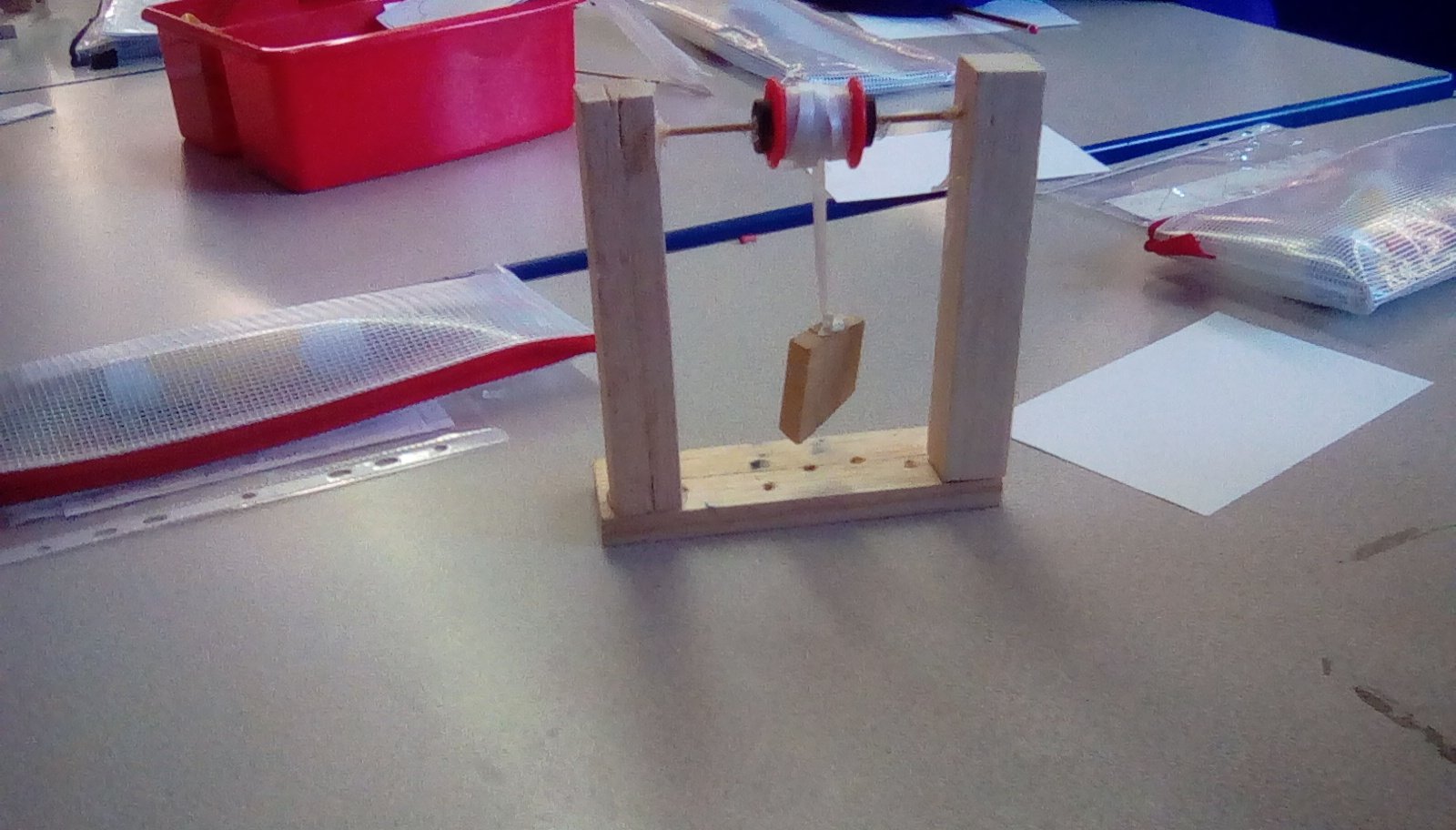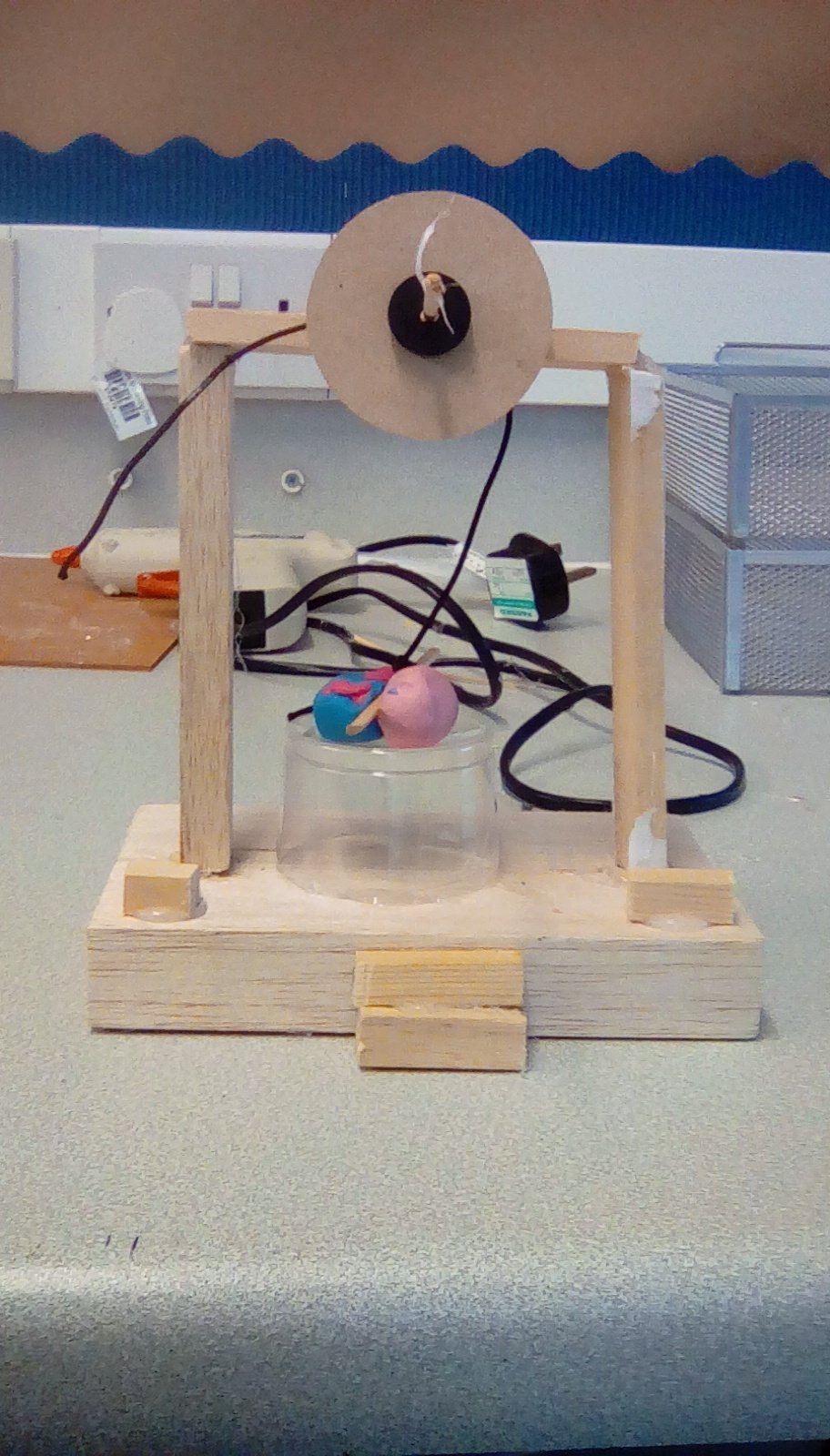 Throughout this week, the children have been developing their understanding of online safety using the SMART approach. To enhance this, Year 5 used Now Press Play to immerse themselves in a real life scenario concerning online safety, which they then discussed the importance of and how to resolve the issue.
Week beginning 07.10.19
This week in Year 5, the children have been developing their understanding of air resistance in science. They planned and conducted their own investigations creating and testing parachutes rate of fall, using different types of material to test this. After recording their data, they came to the conclusion that paper had the most air resistance acting upon it, as their paper parachutes fell at the slowest rate. This information could then be passed onto the company that they were designing parachutes for. In addition, the children have been focusing on their writing to entertain in the form of rewriting the opening scenes of the book Holes. Successfully, they have used similes and personification as well as expanded noun phrases and adverbs to compose well thought out, creative, pieces of writing. Well done Year 5!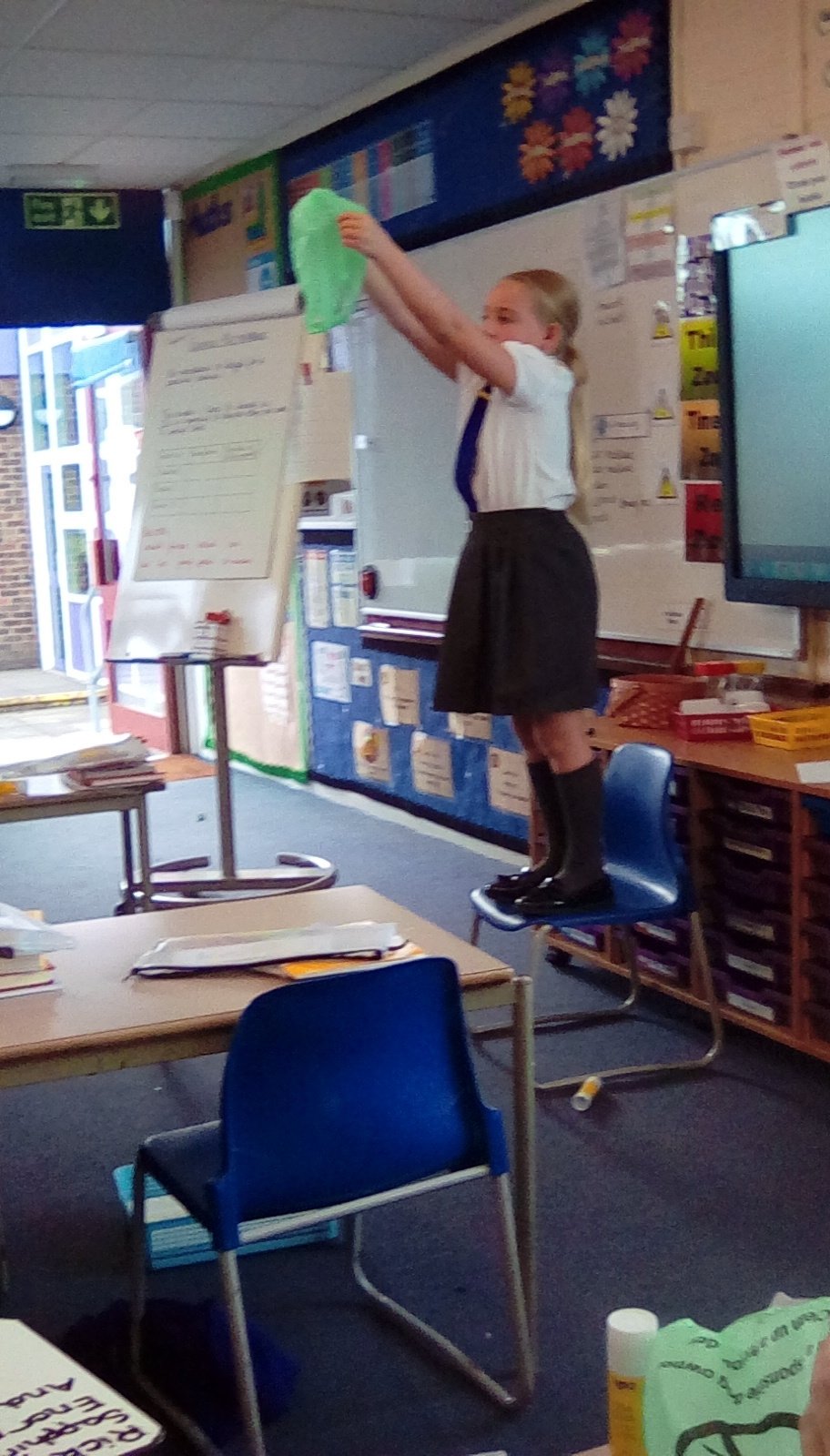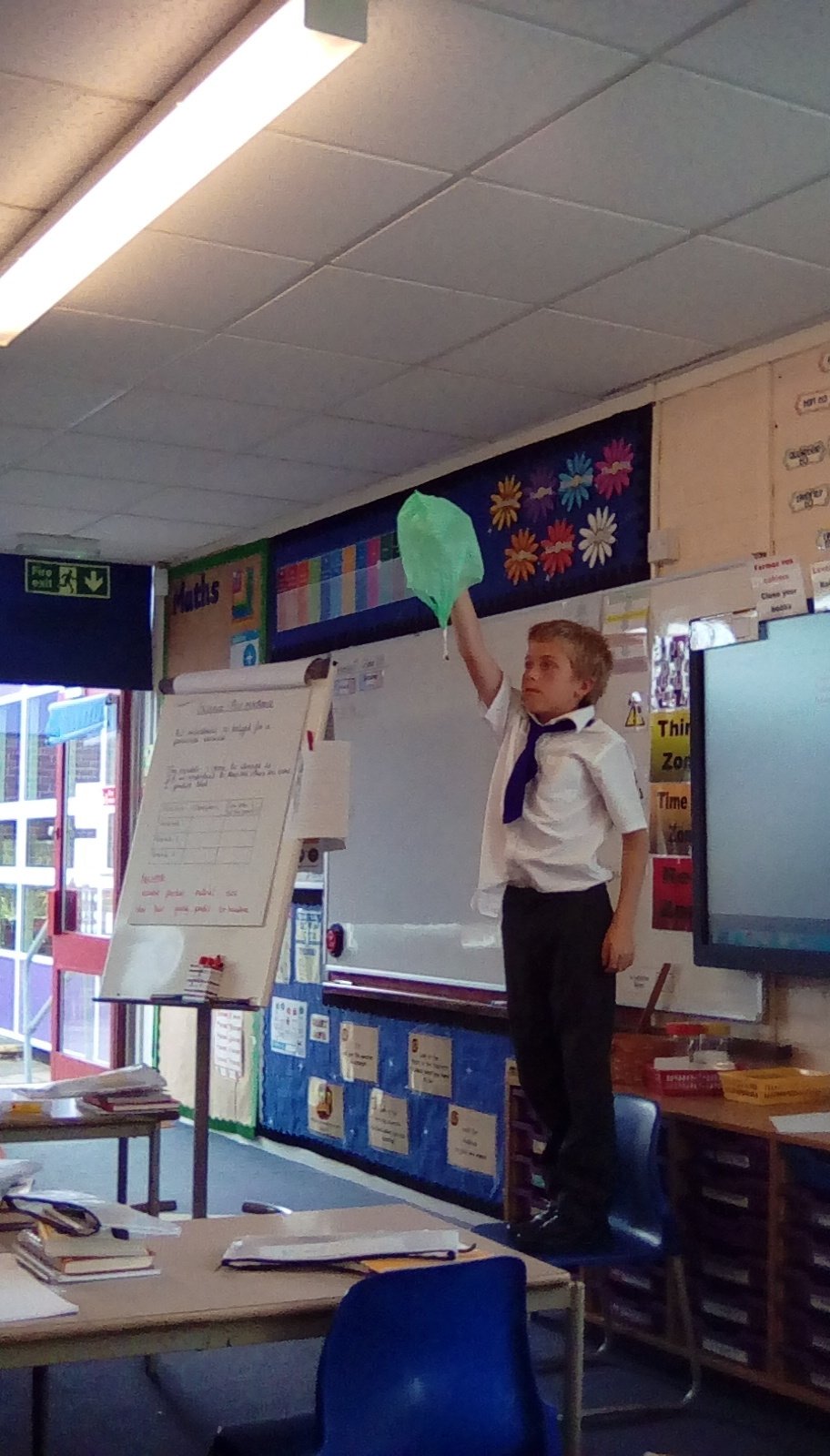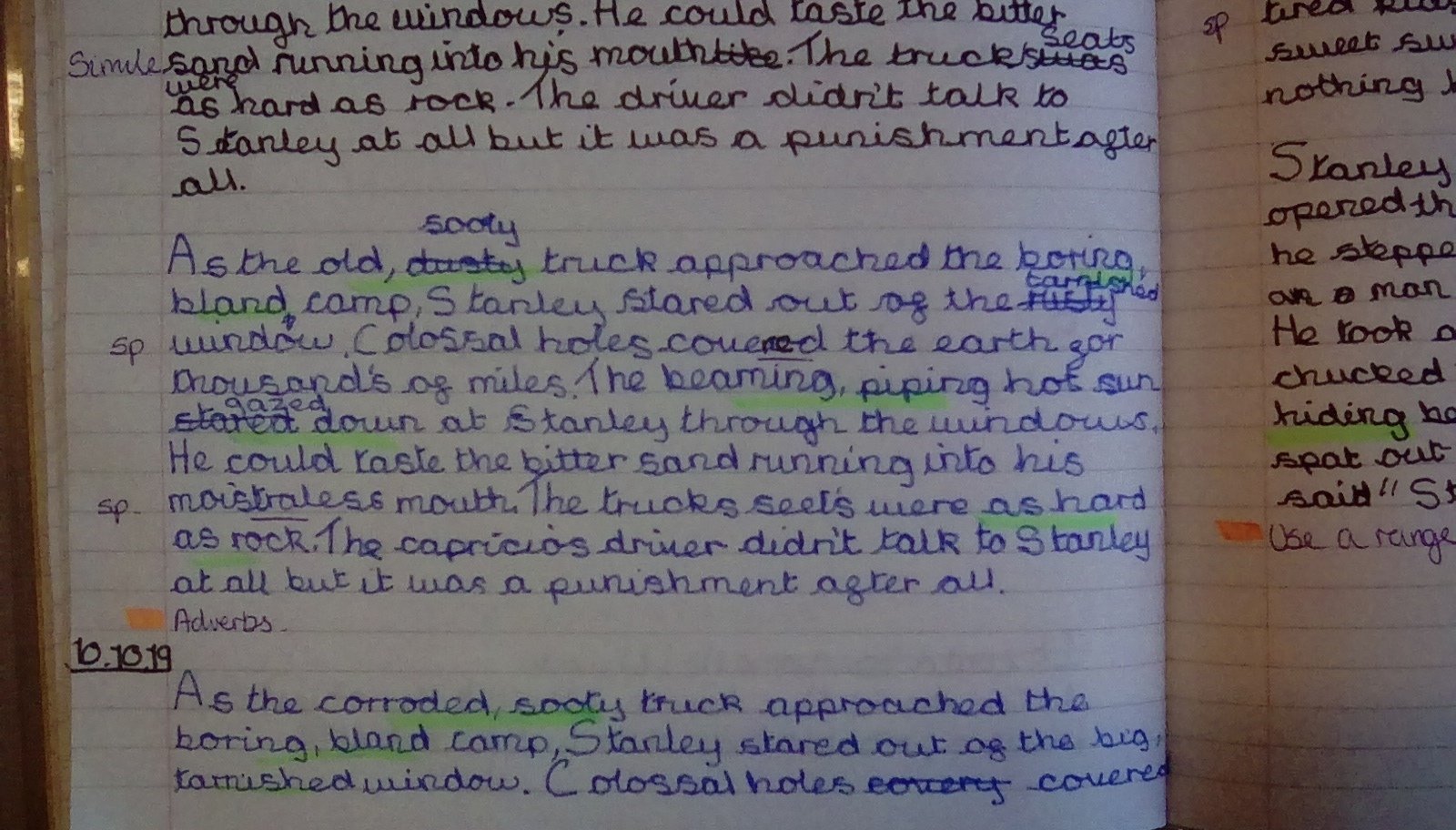 Week beginning 30.09.19
This week, the children have had the amazing opportunity to meet GB athlete Laura Samuel. They demonstrated the core values of perseverance during the fun yet tough exercises, as well as teamwork whilst cheering on their peers! In Gymnastics as part of PE, 5LJ have tried hard whilst using the apparatus, as well as 5MC and 5HW continuing to push themselves in their PE lessons. In addition, they've also furthered their understanding of crime and punishment across different eras whilst recreating the Magna Carta in Art and learning about punishment in the torturous Tudor period.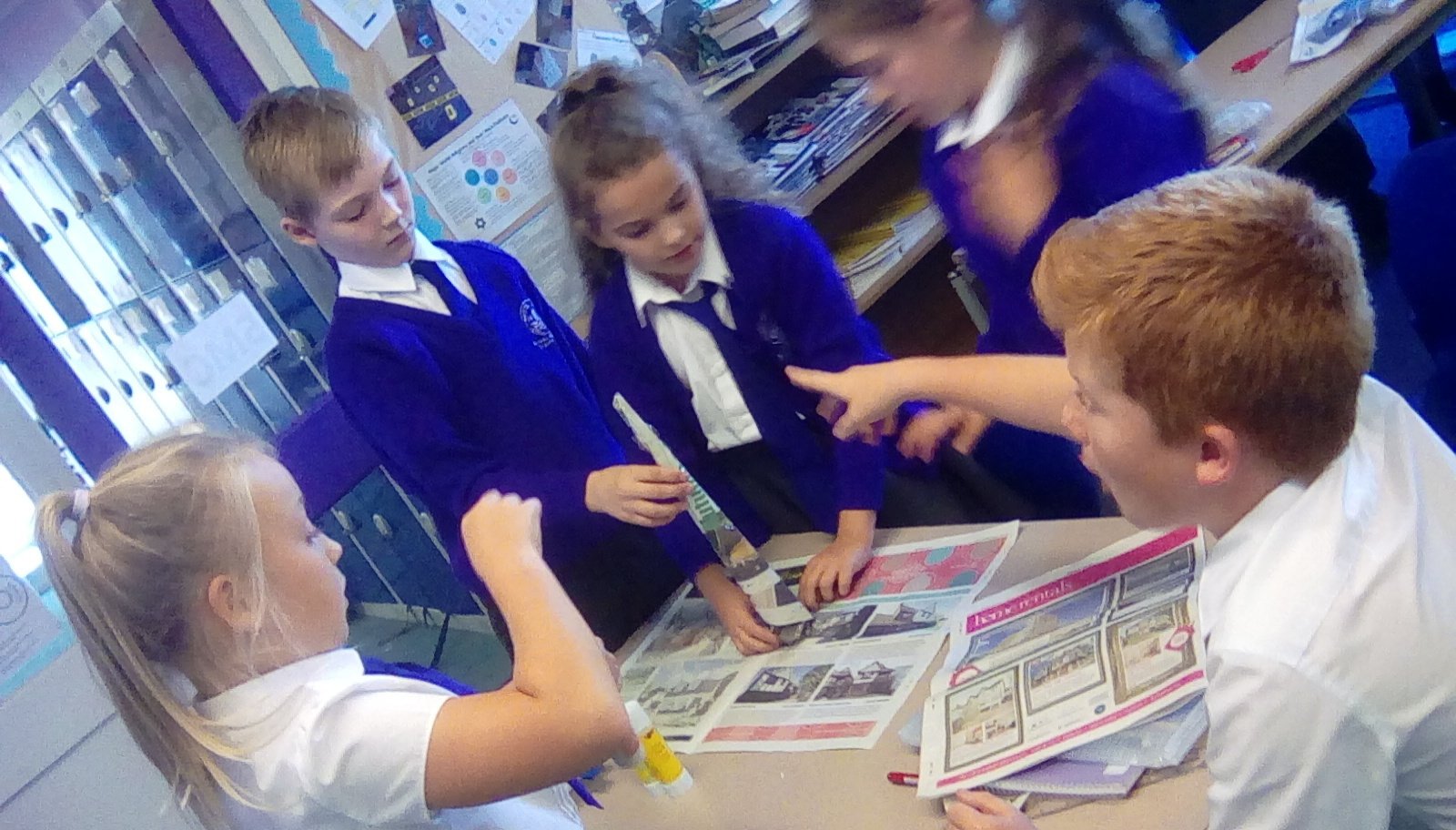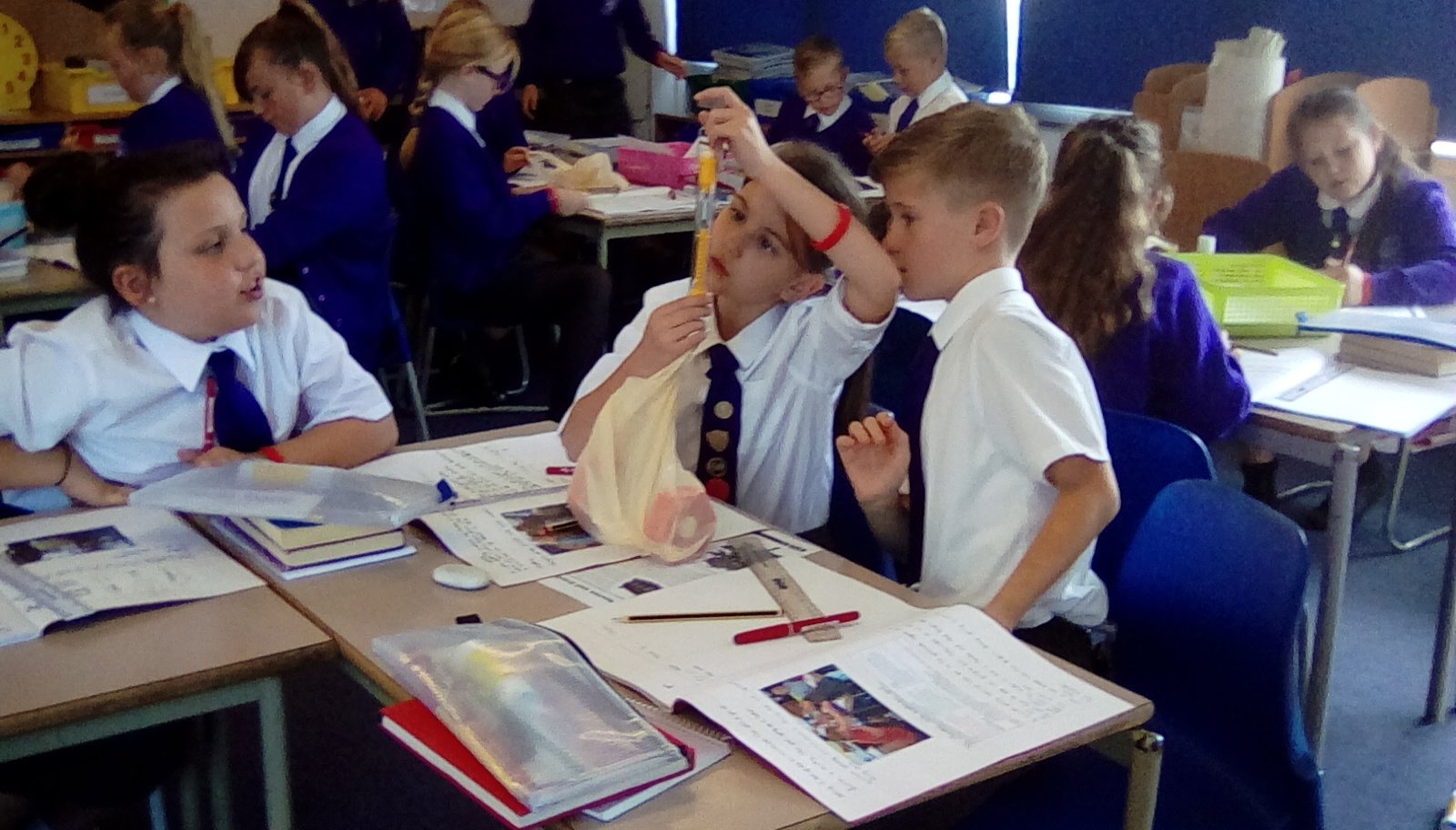 Week beginning 23.09.19
This week, the children have had the amazing opportunity to meet GB athlete Laura Samuel. They demonstrated the core values of perseverance during the fun yet tough exercises, as well as teamwork whilst cheering on their peers! In Gymnastics as part of PE, 5LJ have tried hard whilst using the apparatus, as well as 5MC and 5HW continuing to push themselves in their PE lessons.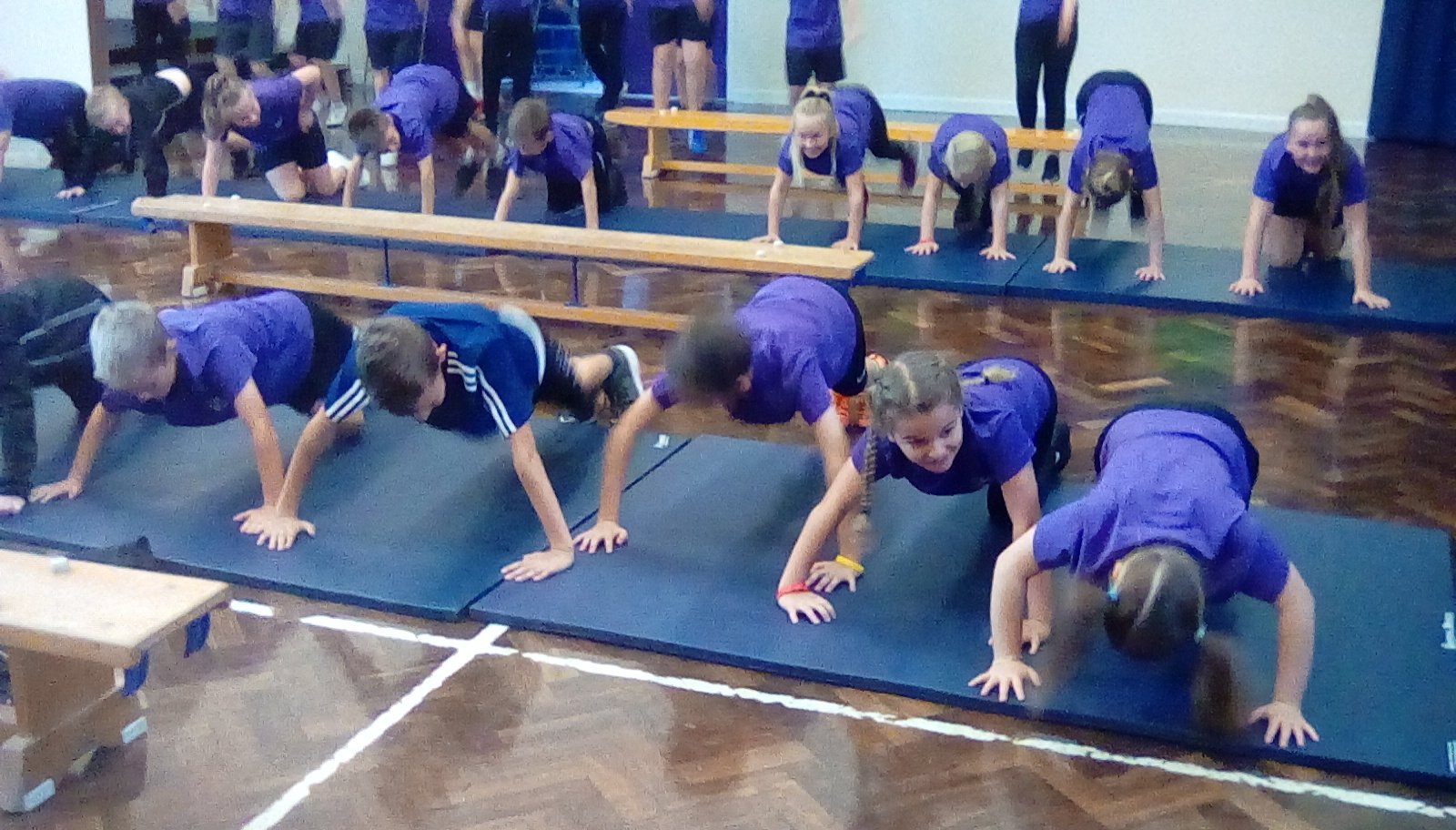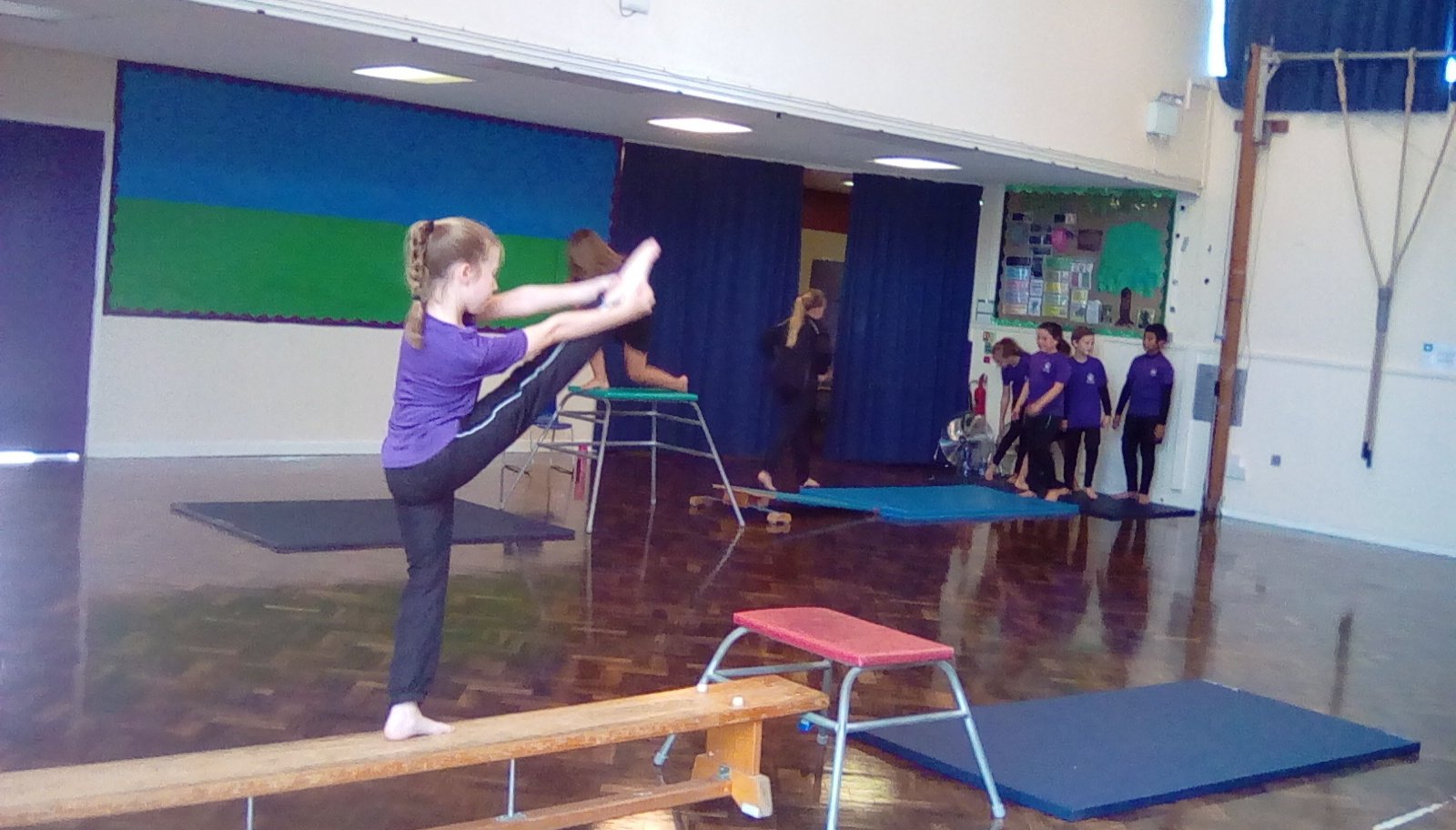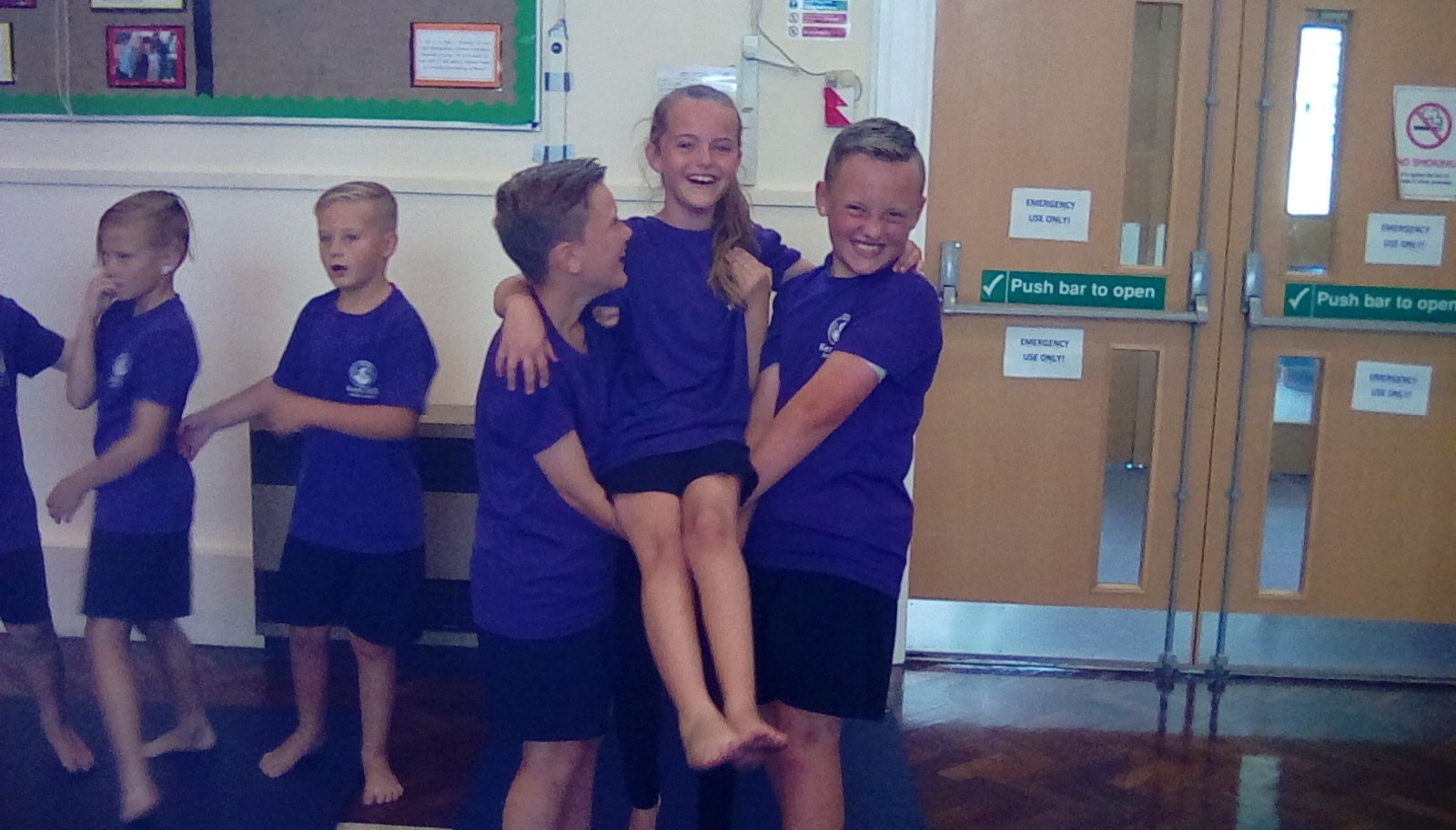 In addition, they've also furthered their understanding of crime and punishment across different eras whilst recreating the Magna Carta in Art and learning about punishment in the torturous Tudor period.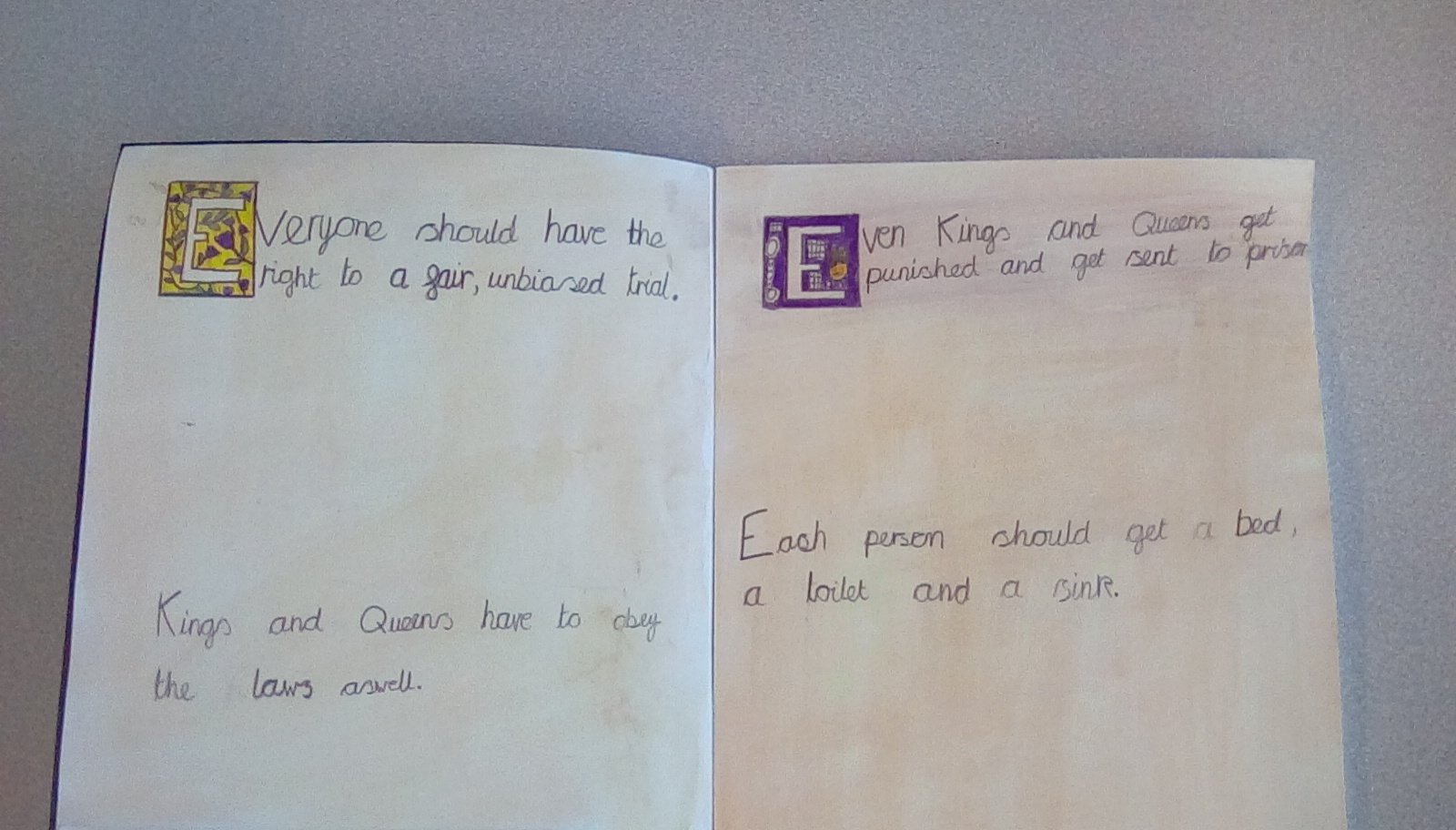 Week beginning 16.09.19
This week Year 5 have produced a 'write to inform' piece about Slavery in the Roman era, using all the learning acquired during topic lessons, as well as beginning to learn about Crime and Punishment in Anglo-Saxons times. Excitingly, they presented/listened to speeches from School Council candidates, and developed our understanding of politics by using ballot papers to elect their year group members of the School Council. It was also Year 5's turn to showcase 'what we've been learning' in our celebration assembly. As a year group, the children performed the Tudor Punishment song, as well as shared some of their other work since being Year 5's.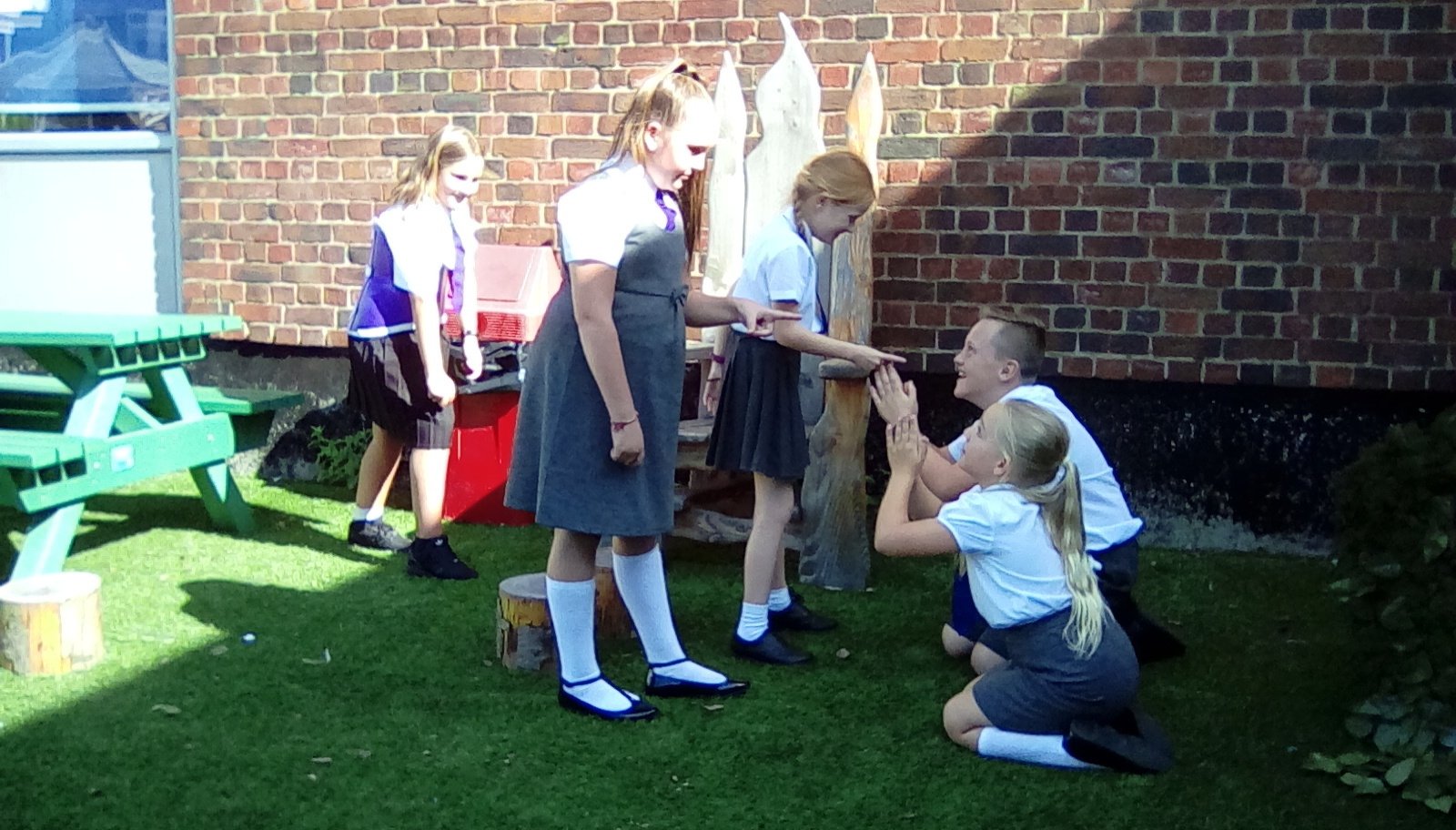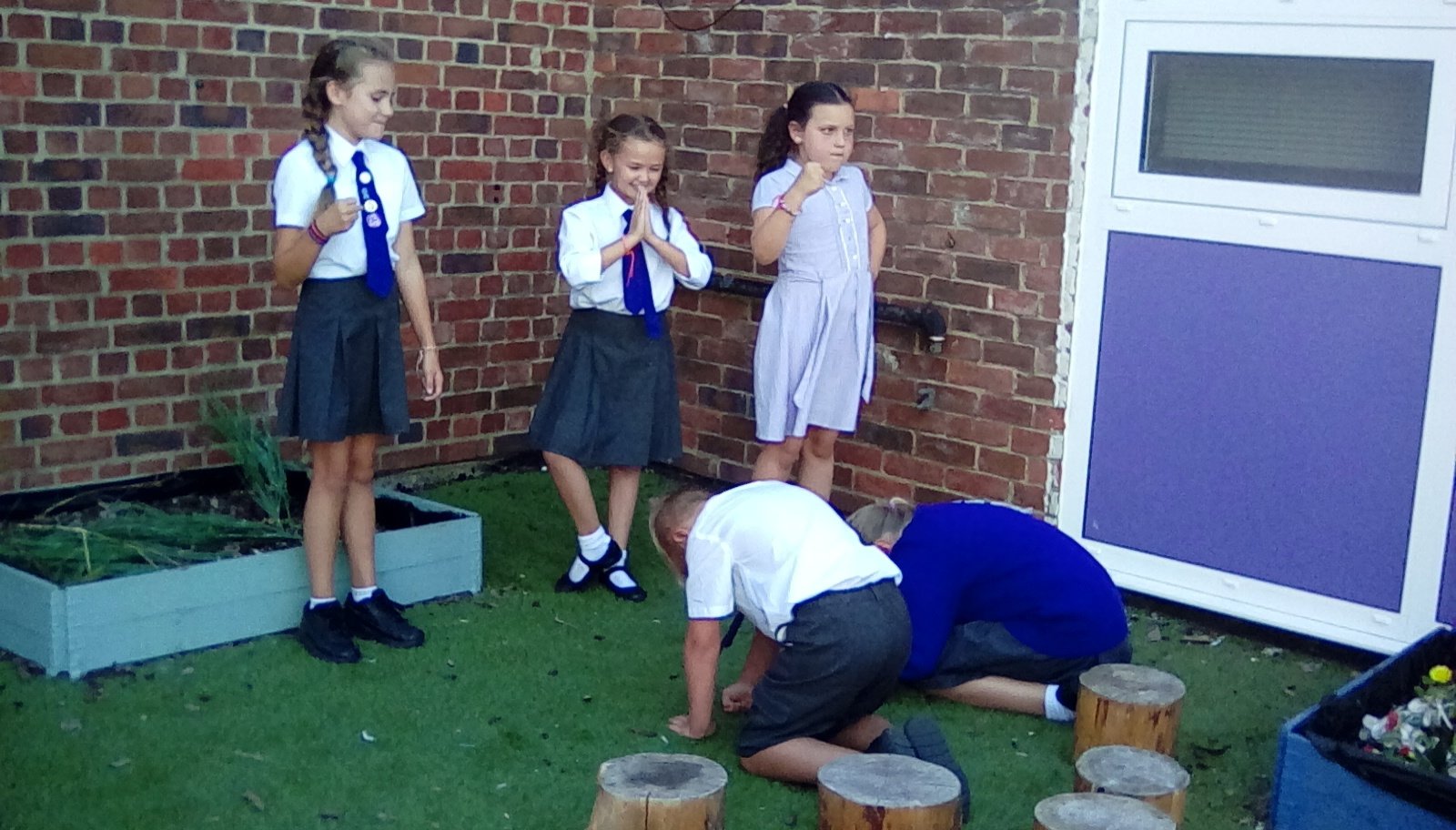 Week beginning 09.09.19
This week in Year 5, the children have gone back in time 2000 years to learn about crime and punishment in the Roman era. To start their learning, they researched a range of Emperors using the Chromebooks, which provided an opportunity to practise their teamwork skills. The children then developed their knowledge by learning about different types of punishments in Roman times using scenario cards and a flowchart, and compared these to the modern era, as well as learned about slavery. In addition, they showed off their creative ideas in our first Free Write, which was inspired by our book – Holes. Well done Year 5!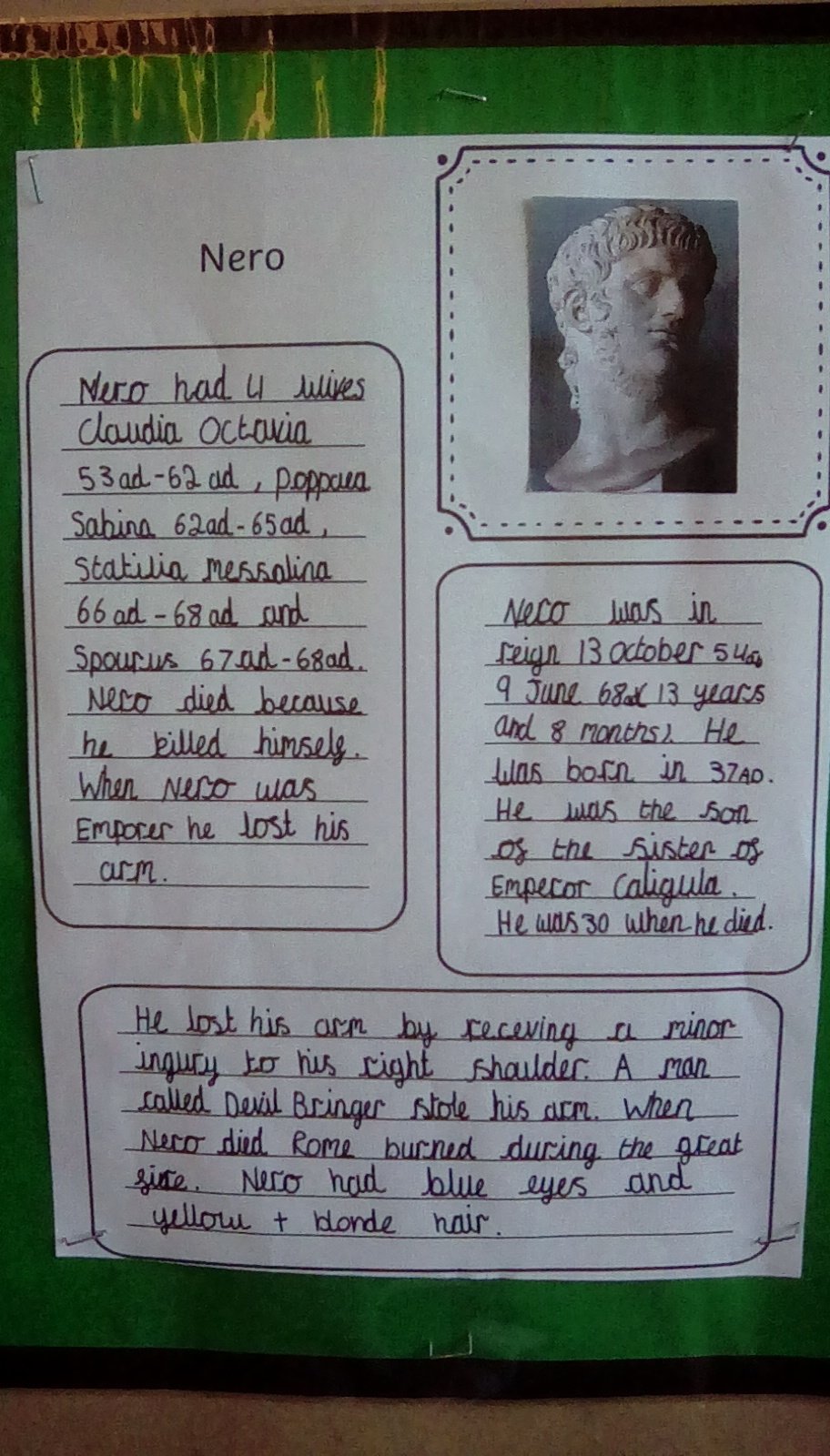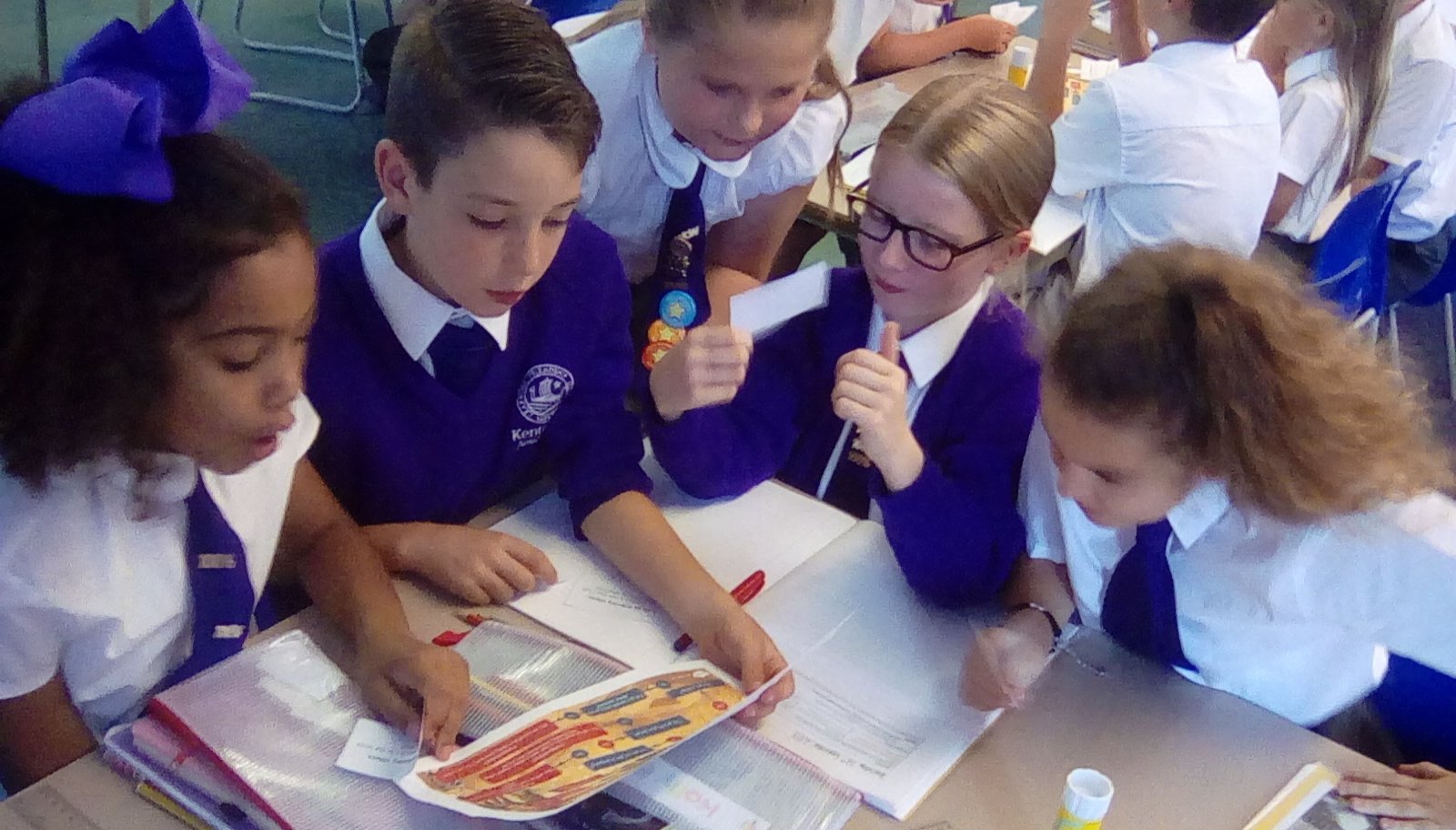 Week beginning 04.09.19
This week the children have been settling into life as Year 5's! On their first day back, the children enhanced their ability to work in teams, as well as problem solving, during team building activities. One of the challenges was to build a tower using only spaghetti and marshmallows.
To excite the children, they were detectives for the day as part of our hook day for our topic Crime and Punishment. Superbly, Year 5 worked together to identify evidence at a crime scene, as well as scrutinising witness statements and other evidence in order to capture the criminal. They learned about the importance of using finger prints and DNA to identify suspects, including printing their own finger prints! The children discussed punishments and suggested consequences for Miss Hovey's actions. Using everything they had learned, Year 5 produced their own reports of the tragedy demonstrating their fantastic writing abilities.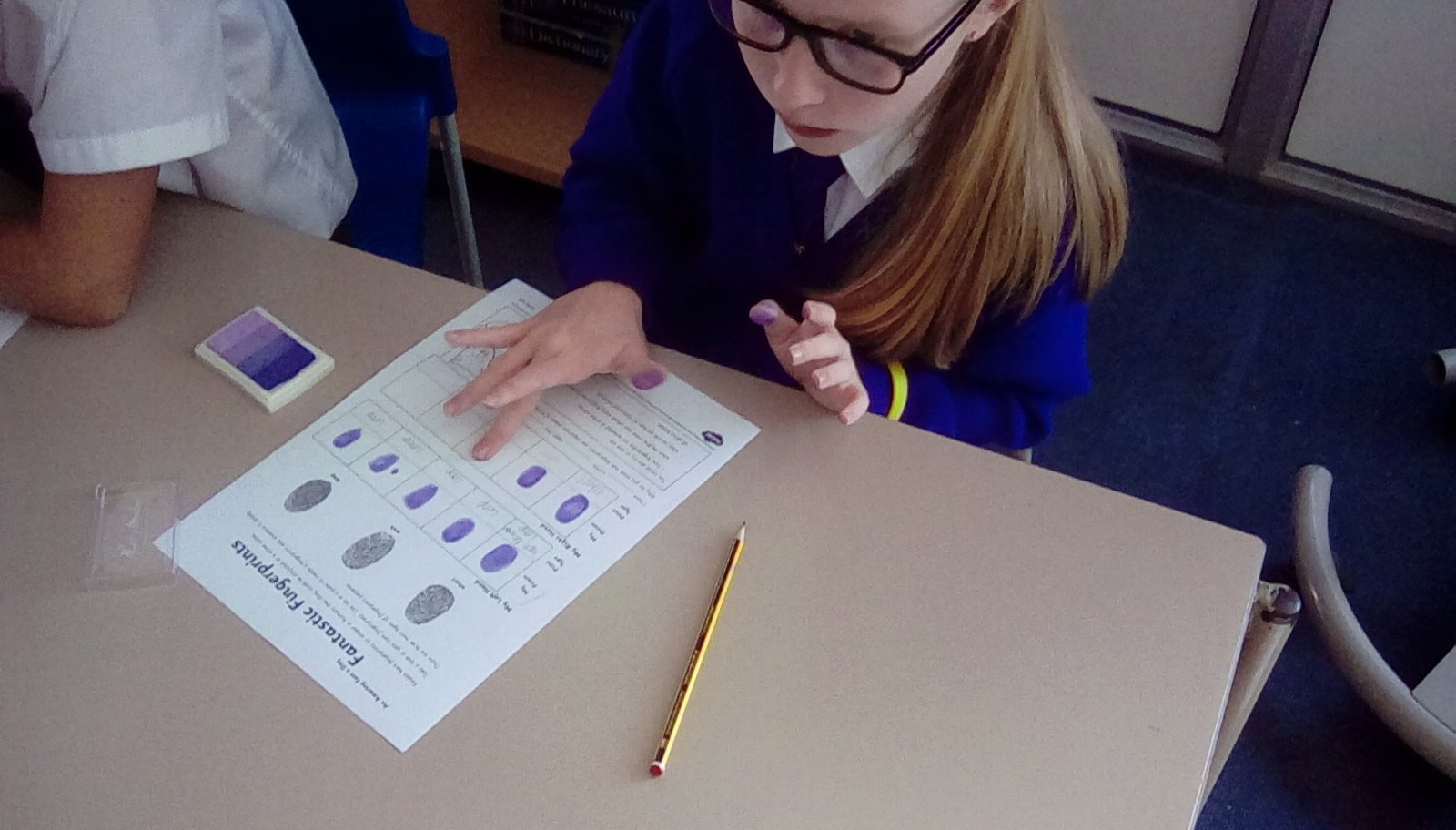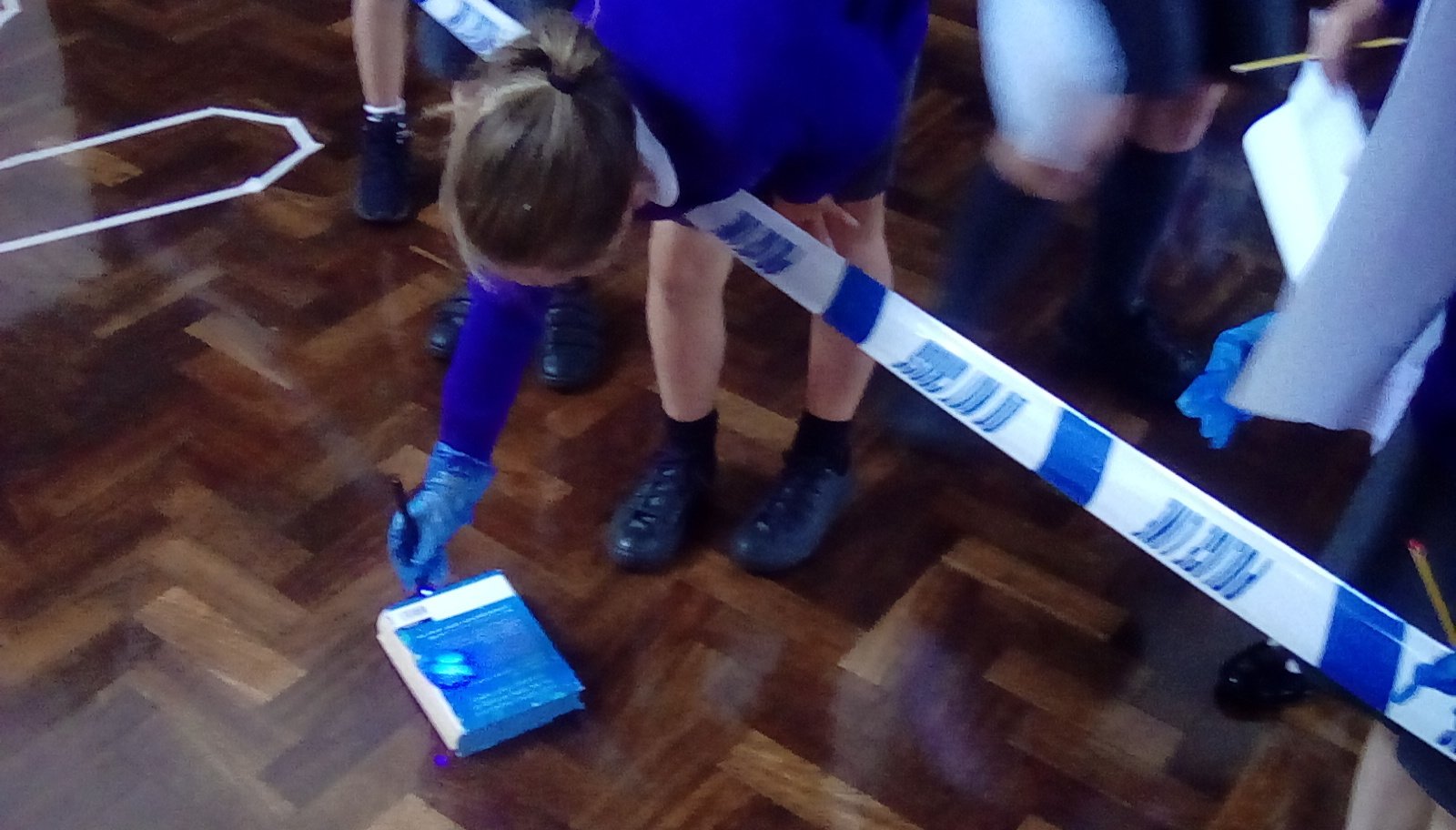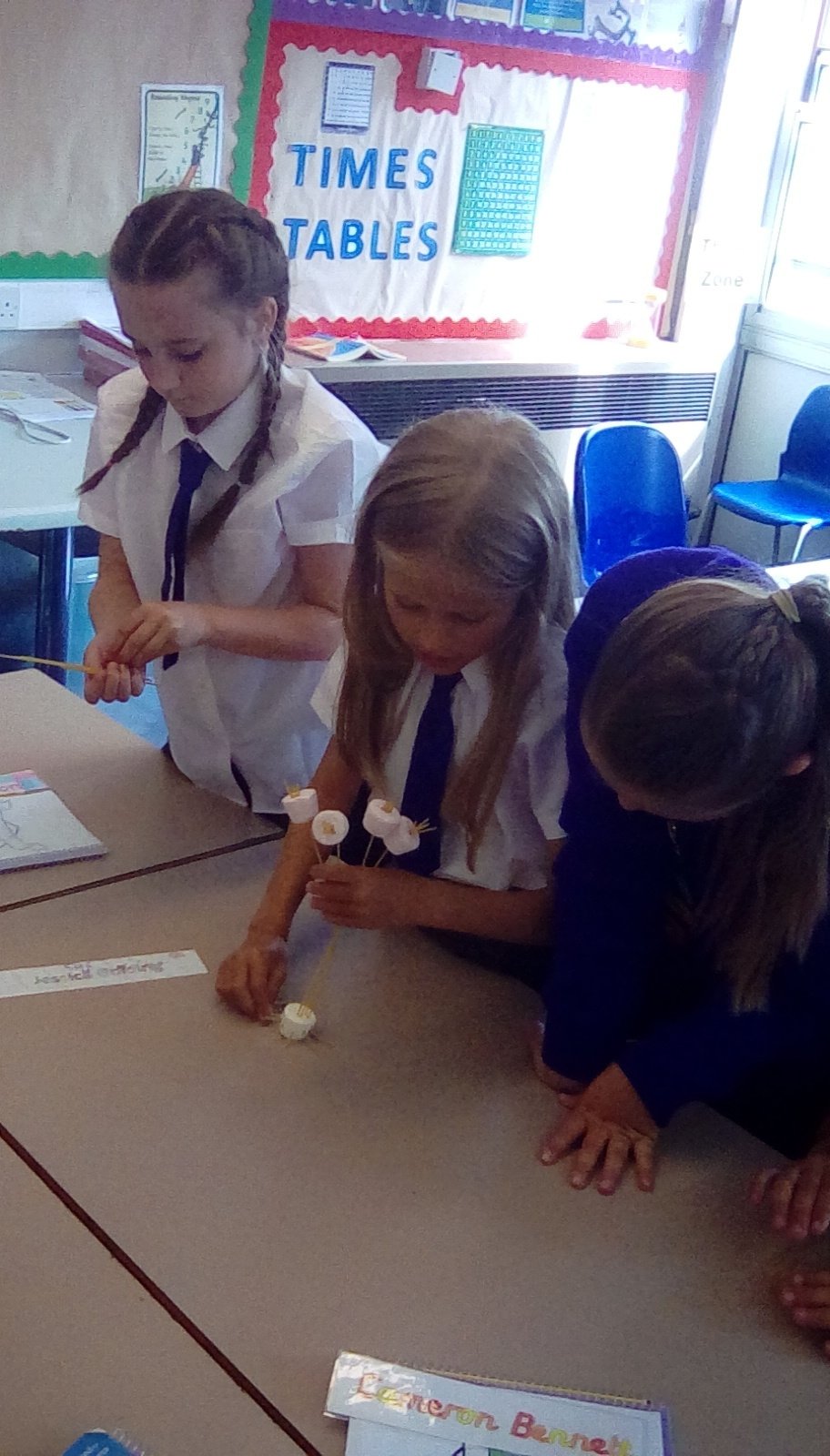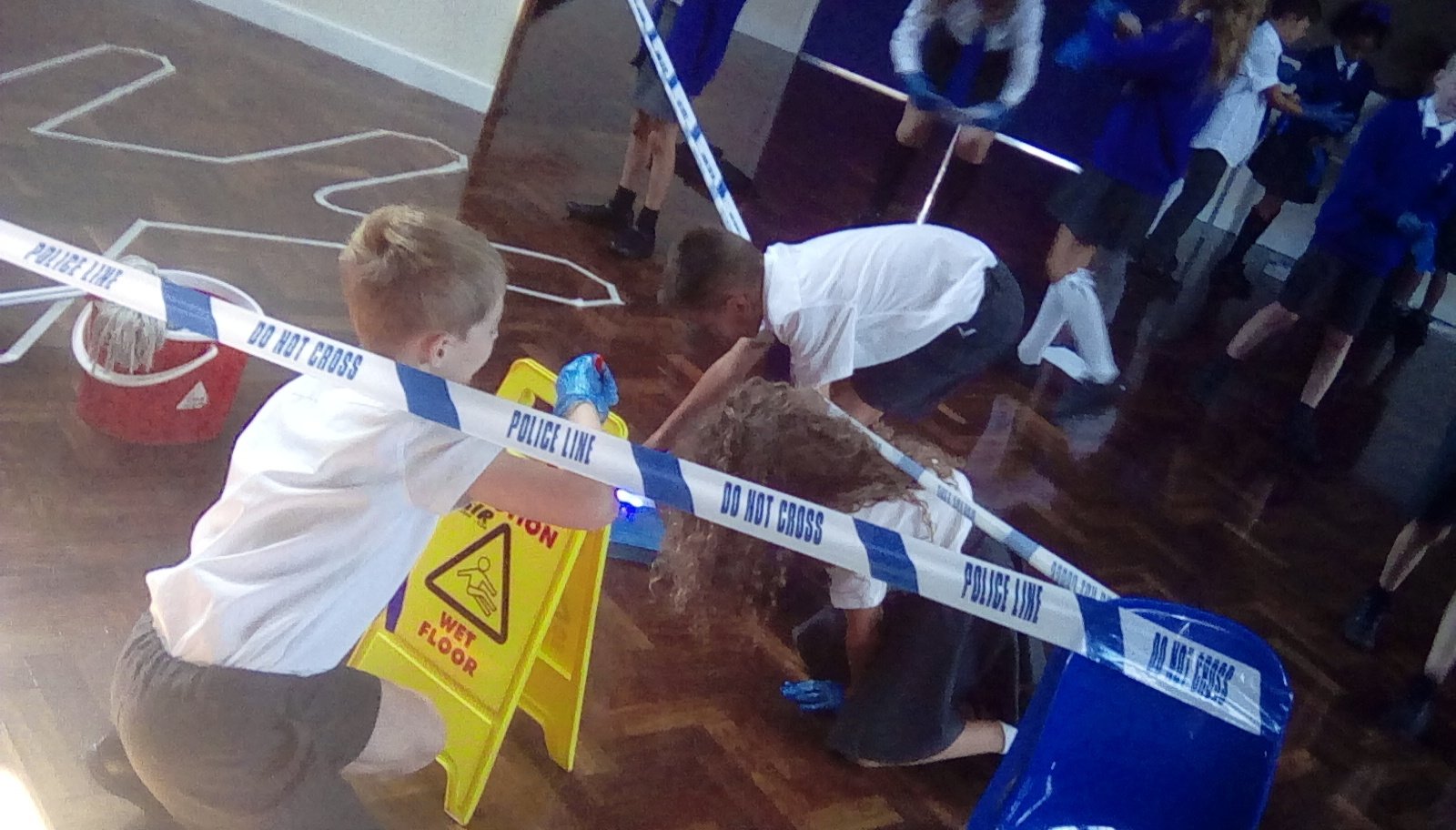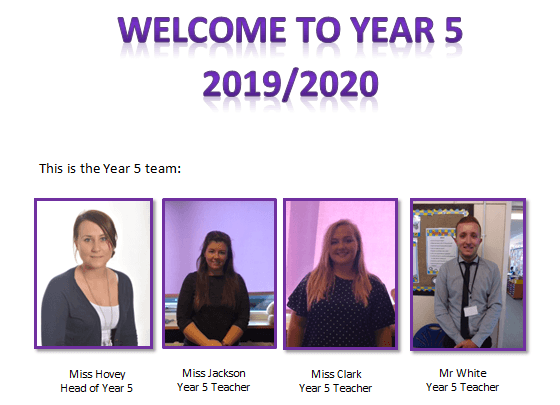 If you have any questions or queries at any point, please don't hesitate to contact one of us via the home/school diary or the school office. We will also be present at the end of the school day on the gate.
We are looking forward to our first exciting topic: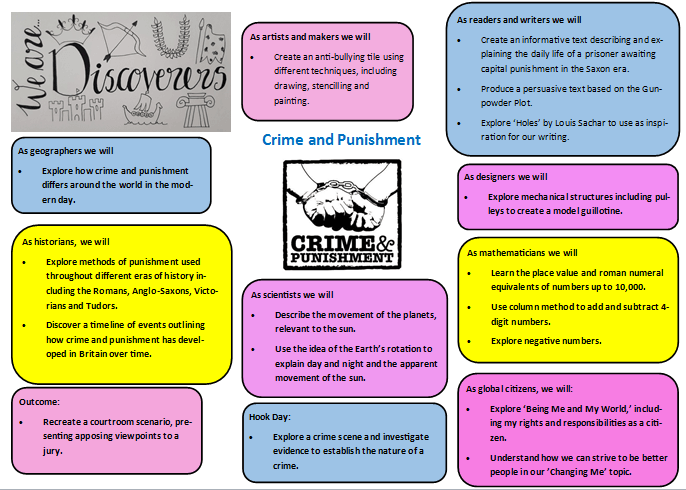 Please check back each week to see what we have been learning about!

Week beginning 15.07.19
This week Year 4 have been designing their own settings and characters to make a Stone Age animation. They then went onto using the ZU3D software on the laptops to make their stop motion animations working in groups of 3. The children have really enjoyed coming up their own storyboards, characters and settings to use within the animation. Below is some examples of their work.
In science this week, children have been looking at and exploring why animals become endangered. They begun by exploring what man made changes effect the environment animals live in. Then chose an endangered animal to research and found out where their animal's habitat is, why their chosen animal was endangered and what is being done/ could be done to help this animal not become extinct. The children then had the freedom to chose how to present the research they had found into their books, many choosing to make a poster. Below is an example.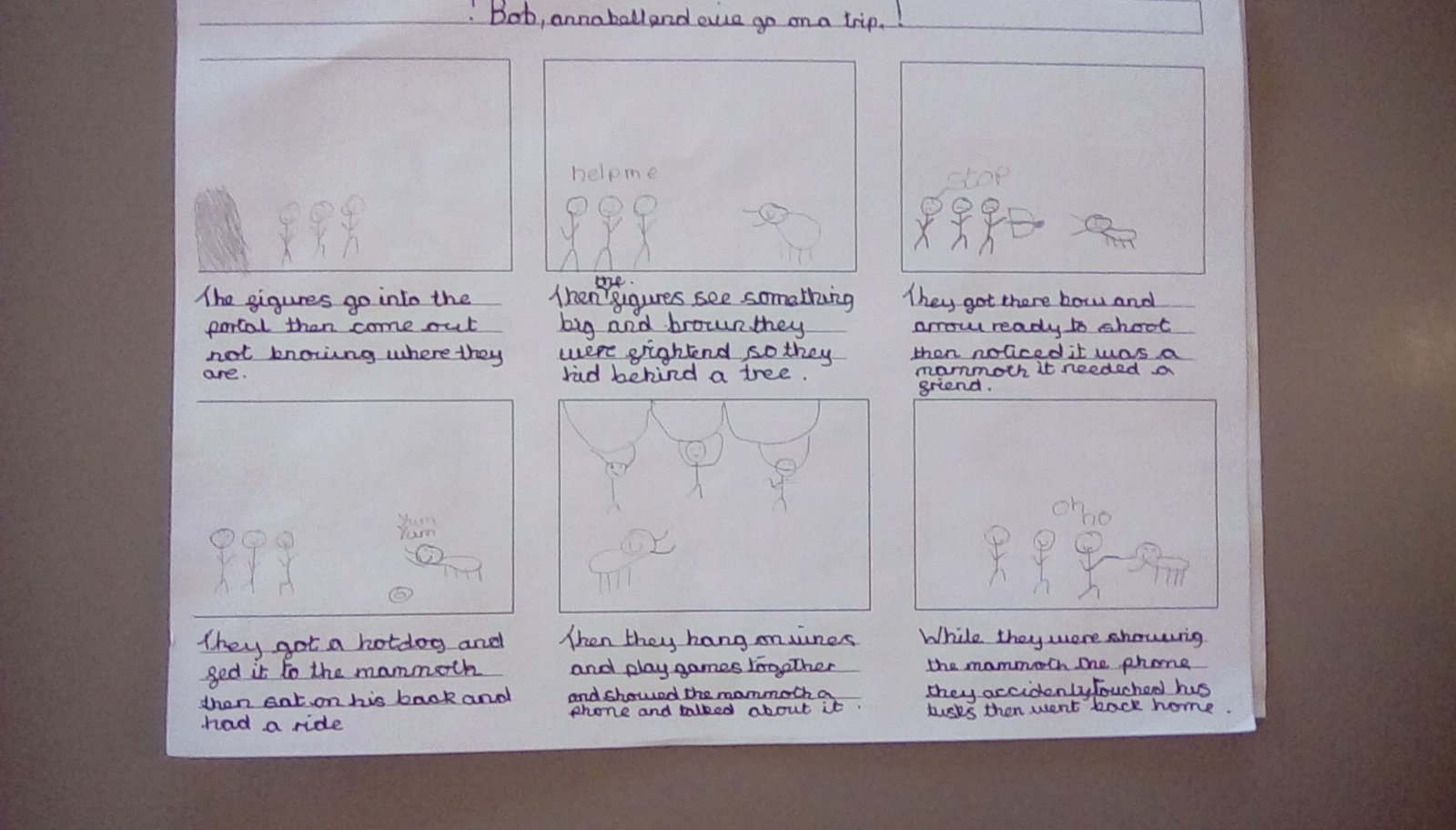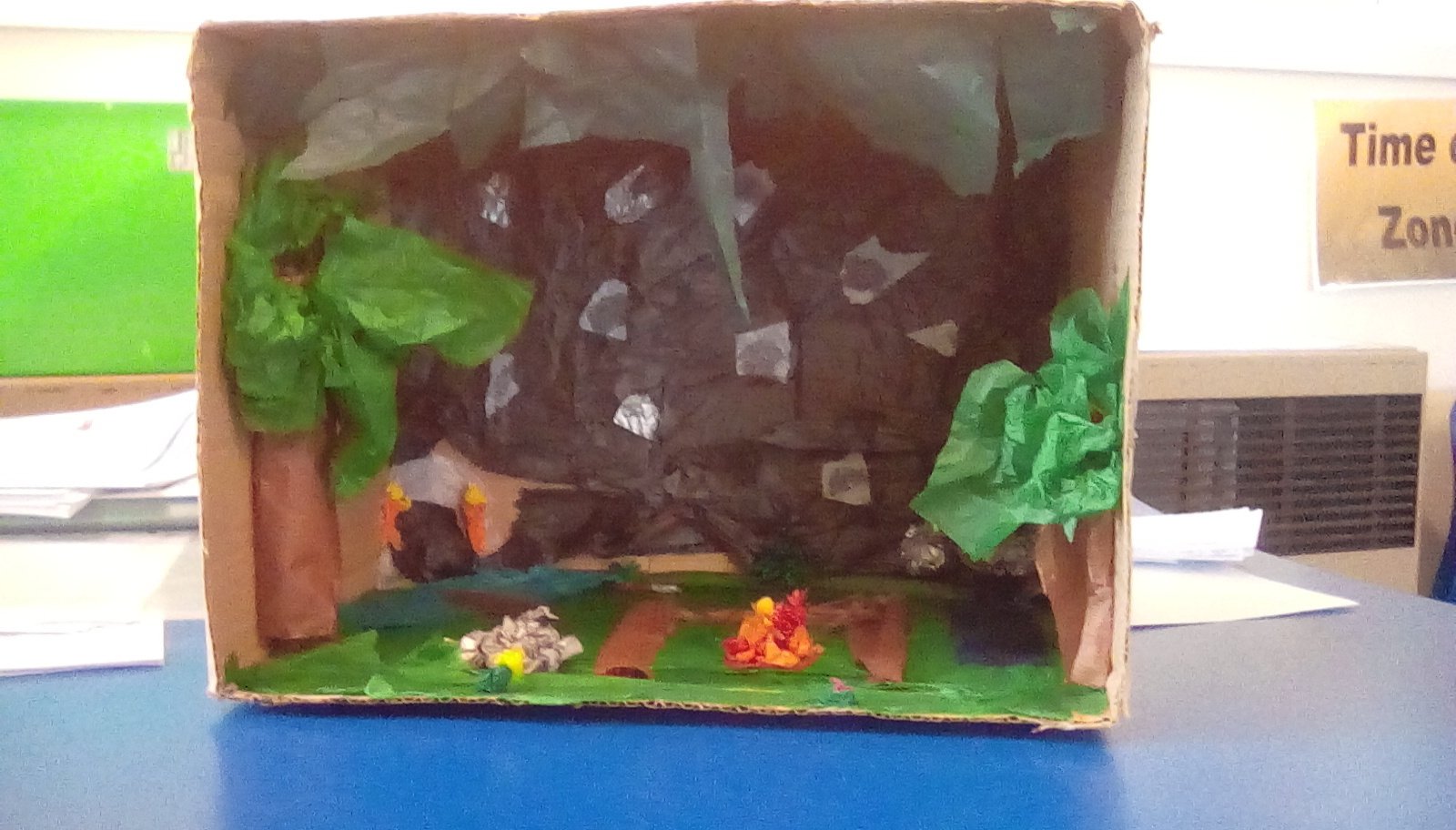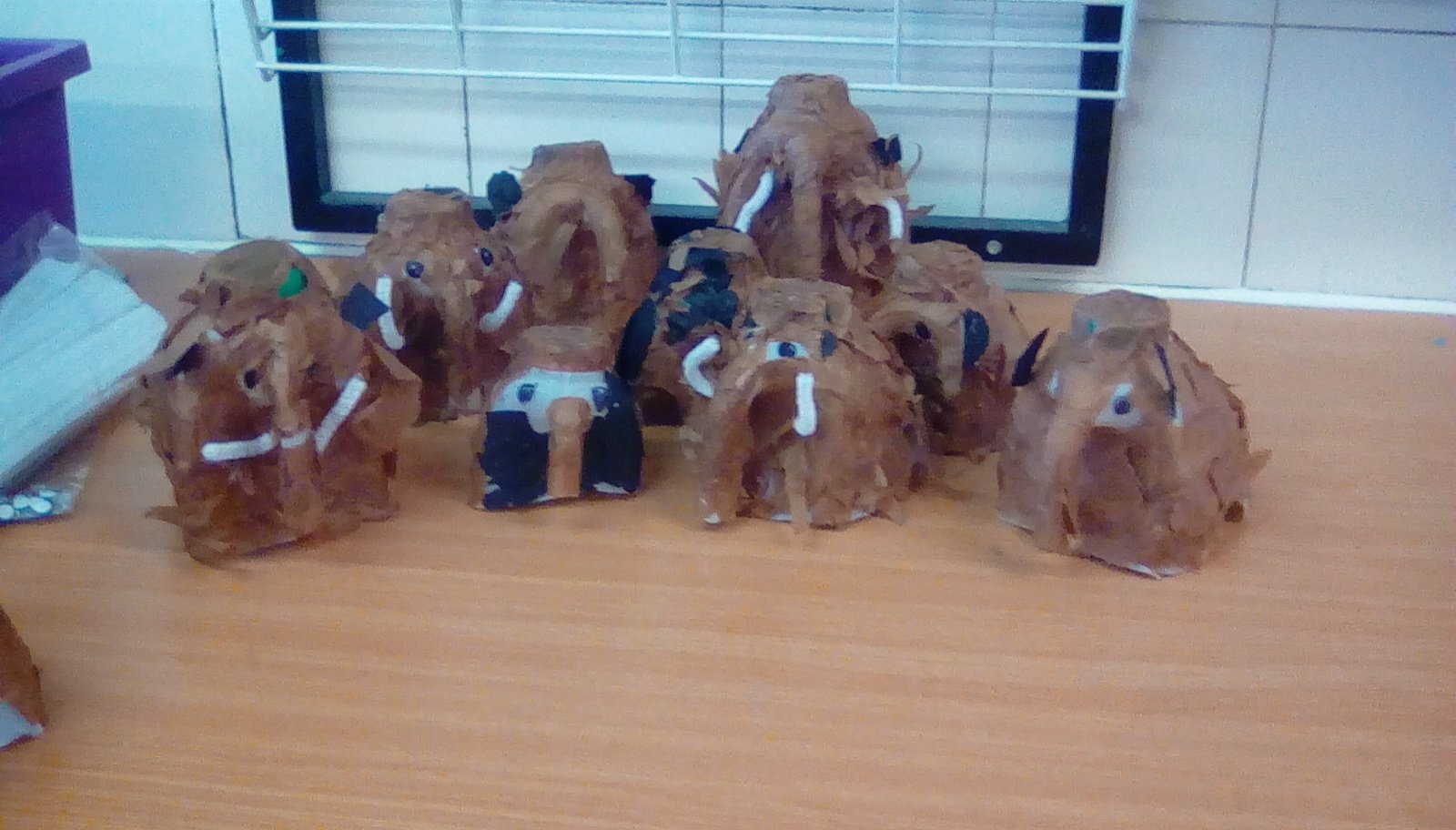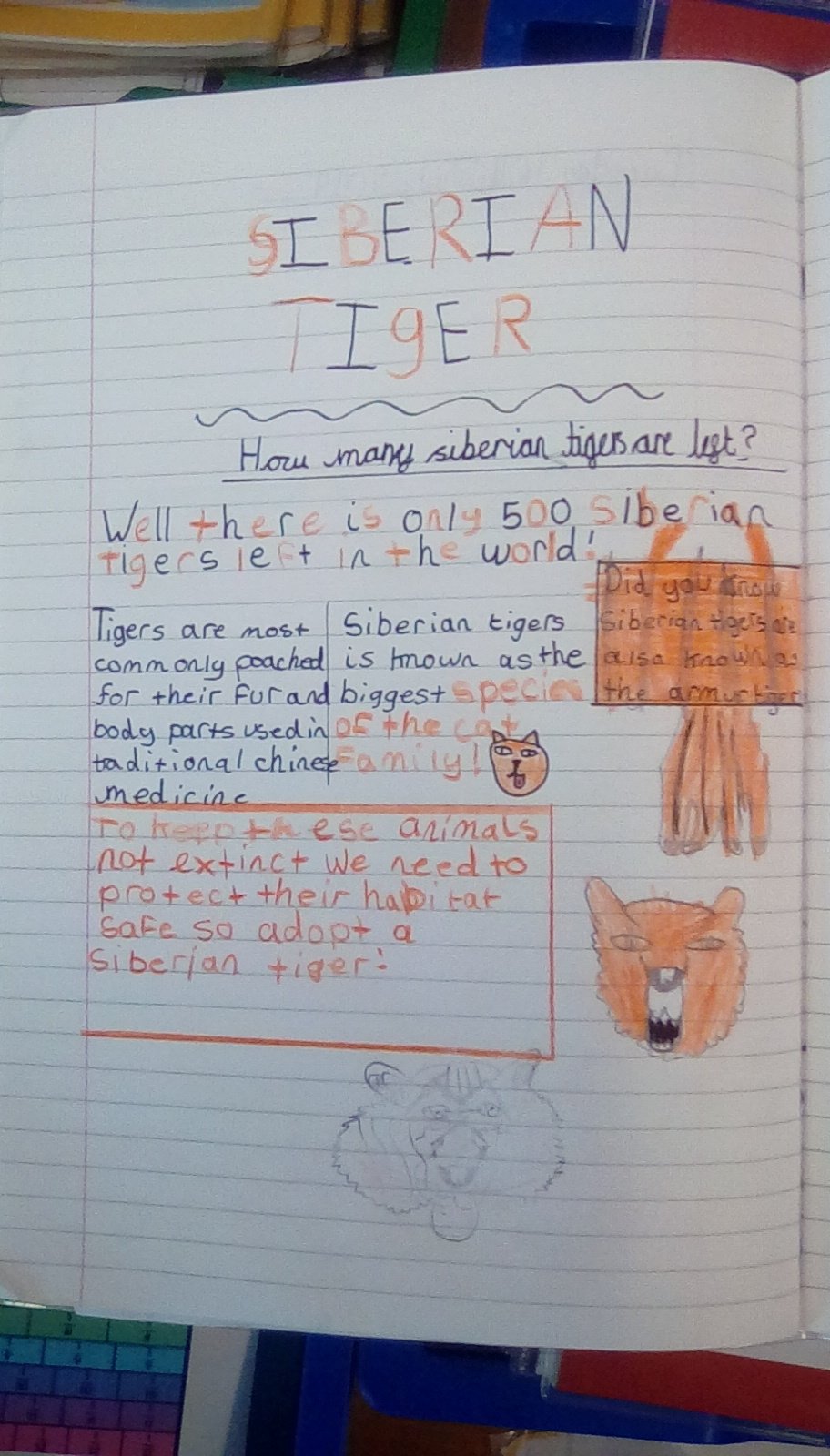 Week beginning 08.07.19
On Monday, Year 4 took part in a lesson understanding the properties of 3D shapes. They put this into practice by creating paper Stone Age figures - conical Stone Age people, homes with entry ways and even a mammoth!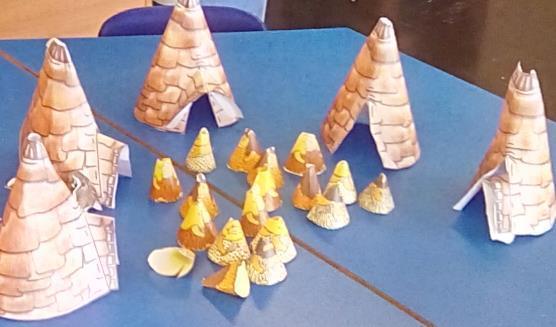 On Thursday, we took the next step in our Design and Technology project, working closely with our teachers to use saws, hot glue guns and card triangles to build our pulley system structures as solidly as we could. When we weren't building these, we were creating the background for a new Stone Age project: animations! We used different techniques with tissue paper to decorate the inside of a cardboard box - to set the stage for our animations! The outcomes were all excellent.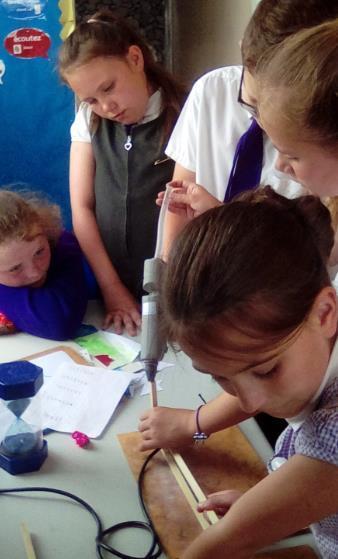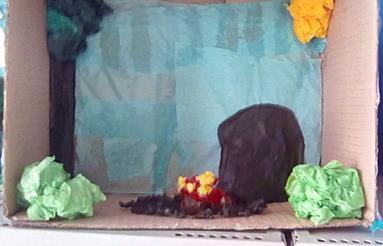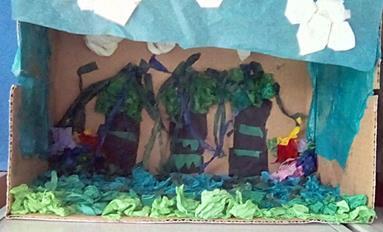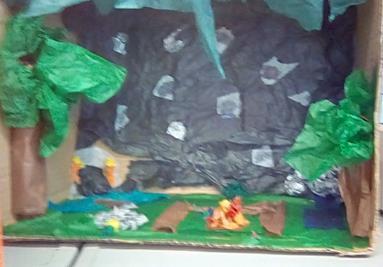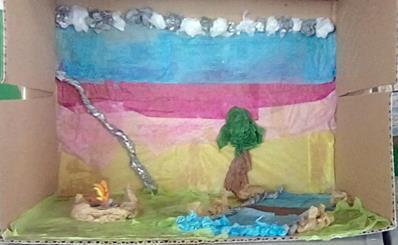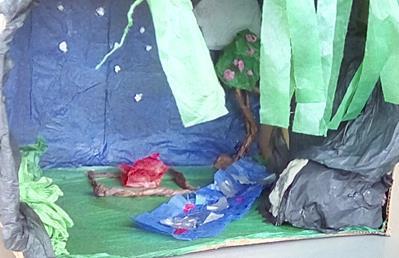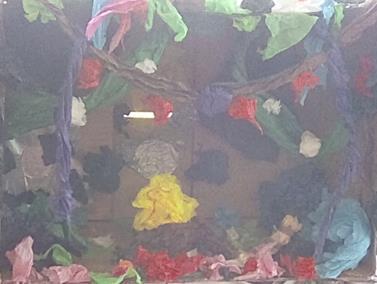 In PE, we worked together as a year group in a rounders tournament. It was great to mix the whole year group together and to work in our houses once again.
Week Beginning 01.07.19
We began getting ready for our Design and Technology construction this week and were able to work with saws to prepare the wood. The children were very careful to measure and to have a teammate check their measurements, and then under close supervision did the sawing themselves!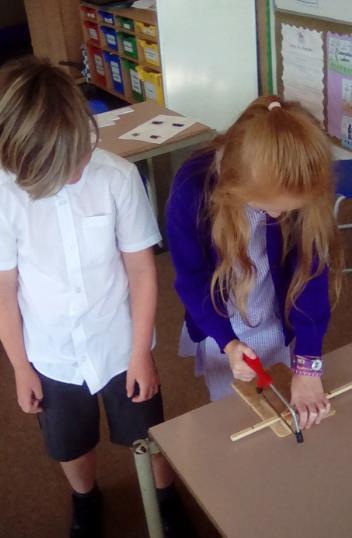 Next week we will finish our preparations and begin to build our very own pulley system towers inspired by Ug - Boy Genius Of The Stone Age.
Year 4 enjoyed going onto the back playground reserved for Year 5 and 6 on Wednesday before Meet The Teacher took place. From all accounts, the children were very well-prepared and acted just like U
Week beginning 12/11/2018
This week in year 4 we have been looking at materials and their properties, in particular what happens to water when it is heated and cooled.
We have carried out a few experiments. One was to see which conditions affected evaporation. We placed beakers of salt water around the classroom in different environments. These were a warm place, a cool place, a light place and a dark place. We found out that heat helps evaporation to happen quickly as more water had evaporated from that beaker than the others.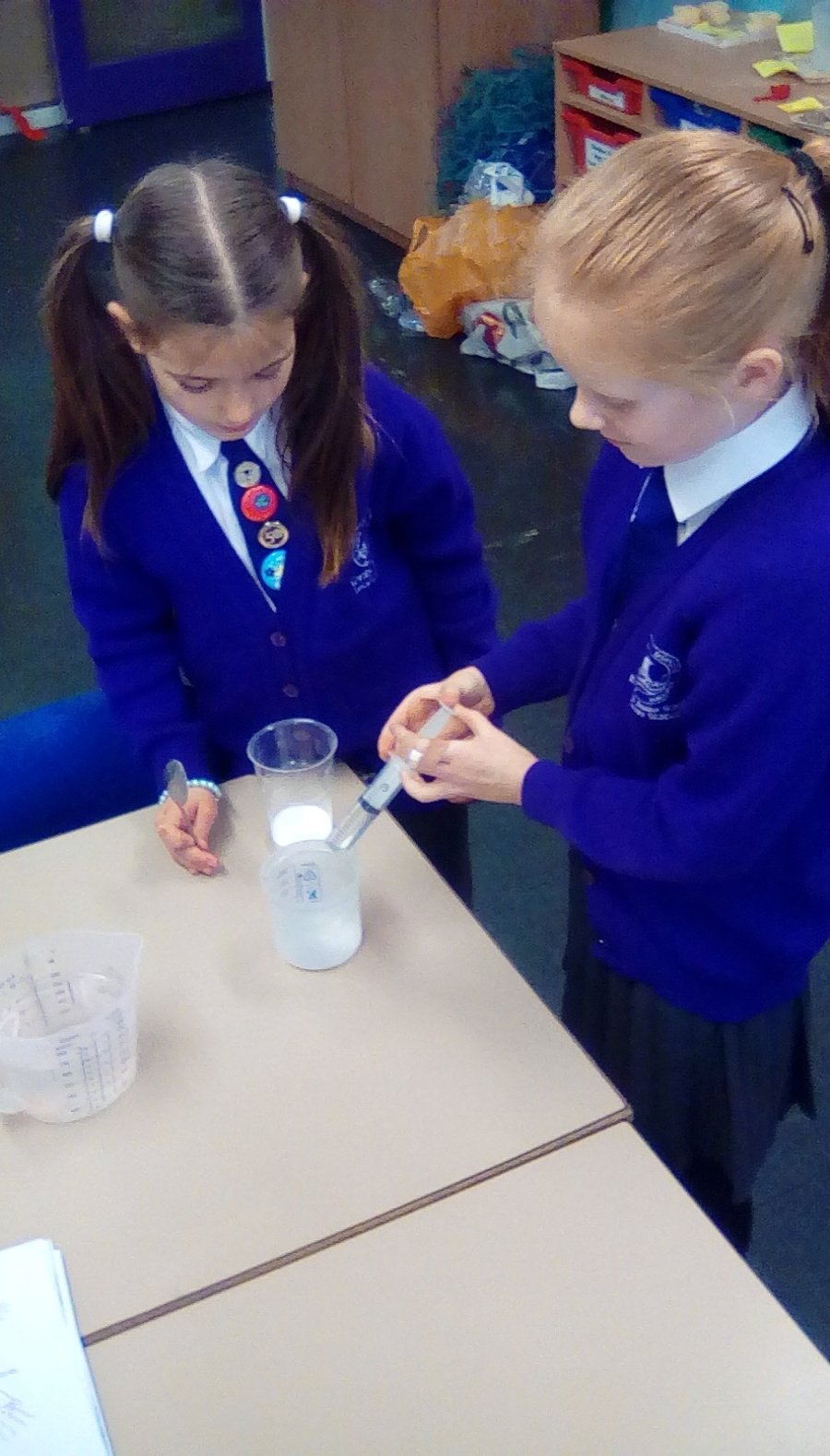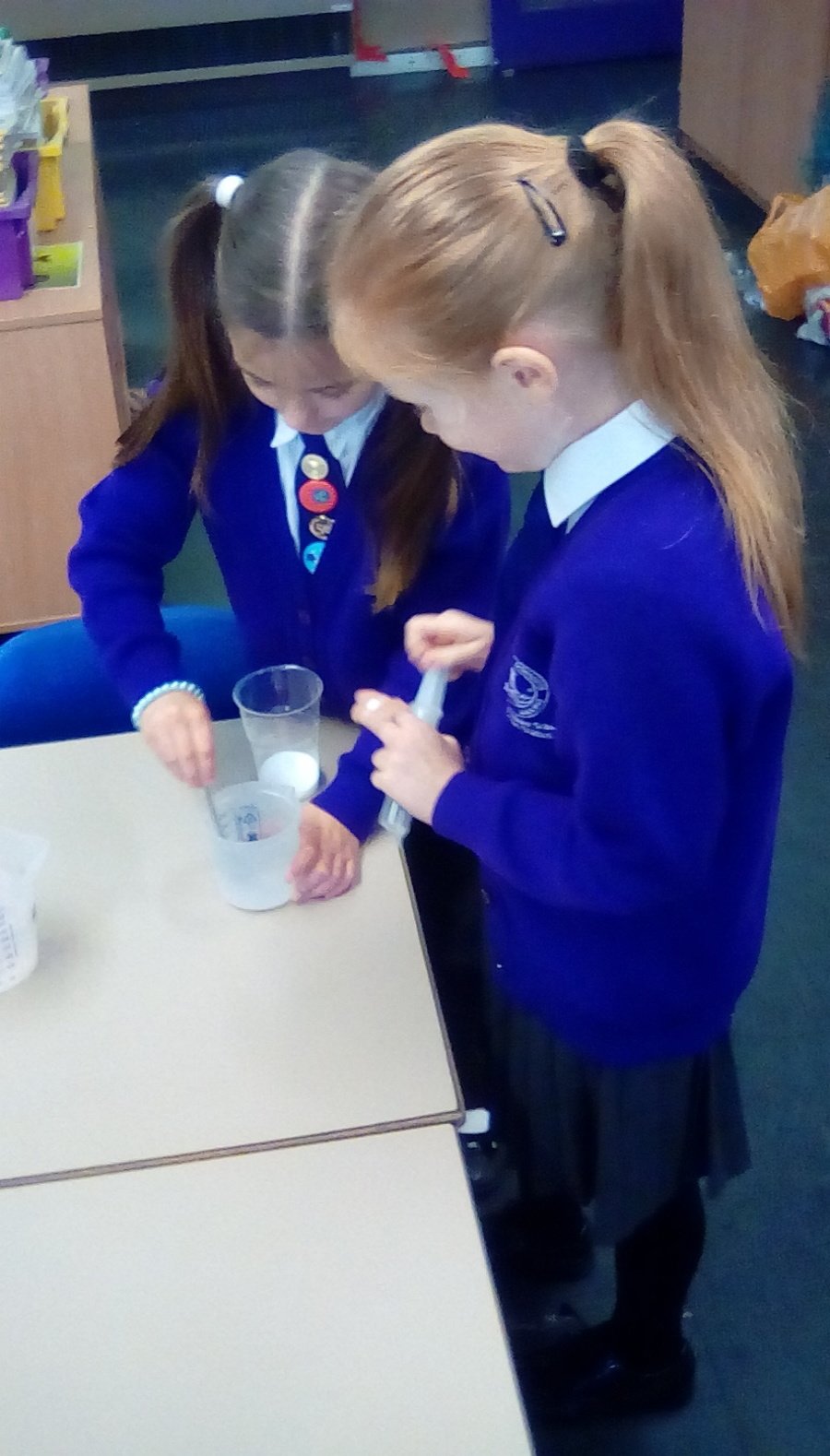 Week beginning 5/11/2018
In Year 4 this week we have been preparing narrative poems about Flotsam, focusing on using a range of figurative language.
On Tuesday, we participated in the Roots to Food Roadshow, learning about healthy eating. Four of the children competed in a 'Ready-Steady-Cook' style challenge to make two healthy dishes from different parts of the world.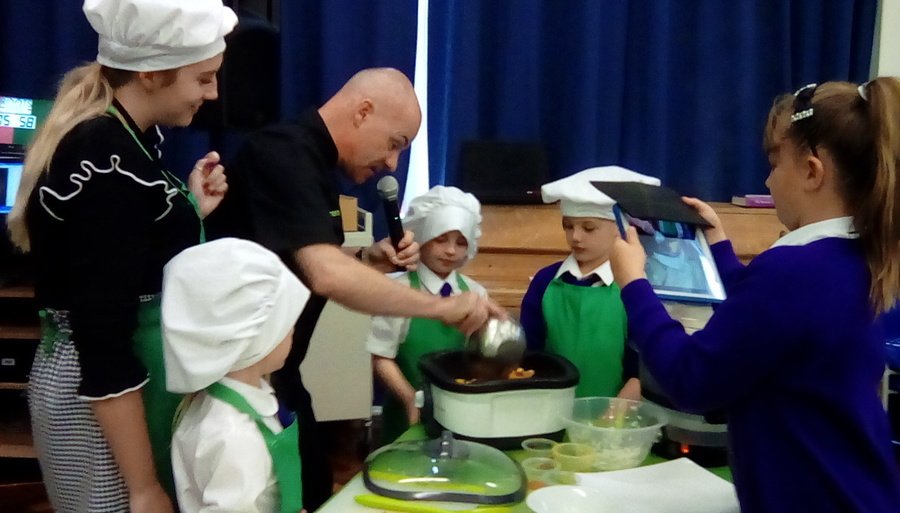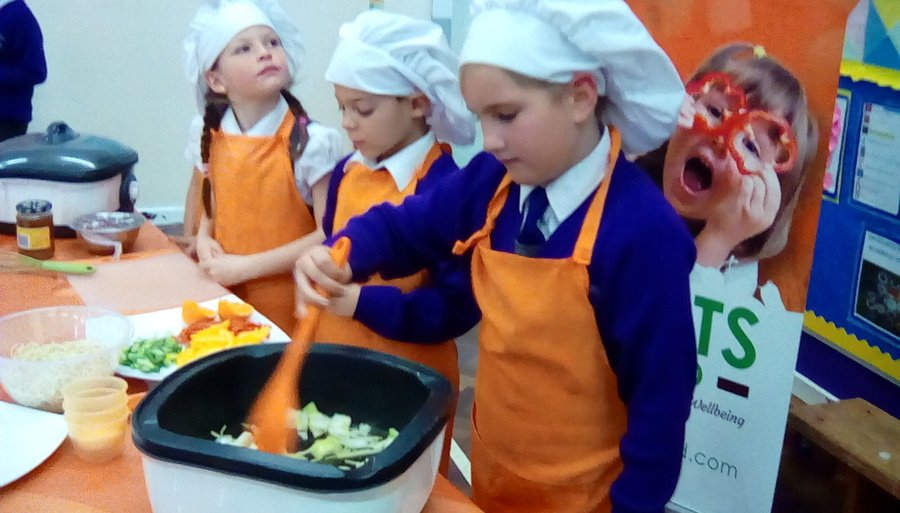 We have also spent time this week reflecting on Remembrance Day and the centenary of the First World War. In class, we have been working with clay to make poppies, as well as making plastic bottle poppies as part of the whole-school display.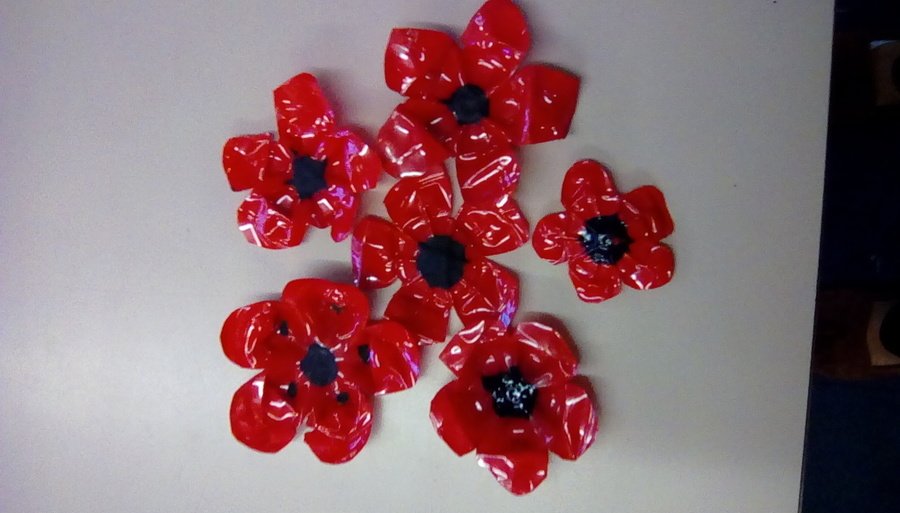 Week beginning 29.10.18
This week in Year 4 we begun our exciting new topic Plastic Pollution. On Tuesday 30th October Year 4 went on a trip to Concord beach on Canvey Island. We met the Year 4 class from Lubbins Park Primary Academy and walked to the beach. We met Colin from the Friends of Concord Beach charity who told us about the work he does keeping the beach clean for the public. We then spent some time cleaning up the beach and looking at different types of litter.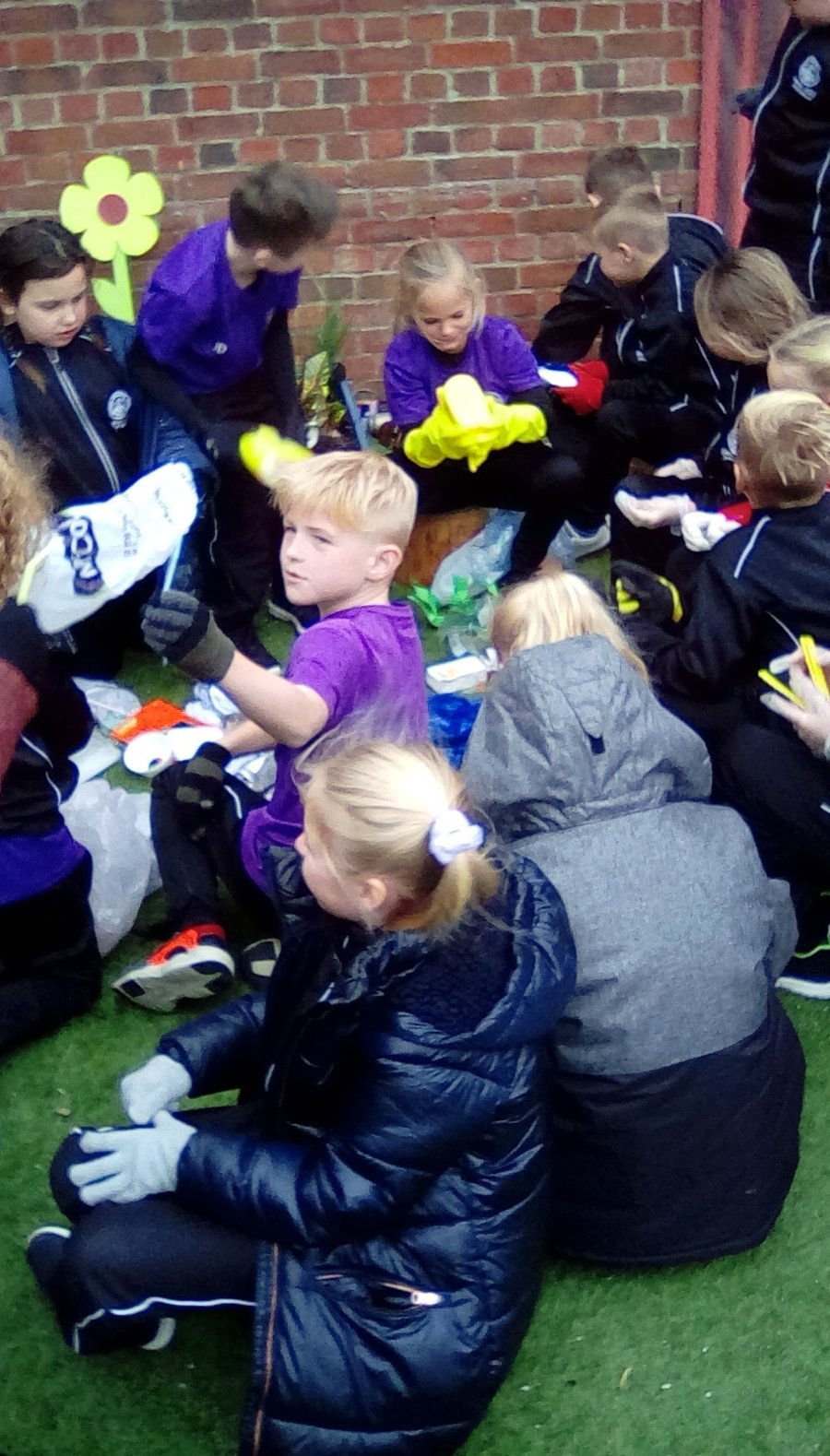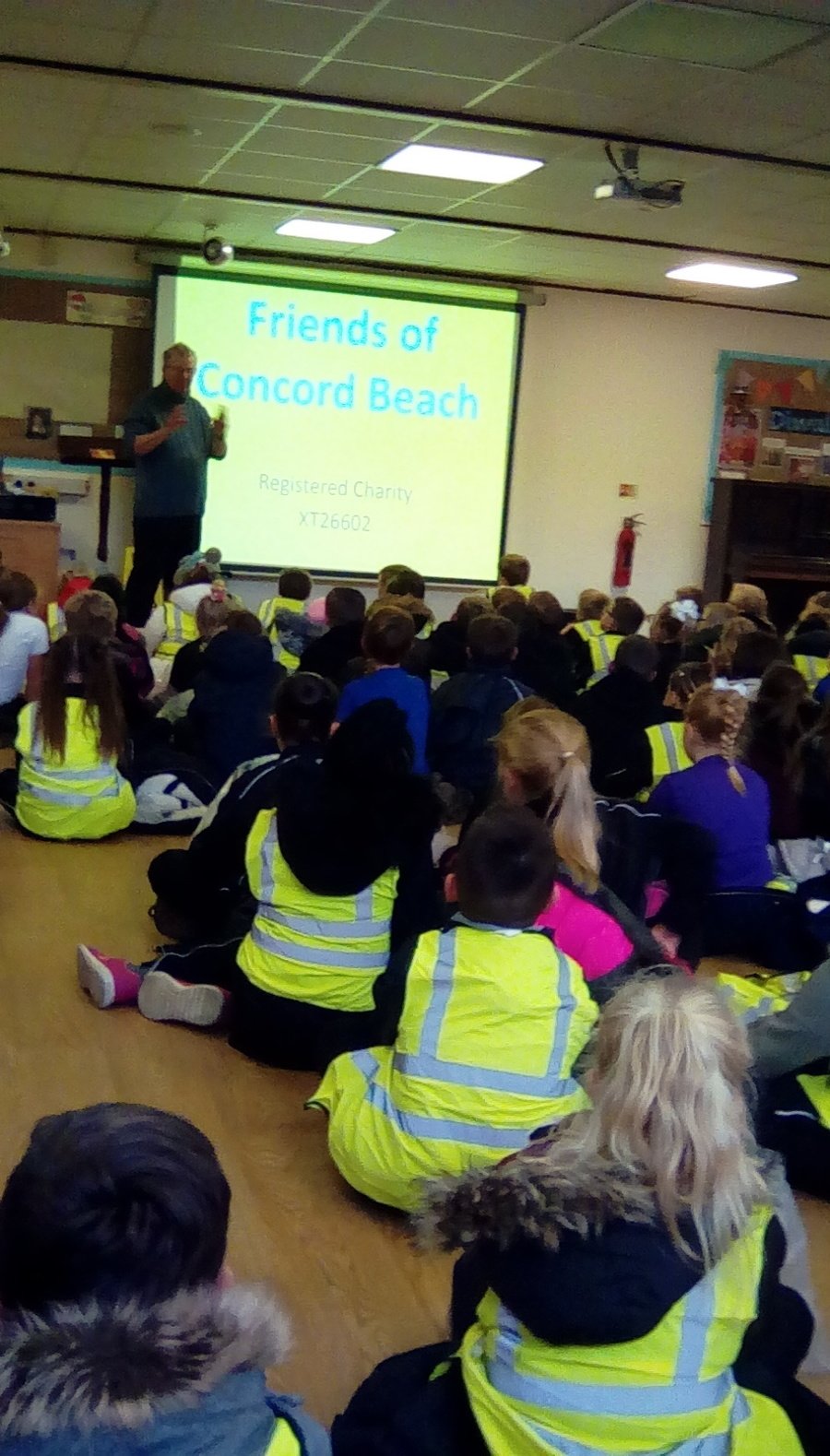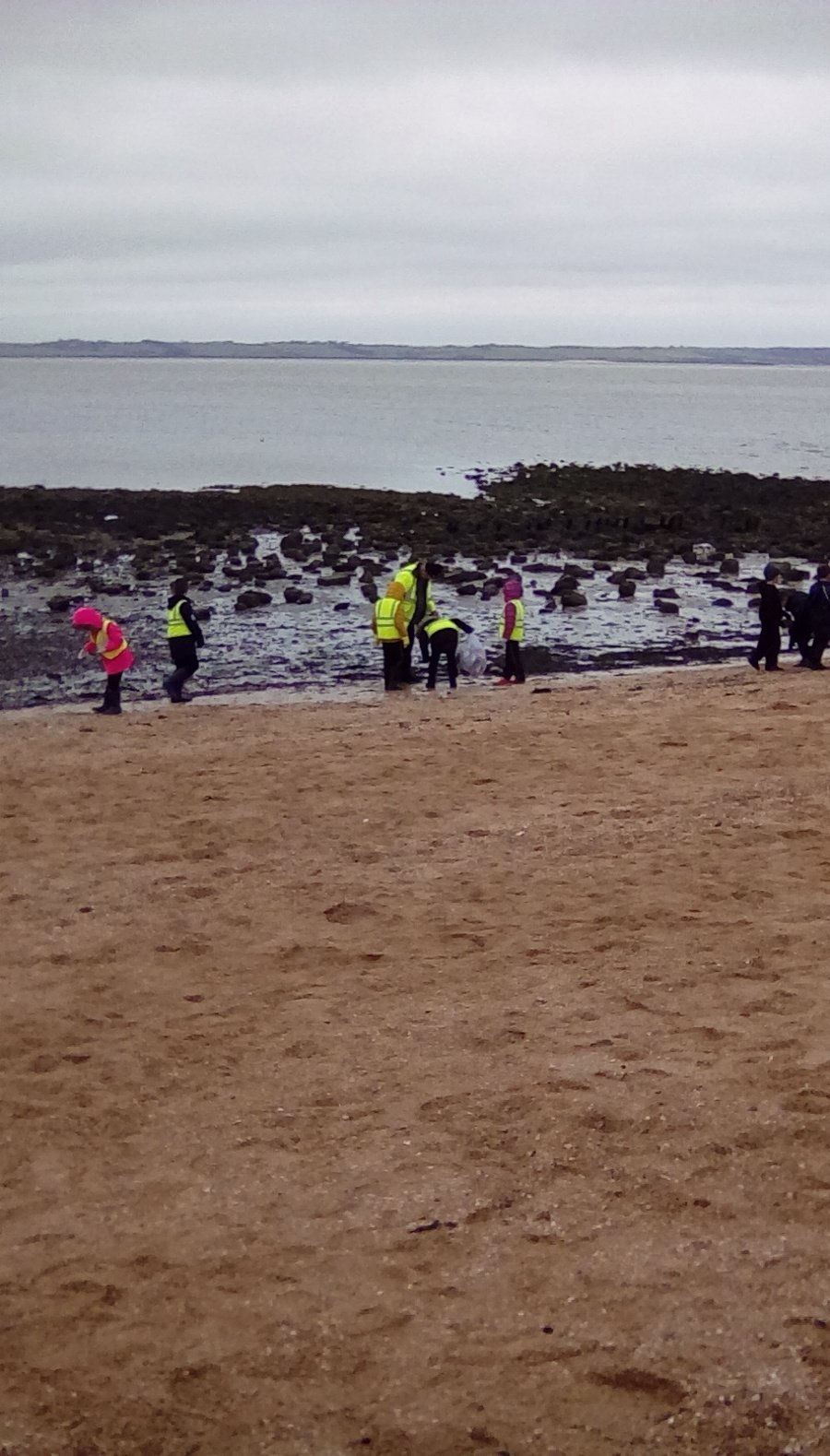 Autumn 1
This half term, the children have settled well into Year 4 and have enjoyed the responsibility of supporting younger members of our school to settle in.
We were amazingly impressed by the quality of the children's summer holiday homework.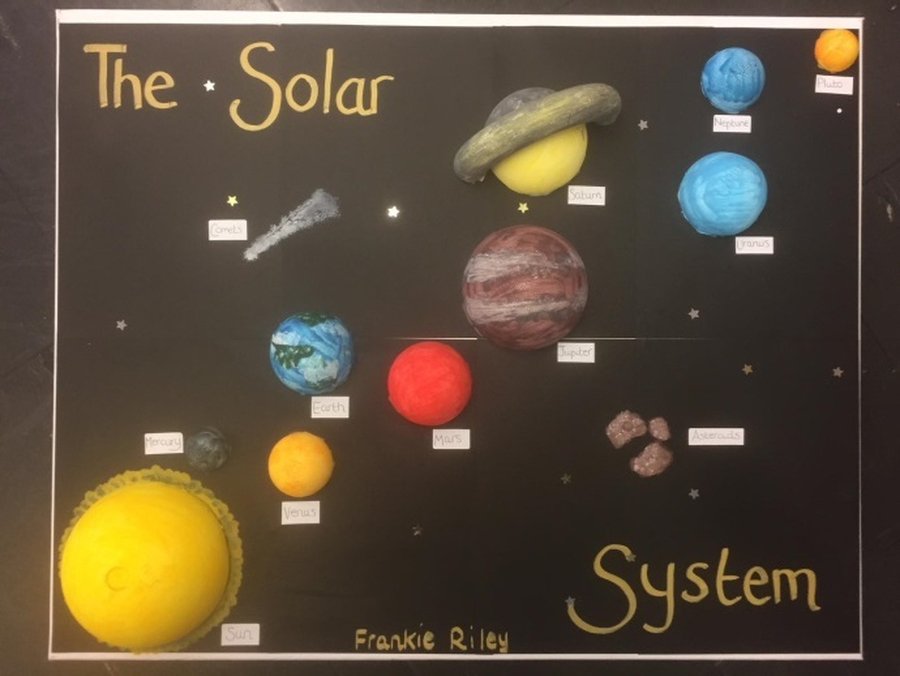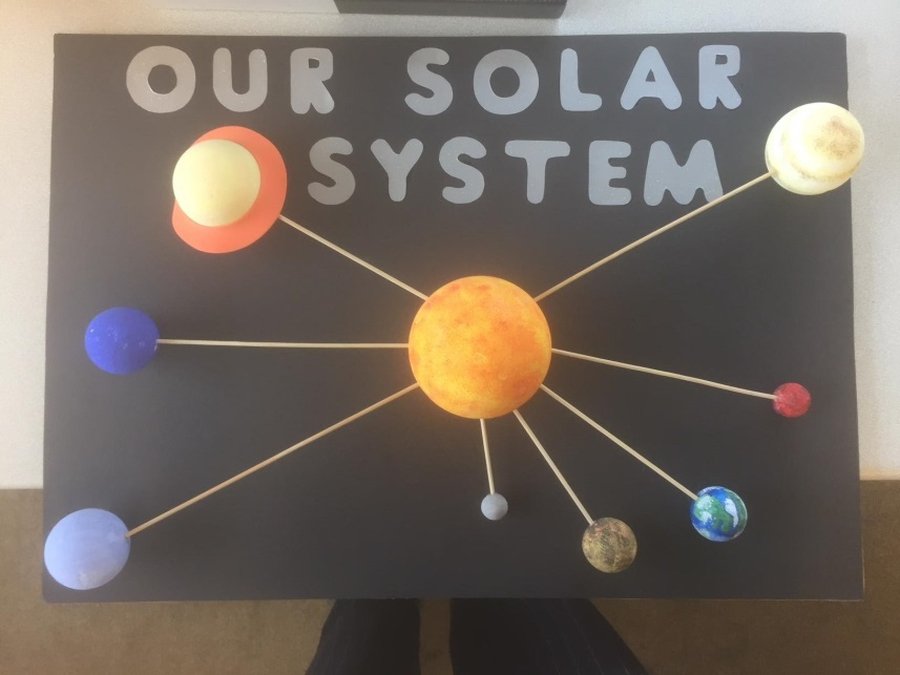 They began their Space topic by investigating an alien crash landing on the school field!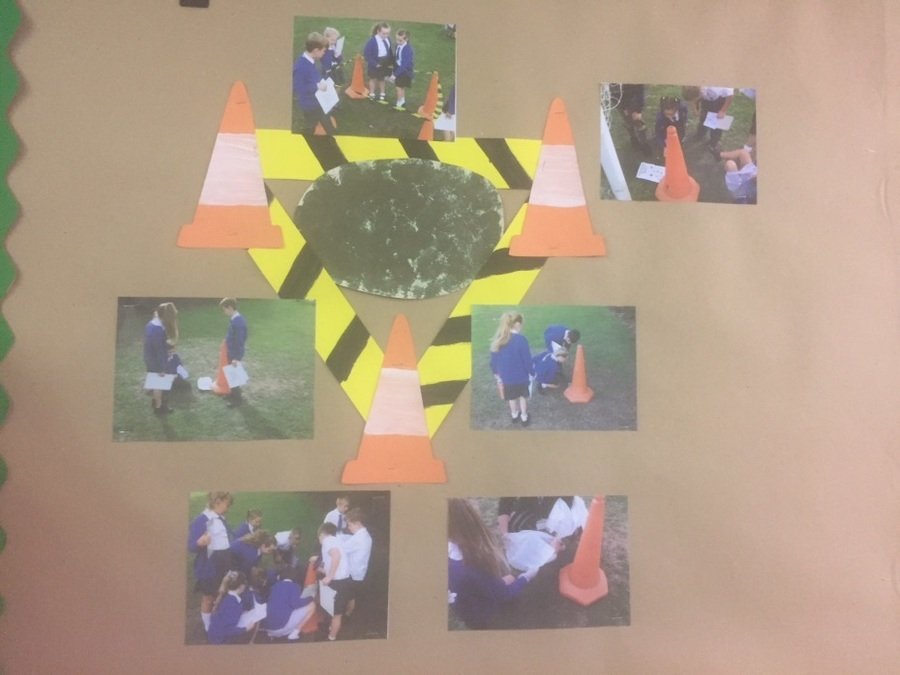 The children developed their team work skills when making and launching rockets. Mr Falvey and Miss Jackson got very wet!