Year 4 Blog 2021-2022
Week beginning: 29.11.2021
This week in Year 4 we have started looking at a range of twisted fairytales. We read a twisted fairytale called 'The Three Little Wolves and the Big Bad Pig'. At the start of the week the Big Bad Pig even came into school and destroyed our classrooms! We were all on the hunt for him as a result! Later in the week we started to adapt the story even further by changing characters in the story and the materials the characters were building their houses from. For example, some of us changed the house of bricks to a house of emeralds! We have been having so much fun putting our own spin on this twisted fairytale and we will be continuing with our writing next week!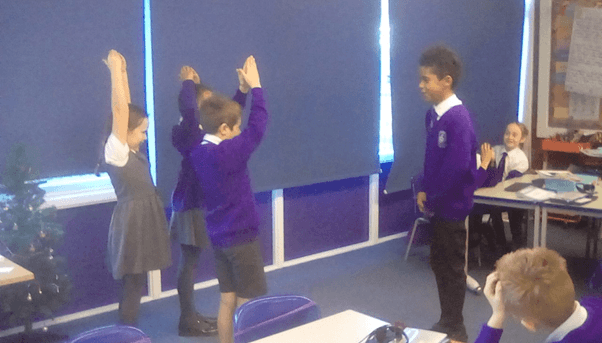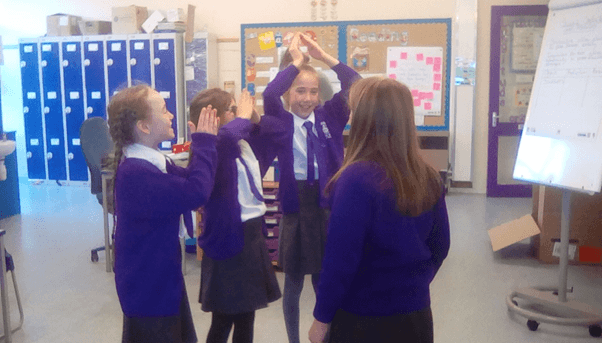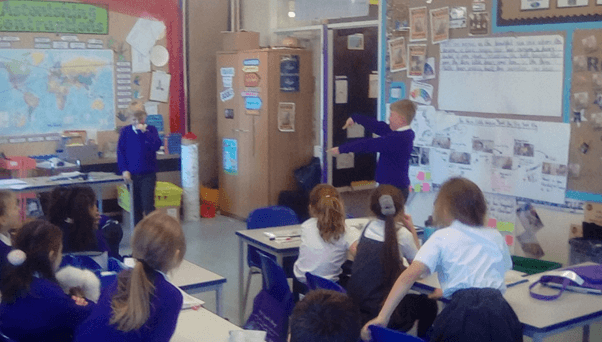 We have also read another twisted fairytale! We read an adaptation of the classic story, The Gingerbread man which was called 'The Ninjabread Man'. We thought about the authors choice of vocabulary, why the author chose to change the story and how this new adapted version was engaging with its audience.
In PSHE this week we continued with our learning on the topic 'Celebrating differences'. This week we discussed what we liked about our physical appearance and how sometimes there can be pressure put on the way we look because of the assumptions and judgements we think people could make. We discussed the importance of accepting people for the person they are and not judging people based on the way someone looks.
In science this week we continued our learning on electricity. This week we built simple circuits and identified common insulators and conductors. We knew if a material was a conductor because the lightbulb in the circuits would still light up. We learnt that conductors let electrical charge pass through them, we found out that most conductors were made of metal materials. We also made our own circuit switches with paperclips.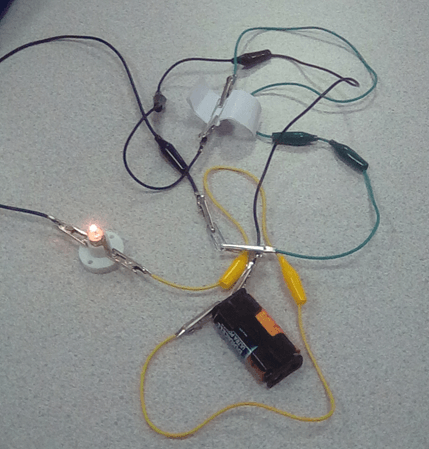 This week we also created Christmas drawings for Basildon hospital to use to decorate their wards. We had so much fun creating cheerful, colouring and creative drawings to bring the patients lots of joy. We watched and followed along to drawing tutorials of Christmassy objects, including a gingerbread house and a cartoon reindeer!
Week beginning: 22.11.2021
This week in Year 4 we continued our DT unit on 'Inventions that make people's lives easier'. This week we all got to build an invention out of Lego Spike kits. We built the 'Super Clean Up' invention, this is a rubbish grabber that helps pick up litter quickly! We decided that this invention would be great for caretakers and cleaners, and useful for elderly people to prevent them having to bend down!
We worked with our partners to build the control and two different grabbers. We then tested the grabbers out to find which one worked best! We had to use our problem-solving skills and needed to persevere as it the inventions didn't all work first time!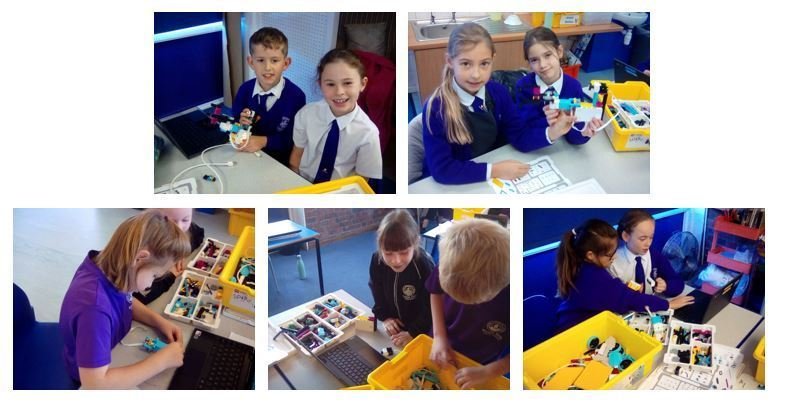 In our PSHE lessons this week we learnt how to solve bullying situations. We thought about why some witnesses try to solve the issue, why some ignore the bullying and why some chose to join in. We then thought about how to stay safe online to protect ourselves from cyberbullying. We created posters informing people of how to stay safe on the internet.
In RE we continued our learning of Judaism, this week we were learning about Shabbat. We learnt about what Shabbat is and when and why it is celebrated. We then created storyboards showcasing what happens on the evening of Shabbat.
This week we have also been doing some writing. We have been writing a story to entertain, based on our class text, The Invention of Hugo Cabret. We watched the opening clip of the movie 'Hugo', based on our book and wrote about what we could see and hear in the opening sequence. We've worked hard on our sentence structures this week, making sure we included adjective nouns, adverbs, verbs and expanded noun phrases in our sentences. Some of us even challenged ourselves to include some similes!
Week beginning: 15.11.2021
This week it is Anti-Bullying week and we have been looking at the book Wonder as part of this. In Year 4, we read the first chapter of the book and used what we have heard to draw what we thought the main character Auggie looked like. We then watched part of the film and wrote a character description describing Auggie!
Last term we completed our 30-day Kindness Challenge as a school. We used what we had learnt during this challenge to create a 'Kindness Recipe'. We showcased our learning on a detailed double page spread! We also all received our 'Kindness Matters' certificates and badges for us all to proudly wear on our ties!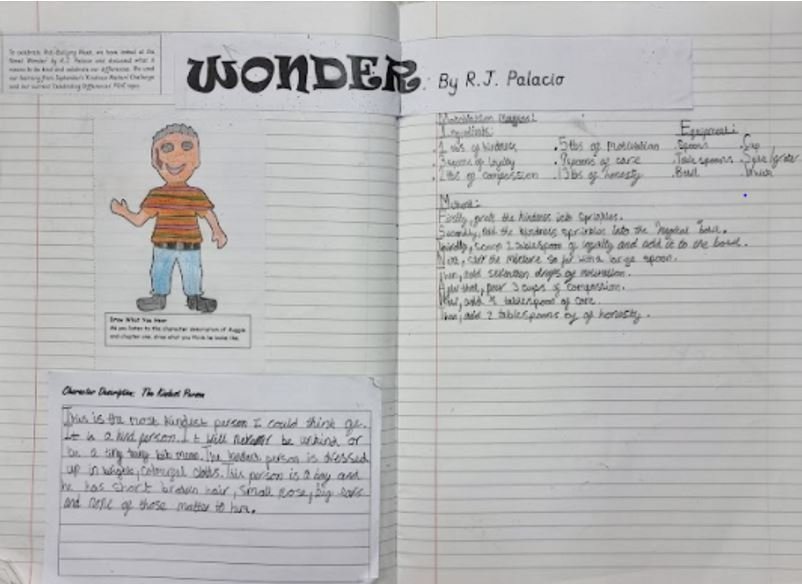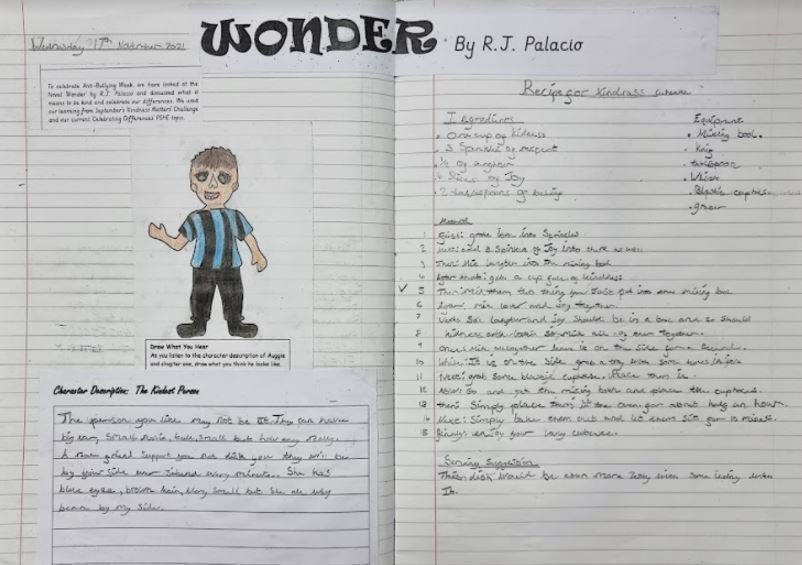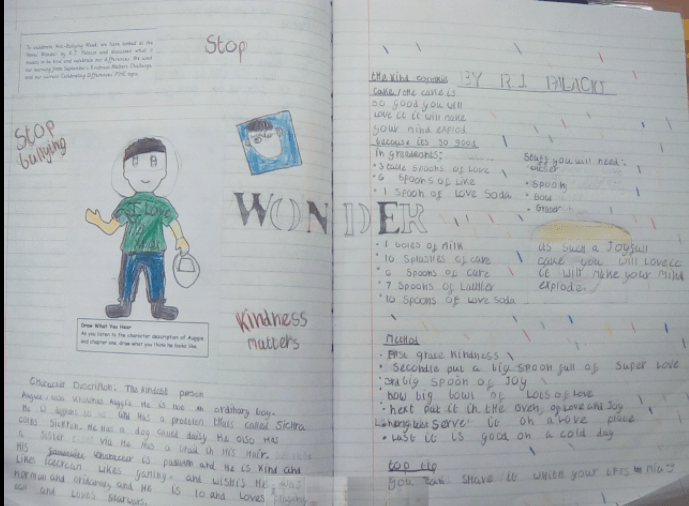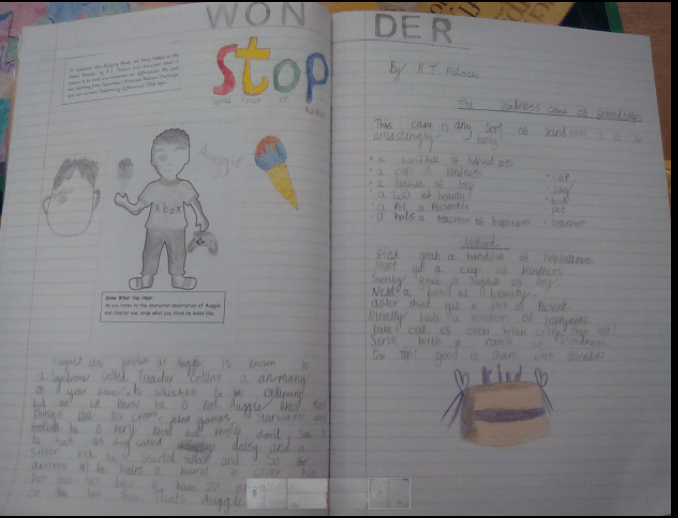 In PSHE this week we continued our learning of our Celebrating Differences topic. This week we focused on understanding bullying. We discussed different types of bullying and reminded ourselves of our whole school 'STOP' policy towards bullying. We read a scenario and identified the moment the bullying started towards a child. We thought about how the child would be feeling but also how witness and bystanders may have felt regarding the bullying they saw.
In science this week we learnt how to create a simple circuit. First, we identified the different symbols that represent various electrical circuit equipment. We thought about why symbols were used in scientific circuit drawings instead of sketches of the equipment. We then built a simple circuit and draw a diagram into our science books showing the circuit we had created.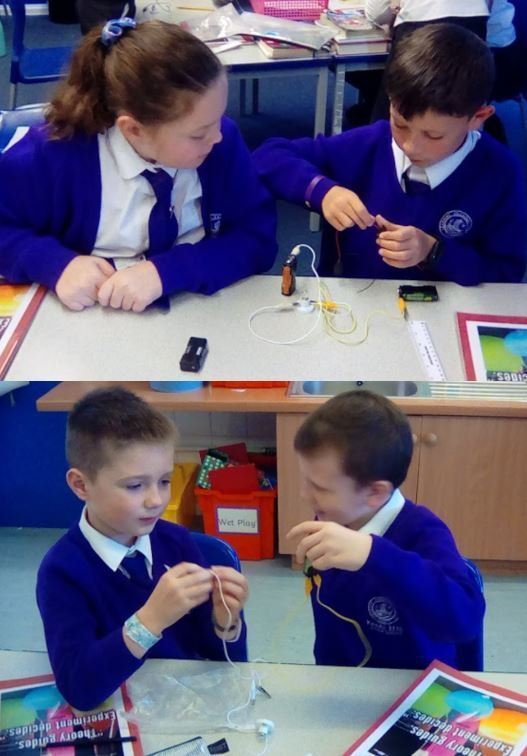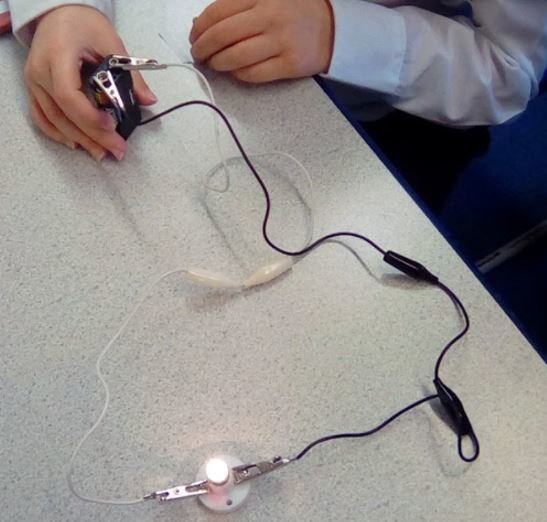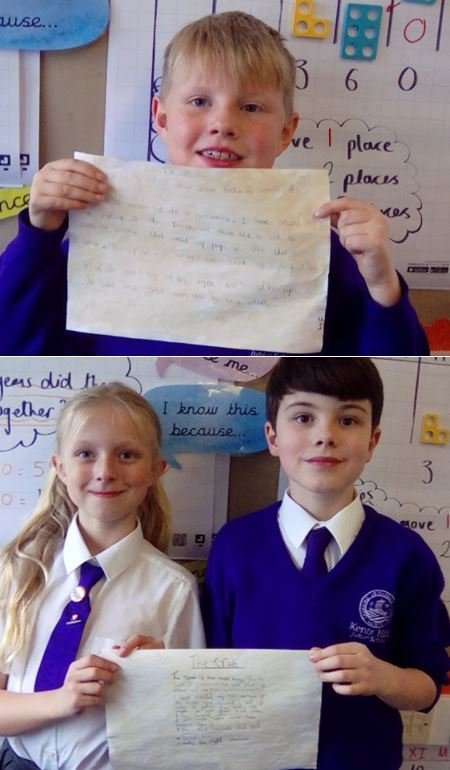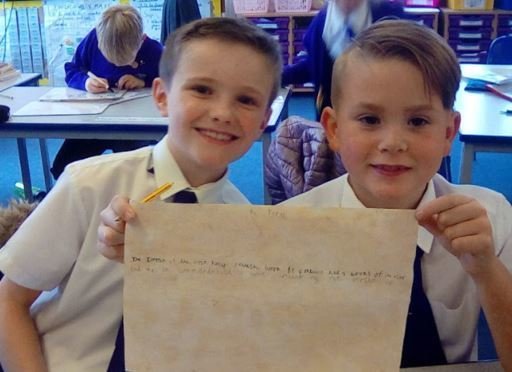 We started our new DT project this week. Eventually we will be building an invention that will make someone's life easier! This week we learnt about different simple mechanisms used in most inventions, these includes, pulleys, wheel and axels, levers, wedges and inclined planes. We learnt about what each mechanism does and then we had a go at building one. We then looked at a range of existing inventions, thought about what mechanism was used during the build and how the invention improves someone's life.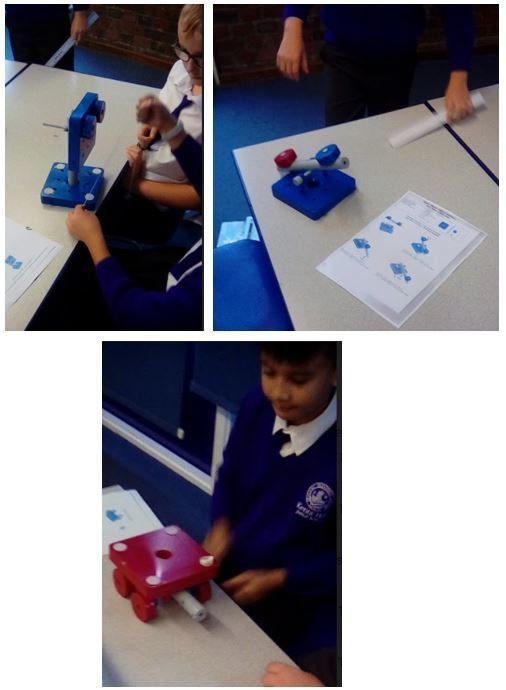 Week beginning: 08.11.2021
This week in Year 4 we have been writing to persuade! We had our own Trade Tables in class this week, we heard a sales pitch and had to decide whether we would buy the invention. Then we all wrote our own sales pitches to try to persuade readers to buy our Dyson Project inventions! We made sure we included all the persuasive features of writing to ensure we could really convince other people to buy our creations. We included rhetorical questions, expanded noun phrases, promises to the reader and statistics to influence people to buy the inventions!
In maths this week we have been learning all about perimeter. We learnt how to find the perimeter of a range of shapes. We had to make sure we counted the lines all around the shape, being careful not to miss any out! Later on this week, we did a maths investigation to find the perimeter of our names! We had to draw each letter and find the perimeter, then we added each letters perimeter together to find the total of our names. We wanted to find out which child's name had the greatest perimeter!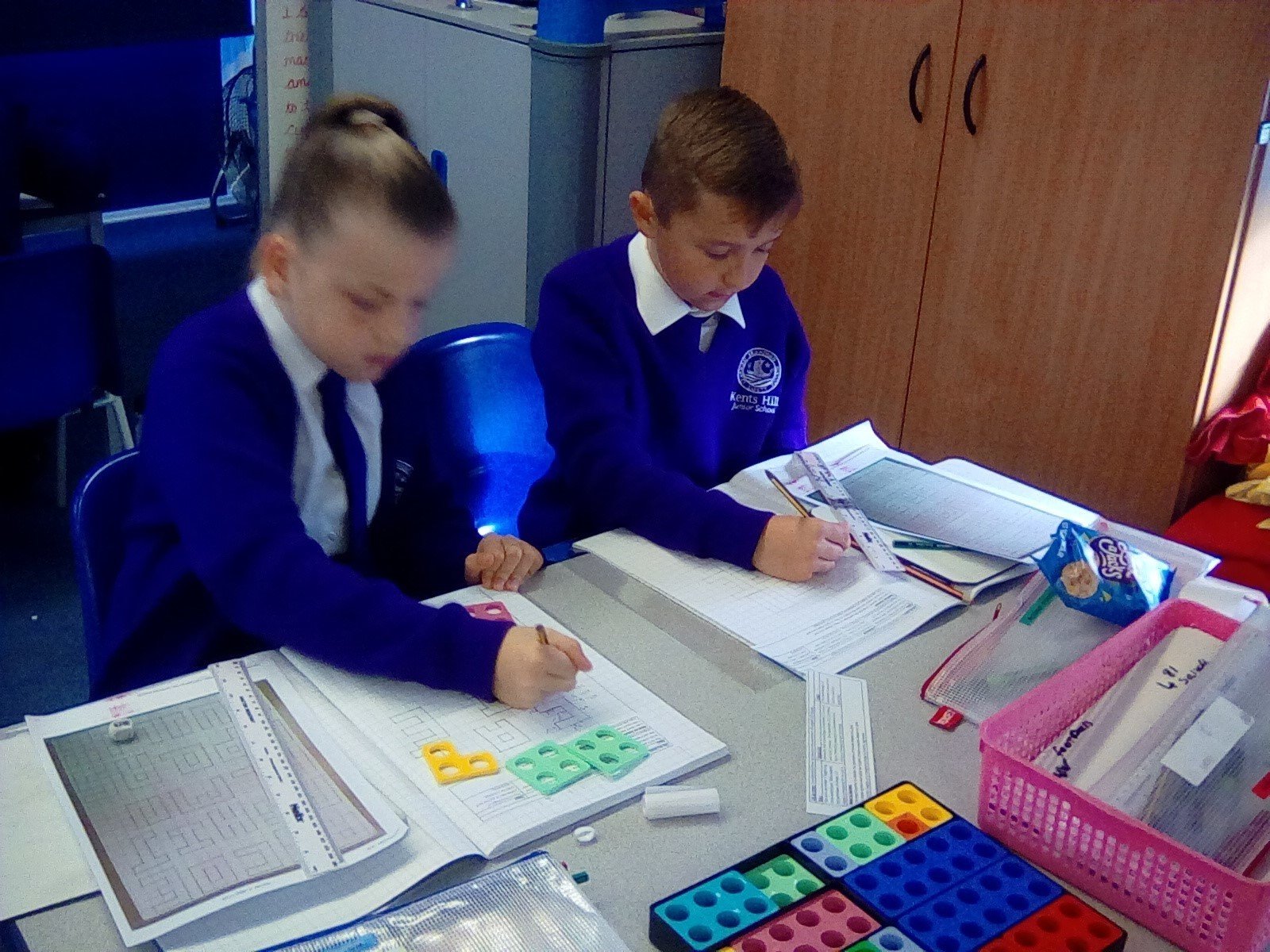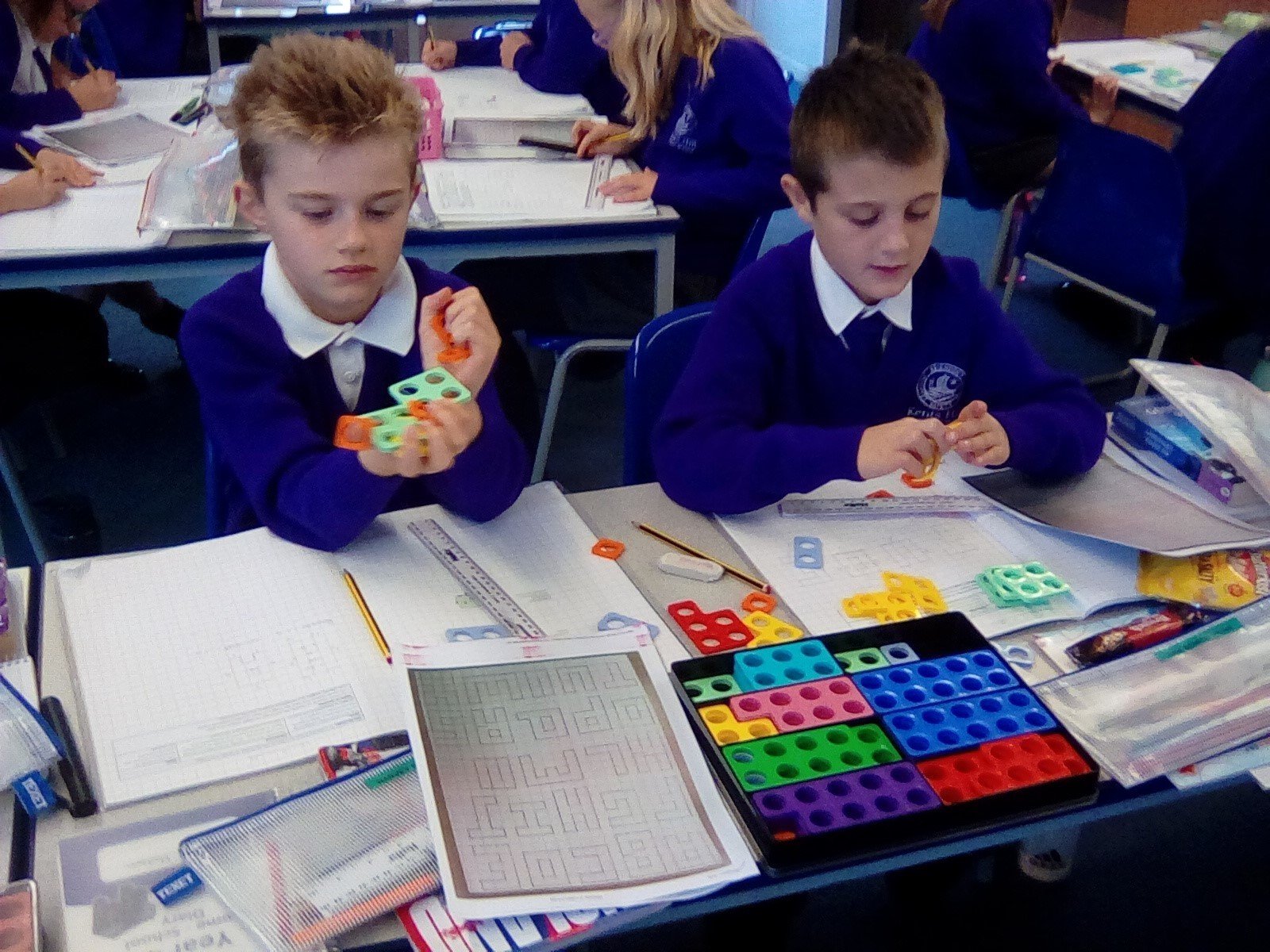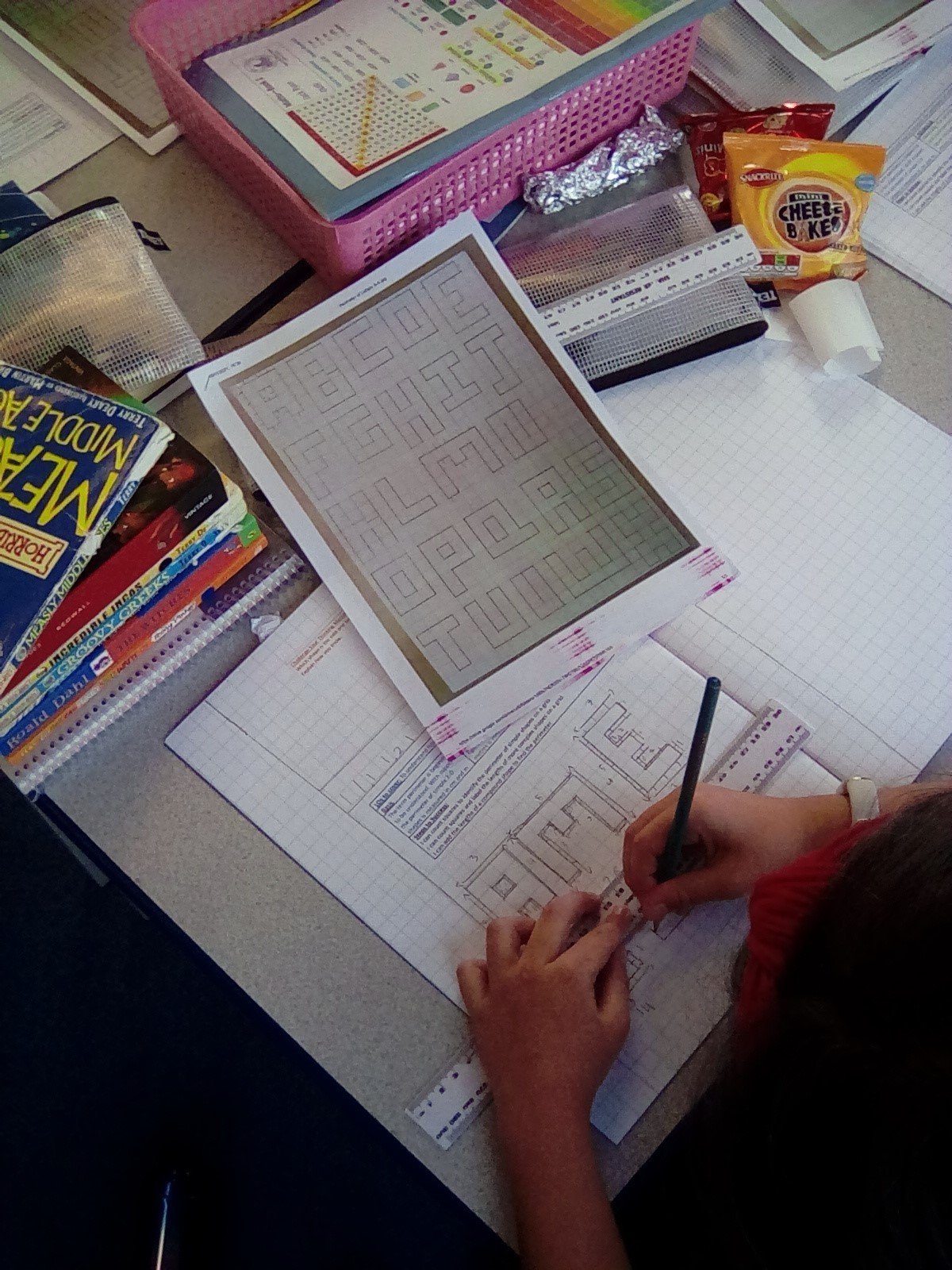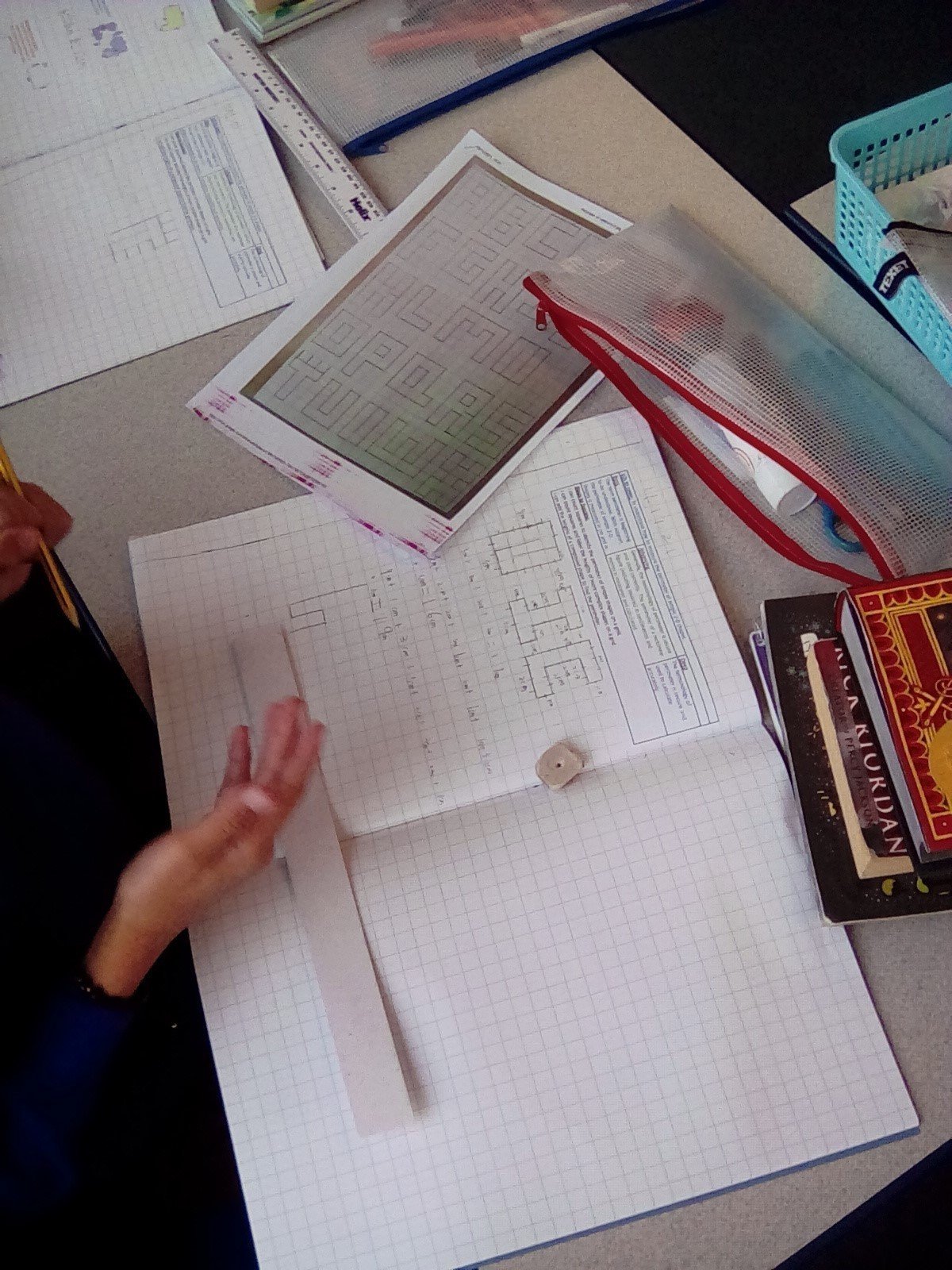 In PSHE this week we continued our learning of the 'Celebrating Difference' topic. This week we learnt about making assumptions about people and what influences our judgements. We made quick assumptions about people based on their appearances, then we thought about what influenced our assumptions. Lots of us picked up on the news, social media and 'Influencers' as factors that influenced our assumptions!
In RE this week we continued our learning of Judaism. This week we looked at Passover and the Seder Plate. We learnt what Passover celebrates and when it occurs. Then we researched what each item on the Seder Plate represents.
Week beginning: 01.11.2021
This week in Year 4 we have been doing lots of learning around the computing programme Scratch. First, we looked at recognising repetition in everyday life. We thought out songs that have repeated loops in, dances and stories.
Then, we explored count-controlled loops on Scratch. We had to make sure that the coding was written correctly and we could identify how often the count-controlled loop repeated for. Later on, we created our own star pattern using count-controlled loops.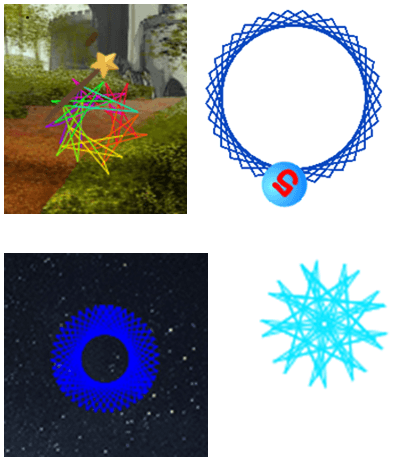 In science this week we looked at identifying different electrical devices. We looked around the class and the school to pick out items that run on electricity.
In PSHE this week we started our new topic, Celebrating Differences. We did our introductory mind maps and thought about the following questions: What is bulling? How can we solve bullying? What judgements do people make? What makes me unique?
Over the term we will be exploring each of these topics in more detail.
In our reading this week we looked at a range of texts about Bonfire Night. We looked at both, short stories and poems. We used our editing skills to correct problems in the texts and used dictionaries to look up the definitions of any words we were unsure of.
This week we were very lucky to use Now Press Play again! This time we listened to a story that linked to our feelings and PSHE. Some of our adults came to join in too! We had so much fun!
Week beginning: 18.10.2021
This week in Year 4 we continued our Design and Technology Dyson Projects! We have been designing and improving an existing product. Some of us created shelves for our locker, some created whiteboard holders and so much more! We used cardboard to create a prototype of our designs. We had so much fun creating these!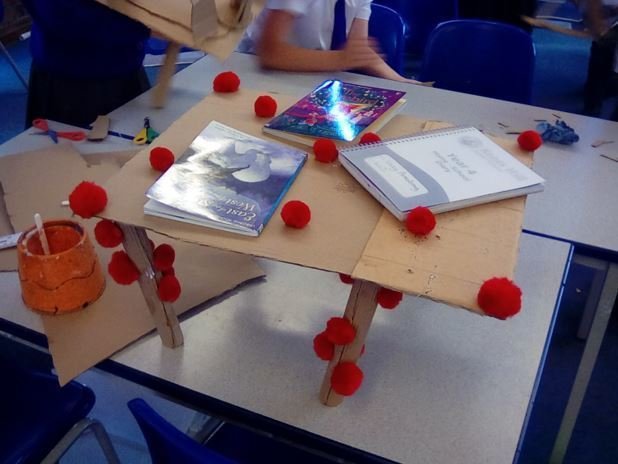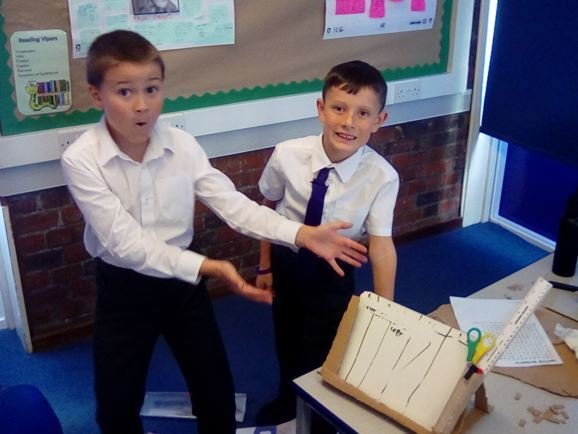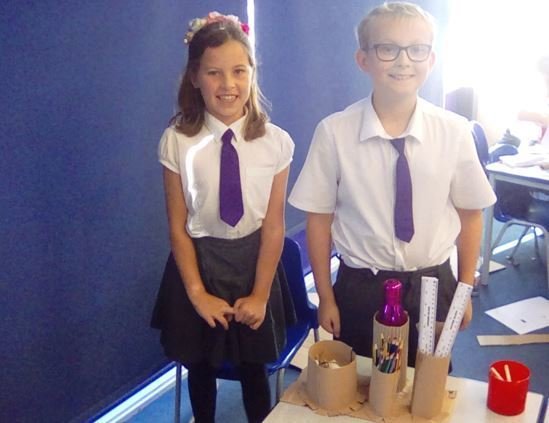 In science this week we continued our learning on sound. This week we investigated which material was the best insulator for sound. We wrapped a variety of materials, such as, tissue paper, bubble wrap, newspaper and felt, around our headphones. We then measured how many steps we had to take away before the sound became muffled or was blocked completely.
In our reading lessons we have been looking at a variety of Halloween texts, we have used our inferencing skills to pick things out from the stories and used our predicating skills to think about what could happen next.
In our computing lesson we learnt all about networks and the internet. We learnt about what makes up a network, different types of networks and how the internet works. We then created a human network using string to show off what we had learnt. We also discussed ways to find reliable information online and what are the key things to look out for when taking information off of the internet!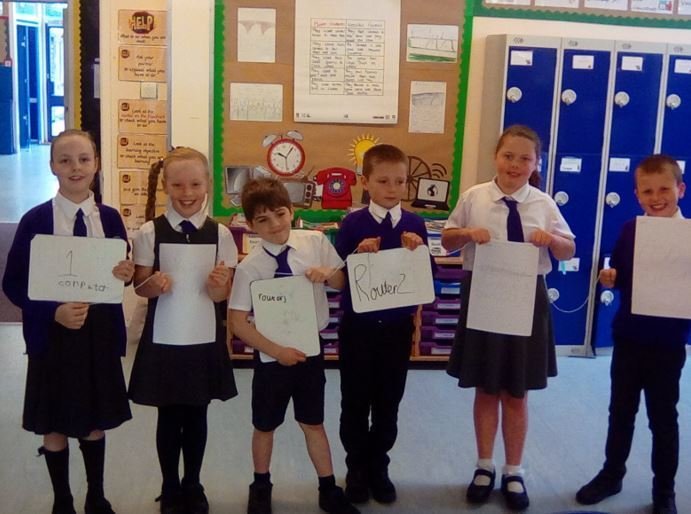 Week beginning: 11.10.2021
This week in Year 4 we got a letter from Wallace and Gromit! They needed our help! Unfortunately, they had their inventions stolen and couldn't remember how they worked. We watched a video of the 'Snoozatron' invention and created a blueprint showing how the invention works at each step. Then we wrote an informative writing piece explaining how the Snoozatron works. We made sure to include time connectives, expanded noun phrases and adjectives in our writing to make sure we were as clear as possible!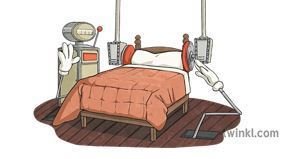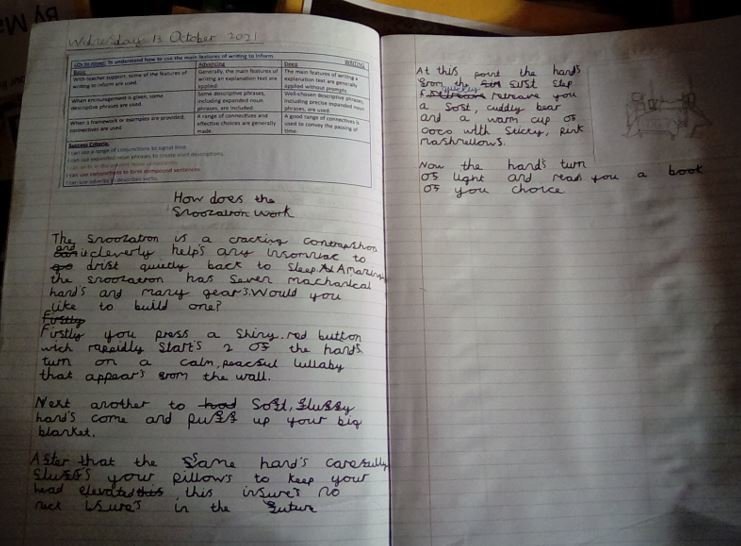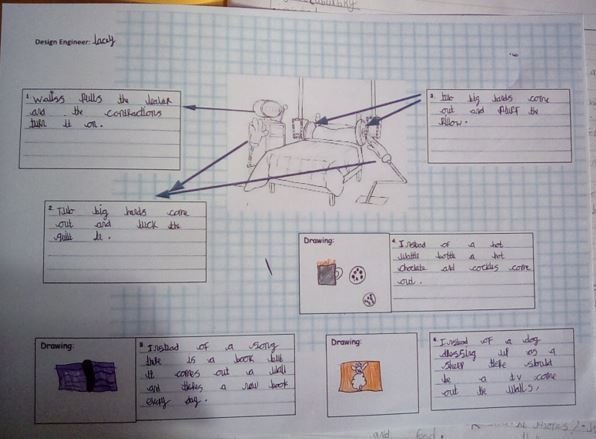 In our history lessons we have been learning about Mayan inventions. We learnt that the Mayan civilisation invented chocolate, rubber and a Mayan calendar. We created a travel leaflet introducing people to the Mayan civilisation and to their key inventions.
In maths we have continued our learning on the column method. We have been learning how to add and subtract 3- and 4-digit numbers. We have used numicon to work practically and consolidate our learning whilst practising the learning.
This week we have continued to read more of the Invention of Hugo Cabret. We have been making lots of predications about the text, thinking about what is going to come next. We have thought about the authors choices and discussed why they tried to include certain vocabulary and illustrations.
Week beginning: 04.10.2021
This week in Year 4 we have continued our learning of inventions. We have started a DT project called 'The Dyson Project'. We've previously thought about characteristics of design engineers and this week we became them! With a partner we thought about an invention in school that we could edit and change to make it even better. We thought about our design specifications and sketched out our invention ideas.
Some of our ideas were fantastically creative and next week we will get to start making our creations out of cardboard.
In our reading lessons this week we have looked at a range of texts on 19th and 20th century inventions. We inferred from the text and learnt how to 'read between the lines'. It was really interesting learning about how some life changing inventions were designed and made. Did you know, the telephone was created by accident!
In our history lesson this week we looked at significant British inventions. A few inventions we learnt about were the toothbrush, the telephone and the internet. We created a timeline showing when these life changing inventions were created and by whom they were made by.
This week we created a double page spread to showcase all the work we did last week on the history of the clock. We presented our learning over two pages, we filled the pages with timelines, clock pictures and lots of the information we had learnt on the clocks history and how it developed over the years.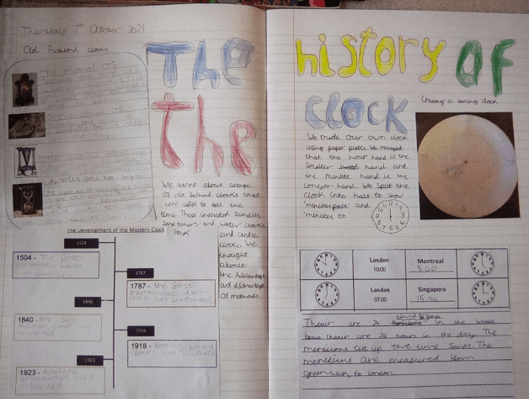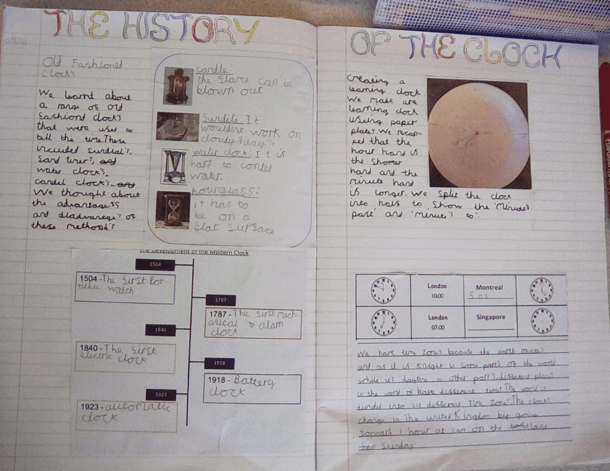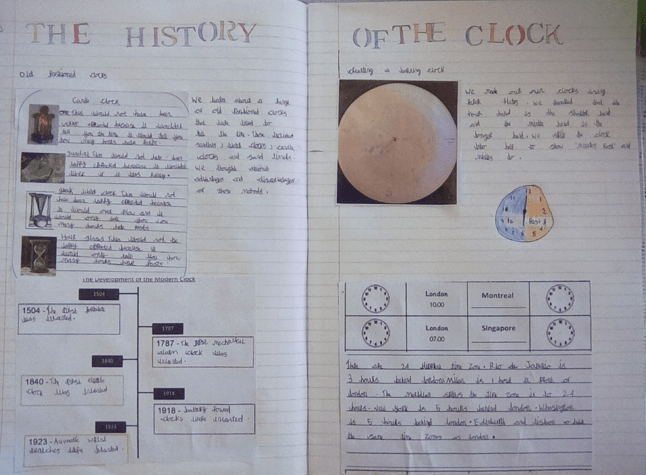 In PSHE this week we thought about reward and consequences. We did some drama freeze frames in groups to show a scenario we had read, the other children had to guess what the group were showing. Then, as a class, we came up with suitable rewards or consequences of the behaviour being shown through the freeze frames.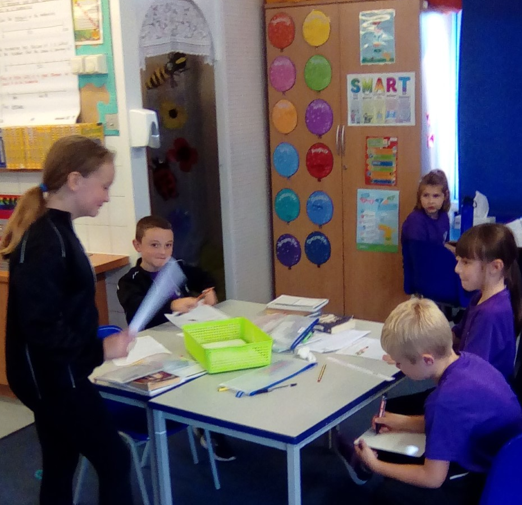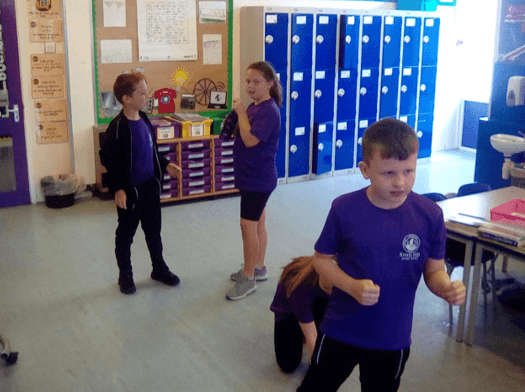 In our RE lesson we looked at Jesus' miracles, we acted out the story of the 'Blind Women' and retold the story through drama.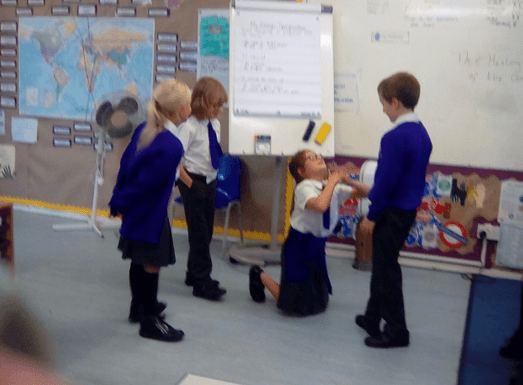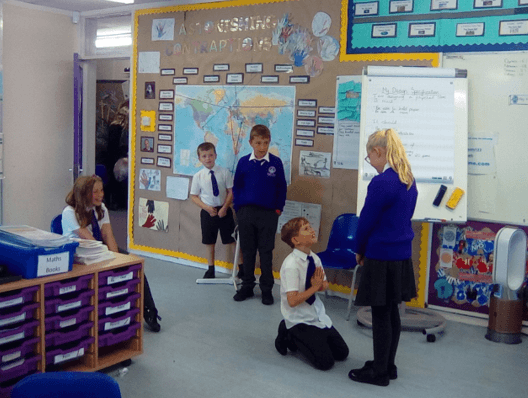 Excitingly, we got to have the book fair at school this week too! We loved getting to explore and read new books!
Week beginning: 27.09.2021
This week in year 4 we have been learning about an important, life changing invention; The Clock.
In our history lessons this week we learnt about a range of old-fashioned clocks including sundials and Greek water clocks. We thought about the advantages and disadvantages of using these types of clocks to help tell the time.
We then learnt about how the clock had developed over time. We created a timeline of the key changes and developments to the clock throughout history.
In our geography lesson this week we learnt about time zones. We found out that the UKs time zone is the Greenwich Mean Time and that all the countries to the east of us are ahead of us in time and the countries to our left are behind us in time. We discussed why we have time zones and when the clocks in the UK go forwards and backwards.
We used an atlas to help us identify a counties time zone and we calculated what the time would be in different countries.
In one of our maths lessons this week we created our very own learning clocks. We used paper plates as our base! We added the hour times, the minute times and we split the clock in half to show 'minutes past' and 'minutes to'! These clocks will be a great tool for us when it's time to learn how to tell the time in our upcoming maths lessons!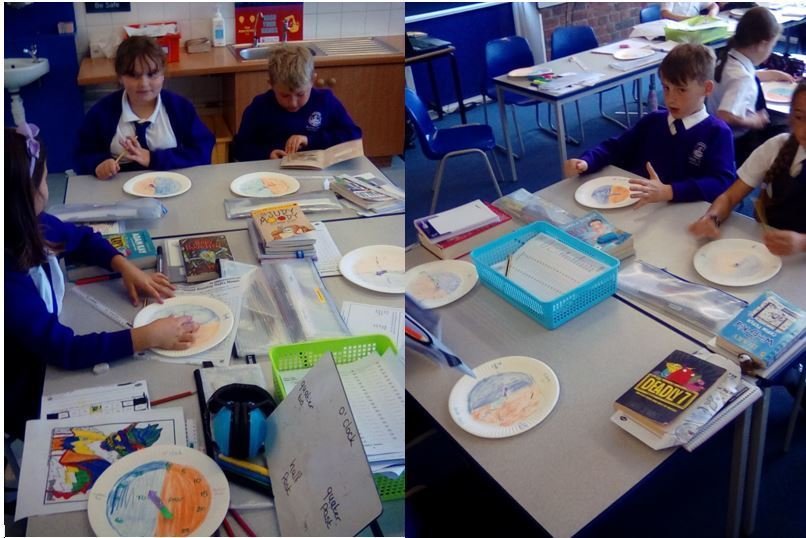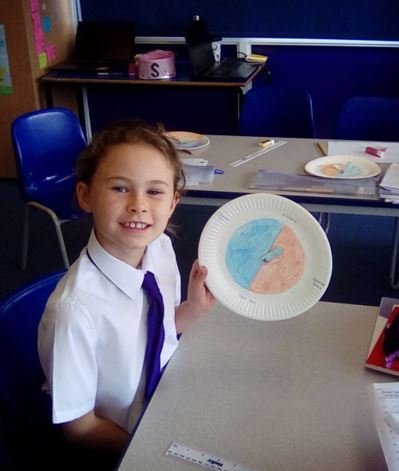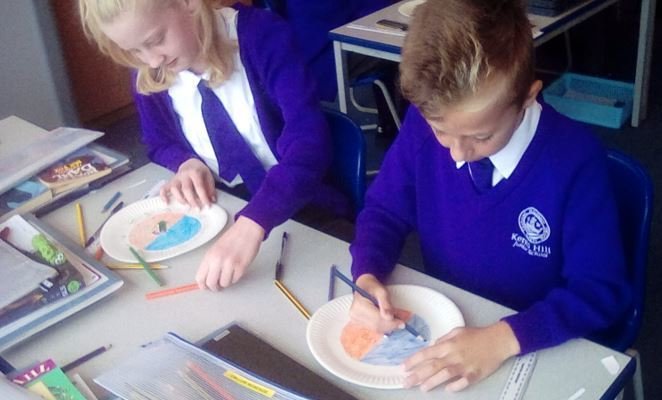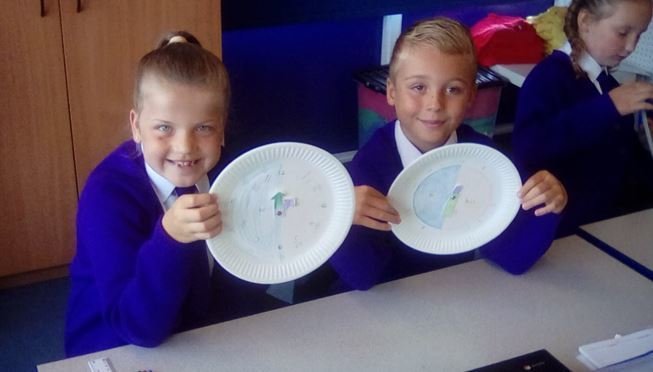 In our reading lessons this week we have been ready texts on 'notable individuals'. We've read texts about, Boudicca, Thomas Edison and Alan Turing. We learnt about why and how these individuals were so influential to their time.
In PSHE this week we have learnt about Rights and Responsibilities. We learnt about what rights children have and why it's so important that they are entitled to these things. We discussed what responsibilities we have in relation to these rights and how we have to behave to make the most of the rights we have.
We were very lucky to have visitors come into school this week to do a workshop with us! The 2 Johns came to visit and told us all about staying safe online! It was really interesting and eye-opening!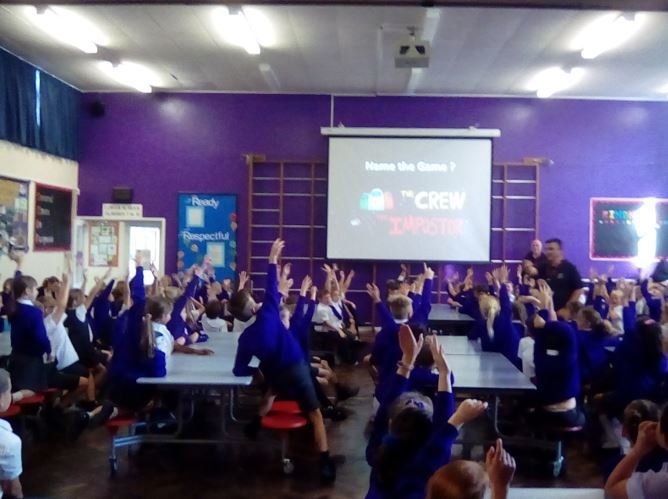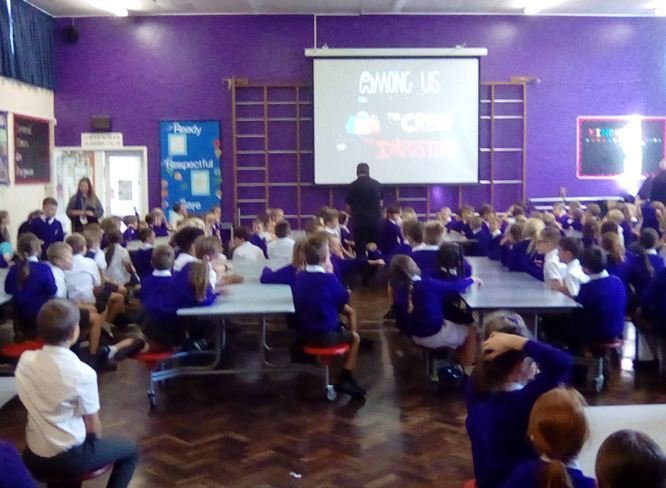 Week beginning: 20.09.2021
This week we have be learning all about the Romans and their life changing inventions!
In our history lesson this week we were learning all about two key Roman inventions: roads and aqueducts. We learnt about how they were made and how the invention made life easier for the Romans. We presented our learning onto eye-catching posters, ensuring we included key information and colourful picture.
In our reading lessons this week we have continued to read more of our class book 'The Invention of Hugo Cabret' we thought about the importance of some of the main characters and how significant they were to the story. We even practiced our sketching skills and sketching pictures based on the book so far!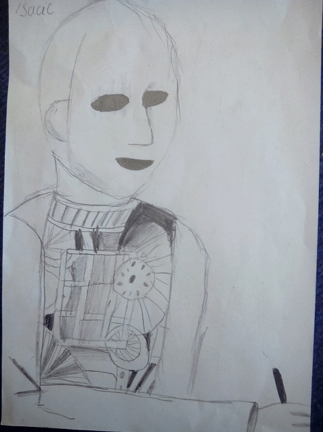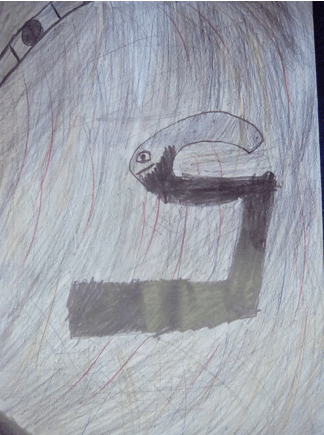 During our Tuesday - Thursday reading lessons we read about the Romans. We read some non-fiction informally texts about how Rome was founded, and the weapons and armour Roman soldiers used. We also read an old folk song about Boudicca. We discussed the language choices and what the message of the song was.
In PSHE this week we were learning all about being a school citizen. We thought about different people in the school who help us learn. We identified a few key jobs in the school, such as, teachers, cleaners and headteachers. We played charades to see who could identify the key job that was being mimed.
Then, in groups, we thought about the 3 most important jobs that person does in order to help us learn. We thought about how we could order the job roles into a level of importance, however, we decided that all the people in our school community are equally important, and all help us learn!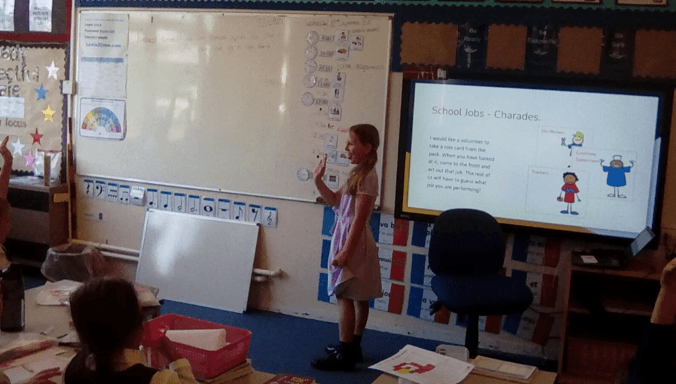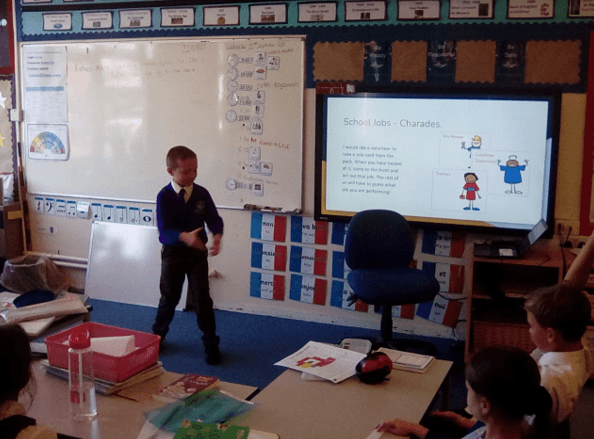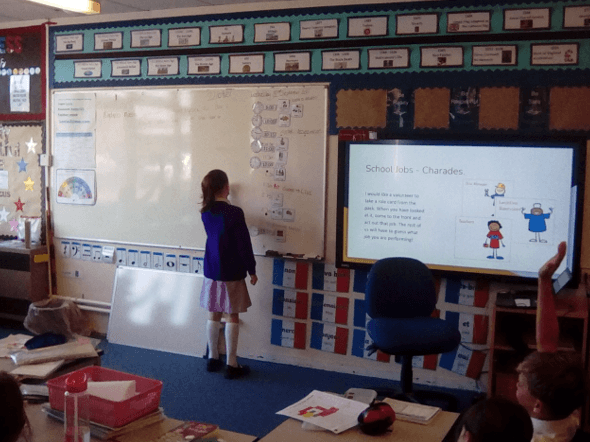 This week we were very lucky to have been able to join a LIVE art seminar! We watched the artist John Dyer sketch a white rhino in the Savannah. We used our sketching pencils to follow along with him and we added colour to make our drawings stand out even more. Some of the artwork that we produced was incredible!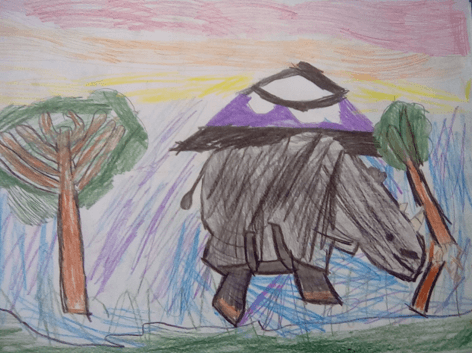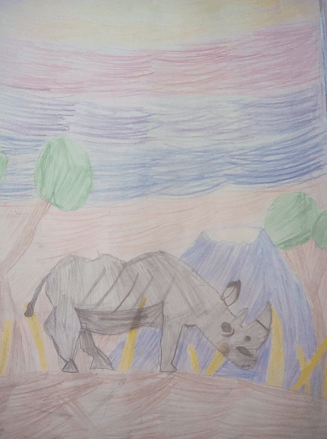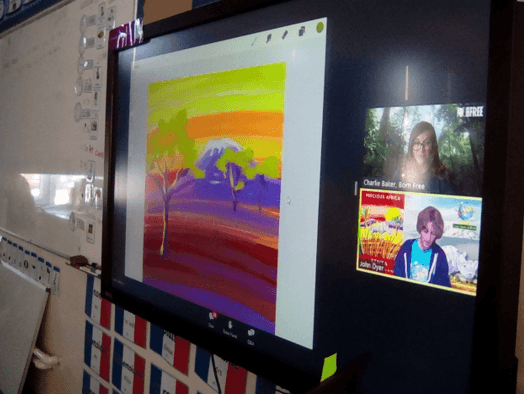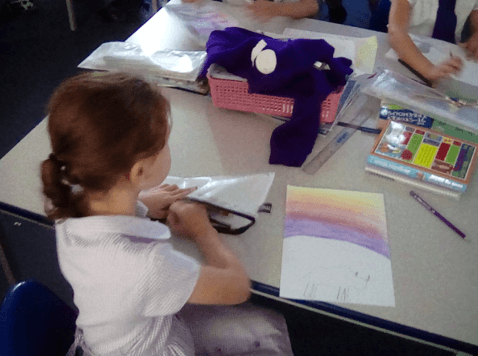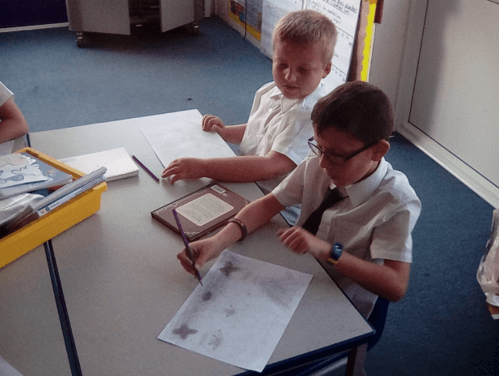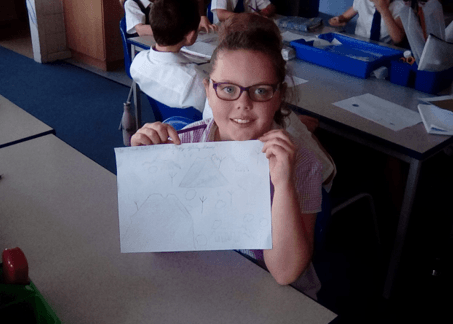 Week beginning: 13.09.2021
This week in Year 4 we have continued our learning on the Stone Age!
In history we learnt all about Stone Age homes and weapons. We learnt about Stone Henge, how it was made and researched what is could have been used for. We even got to create mini versions of Stone Henge out of bourbon biscuits!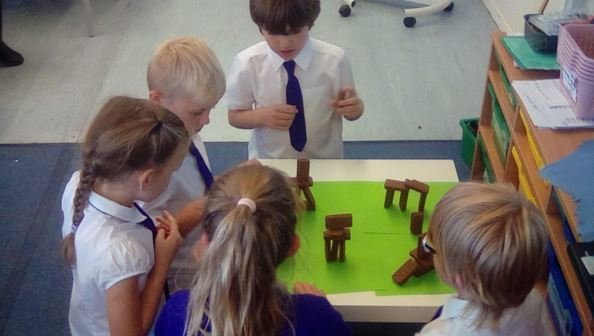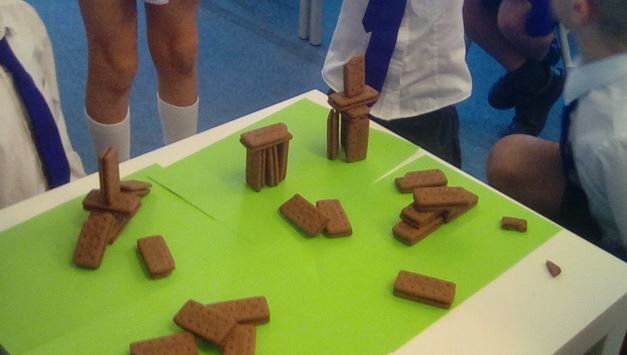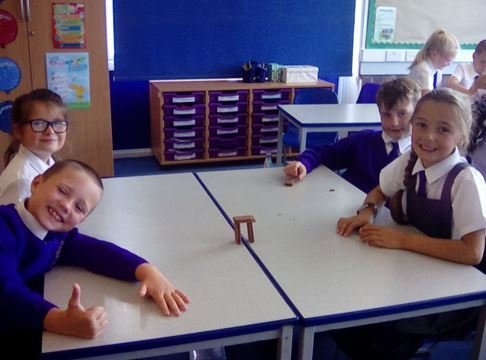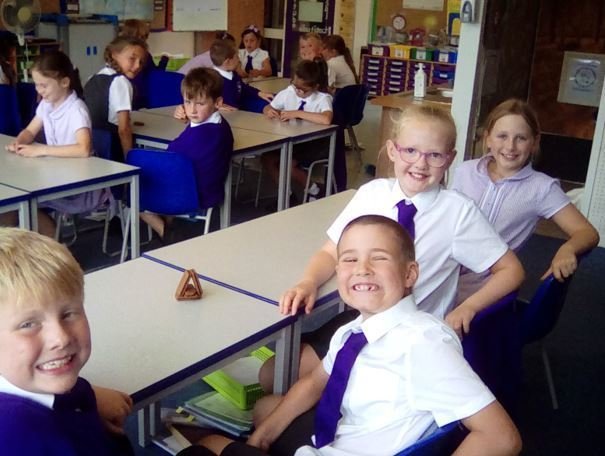 In our reading lessons this week we have started reading the book 'Ug: Boy Genius of the Stone Age' by Raymond Briggs. We have thought about how the characters might be feeling and reasons why they made certain decisions. We have made predictions about what we think will happen next in the story.
In our writing lessons we have started writing a story to entertain all about the Stone Age. We have made sure we have included expanded noun phrases and fronted adverbials in our stories to make them engaging and entertaining.
In our science lesson this week, we have continued our learning on sound. This week we were investigating how sound travels through different mediums (solids, liquids and gases). We tapped pens together in the air and thought about how clear the sound was. We then tapped pens on the desks whilst our ear was on the table to see if we could hear the sound travel through a solid.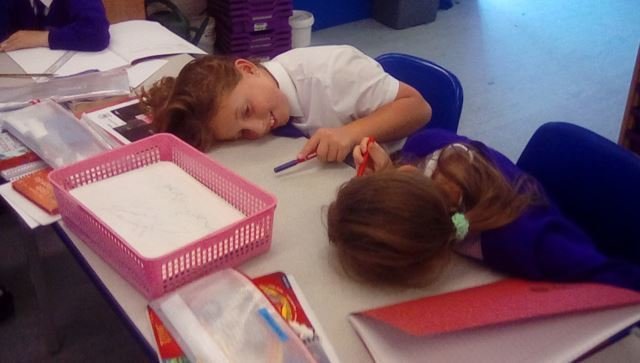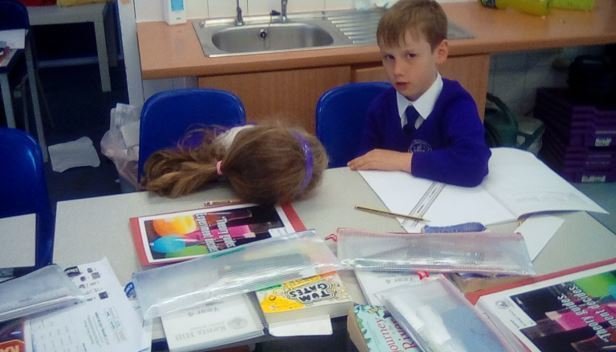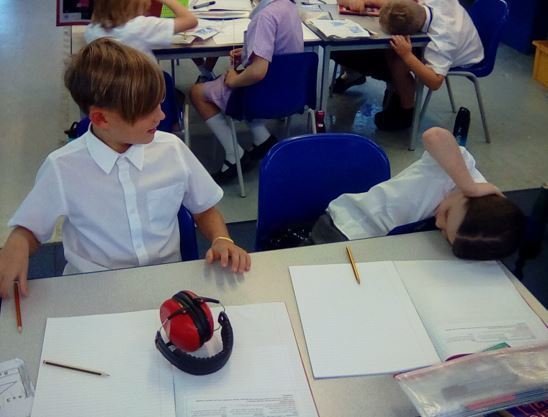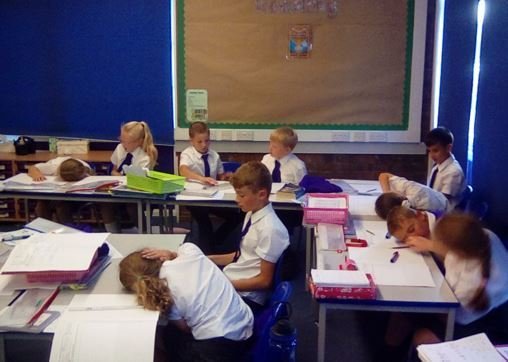 In PSHE this week we learnt about becoming a class team. We thought about the differences between including and excluding. We discussed how we can make everyone in our classes feel valued and created a mindmap of our ideas. We then wrote down 9 key qualities we felt like were important for being a good team. We organised these into a diamond 9 based on their level of importance.
Week beginning: 06.09.2021
This week in Year 4 we have travelled back in time to the Stone Age! We've had so much fun learning about how people lived in the Stone Age.
In our reading lessons this week we have looked at a range of texts around the Stone Age. We read a non-fiction information text on the 3 periods of the Stone Age. These are, the Palaeolithic era, Mesolithic era and the Neolithic era. We read an extract of the story 'Stone Age Boy' by Satoshi Kitamura,, and we read a Stone Age poem.
In our history lesson this week we looked at the difference between Stone Age hunter-gatherers and Neolithic farmers. We learnt lots of interesting information and found lots of differences in the way the live and dress. We present our learning into a table that highlighted the differences between both groups.
In maths this week we looked at Stone Age statistics. We played Stone Age animal top trumps that gave us lots of information on the animal's height, weight, speed, human-friendliness and their deadliness. We then created a table filled with the statistics we had learnt. Using the table, we created a bar graph showing the Stone Age animals deadliness. We ensured we used a ruler to make sure our graphs were clear.
In science this week we began our topic of sound. In this week's lesson we thought about how sound is made. We learnt that sound it made from air molecules vibrating against each other as they travel into our ears. We went on a sound walk around the school to investigate the level of noise. We stopped at various locations and listening to what we could hear. We noticed that the nosiest place in the school was the front playground and the quietest was the reading garden.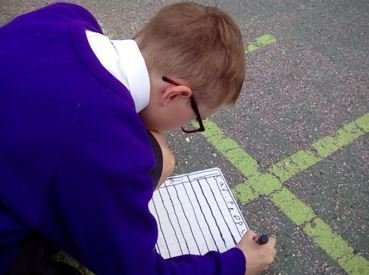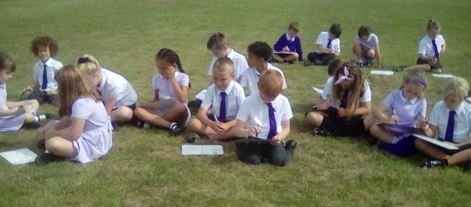 This week we got to use Now Press Play to immerse ourselves in life in the Stone Age. When we put the headphones on, we were read a story that placed us into the Stone Age. We got to explore the cave settings and we had to defend our family against a Wolly Mammoth! We had so much fun pretending we were Cavemen!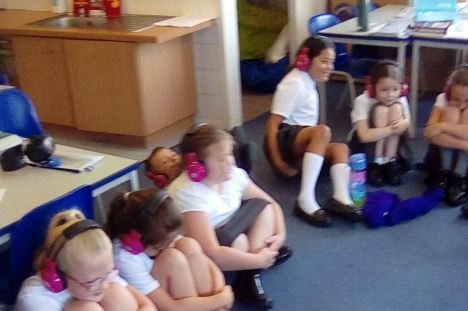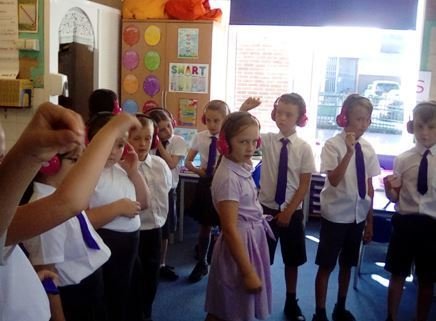 Week beginning: 30.08.2021
This week in Year 4 we have been so pleased to welcome back all of the children! Miss Roberts, Miss Jackson and Miss Clarke have been so impressed how quickly the children have settled back into school!
We spent lots of time doing some 'get to know me activities' to learn lots of new information about each other! We created feathers which we filled with our hopes and dreams for the future! We thought about what we wanted to achieve in Year 4 and any future jobs we wanted!
This term our topic is Astonishing Contraptions, this involves learning all about famous inventions and inventors. This week we have immersed ourselves in the topic! We learnt all about how cavemen made paint out of materials they found outside such as berries and broken chalky rocks. We made our own paint and created our own cave paintings.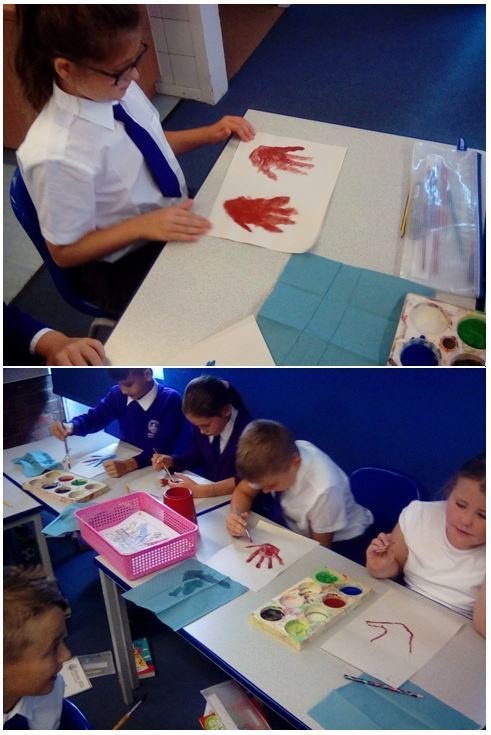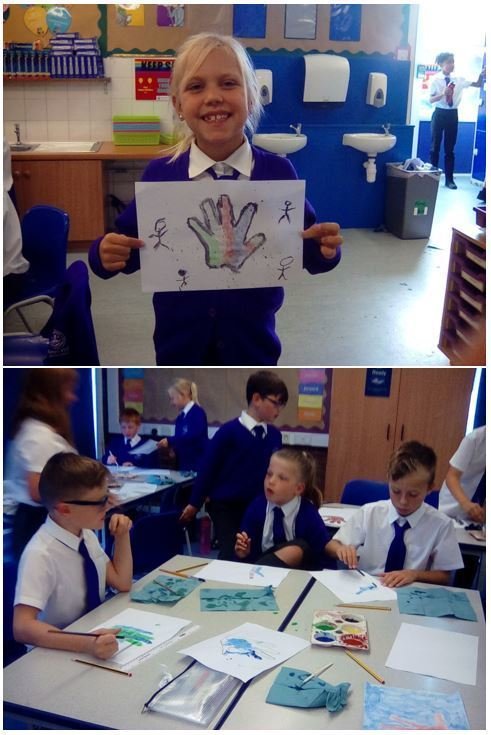 We recapped the Colours of Regulations this week to remind ourselves of what each colour meant. We then created a class toolkit with strategies we could use to move us from red, yellow or blue back into feeling green!
This week we were lucky to have an assembly all about kindness. Our virtual visitor told us all about the importance of being kind and what we can do show kindness to others!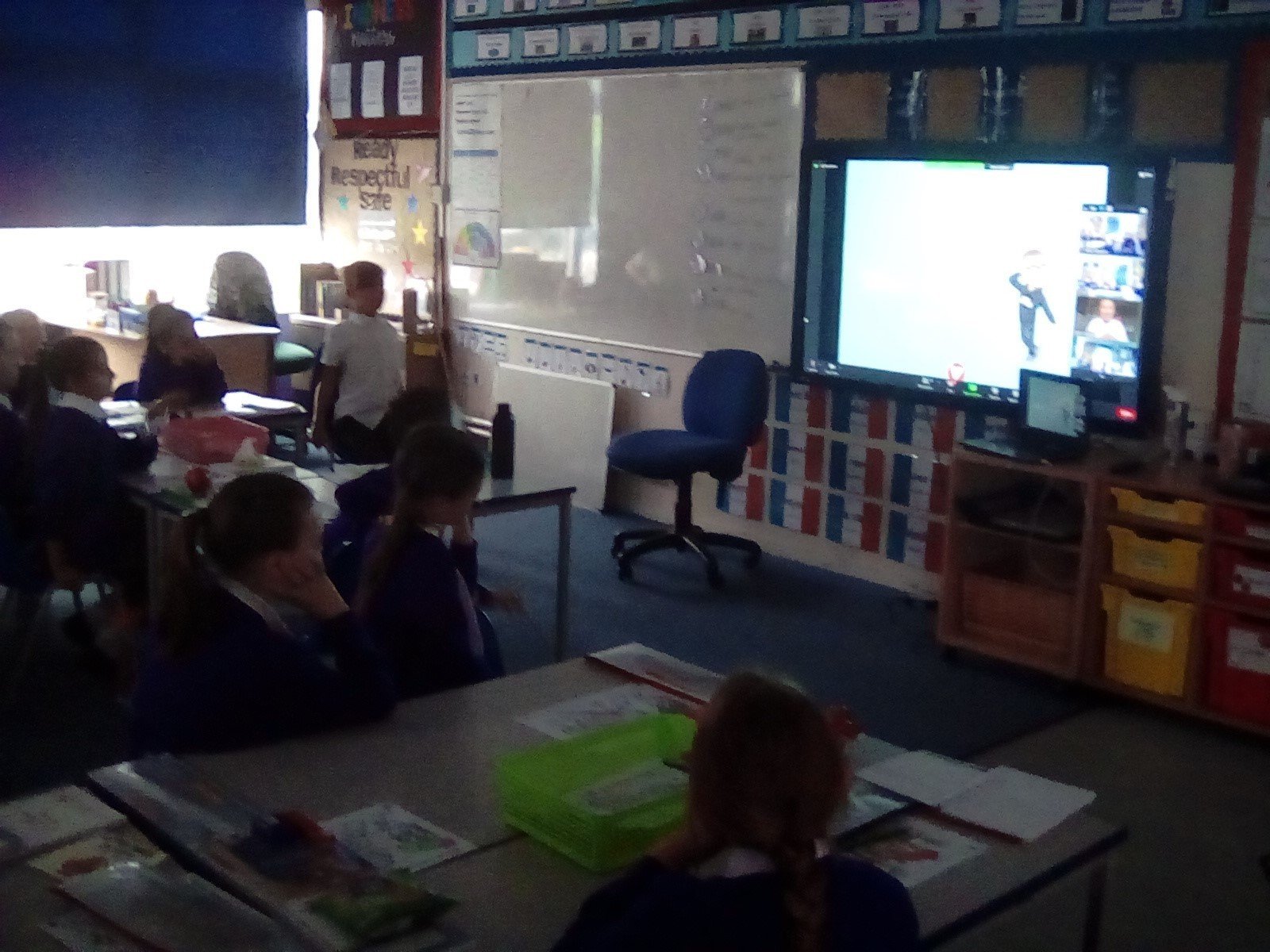 Year 3 Blog 2020-2021
Week beginning: 12.07.2021
This week in year 3, we have designed and created carnival floats which were inspired by the Day of the Dead festival, which is famously celebrated in Mexico. This linked to the film we have watched over recent weeks, Coco, in which the characters celebrate the festival with parades and celebrations.
The children showed teamwork whilst working in groups to plan and design their carnival float, following the design process which we use in DT. Throughout the project, they evaluated what was going well and if they needed to make any changes. They then created the base of the float, using paint and decorations. After, they created the axle to attach to the chassis by carefully using a saw to ensure the dowel is the correct length, as well as creating posts for decorated skulls to stand on. Glue guns were also used sensibly to secure the decorations to the carnival float.
We can't wait to share our carnival floats in a mini parade.
Great work year 3!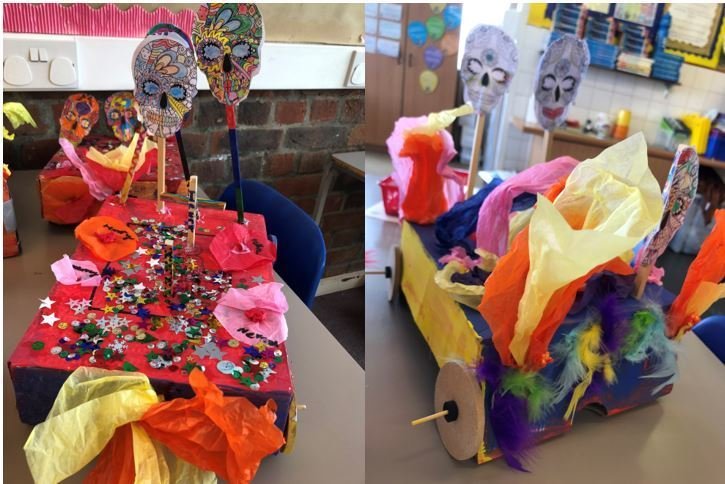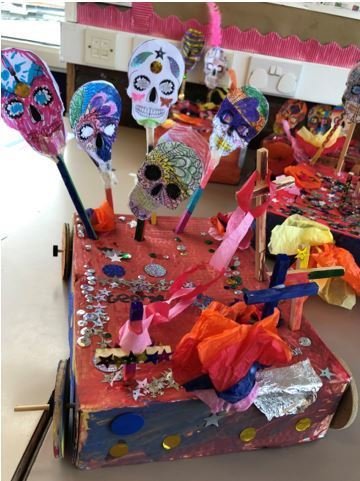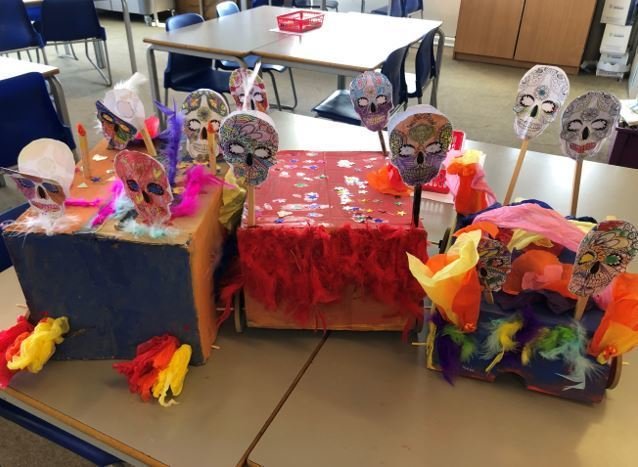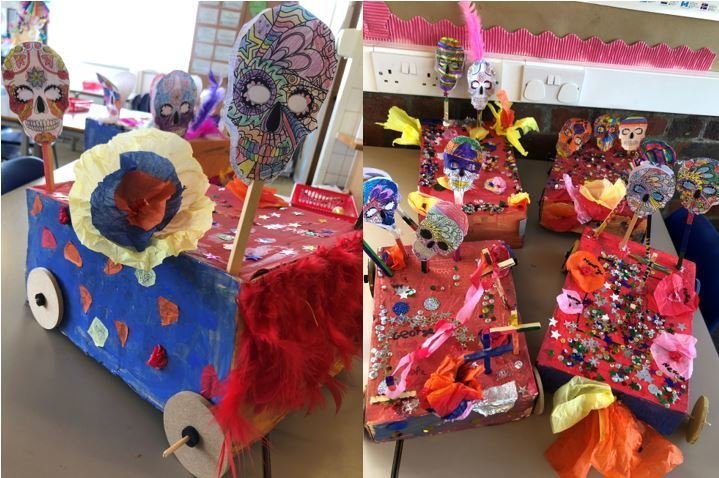 Week beginning: 05.07.2021
We have had an incredible activity week in Year 3. It has been filled with fun, laughter and new opportunities.
Make sure to check the whole school blog to see the fun activities across the school!
On Monday, we had our house Olympics. We cheered on the Normans, Saxons, Vikings and Danes whilst wearing our house colours. After lots of competition, the winners were the Danes! In the afternoon, we had lots of fun whilst creating parachutes to test air resistance. We put an egg in the 'basket'. We loved watching the eggs crack when they hit the ground!
Tuesday was fun because we were dressed in our country's colours for the Euros tournament. We had fun - despite the rain! Setting the tone for the upcoming final this weekend (COME ON ENGLAND), England made it to the final, as did Scotland, Ukraine and Sweden​. The winners were Scotland for the girls and Ukraine for the boys! In the afternoon we loved using Lego Spike as well as getting messy whilst making bird feeders in forest school.
On Wednesday, we had fun for Get Set Tokyo! Excitingly, we experienced lots of investigations in our Sublime Science workshop with Dynamo Dave. We had fun making slime as well as learning about different elements of science.
To add to the fun, on Thursday we got to:
Go on an inflatables including an assault course, ginormous slide and a bouncy castle
Climb a climbing wall
Visit a Planetarium
Have a cinema experience (with popcorn!)
We showed perseverance and determination at times when we felt worried and were really proud of overcoming any nerves.
To finish off the week, we've tried hard in a cricket tournament! Excitingly, we have also had ice creams as well as prizes including certificates celebrating our successes over the week!
What a super week, Year 3. We hope you have caught up on any missed fun over the last year!
Week beginning: 28.06.2021
In Year 3, we have been learning the lyrics to Bob Marley's 'Three Little Things' in music. Firstly, we listened to the song and appraised it - considering what genre it was, what instruments could be heard as well as thinking about the lyrics. Some classes enjoyed time outside singing the song too!
We then used a virtual piano on Chromebooks to play along to the song. We worked independently first, using our headphones, and then performed to the song as a class. It was our first time doing this and we had lots of fun!
Have a go on here:
https://recursivearts.com/virtual-piano/
On top of this, we began learning about axels and chassis in DT, as part of the planning process for designing and creating a carnival float. We worked hard in groups to problem solve and create a moving vehicle using wheels, dowel, and card. It was fantastic to see such great teamwork!
In maths, we've continued to learn about measures. We've tried hard whilst learning about mass and have been able to solve a lot of challenging problems!
We also learnt more about "changing me" and showed maturity whilst learning about the changes that happen inside the body and how this relates to babies being made. Well done Year 3!
Week beginning: 21.06.2021
This week, the children got to make their tacos that they had designed, as part of learning about festivals in South America. Sensibly, they used the different techniques used for chopping - the claw and the bridge hold. These techniques were used to chop the salad including the lettuce, peppers and tomatoes.
After, they carefully cooked the meat/Quorn using the cooker. We were very careful whilst using the cooker. Whilst cooking, the children measured out and added a range of herbs to make the delicious meal.
Once the filling was cooked, the children filled the crunchy taco shells with the filling and added toppings of their choice. It was great to see them trying foods that they hadn't before (well done Year 3). After all of our hard work, the children got to taste their terrific tacos, which was very exciting!
On top of this, in music we have listened and appraised a new song - Three Little Birds. It has been lots of fun learning some of the lyrics and feeling the beat of the song.
Furthermore, in geography, we've learnt all about Route 66! This linked to our writing about cars, which we have almost finished!
Well done Year 3!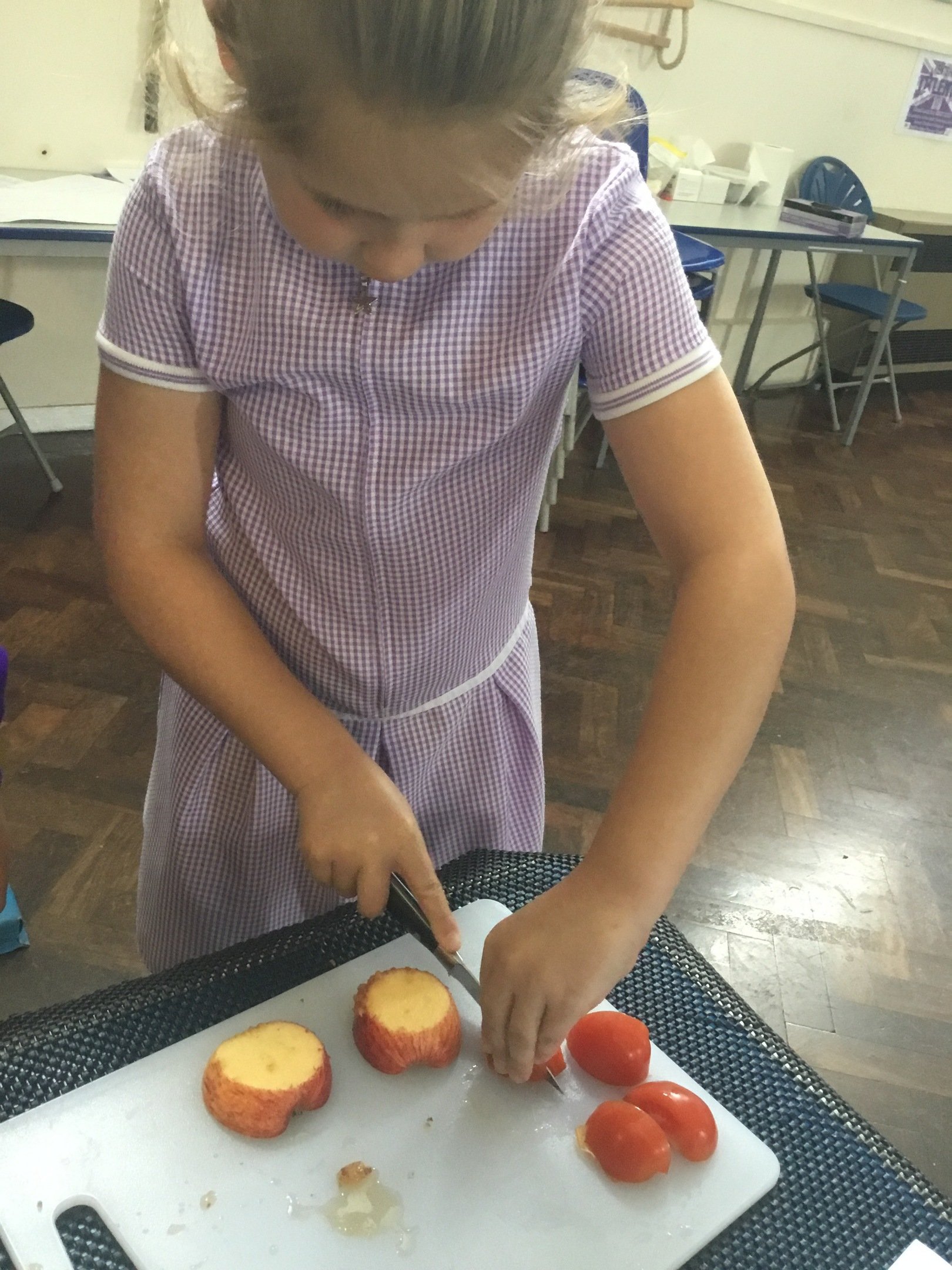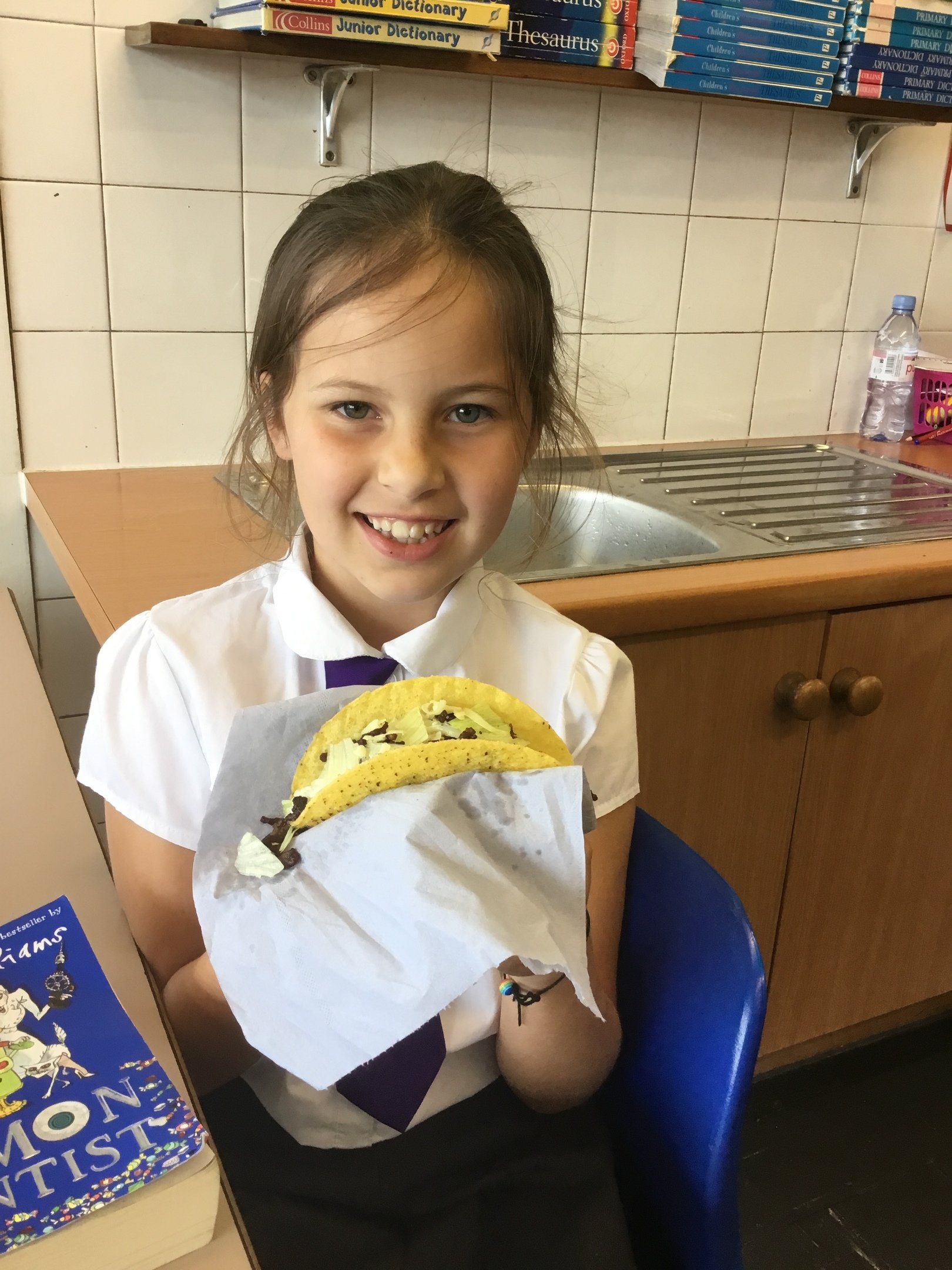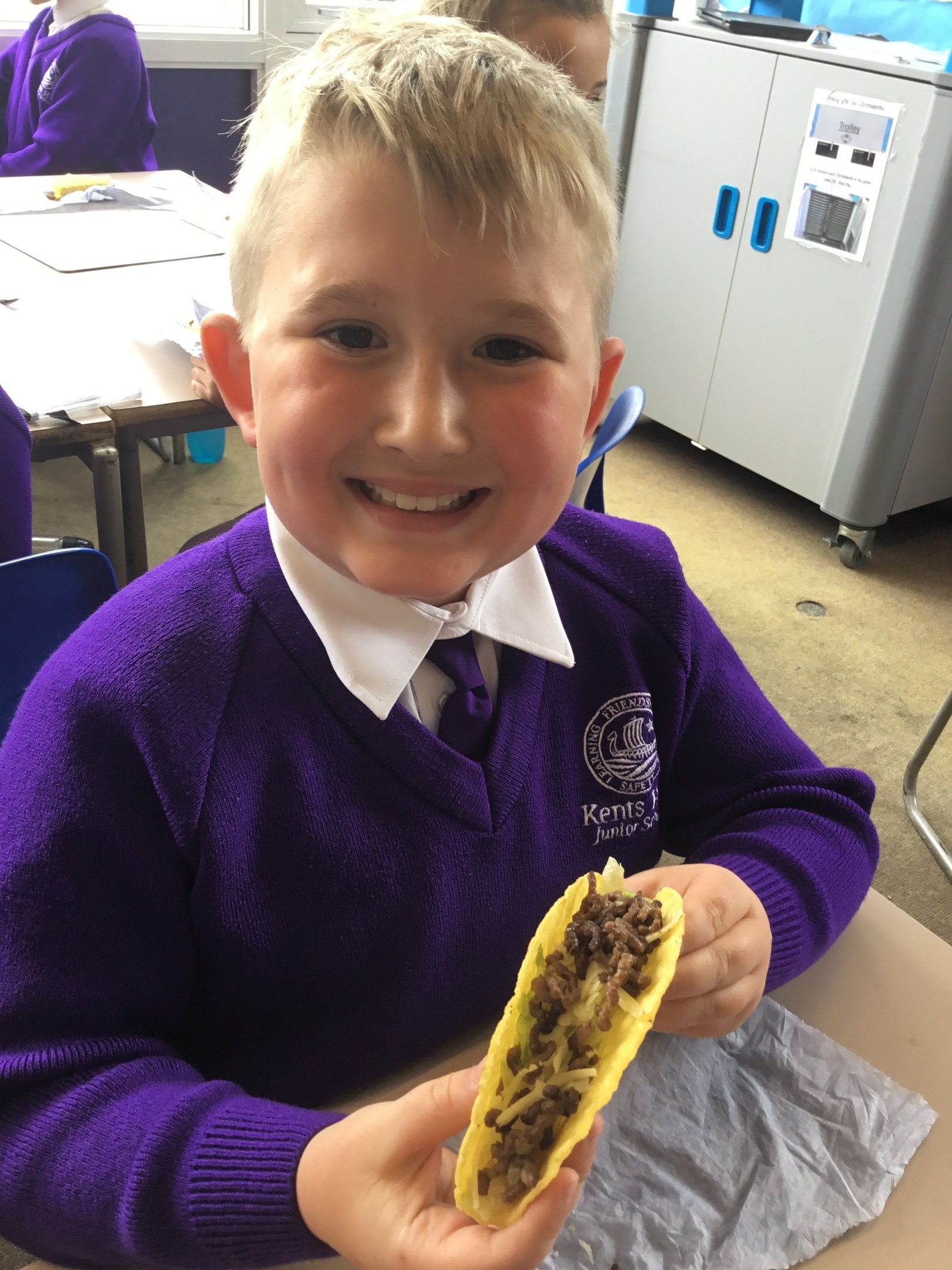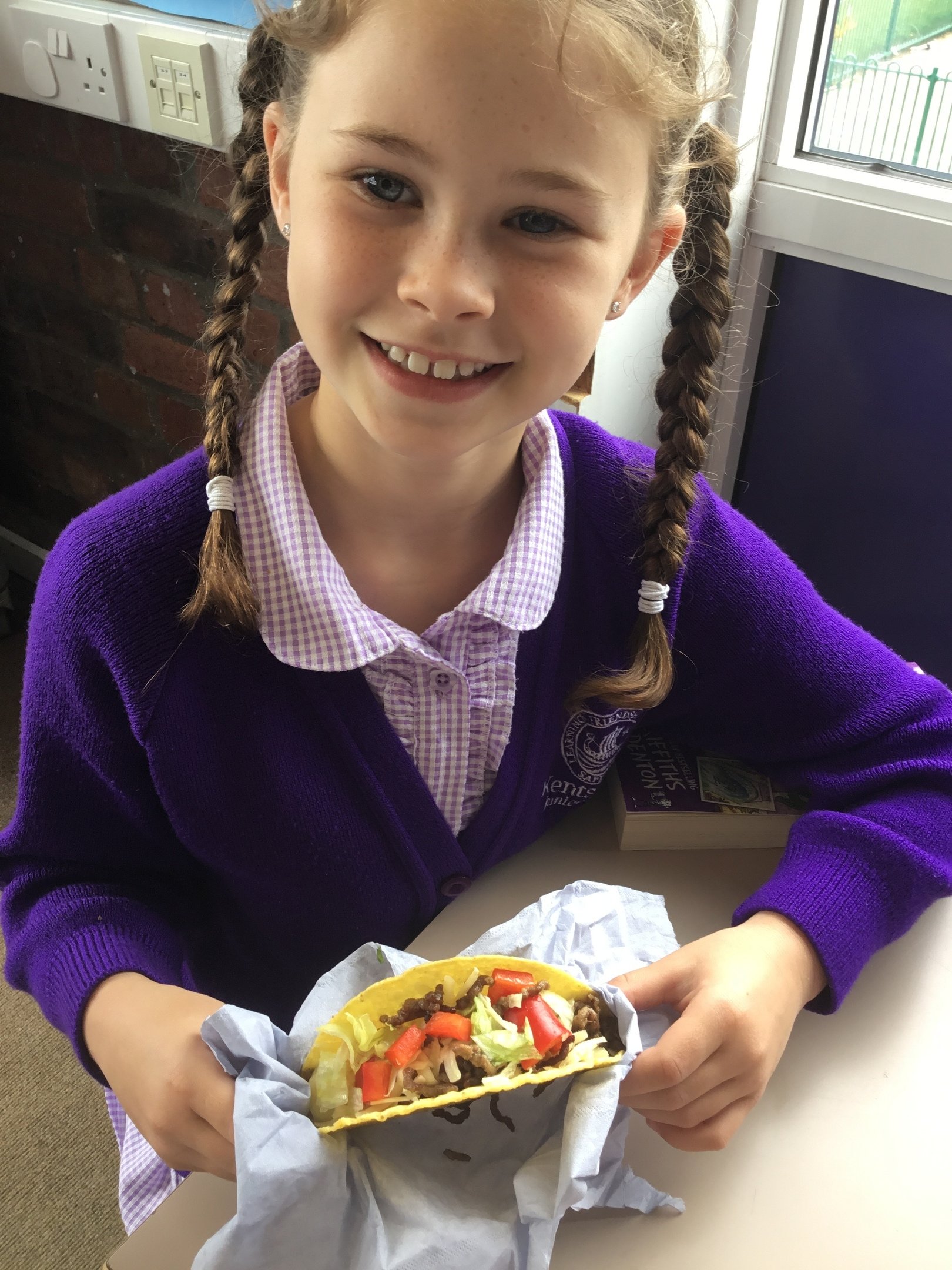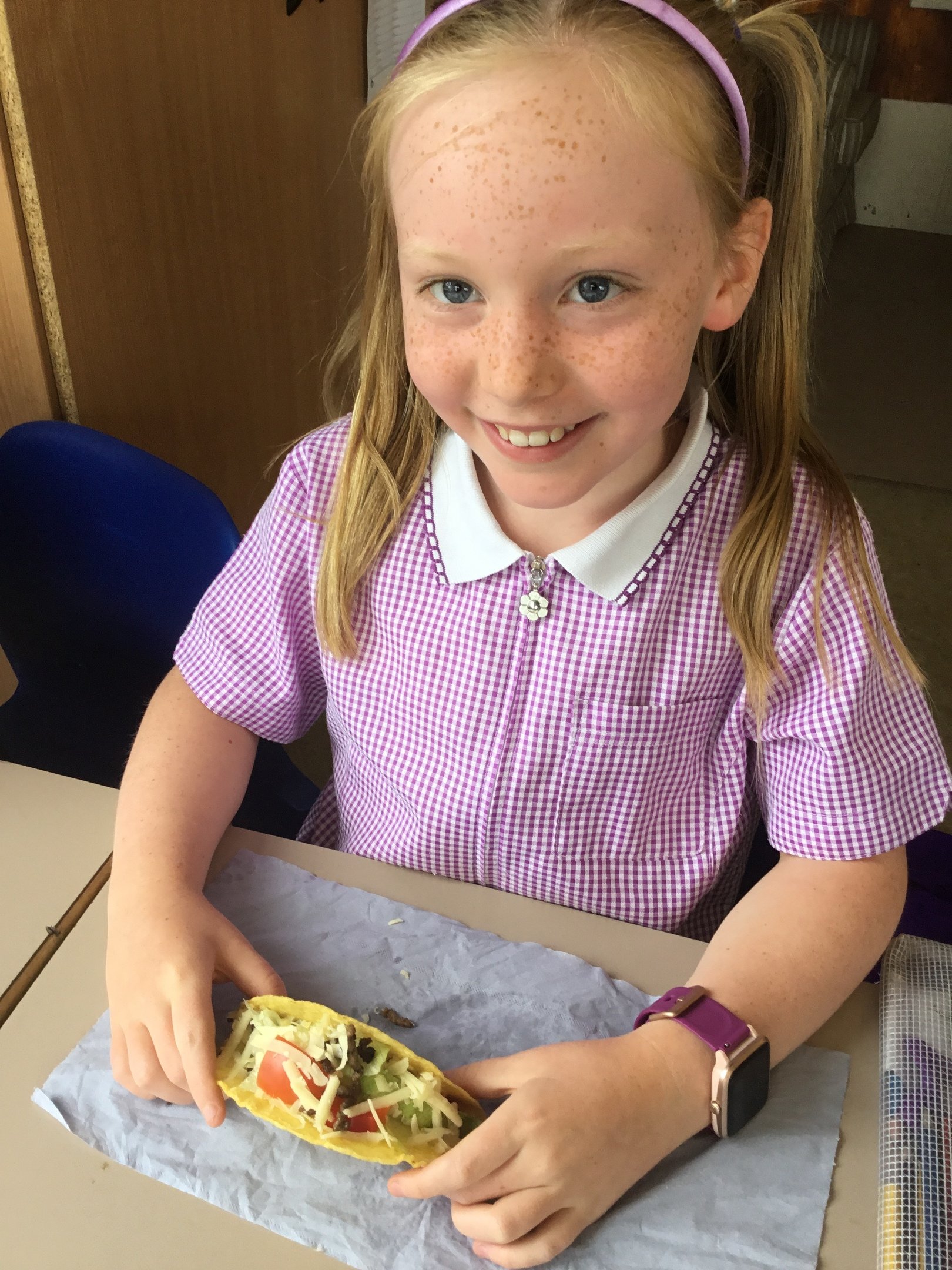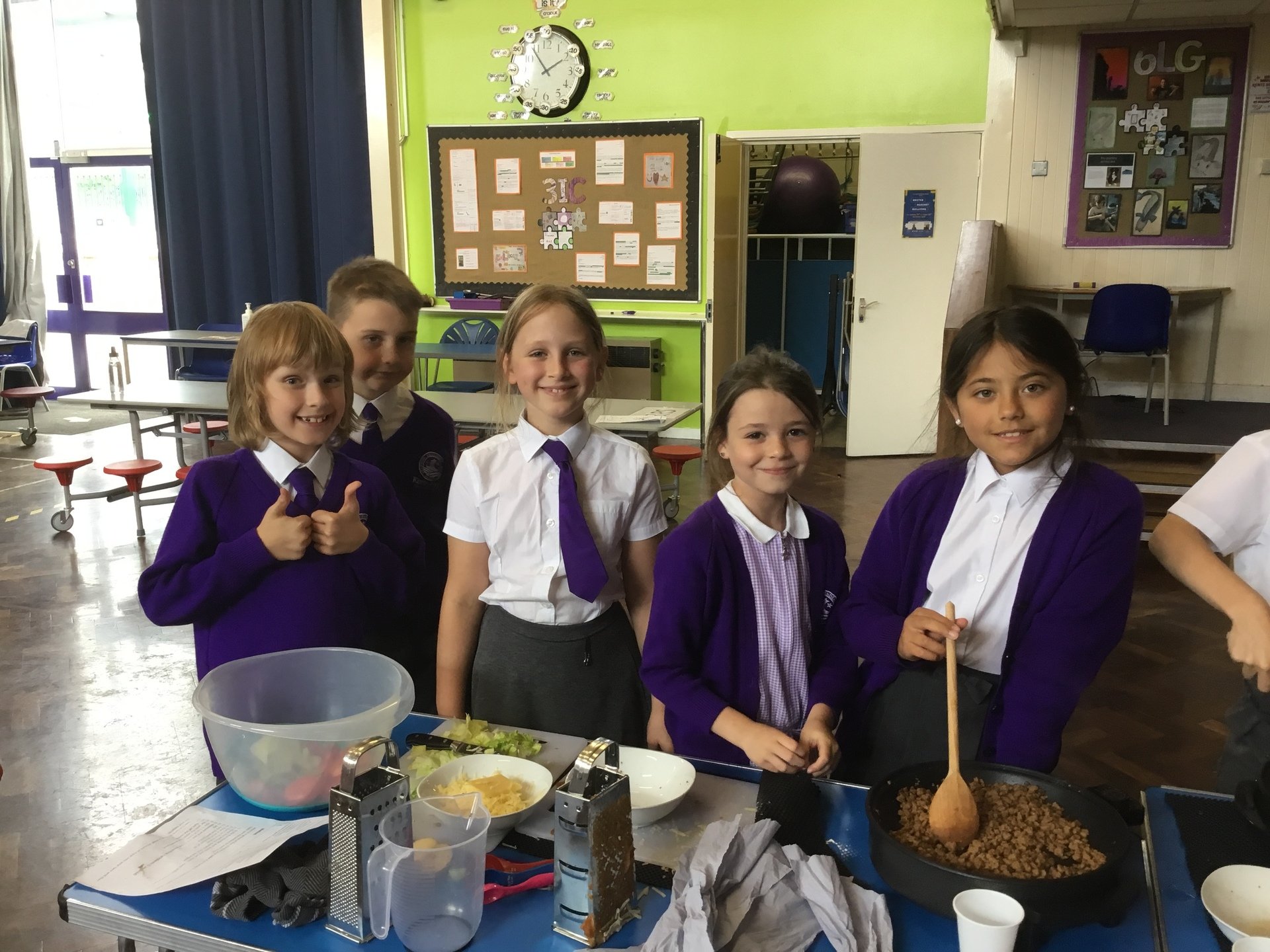 Week beginning: 14.06.2021
In Year 3 this week, the children have conducted fun investigations whilst studying Forces in maths. In some classes, the children applied their knowledge of magnets to an experiment using toy cars. Their aim was to move the car without touching it, using magnets. This was lots of fun as well as teaching how magnets attract and repel, depending on the direction of the poles.
Excitingly, other classes conducted an experiment using boats and water. To investigate water resistance and upthrust, the children investigated making boats in their groups. As teams, they then filled the surface area with items and observed whether it was buoyant or sunk. Interestingly, the children realised that when the force of the upthrust was greater than or equal to the weight, the boat would float. Alternatively, when the upthrust was less than the weight, the boat began to sink.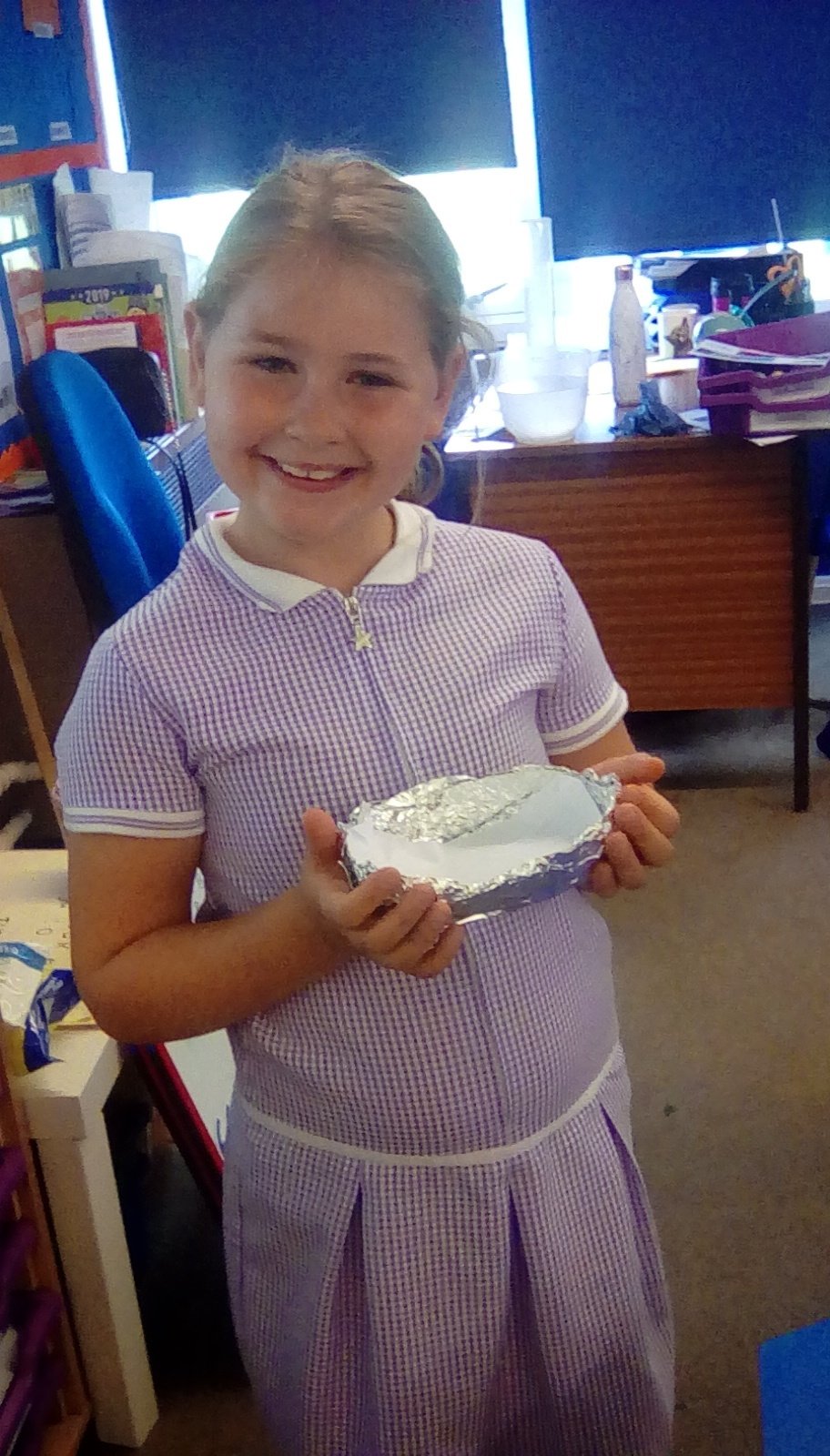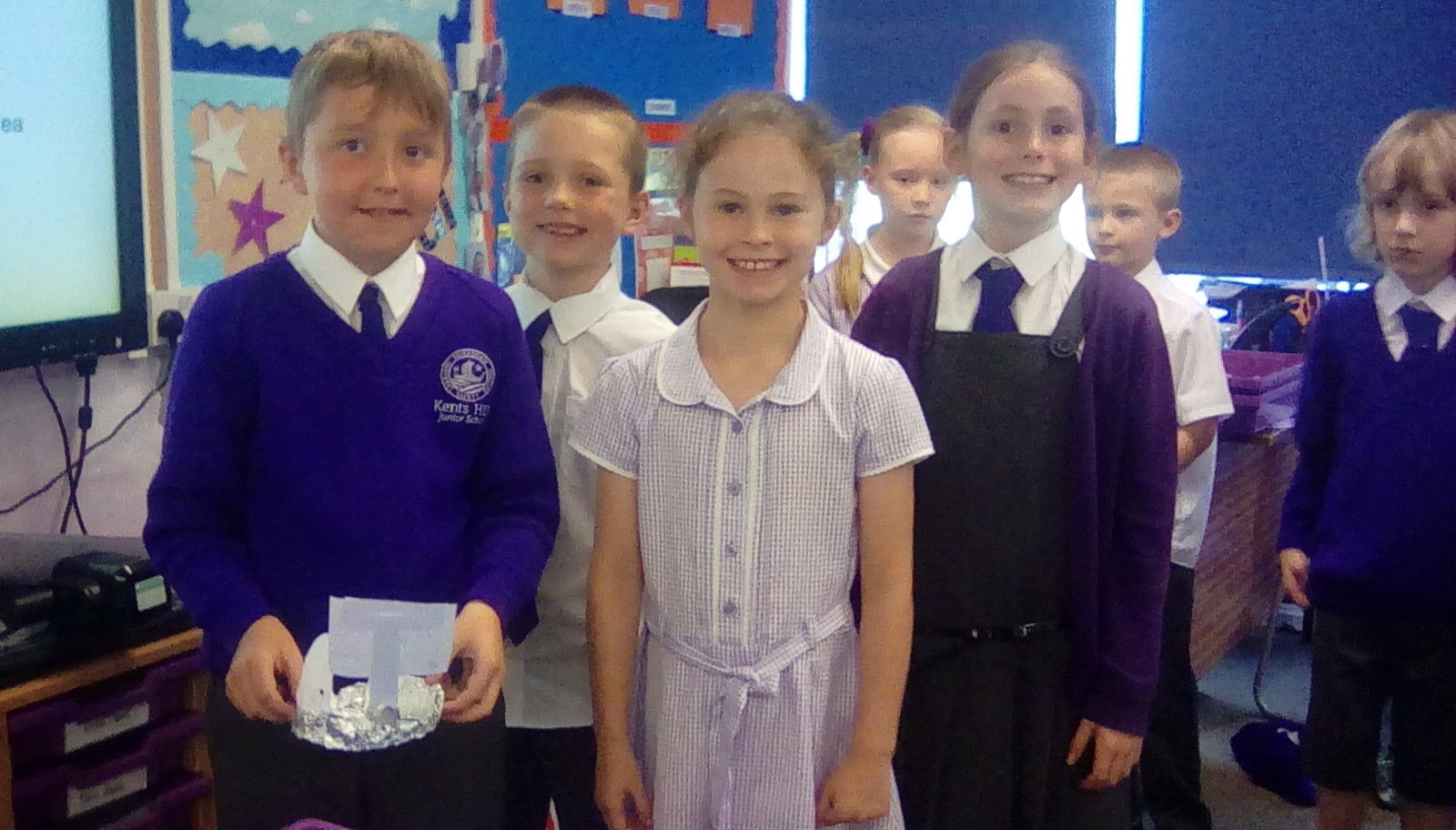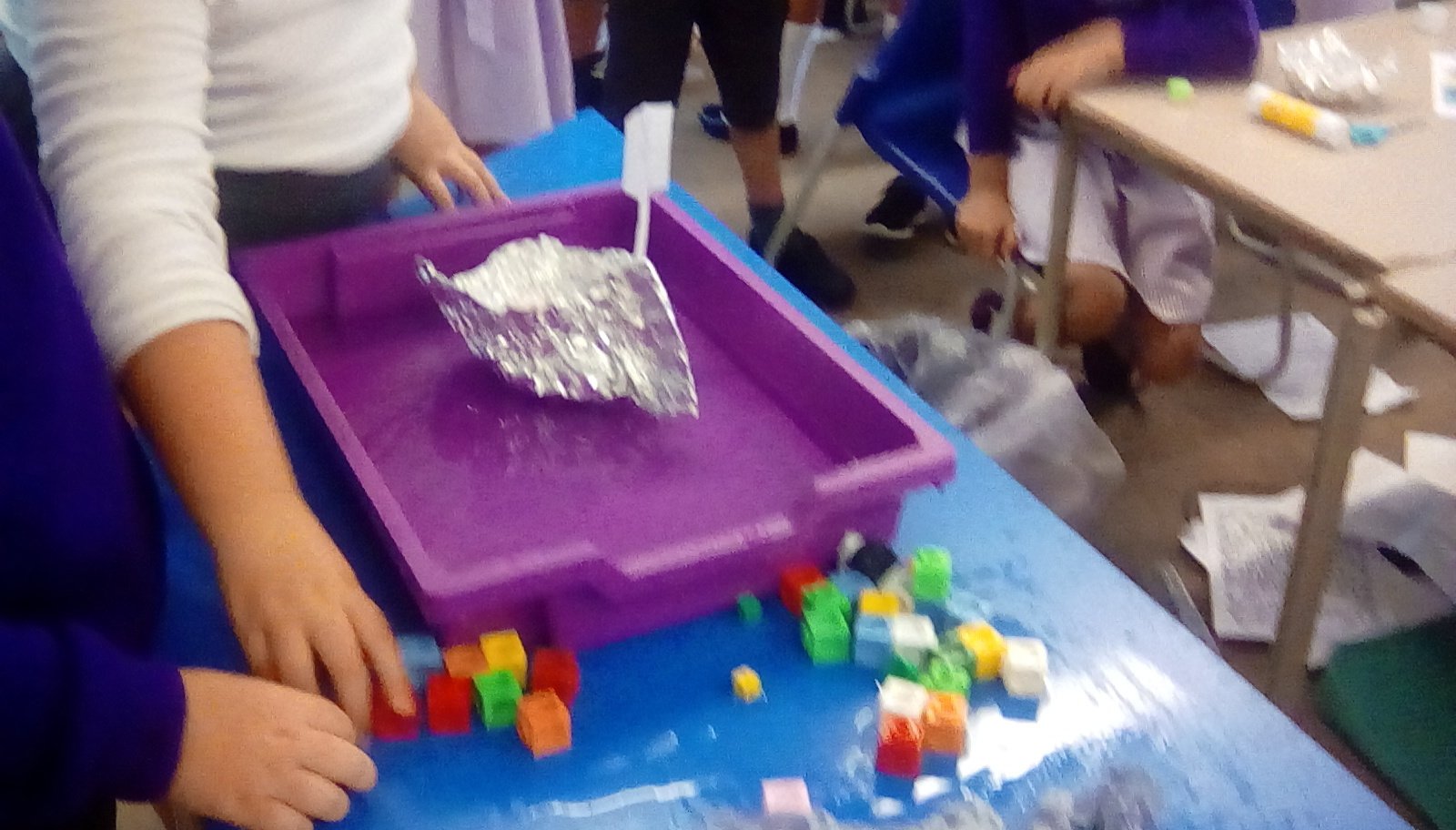 Also, they began the DT cycle for Design Technology in which they are going to be designing and creating tacos. After learning a little about the infamous South American festival Dia de los Muertos (Day of the Dead), the children learnt about the 'food of Mexico' - tacos. We studied how food is processed including how flour is made, and then turned in to tortillas, as well as looking at the sewing and farming process of fruits and vegetables such as tomatoes. Importantly, the children looked at the nutritional values of the ingredients whilst deciding which ingredients to include out of the options. They studied the nutritional groups and considered how they could ensure they designed a tasty yet balanced taco.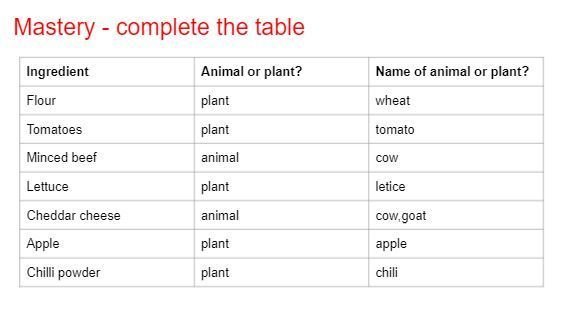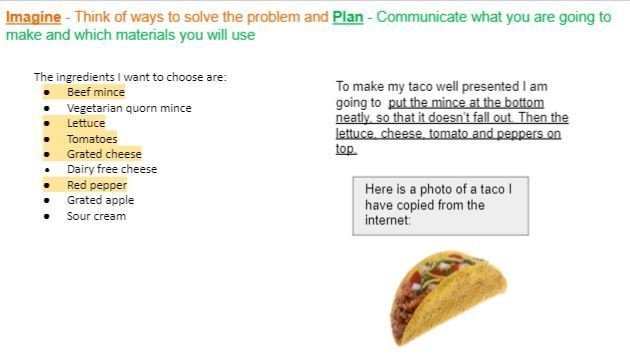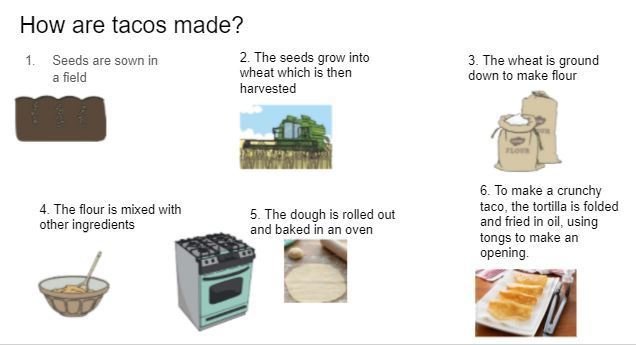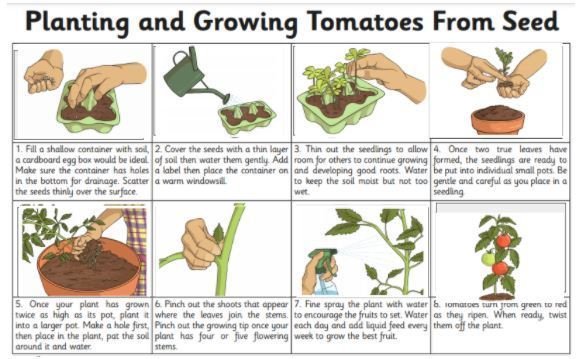 They have continued with studying shape in maths, including learning about angles and different types of lines (such as parallel and perpendicular). They have shown fantastic perseverance as they have studied the fundamentals for moving on to shape.
Well done for persevering this week Year 3, through rain (quite a lot of it) and shine!
Week beginning: 07.06.2021
It was great to welcome back the children to our final half term of Year 3 after a sunny half term break! To kickstart our learning again, excitingly the children watched some of the film 'Cars' as visual literacy to inspire their writing in English. They loved entering their 'cinema experience', complete with tickets as part of the learning. Whilst studying the 'Amazing Americas', they have learnt lots about South America and now we'd like to celebrate North America - starting with Route 66.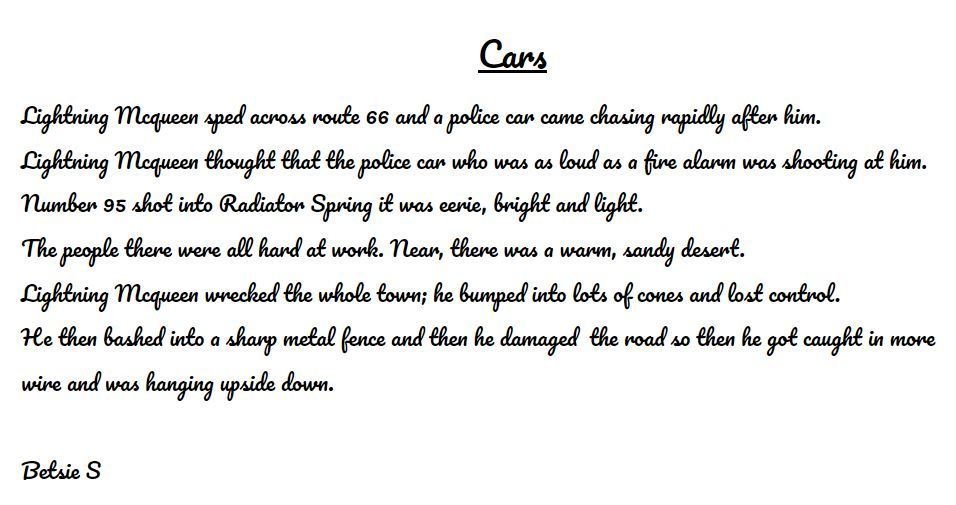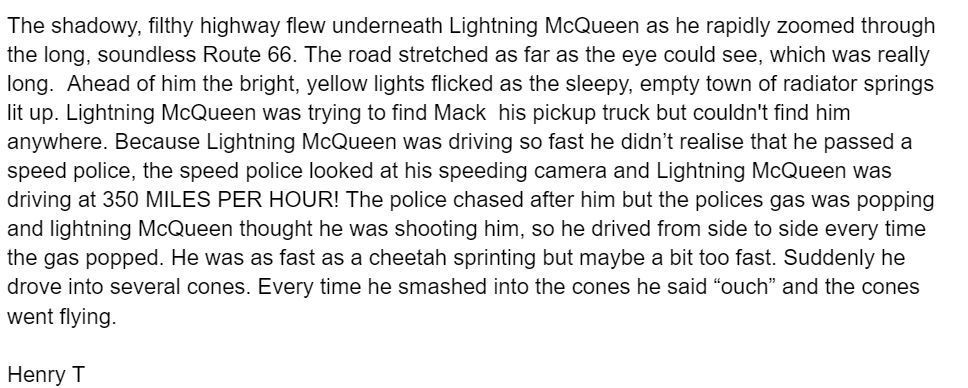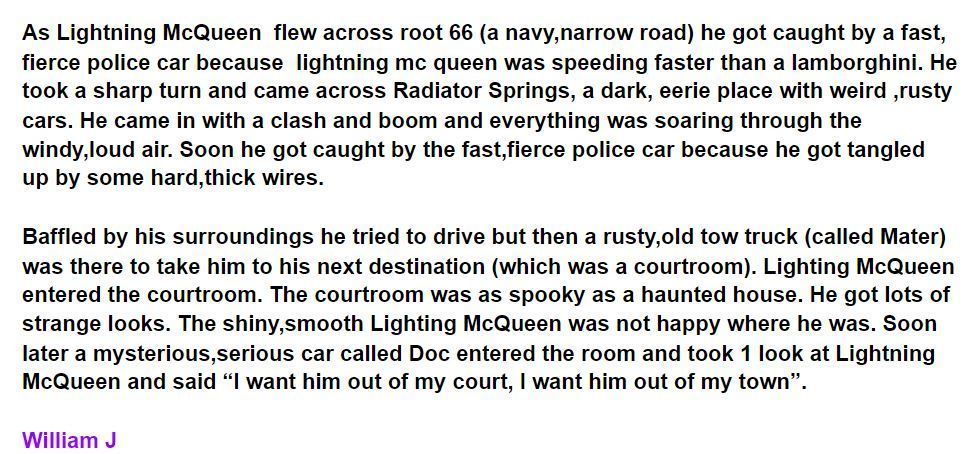 We were amazed by the children's fantastic starts to their narratives, in which they have focused on the setting description of the quiet, sleepy town called Radiator Spring, as well as describing the key characters Lightning McQueen and Mater (who is a firm favourite of Year 3's). Impressively, the children used lots of description including expanded noun phrases as well as similes to create interesting settings.
Over the coming week, we will be continuing to develop the narratives and cannot wait to share with you once complete.
On top of this, we have begun to study Sikhism in RE, began discussing 'changing me' in PSHE in which the children showed great maturity as well as study shape in maths. Year 3 have worked hard on presenting their work neatly in their maths books so that they are proud of their work, as well as challenging themselves with a range of tricky questions. We even studied different types of angles including right angles, acute angles and obtuse angles.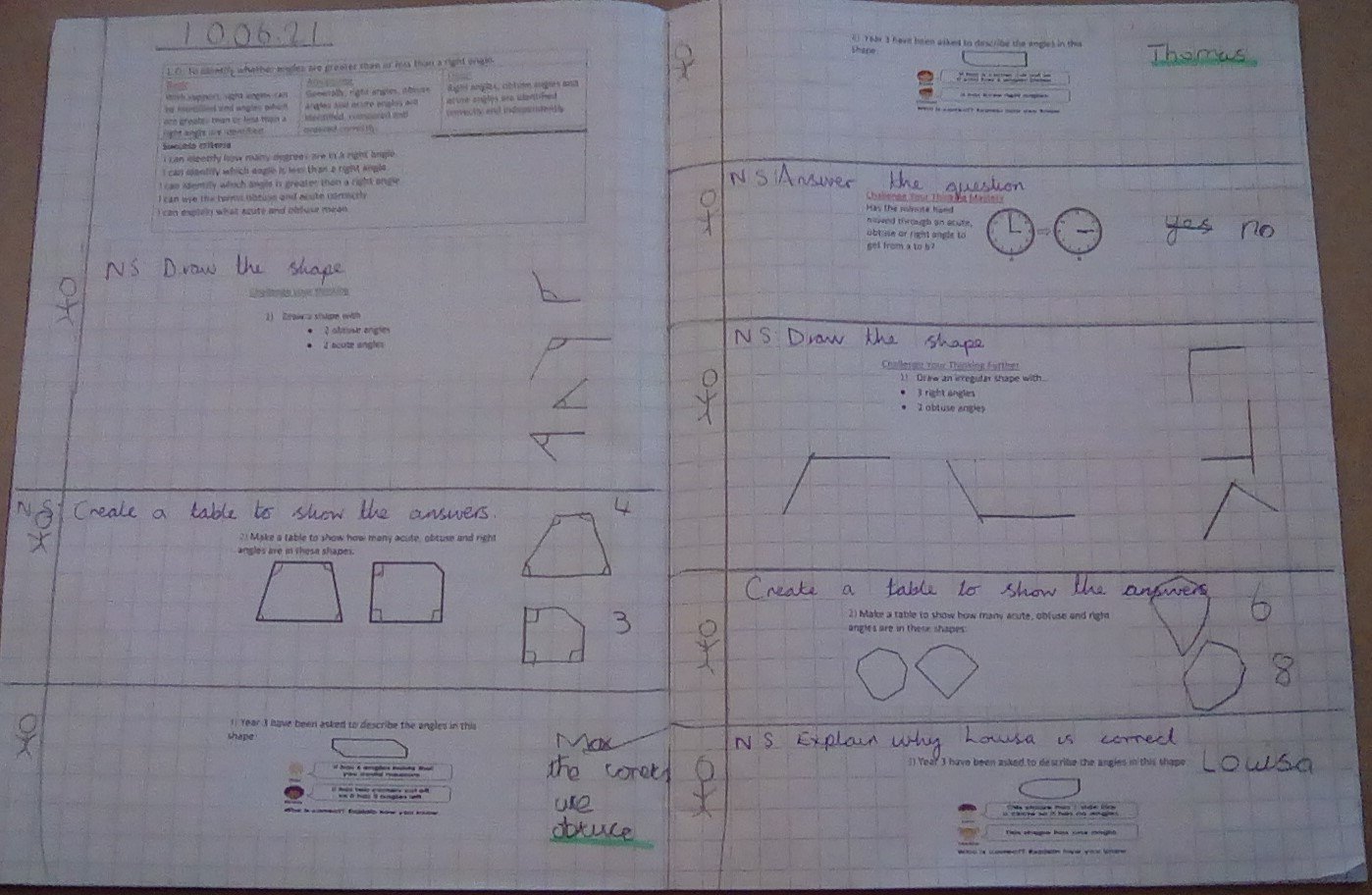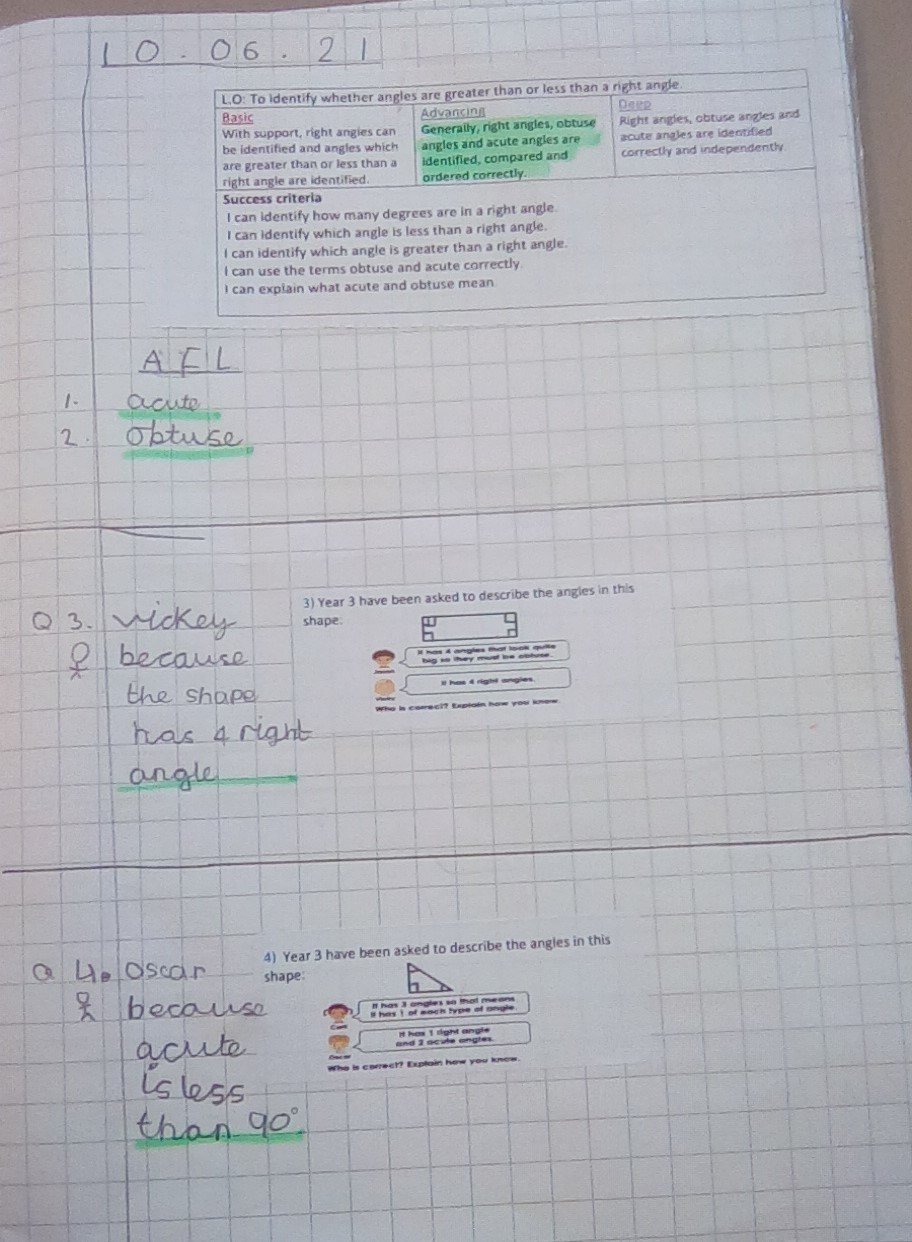 As a bit of fun, we have also created class sweepstakes for the upcoming Euros which will invite a little friendly competition into the classroom!
Week beginning: 24.05.2021
This week, Year 3 have worked towards their end goal of collaboratively creating a Maya settlement after studying the Maya in history. As part of our learning, we have covered:
Learning about life as a Maya
Researching facts and presenting information creatively
Studying Maya houses and sketching our own (including thinking about what resources were used to build their own between 200 and 900 AD)
Learning about Chicen Itza
A virtual visit to a Maya ruin https://www.youvisit.com/tour/kohunlich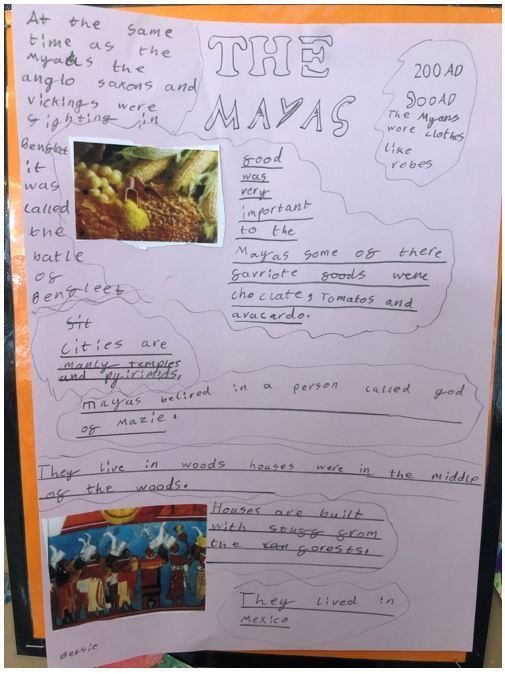 As a final part of our learning, the children created their own naahs (Maya houses) applying all of their learning they have acquired! They knew that, naahs needed:
One or two rooms with little furniture
Typically made out of clay
Thatched/hay roofs
Rectangular or circular shape
A door way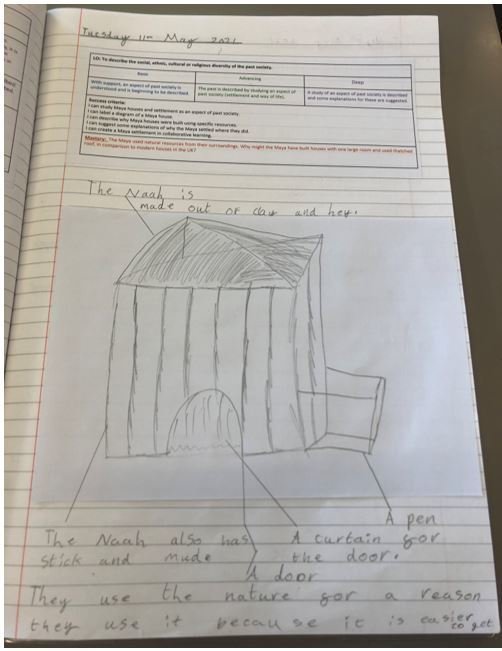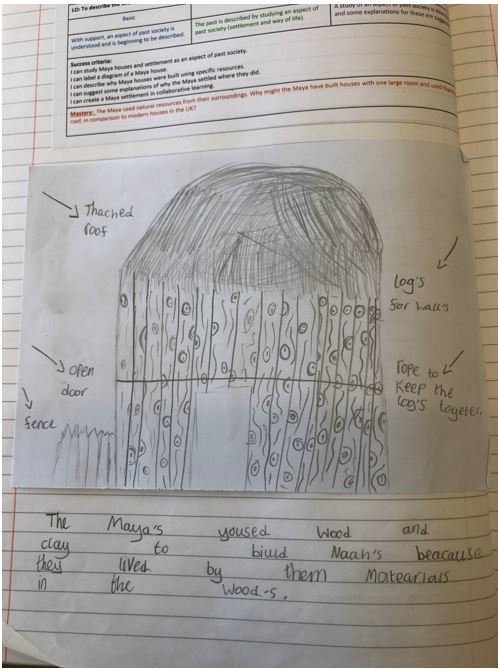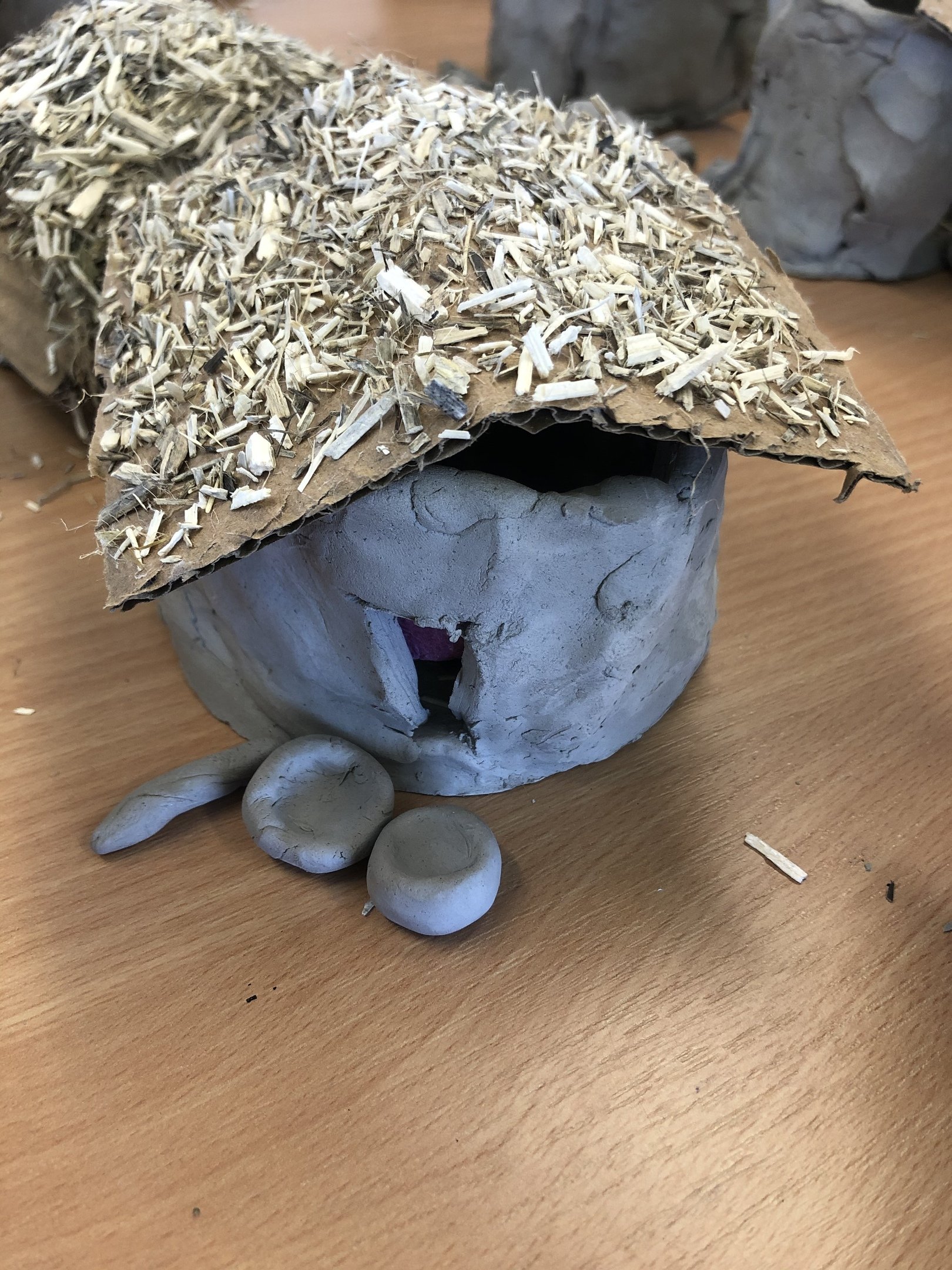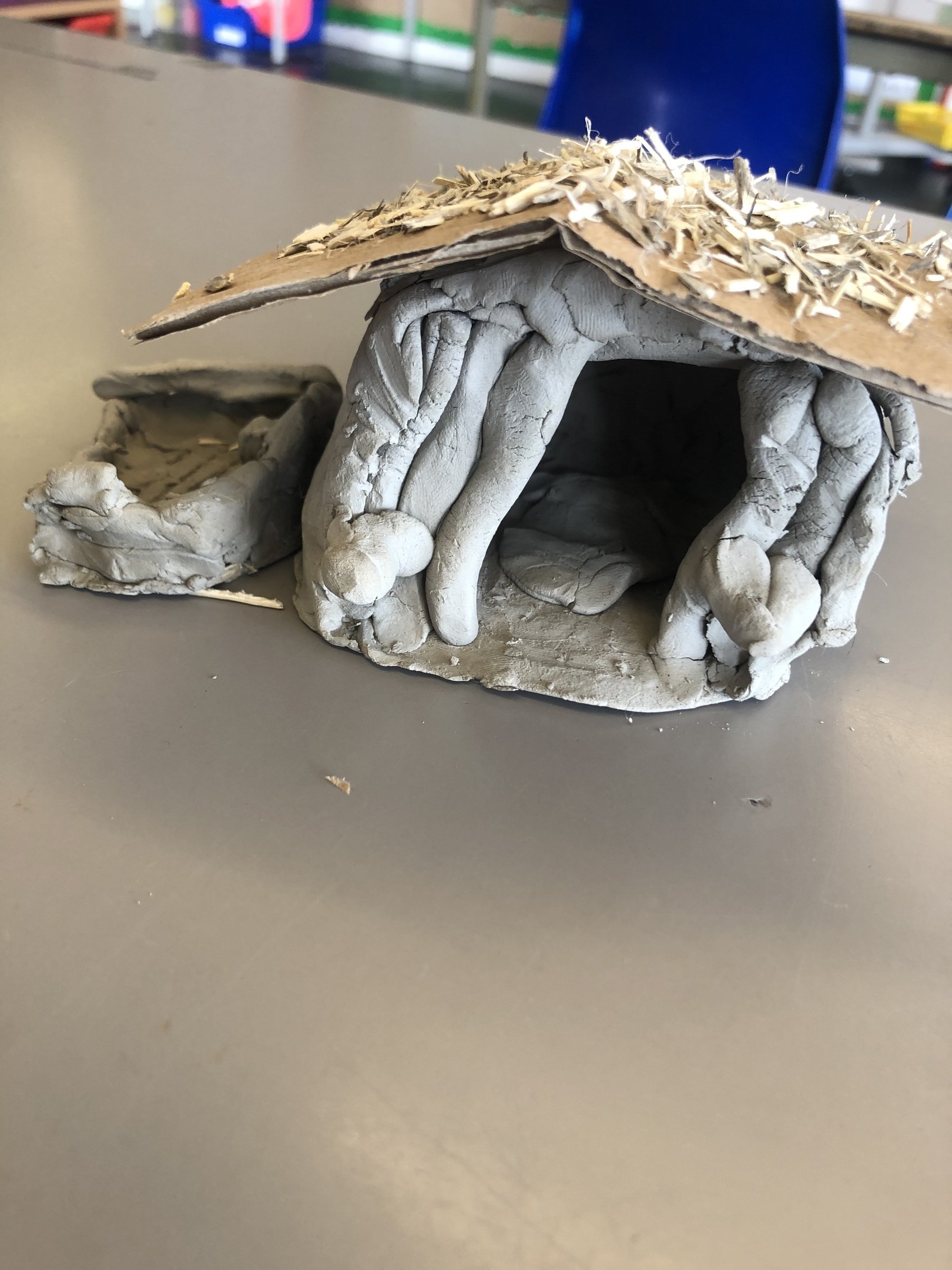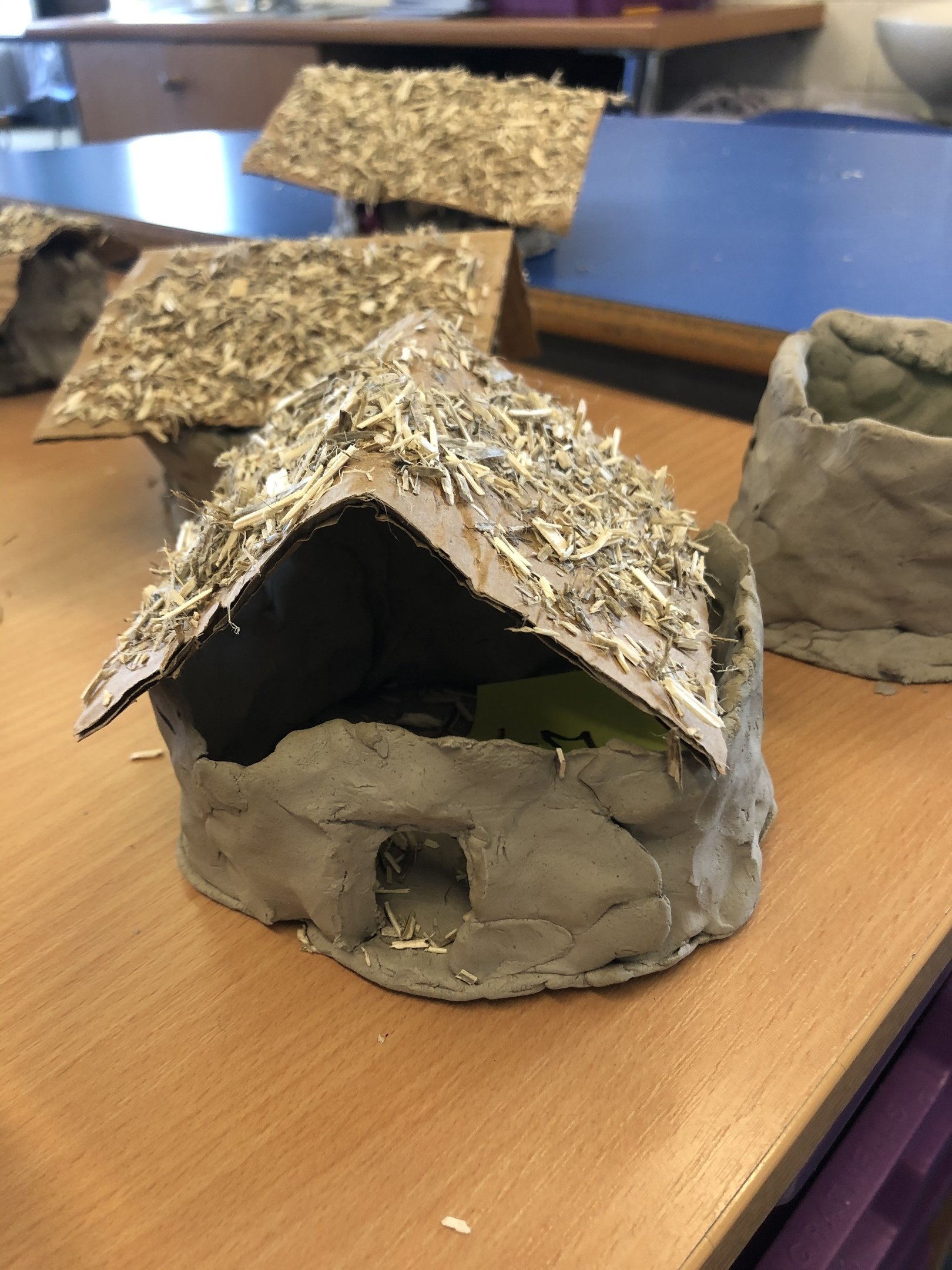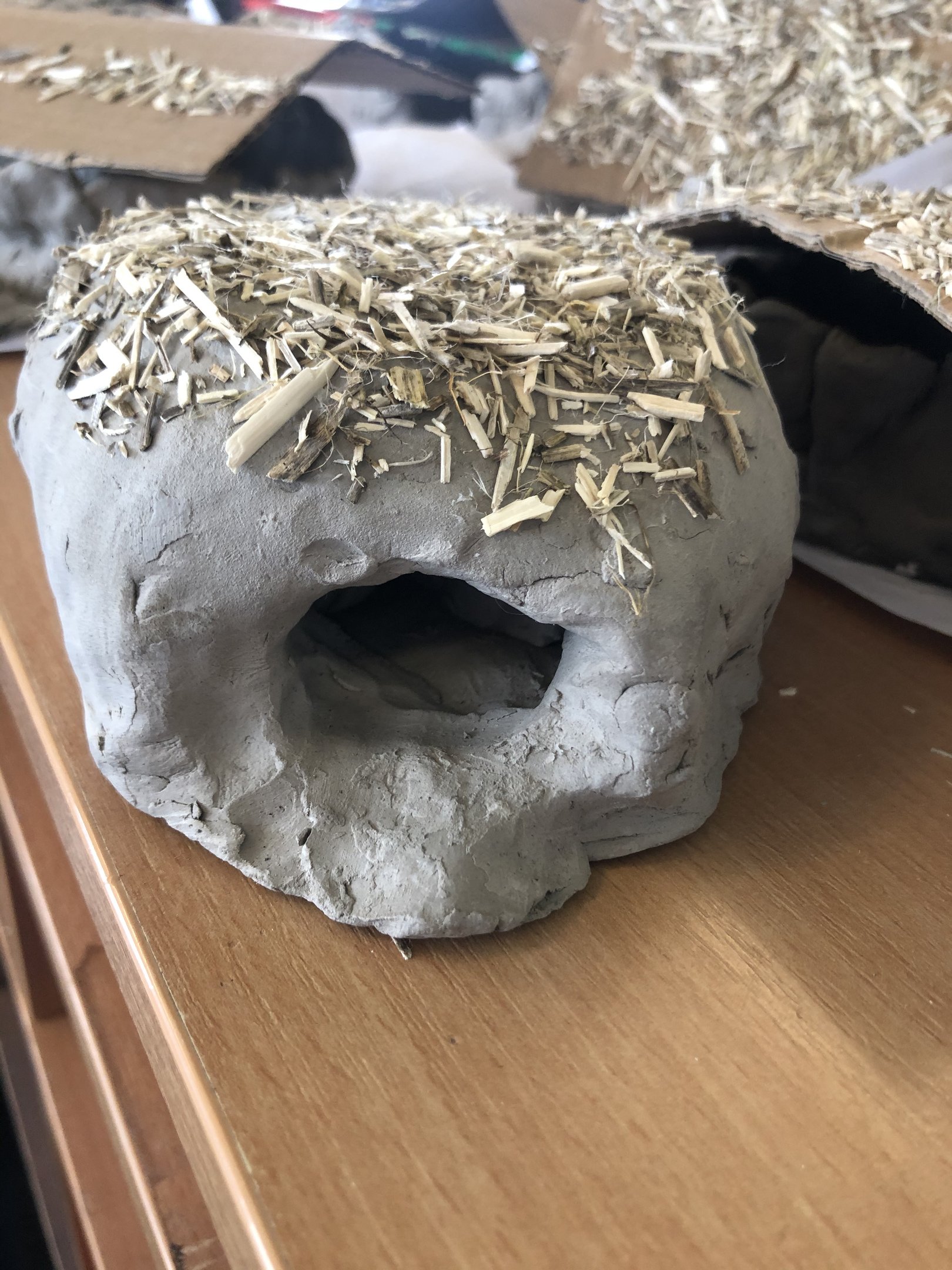 Importantly, the children had loads of fun and have been really excited about the whole unit of learning! It has been great to study a past society of non-European decent and compare to European history, which we have studied lots of.
Once again, the children have tried their best with their learning and we are proud of their hard work across the whole curriculum!
We hope everybody has a great half term and hopefully gets to enjoy some sunshine!
The Year 3 team
Week beginning: 17.05.2021
This week in Year 3, we have studied poetry in English which we will use in our computing lessons as a cross-curricular celebration of our writing on Scratch! We're excited to do this because our sprites will present our poems once we have coded the sequences.
We studied America poet Nikki Giovanni and analysed her poems, including discussing what the poem is about and the feelings/thoughts that were evoked. Then, we focused on the poem "Paula the Cat" which is all about a cat that decides to pursue a new adventure sailing off to sea.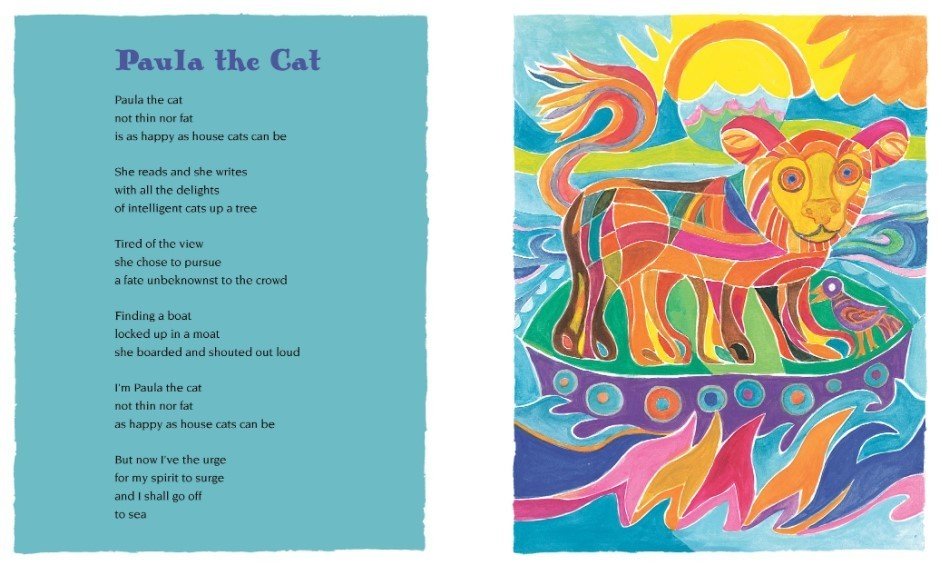 The children worked hard to identify key features of the poems, including stanza's, description and rhyming patterns. Inspired by this, Year 3 composed their own poems based on South American animals. All the Year 3 teachers were amazed at their incredible work and can see some future poets in the making!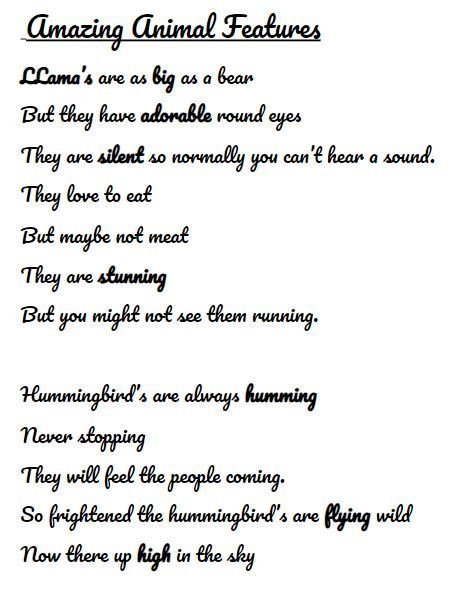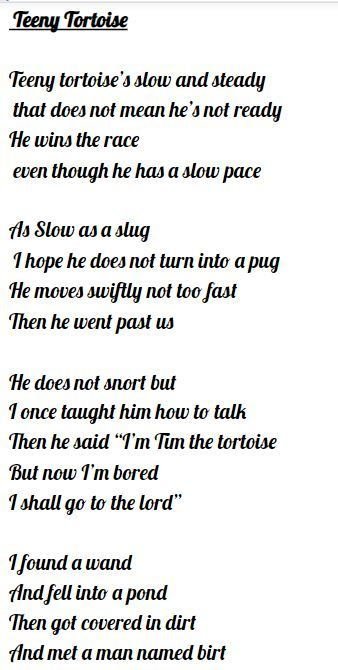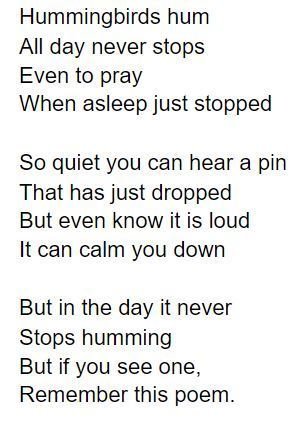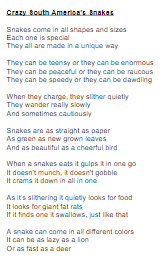 On top of this, we have continued to work hard in maths whilst studying time. It has been wonderful to see lots of perseverance as the children grappled with telling the time in 5-minute intervals as well as solving complex problems, even involving Roman Numerals.
Furthermore, in music, we have been working on our singing with a focus on pitch, tone and performance as we have learnt the lyrics to 'Let your spirit fly' which is all about hope and a celebration of music. As the weeks go on, we will incorporate the use of instruments too. The children have loved being able to sing again with lots of smiley faces!
Week beginning: 10.05.2021
This week in Year 3, we have continued studying North and South America in our Amazing Americas topic. Over the weeks, we have learned about the different geographical features across the continents including mountain ranges such as the Andes in South America and the Rockies in North America as well as rivers such as the Amazon and the Mississippi. The children then presented their writing as a published write, which they worked hard on whilst developing their handwriting.
On top of this, in computing, the children studied what sequencing is in programming and learnt all about algorithms. Although the concept seems challenging the children were able to think of everyday sequences such as brushing their teeth and broke these down into simple steps (in turn creating algorithms). They applied this learning to the parsons problem challenge in which they were given the code (as shown in the first picture) but they needed to create an algorithm by putting it in the correct order and debugging any problems in the code.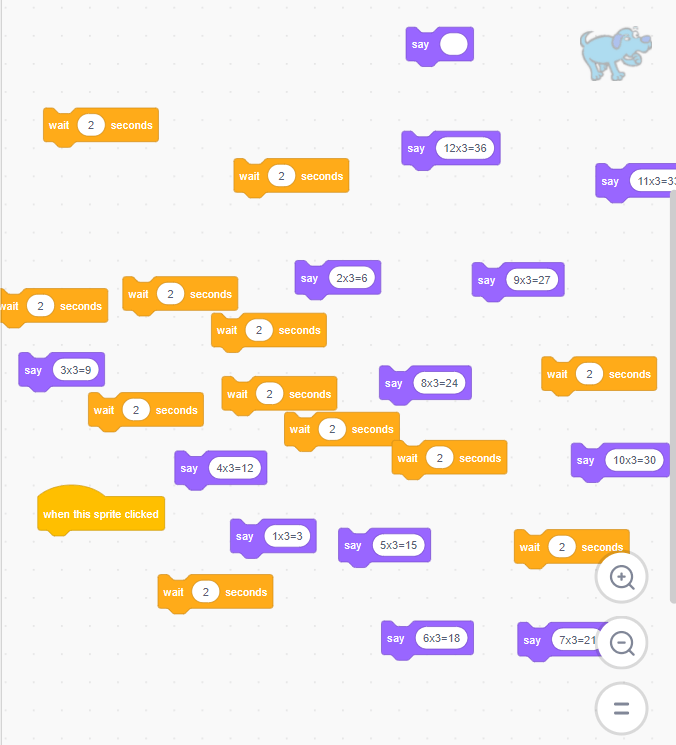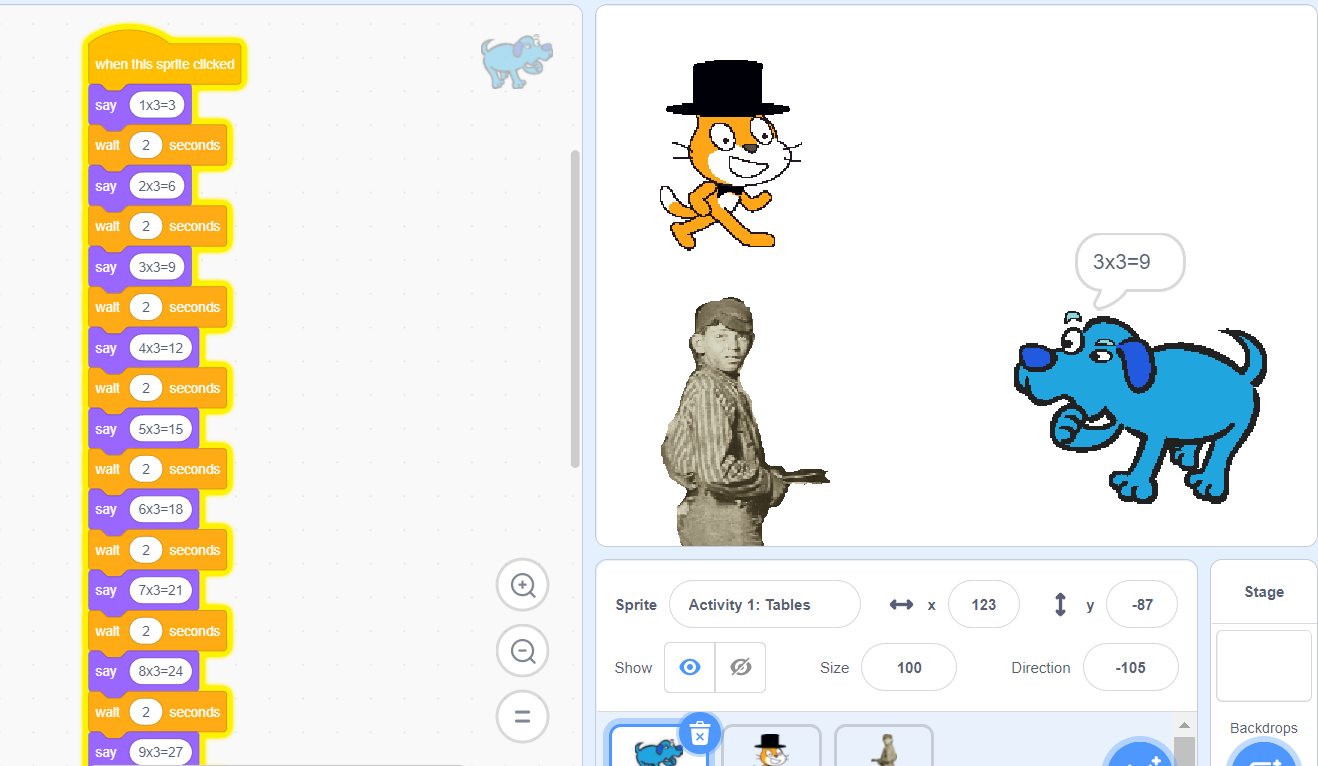 Furthermore, in maths, we have begun to move on to time. The Year 3 teachers have been impressed by the independence shown by many children and perseverance shown by others.
Keep up practicing telling the time at home please Year 3!
Week beginning: 03.05.2021
This week in year 3, we have continued to try hard in maths and even moved on to studying equivalent fractions. We used fractions walls to show us how fractions match each other and used this knowledge in our questions.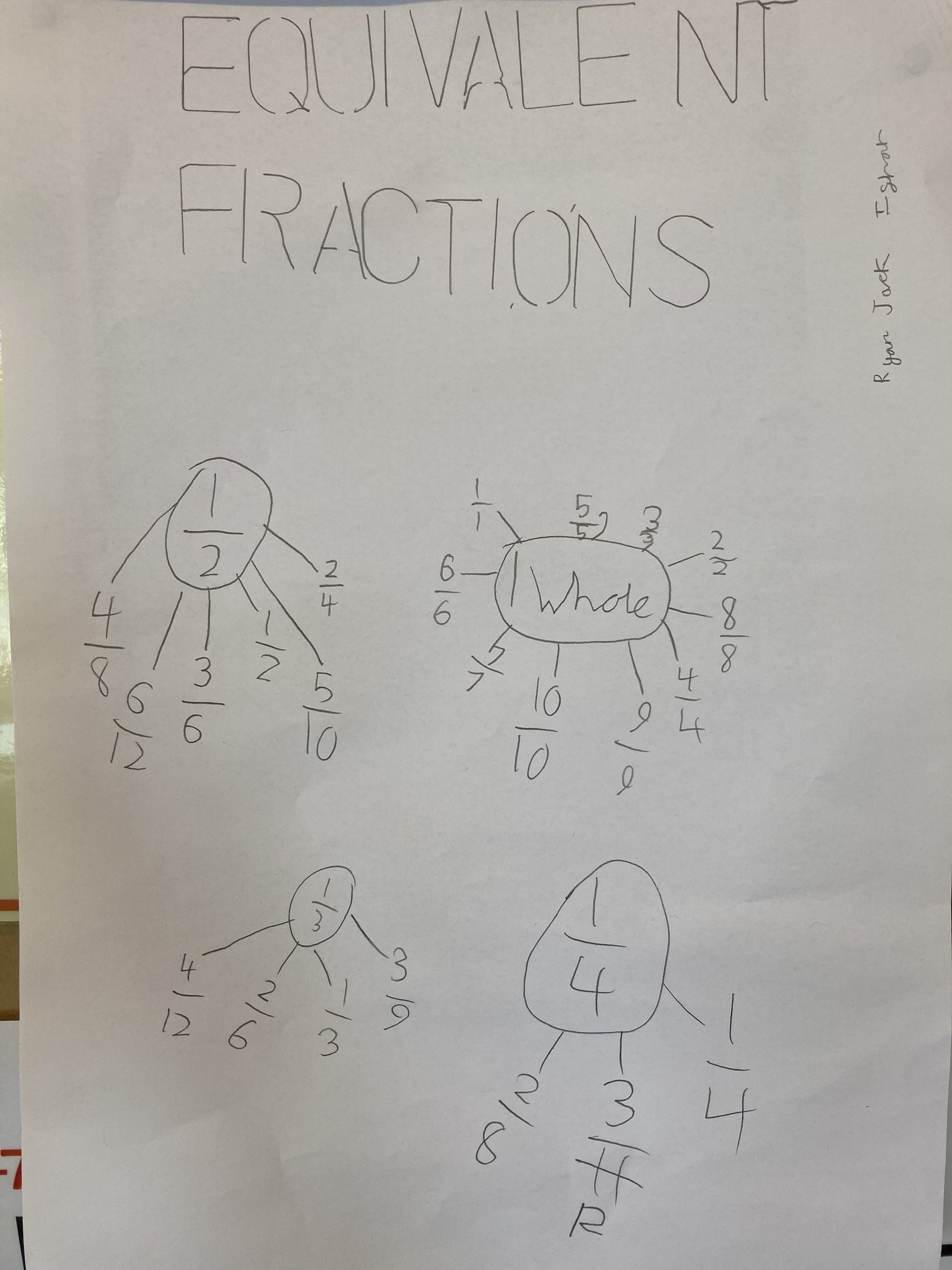 In art, we used water colour paints to compose our final art pieces inspired by Georgia O'Keefe. We tried to include different tones as well as the different painting techniques including flat wash, hatching and dry hatching which we learnt previously.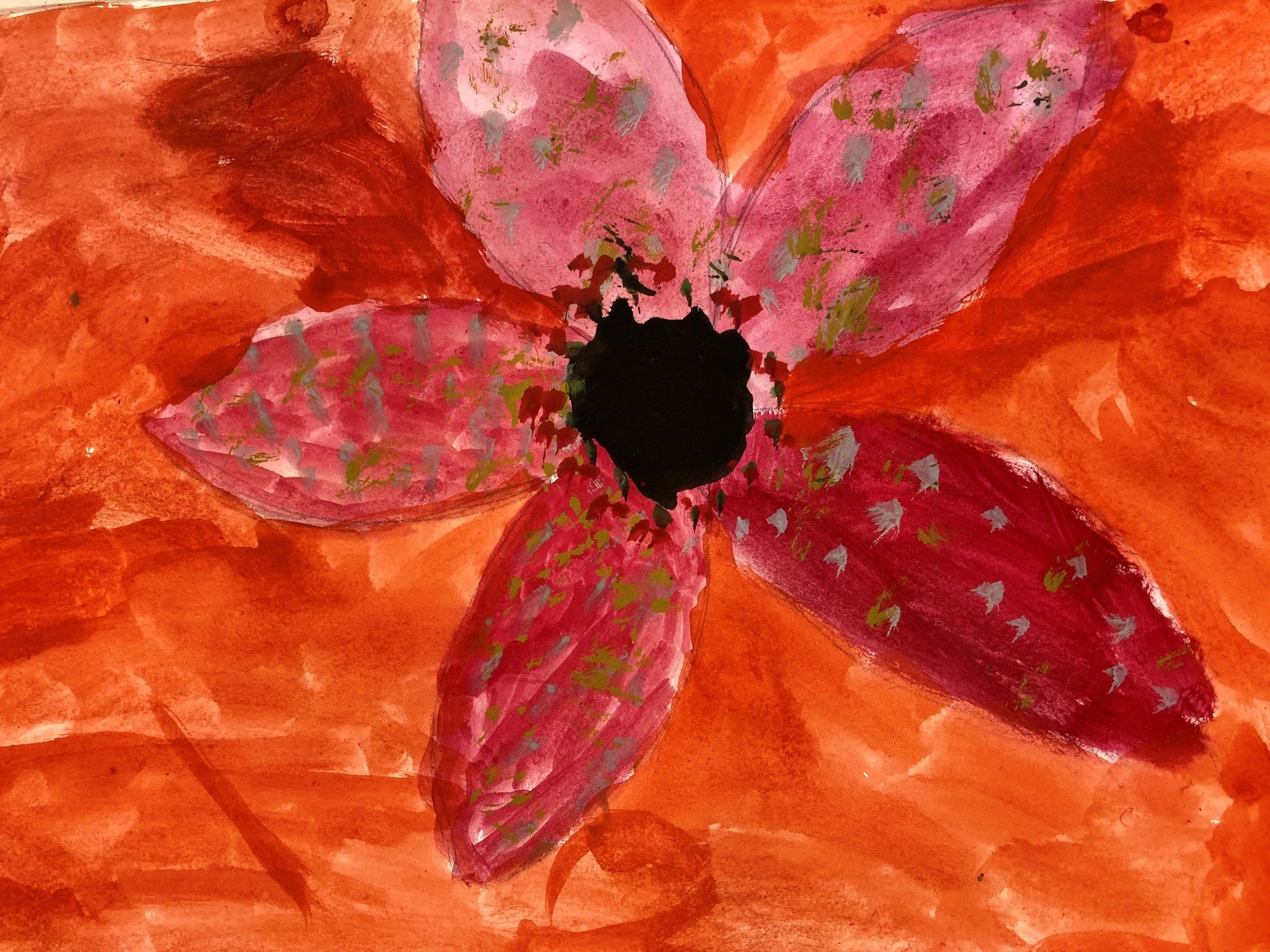 Furthermore, we have continued to study North and South America and even began to start studying the Maya - an ancient non-European civilisation - in history.
Well done Year 3!
Week beginning: 26.04.2021
This week in Year 3, we had the amazing opportunity of partaking in a cooking workshop with Roots to Food in DT. It was so exciting to learn from a skilled chef and we got to practise lots of skills including: peeling, cutting (using claw and bridge techniques), mixing, folding and cooking! The children were very sensible using the knives and peelers as well as the cooking element.
Excitingly, after preparing and learning all about Teriyaki chicken, the children sampled their dish. The delicious sauce went wonderfully with the chicken/Quorn, vegetables, and noodles. There were lots of clear plates and big smiles after the tasting experience. We all had a brilliant time!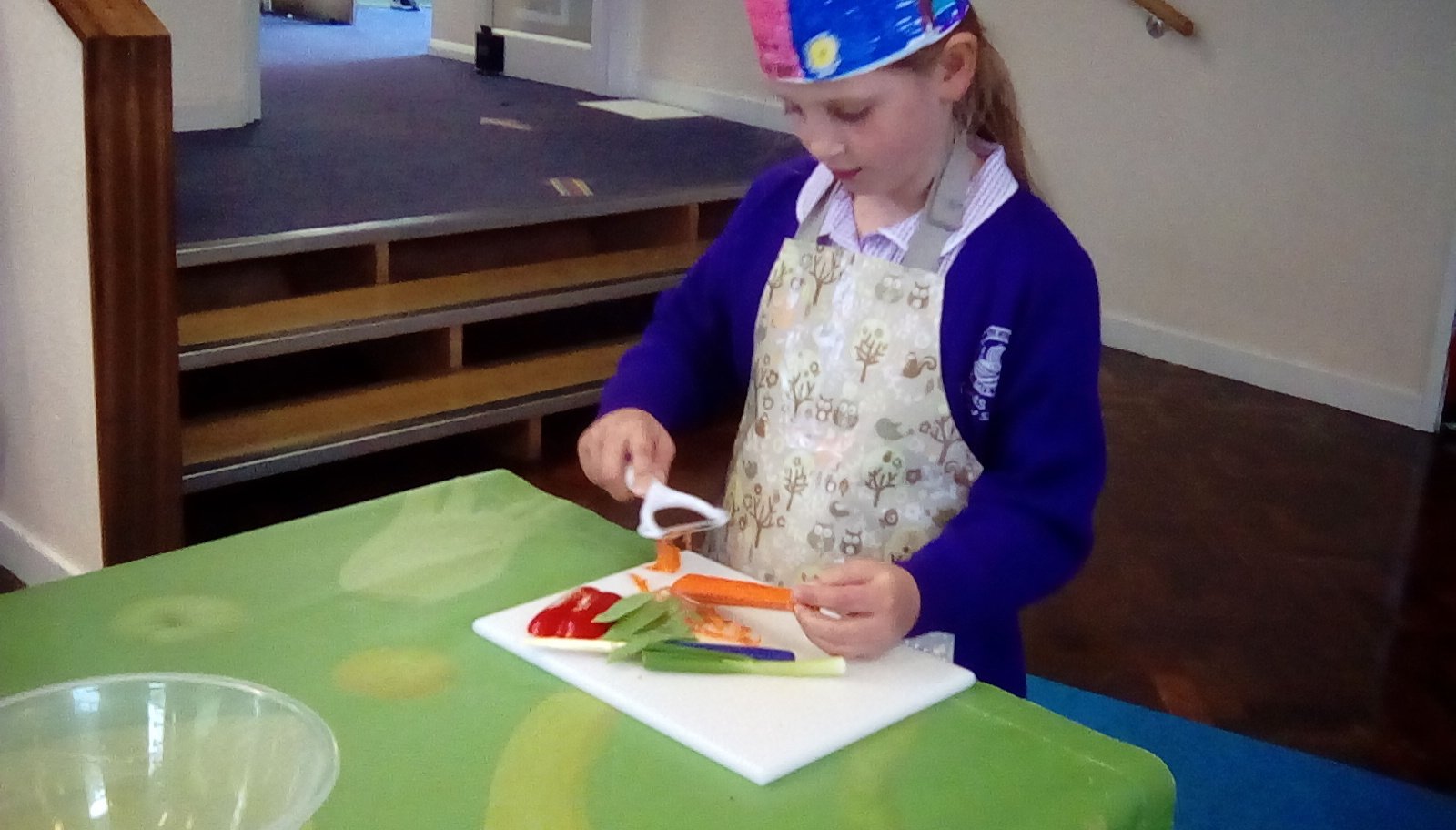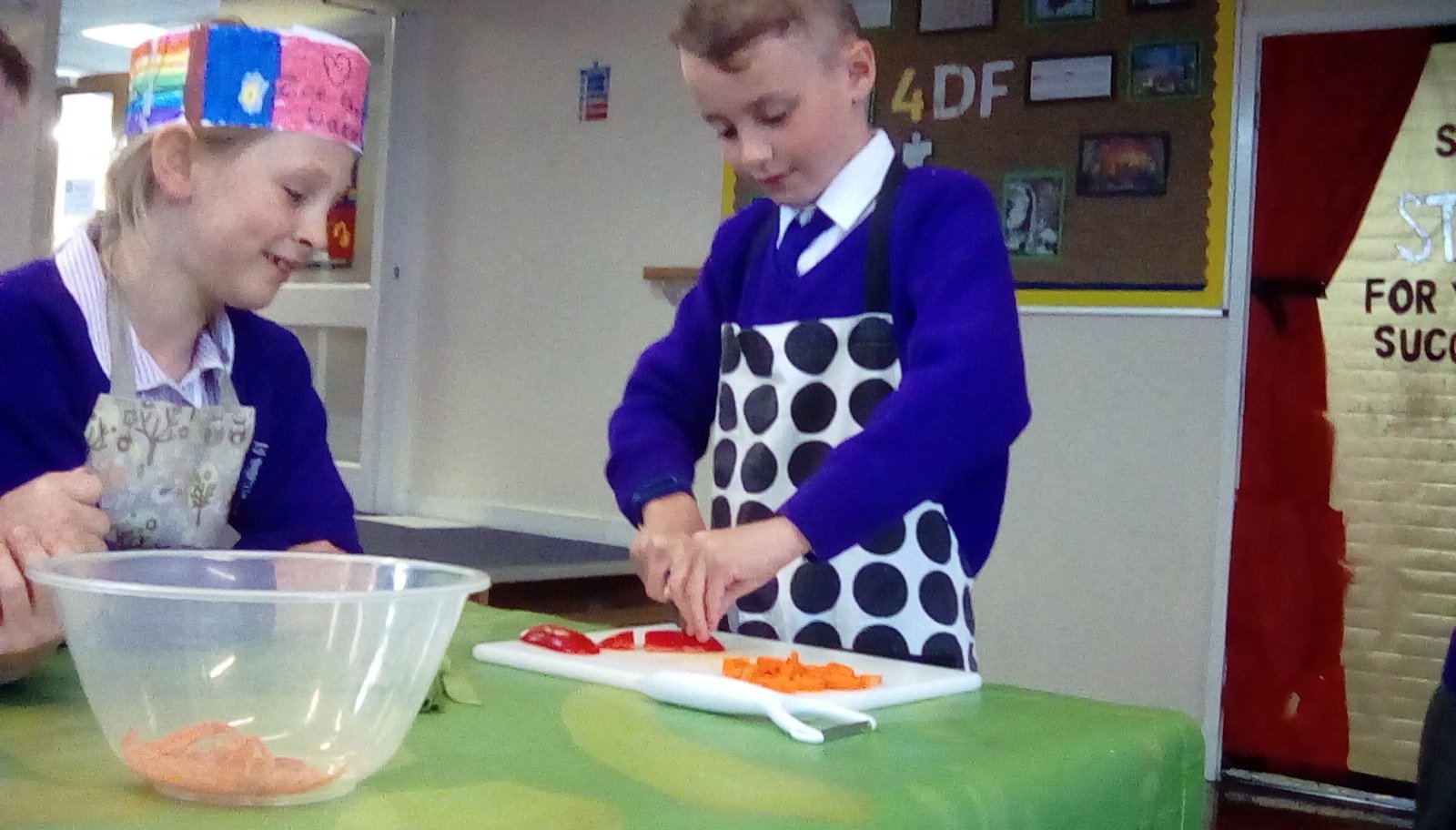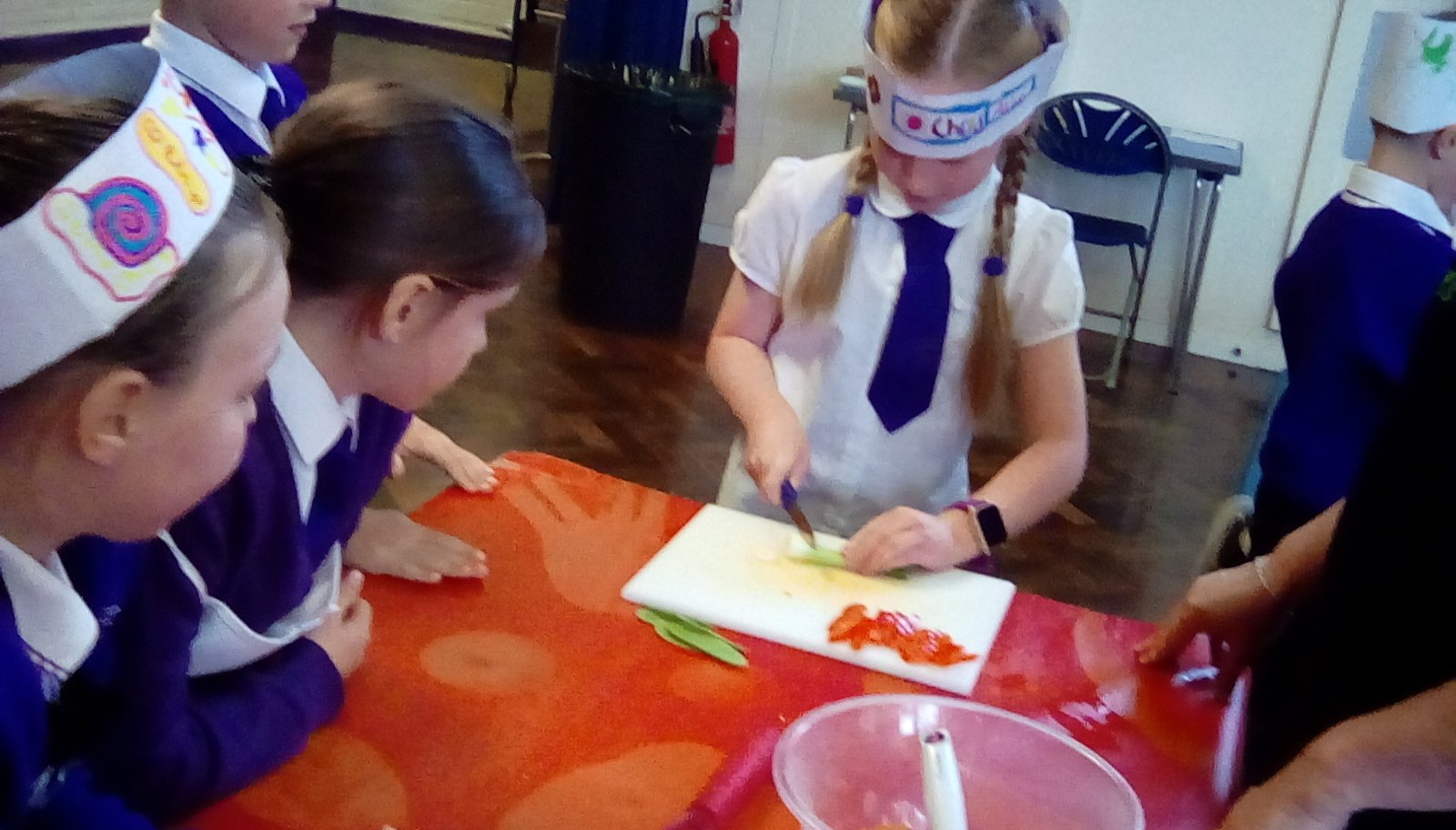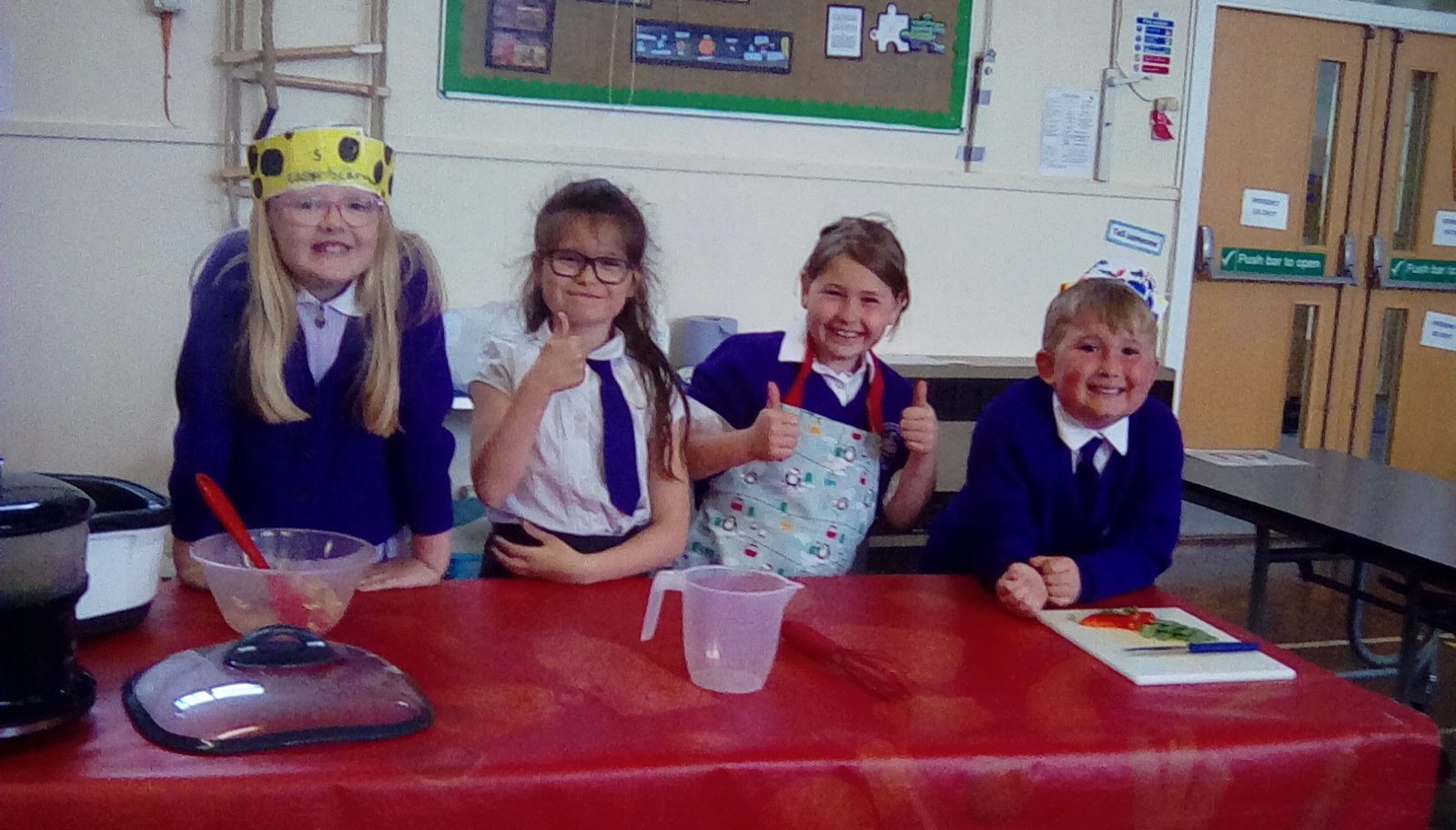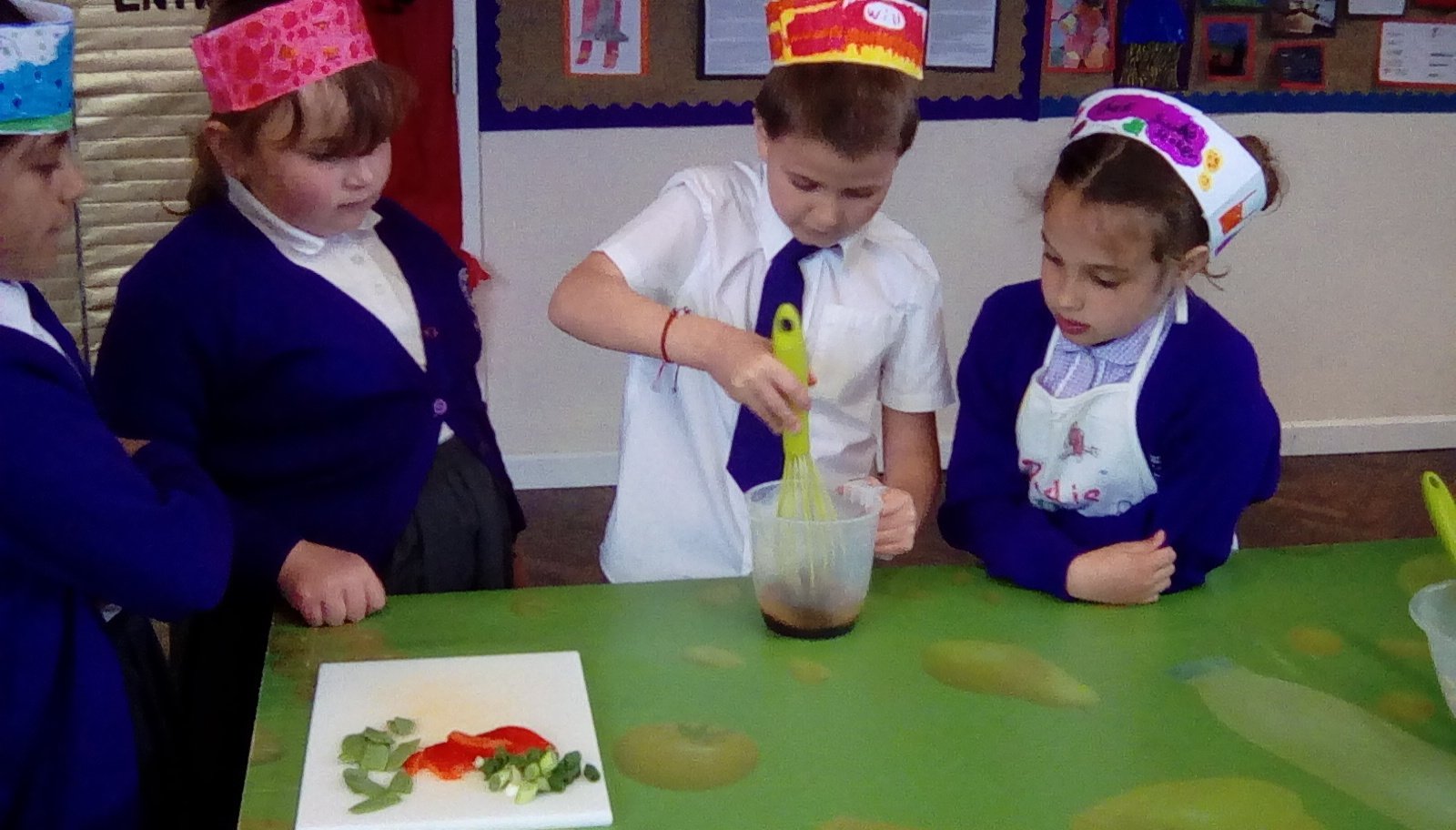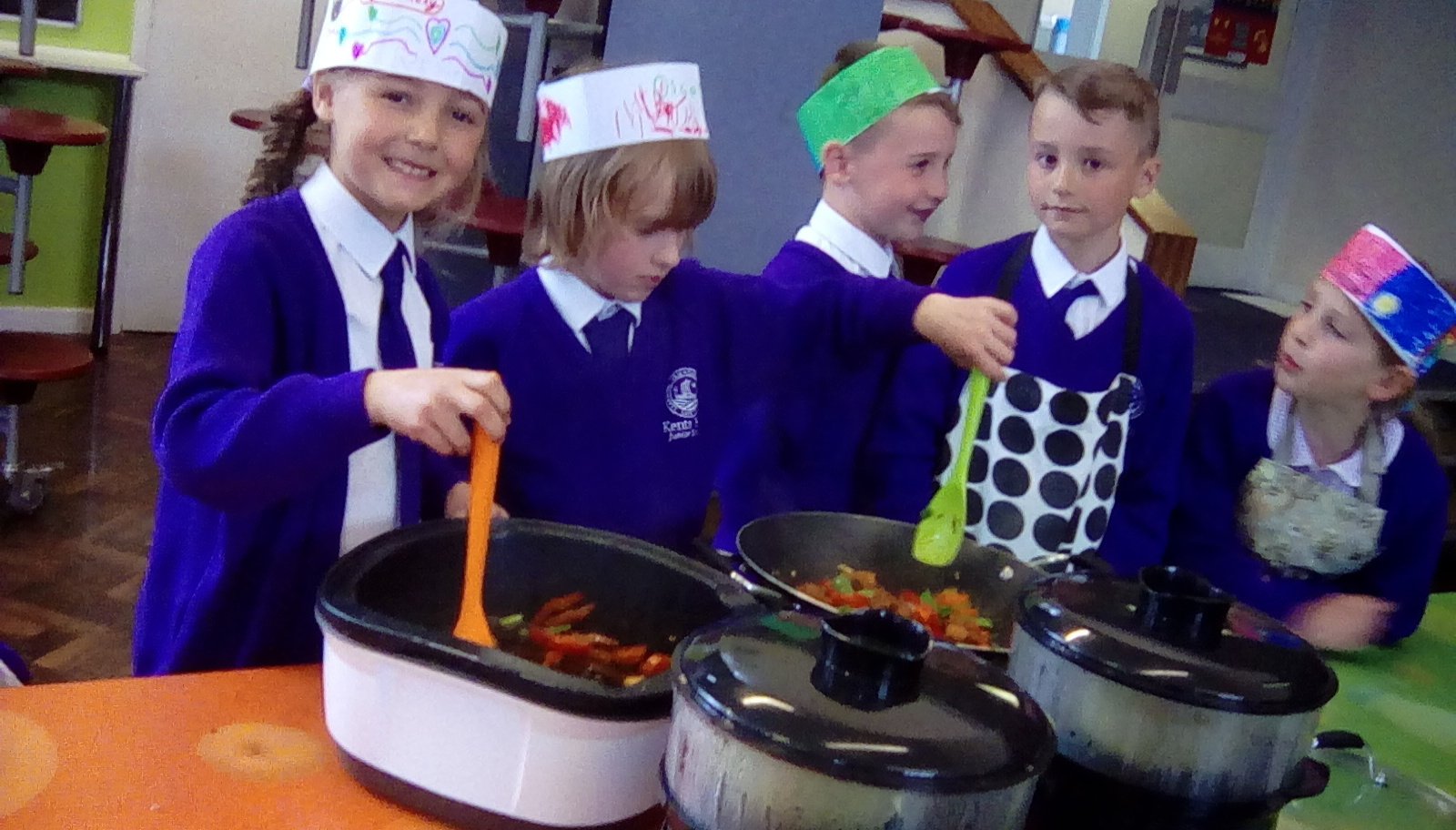 On top of this, in science, we have continued to learn about humans including animals. We recapped what a vertebrate is and an invertebrate, building on knowledge of the human skeleton!
In geography, we have continued to learn about North and South America. In 3MC, we loved using the world map to identify countries across the 2 continents as well as studying geographical features!
Another super week Year 3!
Week beginning: 19.04.2021
This week in Year 3, we have built on our learning from art in the spring term and applied different techniques to our sketching and painting. The children have worked really hard on their art, which has been inspired by Georgia O'Keefe who famously painted flowers close up. We have learnt all about her life, including overcoming challenges such as losing her sight! Impressively, she never gave up and continued to paint with assistance. Year 3 showed maturity and discussed about persevering to overcome challenges.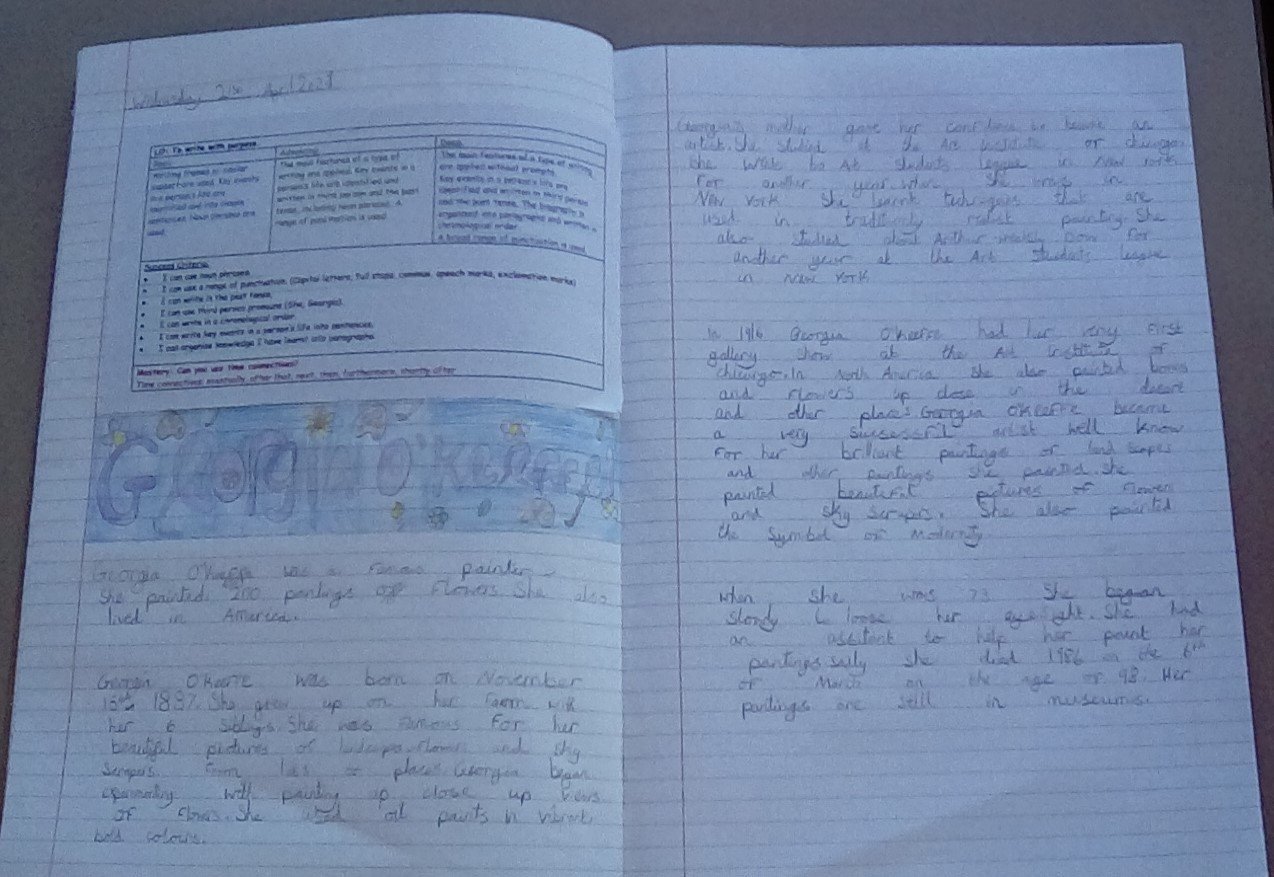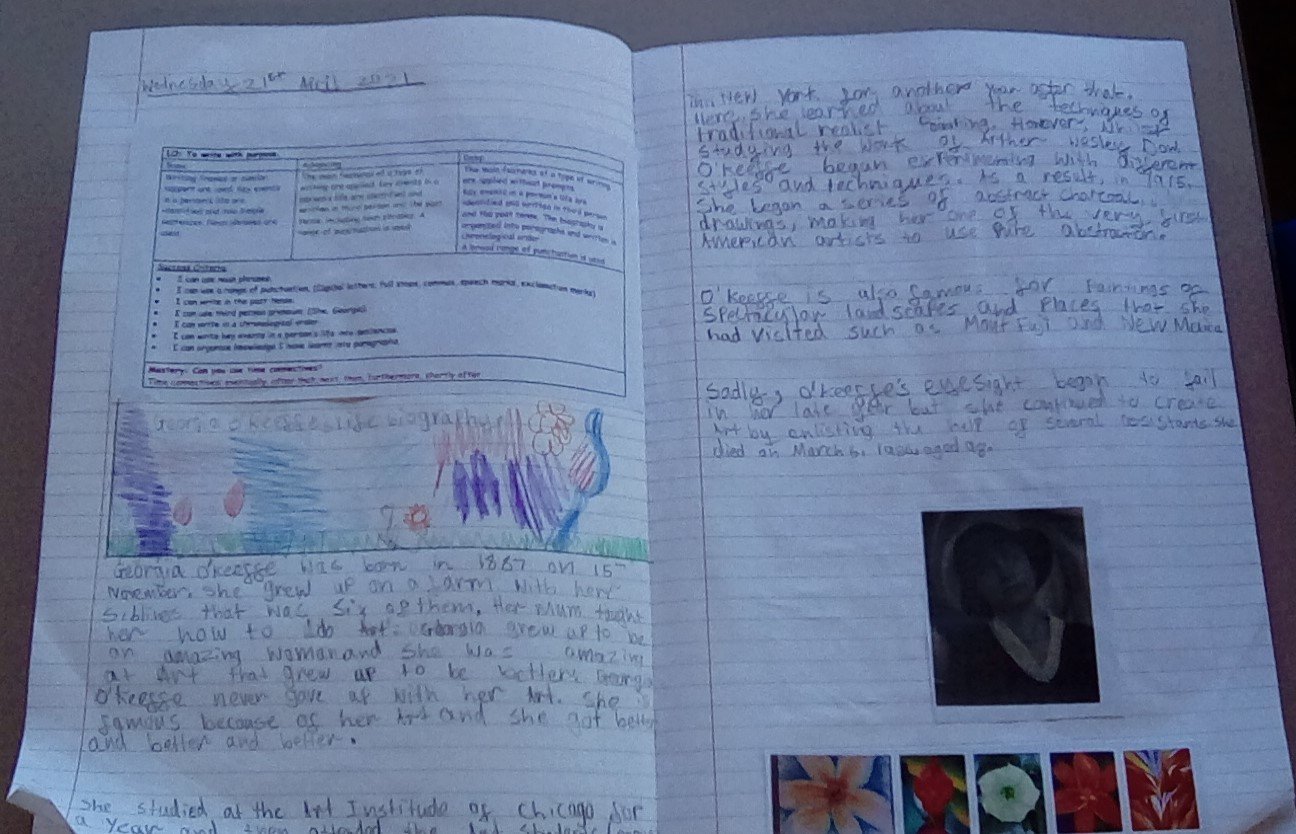 Alongside this, they wrote mini biographies about the inspiring artist, including interesting facts they had learnt from reading a fact file, such as: she painted over 200 pictures of flowers, visited Mount Fuji (which she painted), as well as being a female artist in a male dominated world in the 20th century.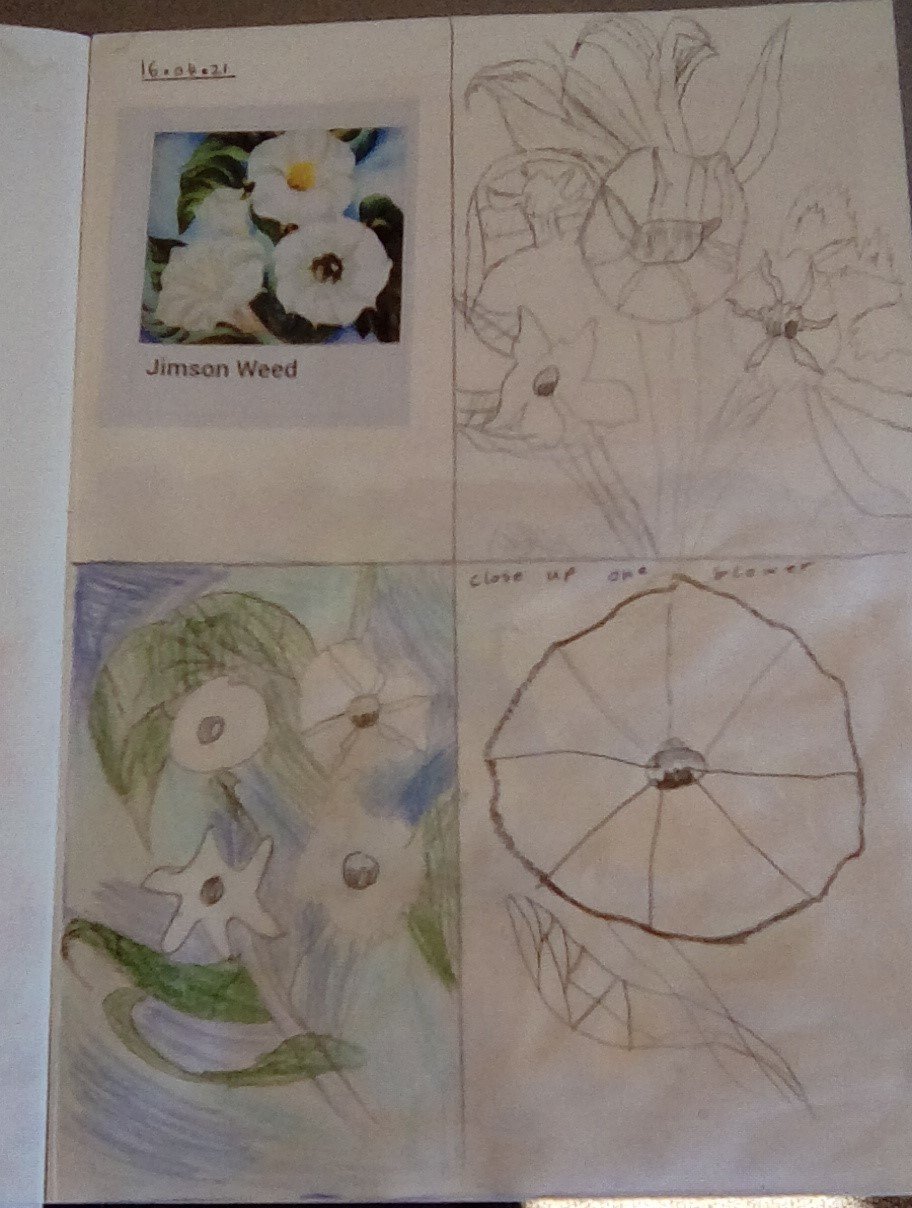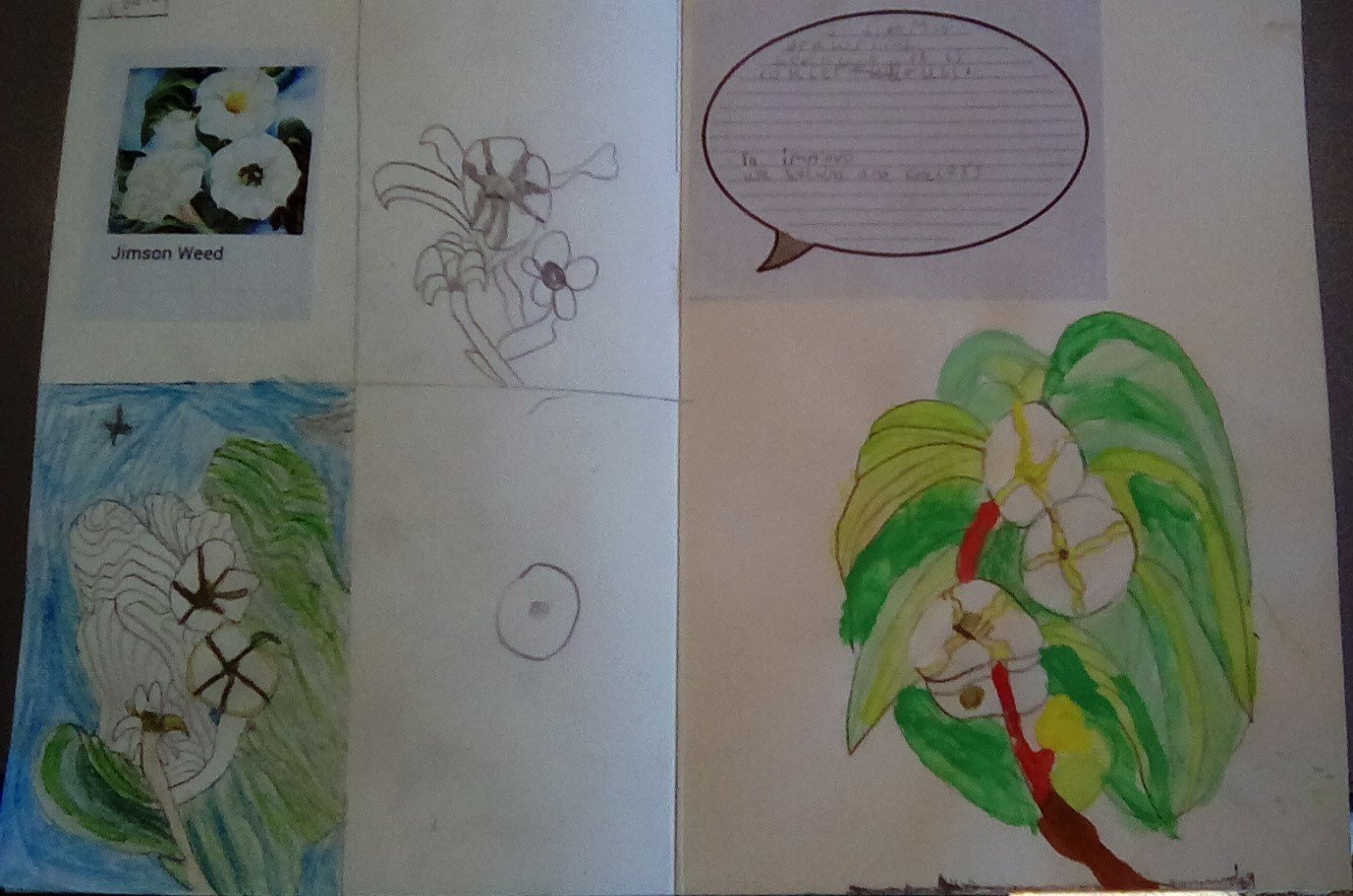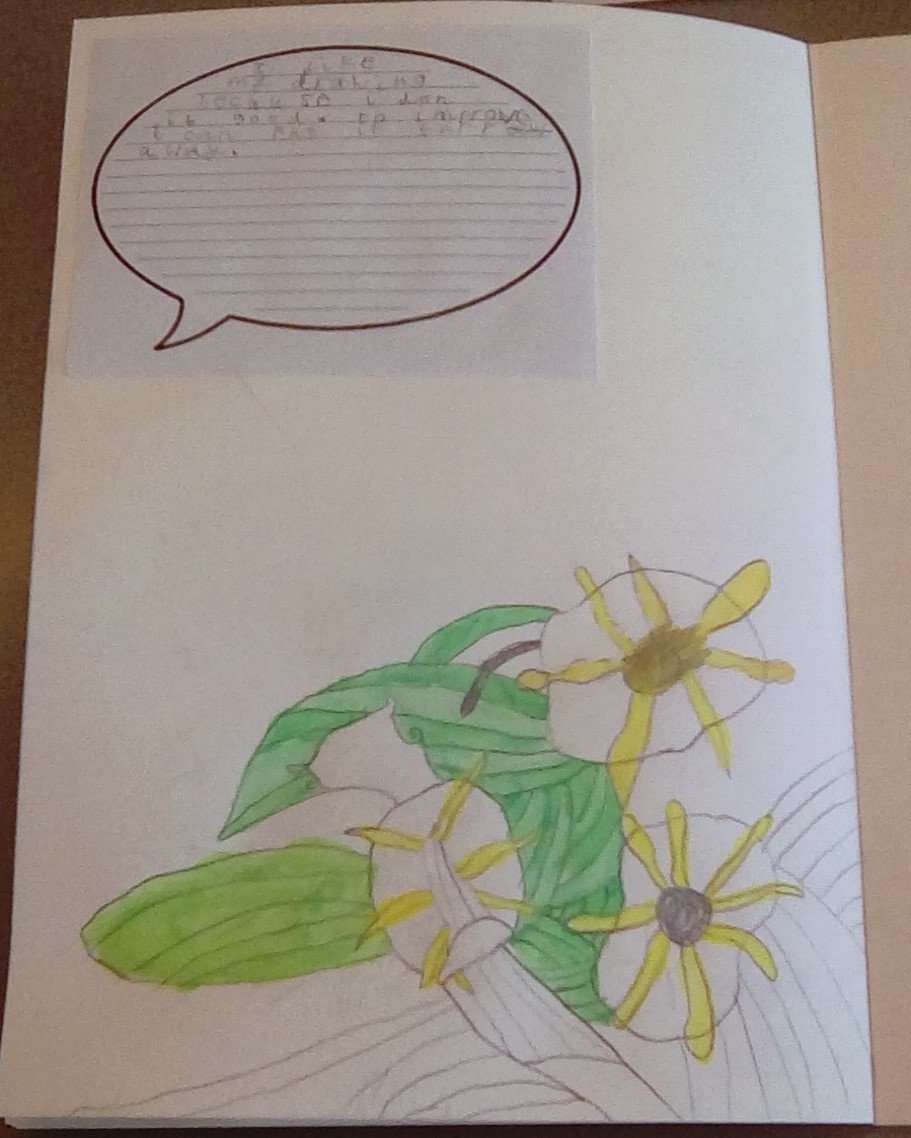 On top of this, in science we have learnt more about the human body. Excitingly, the children learnt more about the skeleton and the role of bones. They even built model skeletons which they really enjoyed! In RE, we've learnt more about Christianity, and continued to learn about rights of passages. Year 3 have learned all about baptisms as well as confirmation, alongside other religions across the other terms. Importantly, they discussed stereotypes and gender roles in our 'Relationships' unit in PSHE. Sensibly, they thought about the jobs and the chores that are carried out in their own homes and who they are done by. Respectfully, they compared with their peers. It was great to see that Year 3 are so open minded and have embraced the mantra of 'you can be or do anything you want to'.
Well done for a great second week back Year 3!
Week beginning: 12.04.2021
This week, Year 3 have begun their new topic Amazing Americas which is studying all about North and South America. As part of our hook day, the children explored what carnival is and learnt about Brazilian culture. They loved making masks, using feathers and sequins and embraced the carnival theme in the carnival in the Reading Garden. Enthusiastically they took part in dancing (including wonderful sambas), "follow the leader", following the beat of the peers and general carnival fun to music. We all had so much fun and were the envy of the other year groups! They also used maps to name and locate South American countries, and even answer questions surrounding what the Northern and Southern Hemispheres are, as well as the equator. We certainly have some keen geographers and future explorers in Year 3!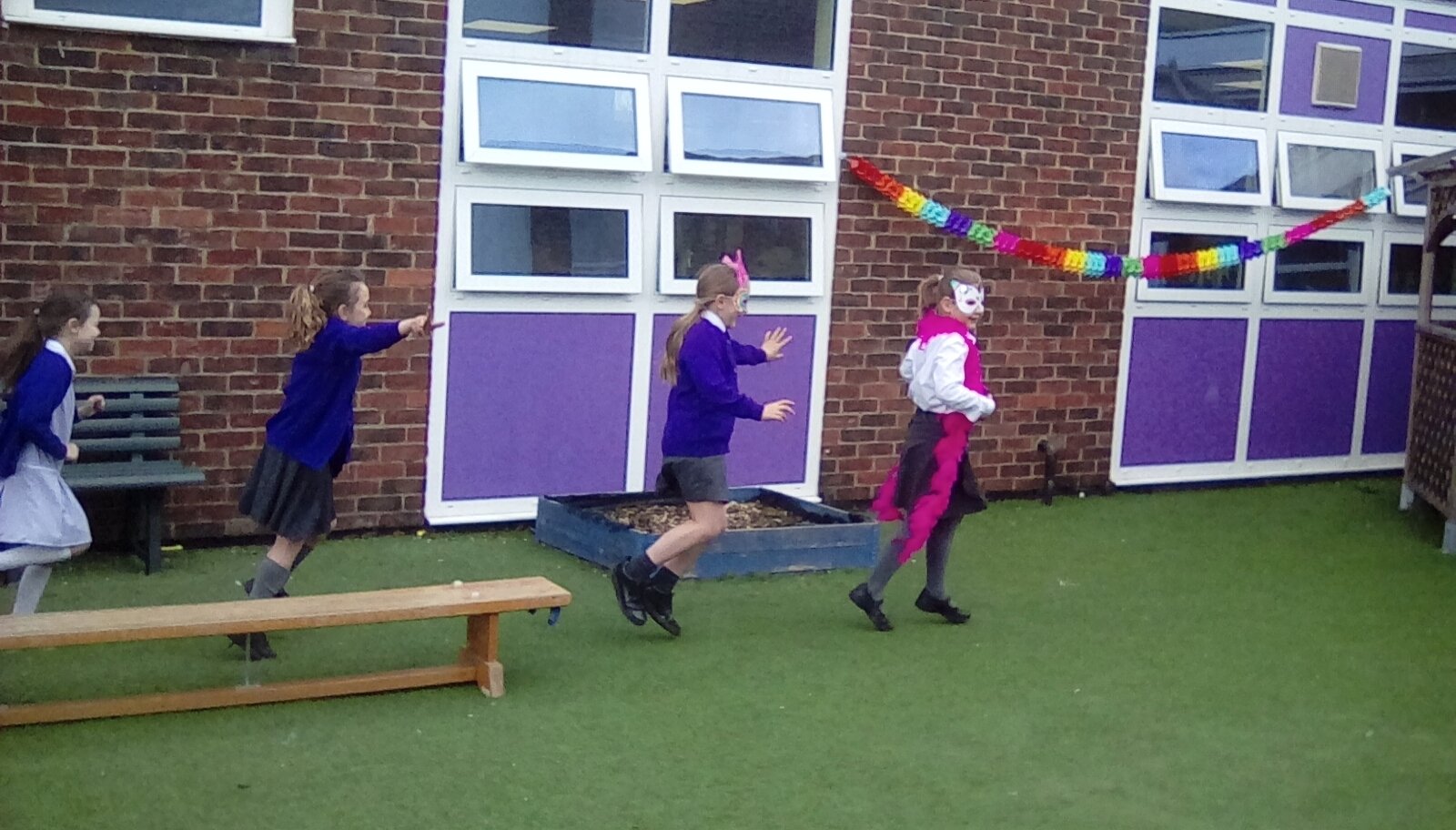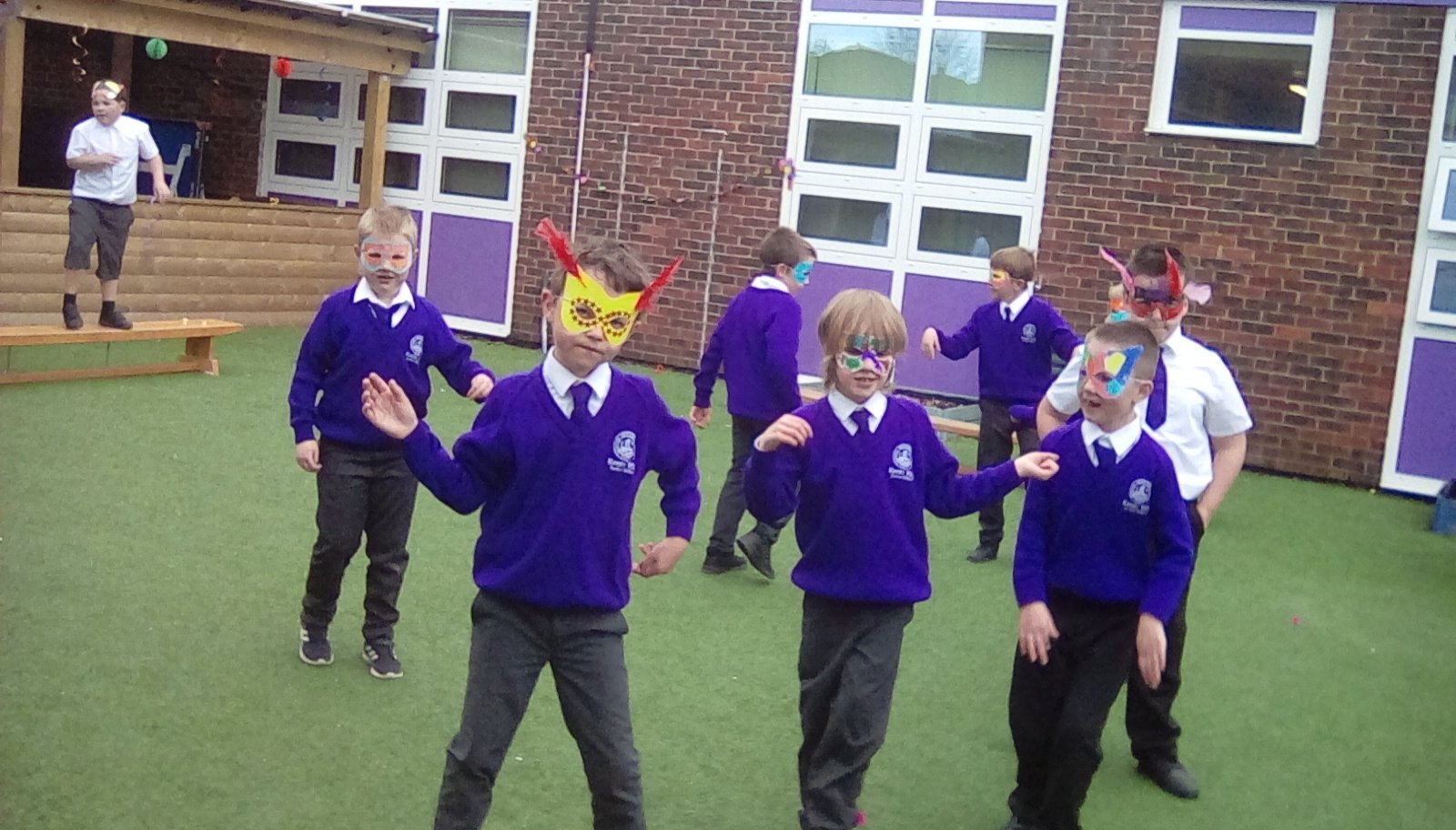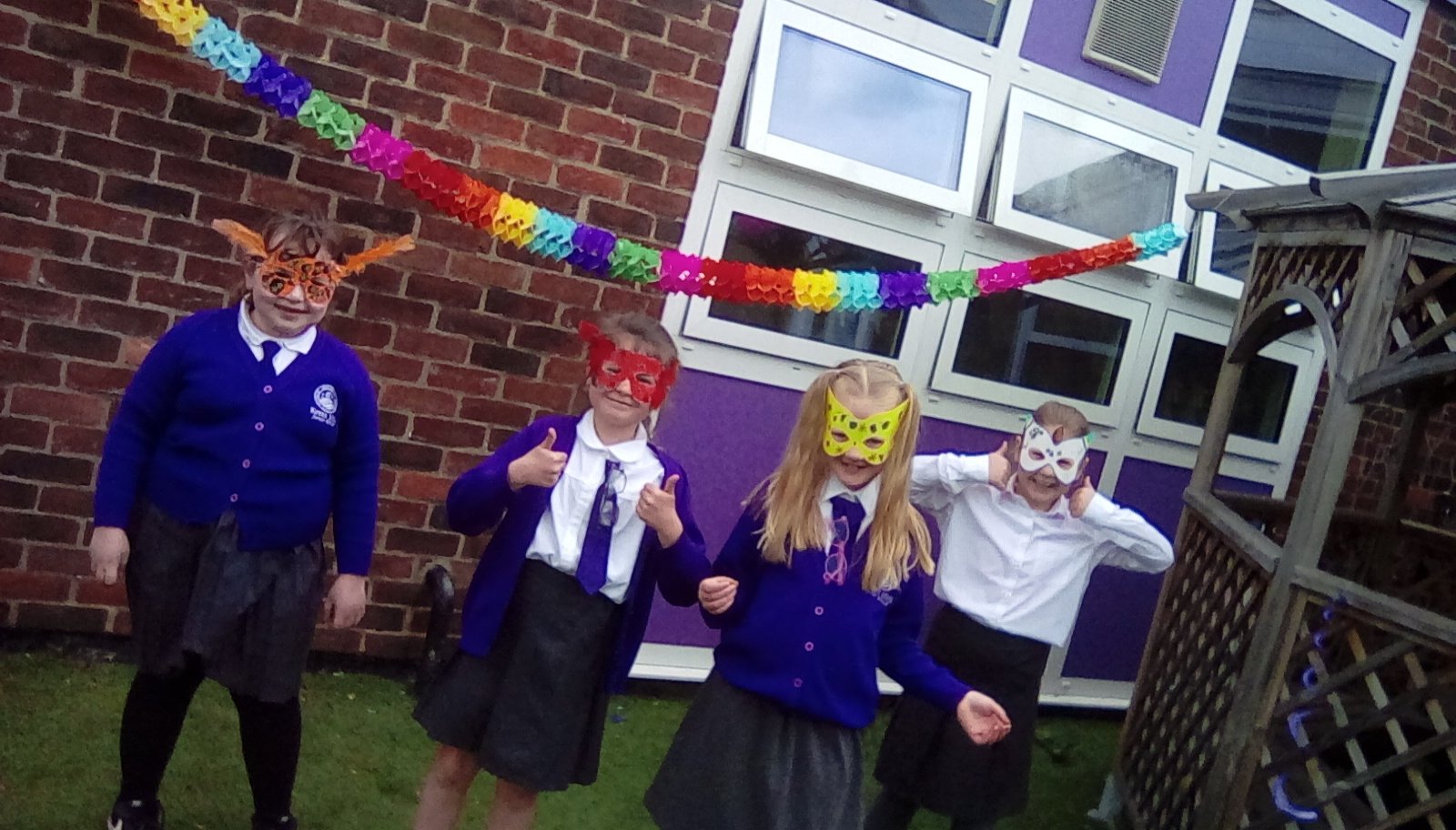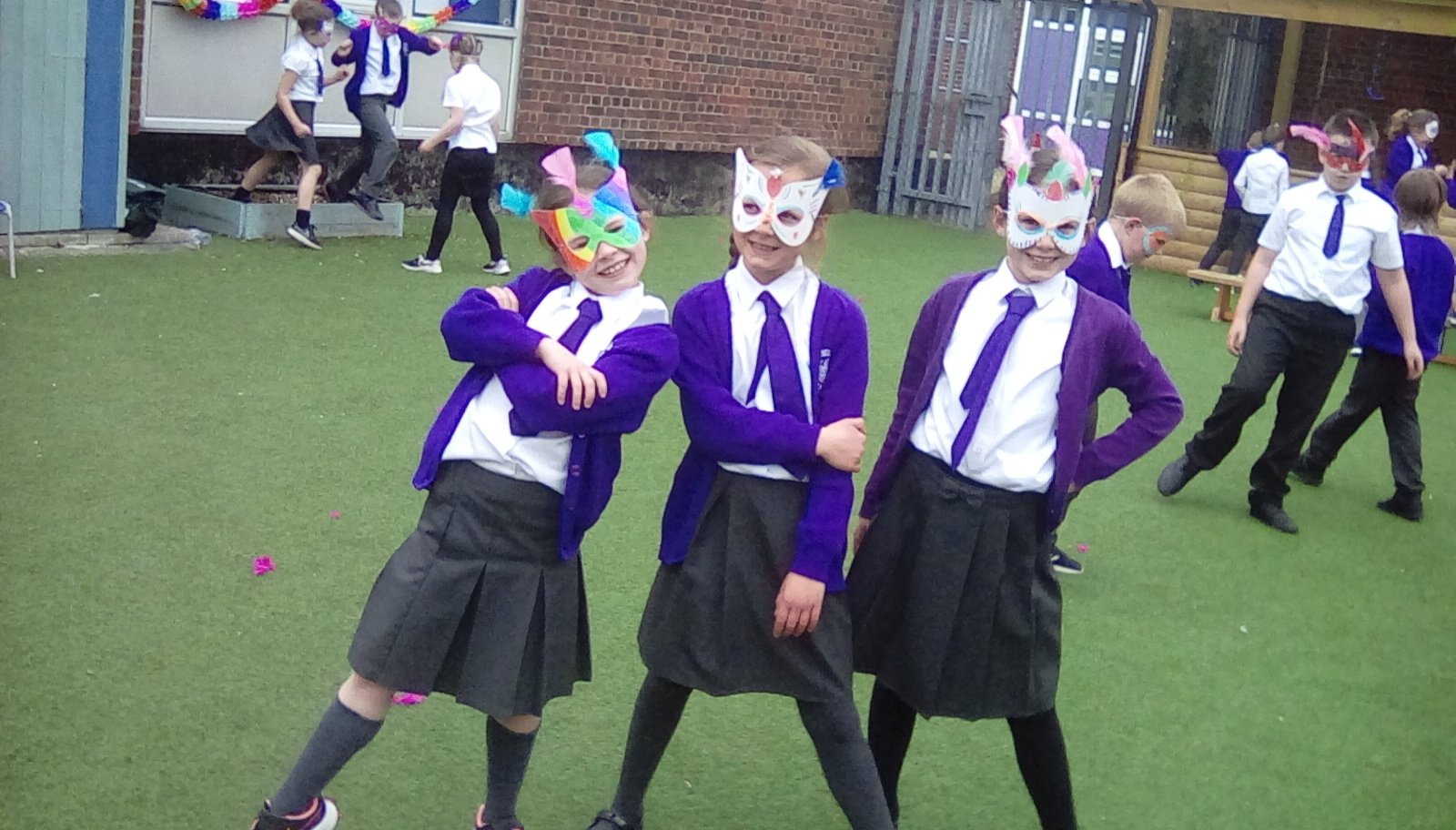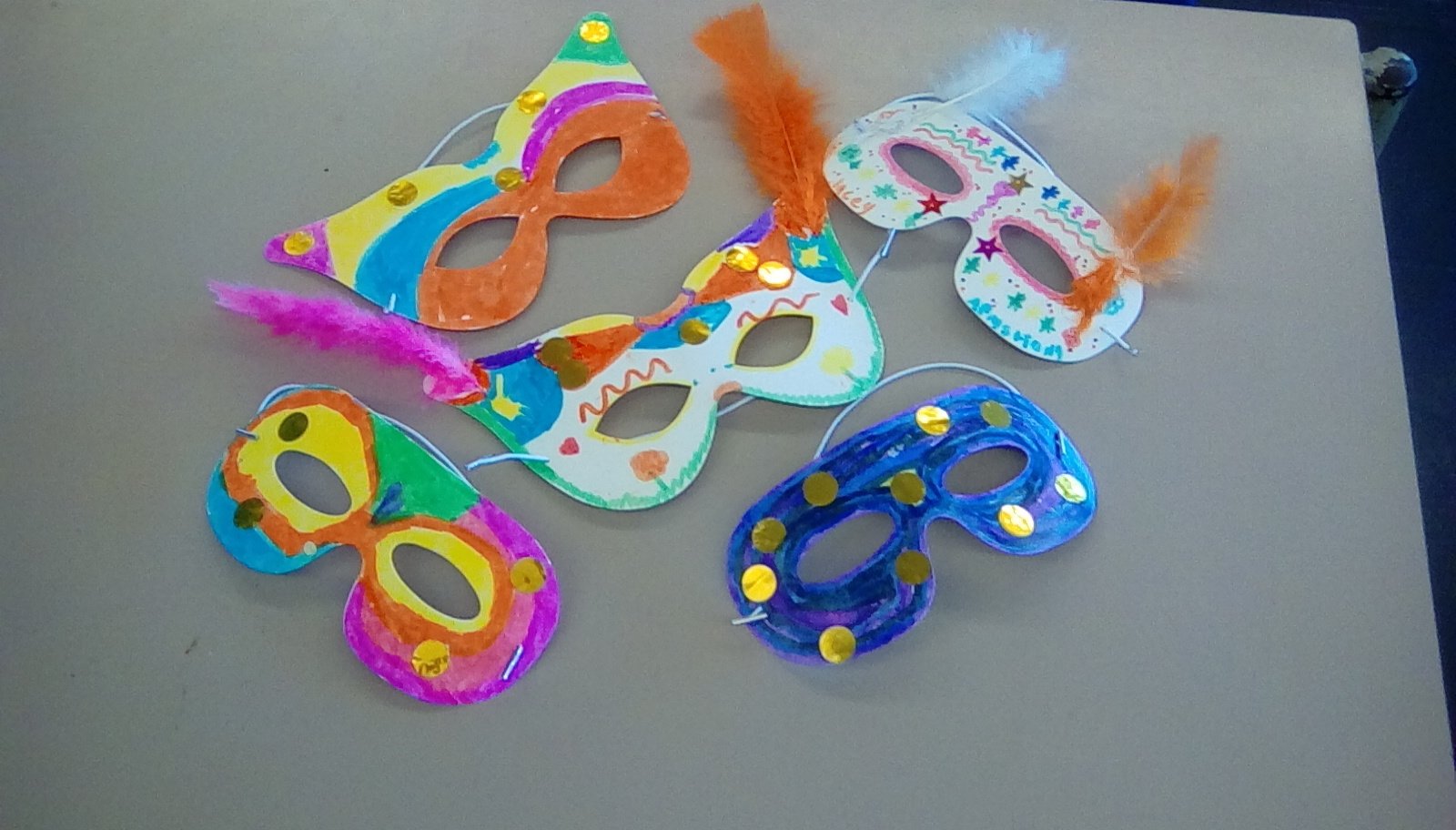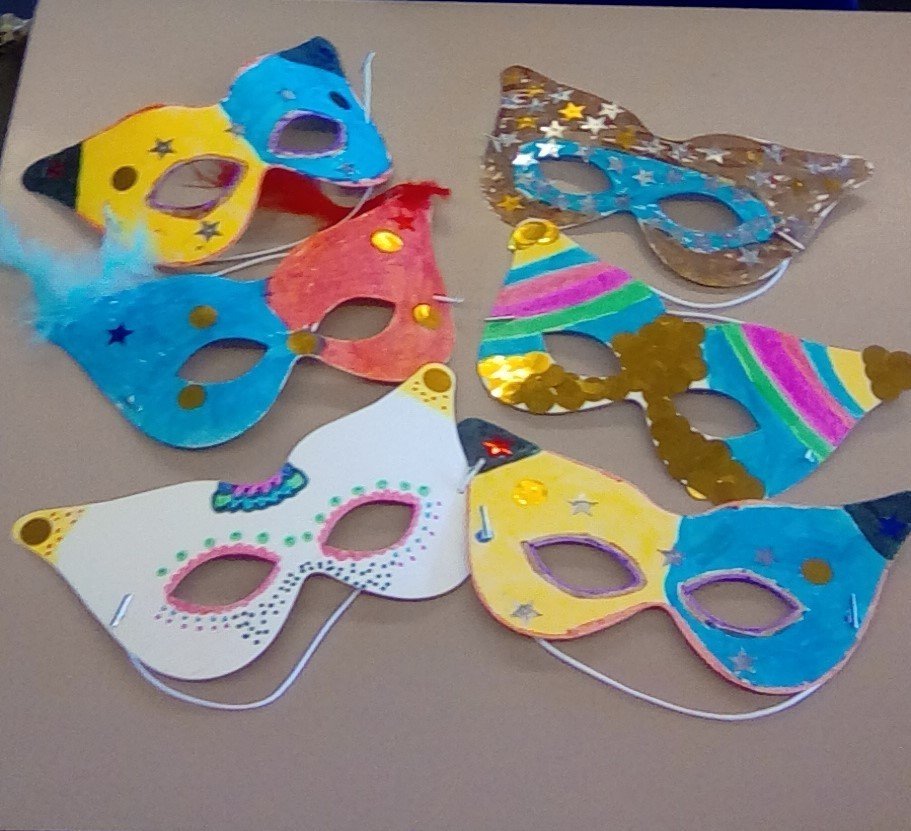 In maths, the children have shown resilience as well as perseverance in maths as we have begun doing fractions in maths. We have been amazed at their ability to solve problems involving a range of contexts!
In PSHE, we began the new unit of relationships and talked about how relationships can be formed with many people, not just involving a romantic relationship. On top of this, we discussed how to be a good friend, as well as how to stay safe online (linking back to our SMART rule).
Well done for a super first week back after Easter Year 3!
Week beginning: 22.03.2021
This week in Year 3 we have rounded off our Empowerment topic by thinking about the inspiring people and moments we have learned about, including:
Learning about refugees whilst reading the book 'The Boy at the Back of the Class' in which Alexa helped her friend Ahmet reunite with his parents after moving to a new country for safety at the age of 9!
discussing Martin Luther King and what he stood for following our learning on Martin Luther King Day and similarly, Rosa parks
how Henry VII and Henry VIII initiated change in religion
empowering women, just as Elizabeth I did whilst ruling as an unmarried monarch alongside defeating the Spanish Armada and supporting the poor
reflecting on Queen Victorias' reign which involved changing lives after the Industrial Revolution
learning about a modern-day hero - Sir Captain Tom Moore - who proved that "tomorrow will be a good day" in his bid to raise over £30 million for the NHS
As a result, we thought about how the children might change the world themselves. It was amazing to hear all their wishes and even more so, the determination and belief behind it! They shared speeches as part of 'speaking & listening' about their desires, linking to their PSHE unit of 'Dreams & Goals'.
We heard wonderful ideas across the year group spanning from "helping to pick up litter to help wildlife and sea life" to "inventing a new machine to explore Space" - displaying compassion and curiosity!
In computing, the future generation practised coding using Scratch and even began to create their own games, which they had lots of fun doing! We were really impressed to see our professional programmers share their expertise as well as the perseverance from children who weren't so familiar.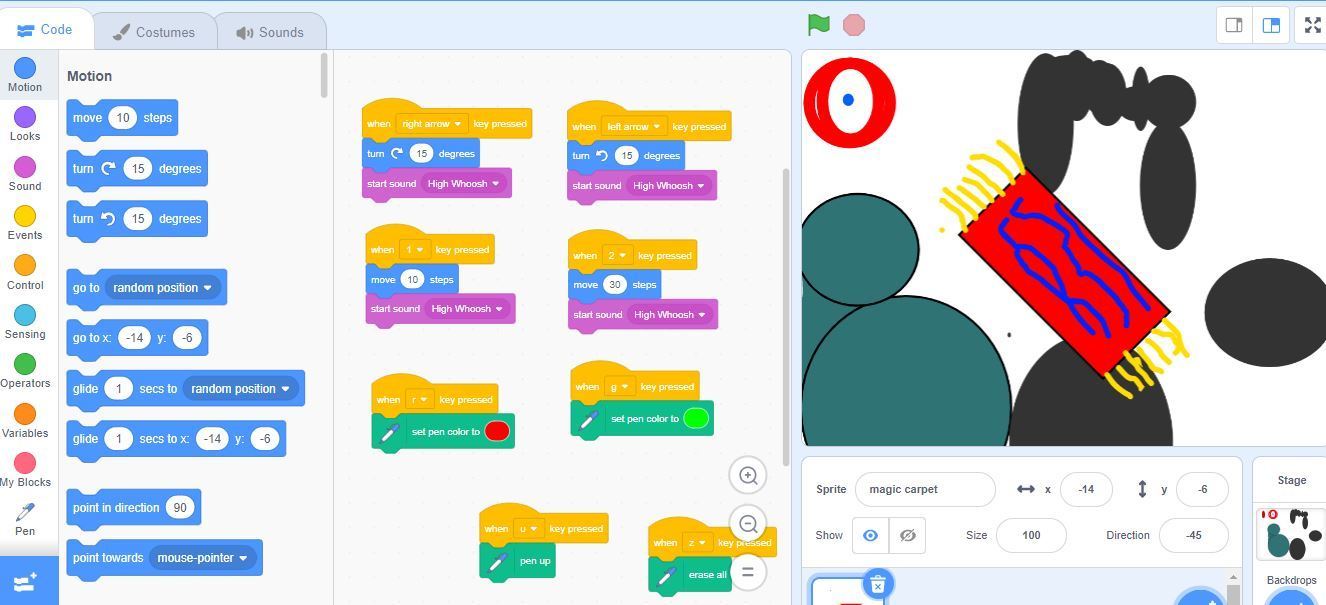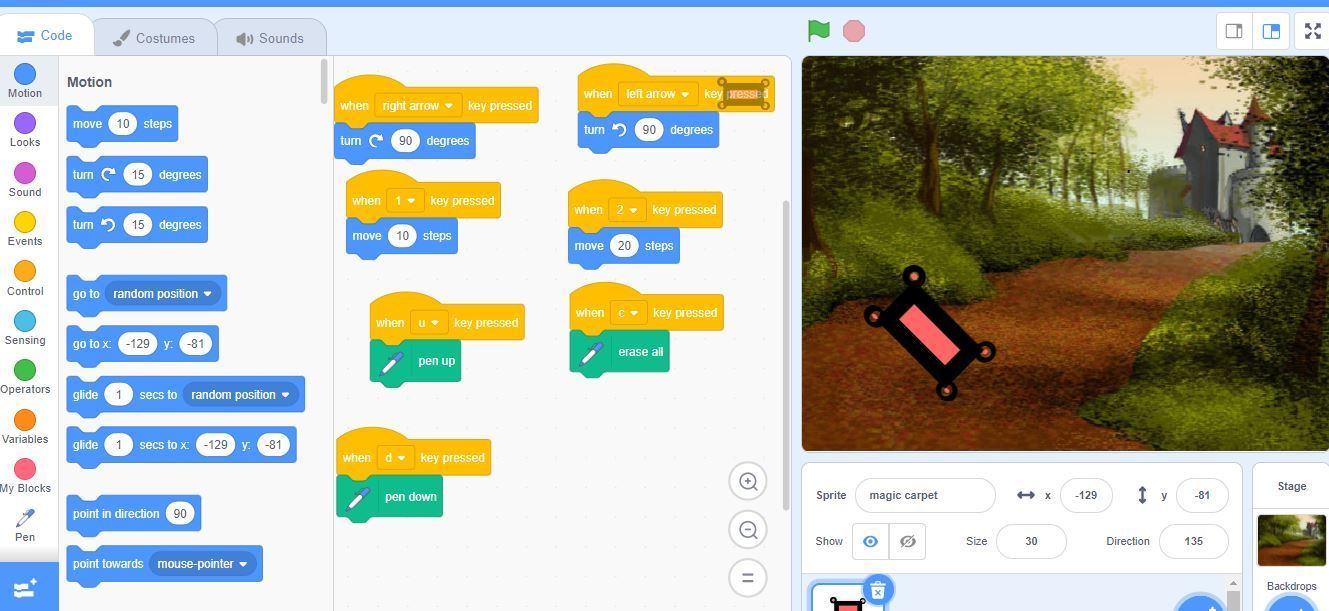 Meanwhile, in RE, the children recapped the Easter story and studied 'Palm Sunday' which is upcoming this Sunday, and in PSHE they worked in teams to create a garden for someone facing a challenge and catered for this accordingly. It has been great to see tolerance, mutual respect, kindness and problem-solving skills!
Well done for the return to school Year 3, after a strange start to the Spring term. Have a wonderful Easter break and see you in April!
Week beginning: 15.03.2021
This week, we have continued to develop understanding of empowerment as we near the end of the spring term. As an end to our study of monarchs of Britain, we studied chronology by creating 3D timelines and placed key dates and coronations of monarchs on the timeline. We had lots of fun creating them, which look really cool!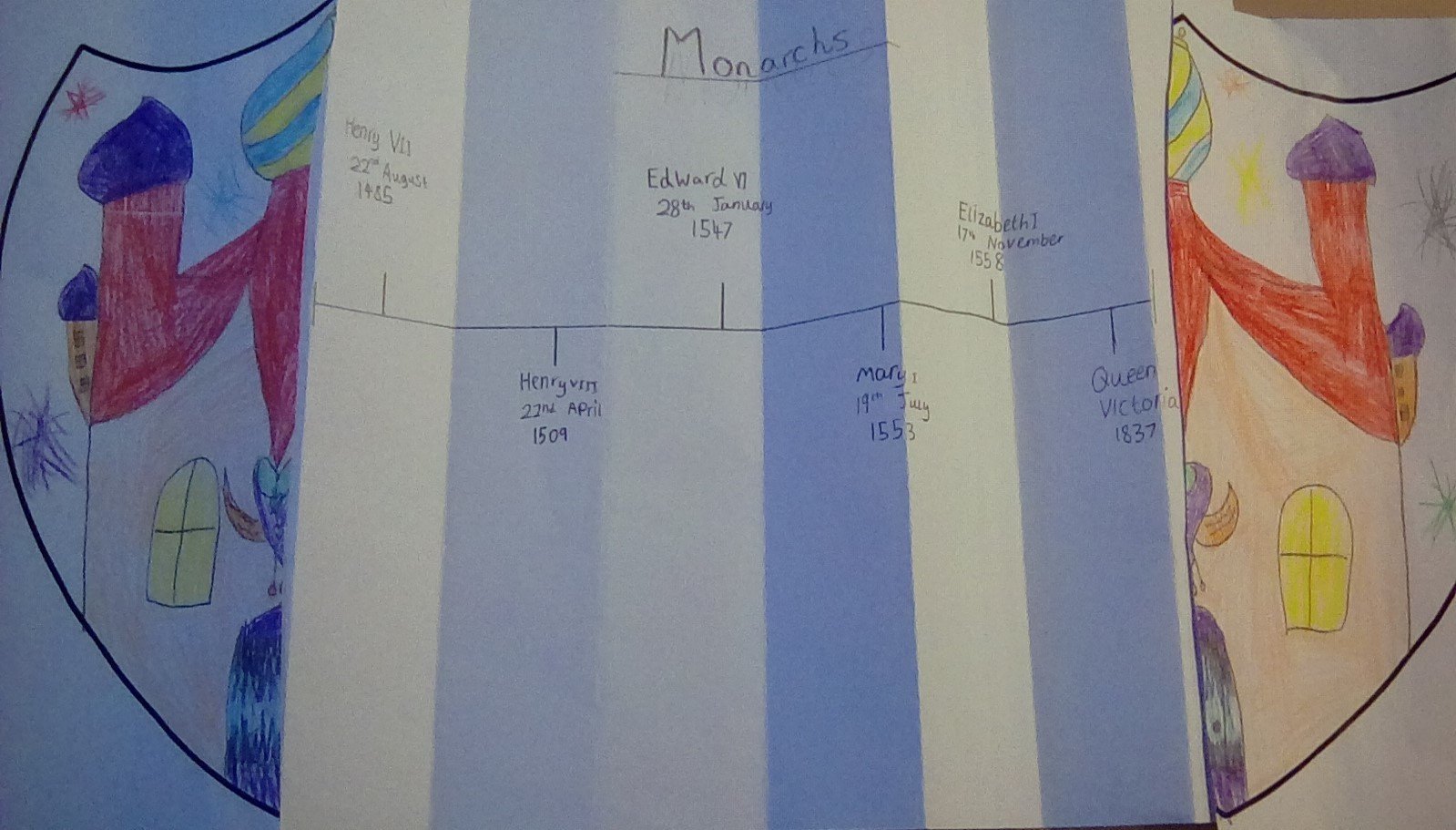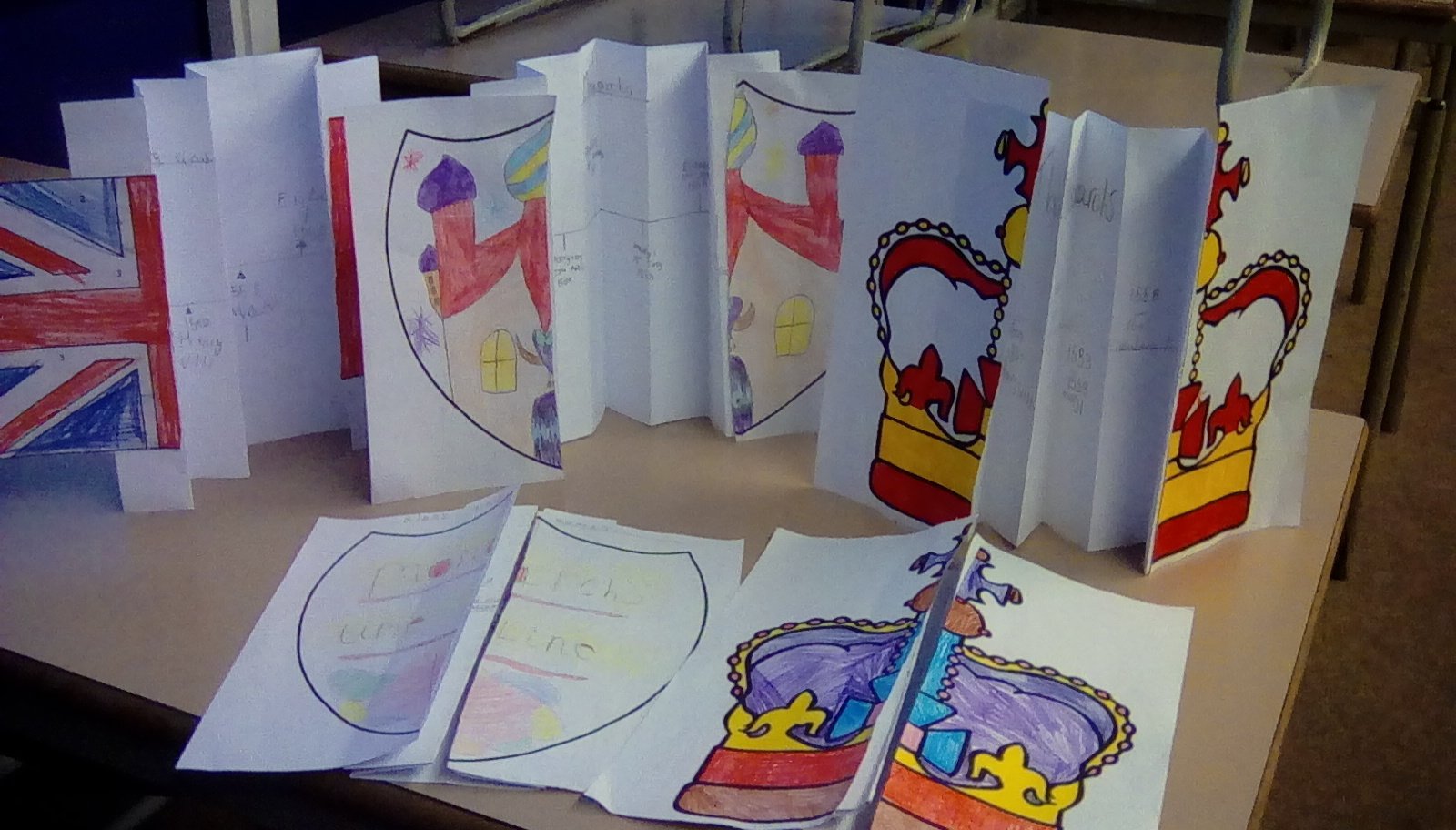 Alongside celebrating our superpowers in a talent show as well as celebrating real life superheroes on Red Nose Day. Similarly, we studied Captain Sir Tom Moore in English; this showed us that 'not all superheroes wear coats'. We read his stories and learned all about his life - highlighting his moto "tomorrow will be a good day". Inspired by this, the children recreated his stories using an array of features to compose interesting pieces.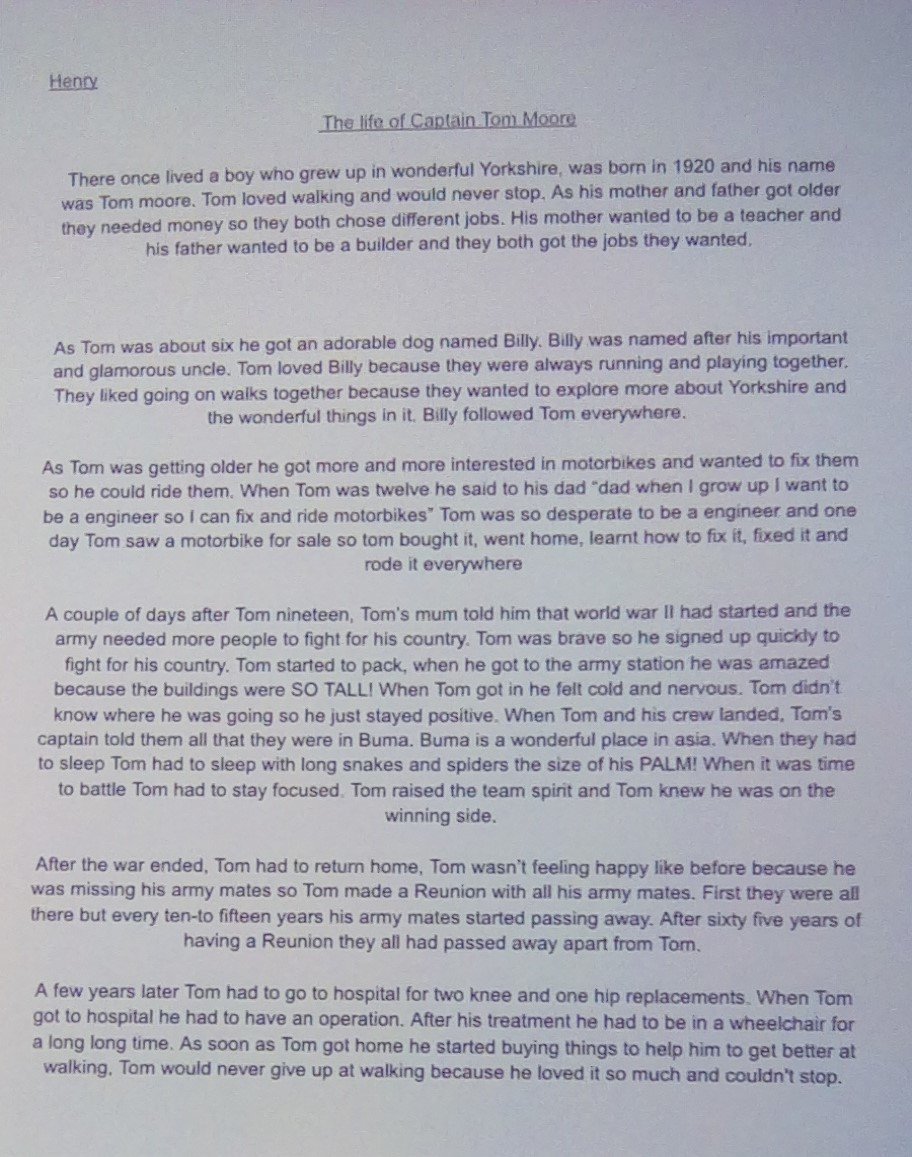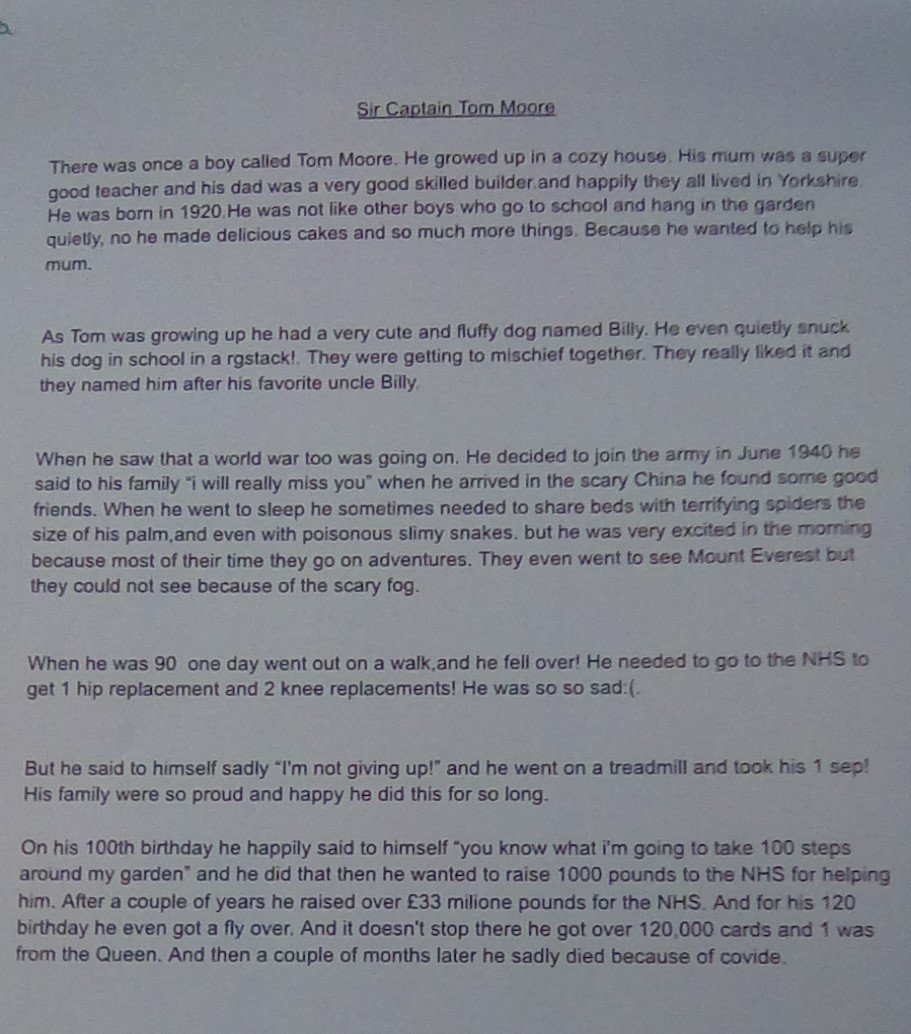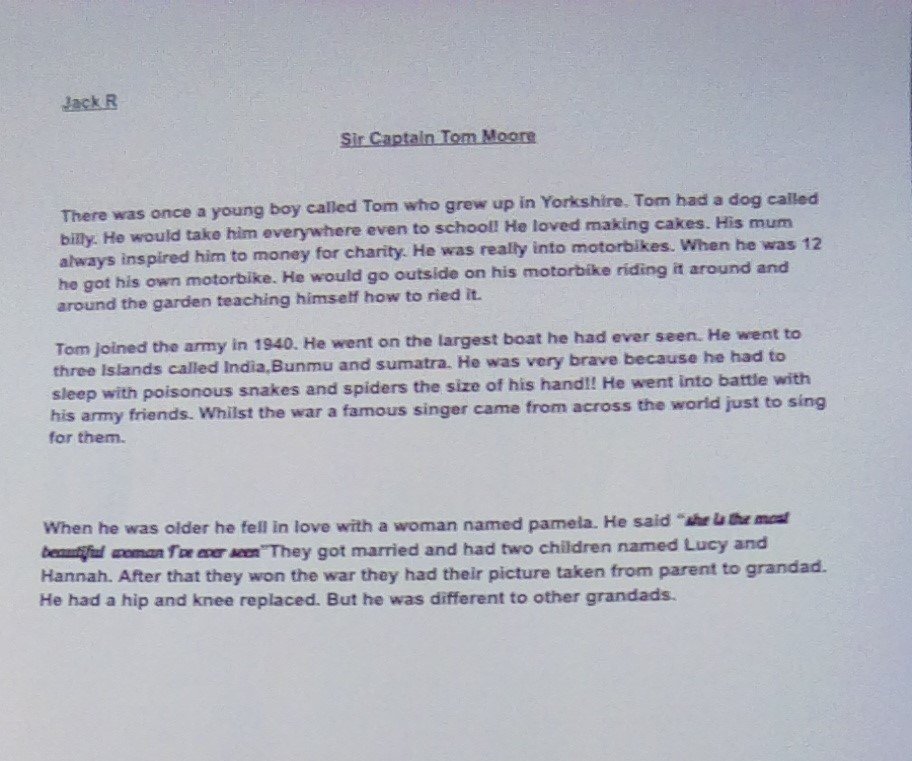 On top of this, in art, we began developing the skill of painting ahead of studying an artist. We studied different types of brush strokes including:
flat wash
hatching
cross-hatching
scumbling
stippling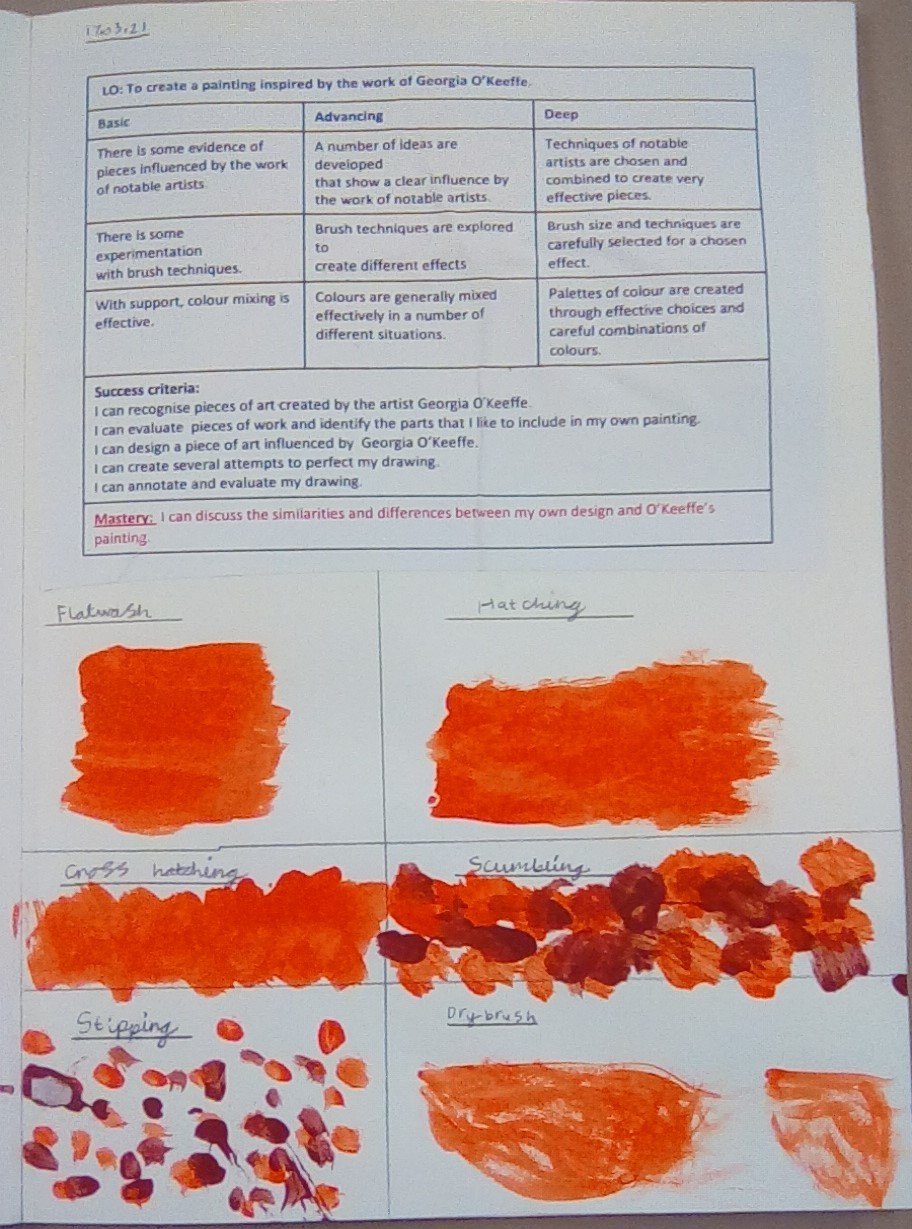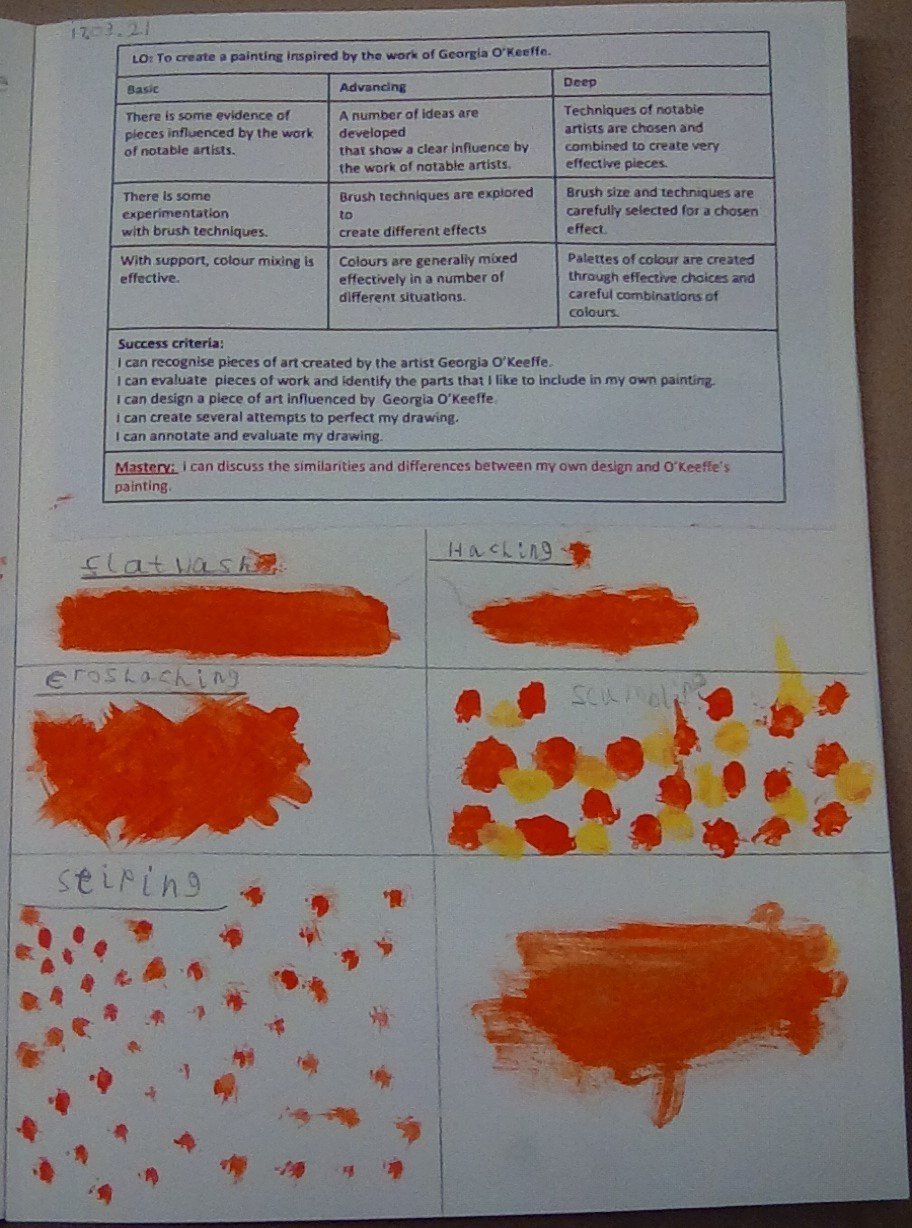 In addition, developing their artistic knowledge, in art the colour wheel was recreated, and we learnt about primary, secondary and complimentary colours. Also, lots of fun was had mixing colours together and experimenting with tone.
Another week of hard work and perseverance, as well as kindness. Well done Year 3!
Week beginning: 08.03.2021
We'd like to start on congratulating the Year 3's on their return to school this week! Well done to you all. Whether you were feeling a bit nervous on Monday morning or excited to see your friends again, every single one of you have done amazingly this week.
This week, we read Charlie Mackesy's 'The Boy, the Mole, the Fox and the Horse' whilst settling back into school, which inspired artwork across the whole school. As a result, the children practised drawing the characters as well as learning calligraphy. Now, the beautiful artwork is displayed all around the school, celebrating everyone's favourite quote from the story, children and adults alike, as well as clearly displaying their names as a community.
In maths, they studied statistics looking at tables and bar charts, as well as measure - including outside learning measuring different items around the playground, which they had lots of fun doing.
Whilst studying the topic of 'Empowerment', the children had their final 'royal visitor' in history in the form of Queen Victoria. Along with many smiles and laughs, they had super questions to ask the monarch in a drama activity. Following this, they became Queen Victoria themselves and partook in hot seating - taking on the role of the interviewer or the famous monarch herself. Following this, they created fact files after researching on the Chrome Books (continuing to develop their digital literacy and understanding of using the SMART rule for e-safety).
Did you know... Victoria had 9 children and enjoyed photography?
Alongside this, in Geography, the children began studying the British Empire in the Victorian era; learning that Queen Victoria was the head of many countries, including the Empress of India! Alongside recapping the 7 continents (which 3MC now have permanently stuck in their heads with thanks to a catchy song), they developed their locational knowledge by using atlases to find an array of countries. They have also studied India whilst comparing the physical and human geographical features, especially in comparison with the UK. Interestingly, they found that both the UK and India had similar physical features such as rivers or mountains, and human features in terms of landmarks (Buckingham Palace/London Bridge/Taj Mahal/Red Fort) yet are very different in many ways.
Did you know.... India's population is over 1.3 billion? and that the Jog Falls in West India is 253 metres high?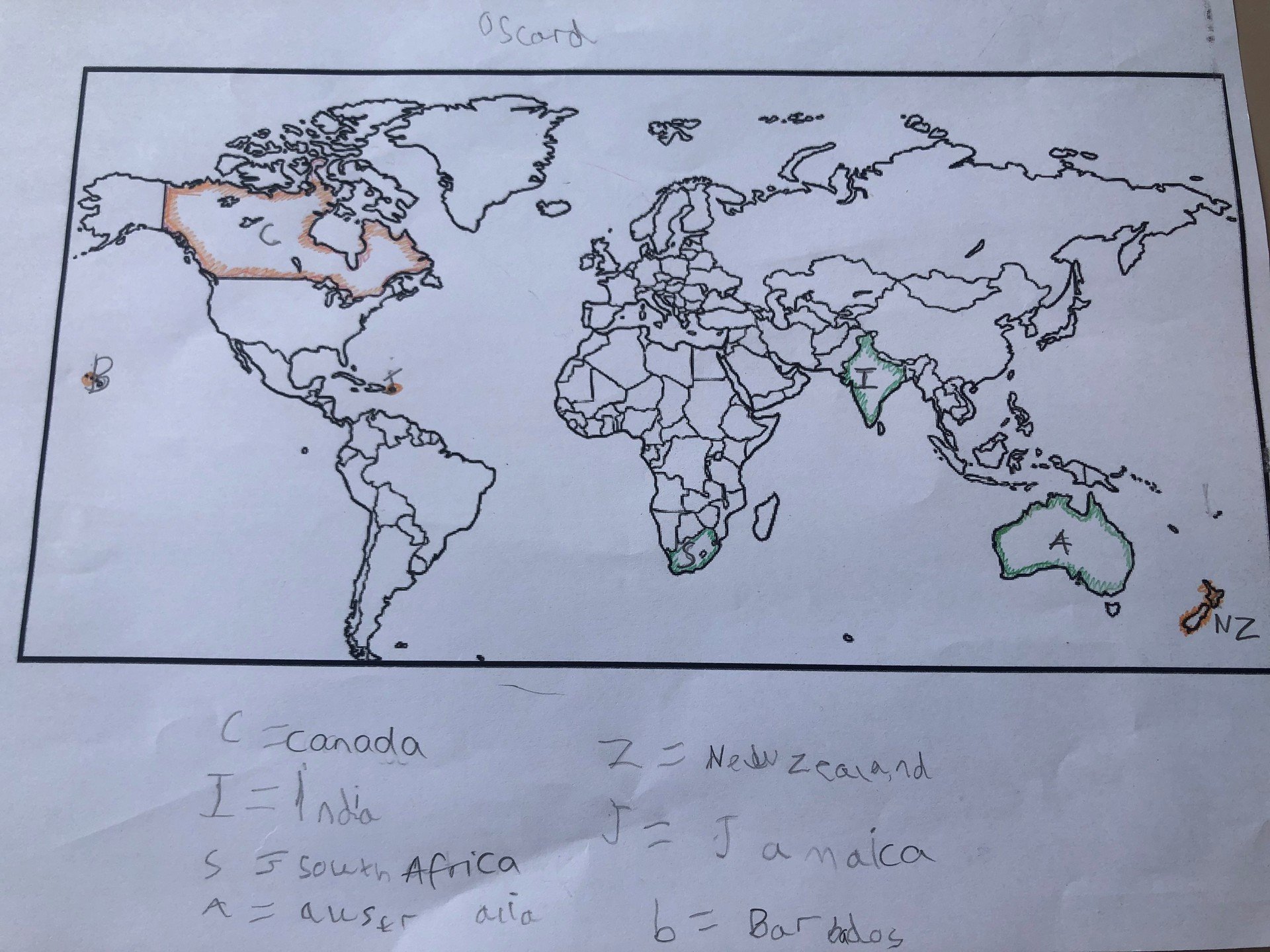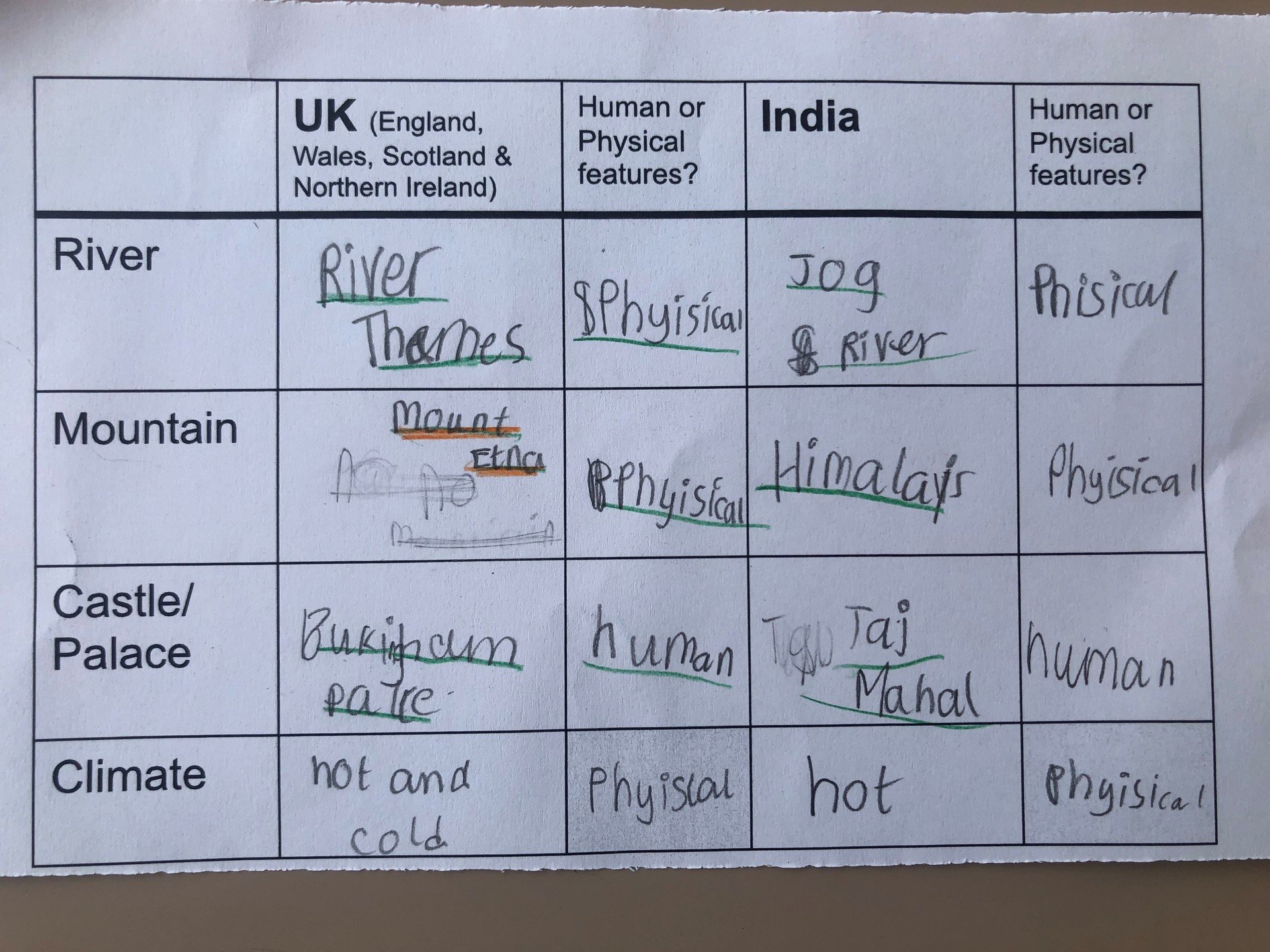 In computing, they began learning about programming. They discussed the fundamentals of creating a game on Scratch - including step by step instructions for how to make 'the magic carpet' move using coding. Using problem solving skills, they played the game that had been programmed and decomposed how the computer made the magic carpet move with each button clicked. As a result, they will continue to apply their knowledge of programming as they develop their own game over the remainder of Year 3, which they began coding this week.
Well done Year 3! Time for a well earnt weekend after settling back into school. Have fun!
Week beginning: 01.03.2021
This week in Year 3, the final week of remote learning was completed with perseverance and a smile!
THANK YOU
Firstly, the Year 3 team would like to say a big thank you for all the support that has been provided at home during these strange times. The constant reminders to be on lessons, help with tasks and uploading photos has been very much appreciated.
Another thankyou goes to the wonderful children, who have tried so hard when faced with challenges and adapted so well to a new way of learning. Well done and thank you to all of Year 3 (especially those that have been on every single lesson!). It will be so good to be back together again with lots of time to play and chat.
Our learning
During this week, there has been a strong focus on reading and writing, in line with World Book Day on Thursday.
After a masterclass from Author and Illustrator Nadia Shireen, the children had a go at becoming authors. Nadia's book, 'Billy and the Beast' inspired the children to 'move like a beast' showing their best impressions of beasts as well as creating their own characters, through drawing and 'walking & talking' like their character. As a result, they made their own characters for their English work, adding a little bit of 'you' just like Nadia Shireen does.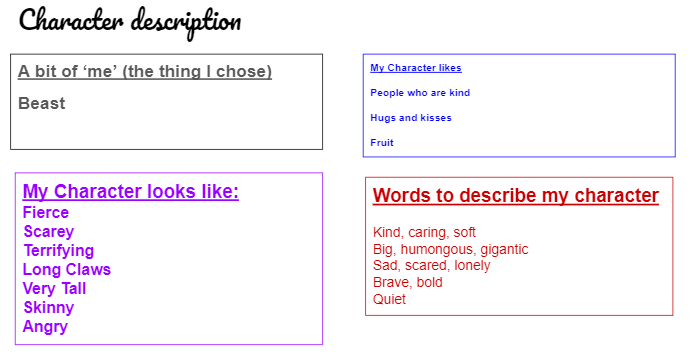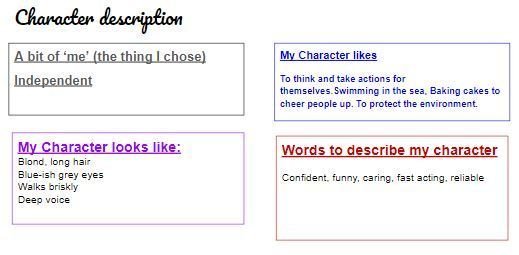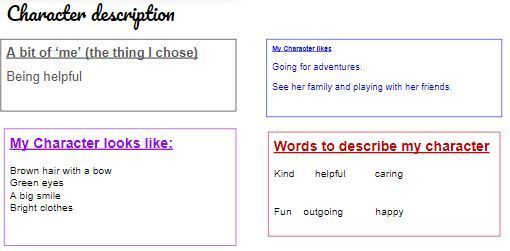 https://classroom.google.com/g/tg/MTM1NDk5NTA4MzM4/Mjg2NDE3NzgyNTc4#u=MTM1NTc0NDQxMjIy&t=f
In their writing work, they rewrote their version of 'The Boy at the Back of the Class' including themselves as 1 character and a refugee as another. The children worked hard to use lots of description when describing characters and settings, just like real life authors.
On top of this, they took part in two more masterclasses: How to be a story detective by Alex T. Smith and imagine a wild adventure with Katherine Rundell. Alex T Smith told Year 3 that he was inspired by his grandfather, who left stories for him often and gave the tip of using things from his own life/day to create his stories. Following this, they created their own stories which will be shared with peers upon their return to school by 'leaving a story behind'. In addition, Katherine Rundell (who wrote the Sky Steppers) inspired the children to use their imagination, and that they could do so by simply 'looking up'. As a result, they created art by looking up to the sky and taking note of what they could see and adding to it to make a 'sky scene'. From this, they imagined going on wild adventures, just as Katherine Rundell does (the author of our Autumn book, The Explorer).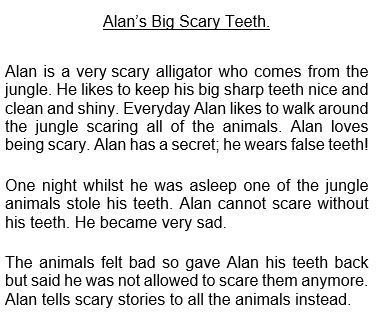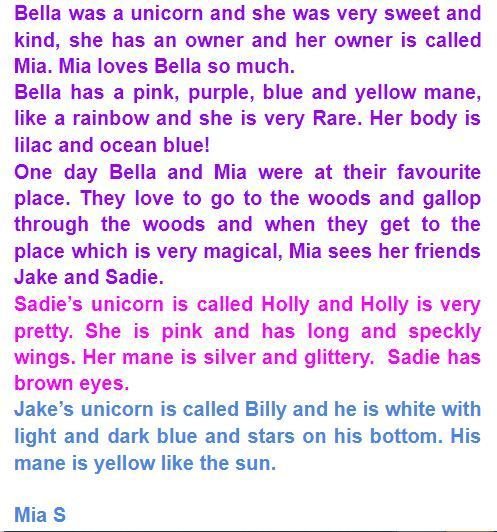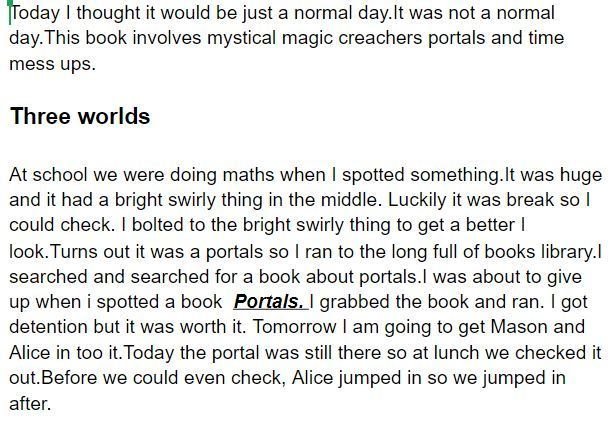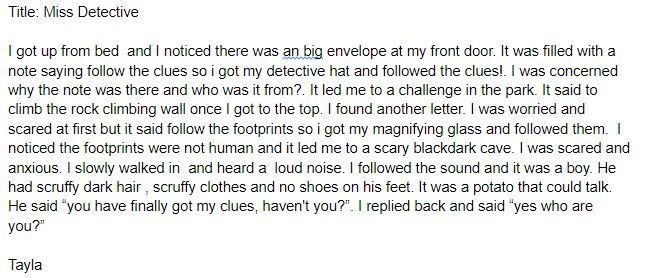 In addition, on World Book Day: the children enjoyed 'breakfast with a book' which was a wonderful start to our day, showed off their outfits for their favourite characters, performed monologues of their character or re-enacted the story and junk modelling/crafts.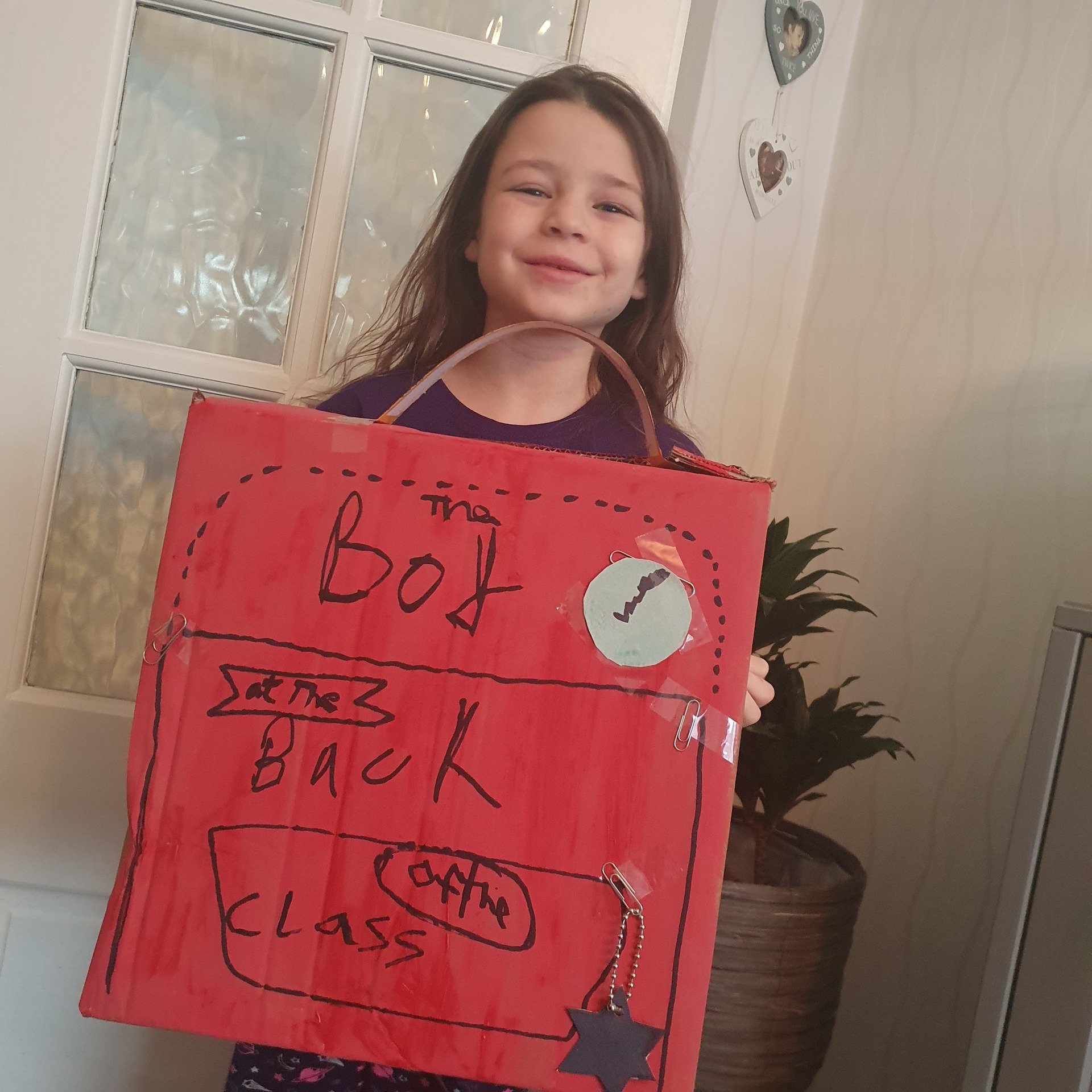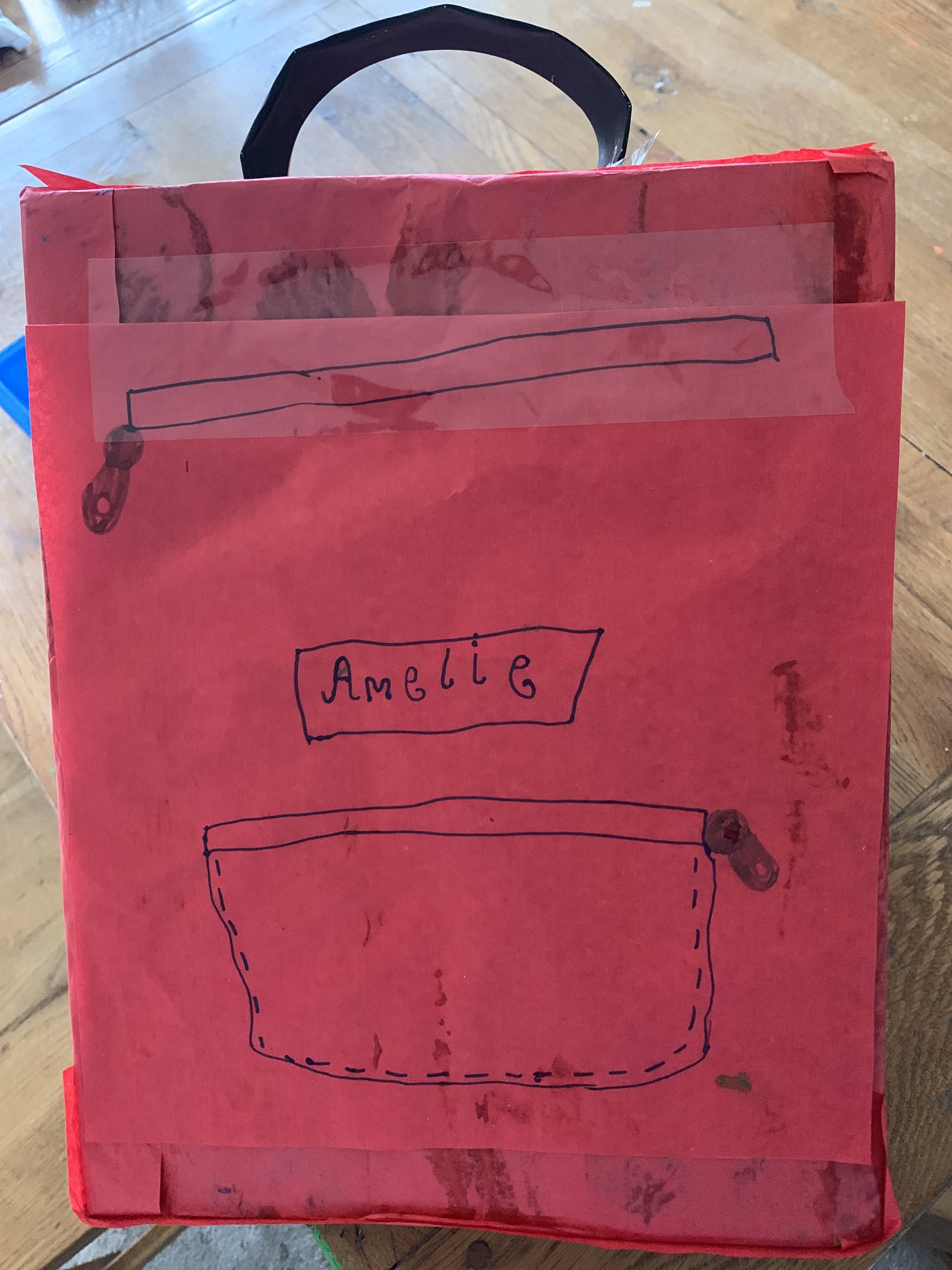 Once again, thank you for the support that has been given throughout remote learning and well done to the children. The Year 3 teachers are looking forward to being reunited in the classroom with 3MC, 3RS and 3IC again next week.
Week beginning: 22.02.2021
This week, the Year 3's made a successful return to remote learning after a restful half term (which was hopefully screen free!).
In History and Computing, the children learned about Queen Elizabeth I, building on their knowledge on Henry VIII. On top of this, Queen Elizabeth was a key figure to study during the empowerment topic as she was known for being one the best monarchs in British history. Unlike most other monarchs, Elizabeth I did not marry yet she led England to victory against the Spanish Armada, as well as helping the poor people of her kingdom. The Year 3's loved having a royal visitor in the form of a Queen (who looked quite like their teachers!) in hot seating. They had super questions to ask Elizabeth I. They created their own news report style videos reporting on Queen Elizabeth I too.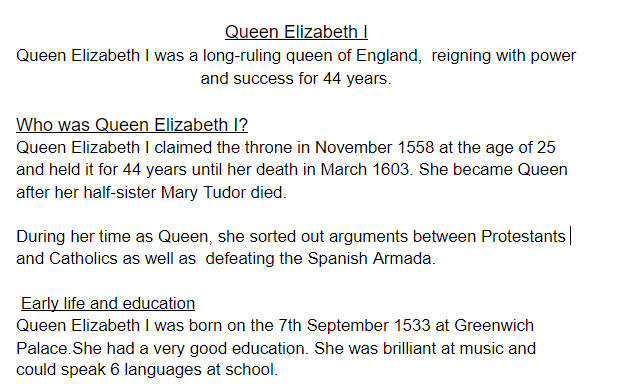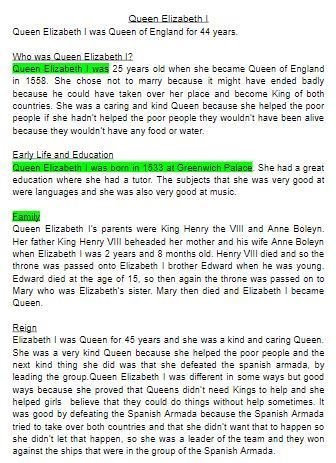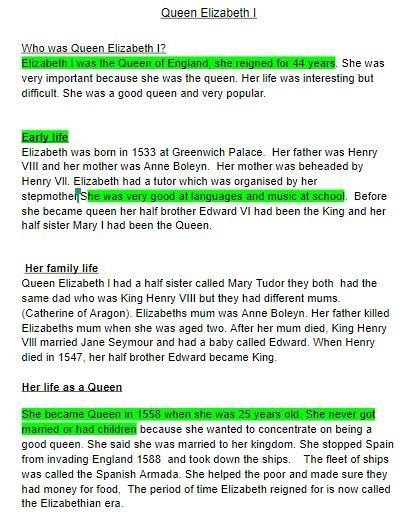 As a result of their learning, Year 3 wrote to inform by creating biographies which include lots of information about her time as Queen.
In addition, in maths, they have worked hard whilst using money - a very useful and important skill! Equally as important, in science they studied the different nutrients groups and even looked at how many carbohydrates, fats, protein and fibre were in foods that they found at home. In RE, they began studying Islam, on top of their previous studies of Buddhism and Christianity. Finally, In PSHE, the children began thinking about their 'Dreams and Goals' and thought about how to overcome challenges.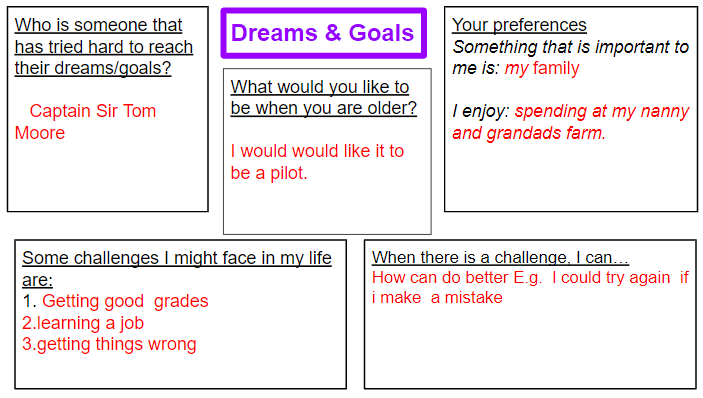 We also c
ompleted some more of our Personal Passport activities during our Offline Afternoon on Wednesday.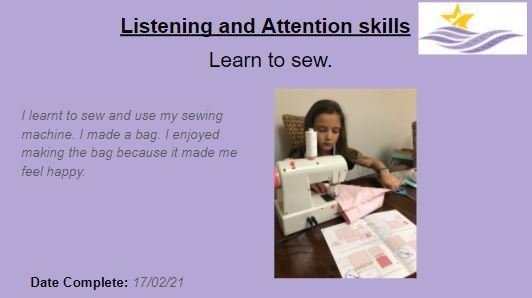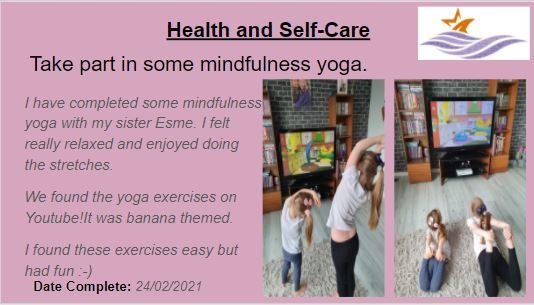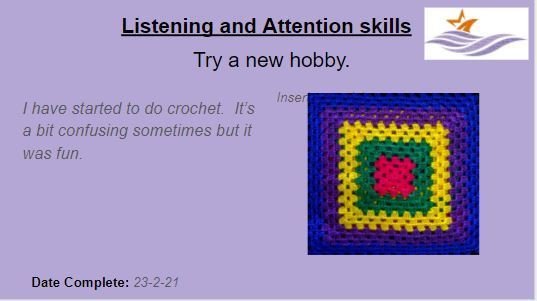 Week beginning: 08.02.2021
This week in Year 3, the children have written 'a royal letter' as they wrote a letter to the Queen. As inspired by the class text, 'The Boy at the Back of the class' by Onjali Q. Rauf, they explained about the main character of the book, Ahmet, who struggles as a refugee and the journey to reunite with his parents. The years 3's discussed the main features of a letter and worked hard to include persuasive features such as emotive language and rhetorical questions. A super effort and some very well written letters which would most definitely persuade the Queen to help them out!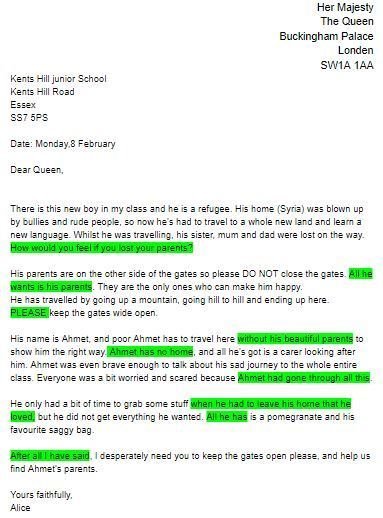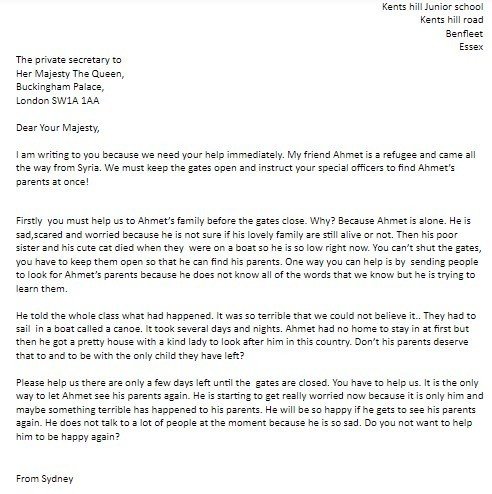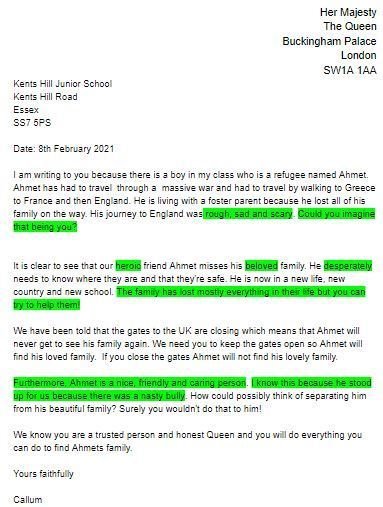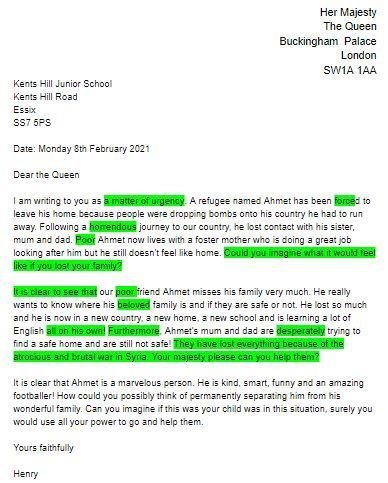 In maths, they rounded off the unit of 'multiplication and division' by looking at scaling. They learned the useful skill of recognising how many times bigger a figure is e.g. 'having twice as many' or '4 times more/less'. There were a range of tricky questions, but the children persevered.
Alongside their writing and maths, they worked hard in their topic lessons as well as in reading, in which the theme was focusing on regulating emotions (even listening to Cyndi Lauper's 'True Colours'). On Friday, Year 3 celebrated Chinese New Year through a range of activities including crafts and the opportunity to learn a dance.
Across the whole school, the Spelling Bee also took place which is one of the junior schools' annual inter-house competitions! It was wonderful to have the whole year group together on Friday afternoon to support and celebrate super spellers from each house!
The semi-finalists for each house were:
Danes: Sydney P, Lacey A, Amelie H
Normans: Hope O, Amelia C, Amari M
Saxons: Isaac B, Ishan S, Zoe D
Vikings: Charlie P, Oliver F, Maisey L
The finalists for each house were:
Danes: Sydney P
Normans: Hope O
Saxons: Isaac B
Vikings: Charlie P
The wining house was: The Saxons!
Well done to everyone who took part!
Finally, there was lots of fun in the snow in this week, as well as other skill building activities on Wednesday afternoon whilst working on 'Personal Passports'.
We've all been enjoying the snow this week, on site we have been enjoying playing outside and have had a snowball fight and a snowman building competition!
Well done for a whole half term of remote learning Year 3. Have a wonderful, well-earned half term!
Week beginning: 01.02.2021
This week, we have been focusing on the children's wellbeing even more so than normal as it has been Children's Mental Health Week across the nation. At the start of the week we introduced what Mental Health is and what attitudes are by comparing 'broken leg vs broken mind'. The Year 3's realised that sometimes, people can be dealing with their own struggles without 'seeing it'. In light of this, we worked through strategies that can be used to help (some of which we use regularly in school). These were:
Breathing exercises
Remembering a happy moment
Doing a hobby
Spending time with family and friends
Mindful colouring
Yoga/Meditation
They also went onto to look at celebrating differences and recognised that it's good to be different. They created bunting to display their personalities and passions!
On top of this, the Year 3's learnt about positive thinking and attitudes - a key thing to helping to live a happy life! They looked at different quotes and some even share their own positive quotes such as "The sun always has a bright side"
Alongside this, they produced wonderful 'positivity posters' which they kindly shared. It was so wonderful to see the children celebrating their thoughts about themselves positively and it is something the Year 3 teachers hope they can remember if they ever feel less than cheerful.
Whilst covering the curriculum, Year 3 have been introduced to division in maths. They have tackled challenging concepts including understanding that sometimes there are remainders. Meanwhile, in science they investigated soil in science as part of the unit 'Rocks'. They looked at how different types of soil could break down and they types of soil including which soil is best for growing crops and plants.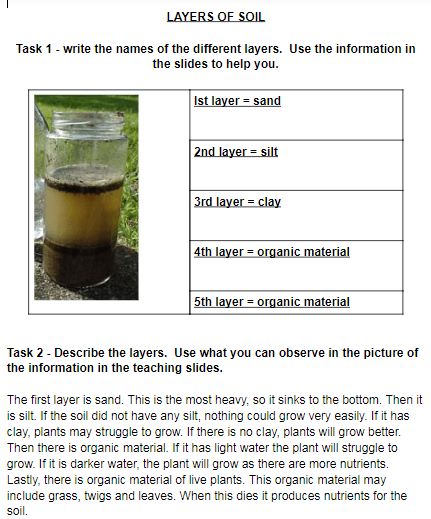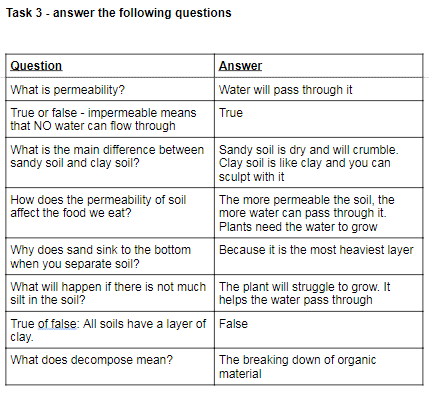 In addition, they continued to study Christianity in RE. They looked at the Ten Commandments and discussed whether they think that all the commandments relate to Christianity or if some are 'basic rules of life'. For instance, the commandments surrounding lying, stealing, cheating and hurting others were understood to be wrong, along with the idea that you should 'respect'.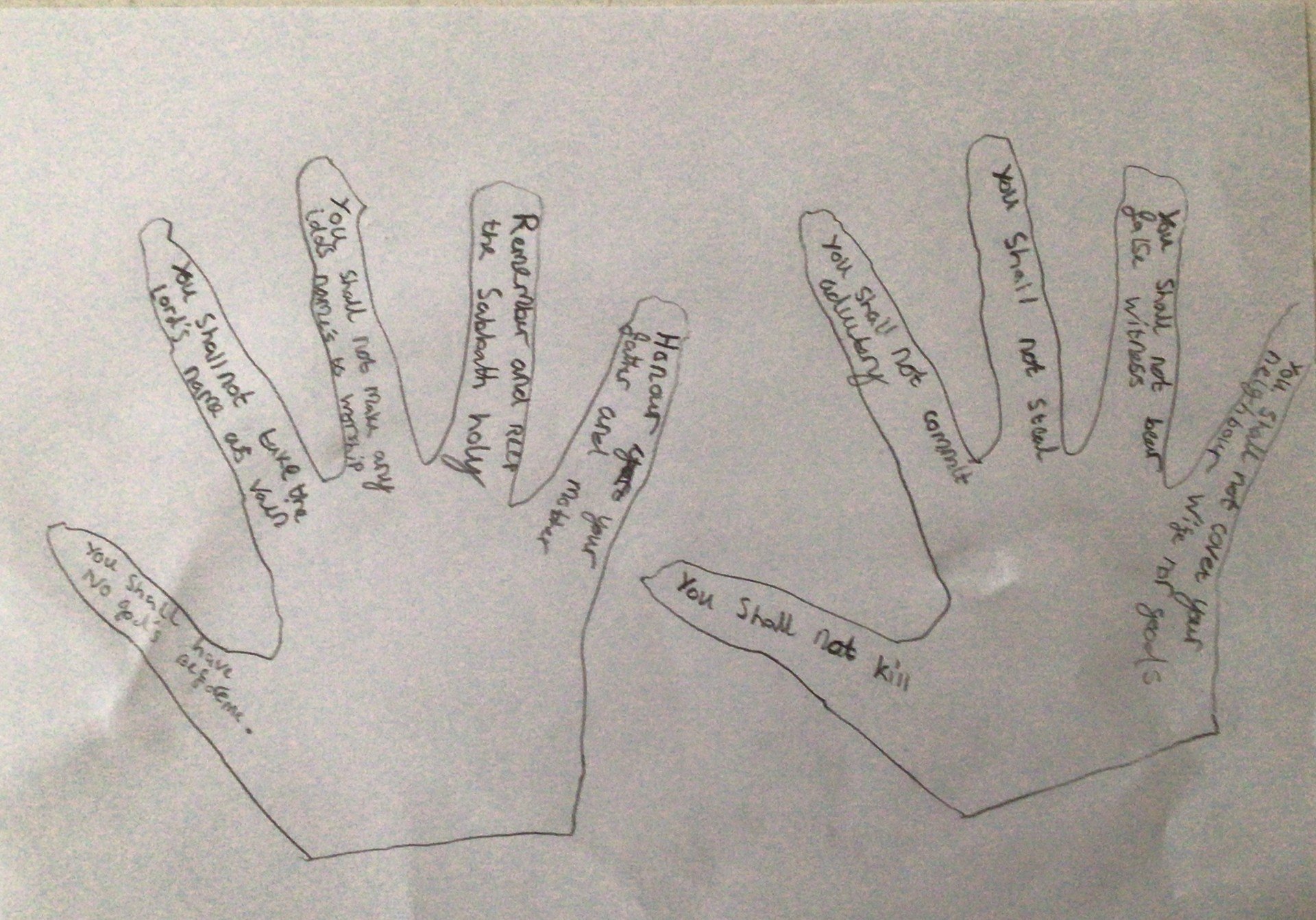 Take a look at what Year 3 have done on their Personal Passports this week: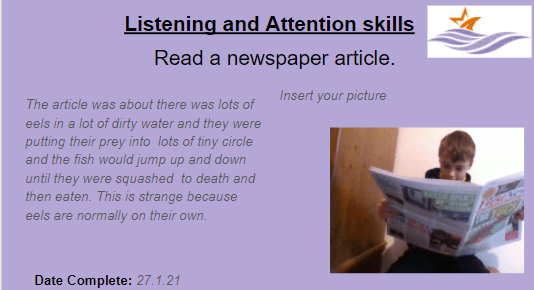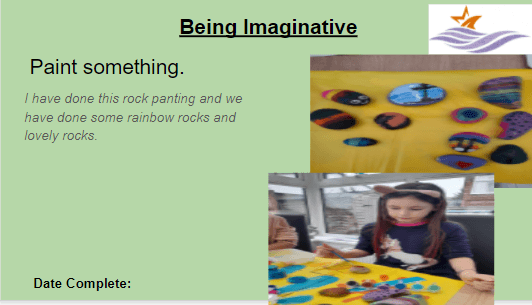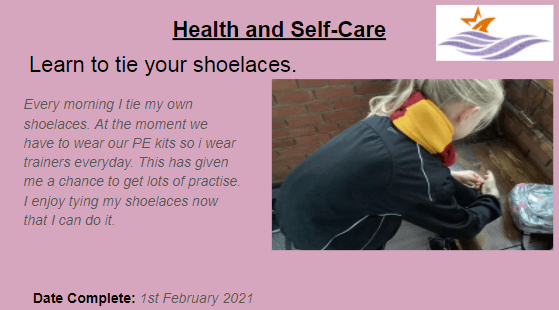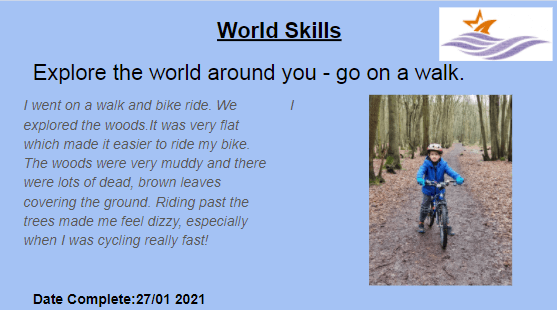 Well done again Year 3. Have a good weekend!
Week beginning: 25.01.2021
This week in Year 3, the children have completed their 4th week of remote learning which has continued to go from strength to strength.
In English, alongside working on spelling and grammar, they have learnt more about Ahmet's experience and family in the class text 'The Boy at the Back of the Class'. Discussions in the online classroom have included some tricky topics which the children have thought about maturely. Following on from this, in geography, Year 3 researched information about some of the countries that were important on Ahmet's journey from Syria to Britain. They answered the questions including: What continent is it in? Is it nearer to the equator or the poles? What would you see here?
On top of that, the children completed their first cross-curricular maths lesson of this term. They applied their knowledge of column addition and solving problems to a Tudor banquet! They planned a banquet fit for Kings and Queens whilst also learning more about the ways of Tudor Britain (including currency and why they had banquets).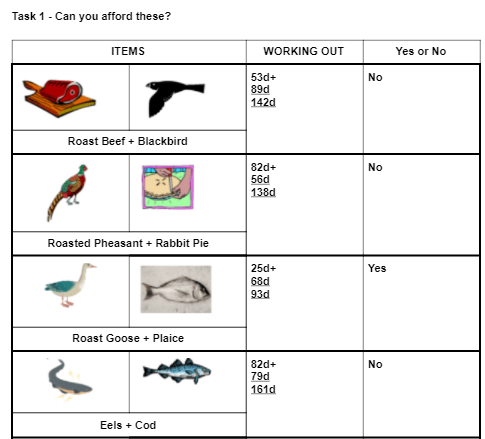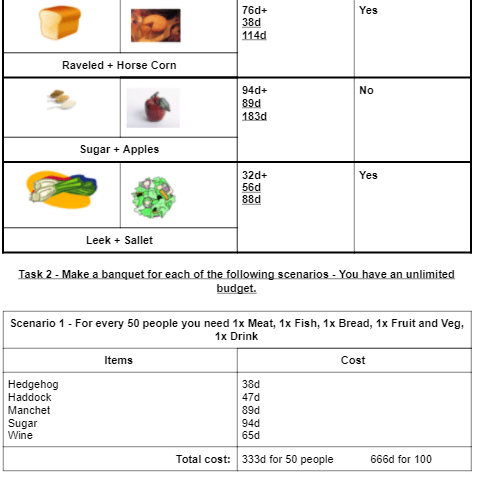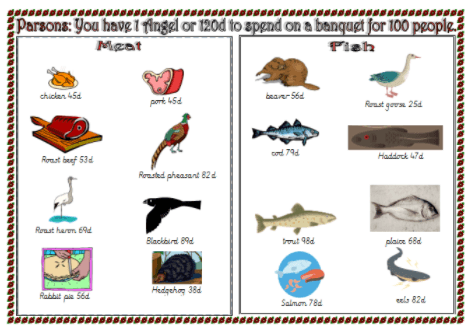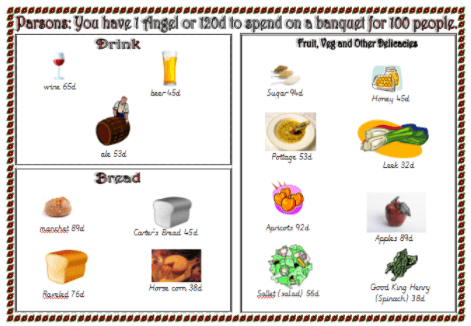 Excitingly, this week the 'Personal Passports' were launched. On Wednesday afternoon, the children had time away from their screens which is important for their wellbeing and completed an array of fun activities from the bronze pathways (some even as family activities)! During this time, they were working on skills such as:
Listening and attentions skills
Health and self-care skills
World skills
Being imaginative
Have a look at what some of 3MC got up to this Wednesday which include: building something out of lego, spotting animal footprints, hunting for bugs and going on walks.
Week beginning: 18.01.2021
This week in Year 3, the children have got into the swing of their online learning and have produced fantastic pieces of work as well as shown determination and even more importantly, their wonderful personalities.
It is brilliant to catch up with them each day and to see what they have been up to, their latest favourite toy/book or what ingenious creation they've made at home. As usual, the children have been their kind and supportive selves and continue to support their peers, even virtually.
In history this week, they learned about Henry VIII and his 6 wives, which linked to RE as they discussed what the English Reformation was. Inspired by this, they sketched crowns as an 'empowering' object and applied the skill of sketching in art. The children also trialled adding tone by using the technique of hatching.
Meanwhile, in PSHE, Year 3 looked at how exercise is vital for a 'healthy me'. They applied their scientific understanding of the human body and thought about happens to the heart, blood and lungs when exercising. They created fitness challenges which they are aiming to work on and can work to see if they can improve their fitness. Just as importantly, some time was taken to focus on mental wellbeing as well as physical. Now, more than ever, 'taking time for you' is crucial for wellbeing and the Year 3's maturely took part in an activity reflecting on what they were grateful for.
In comparison, in English they have continued to read and discuss 'The boy at the back of the class' in which Ahmet has begun to speak English and has made friends at the new school. Linking to this, Year 3 have written diary entries from the perspective of a refugee. They focused on using the key features such as: first person, past tense, using vocabulary to add description and feelings and in chronological order.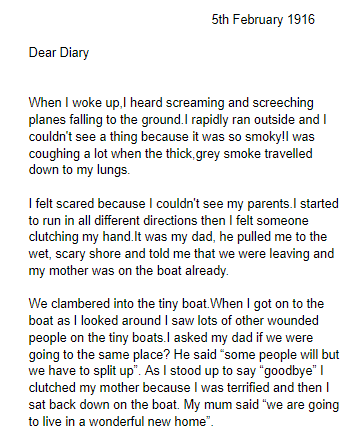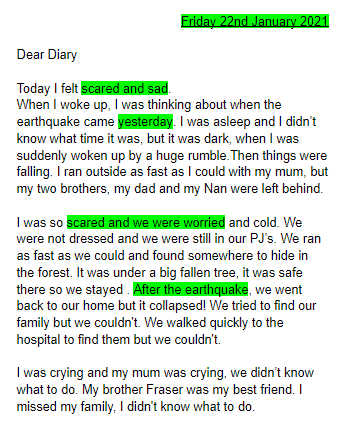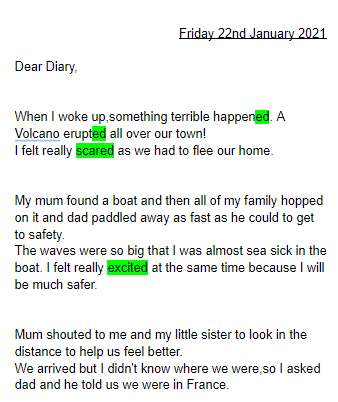 Well done Year 3. You should be proud of yourselves yet again.
Week beginning: 11.01.2021
This week in Year 3, the children have continued to read and discuss 'The boy at the back of the class', the class text. One of the main characters, Ahmet, is a refugee and has joined a new school. As part of the topic of 'Empowerment', alongside the class text, the children have demonstrated compassion during reading sessions whilst discussing Ahmet's experiences so far. In English, Year 3 have learnt all about cinquain poems which are short but impactful poems using a range of adjectives, verbs and descriptions of feelings, to write about refugees.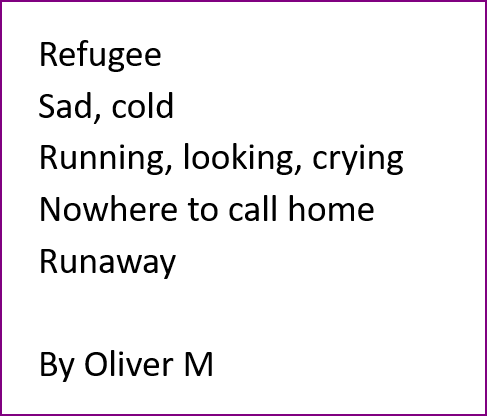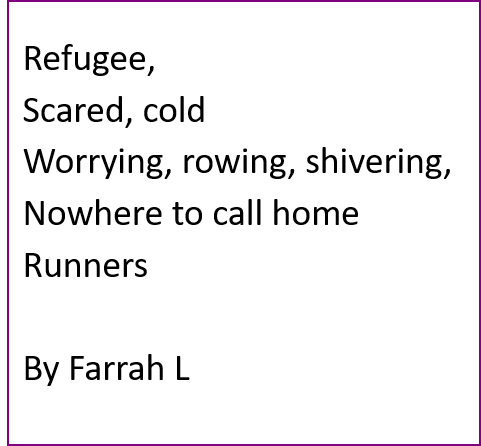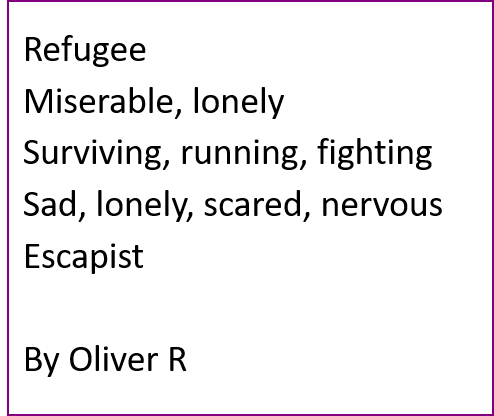 In history, the children learnt about key dates in British history and interpreted timelines to answer questions. Some of these events were: the Industrial revolution, the Titanic sinking and women over 21 being able to vote in 1928. It was important that they understood which events happened at what point in history to develop their chronological understanding. Meanwhile in science, the Year 3's were contacted by Dr Sarah Stone, from the British Rock Society to help track down types of rocks in the local area! They shared their knowledge of different rocks and some even shared their collections/findings!
Each day in maths, Year 3 have worked on multiplication and division which has been helped by lots of practise of times tables on Times Tables Rockstars. They have shown perseverance whilst learning a new times table for some children and independence for others - both core values of the school. Also, in Art, the children created mindfulness patterns whilst empowering their minds after discussing how important it is to stay calm and focused - after all, we are all in control of our own lives.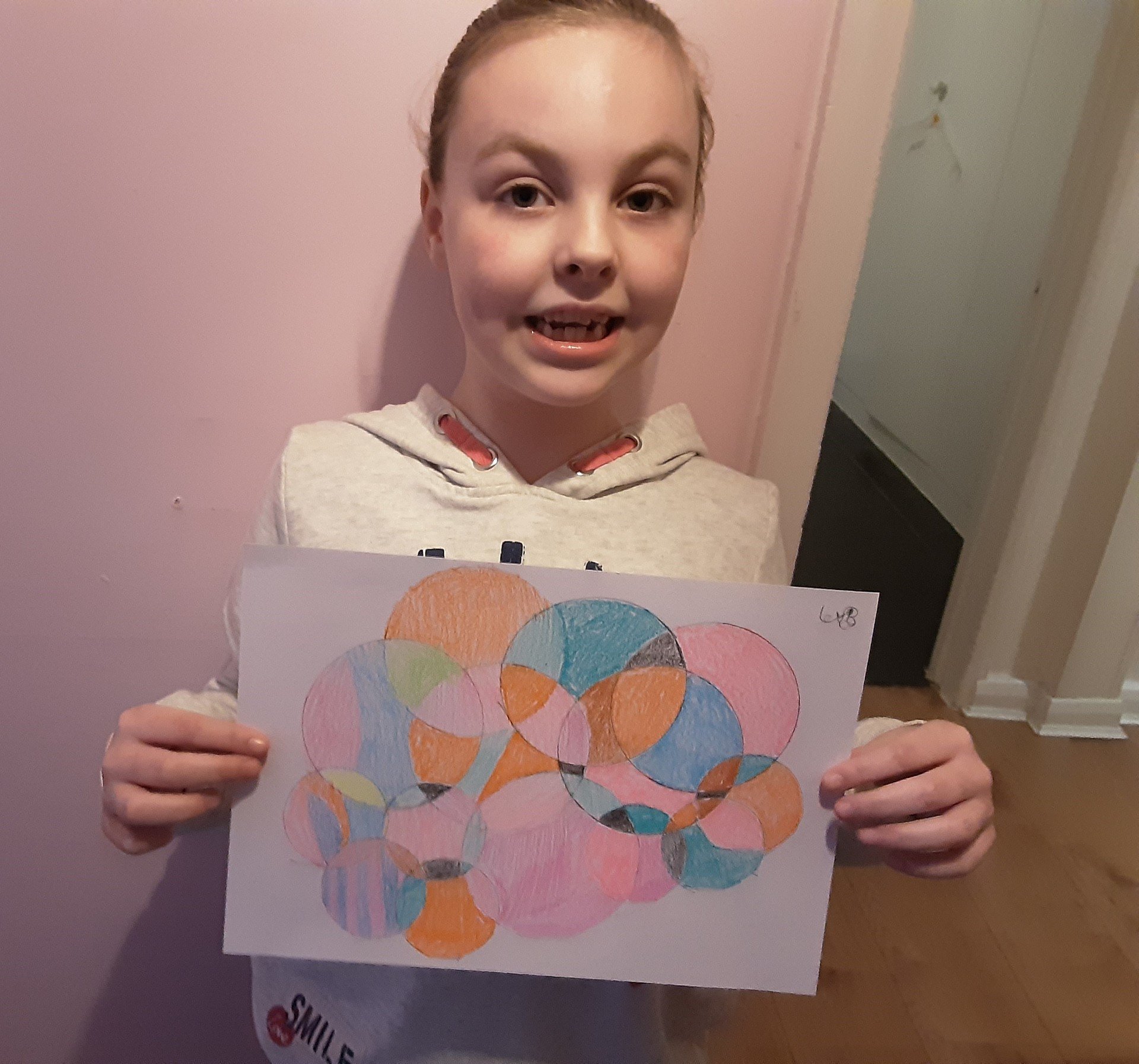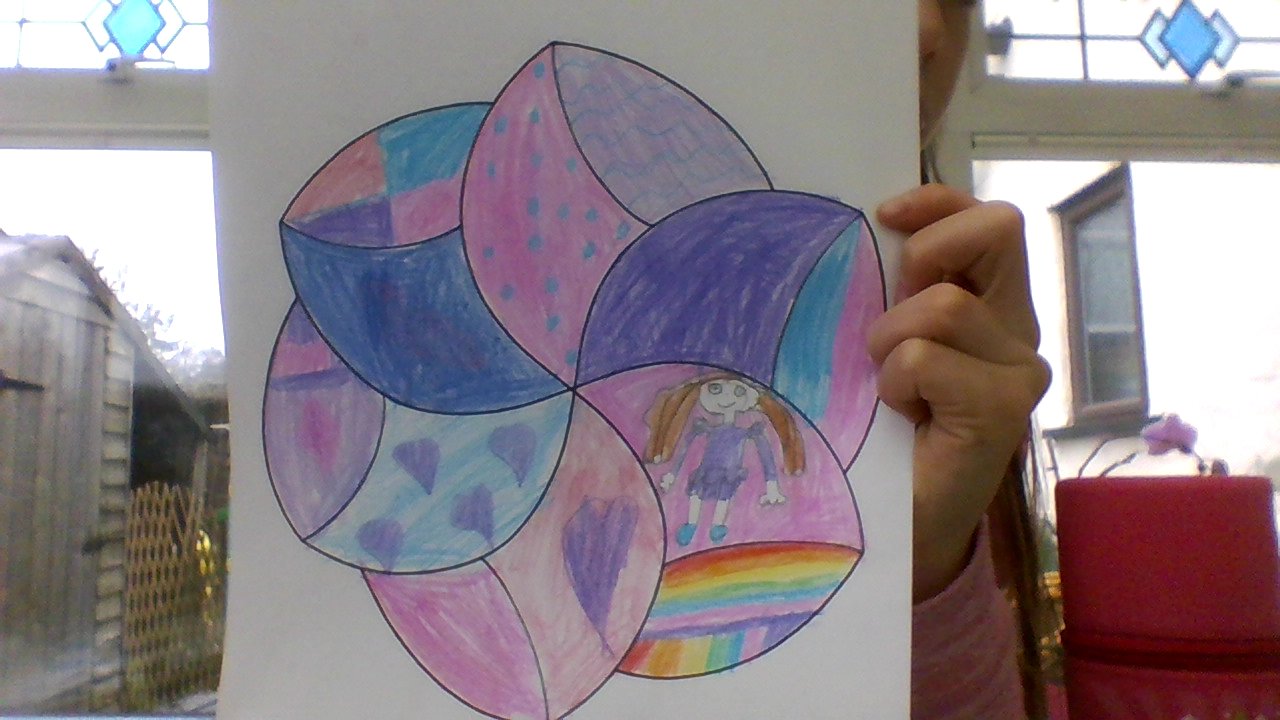 Yet again, a wonderful week of work from Year 3.
Week beginning: 04.01.2021
Welcome back to our Year 3 blog!
This week, it has been a new experience for our school with the move to remote learning throughout the school day.
The Year 3 team has been so impressed with the mature attitude shown by the children this week. Again, they have shown resilience and have adapted to our new way of learning with ease and maturity. Well done to each and every Year 3 - every single pupil should be proud of themselves.
As an introduction into our spring topic 'Empowerment', we shared ideas and thoughts about being different and how to celebrate that. The Year 3's discussed what it is to be 'empowered' and how people can change the world as a result. They also shared how they would like to change the world including; being kind to everyone, looking after the planet and helping to invent new ideas/items!
Whilst learning about this in our hook activities, they also learned about stereotypes and showed our British Values of 'mutual respect' and 'tolerance' by showing that they could be open-minded whilst respecting, and changing their views. Creatively, the children also made their own crowns on Thursday afternoon after talking about how Monarchs can make changes in the world! Hopefully, the Year 3's are feeling inspired and motivated to do their bit to make the world an even better place and they have wonderful ideas for the future!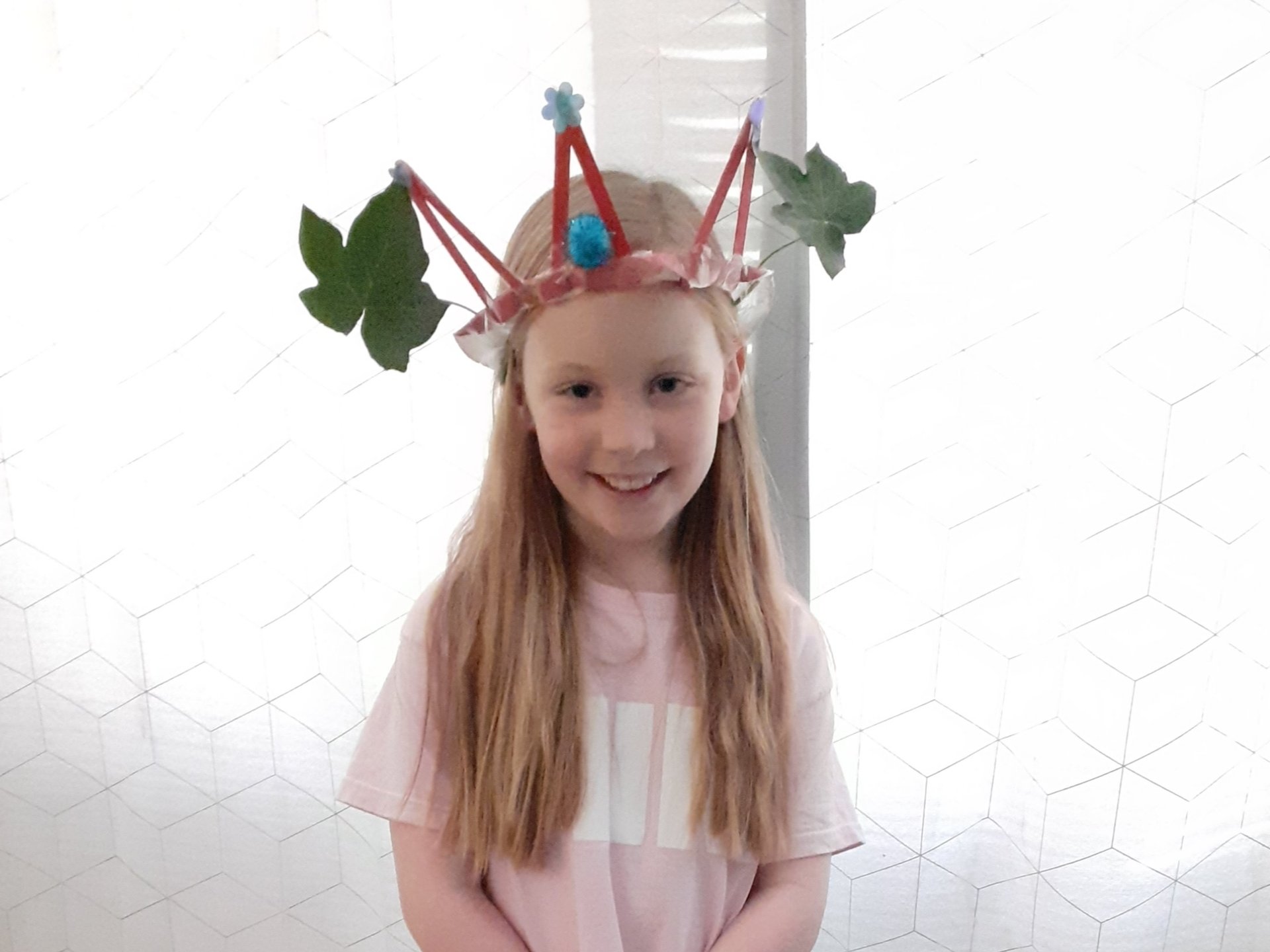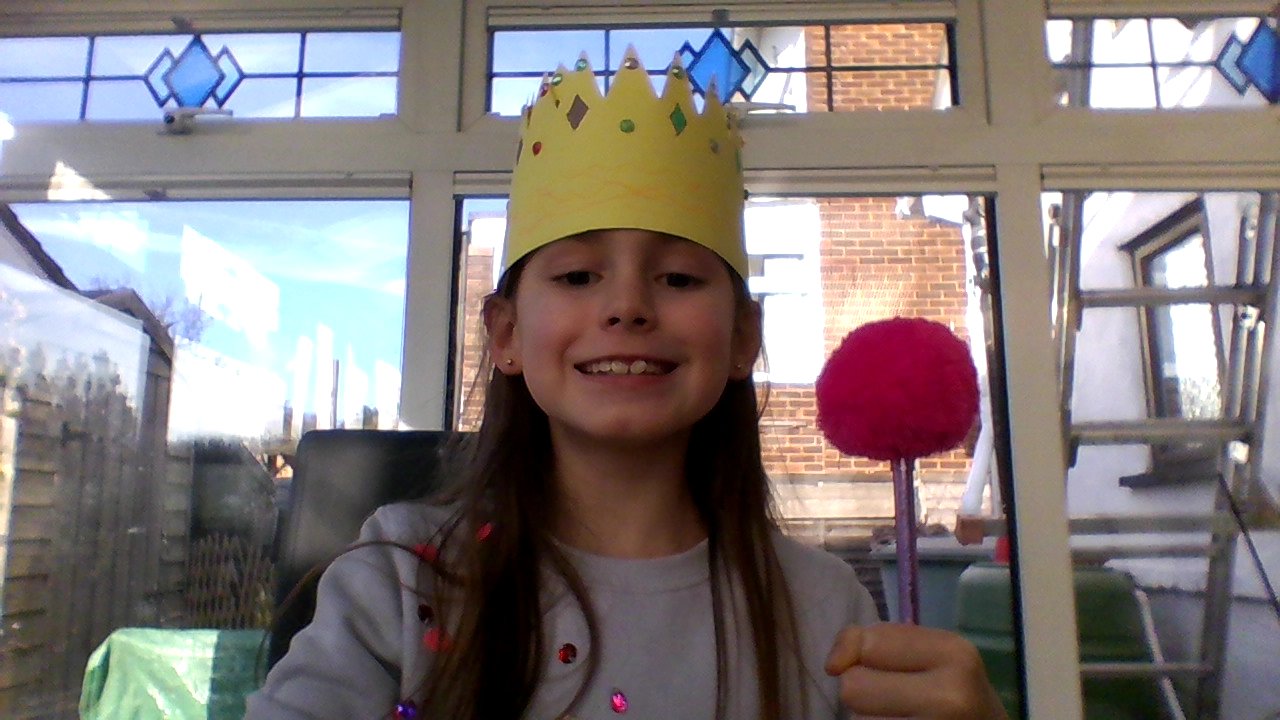 In addition, in history the children began learning about chronology and did so by reflecting on events in their own lives. They then represented these events on timelines - including some very creative representations!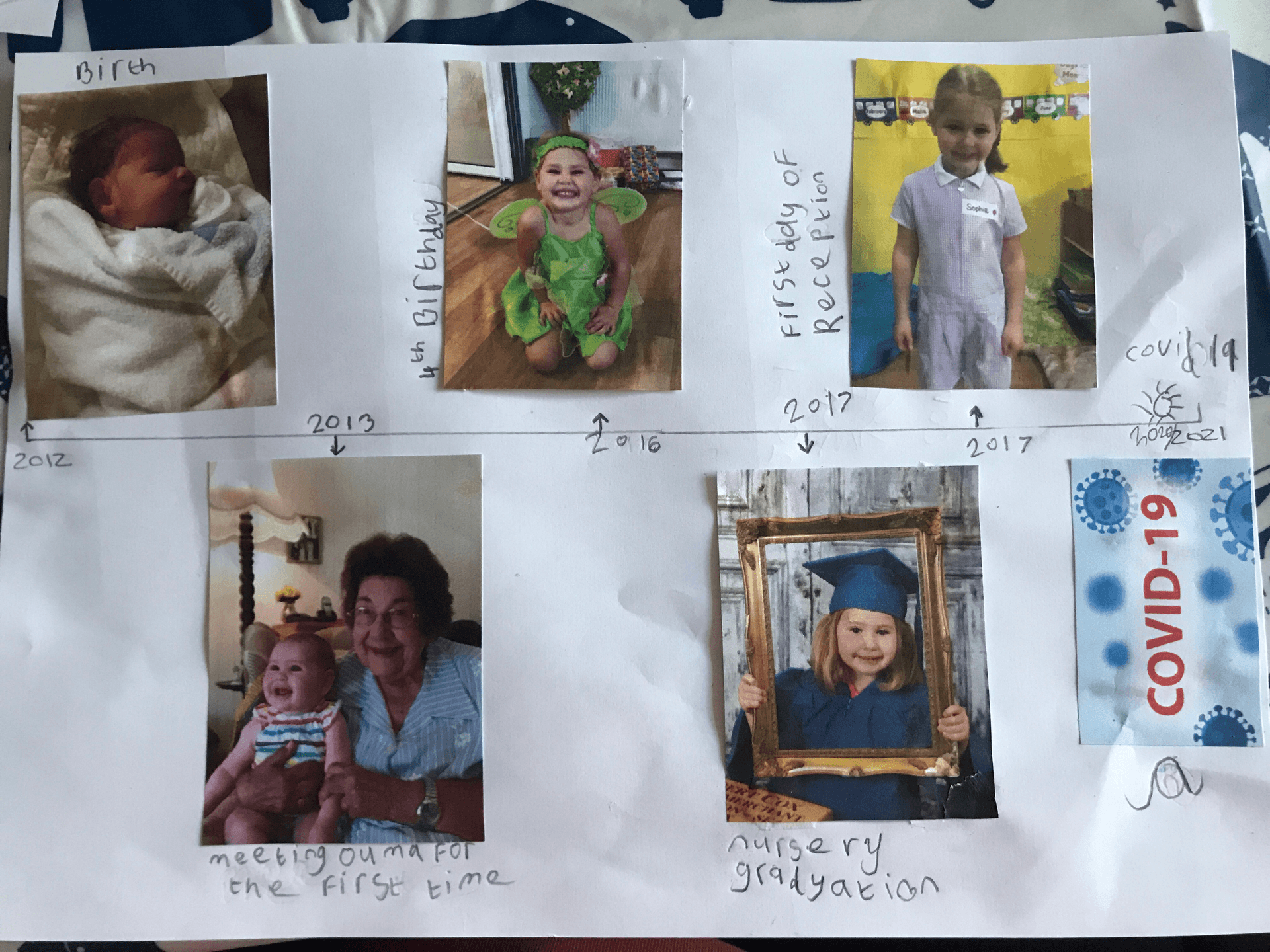 The new class text 'The boy at the back of the class' has been started too, which is all about Ahmet and his experiences joining a new school.
Well done for our first few days back Year 3. Take care and stay safe.
Week beginning: 14.12.2020
This week in Year 3, the children have continued to work hard in their final week of the Autumn term – and what a unique term it has been! The Year 3 team are so proud of how well the children have settled into a new school and adjusted to a new way of Education. It has been a joy to see their smiling faces each day and lovely to see the compassion shared between peers during trying times.
In Year 3, 3RS and 3MC continued designing and creating their cushions for an explorer. Miss Clark was especially impressed with children in 3MC who were able to sew their cushions independently, whilst learning at home! In 3IC, the children learnt about the Battle of Hastings and discussed how the Normans were explorers, as they ventured to Britain. They also learnt about Amelia Earhart – an American aviator - whose legacy remains to this day!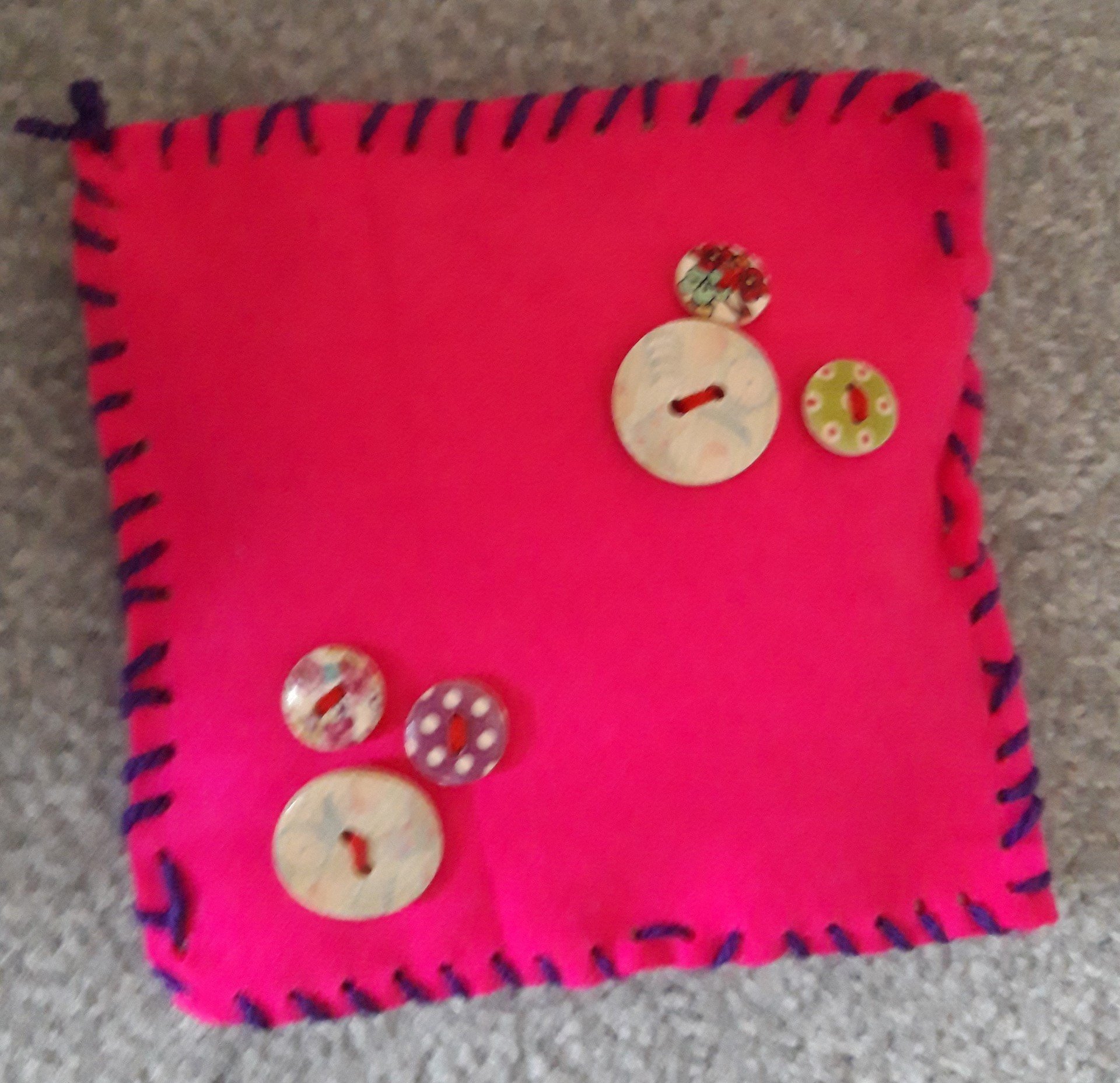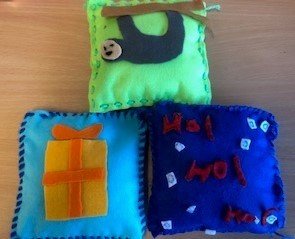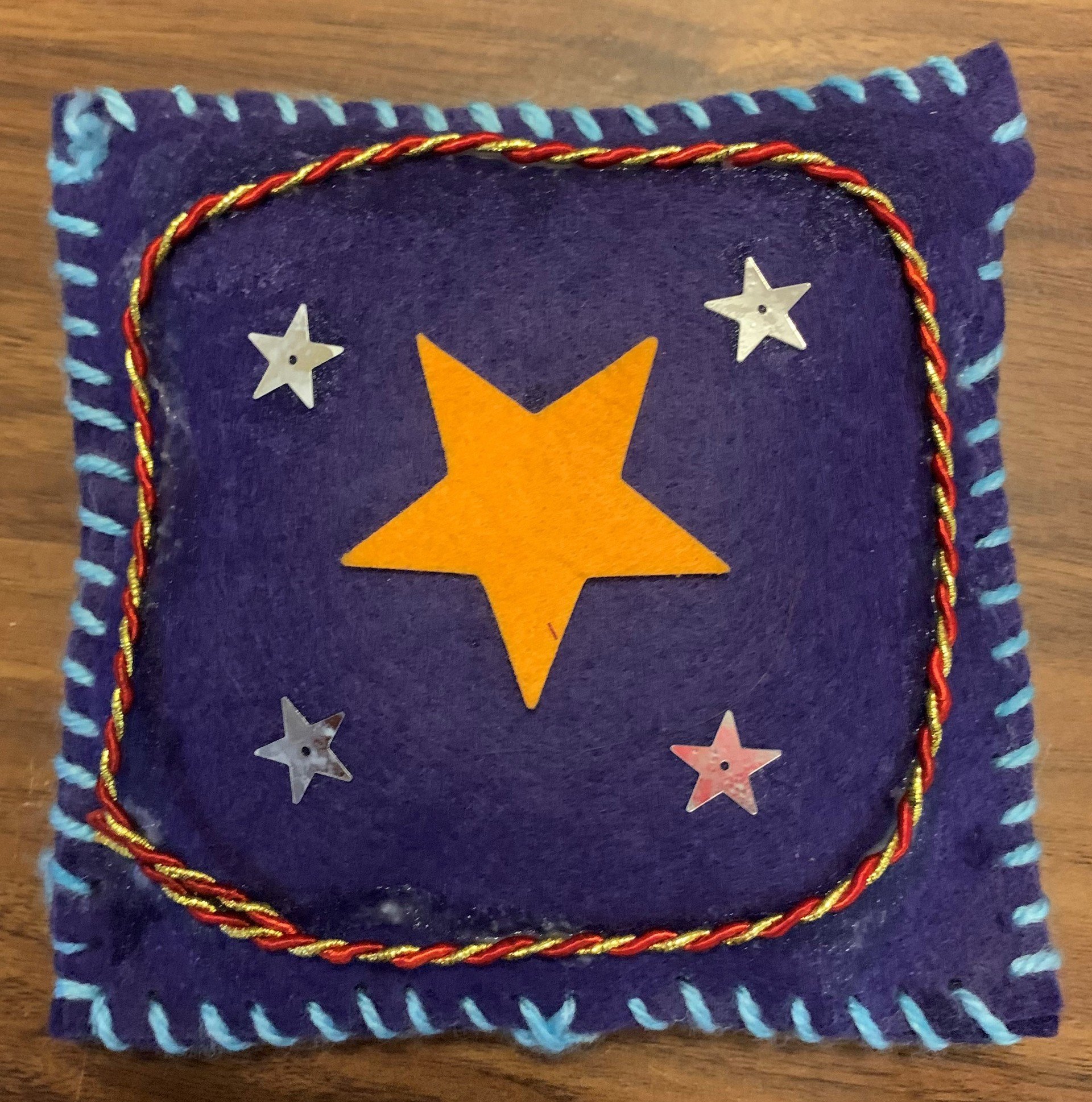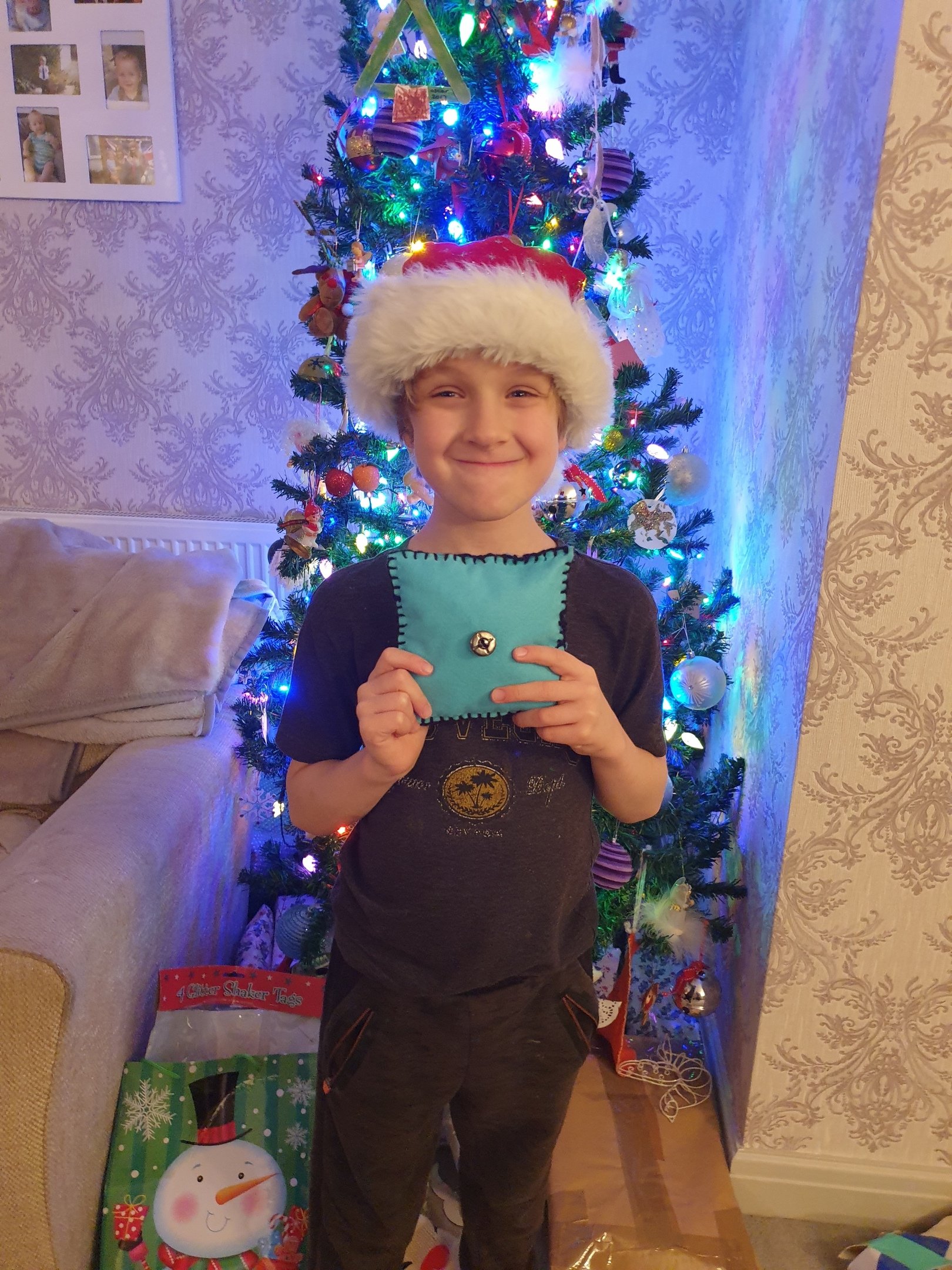 Alongside this, the children continued with festive fun alongside lessons. This included creating Christmas pictures and cards in class, whilst wearing Christmas hats and listening to Christmas music. In 3MC, the children typed letters to be sent to residents of a local care home too which will hopefully brighten the days of those reading them! Year 3 also had Christmas parties on Friday which was the perfect way to end the term.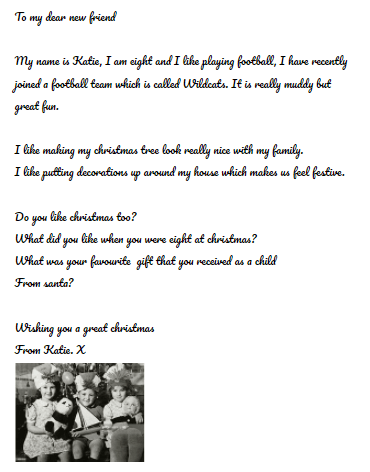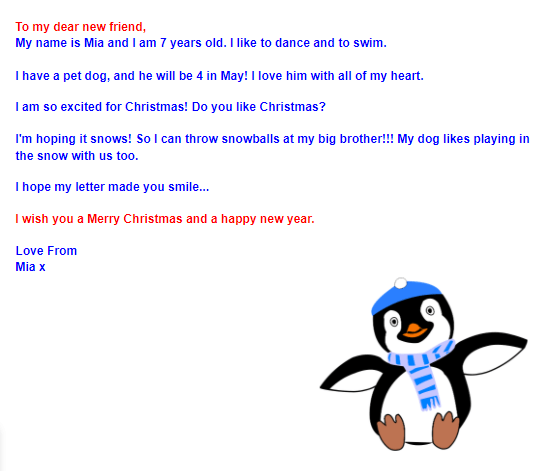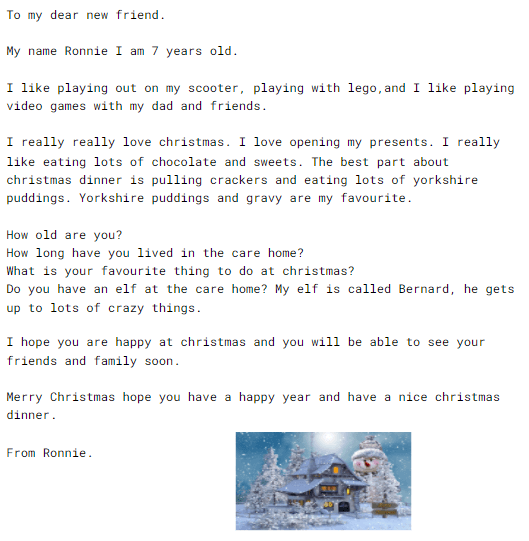 Wishing all of Year 3 and families a lovely Christmas and a Happy New Year!
Take care and stay safe.
The Year 3 team
Week beginning: 07.12.2020
This week in Year 3, the children have neared the end of their Explorers topic during our learning. They have written up their Rainforest explorer narratives which have been inspired been the class text, the Explorer! In their stories, the explorers have discovered new lands and encountered dangerous moments where they had to overcome challenges. The children have used lots of description to describe their characters as well as the settings.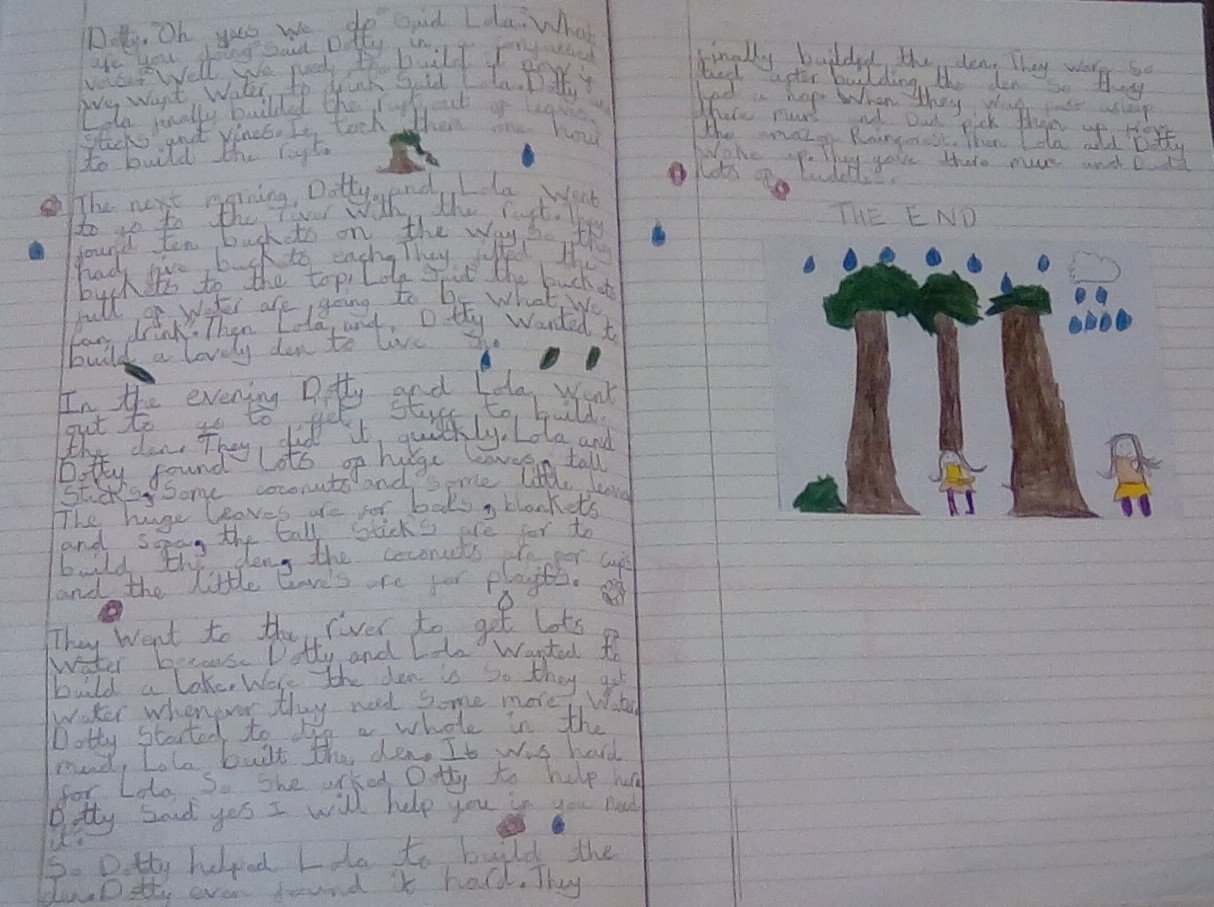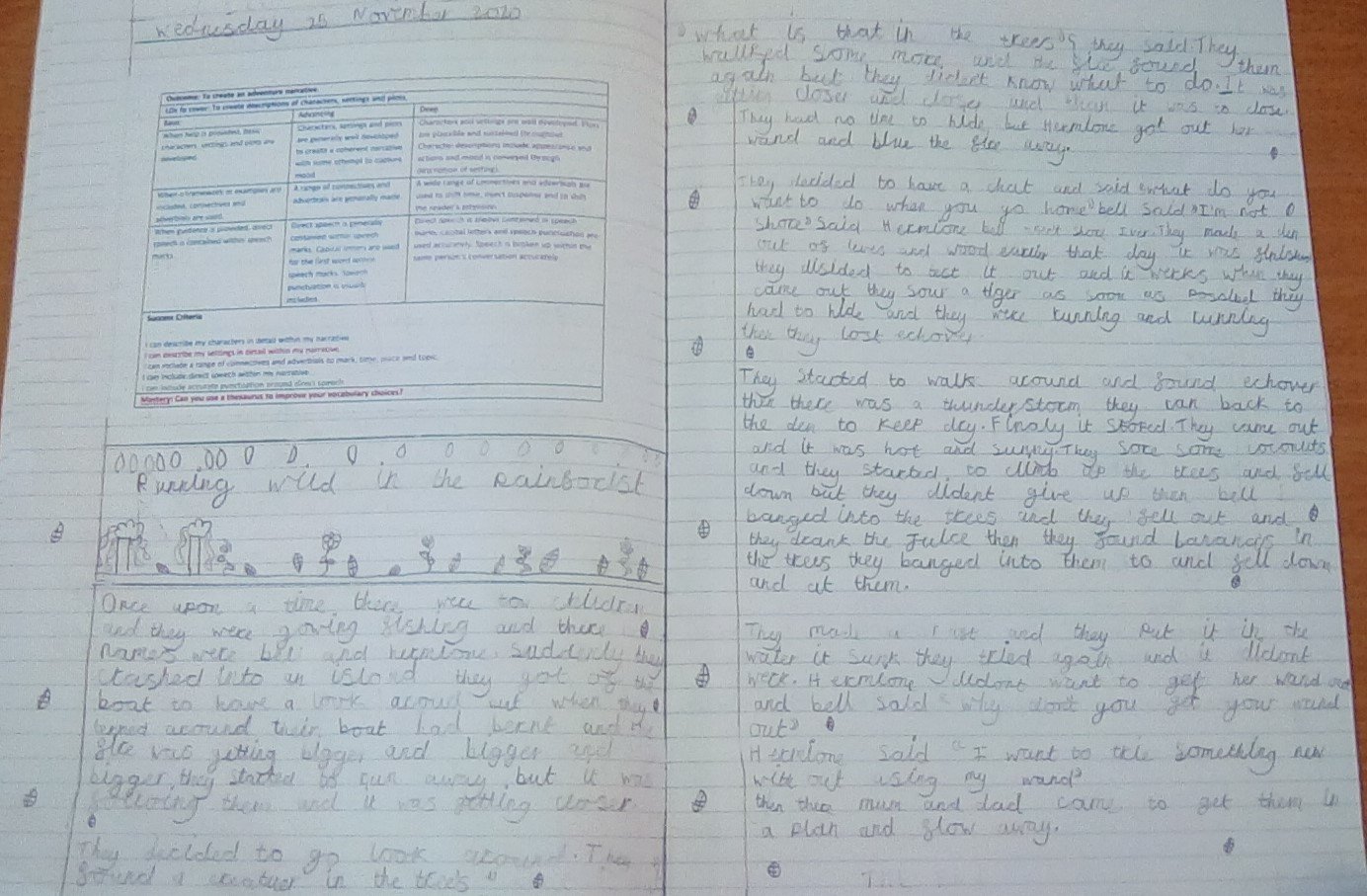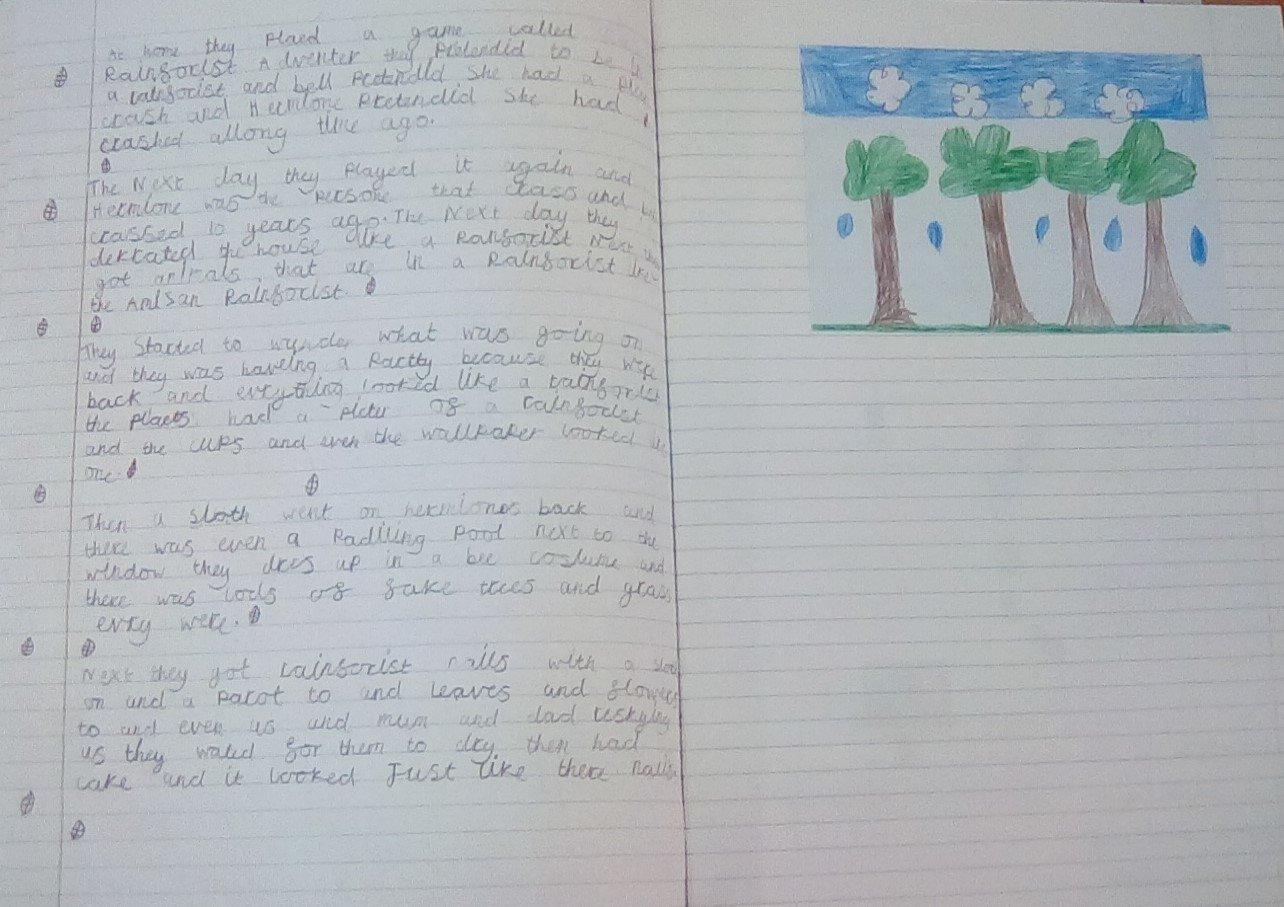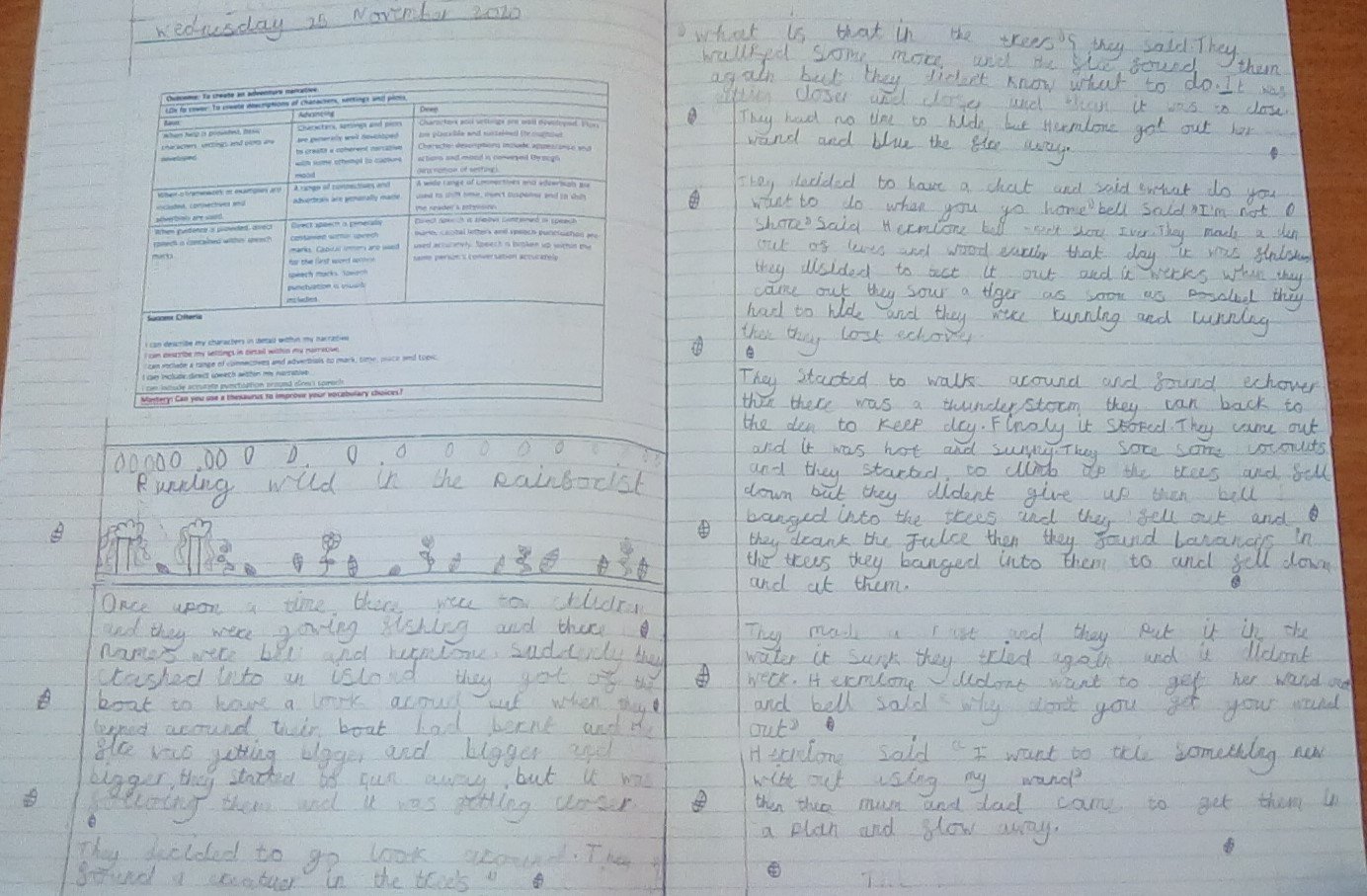 On Wednesday, the children had their Christmas dinner which involved a Christmas film and a dance in the hall in their bubbles. The children were so well behaved and they loved the dancing and a chance to be together. On top of this, they completed festive fun including making paper chains where they had loads of fun!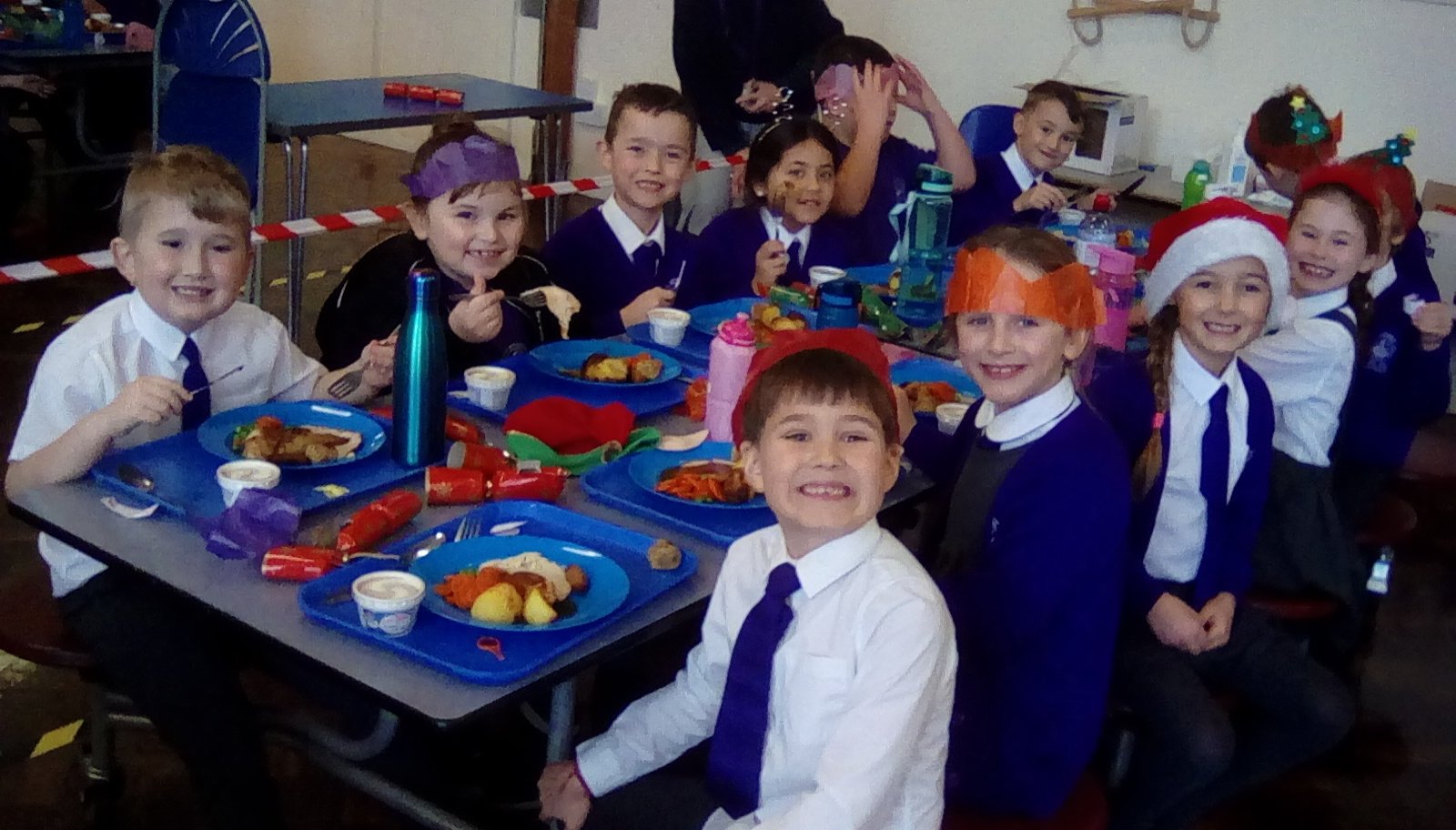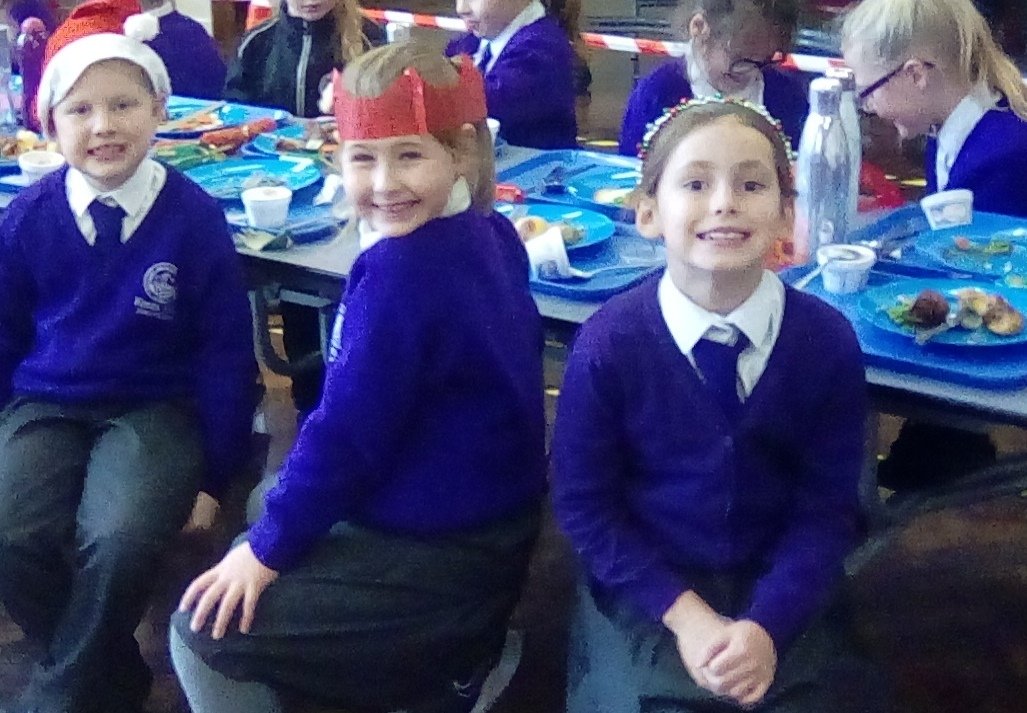 In addition to this, they have learnt about Amelia Earhart in history! Amelia Earhart was a famous explorer who was the first woman to set world records flying around the world solo. The children thought about how exploring can include by air, as well as through exploring on expeditions.
Well done again for another good week Year 3.
Week beginning: 30.11.2020
This week in Year 3, the children have shown incredible perseverance during our assessments. They have tried their very best and showed resilience which is a very important skill to develop. On the flip side, they have had lots of fun beginning the festivities now that it is December!
As an alternative to the letterbox for Christmas cards this year, the children have created their own Christmas postcards which are displayed in the hall! During this task, the Year 3's have shown compassion whilst writing kind messages on their post cards including addressing the postcard to peers, teachers, whole classes; some children even wrote their postcards to thank members of the community including the NHS, police, fire fighters, carers and even scientists, who have all been working especially hard this year. Afterwards, they decorated the postcards with the only way to do so at Christmas time – with glitter and sequins! In addition, they have also contributed to the whole school activity of creating a decoration for the school Christmas tree. They carefully painted and decorated (again with sparkles) their stockings in their colours of their Houses: Vikings, Saxons, Normans and Danes. The children will all get to see their beautiful decorations hanging from the tree and read the messages from their fellow Kents Hill students during the Christmas dinner and dances next week.
Alongside all of this, the children have continued to work hard across the curriculum such as in music, they used the glockenspiels to play along to a tune and then began to improvise using counts of 4. In the next lesson, they will apply this knowledge to composing their own music using the glockenspiels.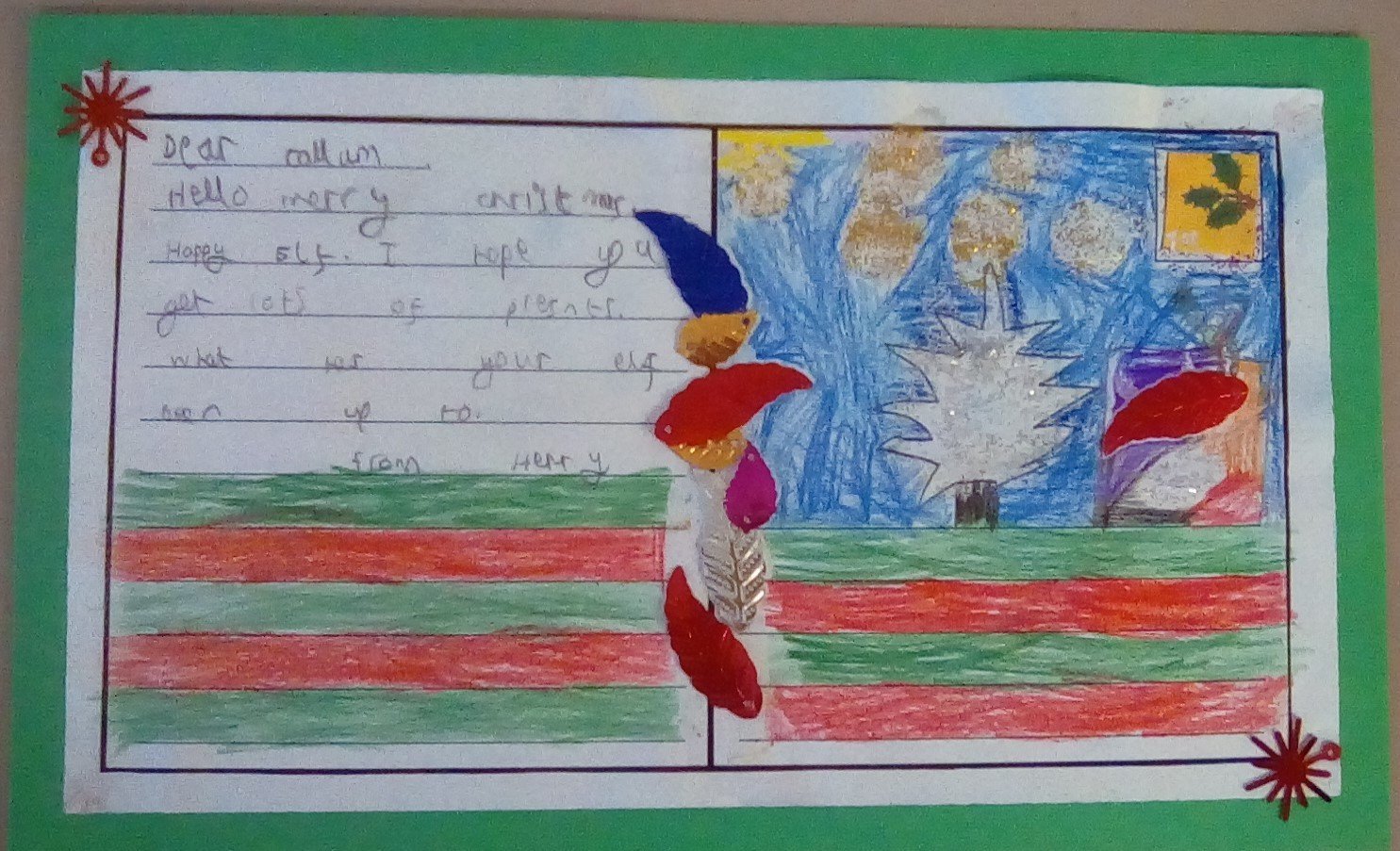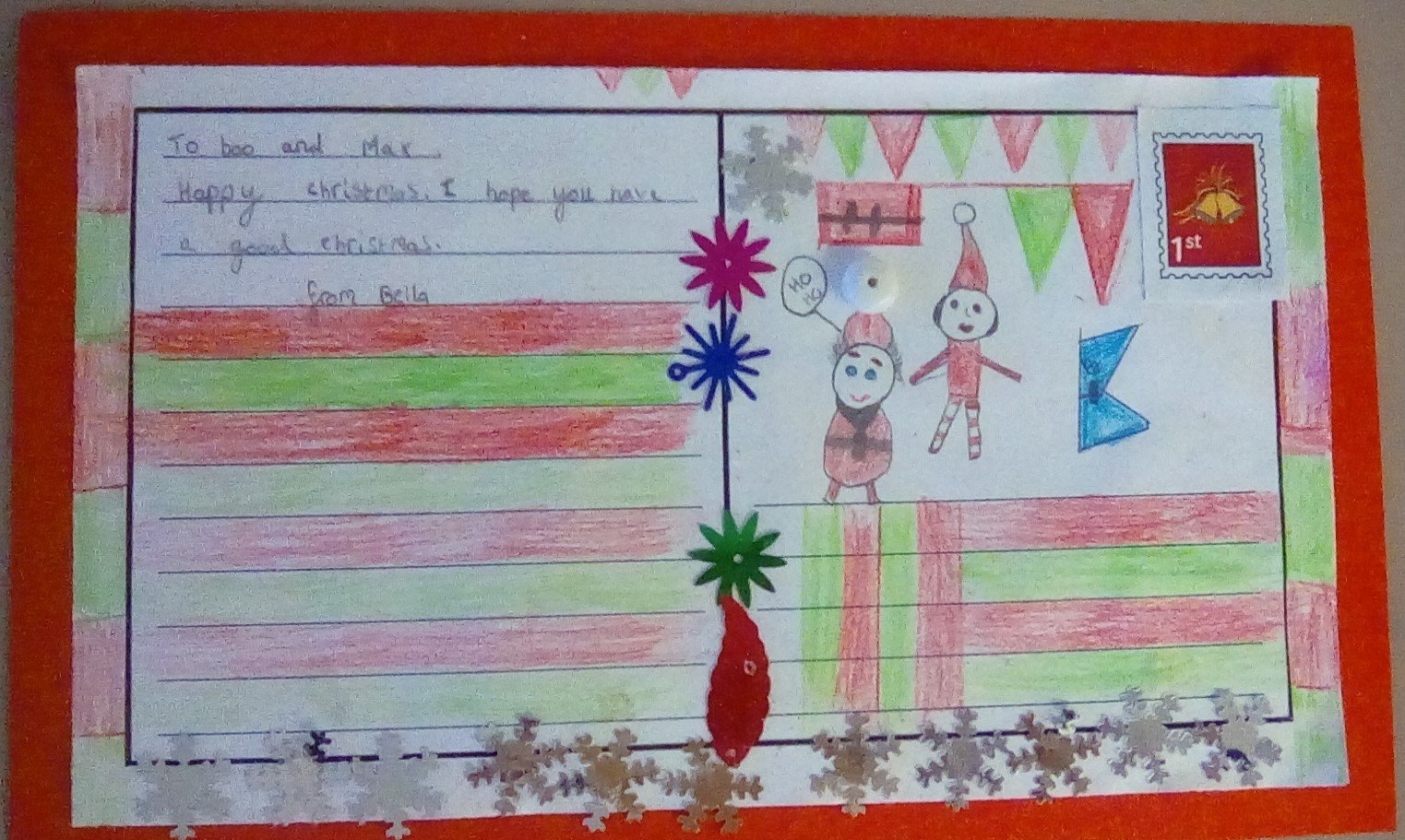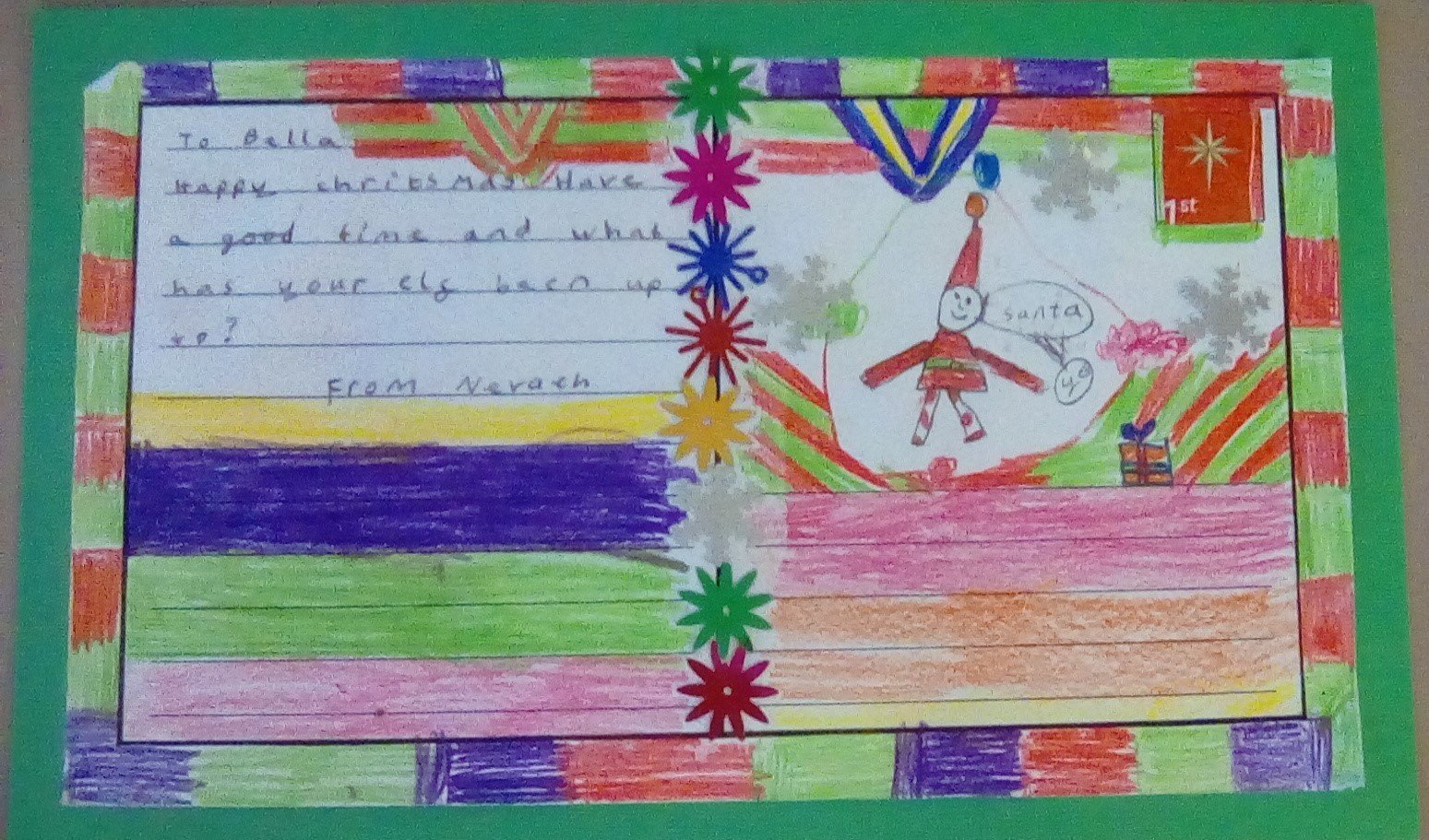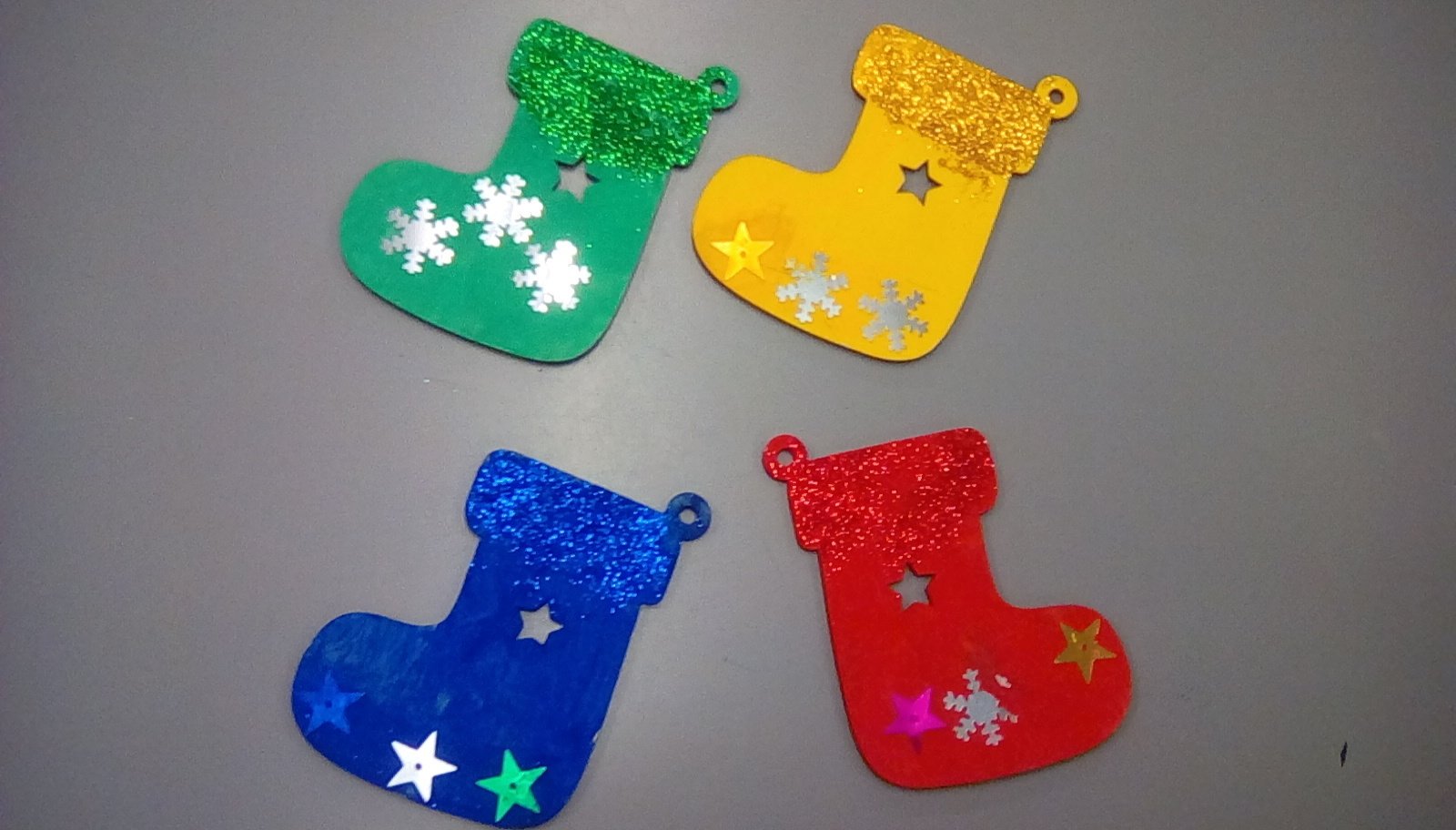 Week beginning: 23.11.2020
This week in Year 3, the children have very nearly finished the class text – The Explorers. They have loved hearing about the adventures of Con, Lila, Fred and Max and used their stories to inspire their writing. All three classes have now created Amazon Rainforest collages using an array of techniques for creating different textures with tissue paper such as: twisting, pebbling, scrunching and overlaying materials using the tearing technique too. The children have thought carefully about the effects they wished to achieve and created beautiful collages.
On top of this, in maths, they have continued to try hard and apply their understanding of operations to calculations involving 3-digit numbers. Year 3 have even been able to solve problems using the inverse operation, showing clear understanding of both addition and subtraction.
Furthermore, in reading lessons, alongside reading 'The Explorer' our theme has been focused on hearing impairment this week. The children shared their personal experiences of friends/family with hearing impairments and they learnt ways to communicate clearly through Bessie-Belle's experience in the story 'Freddie and the fairy'. These top tips included: not mumbling, speaking clearly and facing someone when you are speaking to them. The children demonstrated understanding and compassion, which is one of the schools' core values.
Lastly, in PE, the children have worked on their fitness this week. This has included exercises focused on cardio such as jogging, skipping, running and other team challenges, as well as circuits including squats, bunny jumps and high knees. This certainly got their blood pumping! Great effort Year 3!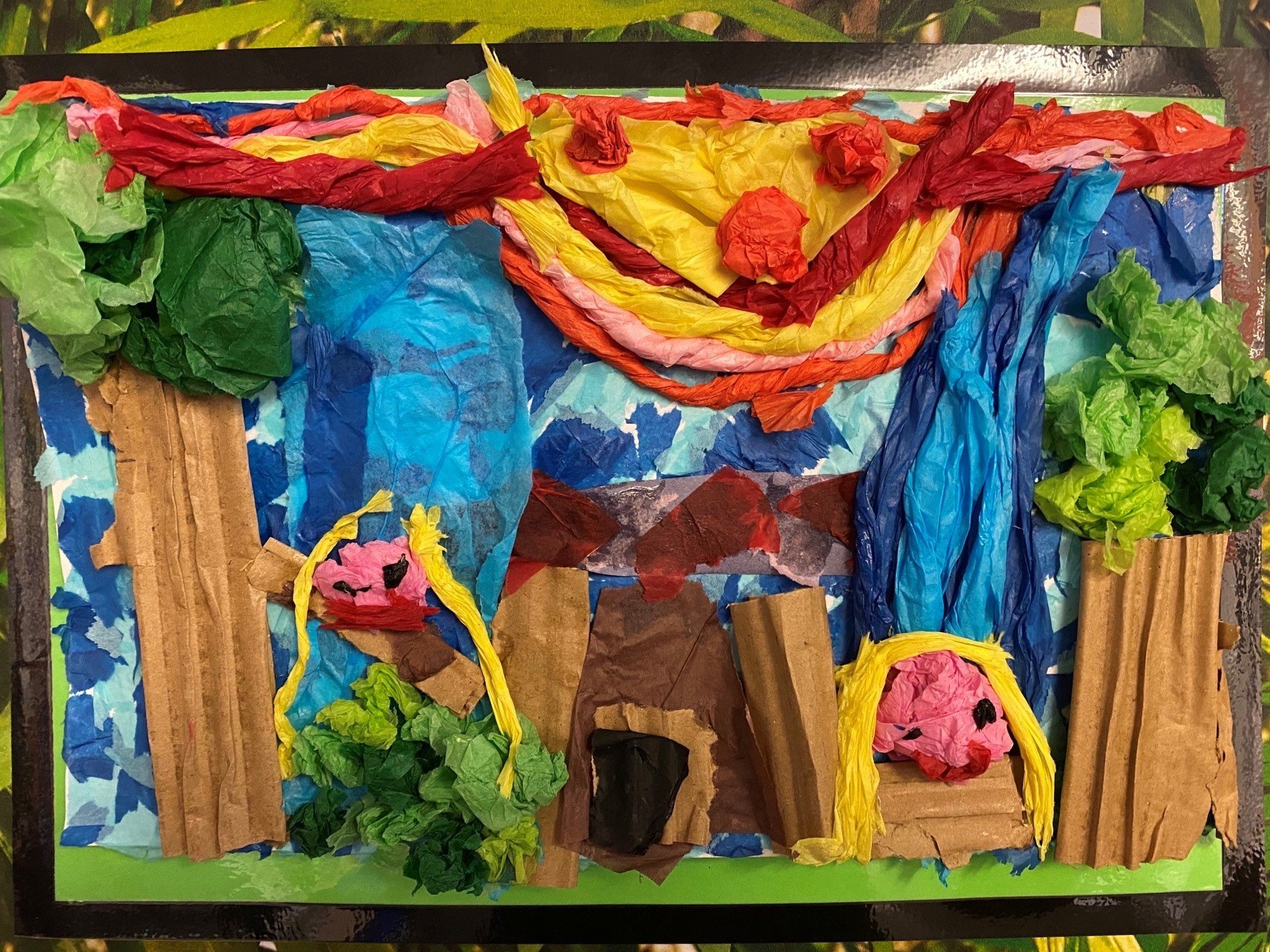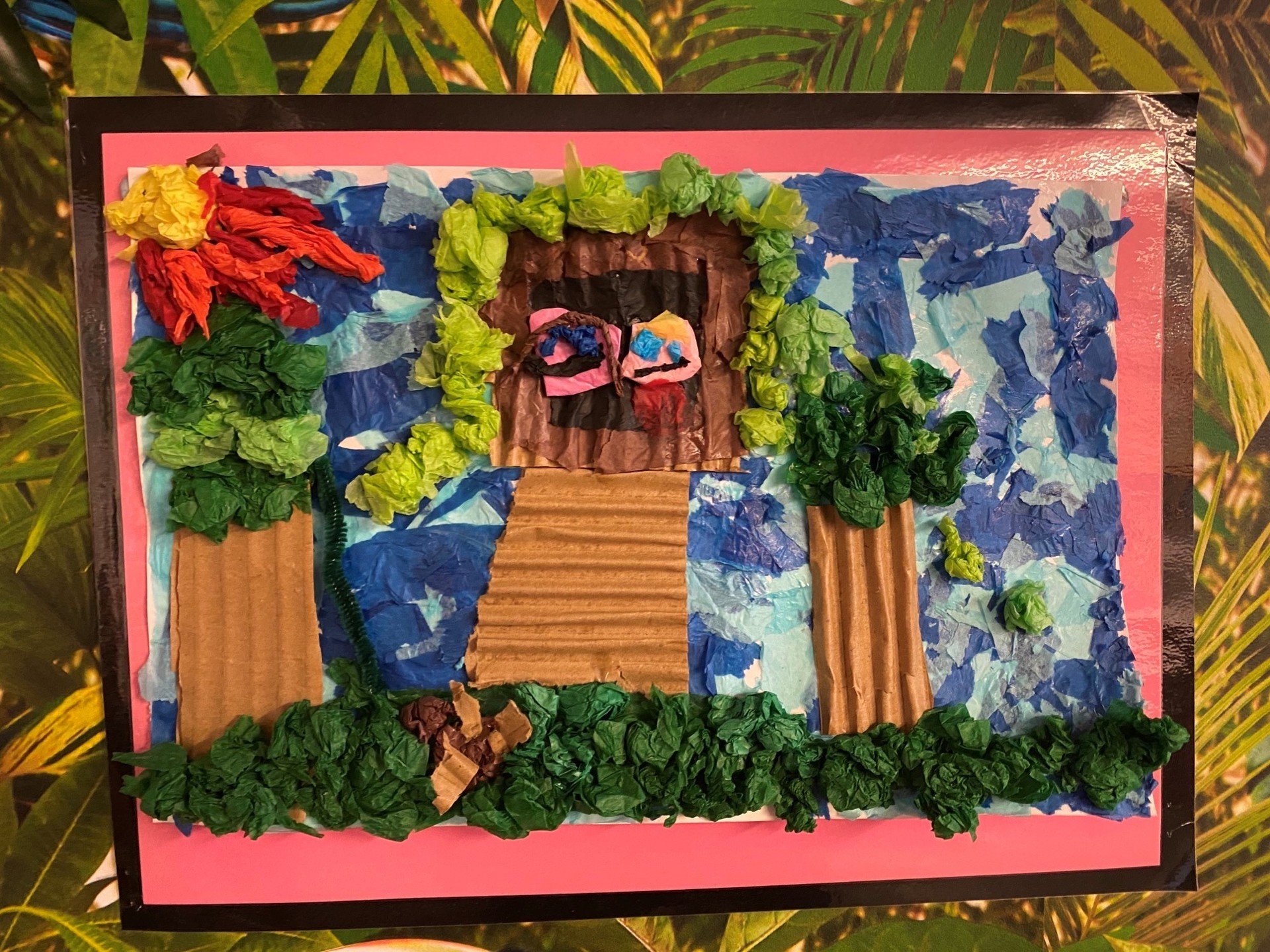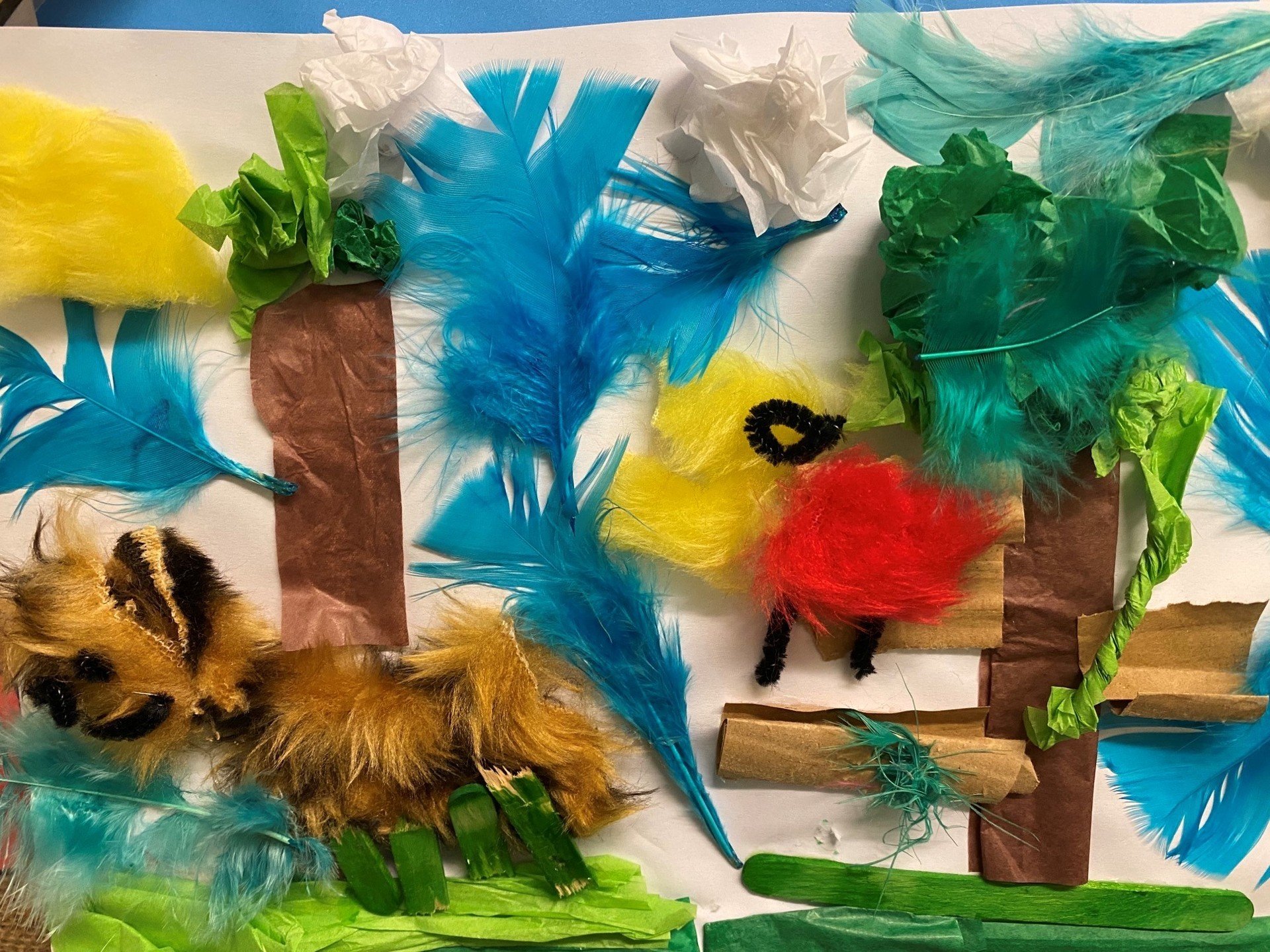 Week beginning: 16.11.2020
This week in Year 3, the children have continued learning about plants in science in some of the classes. They studied the parts of a plant and labelled the functions of each part beautifully in their science books. Helpfully, this learning was applied to the reading this week which was focused on plants. They have learned that plants can be grown in new places through attaching to people's shoe laces, onto animals' fur or even through the wind. In addition, they compared fruit and vegetables and surprisingly learnt that some foods including tomatoes, pumpkins and cucumbers are all actually fruits, because they have seeds!
In English, Year 3 have begun working on a narrative inspired by the class book – The Explorers. They have loved listening to the adventures of Fred, Con, Lila and Max (and their sloth Baca) over the Autumn term and are now beginning to use the story in their writing. Alongside this, they have begun working on their collages of the Amazon Rainforest, where 'The Explorers' is set, in art lessons! In the coming weeks, we will share photos of the collages which the children have been enthralled by.
In PE, the children have studied basketball and applied the skills to the game. There are most definitely some budding basketball players in the making across the year group!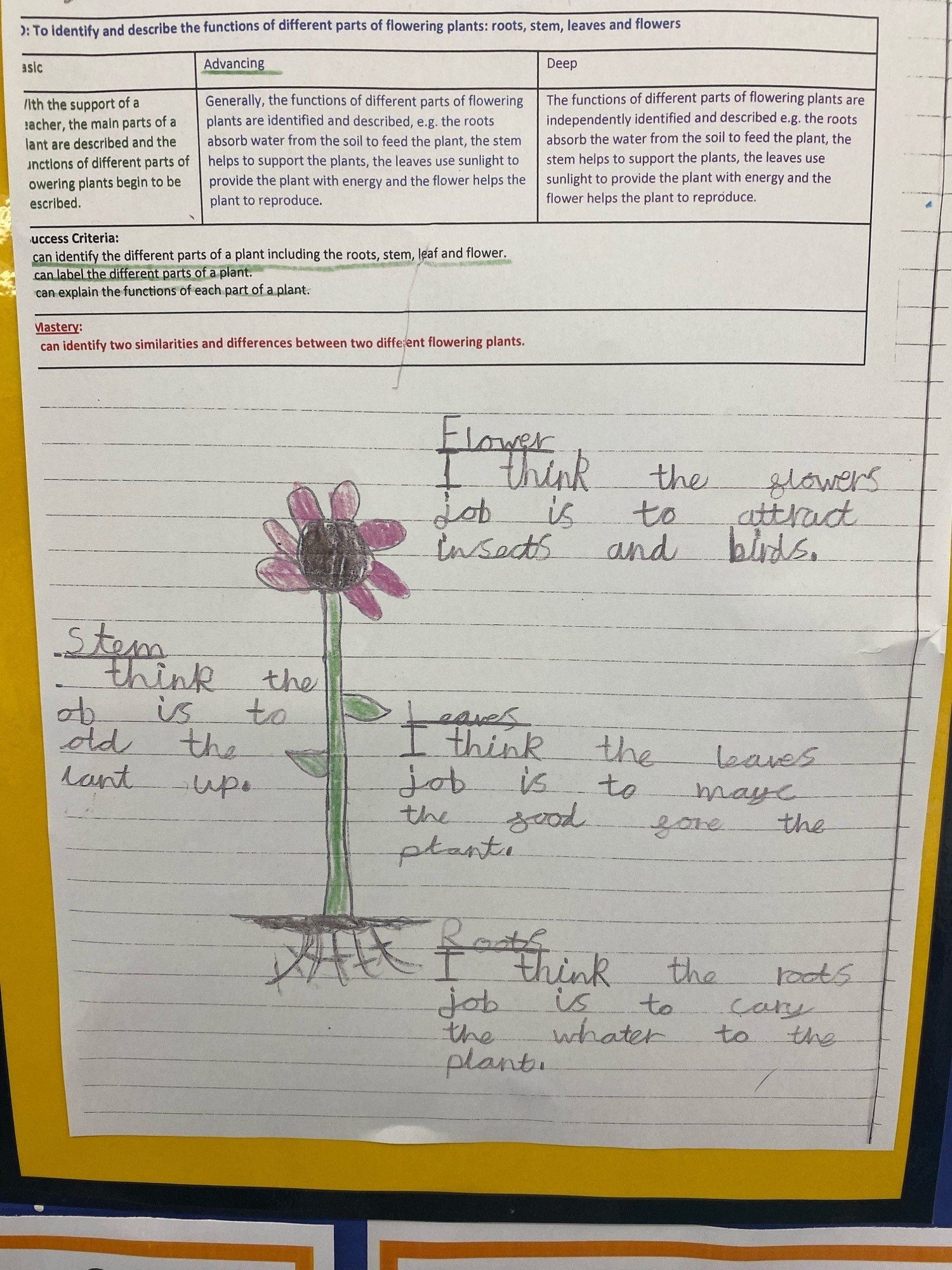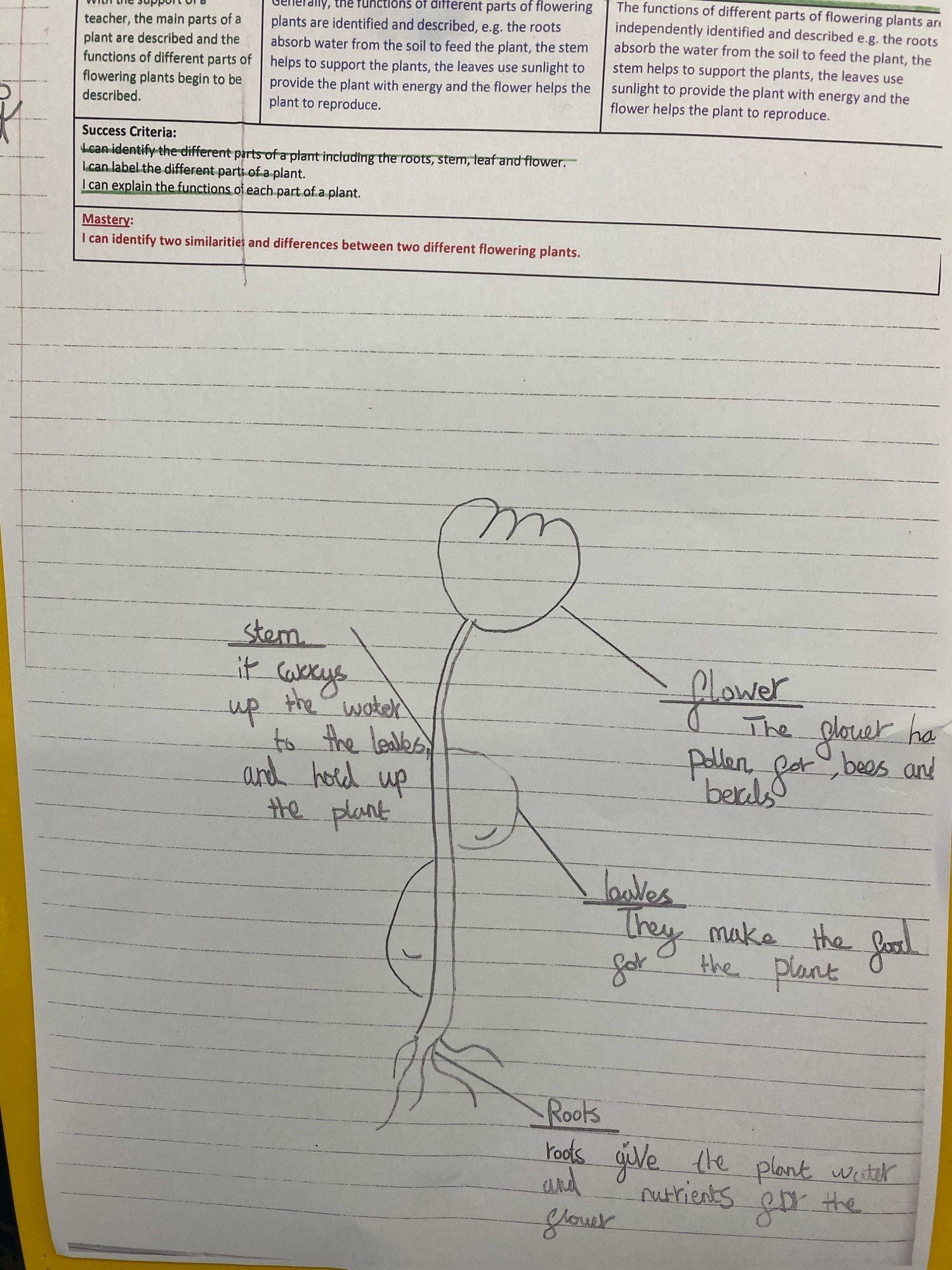 Week beginning: 09.11.2020
This week Year 3 have been working hard in maths including using the operations addition and subtraction. After studying the written methods of regrouping and exchanging, they were able to apply this to a range of challenging questions. On top of this, they studied shape in a topic lesson linking to geography as well as Outdoor Adventurous Activities (OAA). Using their maps, and teamwork skills, they had to identify the correlating shape to the number and draw into the matching section. The children were enthused by this activity and loved searching for the shapes outside!
In RE, Year 3 have moved on to learning about Christianity. They applied their understanding of geography by recognising that churches are human features of geography. Following this, they studied features of the church and their purpose, including the: font, pulpit, lectern, pew and stained-glass windows amongst more. The children also learnt about different services which are celebrated in a church.
Furthermore, in science, the children have begun learning about plants in their new unit. They enjoyed learning to remember the parts of a plant through a fun song with actions and worked independently using their chrome books to draw a diagram of a plant. They then labelled the plants complete with the function of each part. Moving forward, they will be conducting their own investigations into plants!
On top of this, countries and cities in the UK and in Europe were studied within geography. Building upon understanding of human and physical features of geography, Year 3 researched different landmarks around the UK and Europe. Great work again this week Year 3!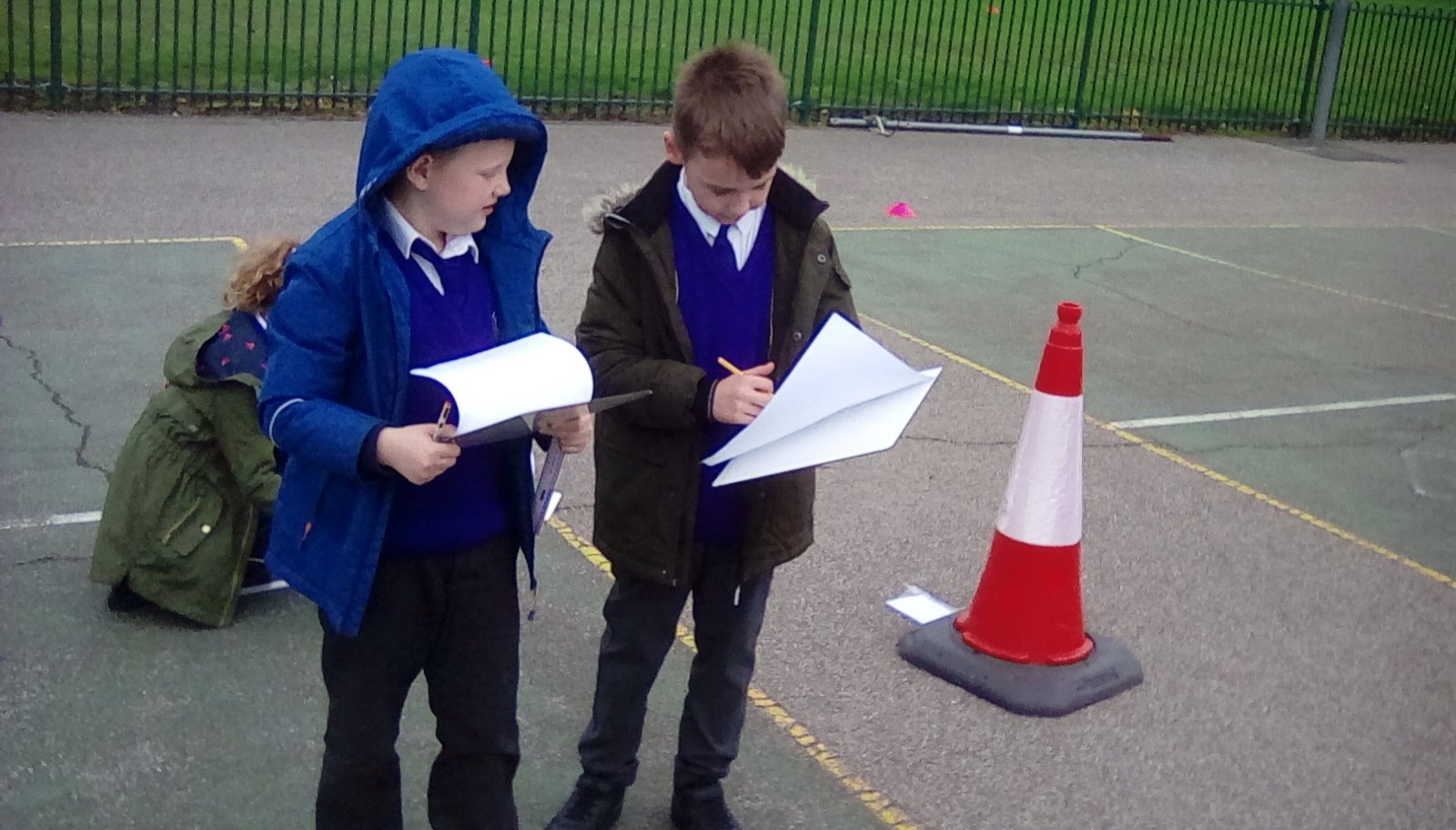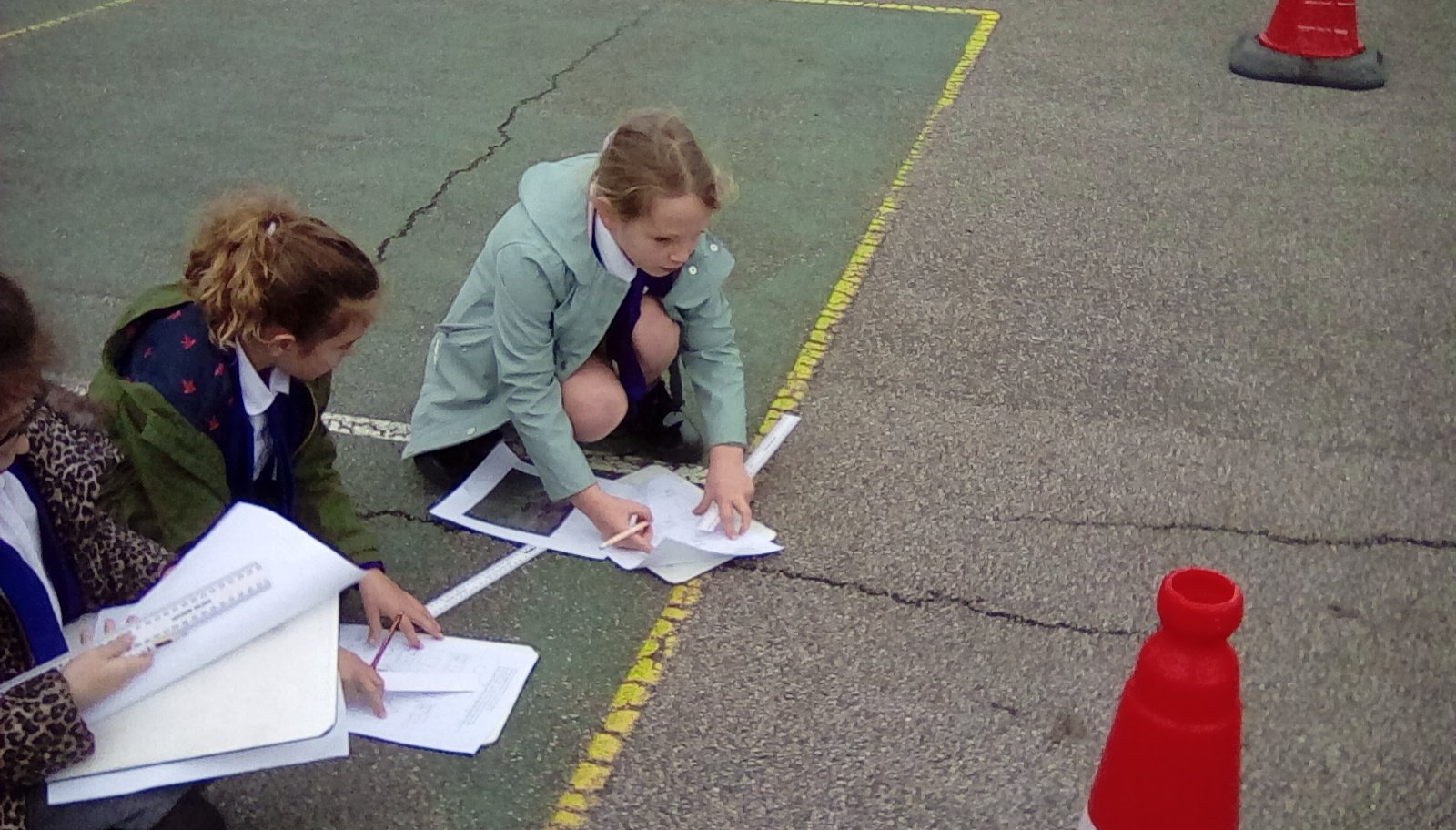 Week beginning: 02.11.2020
This week, Year 3 has been learning about subtraction and addition with three digit numbers. The children have really engaged with this topic in our mathematics lessons and shown confidence in working with larger numbers!
In PSHE, Year 3 has been learning about relationships and the different relationships people can have with one another. We also had a virtual visitor for our RE lesson who spoke to us about Buddhism and Buddhist beliefs.
We used glockenspiels in our music lesson this week which the children thoroughly enjoyed! Year 3 were able to play a simple piece of music and recognise rhythm and pitch.
Well done Year 3!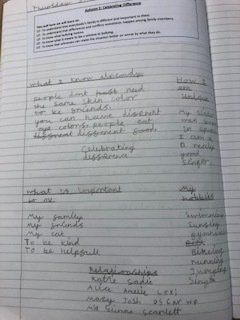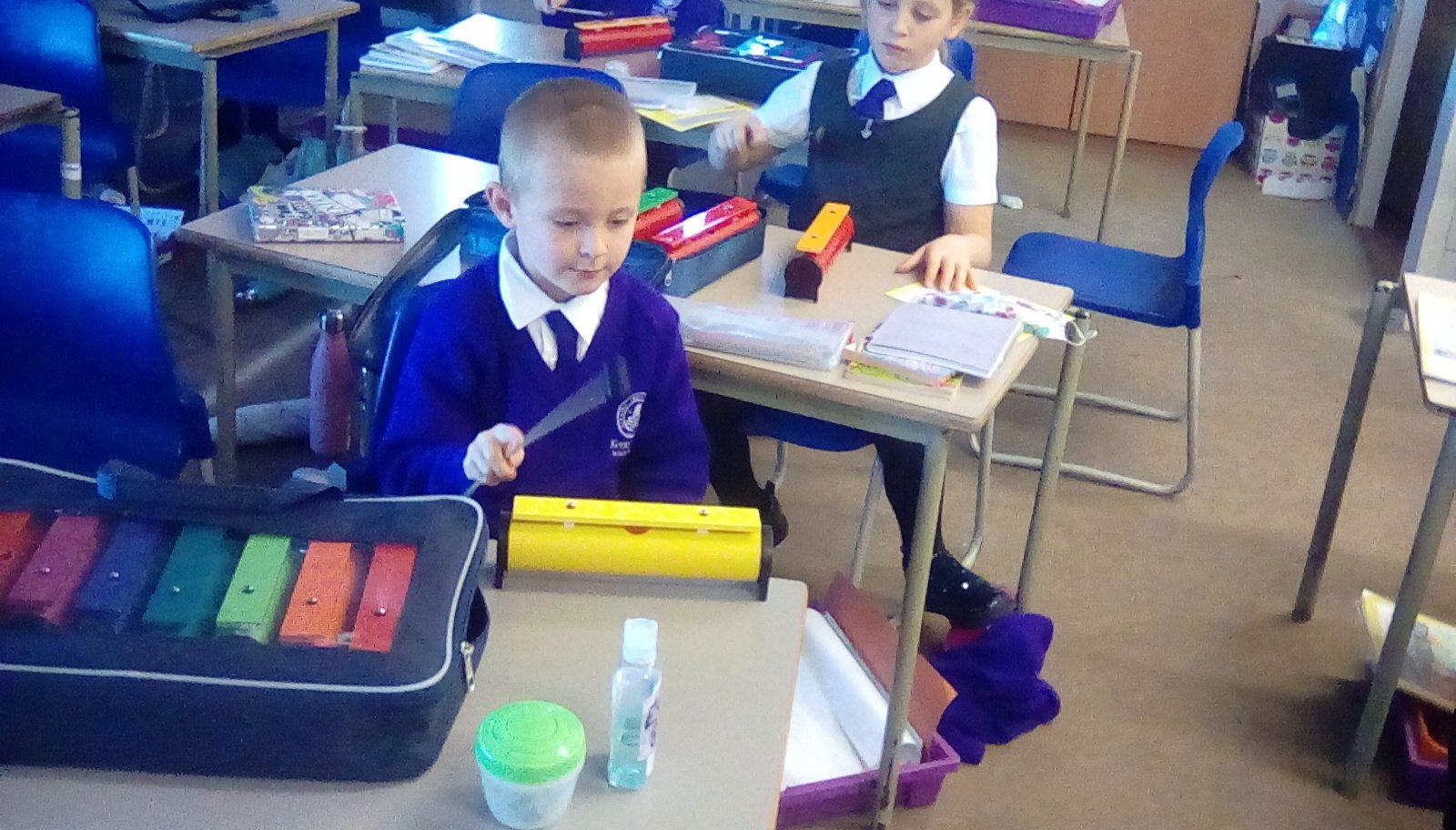 Week beginning: 19.10.2020
In Year 3, the children have designed, created and painted pottery inspired by Ancient Greeks. The Ancient Greeks are renowned for their inventions and a legacy of Ancient Greece is their pottery. In light of this, the children created wonderful pots and bowls using clay. They learnt the 'coil' technique as well as 'pinch' technique and painted their pots afterwards. Afterwards, they linked their learning to the idea that an explorer from the Ancient Greek era could use the pot to eat and drink from.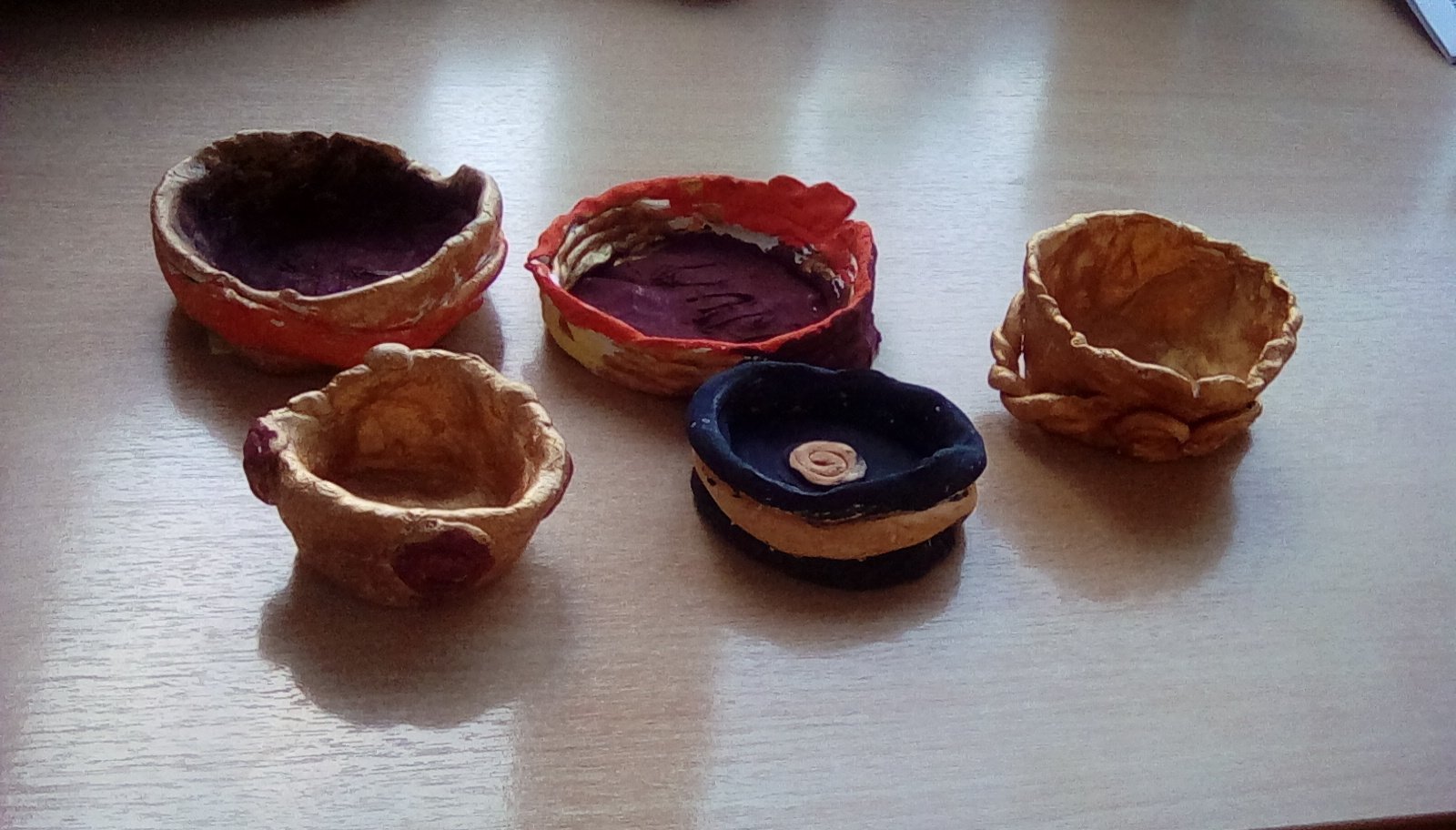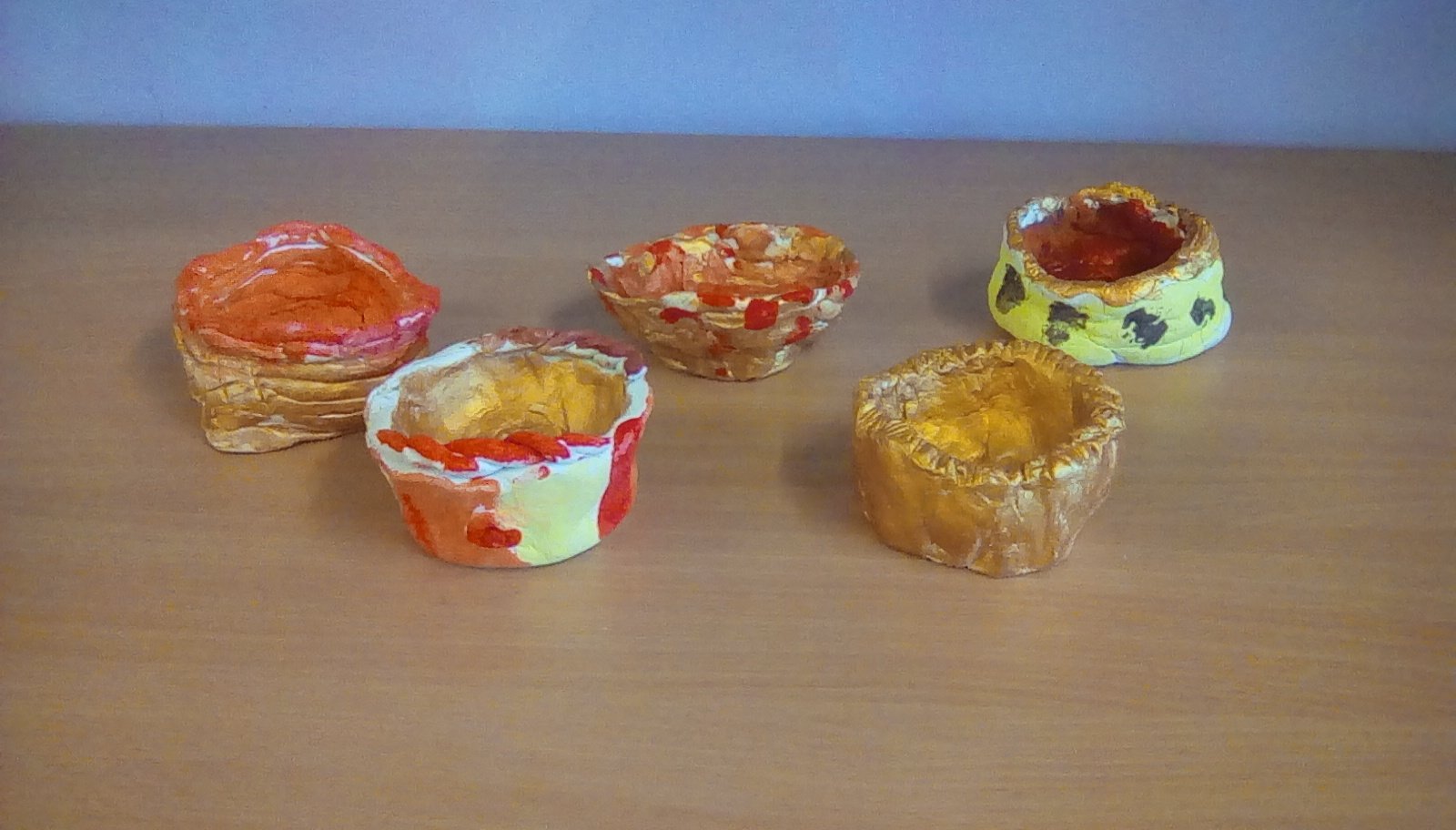 On top of this, in cross-curricular maths the children imagined what mathematical skills they may need to be able to explore. Building on Year 2 knowledge, they studied position and direction including left, right, clockwise and anti-clockwise and applied this to their learning. Developing on the schools core value of teamwork, the children worked with their partner to instruct them using directions whilst partaking in outdoor learning.
In RE, they continued to learn about Buddhism and spoke about '8 fold path' in which they studied Buddhist's teachings of how to reach enlightenment, which is important for working on the British Values of 'mutual respect and tolerance'. While in French, they have built upon their understanding of numbers and conversational phrases in addition to learning many colours including answering the register using 'rouge', 'jaune' and 'vert'.
Year 3 have tried so hard and adjusted back into the school routine after such a strange year so far. Well done Year 3. Everyone is so proud of you for the first half term at Kents Hill Junior School.
Week beginning: 12.10.2020
This week, Year 3 have enjoyed learning about a range of poems in reading comprehension lessons which evoked good discussions including the story of 'Matilda' and the importance of telling the truth. Alongside this, they have continued to read through our class book 'the explorer' which has also focused on their inference and summarising skills.
In science, the children have studied animals including humans. This week, they compared adult animals with baby animals and learnt names of baby animals including learning that a baby elephant is called a calf! They really enjoyed this lesson and were enthusiastic about the baby animals. On top of this, they discovered that the way in which babies grow and are born can be different. After comparing the different animal classifications, the children learnt that whilst most animal groups grow inside eggs including birds, mammals grow inside the mother's womb and are born which include animals such as tigers and elephants as well as humans.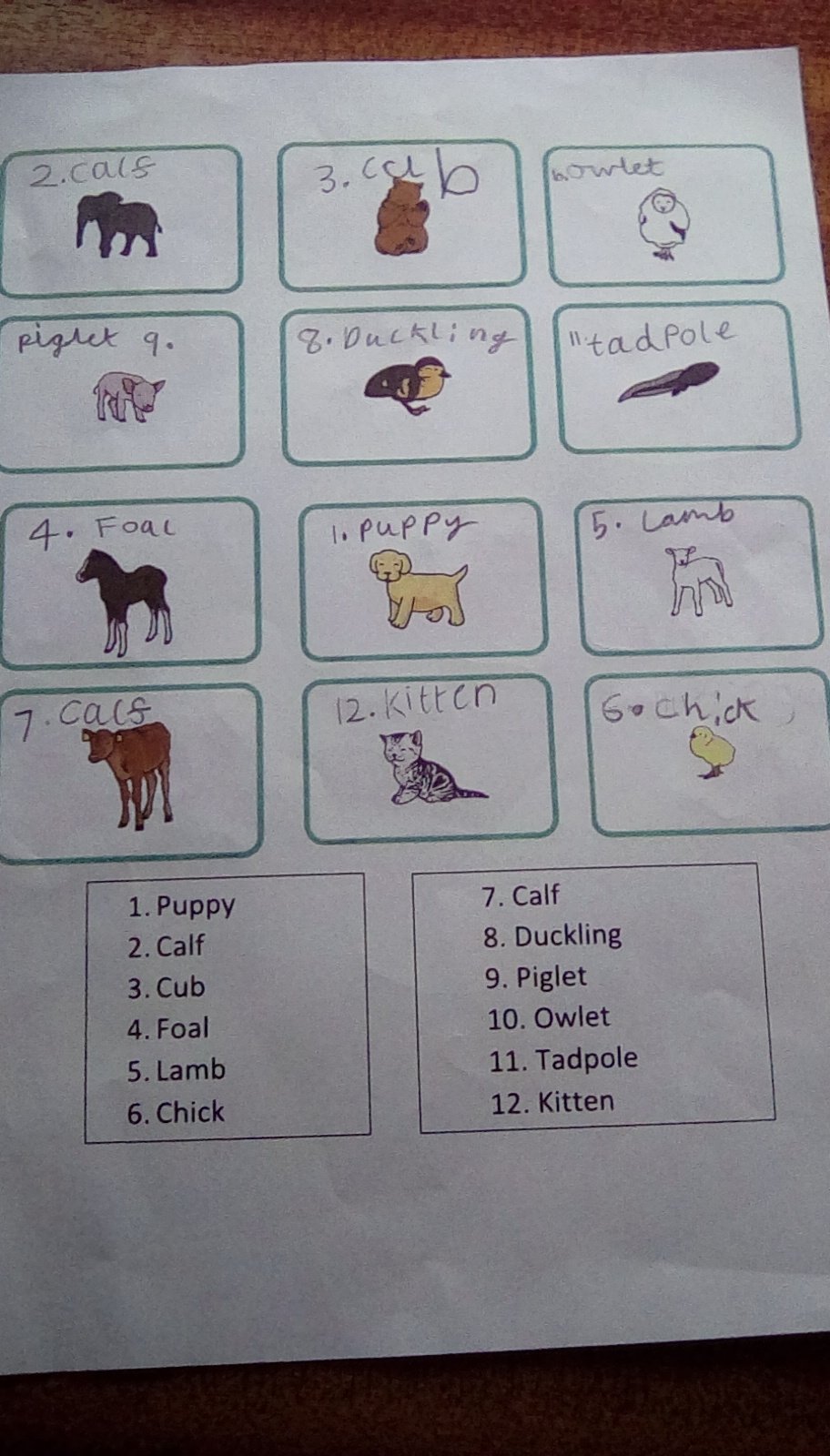 In PE, the children have done OAA (Outdoor Adventurous Activities) which focused on working as a team, which is an essential skill. They have enhanced their listening, problem solving and team work skills including turn taking. Some examples of team building included: ordering themselves without communicating, passing a ball without dropping it, supporting peers in their endeavours and even included orienteering. Using a map, they located anagrams that were set out around the outside areas and decoded the jumbled-up word.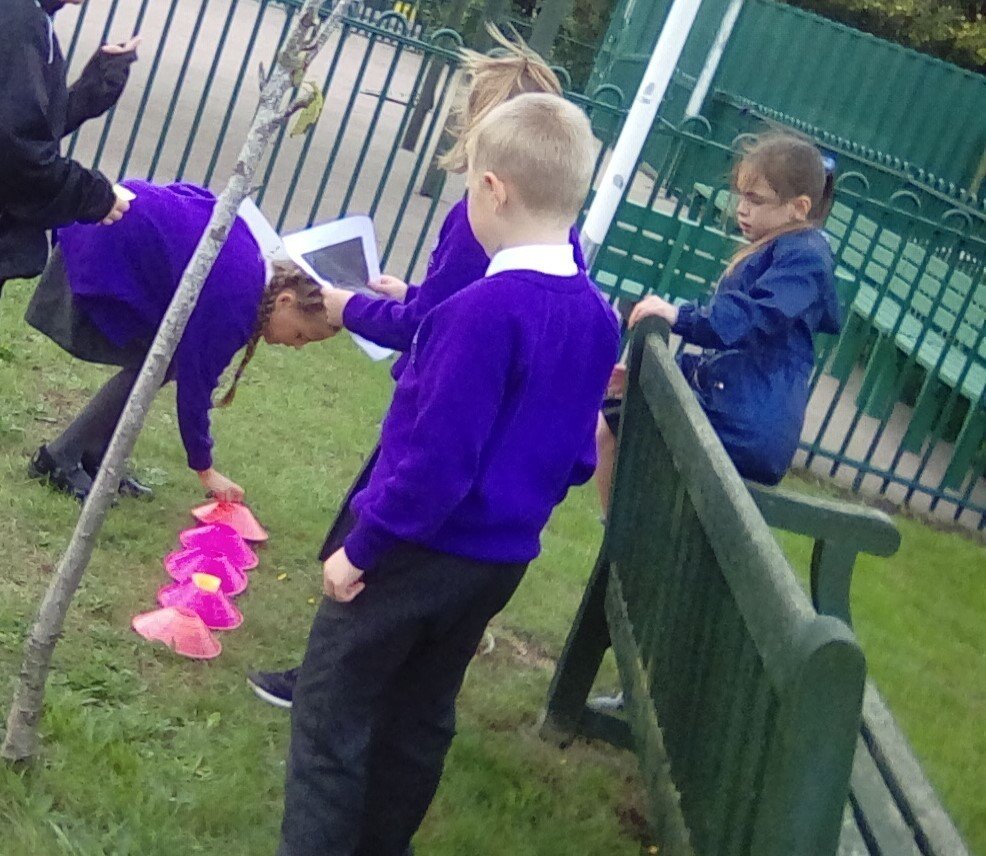 Week beginning: 05.10.2020
This week, Year 3 have stepped back in time both in their topic learning and English. During the reading lessons, the children learned about the Stone Age whilst hearing the stories of the character Om and the way of living in that era in the book 'Stone Age Boy'. In addition, they studied the history of Stone Henge including learning a little about archaeology and what a solar eclipse is!
As we near the end of learning about Ancient Greece, the children recalled all of their learning across a range of topic and outdoor learning to produce a piece of writing 'to inform' the readers. They wrote about Ancient Greece including describing life in the era as well as the origins of the Olympics, which linked to RE as they learnt that the Ancient Greek Olympics were originally in honour the Greek god Zeus, as well as an important sporting event.
After learning about a balanced diet previously, Year 3 learnt about the importance of exercise in science. They discussed the ways exercise can benefit the human body including: strengthening the heart, building muscle as well as helping to make someone feel good by releasing endorphins. To put their learning to the test, they did their own short, intense exercises and afterwards recorded the physiological responses i.e. raised heartbeat, quicker breathing, aching muscles, feeling tired or worn out or even feeling happy. They were able to record this in tables demonstrating understanding of working scientifically.
In maths they've continued to learn about place value and have demonstrated perseverance when tackling tricky questions as well as working hard on their times tables. In French, they build upon their knowledge of conversational phrases and began learning the numbers from 1-10. Another super week from Year 3!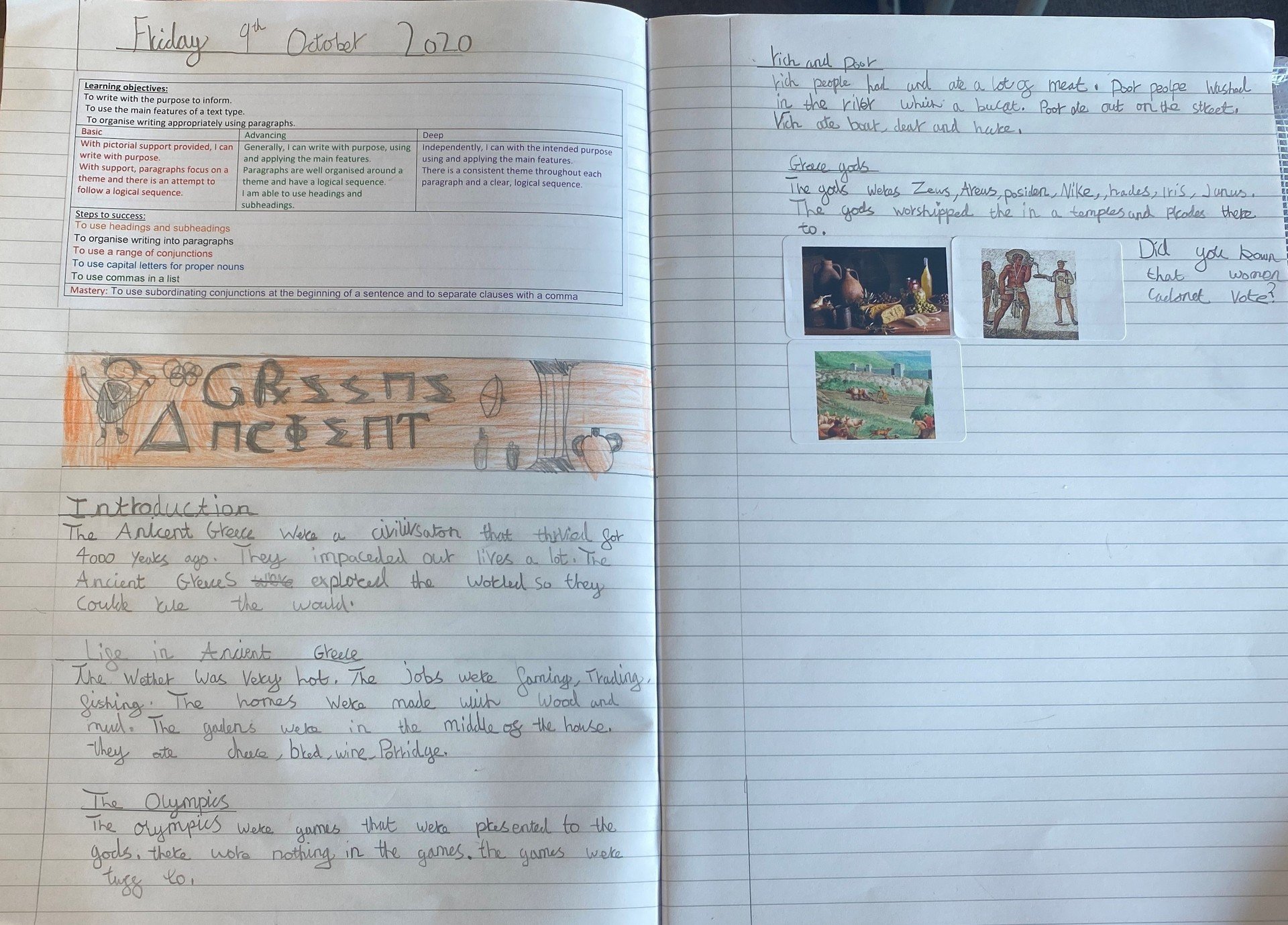 Week beginning: 28.09.2020
This week in Year 3, the children have continued exploring in both locality and through time. In geography, they have begun studying 'changing locations' whilst learning about their local area and applying their geographical knowledge to the lesson. They compared a nearby area of Benfleet and the changes from 2009 to 2019. The Year 3's were able to use their observations to understand how human features of the landscape had changed whilst reflecting upon more historical landmarks and sights with the local area. Some of these included: Hadleigh Castle, war memorials and a statue to commemorate the Battle of Benfleet, which date back many years. Following this, the children imagined what Benfleet could be like in 20 years as well as conducted field work about their local area around the school in outside learning.
In addition, they continued learning about Ancient Greece as part of their explorers' topic as well as thinking about the legacy of Greek inventions including the Olympics. Enthusiastically, they took part in Olympic inspired activities after learning the history of the Olympics, including learning that it was a religious festival honouring the Ancient Greek God, Zeus. They combined their knowledge of maths to PE by using timers in each 'event' in an 'Olympic addition' activity and adding up scores. They used up lots of energy competing with their partners for who could do the most reps of star jumps, heel kicks, hops alongside more in a minute. On top of this, they have learned about Ancient Greece in reading including learning about the role of women in society many centuries ago as well as learning the myth of 'Prince Thesesus and the minotaur' which they really enjoyed!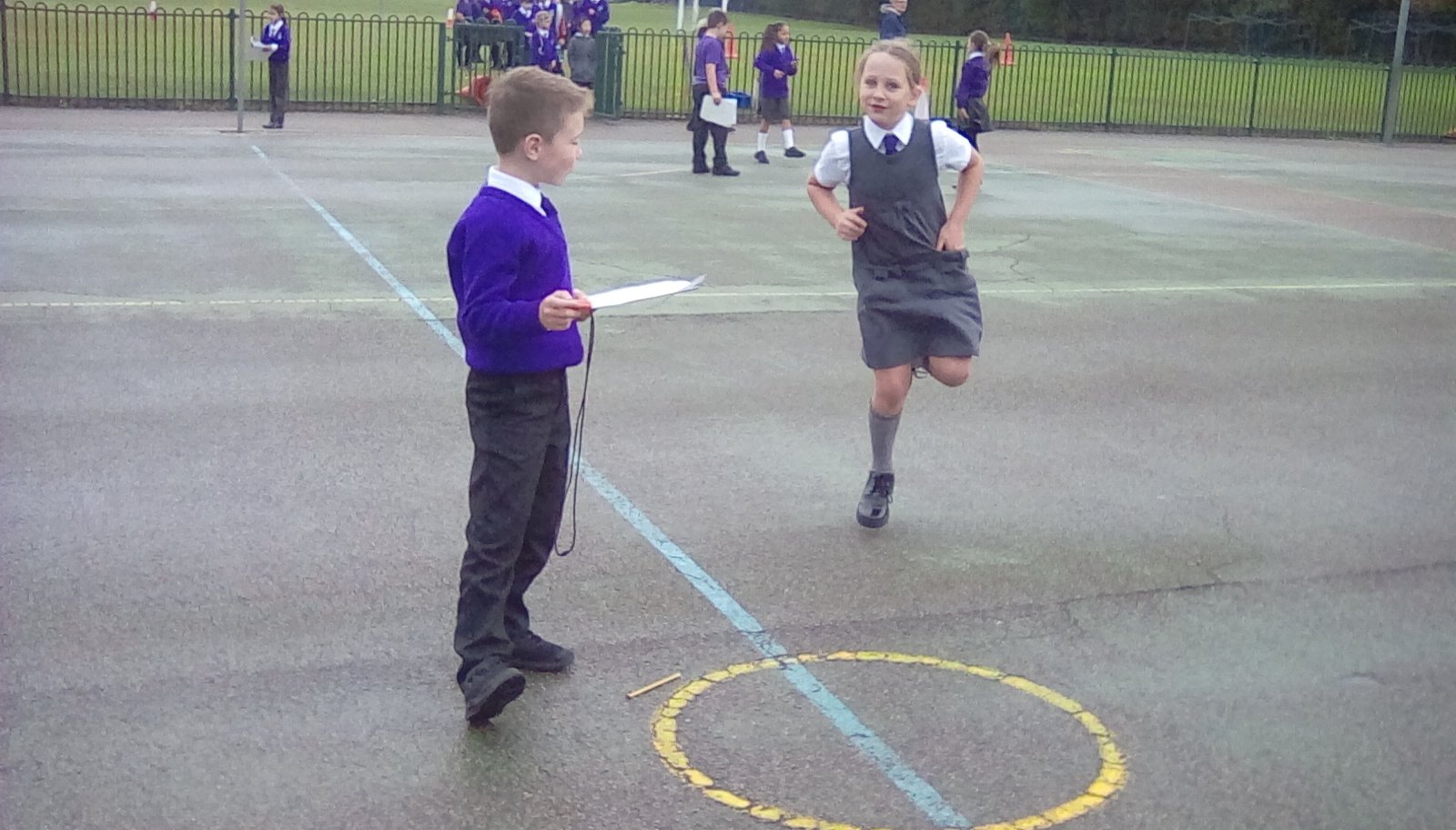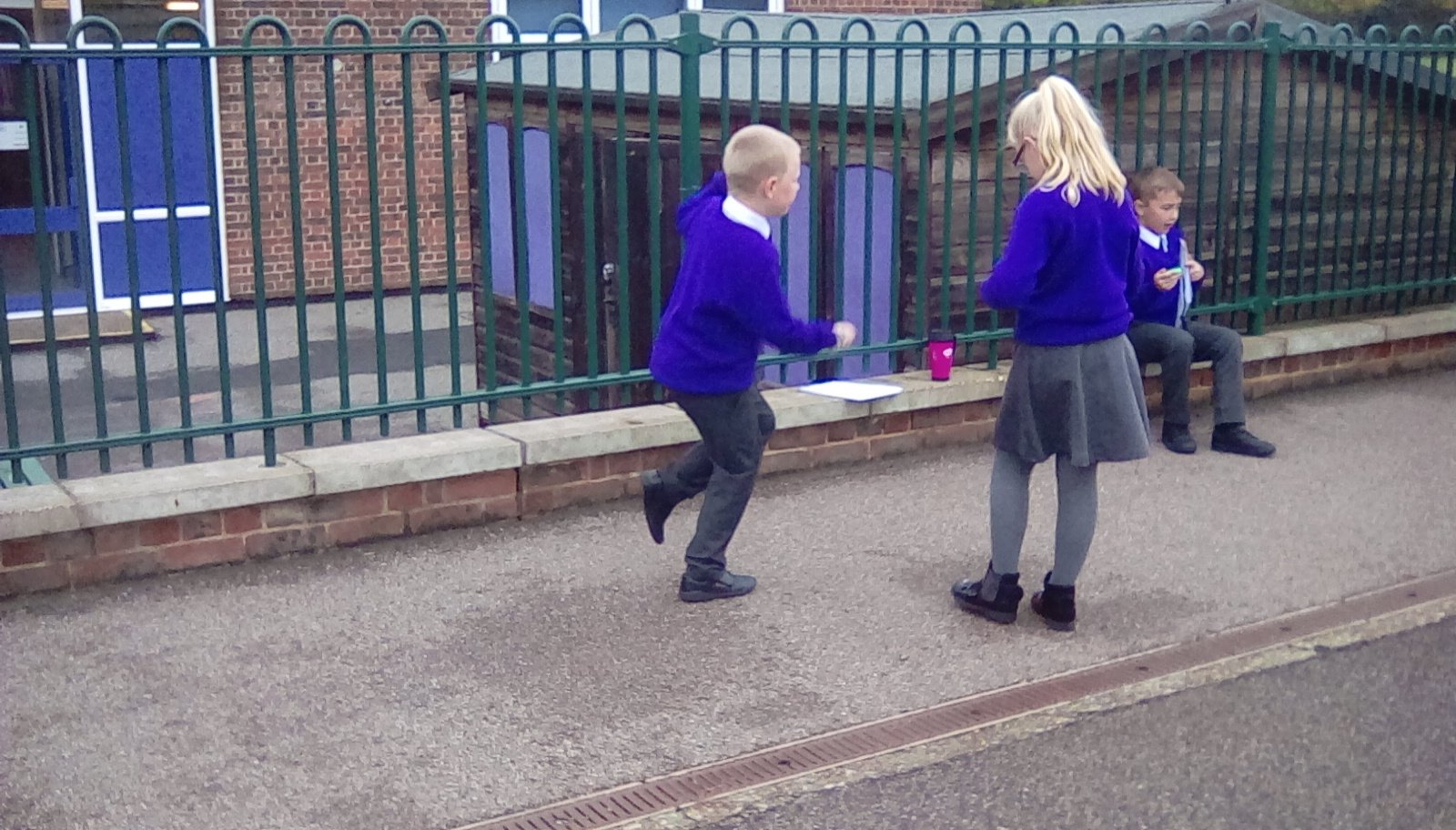 As an outcome of their virtual trip, the children finished their superb published writes about the Son Doong Caves in Vietnam which they recounted using fantastic description and a focus on correct punctuation. A wonderful first piece of writing from Year 3!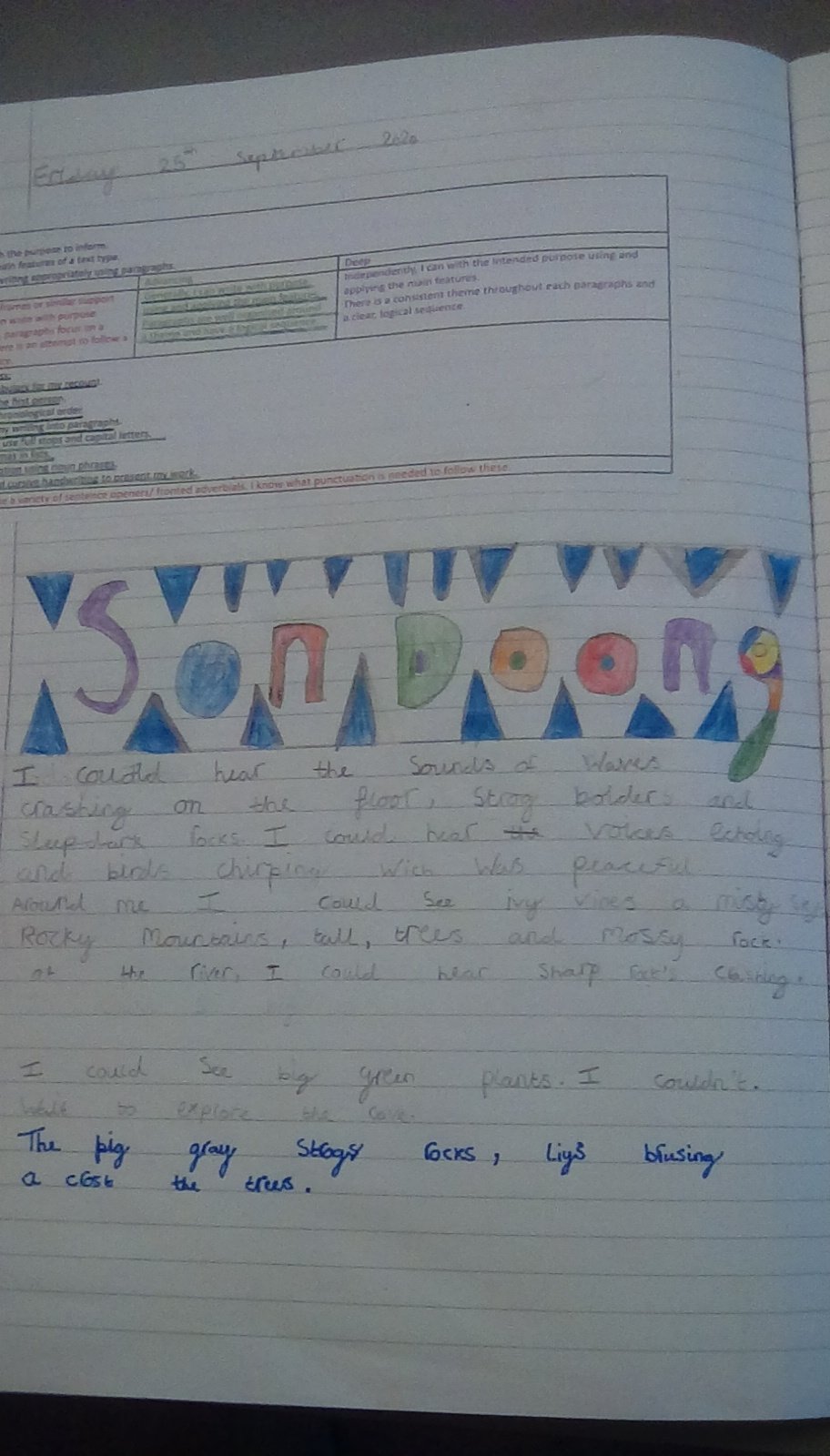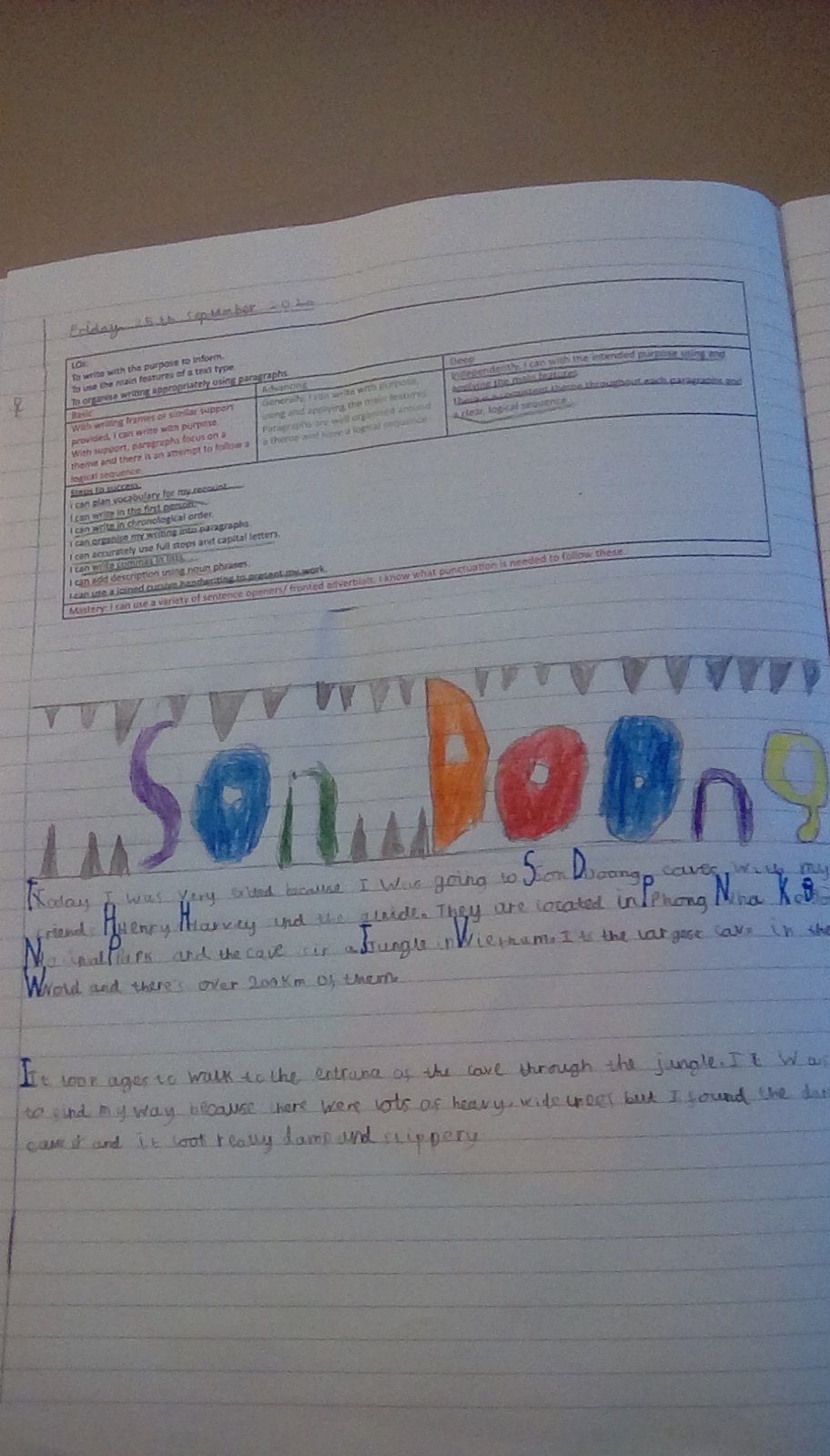 Week beginning: 21.09.2020
This week, Year 3 have worked really hard across all of their lessons, including demonstrating the schools' core values across many aspects of learning. In PSHE, they discussed their personal achievements whilst comparing their similarities and differences. The children respected the PSHE charter of showing respect, understanding and tolerance with the right to pass within discussions during the 'being me in my world' unit. Alongside this, the children have frequently demonstrated compassion which is a superb quality and a wonderful thing to be.
In PE, teamwork has been shown during football. They have practised ball control skills as well as techniques which have then been applied to matches (encouraging a competitive element). Many Year 3's persevered in PE while working on their technique as well as within their tests this week which the teachers have been impressed with their determination.
During RE, the children learnt about Buddhism and the teachings of Buddha. After studying the story of Buddha, they annotated and re-created the teachings using a story board. In addition, the children enjoyed learning about the adventures of Fred, Con, Lila and Max when the characters find themselves in the Amazon rainforest after falling from the sky. In reading comprehension, they studied vocabulary and considered the meaning of new words while applying the context to aid understanding.
Year 3 continued their exploration of the world whilst taking an interactive tour of the Son Doong caves in Vietnam. Enthusiastically, they discovered the largest caves in the world, immersing themselves in the virtual trip (click on the link below to explore the caves). Building upon this, they word blasted an array of descriptive vocabulary as well as envisaging the adventure through their senses. A fantastic way to begin a recount of such a majestic sight which will be wonderful to read once completed.
https://www.nationalgeographic.com/news-features/son-doong-cave/2/#s=pano37
Week beginning: 14.09.2020
This week, Year 3 worked hard in maths, accessing a range of questions involving applying understanding to complex and abstract questions. To begin with, they have studied place value and developed their knowledge of part-whole models as well as using both addition and subtraction, even doing the inverse operation as part of recombining. These are really important skills as understanding of place value is fundamental for all of their learning in maths.
In addition, in PSHE the children began studying the unit 'Being me in my world' which involved discussing how individuality is important as well as encouraging support of differences (in line with Jeans for Genes day). They considered how others' worlds can be both similar and different, as well as goals and aspirations. It was wonderful to see the children appreciating and respecting others' views. As part of this, the children considered the emotions it is possible to feel, acknowledging that emotions can affect 'being me'.
On top of this, Year 3 built upon their knowledge of healthy living in science which complimented their regular PE sessions involving competitive yet enjoyable dodge ball. As part of learning about 'animals including humans' the children recapped their existing scientific knowledge surrounding through a fun quiz. Leading on from this, they studied the different food groups and a balanced diet. After collecting data of preferred foods and recording in a table, the classes generated their own balanced meal designed to solve the problem of a new healthy school dinner for the kitchen. During this lesson they demonstrated team work and problem solving skills as well as working scientifically and improving their knowledge of healthy living, which is important too!
Finally, the Year 3's explored history whilst looking at different sources, even including an old form of technology as well as investigating sources spanning from Chamberlain's announcement that Britain were at war in WWII to photos of the coliseum and Stonehenge! They showed their detective like abilities when generating questions in class discussions which would help a historian study an artefact or source. Great learning Year 3!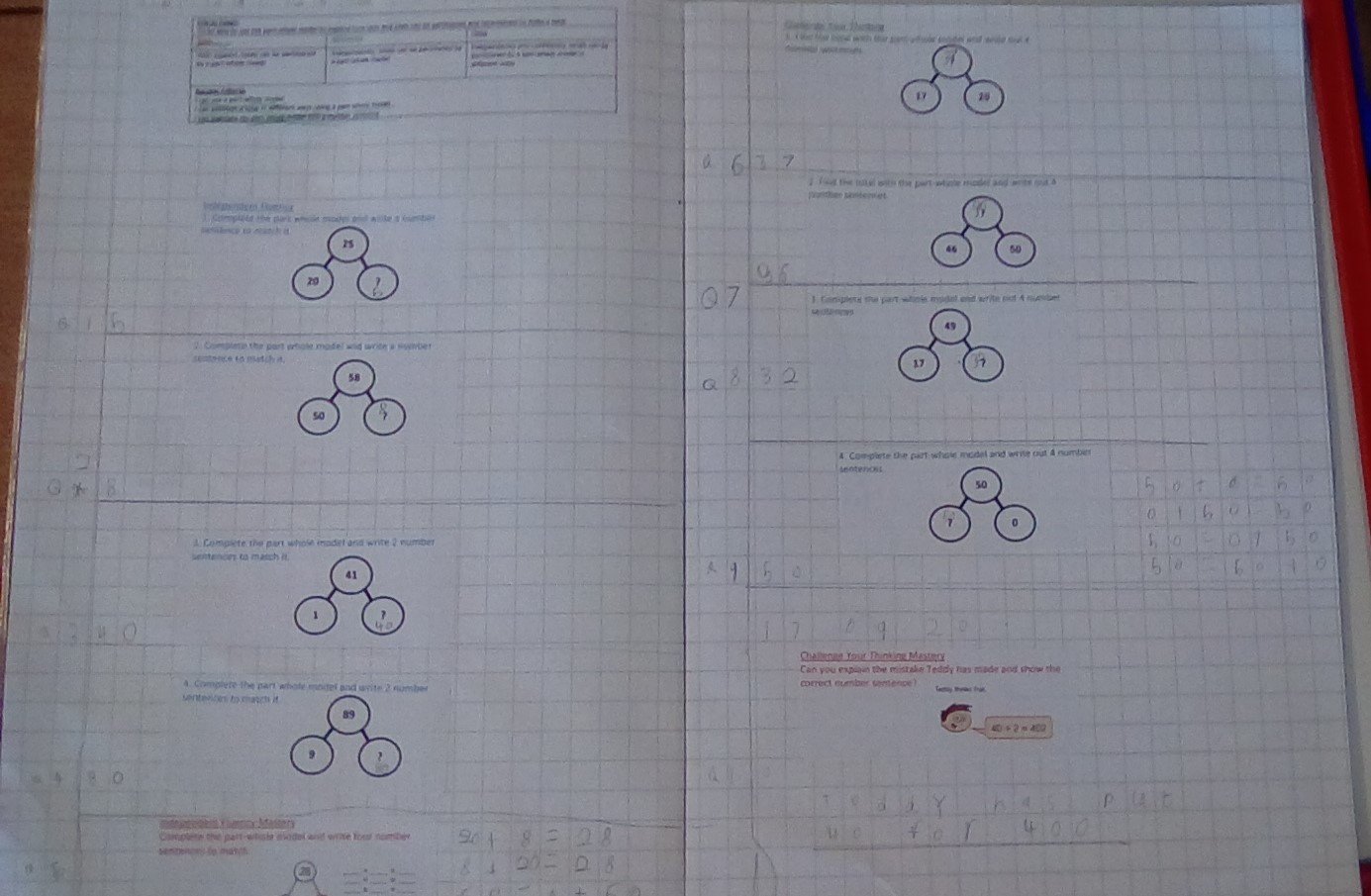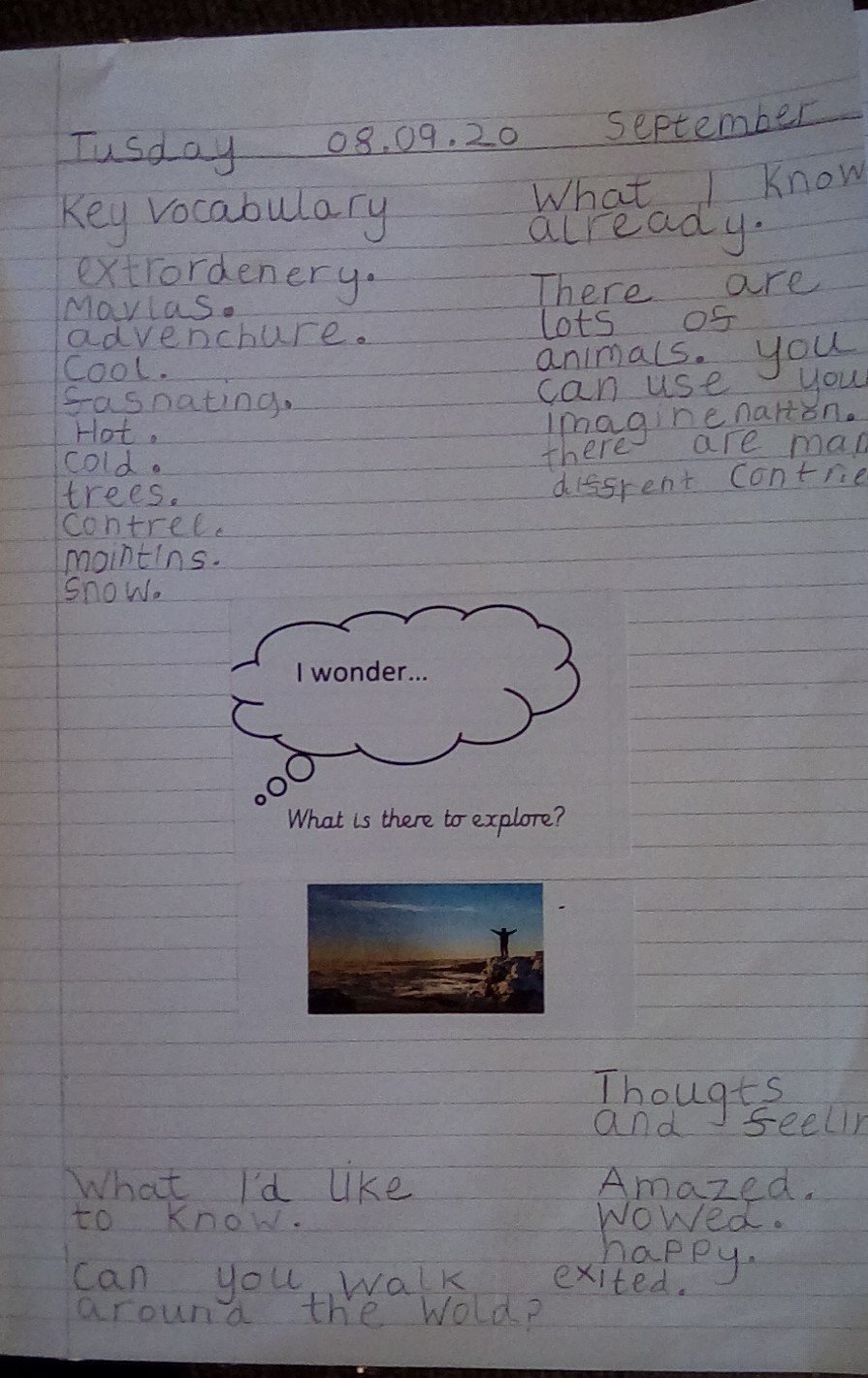 Week beginning: 07.09.2020
Welcome to Year 3's first blog! This week, the children have completed their first full week at Kents Hill Junior School and have settled in fantastically. After such a long time away from school, they have adapted to the school routine as well as found their way around a new school. On top of this, Year 3 have been very sensible at understanding the importance of class bubbles as well as regularly washing their hands and sanitising.
In PSHE, the children have shared lots of information about themselves, which has been helpful for the teachers, and spent lots of time talking about how they are feeling returning to school and recognising different emotions. In addition, Year 3 have showcased their sporting skills in the outside sessions including catching and throwing, ball control and running, as well as team games.
After settling in to Year 3, they began learning about their first topic – explorers. To kick start their learning, the children participated in a 'hook day' which occurs at the start of every new topic. This comprised of; exploring the Amazon, discovering the rare animals and designing a survival pack for an expedition; exploring Antarctica, learning about Roald Amundsen and making compasses with a recap of cardinal points; lastly, an exploration of the ocean which included tracking sea turtles, discovering what creatures live in the sea and designing a boat suitable for tracking boats, considering properties of materials. It was wonderful to see so many hands up and to see the children enjoying themselves after a long time away from the classroom. A great start to the explorers topic.
Well done to Year 3 on their first week at the Junior school!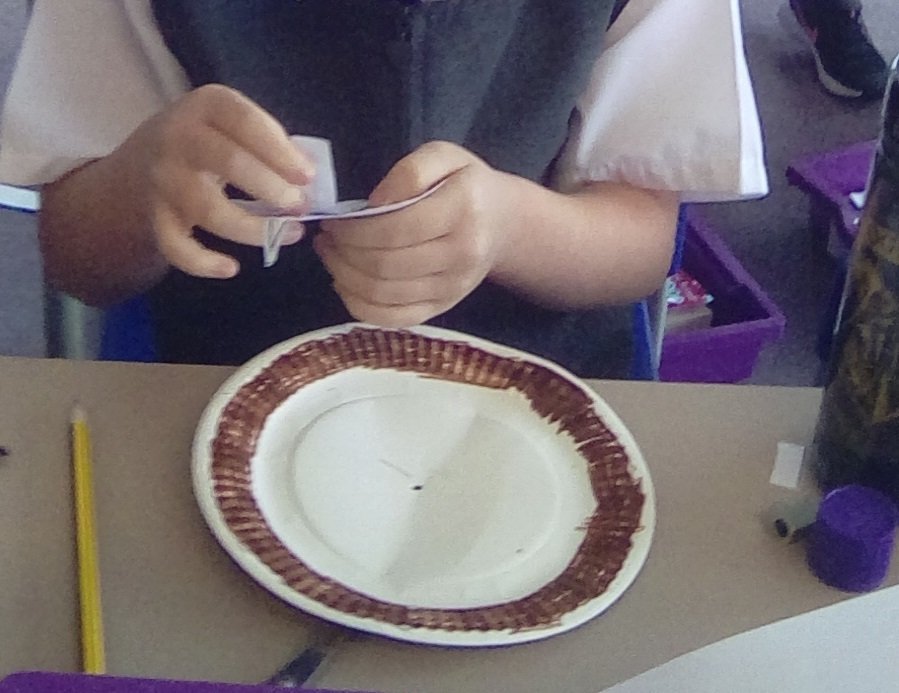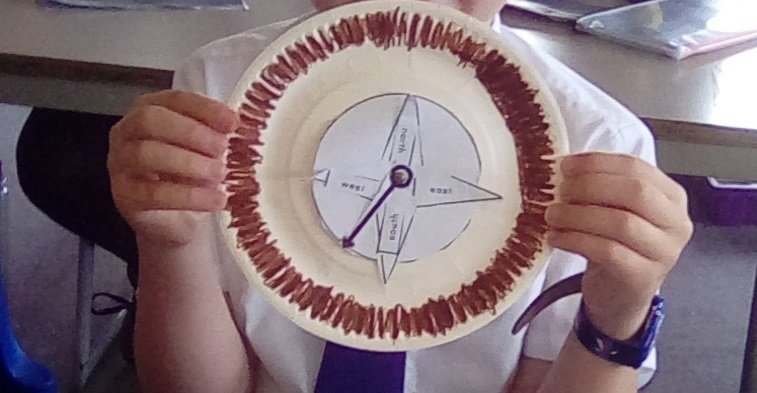 Welcome to the Year 3 team 2020-2021.
We look forward to welcoming all of the children on to school site and getting to know them all in person! If you have any questions at all, please email or call the school office.

Year 2 Blog 2019-2020
Wb: 06.07.2020
Another excellent week with our future Year 3 this week! We've spoken to lots more of the children on the phone so we can get to know you ready for September – we're really enjoying learning all about you first-hand!
This week we've heard all about their proudest moments which we are so happy the children have shared with us – we love to celebrate all achievements as a school community!
The children have told us the key information that they think we should know about them and asked those all-important questions of their new teachers such as: what's your favourite food? Which marvel character is your favourite? And some of the children challenged us to think about our proudest moments and achievements are so far!
We've also learnt all about the children's heroes, we heard about lots of family members who are heroes and inspire the children as well as about some famous faces and even some book characters!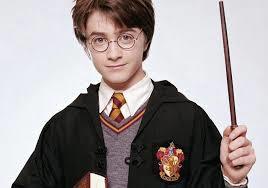 As well as hearing about how the children see those who keep us safe in the community as role-models such as the NHS, the police and the fire brigade!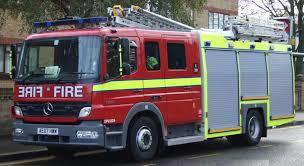 Finally, we learnt about how creative the children are, from making volcanoes which 'erupt' to dance and drama and lots of art skills including sketching and painting.
Wb: 29.06.2020
This week we have found out lots more about our wonderful future Year 3 children!
Mrs Purser gave the children a guide to the school office and how the dinner bands work and the Year 3 teachers have spoken to lots of the children on the phone already! Don't worry if you haven't spoken to your teacher yet, they will be continuing to call you next week.
This week we have heard lots of great jokes from the children:
Why did the jelly baby go to school? Because he really wanted to be a smartie.
What does a penguin wear to the beach? Flipper-flops!!
What is a cows favourite song? I've got the moooves like Jagger by Moooroon 5.
What do you call a fairy that doesn't shower? Stinkerbelle
Why was the penguin popular? Because he was an ice guy
We have heard all about your ambitions for the future and some jobs you are aiming for, we have some future astronauts, doctors, vets, builders and designers amongst us! Some of the children had yet to decide – hopefully some of the careers we introduce you to each term in the Juniors might inspire you!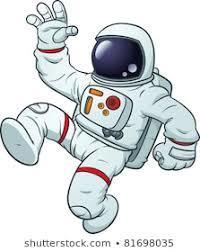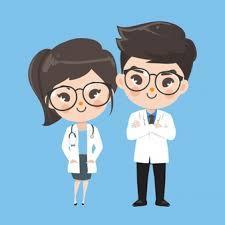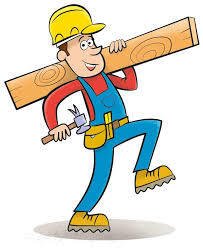 The children told us all about their hobbies – it sounds like lots of you are very busy with swimming, dance, football, painting, exploring and drama to name a few!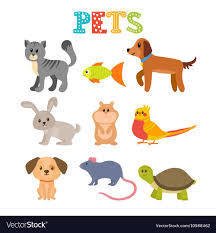 We also heard all about your pets and got to see some photos of several of them too!
We've loved talking to lots of you this week and we can't wait to talk to more of you next week!
Wb:22.06.2020
This week we continued to get to know our future Year 3 children!
We took you on a tour of the school in a 'Day in the Life of a Year 3 child' as guided by our Year 6 children.
Miss Hovey shared her top tips for times tables with you and Mrs Watts taught you how to tie your shoelaces – what a week! The children have found out the answers to lots of their questions and got to know their teacher more.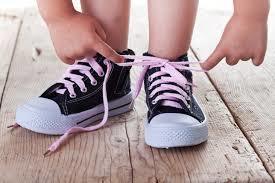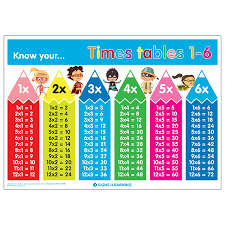 We also had the opportunity to learn out lots about the children too!
What the children's favourite colours are – there were lots of votes for purple which is great to go with the school uniform!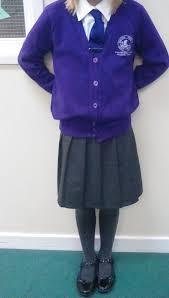 We learnt if any of the children had any siblings and we found out if anyone had siblings already in the Junior school and what their houses were.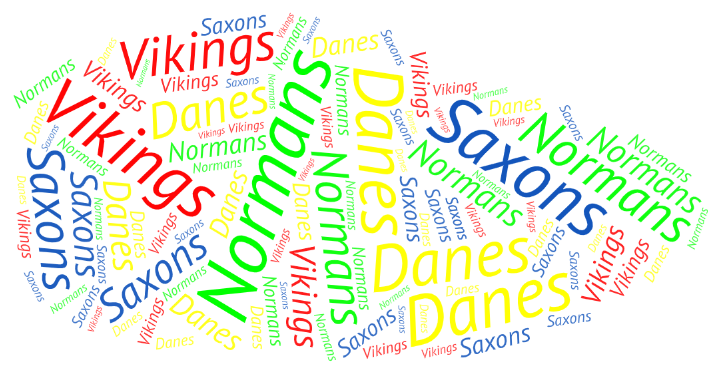 We learnt how the children would describe themselves: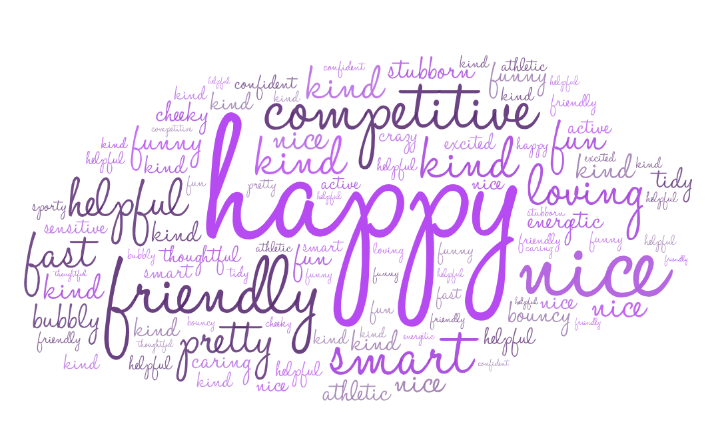 We learnt how many star jumps the children could do and some could do more than 1 a second! Wow!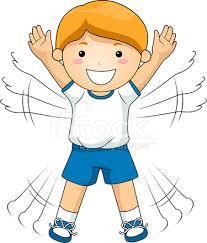 Finally we learnt about the children's favourite toys – lots more votes for Lego as well as LOL dolls and Pokemon!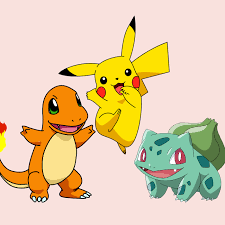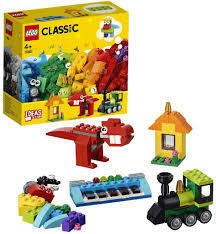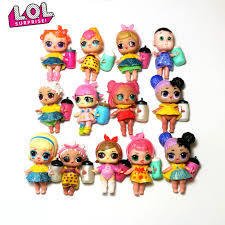 We have loved receiving lots of photos of you all this week to put names to faces – if you haven't said 'hi' yet, we'd love for you to pop in so we can 'meet' you!
WB: 15.06.2020
This week we have begun to meet some of our future Year 3 children for September 2020.
The children have had the opportunity to 'meet' their class teacher and the year group team as well as ask any questions they may have about Kents Hill Junior School. The children have met a few other team members at Kents Hill Junior School as well – Miss Parkes and Mrs Marable and have learnt about the school trips at the Junior school as well as what break and lunch times look like!

In turn, we have learnt lots about the children and even received a few photos so we can 'see' who we are talking to.
What the children are looking forward to in September, which ranged from seeing their friends again and meeting their new teachers to joining the 'big' school with different classrooms and the 'big' playground - getting their own lockers was high on the list as well!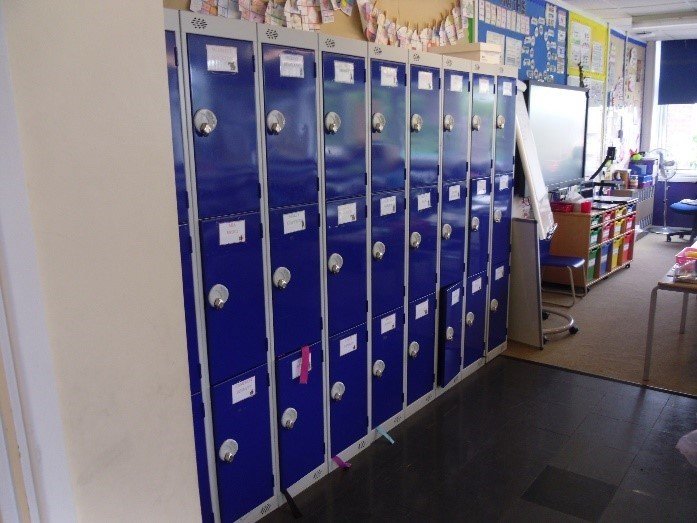 What the children's favourite subject are – there were lots of votes for maths, science and art. The children in turn learnt that we have a new science lab and art studio which they are looking forward to exploring!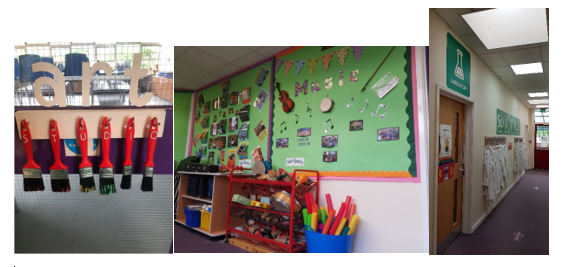 We've learnt who their best friends are which has in turn helped us think about our plans for welcoming the children in to school in September.

We've heard all about the children's favourite wet break/lunch activities – lots of Lego and imaginative play was discussed. Lots of the children were excited to know that we have the Lego Spike for robotics at our school!
Finally, we've learnt all about the children's favourite books, some of the favourites included:
We look forward to continuing to learn more about you next week and telling you more about our school!
Next week a 'day in the life of a Year 3 pupil' school tour is going up!