Click Here for Year 4 Homepage
Week beginning 13.01.20
In Year 4 this week, the children have been developing their understanding of the impact that humans have on the planet. The children have learnt about the process of burning fossil fuels and the wide range of negative consequences which it can cause. They have also learnt about landfill sites and the environmental concerns which arise from their usage. The children will compile their learning into posters which inform people of the problems facing our planet and suggest some alternative solutions.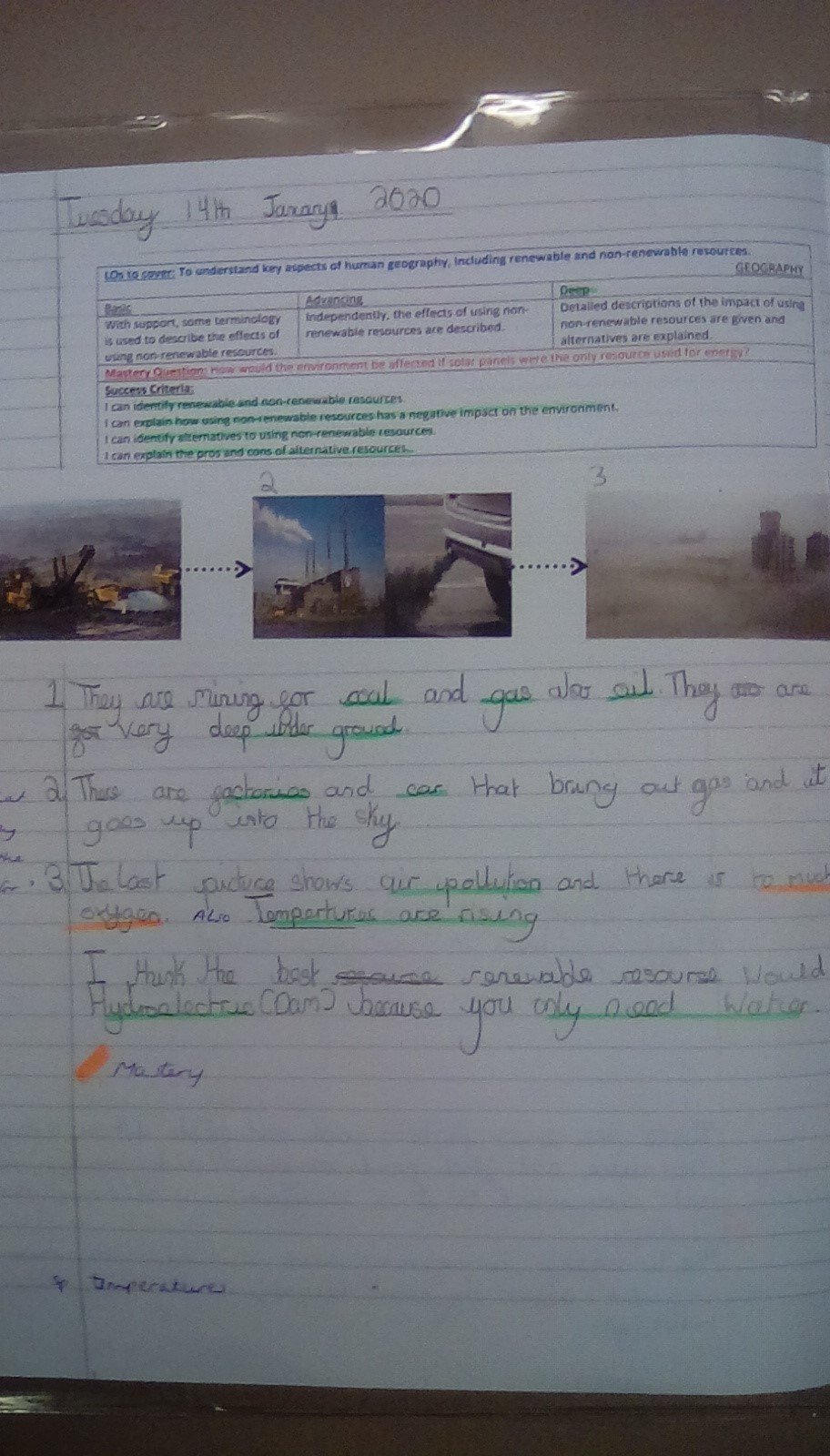 In order to help the children gain a deep understanding of the effects of pollution, the children wrote narratives about the discovery of sea animals suffering as a direct result of plastic pollution in our oceans. They used narrative features such as expanded noun phrases and fronted adverbials to engage their reader with vivid descriptions.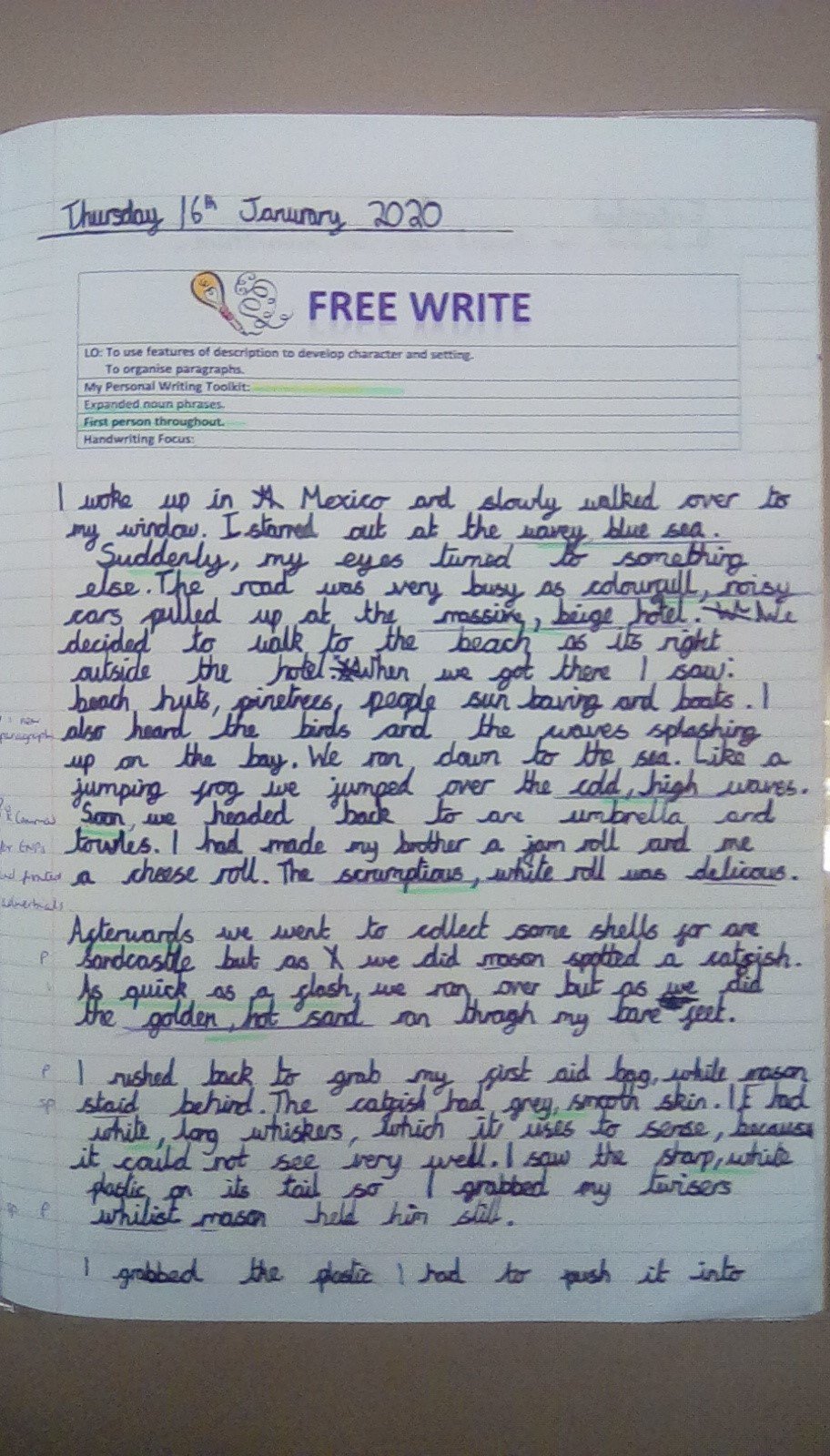 We have also started our new Science topic - Living Things and their Habitats. This week, the children learnt about the importance of classification for different living organisms, using Venn and Carroll diagrams to classify animals of their choosing. They also learnt the MRS GREN acronym to remember the life processes of all living organisms.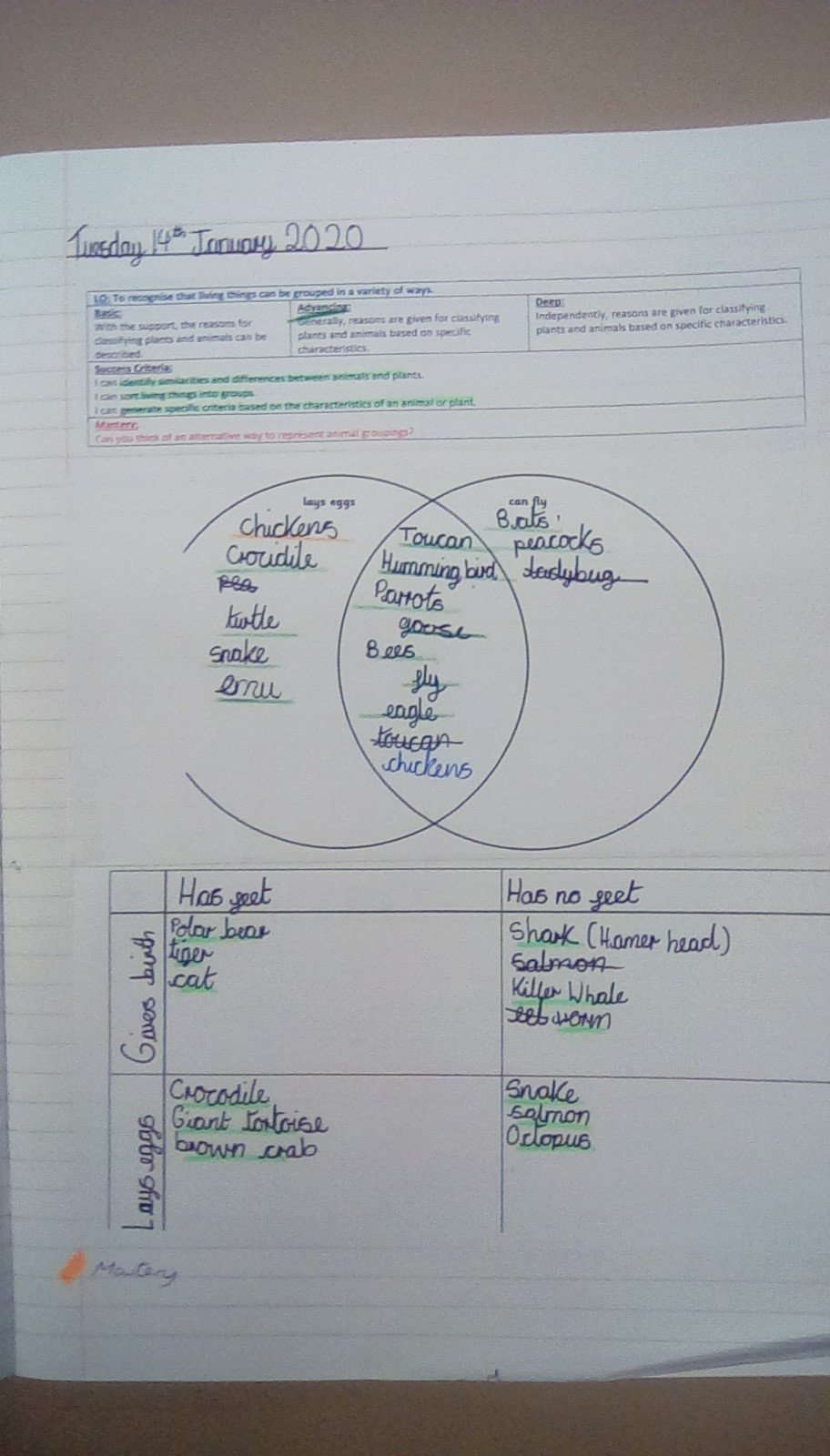 Finally, this week the children started their new PSHE topic - Celebrating Differences. Throughout the topic, the children will discuss and develop their understanding of issues including assumptions, bullying and what makes us unique. The children completed mind maps to demonstrate their knowledge and opinions on these subjects.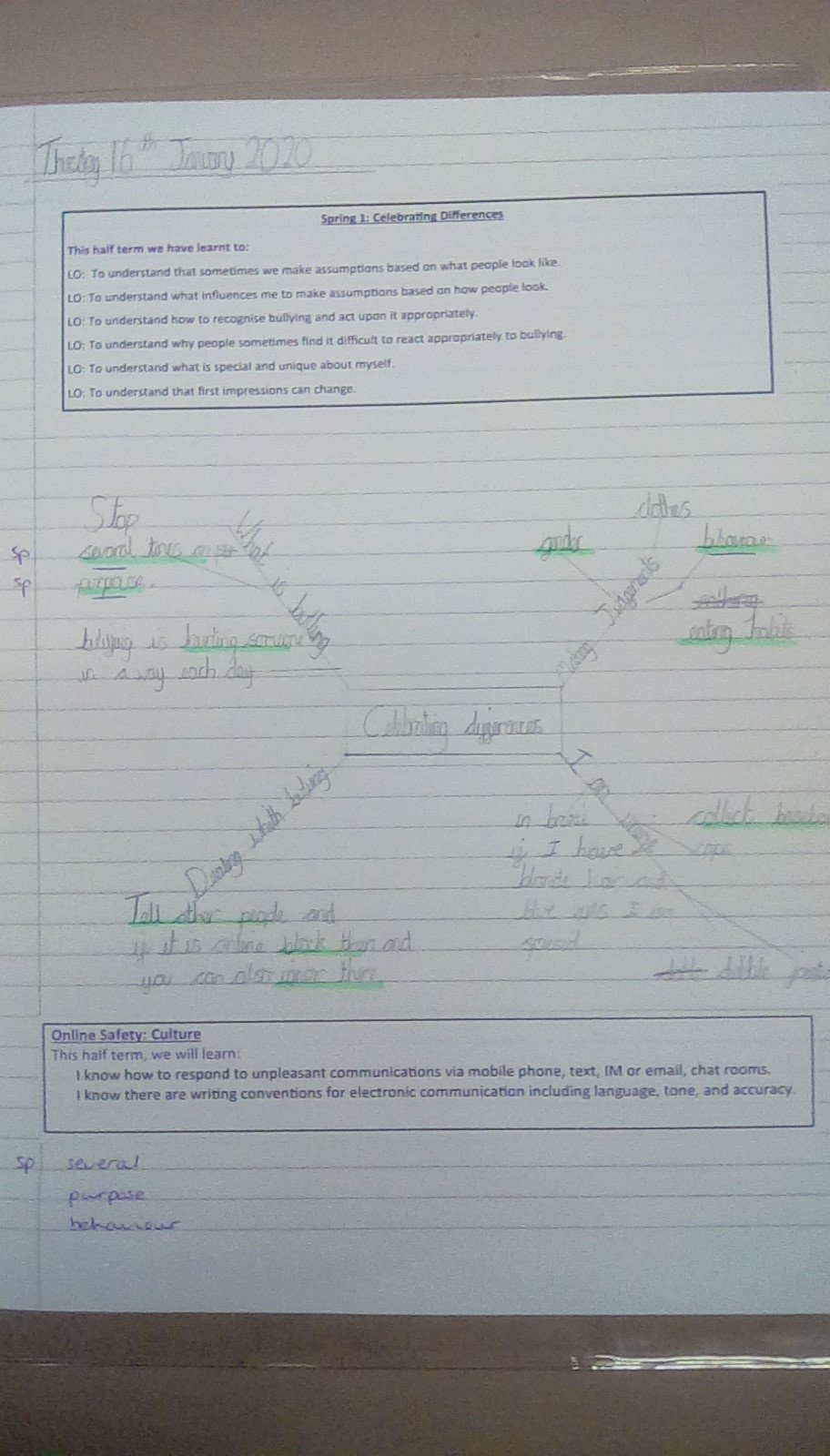 Week beginning 08.01.20
In Year 4 this week, the children have been immersed in our new topic 'Make A Difference'. They have been challenged to consider whether they should care about our planet's future. As an introduction to this topic, we have focused primarily on plastic pollution and the impact it is having on our world.
During our first activity, the children sorted a variety of different household waste, looking at whether it was recyclable or non-recyclable. We discussed the various symbols which can be spotted on products to indicate whether they can be recycled and the children were astonished to find that many everyday items are not able to be recycled!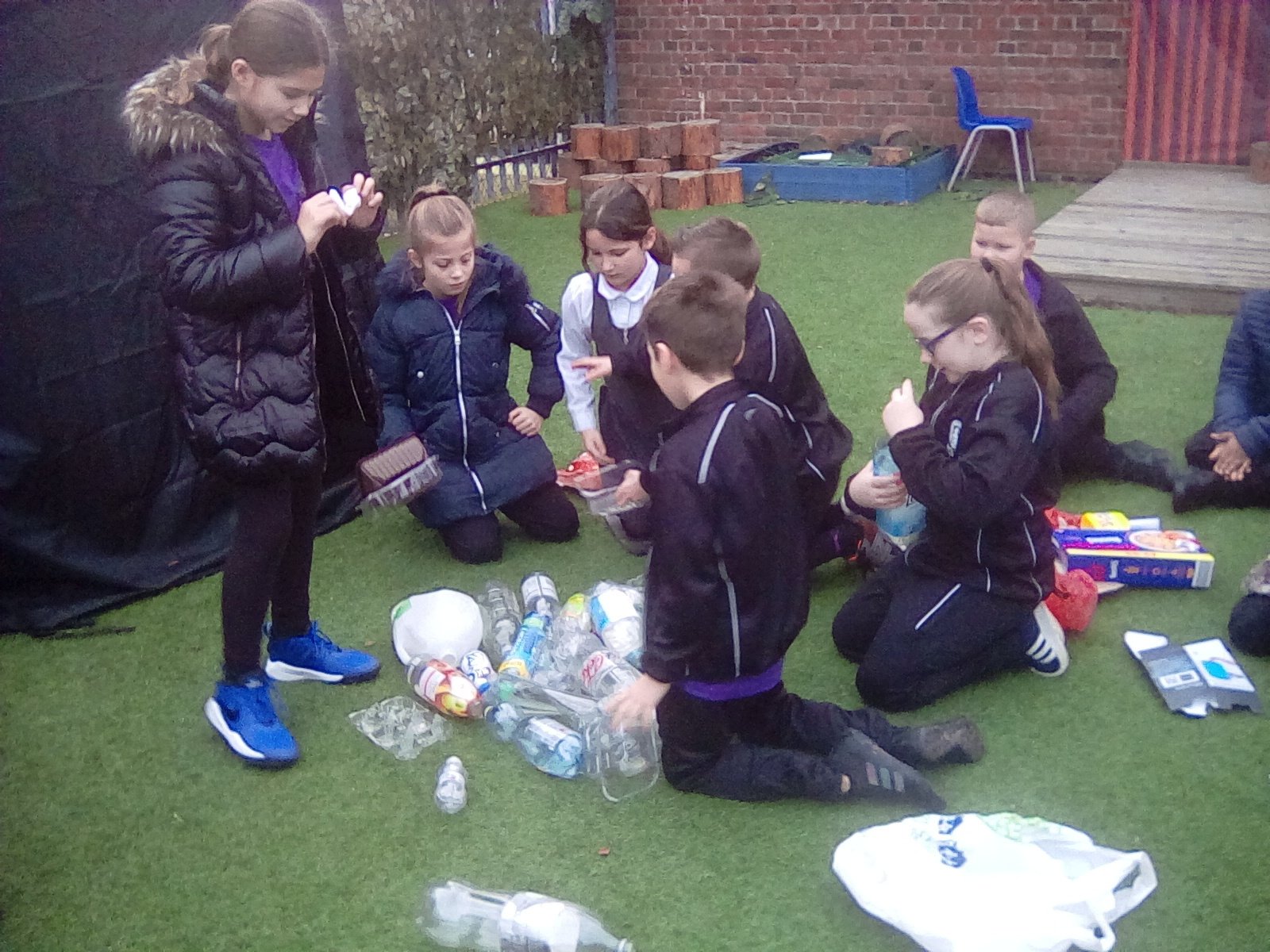 Watching part of David Attenborough's award-winning Blue Planet series, the children were gobsmacked to discover the impact plastic is having on marine life. They also conducted their own research on the impact of plastic pollution and some shocking statistics about the increasing amounts of plastic in our oceans. The children then used their research to take part in an interactive quiz against their peers.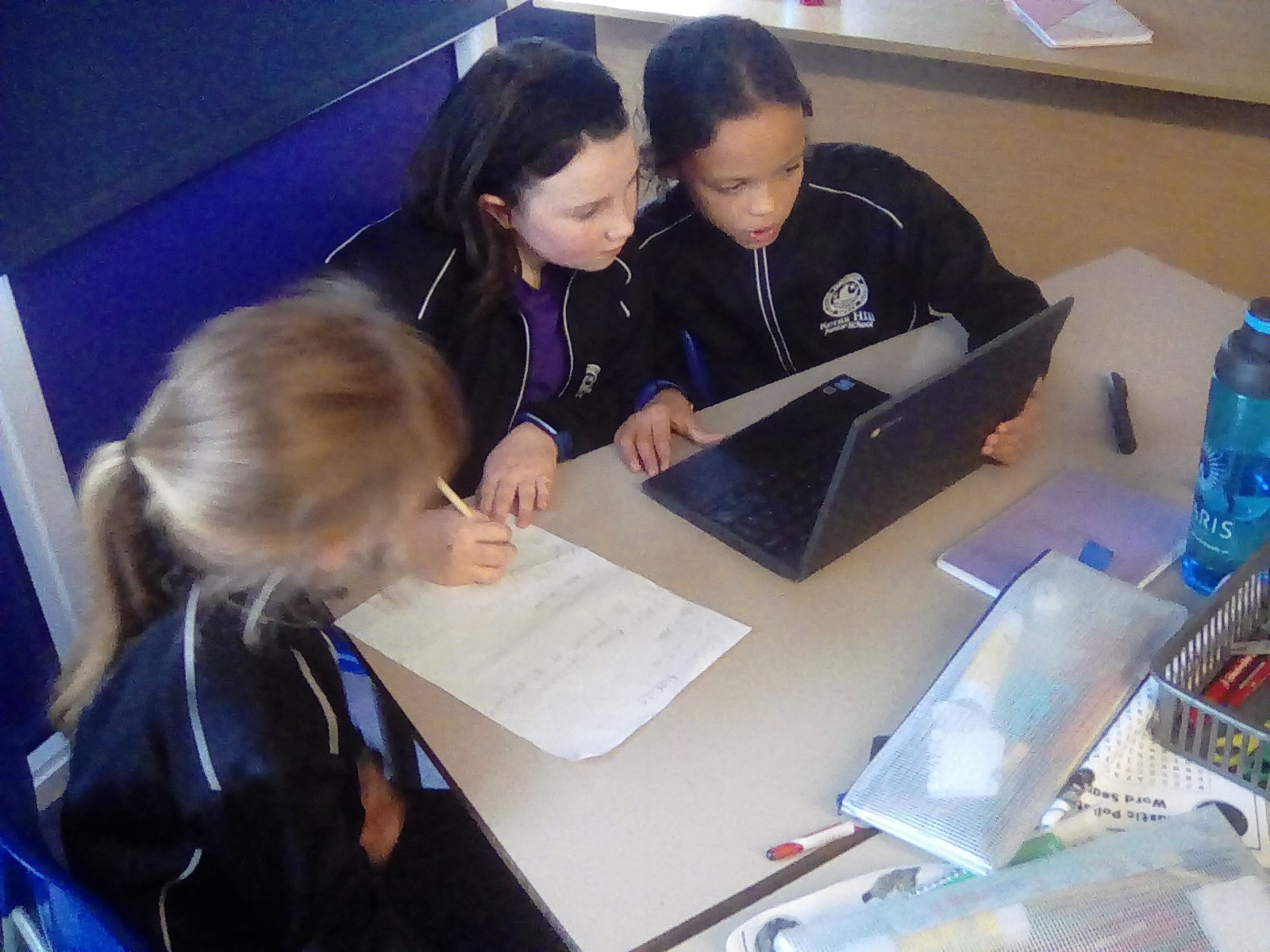 On Thursday, the children took part in a range of art and craft activities focused on plastic pollution and sea life. The children designed 3D paper fish to display in their classrooms, drew sea creature mosaics and wrote acrostic poems encouraging people to think about how humans are affecting the oceans.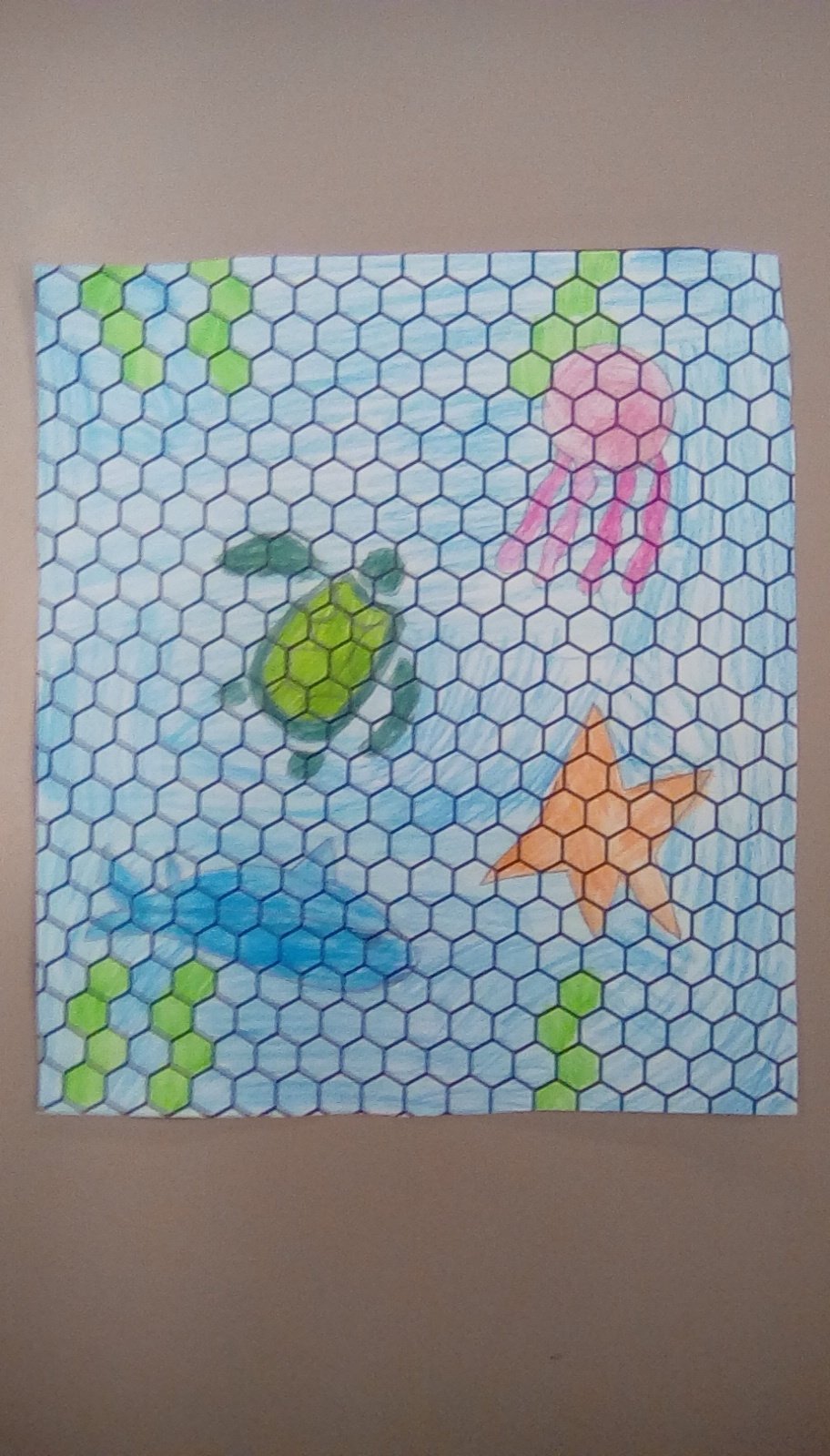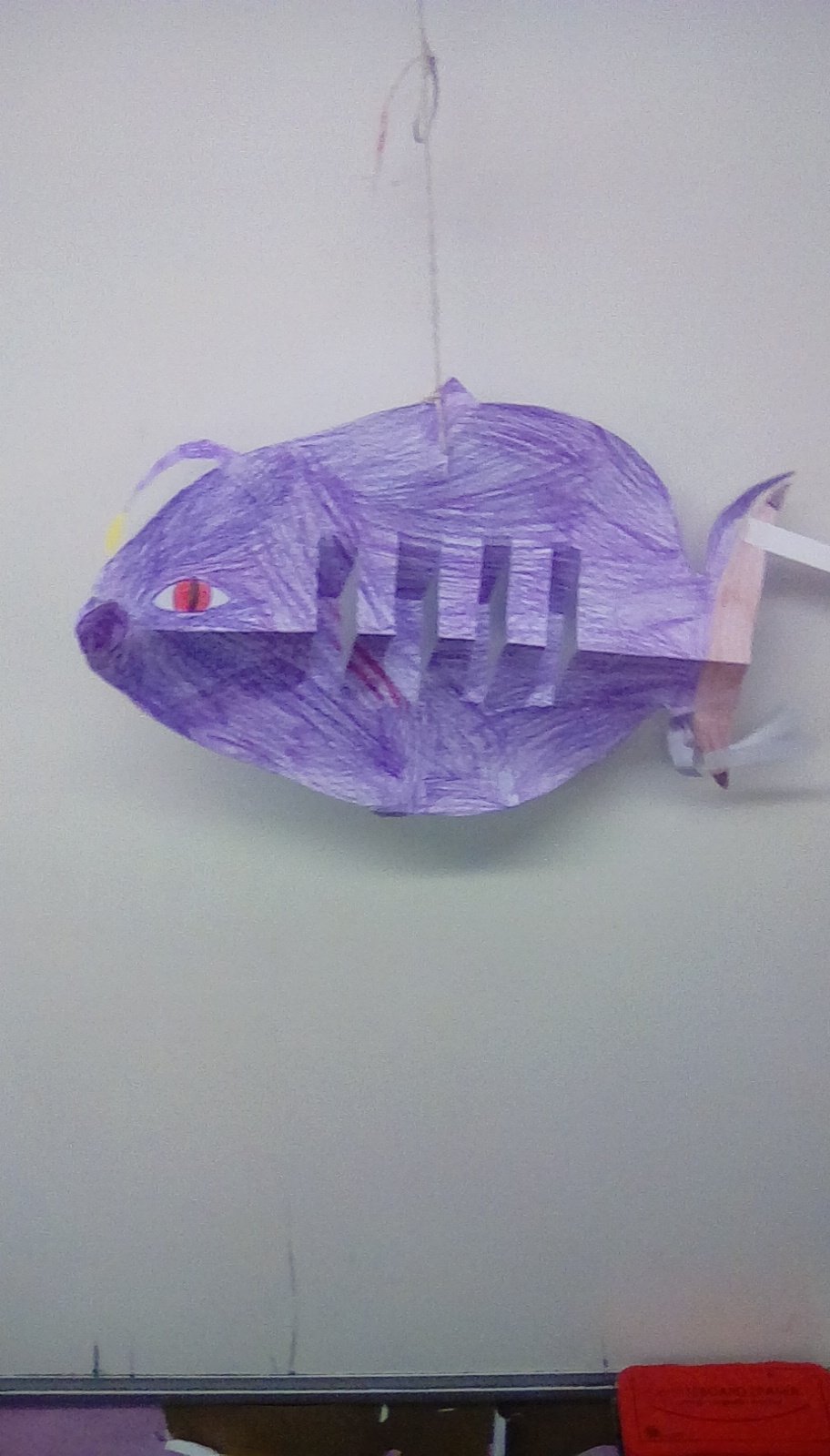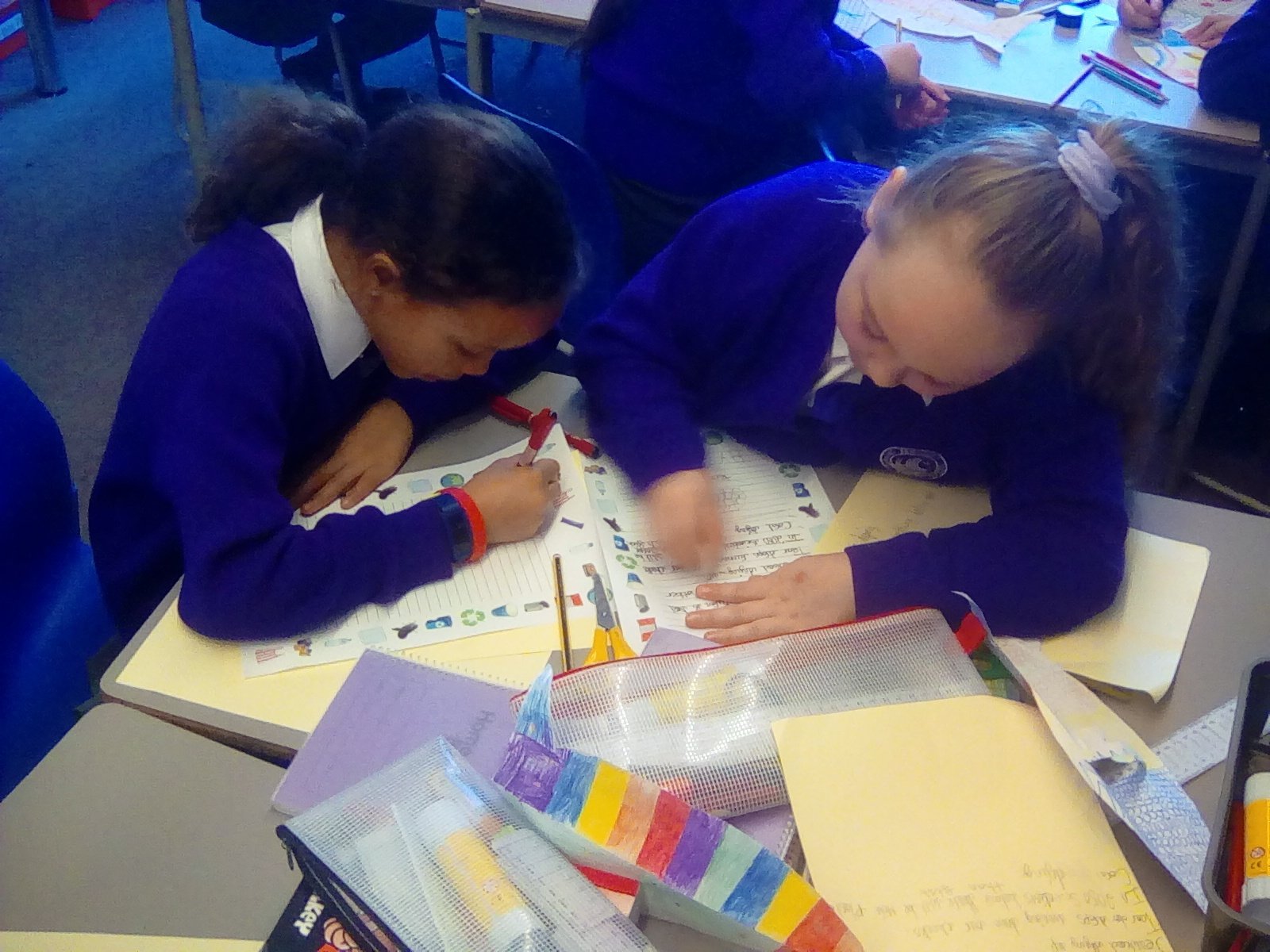 Finally, the children re-used plastic bottles creatively to create pencil cases and start a bottle-top mosaic. They used hot glue guns to attach materials and create their products. Thank you once again to everyone who sent in their waste plastic before Christmas!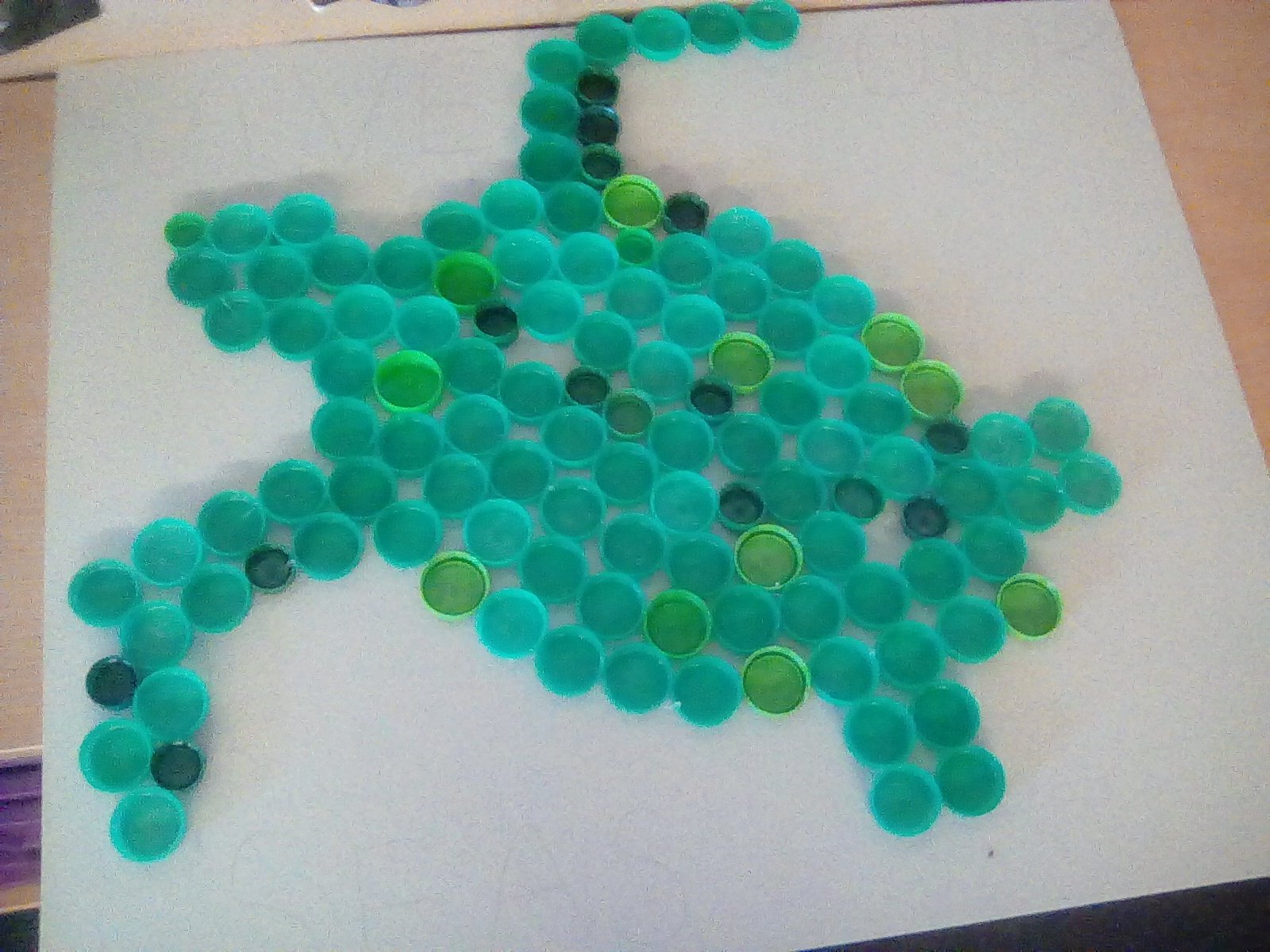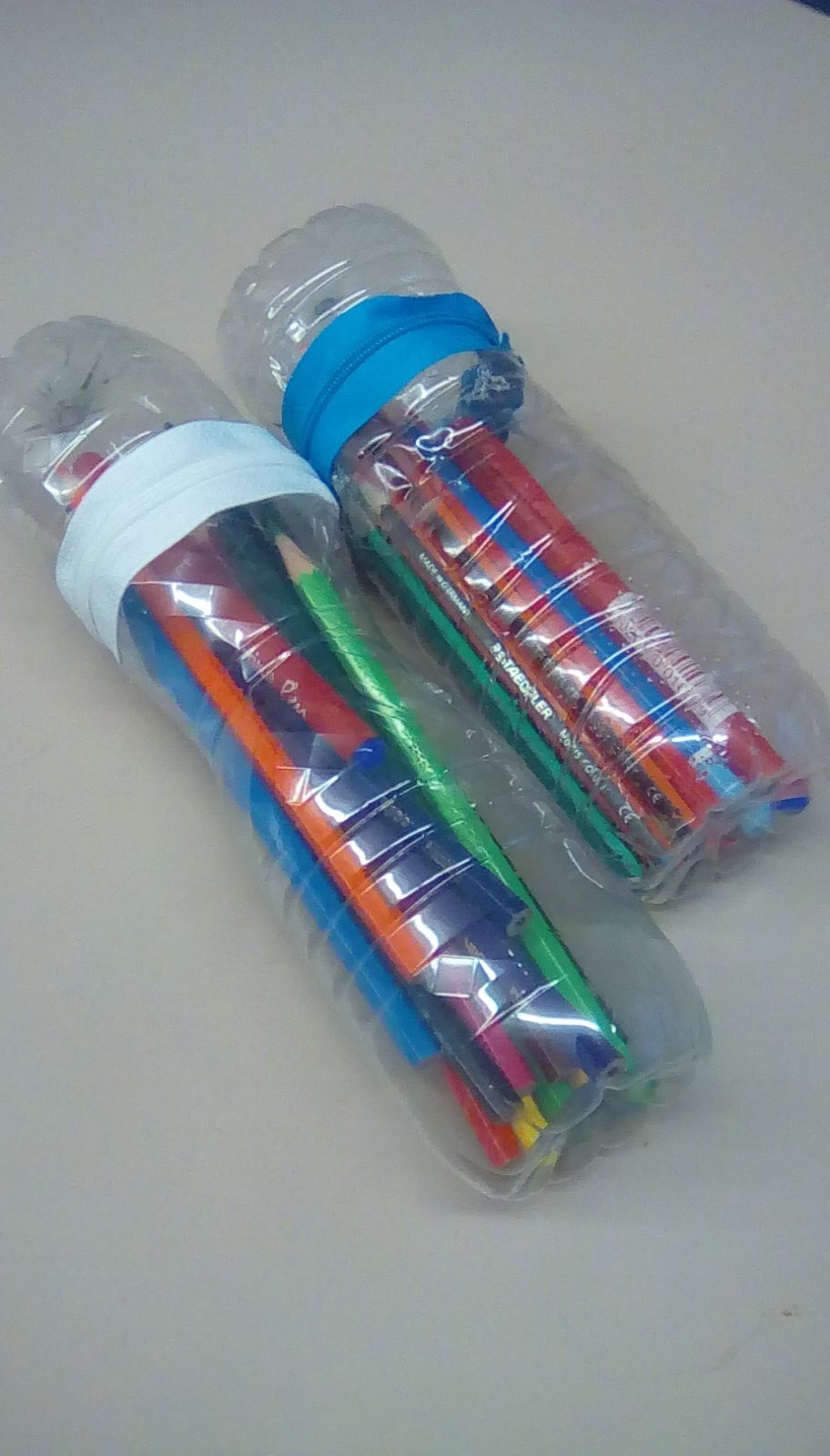 Week beginning 16.12.19
In our final week of the term, Year 4 have been applying all of our knowledge of the design process to a new project - the KidsInventStuff challenge. The children took on the challenge of designing a product which they could use to keep themselves warm throughout the Winter, starting with conducting their own research into existing products which people use. Once they had collected their research, the children evaluated the existing products to generate their own design specification.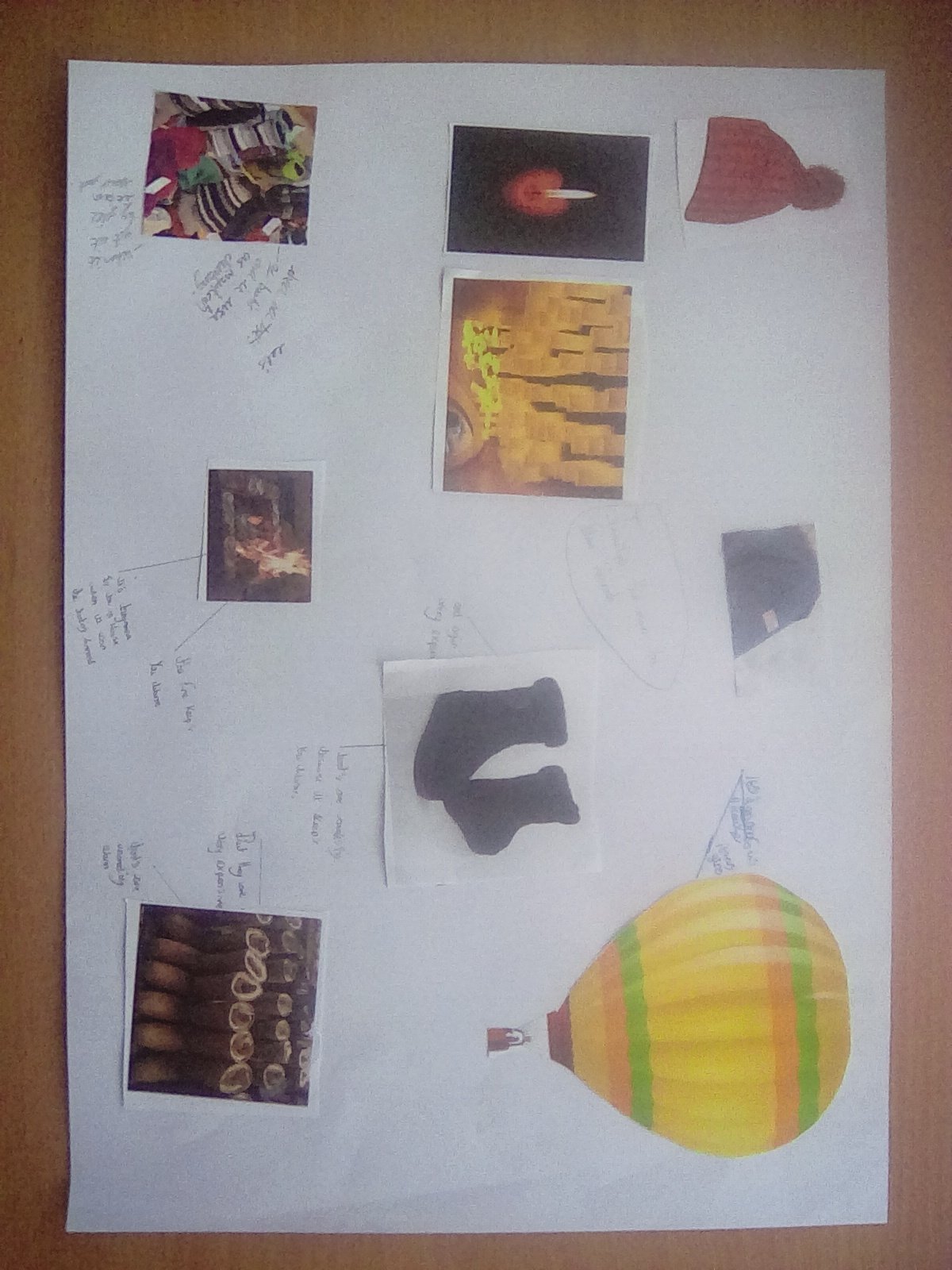 This week, the children have also been bringing in their topic homework pieces. We've seen a range of wonderful pieces, including Powerpoints, timelines, diary entries, sketches, replicas and many more. Below are a couple of examples of the superb pieces which have been brought in: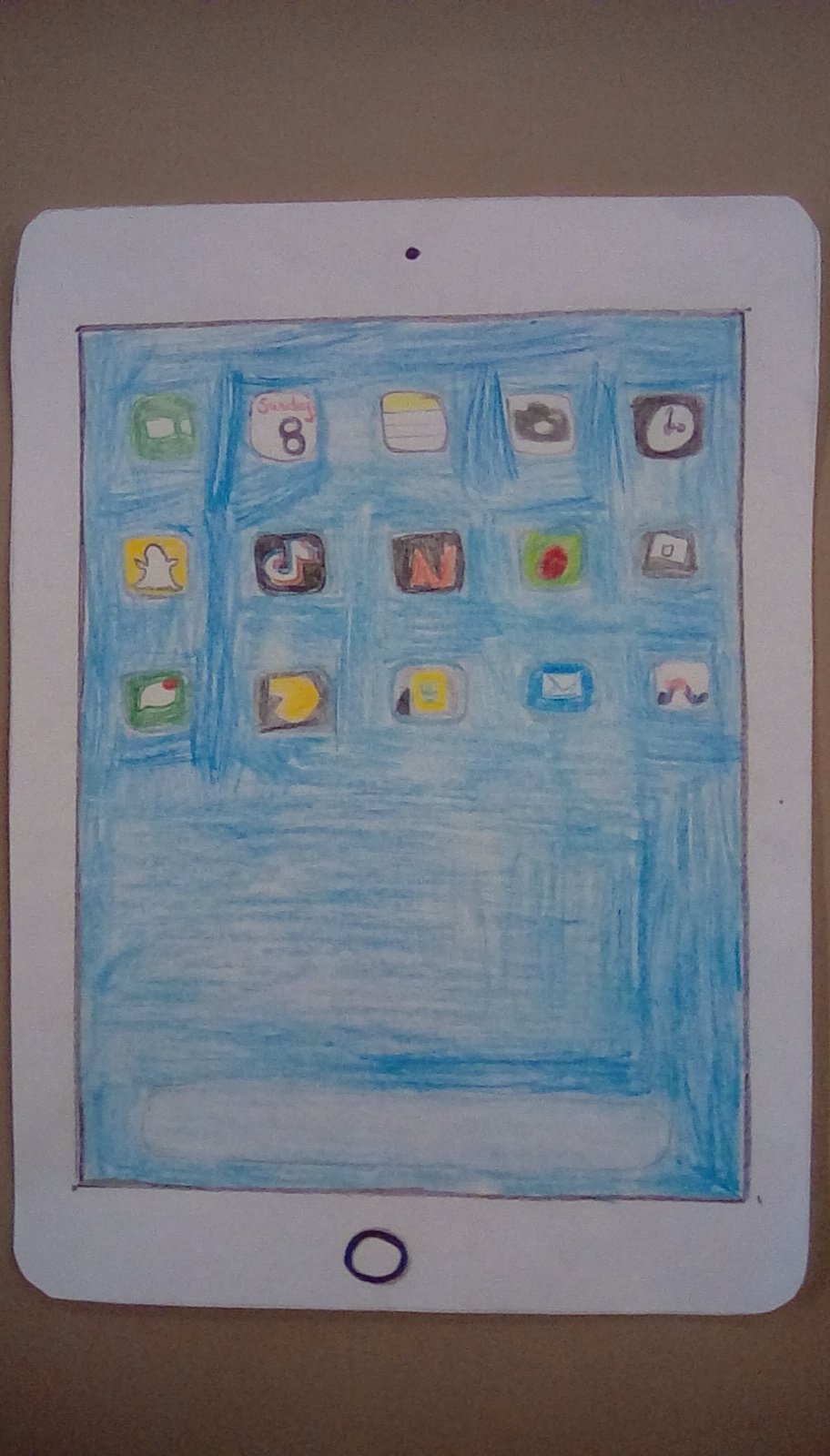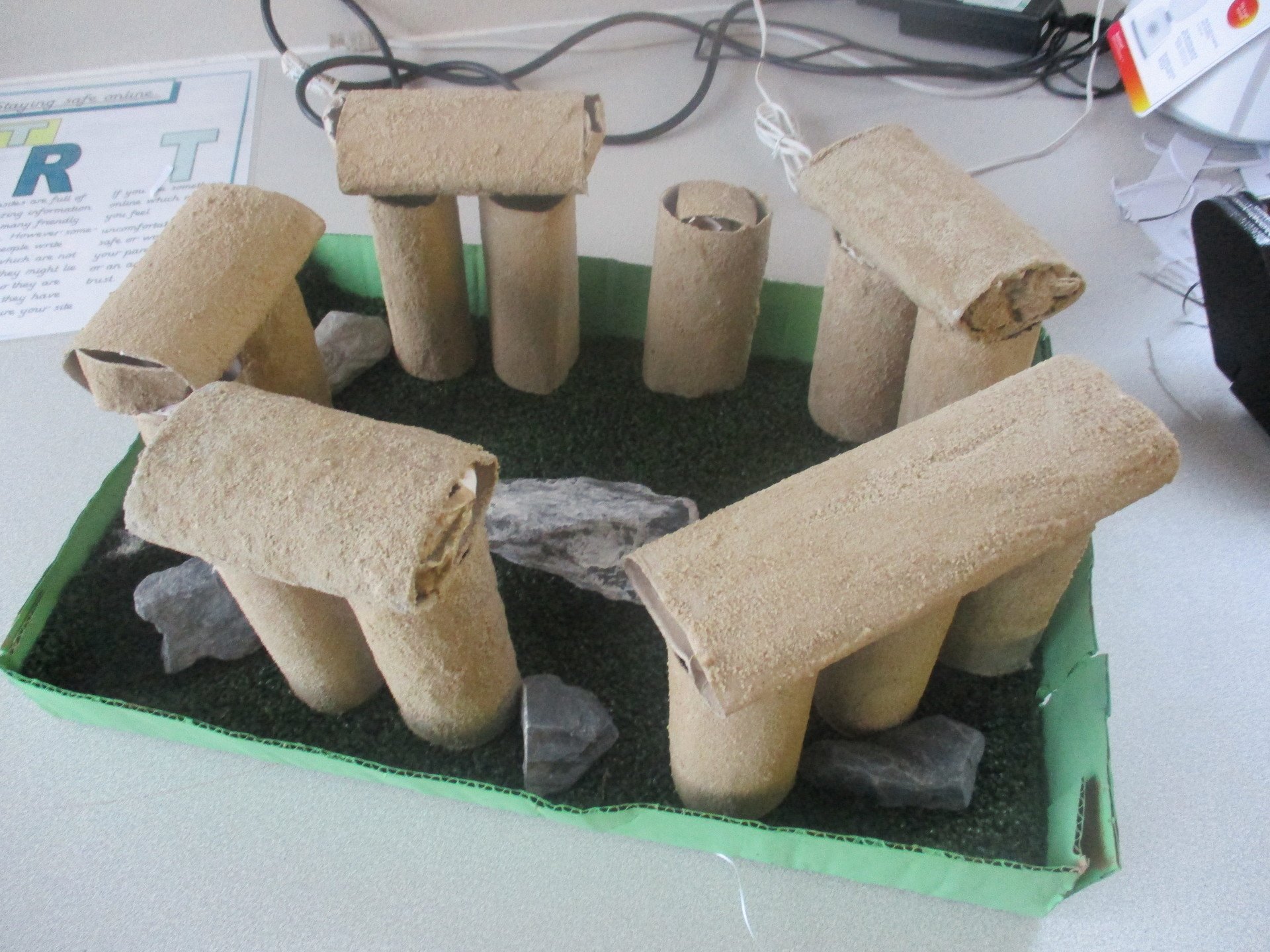 As we have come to the end of our Astonishing Contraptions topic, we have reflected on our thought-provoking question from the beginning of the term: 'Would our lives be different without curious, resilient inventors?' The children thought about some of the inventions and topics we have covered, and reflected on how our lives may be different if they hadn't been invented.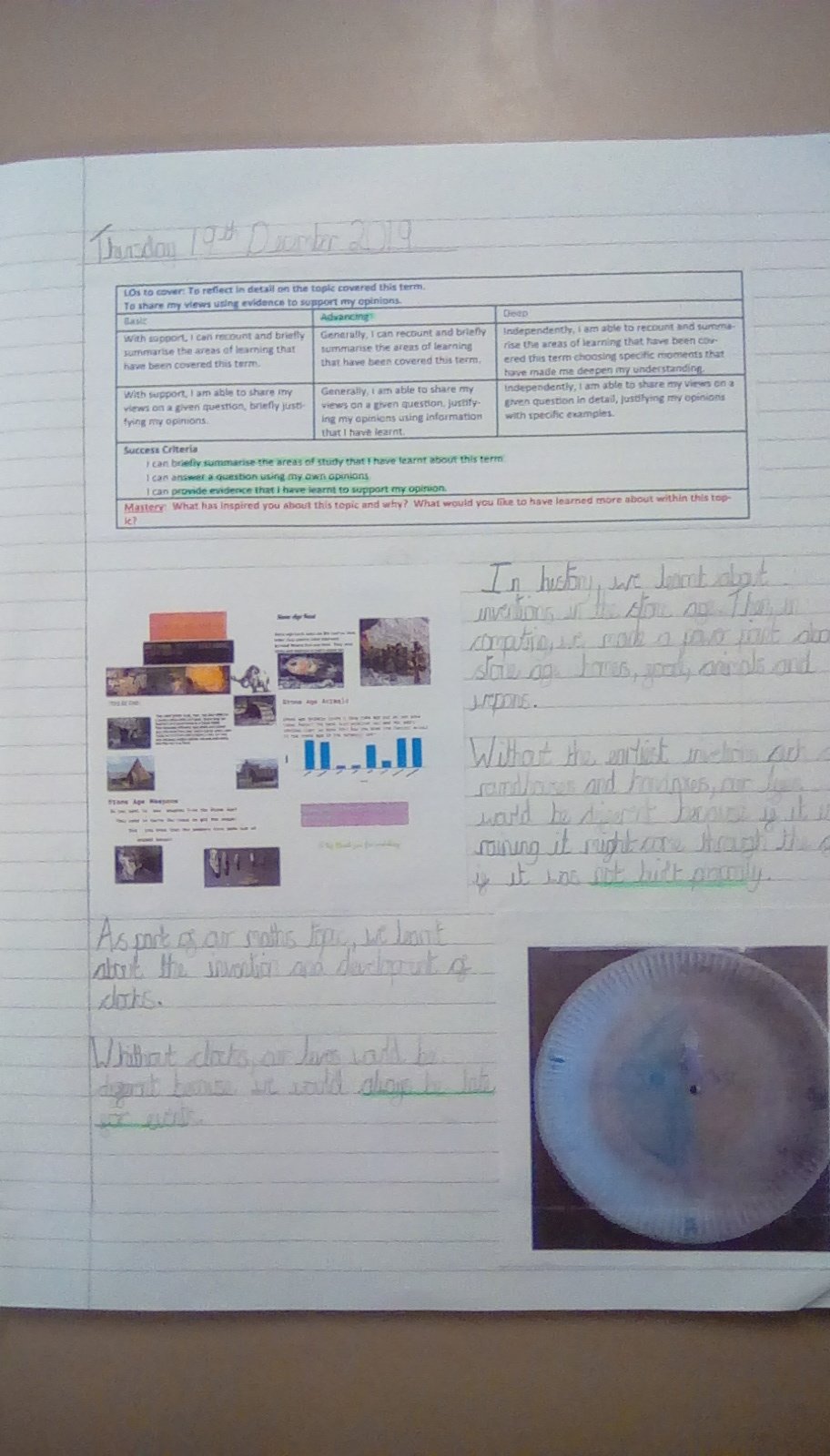 Finally, the children have really enjoyed the various Christmas activities this week. The children baked their own shortbread Christmas cookies at the beginning of the week to share with their adults. The children's hard work and hours of practice paid off on Tuesday as they performed beautifully during the Christmas Song Competition. Thank you to all of the adults who came to support the children and share our Christmas craft activity on Tuesday afternoon.
Week beginning 09.12.19
In Year 4 this week, the children have been continuing to develop their understanding of the design process as part of the James Dyson Foundation project. The children drafted their own ideas for an improvement to an everyday product in the classroom, using their design specifications from last week to inform their planning and ensure the suitability of their product. Once the children had finalised their designs, they worked collaboratively to agree on a design and construct a prototype.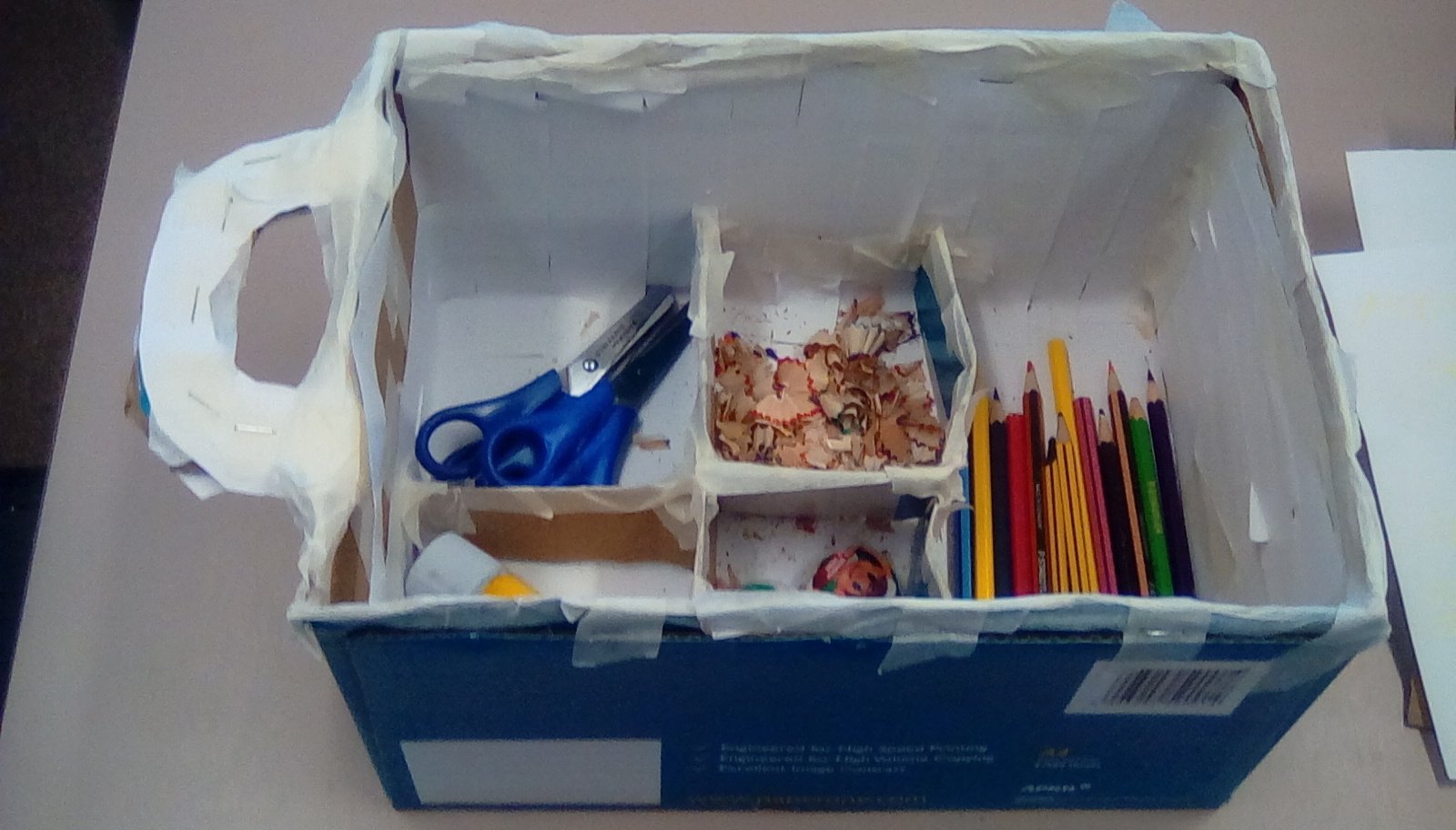 The children then evaluated their designs and considered the improvements they would make in they were to construct a second prototype. Putting themselves in the shoes of design engineers, the children considered whether it would be possible to realistically make their products if they had access to a range of materials and tools.
In a very busy week for the children, they thoroughly enjoyed the Jack and the Beanstalk pantomime on Monday and the Christmas Lunch on Wednesday afternoon. They have been working exceptionally hard on their Christmas Performances ahead of the competition next week, and rehearsed their songs with real enthusiasm!
Week beginning 02.12.19
In Year 4 this week, the children have started their James Dyson Foundation projects. To introduce the project, the children thought about the characteristics they would associate with a design engineer. They took part in whole-class discussions about some of the traits which would be vitally important in order to become a successful design engineer, including resilience, creativity and a willingness to solve problems. The children then used a Plus, Minus, Interesting technique to evaluate some everyday objects and consider ways to improve them - inspired by the Dyson Air Multiplier Fan.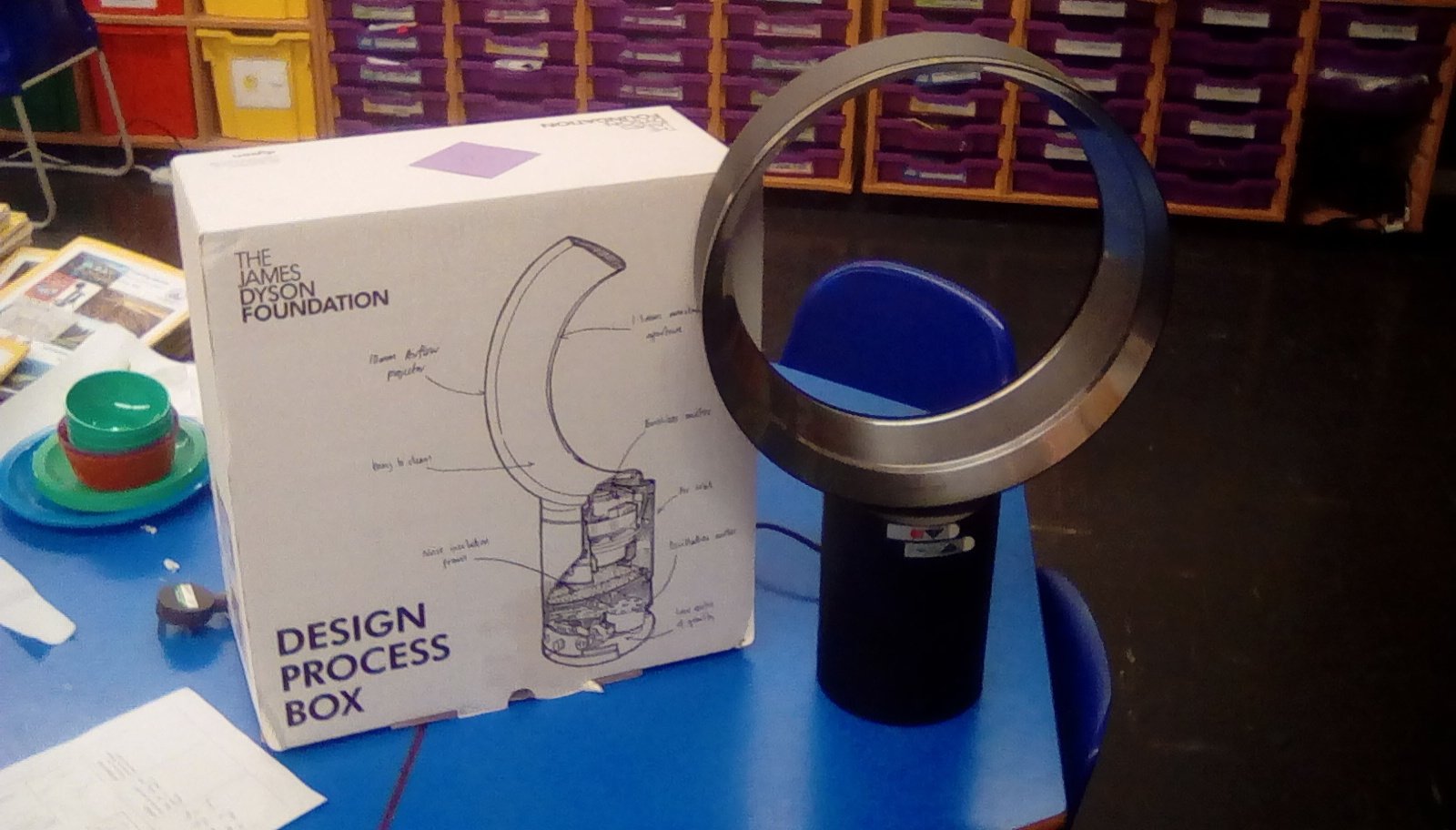 Continuing our Sound topic in Science, the children conducted an investigation to determine the most effective insulators against sound. They tested how effectively different materials muffled sound by measuring the distance required before they were unable to hear a continuous sound. The children acted as professional scientists by considering all of the different variables in a Science experiment and striving to achieve the fairest, most reliable results.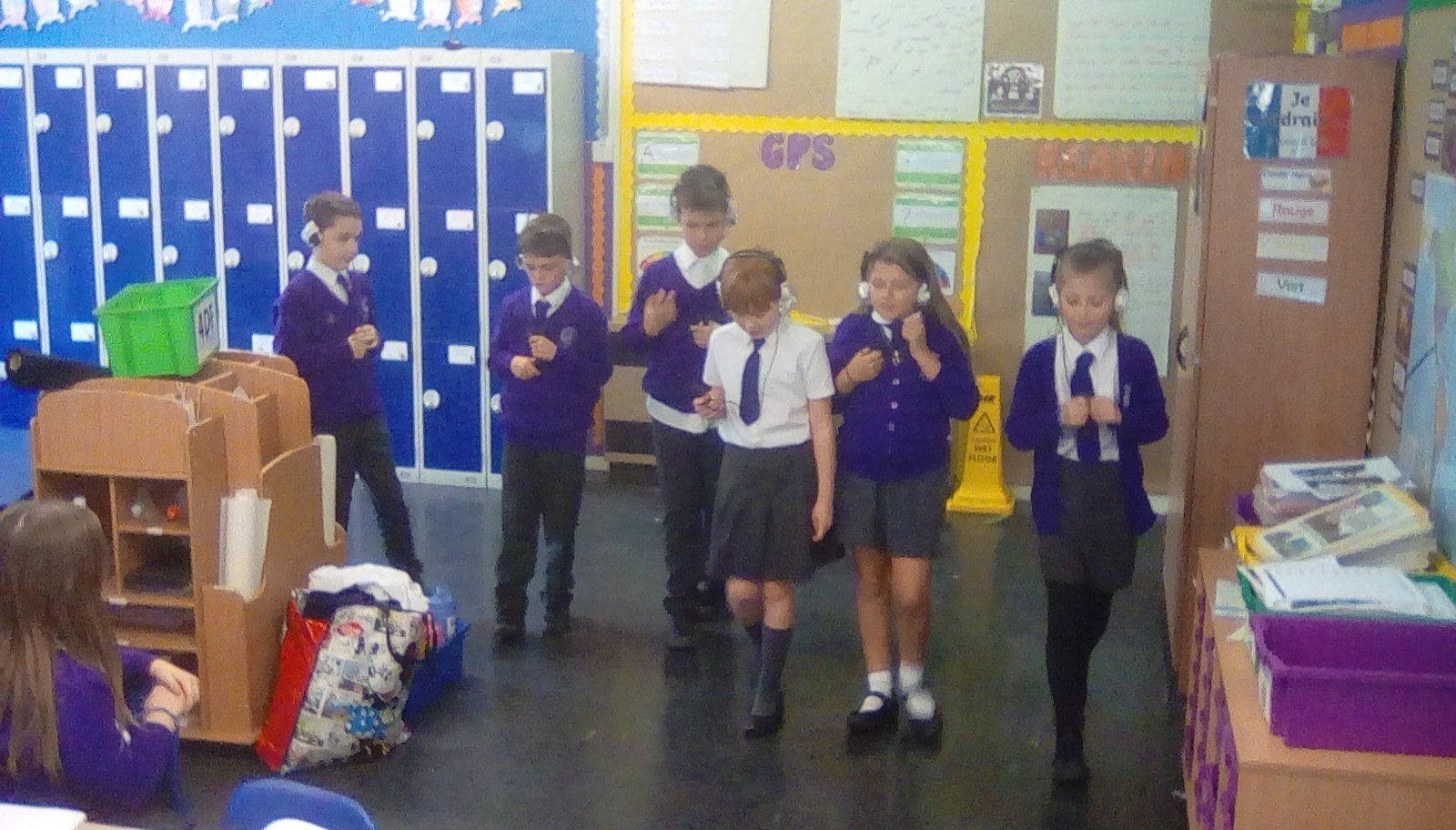 Finally, the children experienced a taste of France this week as we welcomed some pupils from The King John School for our French Day. The children took part in a variety of activities to immerse themselves in French culture, including participating in an interactive French Cafe role play, studying Christmas traditions in France, researching a famous French artist and learning a Christmas song in French. The children thoroughly enjoyed experiencing so many different aspects of French daily life and history.
Week beginning 25.11.19
In Year 4 this week, the children have taken assessments to demonstrate their progress in Maths, Reading Comprehension and Grammar, Punctuation and Spelling. The children have worked exceptionally hard to demonstrate their learning throughout this term.
This week, the children in 4DF performed their class assembly in front of the lower school and their families. The children performed their assembly professionally and enthusiastically, and showed off lots of different aspects of the curriculum which they have covered over this term. Thank you once again to the parents and family members who were able to come along and find out about our learning journey in this Autumn term.
As we have continued our Sound topic in Science, the children learnt about the effect distance has on a sound and the way that sound travels. The children took part in practical demonstrations to recognise how a sound becomes fainter over a larger distance and how sound can be heard even when the source is not in the same room, before suggesting their own explanations.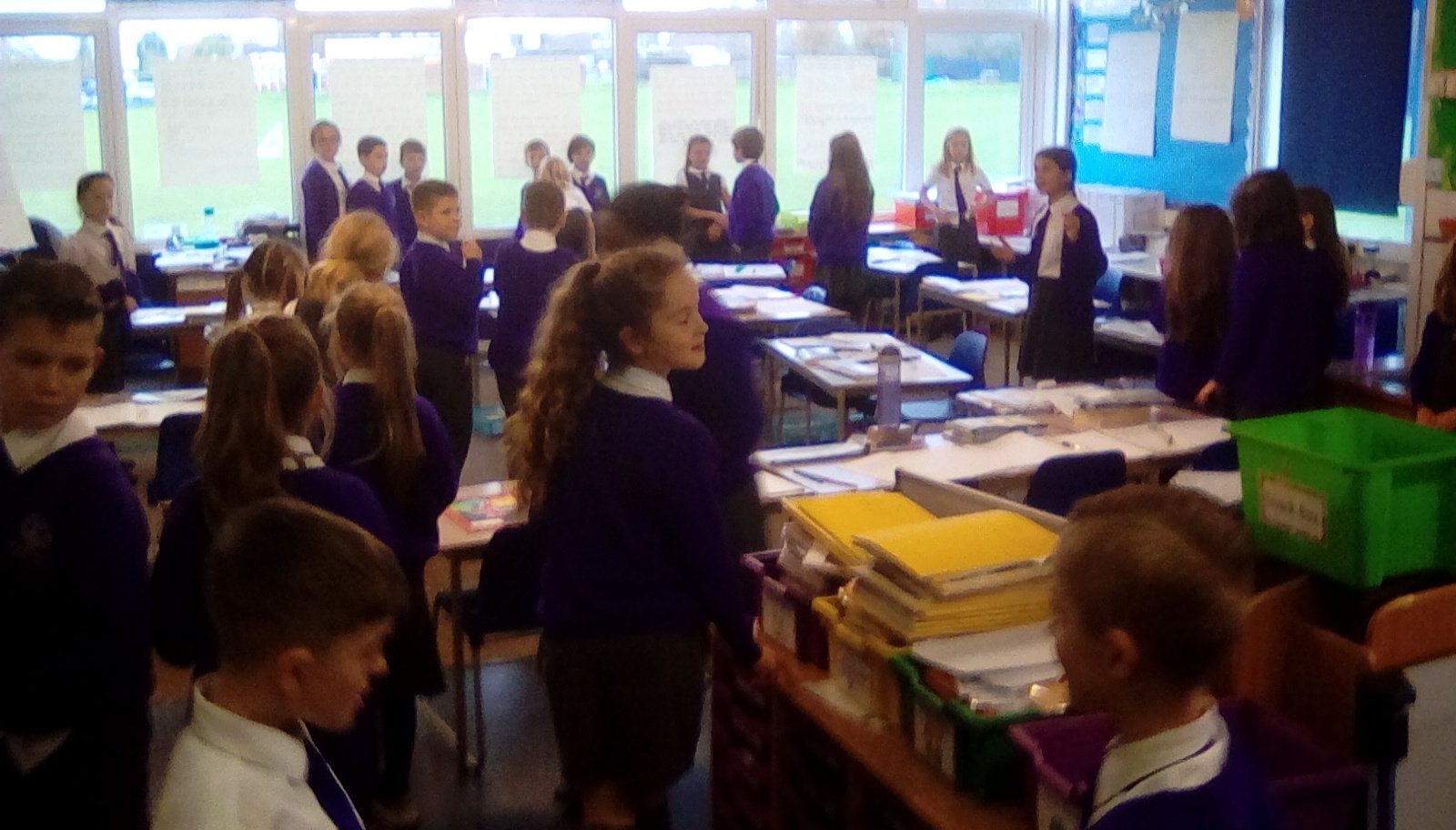 In the next few weeks, the children will be taking part in Design and Technology lessons as we continue to explore our topic of Astonishing Contraptions. In preparation for these lessons, the children reminded themselves of methods for measuring lengths accurately and strategies for converting units of measurement simply. They tested and proved different theories about proportions of the human body, such as 'The length of all of a person's fingers is the same as the length of your forearm.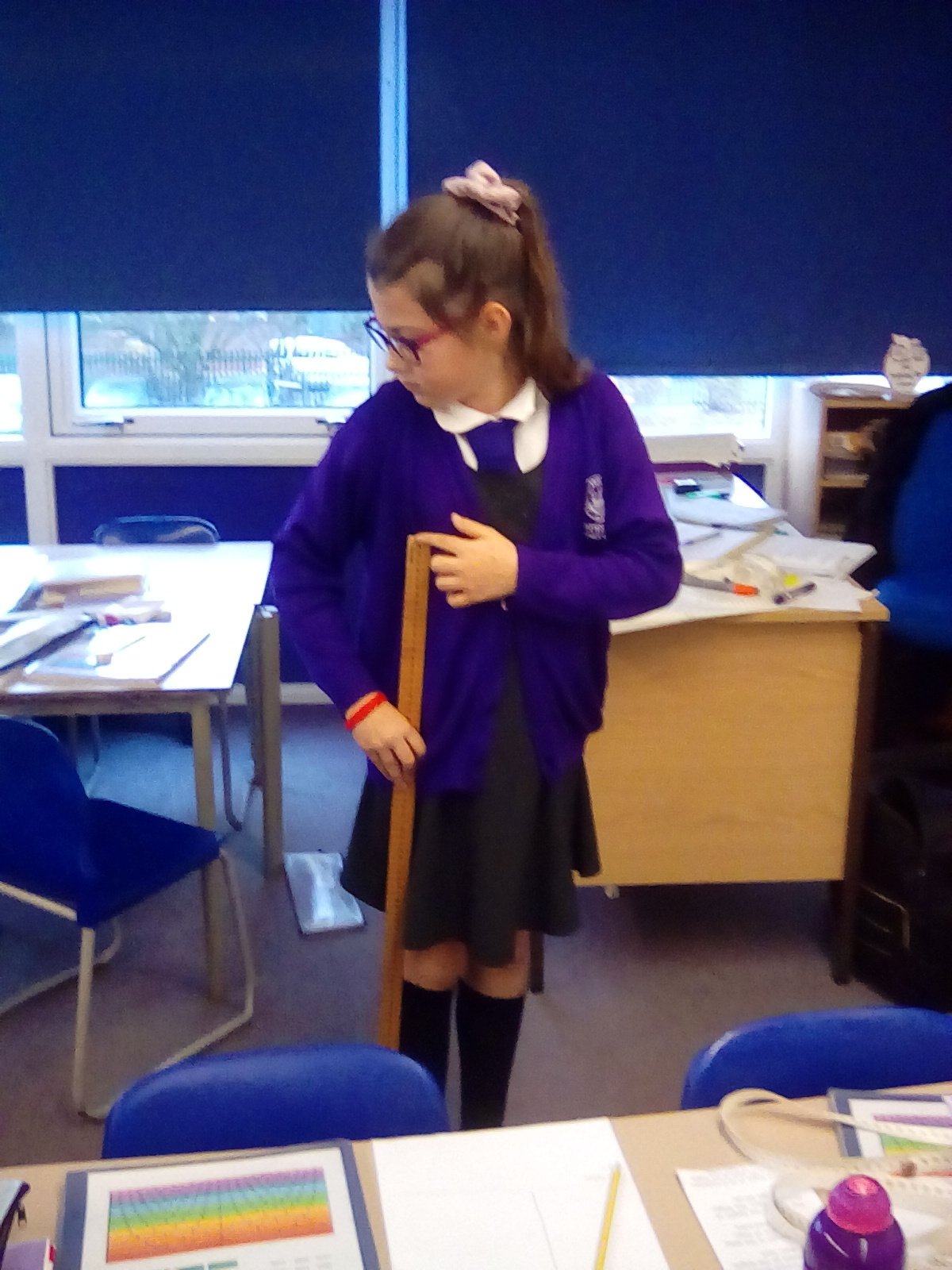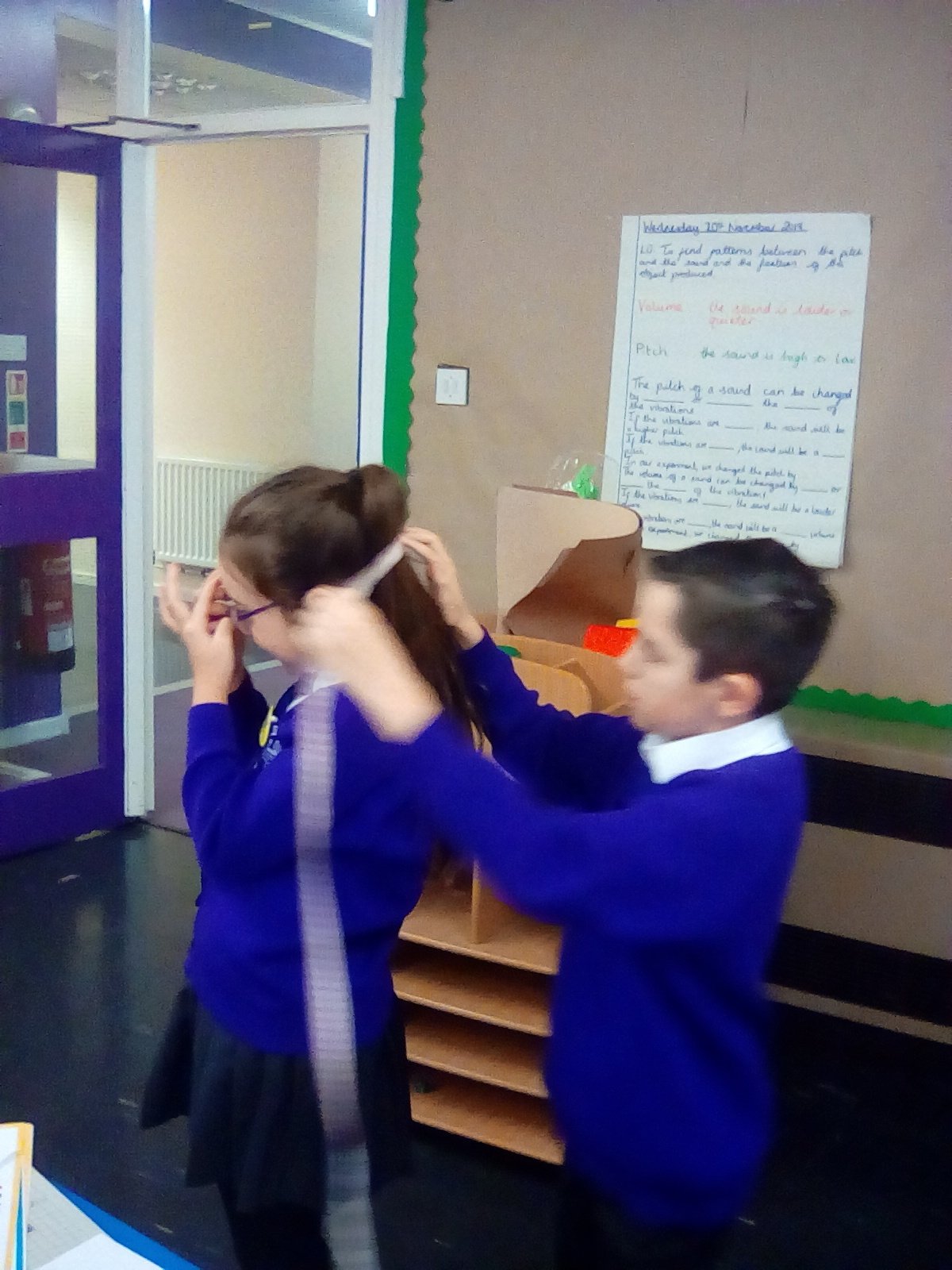 Finally, in our Online Safety sessions this week, the children reminded themselves of the importance of keeping their personal information private online. We discussed why this is important, how we can ensure that we look after our private information and what to do if we feel our information isn't safe.
Week beginning 18.11.19
In Year 4 this week, we have been looking forward to future innovations in technology as the children have been using the online coding software Scratch to make their own computer games. As part of the computer programming process, the children broke the game down into the different sequences required, developed precise sequences of code for the different components in their game and debugged any issues based on feedback from their peers.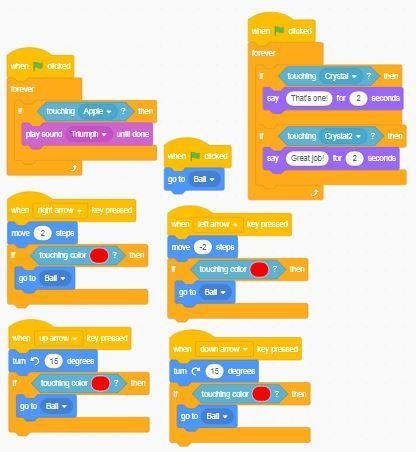 The children also published their newspaper articles based on 'The Invention of Hugo Cabret', focusing on presenting their work to an exceptionally high standard. The children presented their informative texts in an engaging, creative way which linked to the key themes of Brian Selznick's book.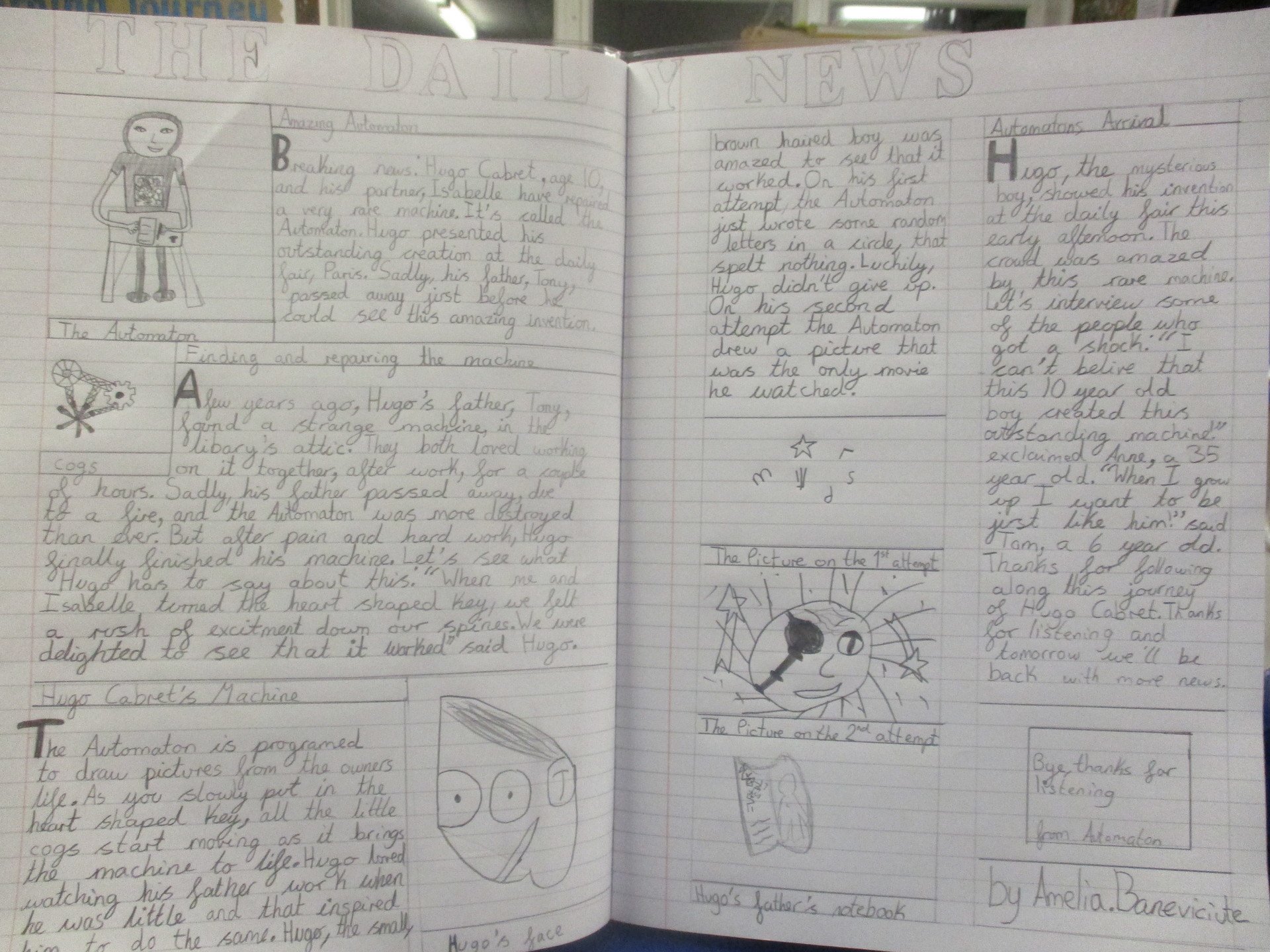 In our Science lesson this week, the children continued to develop their understanding of the Sound topic as they explored ways to change the pitch and volume of a sound. The children experimented with homemade instruments, considering ways they could change the type of sound produced.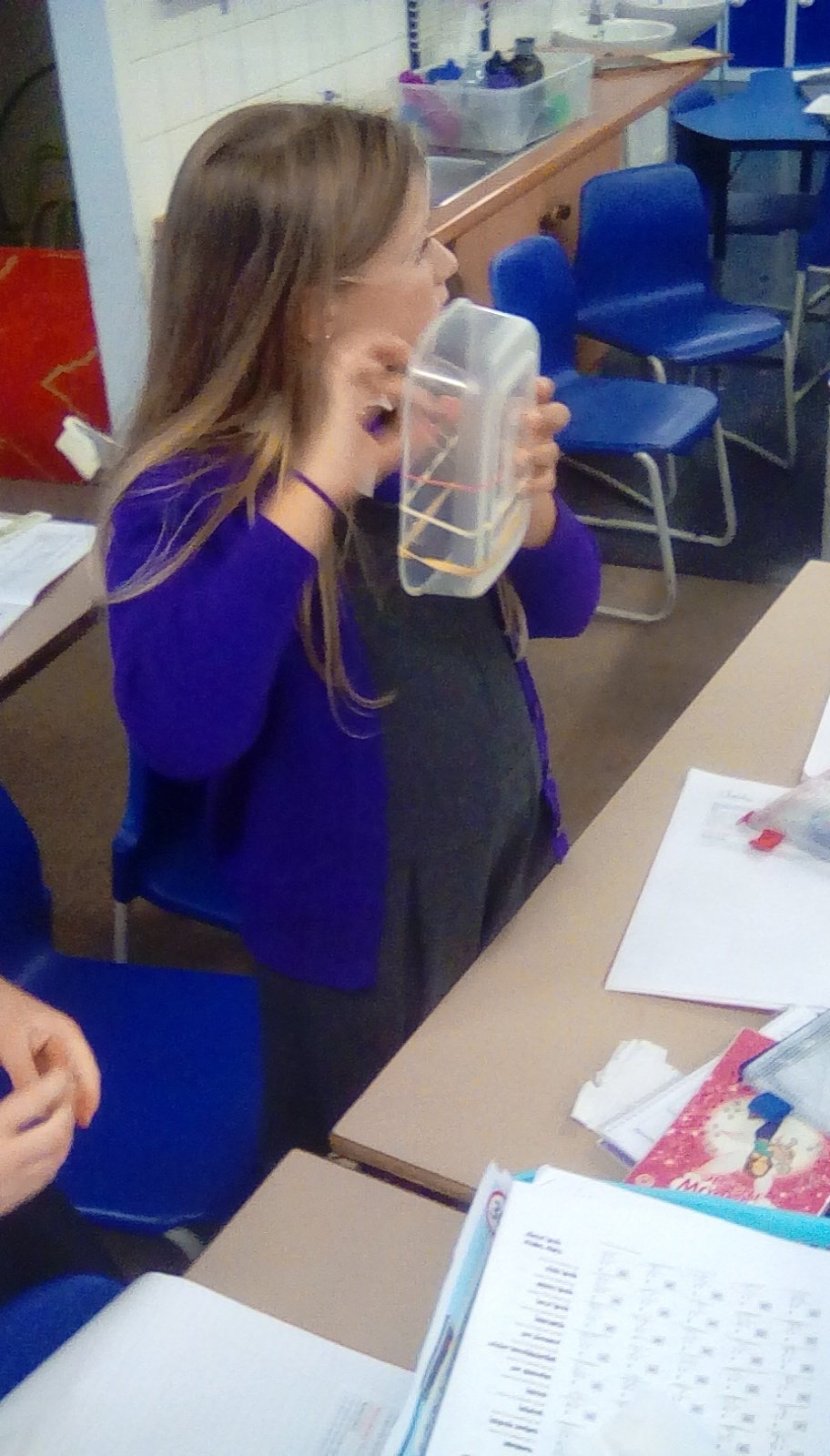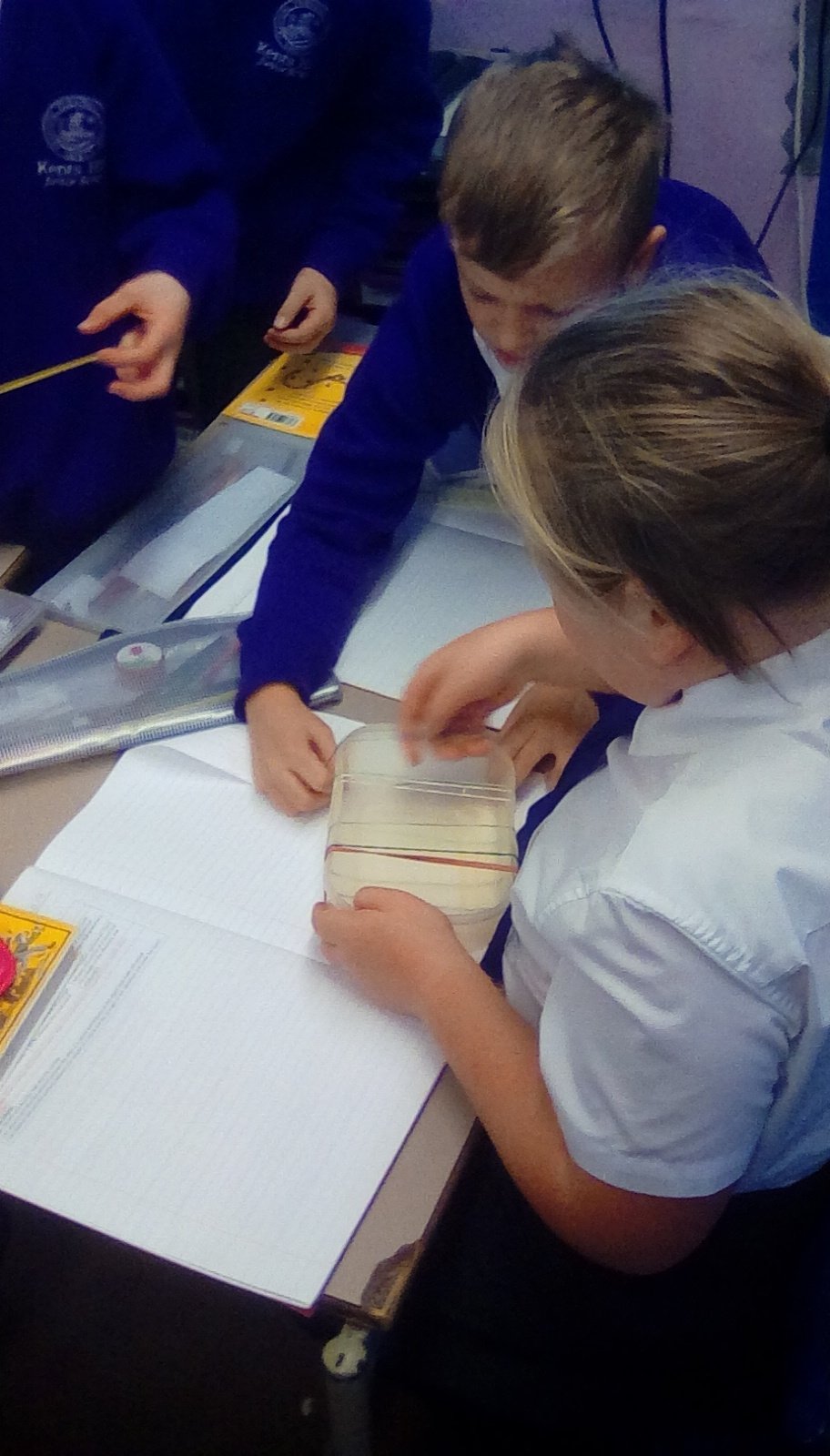 Finally, in our online safety assemblies this week, the children discussed some of the most popular online games and apps at the moment. Next week, we will aim to come up with some tips and pointers for making sure they know how to keep themselves safe on those apps.
Week beginning 11.11.19
In Year 4 this week, we started our week by celebrating Remembrance Day. The children empathised with the soldiers who have given their lives at war, focusing specifically on the soldiers who participated in World War 1. The children worked in small groups to produce a dramatic performance of daily life in the trenches, using a dramatic technique called 'thought tracking'. This involves the children directing several freeze frames of scenes from the trenches, then 'coming to life' to discuss their experiences and their feelings. It was really impressive to see the children devise poignant and historically accurate scenes.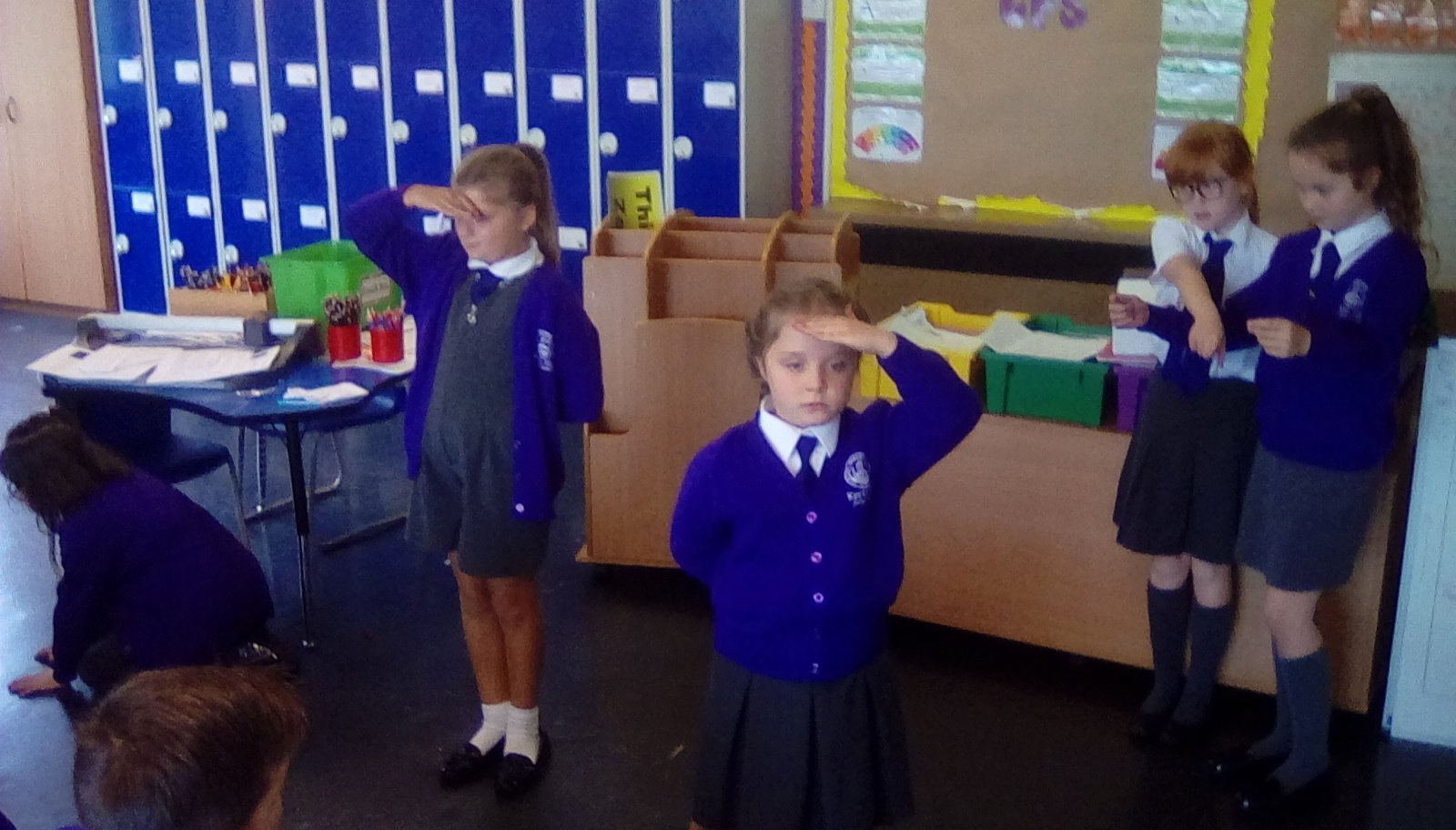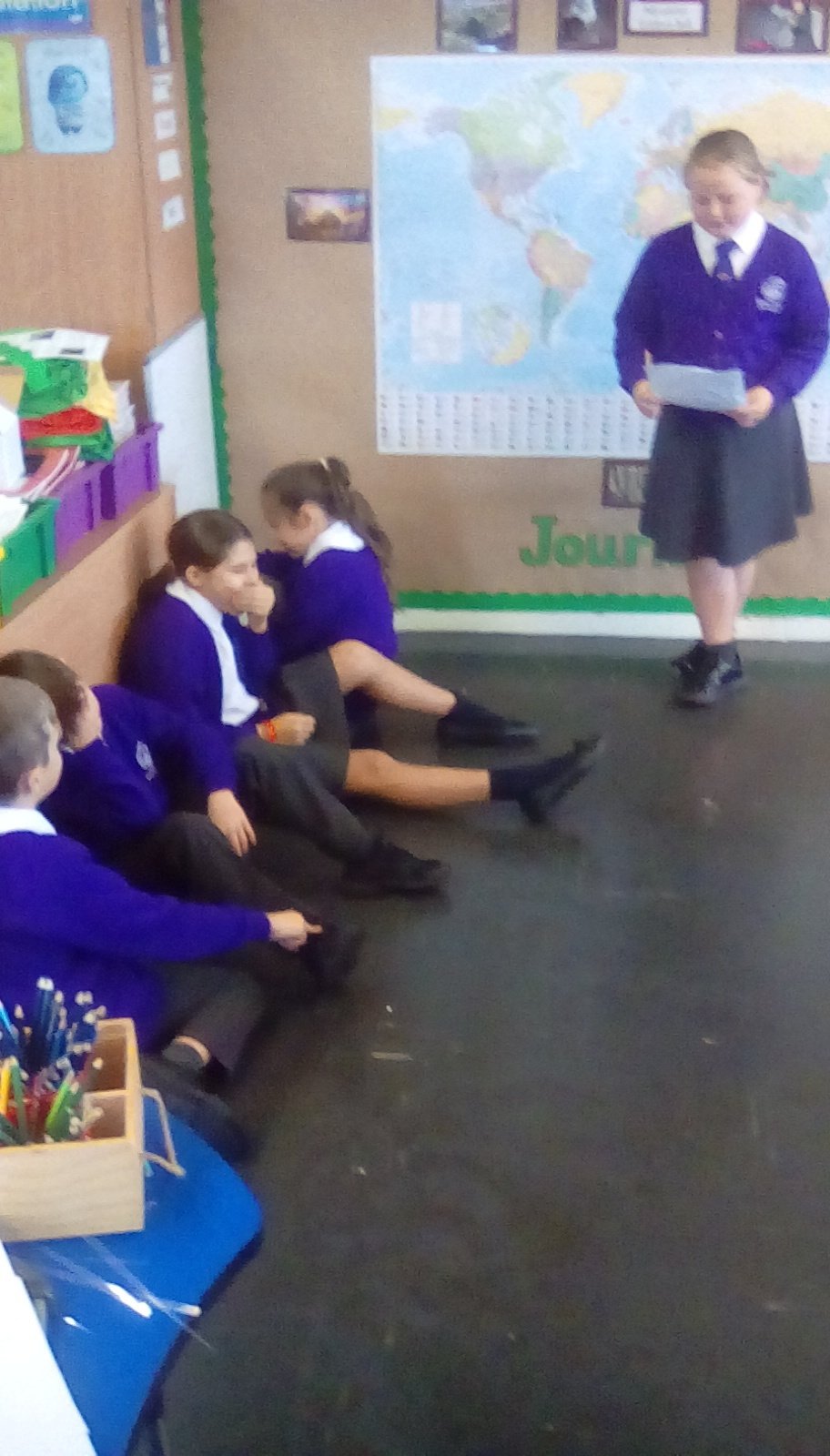 In Writing this week, the children have been using 'The Invention of Hugo Cabret' to inspire an informative text. The children produced newspaper articles imagining that Hugo Cabret revealed his invention at the World Fair in Paris, and reported on the events of the day as well as the background of the character. We have focused on using a range of informative techniques, such as subordinate clauses, fronted adverbials and inverted commas for direct speech.
As we have continued our Sound topic in Science this week, we have conducted practical experiments to try and prove that the vibrations which cause sound can travel through liquids and solids. The children constructed their own hydrophones using a bucket of water, pebbles and plastic bottles. They also tested and discussed the science behind string telephones.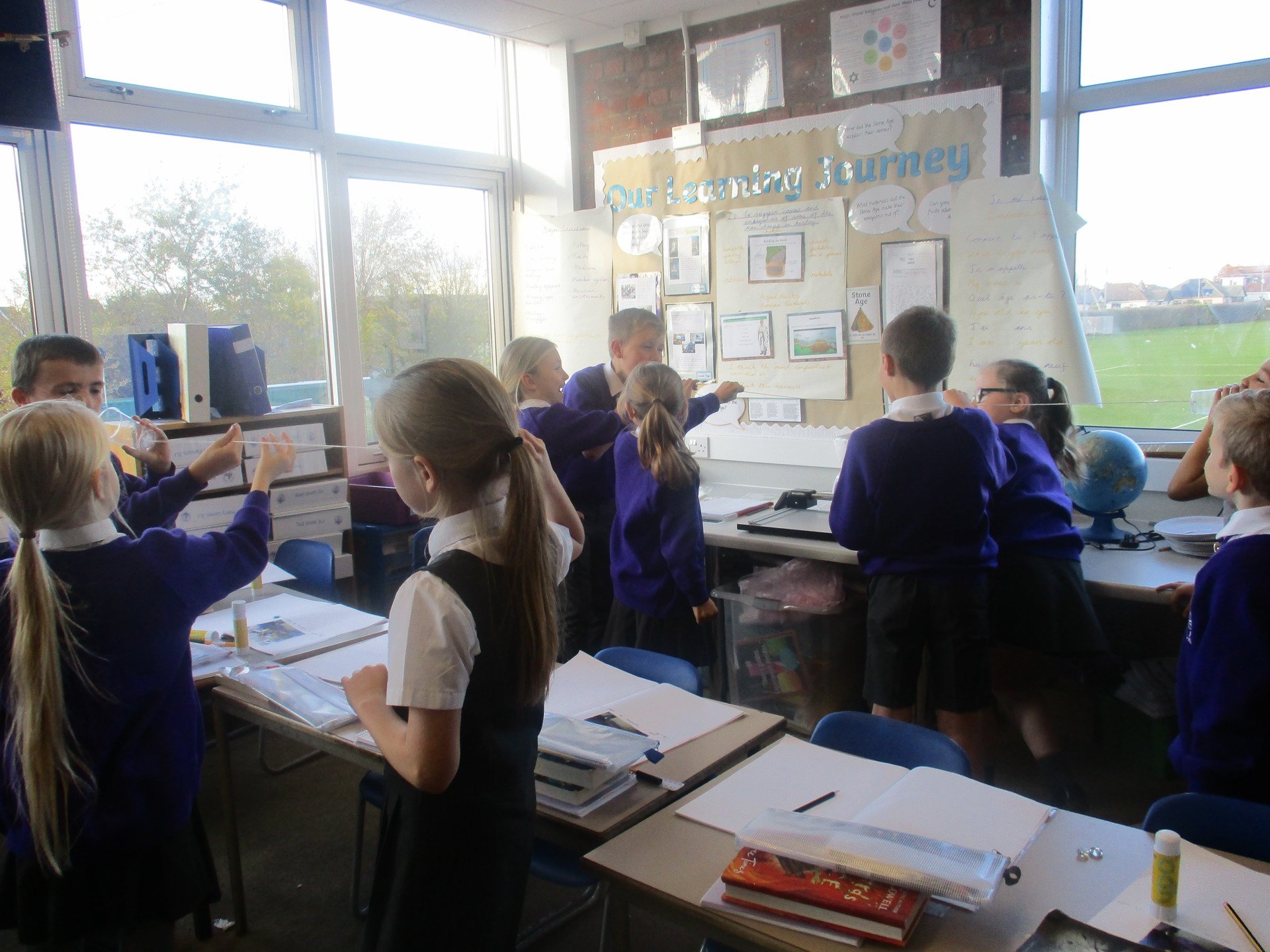 Finally, in our online safety assemblies this week, the children produced and presented posters to give other children the message about online safety and being SMART online. These included their advice for some of the most popular apps and games they use.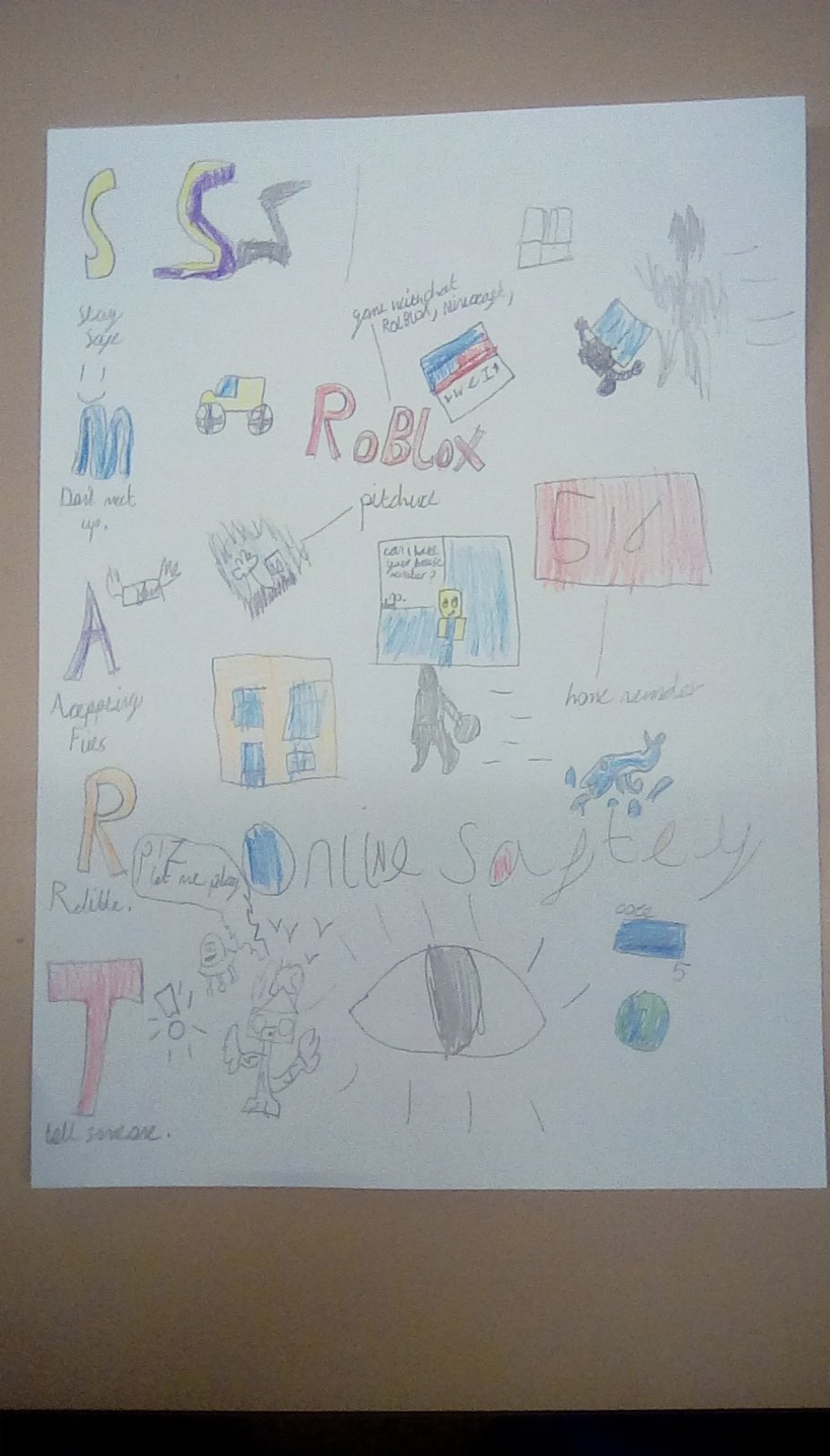 Week beginning 04.11.19
In Year 4 this week, the children have been learning about Relationships and Sex Education. They have discovered how their characteristics are linked to the genes of their parents and begun to explore how a baby is made. The children also discussed some of the natural changes which occur when boys and girls reach puberty, including hair growth, menstruation and other bodily changes.
The children then moved on to consider other significant changes which may happen in their lives, thinking about the changes we can affect and some changes which they may not be able to control. They produced Circles of Change, where they considered changes they would like to make in their lives over the next academic year, and reflected on how it might make them feel. We have all been hugely impressed by the children's maturity and open-mindedness as they have discussed these topics.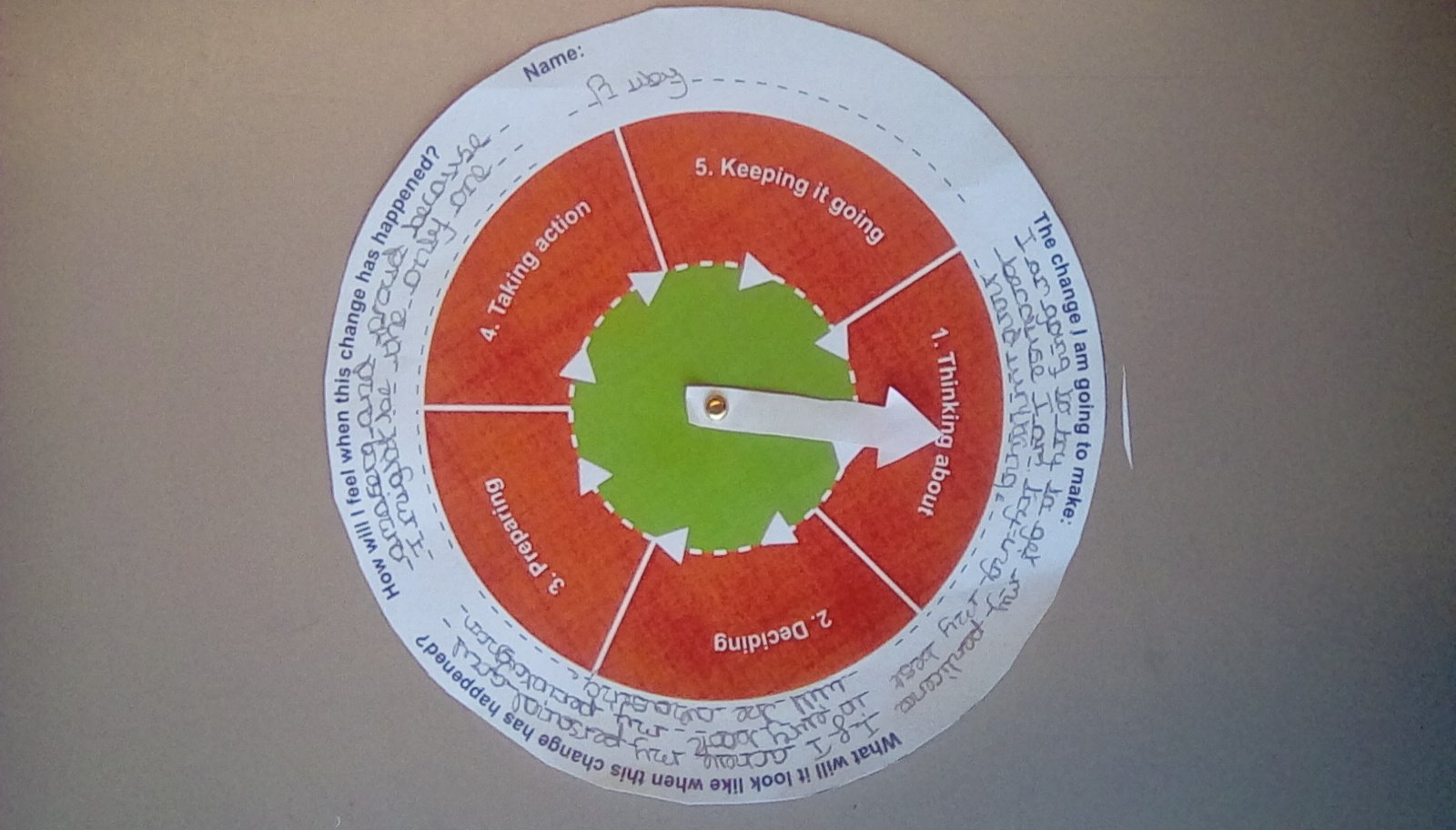 In our E-Safety class assemblies this week, the children have reflected on the SMART message and their understanding of the importance of online safety in their lives. The children produced posters which outlined the importance of online safety and some of the most prominent messages they would like to pass on to their peers.
Finally, the children thoroughly enjoyed the Roots to Food Roadshow this week. Some of our Year 4 children participated in the house competition in the morning, making dishes from different parts of the world and demonstrating multiple cooking techniques. In the afternoon, a further selection of Year 4 children participated in a cooking workshop, learning techniques such as steaming, mixing and chopping ingredients using the 'claw' and 'bridge' techniques.
Week beginning 21.10.19
In Year 4 this week we have been focusing on one of the most significant inventions in history and its development over different eras - the clock. In History, we learnt about the different innovations in time-keeping, starting with the water clocks and sundials of Ancient Greece and going all the way up to one of the most famous timepieces in the world - Big Ben.
As we have been learning about time-keeping, we have also learnt about telling the time accurately in Maths. To support us in our learning, we have made replica learning clocks. These clocks are made specifically to help make telling the time as simple and easy as possible, and will be used to help us throughout the year as we learn how to tell analogue and digital times.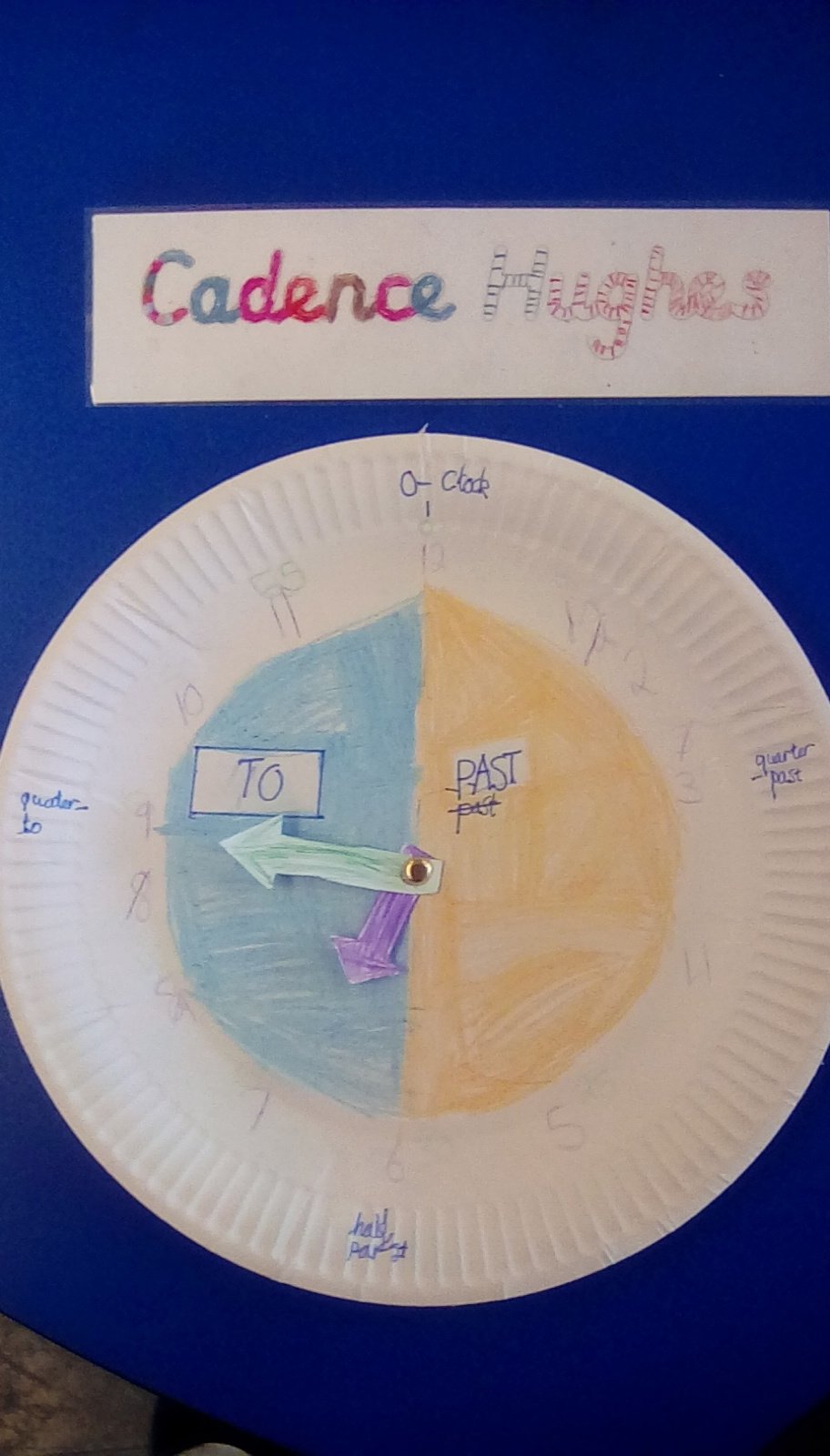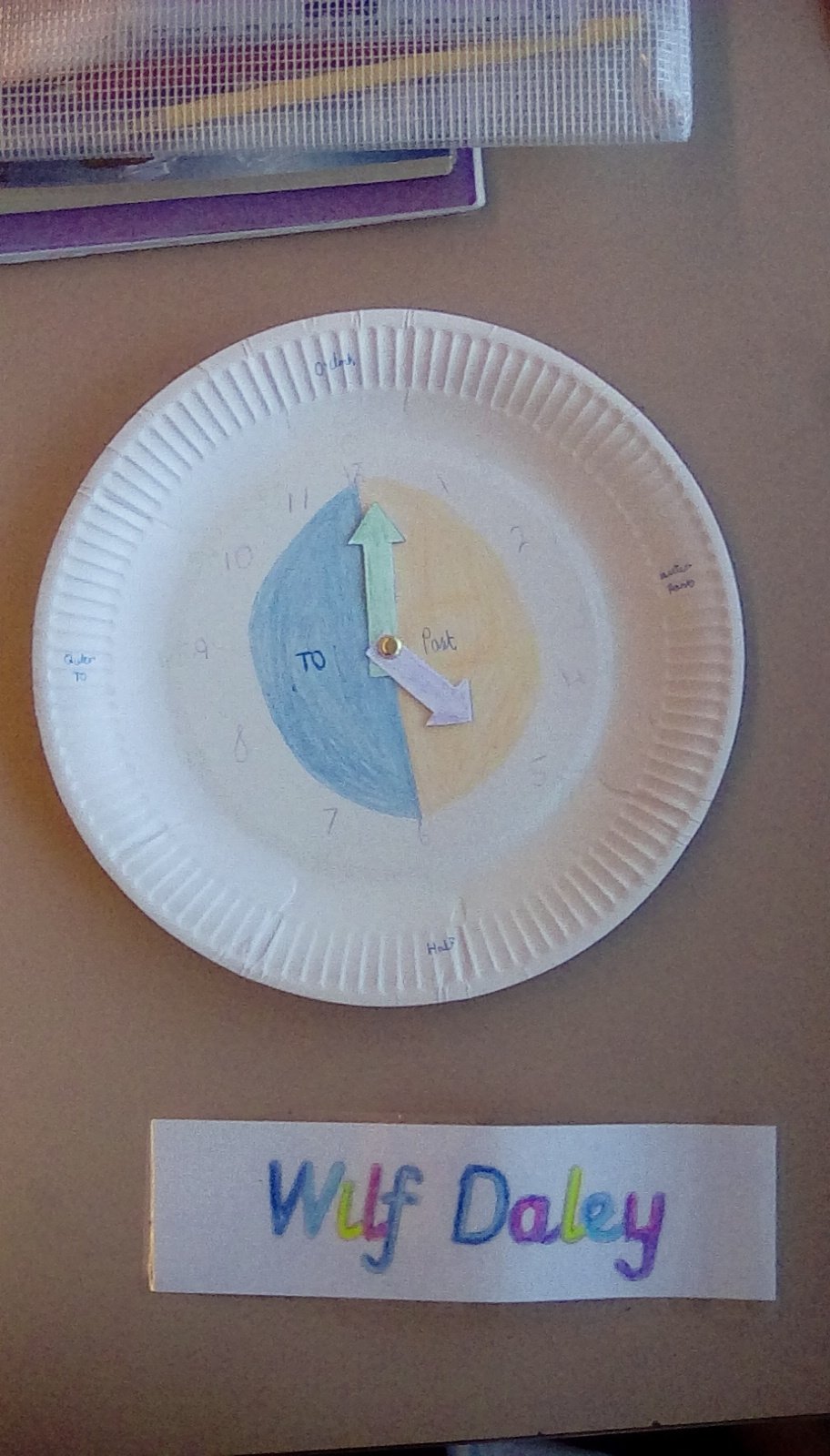 In Science this week, we have developed our understanding of electrical circuits and used electrical circuits for a specific purpose. We created a light-up clown face using multiple components of a circuit, and some of us challenged ourselves to add a motorised spinning bow tie to our designs!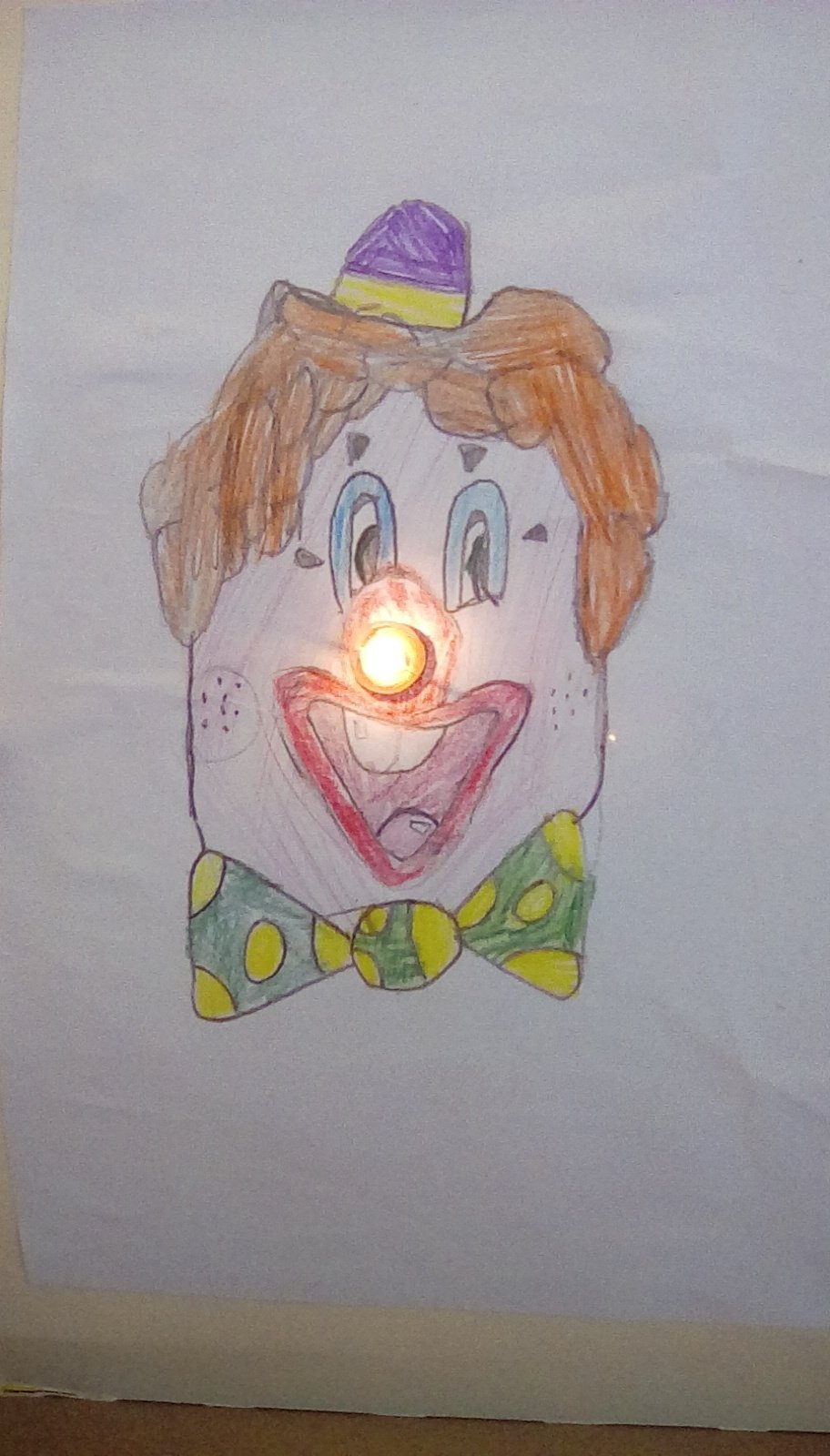 Week beginning 14.10.19
'In Year 4 this week, the children have been learning about some of the innovations of the Roman civilisation. The children considered how two of the most significant inventions of the Roman era - roads and aqueducts - would have affected people's lives, and wrote persuasive pieces detailing their benefits.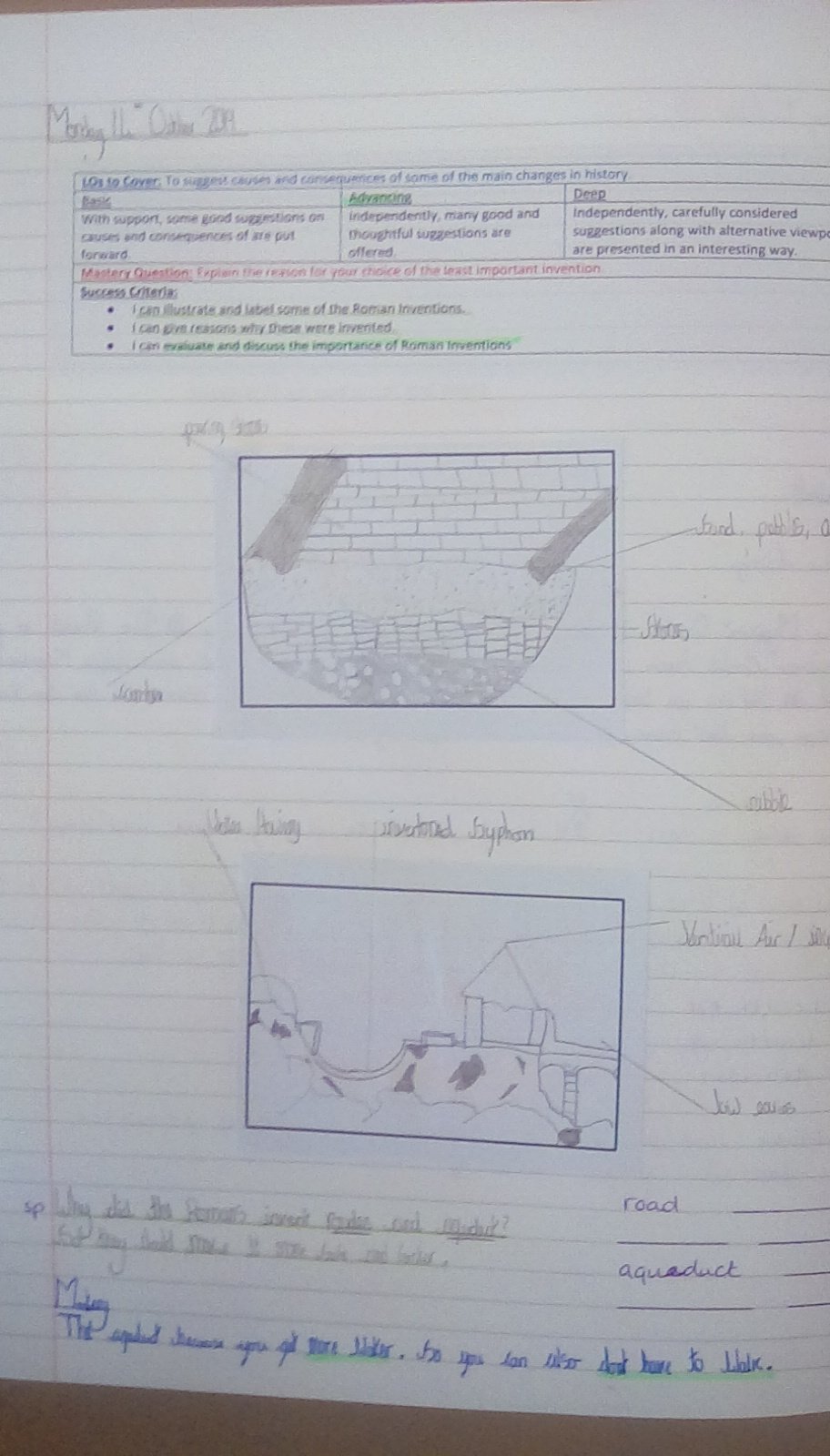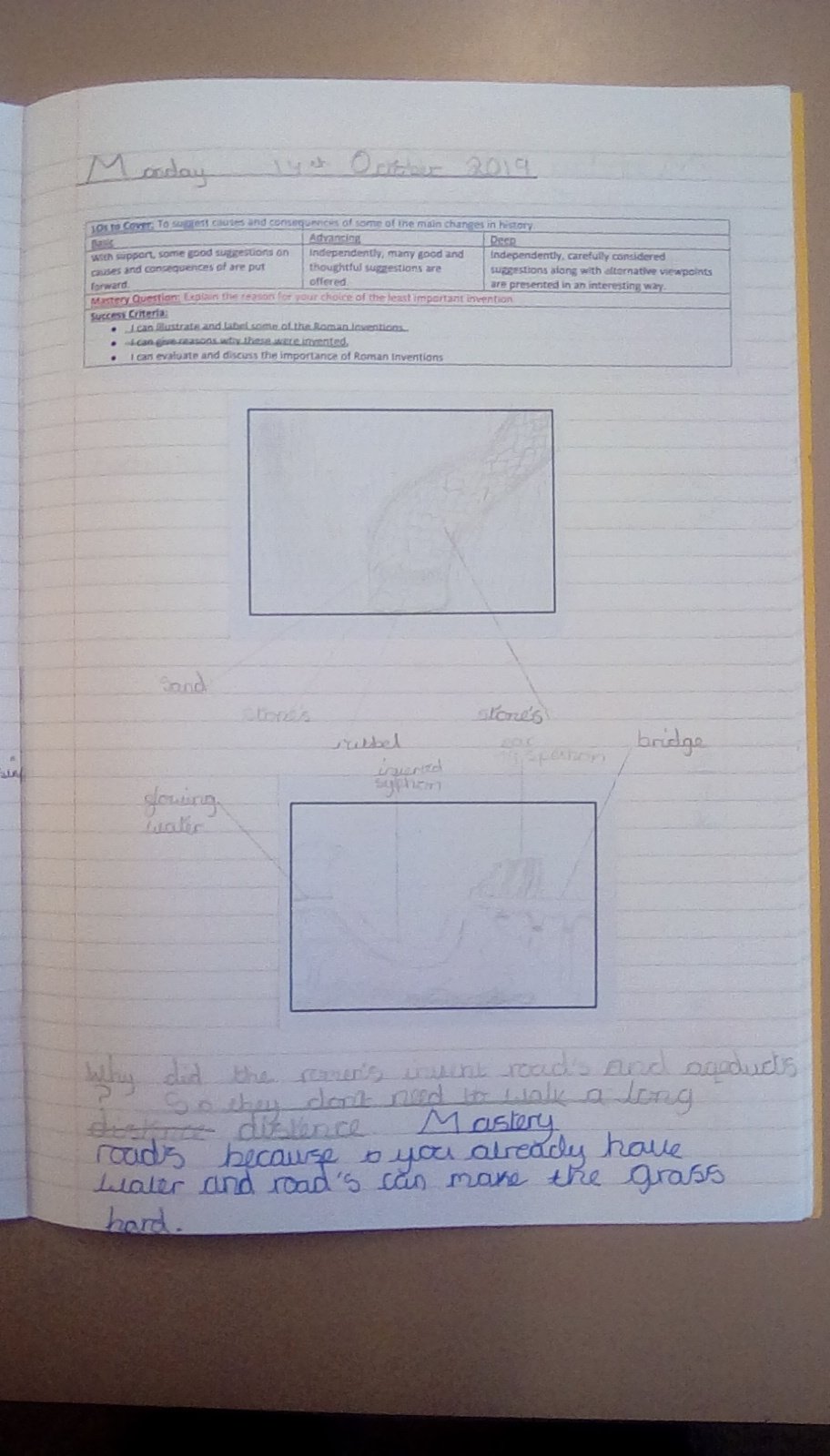 The children also explored the development of bows and arrows throughout different eras of history, from the Stone Age, to the Romans, to British longbows and modern day bows. As part of our learning, the children took part in a Soft Archery experience.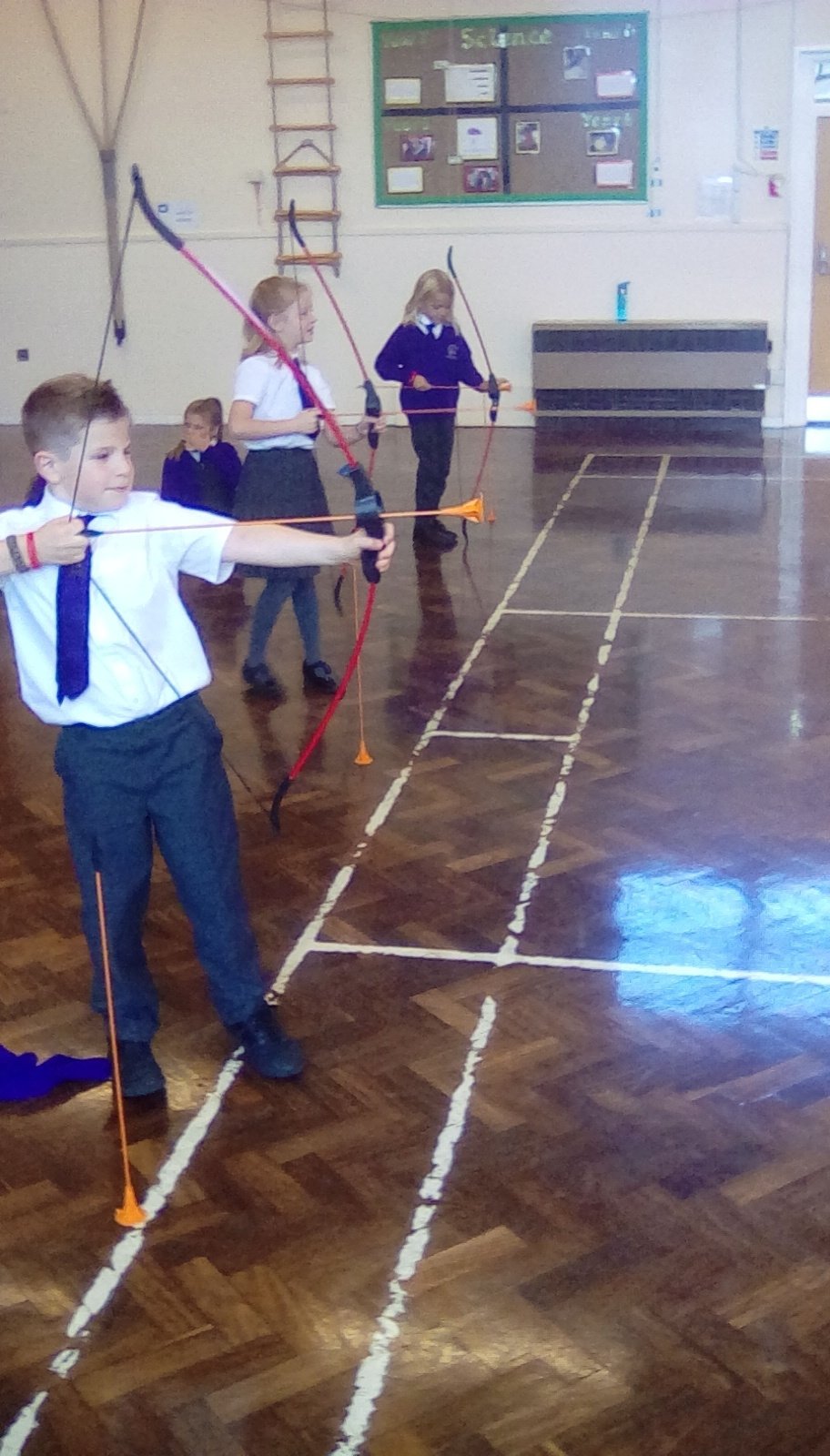 Finally, in our class assemblies this week the children have been focusing on online safety. In Year 4, we have been emphasising the SMART Online Safety message and discussing some of the most popular apps and games being used by children. The children identified some of the potential dangers of these apps and came up with their own top tips for staying safe online.
Week beginning 07.10.19
In Year 4 this week, we have completed the design process for our healthier chocolate bars. We conducted a taste test to decide the ingredients we would use, bearing in mind that we were aiming to produce a healthy alternative. Once we started making the chocolate bars, every member of the team had a specific role, including hygiene technician and ingredients distributor. Midway through the mixing process, one of our team tasted the mixture and offered feedback on the product. We used this feedback to inform us about any further ingredients and left our chocolates to set overnight in the fridge. The following day, we tasted our finished products and evaluated them.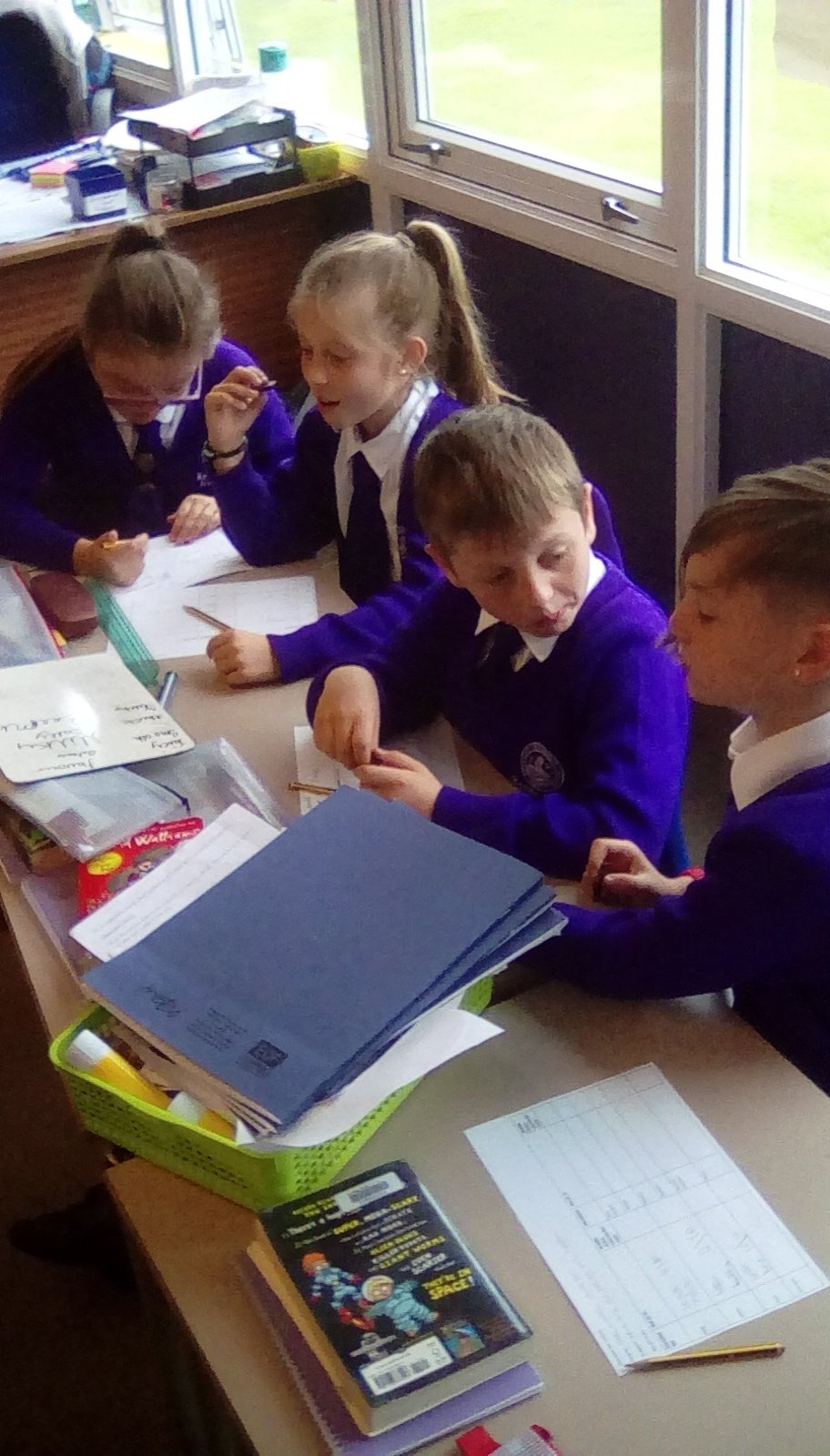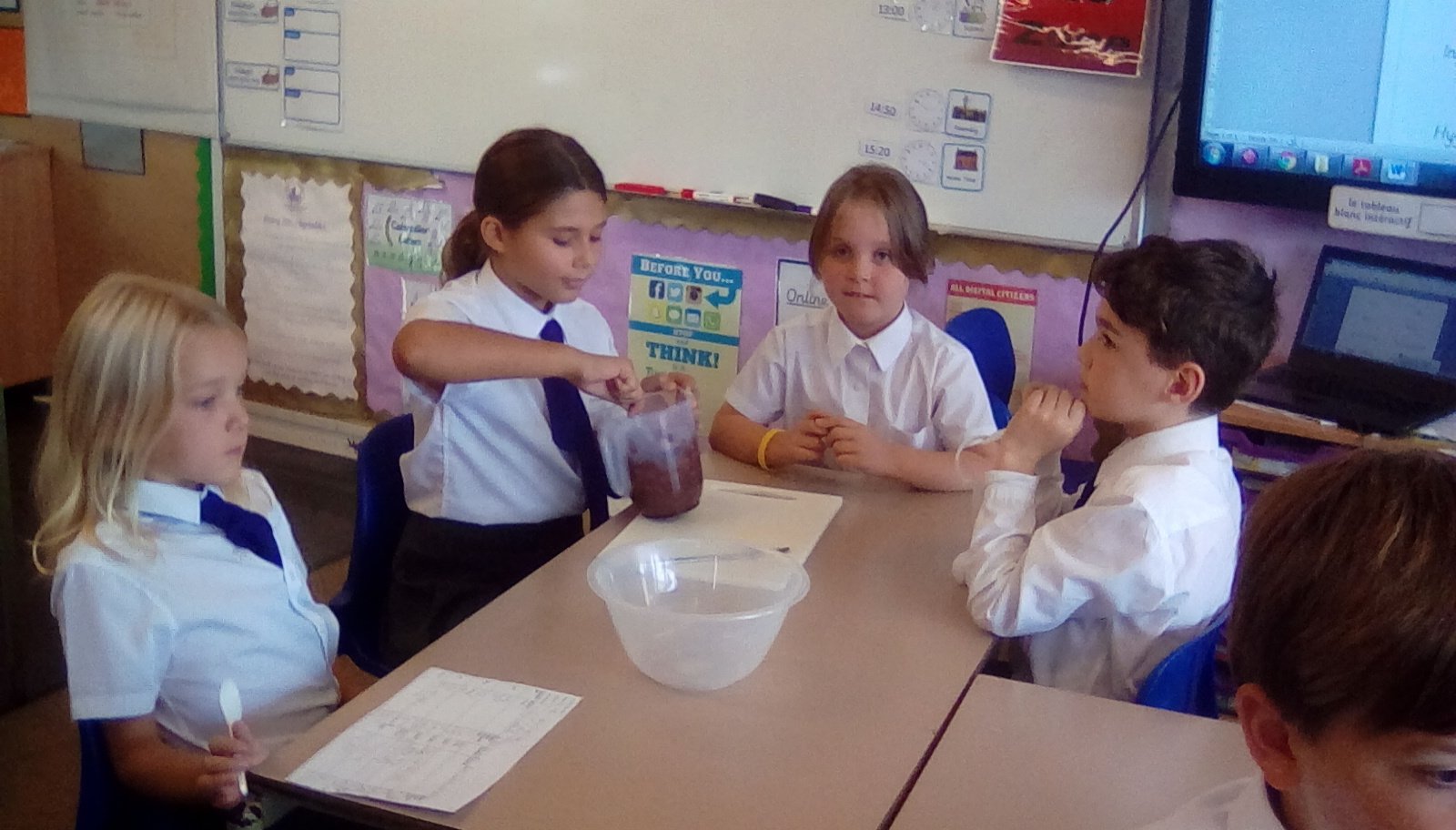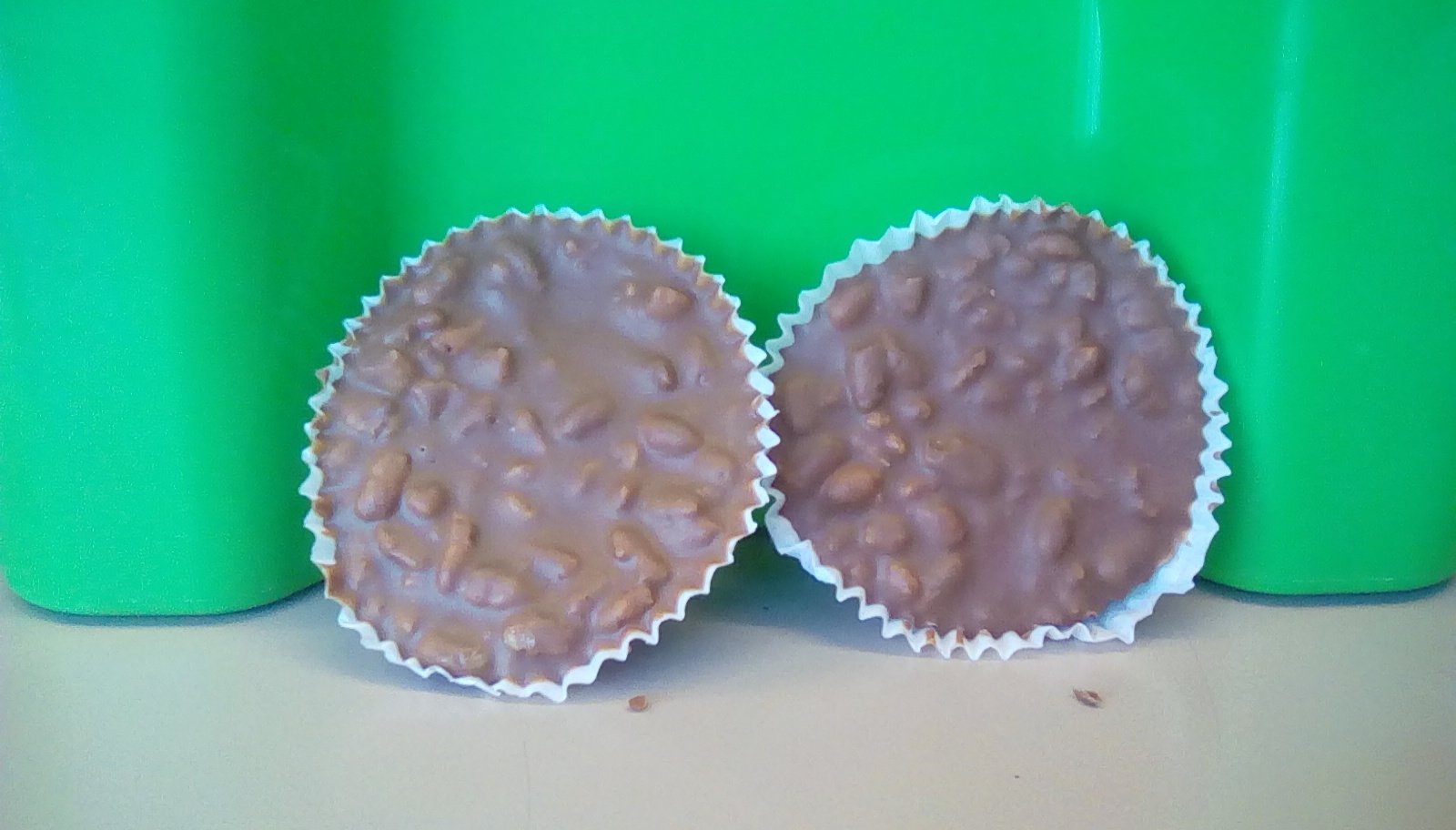 We have also continued to explore some of the Mayan inventions and considered how they would have impacted their lives. We discussed the purpose for their inventions and rated them according to their significance.
Finally, we have carried out investigations in Science to determine whether materials were conductors or insulators of electricity. We have used this knowledge to deepen our understanding of the world around us, considering how conductors are insulators are used to ensure safety around the home.
Ahead of our Science investigation next week, we would be very grateful if any empty cereal boxes could be sent in to Year 4! Thank you!
Week beginning 30.09.19
In Year 4 this week, we have continued to explore one of the most significant modern developments in technology: electricity. The children created and tested circuits using a range of components, including motors and buzzers.
We have also explored some of the inventions of the Ancient Mayan civilisation, focusing this week on their discovery of cocoa beans and creation of chocolate. The children explored different sources of historical evidence and discussed the difference between primary and secondary sources. Linking with this Mayan achievement, the children taste-tested a range of chocolate bars and will make their own healthy alternatives next week!
Finally, the children have produced some excellent pieces of writing this week, inspired by the invention of a extraordinary machine in our class text: 'The Invention of Hugo Cabret'. The children used a range of descriptive language to engage their reader and capture their imagination.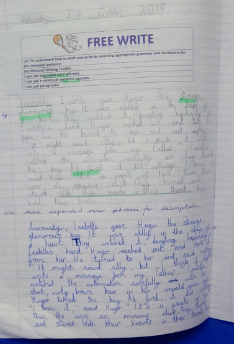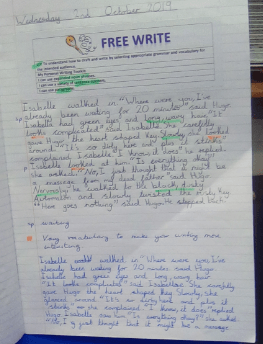 Week beginning 23.09.19
In Year 4 this week, we have continued to learn about developments in Stone Age technology as we conducted our own research on Stone Age weapons. We then compiled all of our Stone Age learning to produce presentations using the Chromebooks. Using the Google Slides online software, the children have worked collaboratively to produce an informative, interesting presentation. They also used the Google Sheets software to create a bar chart which ranked Stone Age animals according to how dangerous they are.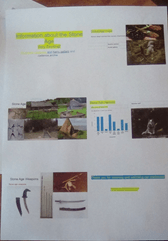 In our Science lessons this week, the children learnt about electrical dangers in the home. They also identified complete and incomplete circuits, testing them using the different components of a circuit.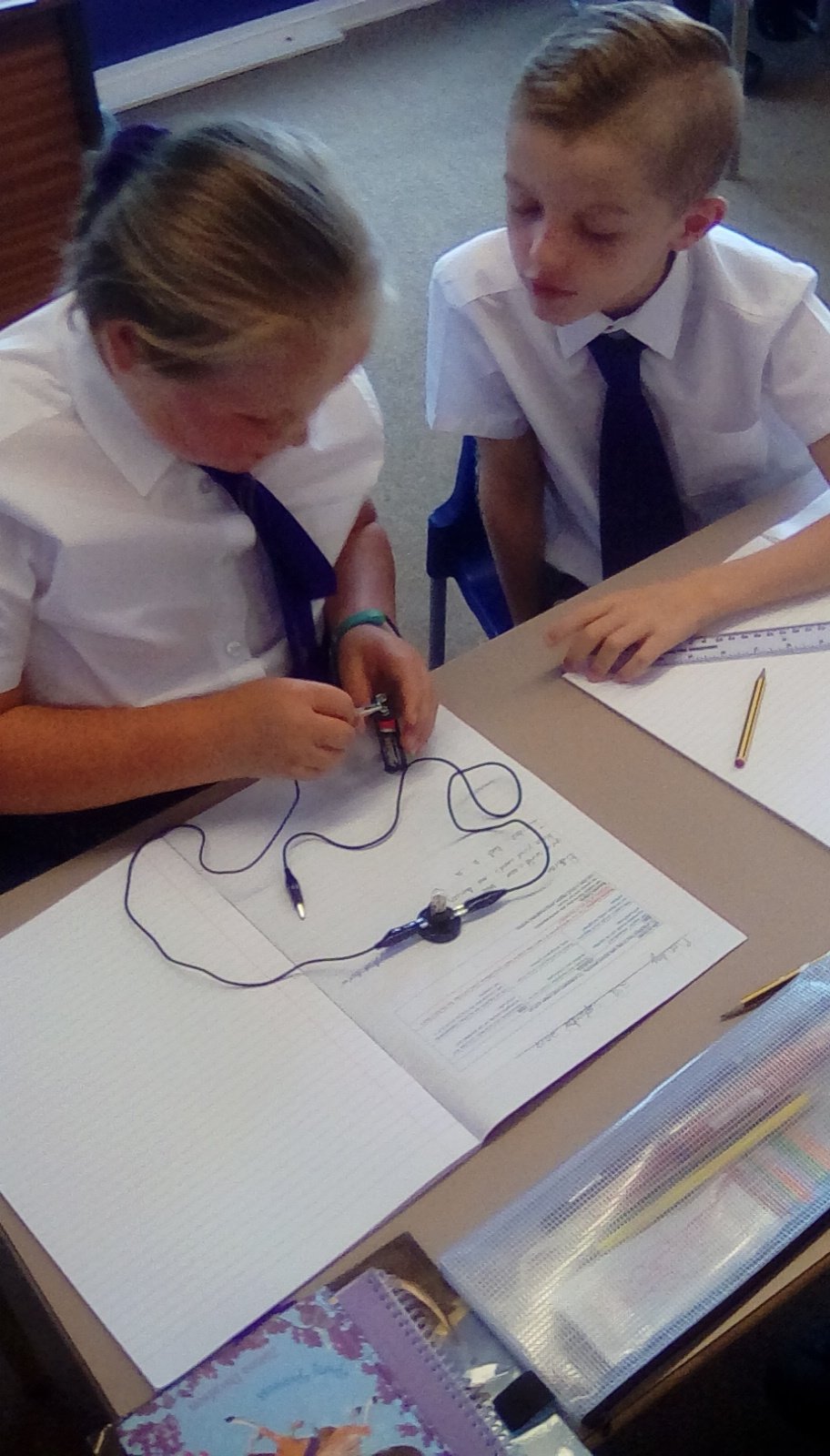 Finally, the children really enjoyed the visit from Great Britain athlete Laura Samuel on Wednesday! They were exceptionally enthusiastic in all the fitness activities. Thank you to everyone for their support with the sponsorship forms!
Week beginning 16.09.19
This week in Year 4, we have been learning about innovations in the Stone Age and imagining what Stone Age life would be like. We learnt about the evolution of homes throughout the Stone Age and how Stone Age life improved when people became more aware of different materials.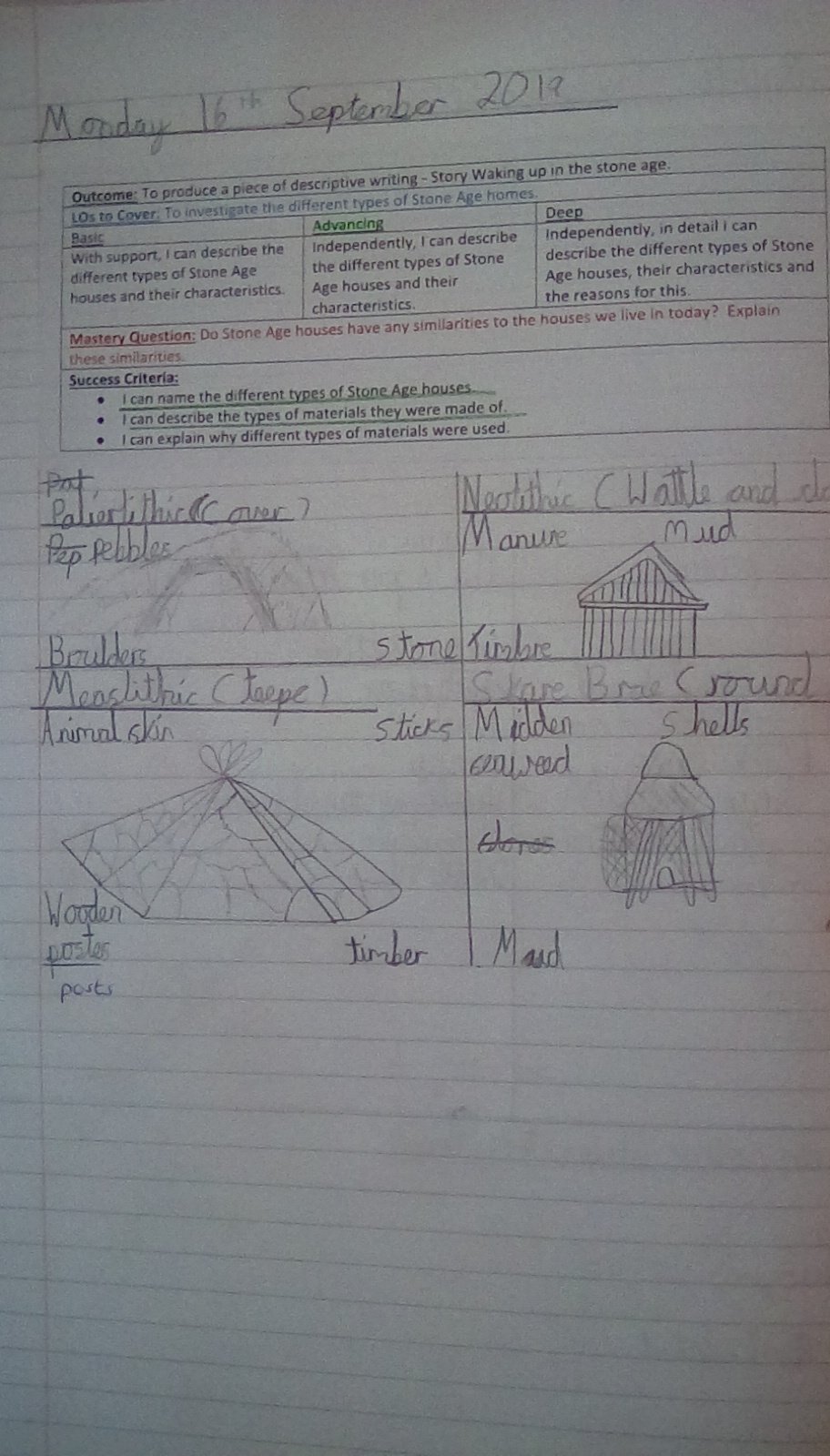 We also wrote a descriptive piece of writing, imagining that we had woken up in the Stone Age. The children used a range of descriptive language features to transport their reader back in time and allow them to experience the life of a Stone Age person.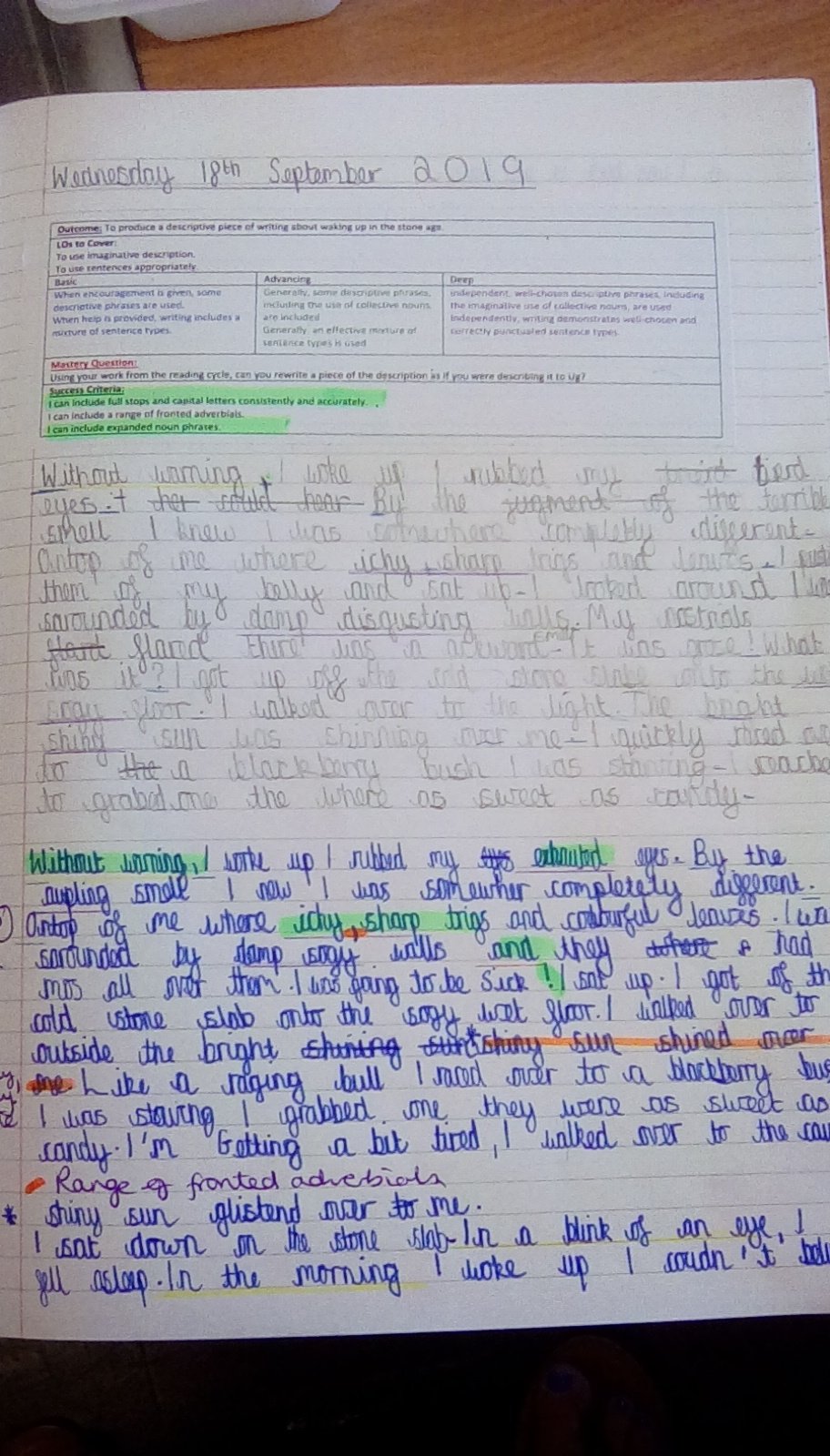 Finally, this week we elected our school councillors for each class. It was brilliant to see so many enthusiastic children devote their time to preparing speeches and posters, aiming to convince their peers that they would be the best representatives for their class. Congratulations to our elected councillors, and well done to everyone who put themselves forward for the roles!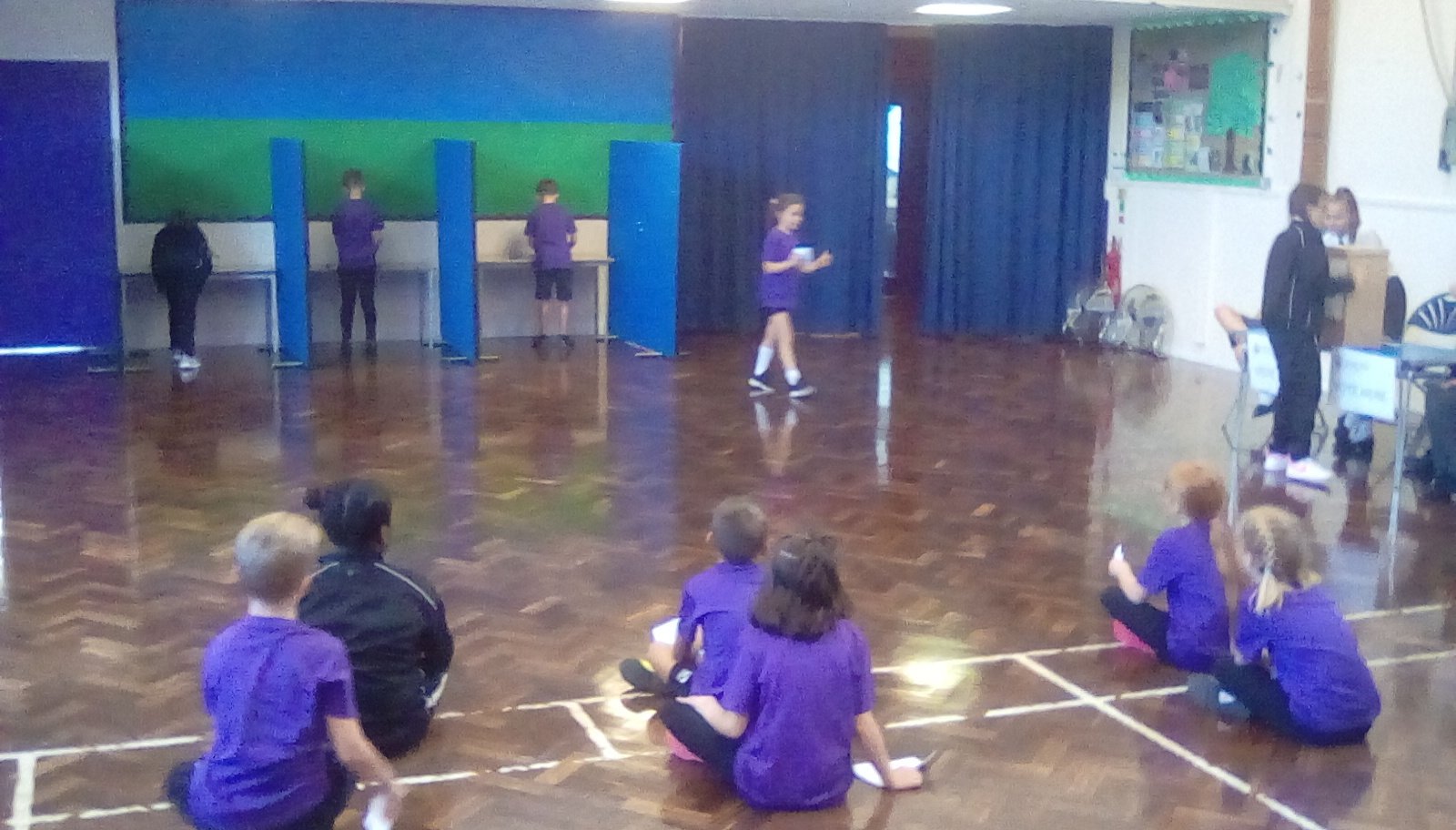 Week beginning 09.09.19
In Year 4 this week, the children have been exploring two new texts as part of our Astonishing Contraptions topic - a graphic novel by Brian Selznick called 'The Invention of Hugo Cabret' and Raymond Briggs' comic-style story 'Ug: Boy Genius of the Stone Age'. They have enjoyed exploring the text and focusing on the details of the illustrations and images, as well as considering how an author can use them to inspire our imaginations.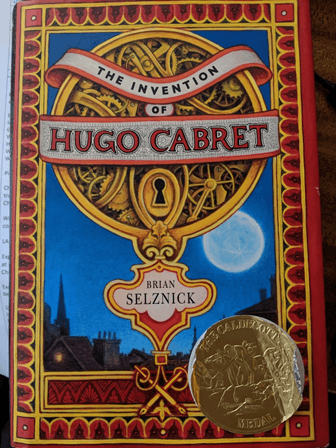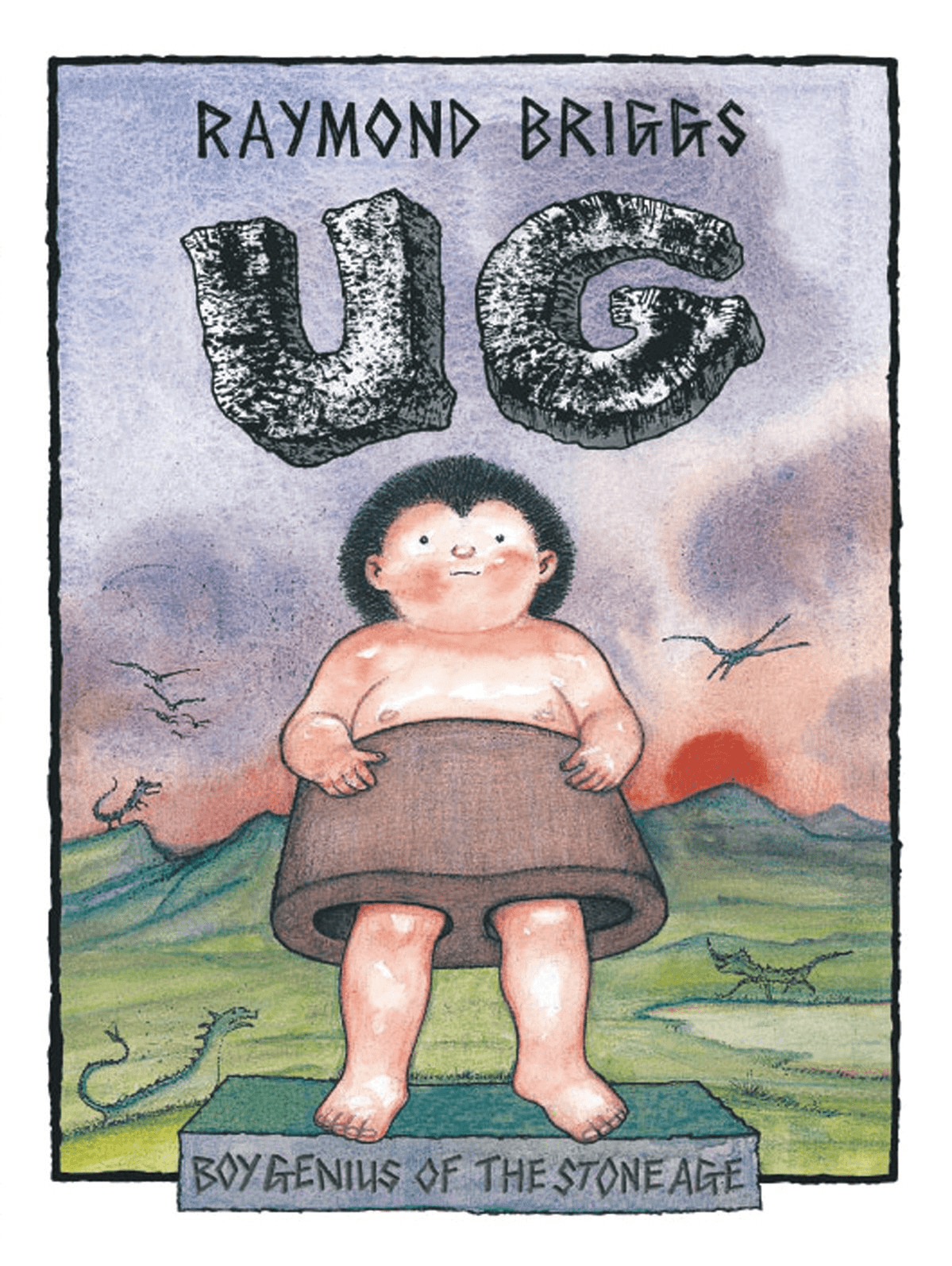 The children have also been practicing and reinforcing their understanding of place value, through a variety of different activities. The children particularly enjoyed games such as Place Value Yahtzee and Reach the Target, where they showed their confidence in recognising odd and even numbers, as well as finding the digit sum of 4-digit numbers.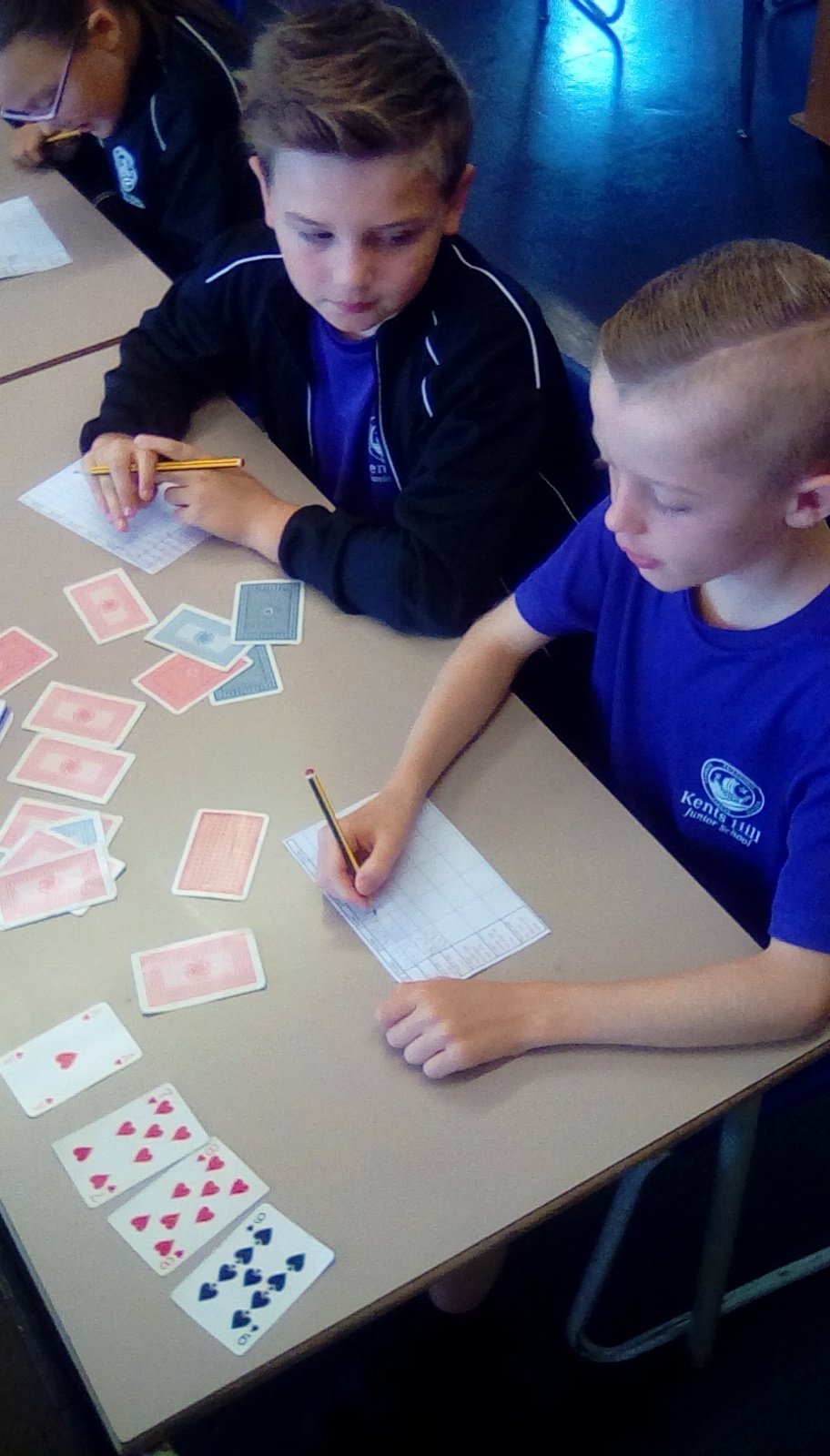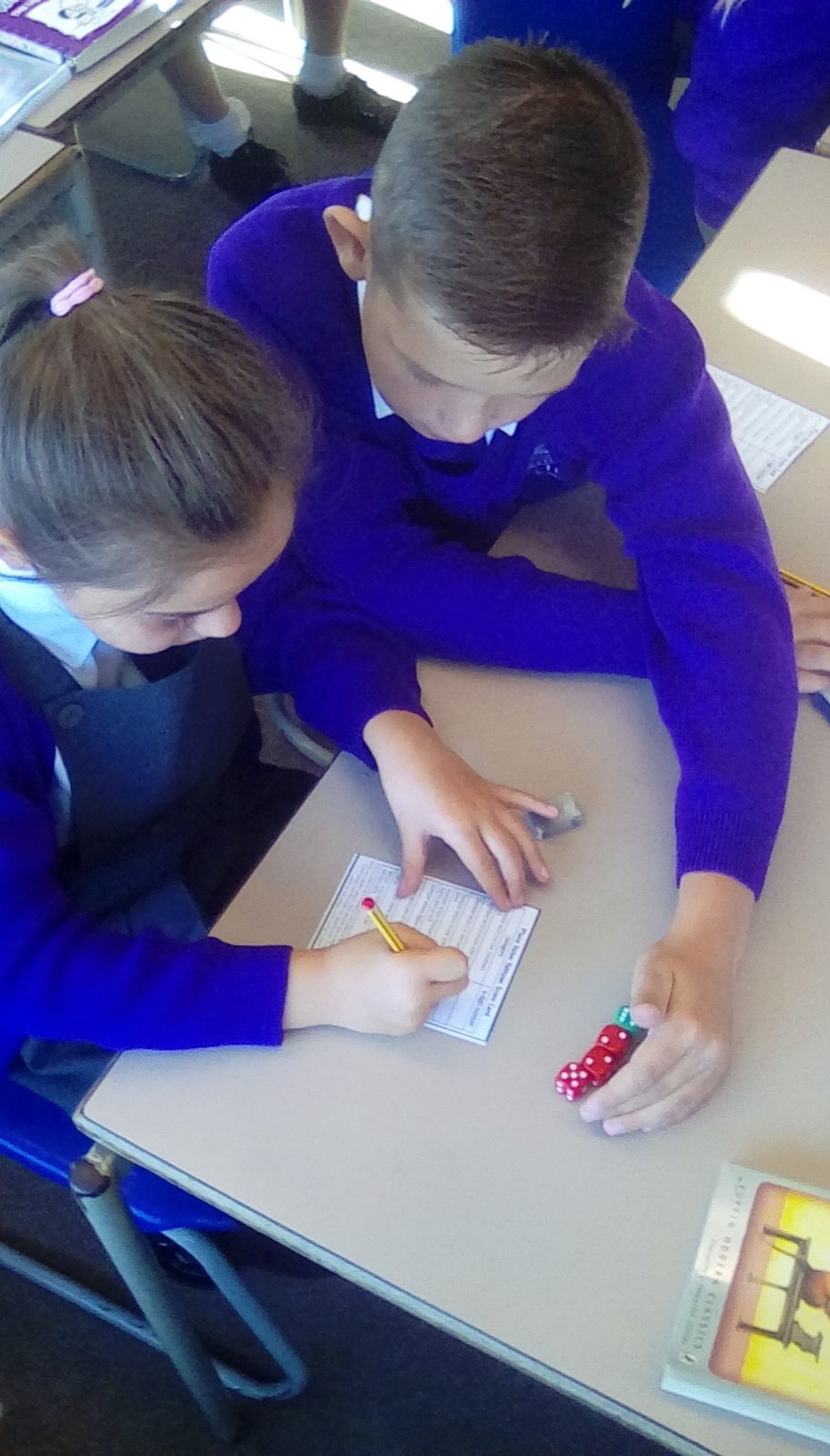 Week beginning 04.09.19
In Year 4 this week, the children have been settling into their new year group and becoming familiar with new routines in their classes. As part of our Hook Day for our Astonishing Contraptions topic, the children took part in team-building activities, enjoyed an interactive Stone Age experience using the Now>Press>Play headphones and explored the idea of inventions as the solutions to different problems. They worked in groups to craft a bridge structure which could bear a significant weight, using a range of different materials.
Additionally, this week the children completed their first Free Write of the year, based on the short film 'The Alchemist's Letter'. The children used the short film as inspiration for their writing and chose which text they would like to write, including deciding which technical features they would include in their writing. Most of the children chose to write exciting stories and diary entries, using a range of descriptive language.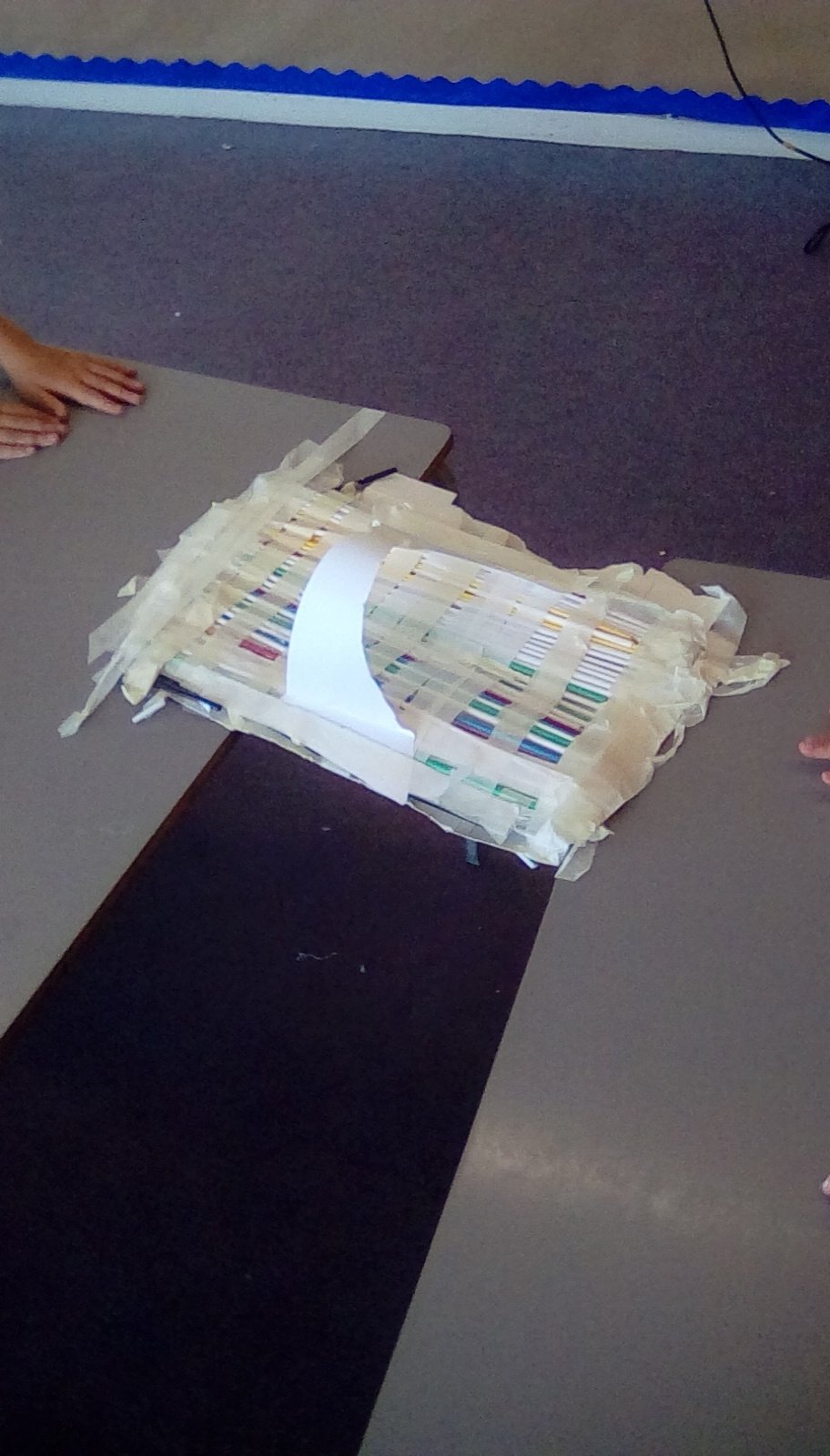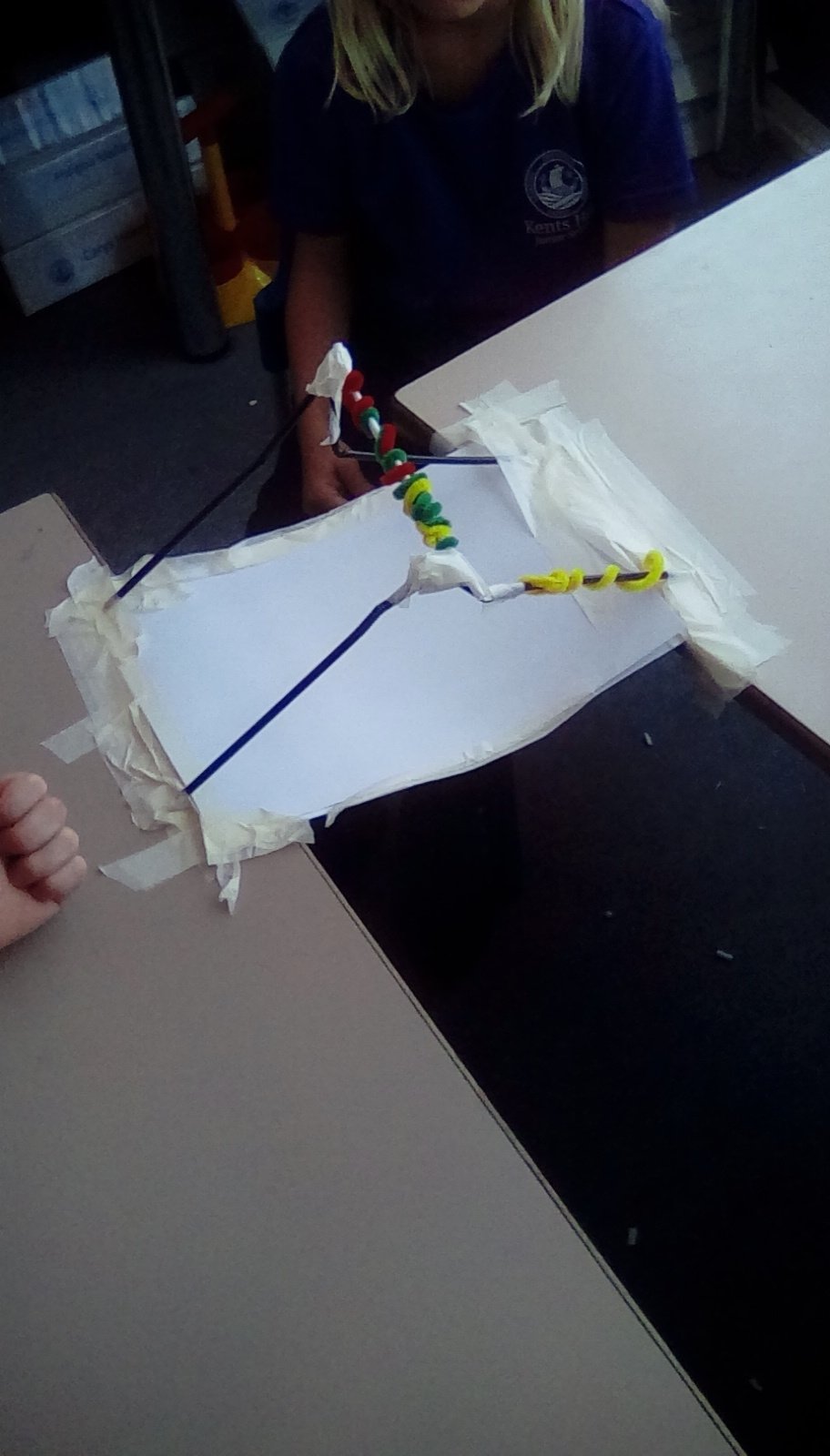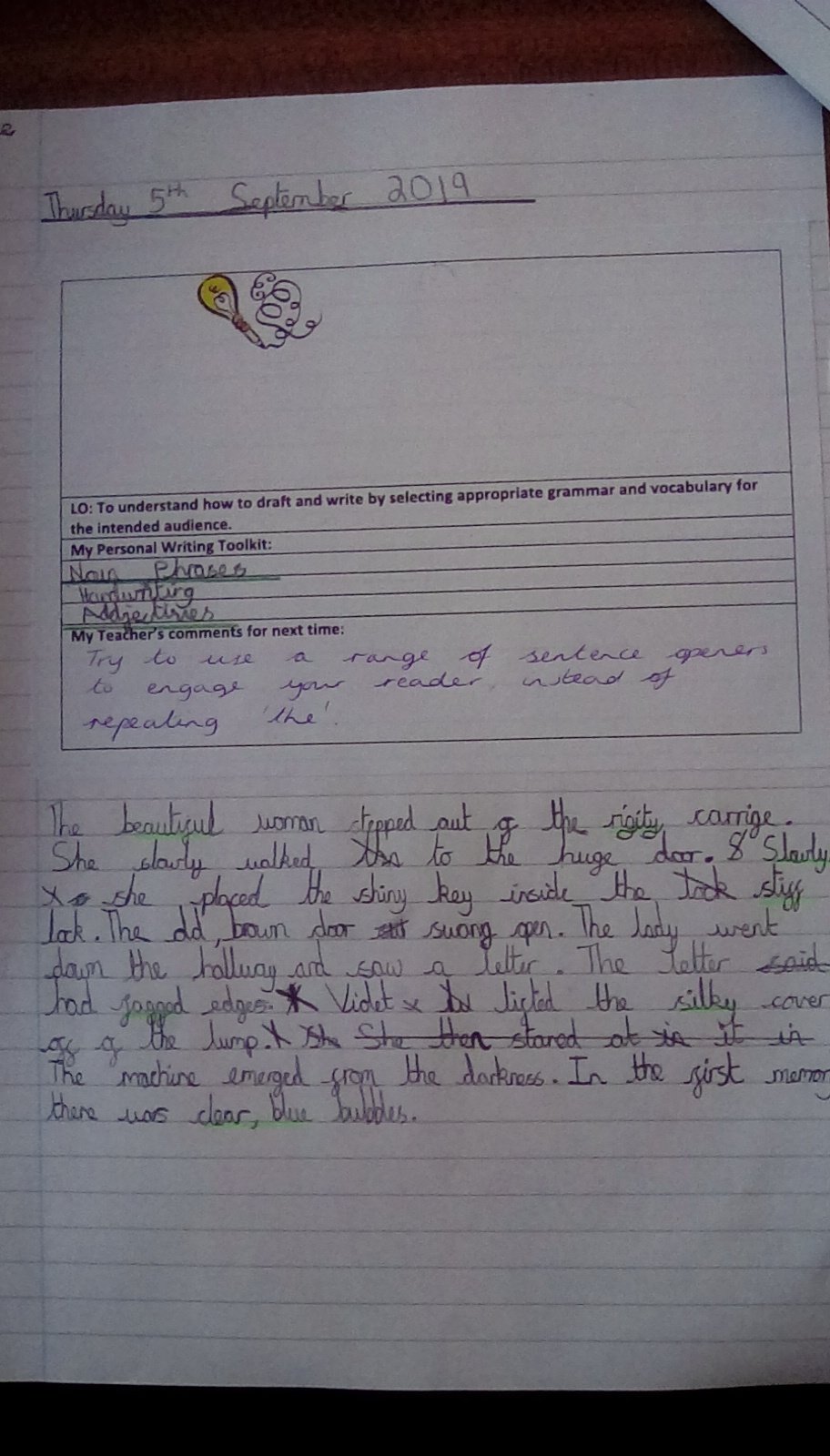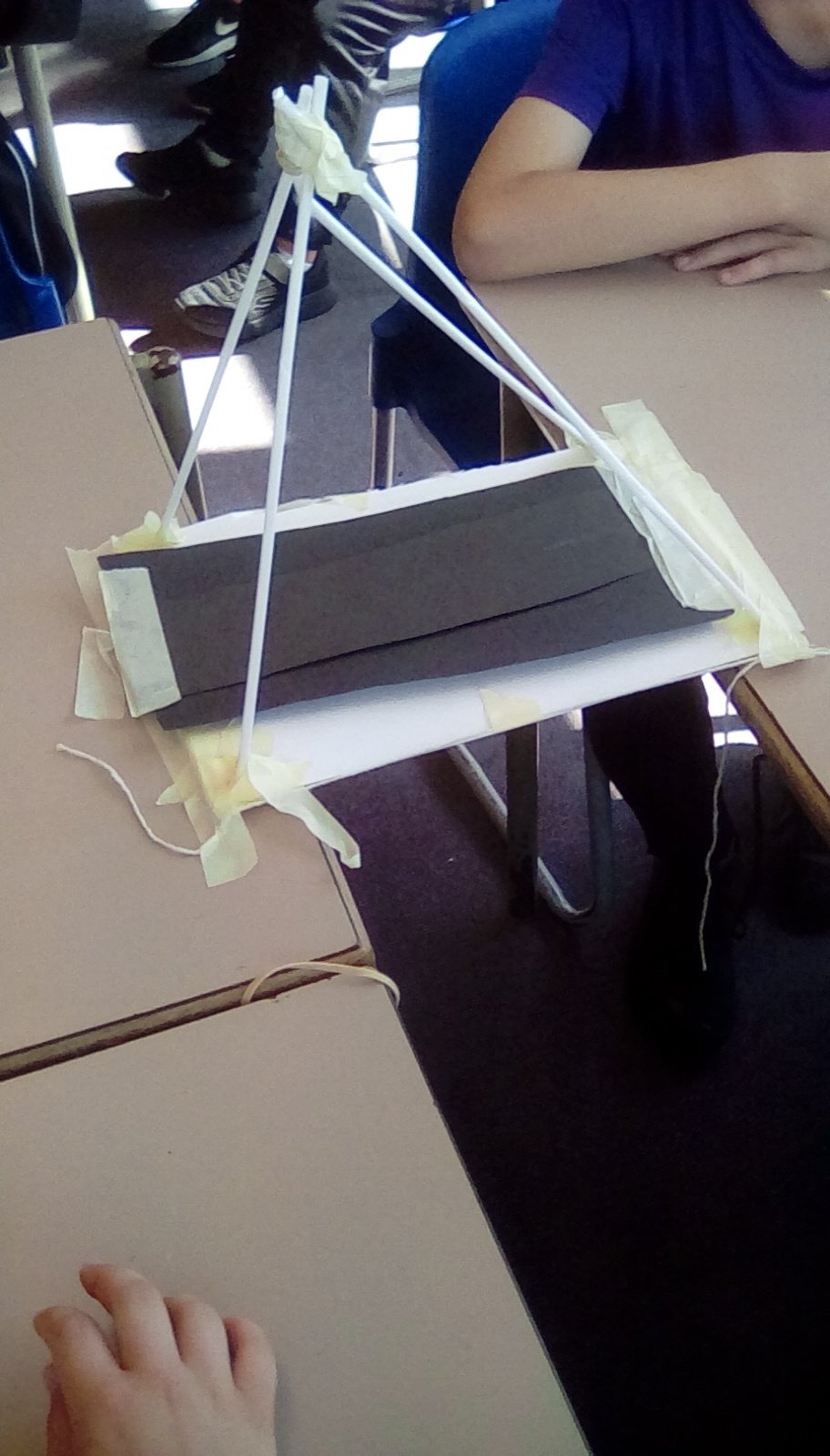 As part of our introduction to the Stone Age, the children learnt about one of the primary sources of historical evidence for the Stone Age: cave paintings. The children sketched different Stone Age animals, using real, preserved cave paintings as their inspiration. They also painted their own cave paintings using natural materials such as crushed raspberries, charcoal and powdered chalk, replicating the styles of Stone Age people.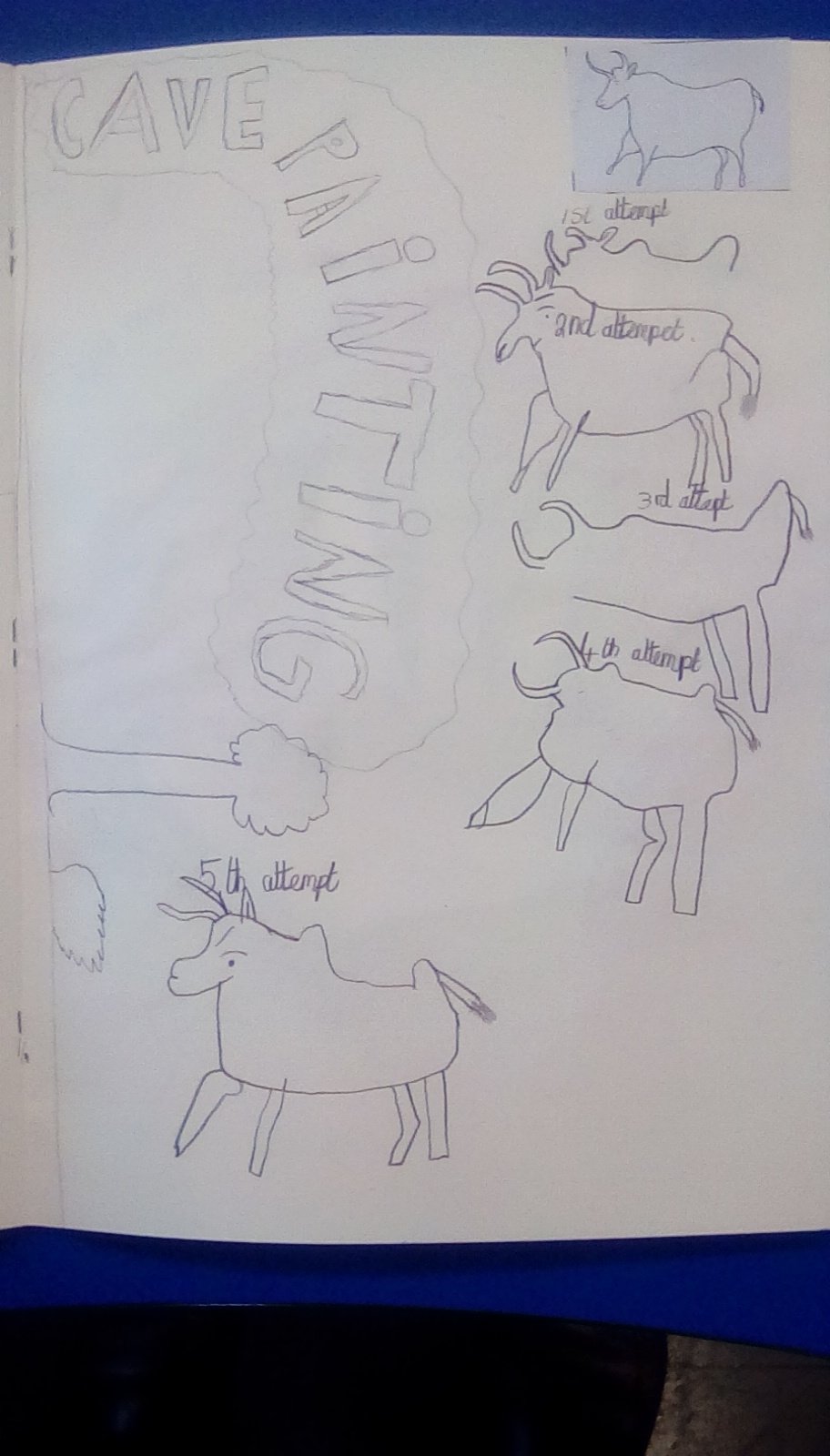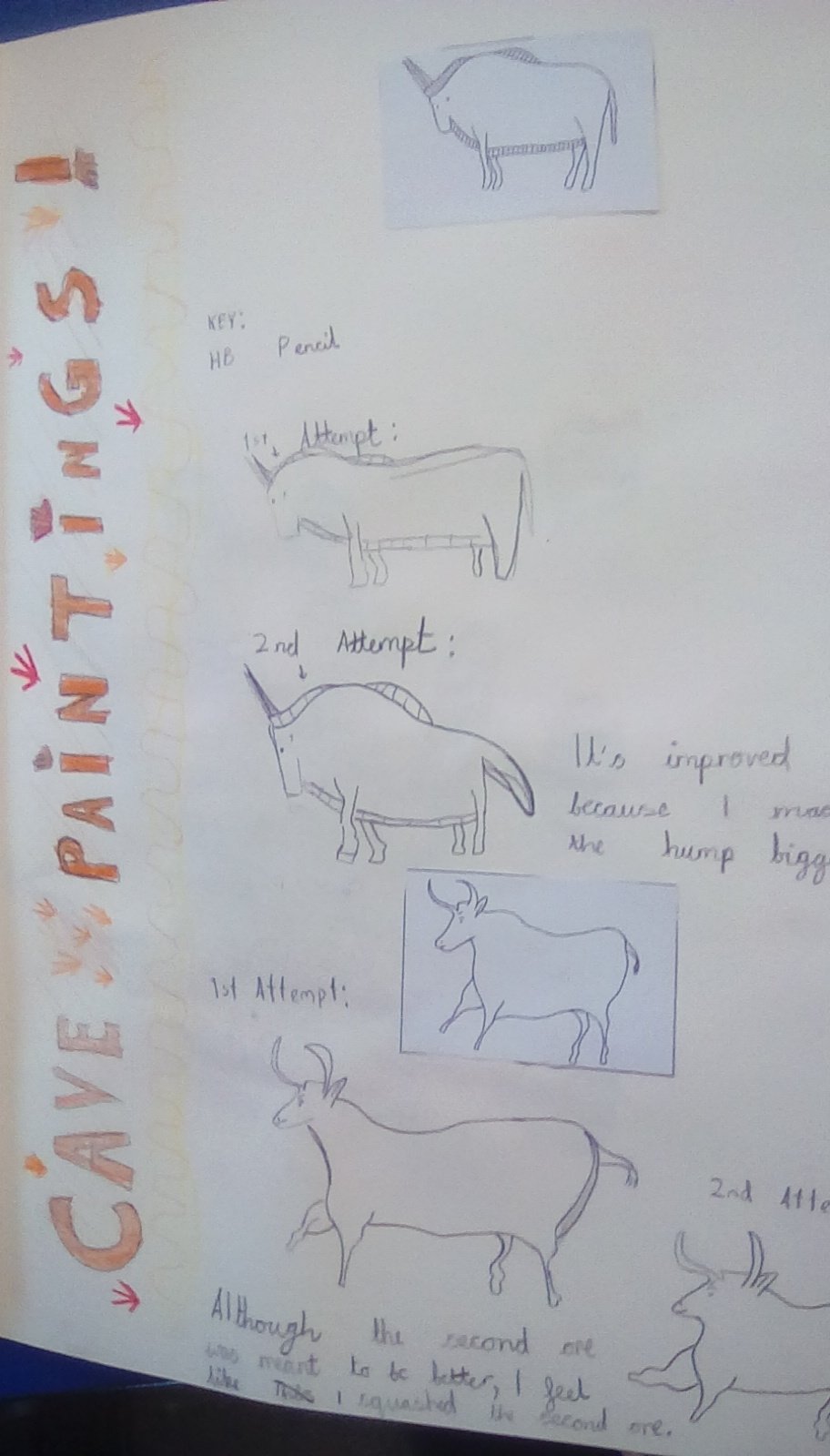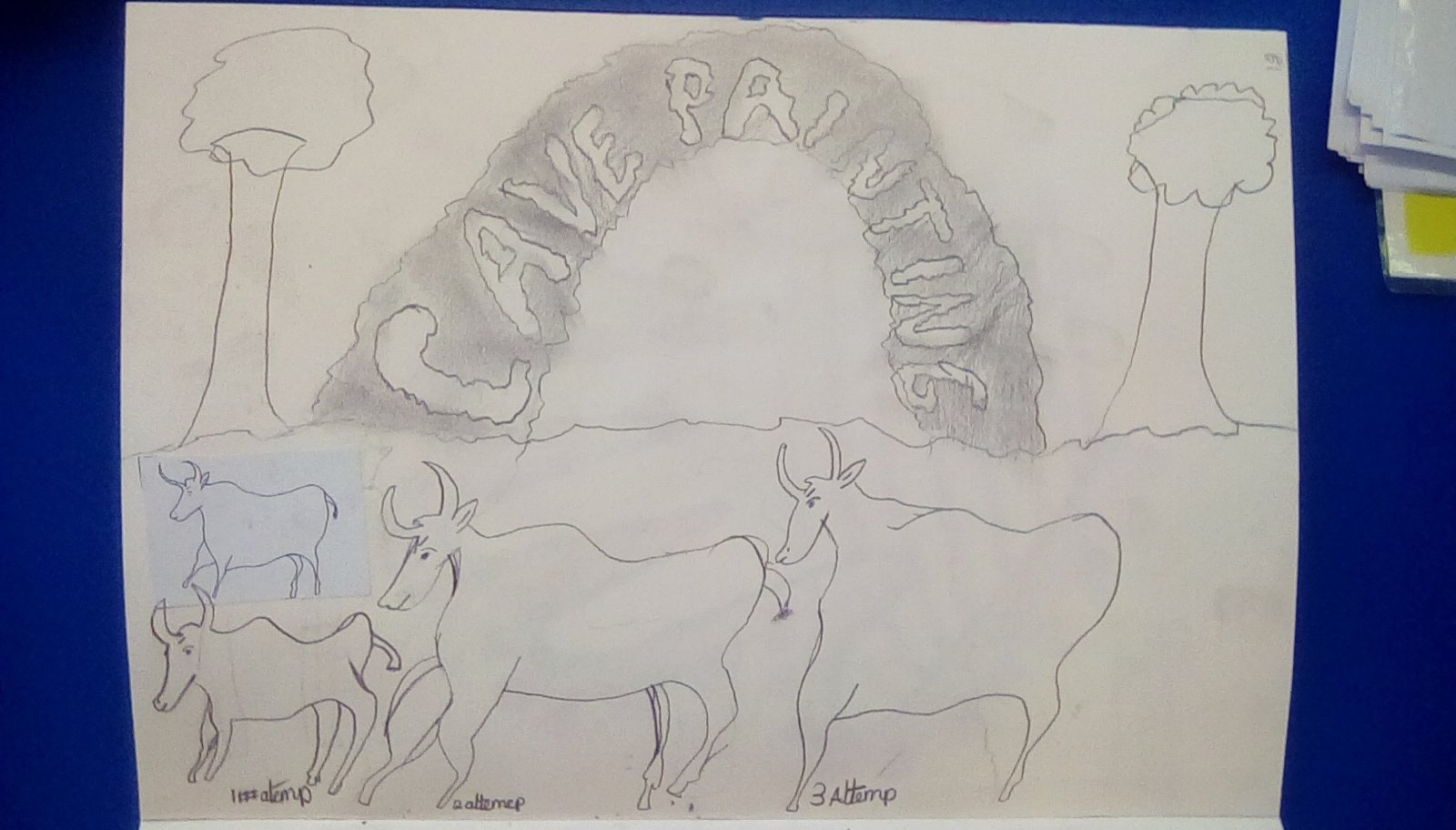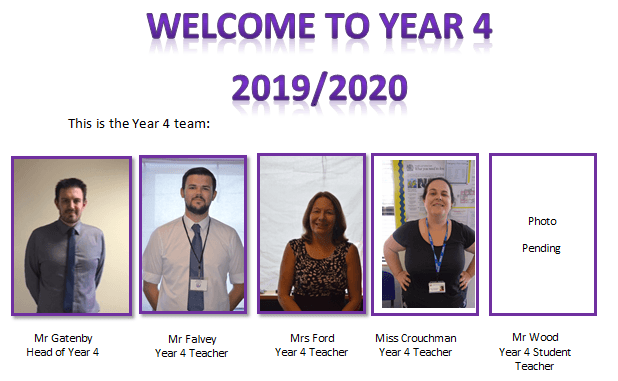 If you have any questions or queries at any point, please don't hesitate to contact one of us via the home/school diary or the school office. We will also be present at the end of the school day on the gate.
We are looking forward to our first exciting topic: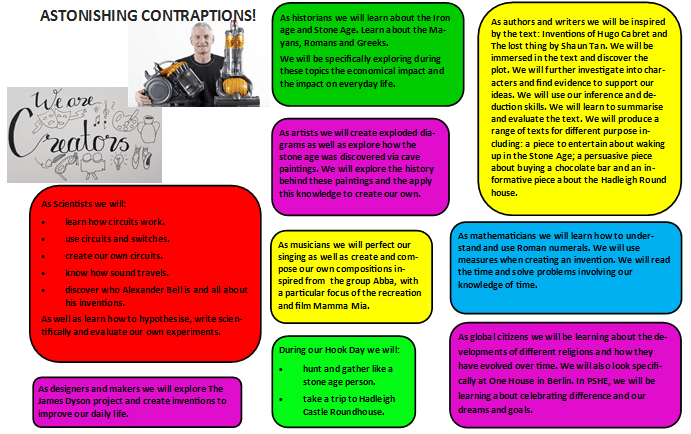 Please check back each week to see what we have been learning about!

Week Beginning 15.07.19

This week, we have concluded our Explorers topic by choosing an explorer to study. We were then going to debate against others to argue that our explorer was the best. We used specific websites to find relevant information about what made them a successful explorer. We had to research information that would support our argument such as where they travelled, any issues that arose and how long they were gone for.

W

e created a mind map of all the information that we gathered. Then we wrote a speech bubble to state the most important points that we would use in our debate.

We really enjoyed these debates and have loved our text for this term 'The Explorer' which we are trying to finish before the summer holidays. Will they ever manage to get home?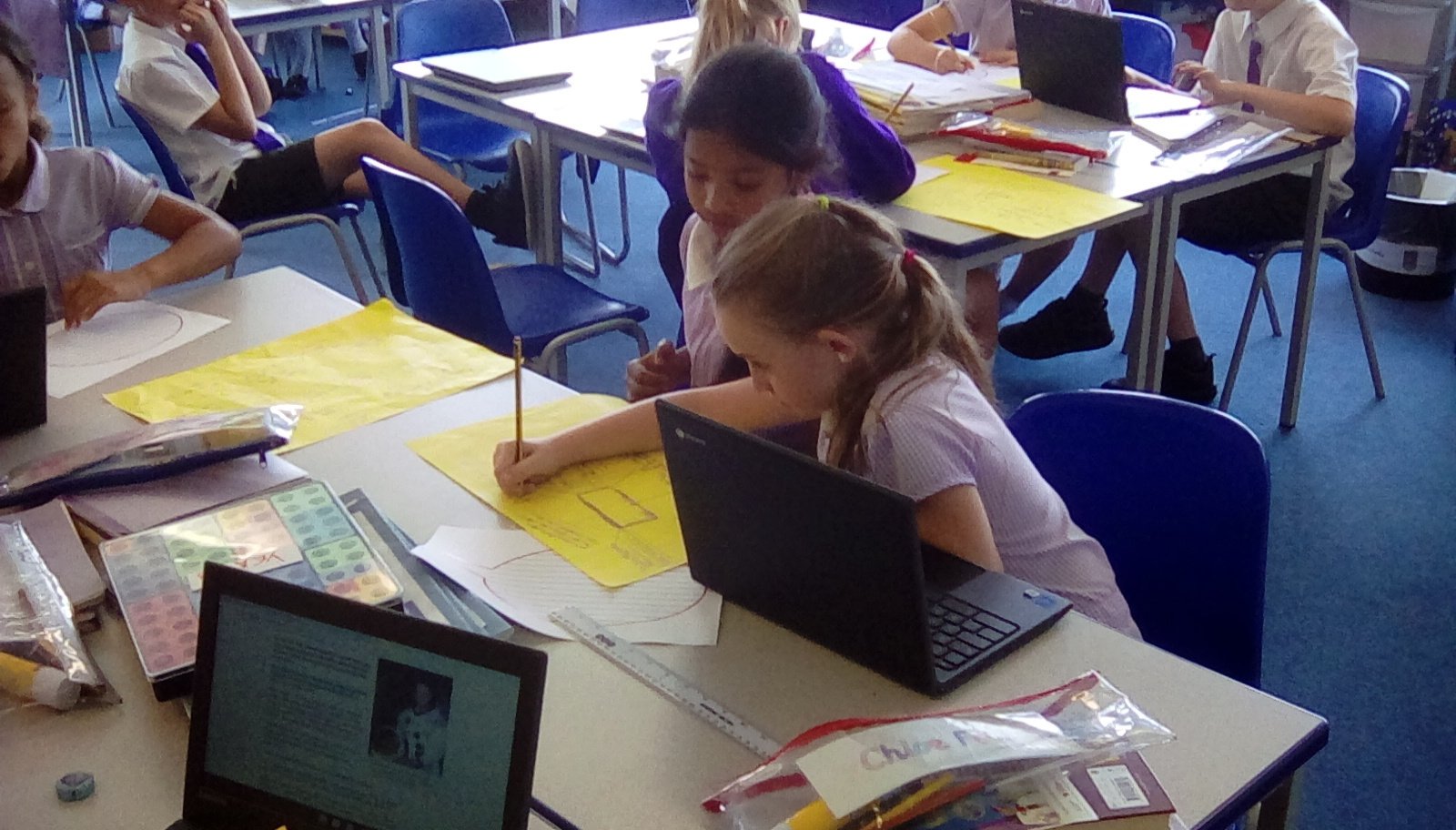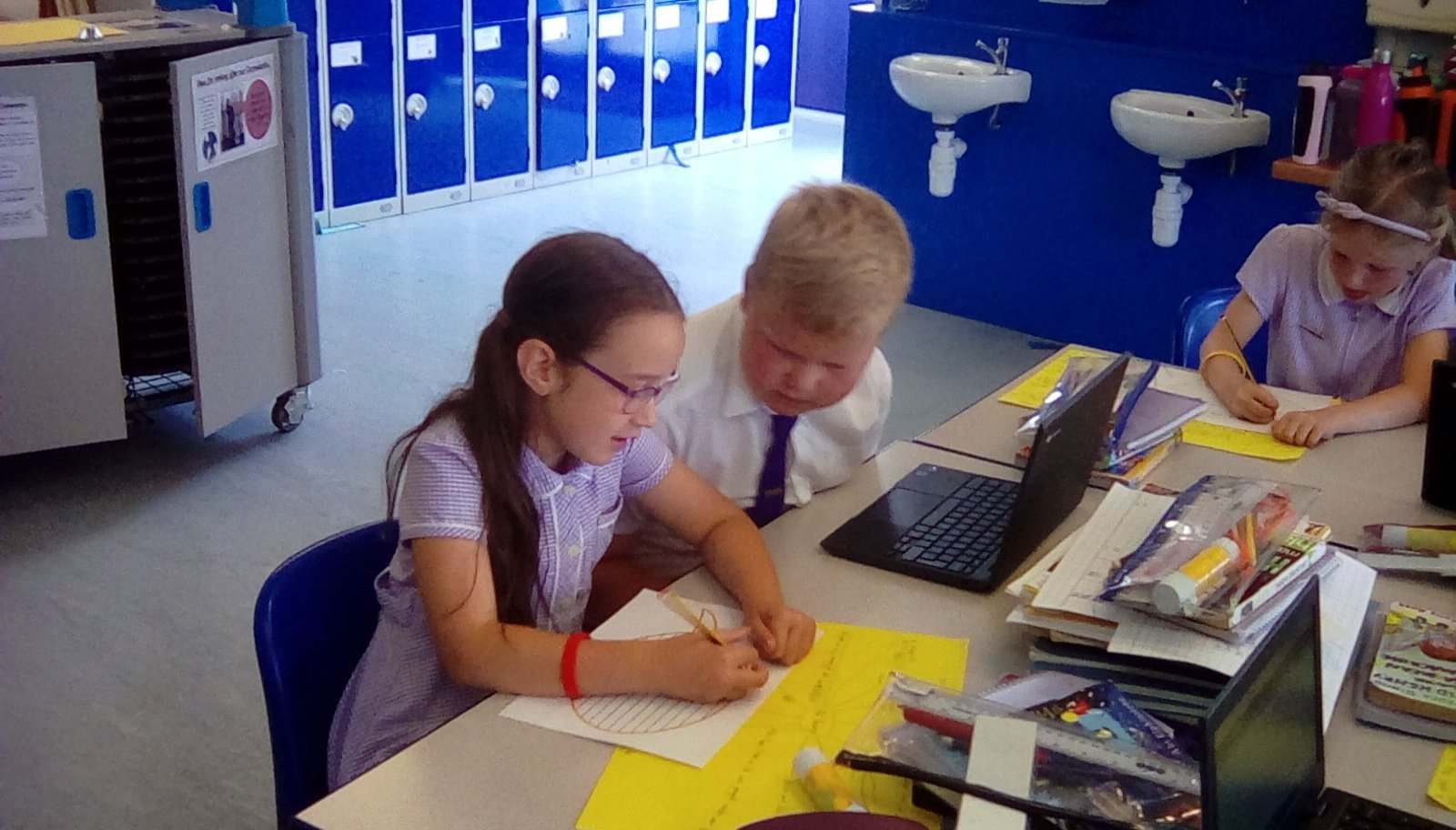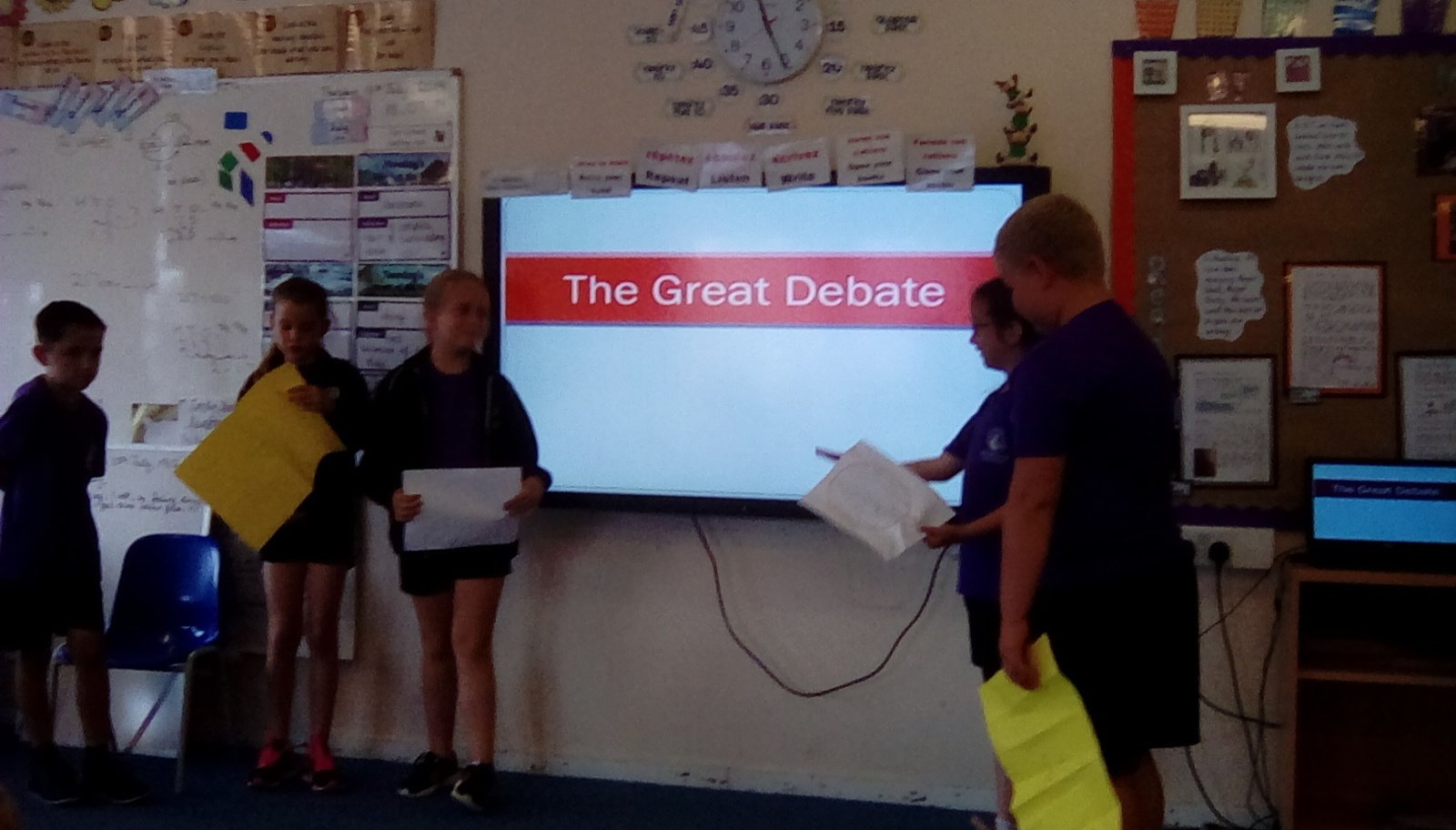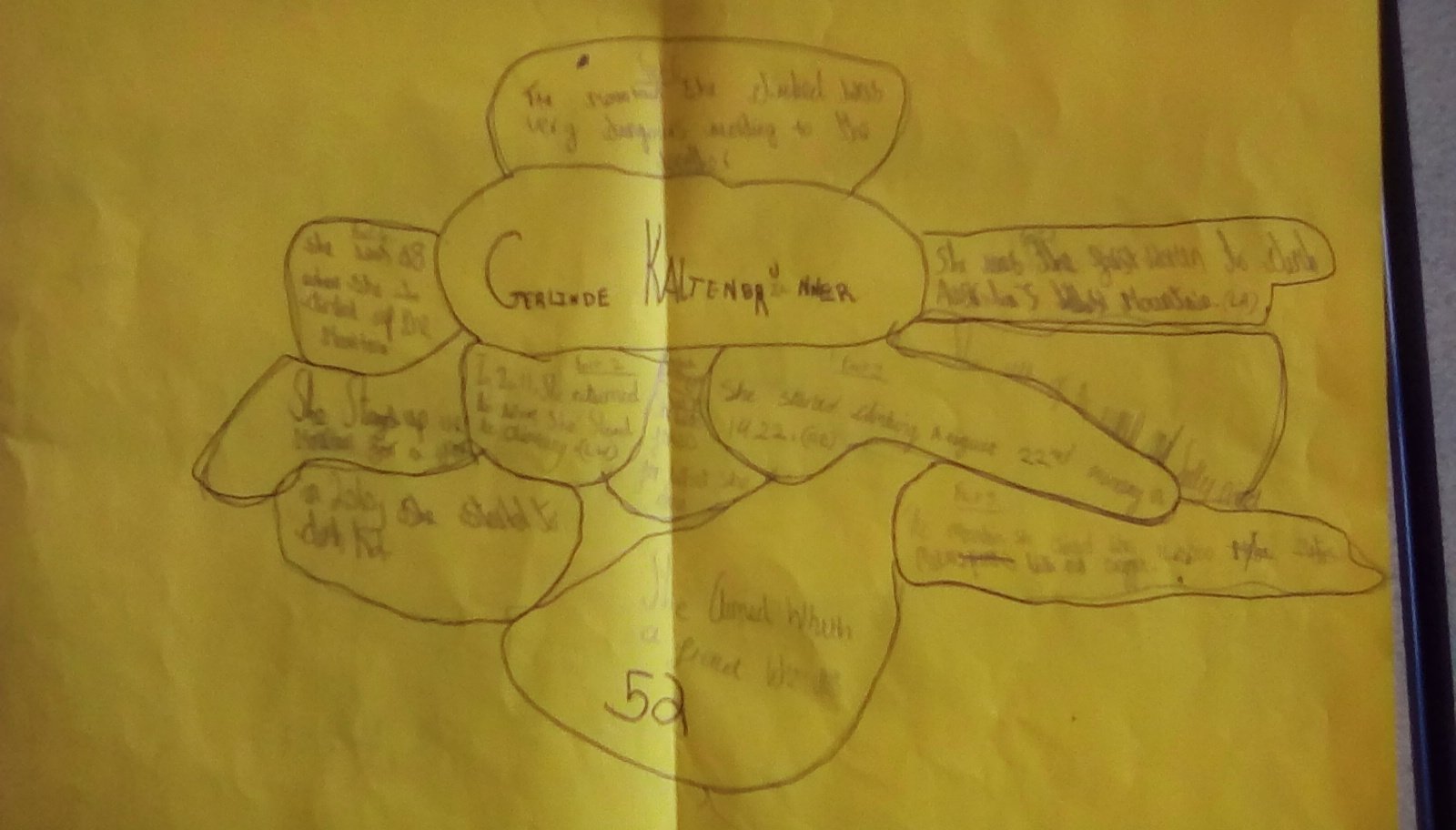 Week beginning 08.07.19

This week, we looked at different types of settlements such as hamlets and towns and then we created our own picture of a settlement for Christopher Columbus.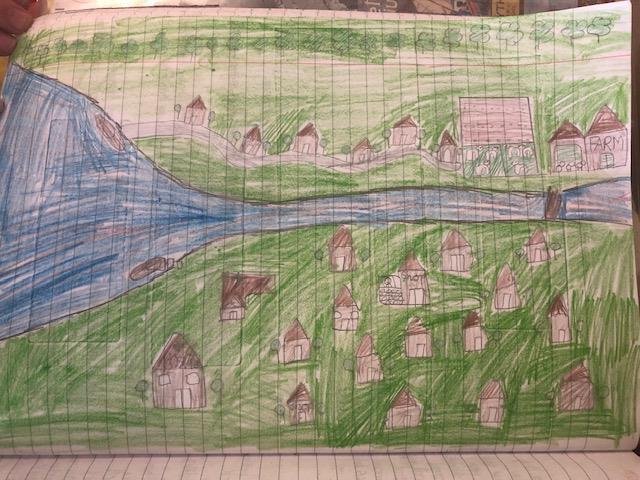 We have continued to read our text The Explorer which we are really enjoying. This week, we pretended that we were one of the characters from the text: Fred, Con, Lila and Max and wrote a diary based on their journey through the Amazon Rainforest on the way to Manaus.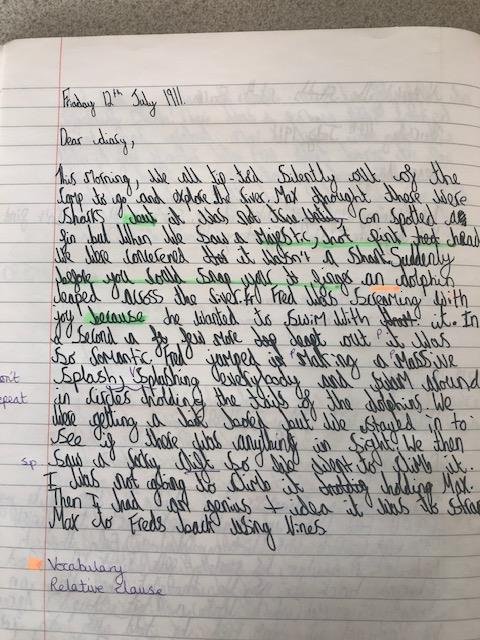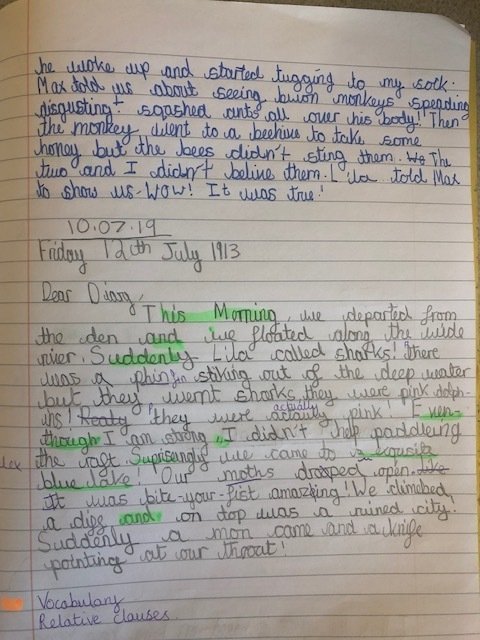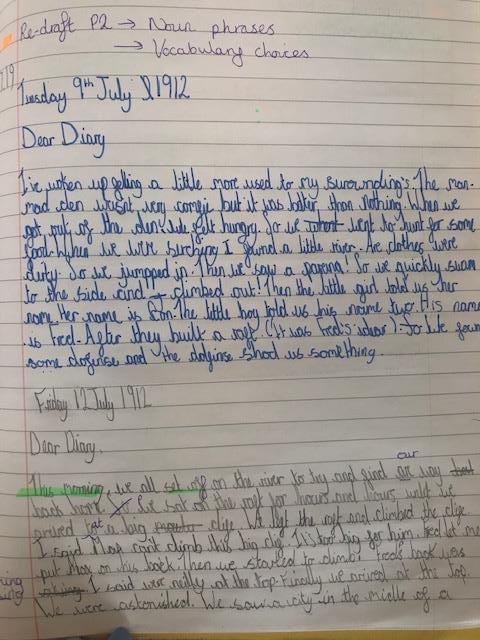 Week beginning 01.07.19
We have had a very exciting week! On Tuesday, we all took part in our first sports day at the junior school. We showed lots of perseverance and shared in each other's successes. Congratulations to the Normans who won the Year 3 sports day!
We also spent the morning up in Year 4 this week, getting to know our new teachers and completing some fun activities.
Back in class, we have been continuing our Explorers topic by looking at different settlements and what makes a good place to create a new settlements. As well as this, we have explored some alternative religions including Humanism and made some comparisons between these.
Week beginning 24.06.19
This week year 3 have been working hard to use a variety of features to write a persuasive letter to a stranger, in hope that they will come and rescue us from being stranded in a rainforest or Antarctica! These features include: rhetorical questions, emotive language, present perfect tense, compound and complex sentences and adverbs.
We have shown great perseverance this week when working on our assessments, ensuring that we read every question carefully and answered all of the questions to the best of our ability.
We have been practising our musical skills when using chimes to create and compose music to play along to the song 'Let your spirit fly'. We have been learning about musical notation and how to accurately place them on sheet music.
Week beginning 17.06.19
This week, we have continued to read our text 'The Explorer' and we looked at words and phrases that capture our imagination.
This week, we have learned lots of art skills using paper such as scrunching, twisting, rolling and pebbling. We worked collaboratively to design our collage, annotating which materials and techniques we were going to use. We then used these skills to create a collage of the rainforest using a range of different materials. Here are some of our creations.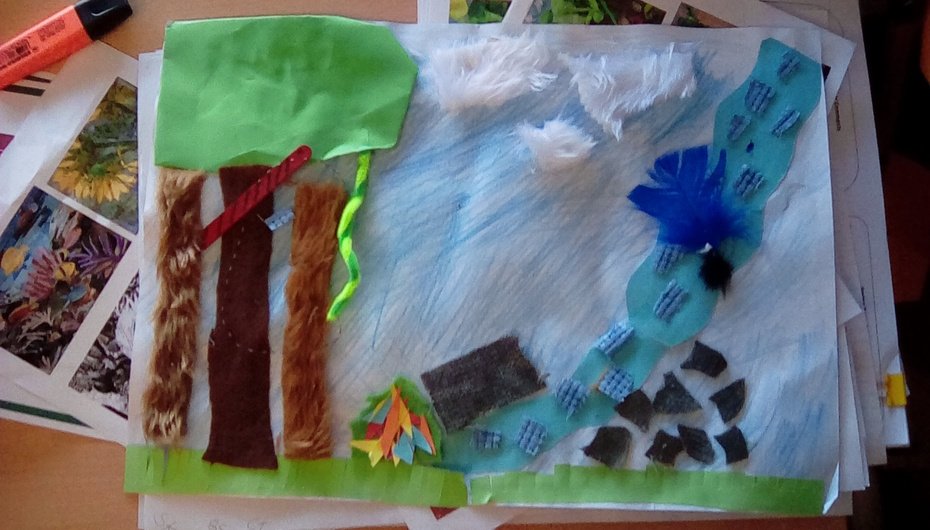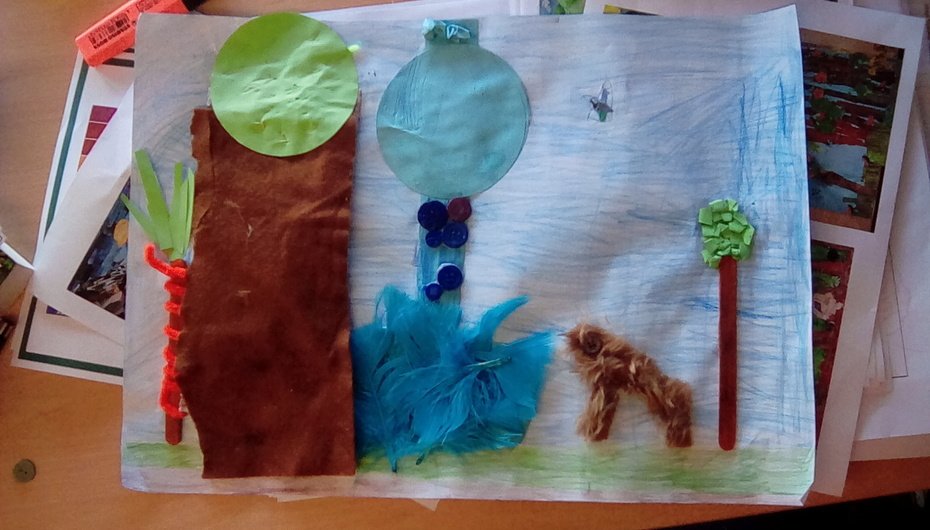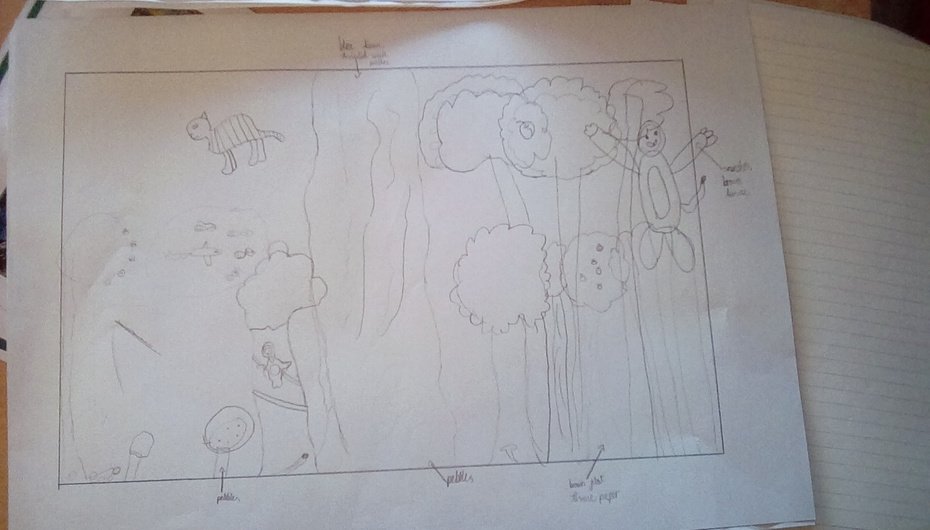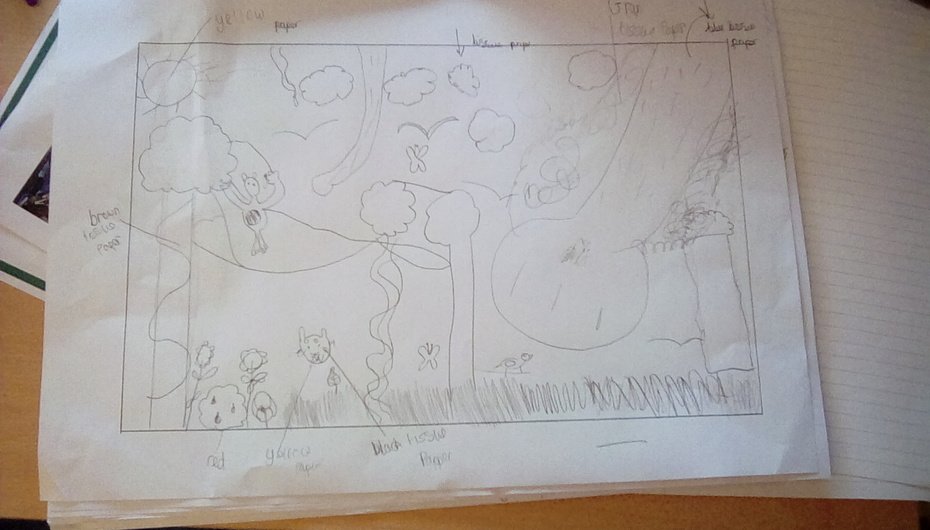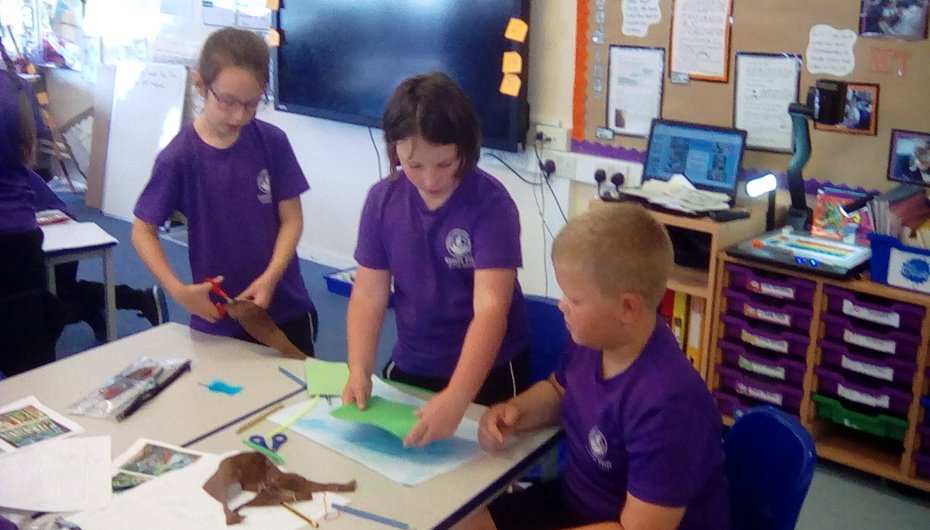 Week beginning 10.06.19
This week, Year 3 have been continuing our Explorers topic by reading the text The Explorer. We have then used this as our inspiration to write a narrative text using our imaginations. We could decide whether our characters were stranded in the rainforest like the characters in The Explorer or Antarctica like Ernest Shakleton.
We created a plan to decide what dangers our characters would face and how they would overcome them.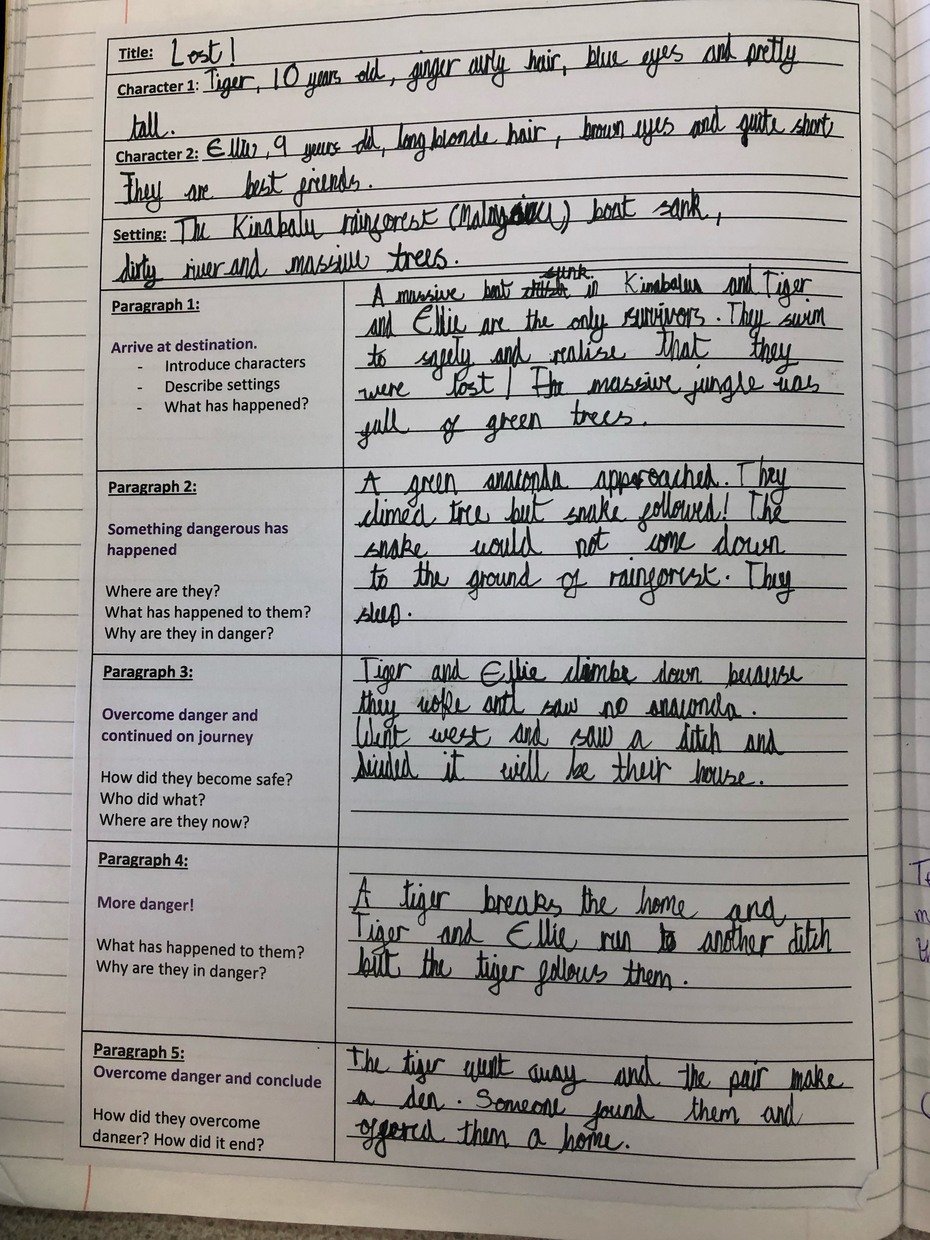 We then did some work on speech, using speech bubbles to recognise the part the characters were saying so that we could see where we needed to place the speech marks in our text.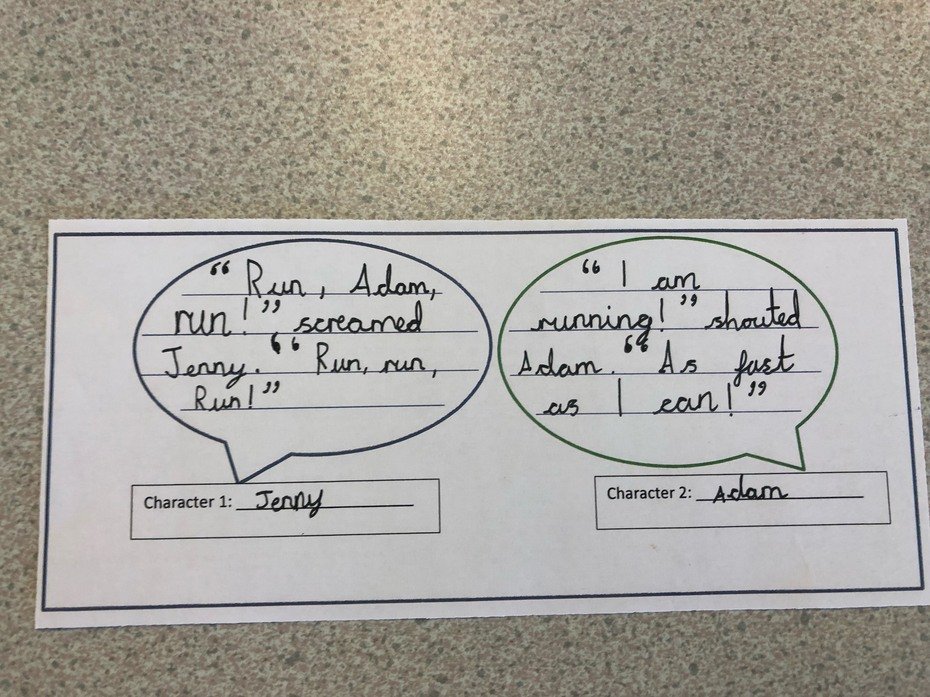 After this, we began writing, focusing on describing our characters and settings in detail. We created some fantastic pieces of writing, using our imaginations to engage our reader.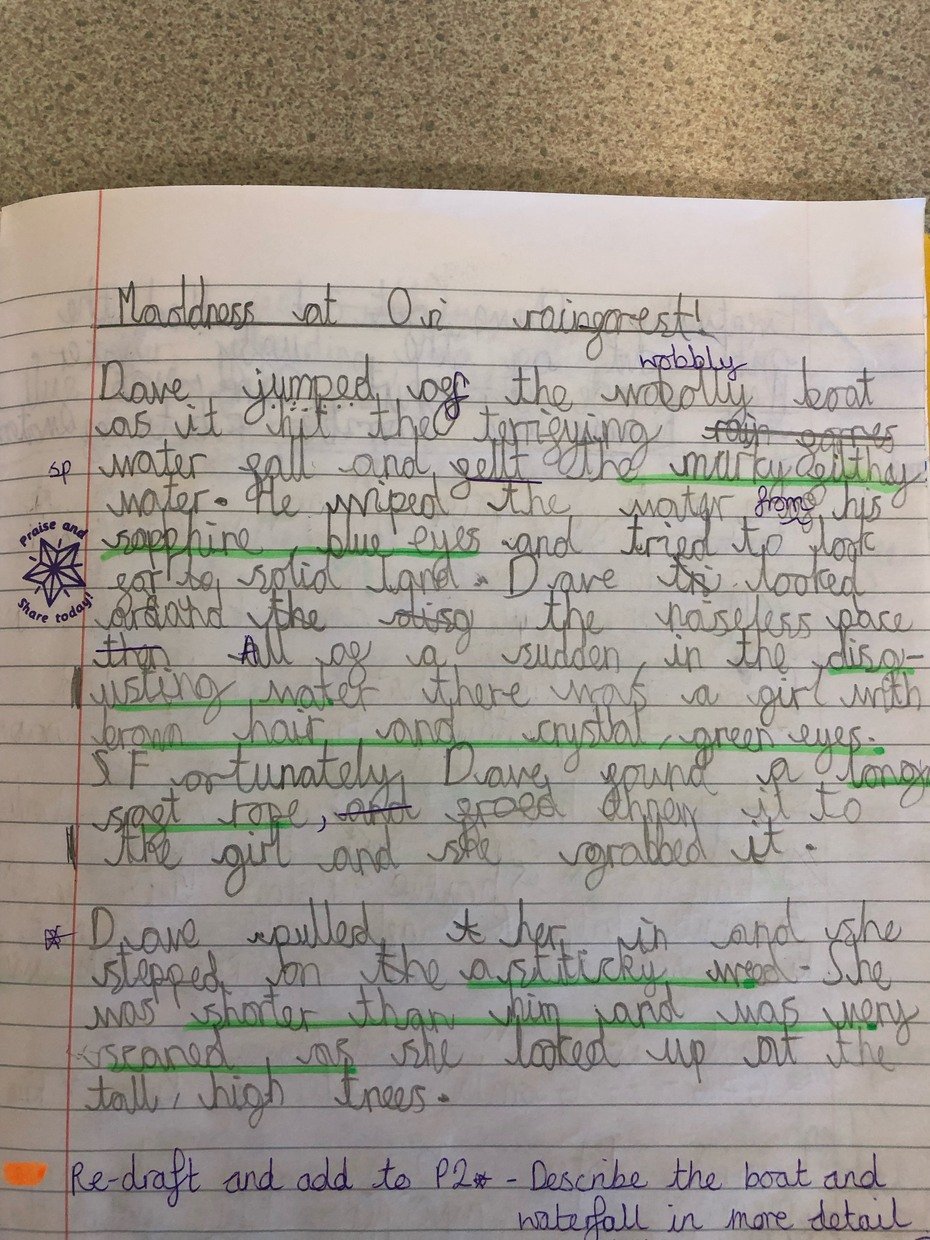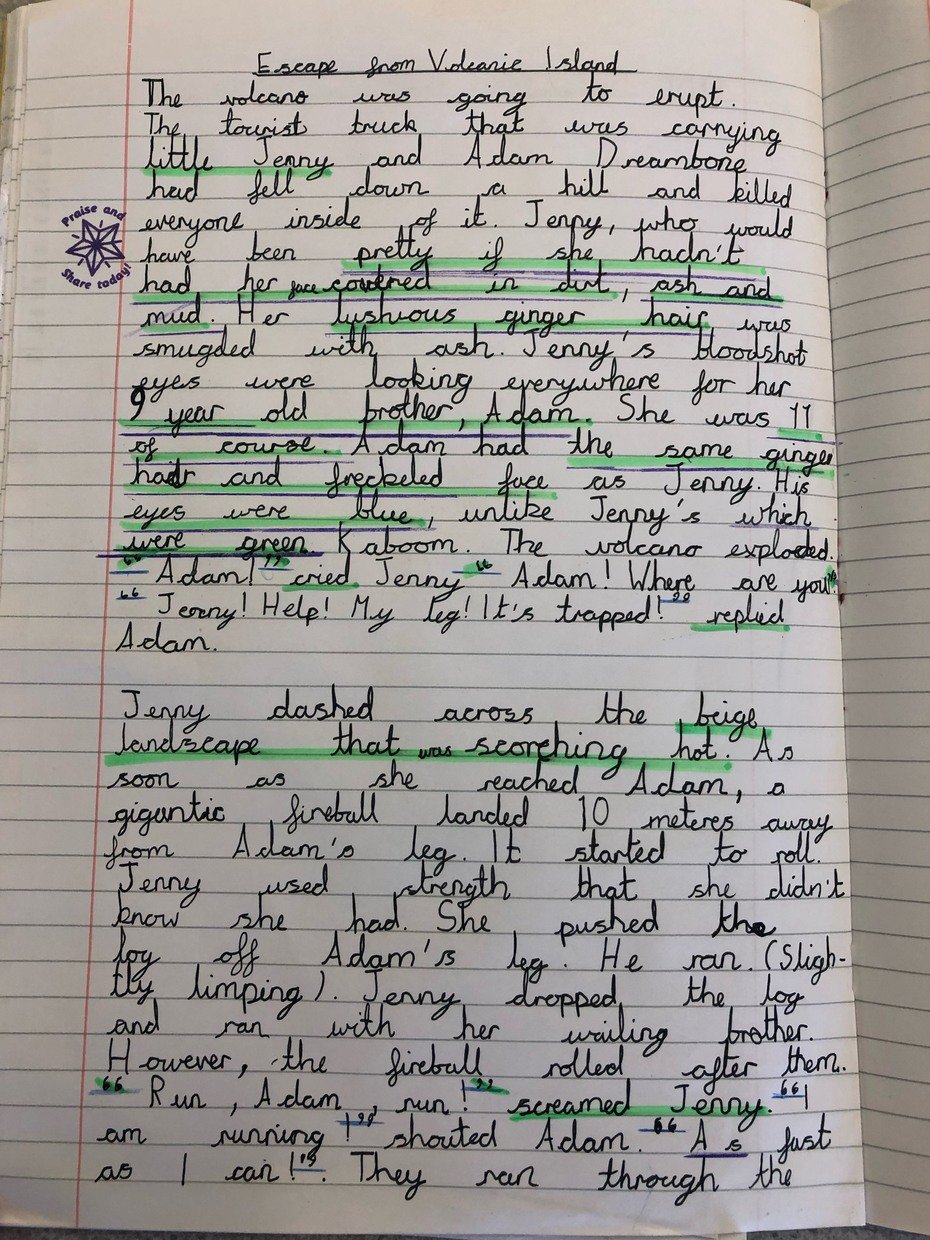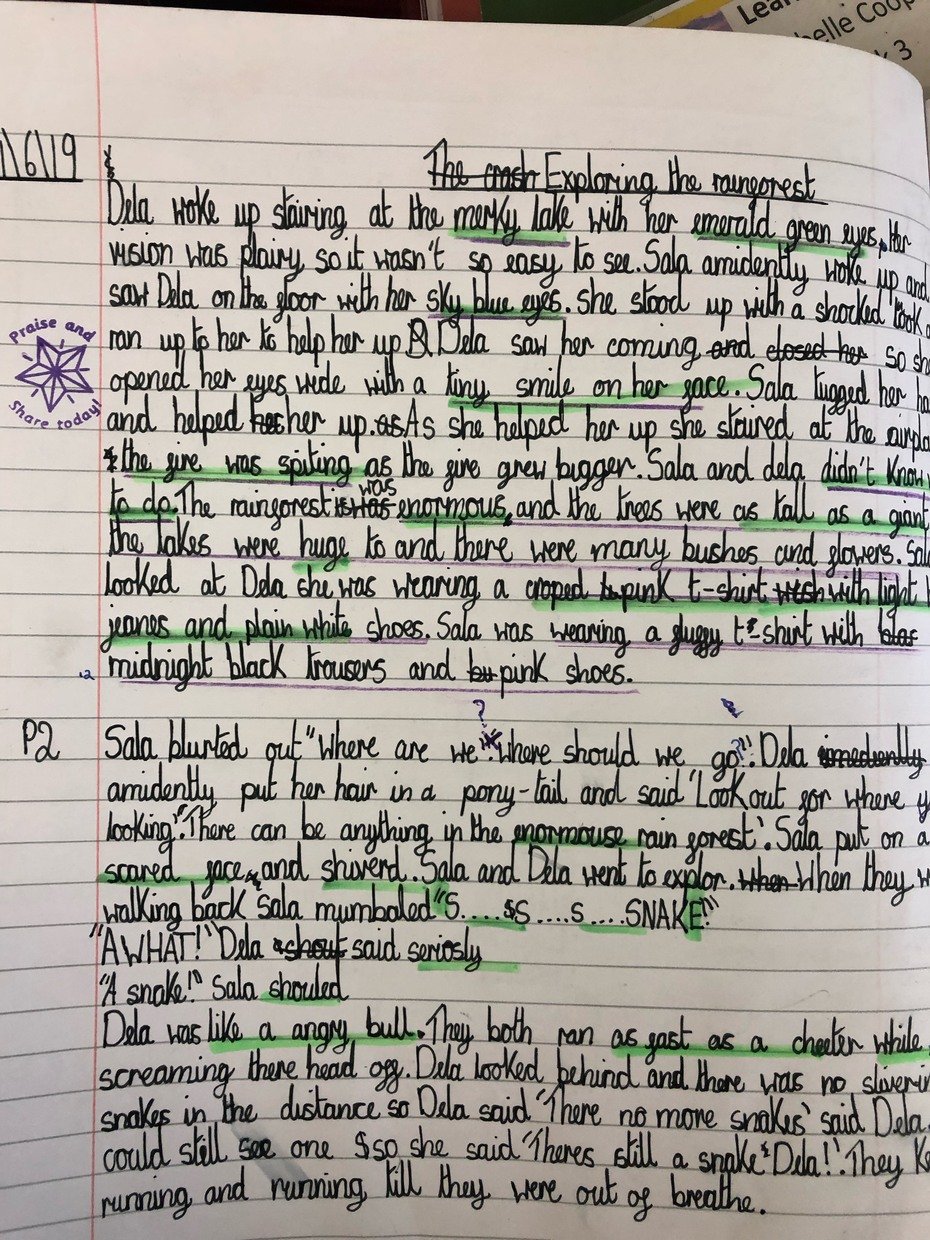 After we had written, we re-drafted a section of our writing to improve it even further, paying careful attention to ensure that we included all of the success criteria.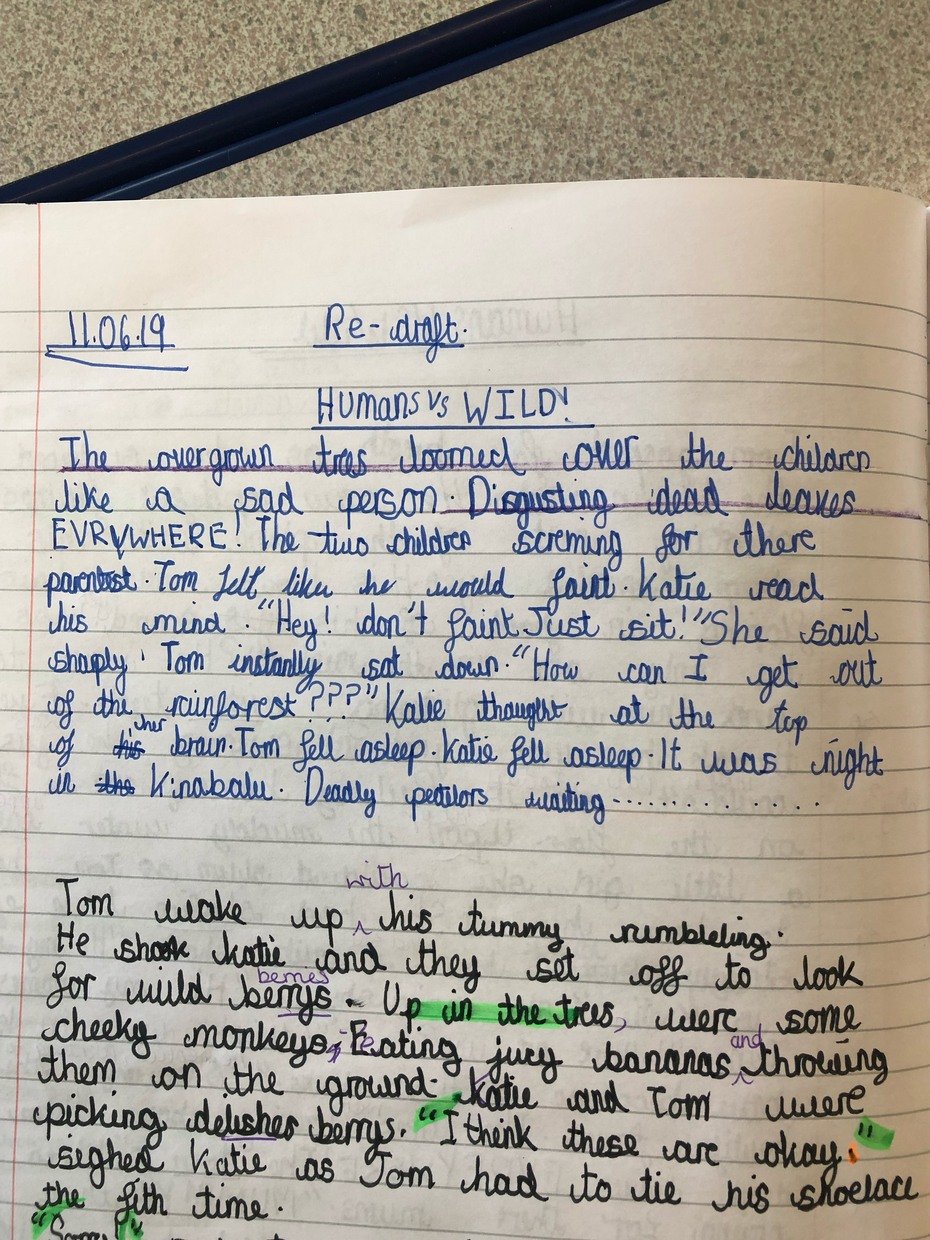 Week beginning 3.6.19
This week year 3 have begun learning about their new topic: explorers!
We started the week with a day in the life of a explorer. We completed a variety of activities to help us to understand the tasks and challenges that explorers may face. Some of these activities included: adding and subtracting money to buy camping equipment, working in teams to solve problems whilst crossing an iced over river and we used 'Now press play' to listen to and perform alongside a story of a boy who needed to rescue his poorly aunt by exploring through the rainforest. We also looked at natural art and worked together to collect natural materials to create our own pieces of natural art. To finish off our day of exploring, we read a story about an explorers journey whilst having a camping snack!
In maths this week we have focused on fractions, we have worked hard to understand how to recognise unit and non-unit fractions, whilst also successfully adding and subtracting different fractions.
We have also looked at light in science, we have learnt about the different types of light sources, how important they are and that without them we would constantly be in the dark. We have begun to learn about some new explorers that have adventured around the world, such as Neil Armstrong, Christopher Columbus and Ernest Shackleton.
Throughout the week, we have been looking at health and relationships. We have been learning about the different changes that our bodies go through, what babies need to grow and develop and diversity in families! We have been able to ask lots of different questions that we may have about this topic to develop our understanding further.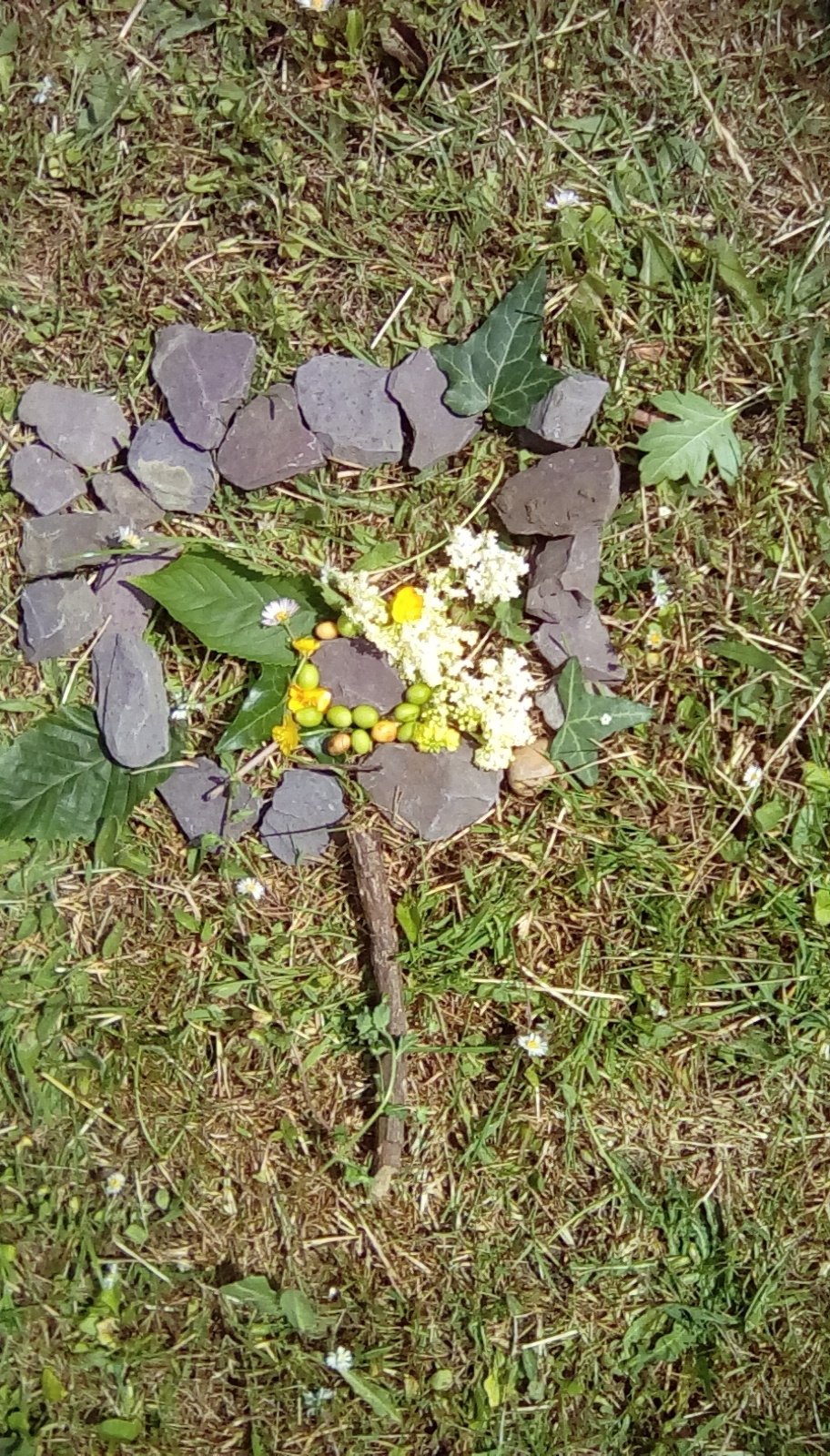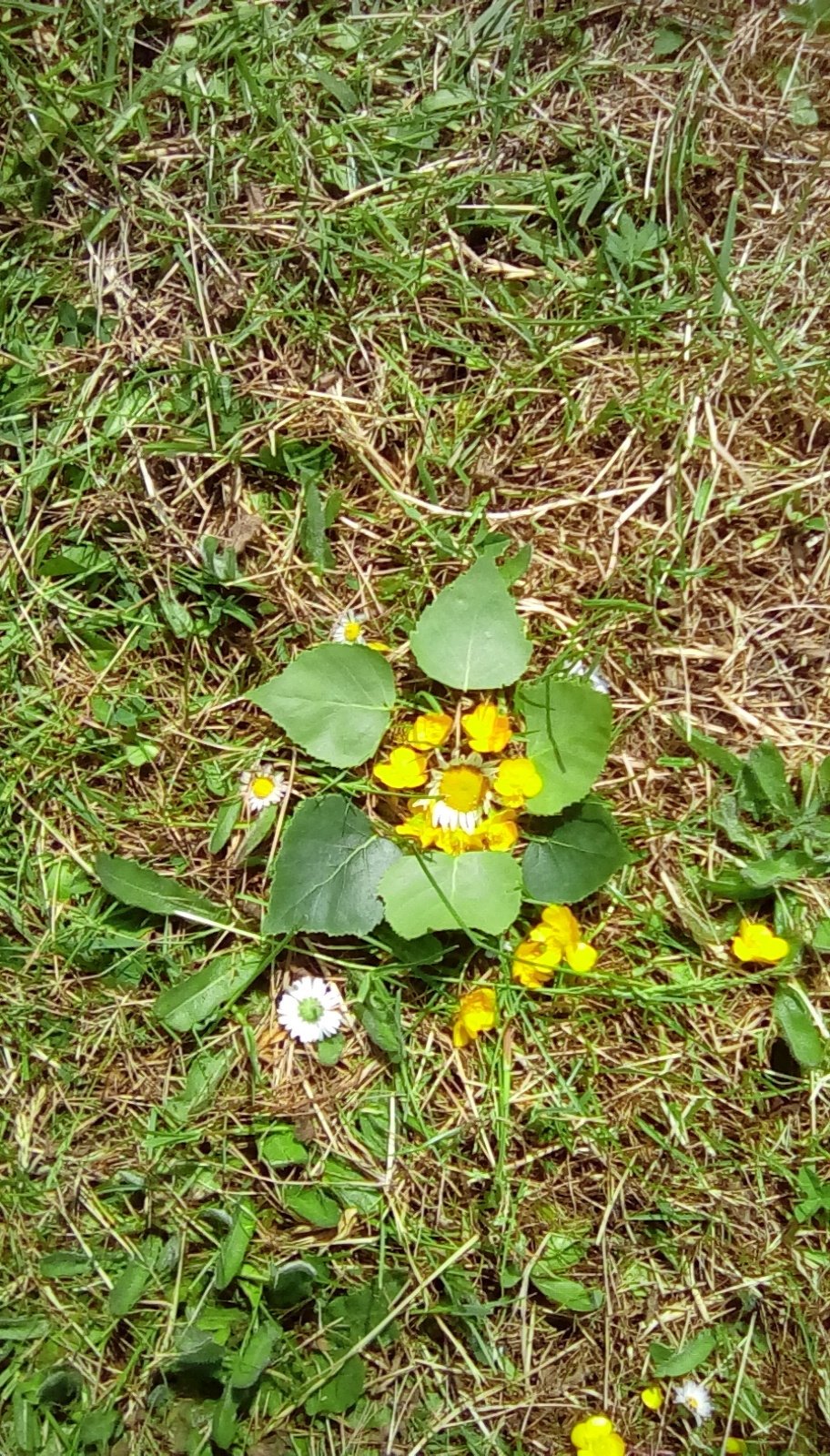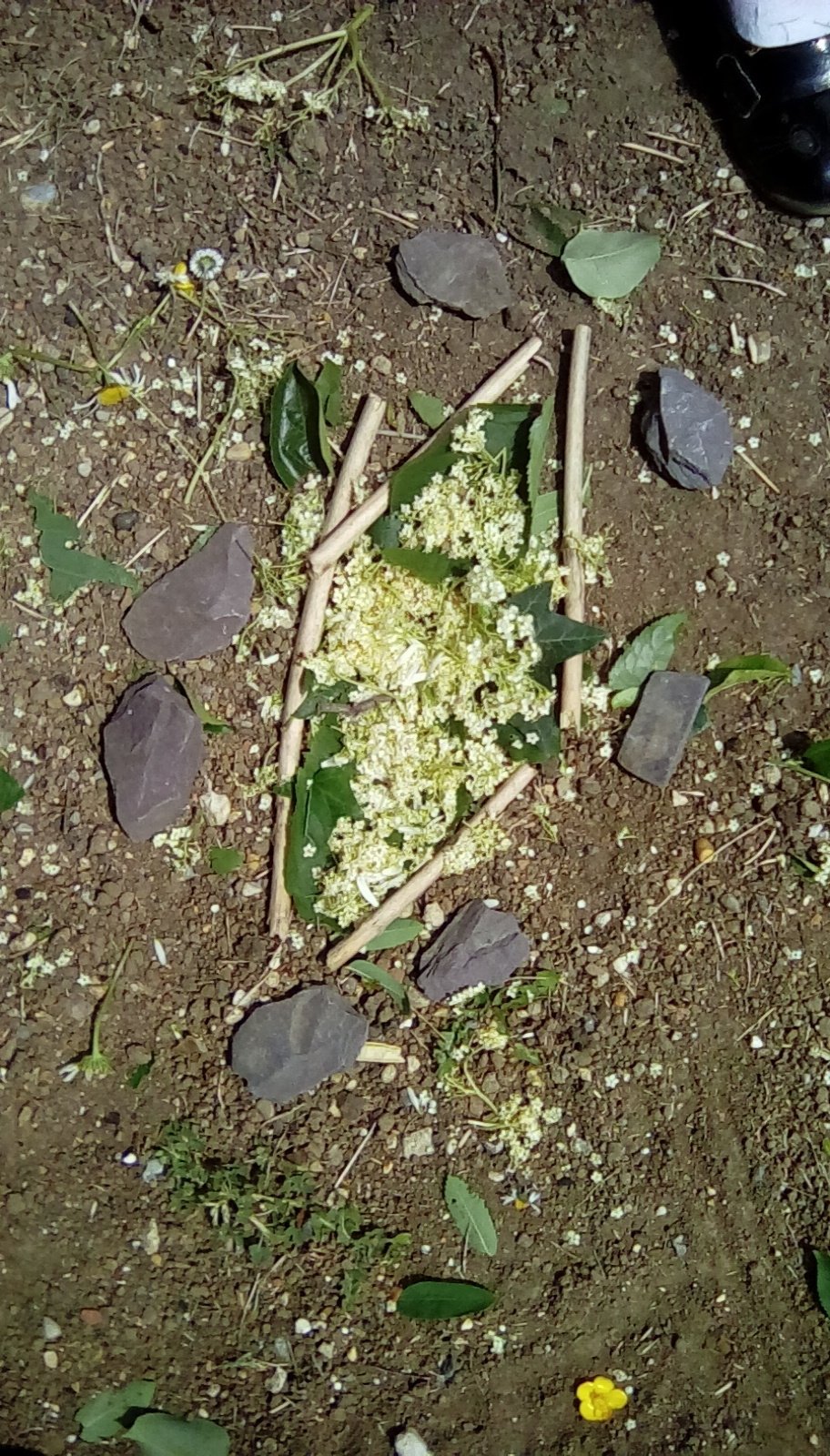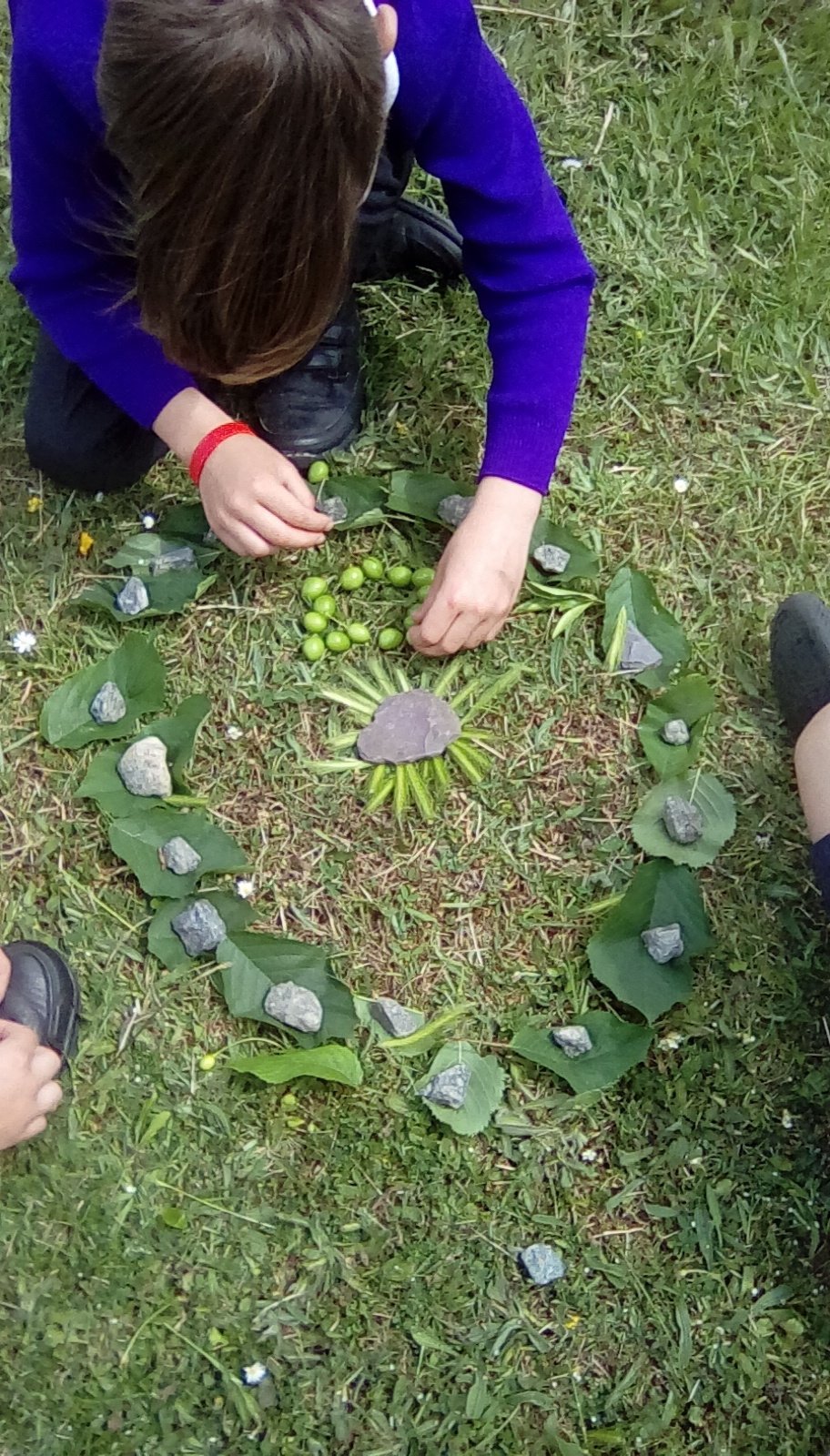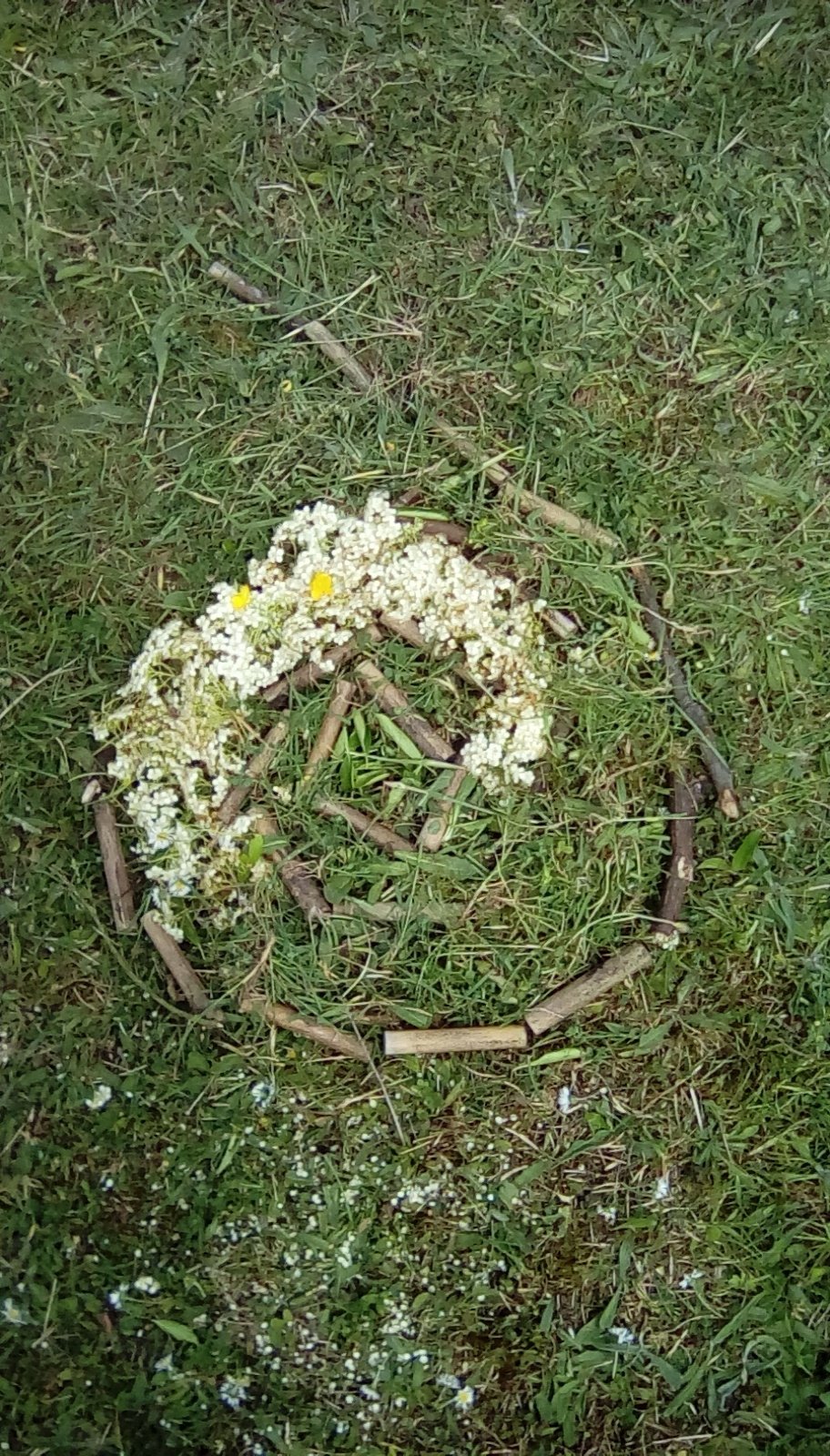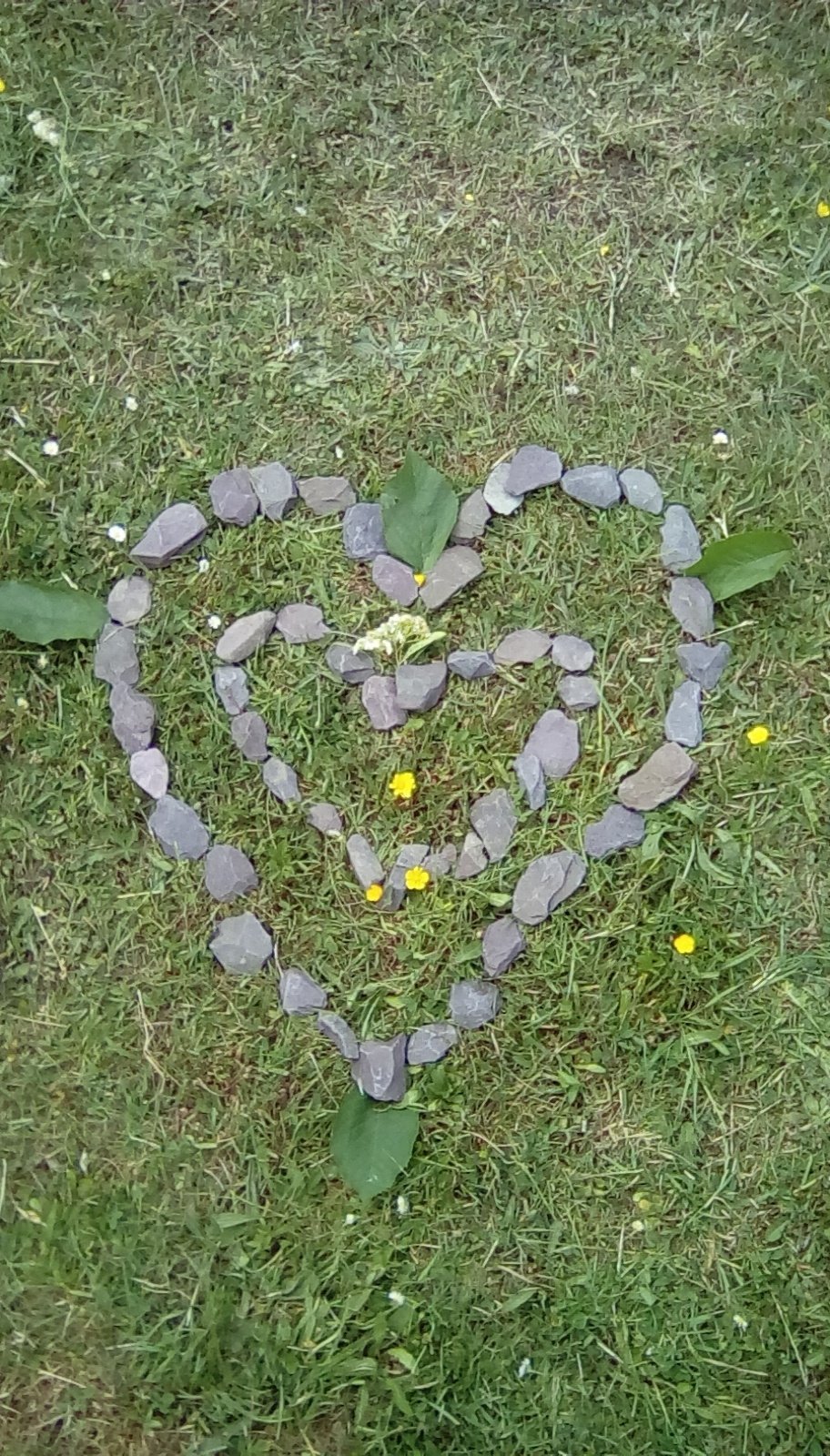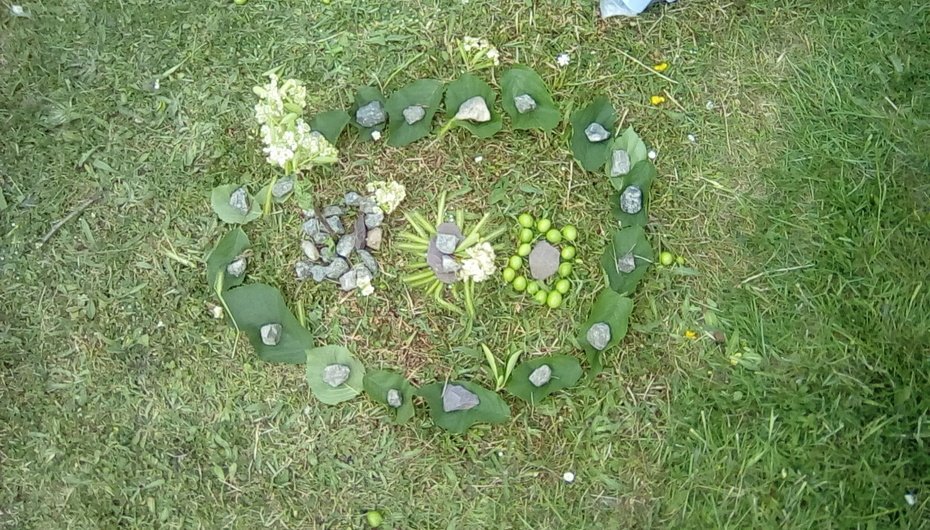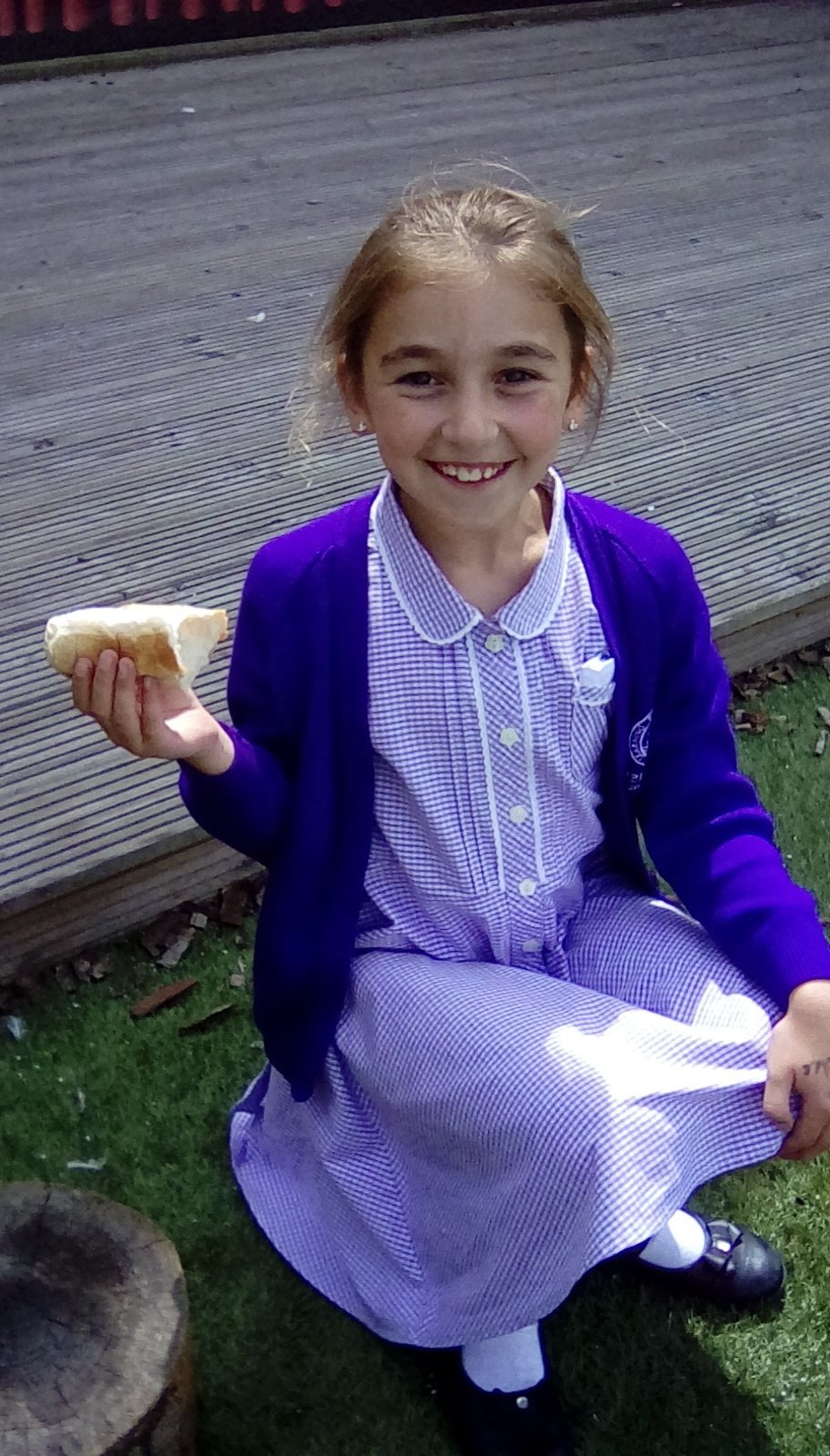 Week beginning 20.05.19

This week, Year 3 have been completing our Victorians topic by creating a Victorian leaflet using Google Classroom. We worked collaboratively, all working on the same document but adding our own sections of information. We really enjoyed being able to see everyone else typing onto the same page on our screen.

We also ended our science topic of electricity by identifying conductors and insulators. We made predictions about which items would conduct electricity and which would not and then tested these predictions by placing the items within our circuit. If the bulb still lit up then the item was a conductor because it allowed electricity to flow through it and reach the bulb.

We also finished the text of Oliver Twist and learned how to summarise a paragraph of writing by only selecting the most important parts which have an impact on the rest of the story.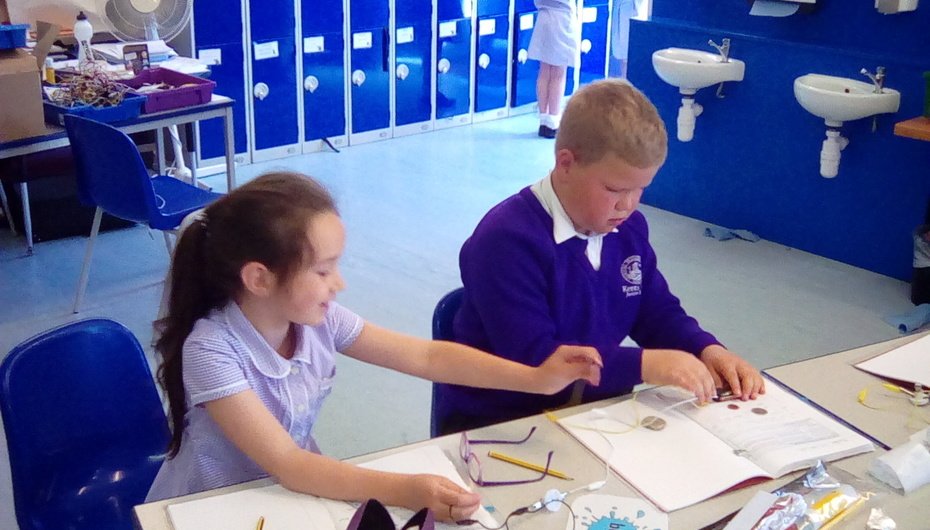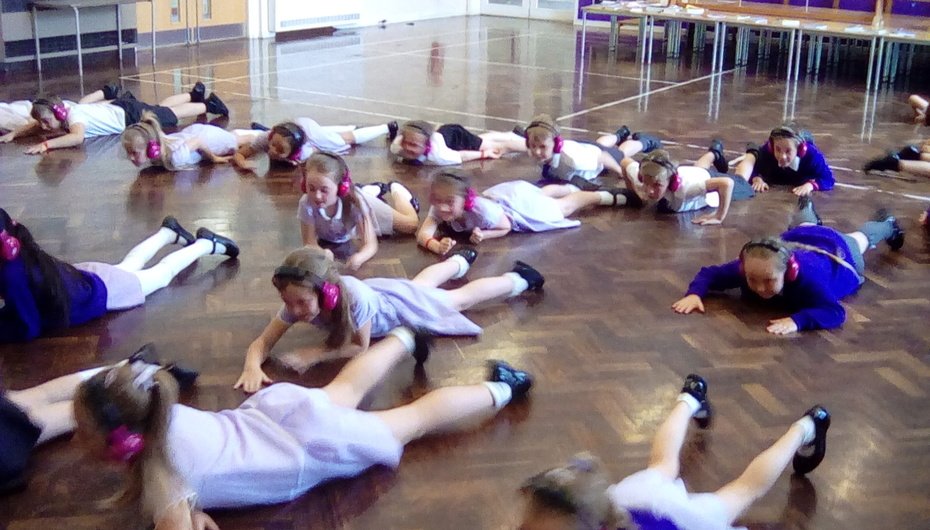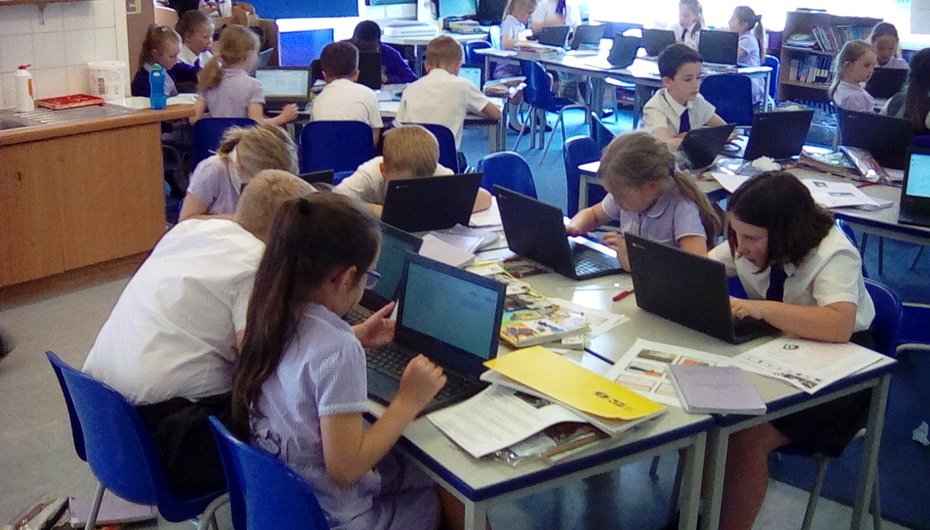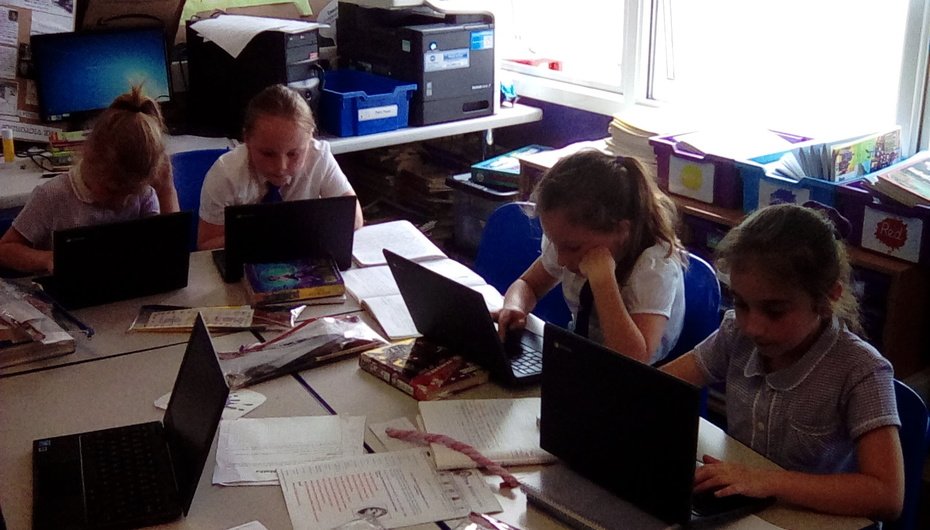 Week beginning 13.05.19
This week, Year 3 have been continuing our persuasive letter from Oliver Twist. We have redrafted this to include a range of persuasive features as well as commas and prepositions. We then published our writing using chrome books. We titled our document, changed the font style and size and learned how to use the spell check tool.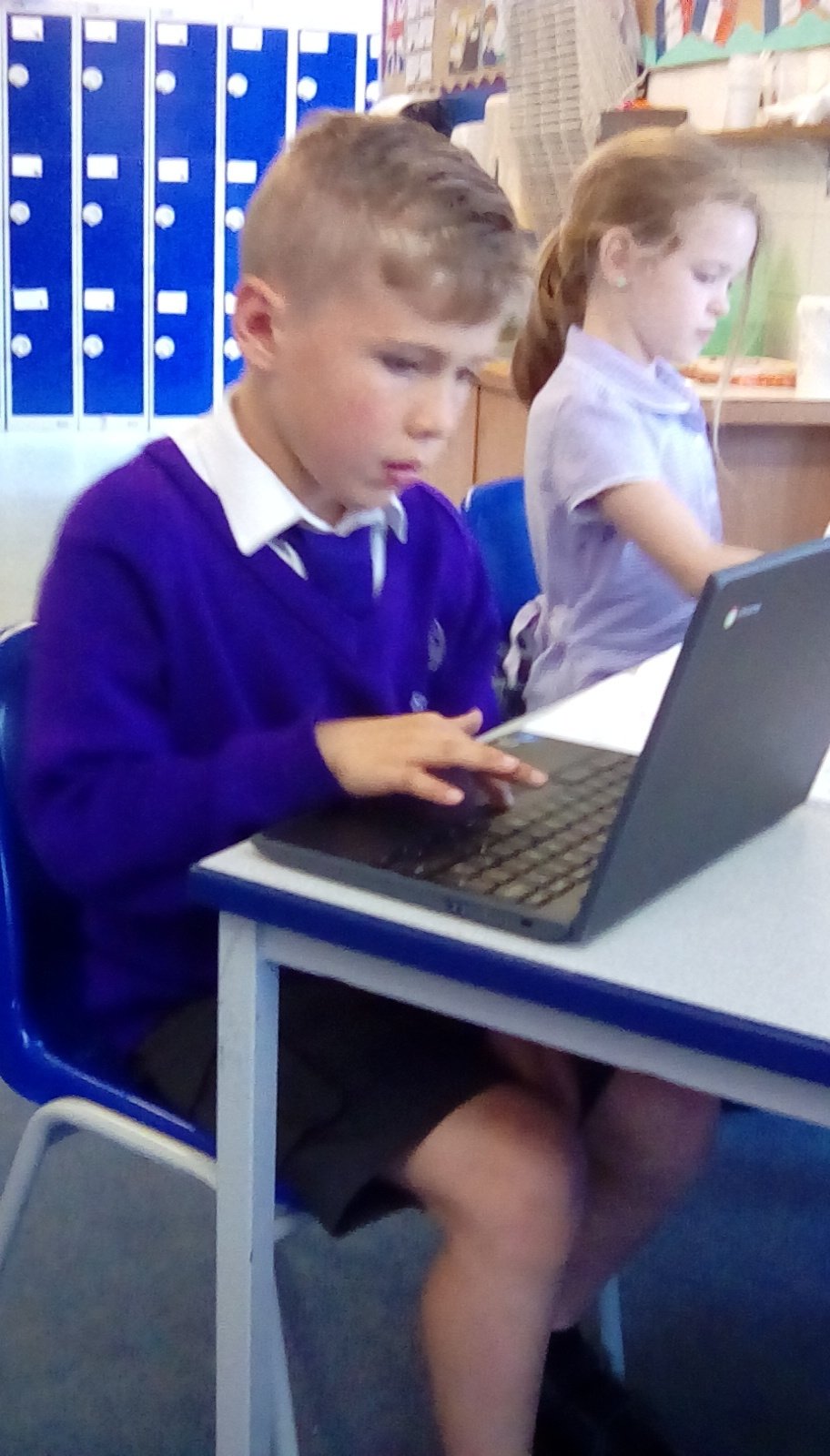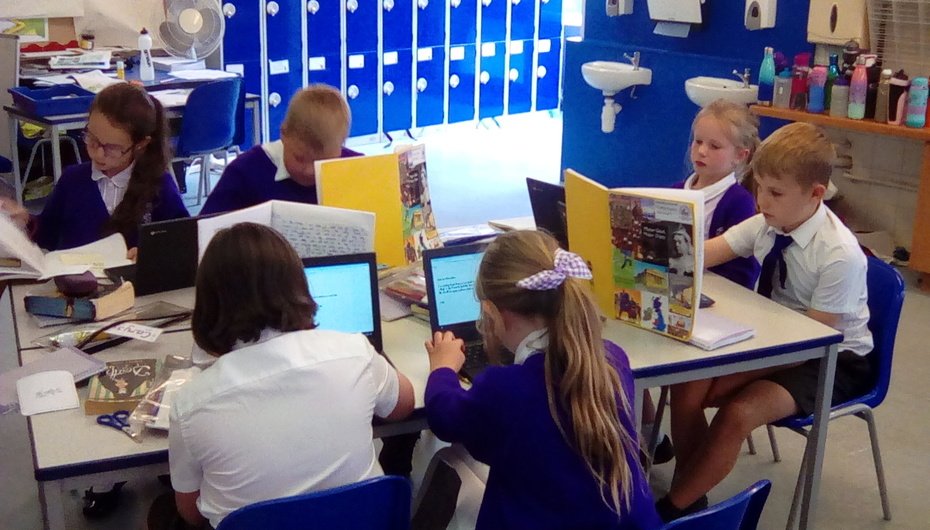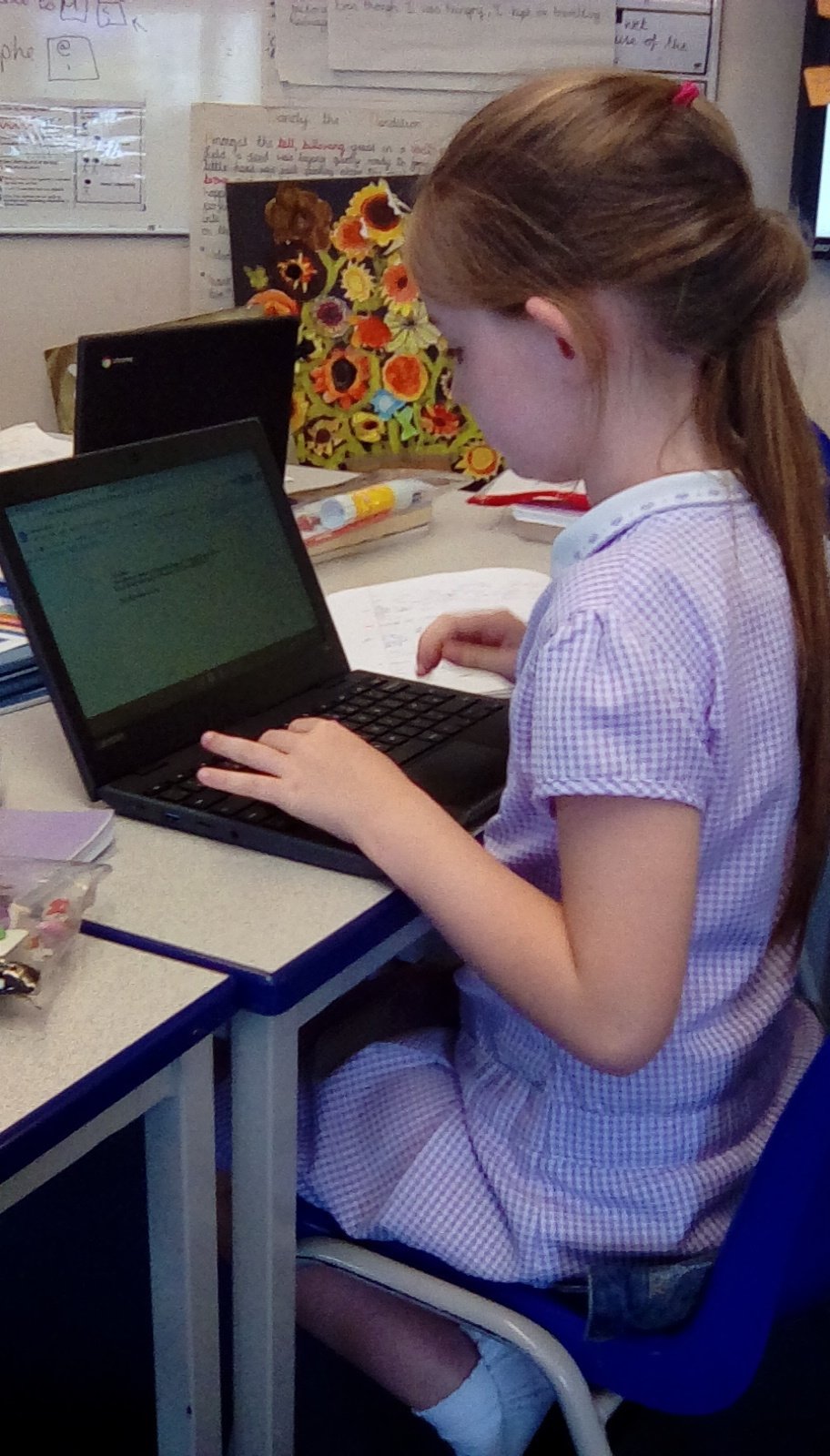 We have also learned about William Morris, a famous artist in the Victoria era who designed lots of wallpaper inspired by nature. We then tried to replicate his printing techniques using polystyrene tiles.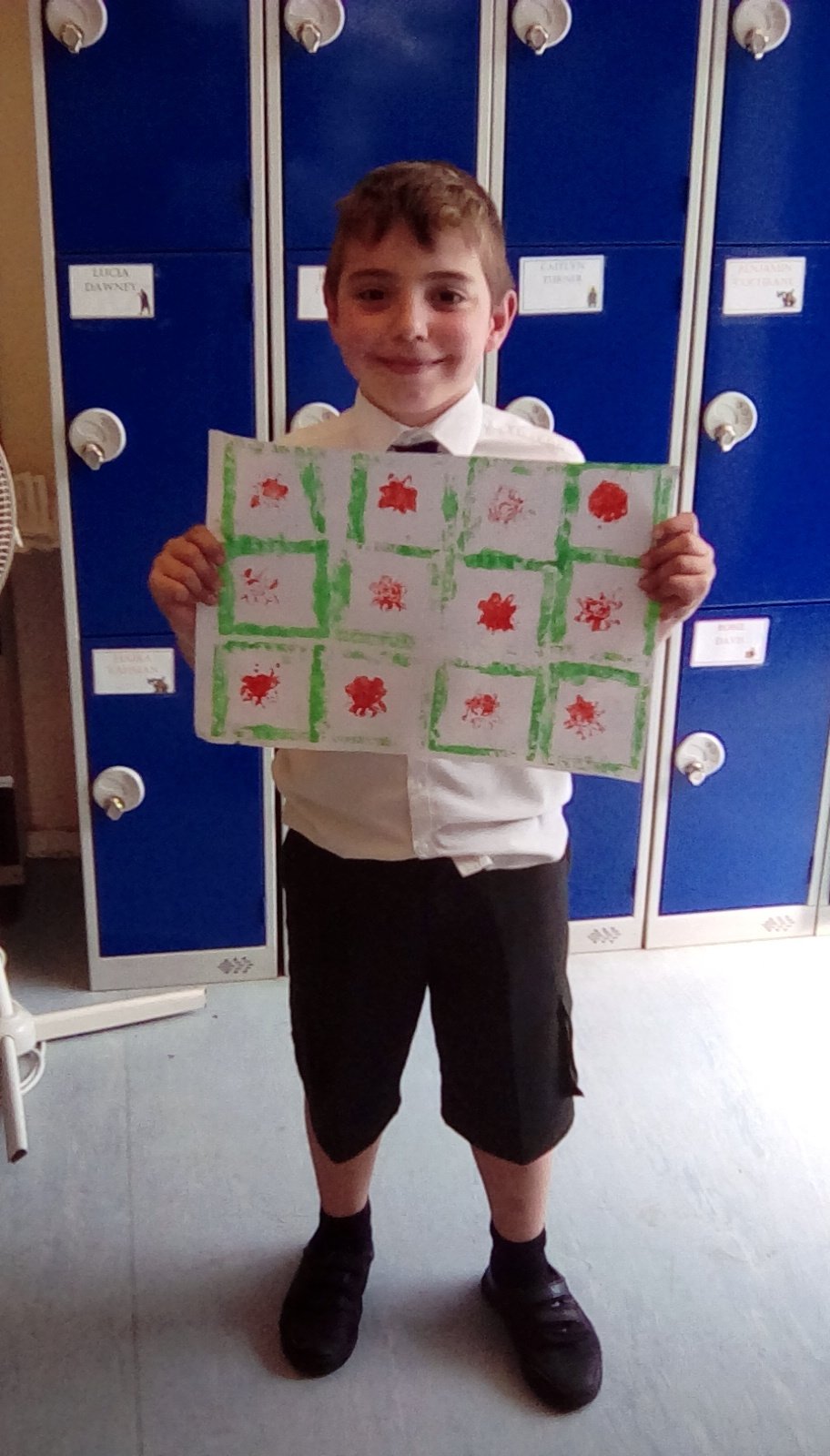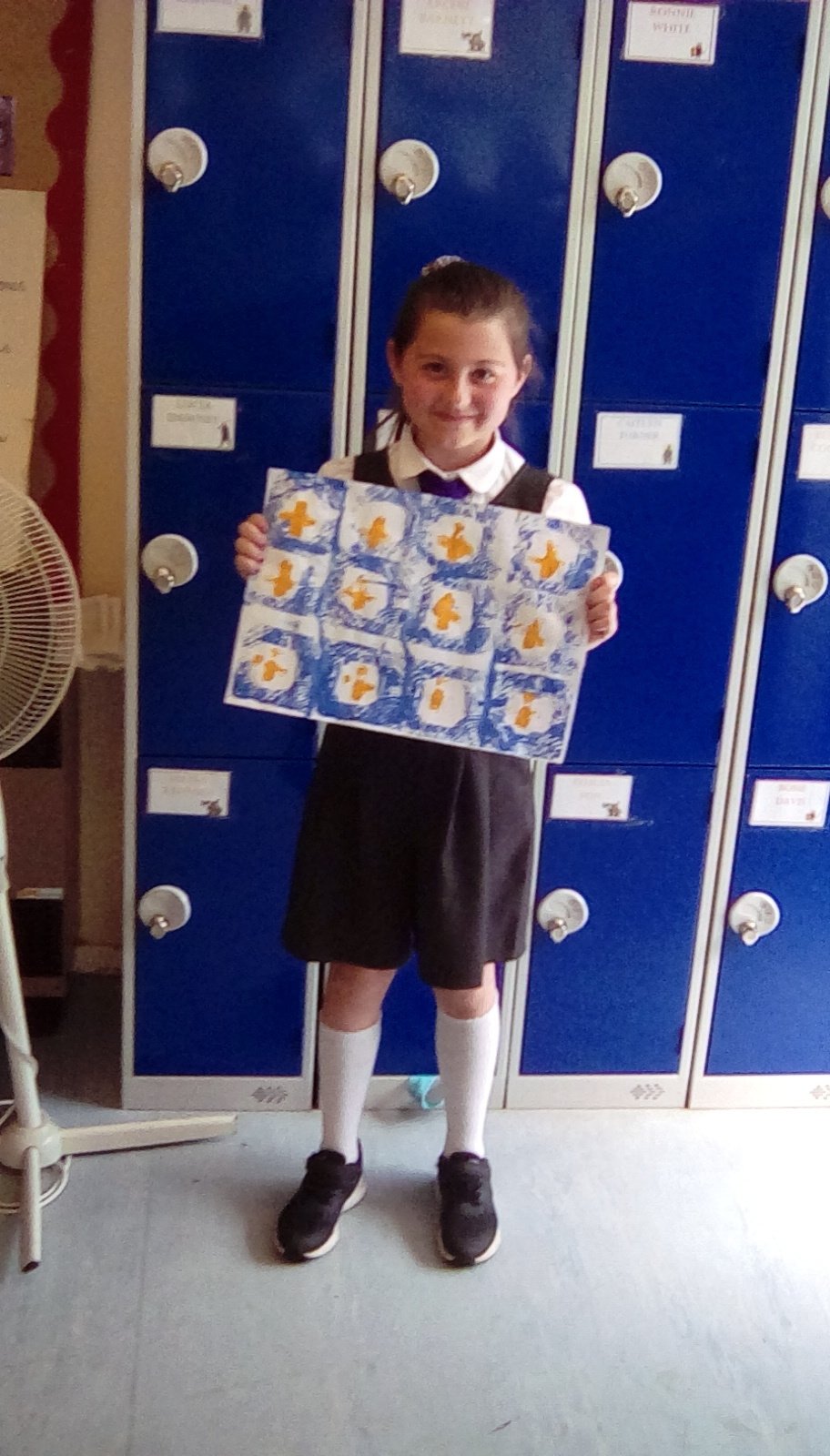 Week beginning 06.05.2019
This week in year 3, we have been learning about electricity and circuits. We created our own circuits, using different components to successfully power a light bulb.
In maths, we have been working on formal multiplication. We have been following the steps to success to accurately multiply two and three digit numbers by a one digit number.
We have been looking at the text, Oliver Twist. We discussed the characters and were able to draw inferences about them from the text.
Towards the end of the week, we experienced a day in the life of Victorian children. We were taught by a Victorian teacher, shown a variety of toys and games, we worked hard at a workhouse and were shown the different outings that they would take on their holidays.
Week beginning 29.04.19
This week, Year 3 have started our new reading cycle where we get a chance to explore a text in detail in order to deepen our understanding. The text that we will be studying this half term is Oliver Twist by Charles Dickens. We have chosen a version retold by Gill Tavner. During our reading cycle, we had a chance to make predictions, created a bank of unfamiliar or interesting vocabulary and ask relevant questions in order to improve our understanding of the text.
We have also learned how to sketch facial features in proportion and in the correct position on a face, we then tried shading to show the light and shadows on a face before attempting to recreate Queen Victoria's portrait. We had half of the face already and we have to carefully position the facial features and shade the light and dark areas.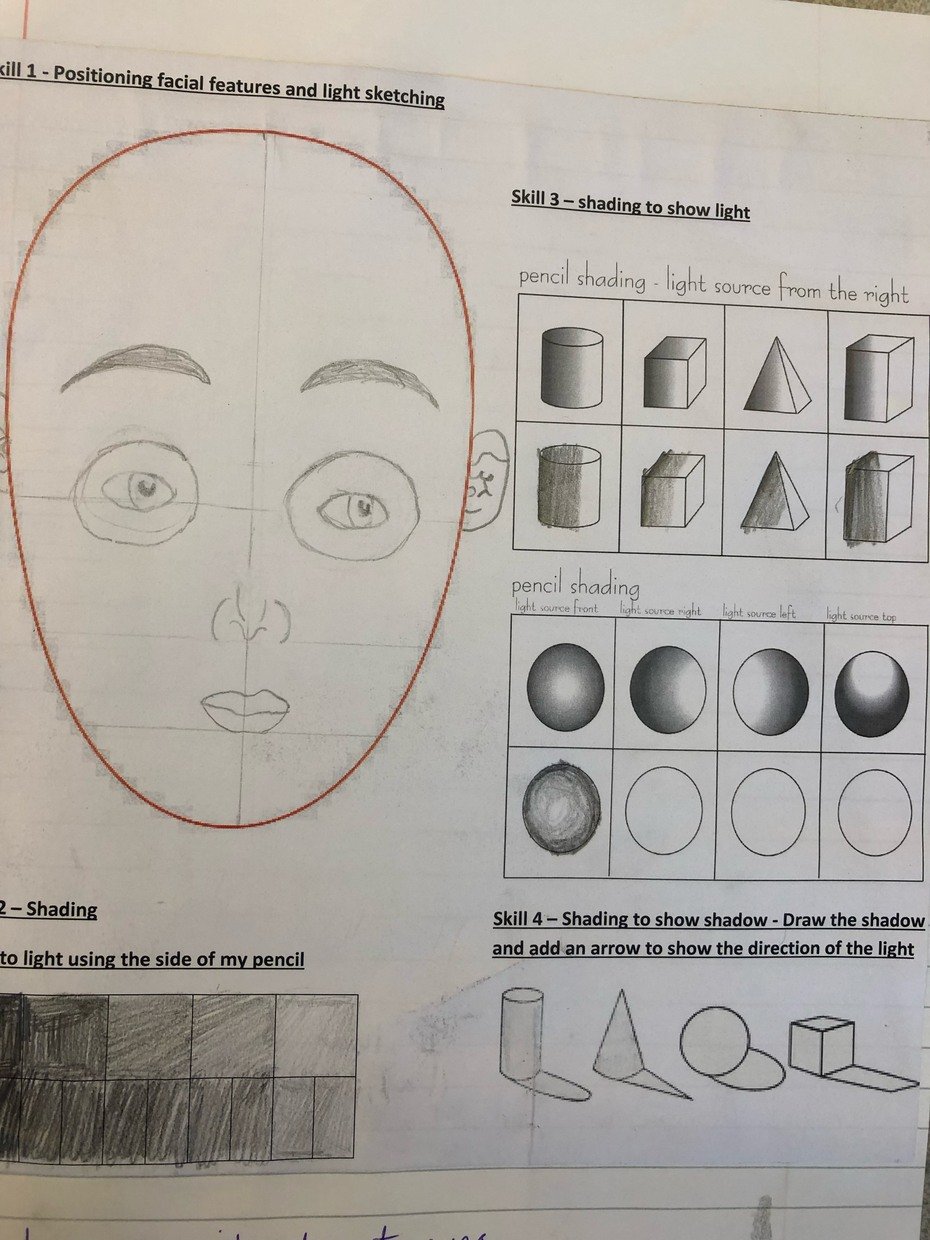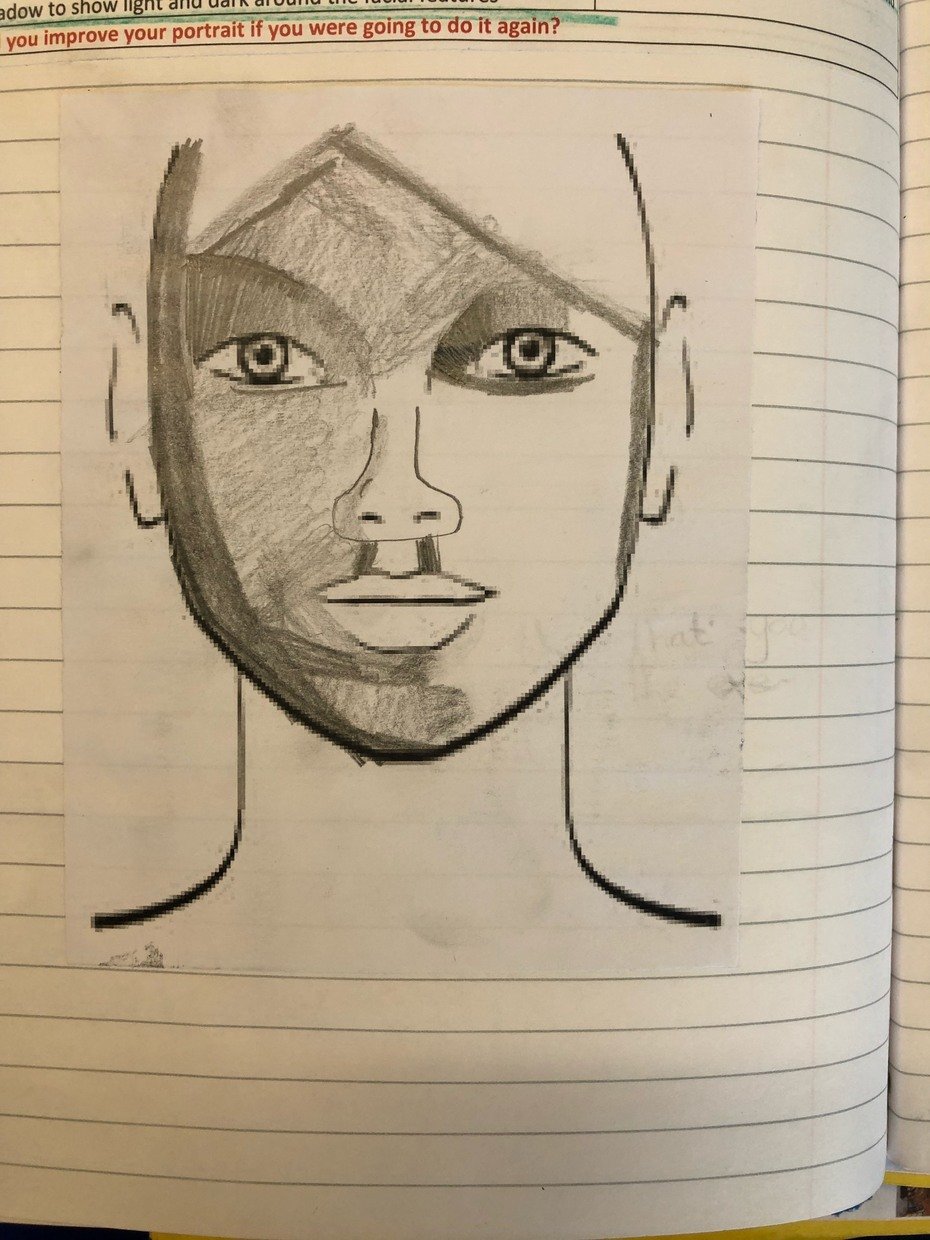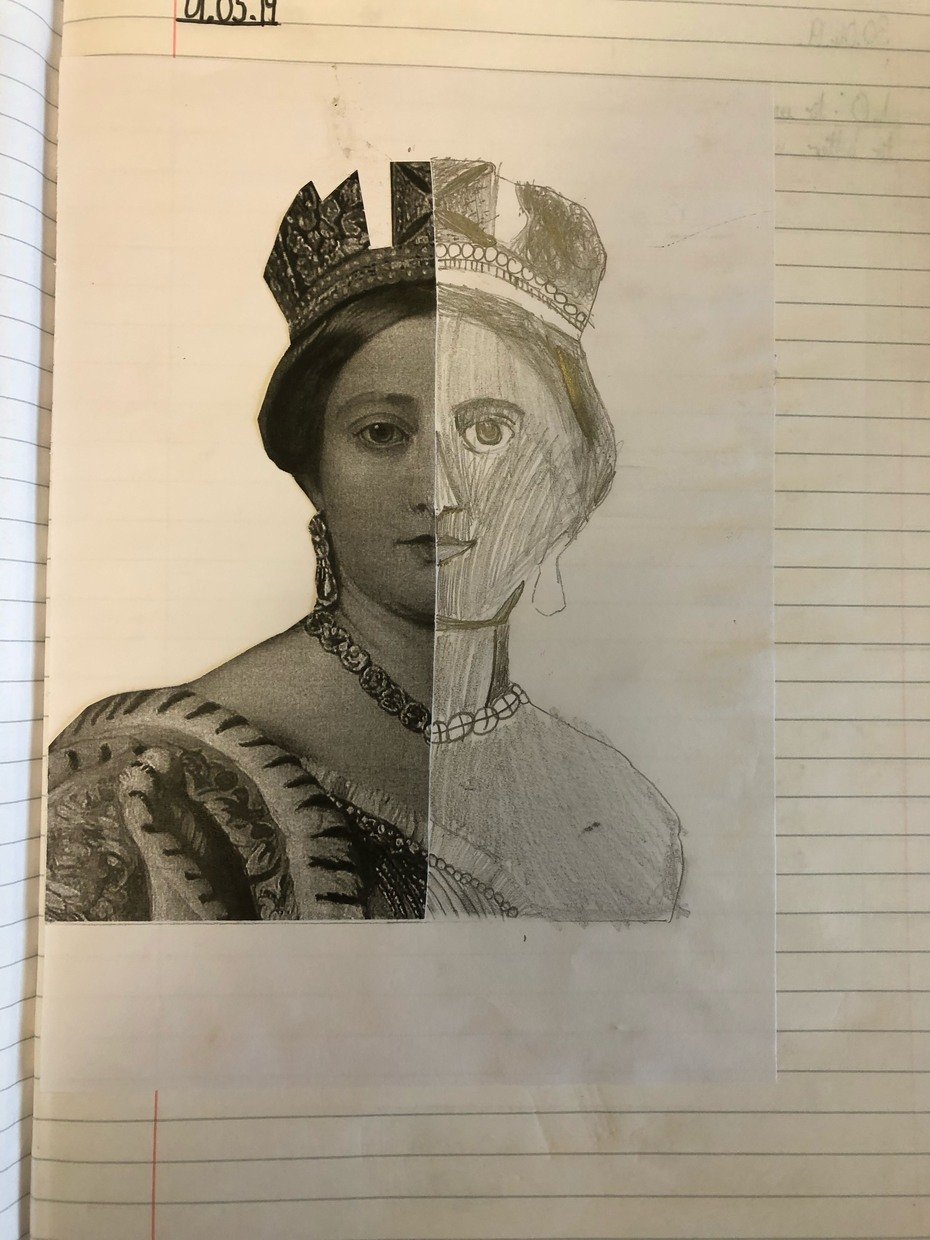 Week beginning 23.04.19
This week, Year 3 started our new Victorians topic by experiencing a morning in a 'Victorian' classroom. They had to chant along with the teacher and realised some of the punishments they might receive if they misbehaved!
We used the chrome books to research information about Queen Victoria including her childhood, reign, family and later life. Later in the week, we chose whether to create a biography or an autobiography to inform our audience about Queen Victoria.
In science this week, we identified a range of electrical appliances and then decided whether they were battery, mains or solar powered as well as understanding how electricity is created and sent to our homes.
Week beginning 01.04.19
This week, Year 3 completed our Ancient Greeks topic with a performance to the Year 2 pupils who visited us from the infants. We re-enacted some of the Greek myths we have been studying as well as creating mood through music to accompany our poetry.
During our performance, we considered expression, volume and intonation to ensure that our performance was engaging for our audience.
On Wednesday, we really enjoyed the House Spelling Bee. Every pupil in the year group showed their perseverance and tried their best, with many pupils performing in front of the class, the phase and a couple even performed in front of the whole school!
We also finished off our week by using our knowledge of 3D shapes, horizontal and vertical lines and parallel and perpendicular lines to create our own version of the Parthenon.
Week beginning 25.03.19
This week in year 3, we have been learning all about the Greek myth Pandoras Box. We have been writing a poem based on the positive and negative things that left the box, when Pandora selfishly opened it. We were focusing on using collective nouns, descriptive language, similes and metaphors.
We have also looked at pictograms and constructed our own based on our favourite Greek myth heroes - Thesues, Orpheus, Prometheus and Epimetheus. We used spreadsheets on our laptops to record survey data about these Greek heroes, which we presented in a bar chart.
In science this week, we have continued to look at skeletons and muscles. We have learned that there are different types of skeletons: endoskeletons, exoskeletons and hydrostatic skeletons. As well as skeletons we have found that we many muscles, these muscles enable us to move.
Week beginning 18.03.19
This week, Year 3 have been continuing our Ancient Greek topic by creating Greek pots out of clay. We used a coil technique to build up our pots then we used our fingers and tools to smooth the coils to make sure that they joined together.
We also learned about the human skeleton. Dr Fracture said that all bones in taller people are larger so we created an investigation to measure each other's height, the circumference of their cranium and the length of their hand to see if he was correct.
Week beginning 11.03.19
This week, Year 3 have read the Greek myth Orpheus and Eurydice. We acted the myth out to make sure that we understood it before we started writing.
We have spent time this week concentrating on our editing and redrafting process, making sure that our redrafted version, has lots of extra features to make it a fantastic piece of writing.
On Wednesday afternoon, we had a visit from the 2 John's who talked to us about how to use the games we play online safely. They showed us how to make our settings private.
Week beginning 04.03.19
To start off this week, we had our very own Greek day! Throughout the day we were able to develop our knowledge of Ancient Greece by learning about the Olympics, olive wreaths and many different facts. We were also able to use our knowledge of quarter turns, half turns, clockwise and anticlockwise to complete a labyrinth.
To support ourselves with our writing this week, we used the chromebooks to work collaboratively in creating word banks for Theseus and the Minotaur.
We have been using the myth of Theseus and the Minotaur to write a newspaper report recounting the events of the story, starting with an orientation and using compound and complex sentences.
At the end of the week, we had lots of fun taking part in world book day!

Week beginning 25.02.19

This week, Year 3 have started our new topic of Ancient Greece with lots of fun activities. We have designed and created some Greek sandals that were fit for purpose and evaluated their effectiveness. As well as this, we have used some new technology called 'Now Press Play' to hear a story about the Ancient Greeks and be a part of it, acting out what was happening. We all loved taking part in this!

We have used atlases to locate Greece on a map and look at some of its geographical features such as its capital city and bordering countries. We then made some comparisons between Athens and London, looking at the climate and languages spoken.

We also used some chimes in our music topic to play along to the beat of a song.
Week Beginning 11.02.19
This week, we have been on a walk around the local area. During our walk, we located lots of human and physical features of Benfleet. Mr Turner kindly accompanied us and shared lots of pictures to show us how Benfleet has changed over the years.
To aid our walk, we also look looked at an ordnance survey map of the local area and understood how to read grid references to locate different places on the map such as a golf course or parking.
Our final outcome for the half term was to create a cross stitch and back stitch design linked to an aspect of our study of the UK. Some children chose to create a Union Jack flag while others created mountains to represent our week learning about Snowdonia or Big Ben to represent our week learning about London.
Week beginning 04.02.19
This week, Year 3 have been continuing with our study of the UK. We have learnt how to tell the time and look at bus timetables to help us on our journey across the UK. We used the characters from Major Glad and Major Dizzy to create a diary entry, sharing our experiences of Snowdonia, the Eden Project and London - some of the places we have studied during the half term.
On Friday, we also learnt how to thread a needle as well as some cross stitch and back stitch skills in preparation for our final outcome next week where we will be creating a landmark or place in the UK that we have studied.
Week beginning 28.01.19

This week Year 3 have had a science week. We have identified the different parts of a plant such as the leaves and stem and what their function is. The function of a stem is to transport water and hold the plant up.

We have also created investigations to see if seeds can still grow when we take away one of their needs. We places some cress seeds in a cup and left one with no water, one with no warmth, one with no air and one with no sunlight. We found that the one with no air seemed to grow the quickest.

We then used all the information that we had learned to create a narrative on Dandy the Dandelion and explain what happens to him as he progresses through the life cycle of a plant.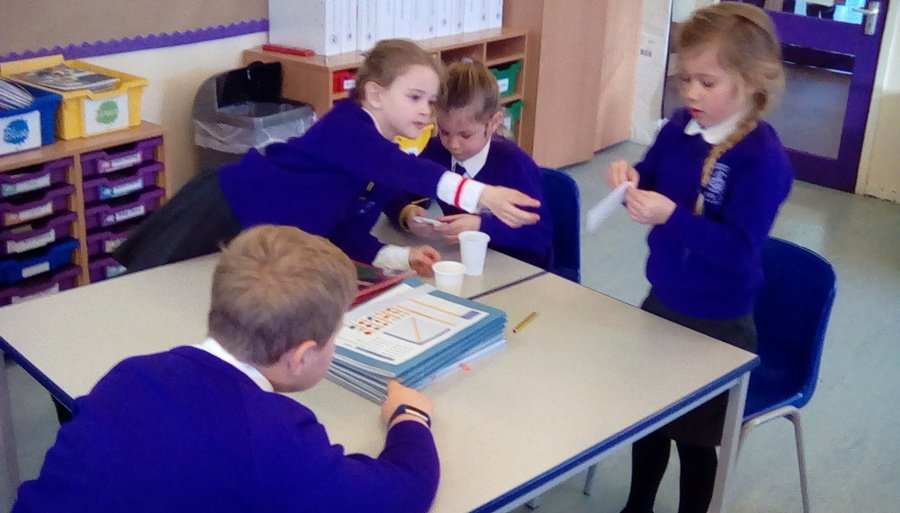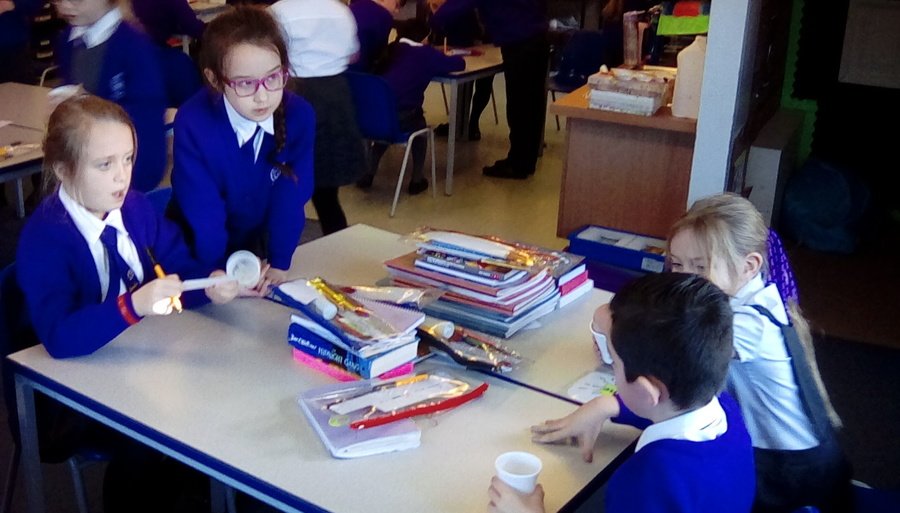 Week beginning 21.01.19
This week, we have been learning how to say the names of fruits in French. For example: une pomme is an apple and une banane is a banana.
We learned about the different parts of a mountain such as; the peak or summit which is the top of the mountain and the foot of the mountain which is the base. We used the chrome books to research information about Snowdonia and then used this to help us write a persuasive leaflet about Snowdonia.
Week beginning 14.01.19
This week Year 3 have been continuing looking at the text Major Glad, Major Dizzy and using this to create our own narrative, re-telling the story of the two soldiers stuck under the floorboards.
We have also looked at some DT skills in order to help us build a structure. We have created bridges using strengthening and stiffening techniques and tested them to see if a toy car could pass over it without it collapsing.
Week beginning 07.01.19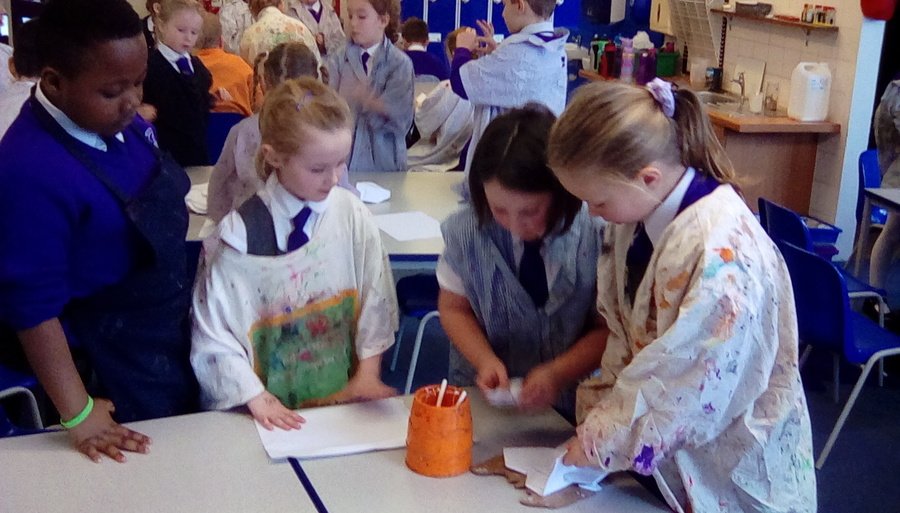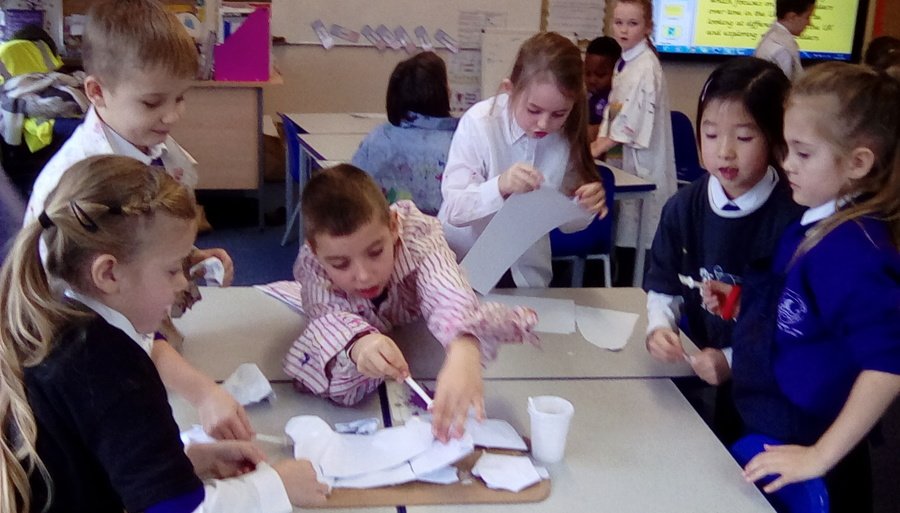 This week, we have started our new topic 'Our UK'. We started the week by creating giant 3D models of each country of the UK which we painted on Friday, considering the height of the land when we chose our colours.
We have also used our brand new Chrome Books to find different cities and towns using Google maps as well as using atlases to locate some of the main rivers in the UK.
Our new text this half term is 'Major Glad, Major Dizzy' which is about two toy soldiers who were dropped under the floorboards of a Victorian house and forgotten about for over one hundred years. We explored the pictures in this book which help to tell the story and look at how meaning has been inferred through the pictures and the writing.
Week beginning 10.12.18
This week, we have been looking at the text The Secrets of Vesuvius and learning about what happened when Mount Vesuvius erupted in 79AD. We used all this information to write part of a story building up suspense as two of our characters were in Herculaneum, at the base of Vesuvius when it erupted!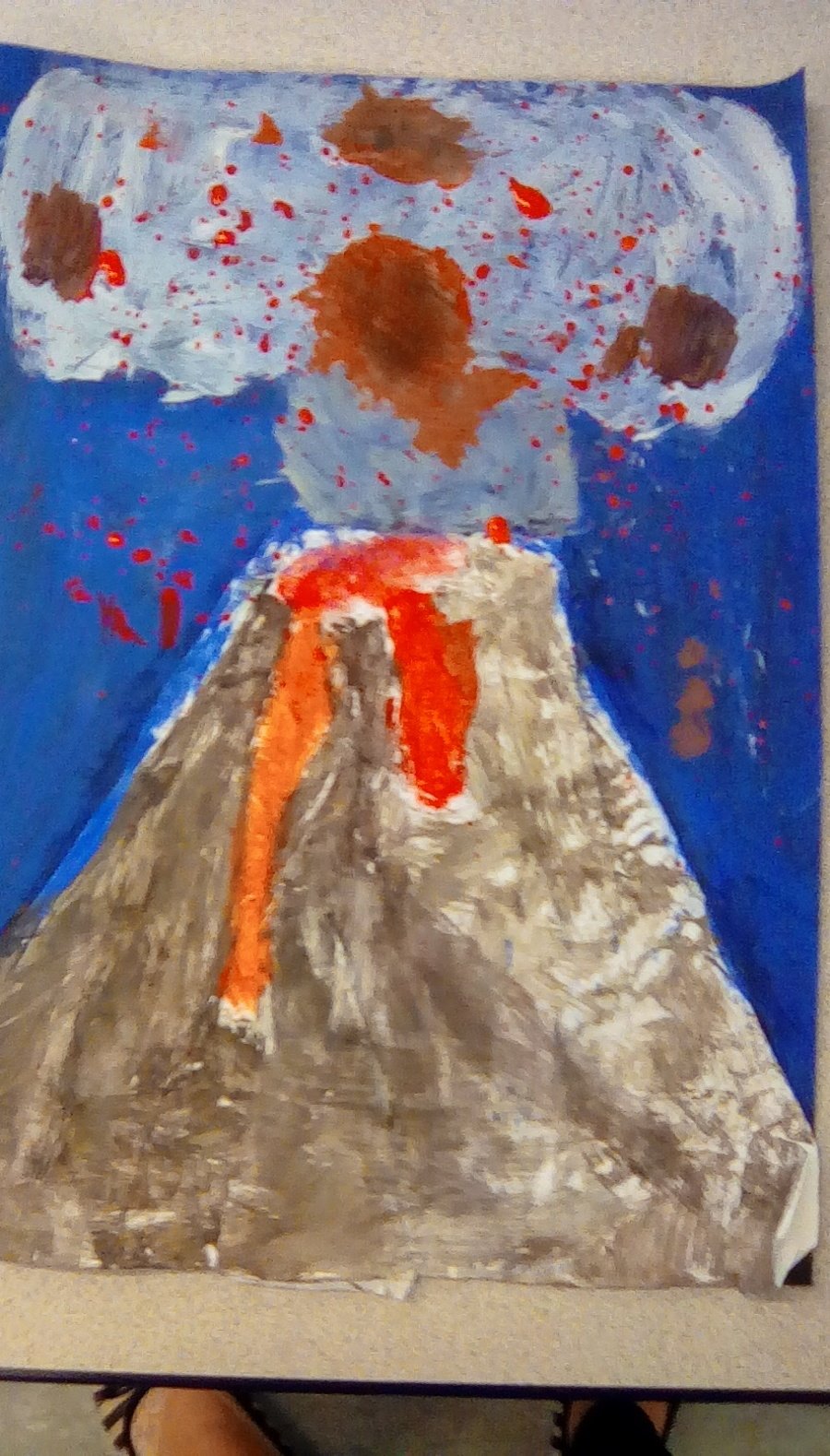 We invited some of our school Governors in on Friday afternoon to share all our fantastic Roman work from this half term.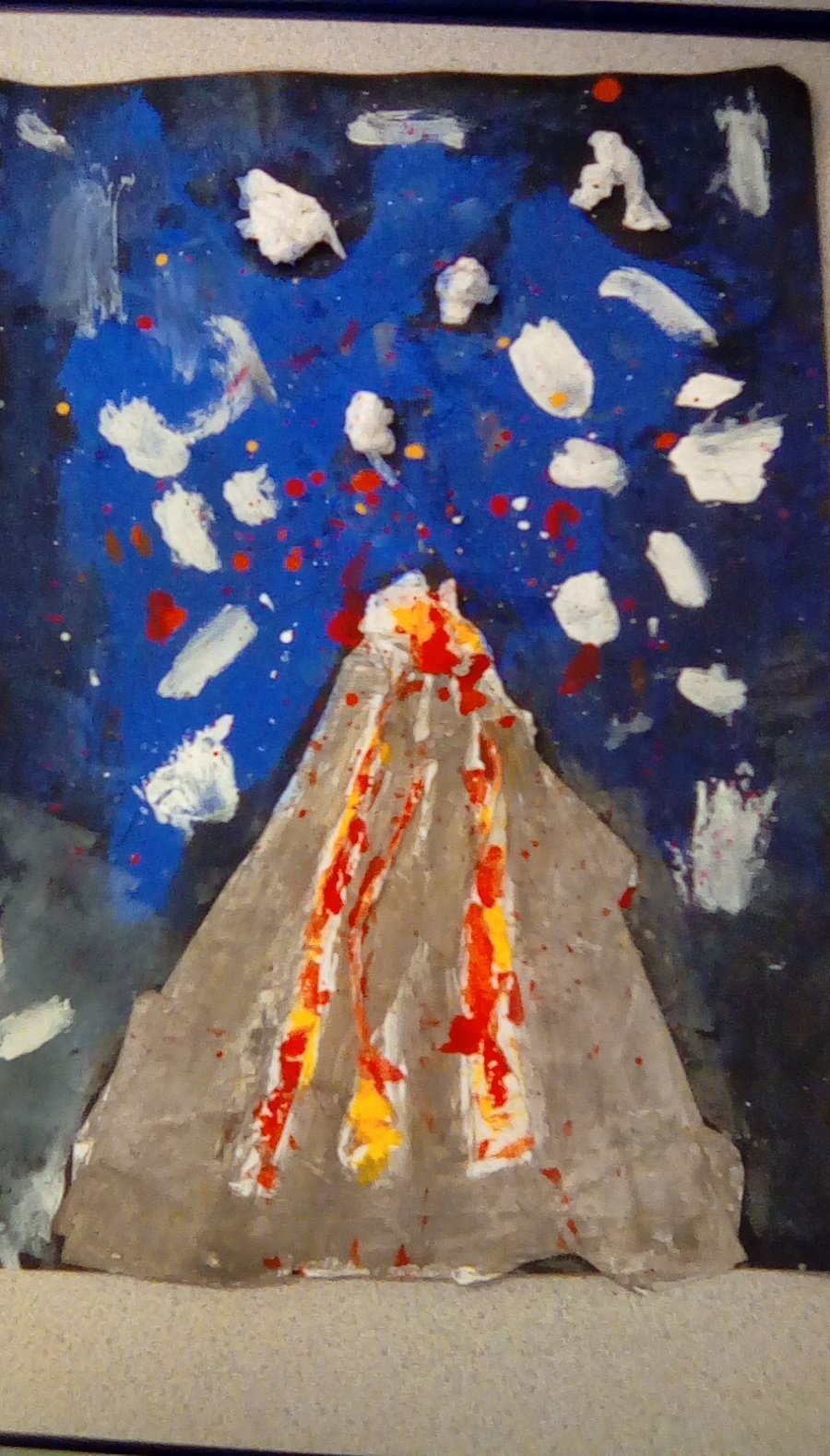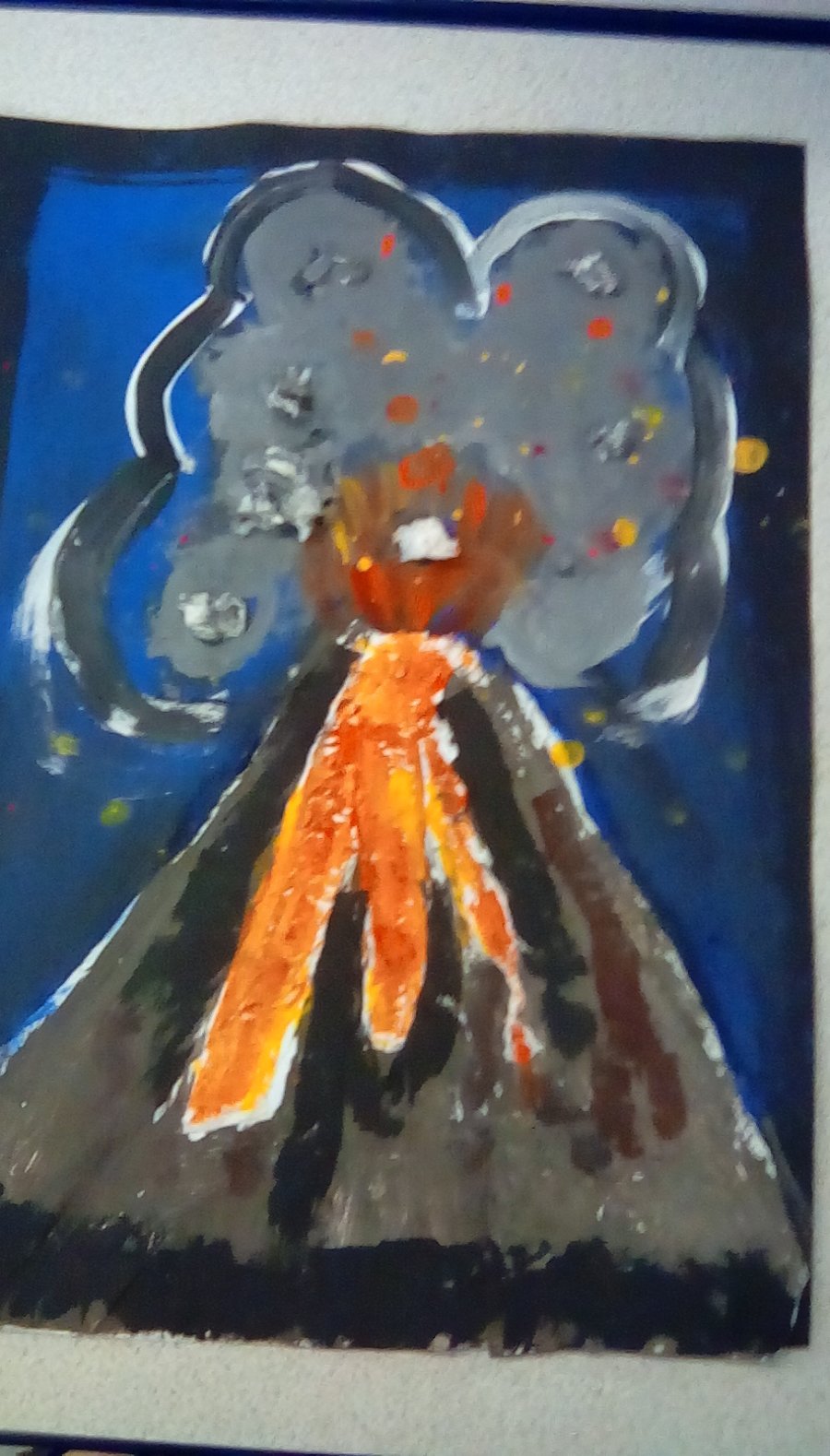 Week beginning 03.12.18
This week we have learned about the eruption of Mount Vesuvius in 79AD. We used this information and were inspired by the work of Jackson Pollock to create our own 3D volcanic artwork. We learnt a range of art skills such as scrunching paper, colour mixing and brush techniques to give our artwork some texture.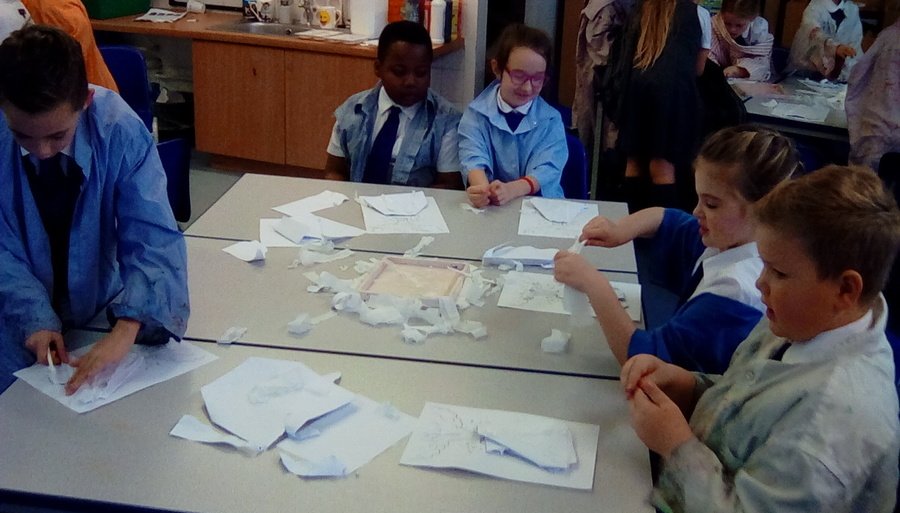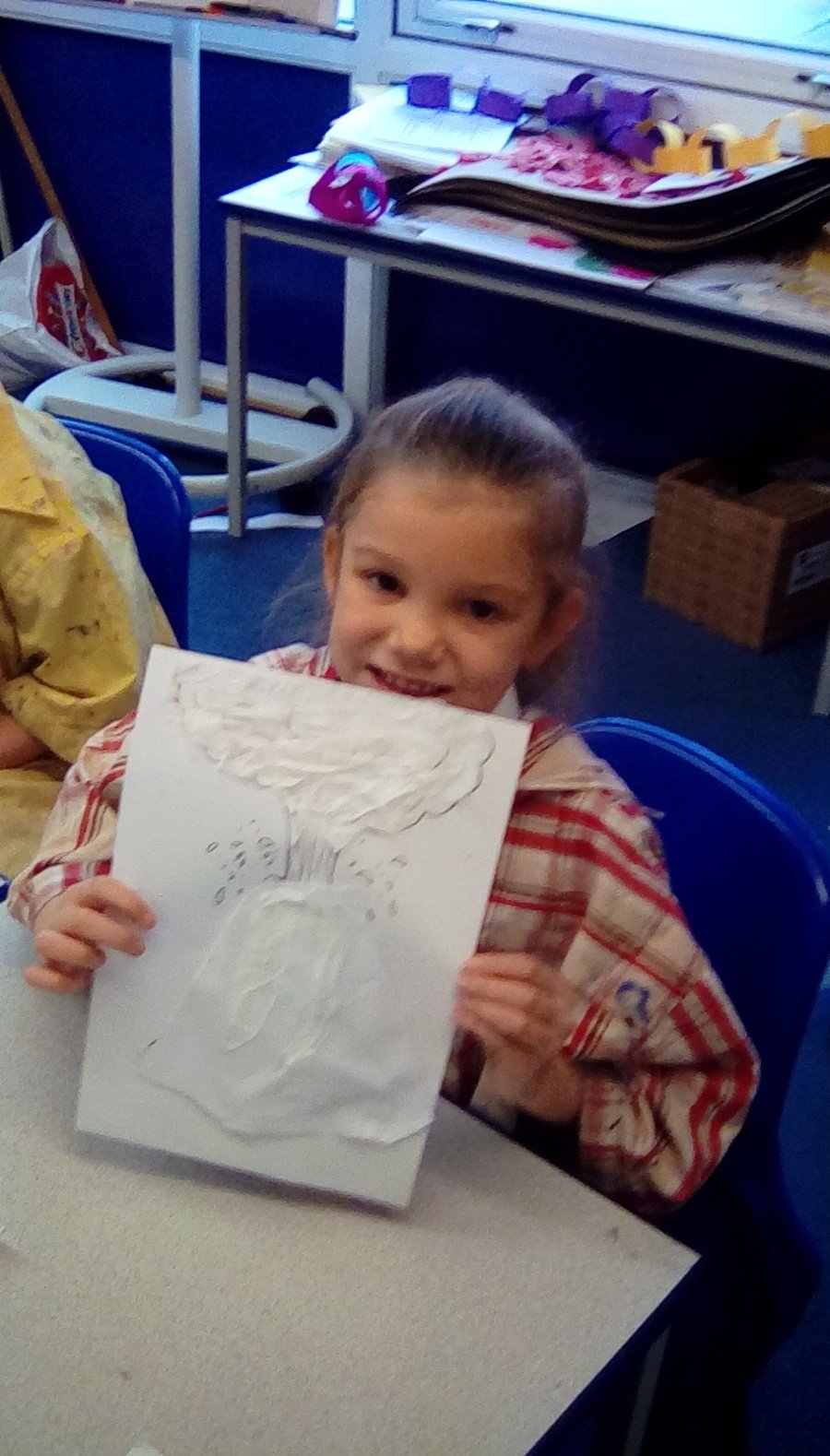 Week beginning 26.11.18
The Year 3 pupils have coped extremely well with their first Junior School assessment week, completing both maths and reading test papers. We were really impressed with how hard all the pupils worked to achieve the best results they could.
We have also been writing in role as Queen Boudicca, desperately appealing to the Celts to join our army in order to defeat the Romans. Pupils have made excellent use of adjectives to describe the Romans and the Celts from Boudicca's point of view as well as lots of persuasive techniques such as rhetorical questions.
With much excitement, we have begun to practise our Christmas songs for the inter-class battle which will take place on the 17th December.
Week beginning 19/11/18
This week, Year 3 have been learning about the Roman invasion of Britain including Julius Caesar's attempts to invade Britain, Boudicca's rebellion and Hadrian building his wall to protect his land and soldiers.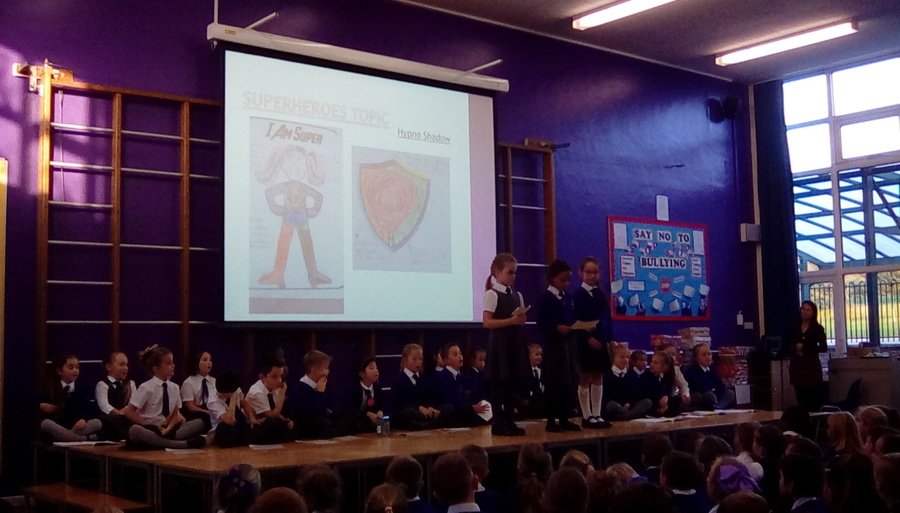 We used this information to create our own News Report and performed these to the rest of the class on Friday.
Additionally, congratulations to 3NH for a fantastic class assembly this week. Every pupil was brave enough to stand up in front of a large crowd to celebrate all the wonderful achievements we have made so far in Year 3!
Week beginning 12/11/18
This week, Year 3 have been learning about the expansion of the Roman Empire. We used atlases to locate different countries in Europe and then plotted how the Empire grew over time.
On Friday, we invited the Year 3 children at Lubbins Park Primary School over to enjoy a Roman day with us. We played games, took part in a quiz and had a look at lots of Roman armour and weapons.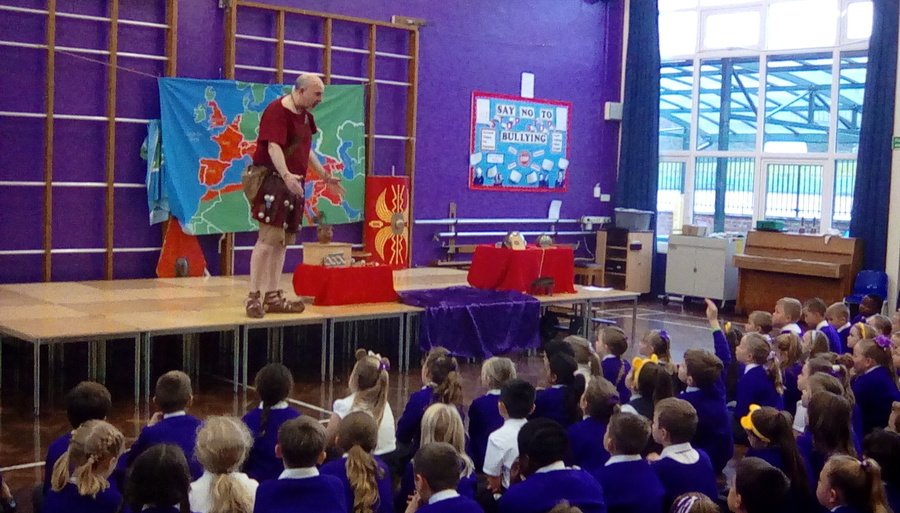 week beginning 05.11.18
This week in year 3, we have been writing about what the Romans have done for us. Through research, we have collected information about topics including: aqueducts, toilets, the army and roads. We are learning to write these facts in paragraphs with sub-headings within an information text.
We have also been remembering those brave soldiers that dedicated their lives to fight for our freedom. We have been making poppies out of plastic bottles to place on display, as well as paper poppies to create a work of art in the shape of a soldier.