Click Here for Year 3 Homepage
Week beginning 18.05.2020
We have had yet another successful and exciting week in Year 3, time flies when you are having fun!
In maths this week we have been recognising, finding and writing fractions for shapes and quantities. We now know how to find equivalent fractions and compare fractions with different denominators. We have been enjoying using the Oak National Academy online learning platform to complete our maths!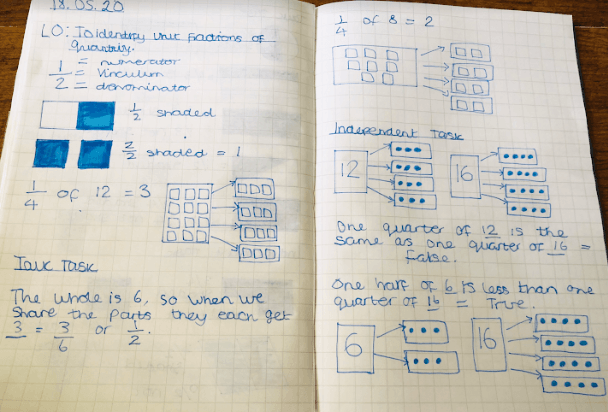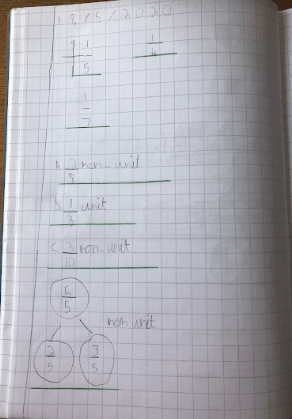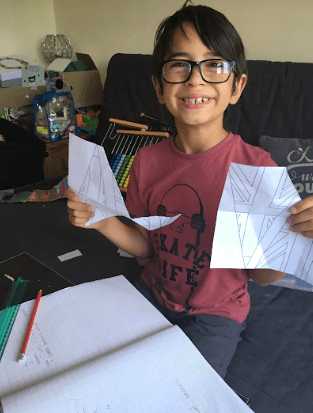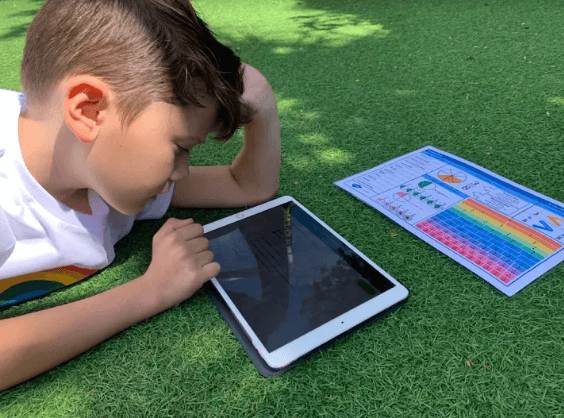 In geography, we have been learning about earthquakes and the tectonic plates! We now know why earthquakes happen and how to keep ourselves safe during an earthquake.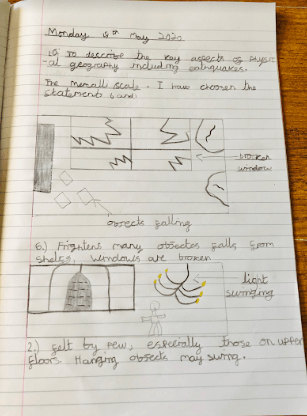 In computing, we have been using Scratch to create our very own rock bands! We have learned how to use codes to change our sprite's costumes, reactions and to add sound. We have seen some rockin' examples in our class studio: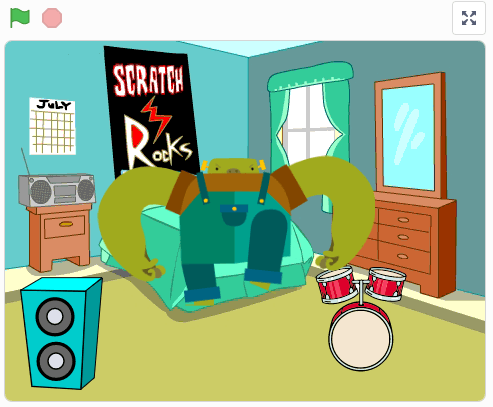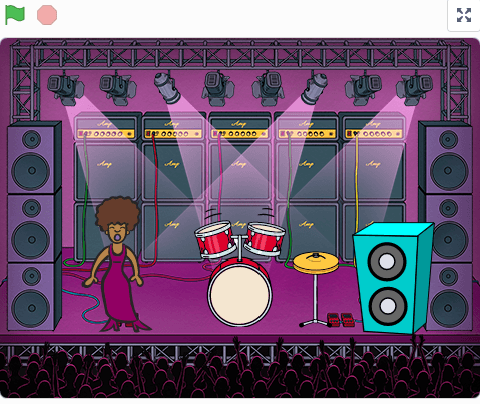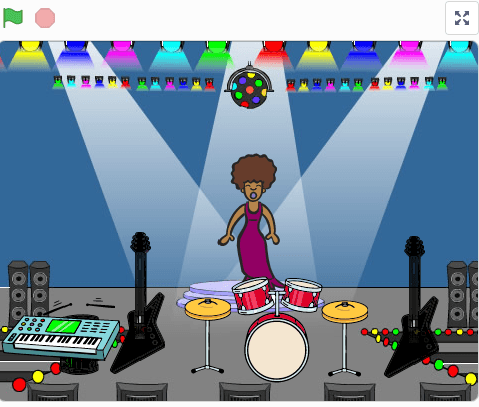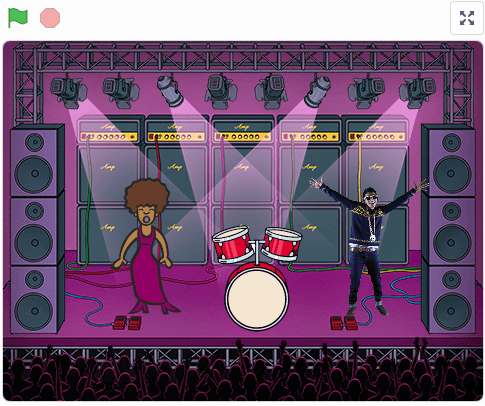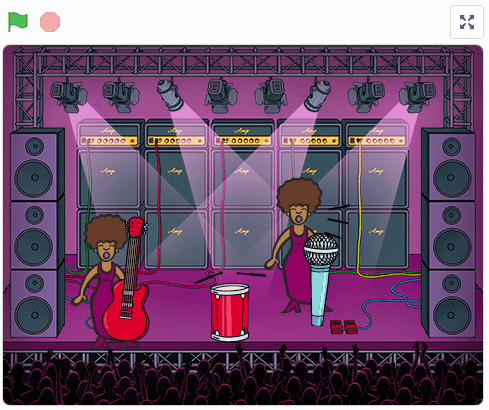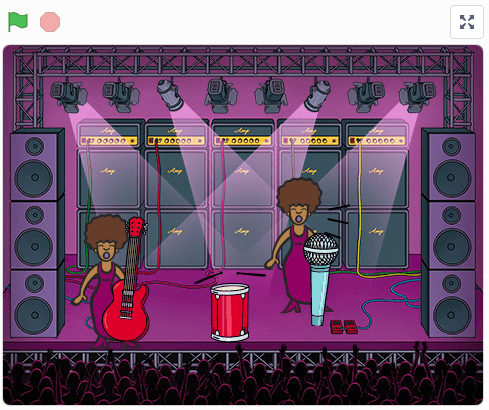 In art, we have completed our final attempts of our South American inspired murals. We worked extremely hard to ensure that we had perfected our drawings before creating our final pieces of art.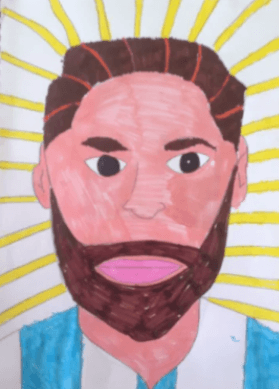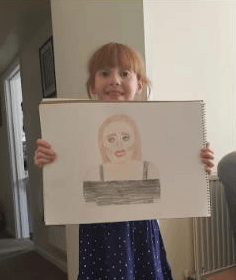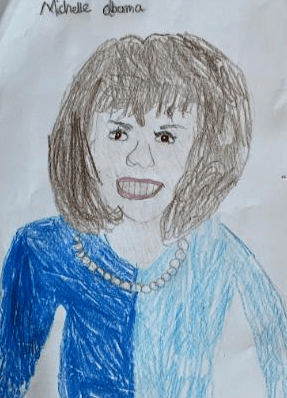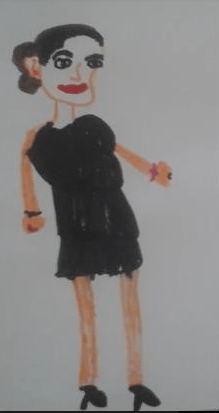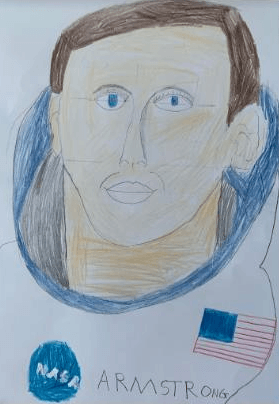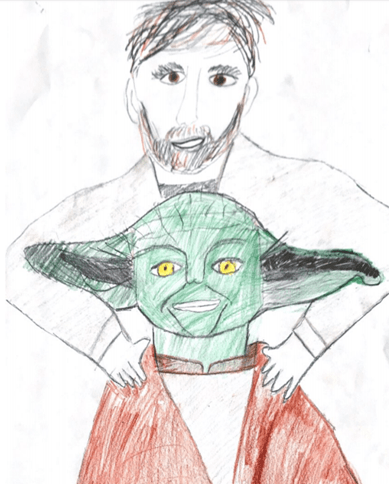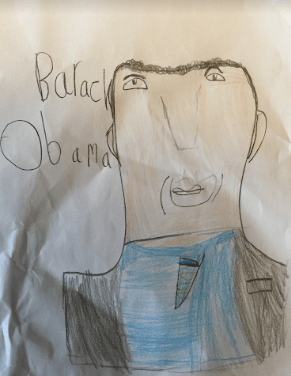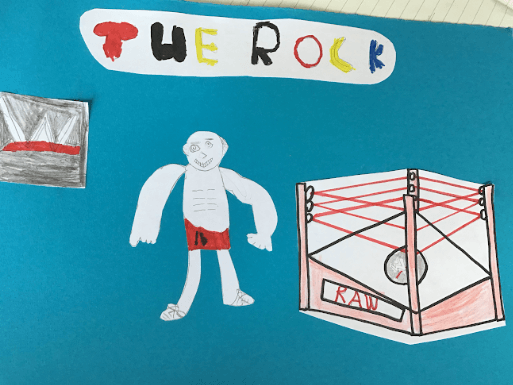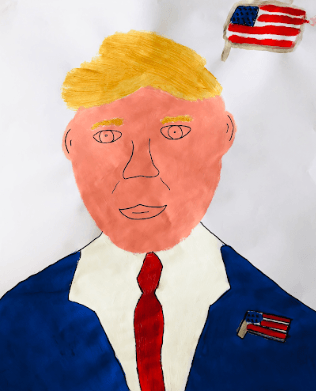 In PE, we created our very own homemade athletics tournaments. We could create any athletics activities to complete and record our timings, we even challenged someone else in our house to complete the same activities!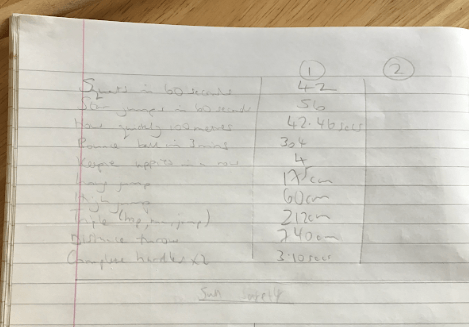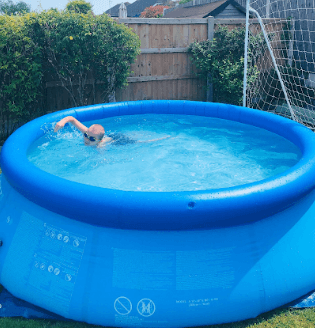 In science, we have been looking at how to be safe in the sun! We know that light from the sun can be dangerous and that there are ways that we can protect our eyes. This has been quite helpful recently, especially with the beautiful weather we have been having!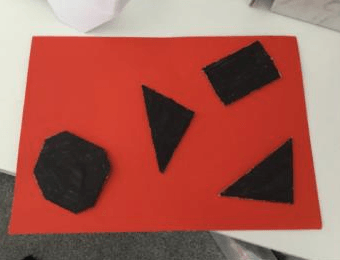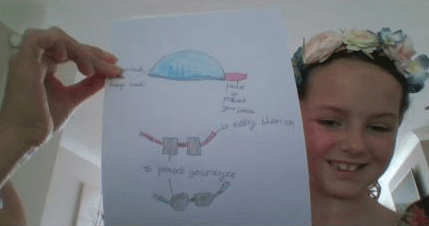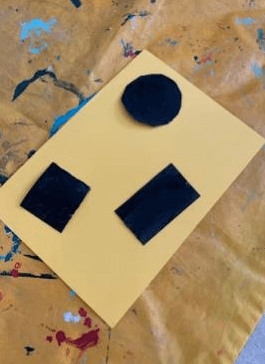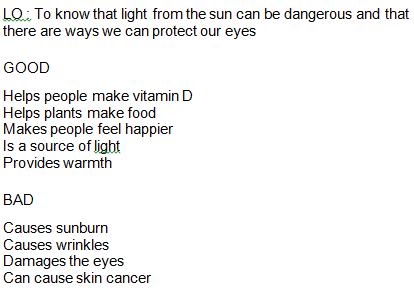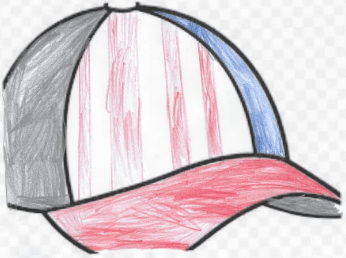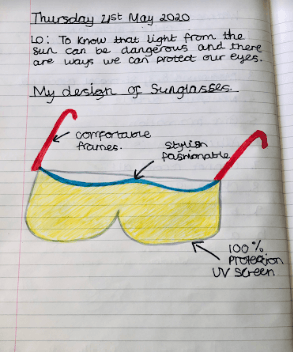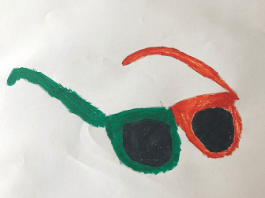 In music, we have been looking at a wide range of high-quality live and recorded music drawn from different traditions and from great composers and musicians. We listened to some music by Elvis Presley - the king of rock and roll himself! We learned about the history of rock and roll and how the music came to be popular.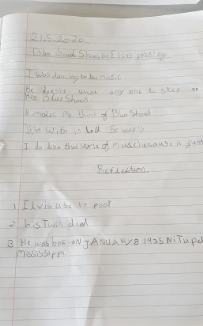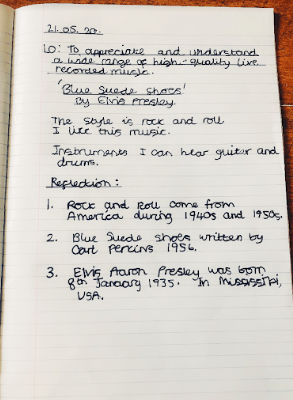 Please continue to send us pictures of your work and the exciting things that you have been doing at home, they put gigantic smiles on our faces!
Week beginning 11.05.2020
This week in Year 3, we have continued to work extra hard on all of our assignments and have been completing our work at a very high standard!
In maths, we have started learning about fractions. We have been using the Oak National Academy resources to help us develop our understanding. We've had so much fun! We have been looking at relating halves and quarters to division, describing the part whole relationship in fractions, identifying the parts of a fraction, recognising which parts are equal and unequal, identifying half, quarter and a third of a shape, identifying and describing unit and non-unit fractions. We have been going fractions crazy!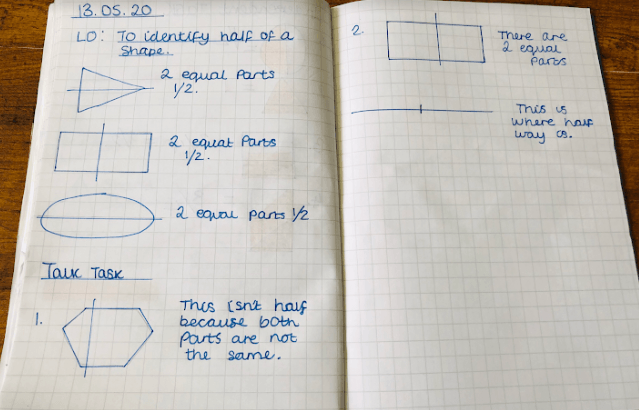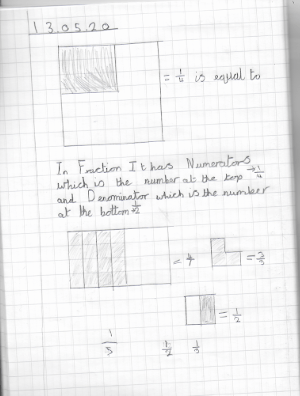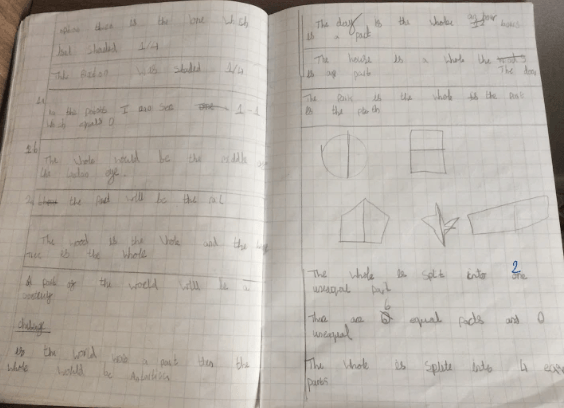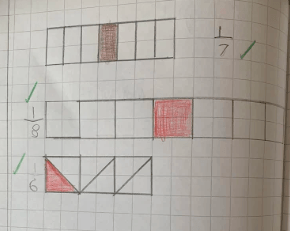 In geography, we have been learning about the layers of the Earth. We know that the Earth has 4 different layers: Crust, Mantle, Inner core and Outer core. To show what we had learned, we created our own diagrams and models of the layers of the Earth: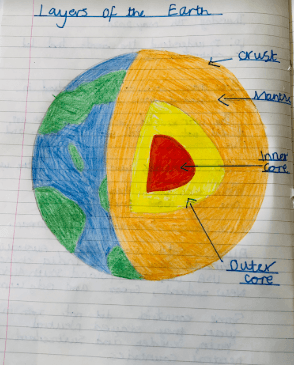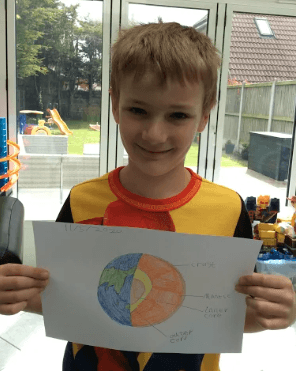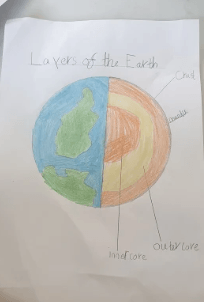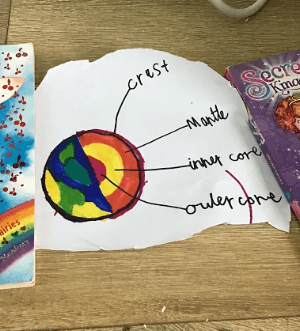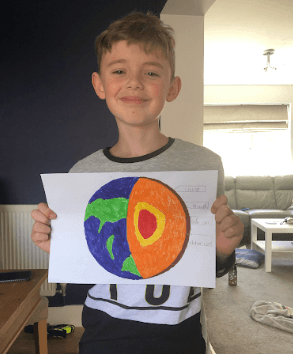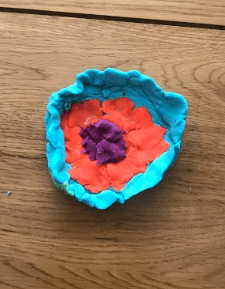 In our GPS lessons, we have been learning how to use inverted commas and synonyms for the word 'said'. We completed a variety of activities to show where to use inverted commas and which pieces of punctuation should be used in a sentence. As the word 'said' can be a little boring and over-used, we have been thinking of different words (synonyms) that can be used instead!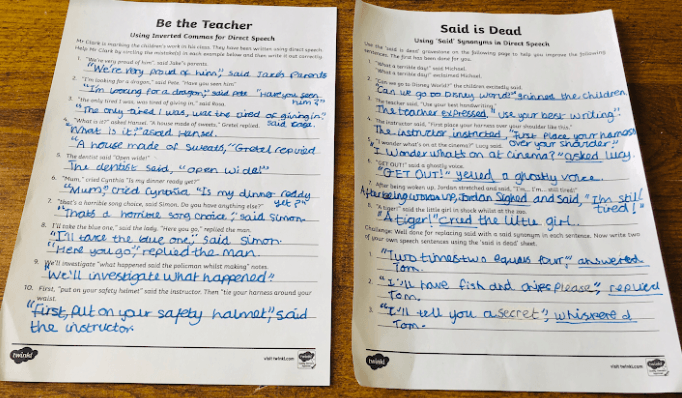 Once we had completed our GPS work, we were able to use what we had learned in our writing this week. We have been telling tales!
As we are now learning about the amazing America's, we have been looking at South American Folktales. There are so many different folktales around the world that tell a story and we have chosen to take a look at 'The Rabbit and The Coyote'. Our task this week was to re tell the tale in our own way but had to make sure that we used inverted commas, synonyms for 'said', prepositions and adverbs. To start us off, we learned about the folktale and then acted it out or put the tale into a storyboard. We then planned out our writing and retold the story with our own twist. Here are some examples: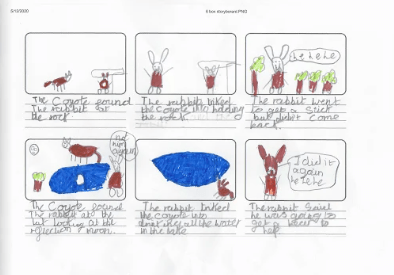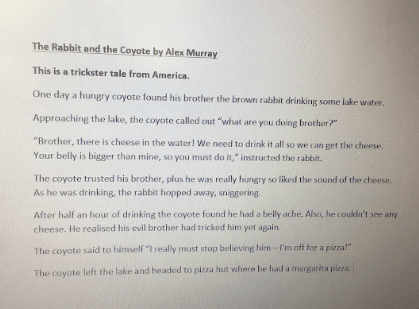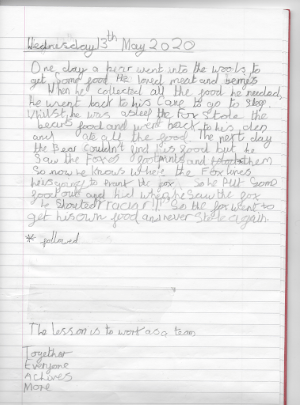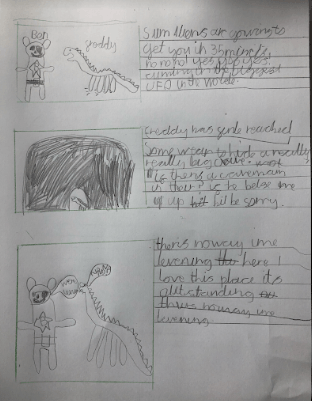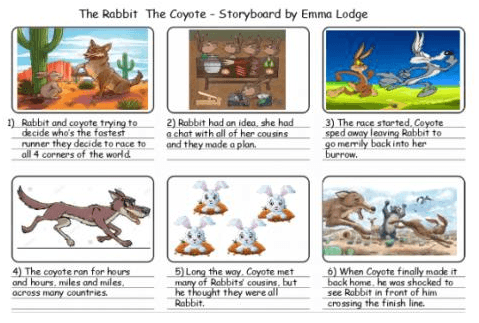 We have been learning about some of the different American celebrations and holidays. We chose a celebration to study and learn about before creating our own presentations or posters about it! We had the options of Independence Day, Presidents Day or Veterans Day: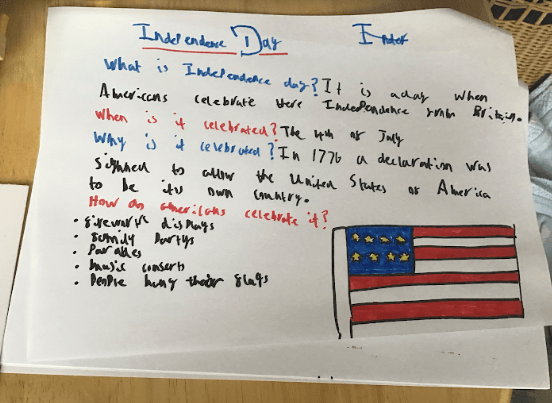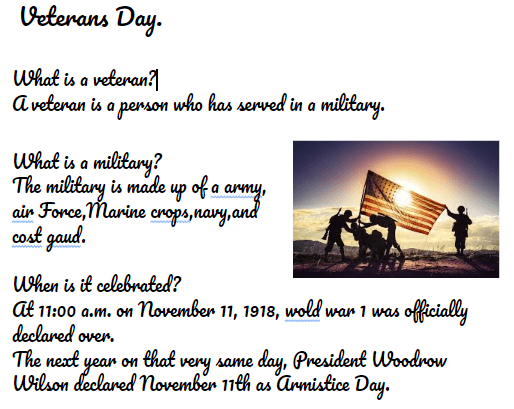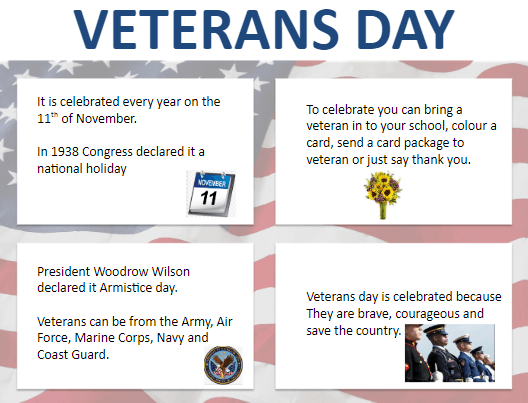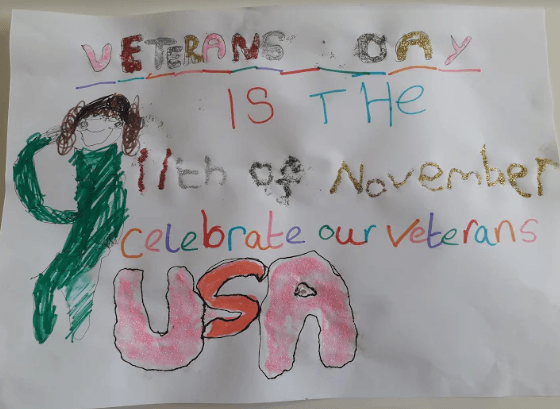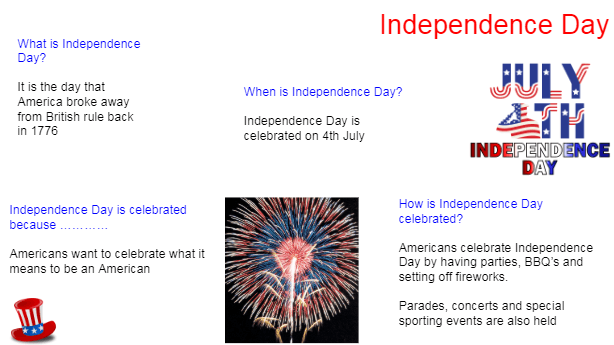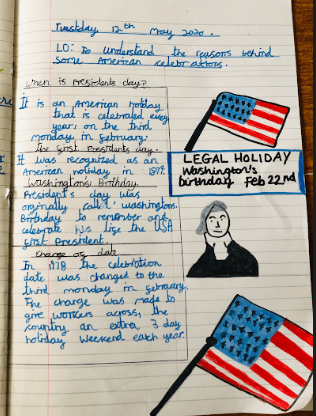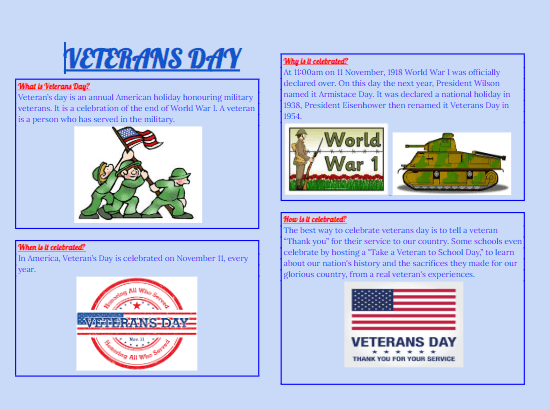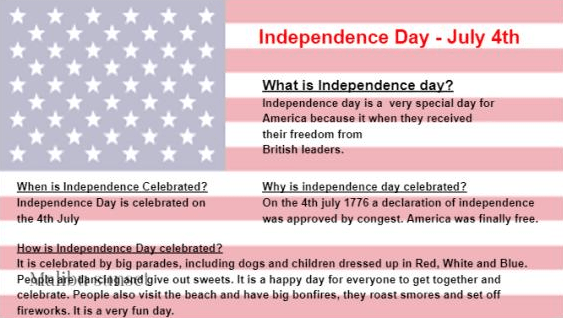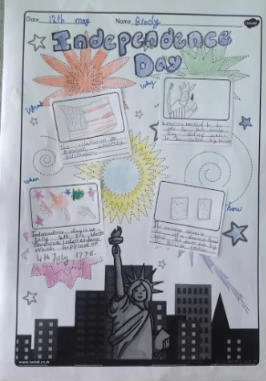 We continued practising our artistic skills this week to create our own American murals. We have chosen an important American person to base our murals on and have been making several attempts to sketch them accurately.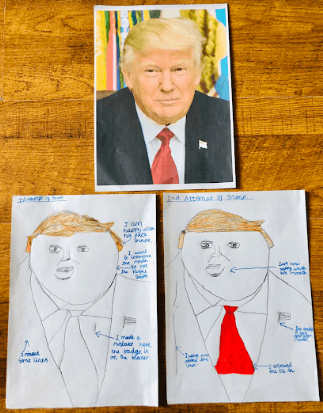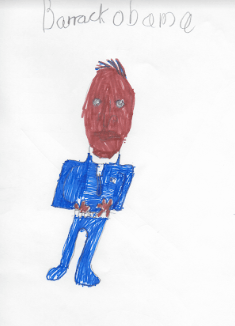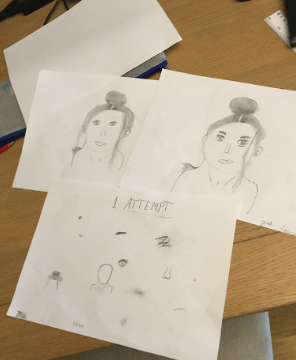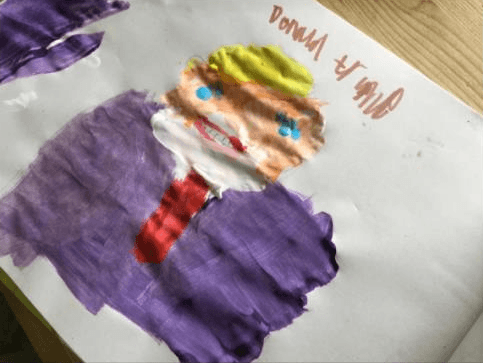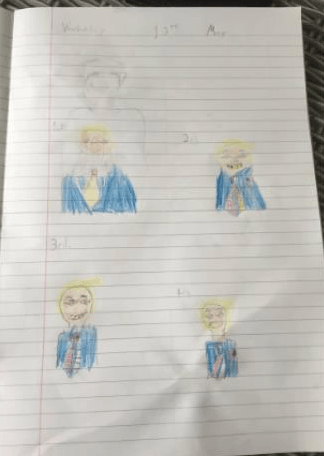 In science we have been learning about shadows and investigating how they change size. Last week, we learned about how shadows are formed but now we are investigating how they change size. We have discovered that shadows change size when the distance between the light and the object changes! We investigated by using a light source and an object and changed the distance between them to see whether the size of the shadow changed. We found that the smaller the distance between the light and object, the bigger the shadow!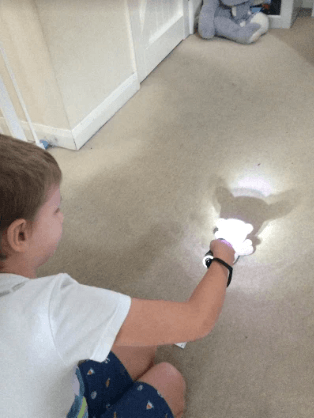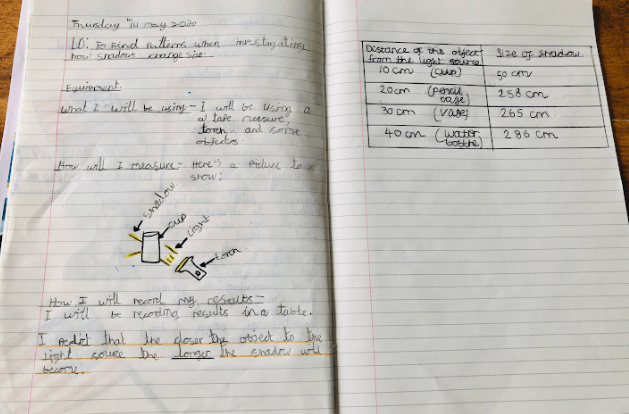 Week beginning 04.05.2020
This week in Year 3, we had a lot of fun and have produced some excellent pieces of work. Miss Jackson, Mrs Rice, Mrs Izatt and Mrs Cawcutt have been super impressed with all of your work this week, well done!
In maths, we have been working on measurement. We have looked at measuring and comparing different lengths and finding equivalent lengths. We used our knowledge of lengths to identify the suitable measurements of a variety of objects and used a ruler or measuring tape to measure objects around our home. We have been using the < > and = signs to compare different lengths by thinking carefully about the different measurements used.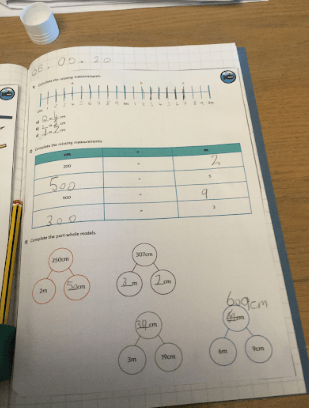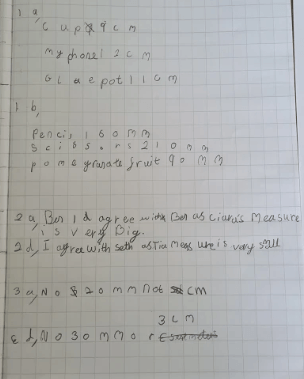 This week we have been learning all about carnivals! It has been carnival chaos! In geography, we have been learning about the different kinds of carnivals that people take part in all over North and South America! Did you know that carnivals take place before lent, so that people can enjoy as much food and drink as they can before they give it up? How interesting! Did you know that Rio De Janeiro is the biggest carnival in the world? In 2016 they had over a million visitors!
Once we learned about carnivals, we used our knowledge to write a diary entry about a day at the carnival! We used our imagination to describe the things that we could see, hear, smell and taste. We had to make sure that we included a variety of features to make our diary entries as successful as possible, such as writing in 1st person, using descriptive language, adding similes and metaphors and writing in chronological order. Once we had written our diary entries, we used our VCOP pencils to underline the features in our writing and our blue pens to improve our writing even further! Here are some excellent examples: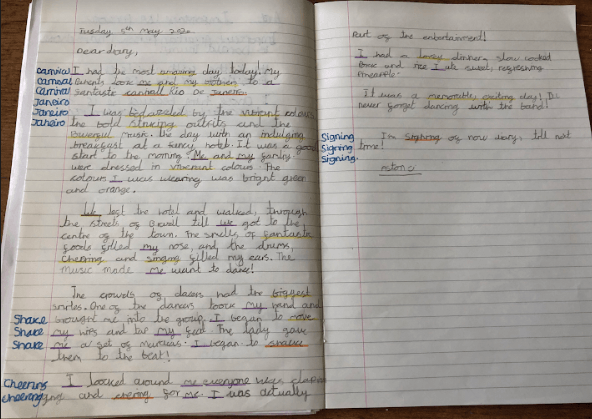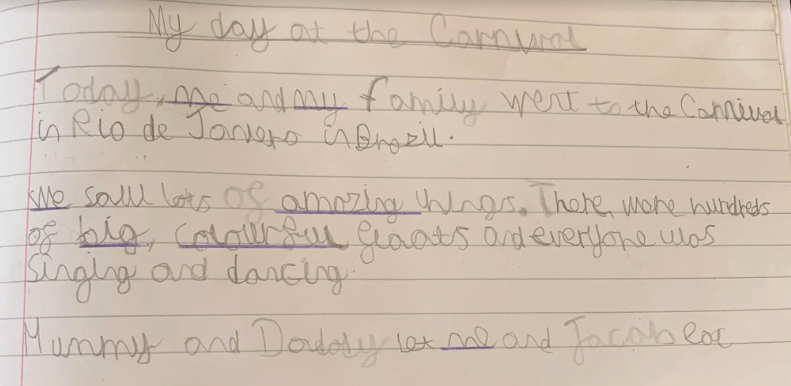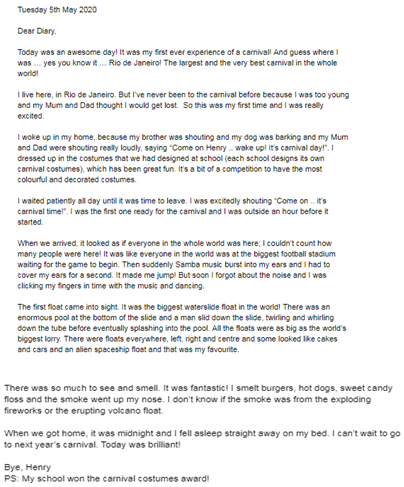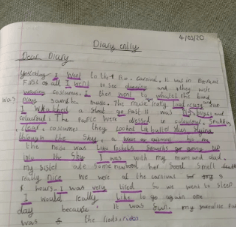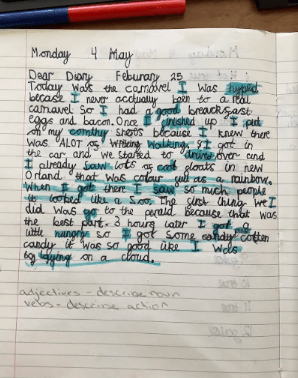 In art, we have been learning about murals that are found on the walls on the streets of America. You can find so many different kinds of murals, they are all interesting and unique in their own ways! We learned about the artist Diego Rivera, we found out lots of information about his life, inspirations, successes and his masterpieces. We then thought about American people that we think are amazing and about how we could create a mural of them. We are going to be working on these in our next art session!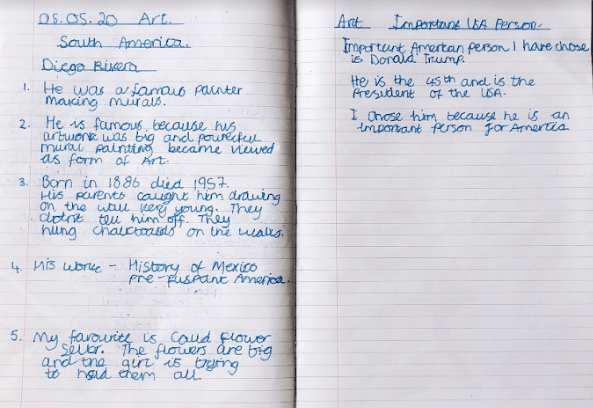 In science, we looked at light and shadows! We learned about how shadows are formed when the light is being blocked by an opaque object. We thought about the different objects that are opaque, translucent and transparent. Using objects that we could find around our home, we predicted which ones would make the best shadow and then tested each of the objects by shining a light at them. We then had some shadow fun by drawing around shadows!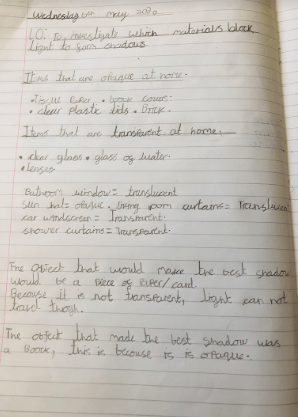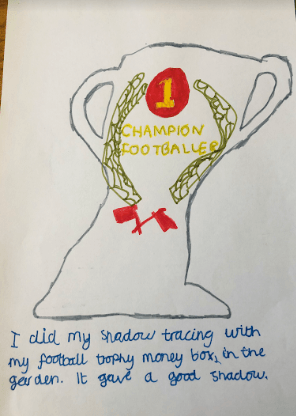 We have made sure that we have carried on practising our times tables whilst learning from home. A lot of us have been beating our previous scores and we have been persevering to learn as many new times tables as we can! We are going to be times tables geniuses in no time!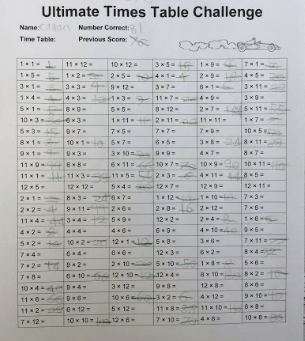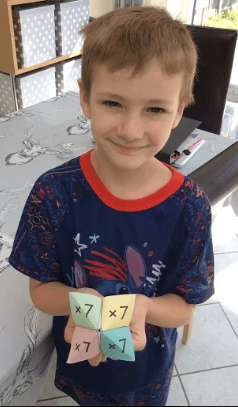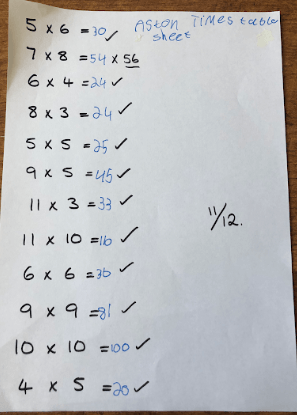 Don't forget to head over to our 'Whole School Blog' to see some more of our 2.6 Challenge ideas and to see how we have been celebrating 75 years since VE day: https://www.kentshilljuniorschool.co.uk/our-school/school-curriculum/whole-school-blog
Week beginning 27.04.2020
Well done Year 3 for another week of hard work and enthusiasm! We have been super busy this week with lots of exciting activities to complete:
We have been learning about mountain ranges in America, in particular the Rockies and Andes in North and South America. We now know that mountains are usually defined as a part of the landscape with steep slopes that rise over 300m! Some mountains are found in groups called ranges, others are isolated summits. We can now recognise and locate mountain ranges on maps too. Did you know that the Andes is the longest mountain range on Earth?
In maths, we have been learning how to read the time to the nearest five minutes and how to show the correct times on the clocks. This has been quite challenging but we have worked hard and persevered! We have even been solving word problems that involve the time such as finding the difference between times and learning how to read clock faces with Roman Numerals!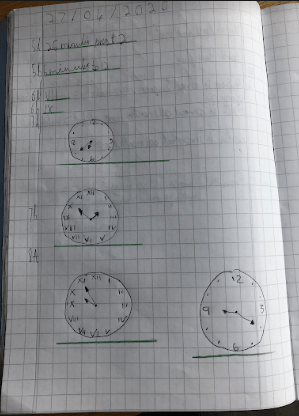 As we have been learning about America, we used our knowledge of places that we have visited before or the internet to research destinations in America. With this information we created holiday brochures to persuade others to visit our chosen holiday destinations. We had to make sure that we included these features: headings and subheadings, persuasive and descriptive language, paragraphs, alliteration and pictures if possible. We received some truly amazing brochures and have chosen to share them with you (we wish that we could share every single one of them!).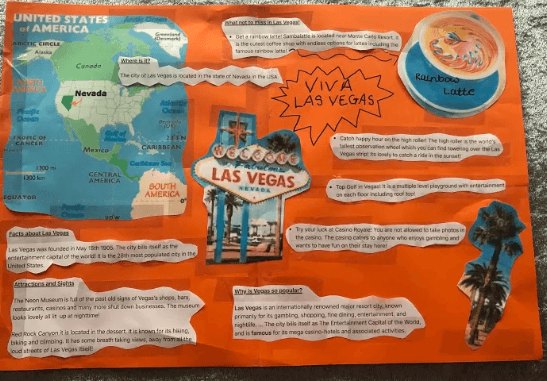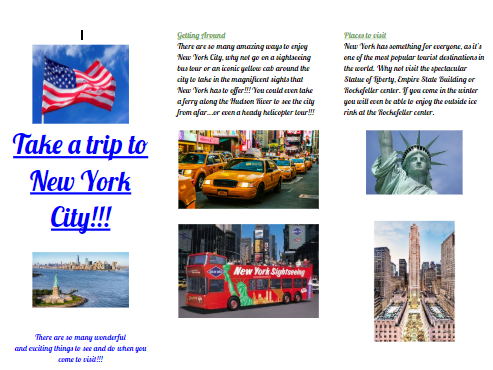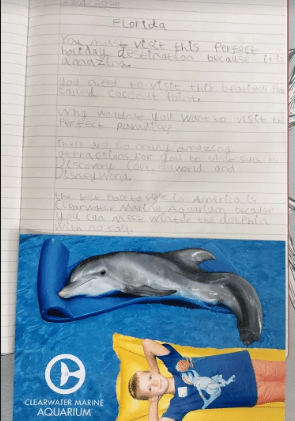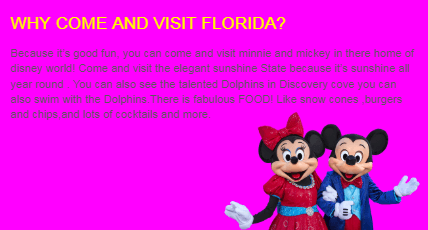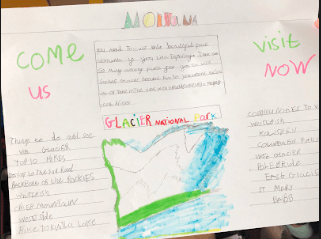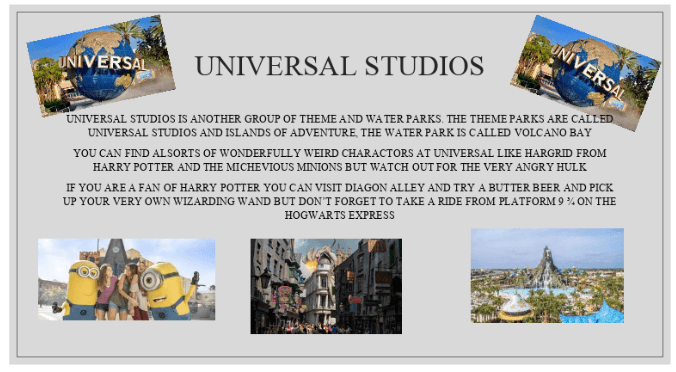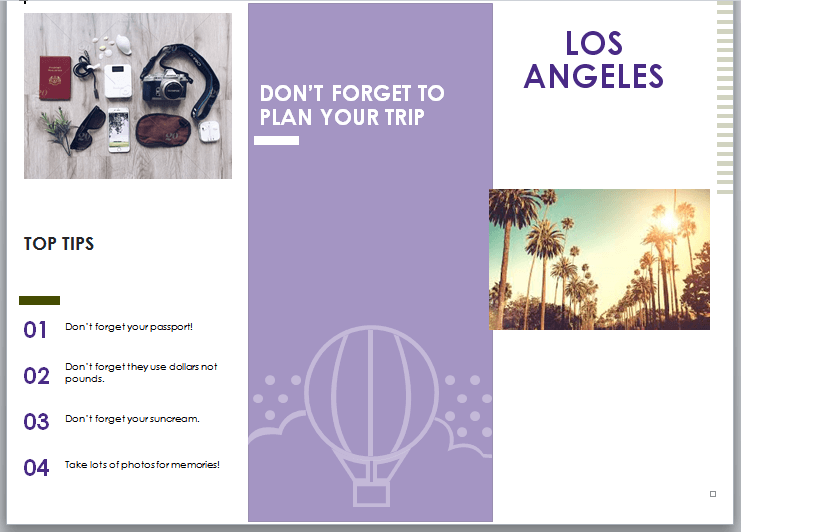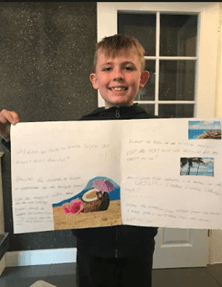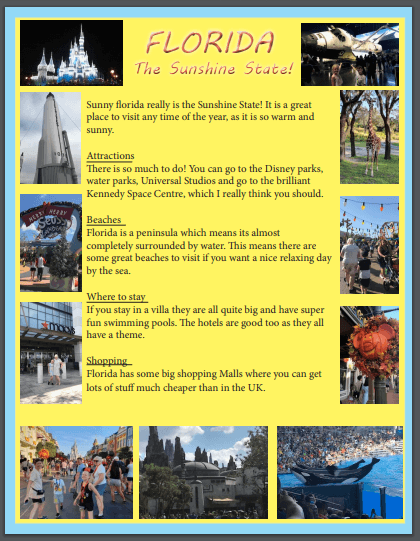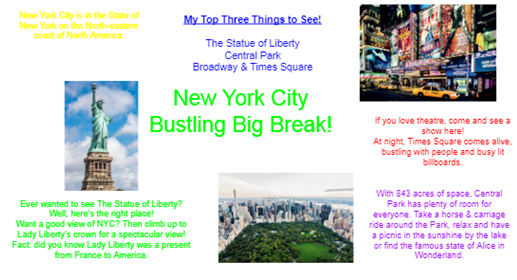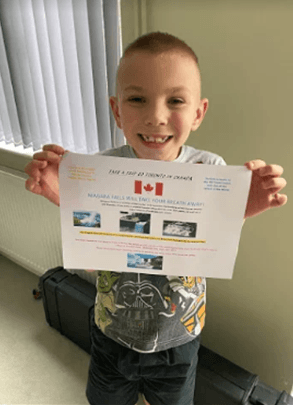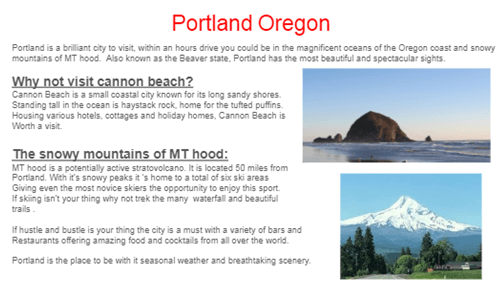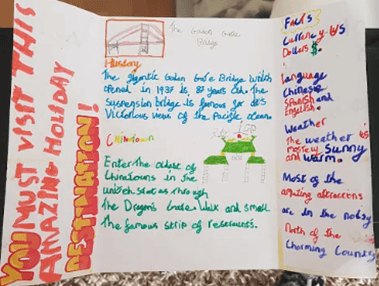 In science, we have started a new topic about light and this week we were learning about reflective surfaces. We now know that light travels in a straight line and when it hits an object, it is reflected. If the reflected light hits our eyes, we can see the object. Isn't that clever! We decided to test some objects from around our house to see if they are reflective, we know that these objects could then be used to help make a reflective school bag. We created a reflection tester on the objects that we found around our house and then ordered the materials from most reflective to the least reflective.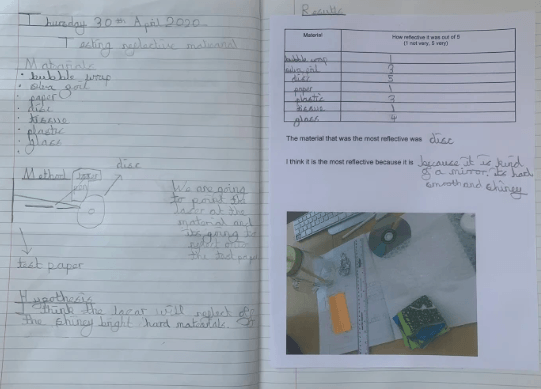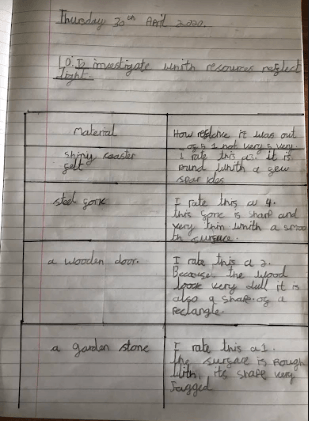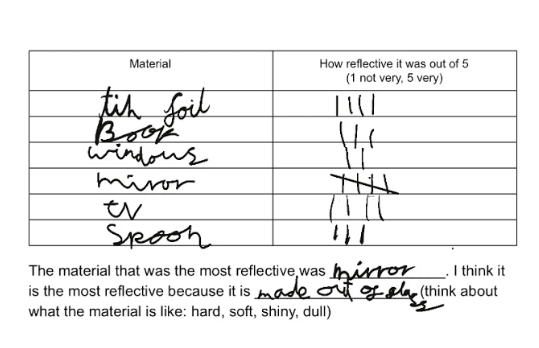 Week beginning 20.04.2020
Wow, what a super week of learning in Year 3 for our first week back in the Summer Term. Well done for all of your hard work and enthusiasm!
On Monday, we launched into our new topic for this term; Amazing Americas! One of your tasks for the day was to create your very own Samba band at home. Thank you for the videos and pictures you sent us showing the innovative ways you managed to achieve this at home! We saw power drills, rice shakers, saucepans and crisps being used to create some fantastic rhythmic pieces of Samba inspired music.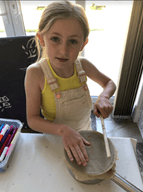 Next up, we visited and virtually toured some famous American landmarks. The postcards that you wrote telling us what you saw and how you felt were marvellous. Who says being in lockdown means you can't travel (virtually)?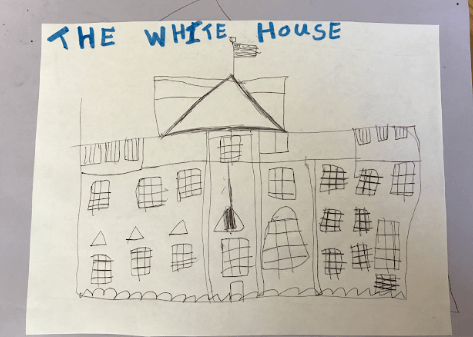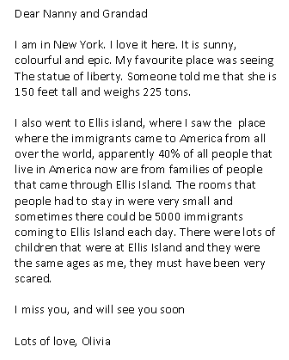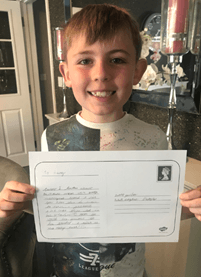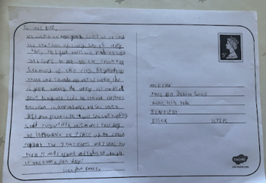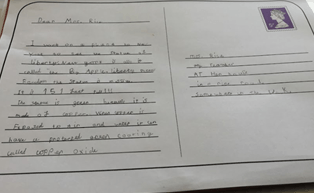 We also set you the task of learning a poem of your choice off by heart. You worked so hard on this and we received some fantastic videos. It was so lovely to see so many of your smiley faces, too. You can watch some of the poetry recital videos below:
https://drive.google.com/file/d/1sUoYJkcOqkvCm6cB2NrdMlV5Ruuum_m-/view
In maths we have been working on the number of days in each month, year and leap year and the different ways that we measure time. We have been using clocks to help understand the length of minutes and hours and how to read the clocks successfully. This has been tricky but we have persevered and tried our very best!
We had a lot of fun learning about North and South America too! We used our geography skills to carefully read a map and locate different countries, mountain ranges, capital cities and oceans. We even know what the equator is now! We also really enjoyed creating questions based on what we had learned in these lessons, our teachers then posted them on our classroom stream so that our classmates could try answering them!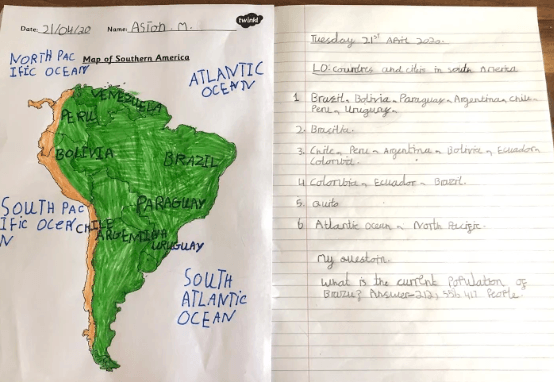 We have begun a new topic in Science this week - Light. We started off by looking at which objects can be categorised as light sources, we now know that the moon is not a light source because it does not make its own light, the light from the sun reflects off of it and back to the earth.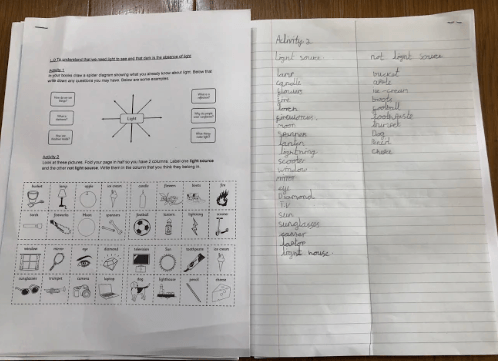 Week beginning 30.03.2020
Another week of online learning finished, what fun we have had in year 3!
In Maths, we have been practising how to recognise and use money! We have worked on recognising the different coins and notes, recogising the value of each coin and note, converting pounds and pence, adding and subtracting amounts of money to give change and using £ and p in practical contexts.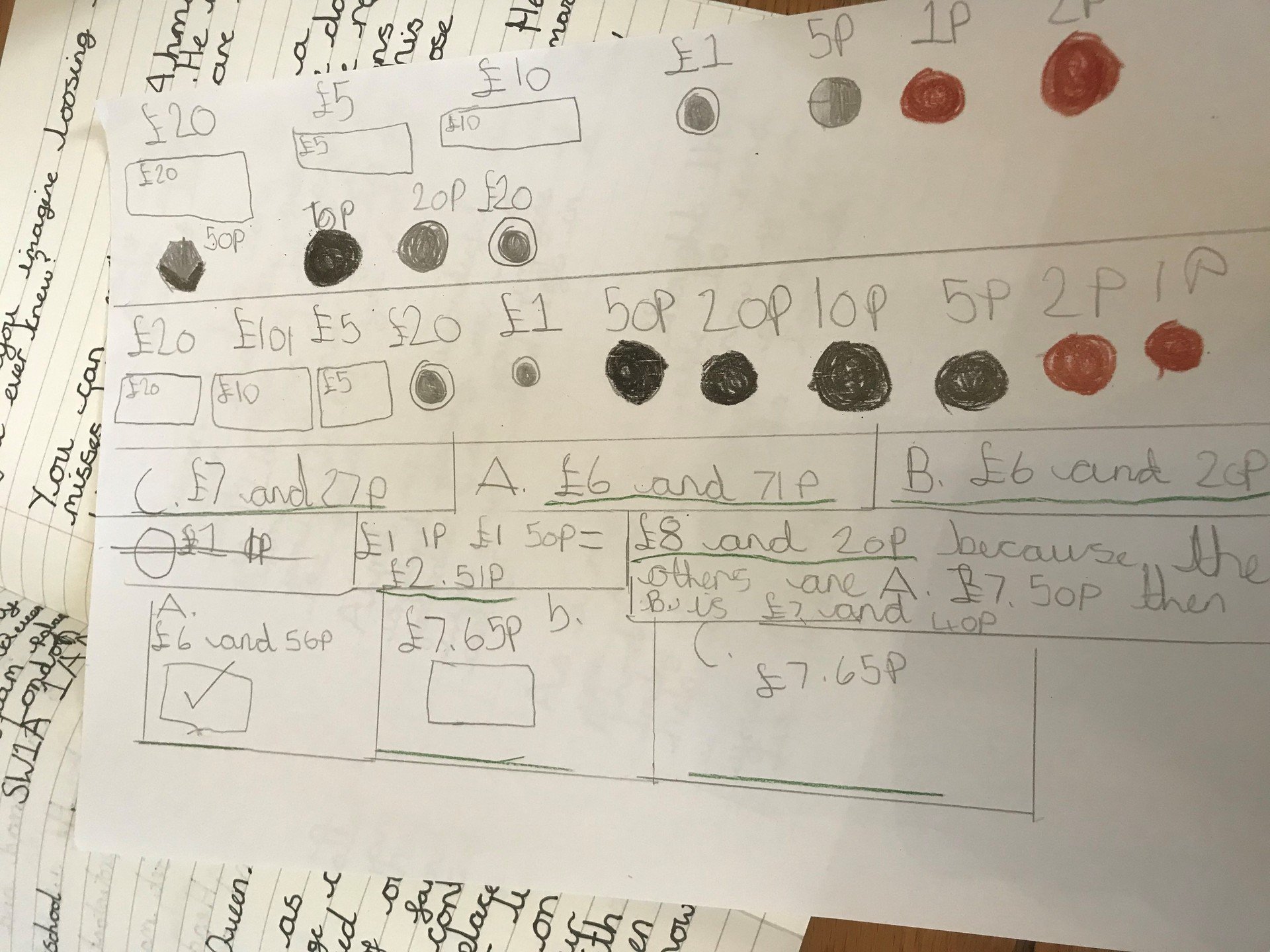 Now that we have read a lot more of our class book 'The Boy at the Back of the Class' we have discovered that the children have written a letter to the Queen to ask if she could keep the gates open for Ahmet's family, in hope for them to reunite. However, the letter was dropped in a puddle and ruined! So we have been writing our own letters to the Queen to persuade her to keep the gates open, we focused on using rhetorical questions, persuasive sentence starters and emotive language.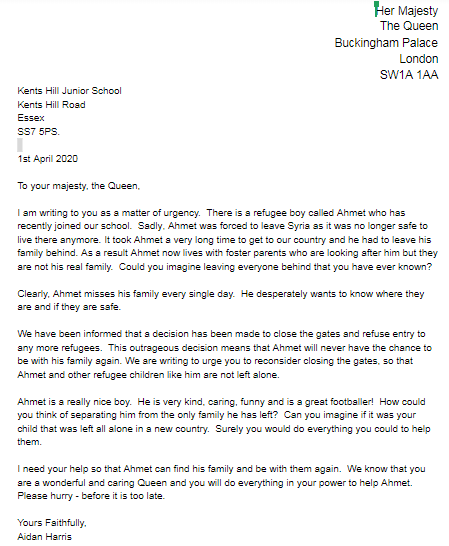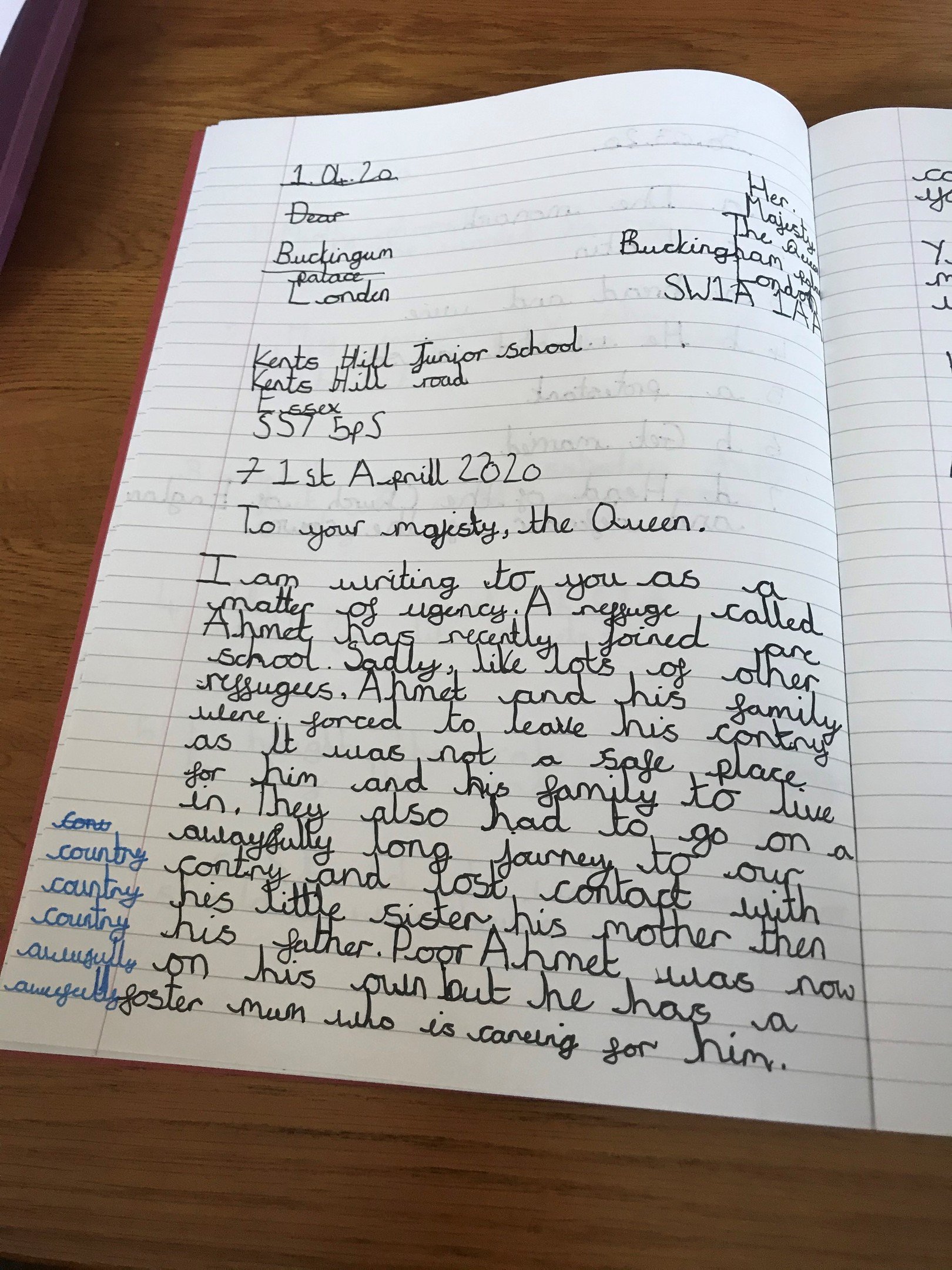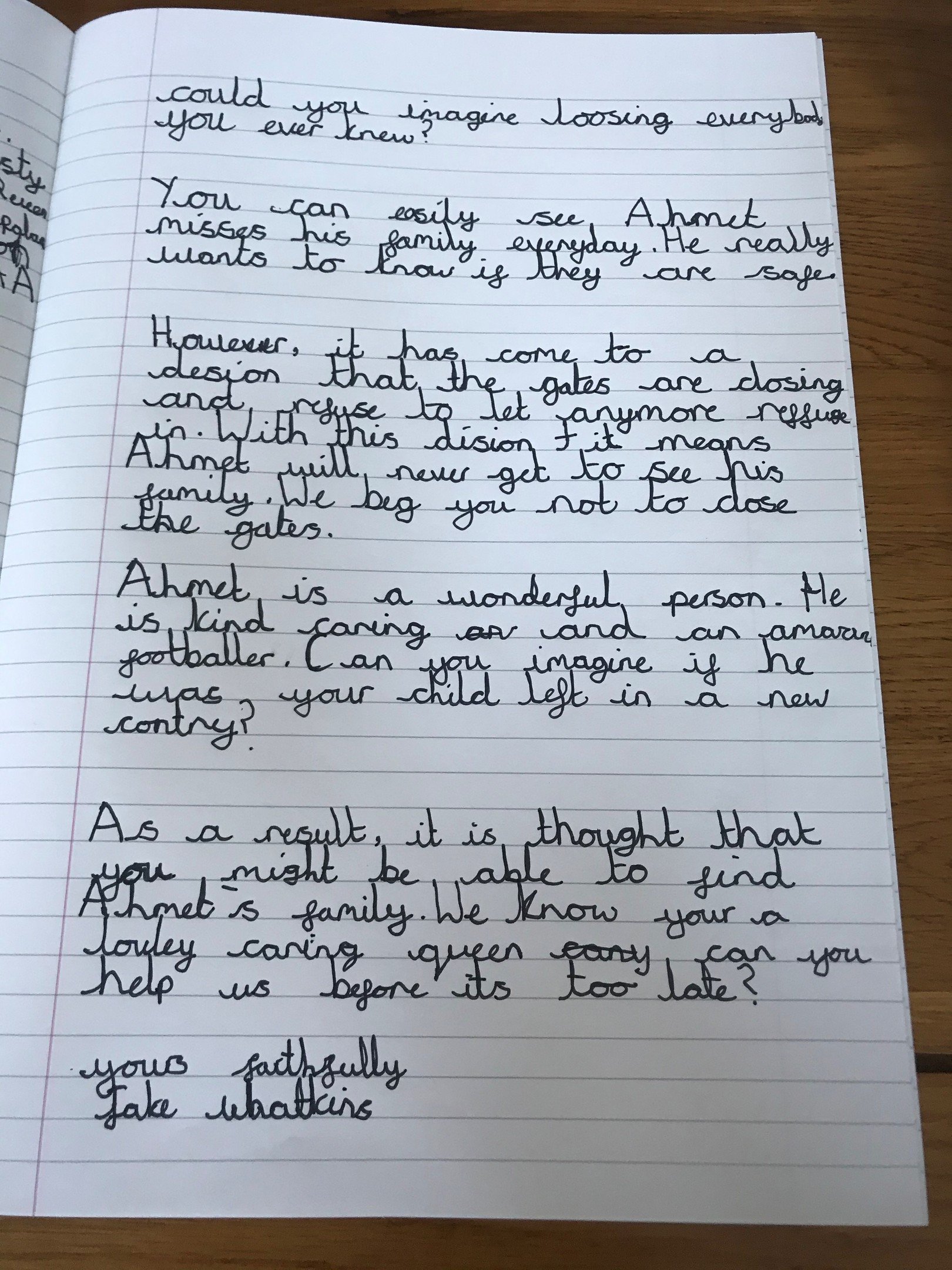 In PSHE, we have been looking at our dreams and goals and what we can do to work towards them and achieve them in the future. We have also been looking at creating a relaxing, safe space for people that may be facing challenges in their lives by designing a garden suitable for people with hearing impairments, sight loss, disabilities etc. The gardens will allow the challenged individuals to have a relaxing environment that they can relax in and work on their own dreams and goals.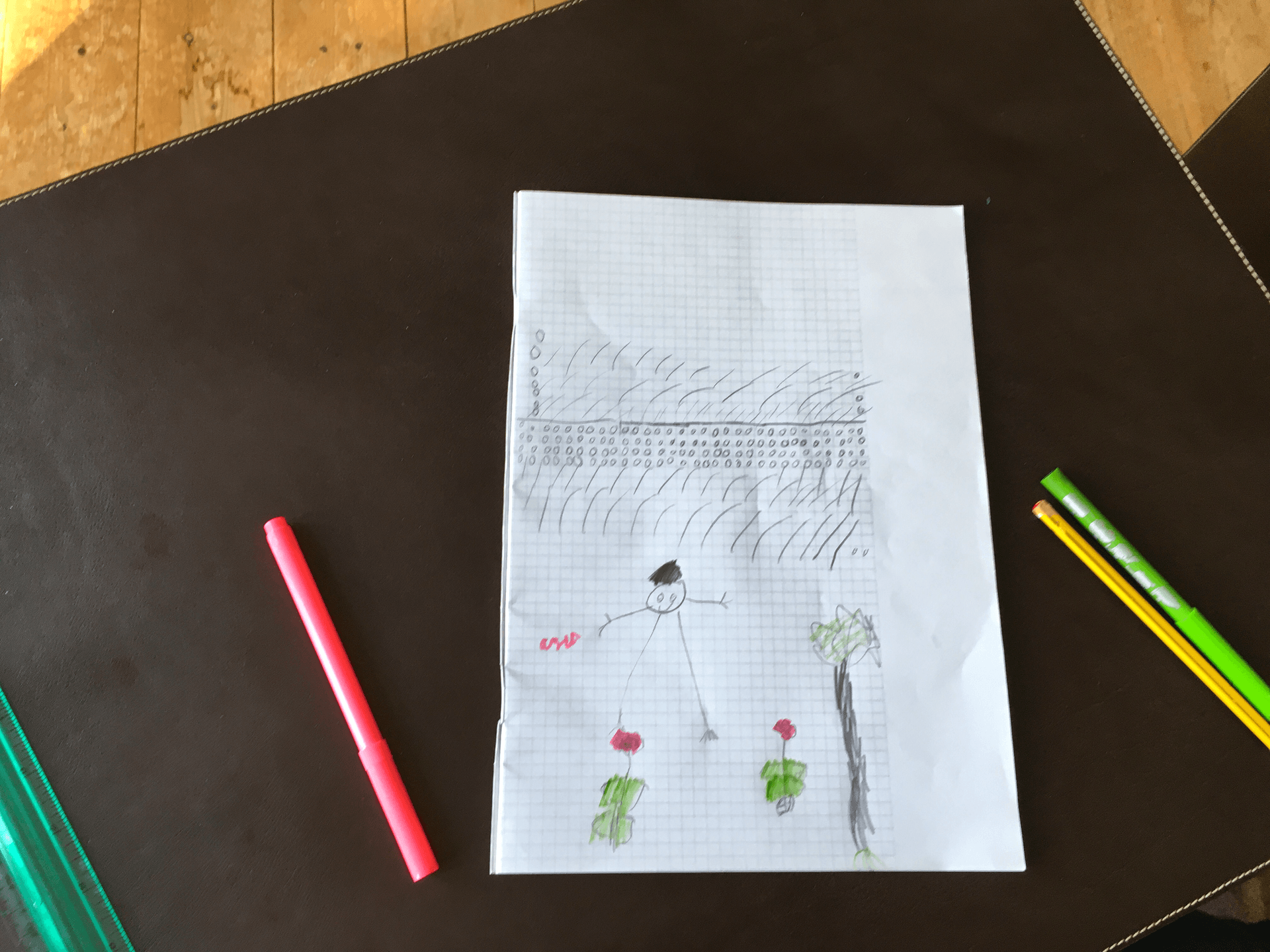 Whilst working at home and completing our online learning, we have been ensuring that we are still practising our times tables to keep on improving week on week! We have been working hard on all of the different times tables, making sure that we are challenging ourselves with the trickier ones too!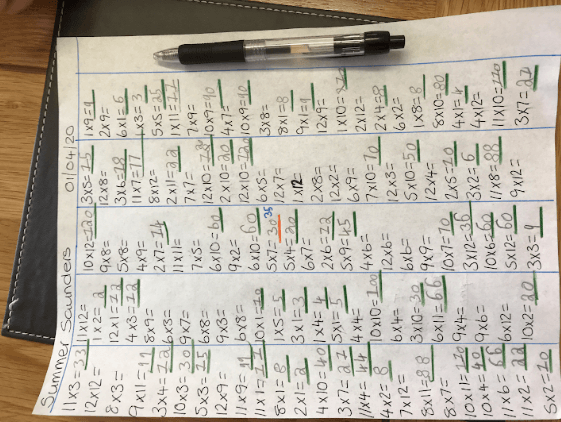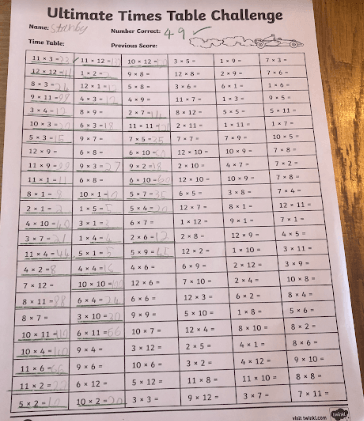 Miss Jackson, Mrs Rice, Mrs Cawcutt and Mrs Izatt have been extremely proud and impressed with all of the hard work that year 3 have put into their work this week, a very big well done to every single one of you! We have also been very impressed with other activities that you have been completing with your families at home, you have definitely been keeping yourselves very busy and having lots of fun - we have loved looking at all of your pictures that you have been sending to us! Thank you to those of you that have been sending and have previously given us your empowerment topic homework projects, it seems like you have put a lot of hard work and effort into them, well done!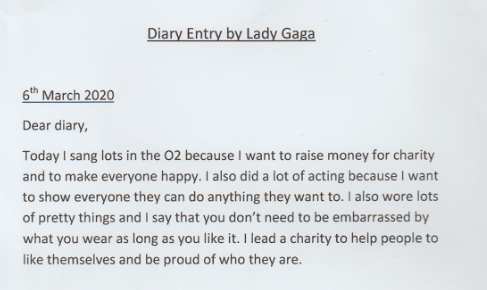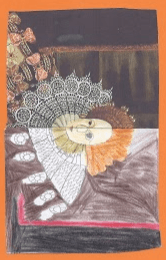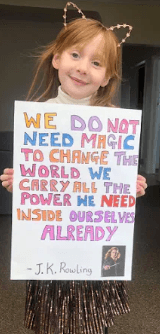 Callan and his sister Maddie have had a lot of fun this week when making a delicious cake for their brothers fiance. She is a nurse that has been looking after people with the Coronavirus in critical care at the hospital. She has been feeling a little sad and worrying about the people that she is looking after, so Callan and Maddie decided to make a cake for her to cheer her up and show her just how grateful they are for the work that she has been doing. What a hero she is and all of the other people that have been donating all of their time and care to those that are suffering with the Coronavirus recently, we appreciate every single one of you!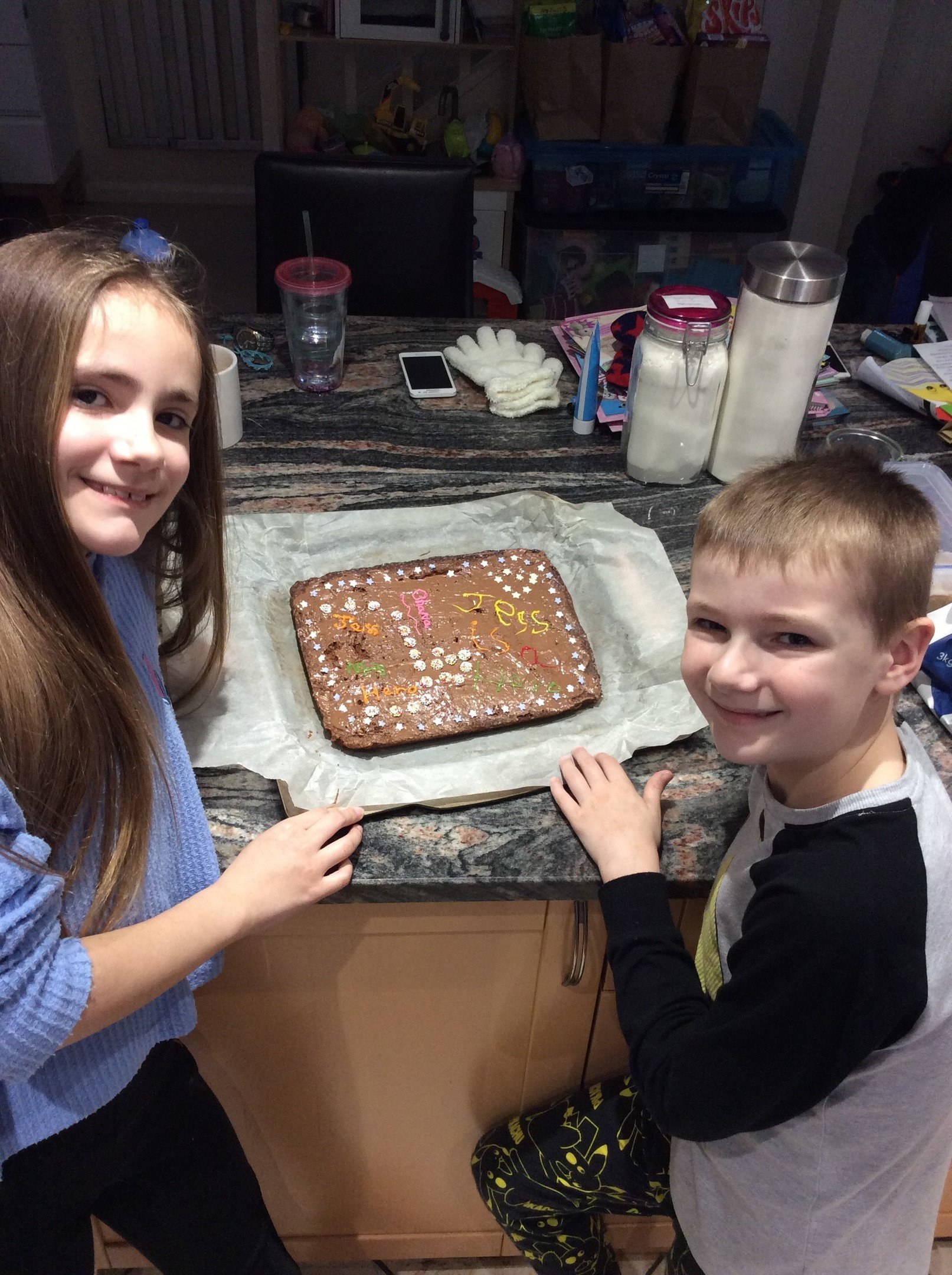 Week beginning 23.03.2020
Well, what a funny and unusual week of learning we have had in Year 3 this week. Joe Wickes has certainly kept us all busy each morning with his energetic morning workouts and we've loved hearing all of the ways your whole family are keeping active too!
This week we have continued to look at empowering historical figures that have made an impact on the world. We asked ourselves 'Is it okay to break a rule?'. Looking back, Rosa Parks chose to break a rule and stand up for herself. We have completed lots of research on Rosa Parks and created our very own google slides presentation to explain who she was and why she was such an empowering woman. We used a variety of computing skills to create our google slides, including changing a font, changing font size, changing font colour, inserting text boxes and inserting images.
We are very impressed with how many of you have managed to complete some of your learning at home and thank you so much for all bearing with us whilst we learn to navigate our way through using Google Classroom, which for lots of us is a new and exciting way for us to teach you and for you to learn. Keep on being super, working hard and making us proud!
Week beginning 16.03.2020
This week in year 3, we became professional biscuit dunkers! As part of British Science Week, we completed an investigation to test which biscuit would be the best biscuit to dunk in a glass of cold milk. We chose 3 different biscuits to dunk into some cold milk and tested which biscuit would last the longest, we then recorded our results appropriately.
In PSHE, we have been looking at our dreams and goals! We have discussed what our dreams are, why they are important to us, what challenges we may face and how we would feel after achieving our dreams. We had a lot of fun learning about each others goals for the future and discussing how we could support each other.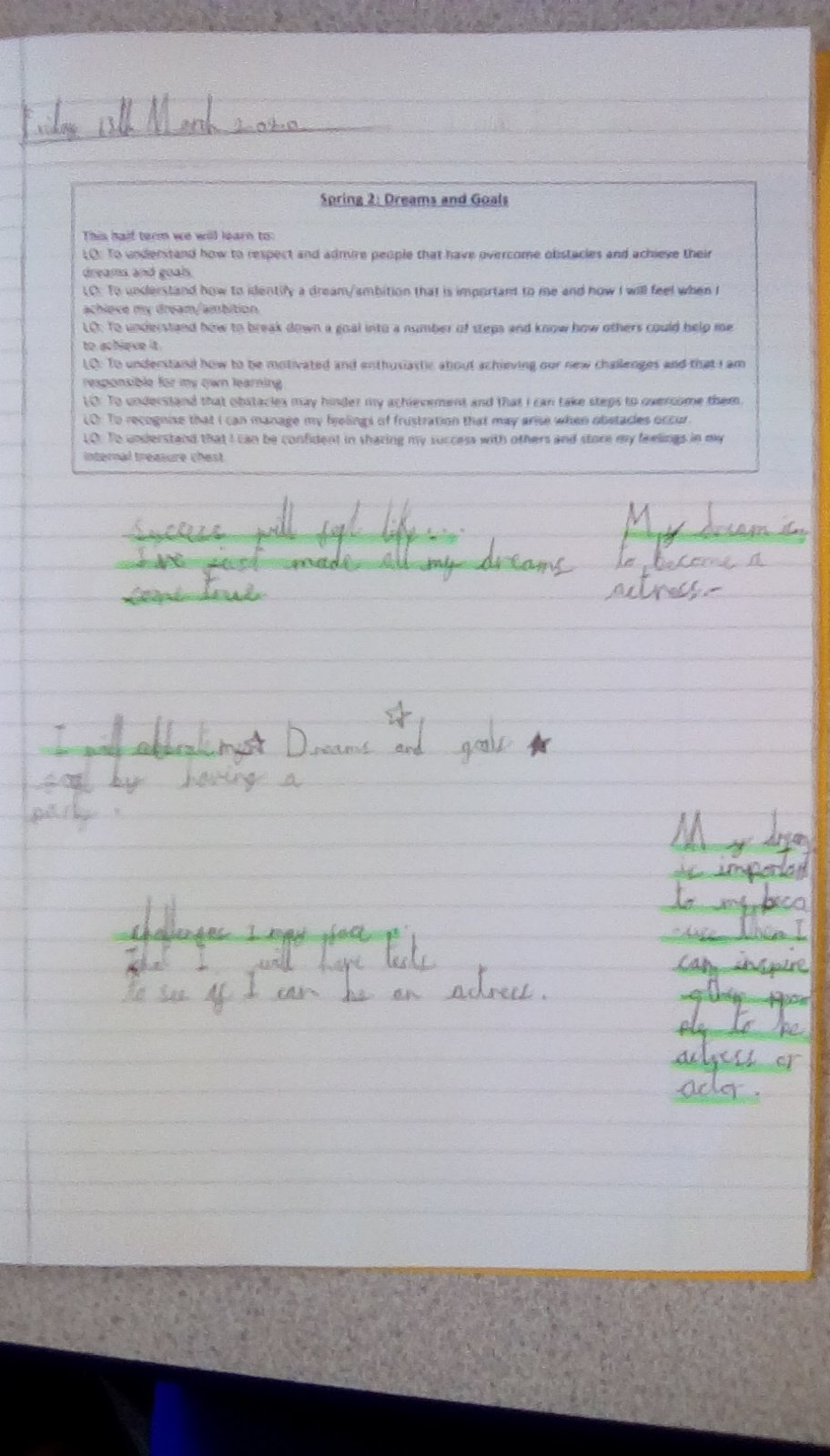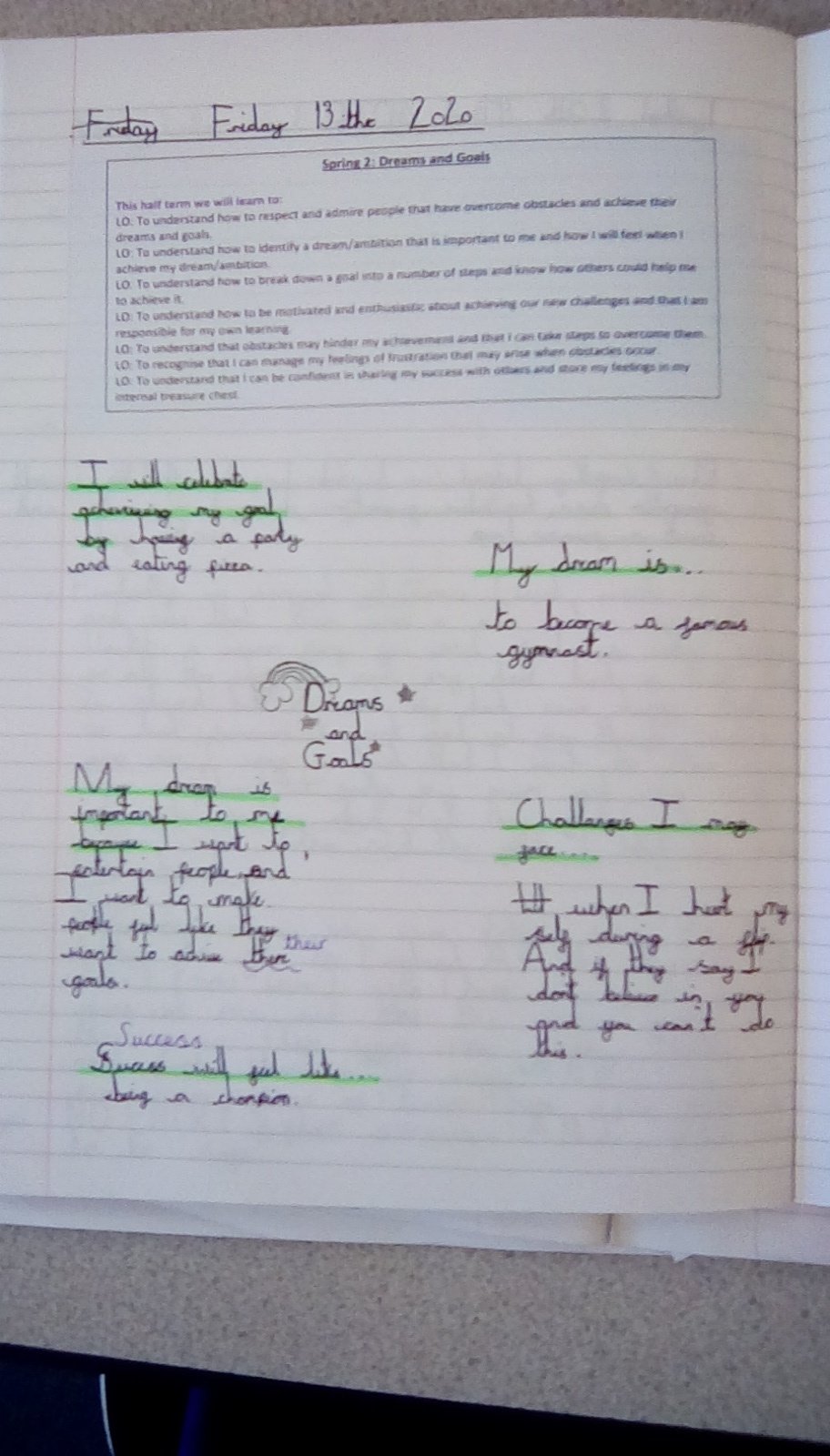 Week beginning 09.03.2020
This week, in computing, we have been learning the skills required to make a game using Scratch. Our games ask the player to guess our sprite's mystery number. If their answer is too low or too high, our character tells them and asks them to guess again. It is the first time we have used Scratch to code, so we have had to learn lots of new skills as well as the need to debug the code if it does not run as planned. Our algorithms have included adding variables, user inputs and Boolean operators (<, > and =) to our code. We have also made our Sprite move.
We are now designing our own versions of the game which involves a sprite based on an empowering person asking a question with a numerical answer. We will use a similar algorithm to write the game. We can't wait to share them with you when they are finished!
Week beginning 02.03.2020
This week in year 3, we have been telling Ahmet's tale. Whilst reading our book 'The Boy at the Back of the Class' we have learned about Ahmet's devastating journey from Syria to England. Using everything that we have learned from the book, we have written a story about the events that occurred throughout his journey to happiness. We made sure to include inverted commas for speech, paragraphs and develop characters, setting and plot.
We had lots of world book day fun this week! We were able to dress up as our favourite book characters and celebrate all of the stories that we love. We create role plays based on a story that we read with our class for the day and then created a book cover of any story that we enjoy to read.
Week beginning 24.02.2020
This week in year 3, we have been working on our design and technology skills! We have begun the process of designing and creating our very own photo frames to display our portraits of empowering figures. Using our DT skills, we have analysed different types of photo frames to find any advantages and disadvantages of the designs of the frames and thought about what we could incorporate into our own designs.
In PE, we learned about the history of the Haka and performed our own sequence to our peers.
We learned about an exotic fruit, the pomegranate. In our book, we learned that Ahmet enjoys eating pomegranates, so we wrote our own diary entry to explain the events of our pomegranate adventure!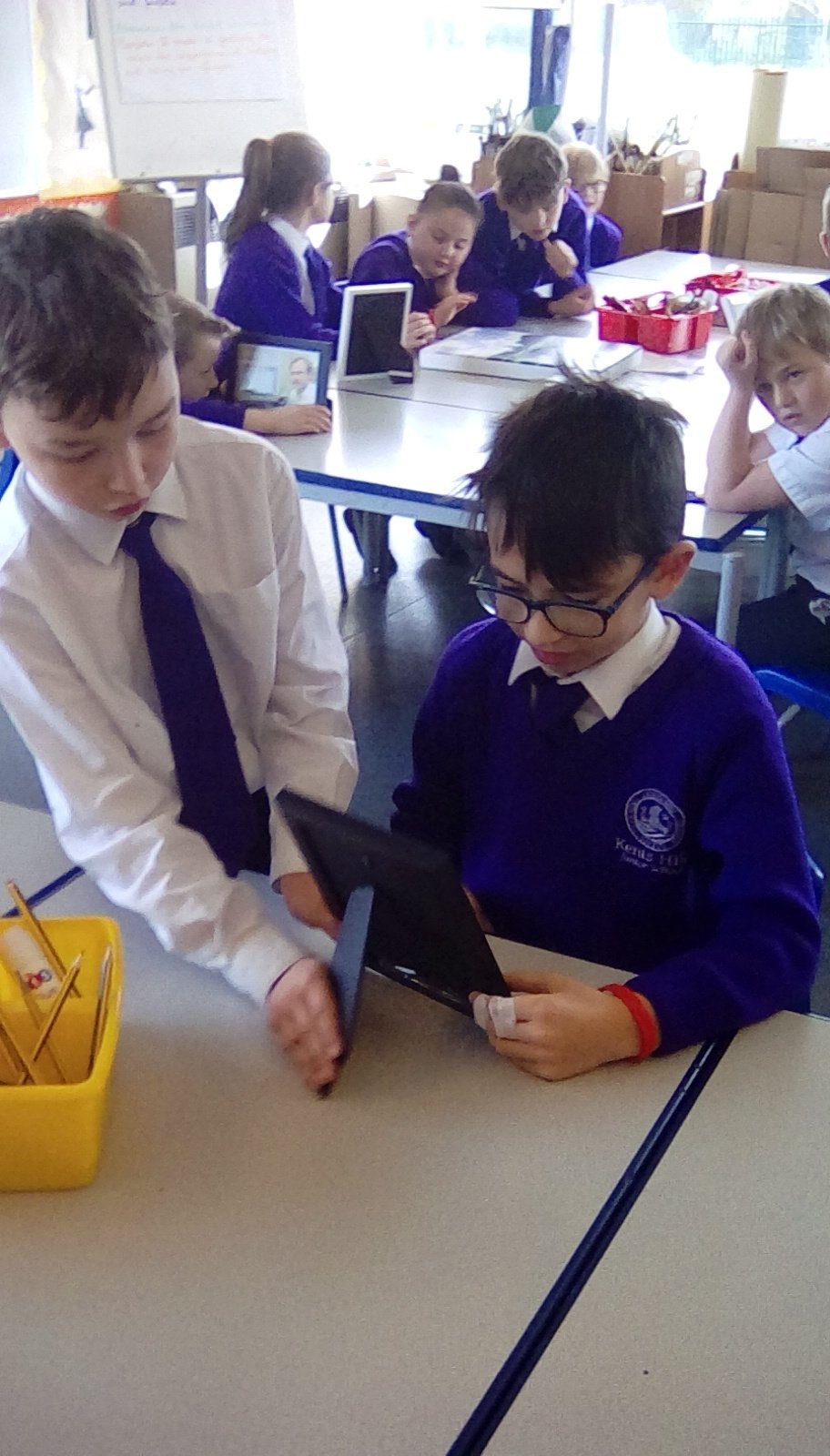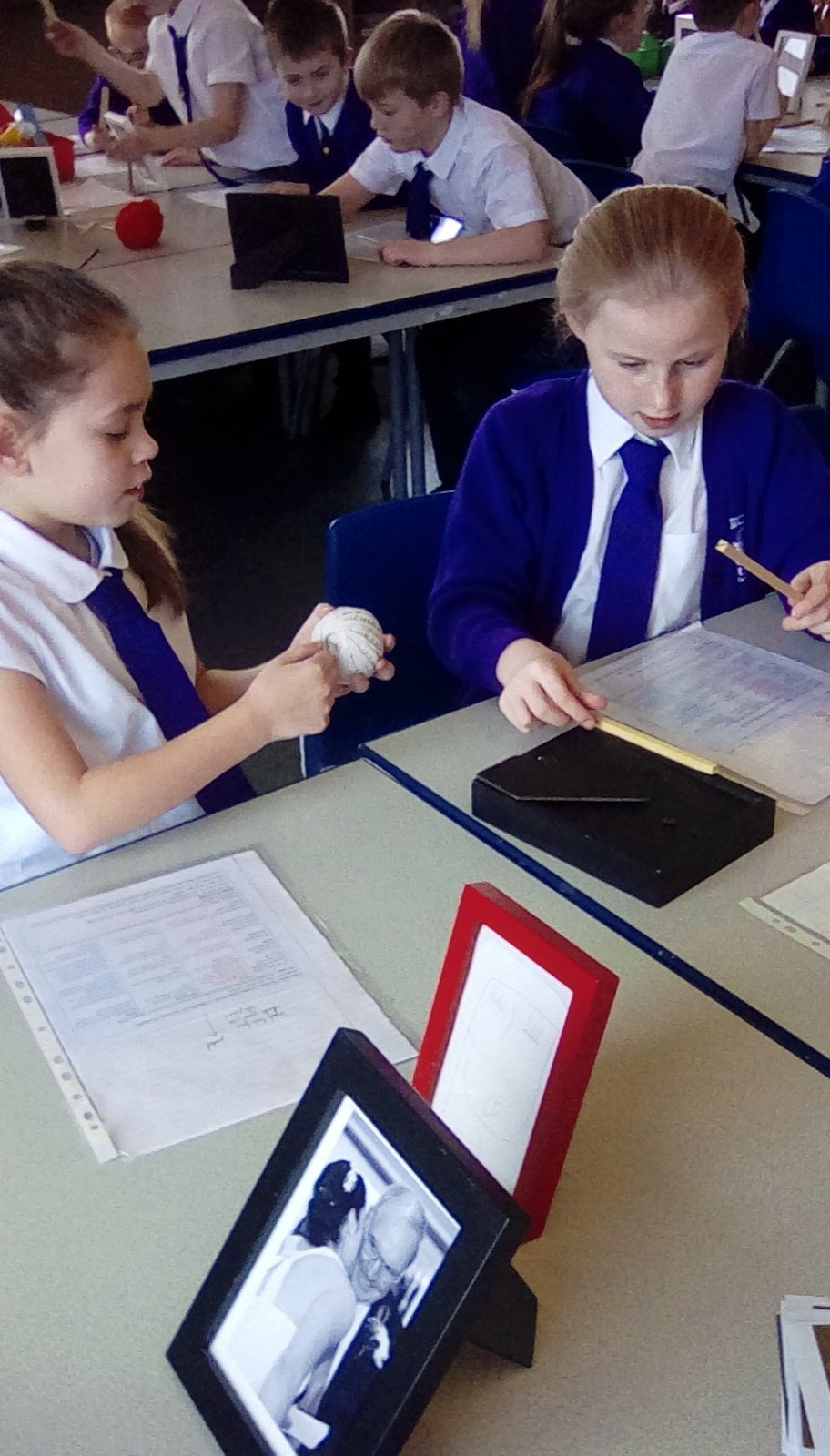 Week beginning 10.02.2020
This week in Year 3 we have been learning about different types of families. We know that all families are different and all families are special in their own way. We discussed how it feels to be part of a family and decided that our families make us feel safe, supported and encourage us.
In Computing, we have been learning about unpleasant communication and how to handle this if it happens to us. We know that we must always save anything we think is unpleasant communication and the best way to do this is to screenshot it. We also know that once we have saved it, we should share it with a trusted adult. This might be our parents, a teacher, an auntie or uncle or an older sibling.
In Music, we have been learning how to read musical notes and have been playing and performing some excellent songs. We know that a minim is a note that is worth two counts and a crochet is a note that is worth one count. A minim rest is where no music is played for two counts and a crochet rest is where no music is played for one count. We have been practising how to draw musical notation in the correct places on the stave too.
On Friday, we took part in our annual school Spelling Bee. Head over to our whole school blog to see the fun that we got up to!
Have a lovely half term!
Week beginning 03.02.2020
This week in year 3, we have practised and refined our sketching of facial features. We then applied these skills to drawing a half portrait of a refugee, to show their unique qualities and differences. We made sure that we used our pencil to shade from dark to light to show shadow on the face.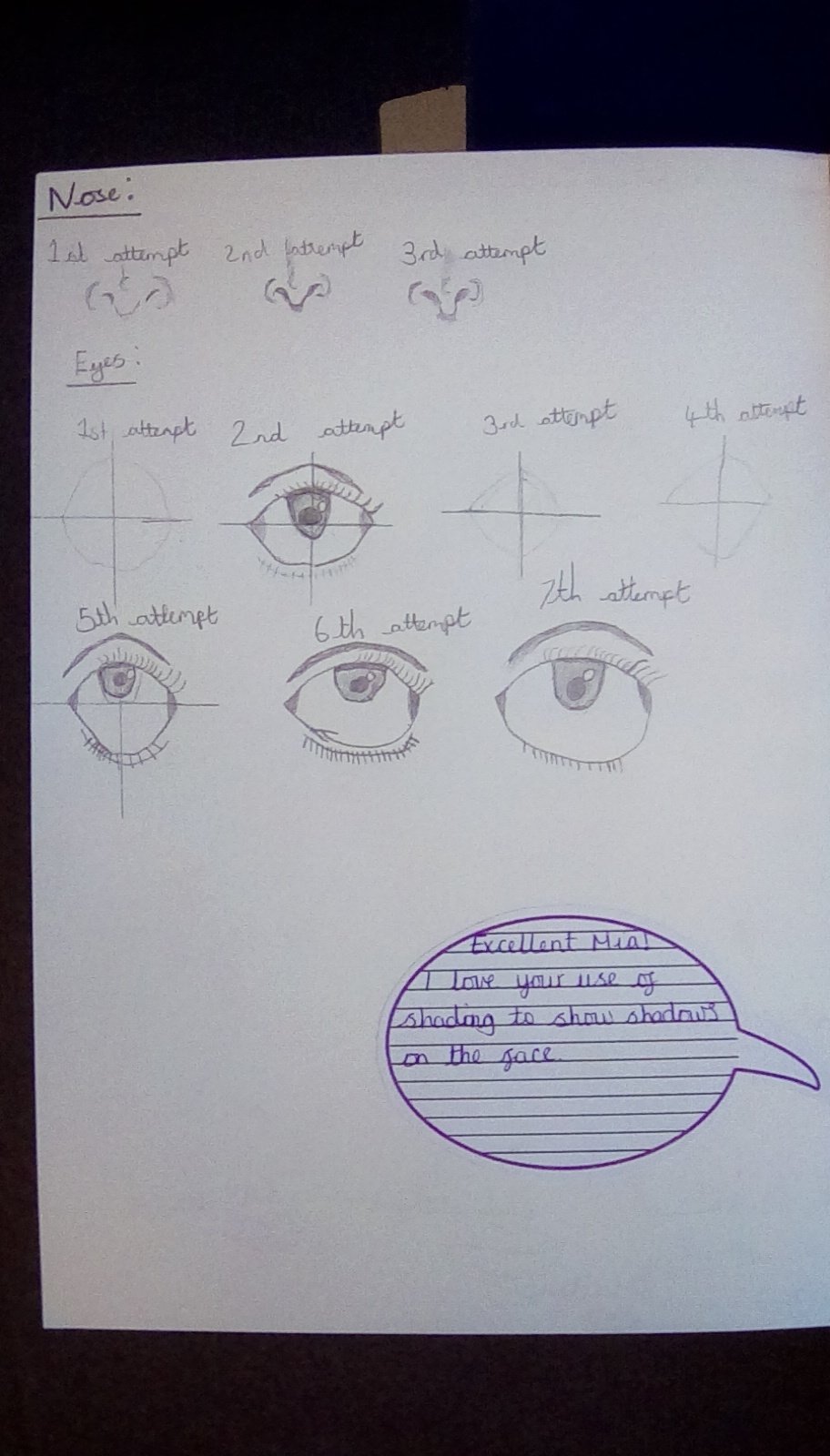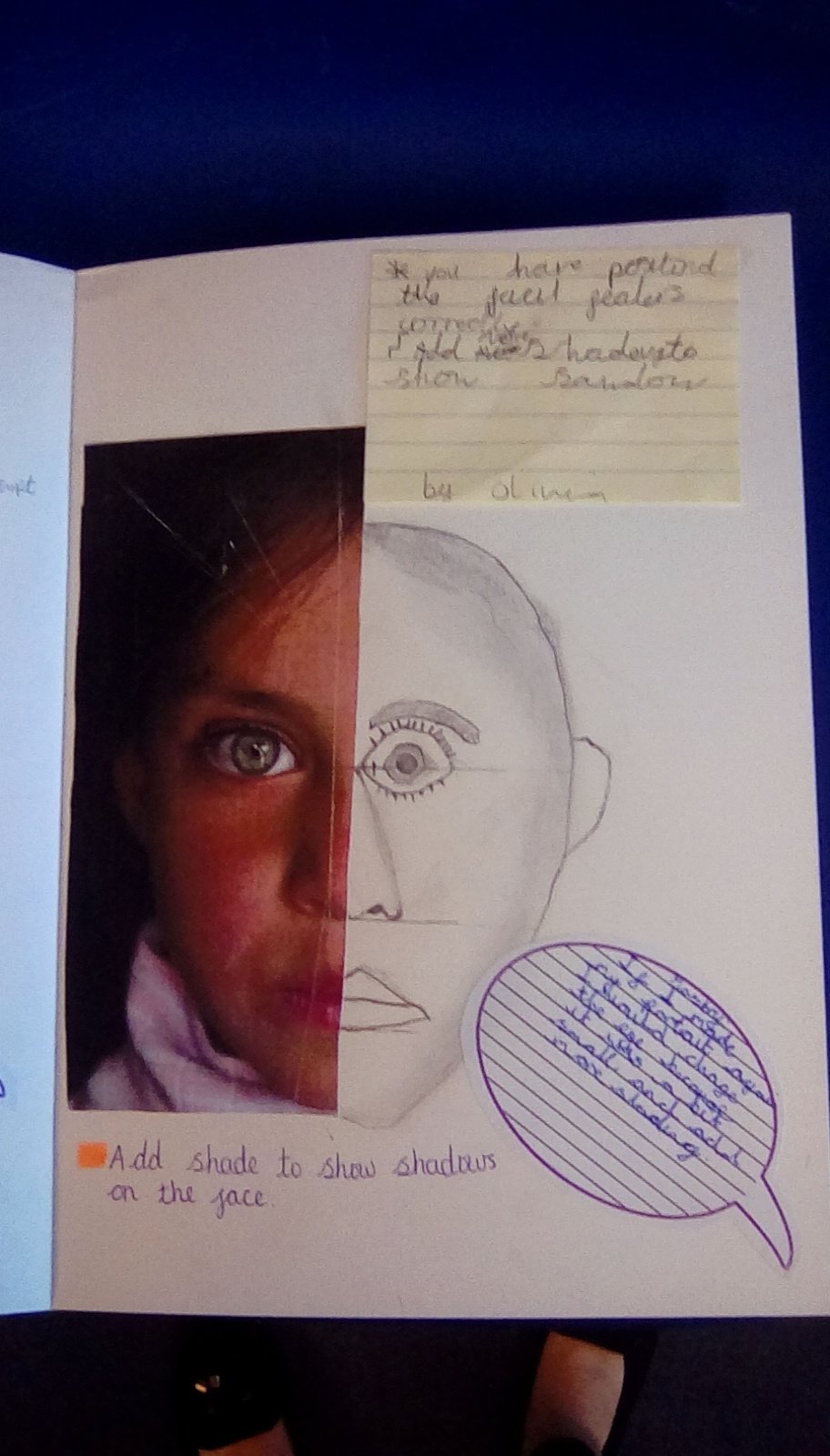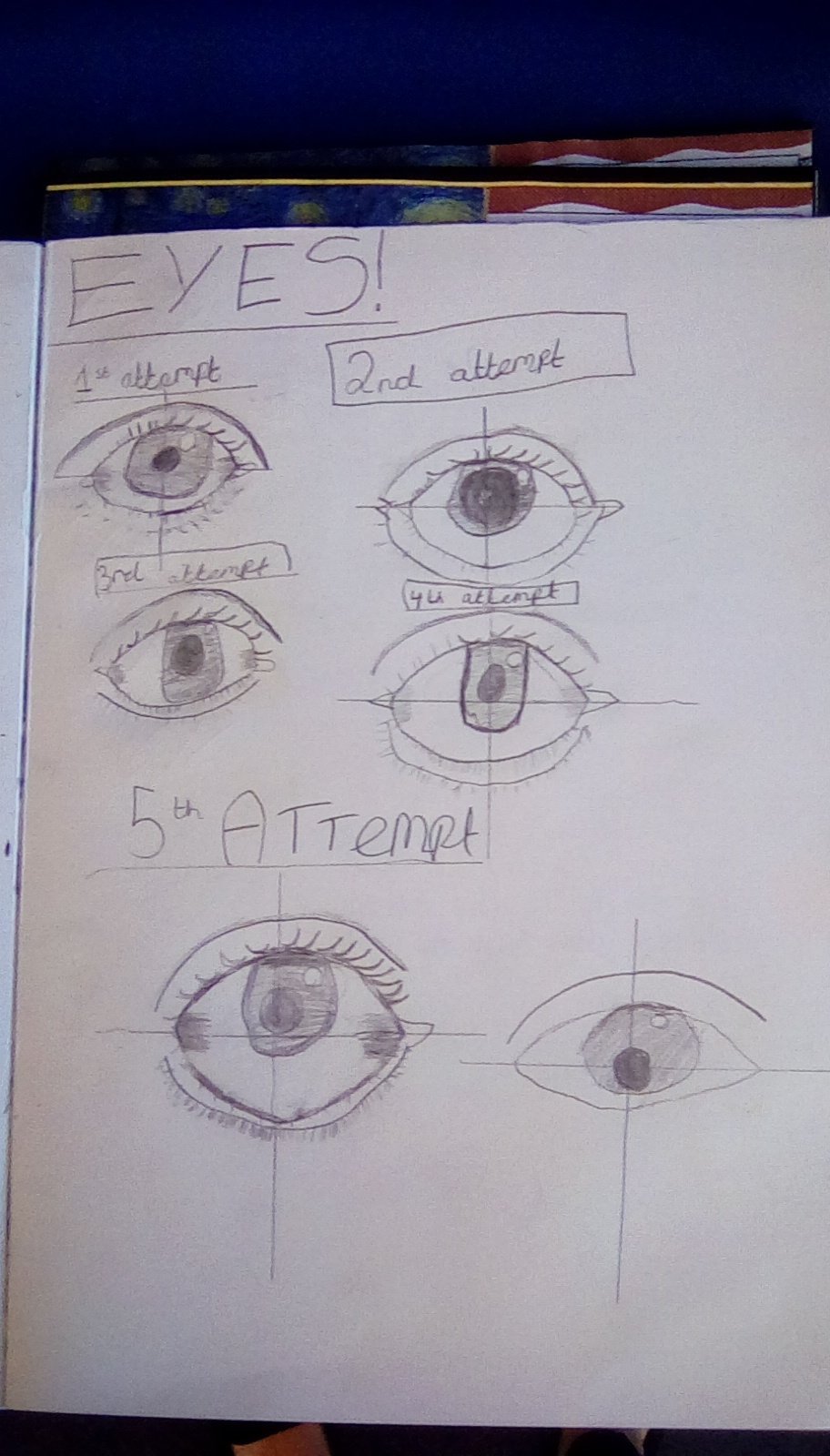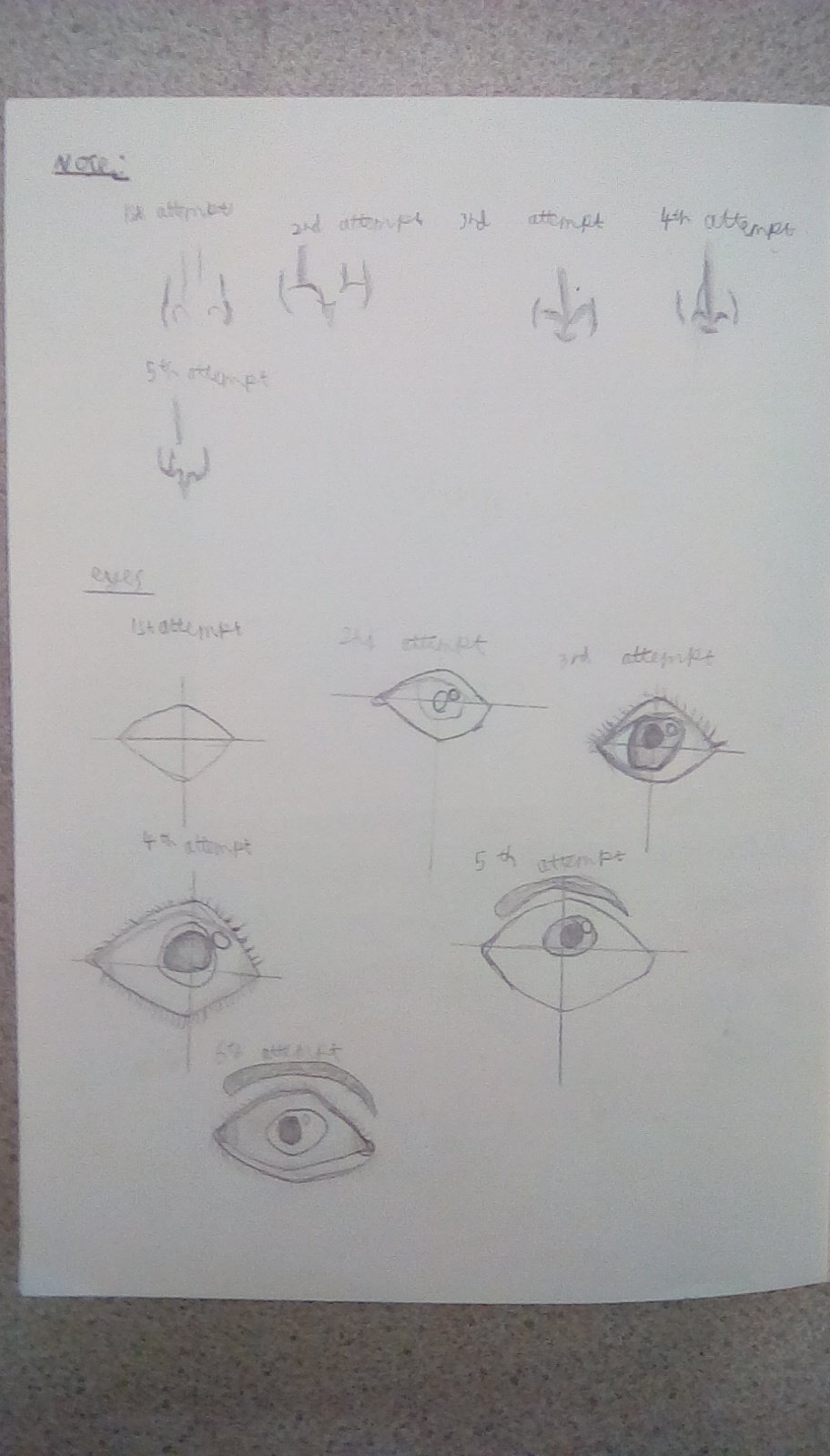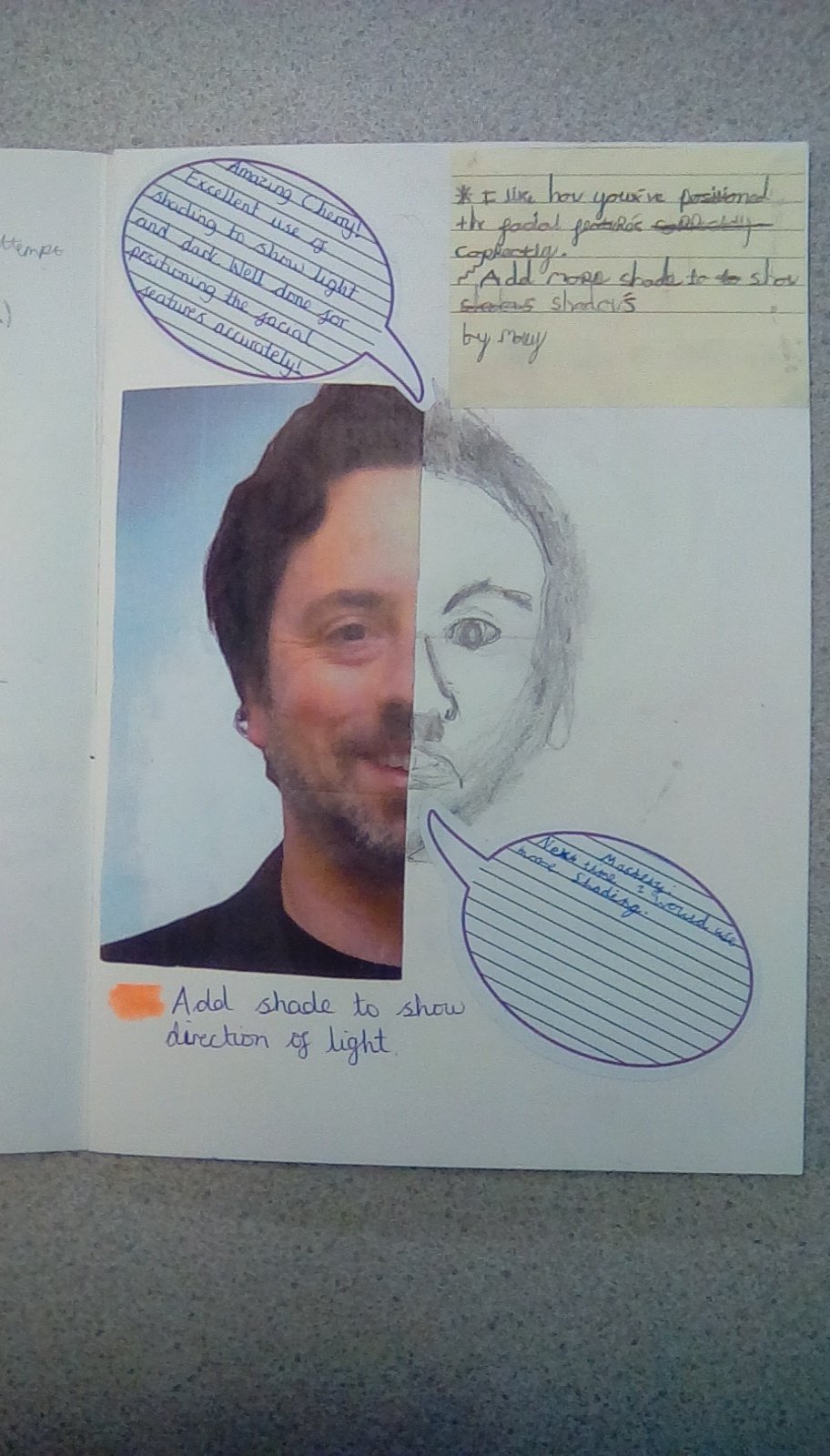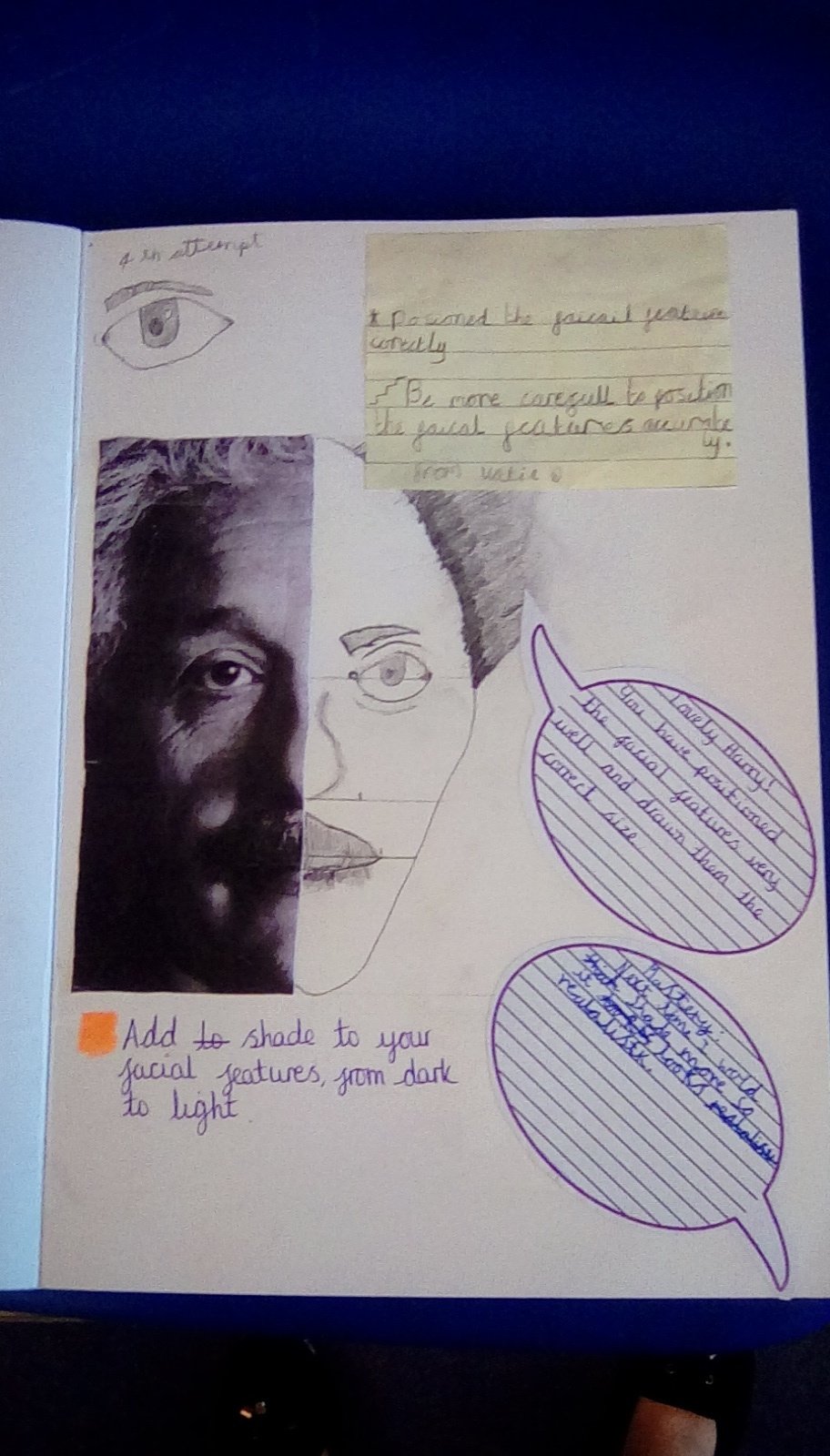 We made some feathery friends in assembly this week! We were lucky enough to be visited by two noisy chickens and learn about the importance of these wonderful animals and all of the things that you need to do to care for them. You can read more about this on our whole school blog!
We learnt new skills to become biographers! After learning about Queen Elizabeth I, we have used all of the information about her to write an informative biography of her life. We had to make sure that we used the past tense, third person pronouns and that our writing was in chronological order.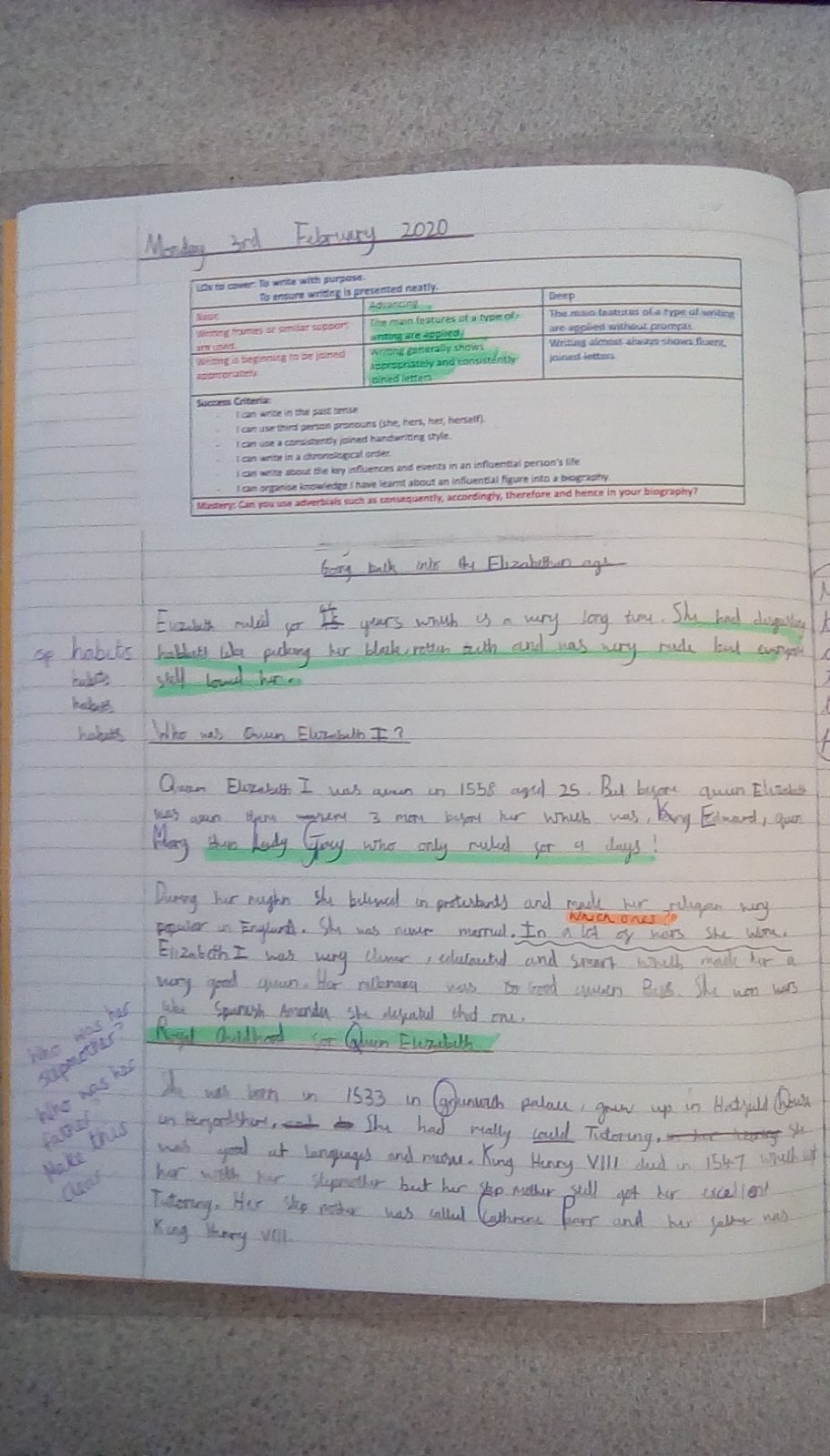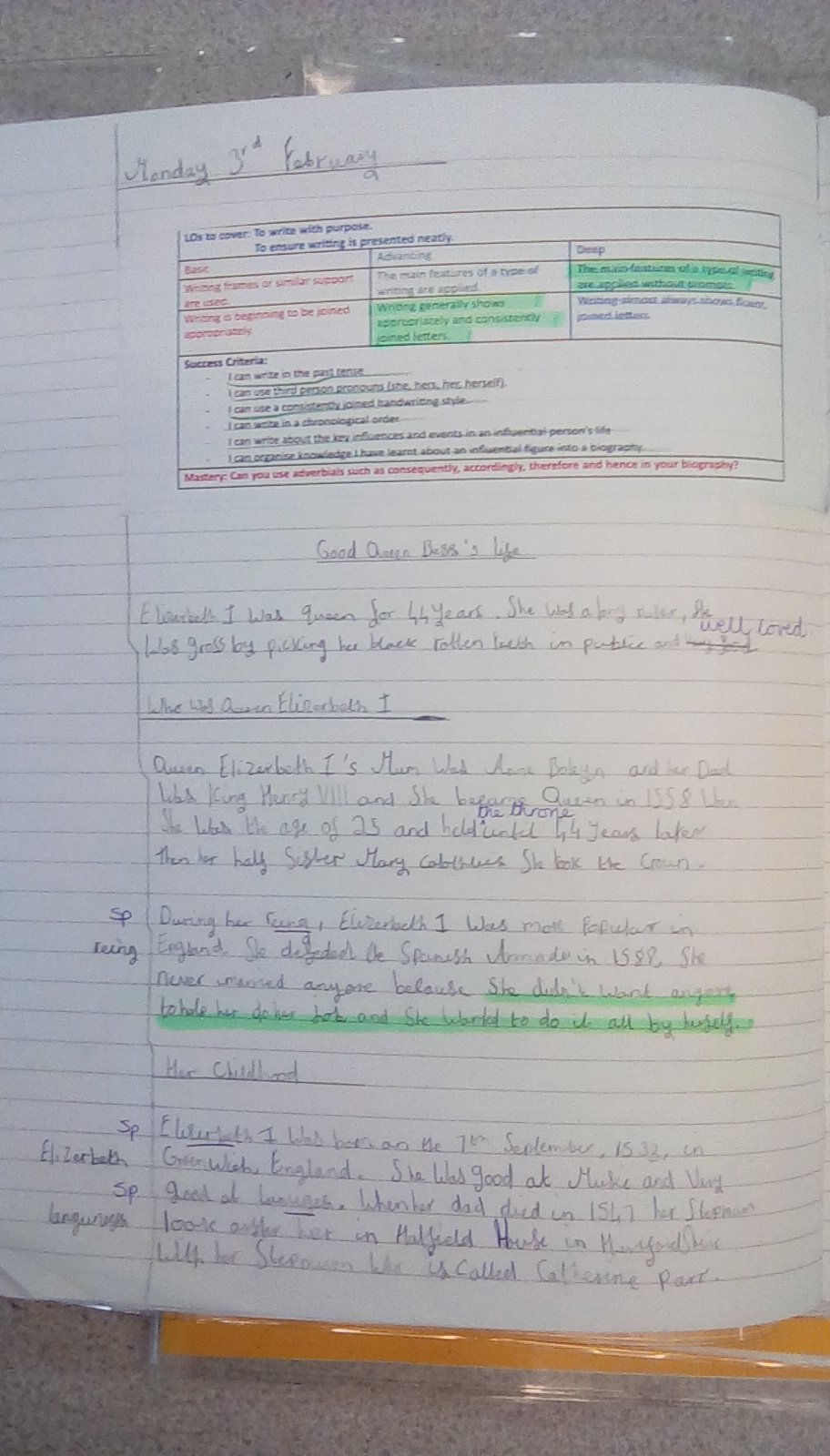 Week beginning 27.01.2020
This week in year 3, we have been practising our sketching skills. We have been working on developing our sketches of the facial features and learning how to shade to create shadows and show a realistic effect. We are going to apply these skills to create a portrait of a refugee, showing their humanity and unique qualities.
We have started learning how to say different animals in French. We now know:
Un Lion - A Lion
Un Lapin - A Rabbit
Un Cochon - A Pig
Un Singe - A Monkey
Une Vache - A Cow
In PSHE we have been discussing families. We have had a look at the different reasons for families being similar and different. We recognised that not all families are the same and that they are different and unique in their own ways.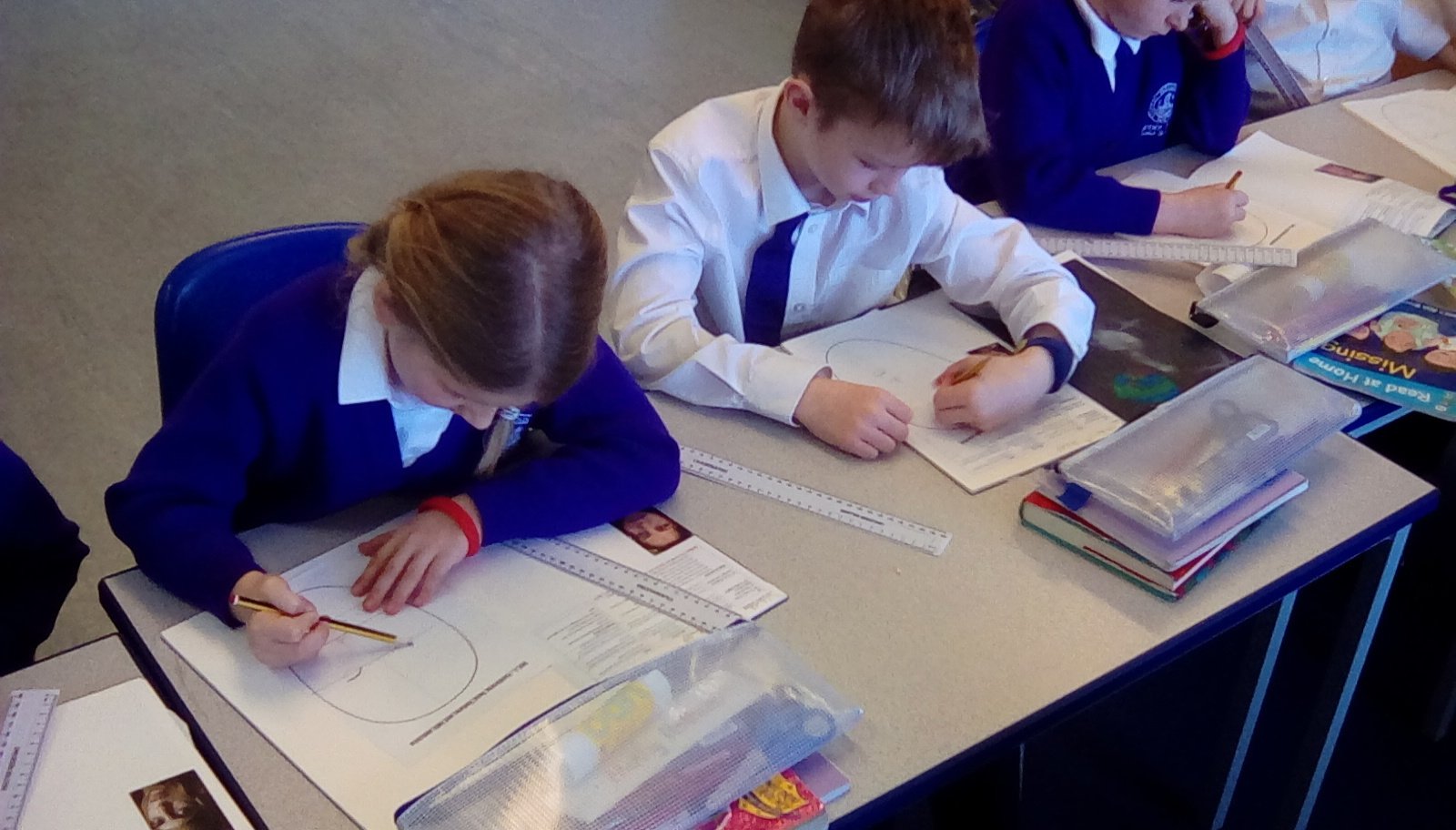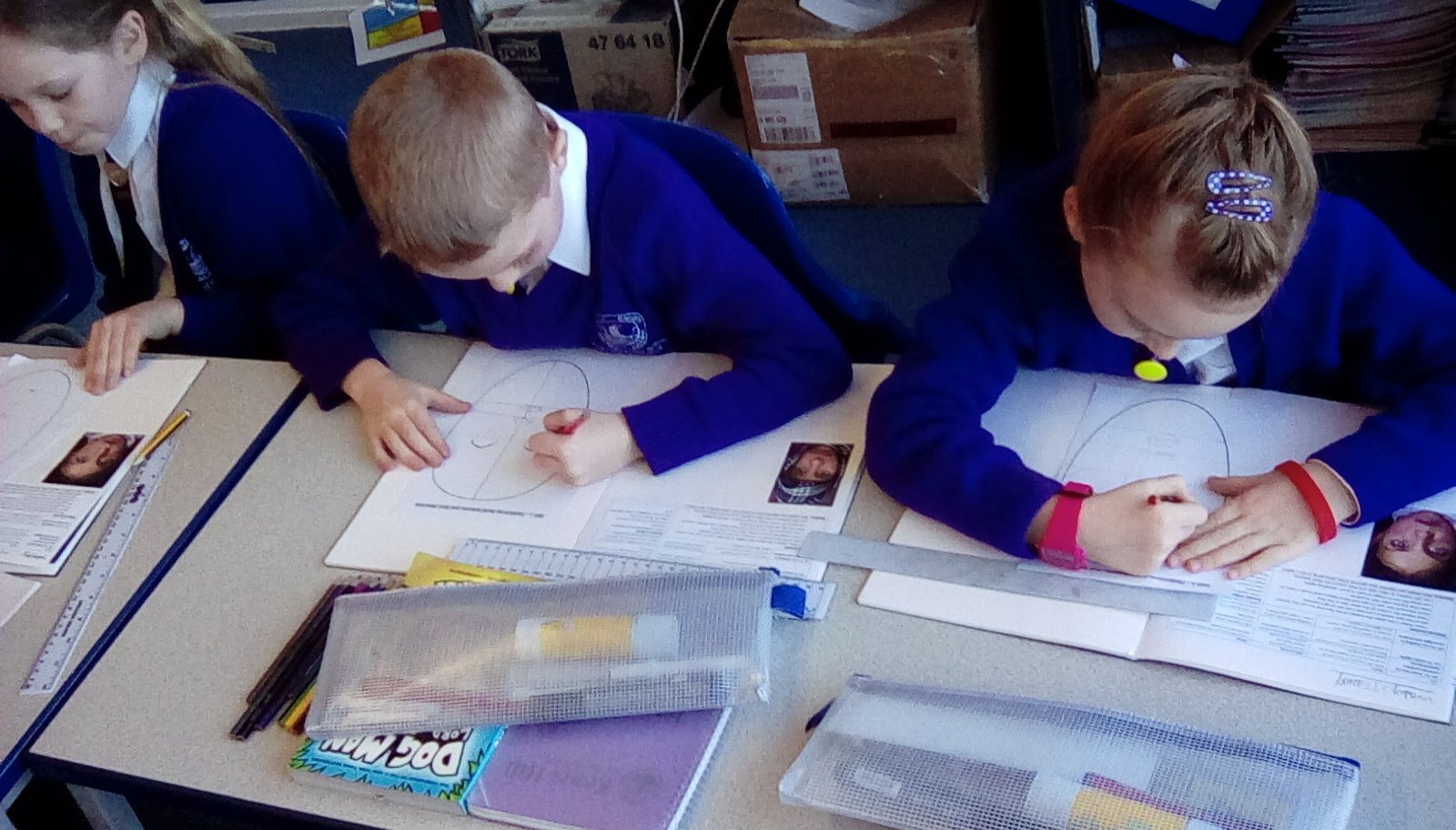 Week beginning 20.01.2020
This week in year 3, we had a royal visit from Queen Elizabeth I!
We have been learning about the history of Queen Elizabeth I and her reign as the queen. To help us further our knowledge and understanding of this time period, we put ourselves in her royal shoes. Using all of the information that we have learned about her, we completed hot seating as Queen Elizabeth I herself. We asked questions like 'Did you enjoy being the queen?' and 'Why did you pick your black rotten teeth?'.
Now that we have read more of our book 'Boy at the back of the class' we have been exploring the feelings, attitudes and actions of the main characters. We know that Josie is a very loyal friend, Tom is the smallest in the group and the funniest, Michael is very clumsy and Brendan is the biggest bully in the school.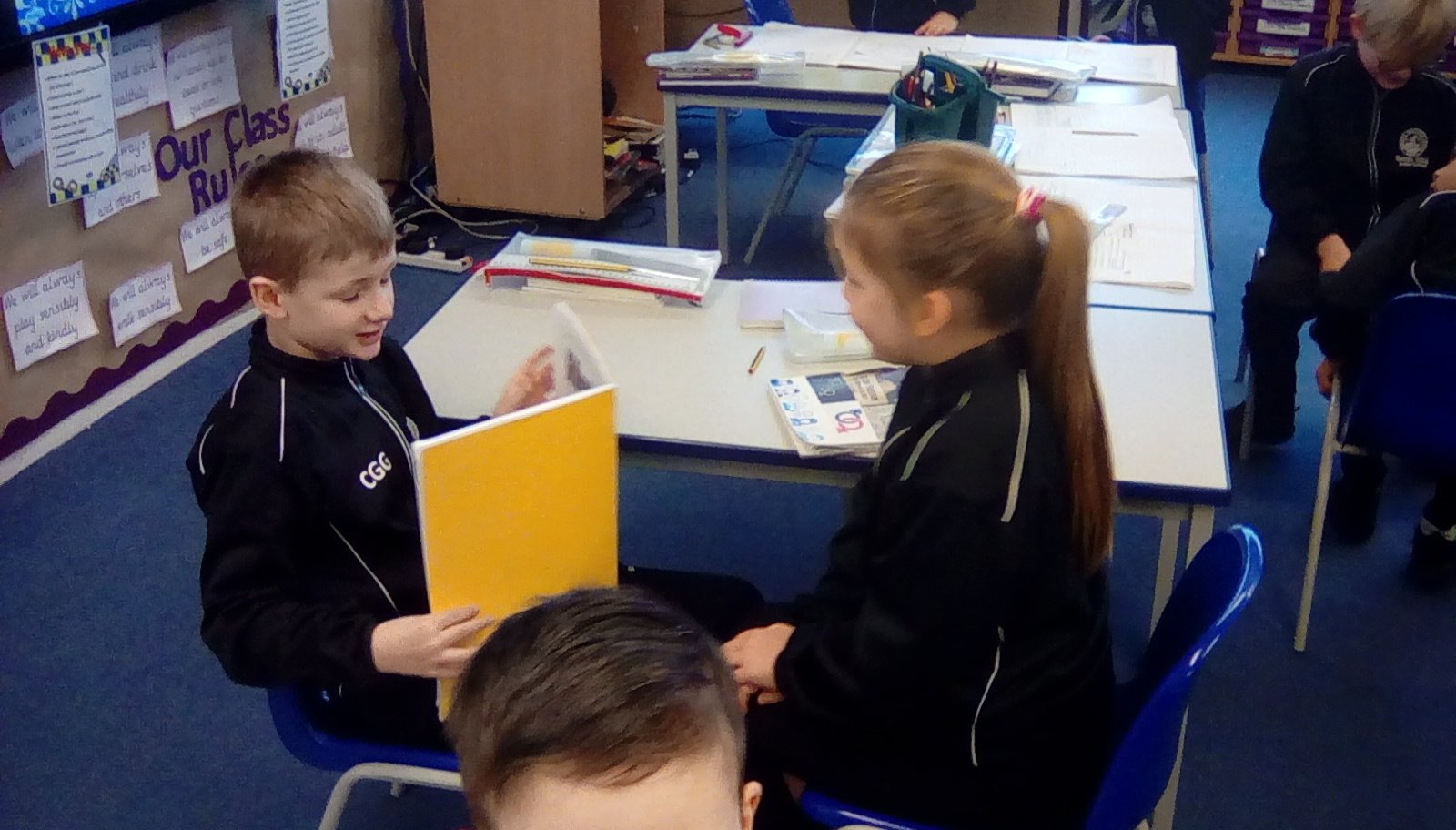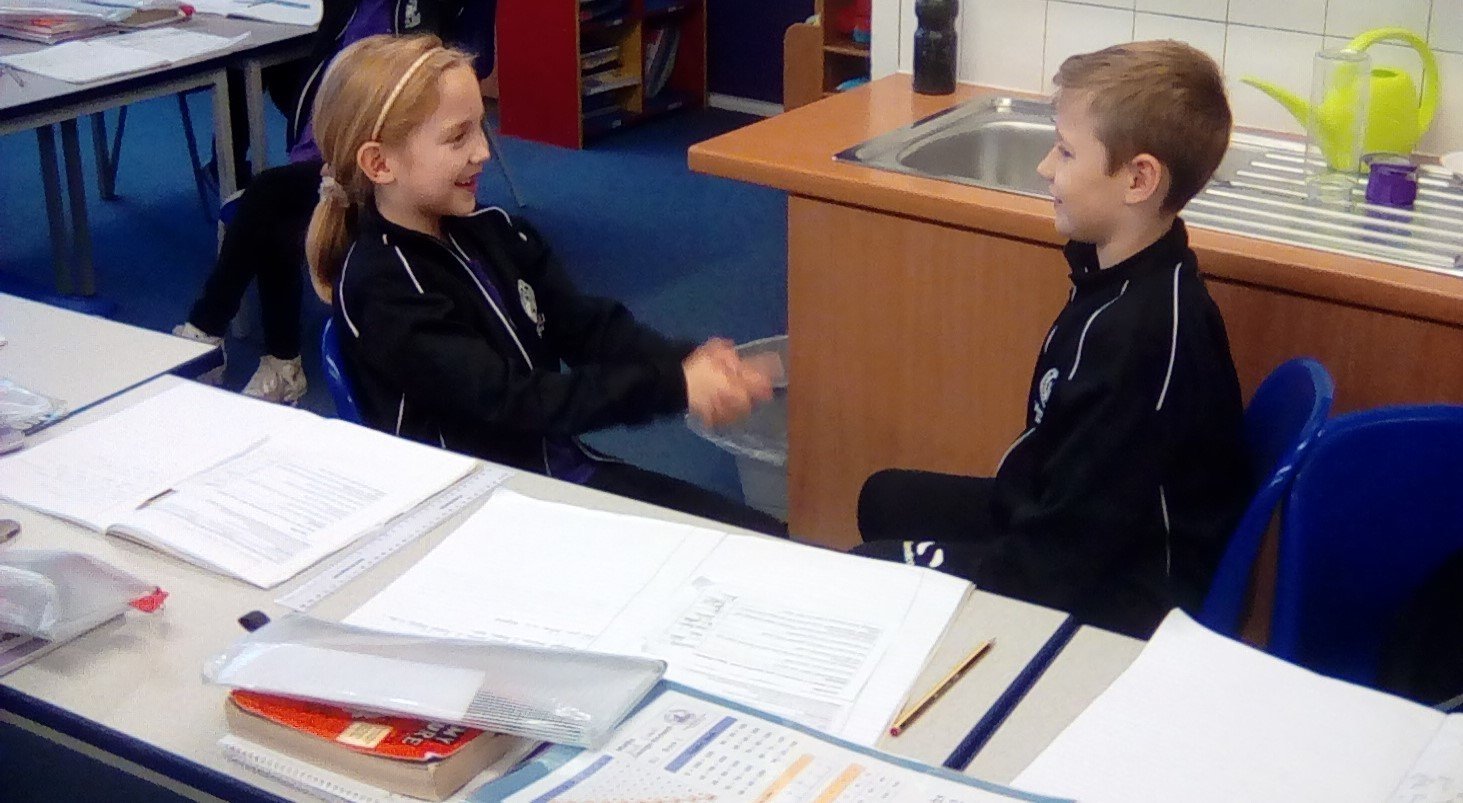 Week beginning 13.01.2020
This week in year 3 our fingers have turned green! We have been doing lots of work on plants in science this week and we were lucky enough to use our brand new science lab!
We have been investigating the requirements of a plant by testing whether a plant can still grow healthily without water, heat or light. We worked together to plant seeds in some soil and set them aside to grow in different conditions: in the cupboard (no light), by a window (no heat) and another without being watered (no water).
We have also been investigating how water is transported through a plant. We have done this by putting a flower into water that has been dyed red, we have done this so that we can see which flower in which condition has the fastest rate of water transportation. We have put our flowers in different temperatures and predicted which one we think will have the fastest rate of water transportation.
We have been looking at poetry about how we are all unique and special. This has helped us to write our own poems about ourselves! We have worked really hard to include descriptive phrases, use joined handwriting and capital letters to start each new line.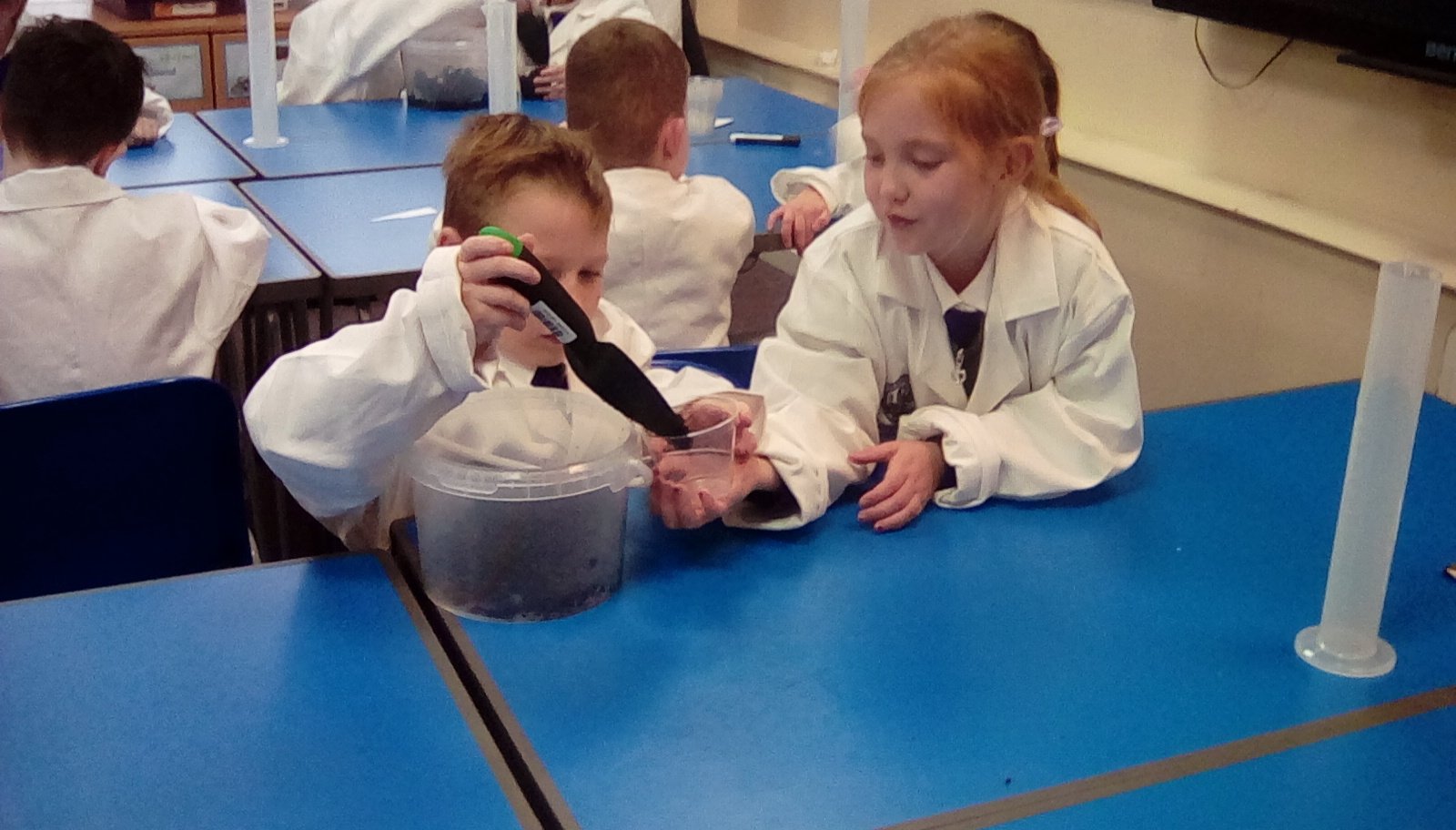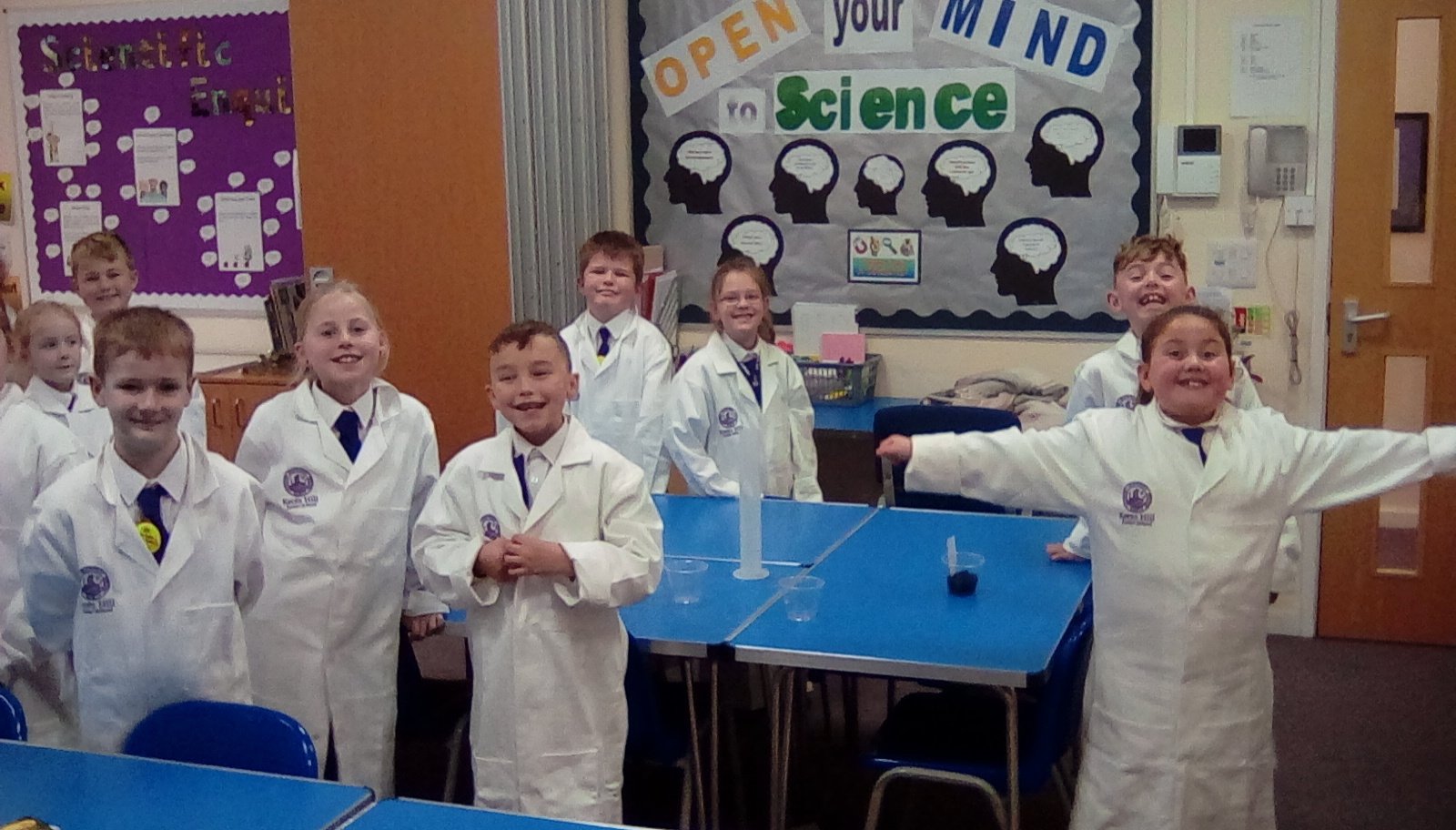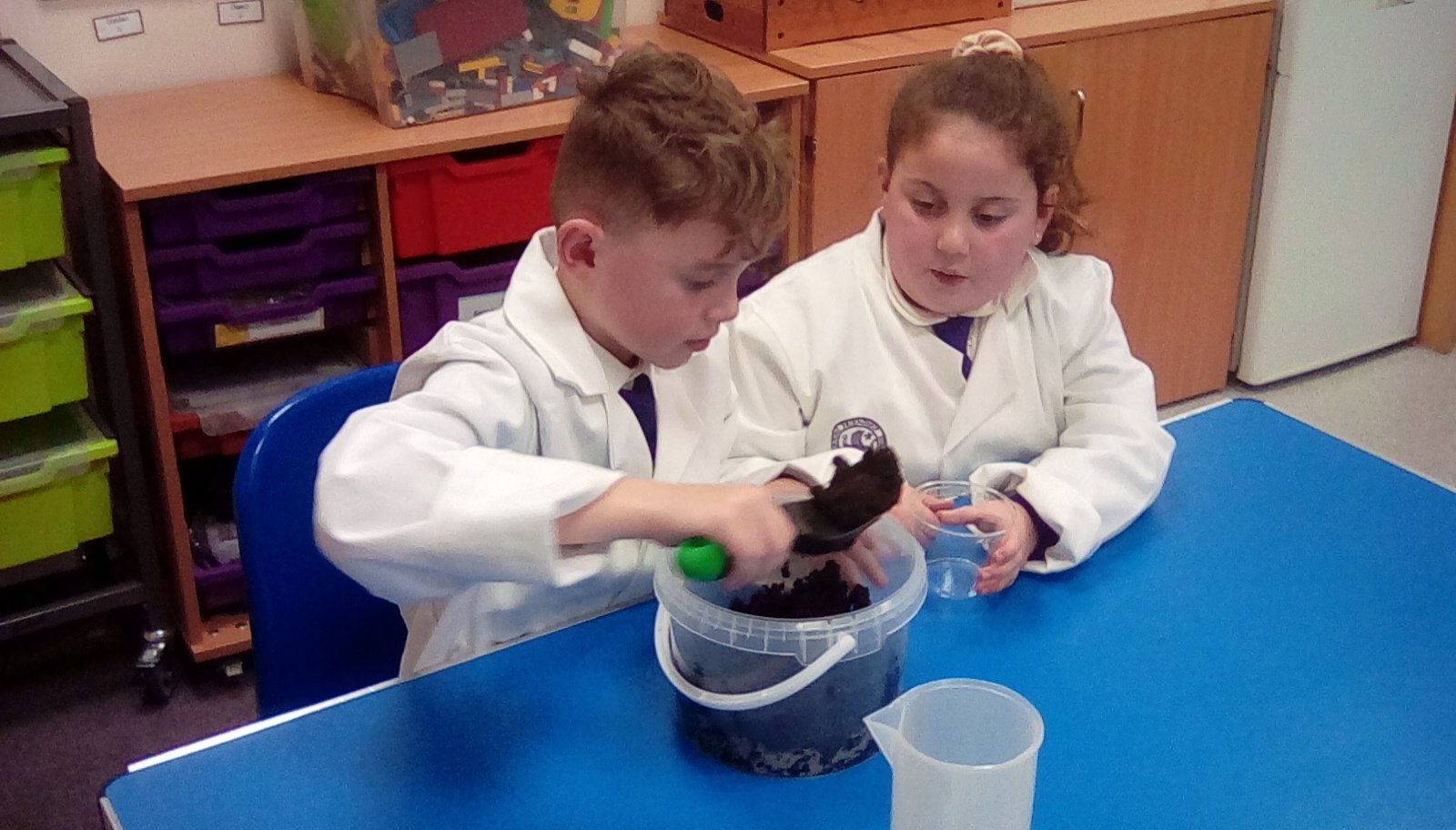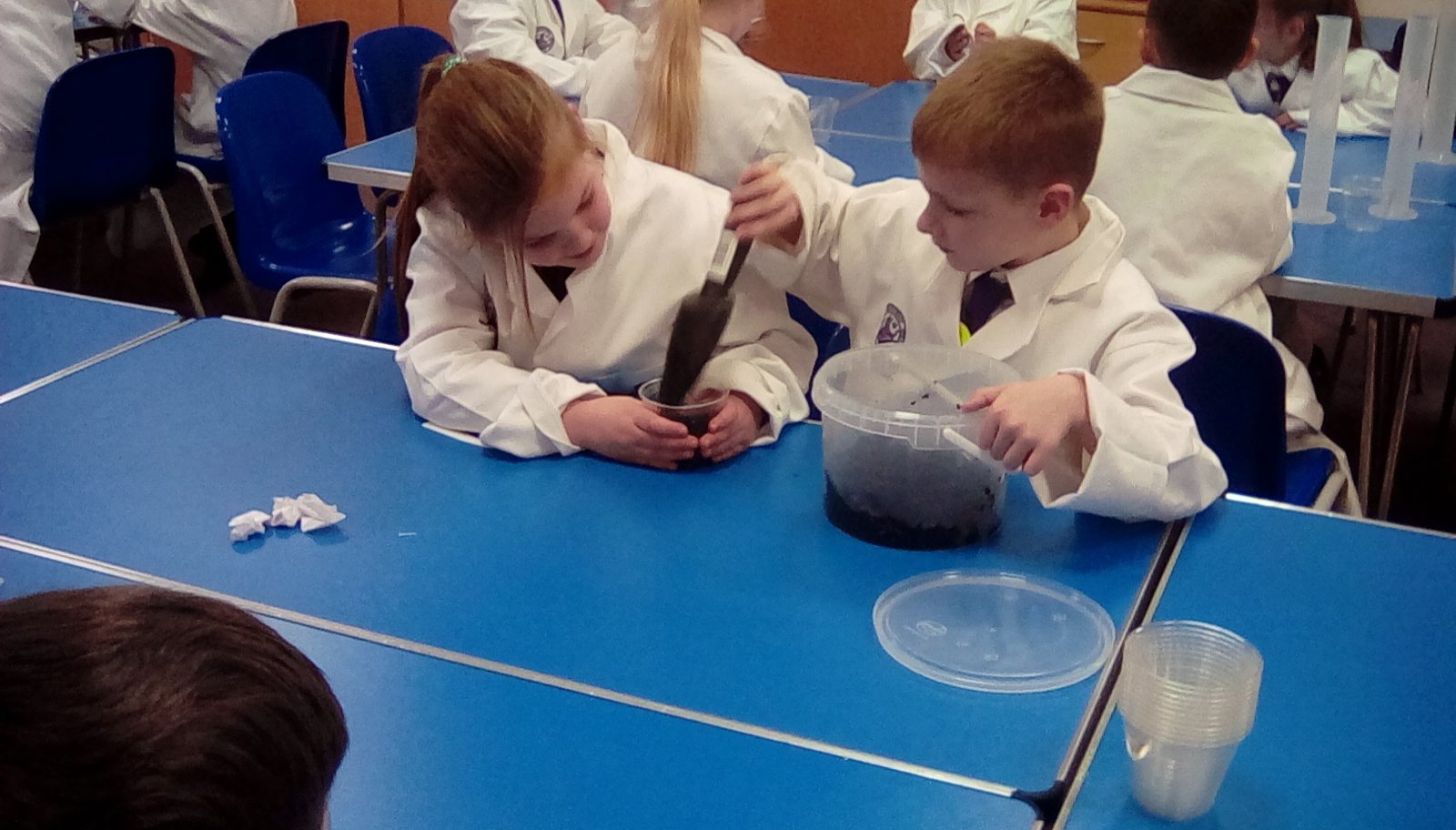 Week beginning 08.01.2020
This term we are going to be learning about empowerment across the world. We are going to ask ourselves 'How are we going to change the world?'.
To introduce the children to our new topic this term, the year 3 teachers turned mean! Miss Jackson decided that she only wanted to give a biscuit to children that live in Benfleet, Mrs Rice only allowed children with blonde hair to colour in and have fun and Mrs Izatt only allowed the girls to do the sawing and the boys had to clean up their mess for them.
Don't worry, this was all done to show the children how people around the world can be treated differently due to where they live, what they look like and their gender. The children discussed how this was unfair and that we shouldn't treat people differently because of these reasons. We all decided that everyone around the world should always be treated equally!
Over the Christmas holidays, year 3 have transformed the year group area to promote empowerment throughout this term. We had time to explore our new area to discover a brave lady knight, a variety of empowering people placed in our gallery of greatness and a refugee area.
This week we have also started our new text for the topic, our book is called 'The Boy at the Back of the Class' written by Onjali Q. Rauf. So far we have learned that there is a group of four friends in a class that has had a new boy join, although he does not speak English so hasn't made any new friends yet. We have made some predictions about what we think may happen next based on clues from the text so far, the front cover, the title and the blurb.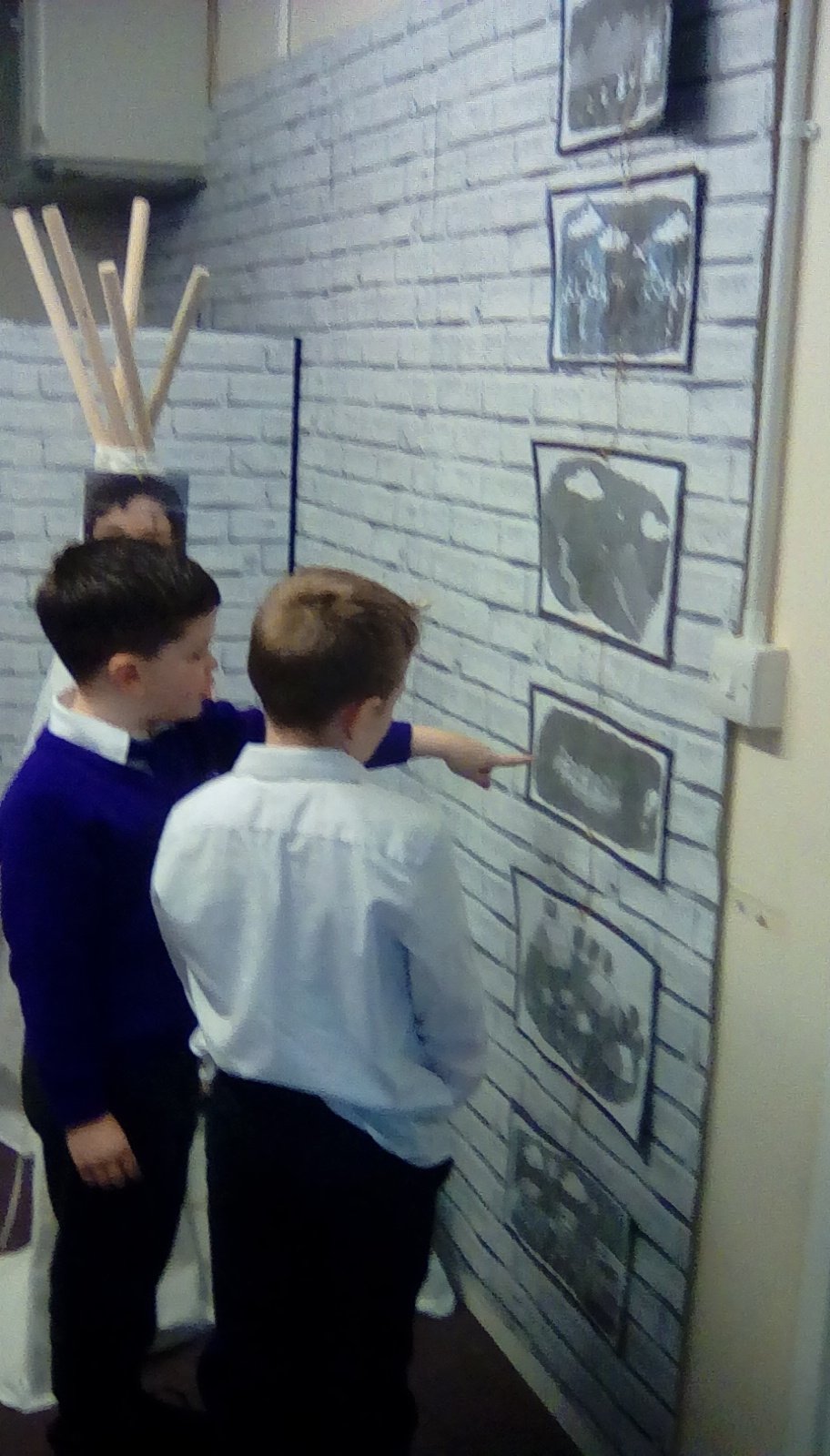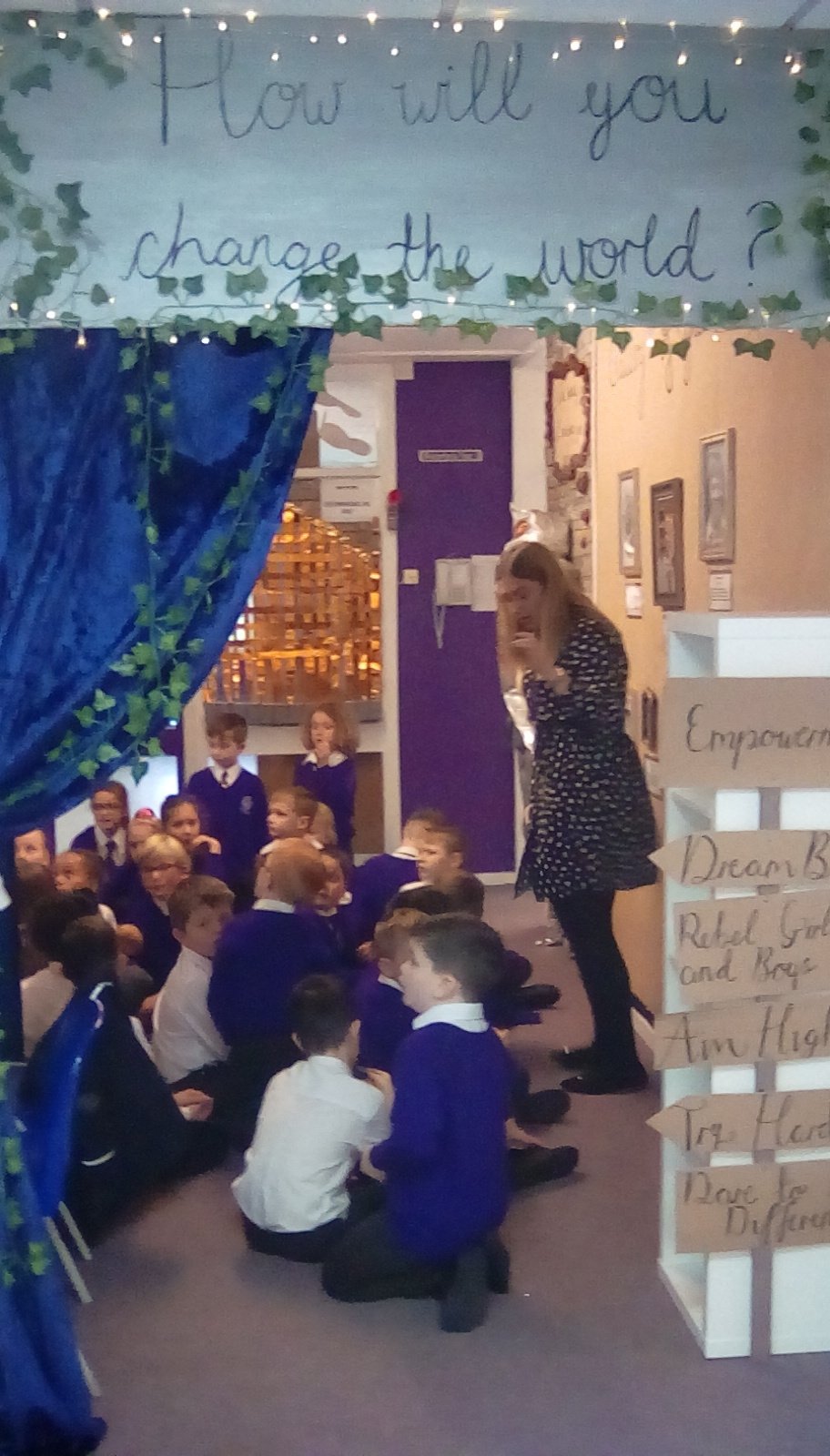 Week beginning 16.12.19
This week in year 3, we have been reflecting on our learning throughout the term. We have really enjoyed presenting and celebrating our explorers end of topic homework this week, sharing all of the wonderful work that we have put into it!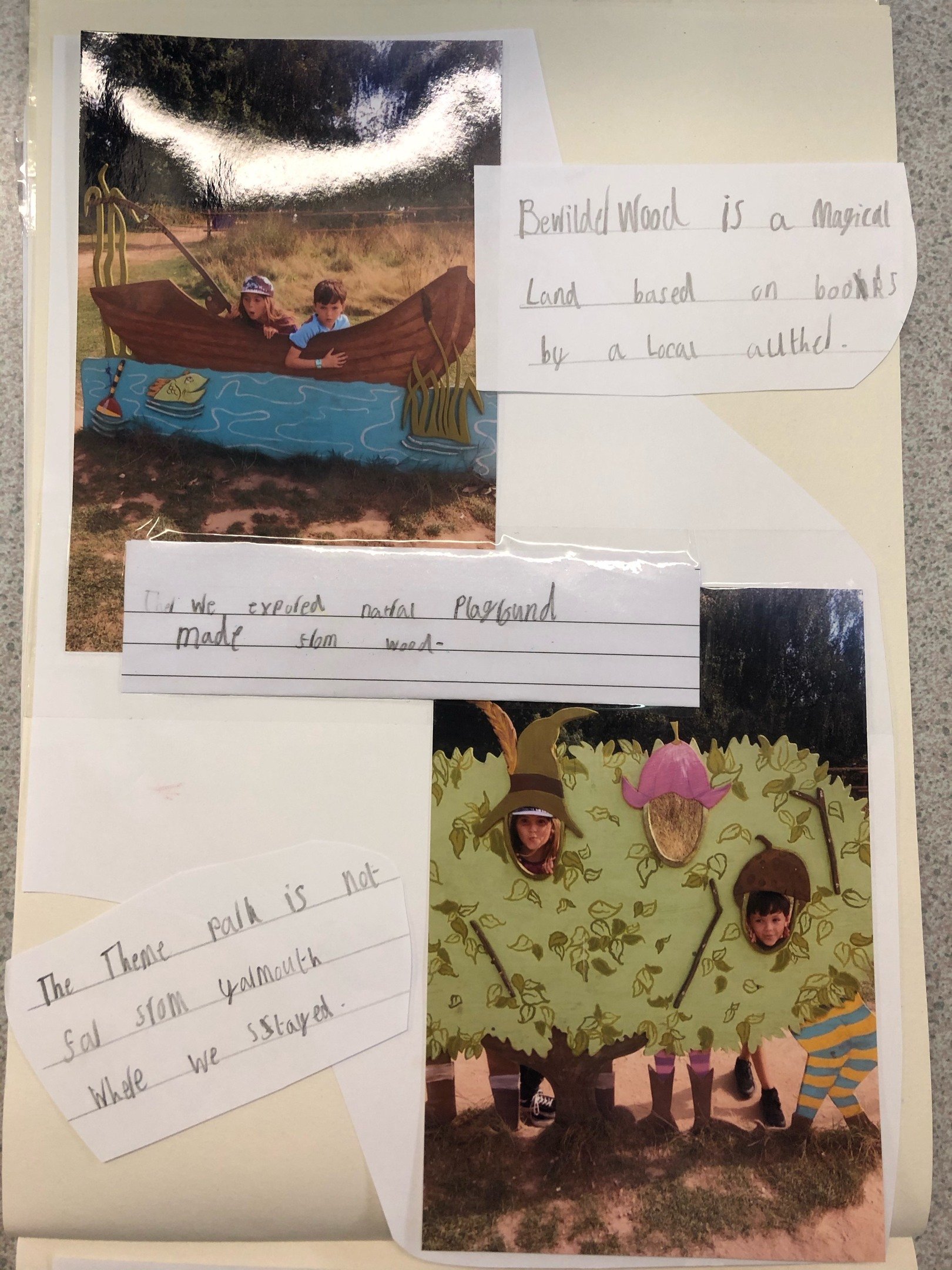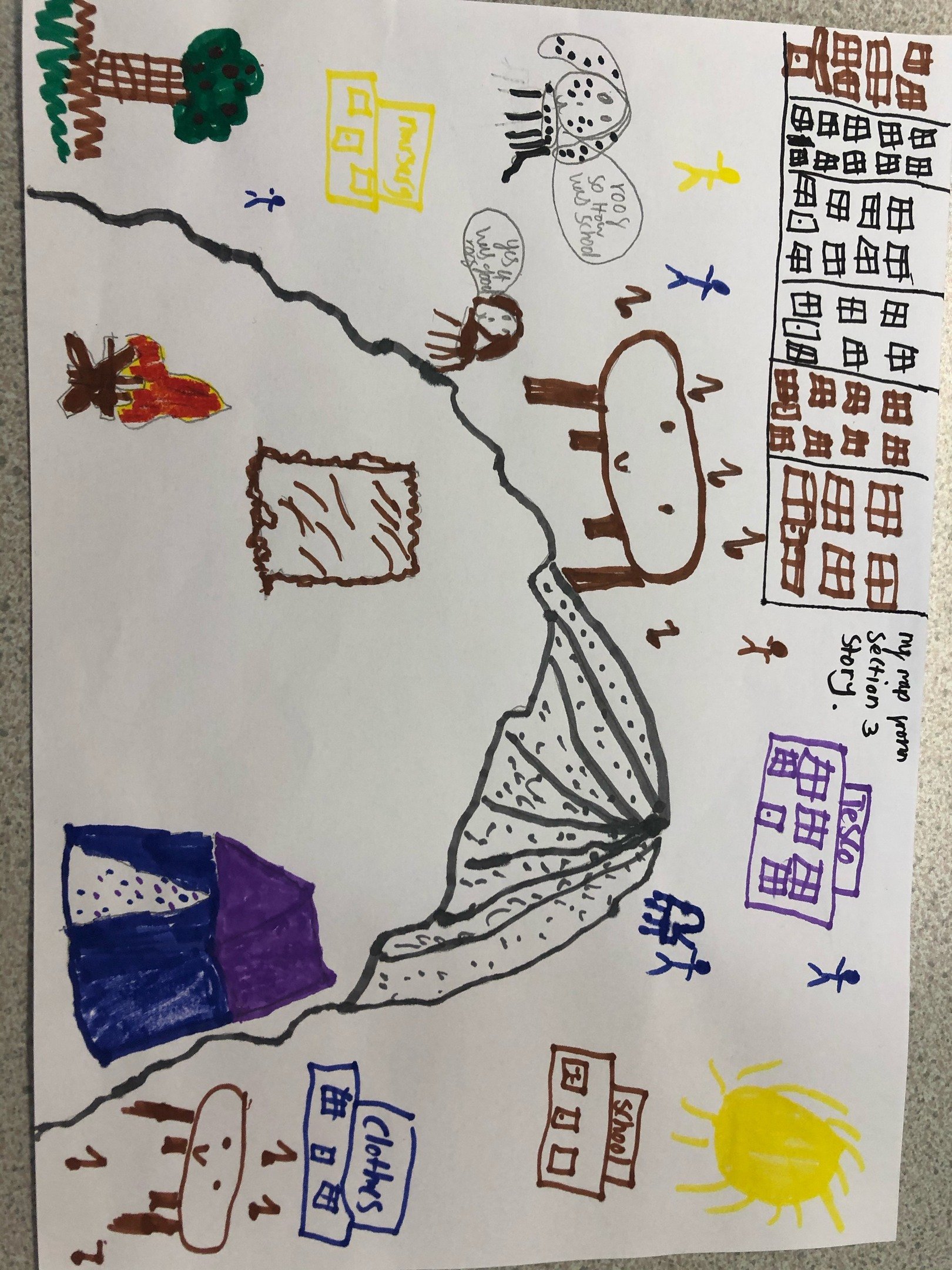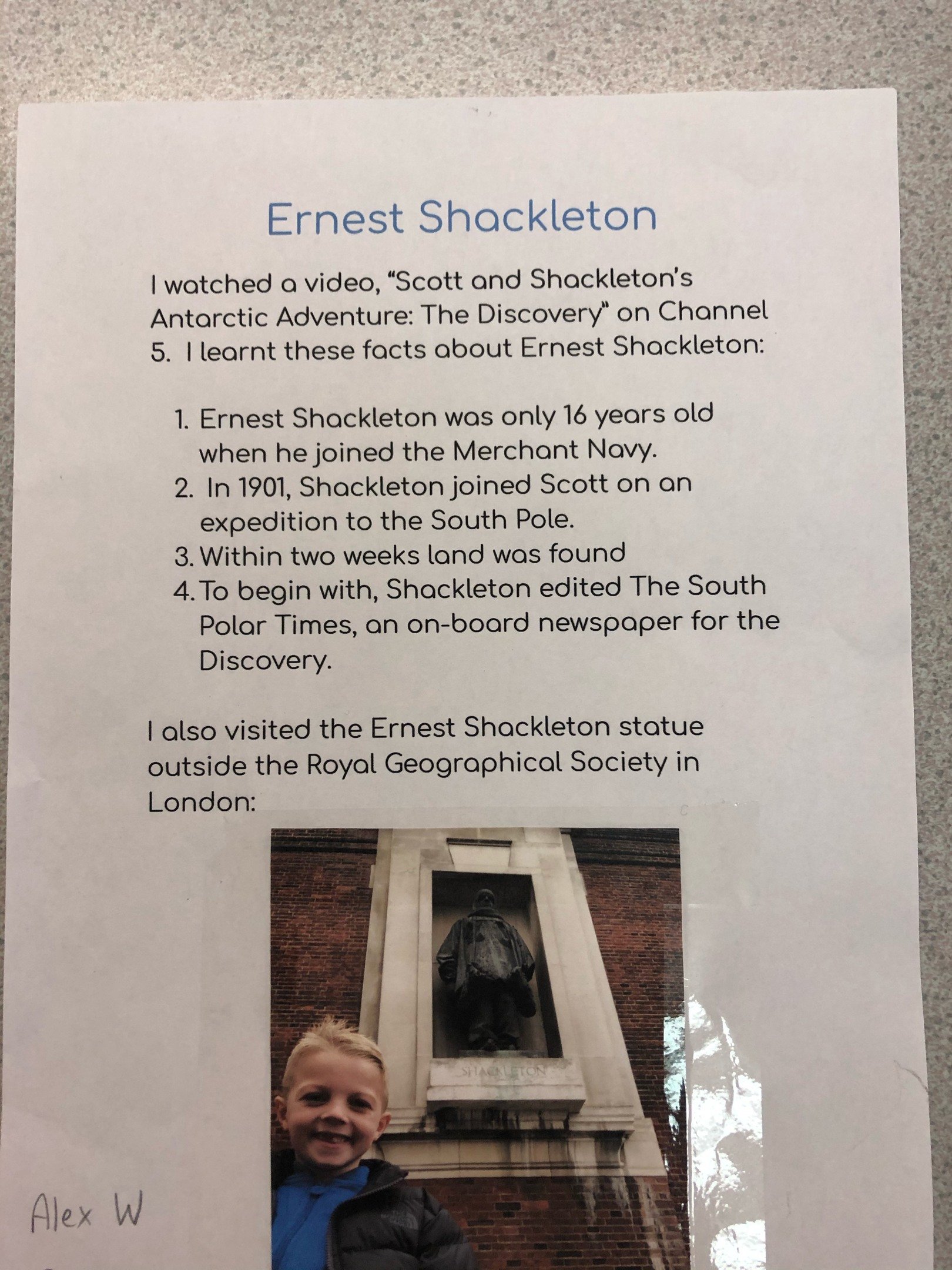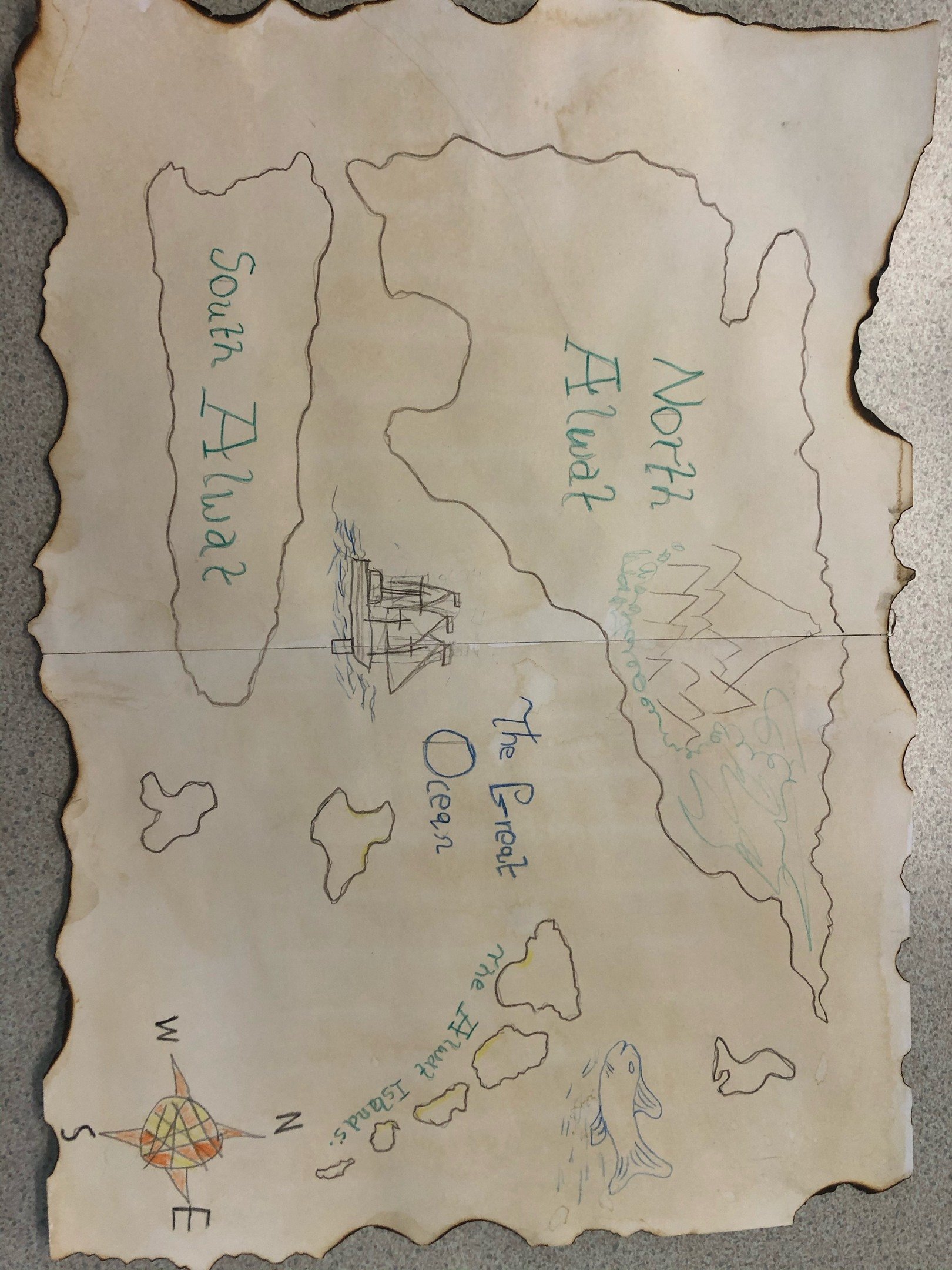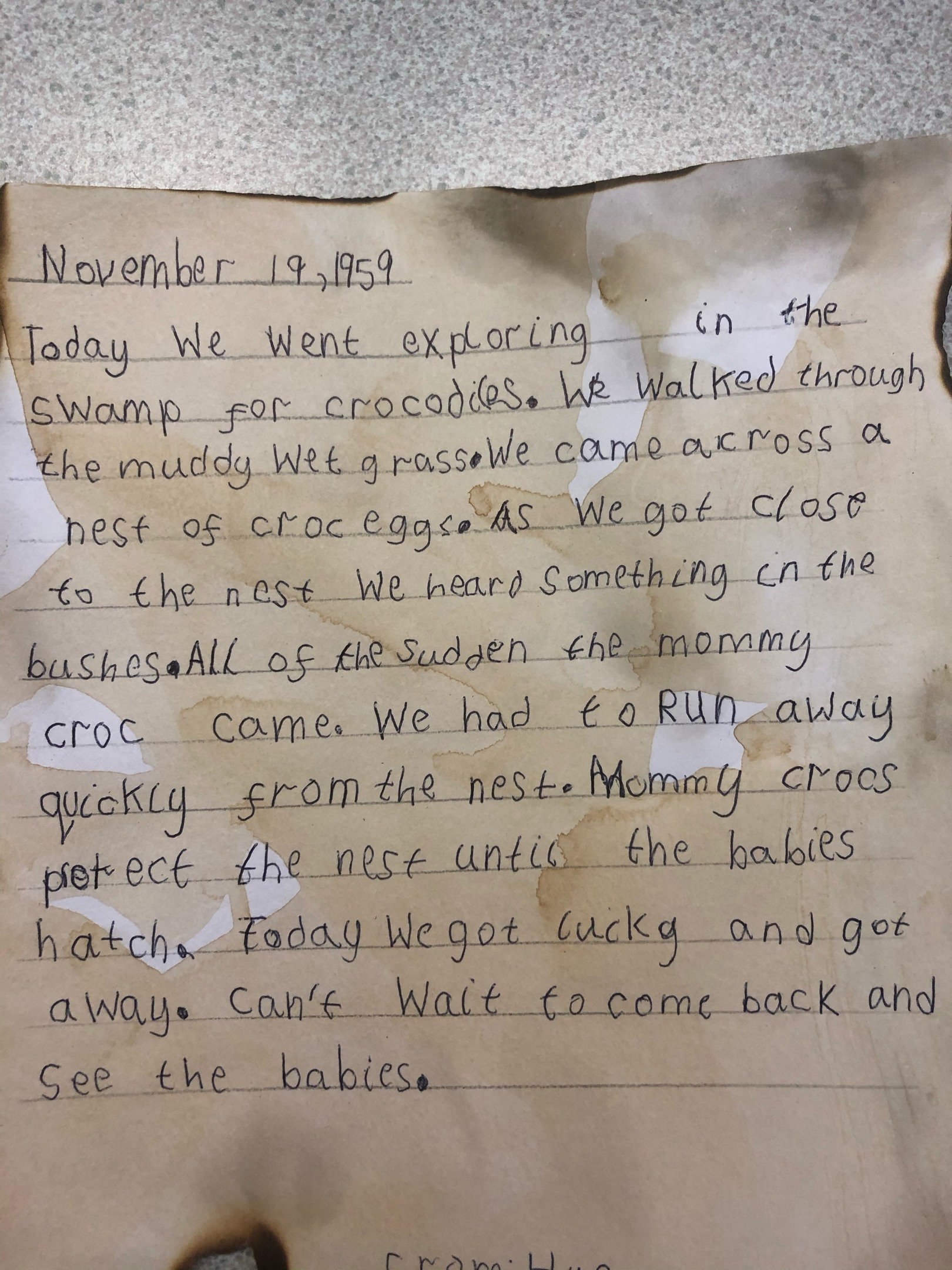 We all learned some Christmas songs to perform to our parents and families before inviting them to our classrooms to complete a Christmas crafternoon! We had so much fun during our performances, congratulations to 3IC for winning the singing competition and being awarded the elf trophy!
Week beginning 09.12.19
This week in year 3, we have been designing and making our very own bags for an explorer. We had to think carefully about what our explorer would need for their expedition in the rainforest, South Pole or Space. To create our bags, we used the running stitch to join materials together to attach pockets, handles and straps. We also had to think about what fastenings we would used to secure the explorers belongings in our bags.
Once our bags were completed, we evaluated and made improvements assessing our bags against the success criteria. Then we were able to test our bags with a variety of objects.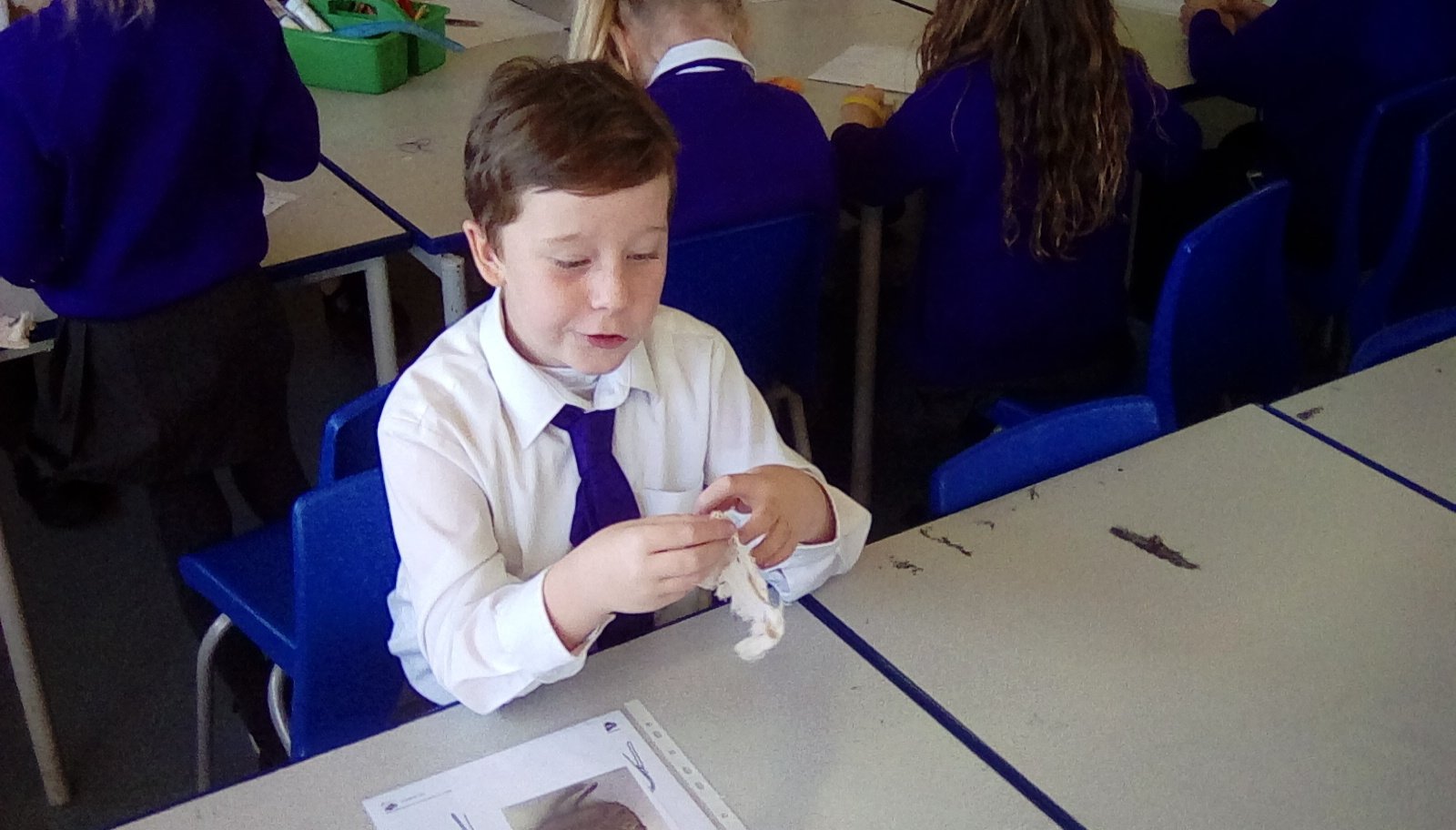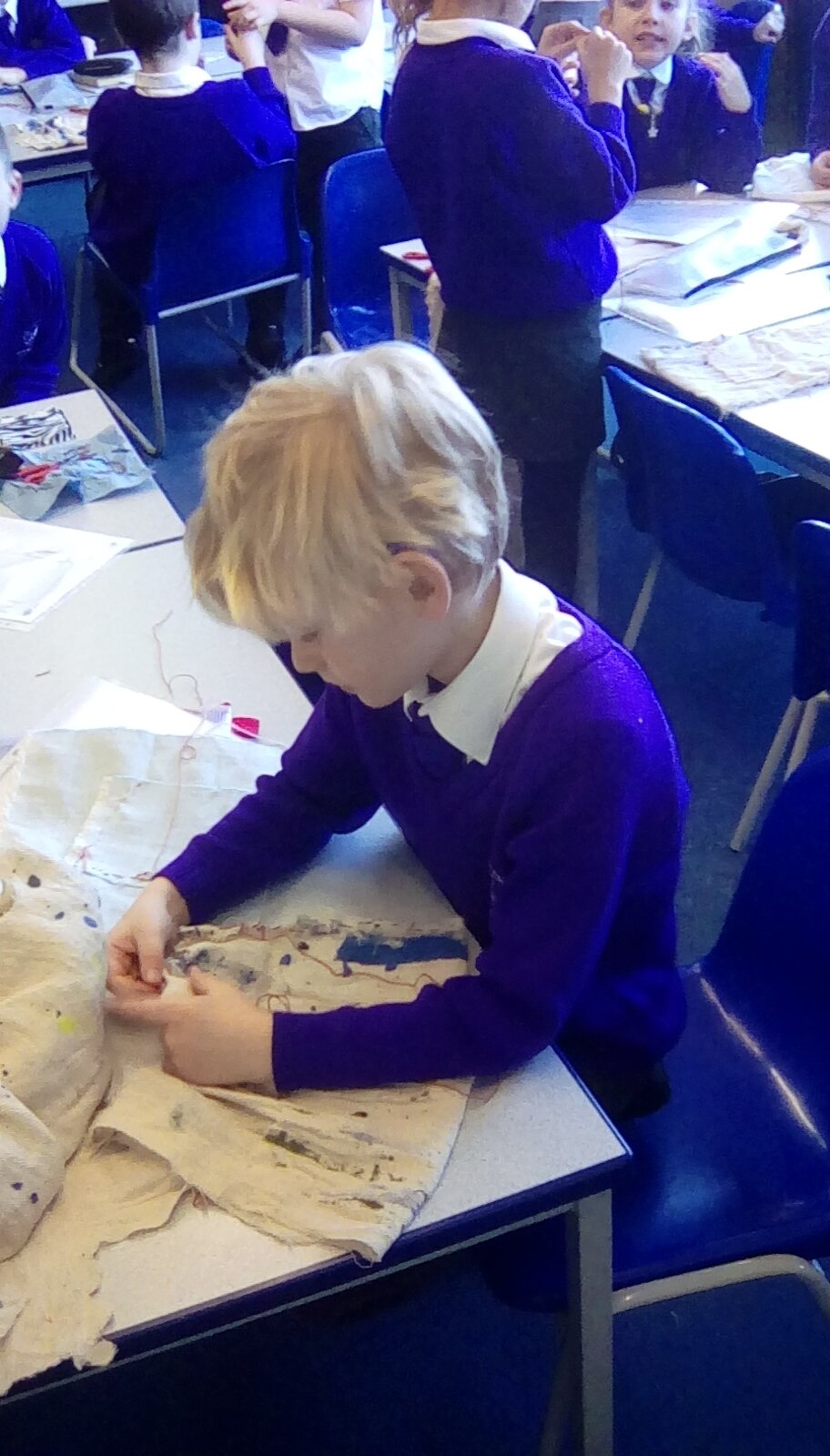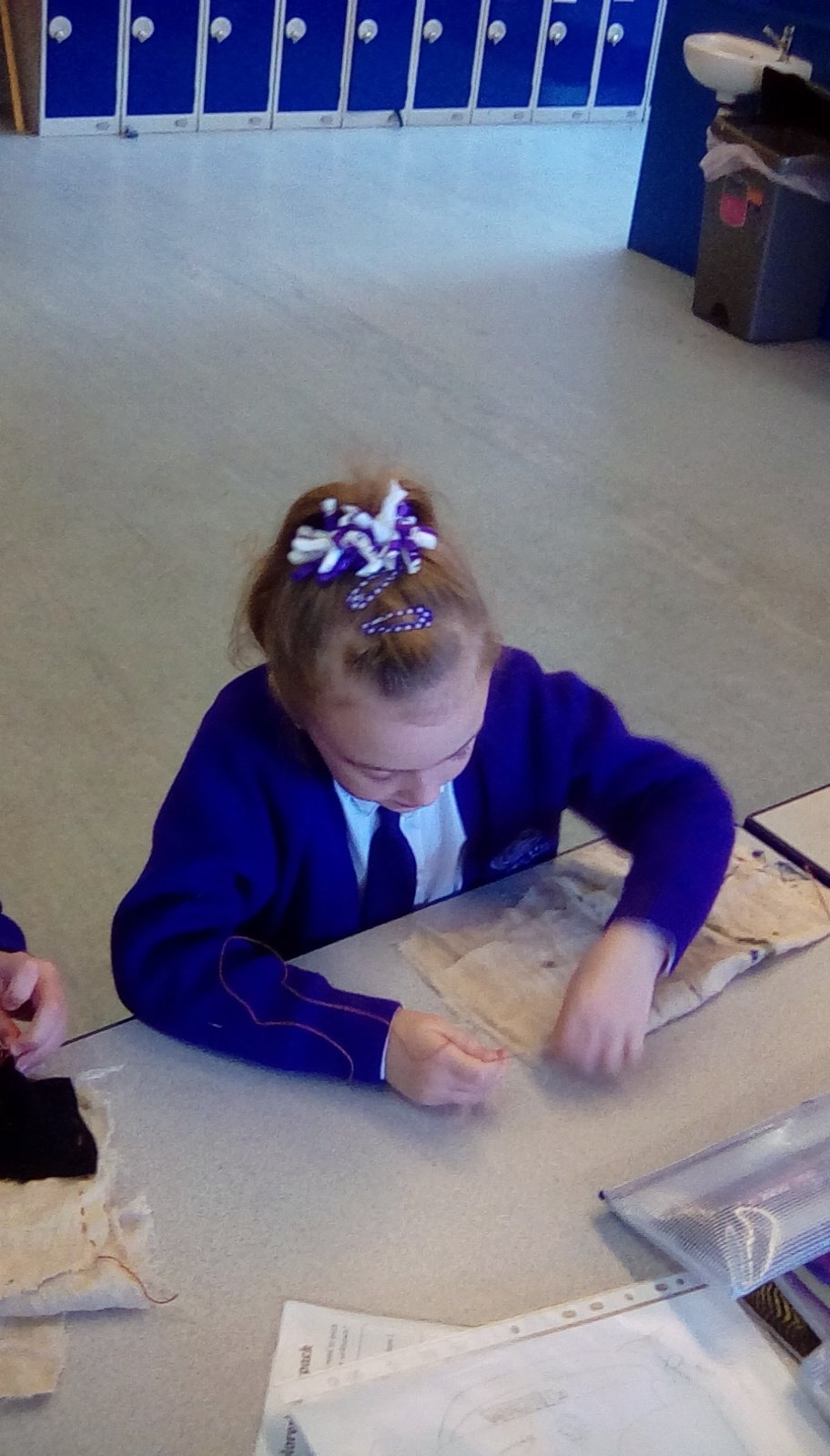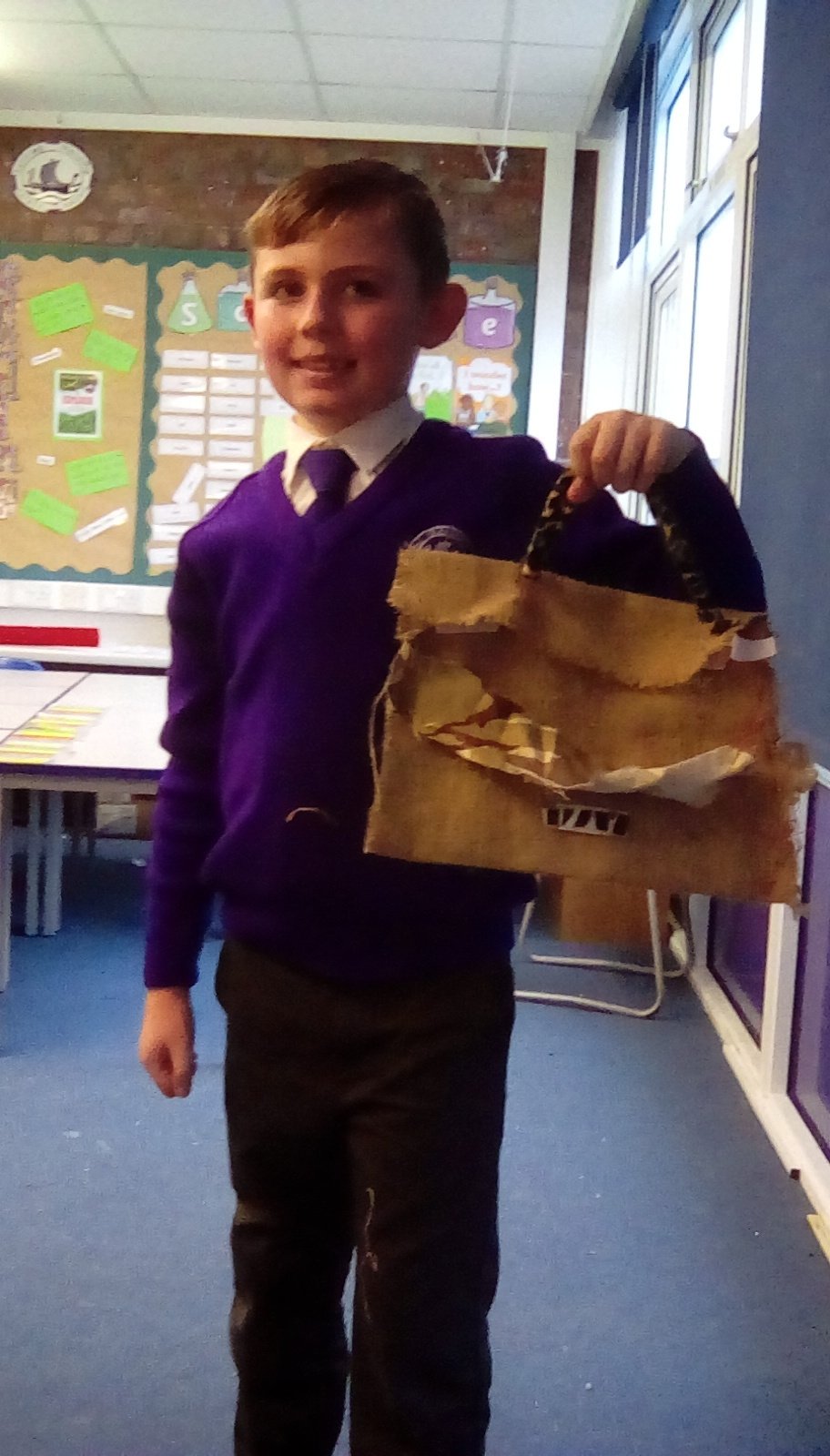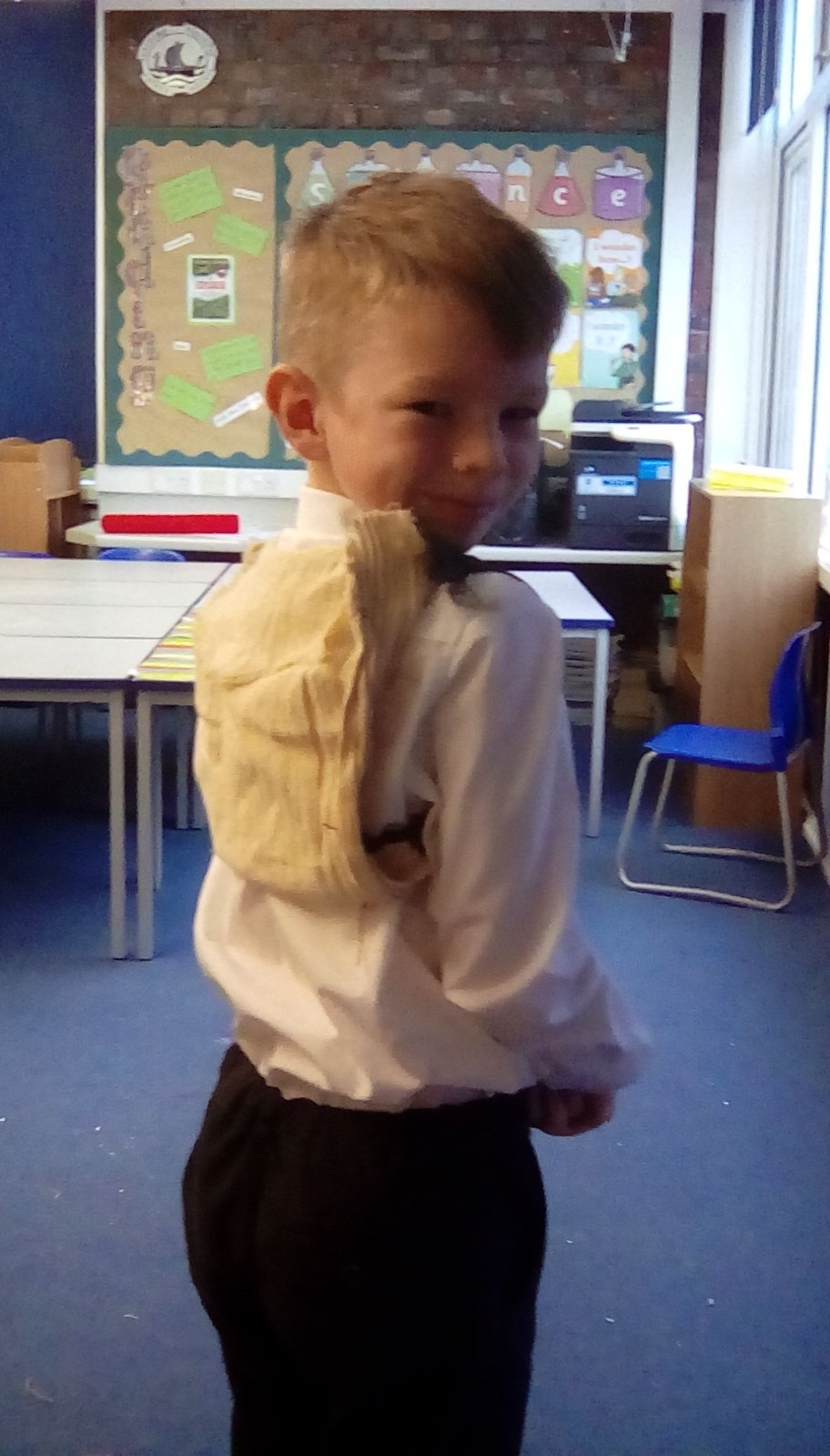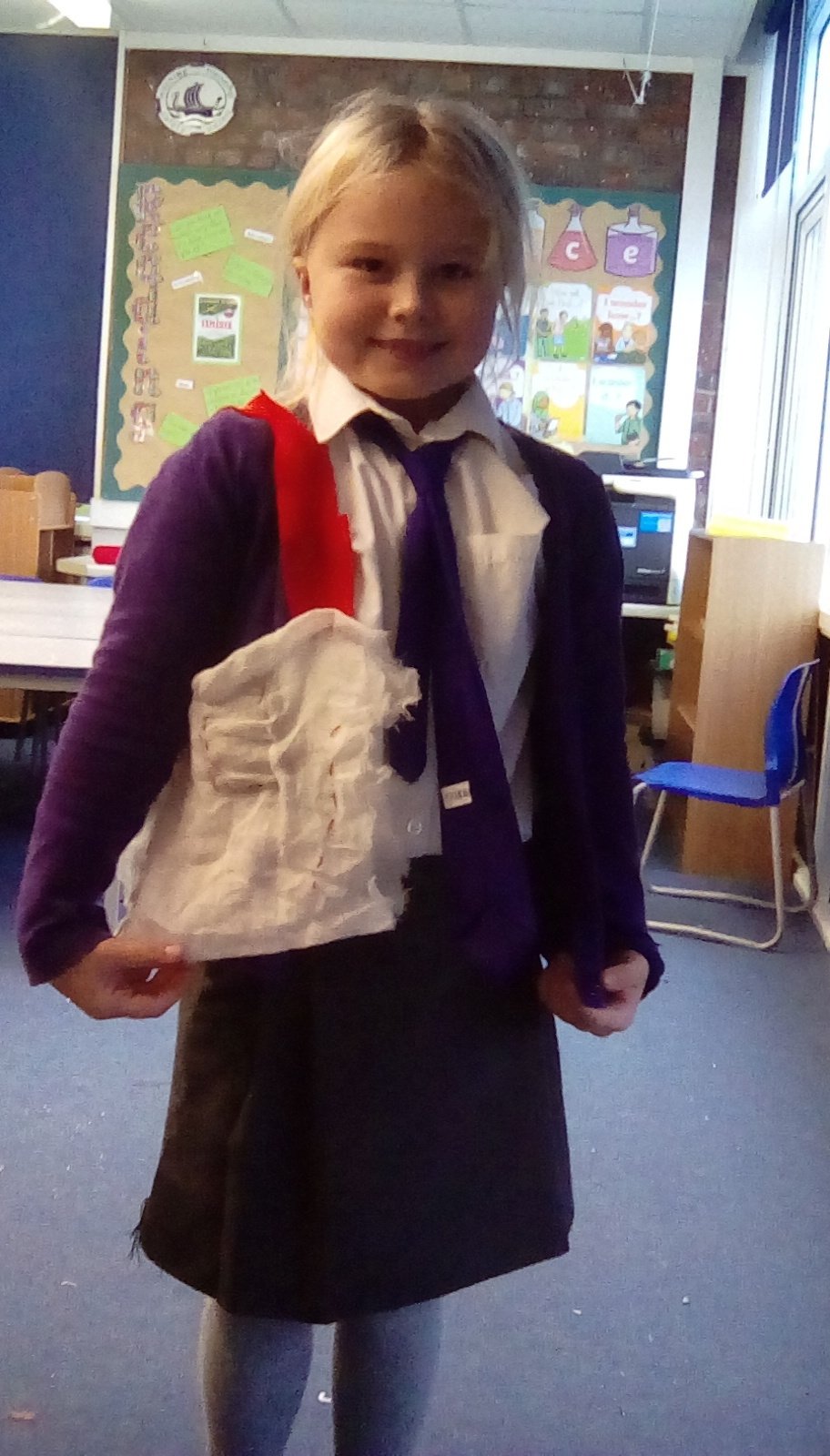 Week beginning 02.12.19
This week in year 3, we have been practising our French skills! On Tuesday we had a French day and we had visitors from King John School come to help us learn new vocabulary. We were able to practice our numbers from 1 to 10 and even challenged ourselves to learn some numbers up to 20! We also learned about a famous French man called Louis Pasteur, he created vaccines for different illnesses that people and animals were suffering with.
As we have been learning all about Space, we have created our very own space art. To create these pieces of art work, we had to use scissors to cut out our own circle stencils to allow us to make planets. Using oil pastels, chalk and charcoal we created the planet Earth and the Moon. To add more effect to our work, we used white chalk to create shining stars in the background.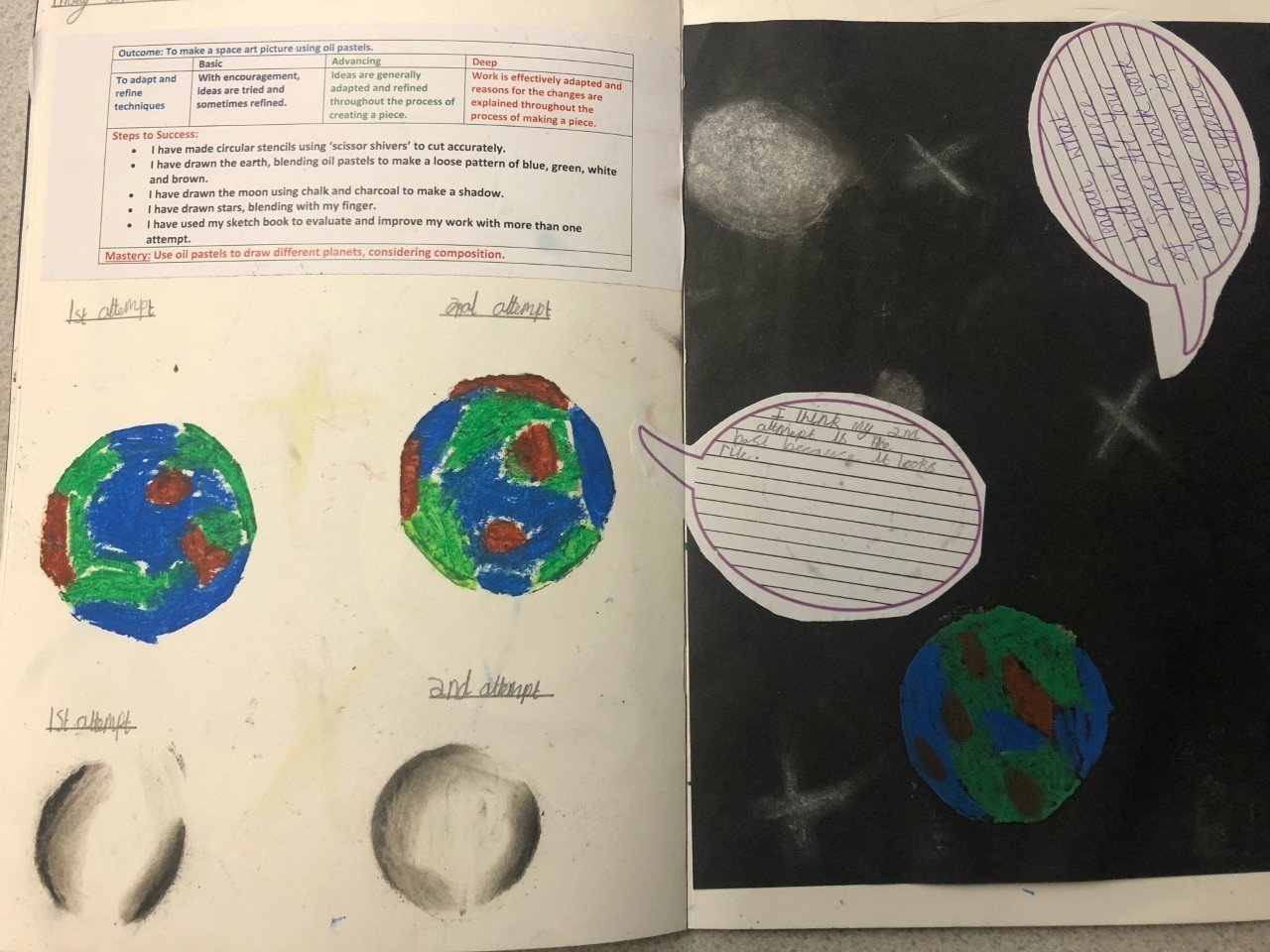 In PSHE, we have been learning how to regulate our emotions by using colours to explain how we are feeling. This has also helped us to recognise how others are feeling by looking at their facial expressions and actions. We have been able to work together to find ways to help ourselves and others when they may be feeling blue, yellow or red, so that they can feel green again!
Week beginning 25.11.19
This week in year 3, we have been working extremely hard on our first published piece of writing. We have used our knowledge of the explorations of space to create beautiful backgrounds to display our writing about 'The history of space' in our books. We ensured that we used our best handwriting and checked our work carefully before publishing it in an interesting way.
In Science, we have been learning about the parts of a plant. We can now recognise the most important parts of a plant: the roots, stem, leaves and flower. Each of these parts of a plant have different functions and purposes, we can now recognise how these help a variety of plants to survive and grow healthily.
This week has been assessment week and all of year 3 have worked extremely hard, we have been super proud of them all! They have made sure that they have read the questions very carefully, thought about how to answer them successfully and then checked their answers onc