Club list
Spring term
Day

Club

Staff

Friday

Choir

NH/DT

Monday

Netball

KS

Thursday

Ultimate Frisbee

DF

Monday

Scrabble Club

LW

Tuesday

Lego Club

TC

Friday

Computing club

RI
Computing Club
Are you in Year 4, 5 or 6? Do you have a favourite computer game? Would you like to learn how to make your own computer games? At Computing club, we will use coding programs such as Scratch to learn how to make cool games, animations, and websites too! We will also be using PowerPoint, the internet and other computer programs to have lots of fun!
Puzzle Club
Puzzle club will run every Thursday after school with Miss Hovey.
It will involve a whole range of puzzles to get you thinking and test your logical skills including jigsaw puzzles, Sudoku and code breaker puzzles. It is sure to be a lot of fun!
For the first half term we will try out a new puzzle each week then in the second half term, you can choose from any of the types of puzzles available.
Ultimate Frisbee
The Ultimate Frisbee club is run by Mr Falvey, who has played the sport himself. Ultimate Frisbee is one of the fastest-growing sports in the UK at the moment, involving a mixture of American football and netball rules - but with a Frisbee! The Ultimate Frisbee club is open to boys and girls from any year group. The children will learn several different Frisbee passes, defending and attacking skills, and the rules of Ultimate Frisbee. As quite an unusual sport, Ultimate Frisbee is a great sport for children who want to try something new!
Netball
High 5 Netball is run by Mrs Stoker and welcomes both boys and girls from Year 5 and 6. We currently have a 7-a-side team, but welcome any newcomers that would like to try netball, either for competitiveness or just for fun. Hi 5 Netball, gives every child the chance to experience and enjoy every position, as well as off-court roles. It boosts fitness and adaptability and provides a great social framework for players to strengthen friendships. Netball club is on Monday's, after school from 3.20-4.20.
Lego Club
Lego club is run by Mrs Cawcutt and welcomes boys and girls from all year groups. Most of the Lego is 'classic' Lego which allows the children to use their imagination and creativity in their constructions. It is a chance to build and work collaboratively with others in a sociable environment. If anyone has any old Lego they would like to donate to Lego club, it would be very much appreciated.
Film Club
Film Club at KHJS is open to pupils from all year groups and runs every Monday after school in 5GF. 'Into Film' is a friendly, sociable and relaxing club which gives children the opportunity to experience film creatively.
Over the last half-term the children have watched films including 'The Jungle Book' and 'Inside Out'. They have been discussing their views and the various themes within the films. The children have also been given opportunities to write film reviews and create storyboards in groups building on their teamwork skills amongst different year groups.
Mindfulness Club
Mindfulness club is run on a Monday after school by Miss Jackson and is available for all children across the school. We will be having a go at different mindfulness and calming activities across the term including yoga, mindfulness colouring and mediation.
Choir
Choir is open to all children from year 3 - 5. We meet on Friday after school. We take part in several performances over the year with last term seeing us perform at the light switch on in South Benfleet and at our own Carol service at Benfleet Methodist church. Mr Turner is our Choir master who selects songs and helps us to perfect our performance. We also have Mrs Carter who comes in to play the piano for us. We are looking forward to what the spring term brings for us!
Scrabble club
Scrabble club is run by Miss Wigmore and welcomes all year groups across the school. This clubs enables children to work together across all years groups creating new friendships. Children in scrabble club work towards achieving certificates for a five letter word or more each week. Scrabble club builds on previous knowledge of grammar and spellings within a fun and sociable setting!
Football Clubs for boys, girls and mixed teams – after school with Mr Hassan.
Tuesday – It's the girl's school football team where the girls learn how to pass and to kick a ball. This is open to Year 5 and 6 girls and it doesn't matter whether you have played or not.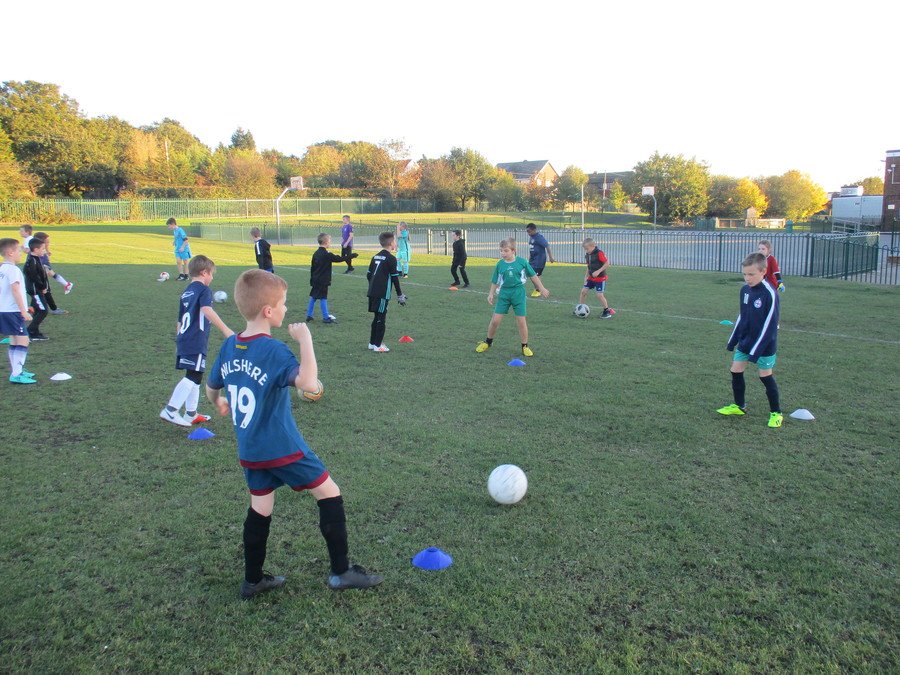 Thursday - Is the Year 5 and 6 boy's football teams. The boys learn how to work as team and learn football skills.
Friday- It's open to all Year 3 and 4 boys and girls where they learn basic footballing skill and have fun while learning. This is open to students whether they play or not.